Good Sunday Morning, Uni Watchers. Welcome to Week 9 of your Sunday Morning Uni Watch.
I originally intended to cover the Louisiana Tech game, as they wore 50th Anniversary throwbacks, but pics of the game were not particularly forthcoming (plenty of video, but few stills). So, I'm back to discussing Oregon, who wore those black uniforms with neon pink and yellow accents. Up close, it was something.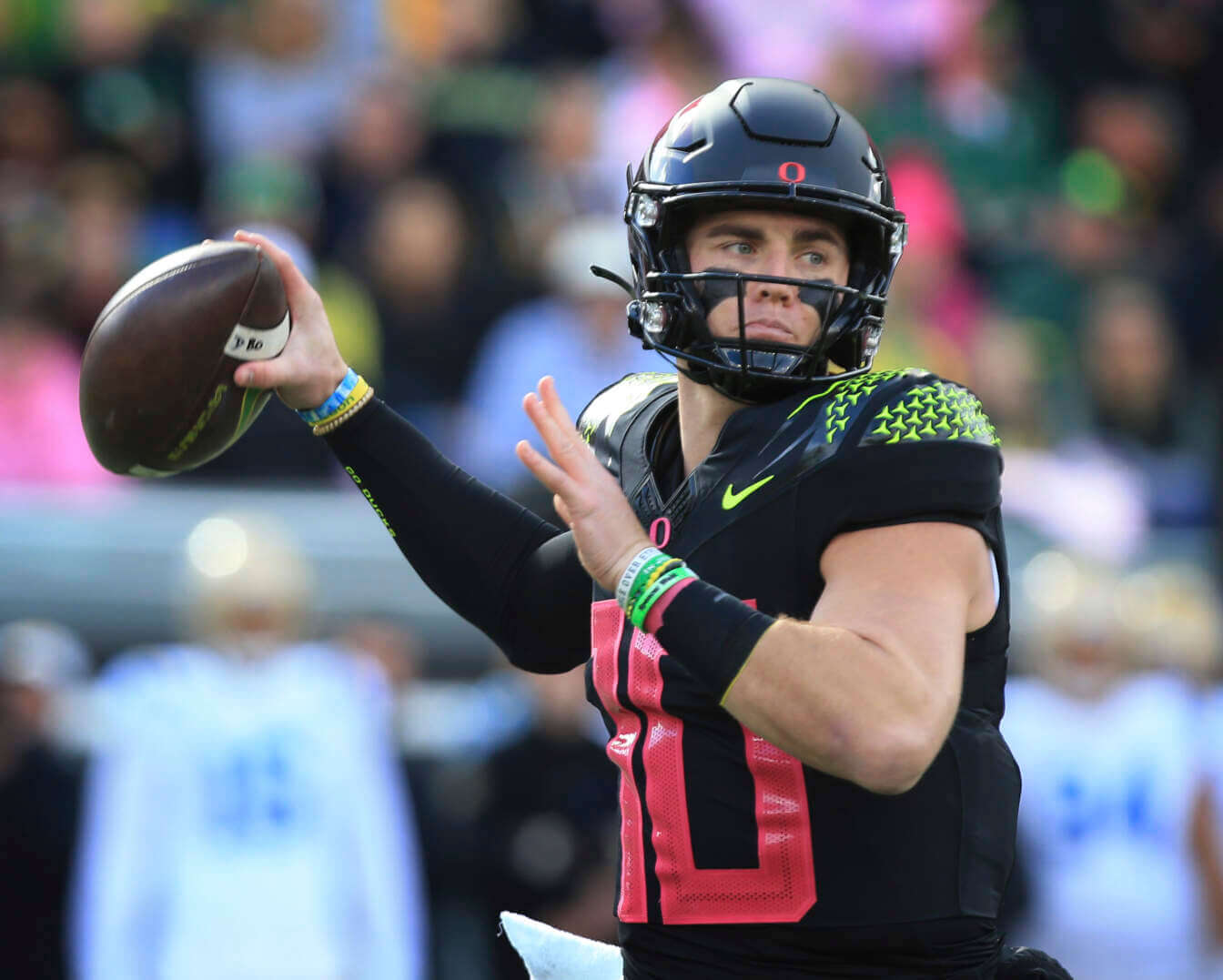 In case the symbolism of the very pink numbers and helmet wings didn't tip you off, this uniform was the Ducks' 2022 "Stomp Out Cancer" uniform — the third time the Mallards have added pink to their uniforms for this cause. While the team didn't unveil these until about a week and a half ago, I had this on the radar back in early August. If you click on that article, you'll see the other times the Ducks have adorned their uniforms with pink.
As you can see from today's splash photo, the Ducks had their NOB in neon yellow, as well as their "duck wing" graphics on the shoulder caps — and of course the PAC12 & swoosh were in neon yellow. A few more splashes of neon yellow were found in the form of more duck graphics on the side panel and down the pants leg.
When the sun shone in Eugene, the Ducks uniforms were bright, the contrast was good, and spotters could easily make out the numbers. Unfortunately, when the sun wasn't hitting the players' uniforms, the giant pink numbers were a bit hard to read, and in the long shots, it wasn't much better.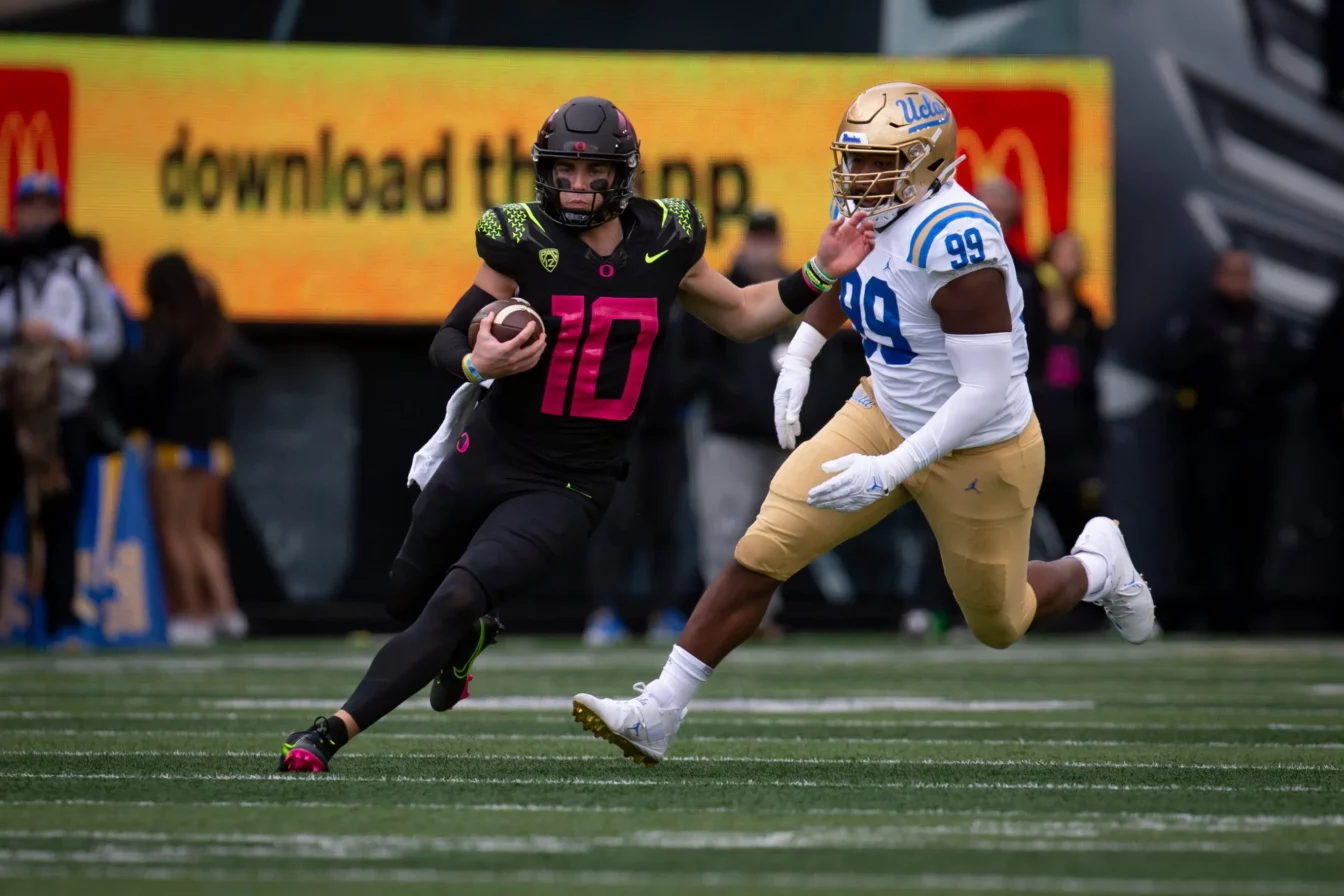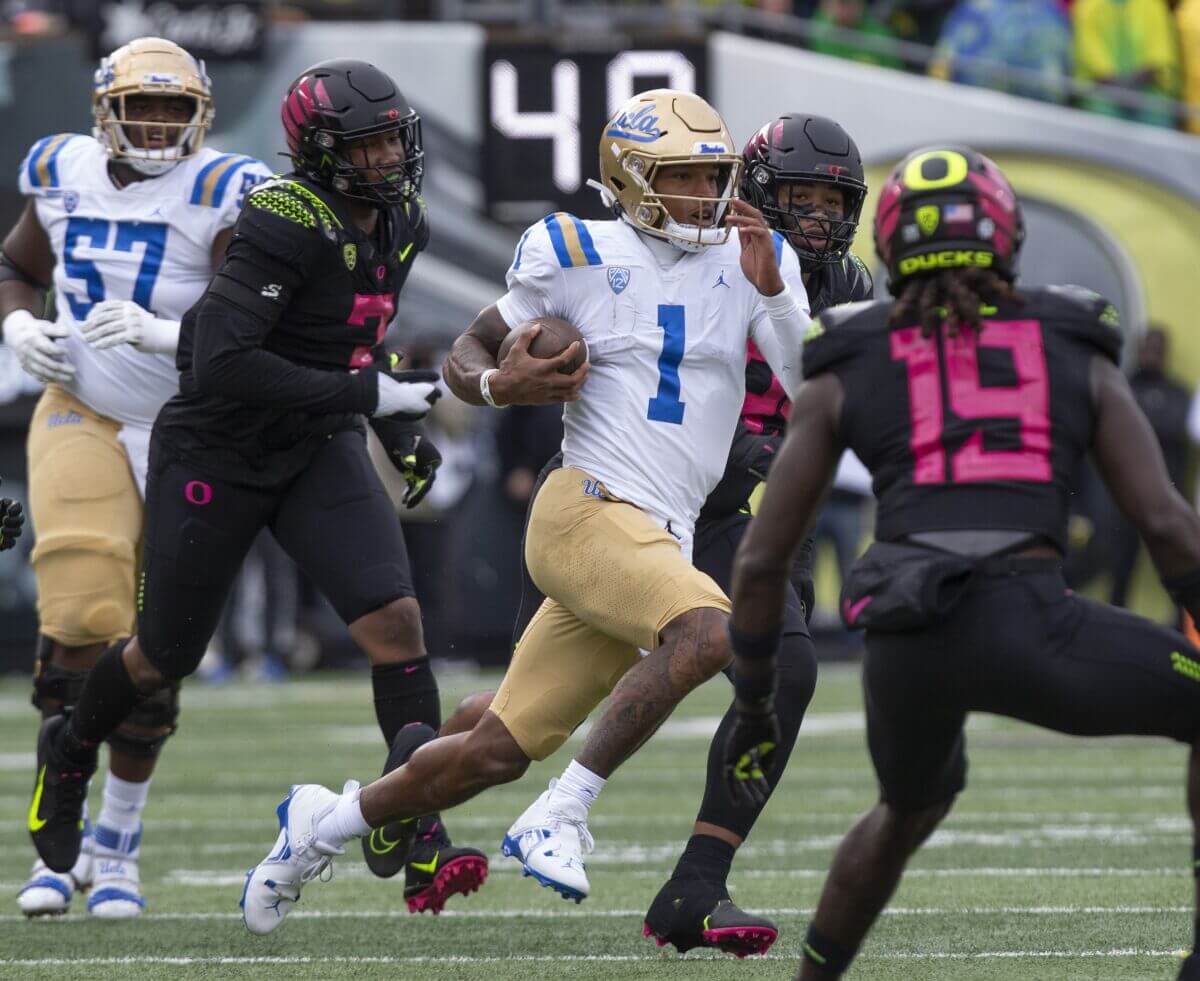 This video gives an idea of how the neon yellow popped while the pink…didn't:
OREGON ONSIDE KICK IN THE 2Q? 😳

(via @CFBONFOX)pic.twitter.com/8fFx6gdYdJ

— Bleacher Report CFB (@BR_CFB) October 22, 2022
Honestly, I'm not a huge fan of the uniforms — nor did I love the two prior pink out unis, but that's partly due to the fact that, even though the Ducks basically invented the BFBS scourge, I don't like it when they wear black. Unfortunately, they probably couldn't really do the whole BCA uni thing if they tried to shoehorn pink onto green or yellow. If only there were some other way to support breast cancer awareness…
And with that, here's TJ with your…
• • • • •
Sunday Morning Uni Watch
by Terry Duroncelet, Jr.
Homecoming –be it throughout college football, or at my day job as a menswear stylist– will be the death of me.
From Thursday:
• Georgia Tech/Virginia: Contrast Matters: There's a Belk and a Shit-fil-A joke here somewhere Edition.
• South Alabama/Troy: Block uSA decals for South Alabama. Kinda has an HBCU vibe to it.
From Friday:
• WKU/UAB: Sweet all-blacks for Western Kentucky (again, most uni crimes are kosher for the month of October ONLY).
From Saturday:
• Baylor/Kansas: Color-vs-color between Baylor and Kansas, and I dig what the Jayhawks have going on! Especially in the helmet department. And who can say 'no' to Baylor's Sailor Bear? Someone who puts tomatoes, kale, and luncheon meat in gumbo, that's who.
• Ohio State/Iowa: Several people noted how IRL Tidal Wave-sized Buckeyes OL Dawand Jones seems to be wearing a helmet a couple of sizes too small for his frame. One person noted that it might be a literal size limitation, as the largest model that comes in the F7 by Schutt (the model that I'm assuming he's wearing) is an XL+. Again, we're talking about someone who can probably princess-carry me like I weigh nothing, and I'm 6'2″, 200-ish lbs, for reference.
• Oklahoma State/Texas: Orange affair between the Cowboys and the Longhorns (that has to be the most Southwestern sentence I think I've written in my entire life, and I'm FROM the Southwest). Also, I loved Oklahoma State's Homecoming helmets (closer look, with an article here).
• Clemson/Syracuse: I take back my last statement. THIS is the real R-ange affair.
• Tennessee/UT Martin: Mono-Urange for the Vols, although this affair was more tame than the last two games.
• LA Tech/Rice: Look too quickly, and you might mistake LA Tech for Ole Miss. The Bulldogs brought out the new togs in celebration of one of the greatest teams in LA Tech history turning 50 this year.
• Alabama/Miss. State: The Bulldogs lost one of their own earlier in the week. Freshman OL Sam Westmoreland passed away just days before his 19th birthday (which would've been Friday, Oct. 21st). The team wore helmet decals in his memory.
• Mizzou/Vanderbilt: I LOVED Mizzou's uniforms from Saturday, and any excuse to bring out a fun mascot logo is welcome in my book (closer look). They also wore helmet decals in memory of the aforementioned Sam Westmoreland.
• UTEP Texas Western/FAU: Texas Western throwbacks for UTEP (and yes, his C-USA patch NOPE'd off of his jersey compared to his teammates). I can practically taste the orange flavor at this point from all of this week's games with October's 2nd-favorite color. Easily the wildest thing from this game was this: after Florida Atlantic scored a touchdown, they kicked a PAT, but it was blocked by the Miners' Praise Amaewhule … via HIS HELMET. The resulting effort knocked his helmet off, and on was the chase for the ball (if the defending team scoops and scores, it's a 2-point conversion for that team). Sans-helmet Amaewhule initially chases after the ball, but has an "Oh shit, I probably SHOULDN'T be doing this" moment, so he immediately lets up, puts his hands up, a UTEP player grabs the ball and scores. Afterwards, the officials get together to talk about their garbage taste in food items from the 1950s before throwing a flag after the play was over, citing Illegal Participation (which is a real thing, if you lose your lid, you cannot engage in the play out of safety concerns). As a result, UTEP's 2-fer was wiped, FAU was scooted up half the distance to the goal, they got a mulligan on the kick, and were successful this time, tying it 21-21. I showed this play to my dad, and he said that the call was incredibly weak, to which I replied "that's more than weak: that's LETHARGIC".
• Hawai'i/Colorado State: Spooktober threads for the Rainbow Warriors. But the real highlight is Colorado State wearing their State Flag uniforms that I dig immensely.
• ECU/UCF: Spooktober threads for East Carolina. Also in that game, UCF wore 1995 throwback(ish) helmets (better look here).
• Kent State/Akron: Rare light blues for the Golden Flashes, with a new helmet to go with it (closer look).
• Penn State/Minnesota: Generations of Greatness unis for the Nittany Lions, although there was a PAINFUL lack of striped socks on Saturday night.
• Louisville/Pitt: The ONE TIME that Louisville could've done what Louisville does best, and they choose to go Plain Jane enough to make this game not as visually appealing as it could've been. Or, ya know, they could just normalize color-vs-color already.
• Buffalo/Toledo: You'd think yellow/white/navy would be more common amongst teams with these colors, but I feel like I don't see this nearly enough. Speaking of not seeing something enough, if Buffalo can switch to this lil' guy permanently, that'd be perfect (closer look).
• Miami (Ohio)/Western Michigan: The RedHawks wore the latest rendition of their cancer awareness helmets against Western Michigan. Each ribbon color is specific to a player that has had a family member tackle that particular cancer that the ribbon is representing. You can read more here (also has a breakdown of what ribbon color each player is wearing. The white ribbon decals (for Lung, Retinoblastoma, Waldenstrom's Macroglobulinemia, and Mesothelioma ailments) on the white shells looks like they only put the M-OH logo on, but made it tiny. They also wore their jersey numbers on the left side (full photo gallery here).
• Texas Tech/West Virginia: Country Roads v3.0 unis for the Mountaineers. Meanwhile, The Red Raiders ACTUALLY WORE THEIR RED JERSEYS! It's almost as if their team name has a literal color in it.
• TCU/Kansas State: Festive look for TCU.
• Old Dominion/Georgia Southern: Full light blue uniforms for the Monarchs. The light blue suits them very well, I believe.
• Louisiana/Arkansas St.: The all-black for the Ragin' Cajuns, I can get behind. The S&S decals on the other hand? Might be a little too much dip on ya chip there. Don't know why they couldn't wait another 2 weeks to do this (better look… I guess??? Also note the Pinktober ribbon decal on the back). At least the decal has sort-of a shape of a flag.
• Nevada/SDSU: Pinktober decals for the Wolf Pack (two words). Here's a better look.
• Cal/Washington: Lots o' gold here. Cal wore their gold tops (with navy helmets and pants) against the Washington Huskies, who wore what they call their "Royalty Threads" (I could not type that with a straight face). Better look here.
That'll do it for Week 8. I'm glad I have the weekend off from work, because I'm exhausted after dressing dudes for 4 Homecomings this week (and at least 12 in the last month-and-a-half, with at least 3 left to go). But of course, I can't bounce without giving not only a huge shoutout to Phil for his continued encouragement (and patience!), but also to Blaise D'Sylva for his continued efforts in keeping up with the hive's nest of helmets throughout the college landscape. Call him the Ghostbuster, because when you need a fix, you know who to call. Have a good Sunday everyone, and I'll see you next week.
• • • • •
Thank you Terry! Great stuff, once again. Catch you next Sunday!
---