Good Sunday Morning, Uni Watchers. Welcome to Sunday Morning Uni Watch. I hope everyone had a good Saturday.
Now then.
I won't quite say it's become de rigueur for Southern Schools to begin recognizing the past accomplishments of their pioneering Black players, vis-a-vis creating a special alternate uniform to wear, but Mississippi State did do just that earlier this year. Oklahoma joined Miss State yesterday by creating a special anthracite-for-anthracite's-sake (AFAS) uniform to honor former running back Prentice Gautt, who was the first Black scholarship football player at OU. According to Sooner Sports,
Saturday's uniform will feature anthracite-colored jerseys, pants and helmets, crimson trim and lettering, the word "TOGETHER" sewn on the collar, the word "UNITY" on the back-of-the-jersey nameplate and an outline of the state of Oklahoma amid a triple-stripe on both sleeves.
Now, by and large, Oklahoma has (and has almost always had) pretty good looking uniforms, and the team could have certainly chosen to honor Gautt with a throwback or fauxback (like Miss State did). Instead, they created a dark, kinda muddy-looking uniform that totally didn't look like Oklahoma, and certainly wasn't resembling anything Gautt ever wore. Let's take a closer look.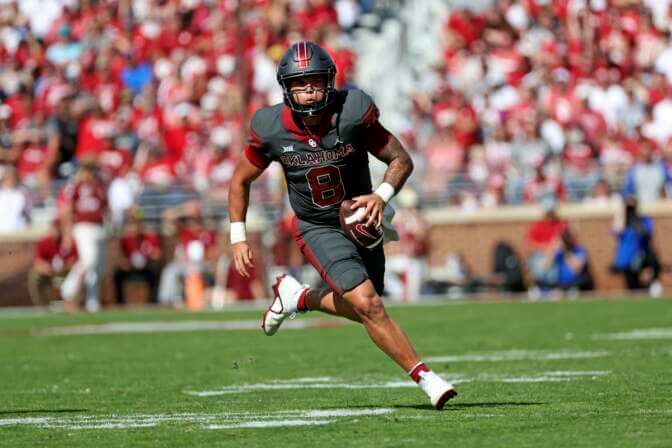 As you can see — head to toe AFAS, including the helmet. Unfortunately, Oklahoma's actual school color, crimson, was chosen for the stripes and numbers, with white making a very thin appearance on the helmet, and as an outline for the numbers and "OKLAHOMA" chest mark. There was also a crimson northwestern striping pattern on the sleeve caps and down the pants. A state of Oklahoma patch (or perhaps it was sewn in) was rendered on the stripes of the sleeve cap. I say unfortunately because this provided almost no contrast, making the numbers almost unreadable at any distance. I watched a good chunk of this game on TV and for all the long shots, and even some close ones, it was impossible to make out the numbers, and the crimson and dark gray just blended together for the most part. Up close (and in the shade) the numbers and chest mark were legible, but it still didn't look great.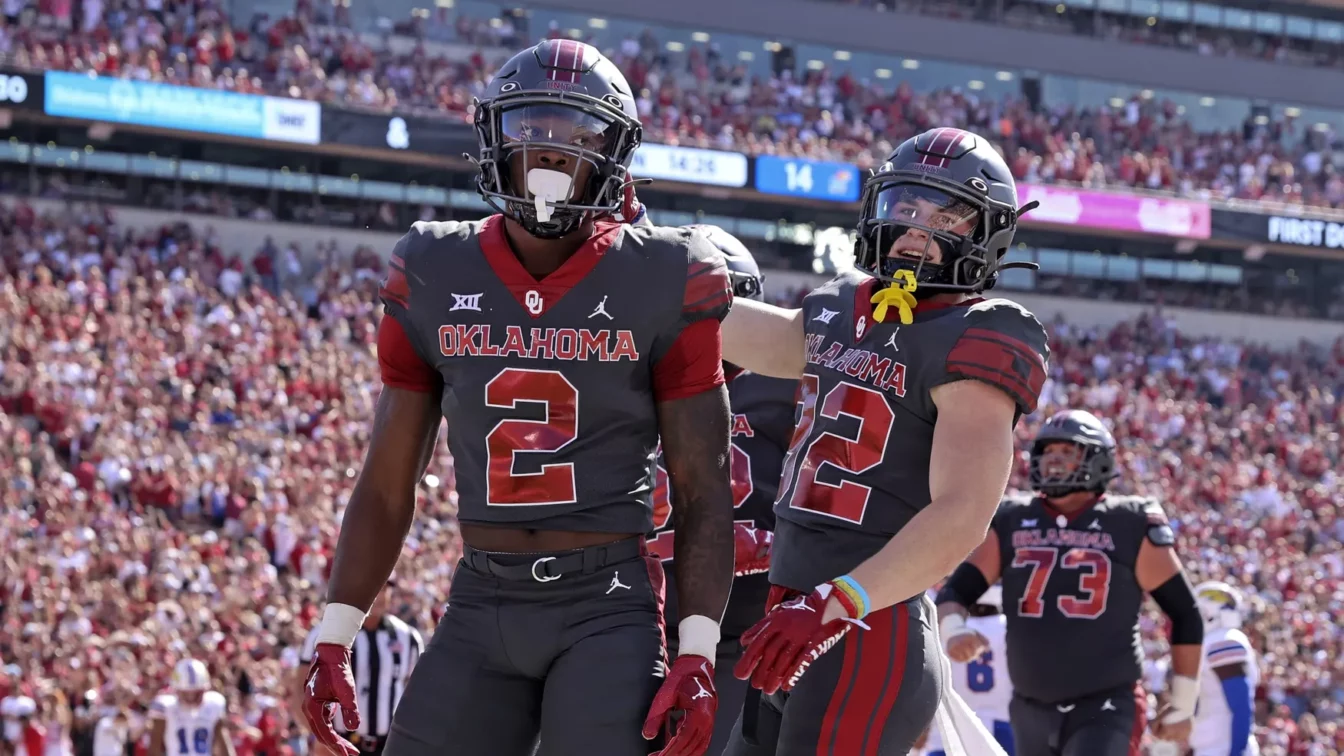 As mentioned above, the players all wore "UNITY" as NOB — and since that was in white, those were easy to read. Too bad they didn't consider doing the same for the numbers, using a crimson outline. Of course, the jumpman, OU and Big XII logos were all in white too, because we wouldn't want those to be illegible.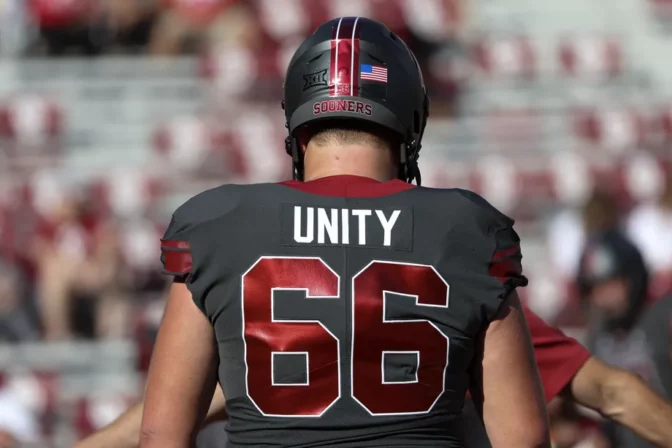 You can see lots more photos form the game here.
And with that, we now move on to Terry Duroncelet (to be followed by Wade Heidt with the CUUW), who'll take you through the rest of your…
• • • • •
Sunday Morning Uni Watch
by Terry Duroncelet, Jr.
From Wednesday:
• Marshall/Louisiana: Marshall embraced my October Offer by wearing all-black against Louisiana.
From Thursday:
• West Virginia/Baylor: A reprisal of last week's Big XII affair between Baylor and Oklahoma State, but flipped, and with a touch more contrast.
• UCF/Temple: Space U uniforms VI: This Time, it's a Periphery Reference for UCF. Here's a closer look at the helmets.
From Friday:
• FIU/UTSA: Florida International hosted a really cool Vice Night on Friday. I loved the field, but the unis felt like a half-effort. The helmets were NICE, I just wish that they did more with the uniforms.
• SMU/Navy: Nothing uni-notable, except for SMU wearing their regular home unis, as if to say "Oh wait, that's right, the Dallas unis are alternates" (let's be honest, at this point, they're alts in name-only).
• Princeton/Brown: I think this is the 2nd or 3rd Ivy League mention in a row (week-wise). Princeton wore Progress Flag variants of their tiger logo against Brown. Reason being is because former Princeton Offensive Lineman Mason Darrow participated in the opening coin toss on Friday night, and he came out as gay back in 2015. I'm super-ecstatic to see this! For as much progress in the realm of representation as we've seen in the last decade-ish or so, you never see much in the way of LGBTQ+ representation in the sporting realm. Literally the only one outside of Darrow that I can think of is Michael Sam. It makes me feel a little less lonely as a nonbinary individual myself.
From Saturday:
• It was a regular script party on Saturday, featuring offerings from Michigan State, Mississippi State, Troy, East Carolina (complete with pseudo-retros), South Alabama, and probably a couple others that I may have missed.
• Michigan/Penn State: As much as I (normally) HATE Michigan in all-navy, I will say that the flat finish pairs well with the gloomy weather in Ann Arbor yesterday. And as mentioned before, all uni-crimes (sans advert-driven) are welcome during the month of October.
• TCU/Oklahoma St.: New blood lids (to go with the grey alts) for TCU (another look).
• Georgia/Vanderbilt: I don't know what it is, but vandy looks good in white/white/black.
• Ole Miss/Auburn: Ole Miss (appt for a Southern State) is both too late AND too early in bringing out the stars 'n' stripes in their game against Auburn (with the seldom-seen white facemasks).
• Illinois/Minnesota: Apart from the STELLAR-looking game, there was a graphic goof (thanks to @tlschwerz on Twitter for the spot).
• Coastal Carolina/Old Dominion: Two teams that I'm happy are growing, in what I feel like is the rare daytime game for the Chanticleers (yes, this is an excuse to use the word "Chanticleers").
• Michigan State/Wisconsin: 'State' script helmets for the Spartans.
• Duke/UNC: Duke in their spooktacular black alts against North Carolina, who wore something I haven't seen them wear in ages: the light blue chrome lids!
• BYU/Arkansas: BYU wore some neat mural helmets against Arkansas (better look). Must've been something in the air in the State of Utah, because…
• Utah/USC: Utah also wore custom painted helmets against USC. These carried serious weight to them, as they were made in honor of their fallen teammates Aaron Lowe and Ty Jordan.
• Florida/LSU: Florida wore Tom Petty tribute decals against LSU. Also from that game: you want some bumper with your neck?
• • • • •
Thanks TJ! Stellar job as always with your rundown!
---