The first baseball season that I followed from start to finish was 1972, when I was eight years old. I remember watching the American and National League playoffs after the regular season's conclusion, and I especially remember the World Series between the A's and Reds (which featured what turned out to be Jackie Robinson's final public appearance prior to Game Two).
What I don't remember, however, are the full-length ponchos that at least two Cincy players were wearing in the dugout during Game Six in Cincinnati. Reader Tristan Ridgeway spotted them while watching this highlight video (they appear at roughly the 31:08 mark).
In fact, I don't recall ever seeing MLBers wearing this type of garment. I do recall seeing a few photos of players wearing long overcoat-like jackets during cold weather — I think the examples I've seen all show players wearing them in the bullpen — but these Reds ponchos seem more like rain slickers, similar to NFL sideline capes. At least one of them even had a hood!
I did some poking around online to see if I could find a vintage example — no dice. So I asked a bunch of baseball historians and people connected to Cincinnati (including our own "Collector's Corner" columnist Brinke Guthrie, who said he actually attended that World Series game as a kid!), all of whom said they'd never seen anything quite like the Reds' ponchos. But one of the people I queried, Baseball Hall of Fame curator Tom Shieber, forwarded my inquiry to Chris Eckes, curator of the Reds Hall of Fame. He responded thusly:
The Reds definitely wore the type of coats or parkas that Paul recalls seeing other teams wear [in the bullpen]. There were at least two different styles, both made by Wilson: one with the script "Cincinnati" that's shown in the 1972 World Series screen shots, and another that had arched block lettering similar to the look of a post-1971 road uniform. We have examples of both styles in our collection.

These are quilted but not heavily, which leads me to believe that the coats/parkas seen in the World Series images are of the same style/construct as the examples we have. I don't recall ever seeing one that was not quilted.
Eckes provided the following photos of the items from the Reds Hall's collection: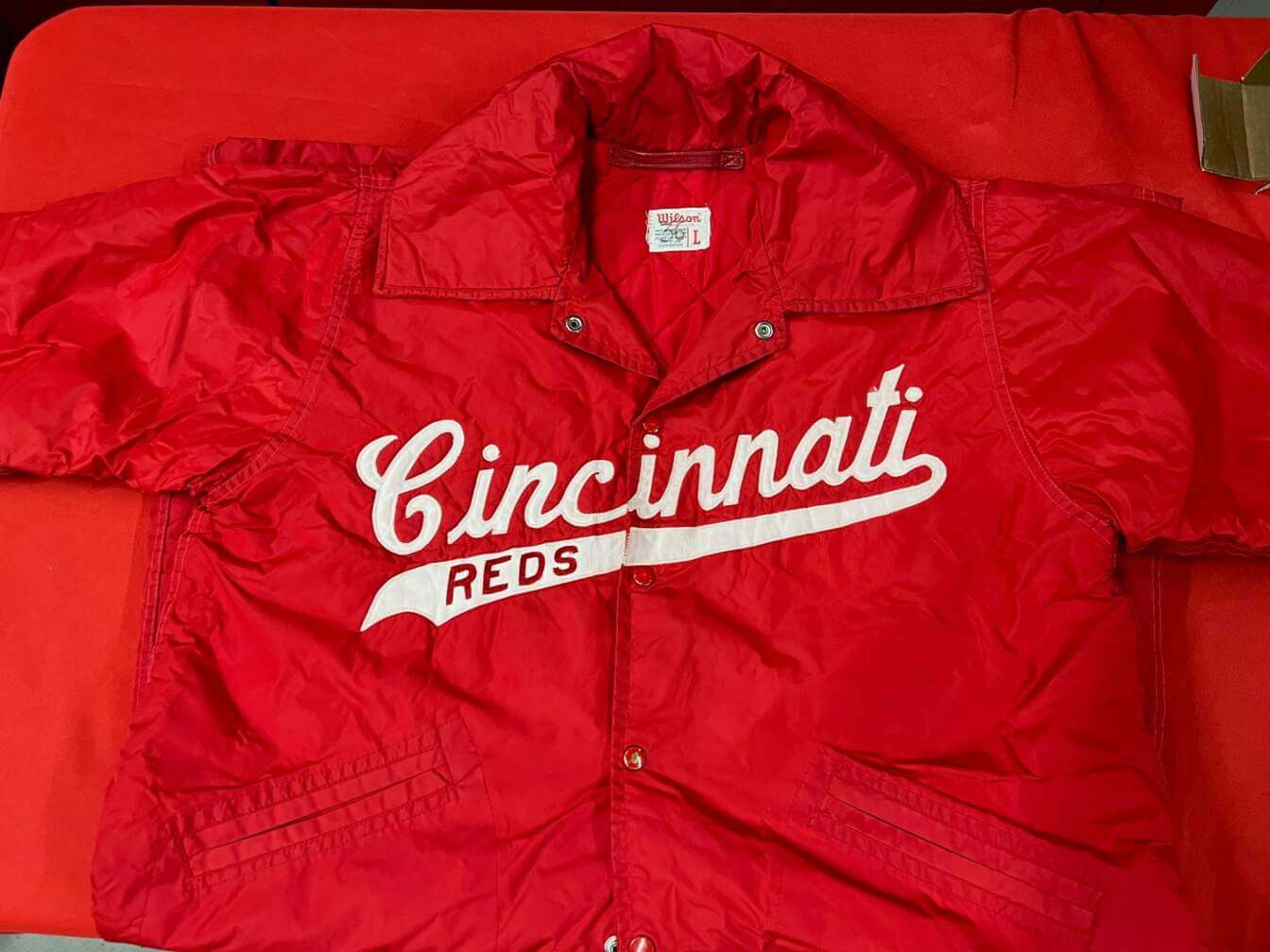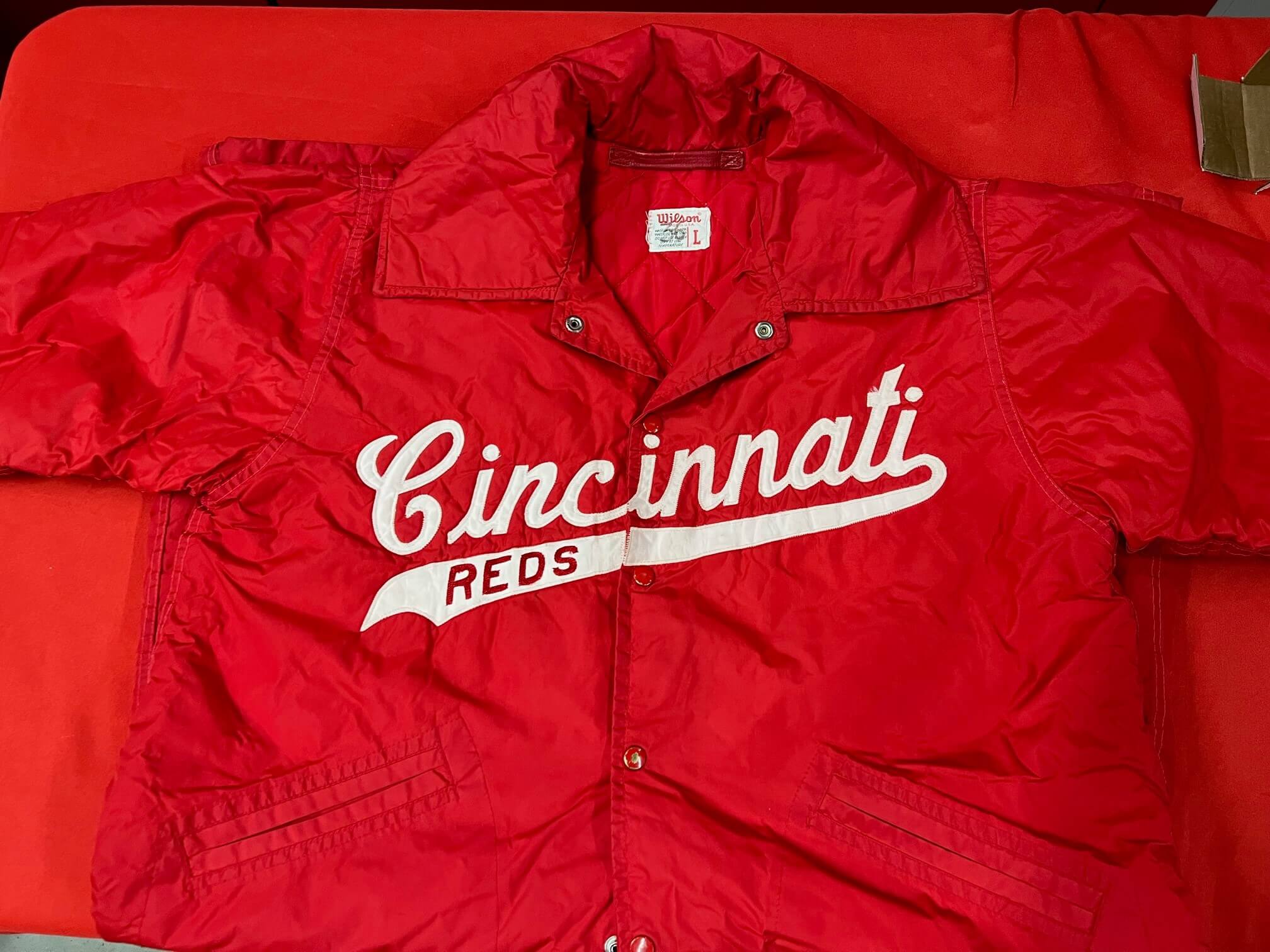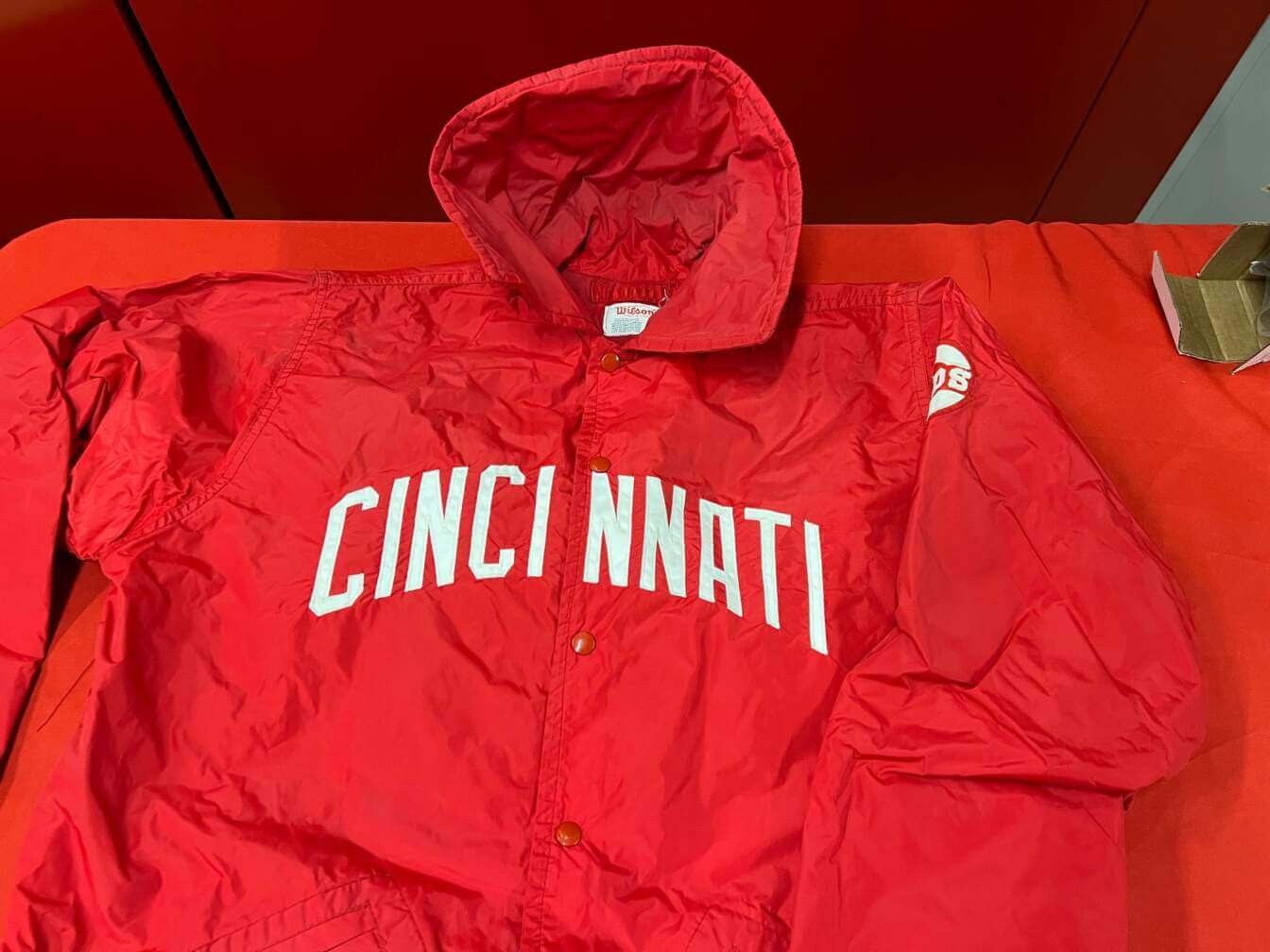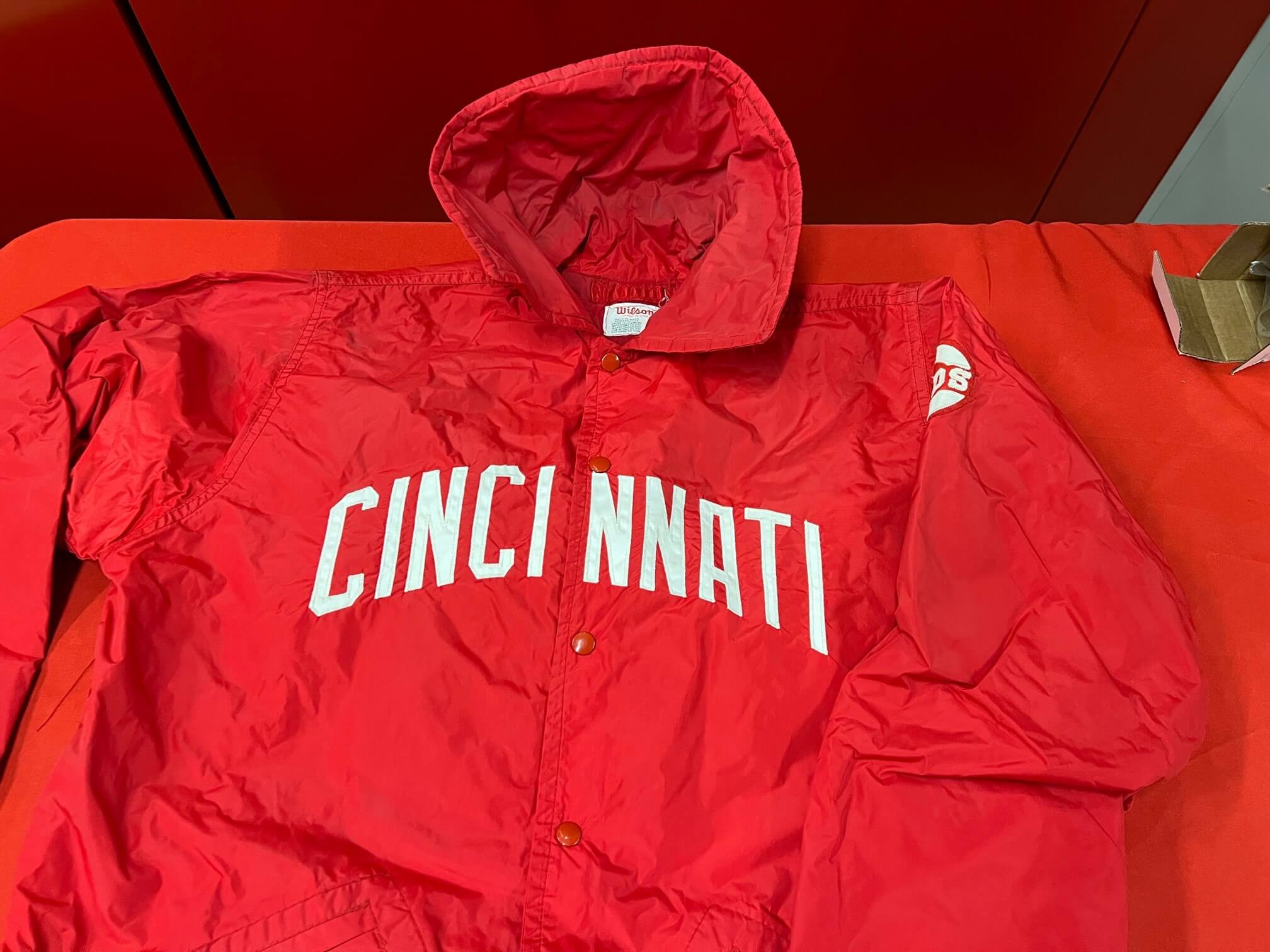 Note that neither of these had a hood. In fact, Eckes told me he's never seen one with a hood. So maybe what I thought was a hood in 1972 World Series video was actually the back of the collar. Here's a comparison — World Series "hood" on the left, back collar of Reds Hall parka on the right: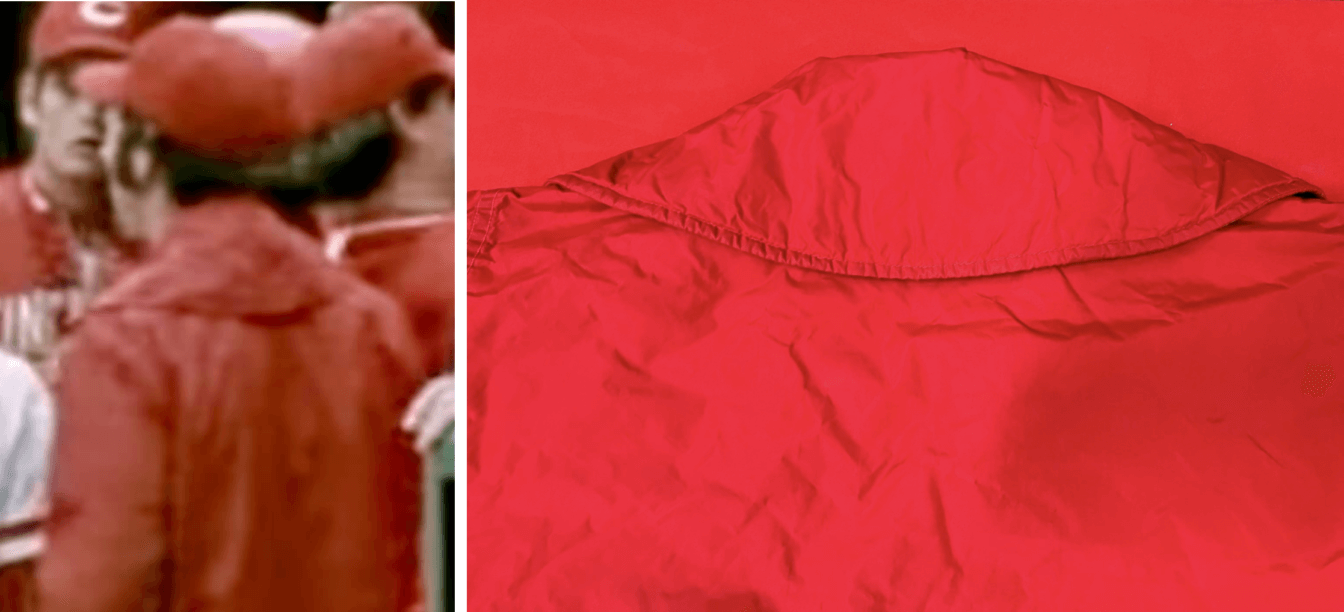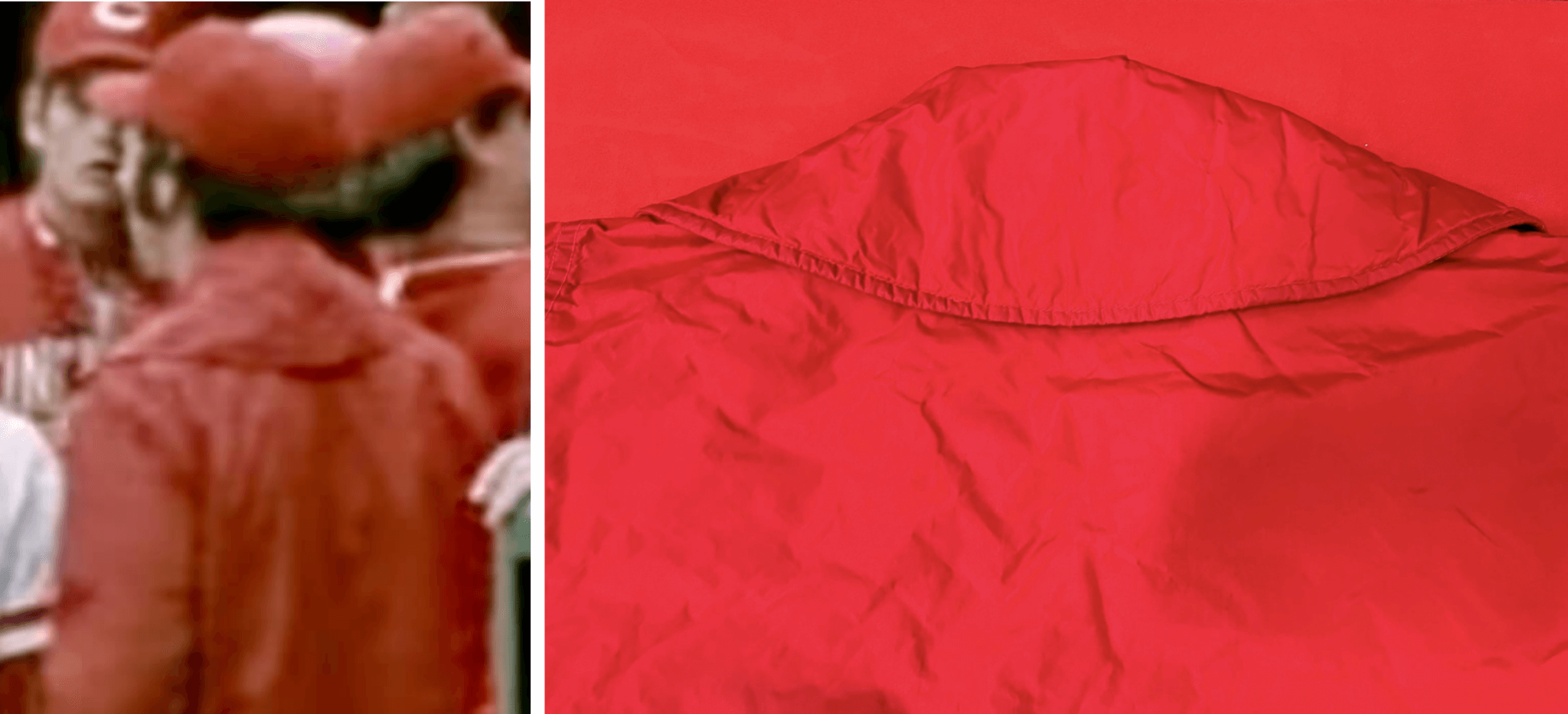 Hmmmm, maybe the "hood" was actually just the collar. So if the Reds players were actually wearing full-length parkas, as opposed to rain slickers/ponchos, during that World Series game, it would be the first time I've ever seen such a garment being worn in the dugout instead of the bullpen.
In any case: fun rabbit hole! And also a good reminder that we're approaching the start of this year's MLB playoffs and World Series.
(Big thanks to Tristan Ridgeway for bringing the 1972 footage to my attention, and also to Tom Shieber and Chris Eckes for their invaluable assistance with this post.)