Good Sunday Morning, Uni Watchers. Time for the third edition of the Sunday Morning Uni Watch.
Before I go any further, I want to let everyone know that long-time reader and contributor Wade Heidt, who has for the past couple years been adding Canadian University uni tracking in the comments, has now joined the SMUW team and will be bringing you his Canadian Uni Watching for the remainder of the season! Please join me in welcoming Wade aboard. Following Terry's section, Wade will introduce himself and then bring you his uni-observations.
Now then.
After beginning the season 0-2 (with losses to Ohio State and Marshall), the Notre Dame Fighting Irish needed to change their luck. And what better way to do that than to break out the (lucky) green jerseys against Cal. It worked. The (green jersey) luck of the Irish returned. Can it possibly be the laundry?
Well, dating back to 1983, the Irish are 9-6 in jerseys with any sort of green on them. But they won their last four games when a green jersey was worn prior to today, so this makes a five-game win streak. You can check out their green jersey W-L and more here.
While I like Notre Dame in the occasional green jersey, I'm not a fan of this particular one, especially since the team wears blue numbers outlined in gold, and the contrast is not great.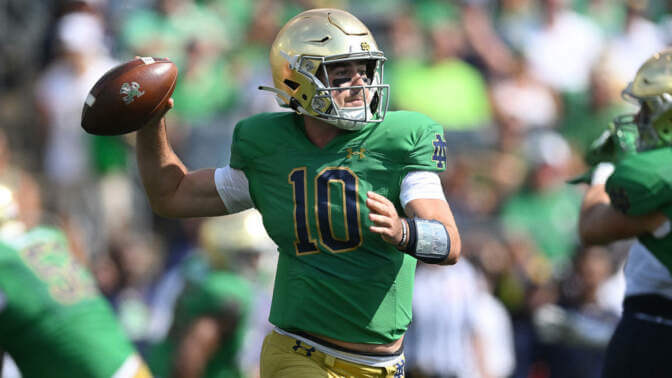 I'd much prefer the team wear green jerseys with white numbers.
And with that, I'm going to now turn this over to TJ who will bring you today's SMUW, and keep reading after that as Wade does some Canadian uni watching. Here's TJ with your…
• • • • •
Sunday Morning Uni Watch
by Terry Duroncelet, Jr.
Week 3 proved to be one of those chill type of weeks uni-wise, so grab your favorite LoFi radio station on your preferred streaming platform, and let's dive right in.
From Friday:
• Florida State in an all-white look against Louisville. Know what? I don't hate it.
From Saturday:
• Oregon/BYU: Oregon is dedicating this entire season to Ducks TE Spencer Webb, who passed away in July of this year following a rock climbing accident. You'll note how Oregon is honoring him with a decal featuring the #4, despite his wearing of #18 during what would prove to be his final season last year. He had plans to switch his jersey number to #4 for the 2022 season, and wore it in the Ducks' Spring scrimmage. They also have the 4-yard hash marks on either side highlighted in yellow in his memory (you can kinda see it here). Lastly, BYU OL Kingsley Suamataia –a transfer from Oregon– came out onto the field with an Oregon flag bearing Webb's #18 in honor of his former teammate.
• Baylor/Texas State: I didn't take any pics like a DOOFUS, but Bobcats OL Kyle Hergel wears a rather Cybertronian facemask (not from the game, but should suffice for our purposes).
• Georgia Tech/Ole Miss: All-white togs for Ole Miss. One of the better full-white unis in college football, if you ask me.
• Wisconsin/New Mexico State: Mono-red for the Badgers, as well as some number and script decals for NM State.
• Kansas State/Tulane: Good looks from both teams, with Tulane's light blue/white/light blue, and K-State's cool helmets (Real Tom & Jerry Hours only, WHO UP). Speaking of which, these newer helmets channel some serious cryptid energy.
• Tulsa/Jacksonville State: Flag logo decals for Tulsa against Jax State.
• UCLA/South Alabama: The Jaguars did their best Bruins impression with their script helmets that said "South" on Saturday (closer look). I like 'em!
• A squad with the team name 'Tigers' that plays in the SEC and has gold as one of their school colors wore white at home, with gold helmets and gold pants against Abilene Christian. Totally standard fare. (closer look at the helmet, with thanks to Blaise D'Sylva)
• West Virginia/Towson: Contrast Matters: Thank Hell for Dark Pants and Lids Edition. Yuck.
• Memphis/Arkansas State: I'M GOING TO EAT GLASS.
• Coastal Carolina/Buffalo: White at home for the Chanticleers.
• Virginia/Old Dominion: ODU has some perfectly-cromulent uniforms, but this white/white/light blue is easily their best (road) combo.
• Utah/SDSU: Utah wore their black Ute Proud helmets against San Diego State, but this time with a red facemask (another look).
• Clemson/LA Tech: Ella Bresee –Clemson DT Bryan Bresee's sister– was diagnosed with cancer, and has since passed away. In the wake of these unfortunate events, the Tigers have adopted the rally cry "E11a Strong" (#11 is Bryan Bresee's jersey number). In yesterday's game, LA Tech head coach Sonny Cumbie wore a T-shirt honoring Ella.
• LSU/Miss. State: No caption needed.
• • • • •
Thanks, TJ! Great rundown as always. Next up: Wade…