There was a crazy high school football game last Friday in Shreveport, La., as Evangel Academy hosted Neville High in a driving rain. The photo above shows how the teams looked at the start of the game — Neville in white, Evangel in mono-red.
The rain made for a very muddy field, as you can see here:
We got a wet and muddy track tonight! I love it!

1Q
Neville 0
Evangel 0 pic.twitter.com/tujC1GxOi6

— 318 Sports (@318Sports) September 3, 2022
Thanks to the slippery conditions, the game was scoreless at halftime. But there was a surprise at the start of the third quarter, as Evangel — the home team — had swapped out their wet, muddy red uniforms for fresh, dry blues!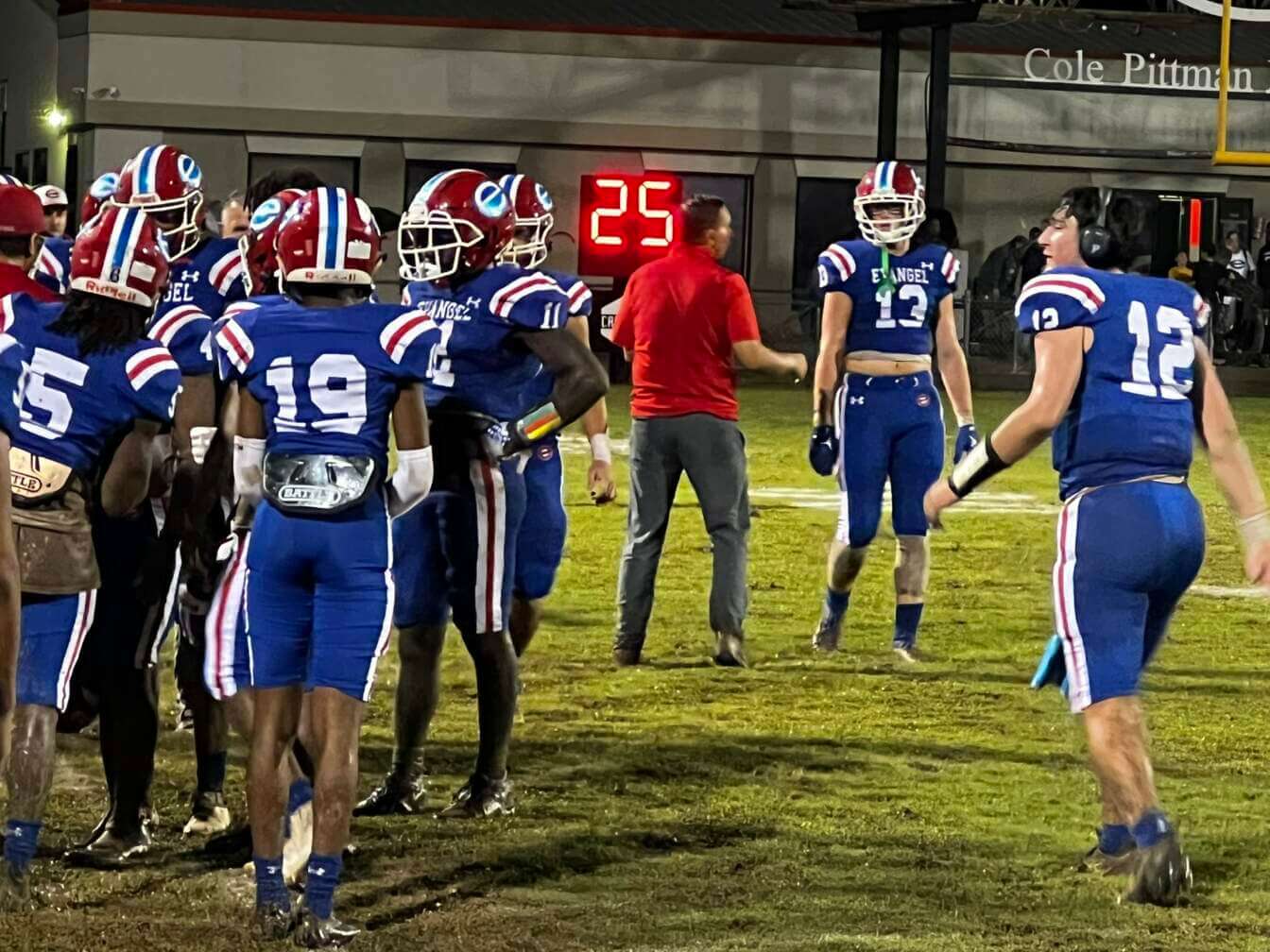 I didn't even know that was legal, but I guess it is, as long as the basic color-vs.-white format is still in place.
The rain kept coming down, so the blue uniforms soon got muddy as well:
The uni switcheroo didn't help, as Neville ended up winning, 8-0. I'd say they deserved it, if only on the basis of their band, which kept on playing in the storm. Check this out (the end of this clip also has the best footage of the muddy field):
The Neville band is legit!!
Football team is pretty good too!

Start of the 4Q
Neville 8
Evangel 0 pic.twitter.com/eZ6Pg1WzR0

— 318 Sports (@318Sports) September 3, 2022
Here's one of the Evangel players doing a quick postgame interview regarding the uni swap:
What all went into the halftime uniform switch?

And who has to clean all those uniforms?

Evangel's Parker Fulghum caught a few questions after Evangel's 8-0 loss to Neville@FletcherShow @FulghumParker @GeauxPrepsLA pic.twitter.com/YhnZeelUGD

— 318 Sports (@318Sports) September 3, 2022
(Big thanks to longtime reader Chris Mycoskie for bringing this game to my attention, and to 318 Sports for documenting the proceedings so well.)