Late Sunday evening, the Washington Huskies unveiled a new white road uniform, to be worn for one game, which they have dubbed "Husky Royalty," presumably due to the copious amounts of shiny gold on it. Or perhaps because purple is considered the color of royalty. In any event, that's what they're calling it.
The uniform has two things going for it: it's in school colors and it's pretty good looking. Let's take a look:
The uniform features a shiny gold helmet with two purple stripes, and what appears to be a silver-white center stripe. The facemask is purple, and the sides of the helmet have the classic "W" Husky logo. "DAWGS" appears on the nose bumper.
The jersey is white with metallic gold/purple/metallic gold stripes on the sleeve caps. Numbers are gold with thin purple outlines. TV numbers in the same style as the front numbers are on the shoulders.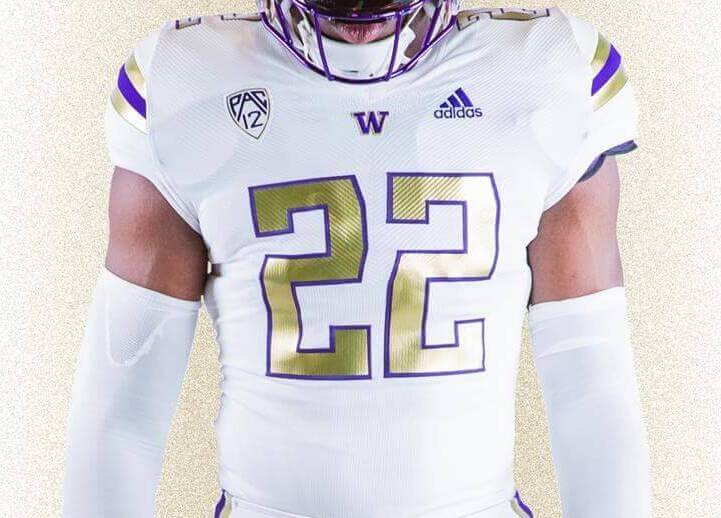 The jersey back features NOB in purple in a block font, and rear numbers are in the same style as the TV and front numbers. There is a small purple "W", outlined in gold, at the base of the collar.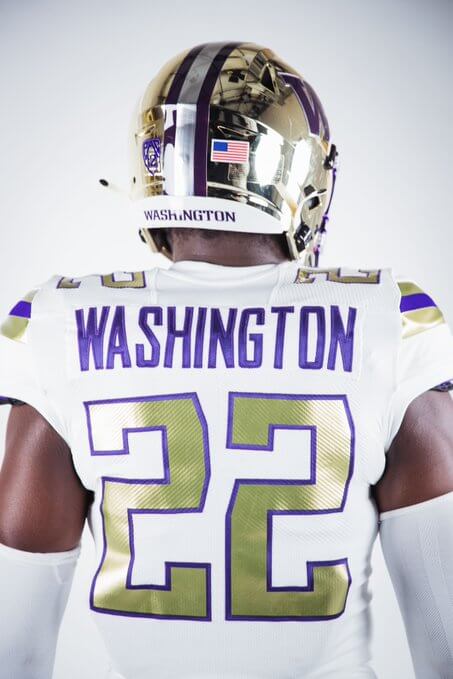 Pants are also white, featuring the same gold/purple/gold striping pattern found on the sleeve caps. On the right hip there is also the team's "W" logo in purple outlined in purple.
And of course, there's the hype video which gives some better looks at the uniform:
THE HUSKY ROYALTY UNIFORM

Ready to paint the city GOLD when we hit the road.#NoLimits x @adidasFballUS pic.twitter.com/fCFijnyxgo

— Washington Football (@UW_Football) August 15, 2022
The team have announced they will wear this uniform for one game only, but have not announced in which game it will be worn. According to the Huskies,
A tribute to UW's dominance at home and away, the 'Husky Royalty' jersey stays true to the Dawg mentality: let your game do the talking, no matter where you are.

It showcases all the classic features in gold, highlighted with touches of purple — bringing a classic design into 2022.
As far as one-off alternates go, I like this one a lot. For an all white uniform, there is plenty of color, and it's not overdone or gimmicky. I look forward to seeing it on the field.