The National Basketball Association announced this afternoon they have taken the unprecedented step of retiring all-time great (and IMO GOAT) Bill Russell's number six across the league, a first for the NBA.
Russell passed away earlier this month.
While the NBA has never retired a number leaguewide, both Major League Baseball (#42, for pioneer and all time great Jackie Robinson) and the National Hockey League (#99, for Wayne Gretzky) have also permanently retired those numbers. Russell becomes the third athlete so honored.
In addition, all NBA players will have a special patch on the right shoulder of their jerseys during the 2022-23 season. Not only that, but the NBA announced every team's court will place a shamrock-shaped logo with Russell's No. 6 near the scorer's table, on the sideline.
Russell's #6 already hangs from the rafters of Boston Garden TD Garden. The Celtics retired Russell's jersey number for their team in 1972.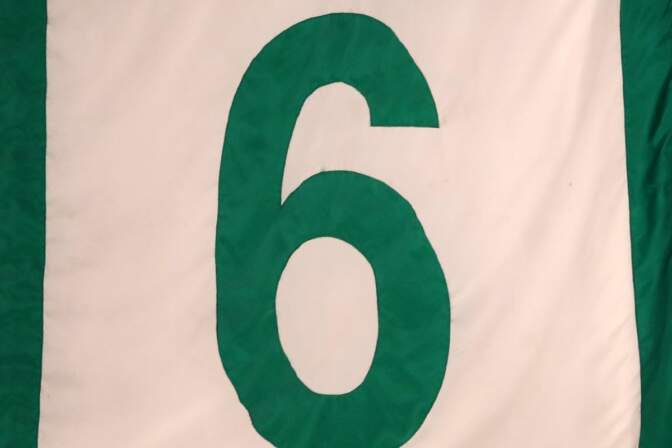 Beginning with the 2022-23 season, no NBA team will be allowed to issue No. 6 to any player. Players who currently wear No. 6 (such as LeBron James, among others) will be grandfathered in and permitted to wear the number.
While the rest of the league will wear the just announced shoulder patch, the Celtics planning a "separate and unique recognition" for Russell on its uniforms.
The Celtics are not the only NBA team to have retired the number 6.
6 teams already have #6 retired:

Boston – Bill Russell
Orlando – 6th Man
Philadelphia – Dr. J
Phoenix – Walter Davis
Sacramento – 6th Man
San Antonio – Avery Johnson

The 1st pic shows #6 players from last season. They will be grandfathered (2nd pic). https://t.co/f10WDU68cw pic.twitter.com/YmwFU4vZYr

— UniMockups (@unimockups) August 11, 2022