First we had Chicago. Then we had Denver, Detroit, and Phoenix. Today we have the battle of the bays — Tampa Bay and the San Francisco Bay Area — as we continue to explore city-specific "Best Player by Uni Number" graphics.
Once again, I'm not concerned about the individual player choices — other people can debate that. I'm more interested in the aesthetic aspects of the two graphics. Let's look at them one at a time.
Tampa Bay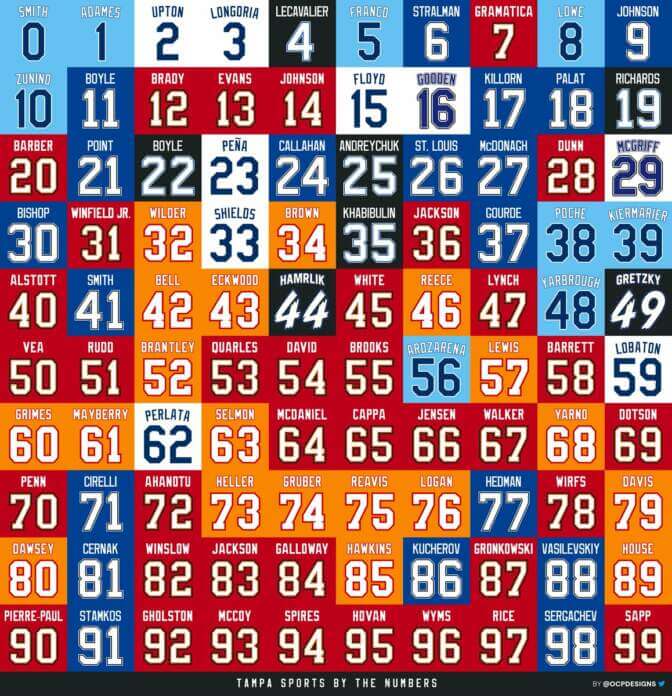 The Tampa Bay graphic was posted earlier this week by Twitter-er @OCPDesigns. Nice mix of colors, the fonts all seem to be accurate, and the typography has enough room to breathe in each of the squares. A few notes, though:
As we've seen before, these graphics inevitably end up disproportionately weighted toward football, especially for the higher numbers, so I think it would be more aesthetically pleasing to show some of the Bucs squares in white (especially since the Bucs often do wear white at home).
Speaking of the Bucs: Gerald McCoy is a nice choice for No. 93, but his NOB should have had a small "c."
One more thing about the Bucs: Surely at least one player could have been rendered in the alarm clock numbers, just for more visual interest, no?
Similarly: Not a single square from the Devil Rays' green period?
San Francisco Bay Area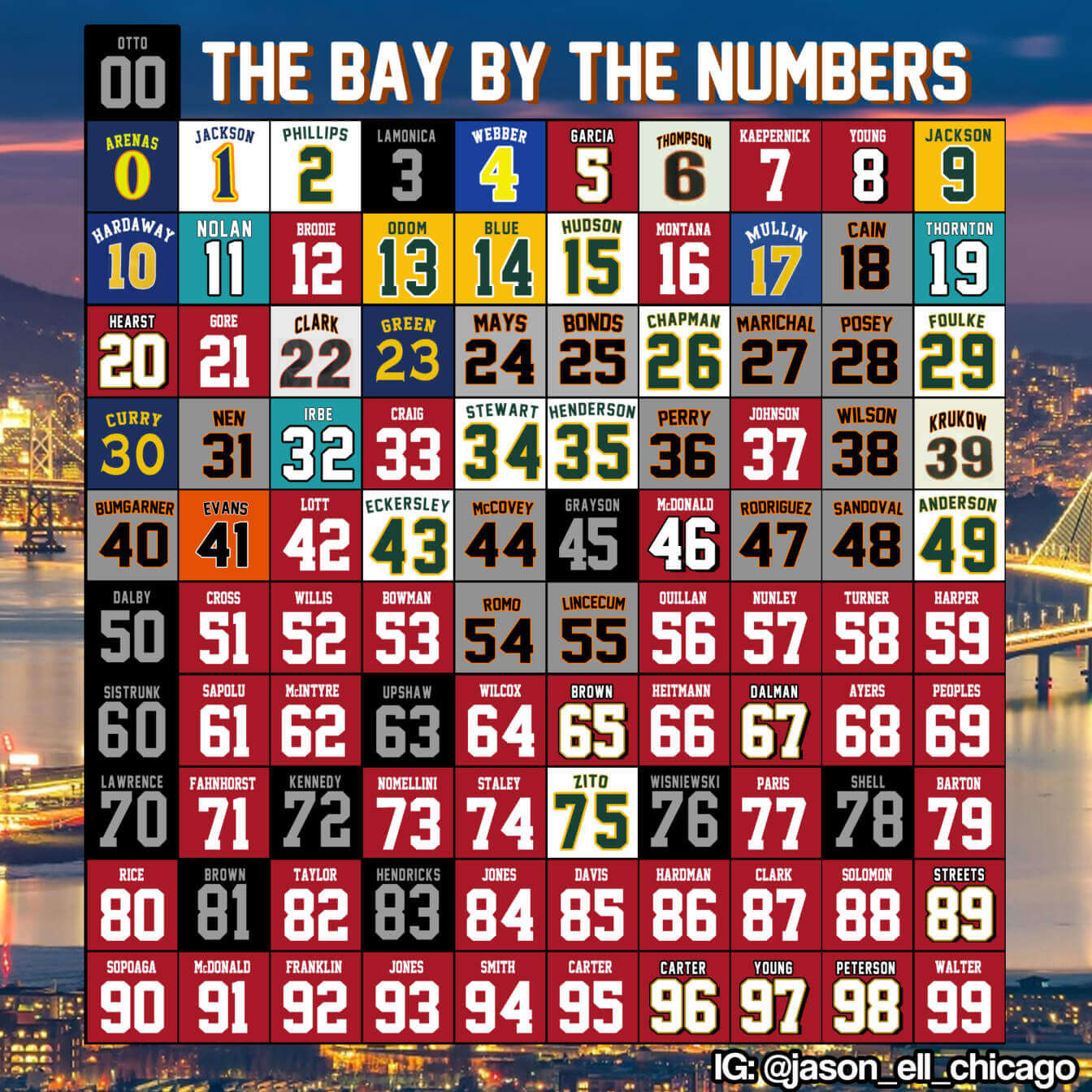 This graphic was created by Uni Watch reader Jason Lauborough (who, despite his Instagram handle shown at bottom right, is originally from the Bay Area). A few notes on this one:
The green for the A's squares doesn't seem green enough.
Again, waaaaaaay too many red 49ers squares. They do wear white sometimes, you know!
Clever move to avoid the Giants home jersey motif, so as to avoid the NNOB problem.
Glad he included a double-zero square for Jim Otto. I mean, how could you not, right?
———
Now that this is clearly a thing, I'm going to point out something very picky that I've resisted saying until now: If you're making one of these graphics, you should really include the outlines of the nameplates where appropriate. We do that for the Uni Watch membership cards, and it really makes everything look more authentic. Sure, it's more work, but it's worth it!
That's easy for me to say, of course — I'm just assessing these graphics, not creating them. I love how they're catching on. Keep 'em coming, people!
(Special thanks to Susan Freeman for bringing the Tampa graphic to my attention.)