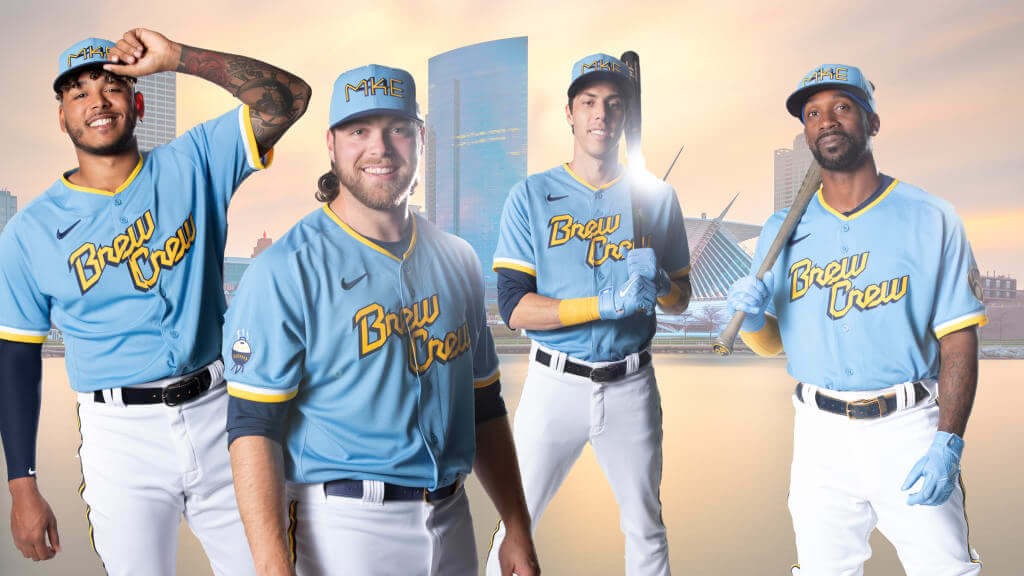 Click to enlarge
Good morning! Last Friday I promised that I'd have a full assessment of the Brewers and Jazz unveilings, so let's get into that, beginning with the Brewers. Their "Brew Crew" City Connect design is shown above, and here are some additional pics showing the socks, cap, sleeve patch, and rear view: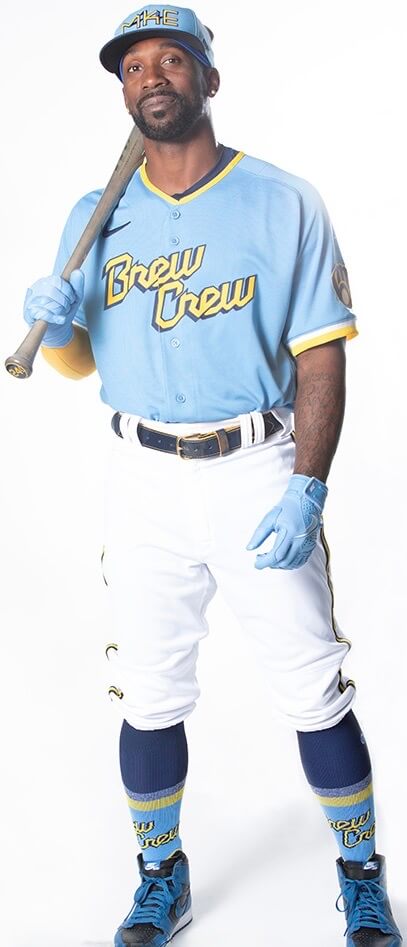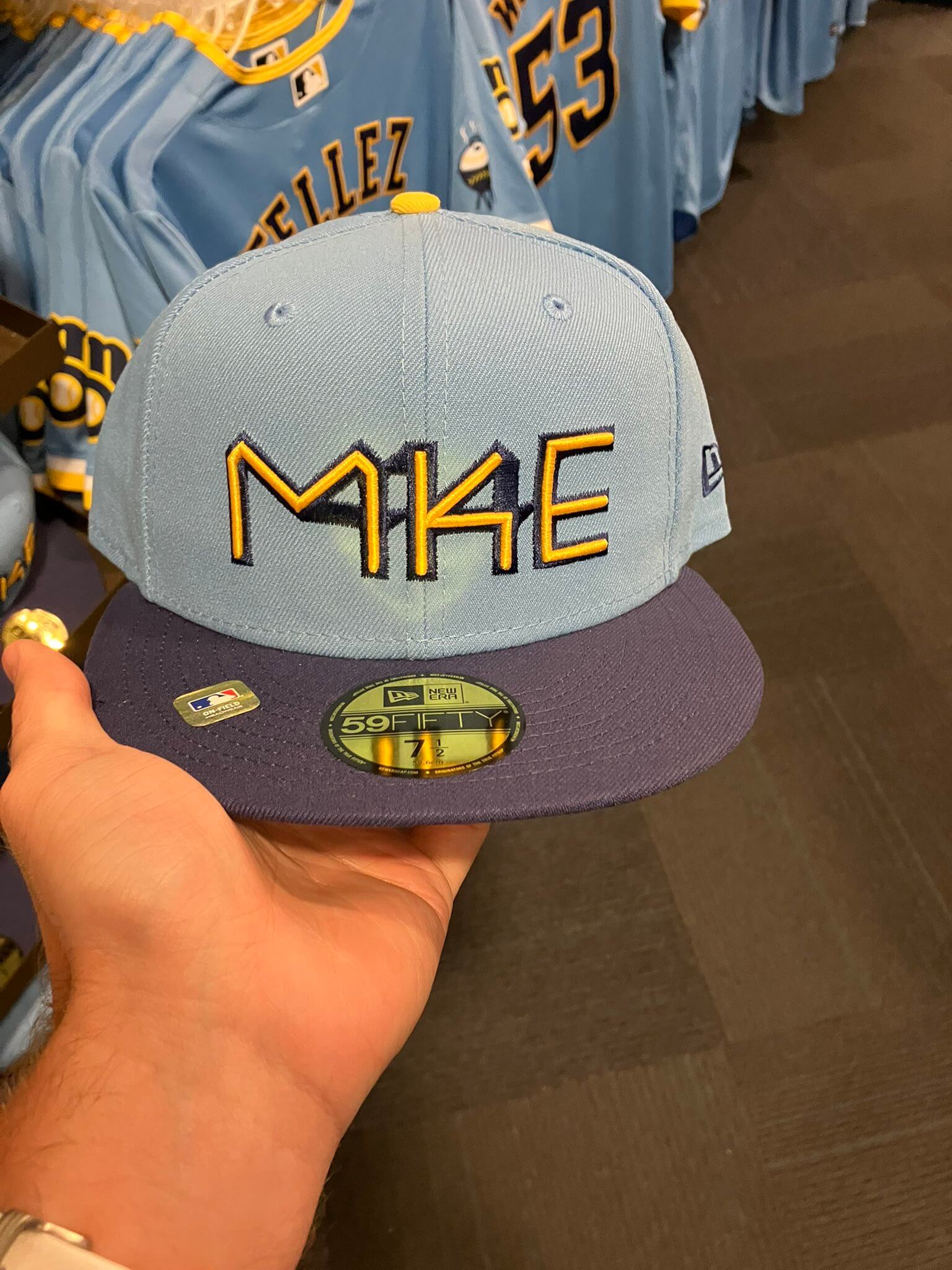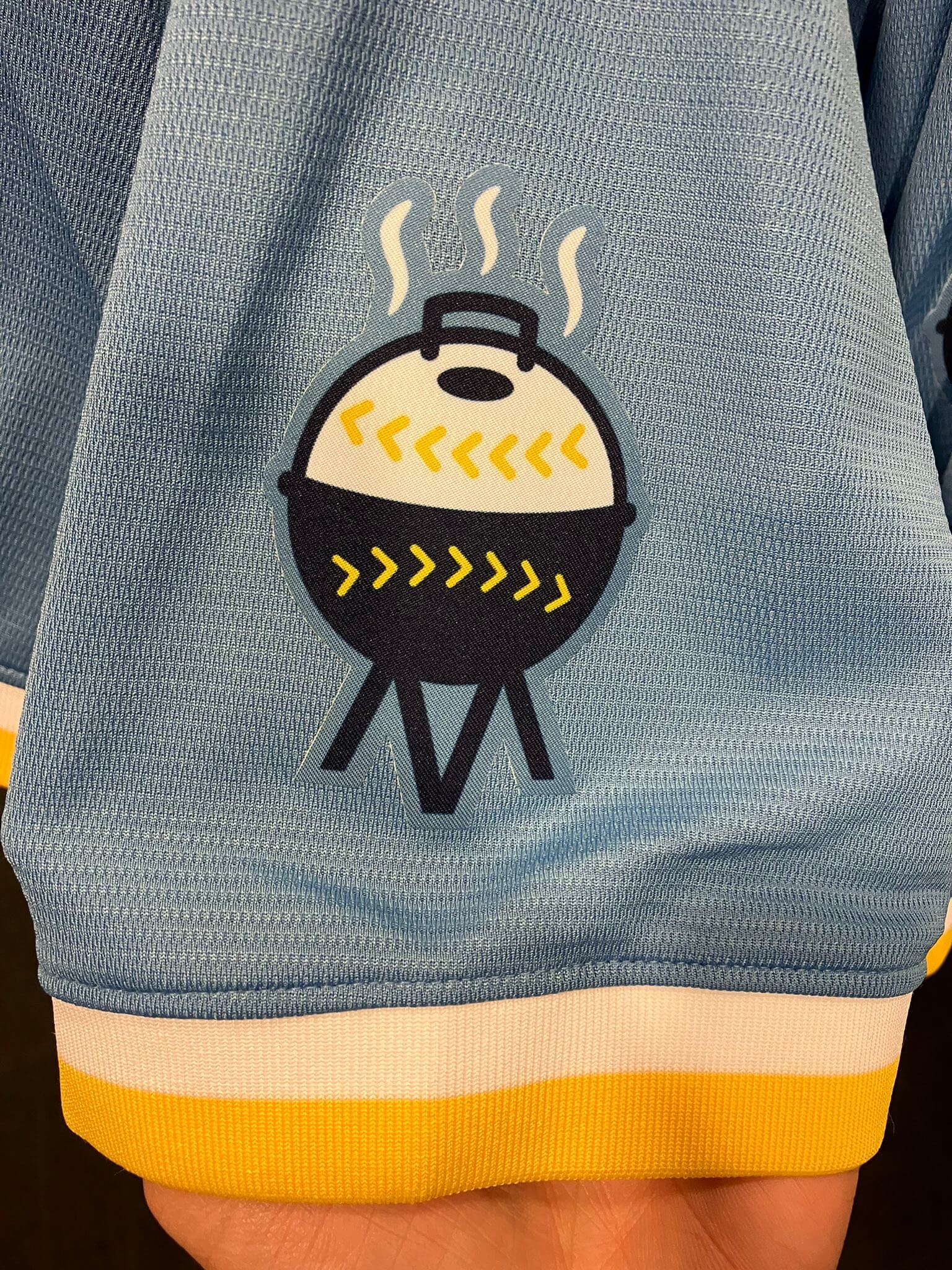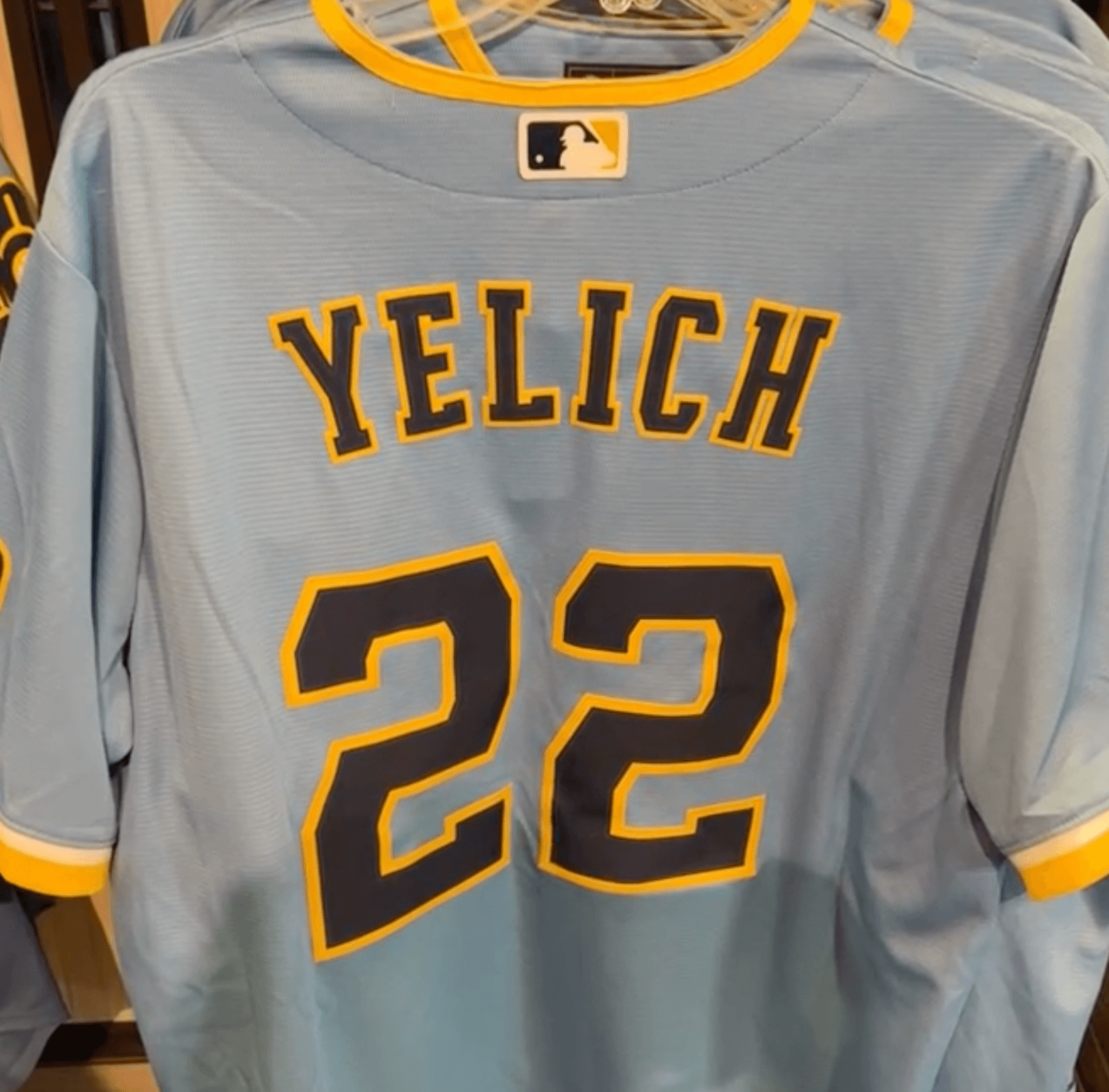 Some thoughts:
• Everything about the chest insignia feels minor league at best, amateurish at worst. A nickname like "Brew Crew" loses a lot of its vernacular charm when you institutionalize it on a jersey. The whole point of it is that it's informal, unofficial, conversational, organic. On a DIY T-shirt, it's awesome; showcased on a jersey, it feels like just another piece of corporate branding. Pfeh. Plus the script is really clunky-looking, plus-plus it breaks very awkwardly across the placket: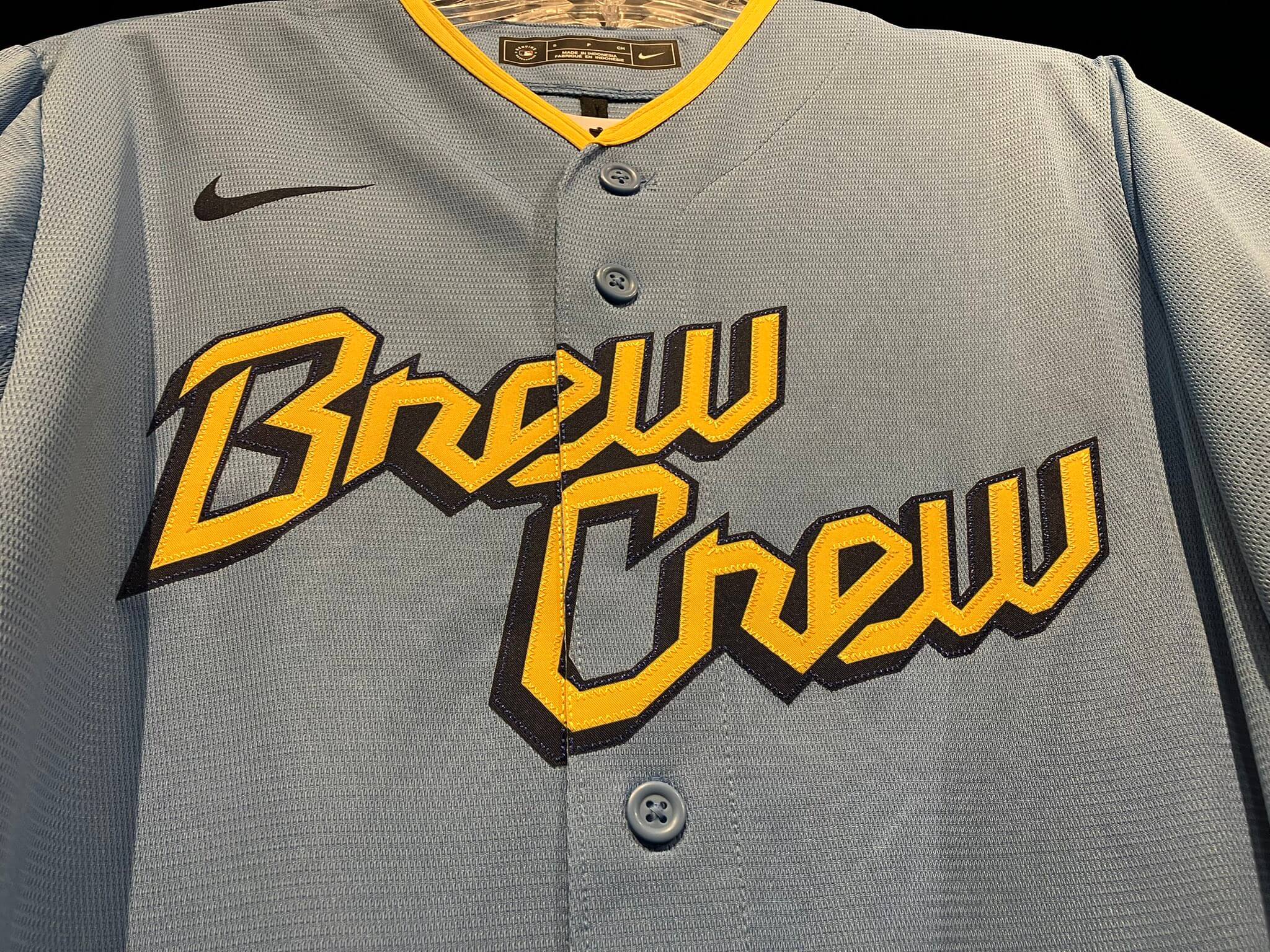 • The cap is just brutal, with the "MKE" and "414" shoehorned together in a way that feels way too forced. Feels like a (non-winning) submission to a design contest. Plus area code branding, which has always felt stupid to begin with, doesn't even make sense anymore because people move around the country and take their existing phone numbers with them.
• The socks, like most CC socks, are embarrassing.
• The grilling patch is a really fun design (it would look great on a hat or T-shirt, right?). The problem is that the idea behind it is too broad-based to work as a team logo. I mean, even if you accept the notion that Milwaukee fans tailgate more than other fans (which is the supposed idea here), tailgating and grilling are still universal concepts. If the grill had brats on it, then it would work as a Brewers patch. But the simple combination of baseball and grilling? Milwaukee has no monopoly on that — it belongs to everyone. Hell, every team could (and should!) make their own version of this logo, rendered in their own team colors.
In short: I'm not a big fan of this design. But the most interesting aspect of this uniform isn't even mentioned on the team's unveiling page, and I wouldn't have known about it myself if former Uni Watch Ticker-er Mike Chamernik hadn't brought this tweet to my attention: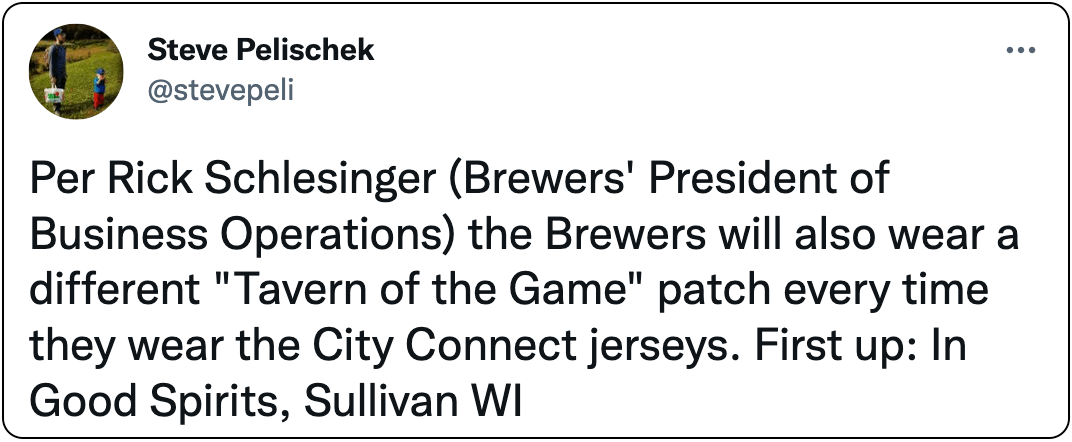 This move — an extension of the team's existing "Tavern of the Game" promotion — will make the Brewers the second Big Four team to offer free advertising space on its uniforms to local businesses. (The first was the Devils, last winter.)
Now, you'd be hard-pressed to find a bigger fan of Wisconsin's tavern culture than me. I've had some of the best times of my life in Wisconsin taverns! But do I want to see the names of those taverns on jersey patches? No, I don't (just like I don't want to see the Mets wear patches promoting my favorite NYC pizza joints, or the Dodgers promoting L.A.'s best taco joints, or whatever).
I don't want to be a killjoy here. The team's impulse — providing free promotion to local businesses that are a big part of the local culture — is obviously laudable, and I salute that impulse. Is it better than wearing a big, honking corporate logo on your sleeve in return for gobs of money? Sure. But it's still an ad patch and doesn't belong on the uniform. If you want to support local businesses, there are other ways, better ways, of doing that.
Also, it's interesting that MLB is okay with the Brewers wearing patches that essentially promote alcohol. Hmmmm.
We'll have to wait and see what these tavern ad patches look like. But we won't have to wait long — the CC uniforms are slated to make their on-field debut this Friday, June 24. (They'll be worn for all three games this weekend, and then for Friday home dates after that.)
———
Okay, now let's move on to the Jazz. Here's a look at the four uniforms they unveiled on Friday: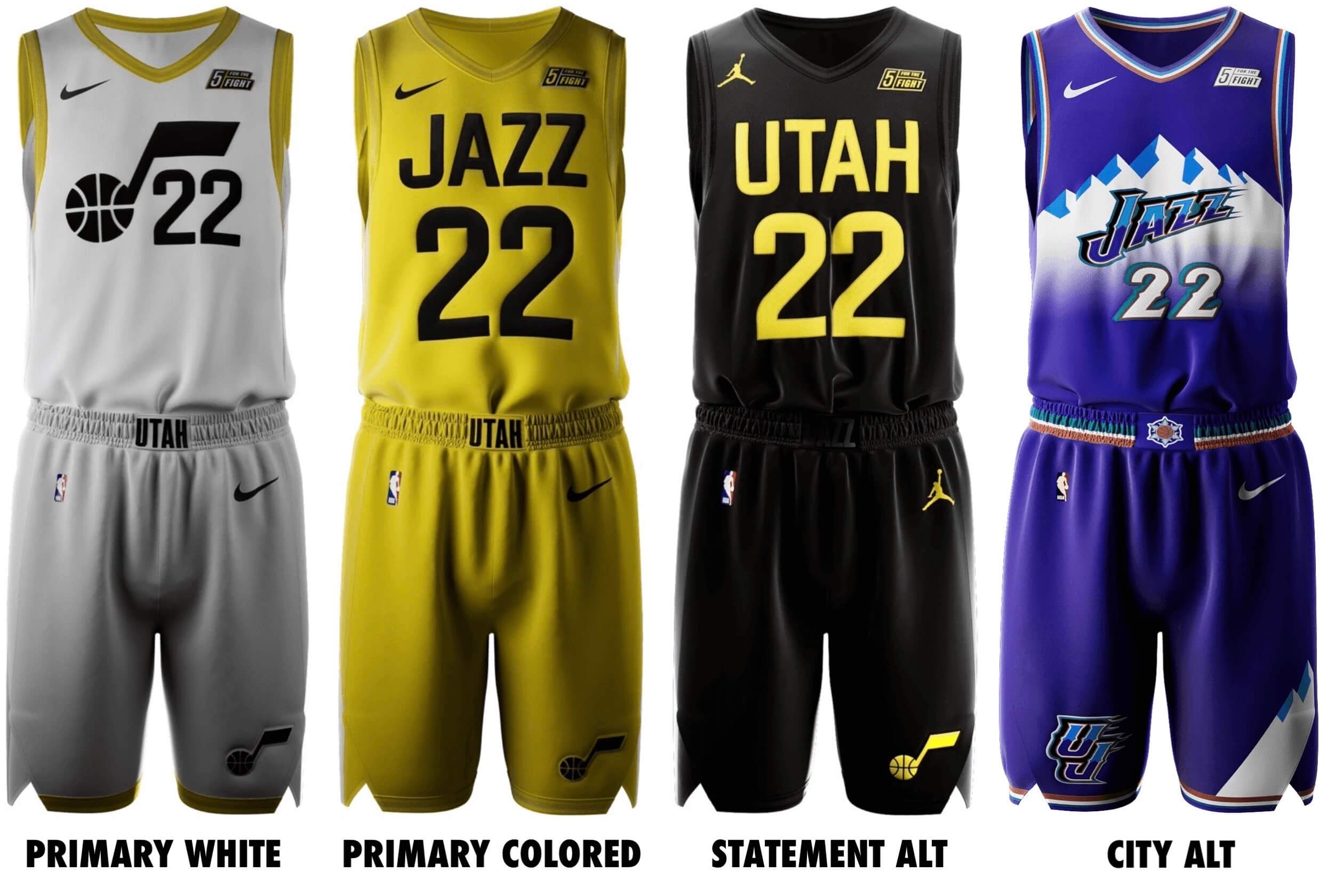 So they're basically going with an assortment of designs that look like weekend rec league uniforms, supplemented by a revival of the '90s-est design ever. Got it.
What a brick. I can sorta/kinda get behind the white design because I've always liked it when they use the jazz note and number by themselves. But the previous versions of that approach were much better. This new design, and this whole set, feels so rote and uninspired by comparison.
The "purple mountains" throwback will be this season's City alternate, and then they plan to have a new purple City design every year. The one for 2023-24 — the franchise's 50th season, dating back to its days in New Orleans — will apparently be this: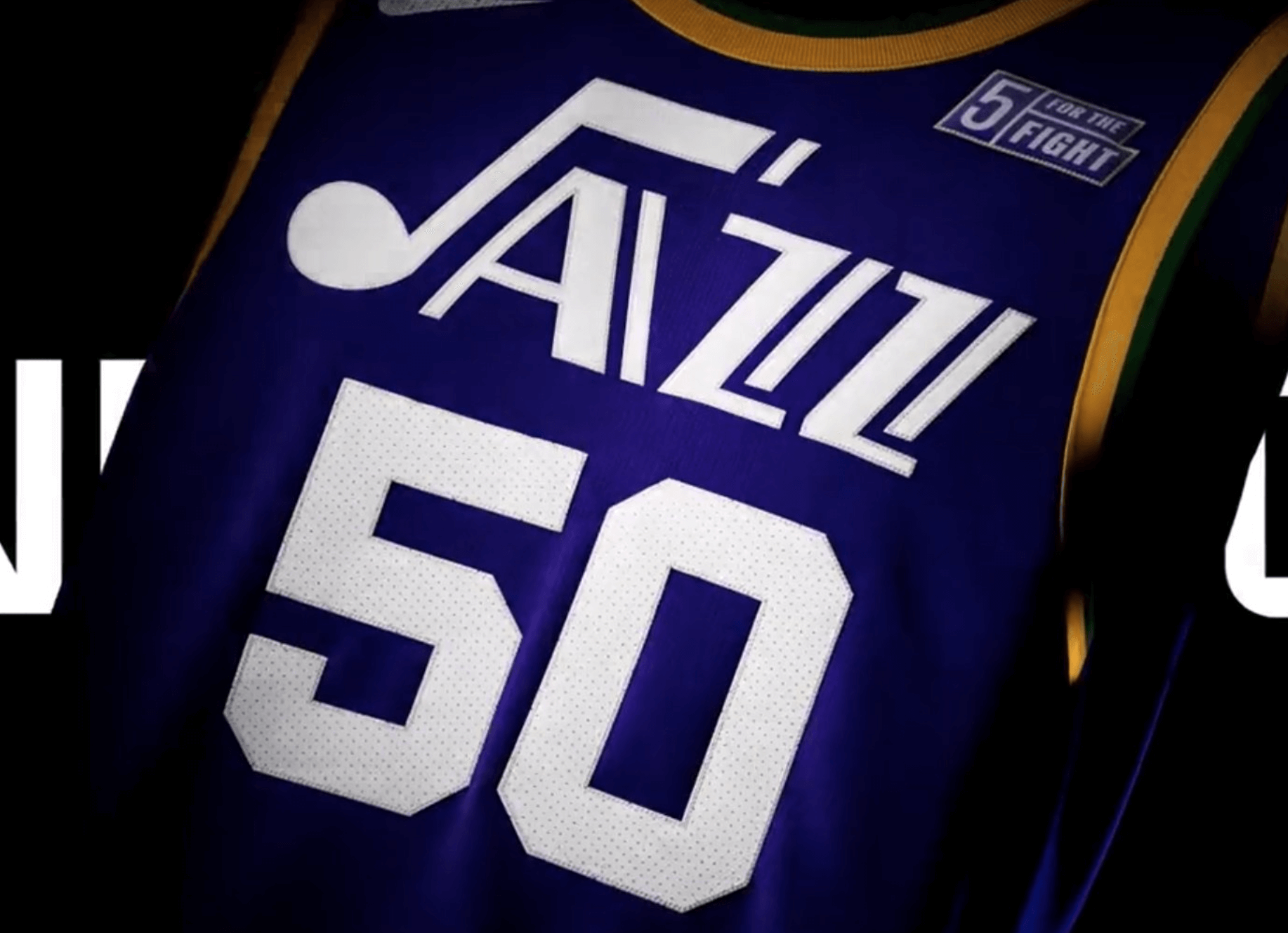 Want a good laugh? Check out this hilariously pathetic "storytelling" (quoting from this page):
The white and black uniforms symbolize the white and black keys on a piano, a significant element in the history of jazz music. The yellow jersey represents the spotlight designated to the greatest performers in history, a nod to the fact that Utah embraces being in the spotlight with all eyes watching.
Hahahahahahahahahahahahaha!
These uniforms will be worn with two new court designs: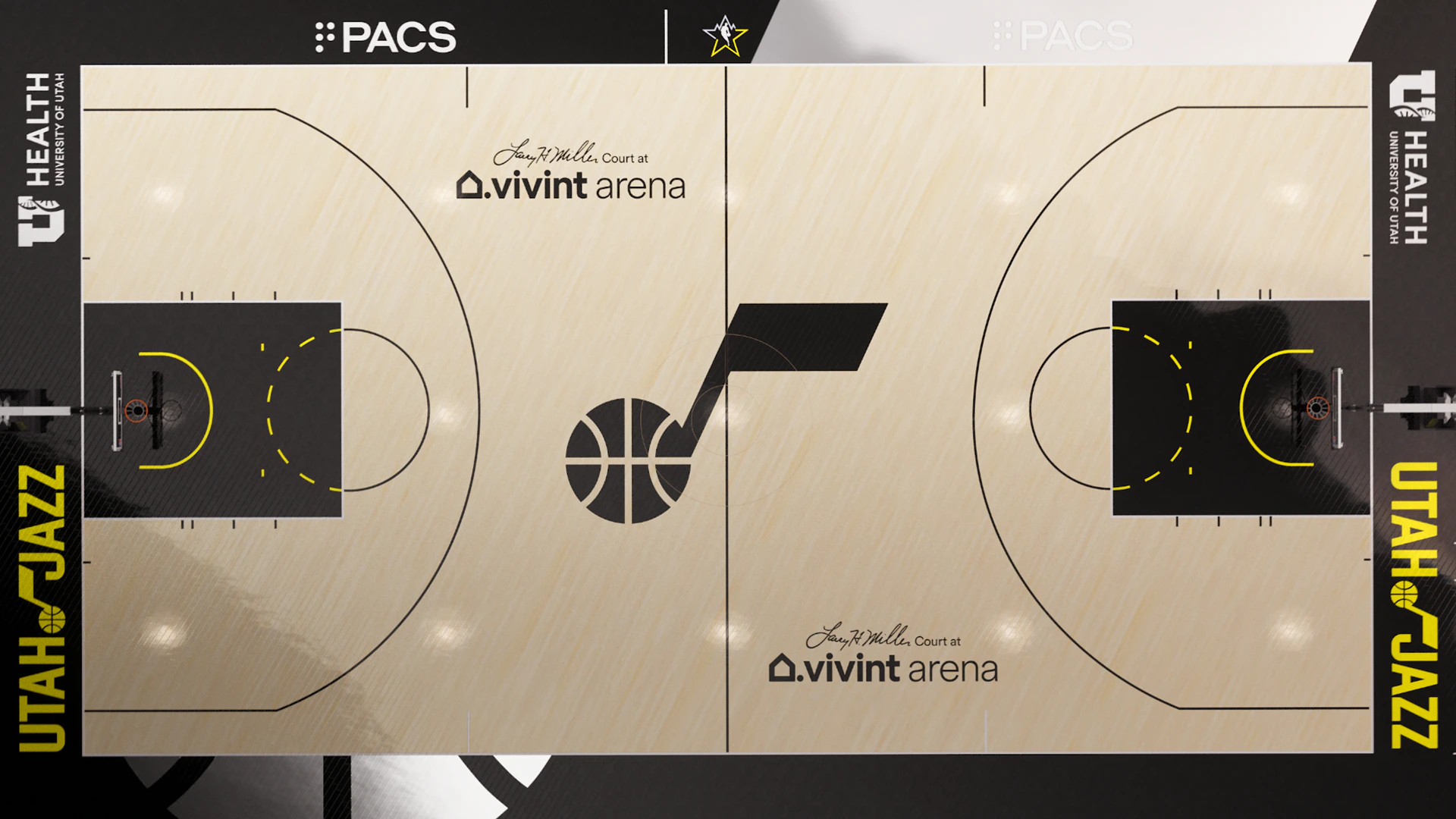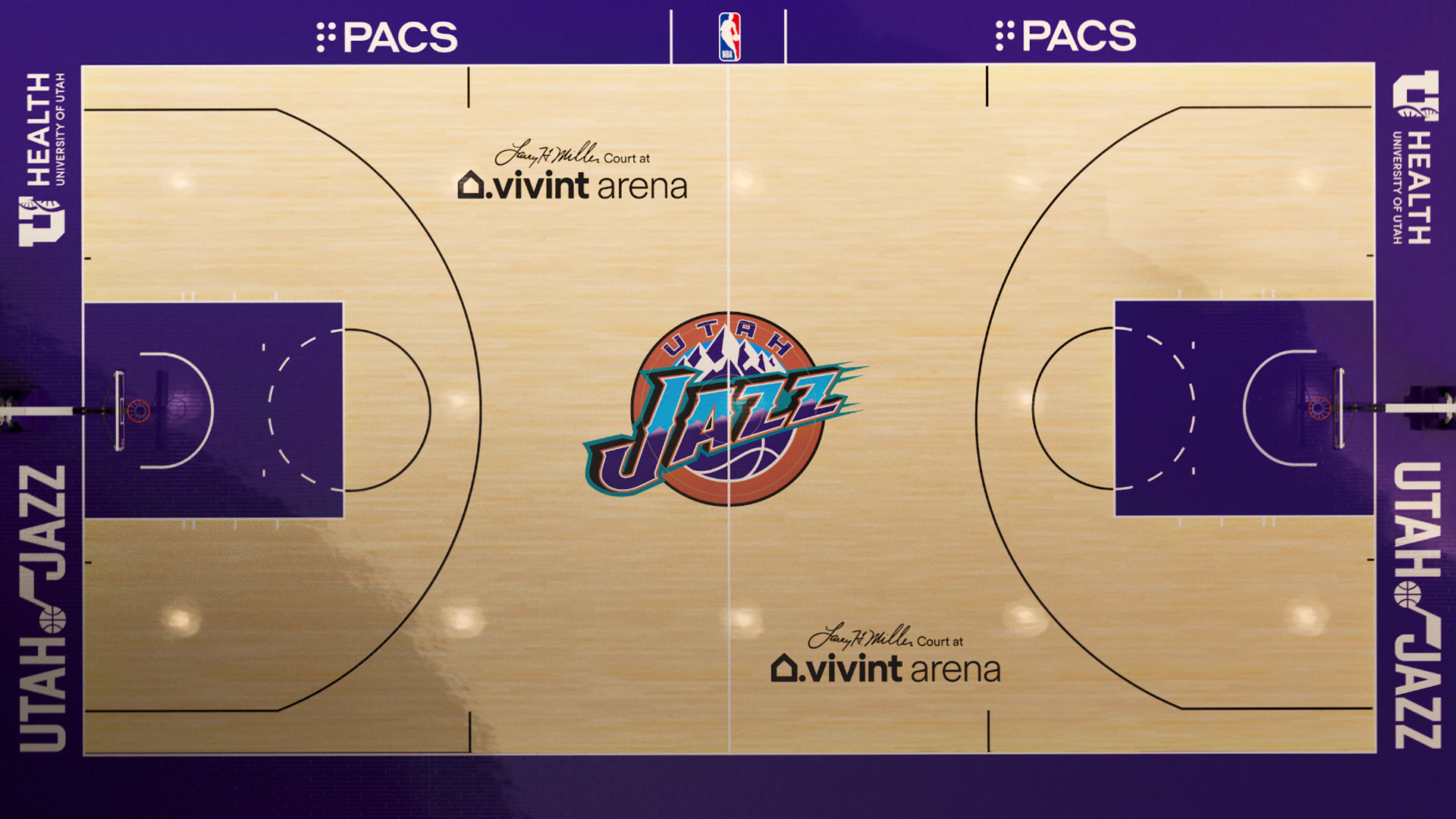 Additional info and hype here, if you dare.
So how was your weekend?
• • • • •
• • • • •
An umpire asked pitcher Graham Ashcraft to take his wedding ring off of his glove hand pic.twitter.com/D5h2oFQVjA

— Jomboy Media (@JomboyMedia) June 18, 2022
Ring around the collar: Interesting scene on Saturday, as the umps made Reds pitcher Graham Ashcroft remove his silicon wedding band, so Ashcroft attached it to his necklace instead.
There's a good recap of the situation — including the rarely enforced rule that the ring does indeed violate — here. (Meanwhile, longtime readers may recall that I did an in-depth piece back in 2011 on players in various sports who wear their wedding bands during games.)
(My thanks to our own Alex Hider for this one.)
• • • • •
• • • • •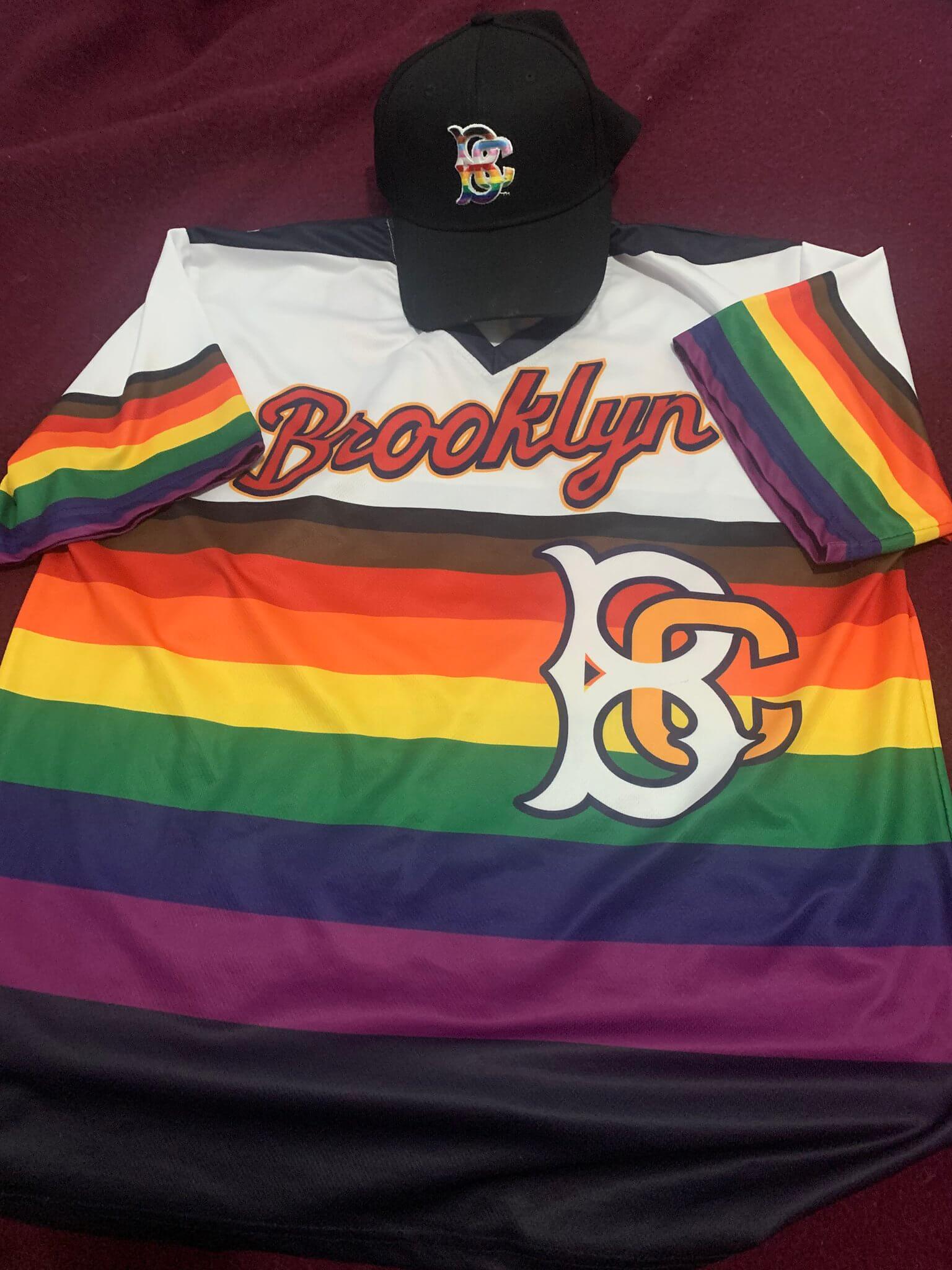 Click to enlarge
LGBTQuila sunrise: The Single-A Brooklyn Cyclones gave away this Pride jersey (but did not wear it on the field) the other day. Has any other team combined the Pride rainbow with the tequila sunrise template? Seems so obvious once you see it executed like this, but I'm not sure I've ever seen it done before.
(My thanks to Robert Brashear for this one.)
• • • • •
• • • • •
Uni Watch Hit Parade: Yesterday was Juneteenth. A few days before that, my favorite radio DJ, WFMU's Dave the Spazz, heralded the holiday by playing this old song by Gladys "Fatso" Bentley, "Juneteenth Jamboree."
It's so good — an instant party, and a great holiday anthem that I'd never heard before. Enjoy!

• • • • •
• • • • •
The Ticker
By Jamie Rathjen

Baseball News: MLB players wearing Nike cleats had a common Father's Day design (from Luke Mendheim). … Yankees manager Aaron Boone had two different pairs of Father's Day shoes, one for before the game and one for during it (thanks, Brinke). … Also from Brinke: Nationals OF Juan Soto's cleats were based on a picture of him with his dad after what looks like one of the games of the 2019 NLDS. … Nationals P Steve Cishek had "dad shoe" cleats that looked like sneakers (from multiple readers). … The collegiate summer Western Canadian Baseball League's Brooks Bombers wore plaid jerseys for Father's Day (from Wade Heidt). … With the Nationals retiring No. 11 for Ryan Zimmerman on Saturday, William F. Yurasko sends us the story of how Zimmerman got the number in college at Virginia. … A Nationals usher has a cane made from a Louisville Slugger bat. "He says the guests in his section bought it for him," says Max Weintraub. … The Dodgers revealed a Sandy Koufax statue on Saturday (from multiple readers). … Cardinals OF Harrison Bader had a hole in his leggings, or something, yesterday (from Andy Zare). … The Atlantic League's Southern Maryland Blue Crabs wore Baltimore Elite Giants Negro League throwbacks for Juneteenth (from John Cannon). … Hamtramck, Mich.'s Hamtramck Stadium is one of the few Negro League stadiums still standing and is being rededicated today with a tribute game (from Kary Klismet). … The next two are also from Kary: The collegiate wood bat Northwoods League's Battle Creek Battle Jacks have a new costumed mascot. … Former Iowa men's basketball player Keegan Murray threw the first pitch at the Cubs game last Wednesday and had a jersey with his NOB and No. 15. (from Kary Klismet). … Denver Broncos QB Russell Wilson and former QB Peyton Manning came to Rockies batting practice the other day wearing full Rockies uniforms. … Speaking of the Rockies, their CC jersey looks a lot better when paired with white pants (from Paul Munoz). … A new Red Sox-themed ice cream is studded with little hanging socks-shaped chocolate pieces (thanks, Brinke). … The Mariners and Tigers both wore Negro League throwbacks on Saturday for Juneteenth. The Tigers' opponents, the Rangers, were supposed to wear throwbacks as well, but that plan was scuttled by supply-chain issues.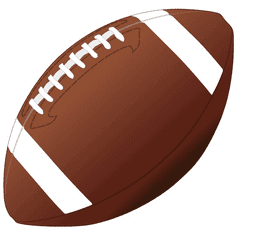 Football News: The Cowboys have a new alternate helmet — presumably the return of the white throwback — in the works. … Some NFL players have been busy appearing in other teams' uniforms over the past few days: Cross-posted from the baseball section, Broncos QB Russell Wilson and former QB Peyton Manning came to Colorado Rockies batting practice wearing full Rockies uniforms, while Buccaneers C Ryan Jensen is from Colorado and came to Game 2 of the Stanley Cup Final(s) with an Avalanche/Lightning frankenjersey (from Kary Klismet). … Also from Kary: Michigan revealed its Big Ten championship rings. … Brashear High School in Pittsburgh poaches the Texans' logo (from Andrew Cosentino).

Hockey News: Cross-posted from the football section: Tampa Bay Buccaneers C Ryan Jensen is from Colorado and came to Game 2 of the Stanley Cup Final(s) with an Avalanche/Lightning frankenjersey (from Kary Klismet). … Also from Kary: The NHL now has a interactive 3D model of the Stanley Cup, though you need your phone or something with a touchscreen to view it properly.

Basketball News: These three are all from Kary Klismet, and the first one is cross-listed from the baseball section: Former Iowa men's player Keegan Murray threw the first pitch at last Wednesday's Chicago Cubs game and had a jersey with his NOB and No. 15. … What is claimed to be the oldest extant basketball court in the world, from 1893, is in St. Stephen, New Brunswick, and a group is hoping to turn it into a museum (from Kary Klismet). … Also from Kary: A public court in Philadelphia in memory of Kobe and Gianna Bryant opened last week.

Soccer News: The NWSL's Washington Spirit wore warm-up shirts on Friday supporting the Black Women Players' Collective, an association of Black current and former NWSL players. … OL Reign also had a Juneteenth-themed captain's armband, but I'm not sure if any other teams did. … In the same league, it was the Kansas City Current's turn to wear rainbow numbers. … Meanwhile, the Orlando Pride had artist Diana Al Shammari, who embroiders soccer shirts, create a piece based on the Pride's second shirt. … St. Louis City, who won't start playing in MLS until next year but have a reserve team playing in MLS Next Pro, wore Juneteenth warm-up shirts on Friday saying, "Support Black Dreams.". … New shirts for Belgium's KAA Gent, England's Lincoln City, Mexico's Club Tijuana, and Poland's Ruch Chorzów (from Ed Żelaski). … New second shirt also for Scottish club Partick Thistle. … More new shirts for Germany's St. Pauli and Turkey's Galatasaray (from Kary Klismet). … In England, both Norwich City and Crystal Palace updated their crests. Palace dug further in on their alleged connection to the first Crystal Palace club founded in 1861 by putting that year in the crest instead of 1905, the year the modern club is usually taken to date from (the latter of those is from Trevor Williams). … Another from Kary: The English Football League has a new number/NOB font, and we can tell because it appeared on a shirt Ipswich Town used to reveal a new men's team signing. Ipswich also revealed next season's shirts. … New home shirt for Austrian side SK Rapid (from Ed Zelaski). … La Liga's Real Valladolid has a new shield design (from @stickyjuan).

Grab Bag: Aston Martin Formula One driver Sebastian Vettel has brought attention to social or environmental issues in F1 host countries a few times this season by wearing T-shirts during the race weekend. He targeted Alberta's oil sands for yesterday's Canadian Grand Prix, and his helmet design also tied into that theme. … Reader William F. Yurasko points out that with the Nationals' retirement of No. 11 for Ryan Zimmerman on Saturday, three D.C. pro teams have retired No. 11 and the Mystics surely represent a future fourth for Elena Delle Donne. … English field hockey's Teddington Hockey Club, which claims to be the oldest in the sport, celebrated its 150th anniversary by reenacting a match as they say it would have been in 1871. Players used modern sticks and boots but it looks like the game was even played on grass, which the sport has long since abandoned in favor of artificial turf. … "Here's a cool story about how fashion design students at The New School in New York City are helping to create adaptive and inclusive uniforms for Special Olympics athletes," says Kary Klismet. … Jared Buccola's weekly PLL report: ""Business as usual for Redwoods vs Chaos and Cannons vs Archers, while Whipsnakes wore their red jerseys for the first time this season vs Atlas. Chrome wore new matte grey helmets over a black/grey gradient uni combo. Waterdogs wore full lavender with new white helmets."