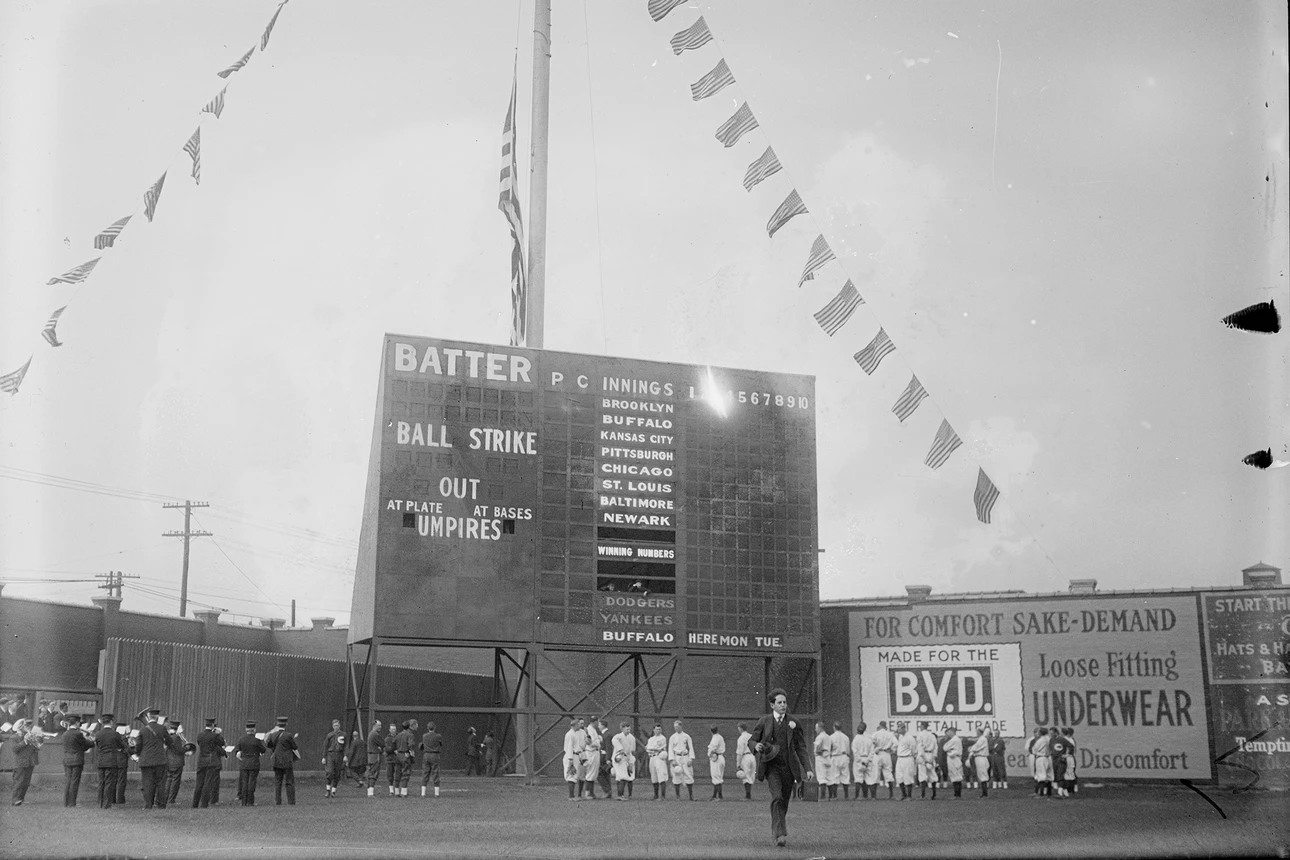 Click to enlarge
I recently came across this old photo. It was taken on April 10, 1915, which was Opening Day at Washington Park, home of the Federal League's Brooklyn Tip-Tops, who were hosting the Buffalo Blues. This ballpark, which no longer stands, was situated just a few blocks from Uni Watch HQ's 2000-2018 location.
This is a fascinating photo on several levels, mainly because of the scoreboard. Let's take a closer look at that (click to enlarge):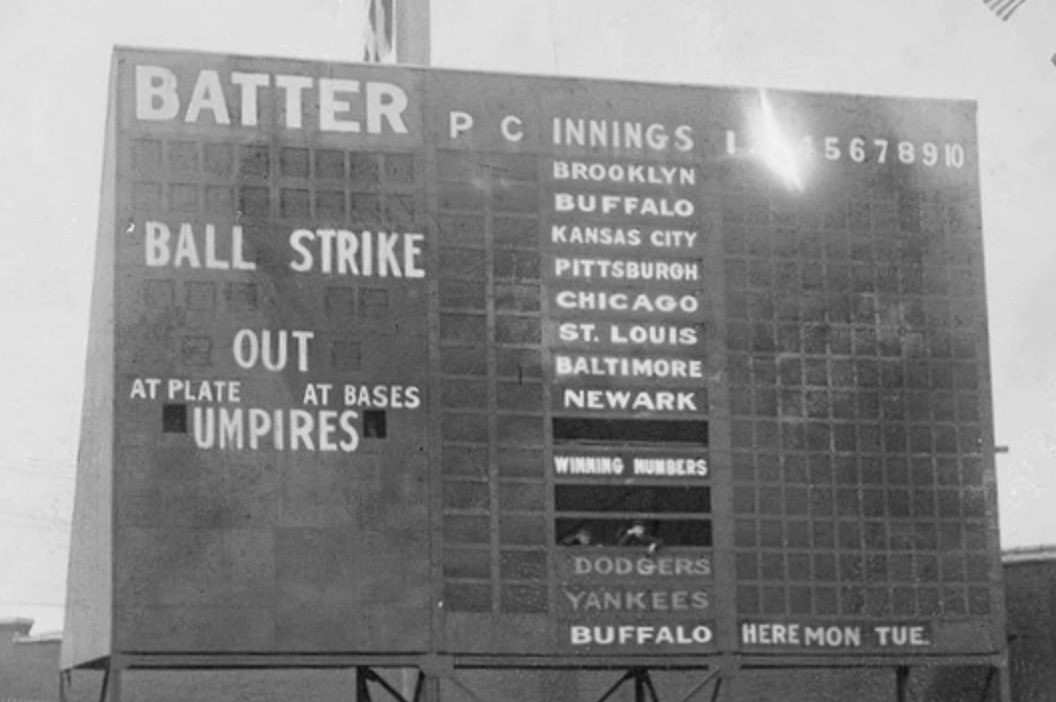 So many interesting details here. Let's go one at a time:
1. The scoreboard includes a line for each of the eight Federal League teams, based on the games that were being played that day. For example, the first two teams listed are Brooklyn and Buffalo, who were playing there at Washington Park; the next two teams, Kansas City and Pittsburgh, were also playing each other that day; and so on. But in each case, the home team is listed first! Obviously, that runs counter to the format we're used to seeing today.
2. Note that there are also lines for two of New York's other teams — the Dodgers and Yankees. Oddly, there's no line for the Giants, even though they were hosting the Dodgers that day. (The Yankees were not playing that day.)
3. It's not surprising to see that there's a column showing the pitcher for each team — many scoreboards still do that today. But this scoreboard also includes a line for each team's catcher — interesting!
4. Under "Batter," would they spell out the batter's name? Seems like a lot of letter placards to be swapping out as each new batter stepped up to the plate. Also, what if a batter's name was longer than eight letters? (The box score shows that two of the Brooklyn players that day had nine-letter surnames.)
5a. Note that the scoreboard has windows for just two umpires — one who worked the plate and one for the bases. This was common for pro baseball at this time (including the American and National Leagues, not just the Federal League). Four-man umpiring crews didn't become the big-league norm until 1952.
5b. Speaking of the umps, they didn't yet have uni numbers in 1915, so what would they put in the windows? Would they just put 1, 2, or whatever, and those numbers would correspond to a list in the scorecard?
6. I'm fascinated by the slot on the scoreboard for "Winning Numbers." Did this refer to some sort of raffle at the ballpark? A local daily lottery? A promotion involving the Tip-Tops' namesake, Tip-Top Bread (which was owned by the same guy who owned the team)? Something else?
7. In the full photo (the one shown at the top of this blog page), you can see a few players from each team milling around in front of the scoreboard. Here's a closer look at their uniforms (click to enlarge):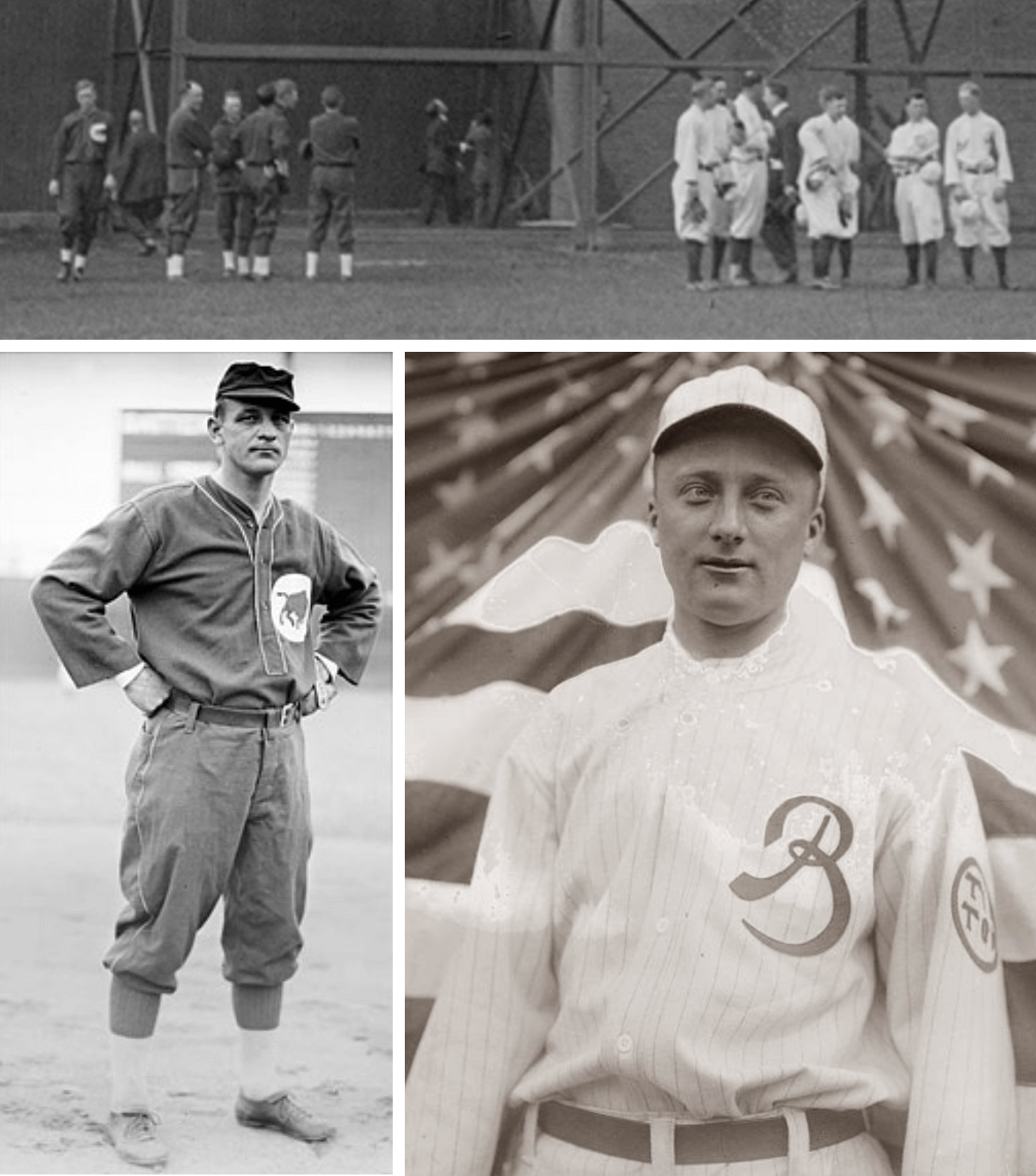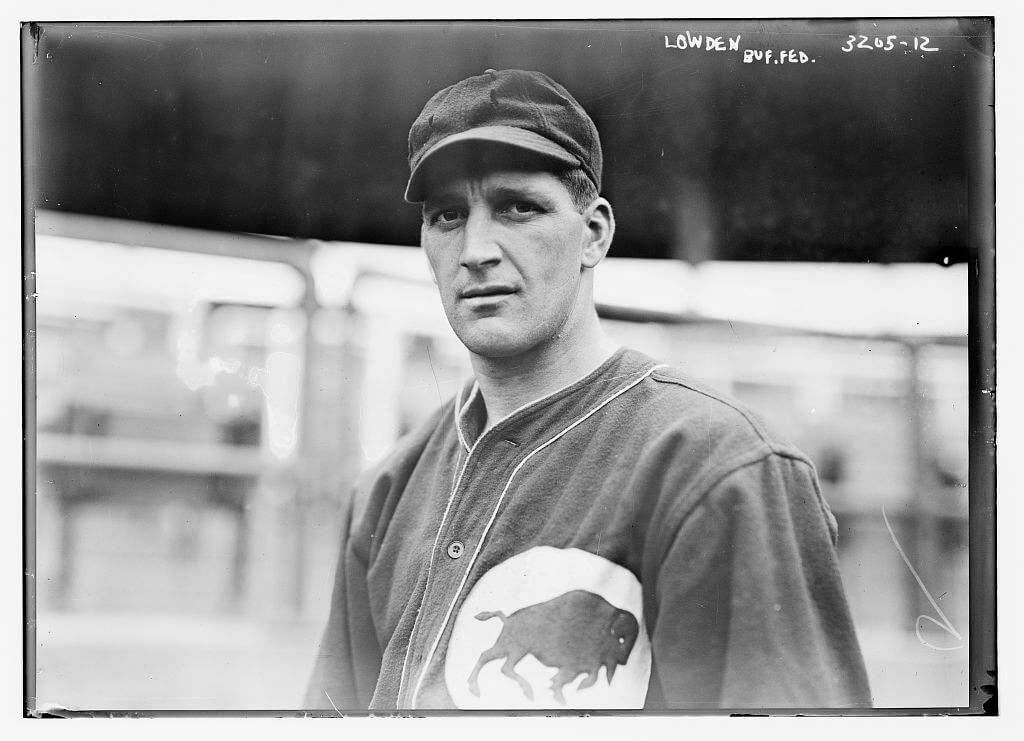 8. Since it was Opening Day, a marching band was on hand. I wish we could get a better look at their uniforms (click to enlarge):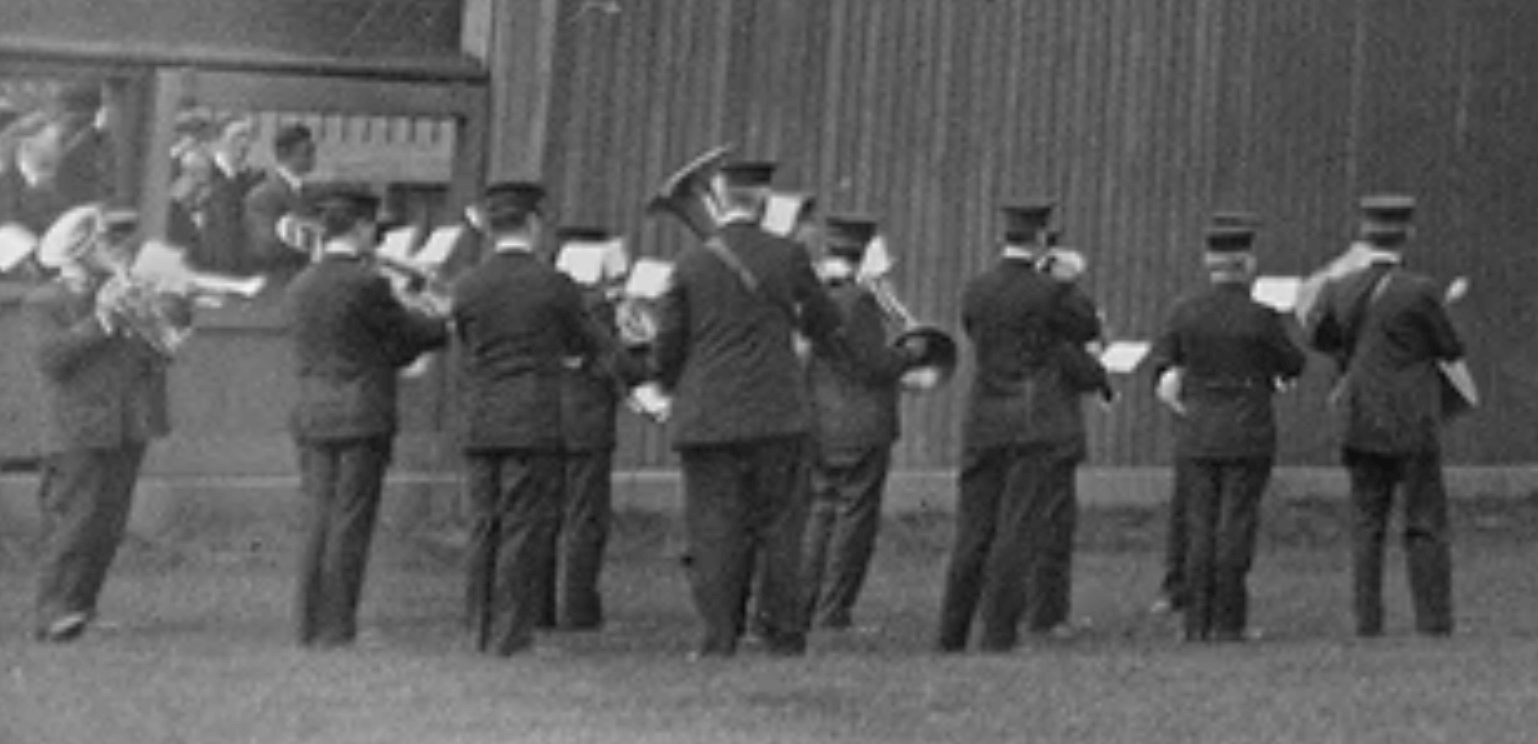 9. Finally, let's take a closer look at that ad plastered on the outfield wall: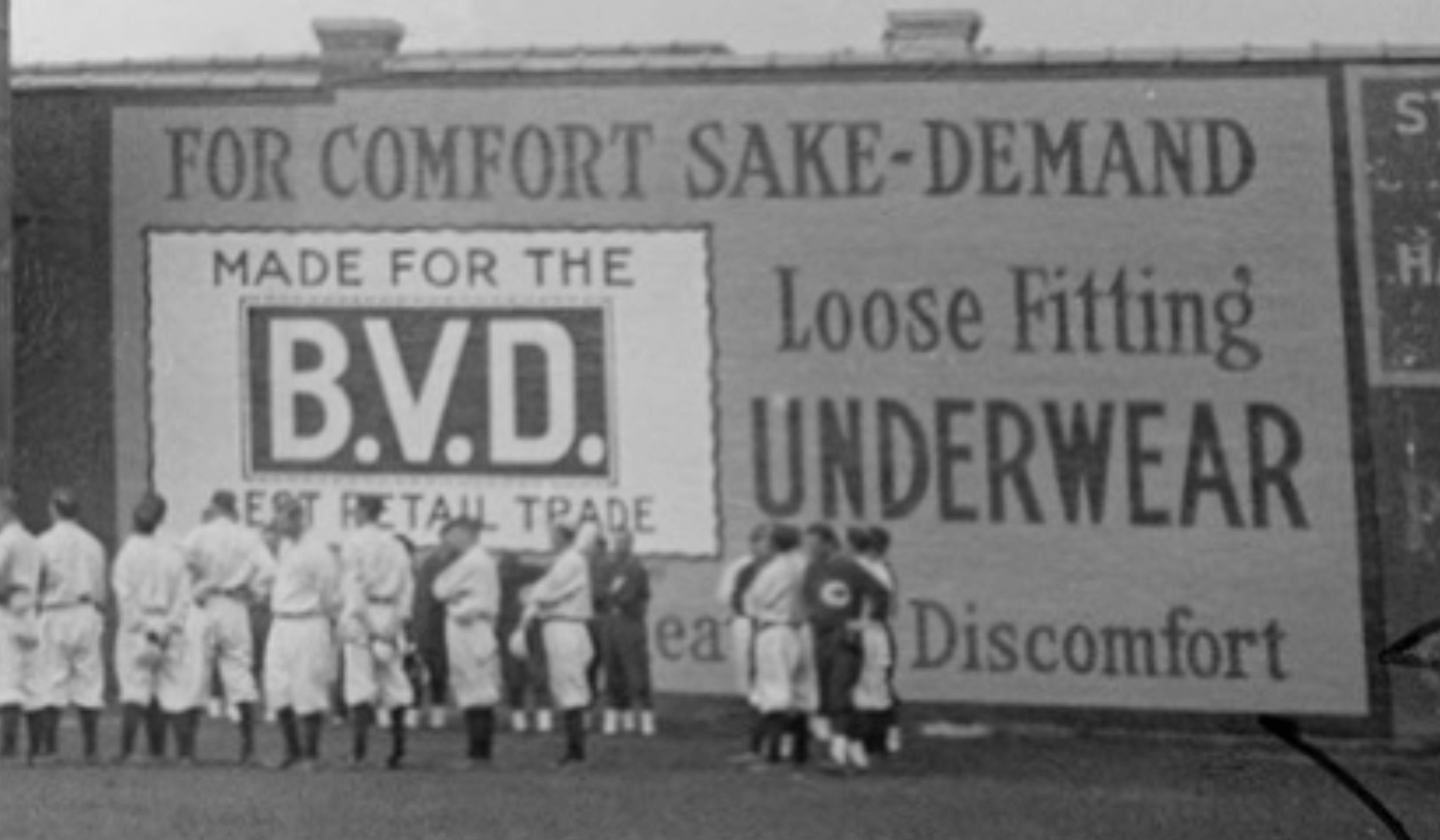 That underwear brand, B.V.D., still exists today! In fact, the term "BVD" even has an entry in the Urban Dictionary. (Ironically, the Urban Dictionary example refers to "tight BVDs," while the outfield wall ad refers to the brand being "loose fitting," but I guess a lot can change over the course of a century.)
———
Man, that's a lot of mileage out of one photo! Fascinating stuff. Hope you enjoyed deconstructing the details as much as I did.
• • • • •
• • • • •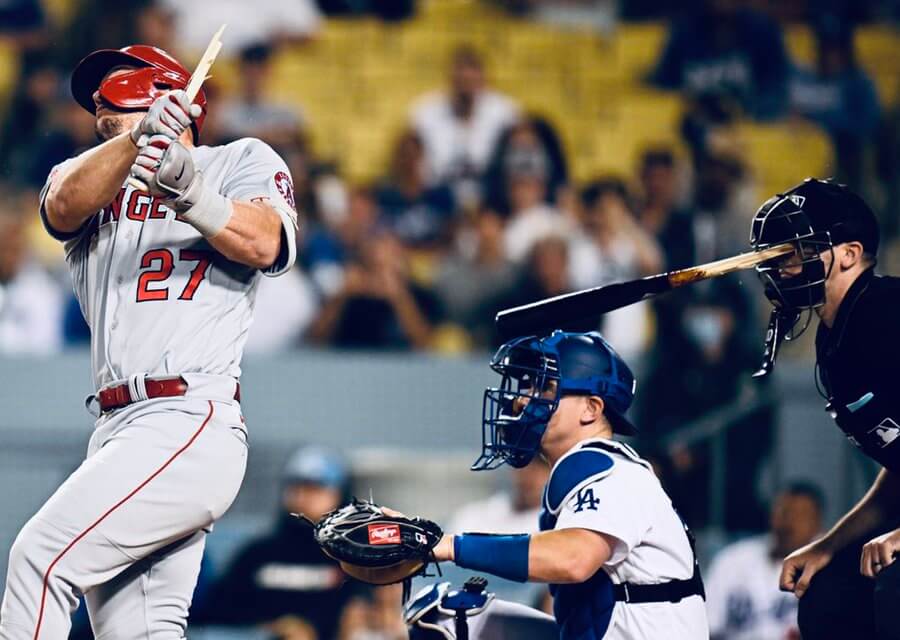 Photo by Keith Birmingham; click to enlarge
Yikes: Plate ump Nate Tomlinson had to leave last night's Angels/Dodgers game in L.A. after a piece of Mike Trout's broken bat flew in between the bars of his mask and cut him around the nose and eye.
That's definitely a situation I've never seen before. Here's some video:
Umpire Nate Tomlinson was hit by Mike Trout's shattered bat in the face.

Tomlinson was able to walk off the field, visibly bleeding from his nose and above the eye.

🎥 @BleacherReportpic.twitter.com/CrVKv8cMFi

— The Athletic (@TheAthletic) June 15, 2022
Scary stuff!
• • • • •
• • • • •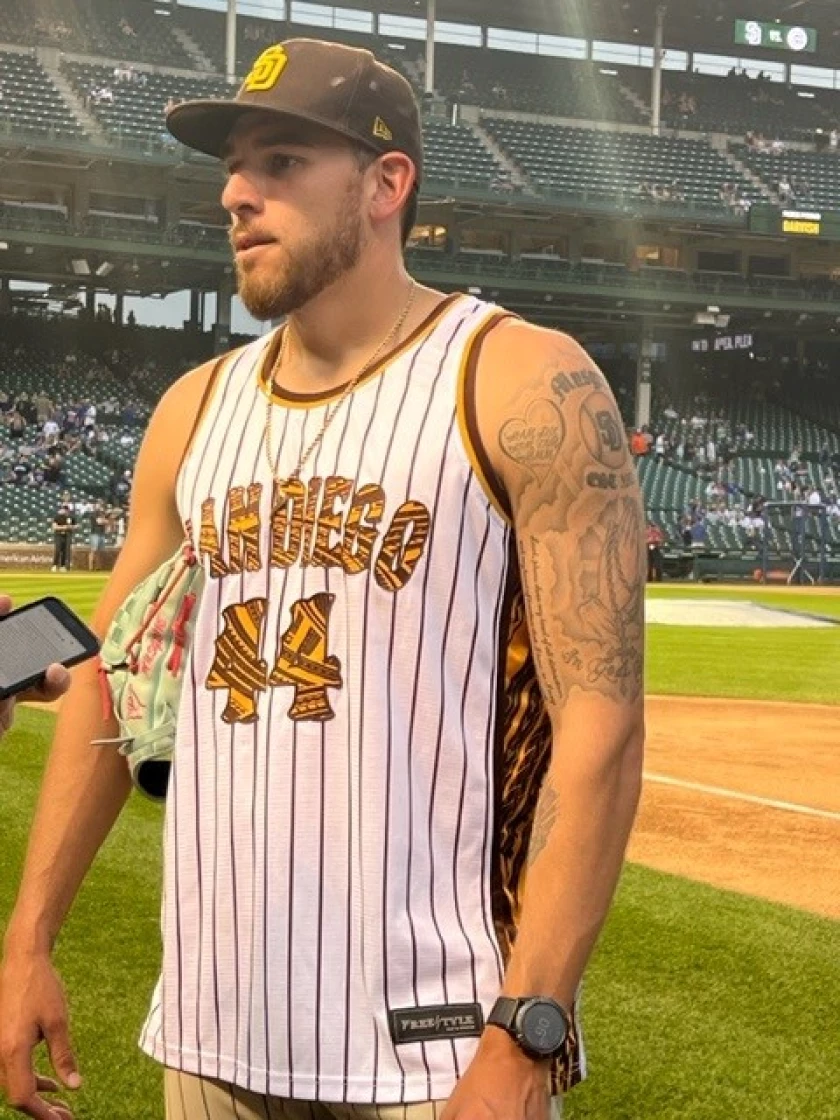 Click to enlarge
Tank-topping: Hmmm, what kind of jersey is Padres pitcher Joe Musgrove wearing in the photo shown above? Details from this article:
Almost every day for the past week, Padres starting pitchers have taken part in pregame workouts while wearing white, brown, and gold basketball jerseys with their name and number on the back. They were a gift from [pitcher Joe] Musgrove.

"It's something that's fun," Musgrove said. "And I think they're sick jerseys."

Musgrove ordered them from a company called Freestyle Cut & Stitch, and it is the latest of many efforts he has made to bring members of the rotation closer.
Interesting. Here's another photo, this time of Padres pitcher Sean Manaea: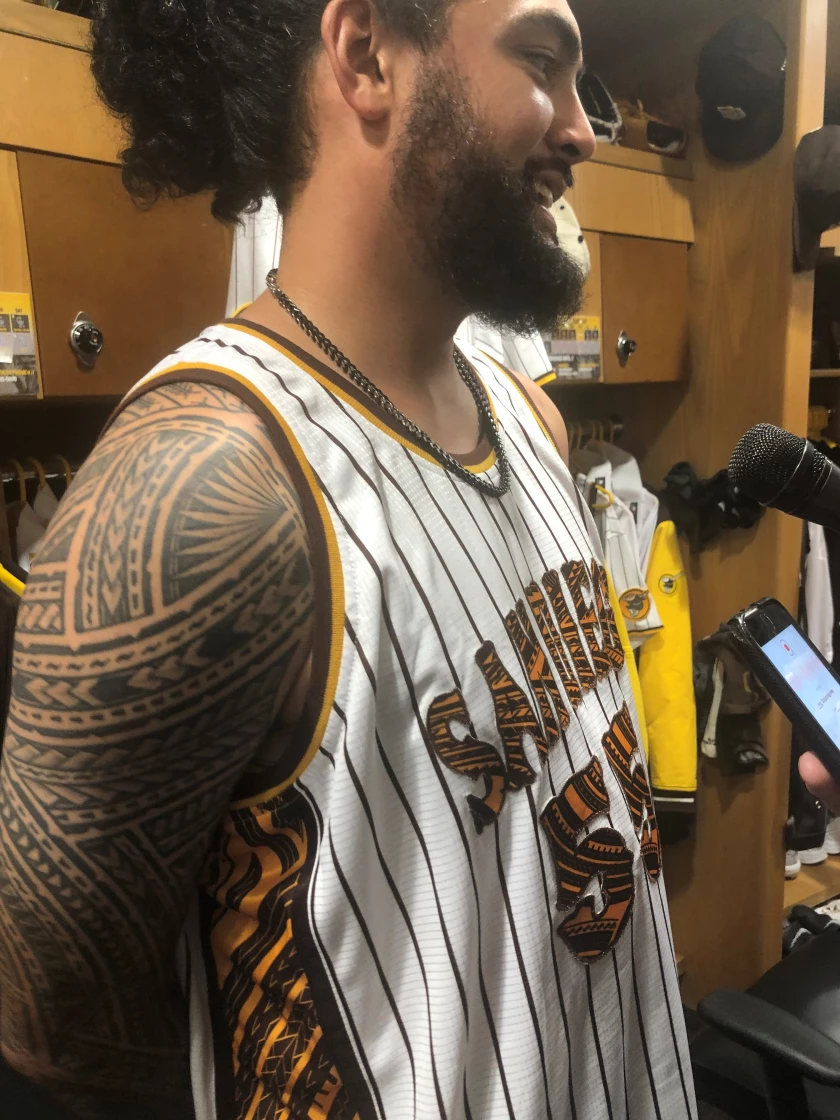 (My thanks to Russ Havens for this one.)
• • • • •
• • • • •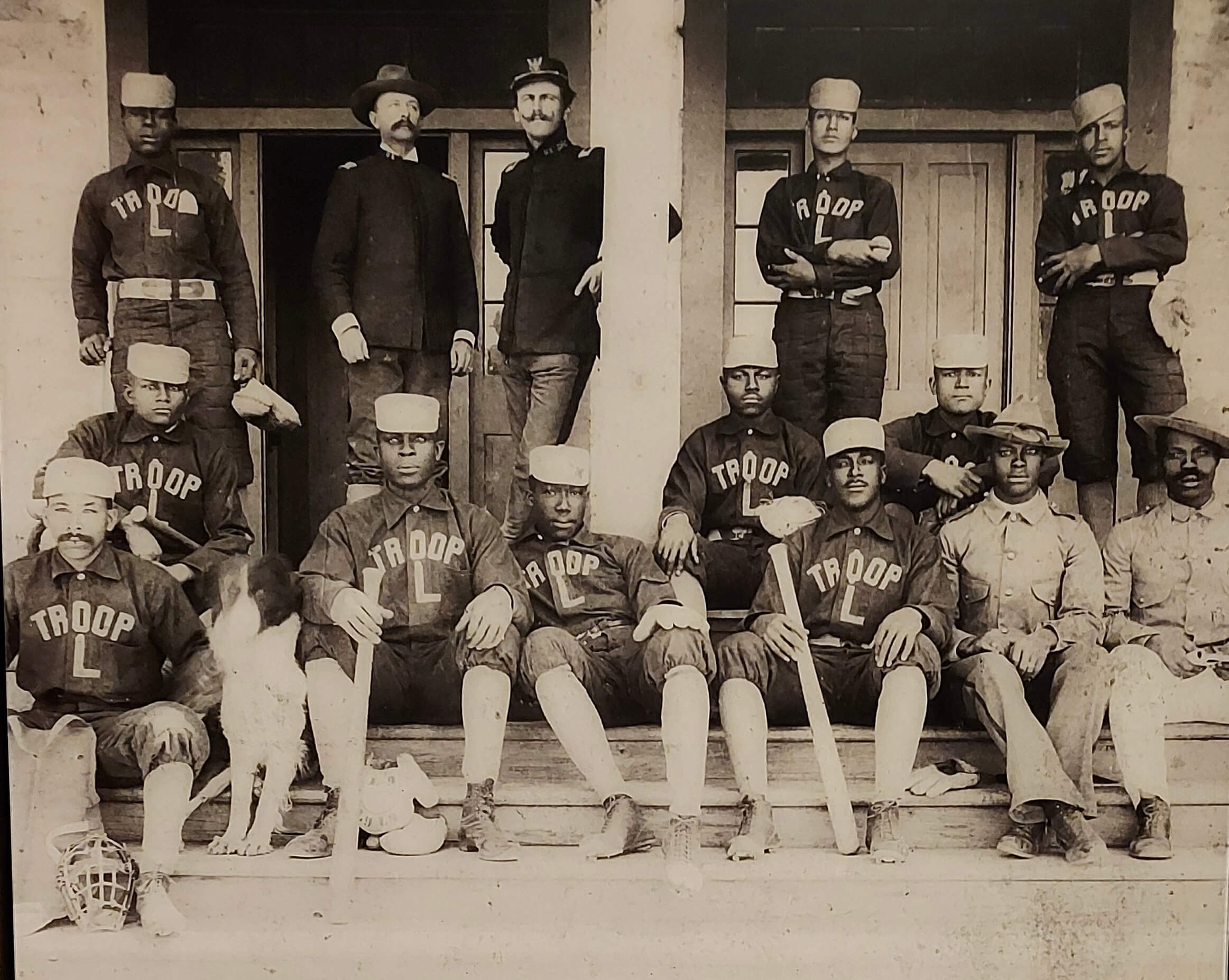 Click to enlarge
Too good for the Ticker: Bob Sullivan, who prints our membership cards, recently visited the New Mexico History Museum in Santa Fe and spotted this 1899 photo of a baseball team comprised of Black U.S. Cavalry infantrymen. Here's the accompanying placard: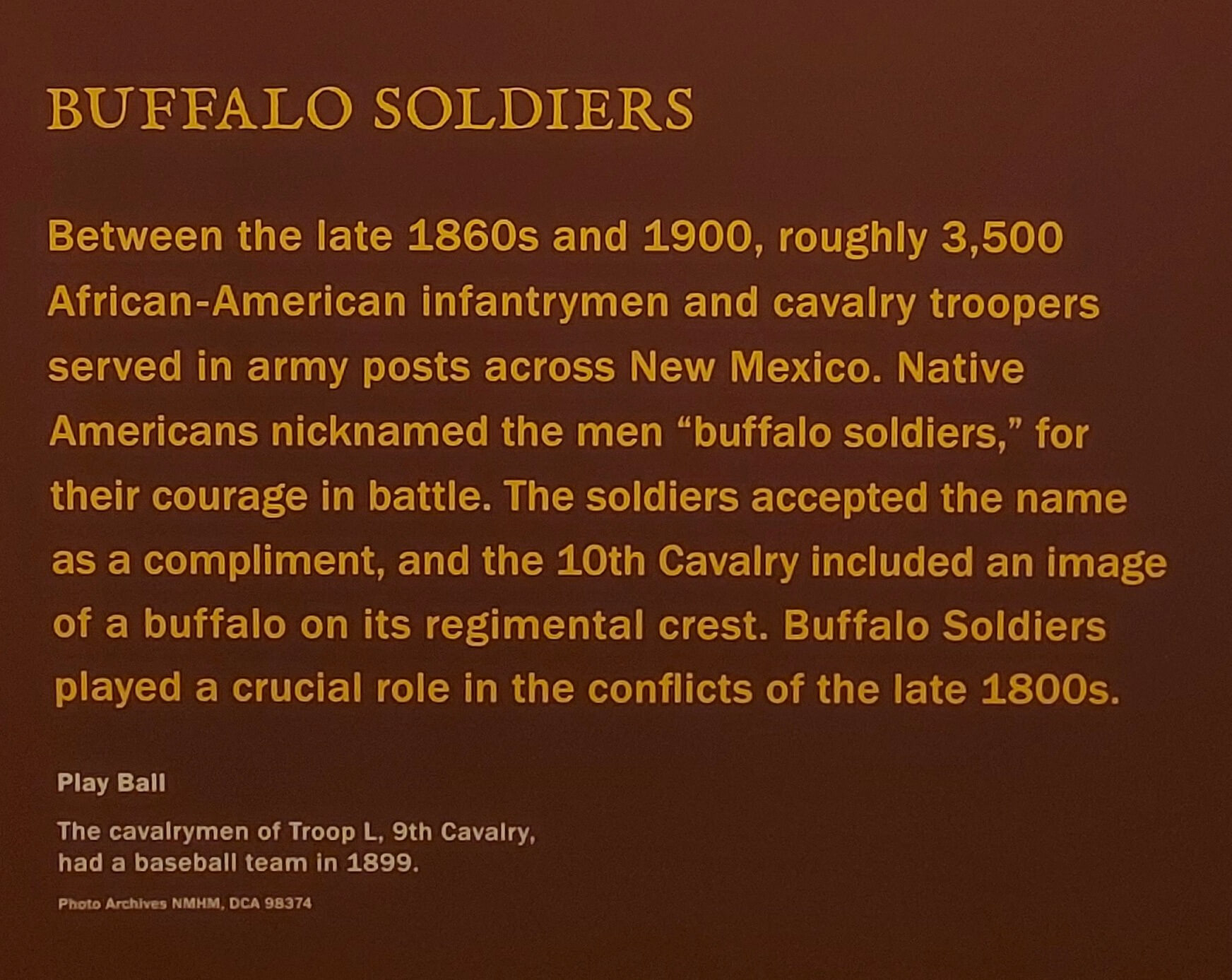 As I've been saying for well over a decade now, if MLB teams insist on wearing uniforms to "honor the military," they should wear throwbacks based on uniforms like these instead of the boilerplate camouflage. Tell a baseball story, not just a military story, and teach us all some history while you're at it.
• • • • •
• • • • •
The Ticker
By Lloyd Alaban

Baseball News: The Orioles wore their black jerseys with their regular road caps last night. They usually wear their black jerseys with their alternate caps (from Andrew Cosentino). … Phillies OF Kyle Schwarber is the latest MLBer to have his jersey sewn shut (from Christian Berumen). … The Frontier League's Sussex County Miners will wear Hulk-themed jerseys on Saturday. … Giants OF Joc Pedersen and Reds OF Tommy Pham have been at each other's throats lately over a fantasy football league they were both in. Pedersen seemed to escalate the situation when he and other teammates wore T-shirts in Giants colors saying, "Stashing players on the IR isn't cheating" (from our own Brinke Guthrie). … D-backs P Mark Melancon came into last night's game against the Reds wearing the wrong cap (thanks to all who shared).

Hockey News: The arena in Kennewick, Wash., home of the WHL's Tri-City Americans, is tearing up its old seats to make way for new ones (from Wade Heidt).

Basketball News: Fun fact: The NBA hires a firm to go to each team's arena twice a year, including during the playoffs, to check things such as hoop heights, backboard verticality, and rim tightness (from Mike Chamernik). … New court for Western Michigan (from Brandon Weir). … Here's one blog's ranking of the three best uniforms in Pacers history (from Kary Klismet).

Soccer News: Barcelona will wear the logo of the UN refugee agency on the back of their shirts for the next four seasons (from our own Phil Hecken). … New kit for Scottish side Motherwell (from Ed Zelaski). … New alternates for Sacramento Republic of the USL Championship. … New kits for Swiss side FC Lugano (from Ed Zelaski). … Also from Ed: Fifth-tier English side York City FC has a new alternate kit inspired by York's chocolate-making history. … The next few items are from Kary Klismet: New shirts for Atletico Madrid. … New away and alternate shirts for Turkish side Kayserispor. … New home shirts for Cambridge United of England's League One. … New home and goalkeeper shirts for Aldershot Town of England's fifth-tier National League. … New away kits for Sardinia.

Grab Bag: New 16th-anniversary logo for Brazilian men's club volleyball team Sada Cruzeiro (from Jeremy Brahm). … A fan gave Nebraska volleyball head coach John Cook some custom leather chaps — complete with an Adidas maker's mark (from Shane Straka). … USA Rugby has switched outfitters to Castore (from Tim Dunn). … The Jayhawker Podcast, which is about sports at the University of Kansas, has released an episode about the school's uniforms (from Jay Wright). … The next few items are from Kary Klismet: New athletics logos for Dalton State College. … A writer ranked all the uniforms in the Star Trek franchise. … Here's the logo evolution of BMW.
• • • • •
• • • • •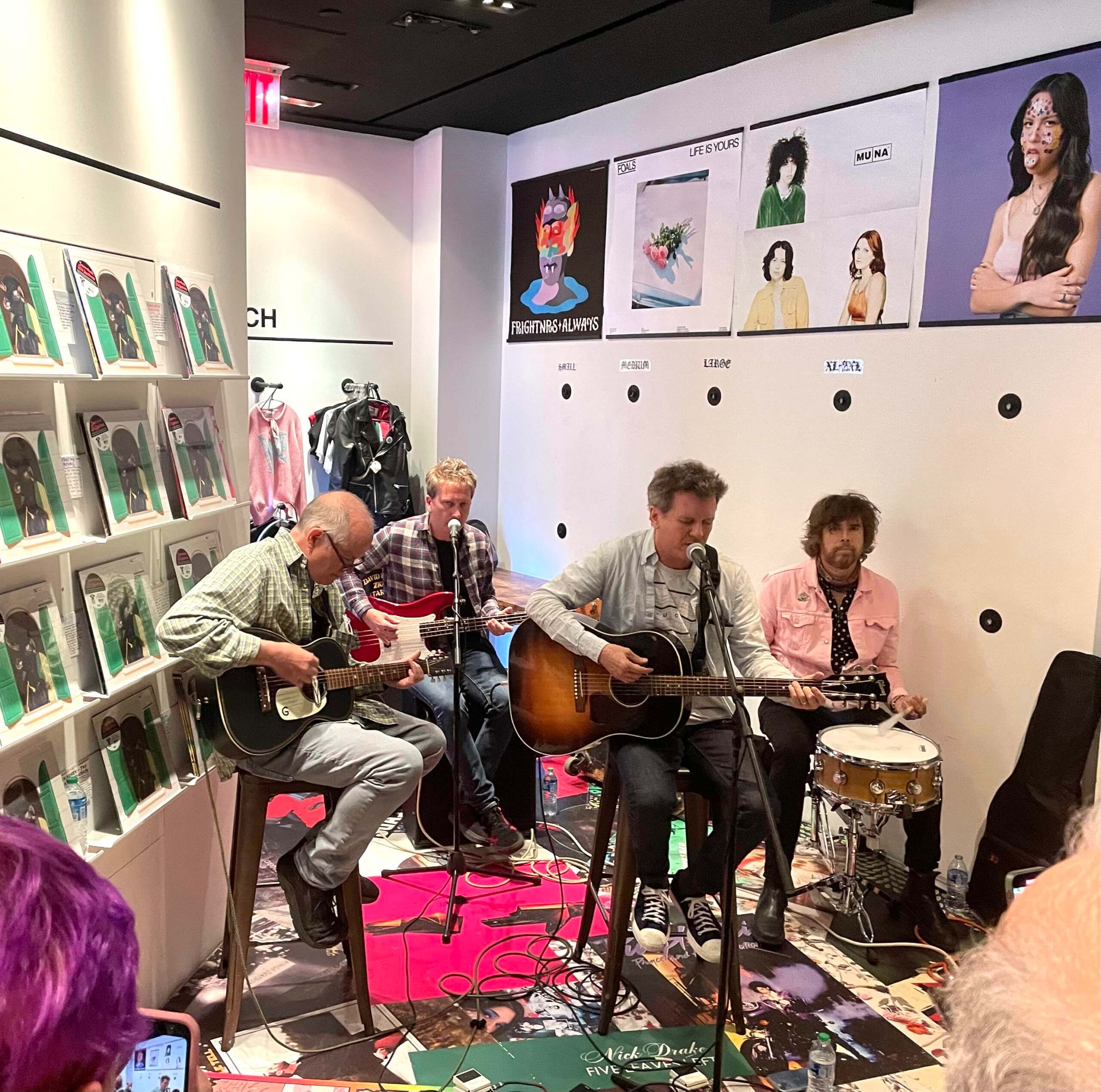 What Paul did yesterday: I've been a big fan of the indie-rock band Superchunk since way back in 1989, and it was a kick to see them play an acoustic set at a Manhattan record store yesterday afternoon. A Uni Watch reader (whose name I now forget, ugh) even recognized me and said hi, which was nice!