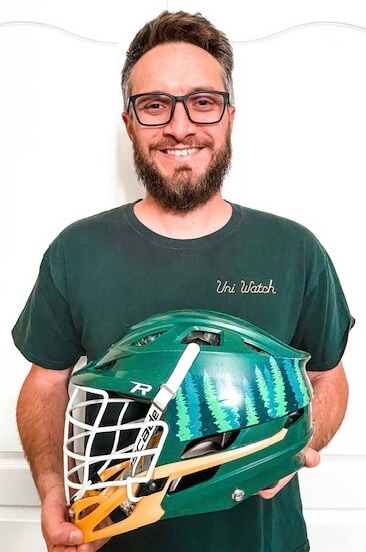 [Today we have a guest entry from Jared Buccola — that's him at right — who's going to get us set for the 2022 Premier Lacrosse League Season, which begins this Saturday. Enjoy! — PL]
By Jared Buccola


I started playing lacrosse my junior year in high school and continued to play on a club team while at Fresno State University. After graduating, I spent three years as the team manager for Cal State San Marcos in southern California. These days I live in Phoenix, where I play with a local pick-up group, Coed Lacrosse AZ.
The Premier Lacrosse League (PLL) was founded in 2018 by brothers Paul and Mike Rabil. It started with six teams and is now up to eight. The most unique attribute of the PLL is that the teams are not geographically located. Instead, the league operates like a music concert tour. This year, Week 1 is in Albany, with all teams playing their season openers, and then the action moves to a different city for each subsequent week of the season. (You can see the full schedule here.)
In terms of uniform design, the PLL tends to be more stylized and less traditional than say, MLB or the NFL. Before we get to the team-by-team rundown, here are some things to keep in mind:
• The PLL has eight teams, each of which has at least two jerseys. That usually, but not always, means one colored and one white.
• The photos in this article (all of which you can click to enlarge) are from last season, but no major design changes are planned for the team uniforms this year. Except for…
• The league is changing outfitters this season, from Adidas to Champion, so the jerseys will now carry the Champion maker's mark.
With the season set to begin this Saturday, June 4, here's a breakdown of each team's uniforms.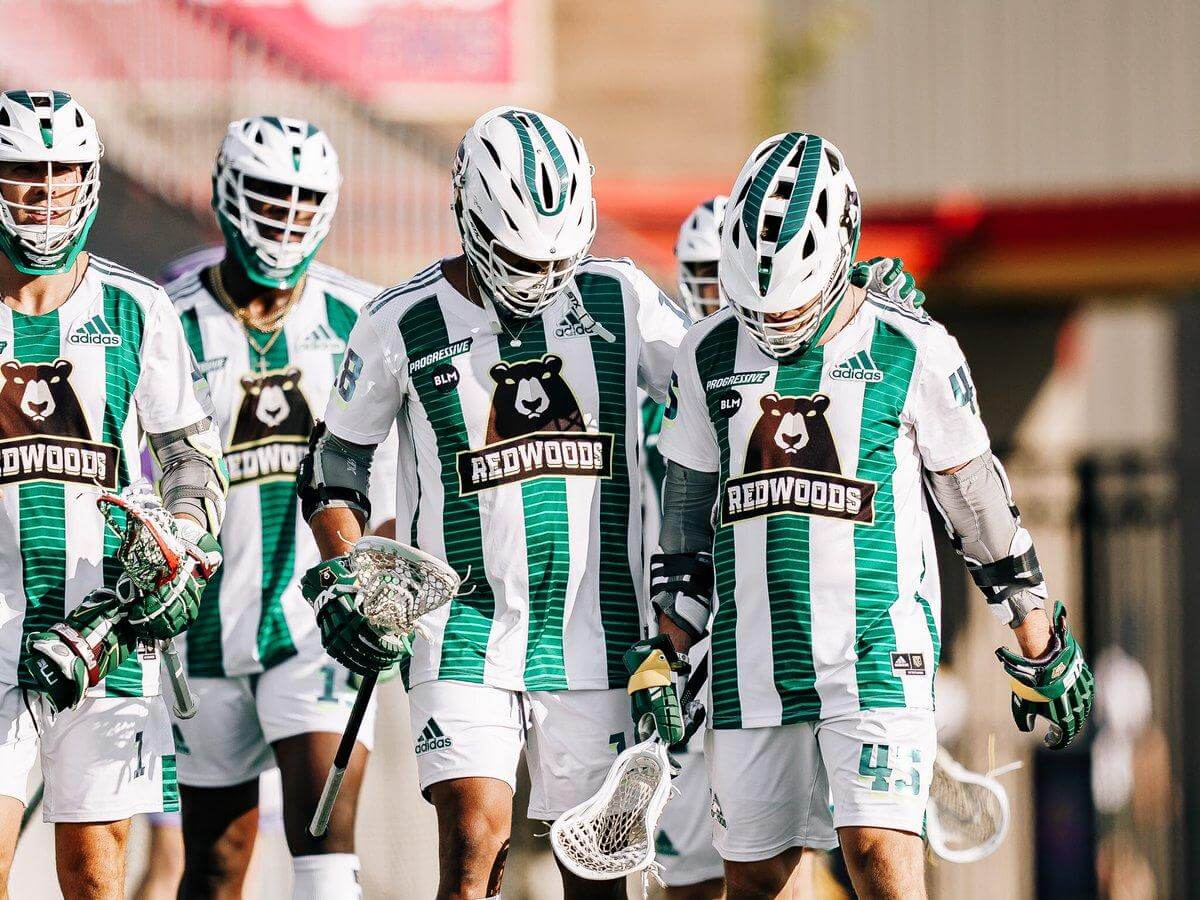 Redwoods Lacrosse Club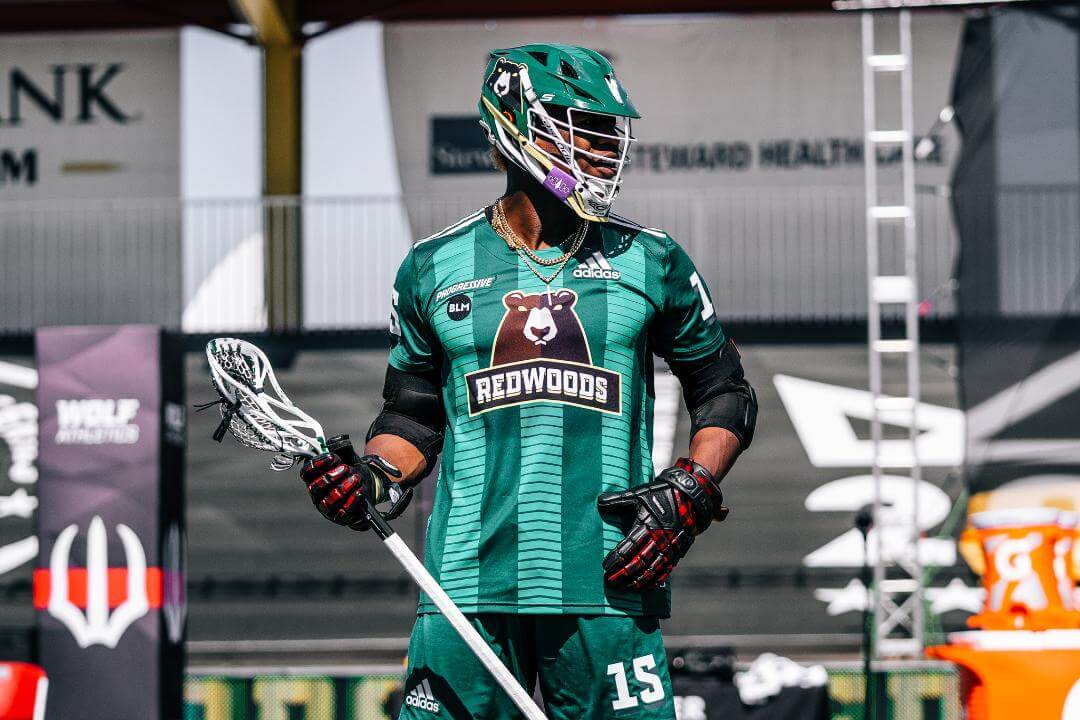 The Redwoods consistently sport a monochrome uni set, either all green or all white. Both sets feature their primary bear logo on the chest with their wordmark below. Three green vertical stripes run up the front of both the green and white jerseys, with chevrons within the stripes. The chevron pattern continues in the stripes on the shorts and the helmets. The bear logo is also on each side of both helmets, with the chevron wordmark centered on the back.
Also: As you can see in the photos above, Redwoods is one of three PLL teams to have an ad patch. This season, however, it's moving from the chest to the sleeve, as you can just barely see here.
———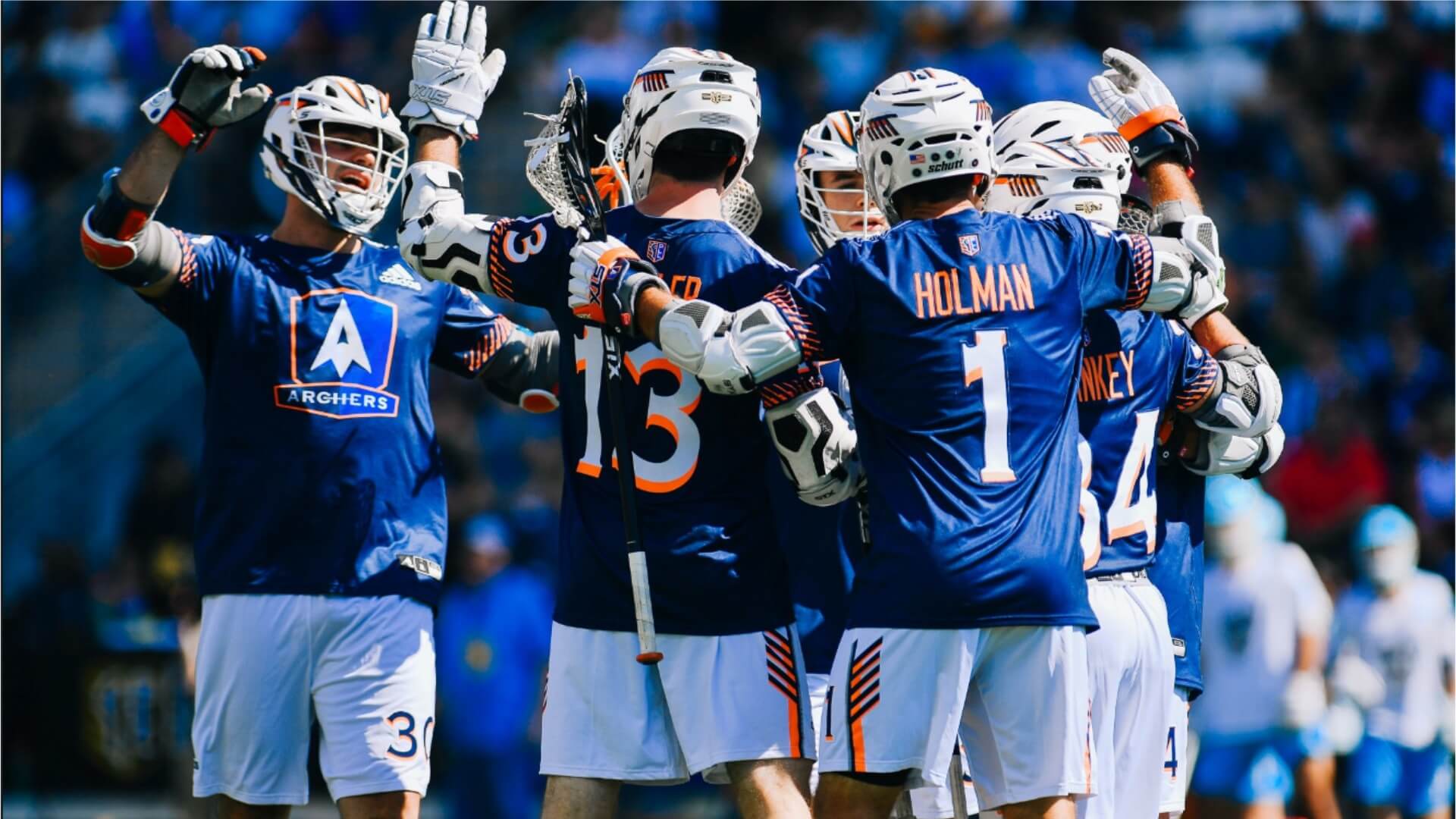 Archers Lacrosse Club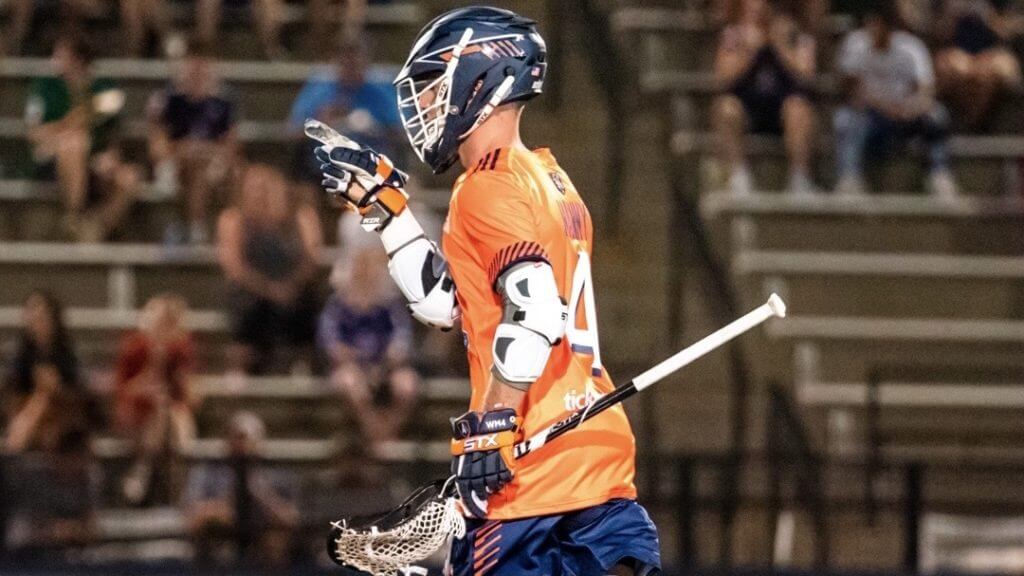 A navy, orange, and white color scheme gives the Archers multiple uni-combo options: navy or white helmets; navy, white, or orange shorts; and navy or orange jerseys. (They had white jerseys in previous seasons but removed them from the repertoire last year.) With all those options, the Archers probably mix and match their uniforms more than any other PLL team. One constant, however, will be the ad patch on the right sleeve.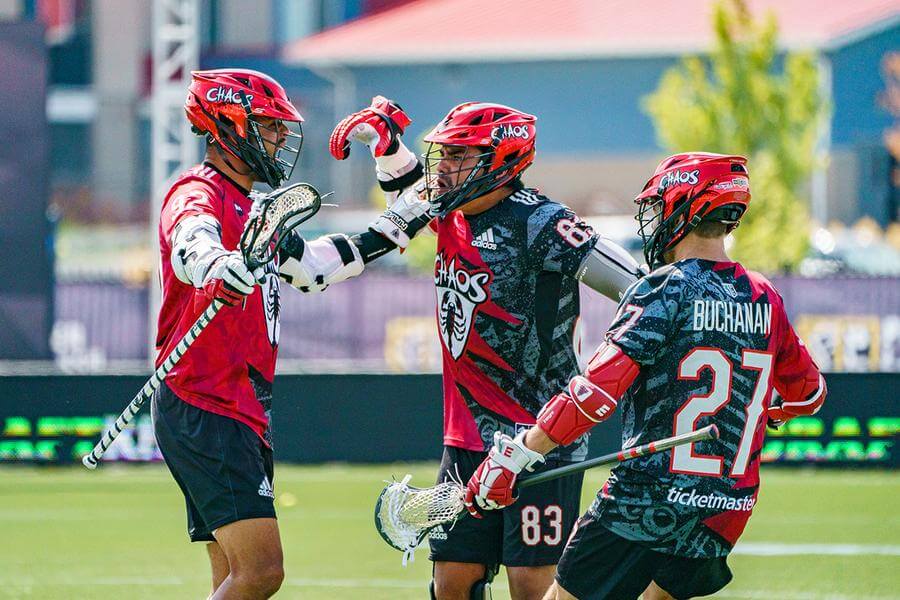 ———


Chaos Lacrosse Club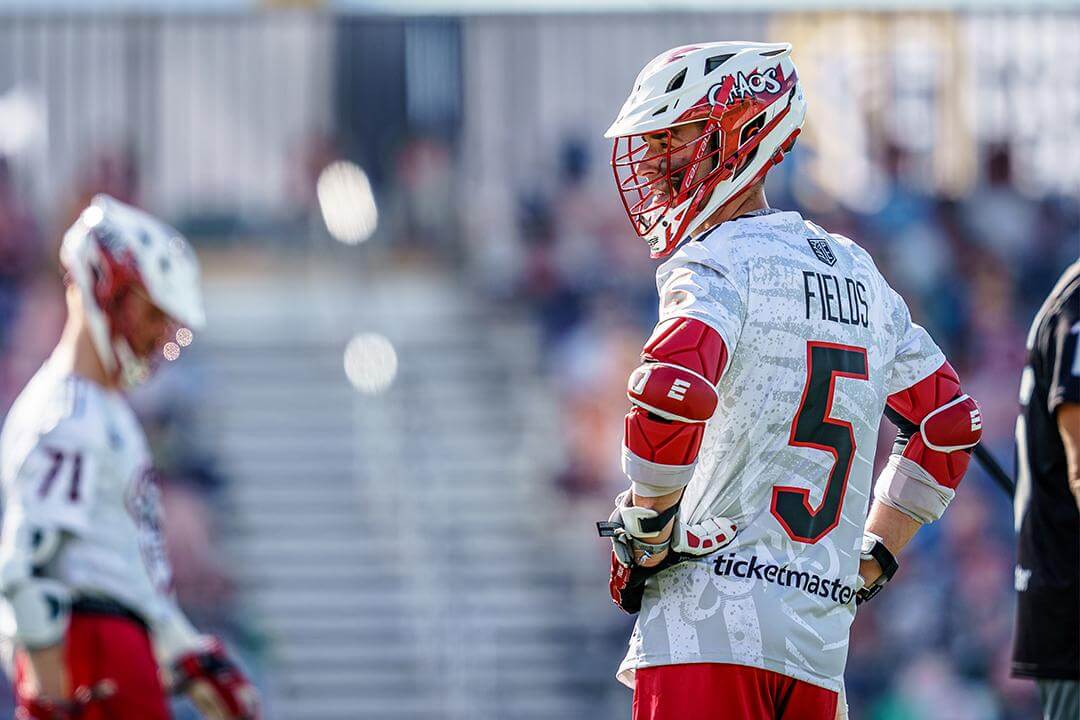 Here's a situation where the uniforms live up to the team name. The options include white or red chrome helmets, black or red shorts, and white or black/red jerseys. Both the
white
and black/red uniforms have sublimated overlapping designs that are difficult to follow, especially with the black/red border zigzagging its way down the middle of the black jersey.
As defending PLL champions, Chaos will likely add a crowned version of the PLL logo to the back of their jerseys, similar to what Whipsnakes did in previous years.  

———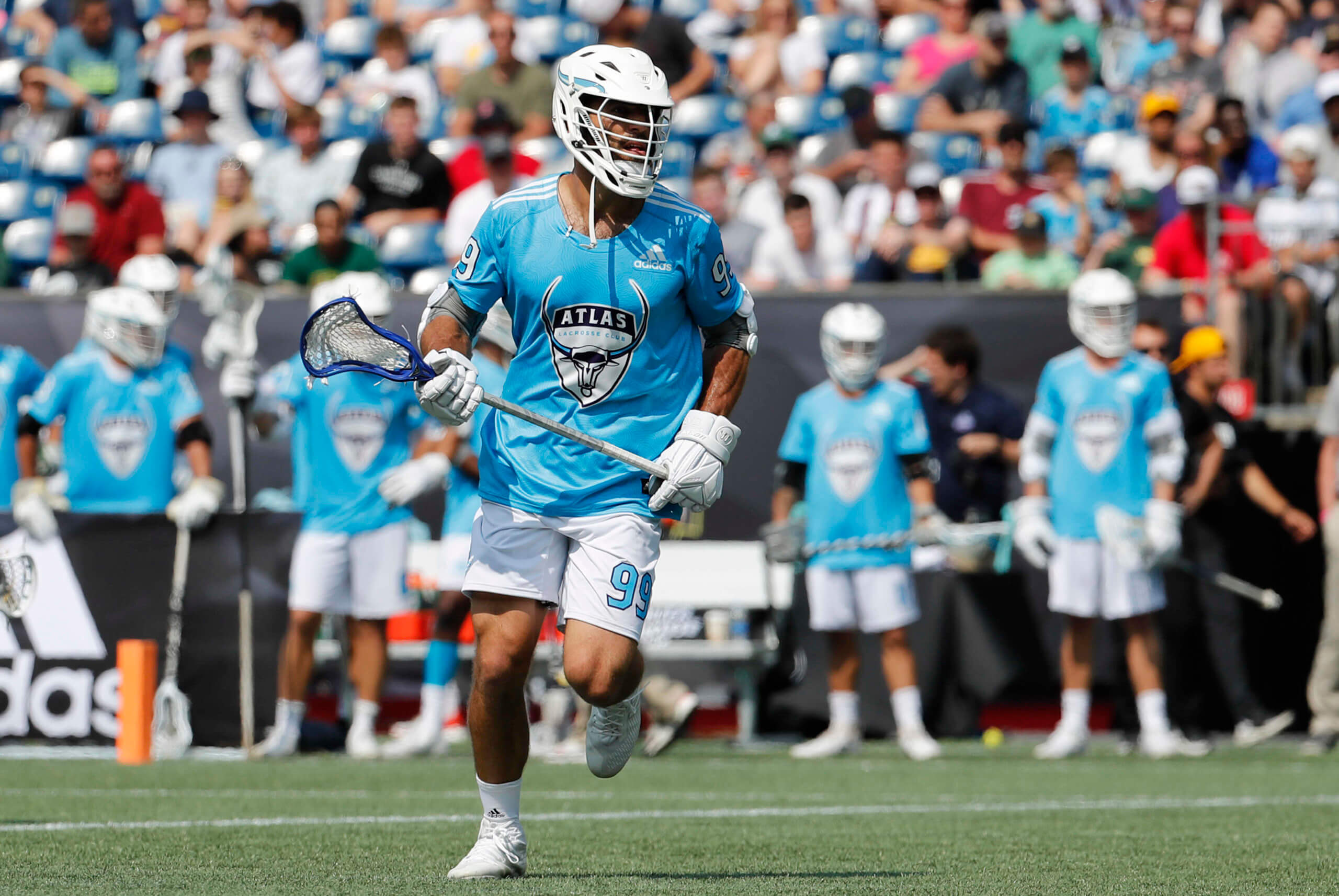 Atlas Lacrosse Club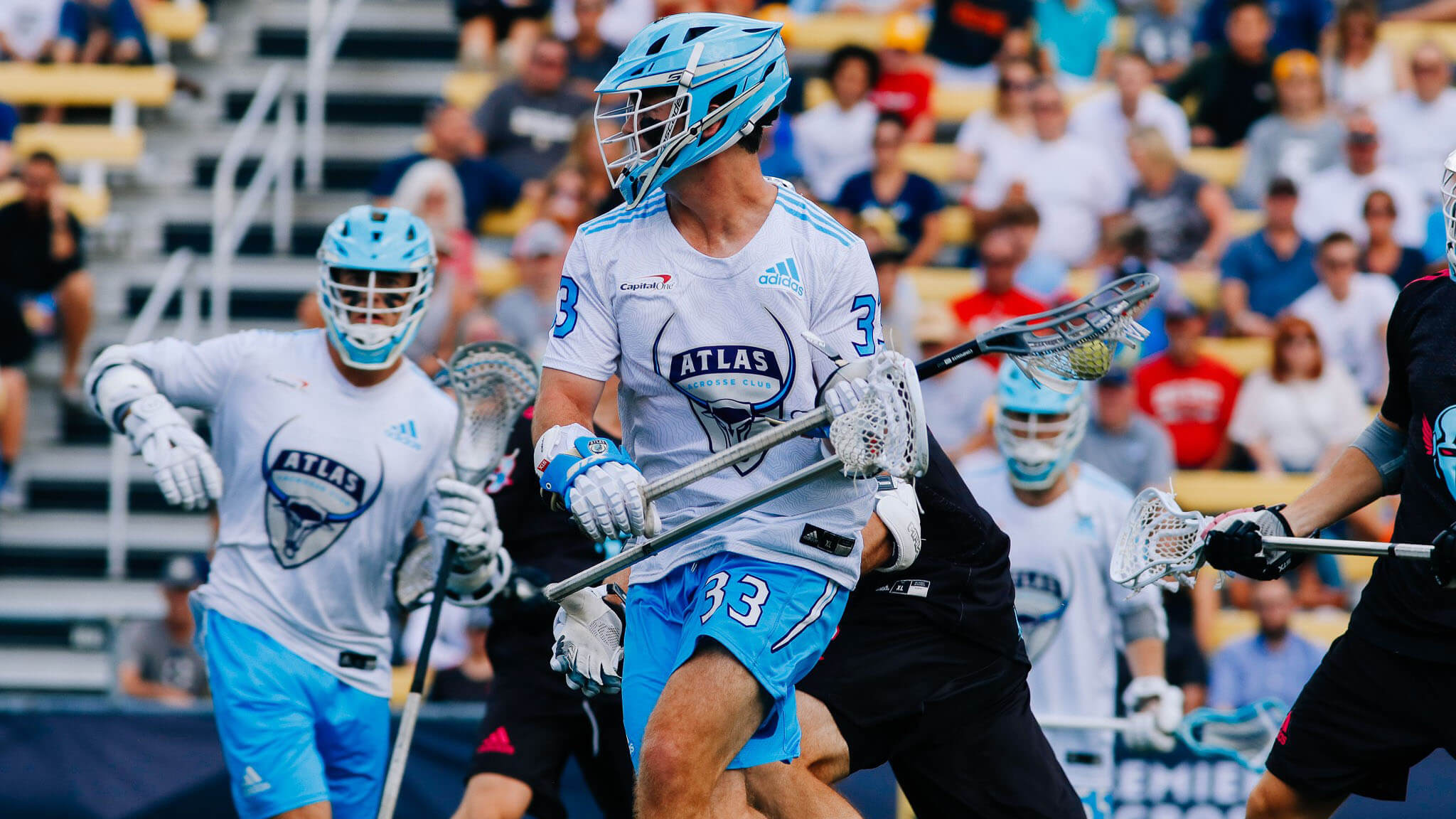 Atlas brings a straightforward uniform set to the league. They have two options from top to bottom, white or electric blue. The helmets have a single sweeping horn along each side, like the Minnesota Vikings' helmets. That same horn graphic can be seen running down the side of the shorts. A hidden detail is a faint, topographical map pattern that runs across the entire jersey. Also, Atlas is one of the few PLL teams with a paid advertising patch, located on the upper-right chest.
———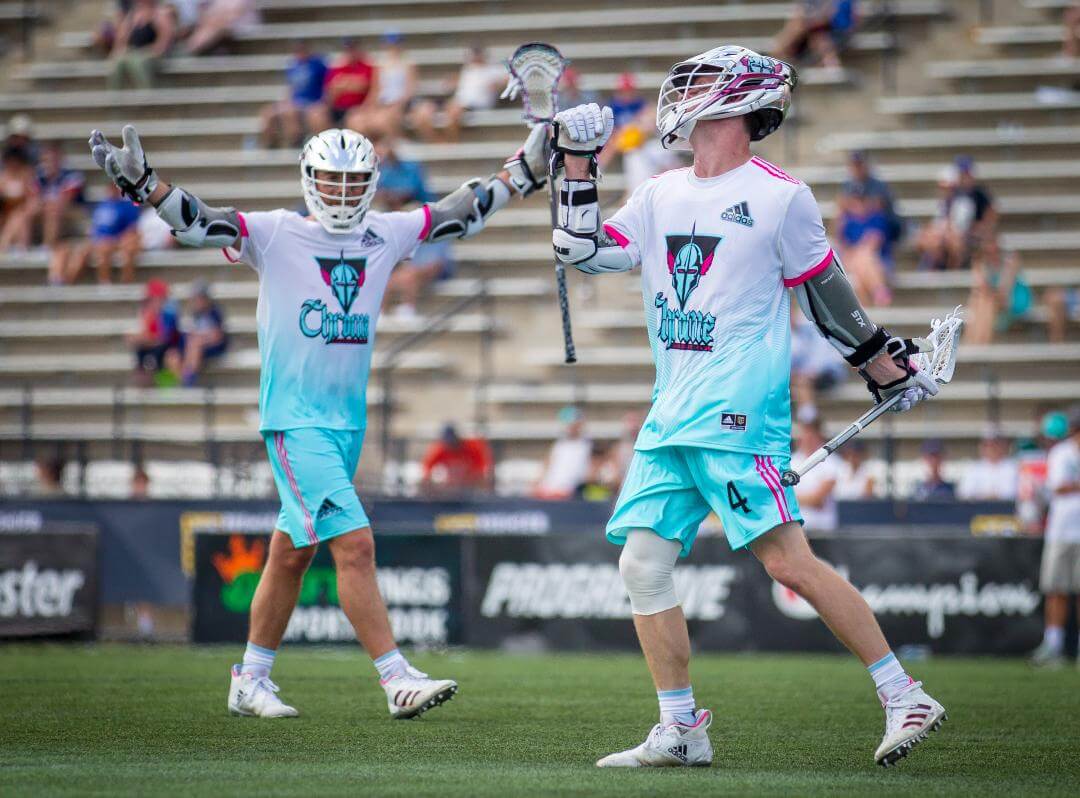 Chrome Lacrosse Club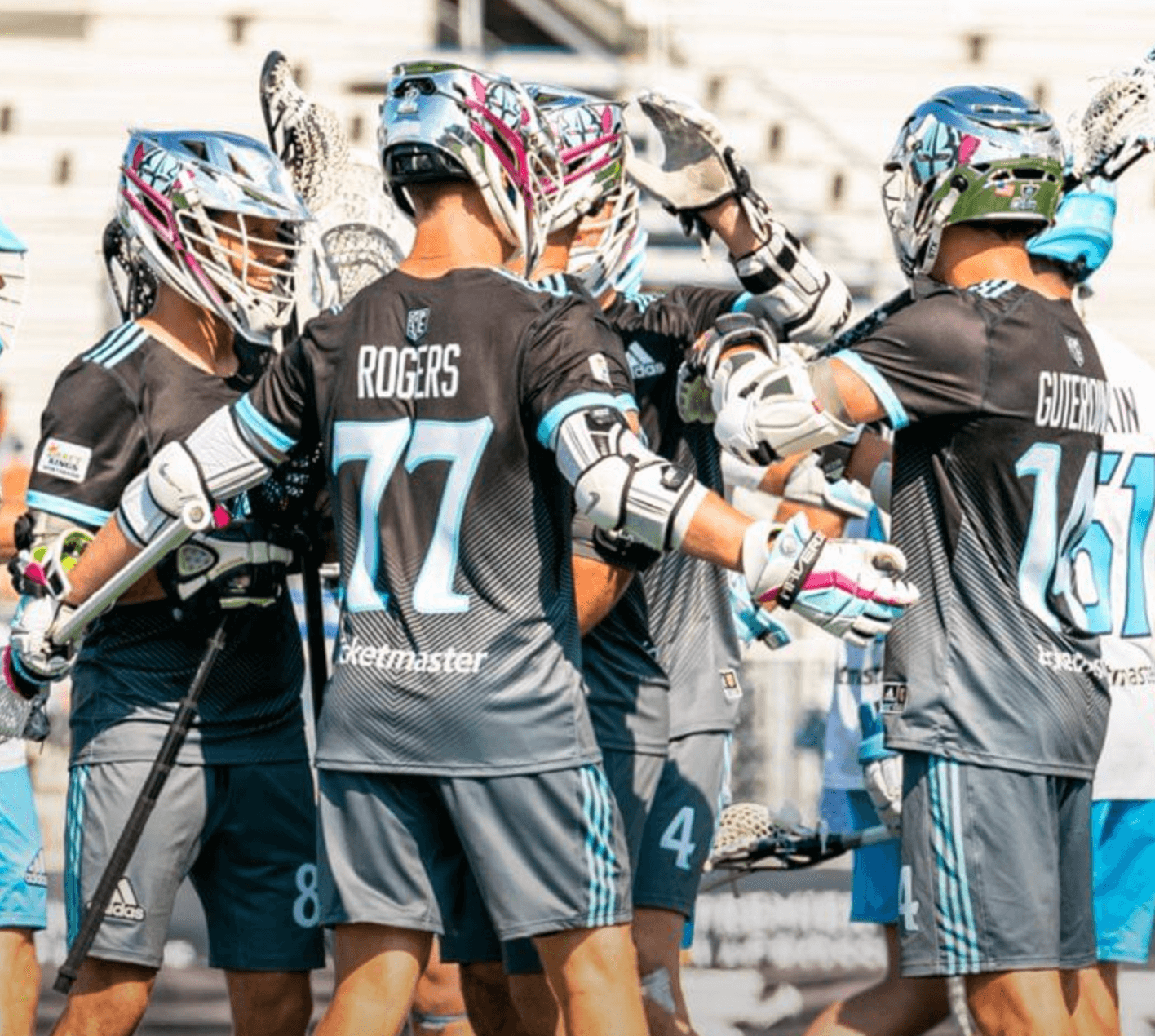 Here we have what is probably the league's most unique uniform set, featuring a loud color scheme of black, teal, pink, and (of course) chrome. (It's probably the most inconsistent set as well, as the team has gone through multiple uni tweaks over the past three seasons.) Both of the current uniforms feature gradients, something I'm not generally a fan of, although it's better than some of the team's previous designs, which had a chainmail armor sublimation and a burst of diagonal lines. The helmets, black or chrome, sport the primary logo on both sides, which is a futuristic, winged aviator's helmet.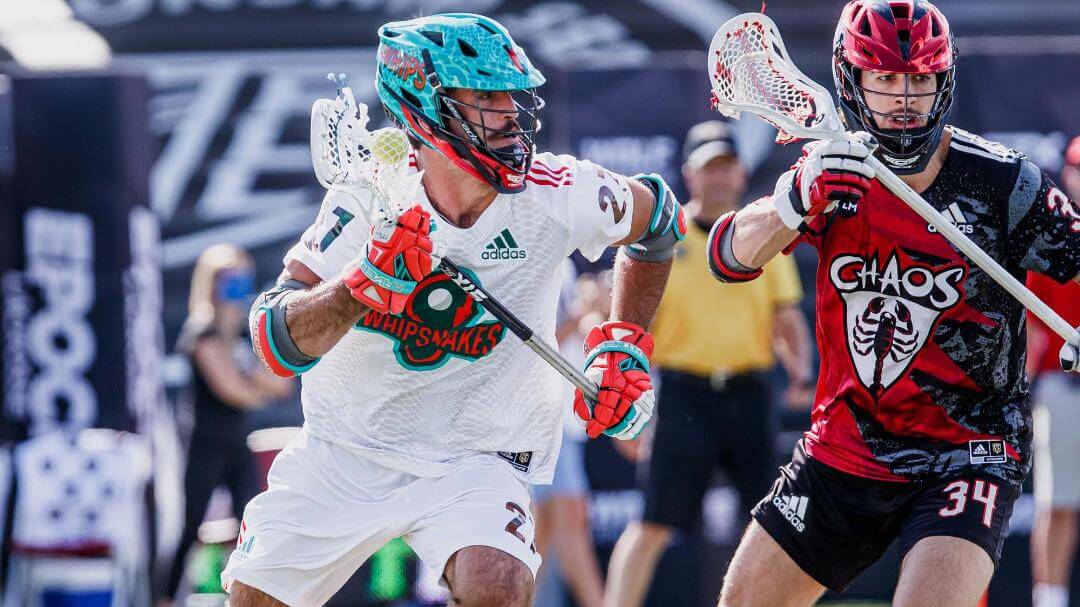 ———


Whipsnakes Lacrosse Club


Champions of the first two PLL seasons, the Whipsnakes stand out with their red/green color scheme. Their options include a white or green helmet; white, green, or red shorts; and white, green or red jerseys. Despite all the potential mix-and-match options, they go mono most of the time. Their primary logo is in the shape of a lacrosse head surrounded by a coiled snake, which also happens to take the shape of an "S." Probably one of the league's best logos, wasted on the worst team name.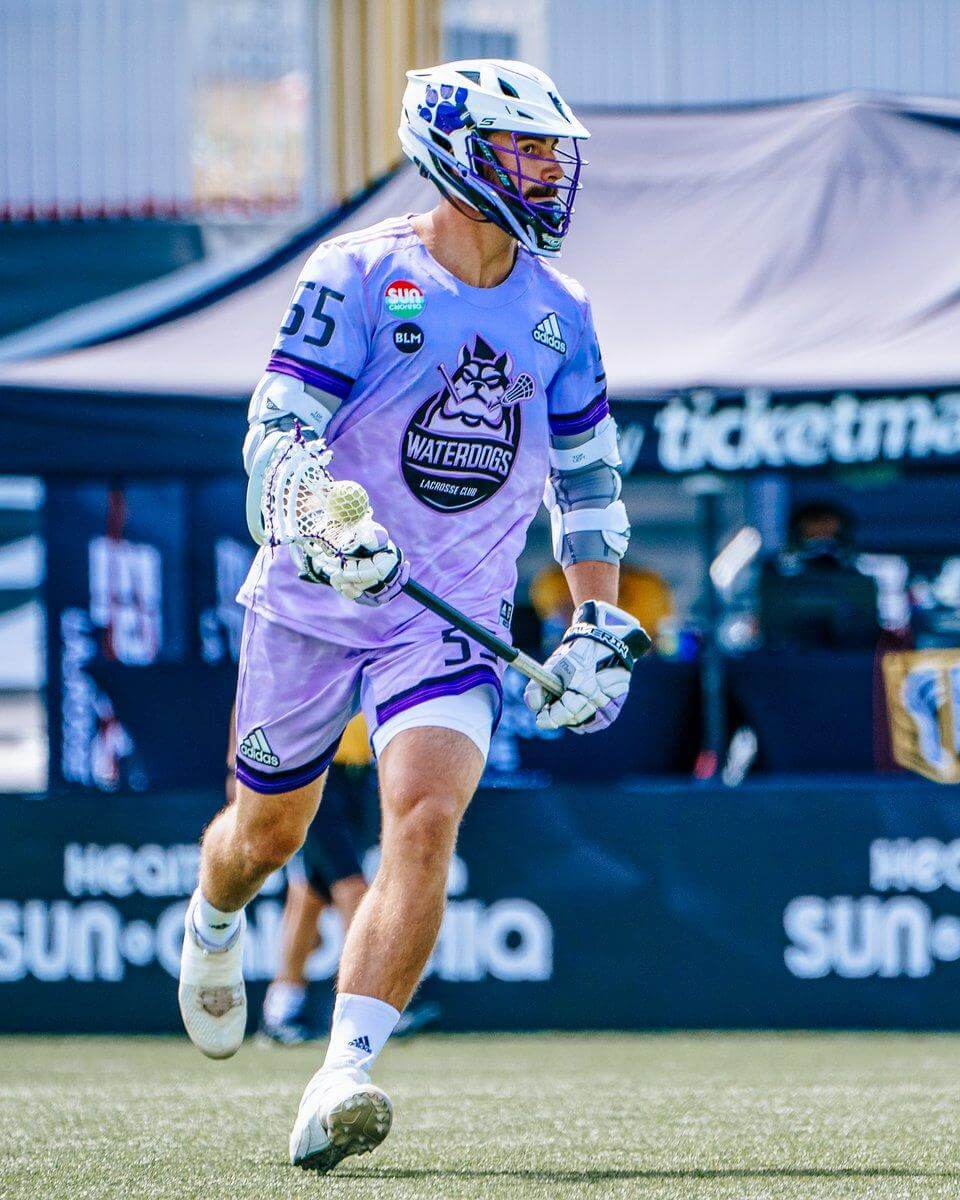 ———


Waterdogs Lacrosse Club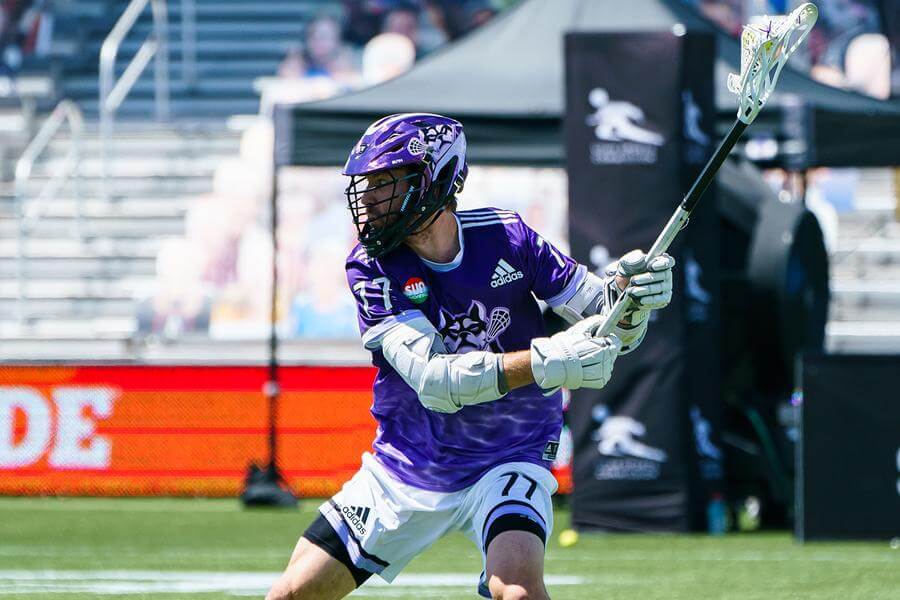 Paul's favorite team, no doubt. They wear dark purple as their primary color, with lavender and white serving as their secondary colors. Their dark uniforms are purple with a sublimated water effect near the bottom, usually paired with a purple chrome helmet and white shorts. Their light uniforms are basically the same design but in lavender. The mono-lavender look feels like a gimmick — a white jersey with purple shorts would be a big improvement. On the plus side, their primary logo features a stylized bulldog chomping on a lacrosse stick, with the wordmark framed by a water drop — clever! On the down side, the 'Dogs are another team that has an ad patch.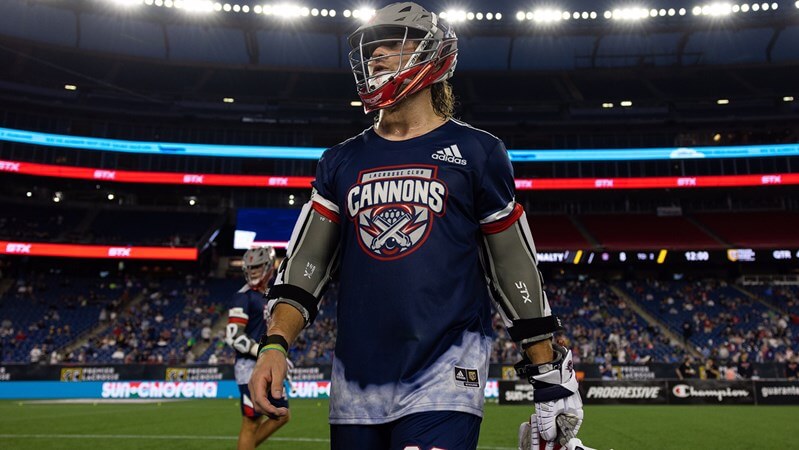 ———


Cannons Lacrosse Club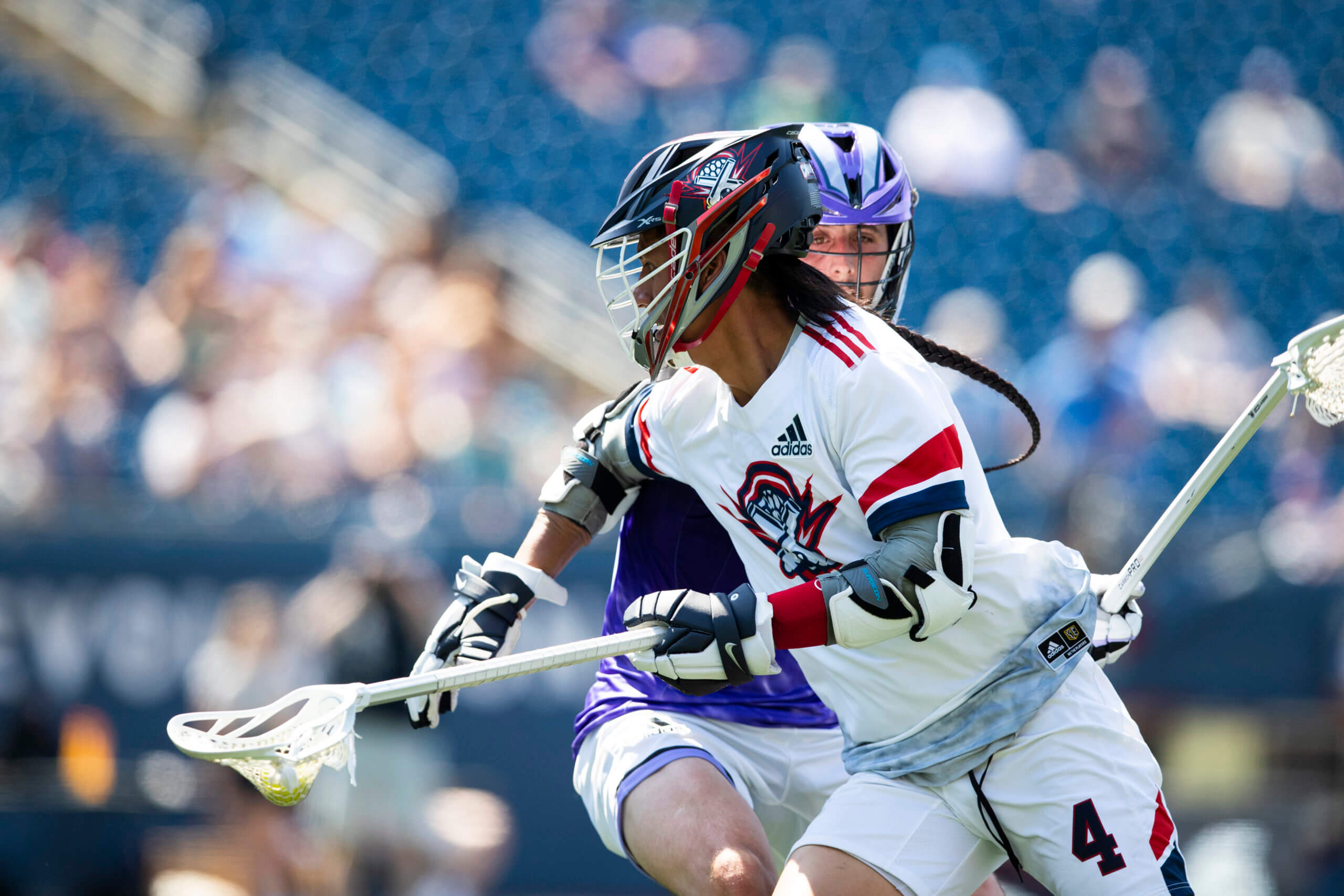 Cannons are the newest team to join the PLL, but they've actually been around professional lacrosse longer than any other team. That's because they were originally part of Major League Lacrosse (MLL). When the PLL and MLL merged in December of 2020, the PLL acquired the rights to all of the MLL team names and logos. So when it was time for the PLL's next expansion, instead of creating a whole new team from scratch, the PLL revived the old Boston Cannons identity. The team's familiar color scheme of navy, red, and grey carried over from the old league. Both their navy and white uniform designs are awkwardly separated by what's supposed to be cannon smoke along the bottom of the jersey, but it looks more like grey/white tie-dyeing. Also of note: Based on recent Instagram photos from training camp, it looks like the Cannons have new white helmets this year.
———
Paul here. I know absolutely nothing about lacrosse, so I'm grateful to Jared for stepping up and filling us in on this corner of the uni-verse. Please join me in thanking him!
• • • • •
• • • • •
Seriously, Mariners? Fr a nce?

@uniwatch @philhecken pic.twitter.com/YHeHSOEgLm

— SteveinLC (@SteveinLC) April 29, 2021
MLB's most problematic font: For this week's Bulletin article, I'm doing a deep dive on the NOB font on the Mariners' navy alternate jerseys, which over the past 20 years has provided a steady stream of kerning issues and other typographic glitches. In an effort to get to the root of the problem, I interviewed the team's equipment co-managers, their local stitcher, a team exec, and more. Proofreader Jerry Wolper, who usually maintains a very even keel, calls it "more peak Uni Watch," and I can't say I disagree!
My Premium Subscribers will receive this article in their in-boxes tomorrow morning. If you haven't yet subscribed, you can do that here (you'll need a Facebook account in order to pay). Don't have or want a Facebook account? Email me for workaround info. Thanks!
• • • • •
• • • • •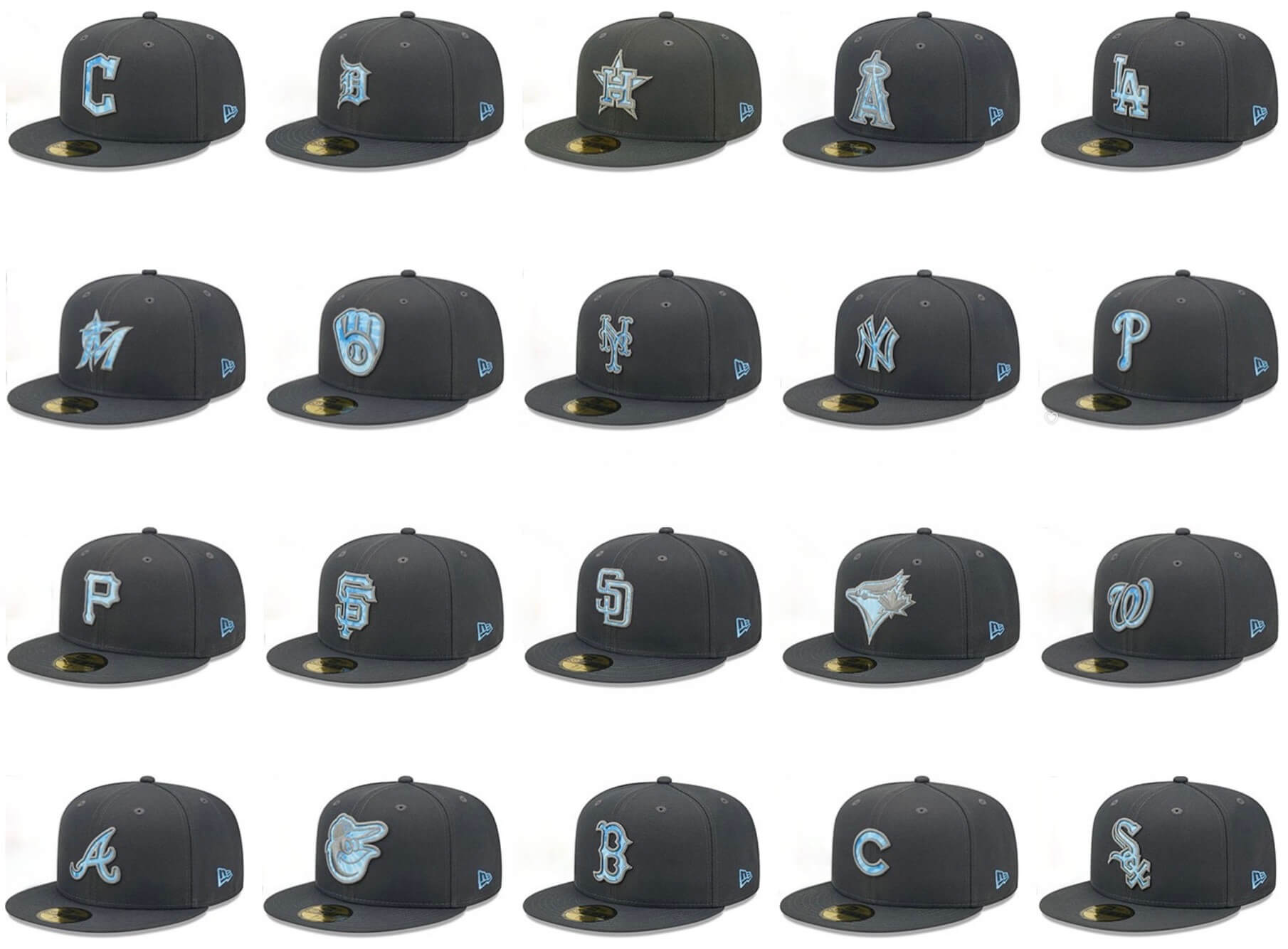 Click to enlarge
The usual slop: MLB hasn't yet officially released its Father's Day caps, but 20 of them appeared yesterday on a retail site, and you can certainly extrapolate what the remaining 10 will look like.
Father's Day is on June 19, three Sundays from now.
(My thanks to Zac Porta for letting me know that these designs had shown up on a retail site.)
• • • • •
• • • • •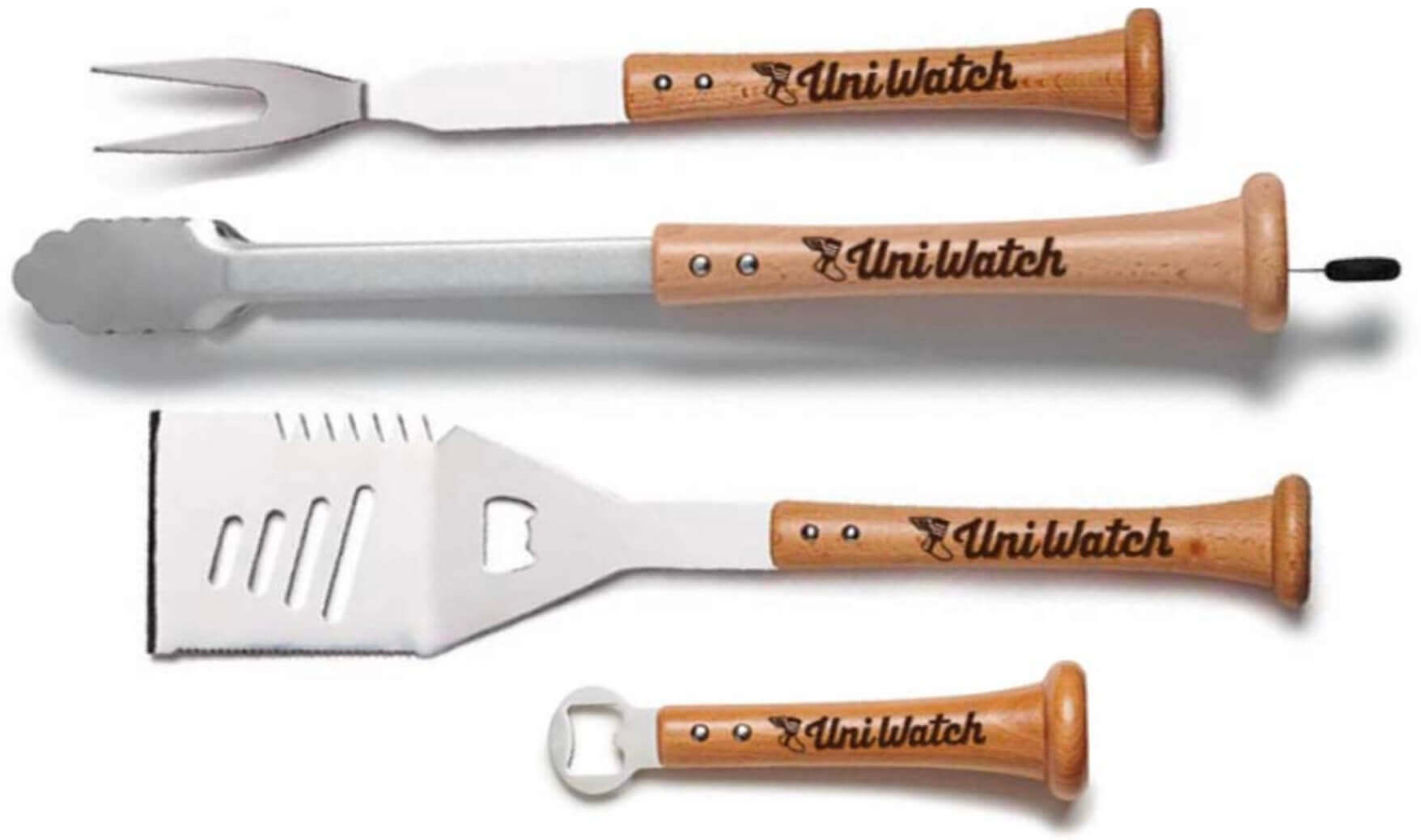 Click to enlarge
Speaking of Pa's Day: The folks at Baseball BBQ tell me that if you want any of our cool Uni Watch grilling tools in time for Father's Day delivery, you must get your order in by next Monday, June 6. The products, with handles made from real baseball bats, are available here.
• • • • •
• • • • •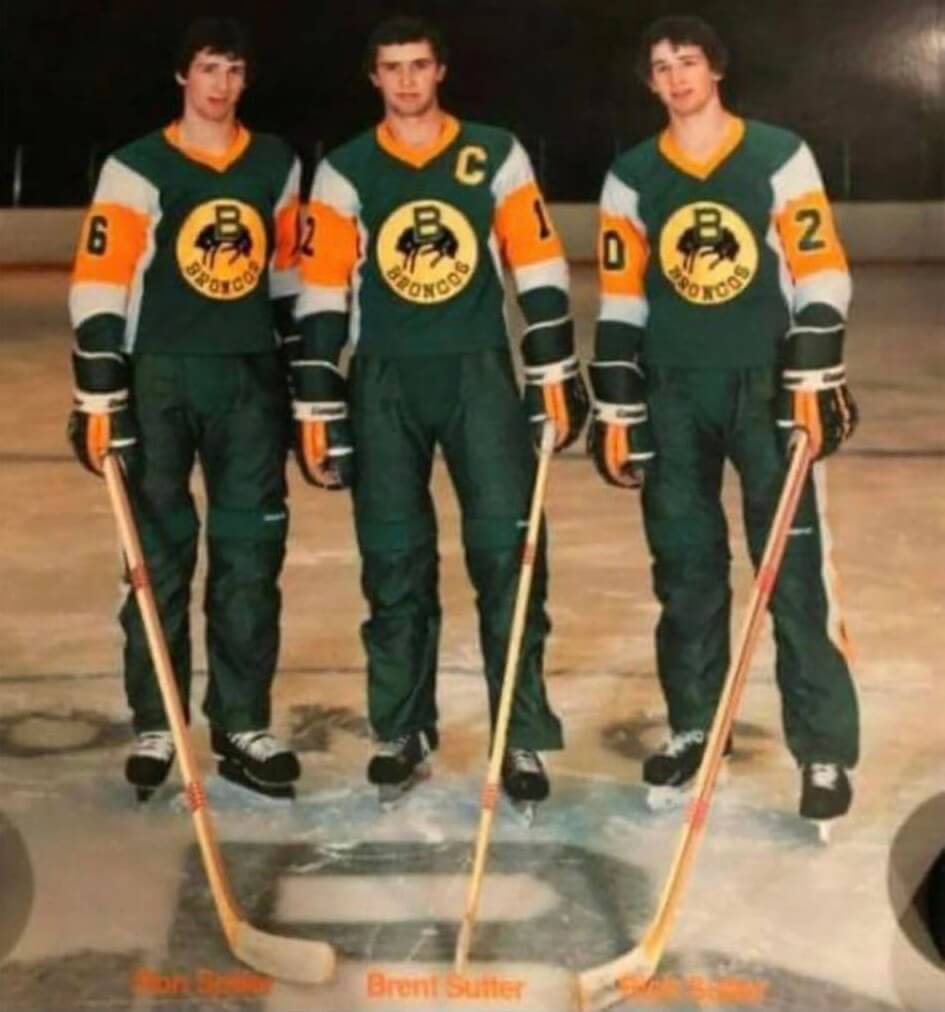 Too good for the Ticker: Gotta love this photo of the Sutter brothers during their stint with the WHL's Lethbridge Broncos, circa 1980. Tasty!
Longtime reader Mike Styczen tells me that the 1980s were a wild time for WHL uniforms, so I've invited him to guest-write an entry about that. Stay tuned.
• • • • •
• • • • •
The Ticker
By Lloyd Alaban

Baseball News: People who vote at Dodger Stadium for local elections today will receive a Dodgers-themed "I voted" sticker (from Patrick Maher). … As if on cue for Paul's Bulletin article tomorrow, Mariners 2B Adam Frazier's NOB has some serious spacing issues (from Harry F. Higgins). … The Greenville Drive, affiliate of the Red Sox, will wear throwbacks to honor former Greenville team Black Spinners (from our own Phil Hecken). … Kudos to the St. Paul Saints, who are using vertically arched NOBs (from Brenden Matthias). … You can never read too many stories about the great Savannah Bananas (thanks to all who shared).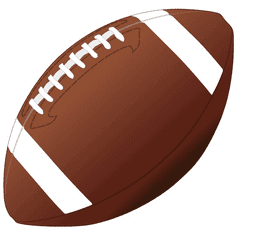 Football News: The Falcons teased something uniform-related for today. It's widely expected to be a red throwback helmet, which we already knew was coming several weeks ago (from multiple readers). … Rusty Lee's neighbor in Kalamazoo, Mich., found this cool Lions/Packers ticket stub from 1938 in his attic. "They presumably belonged to the house's previous owner," says Rusty. … The CFL's Montreal Alouettes have added a fleur-de-lis to the side stripes on their pants (from Wade Heidt). … UTEP launched a campaign to promote El Paso with the region's area code, 915, on the team's helmets (from our own Phil Hecken). … New corporate name for UCF's stadium (from Timmy Donahue).

Hockey News: A TV station's sports anchor wore a Sweden hockey jersey while interviewing Indianapolis 500 winner Marcus Ericsson, who is Swedish (from @mrmichael21).. … Tempe's city council will vote tomorrow on whether to open negotiations on building a new arena for the Coyotes.

Soccer News: The next few items are from our own Phil Hecken: New shirts for Arsenal and Chelsea. … One sportswriter is begging American leagues to stop using "illegible" jersey numbers. … The NWSL's Washington Spirit is holding two Pride games this year— one at each home venue — that will include rainbow captain's armbands and corner flags (from our own Jamie Rathjen). … Also from Jamie: The blog Museum of Jerseys has a new post on the goalie kits worn by England at the 1970 men's World Cup, where they managed to use five different combos in four games. … New crest for Mexican side Cruz Azul (from Sinuhé Guevara). … Reader Peter Clark checked out a soccer-centric exhibit at a design museum in Kensington, England, and took a bunch of photos. … Tennis star Roger Federer received a custom shirt from the Switzerland men's national team (from our own Brinke Guthrie). … Ladue High School in Missouri has named their soccer field after World Cup and Olympic Champion alum Becky Sauerbrunn (from Timmy Donahue). … New home kit for Stoke City (from Ed Zelaski). … Also from Ed: New shirts and new advertiser for German side Hansa Rostock. … Portuguese side Benfica's new home shirt has leaked.

Grab Bag: Cross-listed from the hockey section: A TV station's sports anchor wore a Sweden hockey jersey while interviewing Indianapolis 500 winner Marcus Ericsson, who is Swedish (from @mrmichael21). … New kits for the U.S. national rugby union teams (from multiple readers). … Cross-listed from the soccer section: Tennis star Roger Federer received a custom shirt from the Switzerland men's national team (from our own Brinke Guthrie). … Here's some of the history behind the clothing brand Champion (from Tom Turner). … NASA will announce the companies that will design the spacesuits for the upcoming Artemis moon missions later today (from James Gilbert). … Virgin Atlantic has relaxed its tattoo policy for employees (from Timmy Donahue). … Here's a fun thread on the best helmets in F1 history (from Jeremy Brahm).