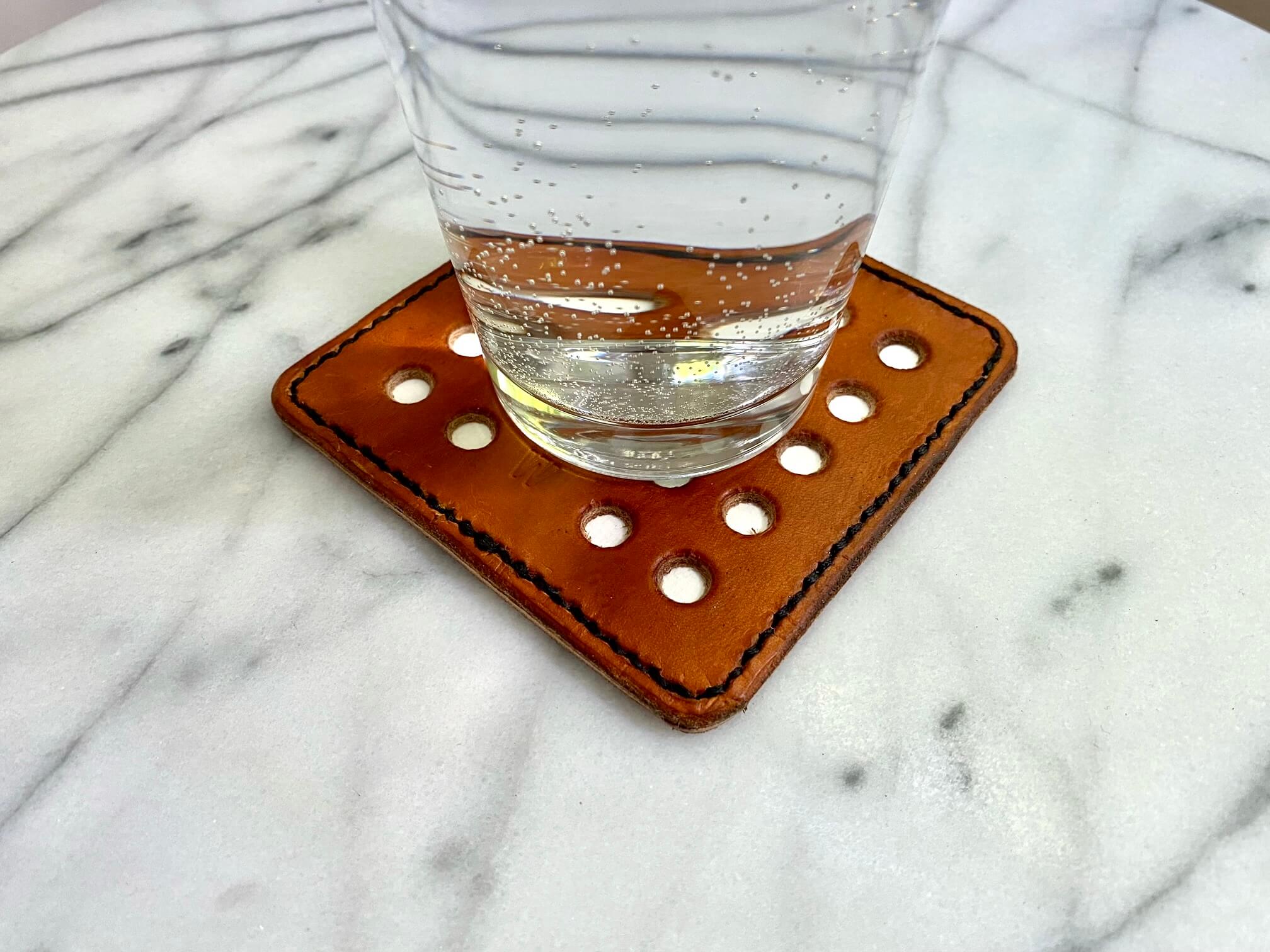 For all photos, click to enlarge
A few months ago I reported that ace DIYer Wafflebored was retiring from making jerseys. As I wrote at the time, "While it's a shame that Wafflebored will no longer be making jerseys, I have no doubts that he'll find new creative projects. I'm excited to see what they turn out to be." Sure enough, Wafflebored contacted me a few days ago and let me know about some new projects he's been working on.
Let's start with the very cool goalie blocker coaster shown above. I'll let Wafflebored describe it:
Leather crafters often make coasters, but they're waxed and would shed water. I really feel coasters should be absorbent like the thick paperboard ones you would get in a bar. So I came up with this design where the white plastic board normally found in the old goalie blockers is replaced by a blotting paper insert. The idea is you would wax the leather exactly as you would do with your old blocker to keep it waterproof, but hopefully the moisture would bead off into the holes and be absorbed.  The insert is replaceable once it's used up.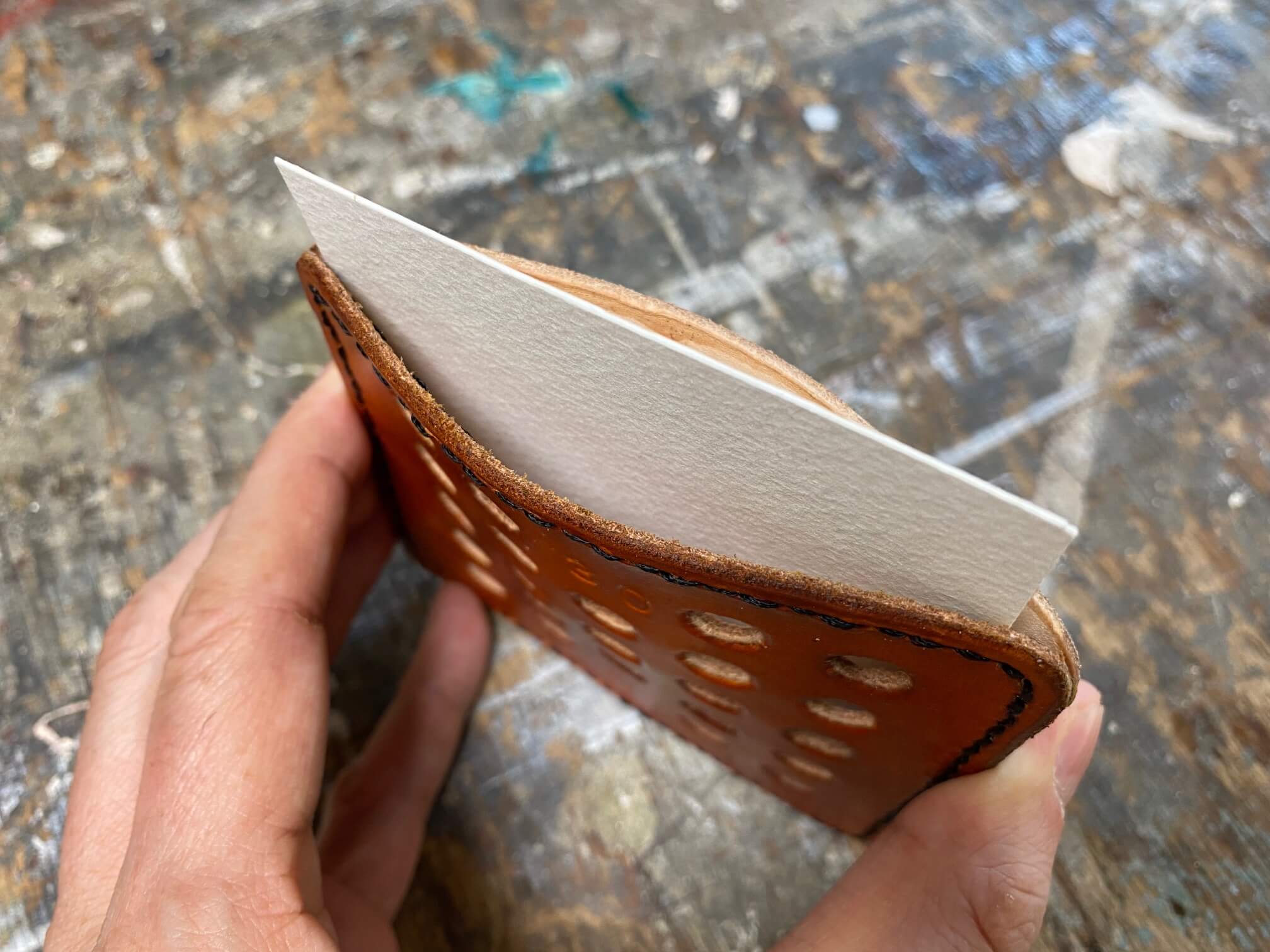 Just as with your blocker, you'd need to re-waterproof it every so often, so it's a nice interactive feature and exactly what you would have done back in the day as a leather-era goalie.
I love that! A very clever design, plus it's great when Wafflebored lives up to his namesake.
Next up is this key tag patterned after an untucked basketball jersey (like the ones made famous by Marquette):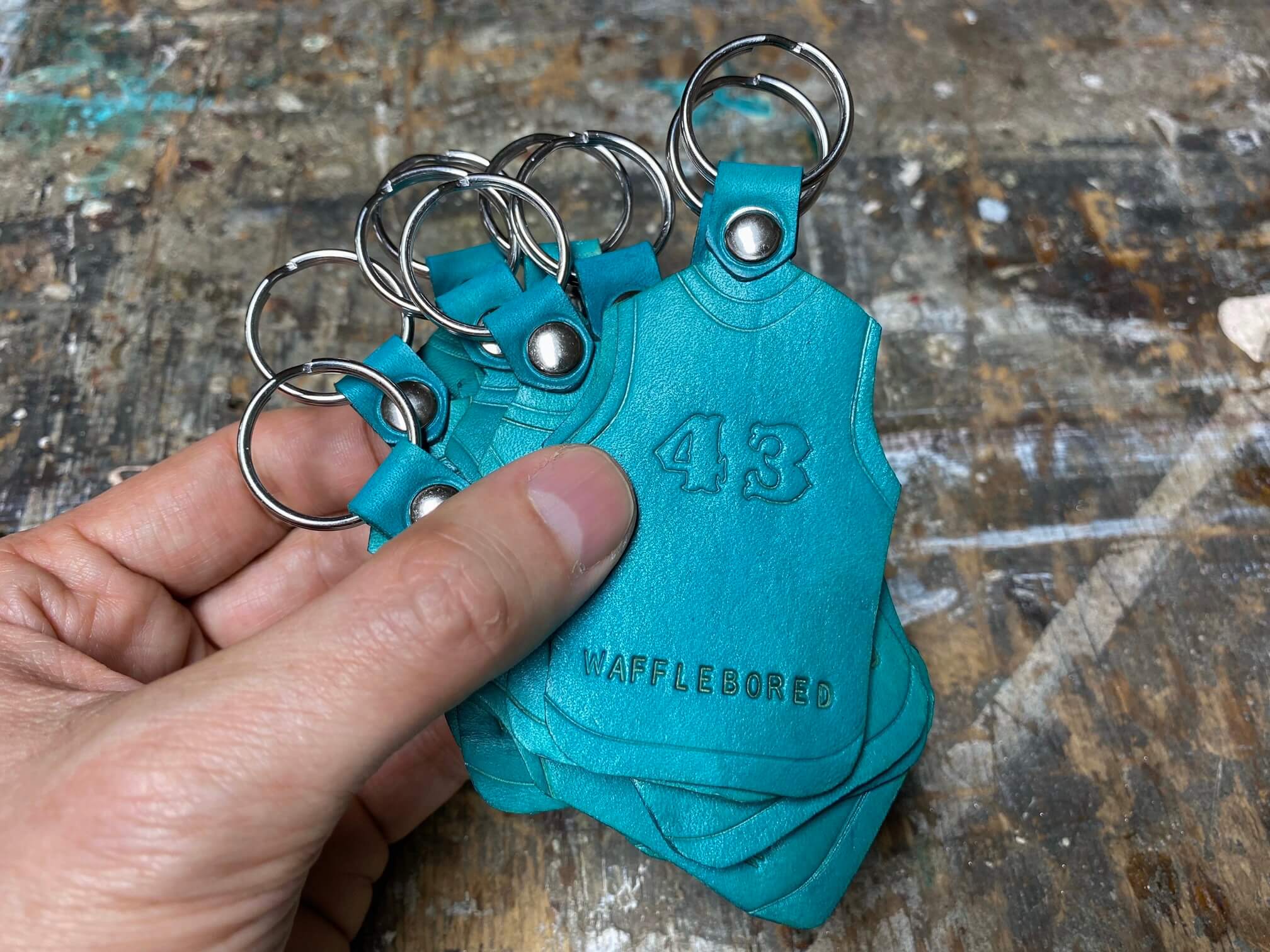 "I absolutely love untucked basketball jerseys, so I made a set of these key rings," says Wafflebored. "The color is Vancouver Grizzlies-style turquoise."
And here's another key ring project, this time based on an old-timey baseball jersey: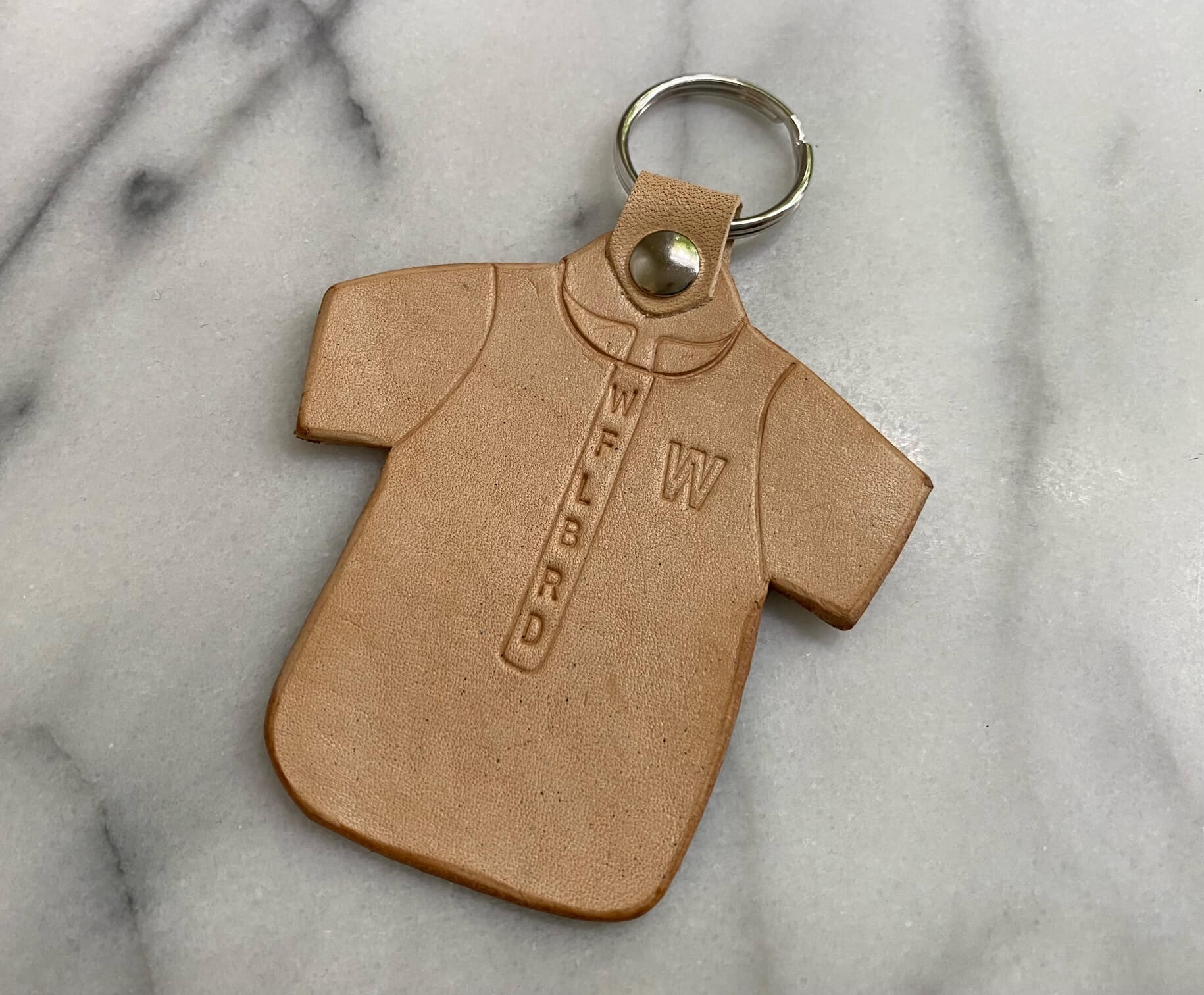 "I love those old baseball jerseys with the name down the placket," says Wafflebored. "This one is a prototype, but the idea is it would be customizable with any name up to six characters. Still working out how to do that."
Great stuff. I love that Wafflebored is transitioning from fabric to leather, and I'm super-thankful to him for sharing his fantastic creativity with us. Very inspiring! Keep doing what you do, buddy.
• • • • •
• • • • •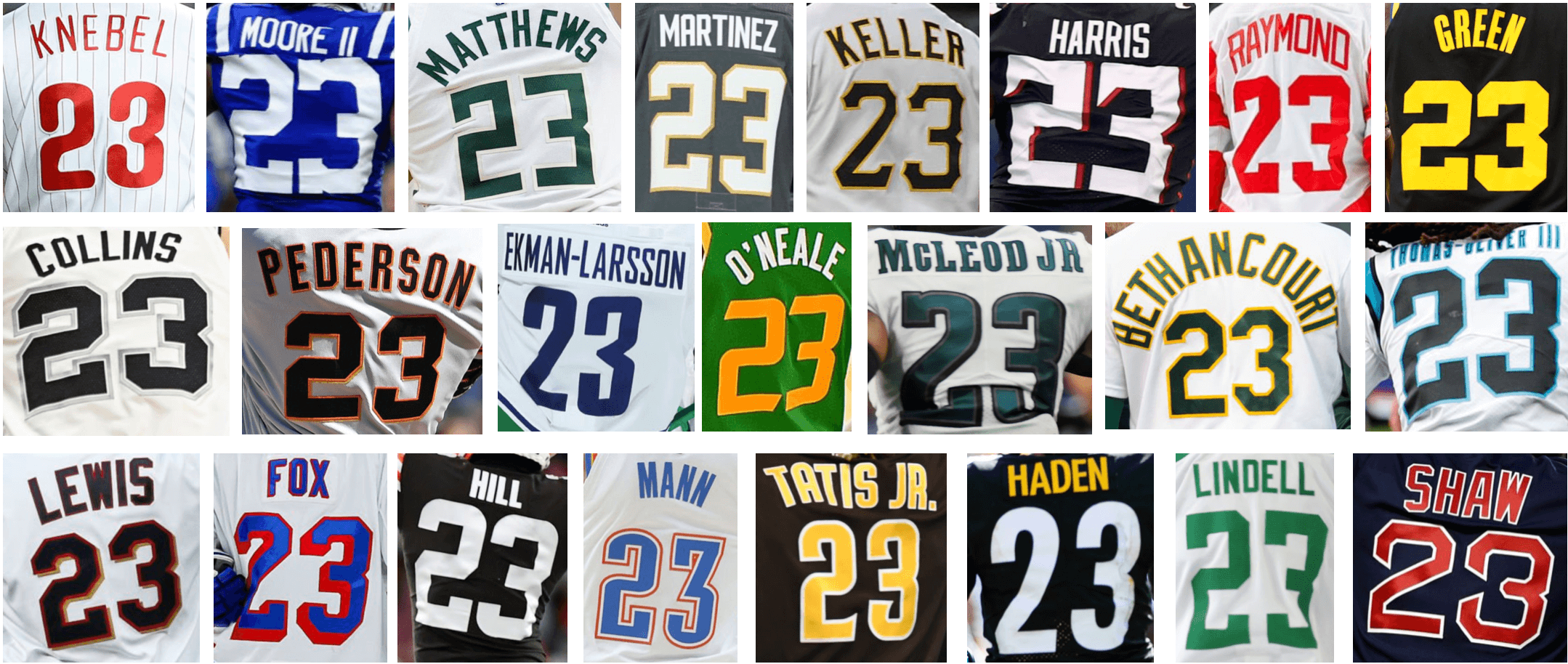 Click to enlarge
Bulletin reminder: In case you missed it, yesterday was the 23rd anniversary of the very first Uni Watch column being published, so my latest piece for Bulletin is a list of 23 fun facts, previously untold stories, and behind-the-scenes tidbits about Uni Watch, including quite a few anecdotes about my time at ESPN. My Premium Subscribers can read the article here. If you haven't yet subscribed, you can do that here (you'll need a Facebook account in order to pay). Don't have or want a Facebook account? Email me for workaround info.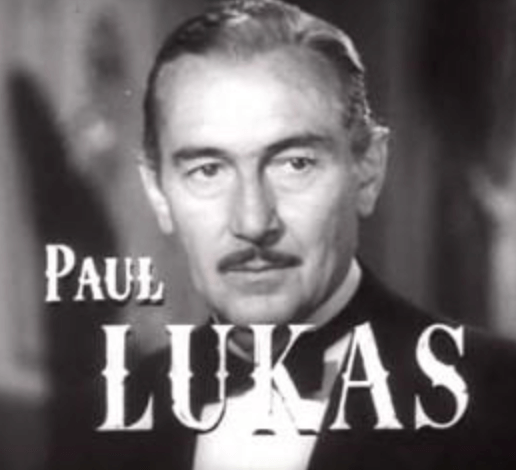 Also, speaking of Uni Watch's 23rd birthday: As many of you may know, there was once a Hollywood actor named Paul Lukas. I've known about him pretty much since I was old enough to write my name, and I've even written about him here on Uni Watch, but somehow I never noticed that he was born on May 26, 1894.
Or to put it another way, Paul Lukas and Uni Watch share a birthday. Incredible!
It turns out that reader/commenter Denver Gregg pointed this out back in 2017, but somehow I forgot that. But then reader/commenter Mike Edgerly pointed it out again yesterday. I promise not to forget this time!
(Big thanks to Phil for recalling Denver Gregg's five-year-old comment. I'm glad one of us remembered!)
• • • • •
• • • • •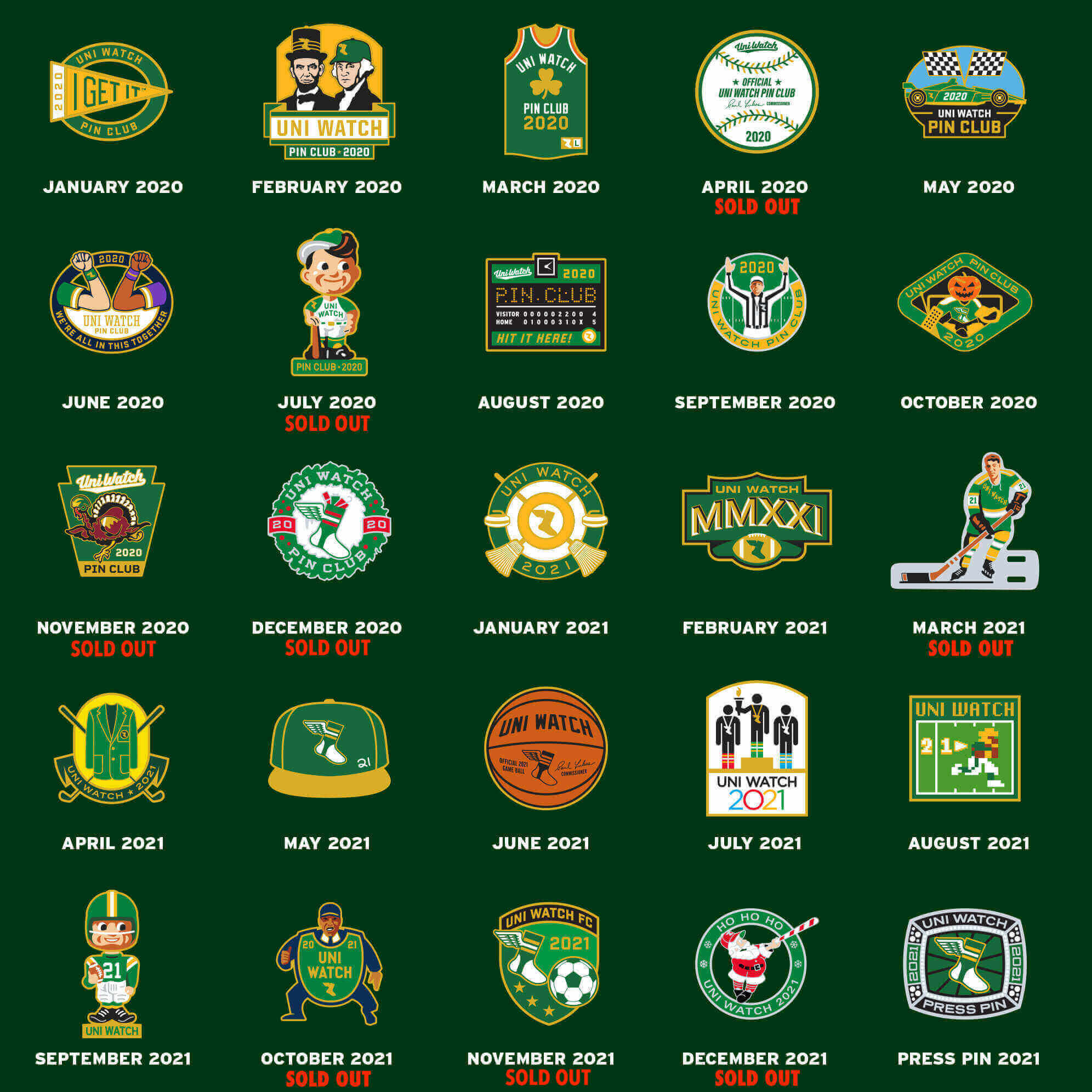 Click to enlarge
Periodic pin-ventory reminder: Remember, Uni Watch pins are now just $3 apiece. I'm down to the very last 2021 Press Pin, and I'm running low on several other designs. The pins are available here.
• • • • •
• • • • •
The Ticker
By Anthony Emerson

Baseball News: The Rockies apparently plan to unveil their CC uniform today. Phil will have a full assessment tomorrow. … Oh man, check out these amazing jackets the Cardinals are wearing in this 1970s spring training pic found by Paul Gardner. Perhaps even more interesting, it doesn't look like they're wearing baseball pants — can anyone shed more light? … At the 1:03 mark of this video, Reds 1B Joey Votto discusses his uniform choices with Dan Patrick (from Tim Dunn). … Red Sox manager Alex Cora started this season sporting a beard. After the team got off to a tepid start, he shaved, and since then the team has started winning.

NFL News: Here's some great color footage of AFL action between the Jets and Pats at Fenway in 1965 (from Shawn Hairston).



Hockey News: The Flames' AHL affiliate in Stockton, Calif., is relocating to Calgary in the offseason, and this blog explores some potential names for the relocated team.

Soccer News: Atlanta United, Seattle Sounders, Inter Miami, and Houston Dynamo have all  launched their 2022 Primeblue kits (thanks, Phil and Ignacio Salazar). … FootyHeadlines reports that Manchester United wore a staggering 11 different kit combos last season (from Trevor Williams).

Grab Bag: New unis for USA Cricket (from Scott Rogers). … DC Fire and EMS has been awarded the title of "best dressed public safety organization" from the North American Association of Uniform Manufacturers (from Bryan Martin Firvida).
• • • • •
That's it for this week, as we move into the Memorial Day weekend. If you're traveling over the next few days, travel safe. If you'll be mourning a fallen service member on Monday, please accept my sincere condolences. Meanwhile, enjoy Phil's weekend content and I'll see you back here next week. Peace. — Paul