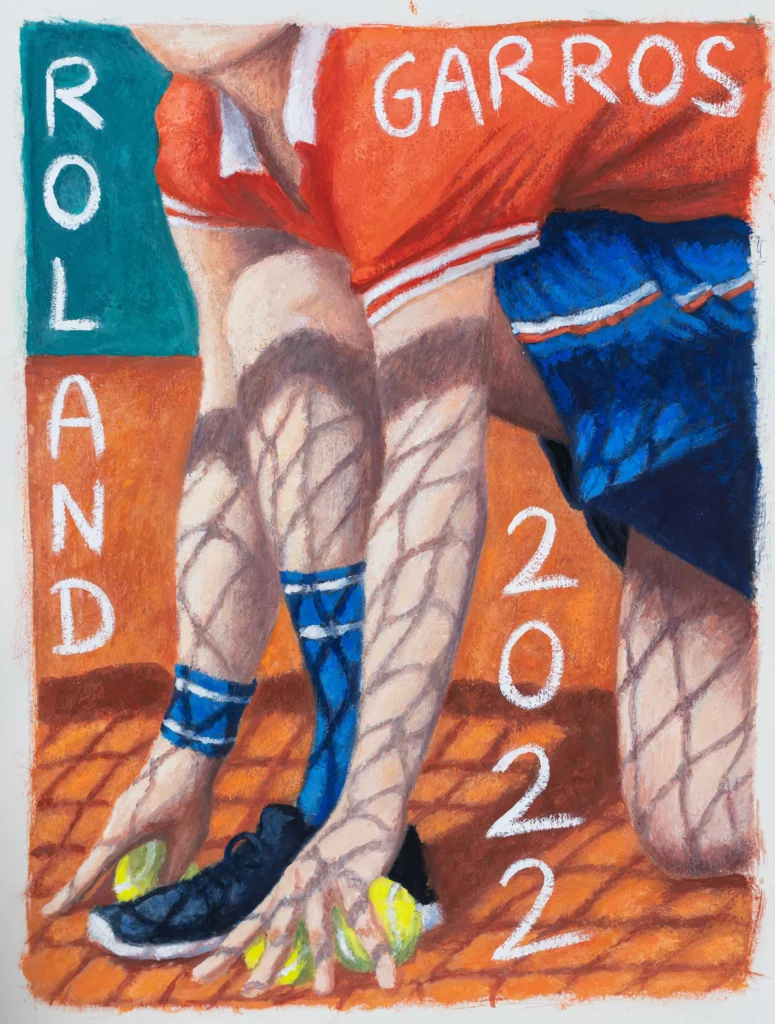 By Phil Hecken, with Brinke Guthrie
Follow @PhilHecken

Good Sunday Morning, Uni Watchers…I hope everyone had a great Saturday.
It's springtime in Paris, which means it's also time for the French Open to begin. As I've done for many, many years, I'm again teaming up with my doubles partner, Brinke Guthrie, who will bring you the full rundown of all the gear we'll be seeing on the top players in this year's second Major. Unlike down under in Melbourne, when unvaccinated Novak Jokovic was prohibitied from play, the pandemic has eased enough that he'll be allowed in the 2022 French Open. Fans were hoping to (possibly) see a final between Novax and thirteen time champion Rafa Nadal, but alas, the draw puts them on a quarter final path. But enough about that — we're not here to talk about the players…we're here to run down the gear. And with that, I'll now turn it over the Brinke as he brings you the…
• • • • •
2022 French Open Fashion Preview
by Brinke Guthrie
Bonjour mes amis; welcome to the 2022 French Open tennis gear preview. As we do around the four Slams, (Australian, French, Wimbledon and US Open) here's what you can look for clothing and shoe-wise on the Paris clay for the next two weeks.

🇫🇷 Asics Women's #1 Iga Swiatek is absolutely on fire. As in, a 28 match winning streak, scoring five titles so far this year. The prohibitive favorite here.
Iga Swiatek's last 16 sets @WTA finals:

2020 RG: 64 61
2021 Adelaide: 62 62
2021 Rome: 60 60
2022 Doha:62 60
2022 IW: 64 61
2022 Miami: 64 60
2022 Stuttgart: 62 62
2022 Rome: 62 62

She has now won 5 of the last 9 WTA 1000s. pic.twitter.com/8xtL4KZRjI

— WTA Insider (@WTA_insider) May 15, 2022
She wears Asics clothing and shoes, and she'll sport this cool look.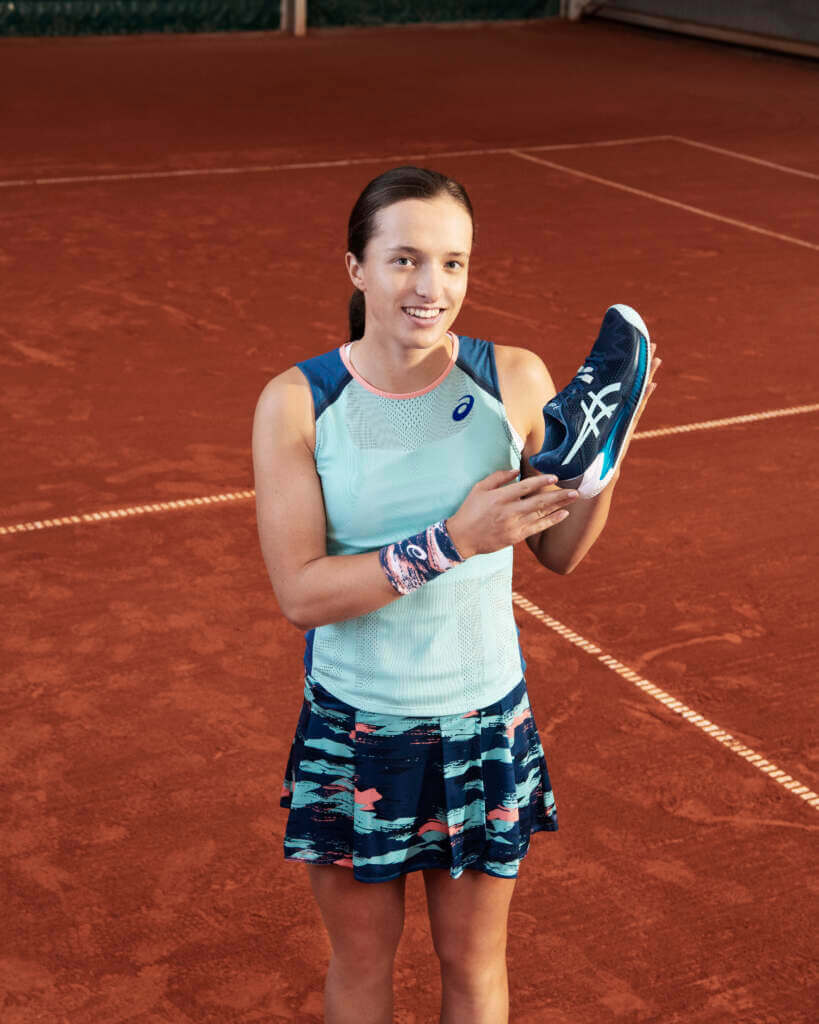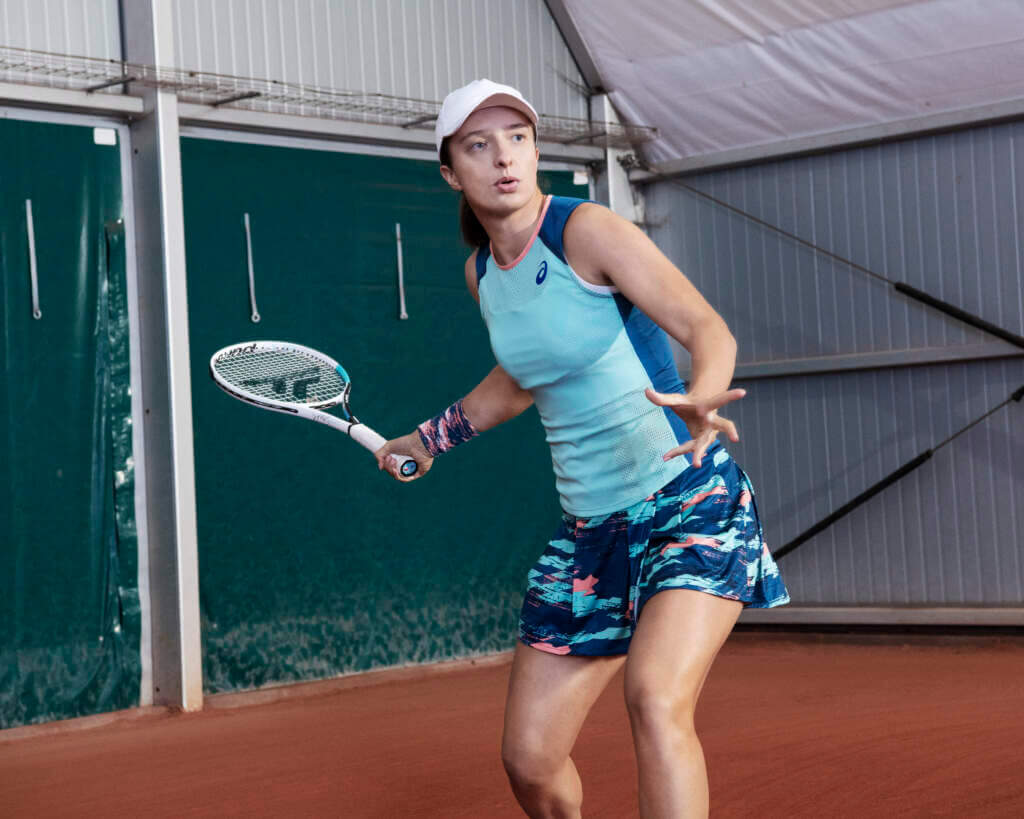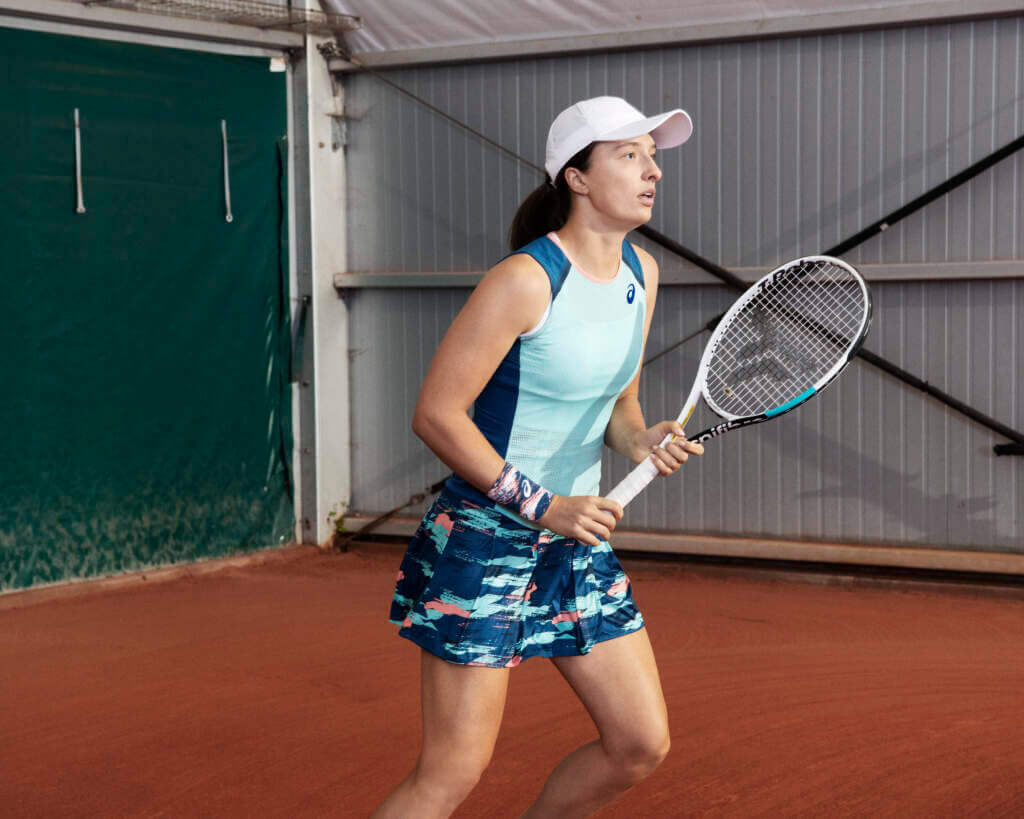 Novak Djokovic sports his own Asics shoe. Asics helpfully told me "the shoe Novak wears is a bit different colour wise to what is for sale in retail."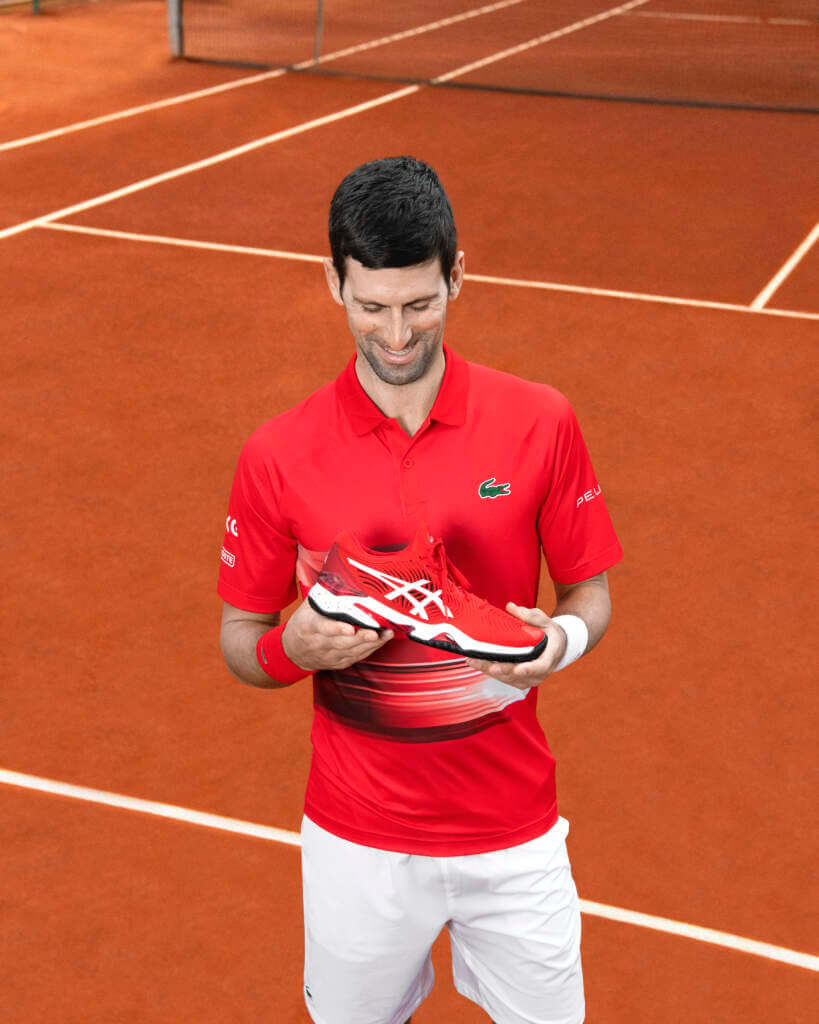 Also, notice that "UKG" logo on his sleeve; since that photo was taken, they announced that he's no longer sponsored by them. One of those "Already planned, mutual parting of the ways." Of course it was.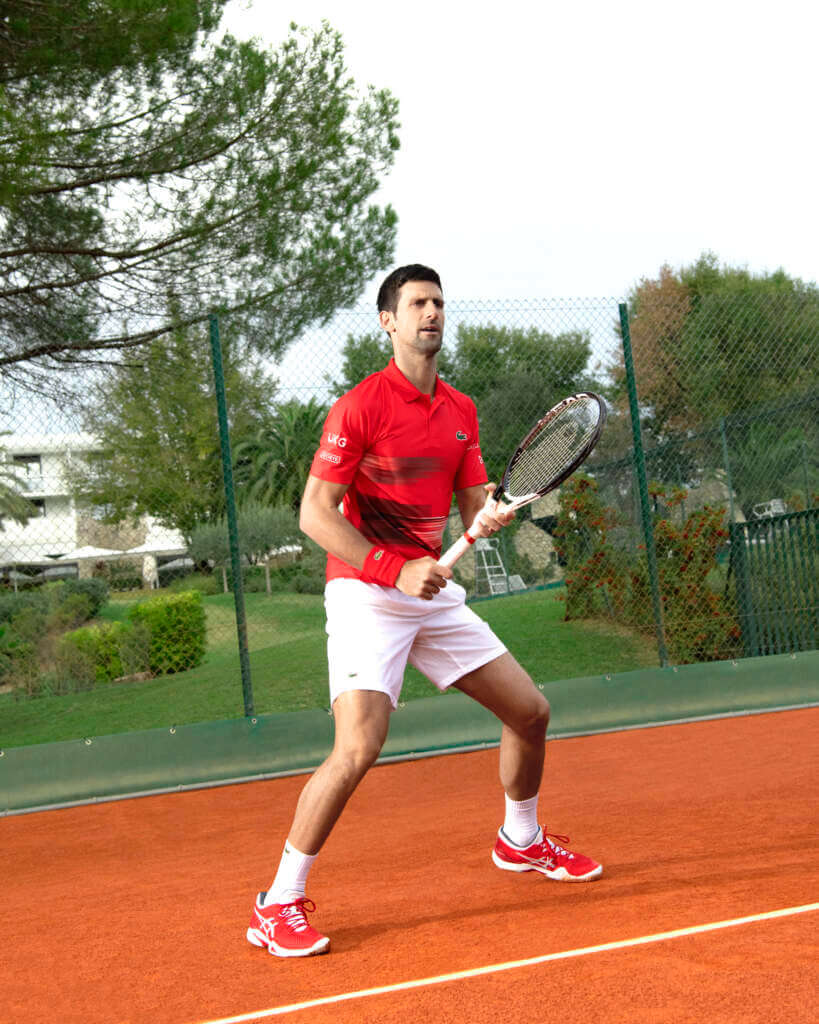 🇫🇷 Fila The brand has just announced the signing of women's star and world #2 Barbora Krejcikova to an apparel and shoe deal, which she'll debut in Paris. (She's also the defending champion in singles and doubles; Fila will get a lot of camera time, which is, of course, what they want.) She moves over to Fila from Head. With the retirement of Ash Barty, she steps right into their flagship player spot. Here she is shown wearing their new "Center Court" line. "It is an honor to step onto the court and represent a brand with such an iconic history in the game," she said recently.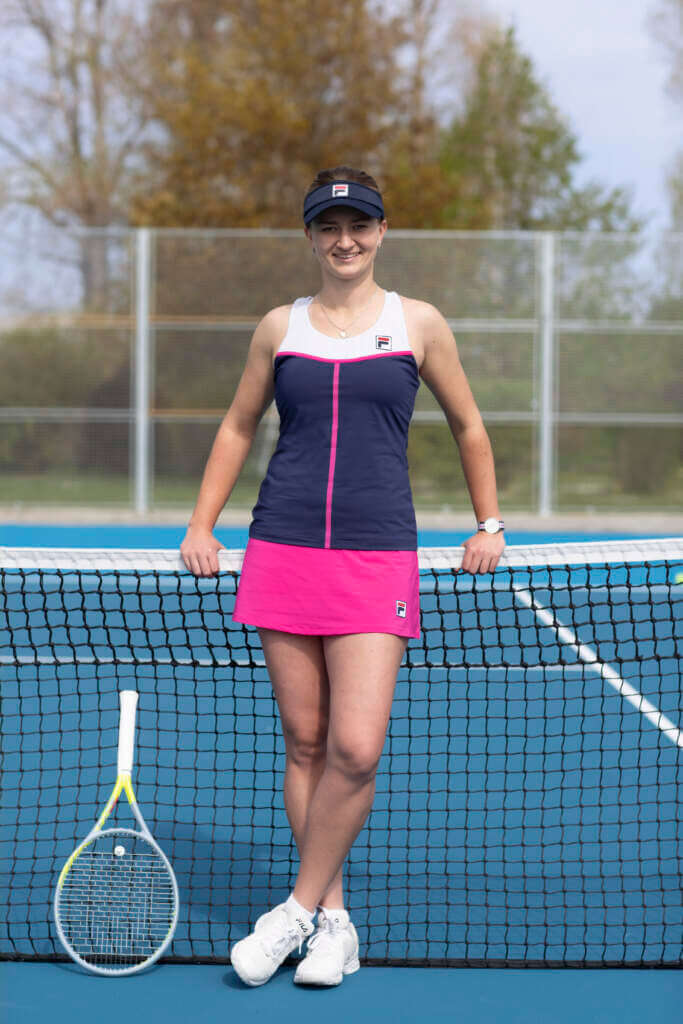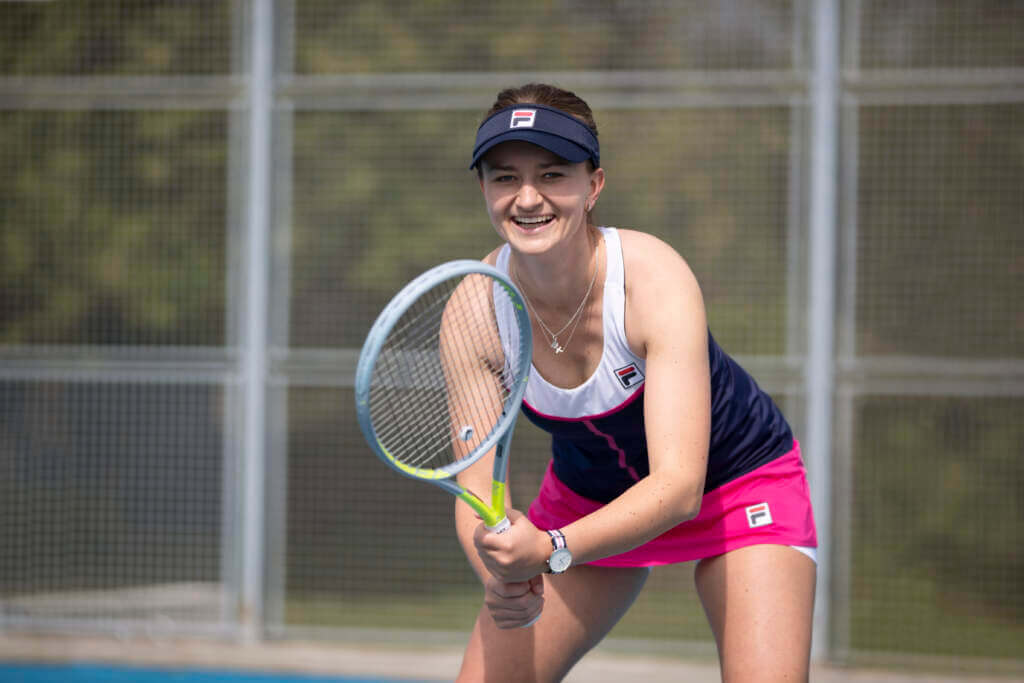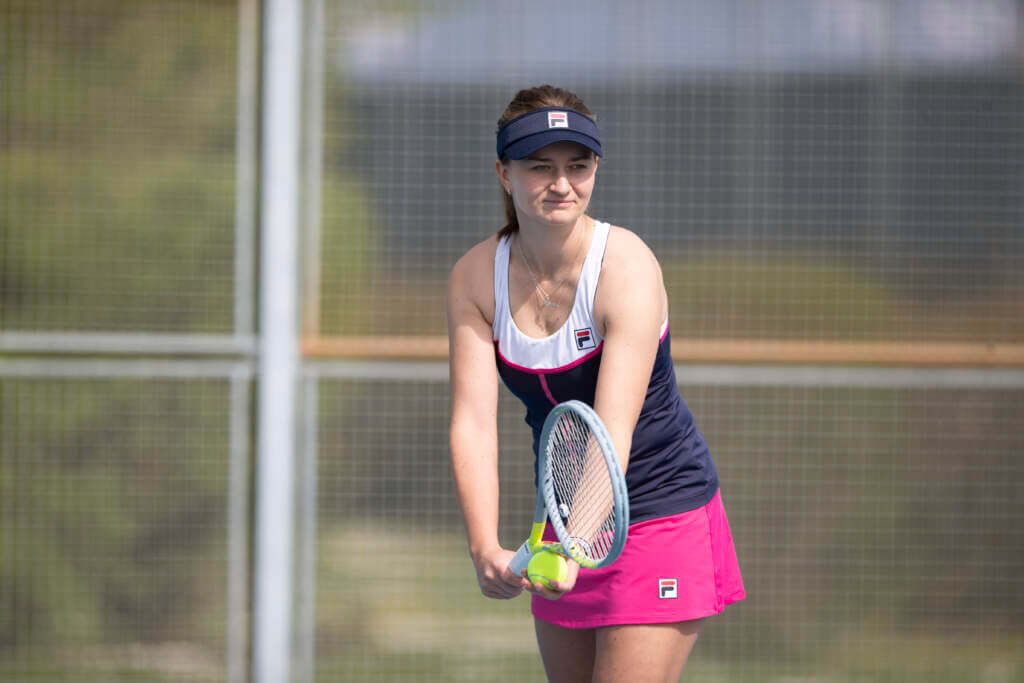 World #8 Karolina Pliskova will also sport the Center Court line.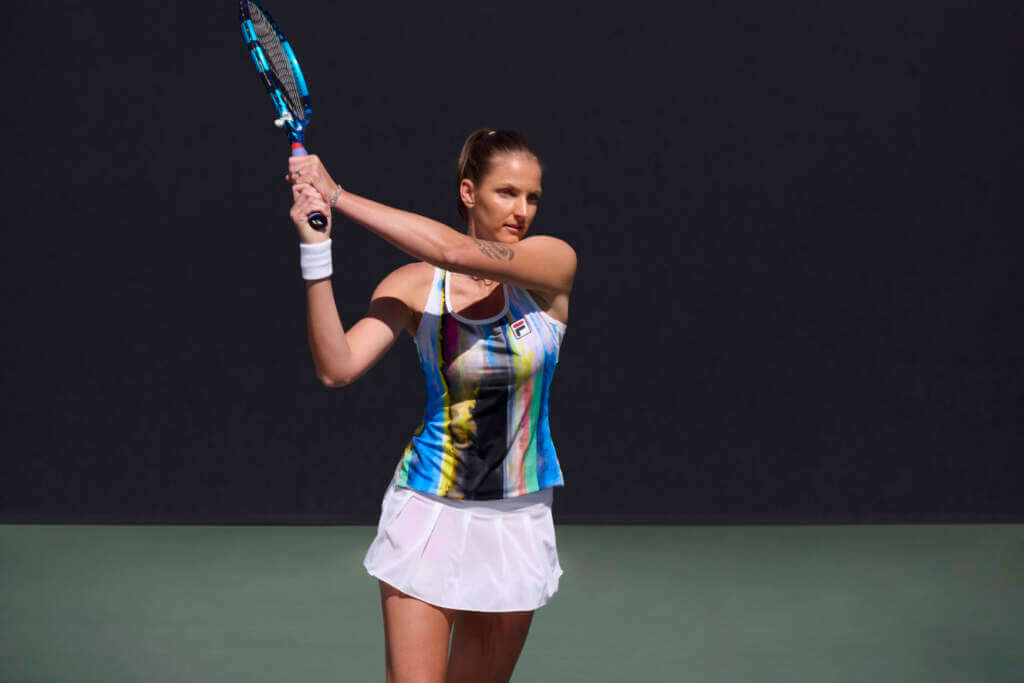 The Fila guys John Isner, Reilly Opelka, Diego Schwartzman, and Sam Querrey will also wear the same Center Court line; here's Diego ripping a forehand.
BTW, Diego is 5′ 7″, and Isner…isn't.
We have a team name for Isner/Schwartzman 🙌

📷: @InteBNLdItalia | @JohnIsner | @dieschwartzman pic.twitter.com/oU0w7T8oaF

— ATP Tour (@atptour) May 14, 2022

🇫🇷 Nike Naomi Osaka has a very sharp looking shoe for the current European clay swing. She'll have a tough road here as she's unseeded, mainly due to lack of activity. Clay is not her favorite surface, but you never know. Her clothing line is also shown below- let's call it "neon camo."
Rafa Nadal is synonymous with Roland Garros. He flat owns Paris, winning this event a bonkers 13 times. (Teen phenom and fellow Nike/Babolat racquet dude Carlos Alcaraz is the hottest player on the planet and is quite ready to take it from him.) I like this look — the blue makes a nice contrast with the clay.
Nike star Simona Halep won this event in 2018; it seems she's happy to pick up her new gear, though we don't see it, do we Simo?

🇫🇷 Adidas is way into their "end plastic waste" campaign; they've been doing it for several years. Their Instagram page says "The featured innovations in our new apparel collection represent our commitment to help end plastic waste. The future is in our court."
Oh, and one more thing: the sleeveless look in tennis? No.

🇫🇷Lacoste This is their home tournament, and Le Croc will be well represented by the likes of Novak Djokovic and also Daniil Medvedev (below) who plays in Lacoste clothing and shoes, and uses a (Lacoste owned) Technifibre racquet.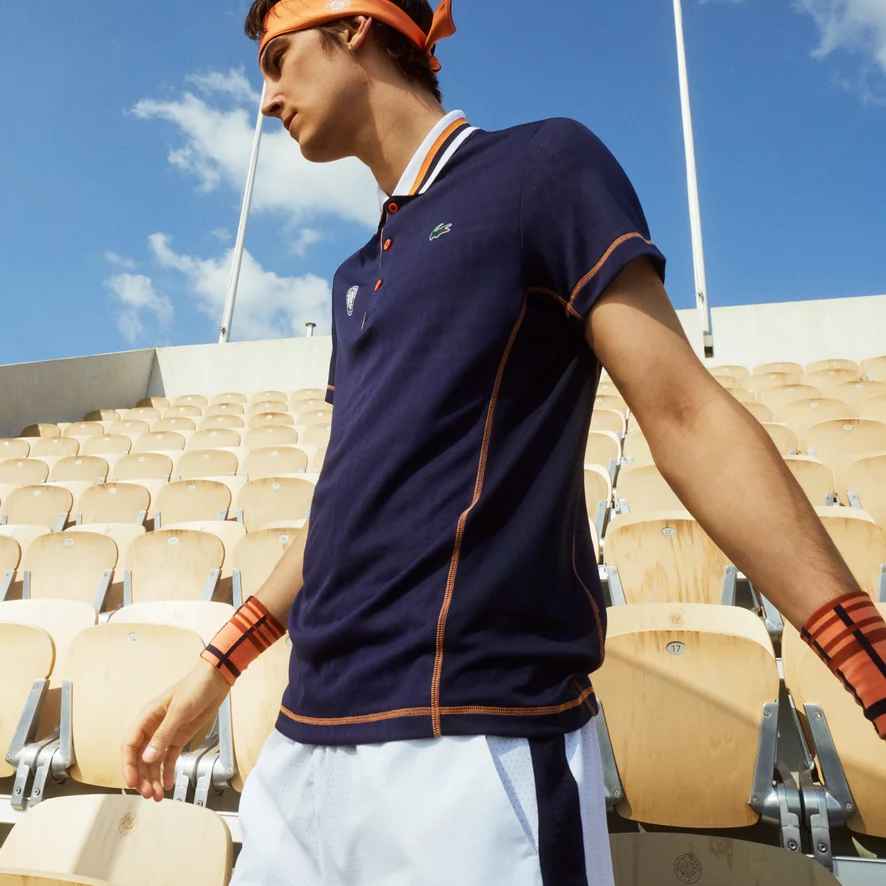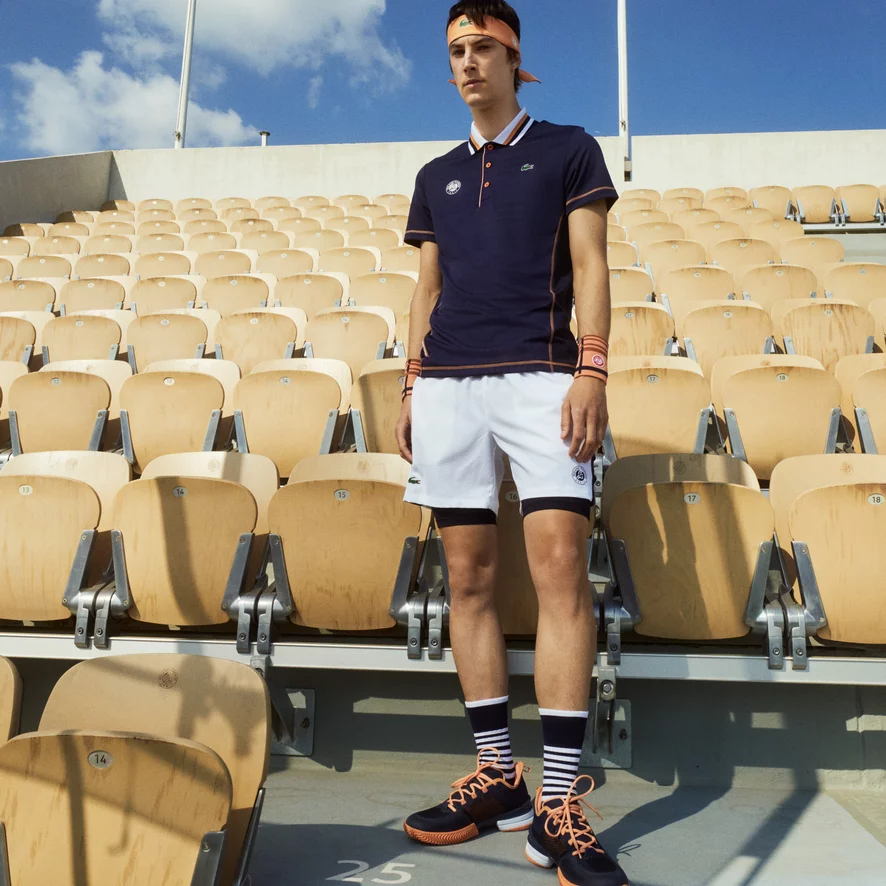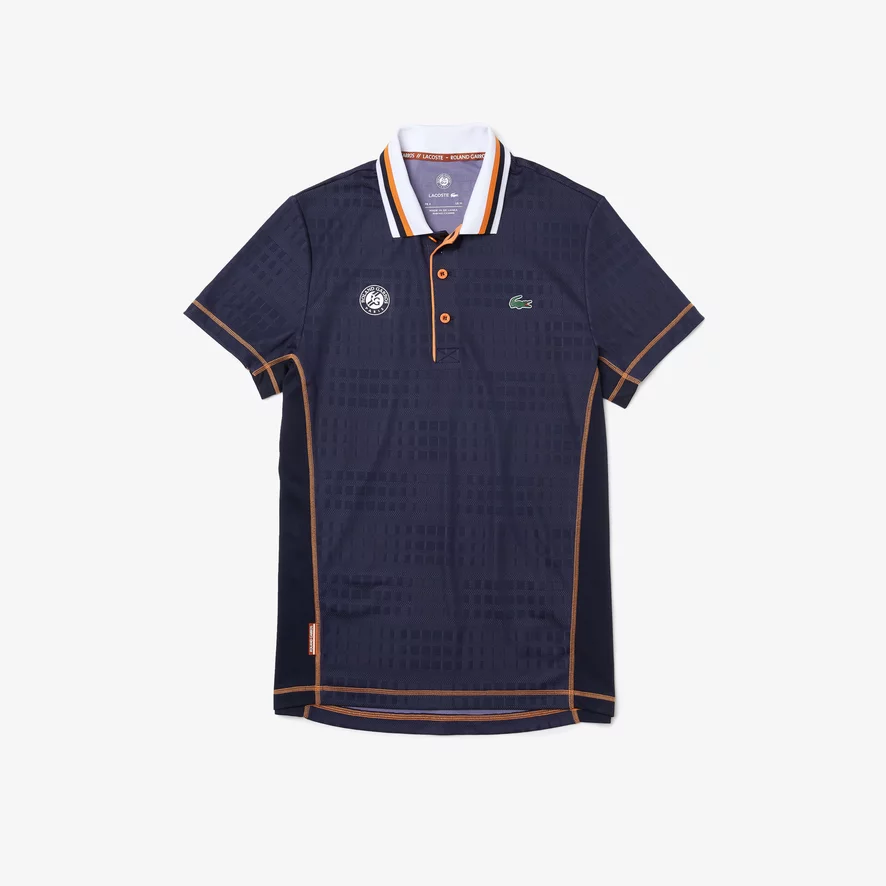 🇫🇷 New Balance Here's the NB look for the clay season.

🐐 Uniqlo Ah, nothing for Roger Federer. Still doin' the knee rehab thing. He says he'll be back on court in September for the Laver Cup.

And a look at some Wilson frames and shoes:
The @WilsonTennis partnership with @rolandgarros includes two special-edition rackets. The all-new Clash V2 goes blue and the Blade V8 orange in the Roland Garros Collection. pic.twitter.com/dyBrR8a5uz

— Tim Newcomb (@tdnewcomb) May 19, 2022
To celebrate the #FrenchOpen @WilsonTennis partnered with French graffiti artiste Hope for a Paris Edition of the Rush Pro with a "French street culture" aesthetic pic.twitter.com/MWuSFZEcI8

— Tim Newcomb (@tdnewcomb) May 21, 2022

And we'll wrap with this French Open fashion podcast. See ya in late June for Wimbledon.
https://youtu.be/1efGnvsbj6k
• • • • •
Thanks, Brinke! Looking forward to the red clay action and we'll see you in a month or so for your Wimbledon preview.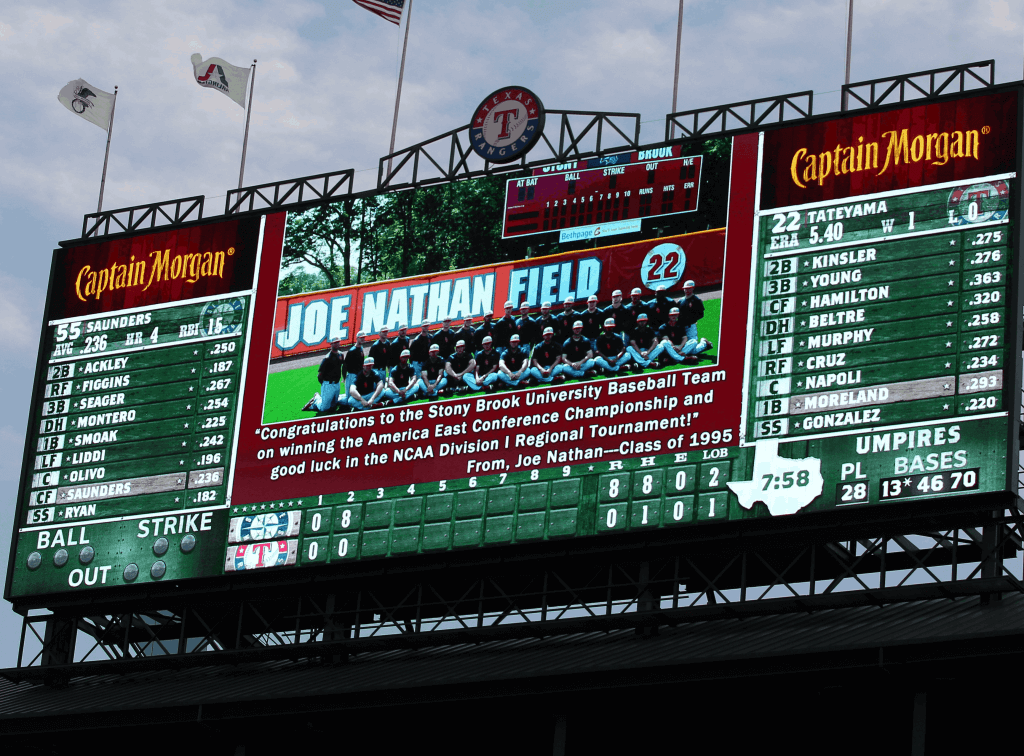 Guess The Game…
from the scoreboard
Today's scoreboard comes from Tom Branson.
The premise of the game (GTGFTS) is simple: I'll post a scoreboard and you guys simply identify the game depicted. In the past, I don't know if I've ever completely stumped you (some are easier than others).
Here's the Scoreboard. In the comments below, try to identify the game (date & location, as well as final score). If anything noteworthy occurred during the game, please add that in (and if you were AT the game, well bonus points for you!):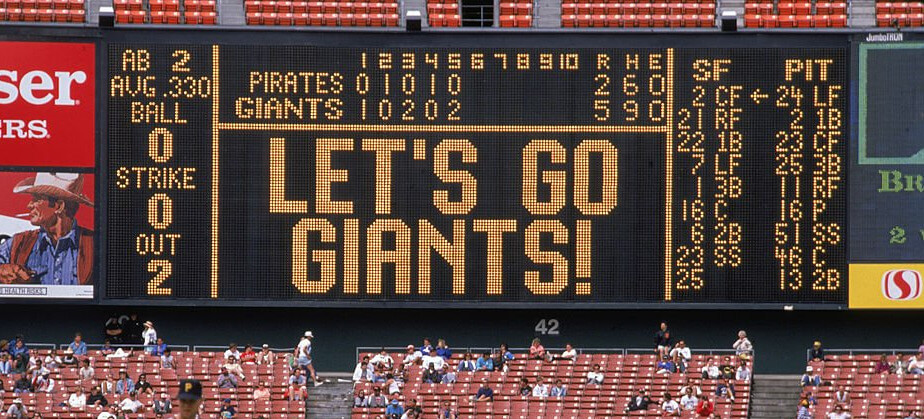 Please continue sending these in! You're welcome to send me any scoreboard photos (with answers please), and I'll keep running them.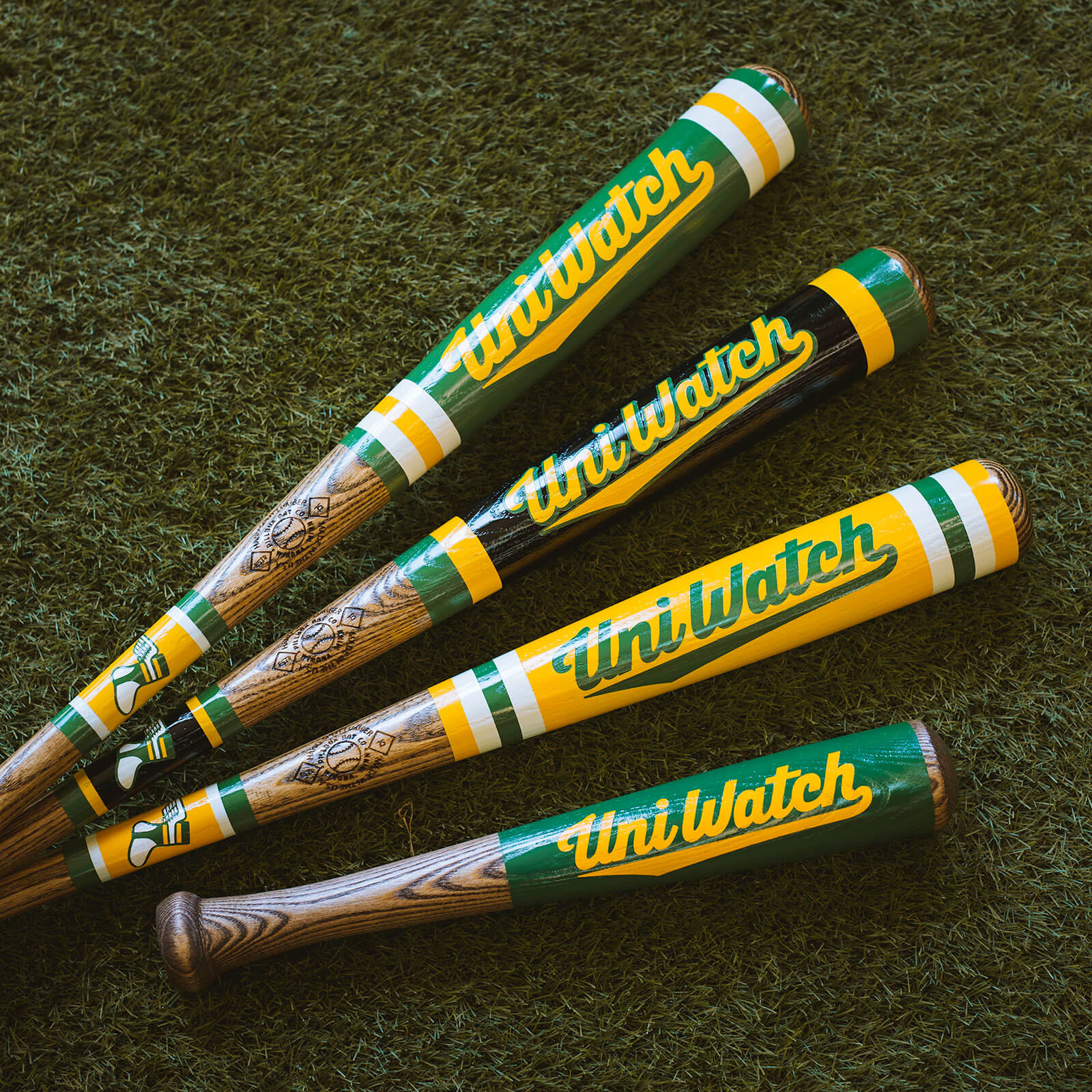 Father's Day deadline reminder: Paul here. In case you missed this news earlier in the week, the folks at the Pillbox Bat Co. tell me that if you want one of the custom-painted Uni Watch bats in time for Father's Day, you must get your order in by this coming Monday, May 23. The bats are available here, so move fast if you want that special gift for dad.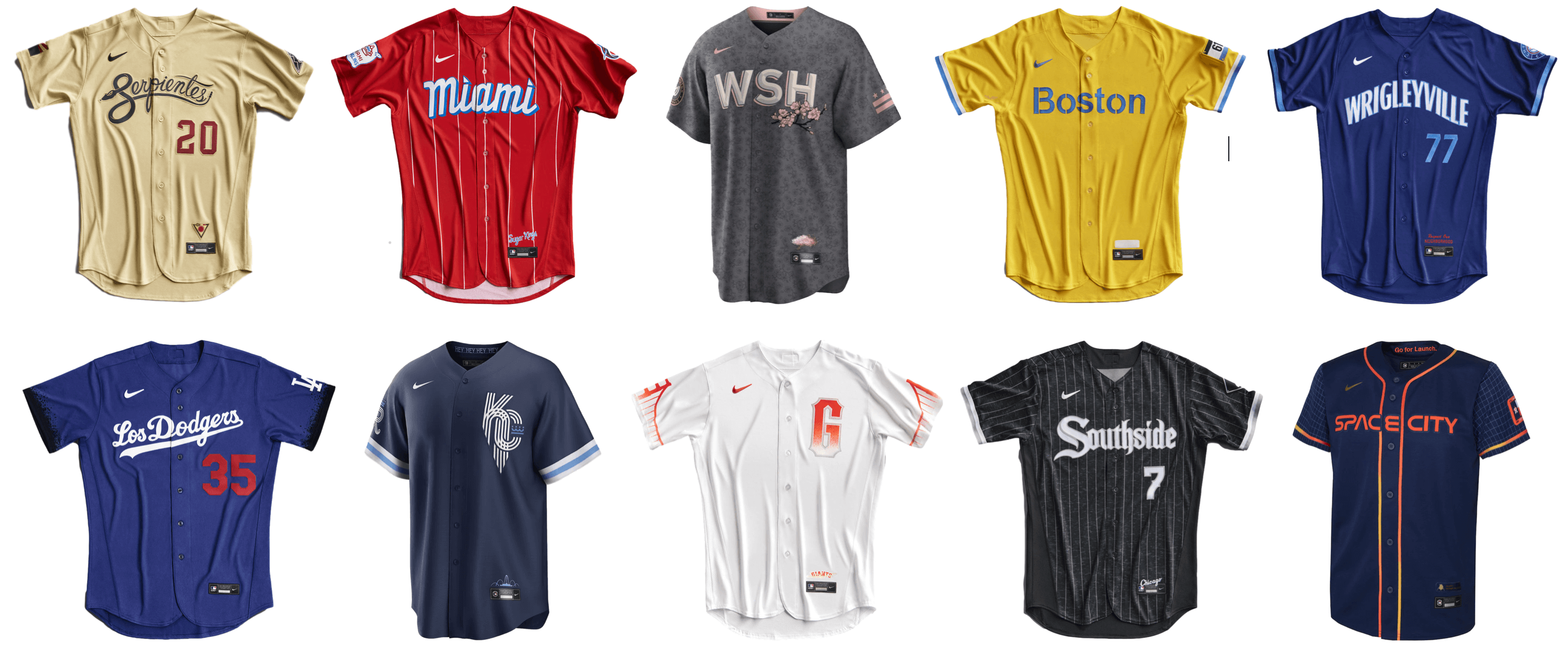 Also, while I have you here: My latest Bulletin article is a worst-to-first ranking of the 10 MLB City Connect uniforms that have been released so far. My premium subscribers can read the article here. If you haven't yet subscribed, you can do that here (you'll need a Facebook account in order to pay). Don't have or want a Facebook account? Email me for workaround info.
Okay, now back to Phil with the rest of today's content.


Uni Watch News Ticker
By Phil

Baseball News: New Baltimore Oriole Adley Rutschman will wear Mike Mussina's old number, 35 (from Kenneth Traisman). … Reader Max Weintraub (who I believe lives in or near D.C.) notes there is a bit of a baseball flag war in his neighborhood (pictured are Red Sox, Yankees, Nationals, and Mets flags). … The Bowie Baysox, a Minor League Baseball team located in Bowie, Maryland, wore these flag, crab and shore themed jerseys on Friday evening (from William Selby). Here's a look at them in action (from Marcus Hall). … The Fort Wayne Tin Caps honored the AAGBPL Fort Wayne Daisies yesterday by wearing uniforms wearing uniforms mimicking those worn back in the day. … If you have watched any MLB games either Friday or yesterday, you know everyone is camo-pandering. If you don't know why, Paul has you covered. … Mets outfielder Mark Canha wears Prada shades (from Danielle Sepulveres). … The White Sox released their tee shirt giveaways. Submitter Joe Schmidt notes, "A few really fun designs. Should be the standard but great that the designers are so visible." … Now THAT'S a belt (from Tony). … When umpire John McSherry died in 1996, the Mets wore a memorial on their unis (from Eric S.). … When a rookie gets his first MLB hit, here's how the Cardinals handle it (from Jim Hayes). … Here's a new one: Phillies catcher J.T. Realmuto was sporting a black helmet "to match his Camo gear" (from Tim Kelly). … Not sure we've noticed this before, but the Chicago White Sox now have raised lettering on their helmets (from Nick Murawski). … Adley Rutschman made his debut for the Orioles in arguably the ugliest uni combo possible yesterday (from Andrew Cosentino). … The Rockies' Connor Joe has such a short last name it appears as though he has a non-arched NOB (from BatBeat). … Some colors just look terrible with camopander caps. The St. Louis Cardinals in powder blue is definitely one of them (from Mike Sgroi). … One of the many reasons college baseball is great is the generous stirrup porn (from Timmy Donahue). … This is cool: the Phillies use a bull pen cart graphic for pitching changes (from Syaoran Wolff).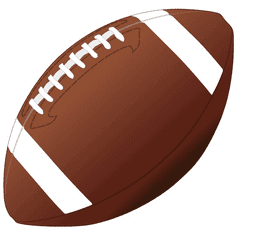 Football News: Here is yet another article which seeks to rate the best and worst uniform looks for every NFL team. … I think most of you know Notre Dame goes NNOB during the "regular" college season, but adds NOBs if the team reaches a bowl game. This article asks whether they should go NOB full-time. … Here's a look at NFL rookies in their new uniforms (note the 49ers are wearing old stock). From NFL Fashion Advice. Also looks like two Patriots are wearing #4 (good spot by Matt Sottile).

Hockey News: Fan of the Great One? Got a few bucks laying around? Well, a jersey worn by Wayne Gretzky in his final Stanley Cup win with the Edmonton Oilers is expected to fetch up to $1.4-million in an auction. … Uh oh — here's an interesting use of a "stolen" logo (from Hull City Kits).

Basketball News: A Kobe Bryant game-worn jersey has just hit the auction block — and it is apparently "so rare" because it can actually be authenticated — and could possibly sold for $5 million or more at auction. So, if you missed out on the Gretzky jersey (see the Hockey News section), well, here's your fall back. … Ever wonder how lines are painted on a court? Wonder no more (from MachinePix).

Soccer News: … From our Pacific Rim correspondent Jeremy Brahm, Junsei Chida's J-League mascots for Saturday. T Fukuoka (wasp)-Marinos, Mid L Hiroshima-Kyoto, R Cerezo-Gamba (Osaka Derby), Bot L Urawa-Antlers, R Tosu-Kawasaki. … Here's a look at Tomosan with 30 years of Yokohama F. Marinos 2nd kits in the J-League (also from Jeremy Brahm).

Grab Bag: A number of restaurants are betting that Americans want to get gussied up again, but not everyone is thrilled (New York Times link) about the fashion screening (from Tom Turner). … Also from Tom Turner, thanks to Beyoncé, Ralph Lauren and hit shows like "All American: Homecoming," depictions of Black campus life (NYT link) have moved from "A Different World" to center stage. … Ads are everywhere: Aussie rules football has ads on the ball (from Paul Caruso). … Here's a very cool look at official college colors from 1896-1897 (from James Gilbert). … Here's a pretty cool look at all 50 official state logos (from hybrid creature).


Uni Tweet of the Day
Unfortunately, I could totally see Carolina adding an alternate black hat with this uni…
The @NFLPA hosted their #RookiePremiere event in LA, and during their photo shoot rookies got a chance to wear their official uniforms for the first time.

Here's Matt Corral in the black jersey, black pants combo.

Black helmet has to be next, right? Am I bugging? pic.twitter.com/1vk1ch8OLd

— Jonathan M Alexander (@jonmalexander) May 22, 2022


And finally… that's all for today and for me for this weekend. Big thanks to Brinke for the French Open gear rundown (we'll see him in another month or so for the Big W preview)!
Everyone have a great week as we head towards Memorial Day weekend. I'll catch you next Saturday!
Peace,
PH