Yesterday I published my scoop on the surprising uni-related design flaw in the Mets' Tom Seaver Statue. (If you haven't already read it, I urge you to look here — it's definitely peak Uni Watch.) As I expected, it garnered a decent amount of attention and reaction. That reaction fell into three primary categories.
First, there were the people who reacted positively. Several people told me that this was their favorite Uni Watch article ever (thank you!). Several others said something akin to, "This is really interesting, and it's definitely making me think" (always the highest compliment). And a bunch of people just said something akin to, "This is really great work" (again, thank you!).
Second, as the story began spreading beyond the usual Uni Watch audience, there were also a lot of responses — including one, amusingly, from my brother — that could be summarized as, "Who cares?" That's neither surprising nor problematic. Uni Watch's slogan, after all, is "For People Who Get It™," which means there are lots of people who Don't Get It™. The article actually mentions, multiple times, that most fans probably won't notice or care about the statue's design flaw, and that was borne out by some people's responses. (I'm sure there are even more people who expressed their indifference to the article by not responding to it at all.)
What I didn't expect — but in retrospect, I should have — was that there was a third category of responses, coming from people who were angry. Angry about the article's existence, angry that other people liked the article, angry at me. Lots of "GET A LIFE!" and "Give me a freaking break. MOVE ON!" and "This is ridiculous. Talk about nitpicking!" and "What a loser!"
Obviously, those people Don't Get It™ either (although I wonder how they would feel if the same design flaw on the statue showed up on a jersey they purchased). But for whatever reason, they weren't content to just shrug their shoulders and move on — they got riled up about the article.
I thought about all of that while I was out for my daily bike ride in Prospect Park yesterday. I came to a few conclusions:
1. People get angry about things they don't understand. This is nothing new — almost all of us have reacted this way at some point (or at least I certainly have), and I'm used to encountering it in my work. Back in the early days, Uni Watch's very existence made some people angry! They couldn't understand why someone would want to write about uniforms, why someone else would want to publish it, and how an audience could possibly exist for it. It challenged people's entire hierarchy of what was and wasn't relevant, and that can be a very confusing, scary, threatening thing. And when people feel that way, they lash out.
I haven't had to deal with that kind of response in a while, I guess because writing about uniforms is a more accepted thing now (and also because it's been a while since I had such a big article about such a small detail that spread beyond the usual Uni Watch audience). The angry response was a good reality check — a reminder that what I do here, what we all do here, is still just a small niche thing. Obviously, I already knew that, but sometimes it's good to get a real-world sense of perspective.
2. People are wedded to their narratives. In the three-ish weeks since the statue was unveiled, my impression has been that the Mets fan base has been very emotionally invested in two overlapping narratives: First, the statue is Perfect, because of course it is; and second, the statue's Perfection symbolizes the departure of the Wilpons and the arrival of the team finally "doing things the right way" under new owner Steve Cohen.
Pointing out the design flaw punctures those narratives, and several people got really pissed off about that. It reminded me of how I broke the story back in 2008 that the MLB silhouetted-batter logo isn't actually based on Harmon Killebrew, as many people, myself included, had long believed. Twins fans were irate, because the reality didn't match up with the long-established narrative. (At least that narrative was many years in the making, not just three weeks old.)
On some level, I can understand fans' emotional response to anything that threatens a cherished narrative (as I've written dozens of times over the years, sports rooting loyalties aren't rational, which is why they're so powerful and special). And sure, we all want to believe in certain storylines, certain myths, certain certainties — but sometimes reality has other ideas. As someone who's in the information business, the facts business, the reality business, it's always a bit disconcerting to see people get so riled up just because reality turns out to be emotionally inconvenient.
3. Our comm-uni-ty is special. Seeing all the responses from people who Don't Get It™ really made me appreciate the passion, intelligence, and shared understanding that we have here at Uni Watch. I'm proud of the Seaver article, but I'm more proud of what we've all built here over the years. Thanks for that, and thanks for listening to me think out loud today. We'll get back to more conventional content tomorrow.
• • • • •
• • • • •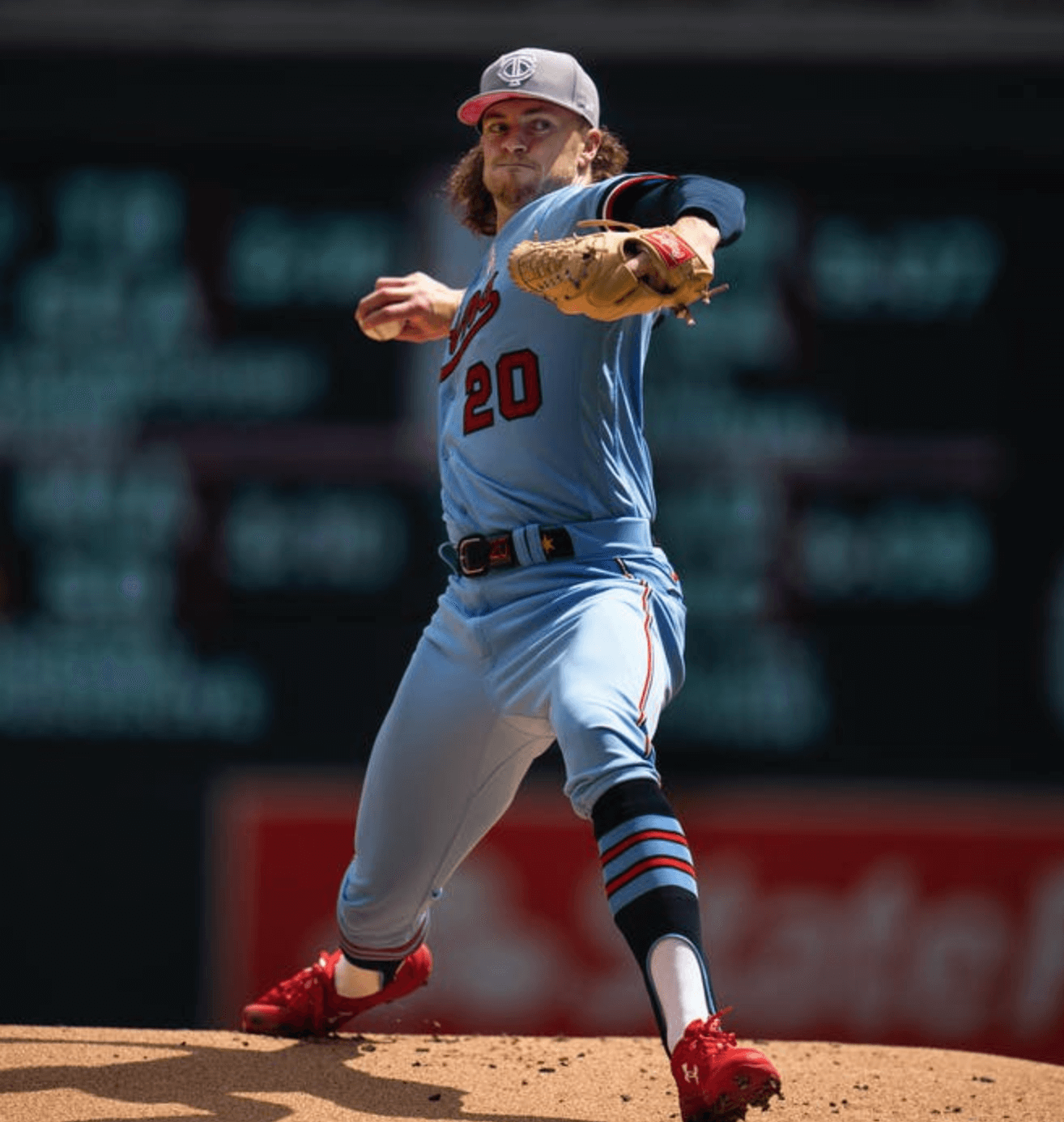 Click to enlarge
More hosiery heroics: In my recent interview with Twins pitcher Chris Paddack, he mentioned that he'd ordered a bunch of new stirrup designs from Twin City Knitting, including one that he planned to wear with the team's powder blue uniform. Those have apparently now arrived, because Paddack was resplendent in his new 'rups on Sunday. Magnificent!
If you look closely, you can see that these stirrups actually have light-blue edging along the contours of the opening. Here's another view: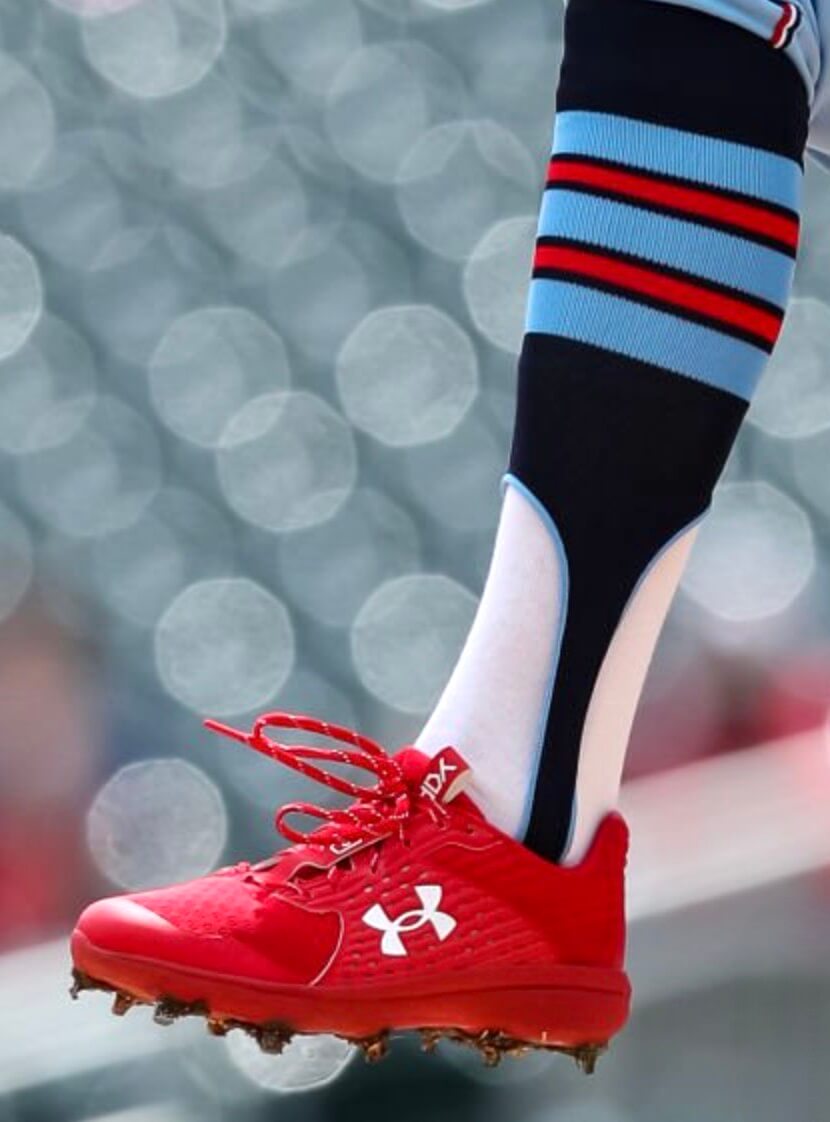 Very nice!
Unfortunately, Paddack had to leave that game with elbow inflammation, so it may be a while before we see his stirrup stylings again. Here's hoping he has a speedy recovery.
• • • • •
• • • • •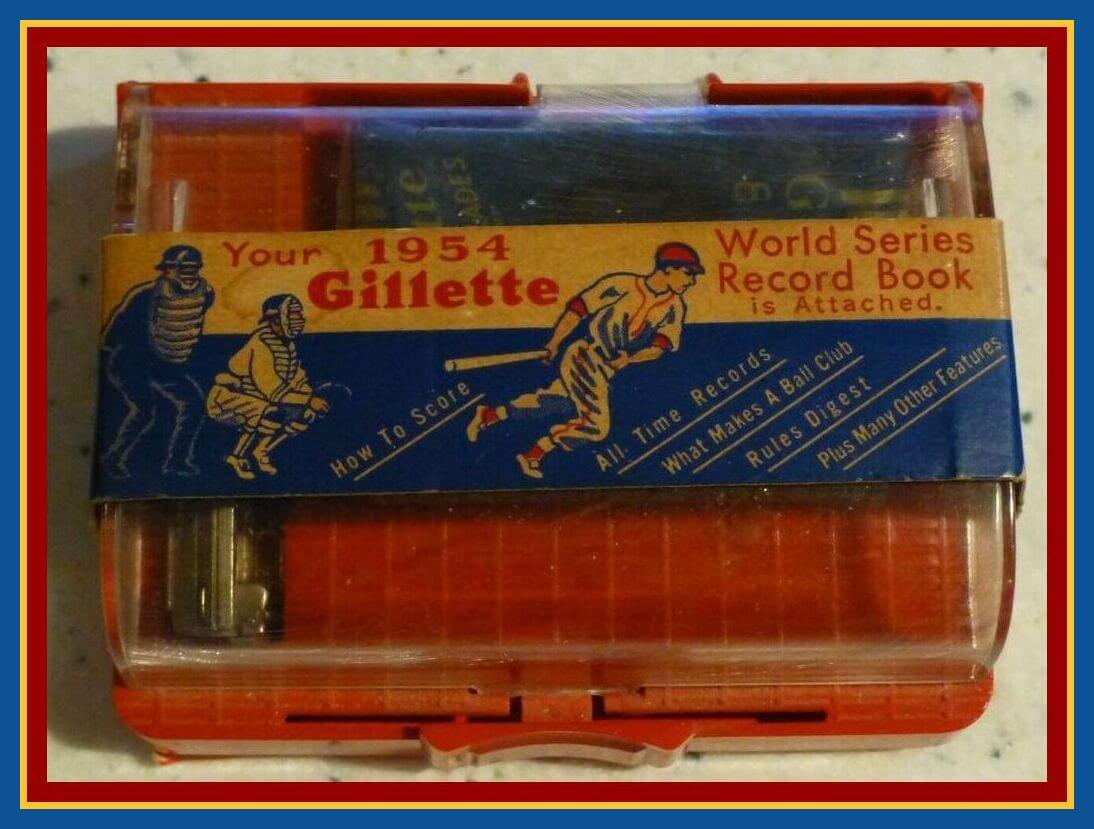 Click to enlarge
Collector's Corner
By Brinke Guthrie
Follow @brinkeguthrie    
Check this out, campers — a Gillette razor and blade set that also includes a 1954 World Series record book! You get an unopened set with a sturdy old-school razor and six "Gillette Blue Blades™," along with a booklet featuring topics like "What Makes a Ball Club" and "Hints on Winning Baseball." (And as you know, the 1954 Series is famous for the greatest catch in baseball history.)
Now for the rest of this week's picks:
• This is just a bit quaint — a 1950s Philadelphia Eagles draft questionnaire. They sent this to college players with questions like "If you are interested in professional football, how many years do you plan on participating?" It's a long way from that to the Wonderlic test, eh?
• Here we have a menu from the great Johnny Unitas's restaurant, The Golden Arm. The menu has a predictable football-jargon theme to it: Appetizers are part of the "Pre-Game Warm-up," and the menu "Line-up" features "Junior Prime Filet Mignon" at left tackle — "smaller, but every ounce a pro."
• This 1970 San Francisco 49ers 25th-anniversary record album includes "highlights of 25 exciting years!" And note how nice that "NFL 50" patch looks on John Brodie's jersey!
• Staying by the Bay, this 1984 San Francisco Giants jacket includes a patch for the 1984 MLB All-Star Game, which was held at Candlestick Park.
• Put some new speed in your swing with this 1963 Elston Howard On-Deck Bat-Weight, for ages 12 and over.
• Boy, howdy. This 1960s San Diego Chargers bobblehead is in great, great shape. But the bolt on the helmet is a little dark, no?
• What's better than a Reggie bar? A 36-count box of Reggie bars, of course!
• Wide receiver Raymond Berry wore No. 82 for the Baltimore Colts back in the day, and his signature and number (along with some stars, stripes, and one funky facemask) adorn this youth football helmet made by Kent. 
• In this 1966 print ad, Packers quarterback Bart Starr urges you to get down to your local Goodyear bike tire dealer to get these N.F.L. team emblems (yes, the ad includes the periods). These look a lot like the Chiquita NFL stickers that would surface four years later. 
• For Paul's next cookout at Uni Watch HQ, here's a bottle of New York Mets hot sauce. 
• • • • •
• • • • •
The Ticker
By Alex Hider

Baseball News: The Dodgers and Giants will make history in June, when both teams will wear rainbow-patterned pride uniforms in the same game (thanks to all who shared). … Paul's article about the Seaver statue reminded Kasey Ignarski about the time the Cubs initially used the wrong font on Ron Santo's number retirement flag. The Seaver article also prompted Brice Wallace to send along photos of statues depicting the 1972 Reds at the team's Hall of Fame and Museum that contain incorrect number fonts — note the 2s worn by Tony Perez and Cesar Geronimo, the bottom seriffs on the 1s and 4s — and vertically arched NOBs instead of the proper radial arching. … The Angels wore green ribbons last night for mental health awareness (from @cmduncan8). … MLB's At Bat app still shows the Royals' old road jerseys (from @ReallyNotOnHere). … The Rays won five straight last week while wearing their navy alternates. The Mariners attempted to break that streak Saturday when P Marco Gonzales selected Seattle's navy jerseys, forcing Tampa to wear traditional road grays. The Rays won anyway (from Tim Dunn). … Taiwanese club CTBC Brothers have announced a theme night celebrating Pili, a local TV puppet show (from Jeremy Brahm).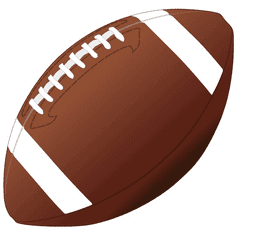 Football News: Giants rookie DE Kayvon Thibodeaux will wear No. 5 (from Scott Turney and @uniformnerd). … Speaking of numbers, the Steelers have unveiled number assignments for their rookie players (from Phil). …  The Commanders' rookies are pretty jazzed about the team's new helmets (from Dell Michaels). … This blog looks at Notre Dame's current apparel contract with Under Armour and other options the Irish might have (from Phil). … BYU will change their royal blue helmets this season to give them a glossy finish. The royal lids had a matte finish in 2021 (from Phil). … With the school adopting a new logo, Akron will have new helmets and a new field design next season (from Jacob Farrar).

Hockey News: The Capitals gave away rally towels that included a map of the city's Metro system (from our own Jamie Rathjen).
.

Basketball News: I don't think I've ever seen this photo of former Celtics G Gerald Henderson wearing a neck brace during a game in 1980. Wild! (From Dickie Savickie.) … Tom Nelson, a Senate candidate running in Wisconsin, is airing a campaign commercial in which he wears a Bucks jersey (from Randy Koehn).

Soccer News: San Diego Wave FC, NWSL's new expansion club, have unveiled their home uniforms (from Jon Vieira). … New inaugural-season shirts for Altitude FC, which plays in pro-am League1 British Columbia in Canada (from Wade Heidt). … New third kit for Scottish side Rangers FC (from Ed Zelaski).

Grab Bag: Cross-listed from the football section: The University of Akron unveiled a new athletics logo yesterday. It's a fine enough design, but count me as those disappointed that it the school is shying away from kangaroo logos (thanks to all who shared). … IndyCar driver J.R. Hildebrand will race in a stars-and-stripes livery during the Indianapolis 500 (from Tim Dunn). … More Aussie rules football teams with Indigenous guernseys, this time for Sydney Swans and St Kilda FC (from @BluesBrother95). … Here's a first look at the patch for the Army's newest Airborne Division, the 11th Airborne (from Timmy Donahue). … The CEO of New Era is facing a charge of felony reckless endangerment for allegedly trying to run over his girlfriend's ex-husband during a dispute (thanks to all who shared). … New uniforms for Oman's national volleyball team (from Jeremy Brahm).