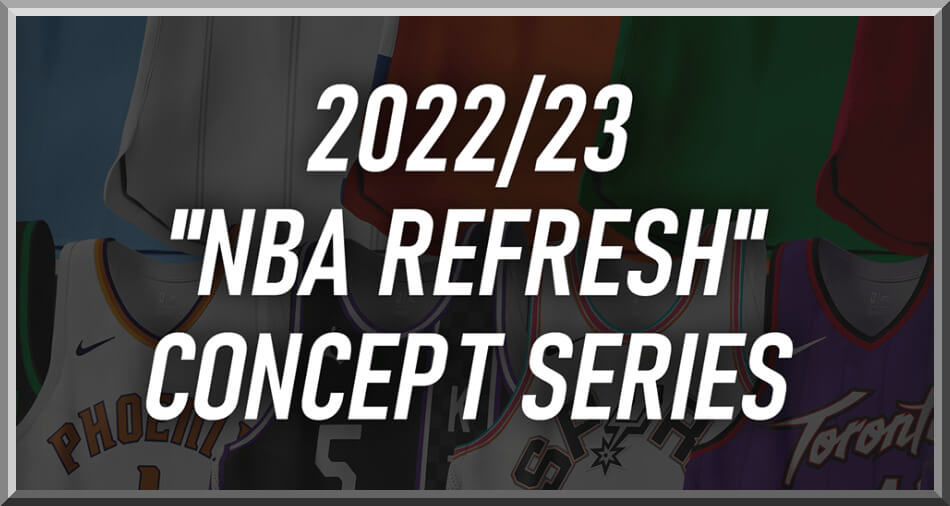 By Phil Hecken
Follow @PhilHecken

Good Sunday Morning and a Happy Mother's Day to all!
Last weekend, I was pleased to present to you Casey Vitelli's "NBA Refresh" Concept Series, Part I. Today, Casey is back for the final part. This was a fun series to run, and there were lots of positive comments last weekend on the first half, so today we're going to finish the series. Here's Casey.
• • • • •
2022-23 "NBA Refresh" Concept Series, Part I
by Casey Vitelli
A refreshing look to the NBA through my eyes. As a fan of basketball, and their jerseys, I always have had ideas on how teams could do designs differently. This project has taken 3 months to complete. I am extremely proud of this project and I hope you appreciate the effort put into this.
__________
Milwaukee Bucks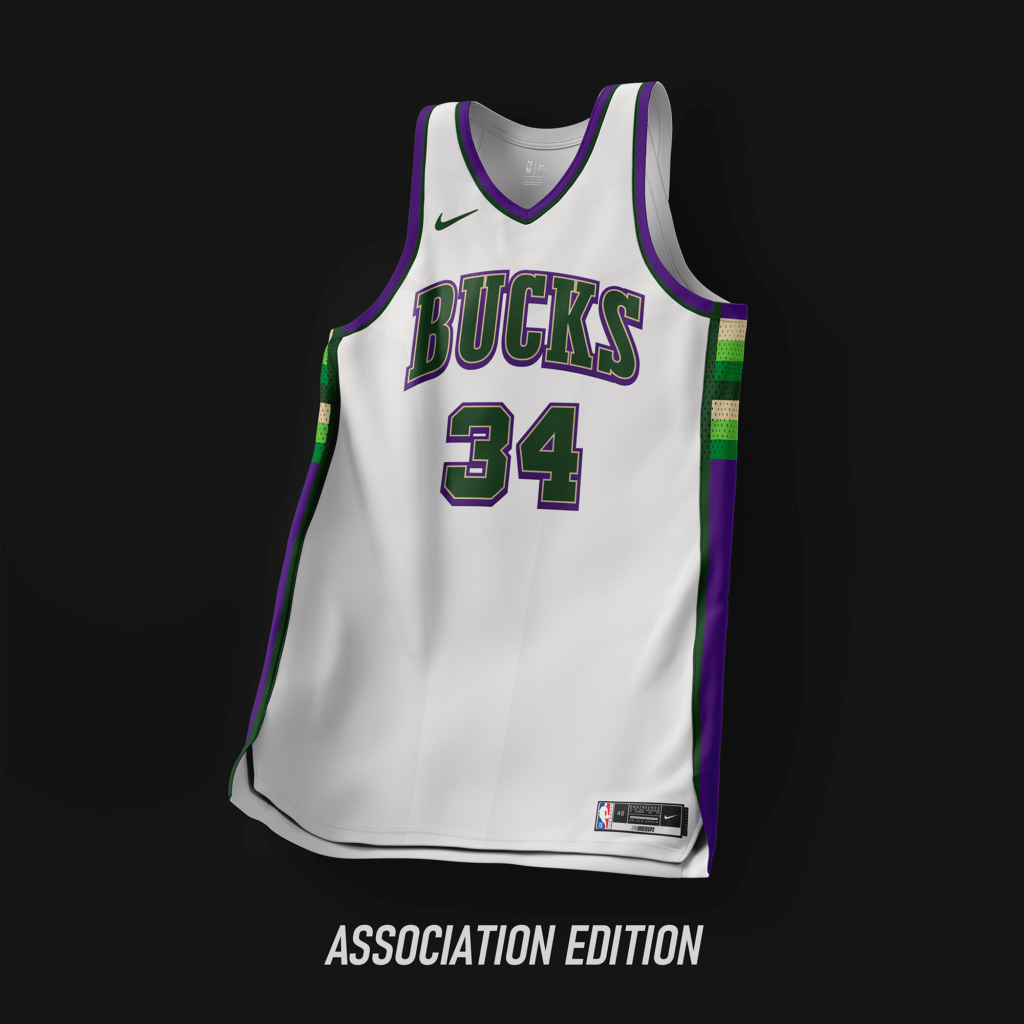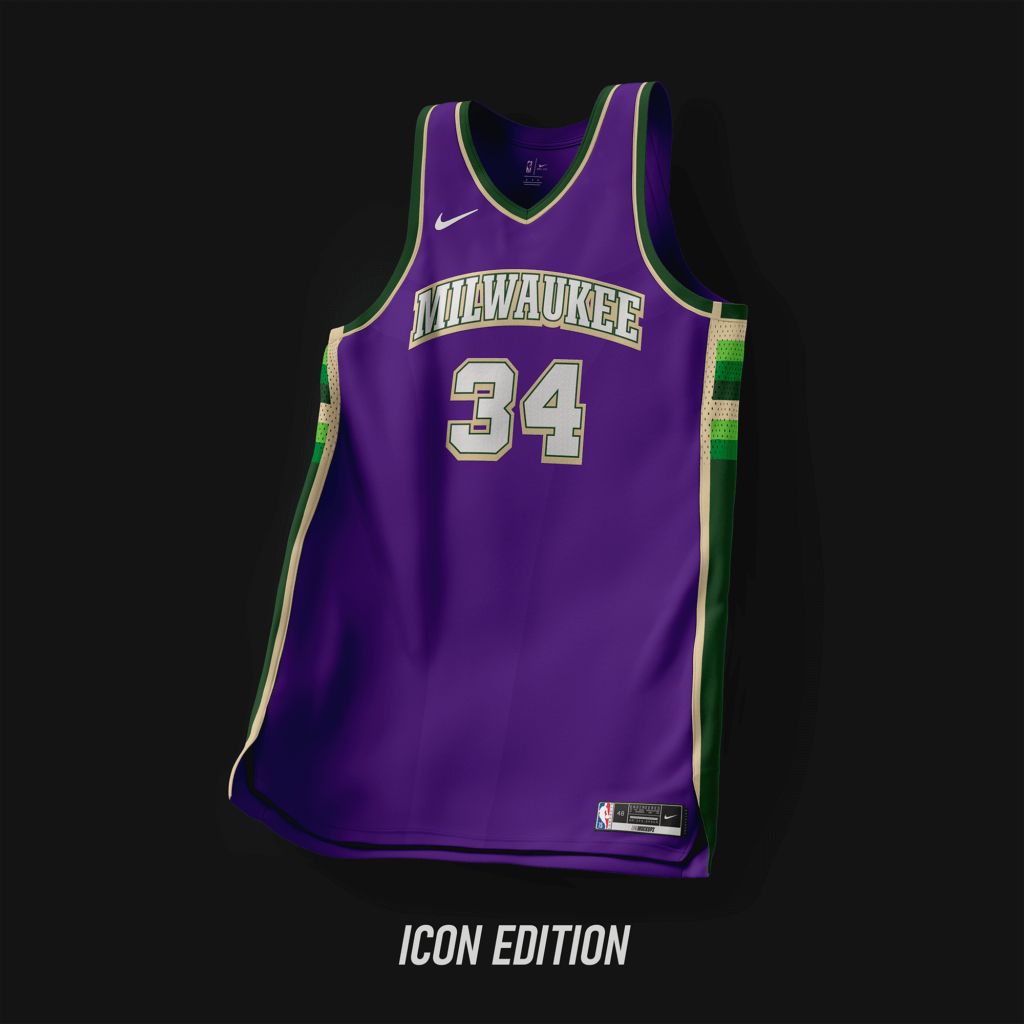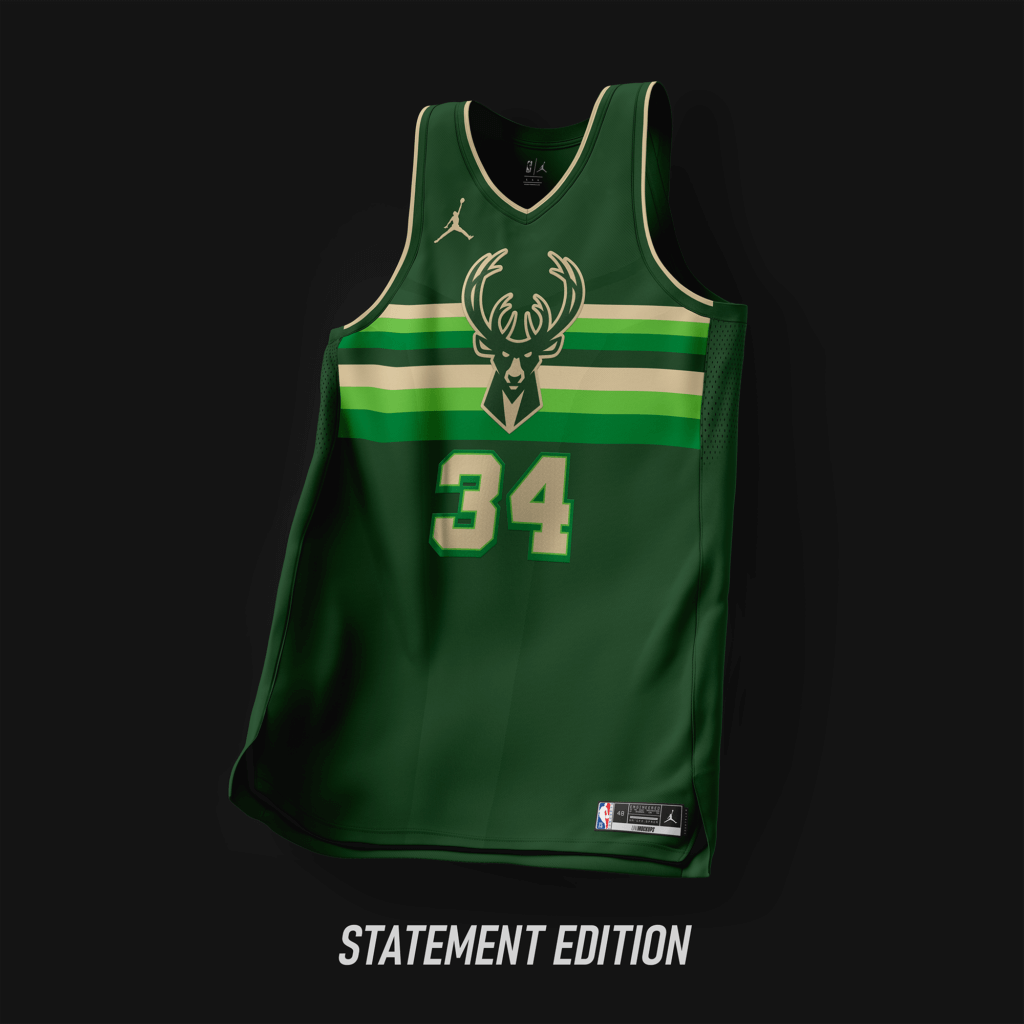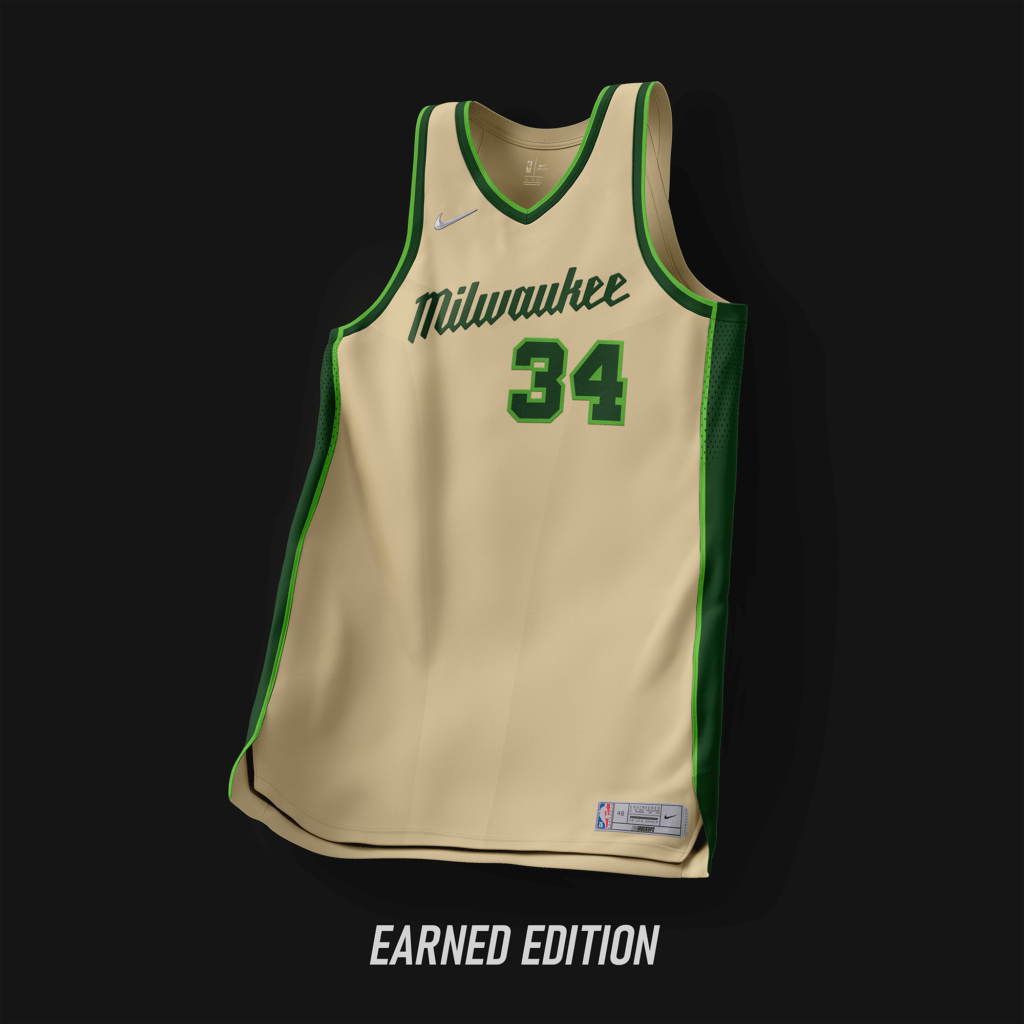 A mashup of Bucks history. Designs matches the current team, with a custom wordmark.
__________
Minnesota Timberwolves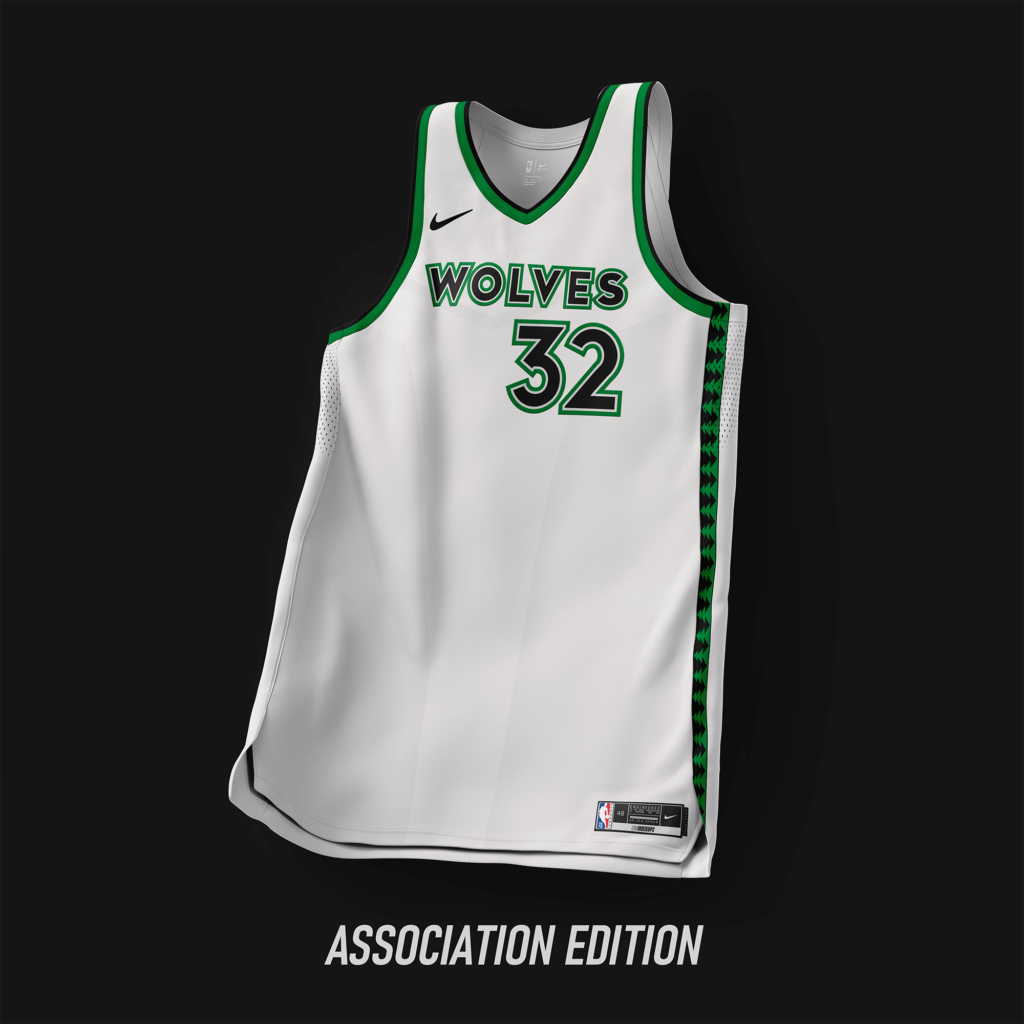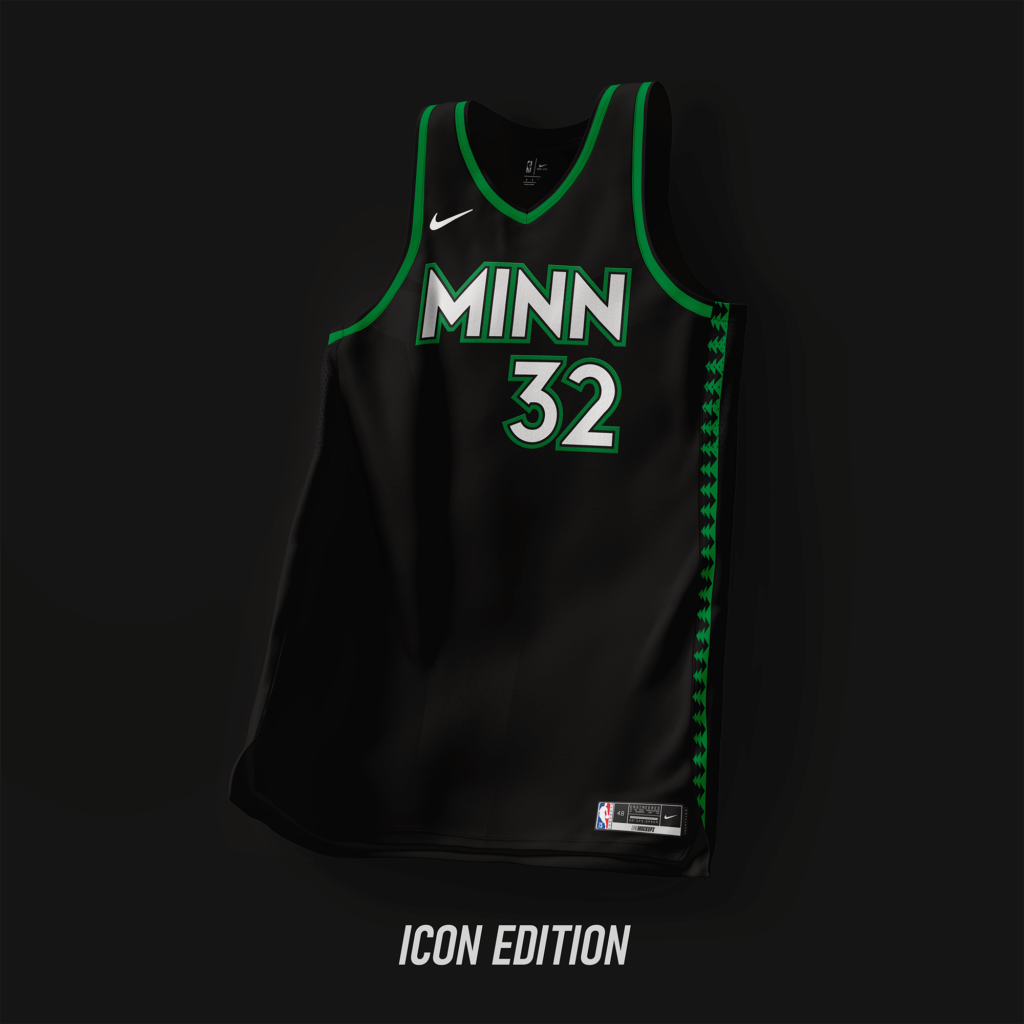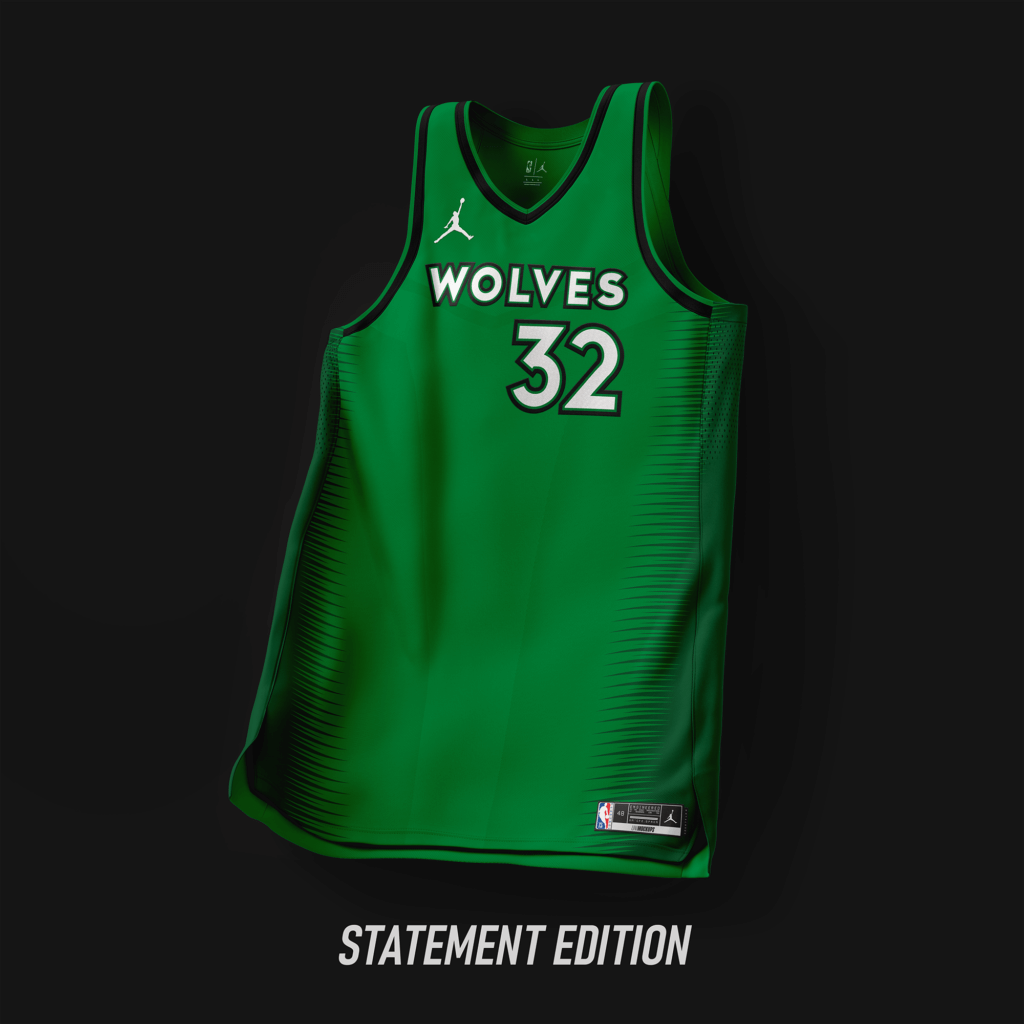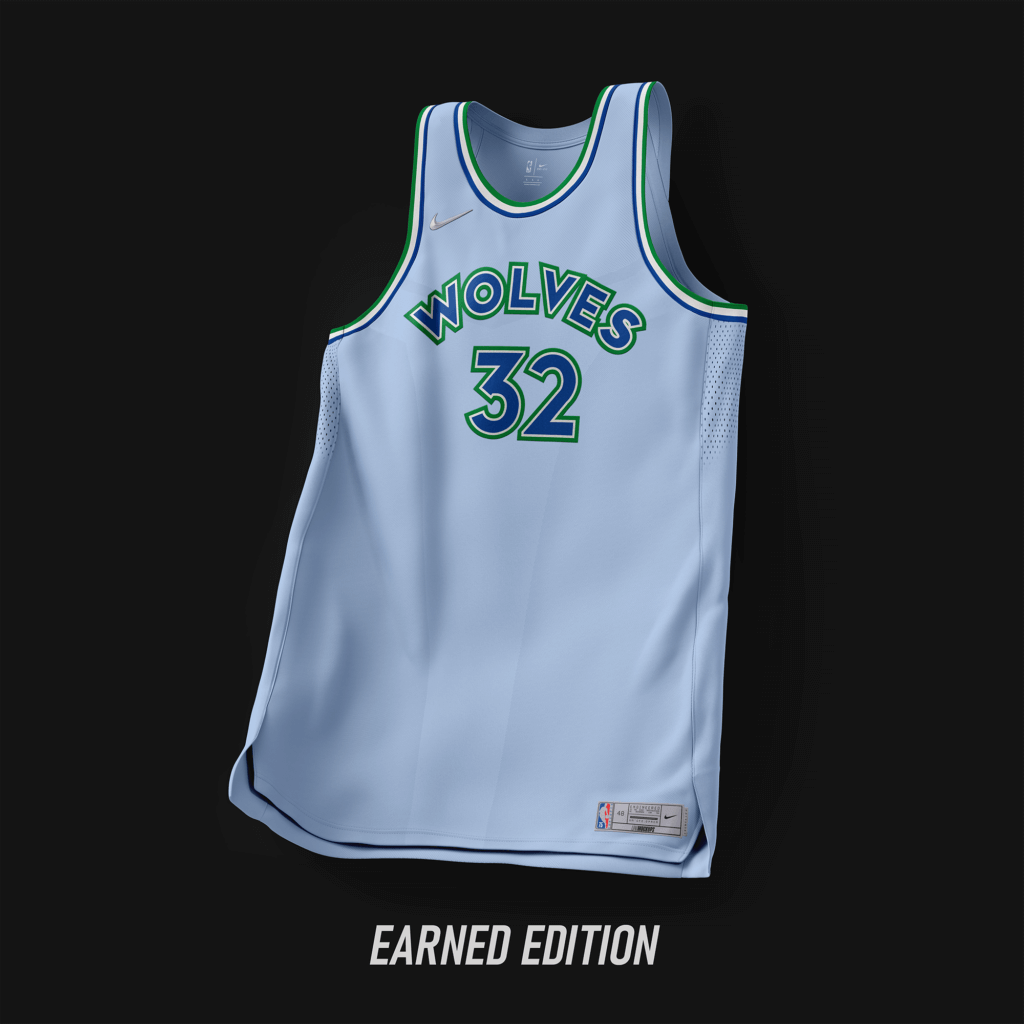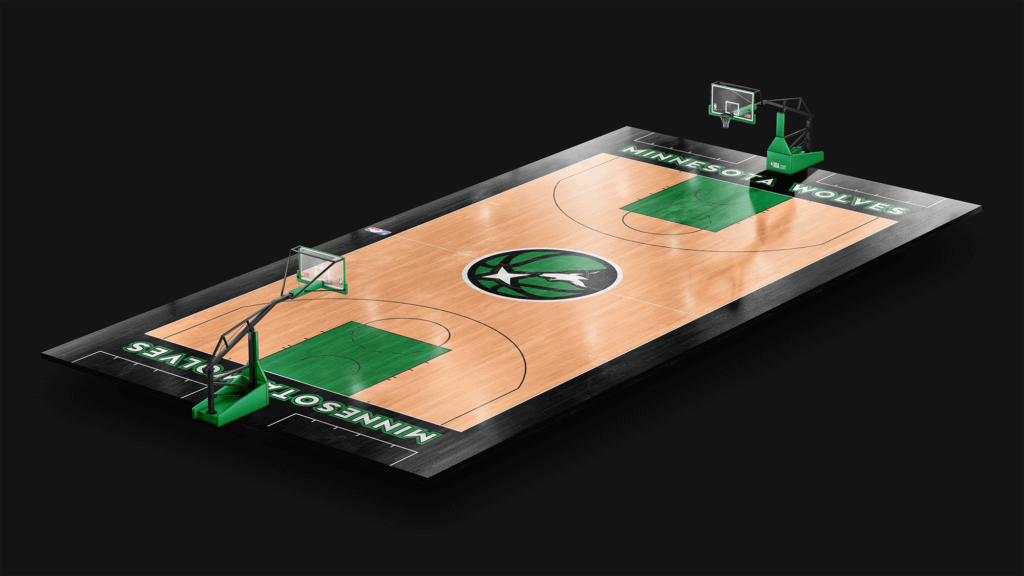 Current wordmark with the colors returning to the scheme used from '96-'08. The Earned Edition uses the color scheme used from '89-'96 with an added light blue as the base.
__________
New Orleans Pelicans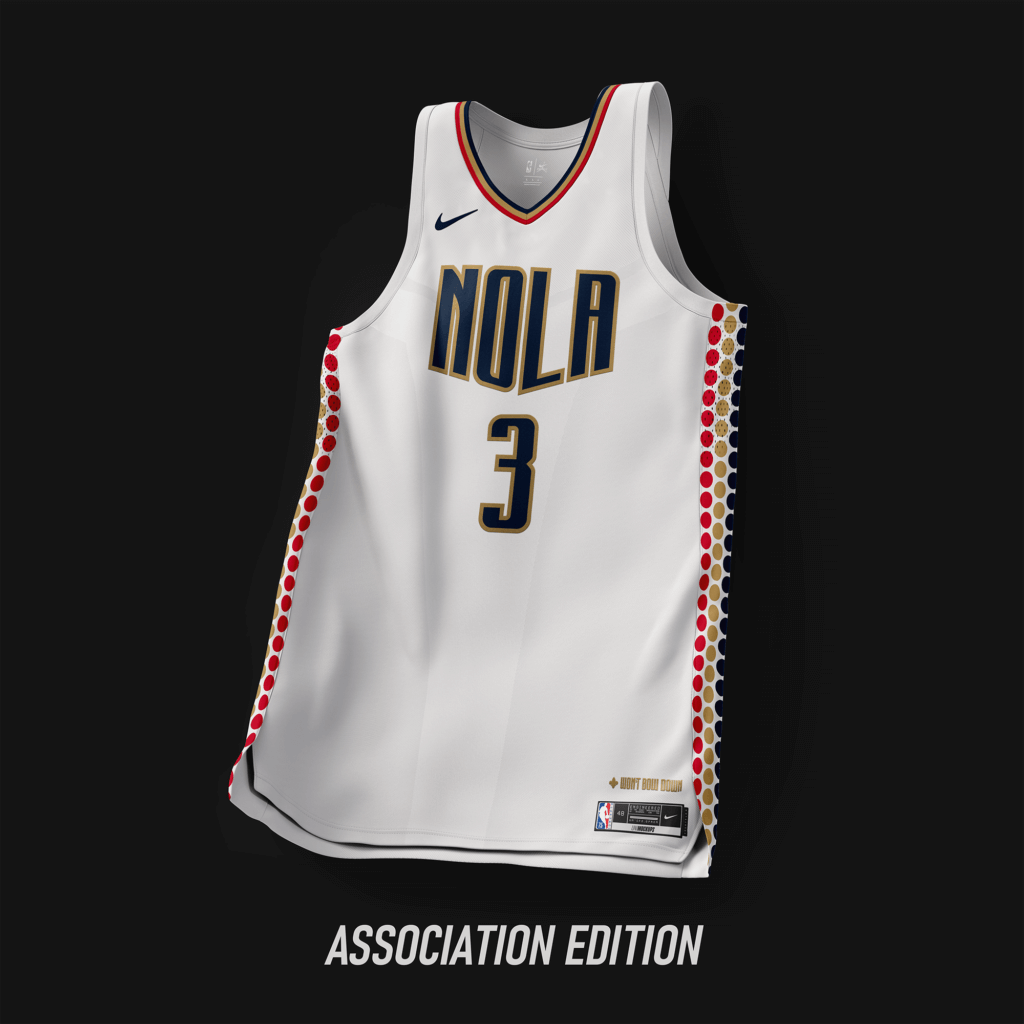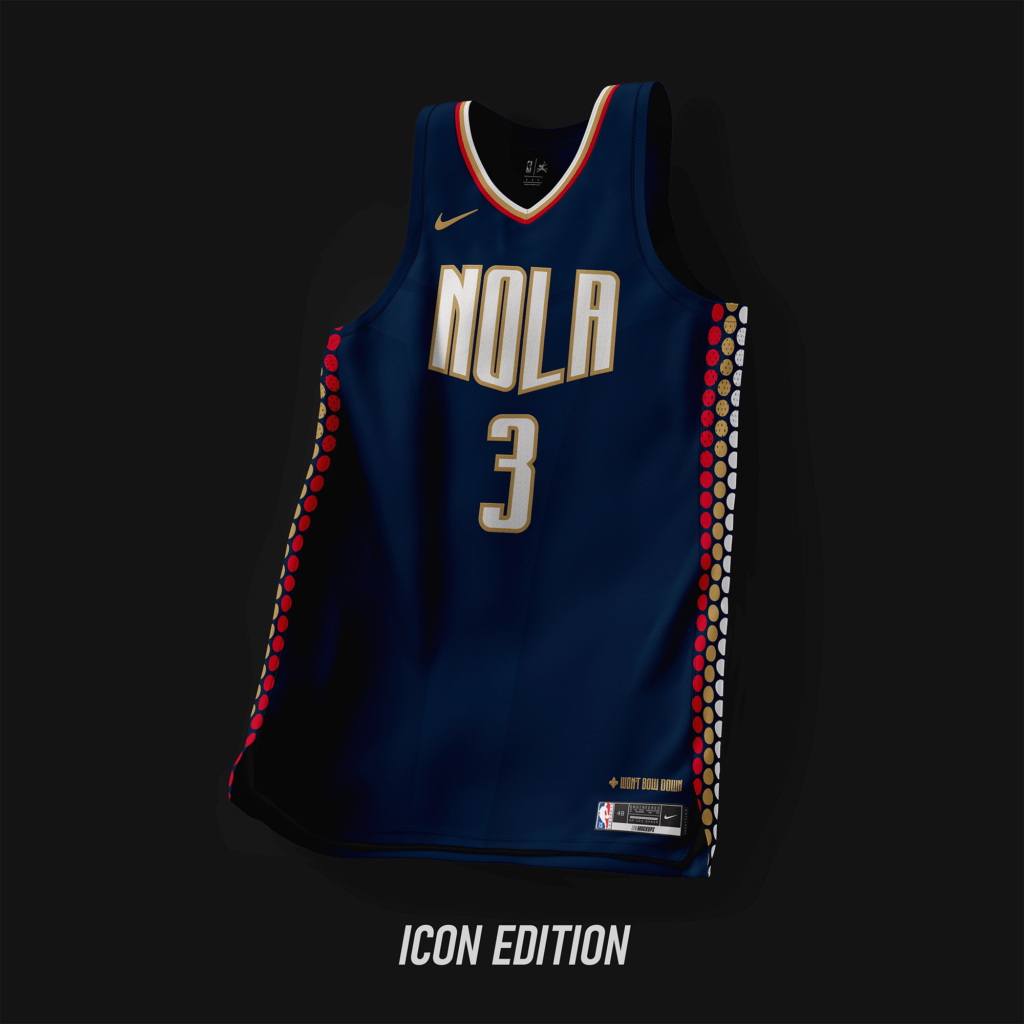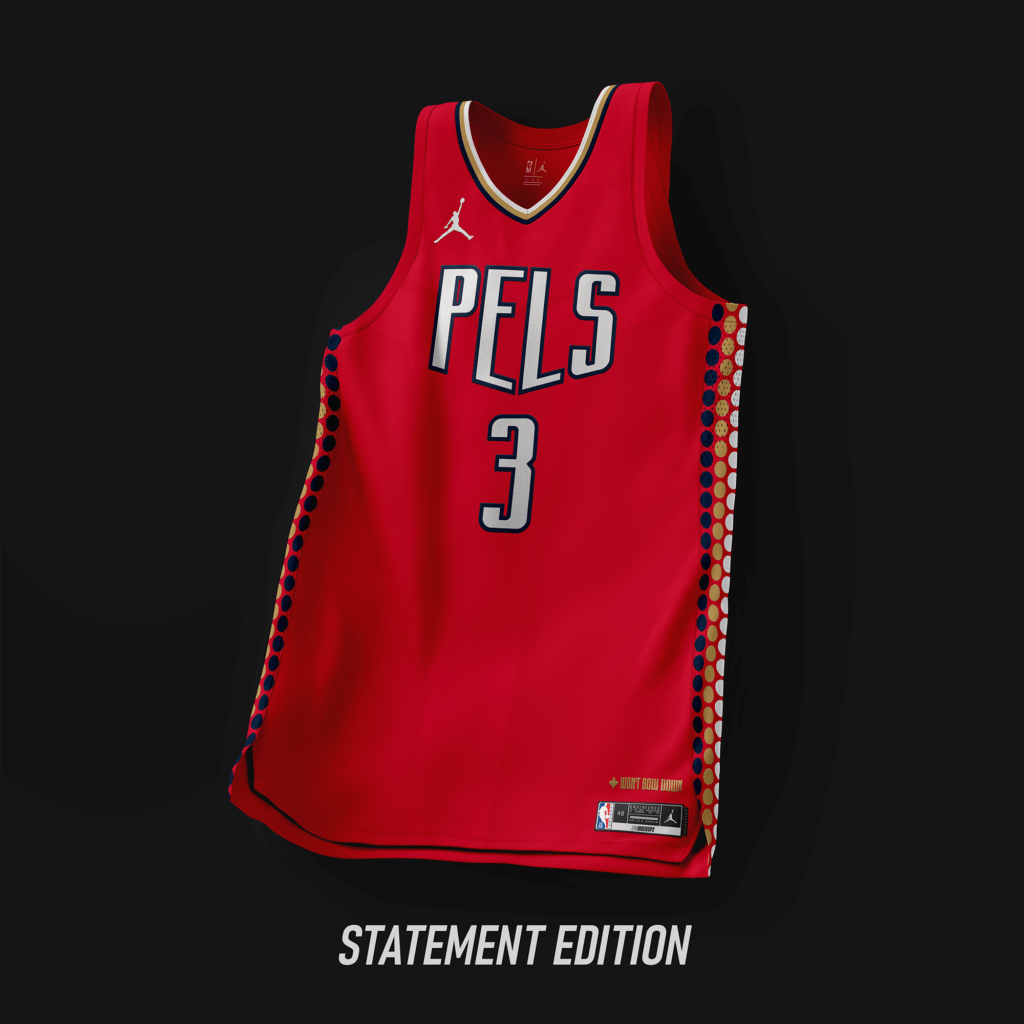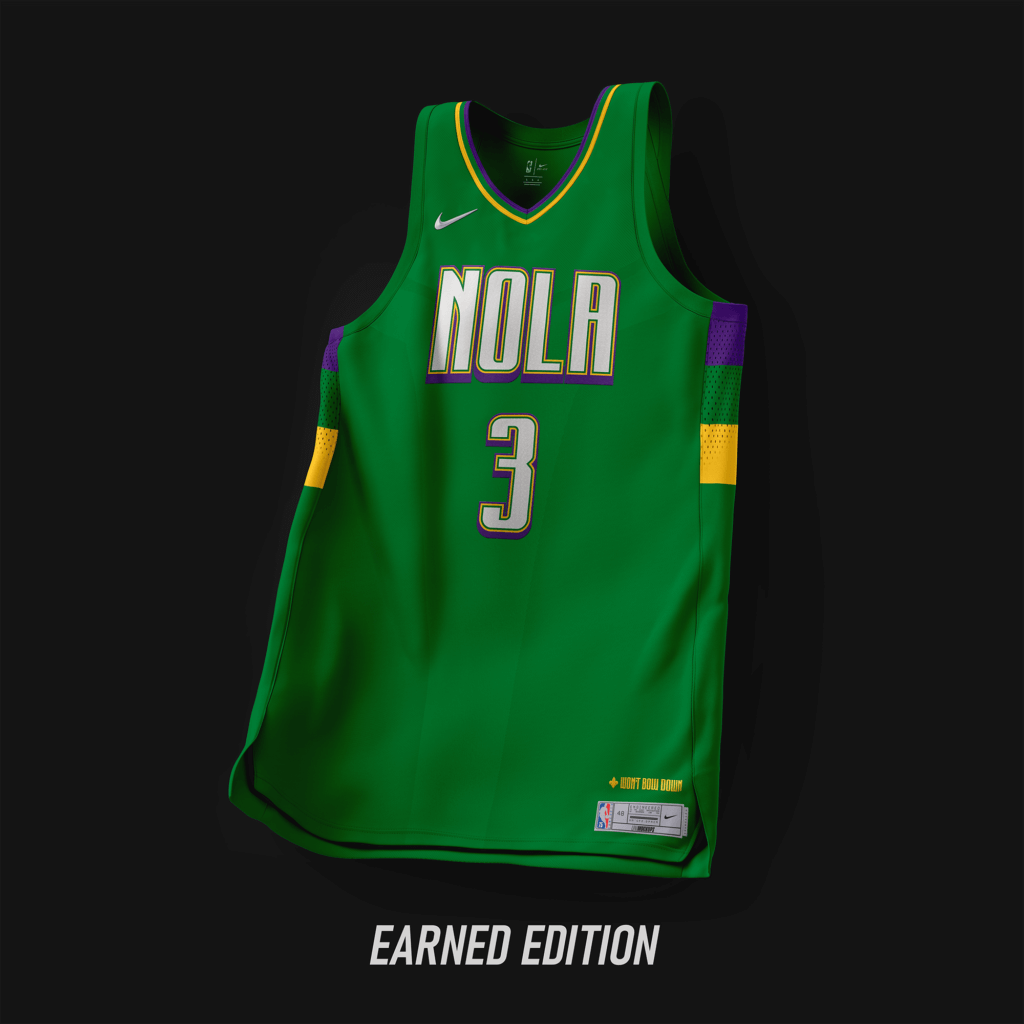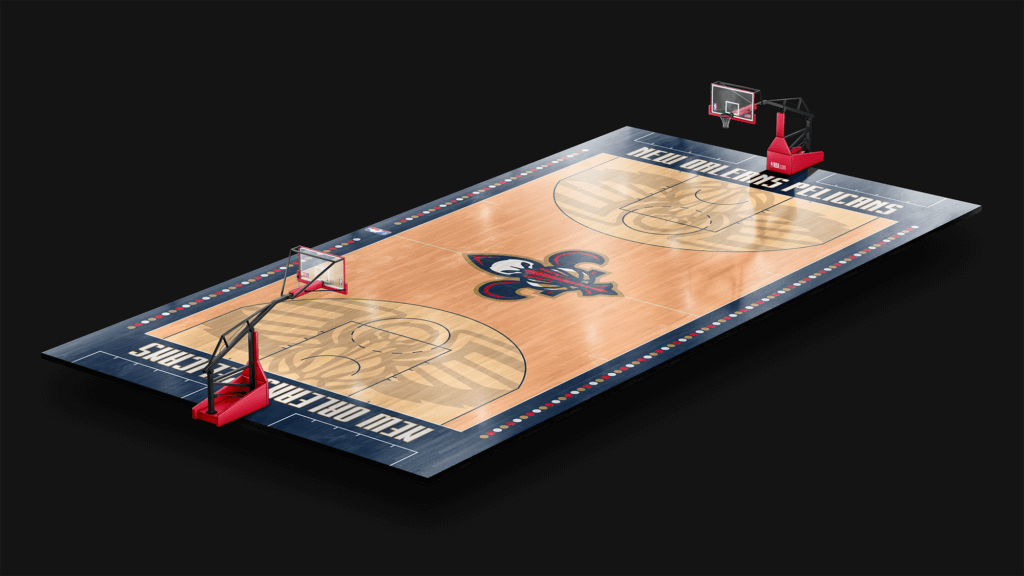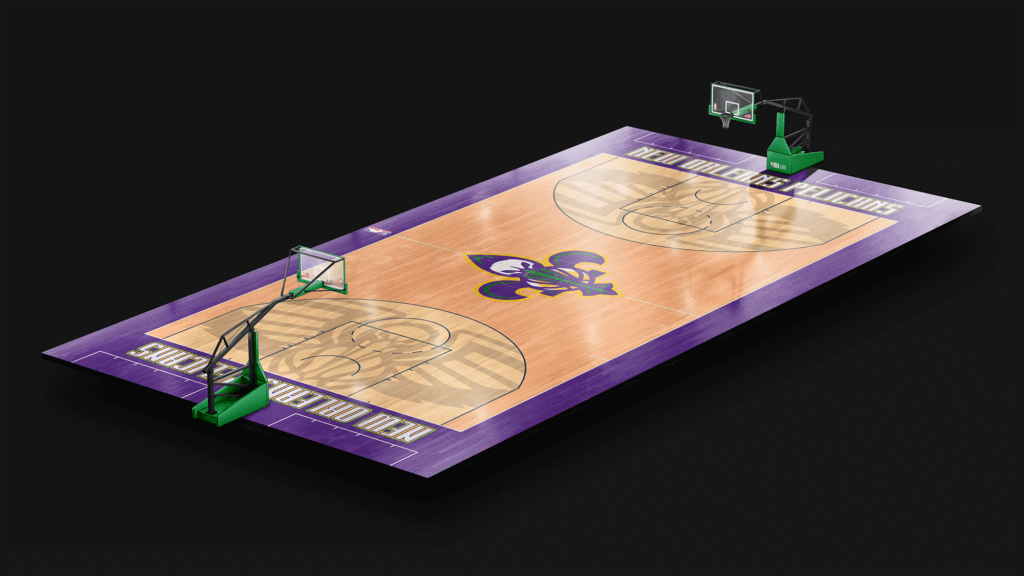 Design based off the '21-'22 city edition, but switched the sides to a circle pattern. Wordmark based off the font used for the teams' moniker, "Won't Bow Down".
__________
New York Knicks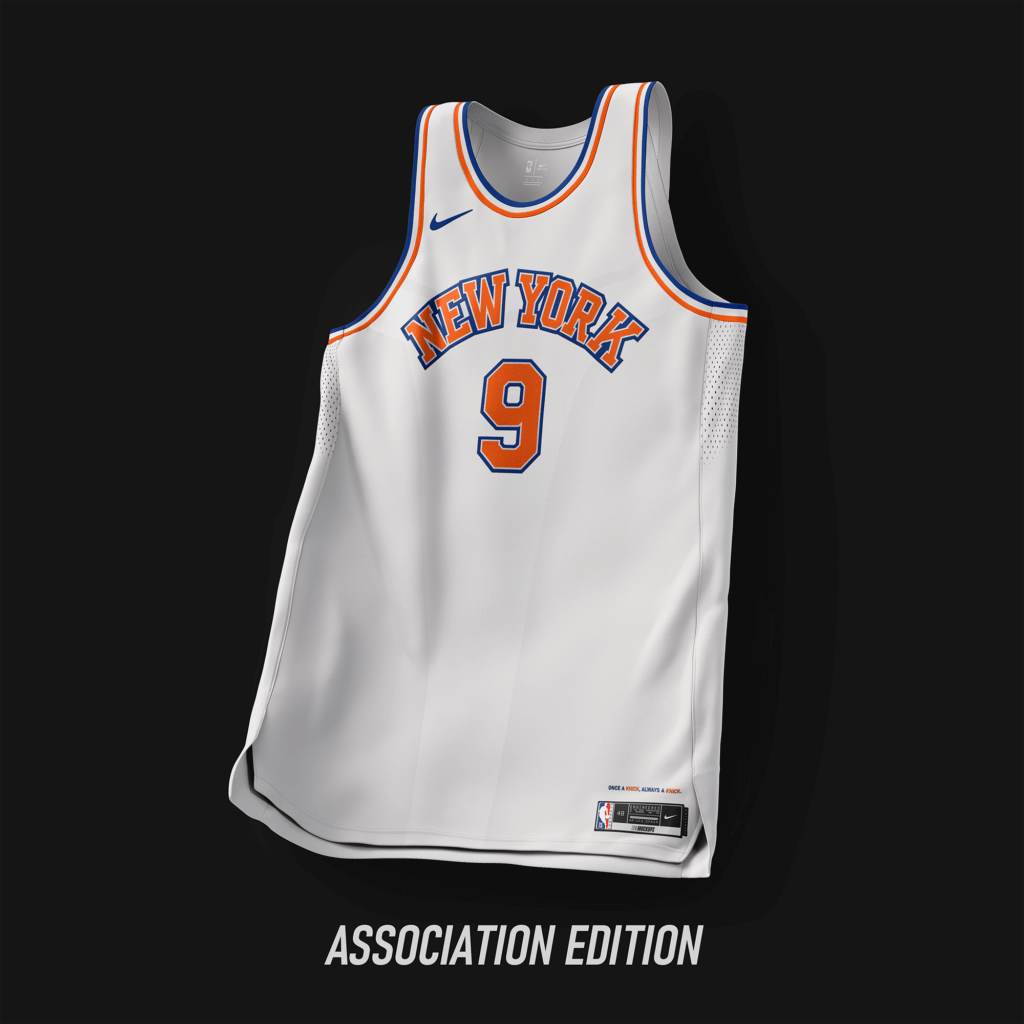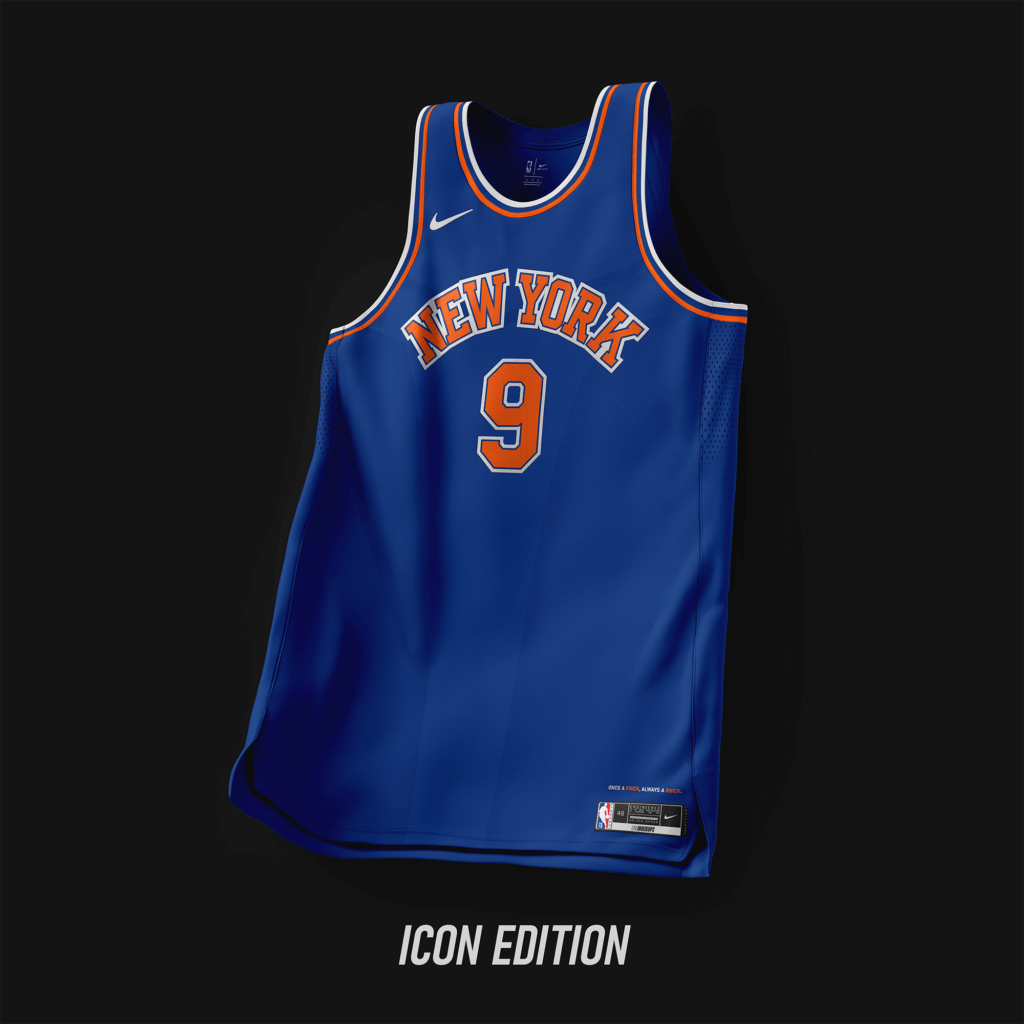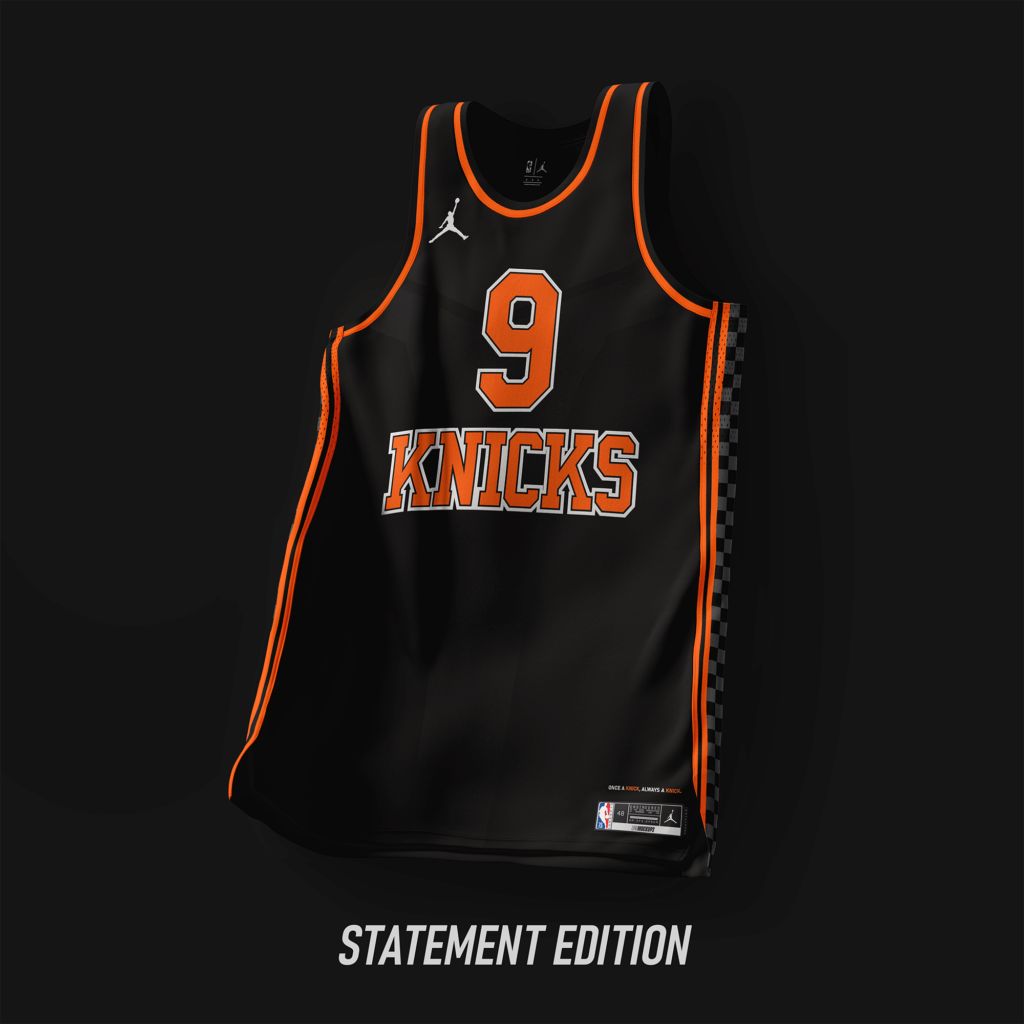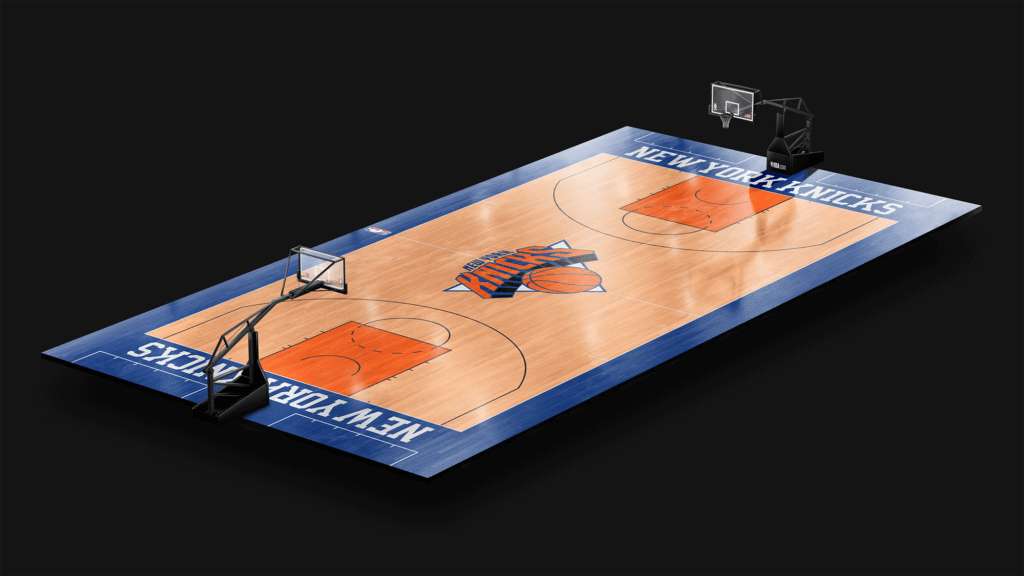 Limited changes, with the current team wordmark arched. The Statement Edition is a combo of the '21-'22 city edition and the uniforms used from '79-'83.
__________
Oklahoma City Thunder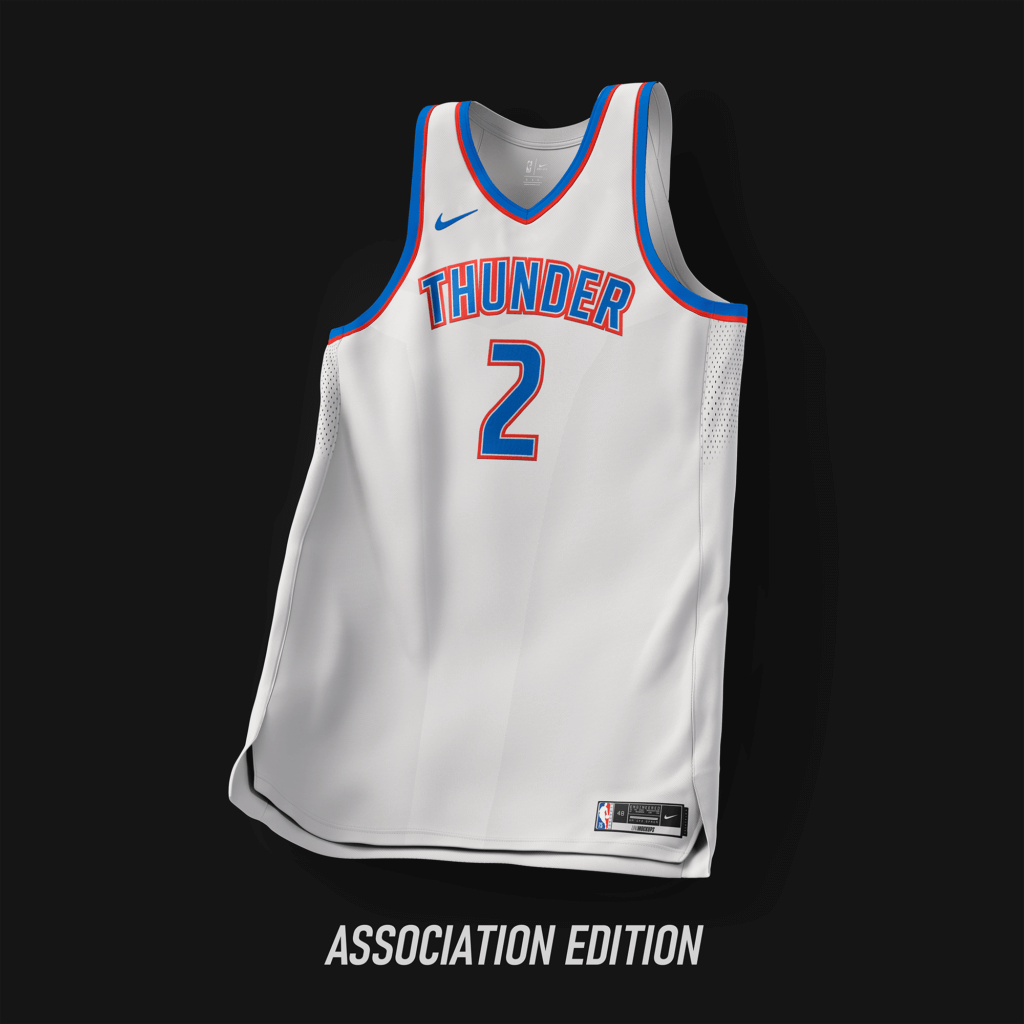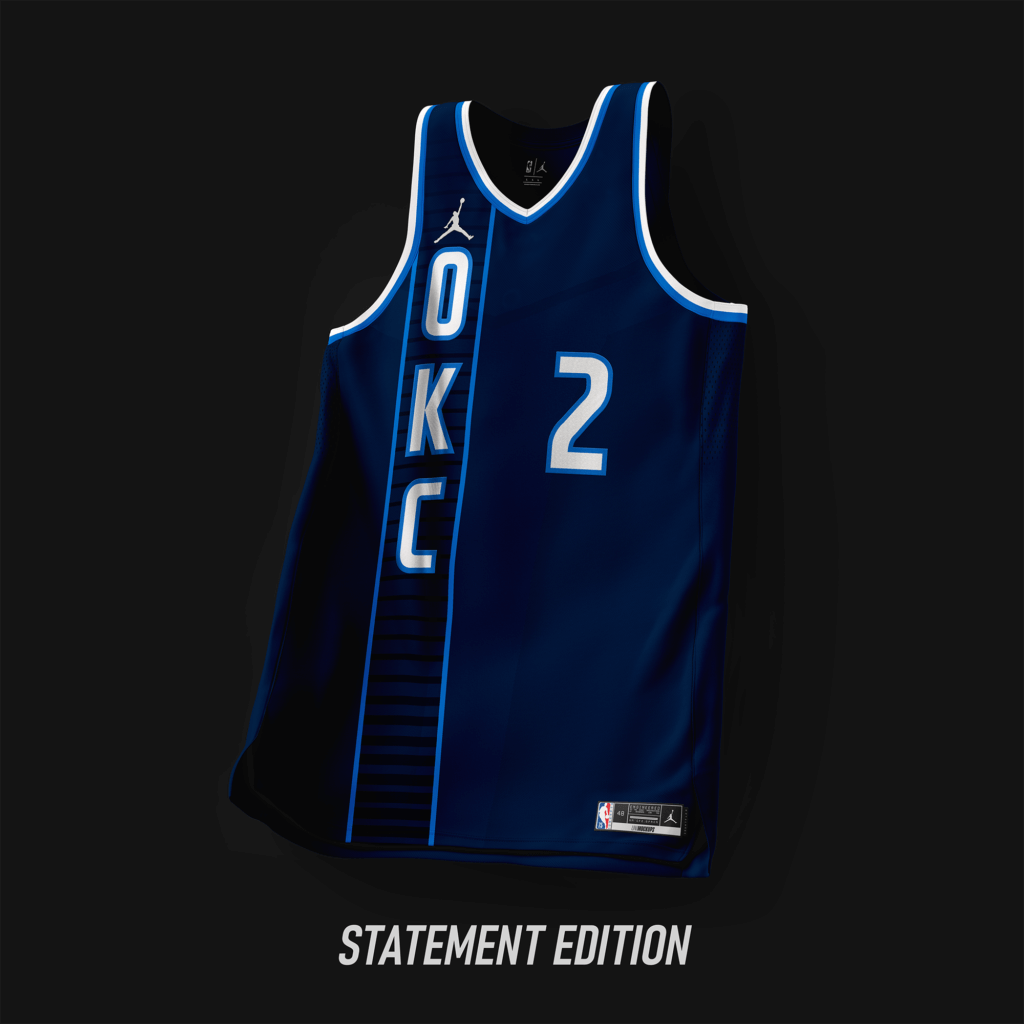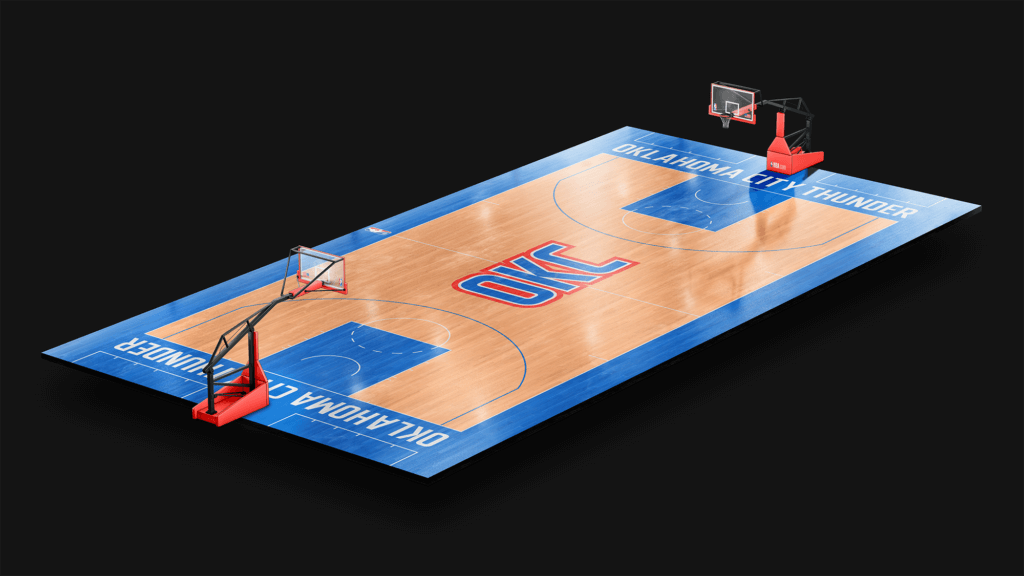 A simpler look from the current set with the font matching that from the '20-'21 City Edition.
__________
Orlando Magic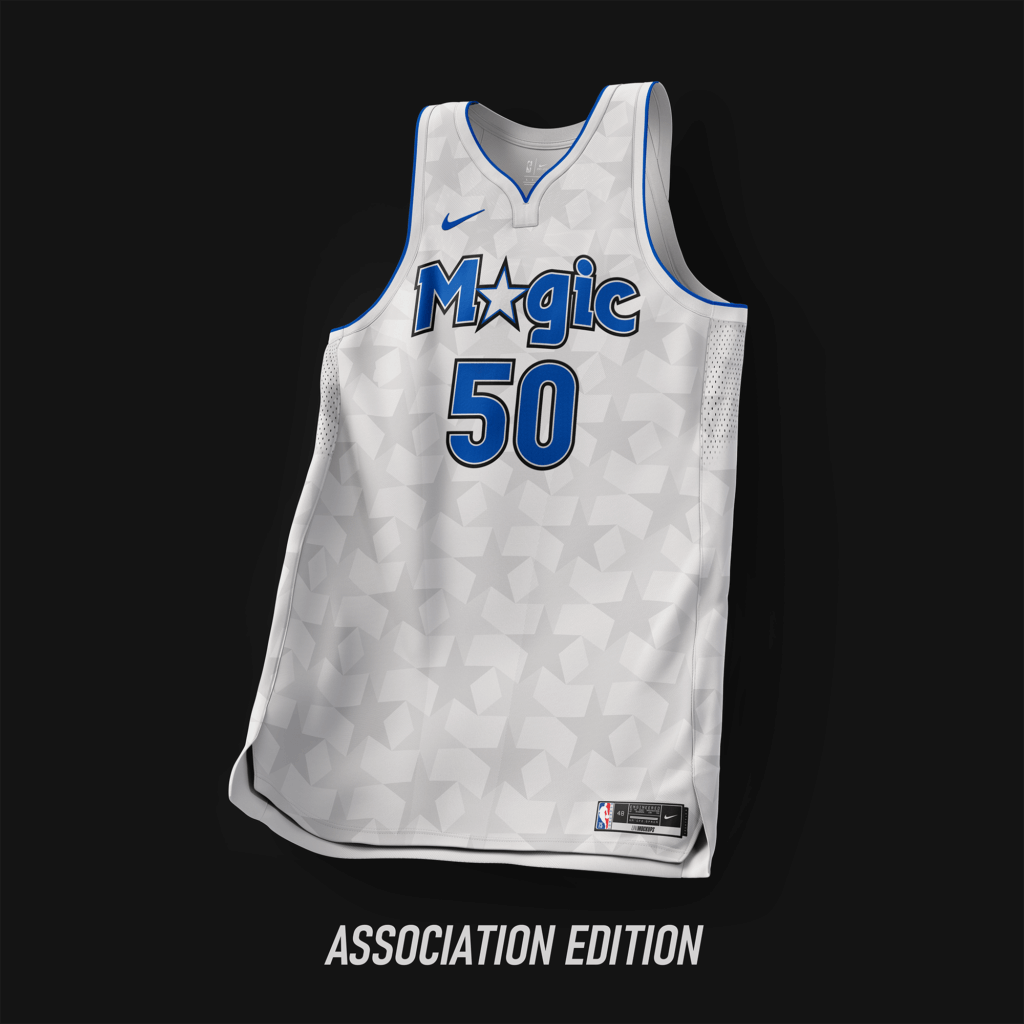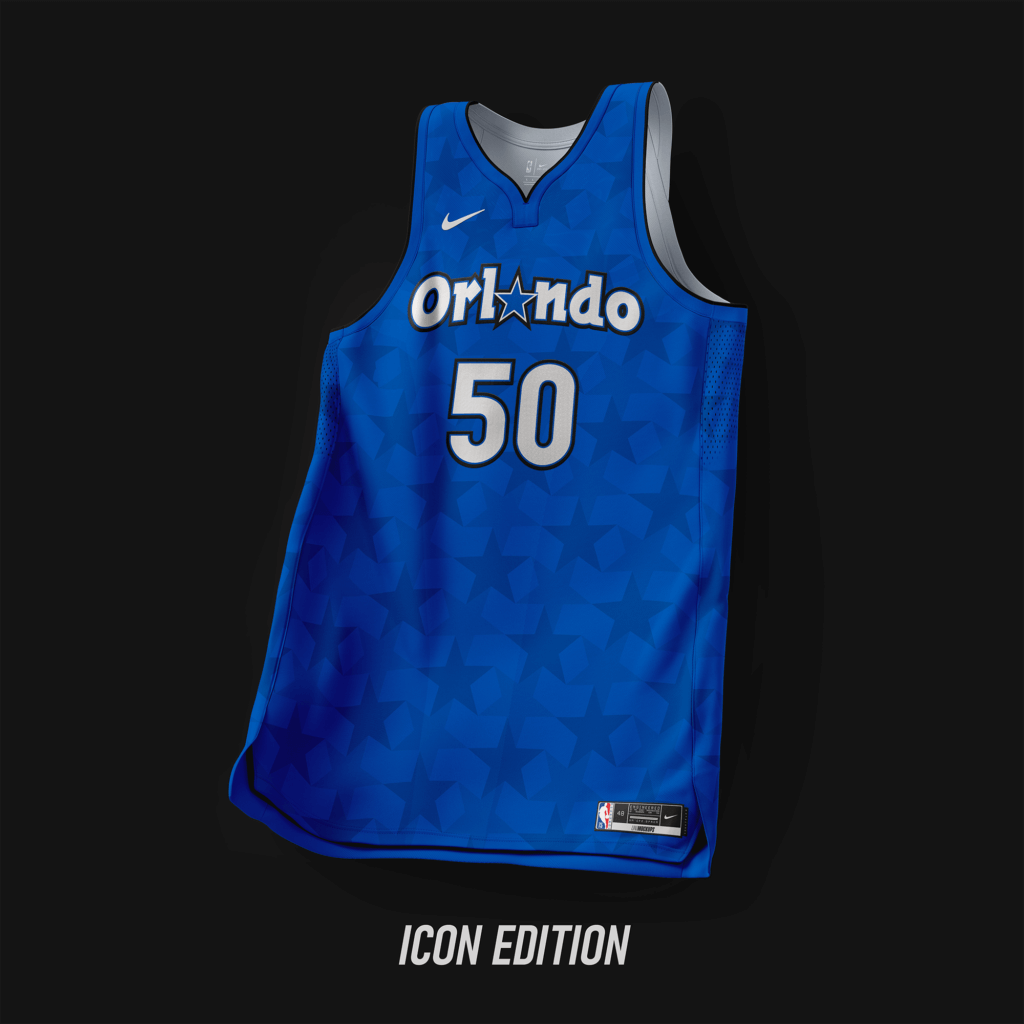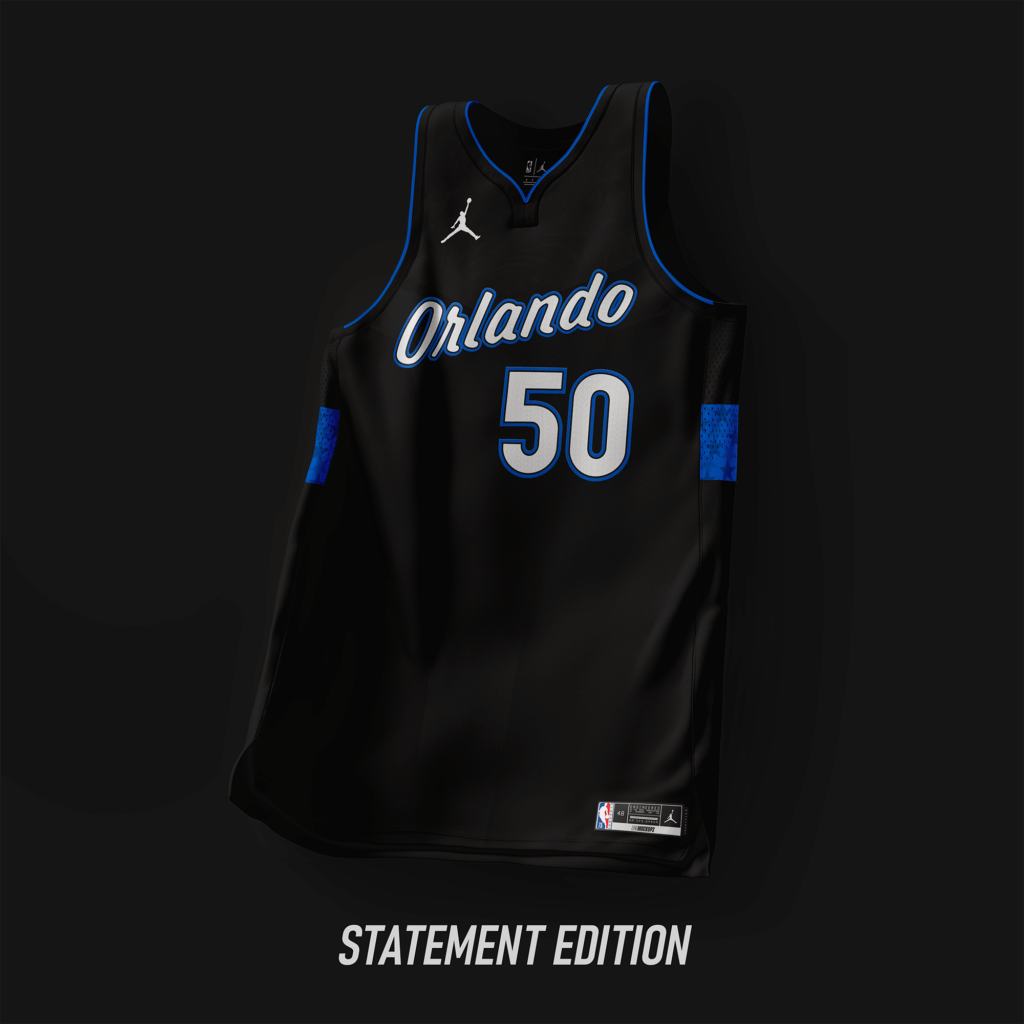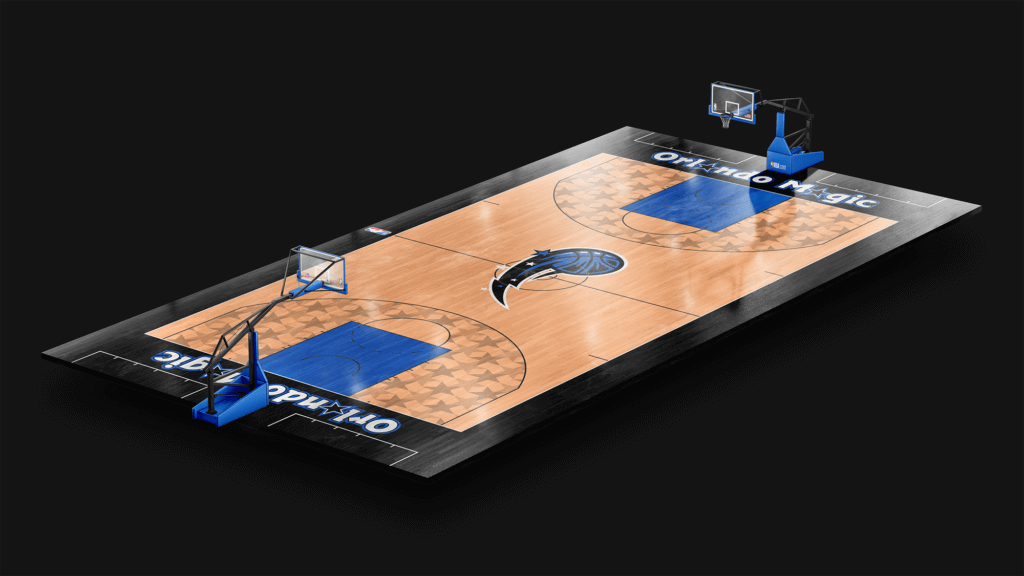 Designs based off of the design used from '98-'03. The wordmark is an updated version of wordmarks used from '89-'03.
__________
Philadelphia 76ers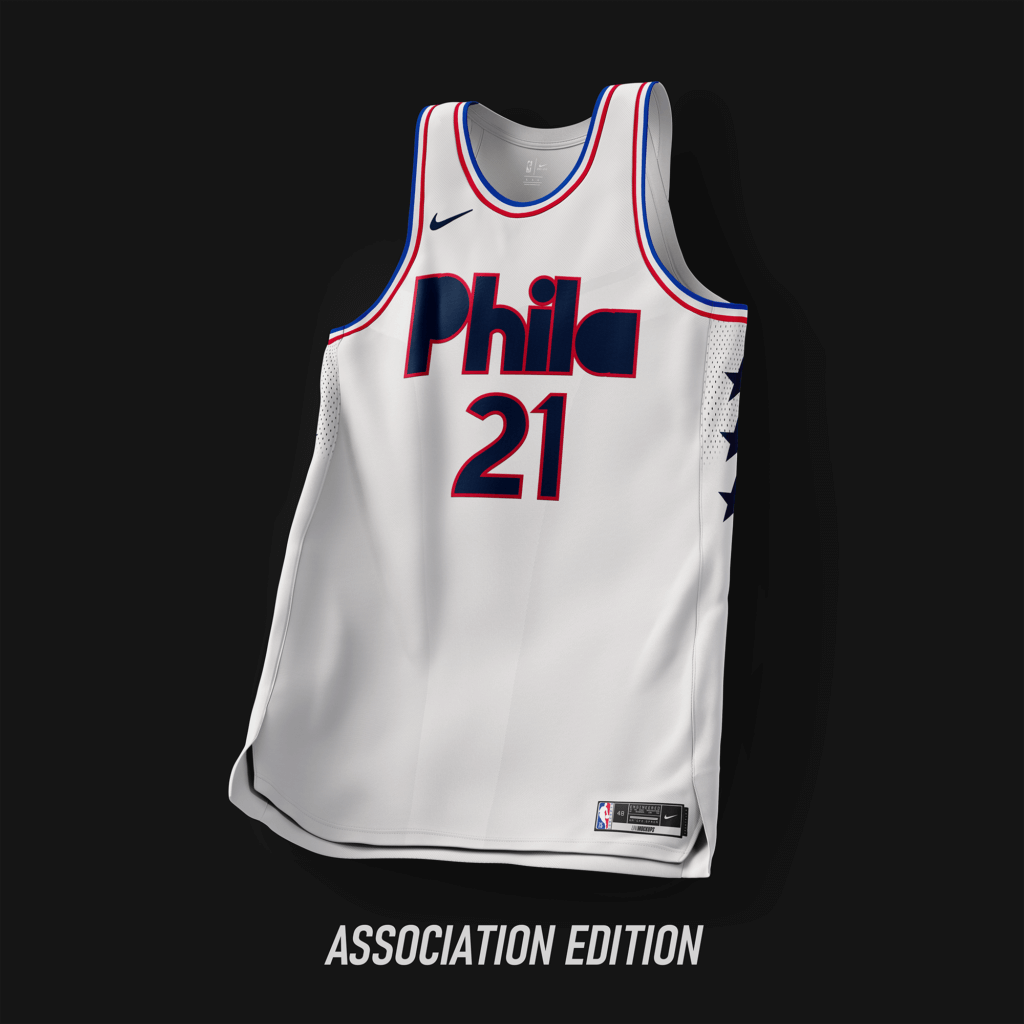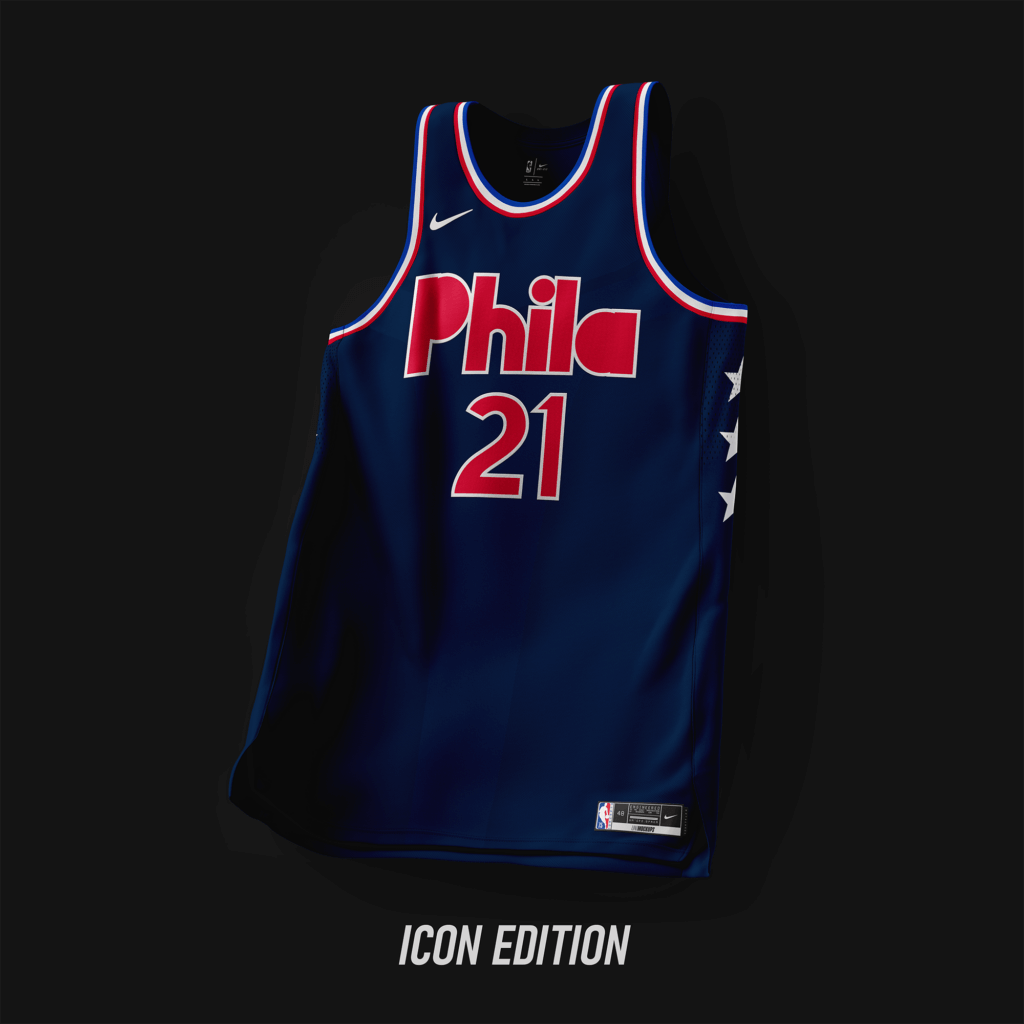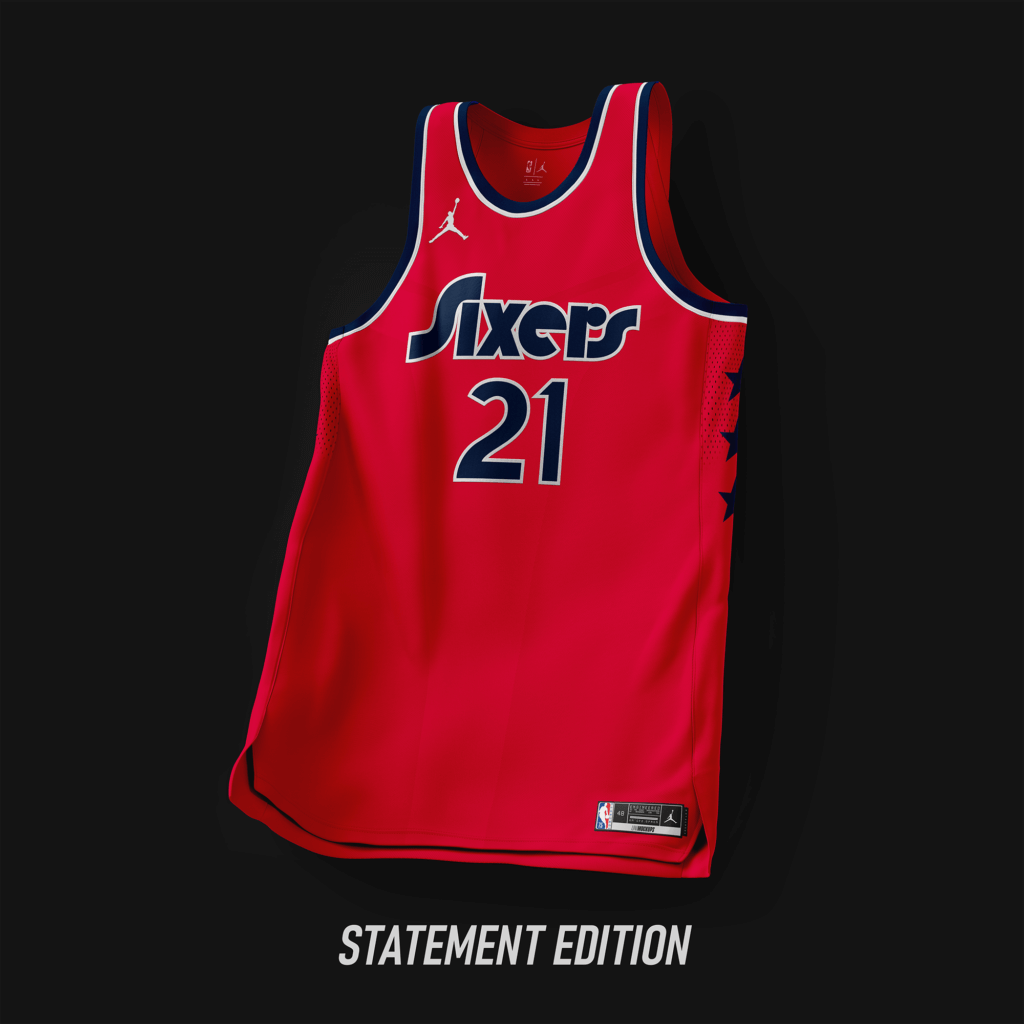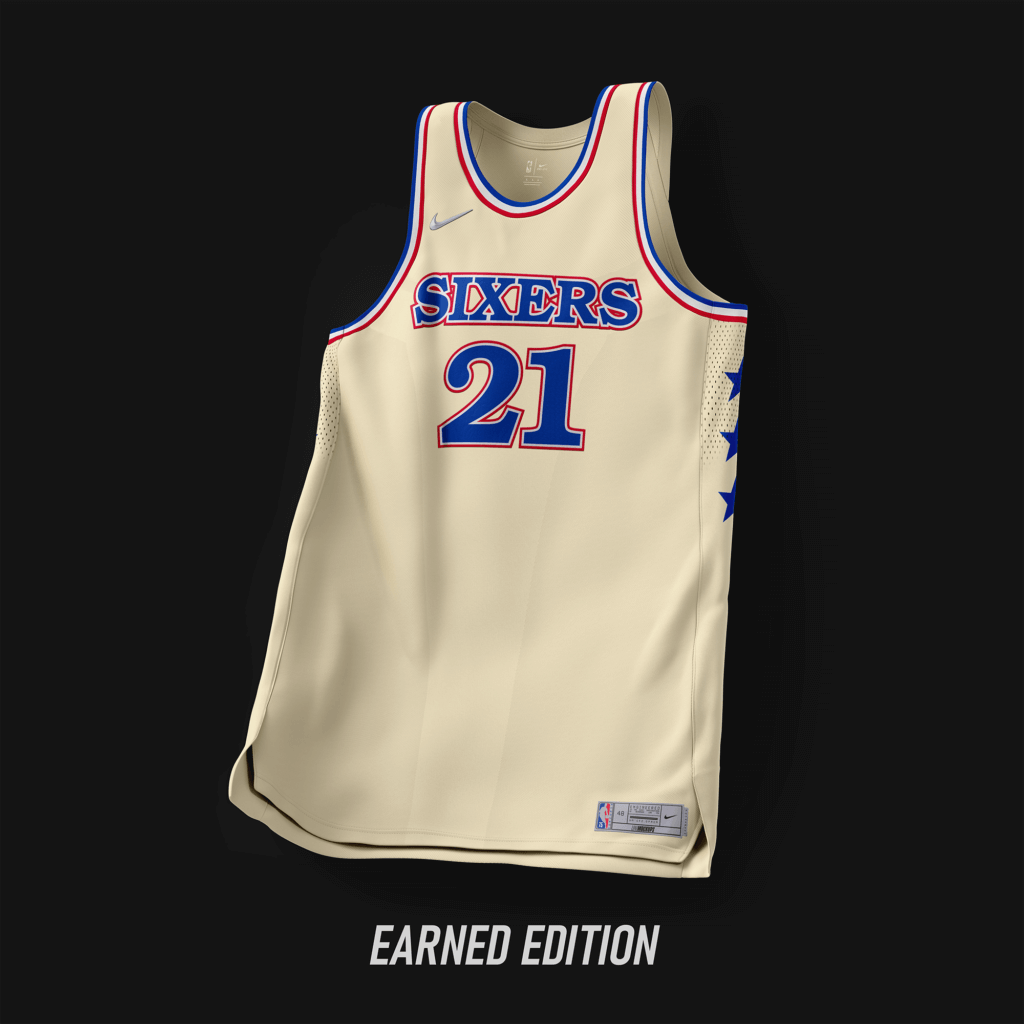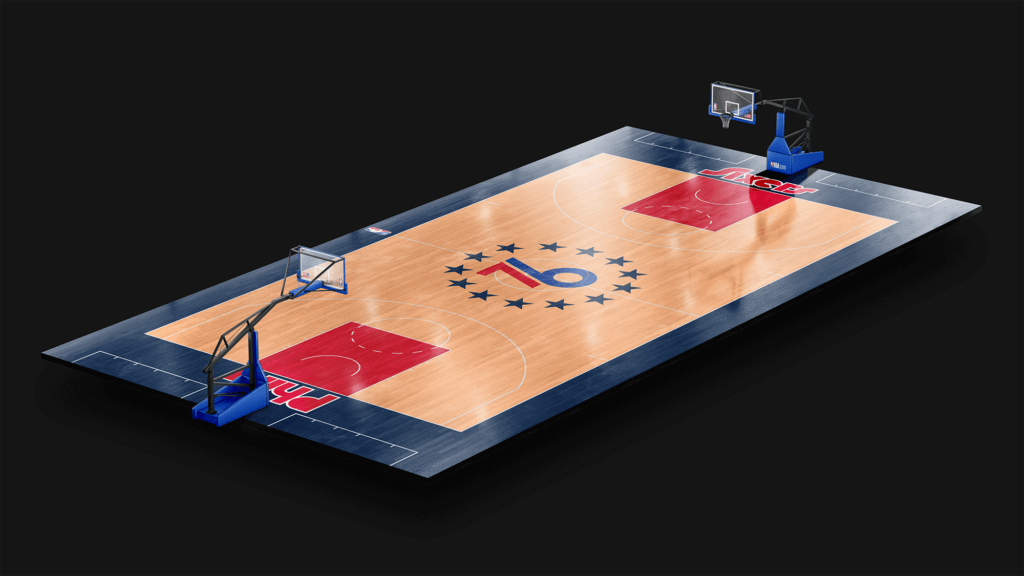 Extension of the '21-'22 City Edition, with a simple star design for the side panels.
__________
Phoenix Suns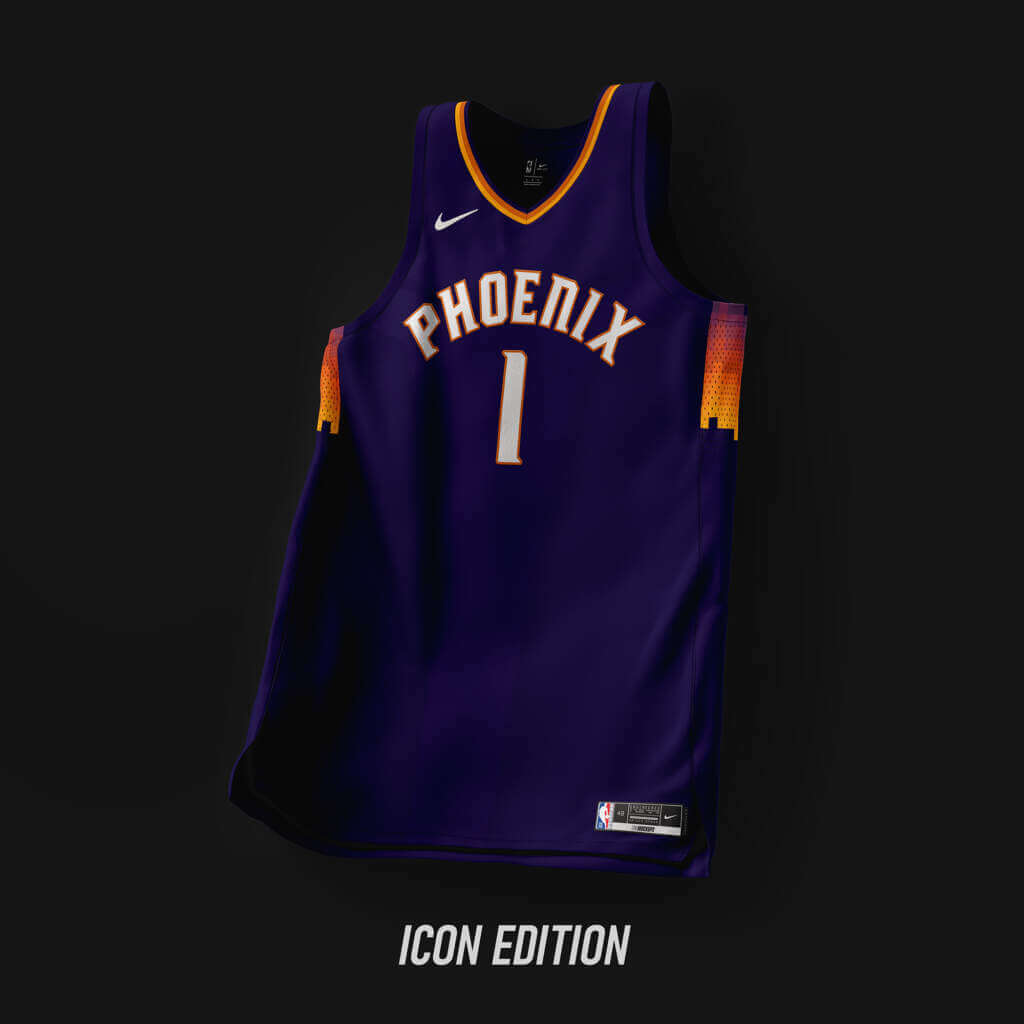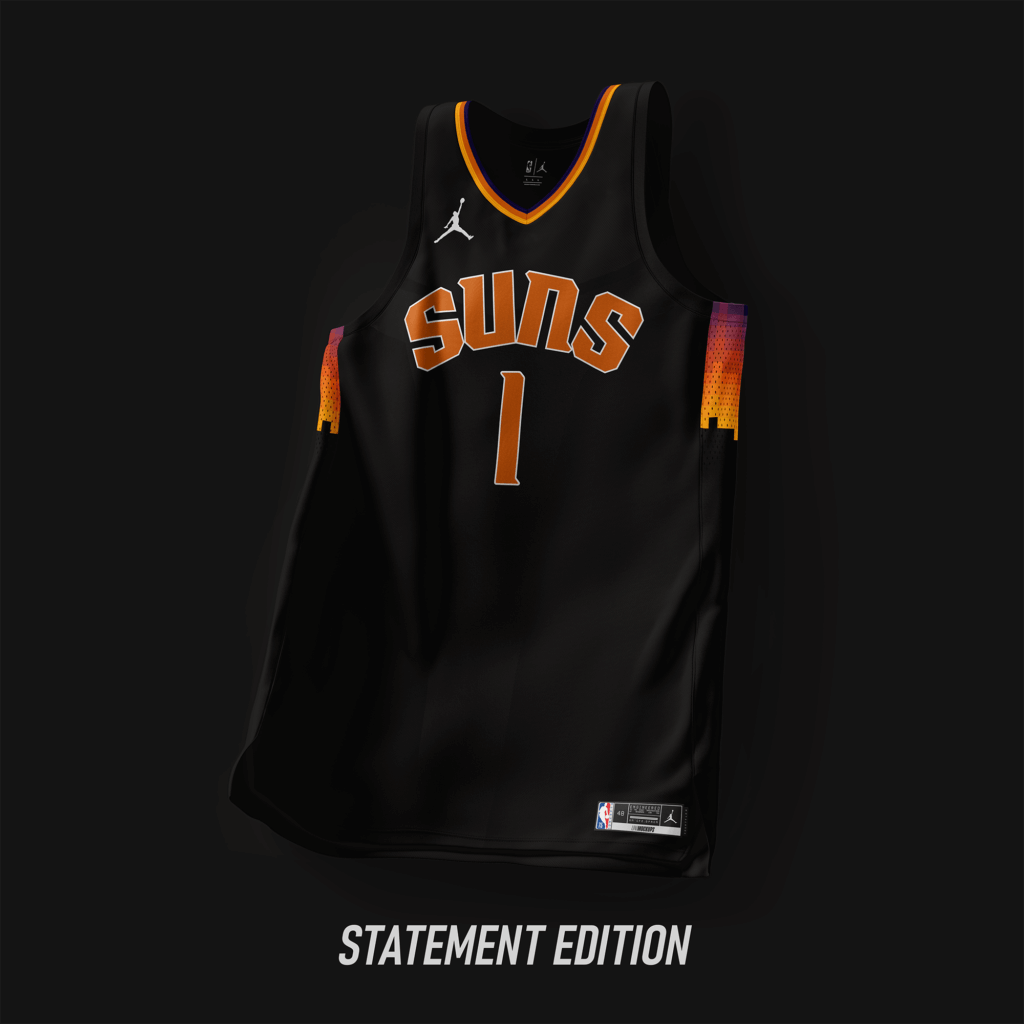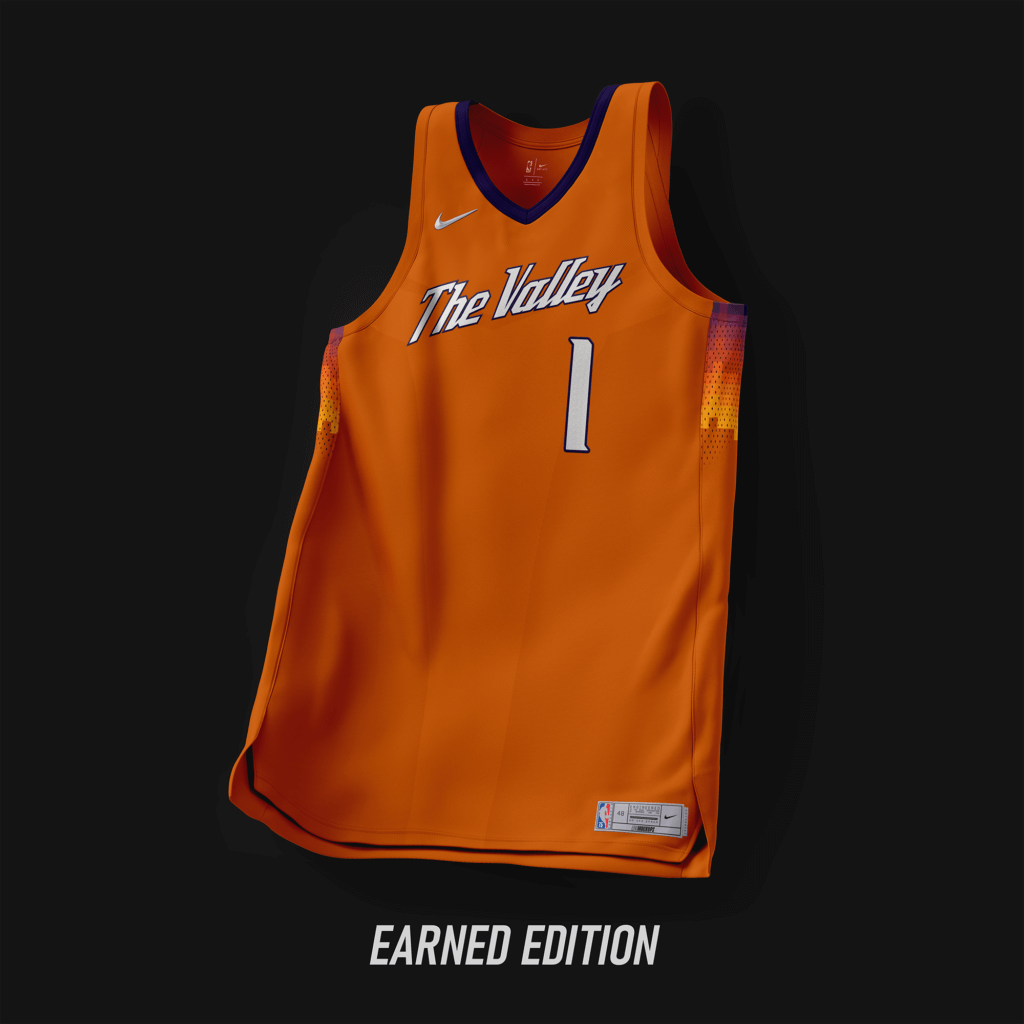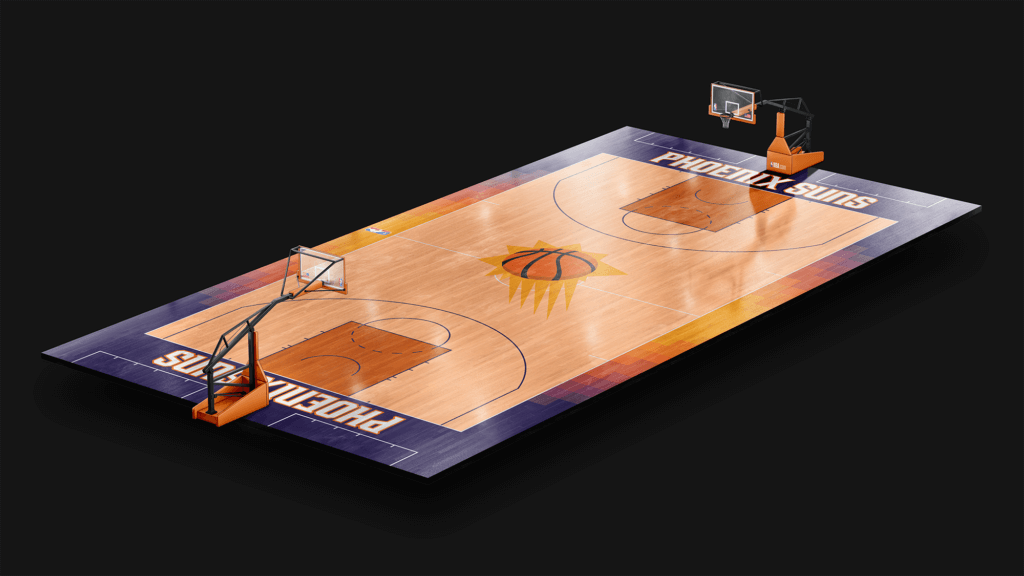 Current wordmark arched with the valley gradient on the side panels.
__________
Portland Trailblazers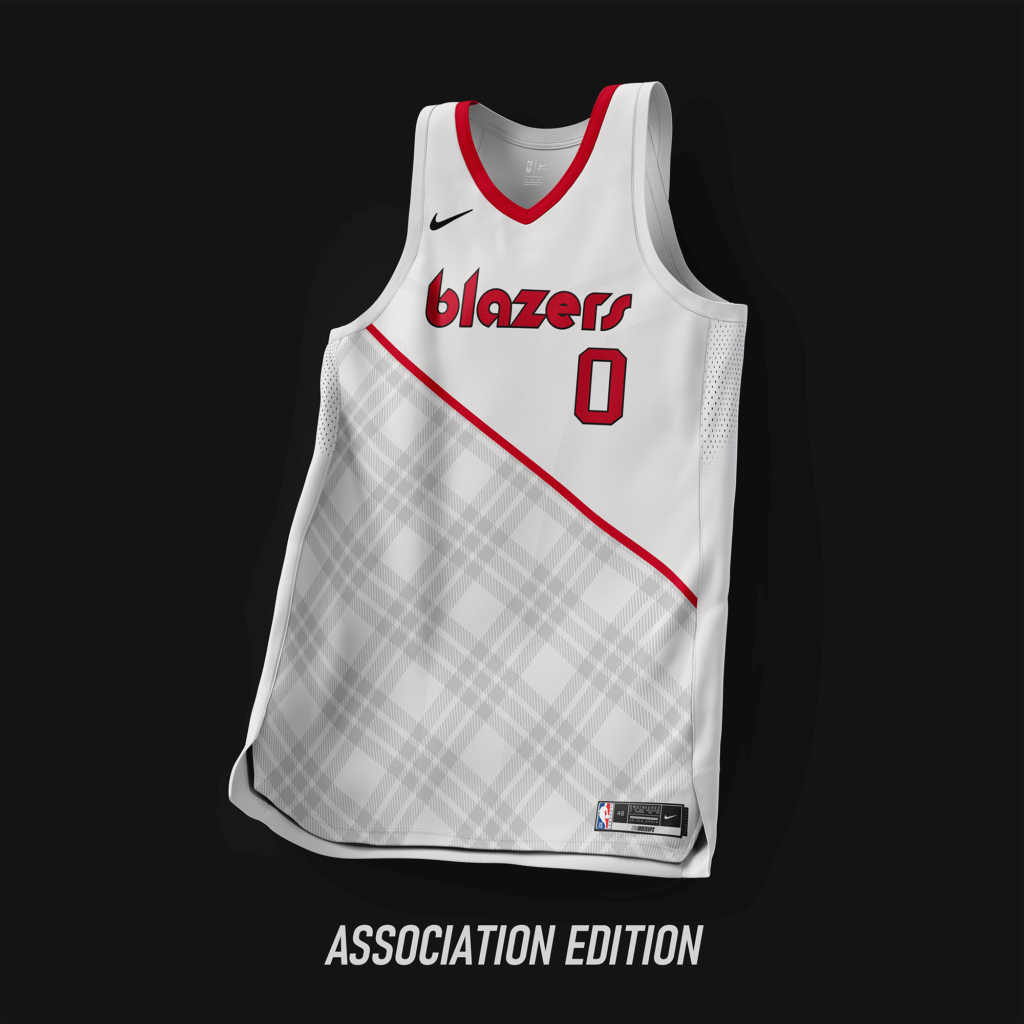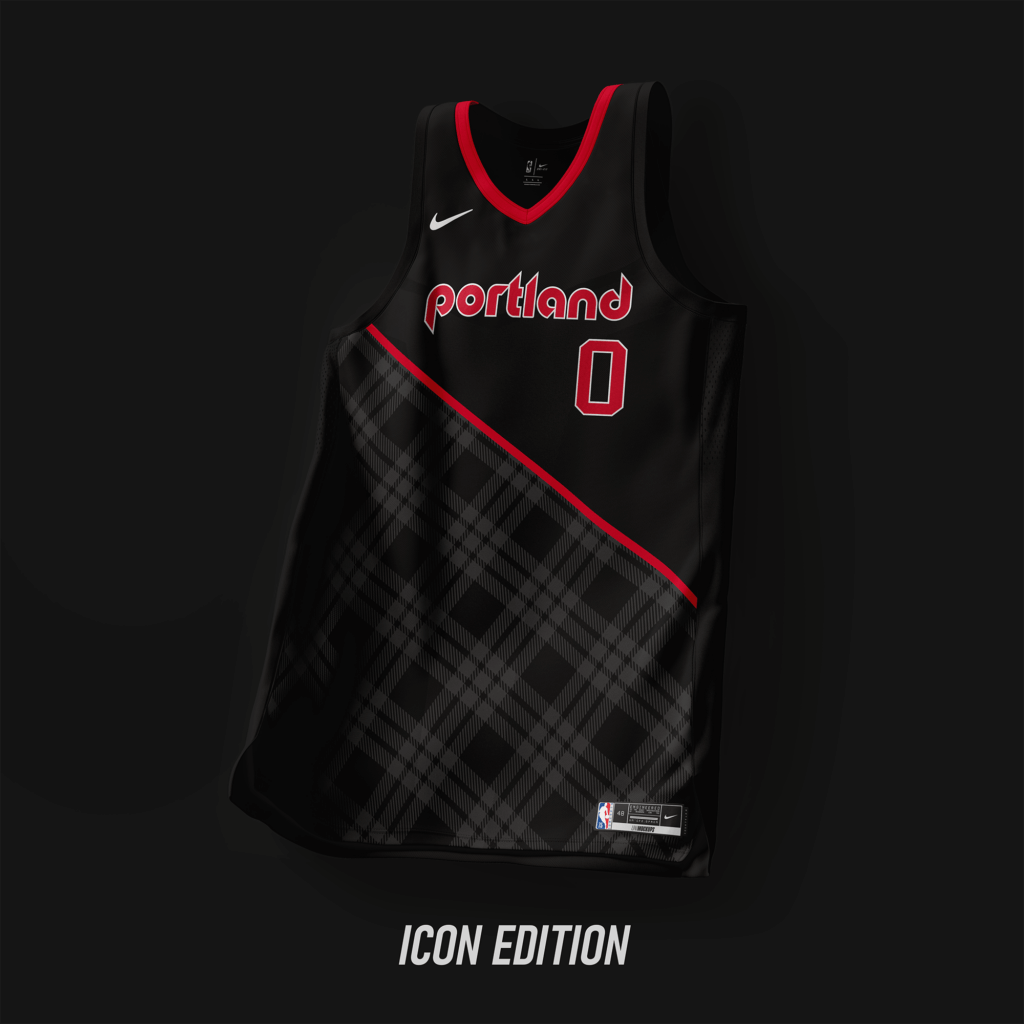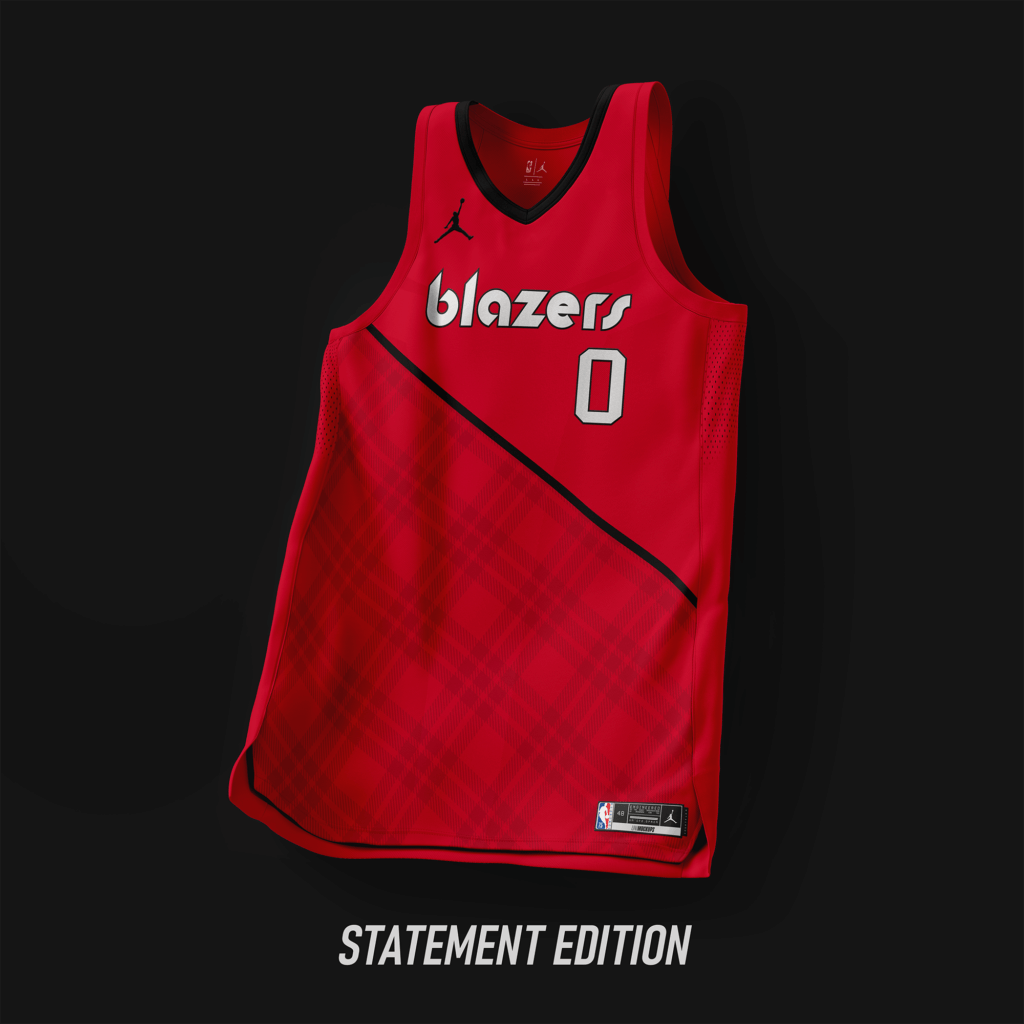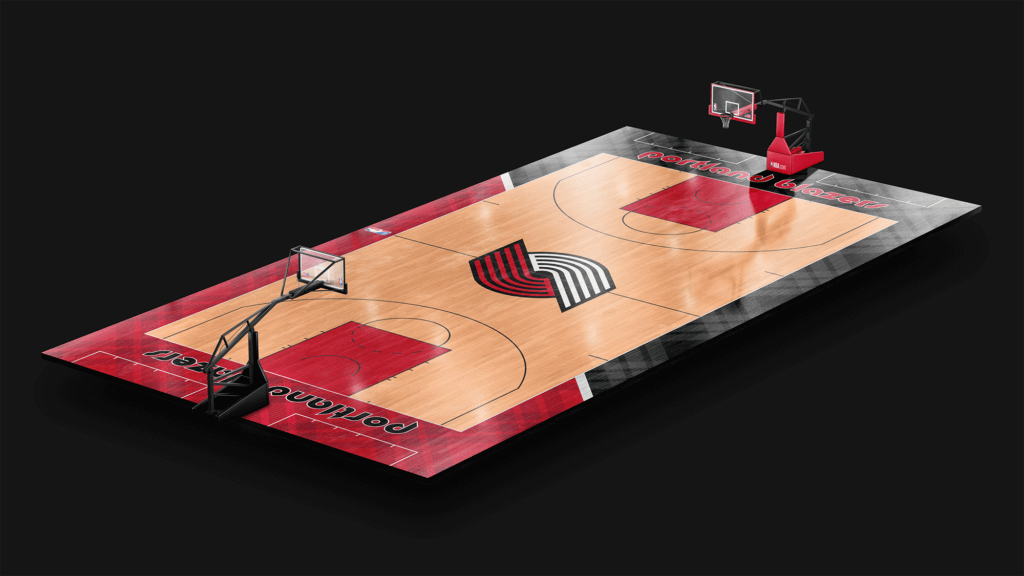 Using the classic wordmark from '77-'02, with a subliminal plaid pattern added underneath the minimal sash.
__________
Sacramento Kings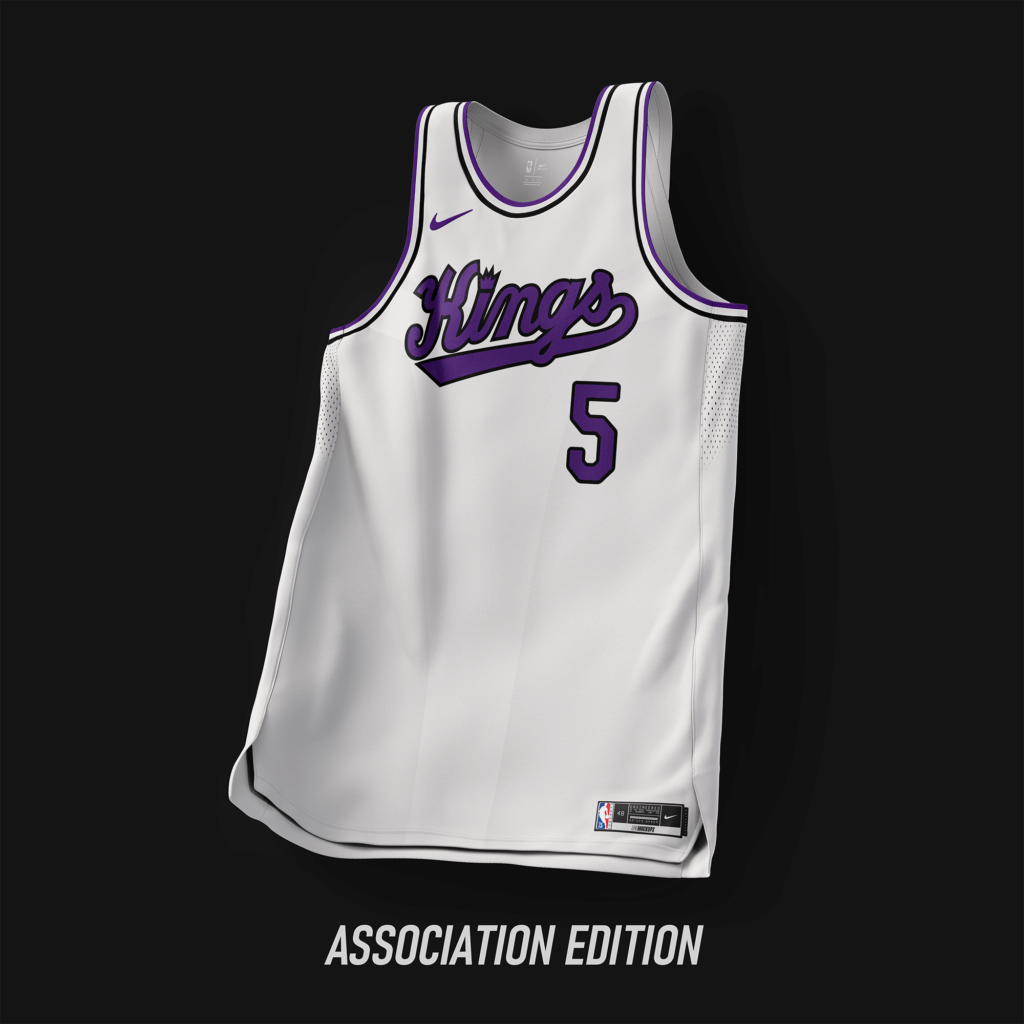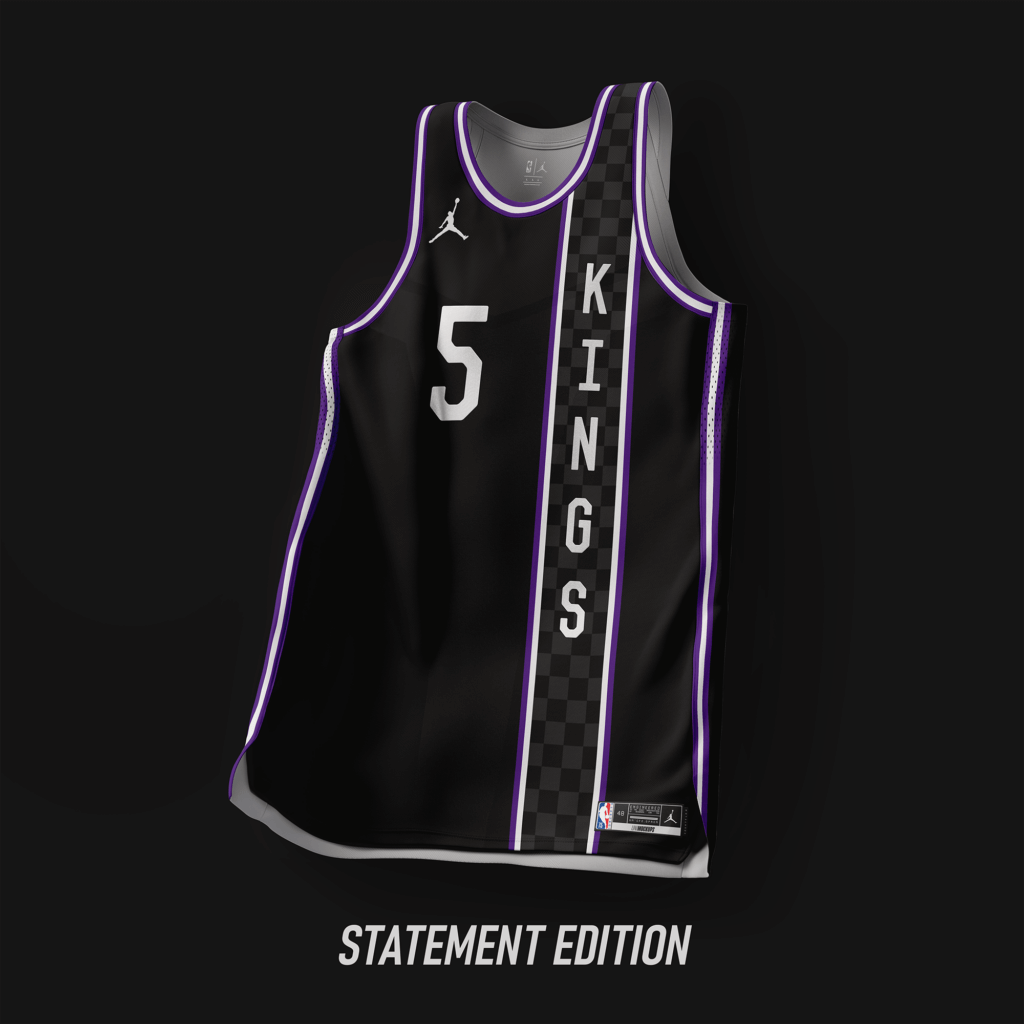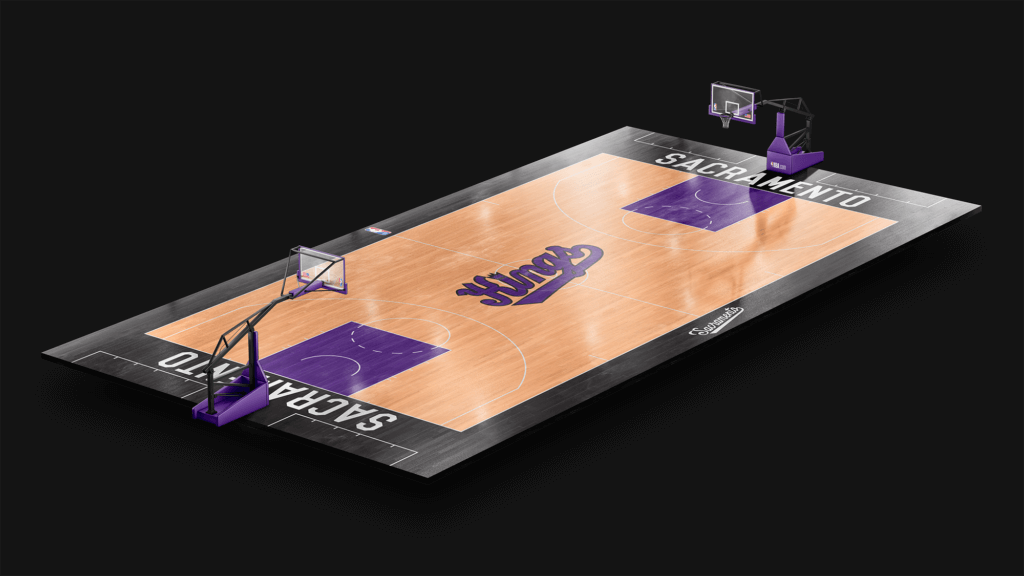 Simple design based off the '21-'22 City Edition. Statement edition based of the Cincinnati Royals design used from '67-'71.
__________
San Antonio Spurs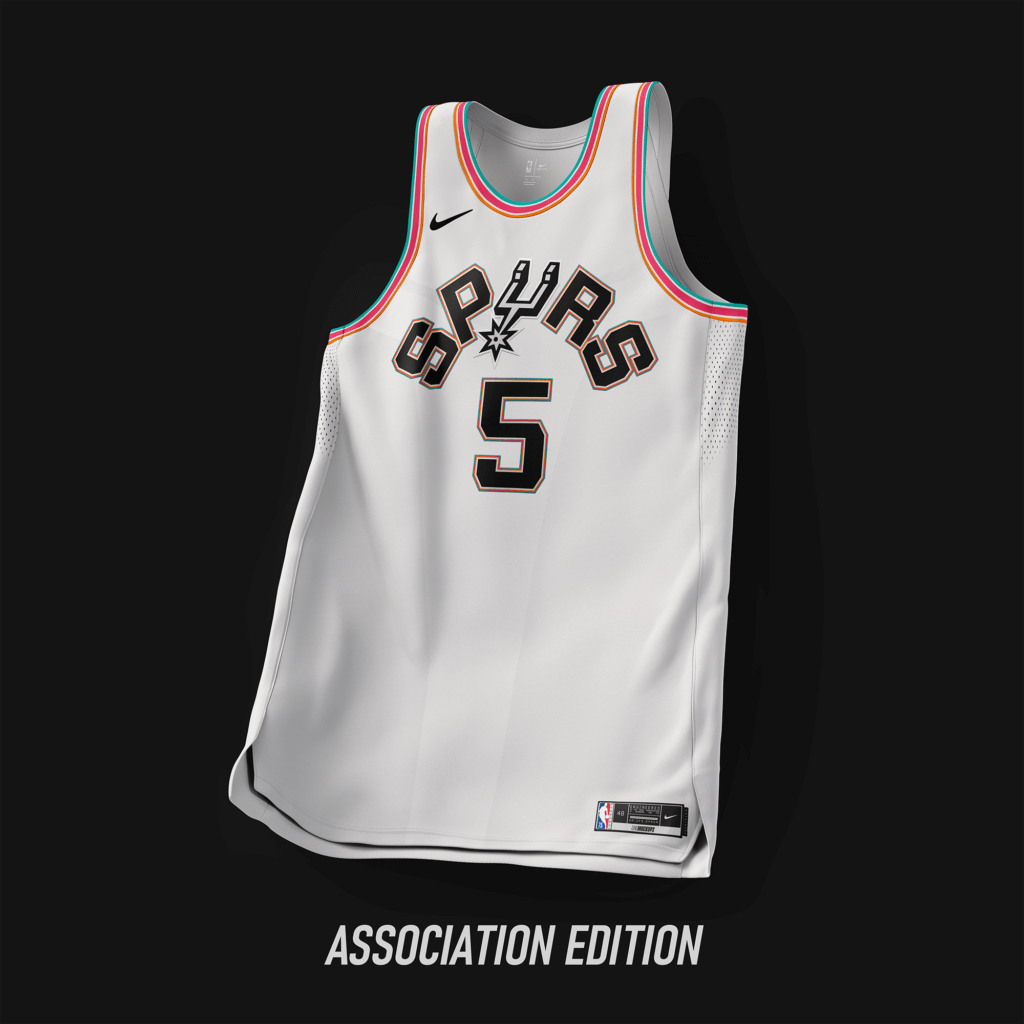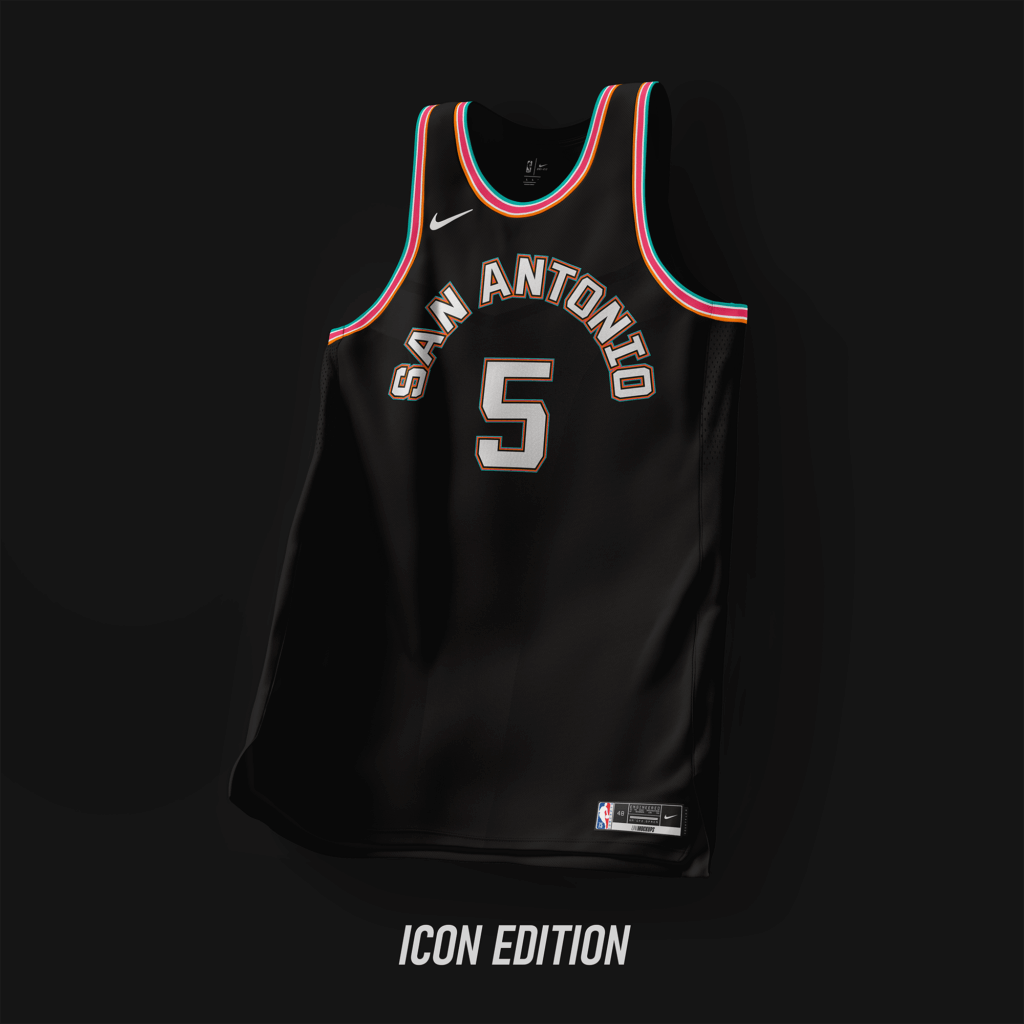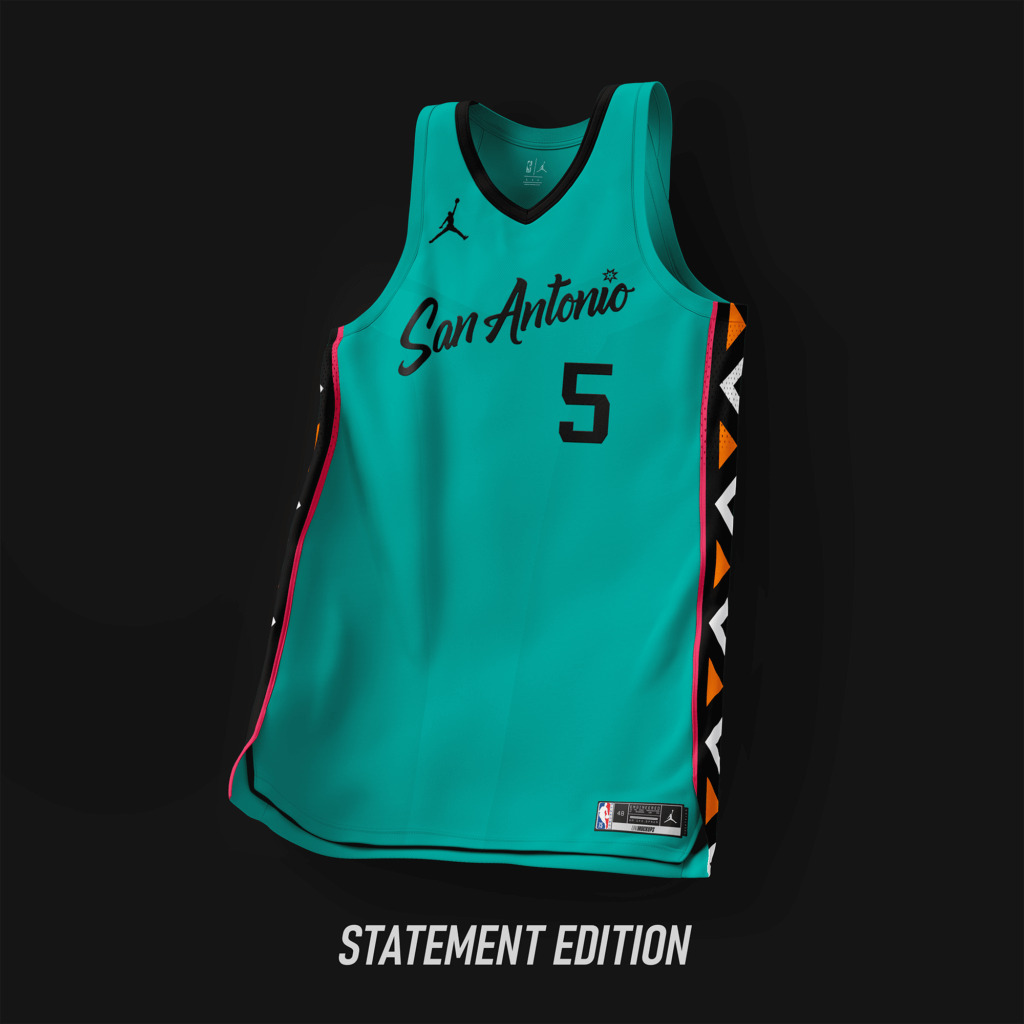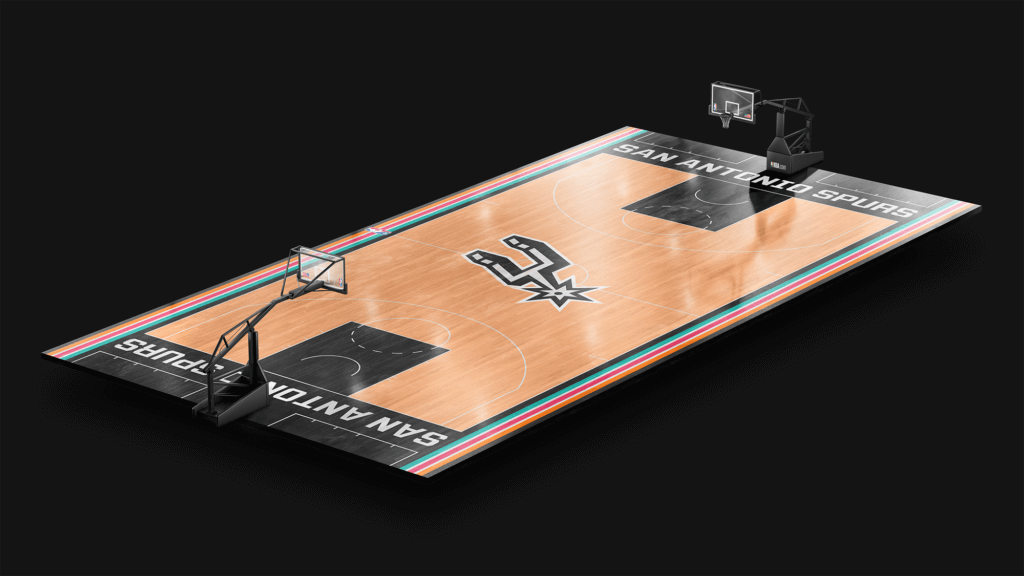 The design uses the Fiesta color scheme, with an arched wordmark using the current font. The Statement Edition resembles the design from the All-Star jersey used in '96.
__________
San Francisco Warriors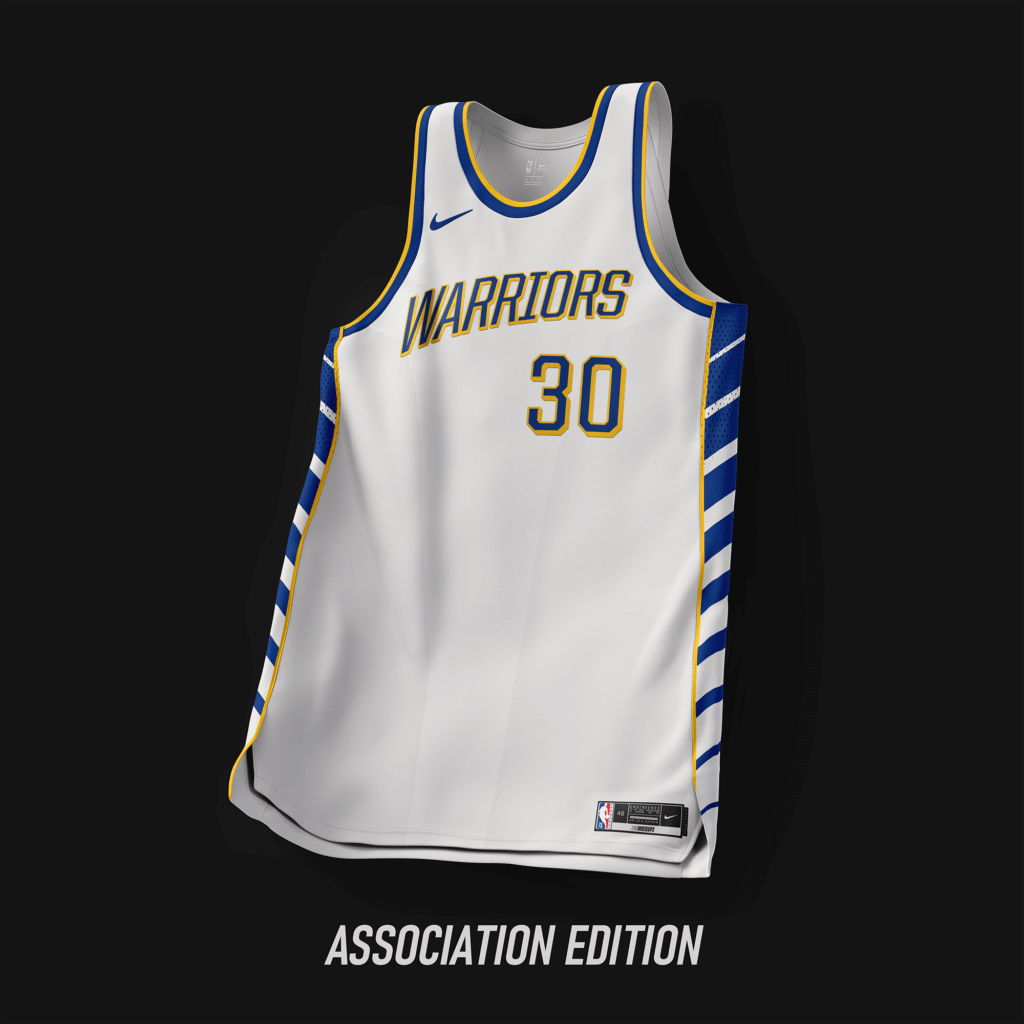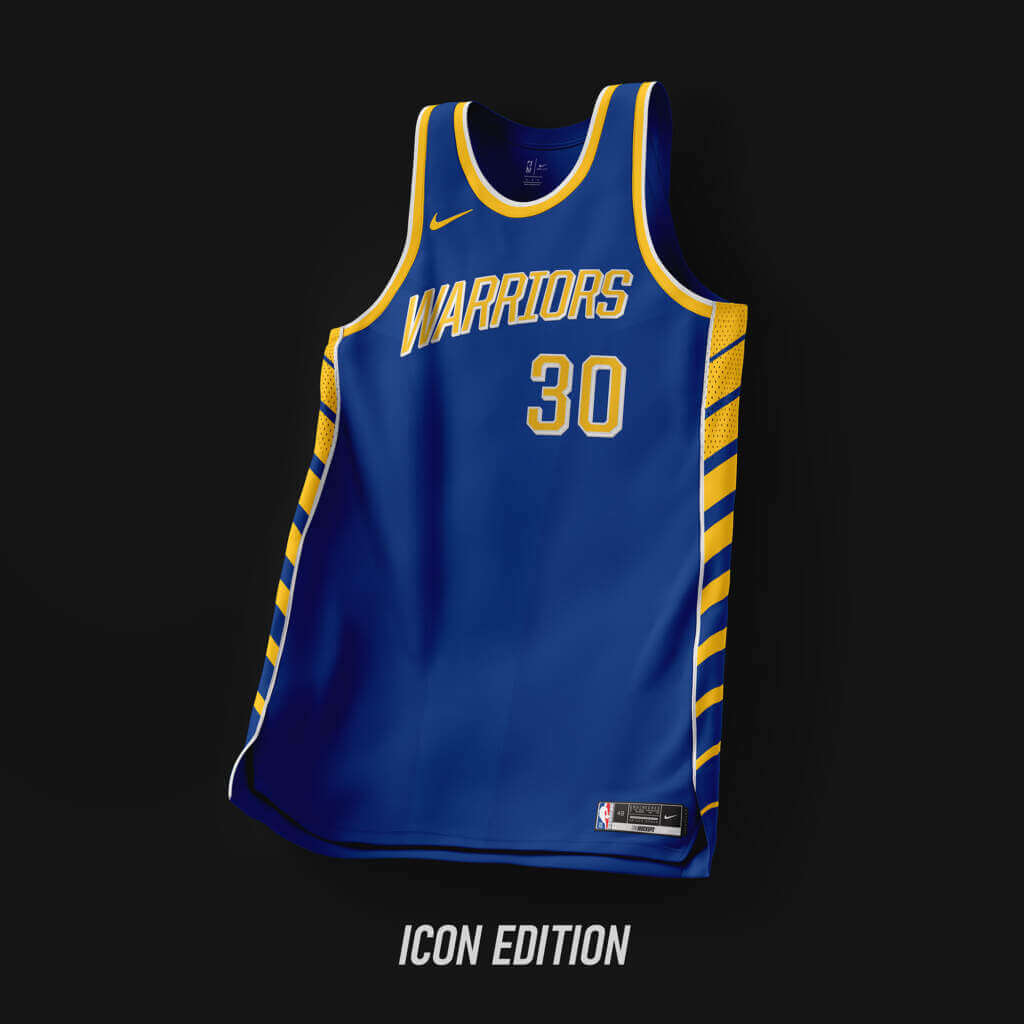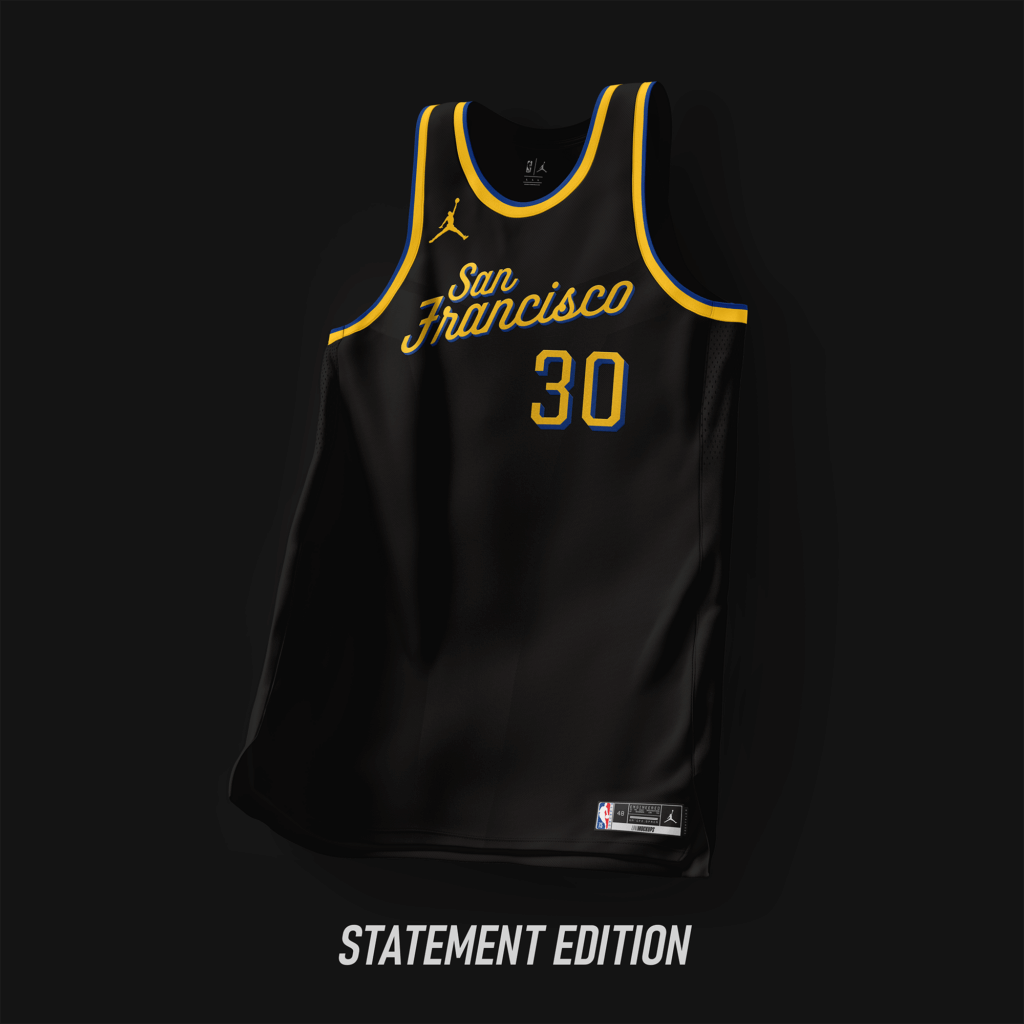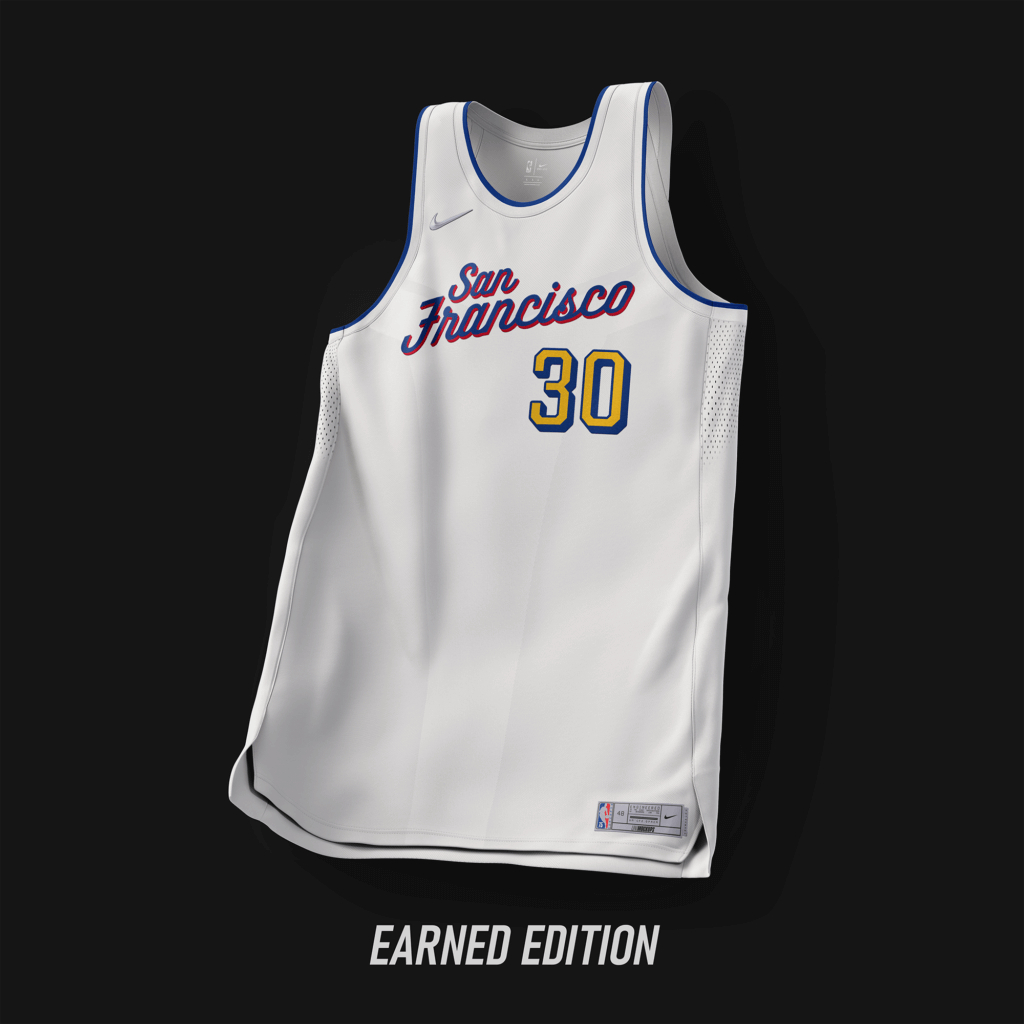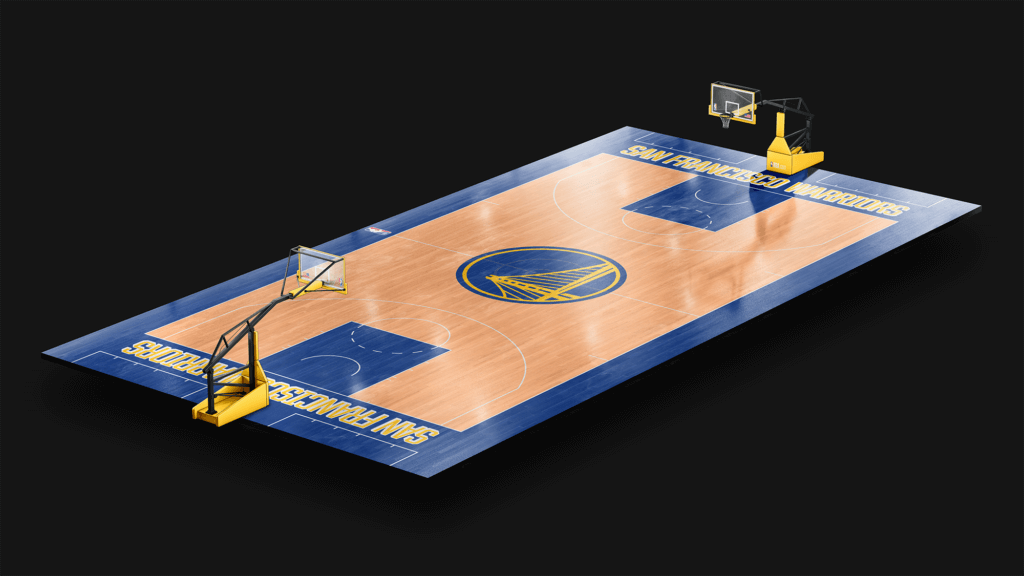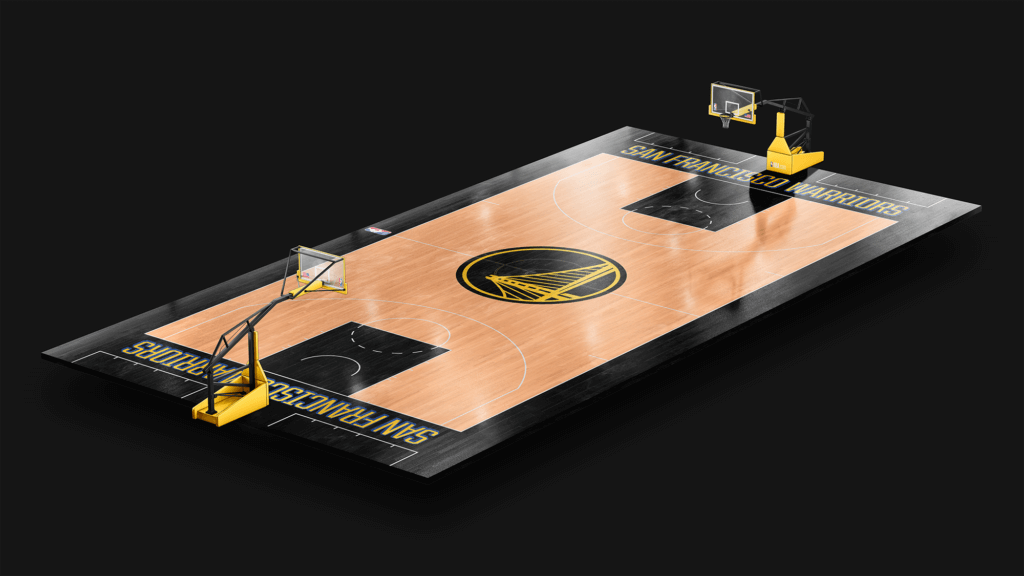 Wordmark are using the same font from the original version of "The Town" used from '17-'19. Side panels was designed based on the logo used for "The Bay".
__________
Toronto Raptors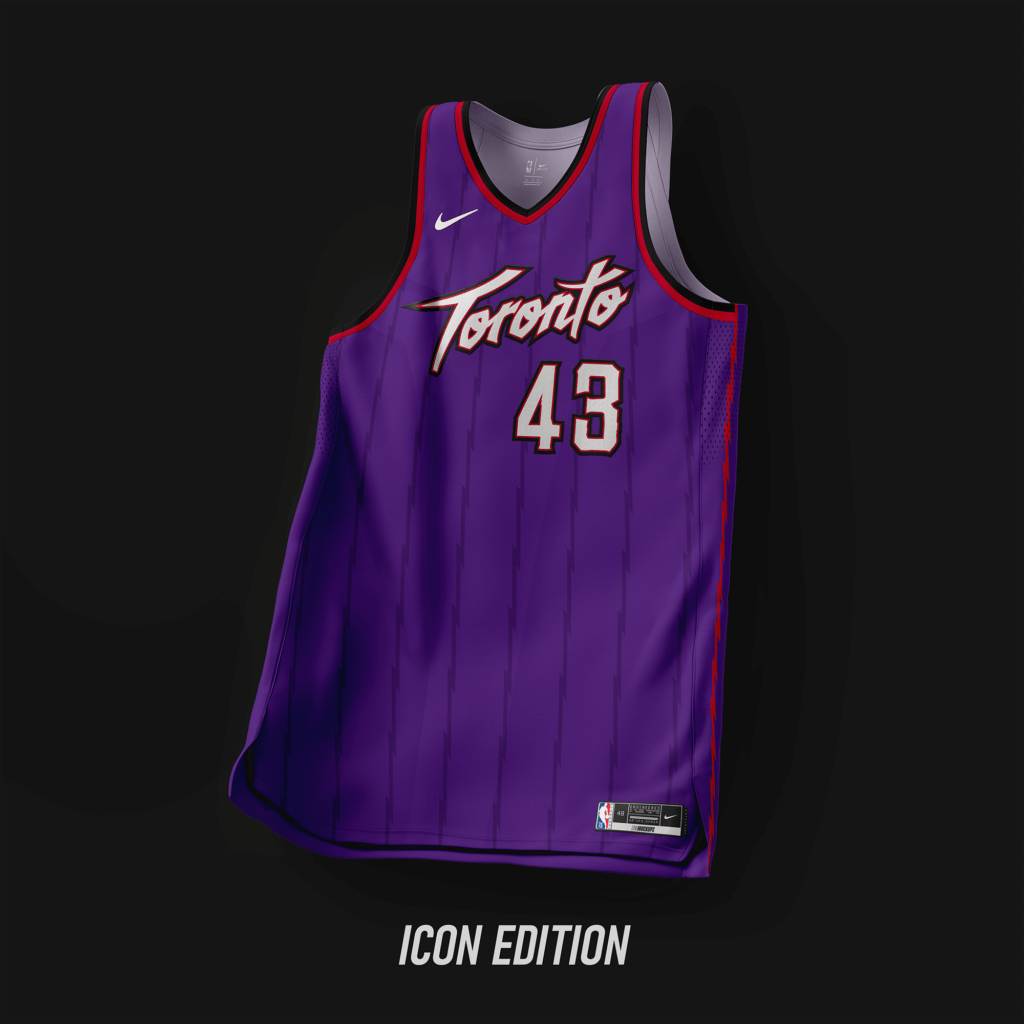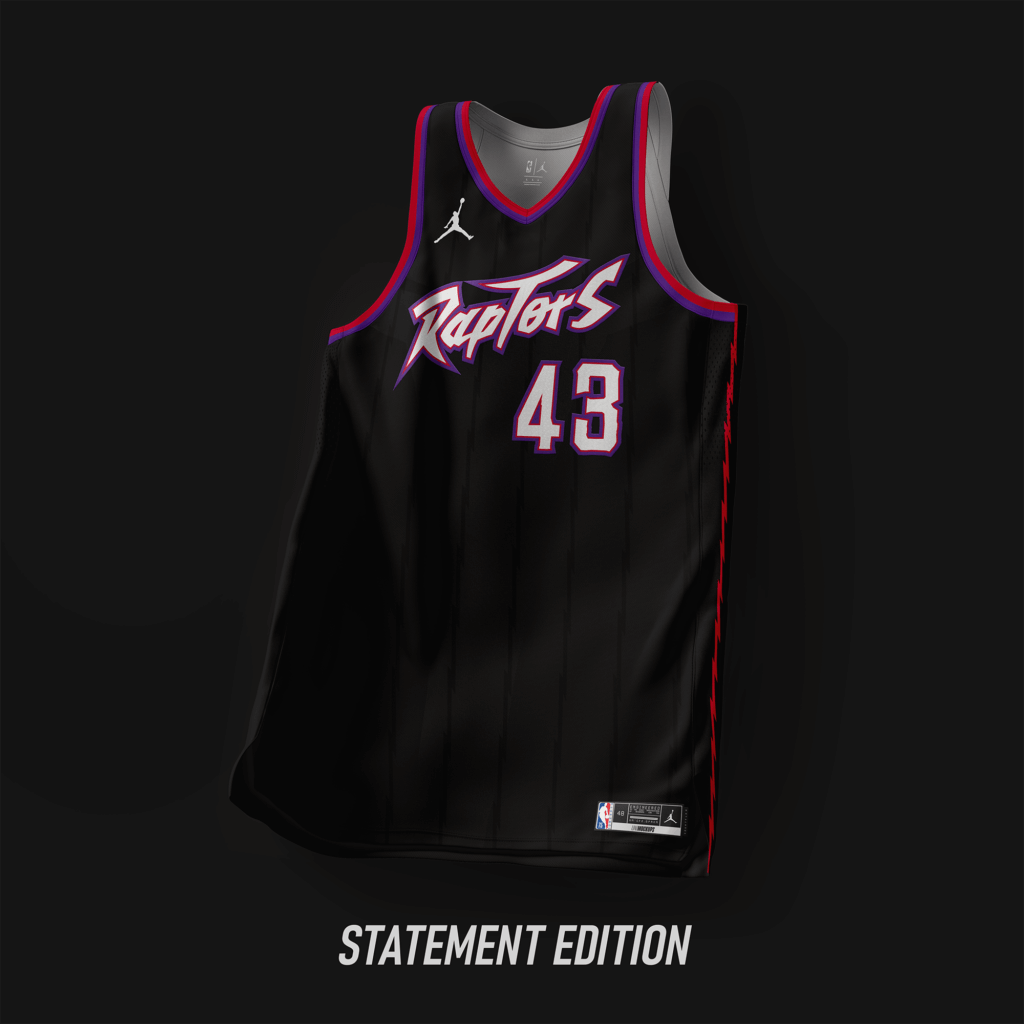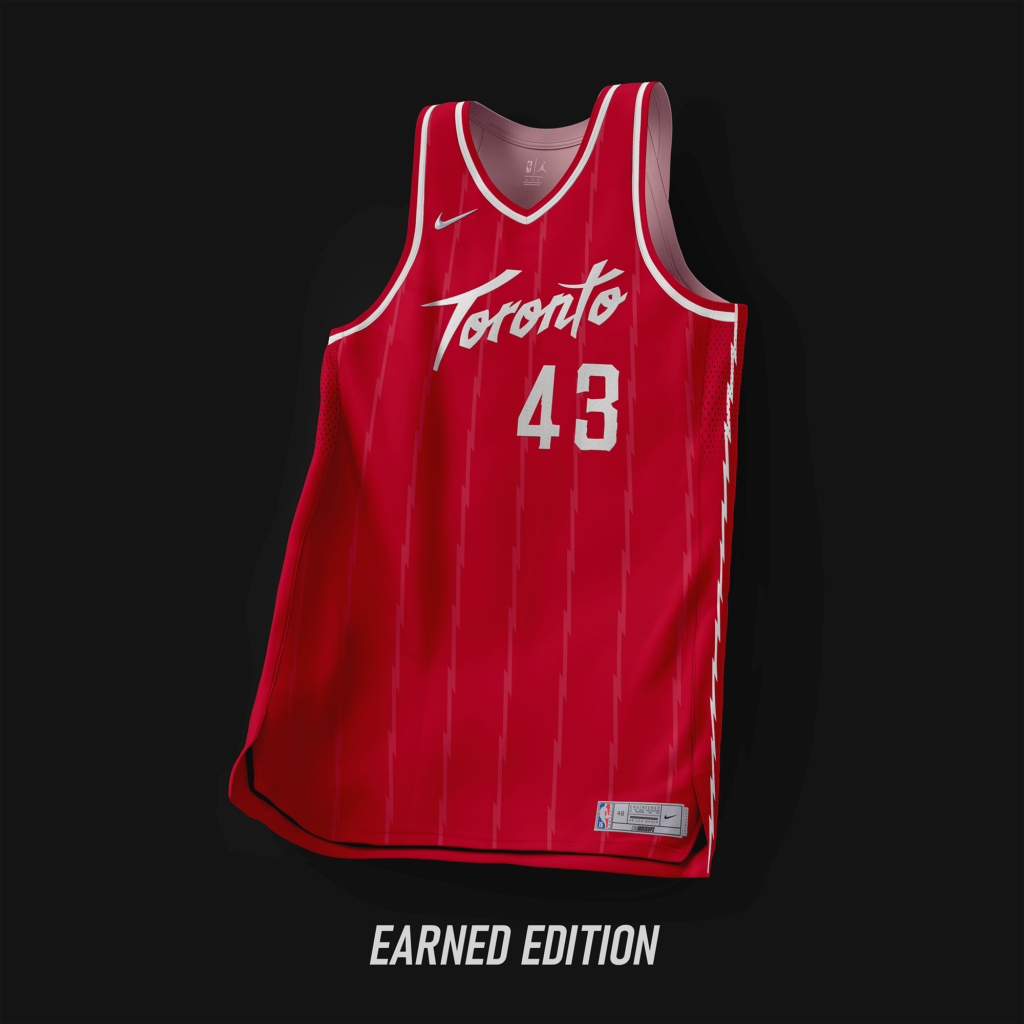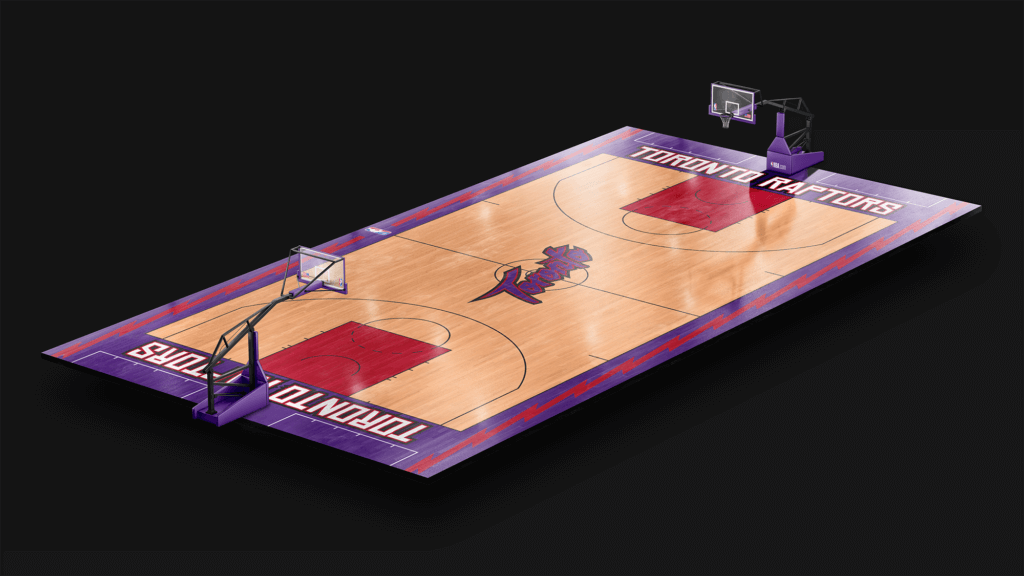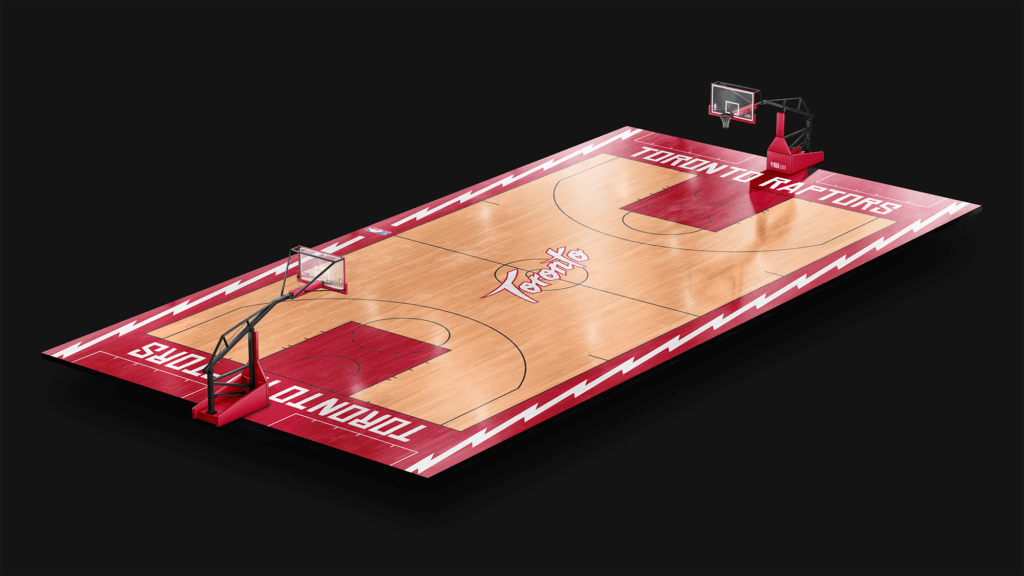 A simple redsign from the original set used from '95-'99, minus the Dino Logo.
__________
Utah Jazz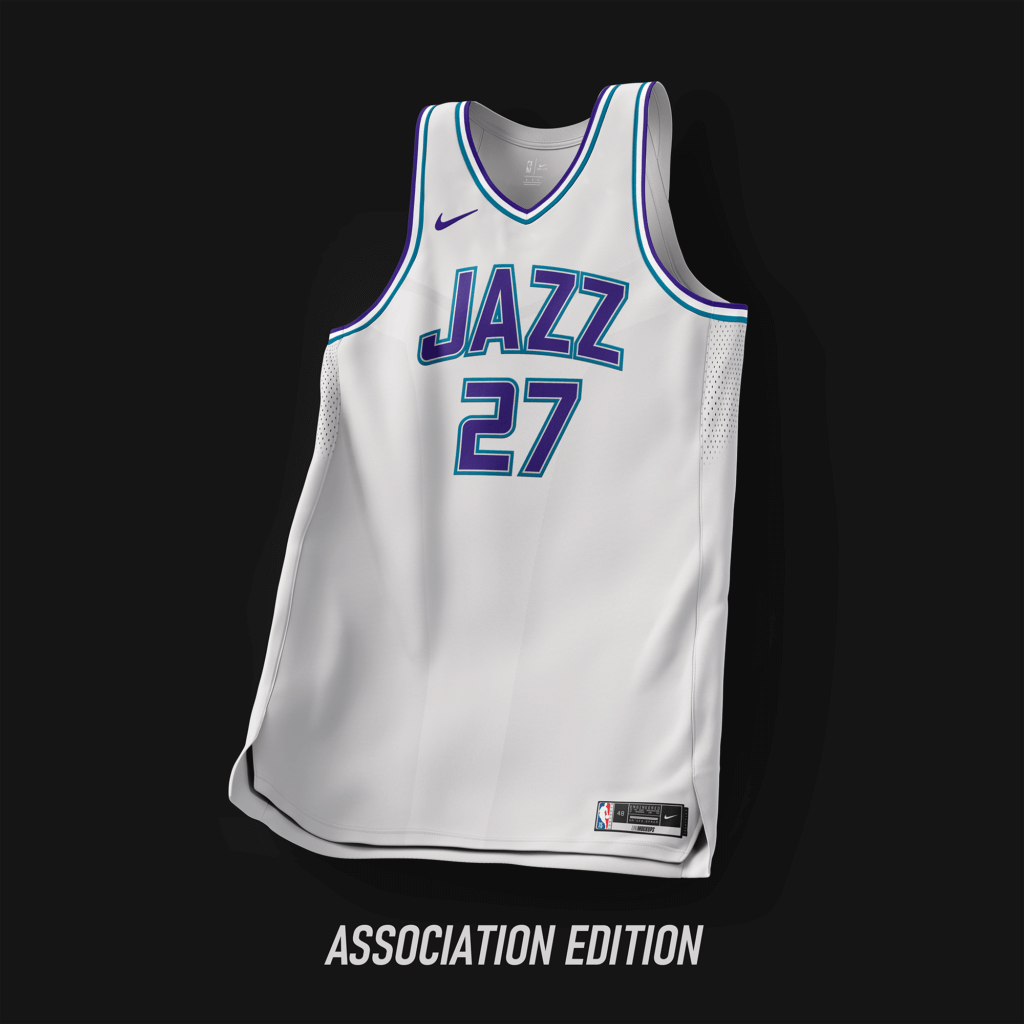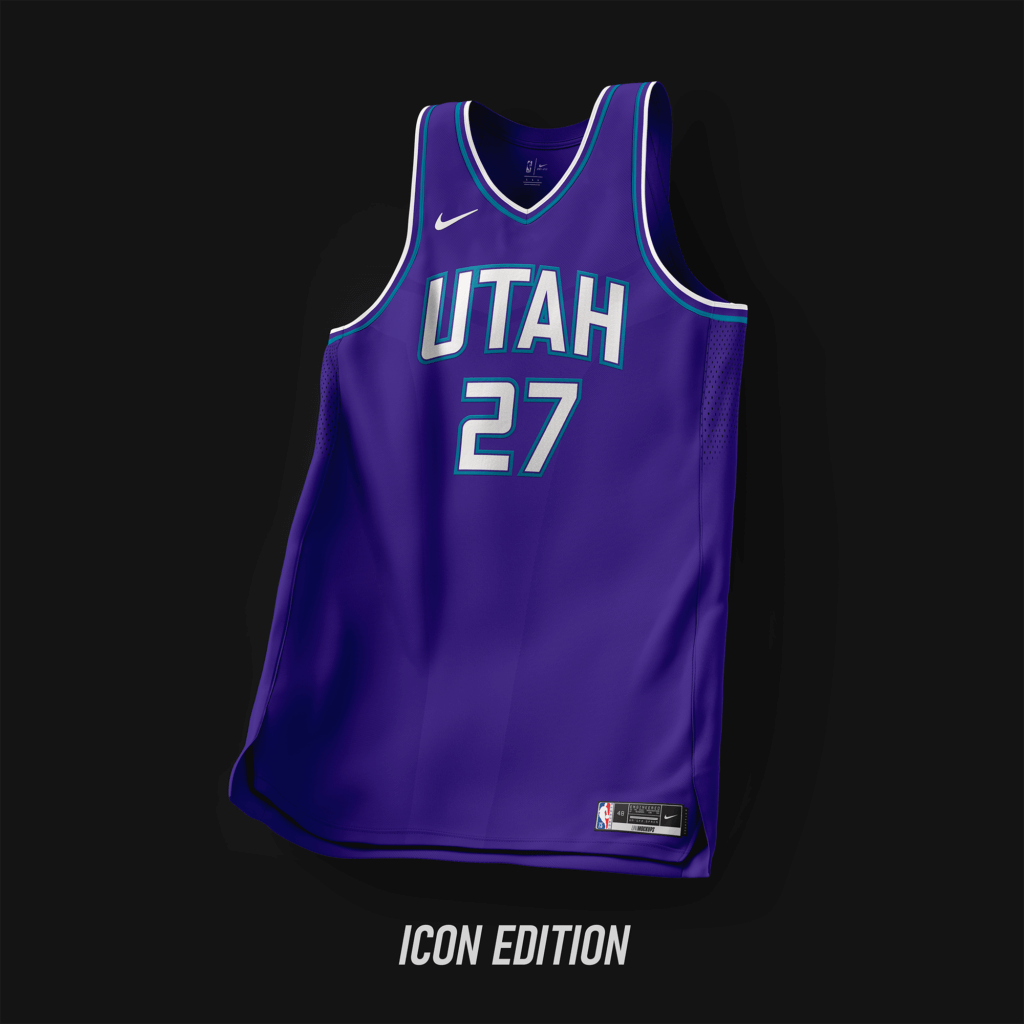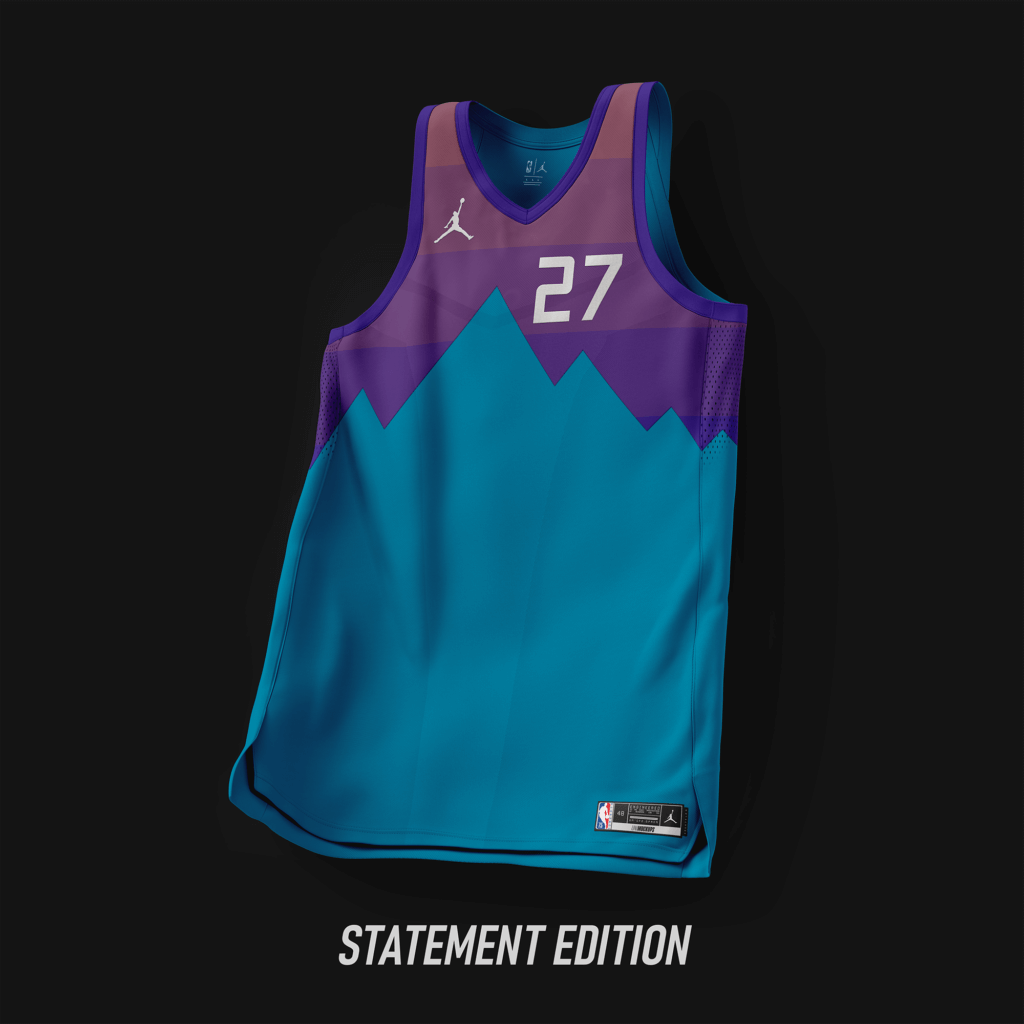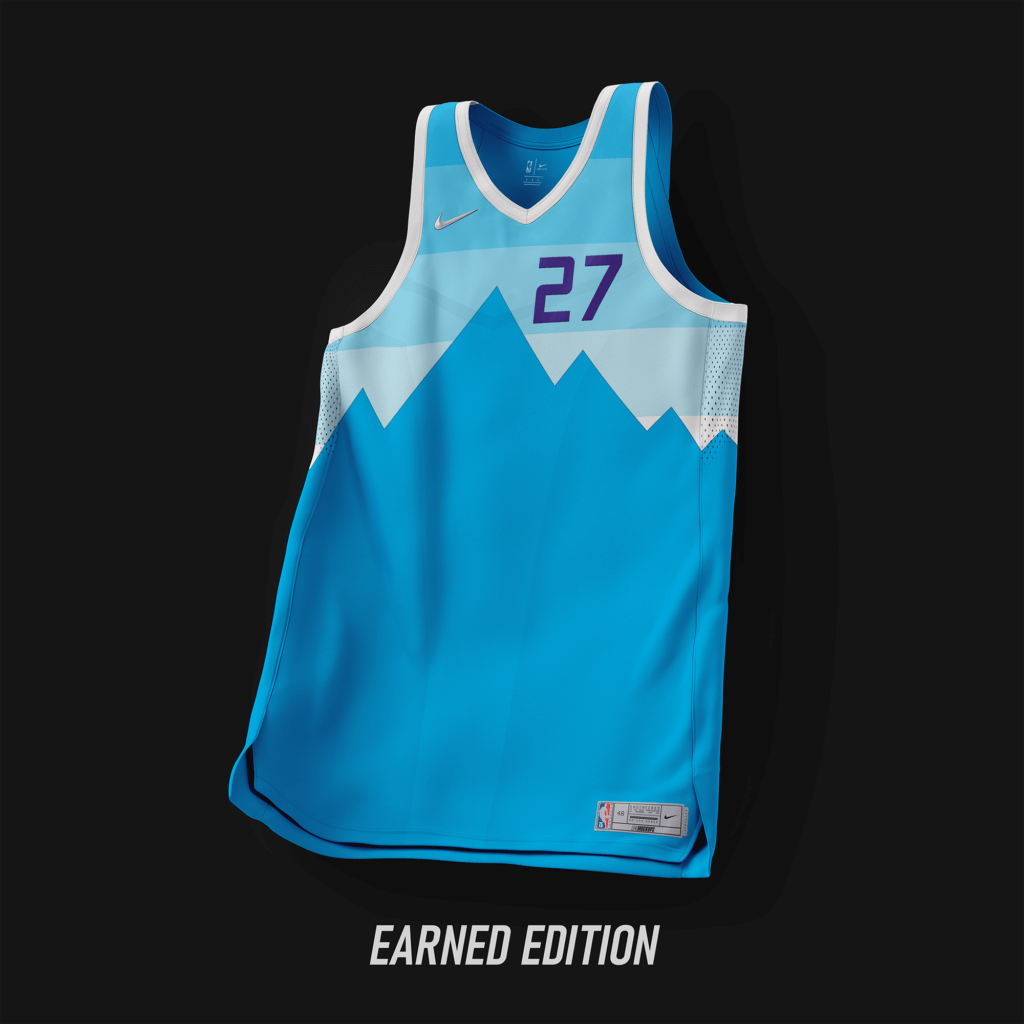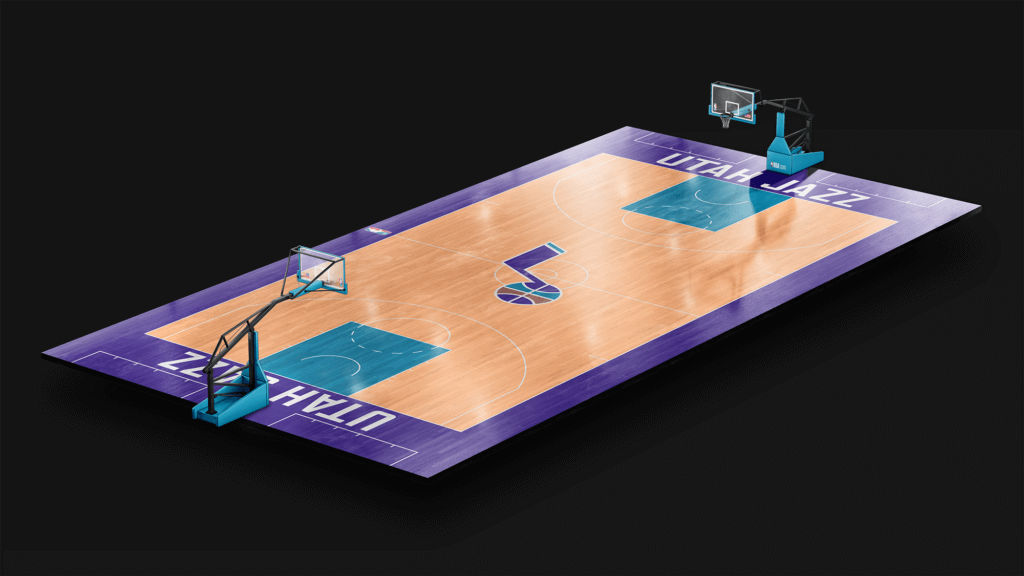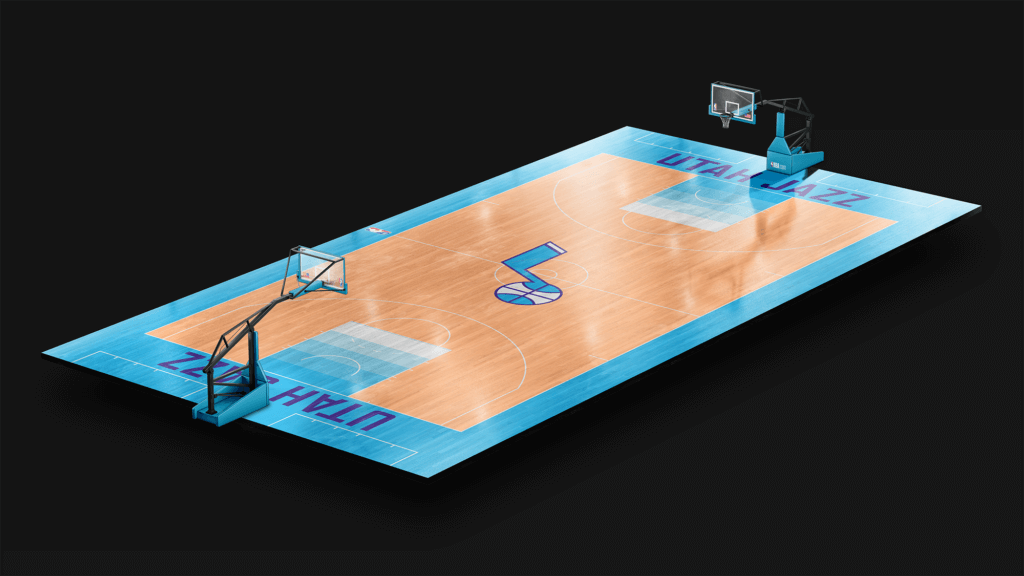 A simple design using the current wordmarks and the purple and teal that the team used from '96-'04.
__________
Washington Wizards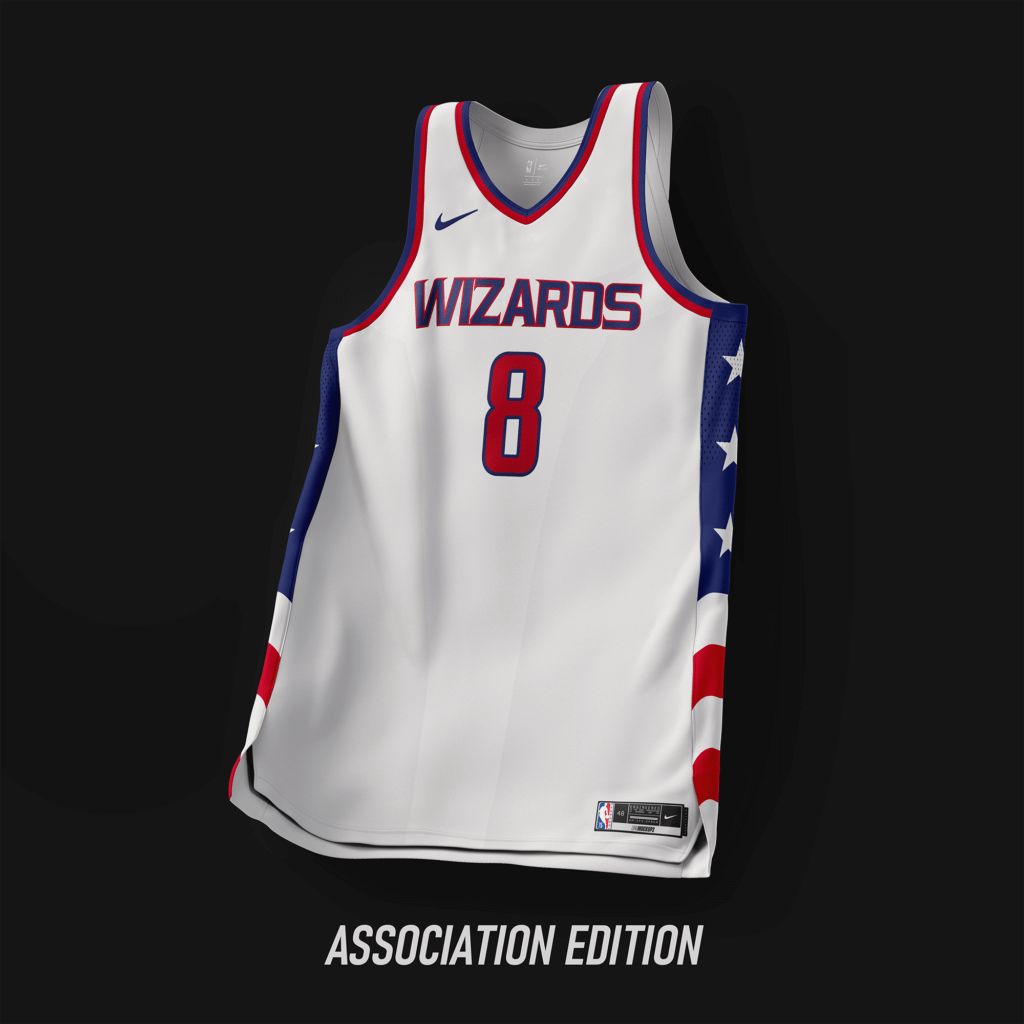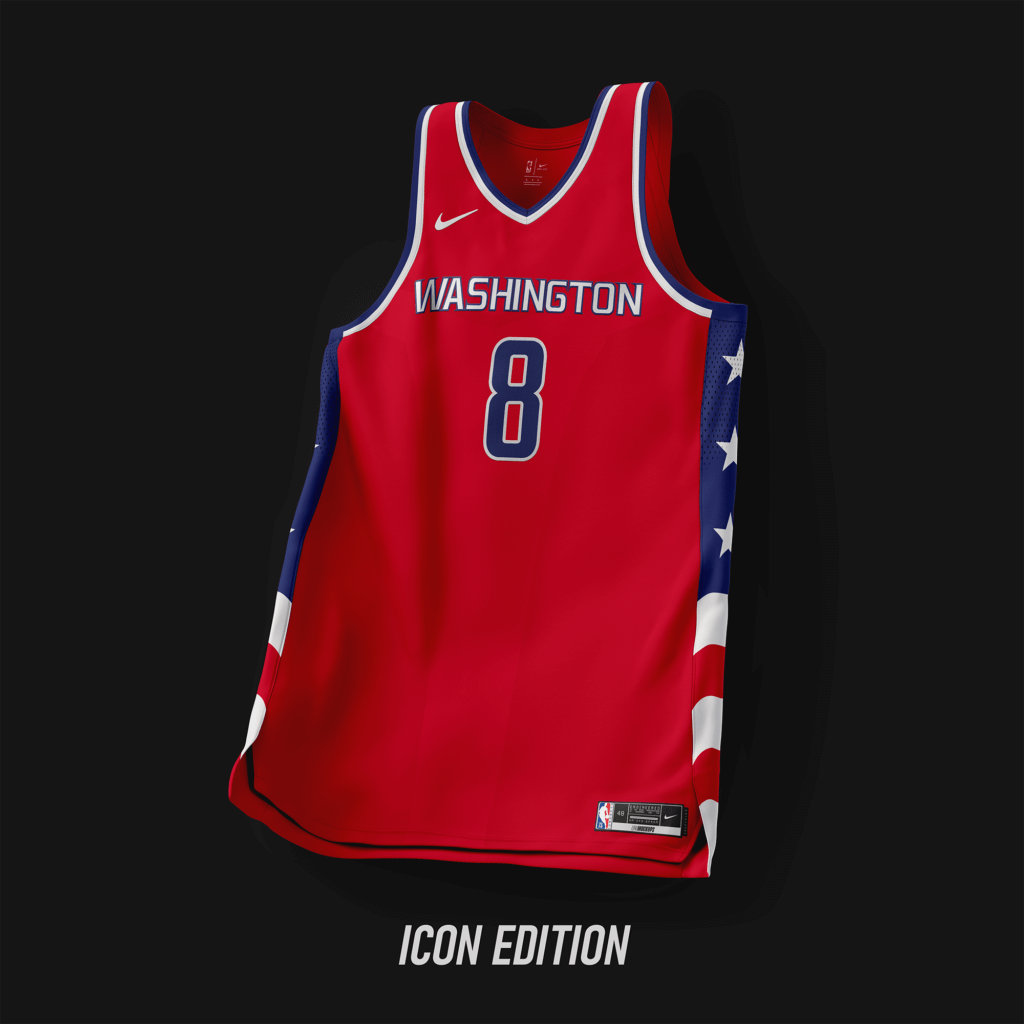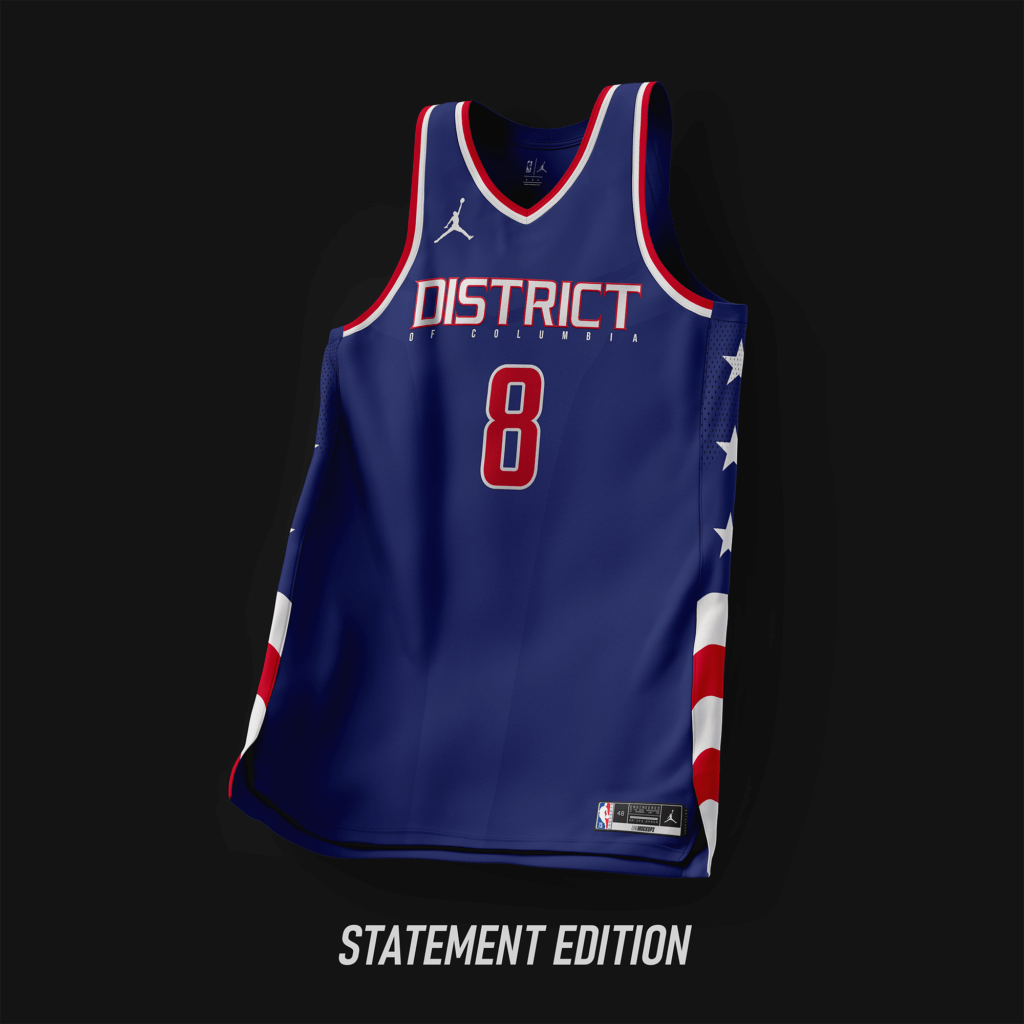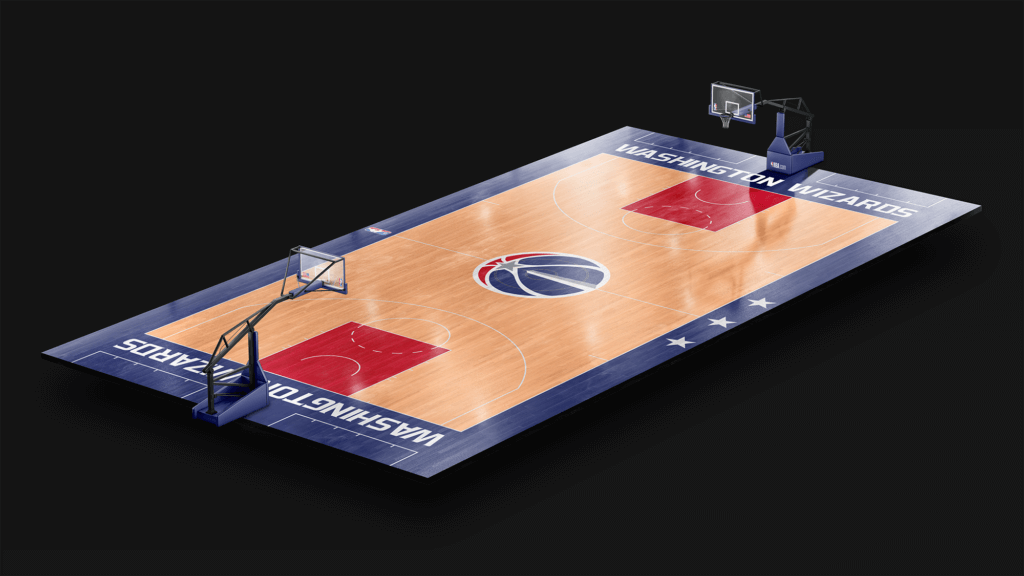 Design based off the Stars and Stripes design used multiple stints. The navy blue was swapped for the deep blue used in the cherry blossom jersey.
__________
All-Star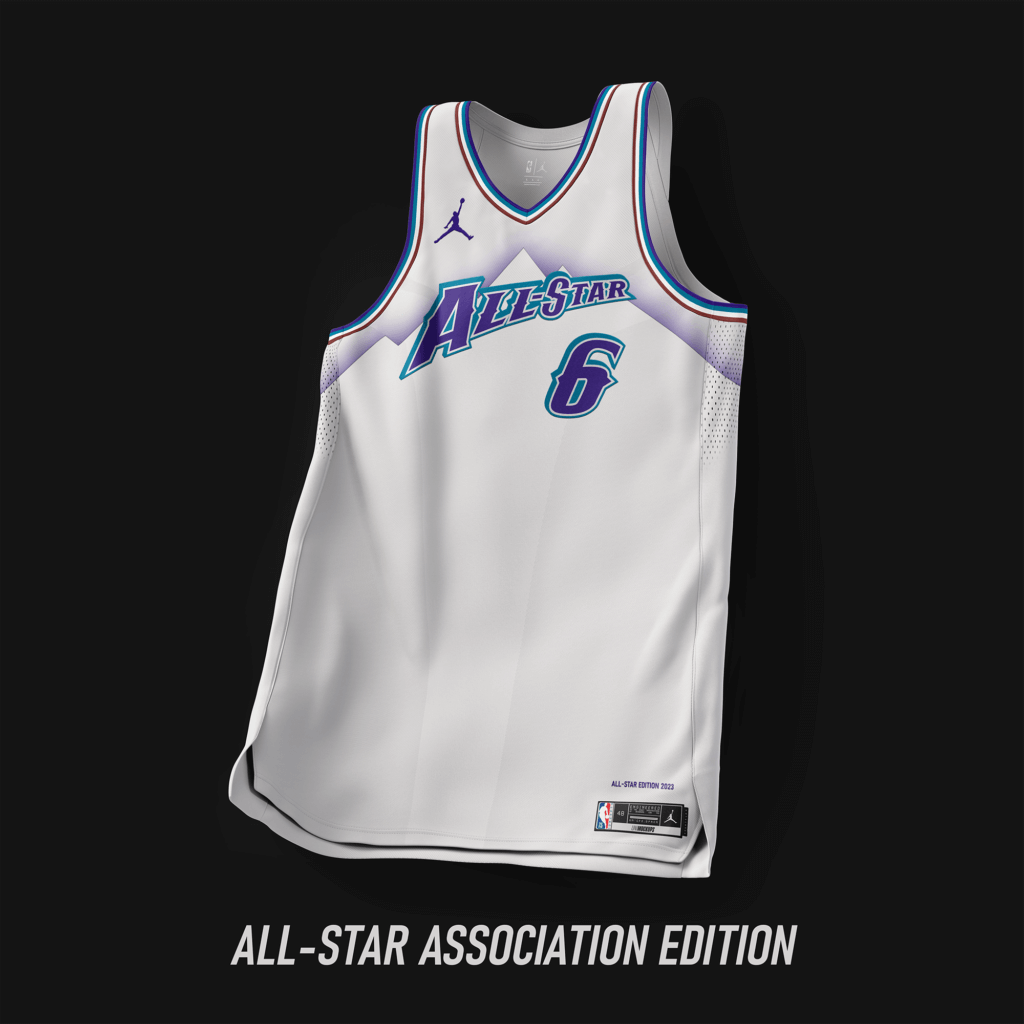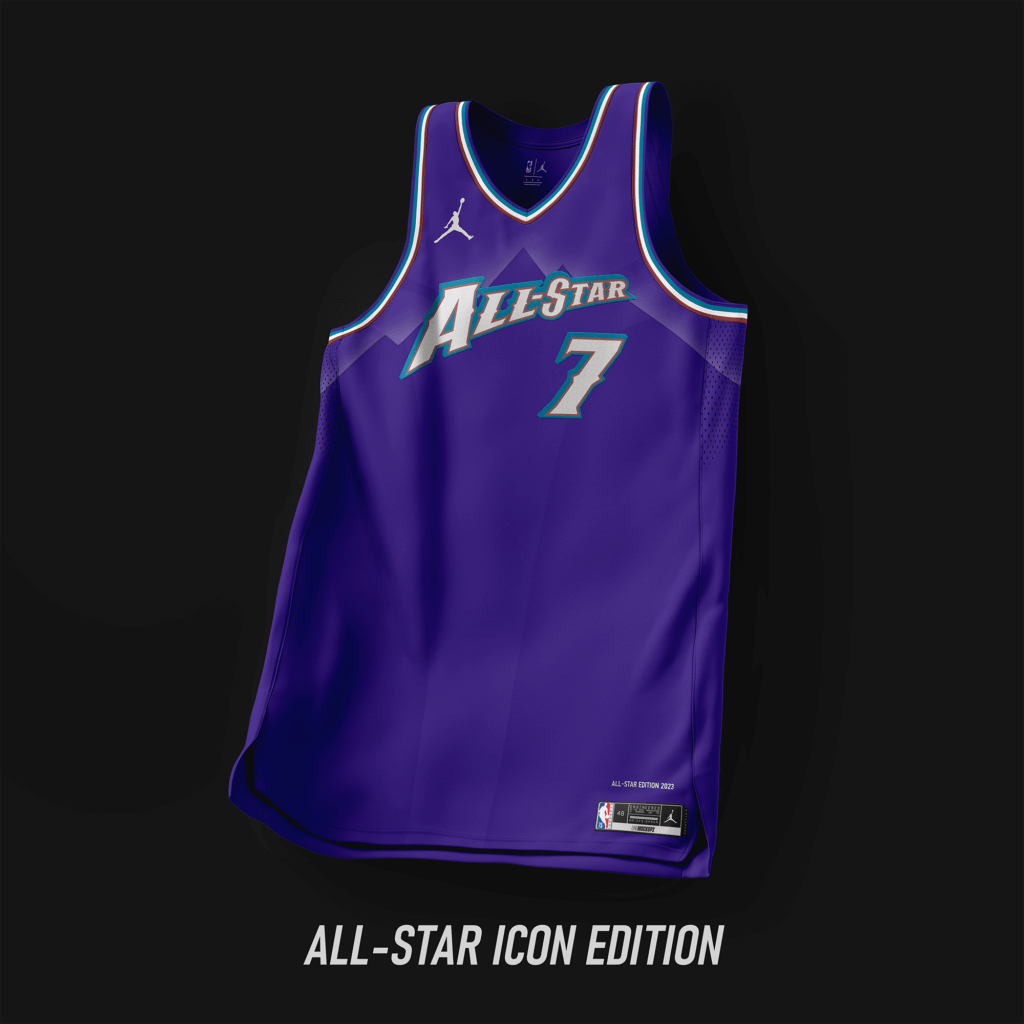 Based off the famous Utah Jazz mountain design used from '96-'04.
• • • • •
Thanks, Casey! Lots of interesting concepts (and courts!). I enjoyed this one as much as Part I.
Readers? What do you think?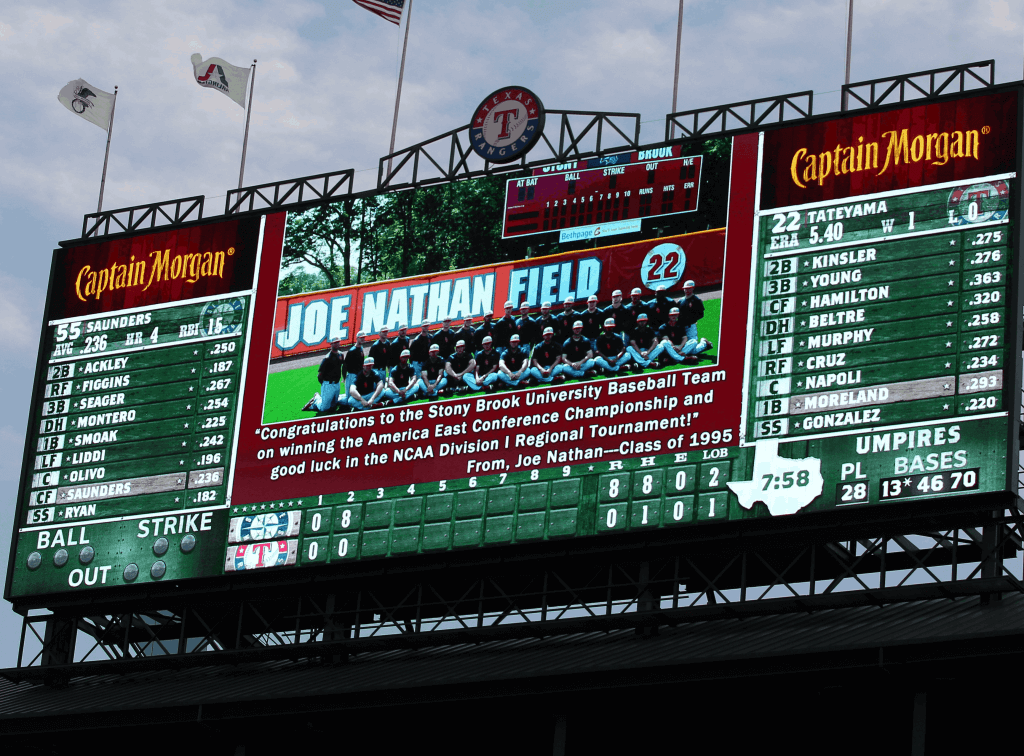 Guess The Game…
from the scoreboard
Today's scoreboard comes from Tom Watchkin.
The premise of the game (GTGFTS) is simple: I'll post a scoreboard and you guys simply identify the game depicted. In the past, I don't know if I've ever completely stumped you (some are easier than others).
Here's the Scoreboard. In the comments below, try to identify the game (date & location, as well as final score). If anything noteworthy occurred during the game, please add that in (and if you were AT the game, well bonus points for you!):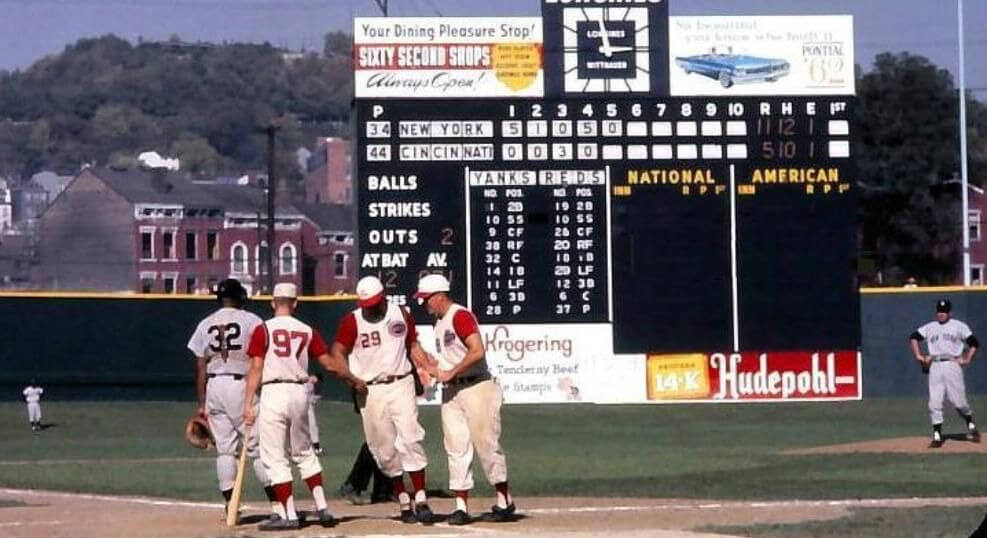 Please continue sending these in! You're welcome to send me any scoreboard photos (with answers please), and I'll keep running them.



Click to enlarge
Bulletin reminder: Paul here. In case you missed it on Friday, my latest Bulletin column features really fun interview with MLB pitcher Chris Paddack about his stirrups (some of which are shown above), including info on the high-cuffed role model from his childhood, how he obtains his stirrups, his plans for this year's designs, and even a stirrups-based charity initiative. He definitely Gets It™!
My premium subscribers can read the article here. If you haven't yet subscribed, you can do that here (you'll need a Facebook account in order to pay). Don't have or want a Facebook account? Email me for workaround info.
Now back to Phil with the rest of today's content.


Too Good for the Ticker (Part Deux)
In yesterday's article, Samuel Barrett shared with us a United Airlines ad featuring 20 MLB caps worn during the 1969 season. He followed up with that…with this: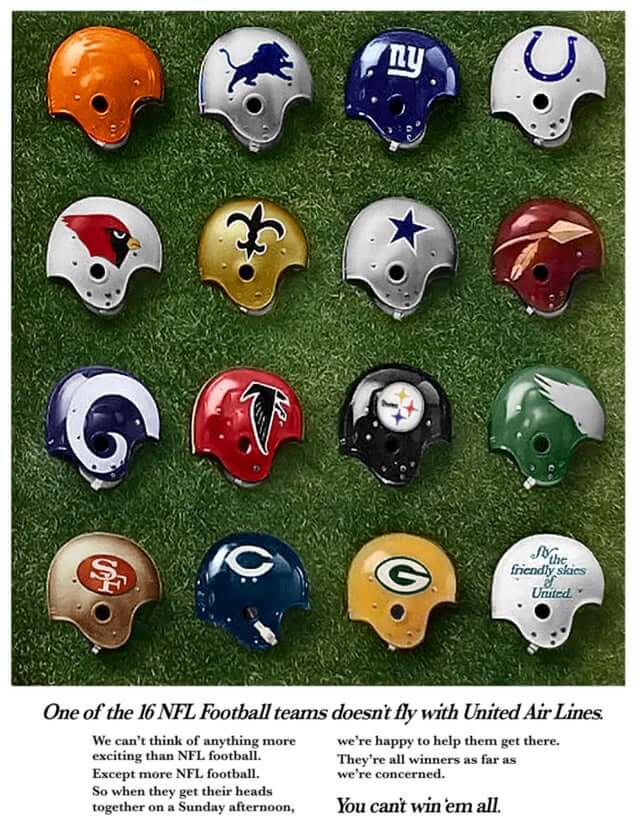 He adds, "I really liked the 1969 Sports Illustrated ad for United Airlines with the MLB caps that was shown in today's Uni Watch post. I was searching for it online when I came across something similar on Reddit-an NFL equivalent."
Obviously, this ad was pre-NFL/AFL merger, and one team is missing. WITHOUT cheating, what's the missing team (in other words, don't google "NFL teams 1968" or similar to figure out the missing team). It took me a minute…and the answer will make PL happy. Also note that three of the teams pictured above "moved" to the AFC following the merger.


Uni Watch News Ticker
By Phil

Baseball News: Some good news out of Colorado for people who have eyeballs: the Rockies have mothballed the black sleeveless jersey for the foreseeable future, a decision, at least in part, caused by the addition of the soon-to-be-revealed "City Connect" uniforms. … The Tennessee Volunteers debuted a new alternate uniform featuring a BFBS jersey with a huge "VOLS" as their wordmark. … Here's what looks to be a team-issued Twins Mortal-Kombat-inspired workout shirt (from Caleb Pardick). … Not only do the Oregon Ducks wear the same style numbers on their baseball jerseys as they do in football, they're just as huge (from anonymous hippopotamus). … The Miami Marlins have created a 25th Anniversary Logo of their 1997 World Series win (of course, they were known as the Florida Marlins then). From Kendrick. It looks like the logo will be worn cap patch on May 15. … Remember the Padres (potentially) leaked City Connect socks? Is it possible Manny Machado is test-running special cleats to be worn with those socks? (from Padres Uni Tracker). … Blue Jays Coach John Schneider's cap was missing the NE logo yesterday (good spot by Jeff Peters). … Here's even more on that Orioles Home Run chain (from Marcus Hall). … Have you seen the new "GOATbusters" commercial from DirecTV, featuring HOFers Randy Johnson, Kid Griffey and Big Papi (plus A-rod)? Here. Submitter Robert Brashear adds, "love Mr. Reds as the Pillsbury doughboy….and A-Rod, Griffey, Ortiz and Johnson as GOATbusters." I caught it quickly yesterday. Interesting uniforms they give the GOATbusters. … Boston College did the camo thing yesterday (from Timmy Donahue). … This Pirates frankenshrisey has elements from four different decades (from Matthew Toy). … This is great! The Tampa Tarpons have released the Official Rachel Balkovec collection (from Lee Wilds).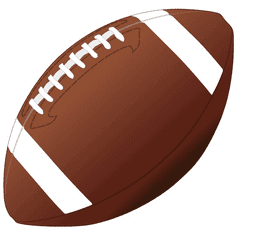 Football News: Montreal Alouettes QB Vernon Adams Jr. is trading in his jersey number 8 for number 3, a number he wore in college and during the start of his pro career (from Wade Heidt). … The Tennessee Titans have revealed uni numbers for their draft class. … Same for Kansas City. … The NY Giants have given numbers to their entire rookie class, except Kayvon Thibodeaus. … The Atlanta Falcons have also done the rookie number thing. … And here's the rookie numbers for da Bears. … NY Jets have issued numbers for rooks and more. … Draft class #s for the Seahawks. … The Maize and Blue Review has ranked the logos of the B1G. … NEW YORK Giants first pick Evan Neal didn't know the team plays in New Jersey. I know this is a "funny" point for some commenters, but the team is NOT named for the state, but for New York City (which is about 13 miles to the east). Nearly a third of the NFL's teams don't play in a town that's in the city they're named after, so I hope he's not too disappointed when the learns the Chargers and Rams play in Inglewood, the Commanders play in Landover, Maryland, and the 49ers play in Santa Clara, which is forty-five miles away. … The Washington Commanders have gotten rid of their "cheerleaders", replacing them with a new gender-neutral dance team. Needless to say, this has pissed off lots of people. … The Denver Broncos are lighting up their stadium in burgundy and blue in support of the Colorado Avalanche's Stanley Cup playoff campaign (from Kary Klismet). Also posted in Hockey. … U Sports East-West Bowl is a spring all-star game for top Canadian university prospects for next year's CFL draft. Players wear their school's helmet but litter it with multiple logos of other schools that are their rivals (from Wade Heidt). … Here's a neat thread of Buffalo Bills AFL programs through the years (from BillsVHS). … Yes, kids, there was a time when the NY Giants, Cleveland Browns, St. Louis Cardinals and Pittsburgh Steelers were in the same division in the NFL. And for one year, the Capitol Division featured the Cowboys, Eagles, Washington and the New Orleans Saints, but not the New York Football Giants (both from Michael MPH).

Hockey News: The Denver Broncos are lighting up their stadium in burgundy and blue in support of the Colorado Avalanche's Stanley Cup playoff campaign (from Kary Klismet). Also posted in Football.


Soccer News: NWSL expansion side San Diego Wave FC have revealed the first look of their primary jersey for the rest of the 2022 campaign. … Lots of Claret in this Burnley v. Aston Villa match (from Jay Es). … Parish Athletic Club, a new team in USL2 based in Baton Rouge, will play their first match Sunday on the road. Submitter Mark Jones adds, "Yesterday they released the first look at their primary away kit. Primary logo here."

Grab Bag: Peter Moore, a "force" in the 1980's sneaker revolution, has died NYT link. From Tom Turner. … Reader Tim McKay writes, "My buddy used the Oilers logo for a select lacrosse team his son plays in here in Texas. Thought it turned out pretty neat." … Lucknow Super Giants, one of the two new franchises in IPL 2022, wore special jerseys on Saturday against Kolkata Knight Riders, featuring their mother's names as NOB.


Uni Tweet of the Day
See Eagles and Commanders? Not all alternate helmets need to be black…
What do you guys prefer If the 49ers eventually go with alternate throwback uniforms?

1960's (Kittle) or 1950's (Deebo) pic.twitter.com/I83f0kjwRh

— …. …. (@JayKnight9383) May 7, 2022


And finally… that'll do it for today, and for me for this weekend. Big thanks (again) to Casey for sharing his NBA Refresh concepts.
Everyone have a wonderful Mother's Day (enjoy all the gray caps in MLB today!) and a better week, and I'll catch you here again next weekend. Till then,
Peace,
PH