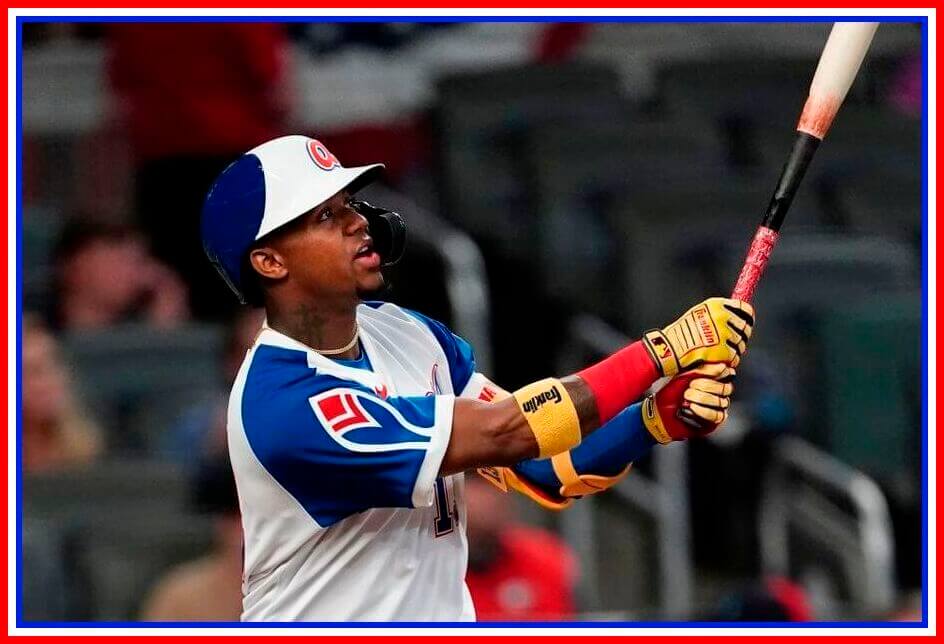 By Phil Hecken
Follow @PhilHecken

Good Saturday Morning, Uni Watch. I hope everyone has had a good week. For those of you so inclined, today kicks off the Triple Crown with the Kentucky Derby, a/k/a the "Greatest Two Minutes in Sports," later this afternoon. Grab yourself a Mint Julep and a slice of Paul's Derby Pie (the recipe for which was in yesterday's post).
Now then: last evening Atlanta celebrated the life and legacy of Henry Aaron, with their "2022 Hank Aaron Week" (which I believe is now an annual event). Last night the team took the celebration to the unis, as the team wore 1974 throwbacks. While Aaron wore many a different style uni (both in Milwaukee and Atlanta), the 1974's were selected because that's the uni Aaron wore when he broke Babe Ruth's home run record. Here's a touching tribute the club put together:
This week we celebrate 44. 💙#HankAaronWeek pic.twitter.com/seUotAR9UP

— Atlanta Braves (@Braves) May 6, 2022
While Atlanta wore this style in 1972 and 1973, the 1974 and 1975 unis were different in a few subtle ways, most specifically they were made by a different manufacturer (Sand Knit in 72-73, Wilson in 74-75). In addition, the script is more flowing and the numbers were slightly more blocky. The 72-73 jerseys also were henley style, while the 74-75 had a solid, v-neck collar.
Here's how last night's unis looked on the field.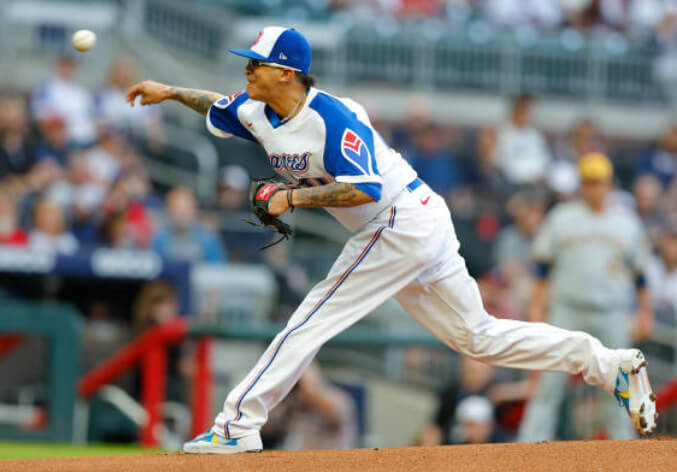 OK, they weren't all worn baggy pajama style. But aside from the very prominent makers mark on jersey and pant, these were pretty faithful reproductions of the 1974 originals.
Like the 1974 beauties, these were raglan sleeve, with the team name displayed in blue script with a white/red outline around both script and front numbers. Players wore white front panel royal blue caps with a stylized "a". Both sleeves were rendered in royal, with a stylized "feather" logo on the both sleeves: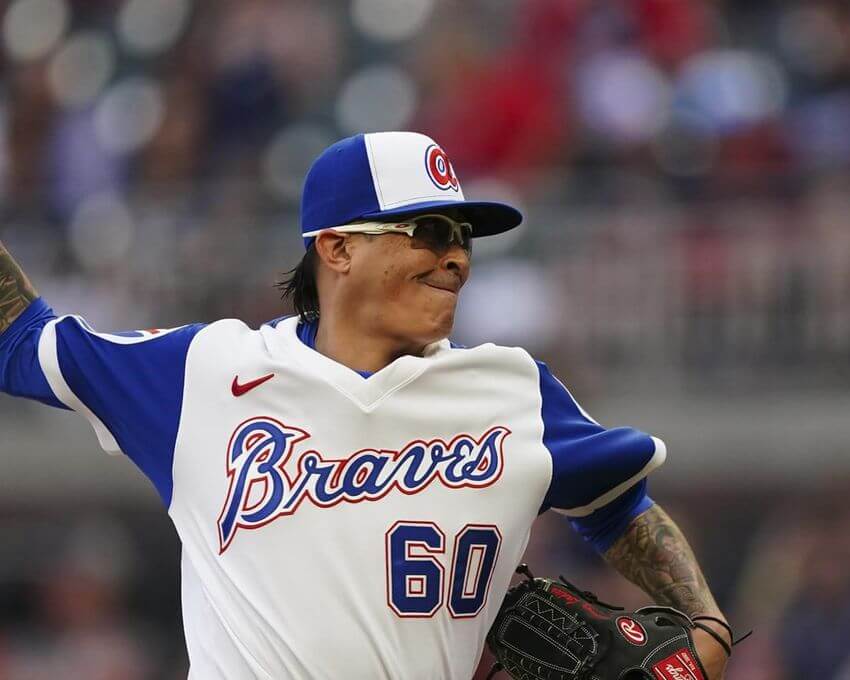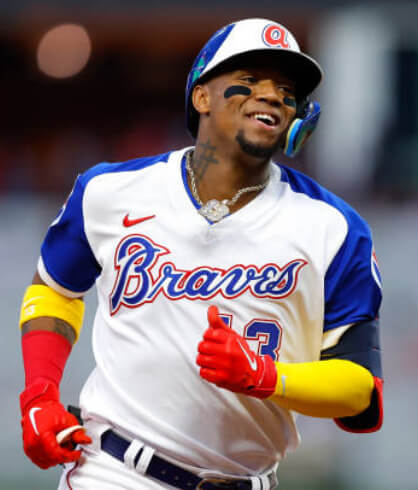 If you look closely at the helmet, you'll notice the raised "a.". I'm honestly not sure if they had this feature last year when they also did Aaron throwbacks. Here's a better look: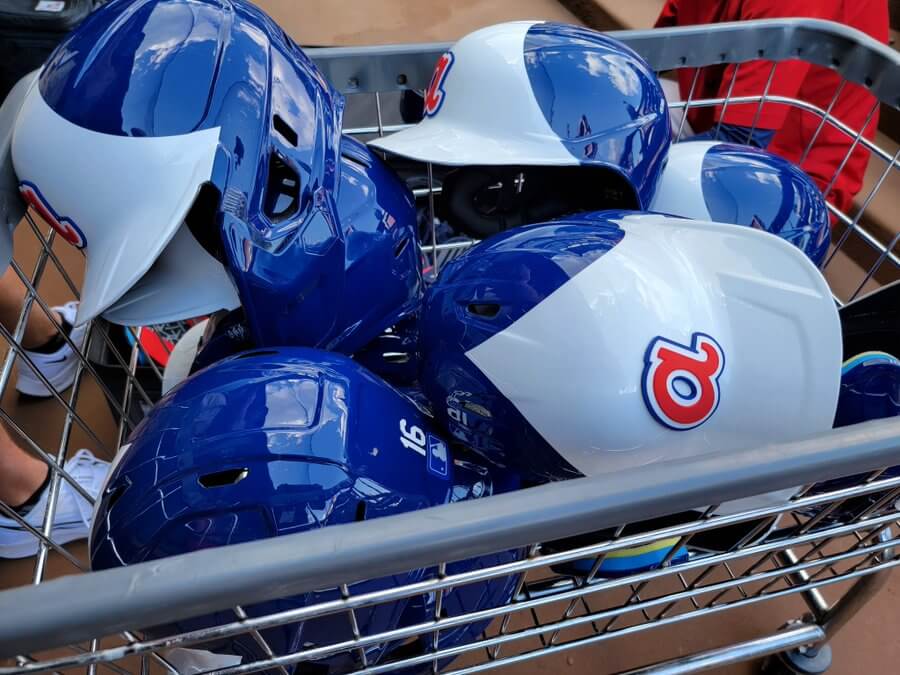 Like their 1974 counterparts, last nights jerseys were NNOB. Numbers were also in royal blue with a white/red outline (the same style as in front):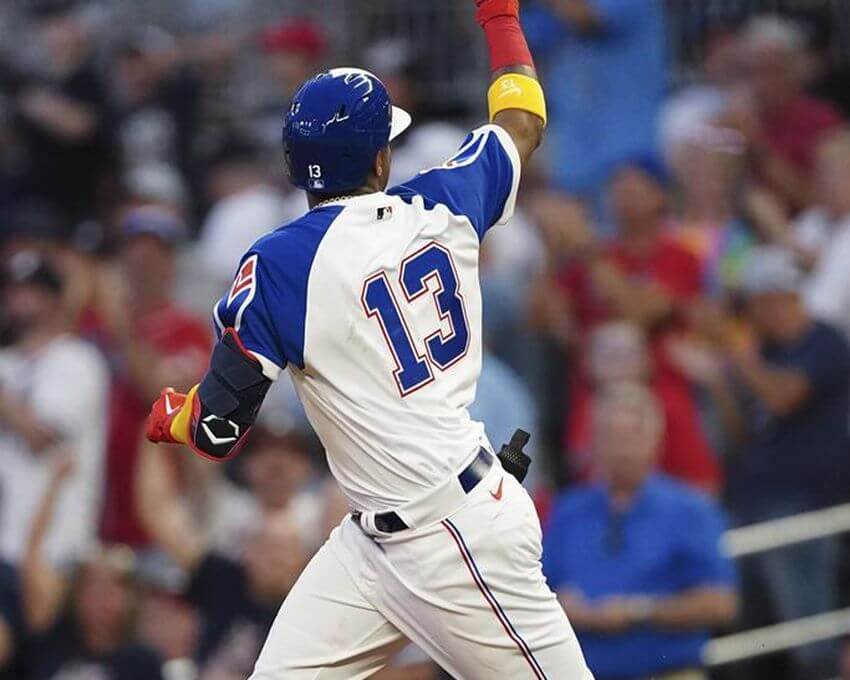 Also like their 1974 originals, the team's pants were solid white with a thin red/white/blue stripe down the leg. Most players wore their pants pajama style, but those who went high-cuffed wore solid blue socks (as opposed to stirrups which were worn with the original).
In that photo, you'll notice Atlanta's opponent, Milwaukee, were wearing a "44" tribute patch on their sleeves. While they wore it last season to honor Aaron, they had dropped it this year. For this series, the Brewers returned the patch — a nice tribute to the real home run king.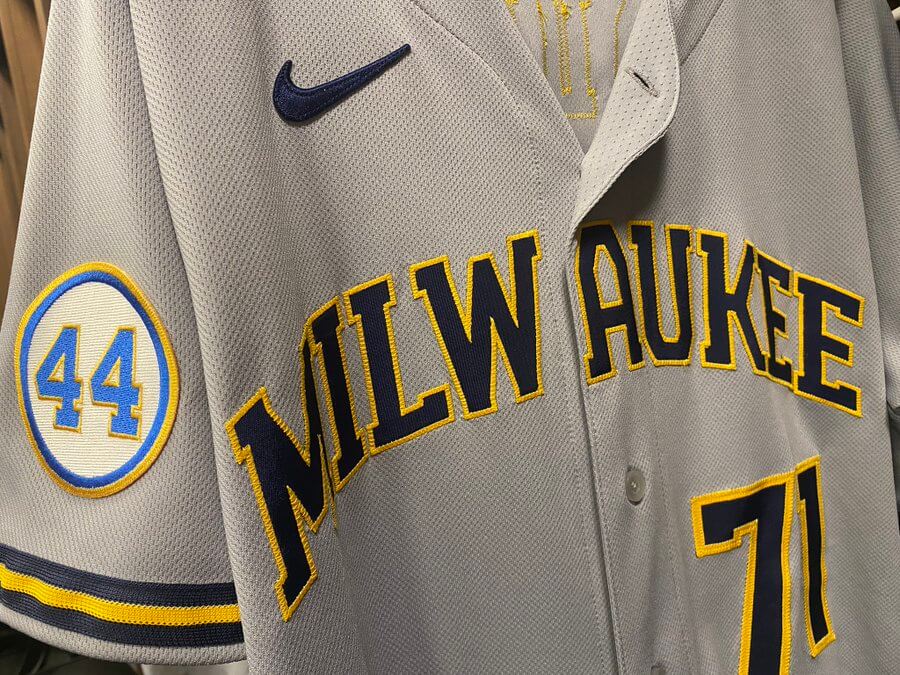 Here's a good look at the unis in action:
Spencer Strider is making a habit of strikeouts in the bigs.

The #Braves righty racked up 8 K's vs. Milwaukee, including whiffing the side in the 2nd: pic.twitter.com/Th1YYaV7gT

— MLB Pipeline (@MLBPipeline) May 7, 2022
You can see more photos here.
There was one humorous moment last evening (even though it wasn't uni-related): Ronald Acuña Jr. absolutely launched his first home run of the season, but gets no style points:
Homer No. Oñe. Now the return feels real. #Braves pic.twitter.com/bJzVXMIPHt

— Cory McCartney (@coryjmccartney) May 7, 2022
The two teams are scheduled to play again today, with Atlanta again wearing their 1974 throwbacks. They'll wear their regular uniforms when they play on Mother's Day (when they'll be wearing this gray cap).
I personally think the 1974-75 uniforms are the best the team has ever had, and I can see why so many are calling for their full-time return. Unfortunately, this team still has a history with the use of Native American iconography, and really should change or modify their name and remove any and all references to this part of their past. Sadly, it seems the fans won't be embracing any change soon…
Let's Go @Braves 🎈 pic.twitter.com/EVmqvmBDGw

— Brandon Silvers (@BSilvers_1) May 7, 2022
On a night honoring Henry Aaron no less.
But if/as/when the team rebrands, they would do well to use the 1974-75 uni as a basis for a new identity (or at least modified identity) going forward. I love seeing these. And what a better way to honor Aaron than to design a new uniform in the spirit of the one he wore when he broke Babe Ruth's home run record.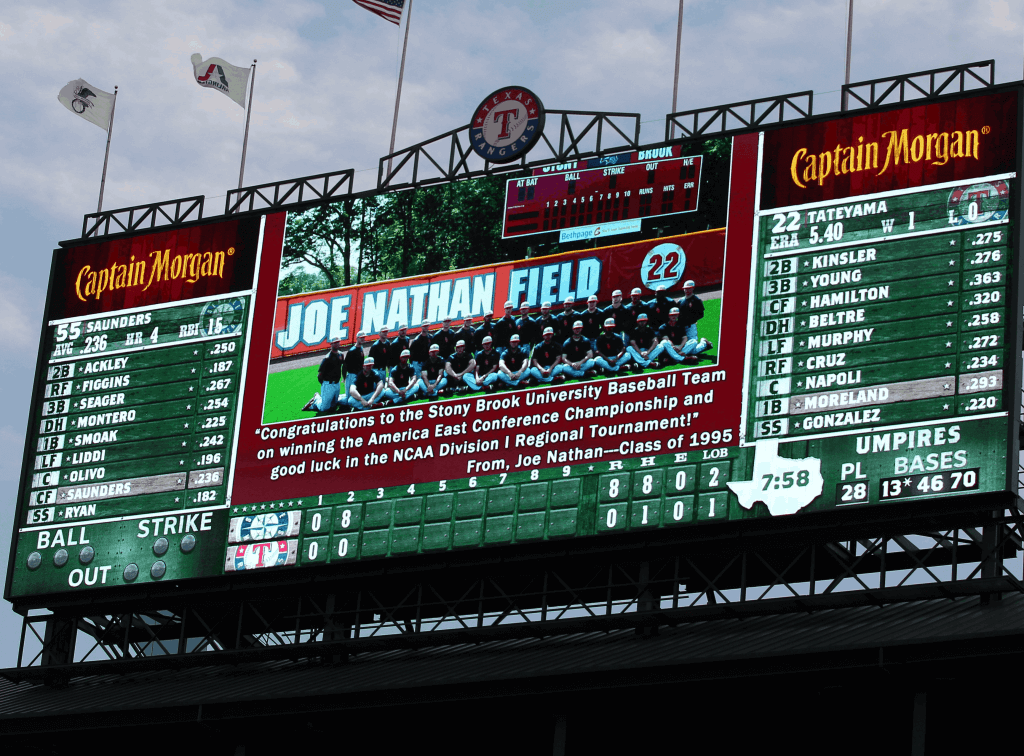 Guess The Game…
from the scoreboard
Today's scoreboard comes from Robert Baffled.
The premise of the game (GTGFTS) is simple: I'll post a scoreboard and you guys simply identify the game depicted. In the past, I don't know if I've ever completely stumped you (some are easier than others).
Here's the Scoreboard. In the comments below, try to identify the game (date & location, as well as final score). If anything noteworthy occurred during the game, please add that in (and if you were AT the game, well bonus points for you!):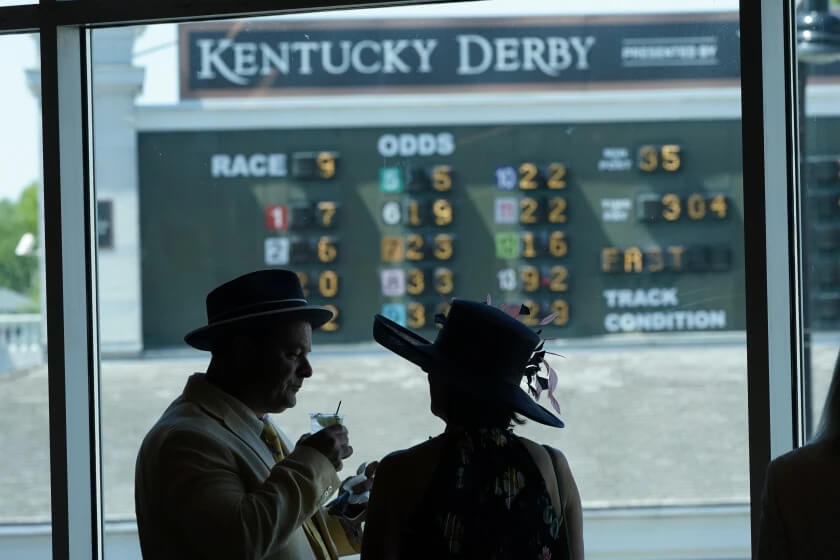 Please continue sending these in! You're welcome to send me any scoreboard photos (with answers please), and I'll keep running them.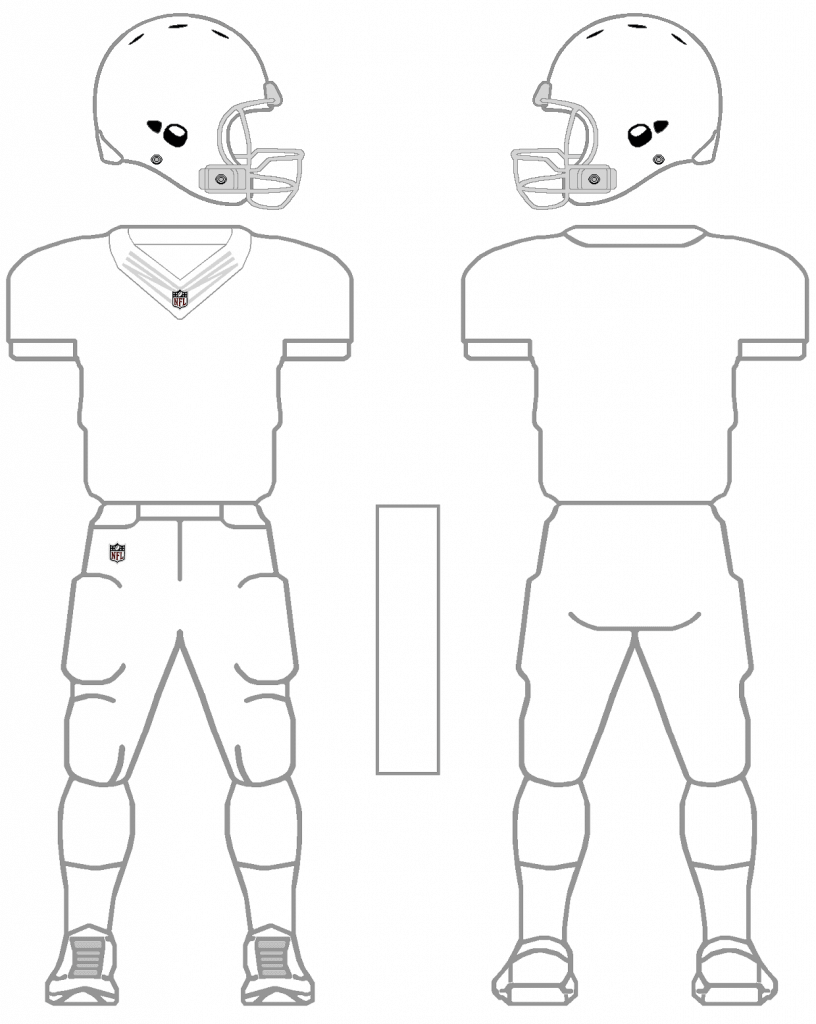 Uni Concepts & Tweaks
Time for more Uni Tweaks from the UW readership.
I hope you guys like this feature and will want to continue to submit your concepts and tweaks to me. If you do, Shoot me an E-mail (Phil (dot) Hecken (at) gmail (dot) com).
• • • • •
Today's concepts come from Marcus Hall:
Hey Phil!

I think the Orioles Road Jersey could use a simple tweak, addition by subtraction, by getting rid of the tail on the script. It would make "Baltimore" less bulky and clean up the jersey. I made it slightly bigger on the picture of the pitcher.

Thanks!!
Marcus Hall
(Marcus from Baltimore)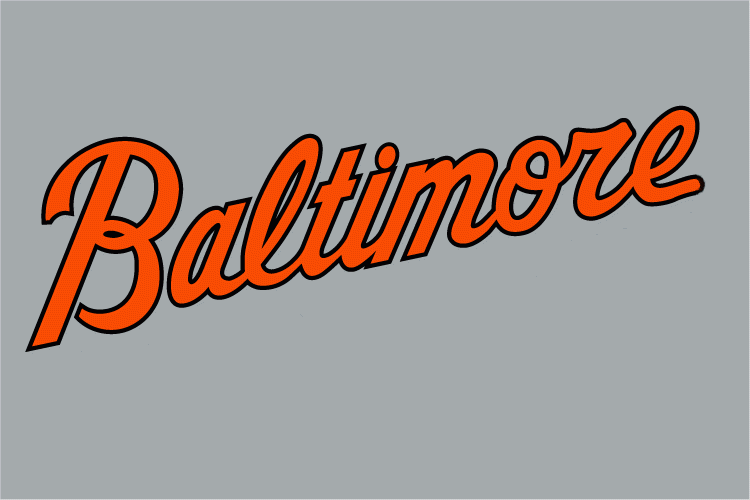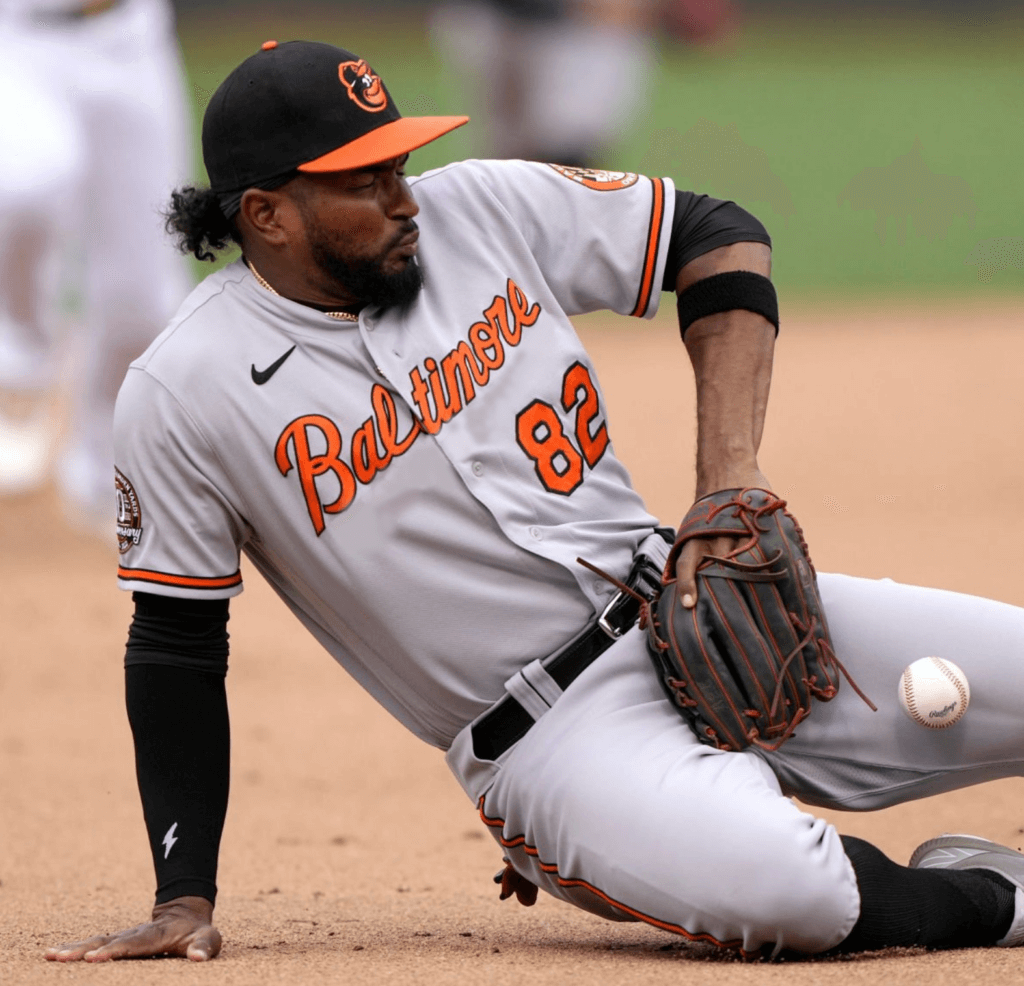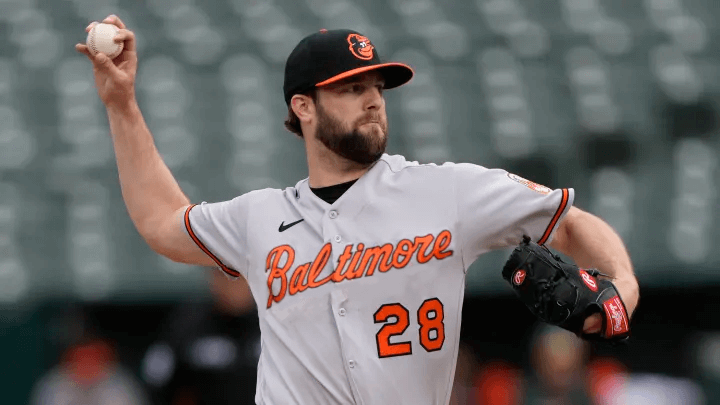 • • • • •
OK readers (and concepters). If you have some tweaks or concepts, shoot 'em my way with a brief description of your creation and I'll run 'em here.



Click to enlarge
Bulletin reminder: Paul here. In case you missed it on Friday, my latest Bulletin column features really fun interview with MLB pitcher Chris Paddack about his stirrups (some of which are shown above), including info on the high-cuffed role model from his childhood, how he obtains his stirrups, his plans for this year's designs, and even a stirrups-based charity initiative. He definitely Gets It™!
My premium subscribers can read the article here. If you haven't yet subscribed, you can do that here (you'll need a Facebook account in order to pay). Don't have or want a Facebook account? Email me for workaround info.
Now back to Phil with the rest of today's content.


Too Good for the Ticker…
Here's a great shot of a 1969 United Air Lines ad, with a Seattle Pilots hat, that appeared in Sports Illustrated. Submitter Steve Mathonnet-VanderWell writes, "Maybe it's the lighting but surprised how much lighter blue the Pilot cap looks compared to Royals or Cubs."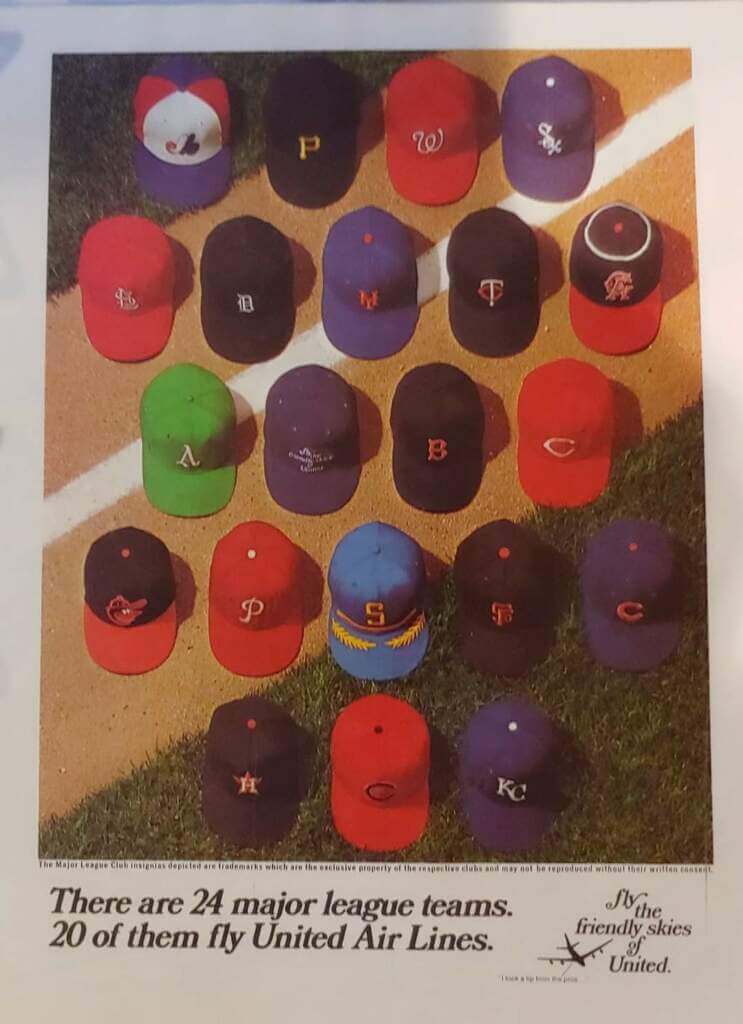 I've always felt 1969 was the best "uni" year in baseball — and part of the reason was the awesomeness of the caps!


Uni Watch News Ticker
By Anthony Emerson

NFL News: The Falcons have announced their 2022 draft class' uni numbers and the Jets have announced general uni number updates (thanks, Phil). … The Eagles have unveiled their rookie uni numbers (from Sam McKinley).

College Football News: Here's a look at Oregon's helmets from the 1980s onward (thanks, Phil). … Also from Phil, what are the best unis in the Big 12? This blog thinks they've figured it out.

Soccer News: English sixth-tier side York City FC have introduced a centenary crest (from Ed Zelaski). … Werder Bremen will wear a special kit this weekend, with a design inspired by players' and fans' tattoos (from @ooner_g). … The NWSL's Kansas City Current have a new primary kit (thanks, Jamie). … The SB Nation USMNT blog says something we can all get behind: bring back the Waldos (thanks, Phil).

Ukraine News: On May 4, Ukrainian President Volodomyr Zelenskyy wore a T-shirt depicting an X-Wing fighter from Star Wars within the Ukrainian national symbol.


Grab Bag: McLaren F1 driver Daniel Ricciardo will wear an Ace Ventura: Pet Detective-themed helmet for this weekend's Miami Grand Prix (from multiple readers). … While other drivers have gone with Miami cultural references for the Miami Grand Prix, Aston Martin driver Sebastian Vettel has gone with a climate change awareness helmet, the top of it reading: Miami 2060, First Grand Prix Underwater" (from Russ Flynn). … Trackhouse Racing's owner Justin Marks purchased one of Harry Gant's 1991 Skoal Bandit 'sponsored' cars and planned on making some parade laps in it before Sunday's NASCAR Cup fauxback race at Darlington.  But due to federal laws against tobacco advertising, that's not going to happen (from Christopher Hickey). … The Colorado Summit of the American Ultimate Disc League have become the first professional American sports team to have a cannabis advertisement on their uniform (thanks, Phil).


Uni Tweet of the Day
AND…a great follow up from Marcus Hall…
@UniWatch @PhilHecken The story of the chain! https://t.co/Ar7U3V8Dv8

— Marcus Hall, SHRM-CP (MHRM in progress…) (@b_fianchetto) May 6, 2022


And finally… that's all for today. Enjoy the Derby (and any other sports you may watch), and I'll catch you back here tomrorow. Till then,
Peace,
PH