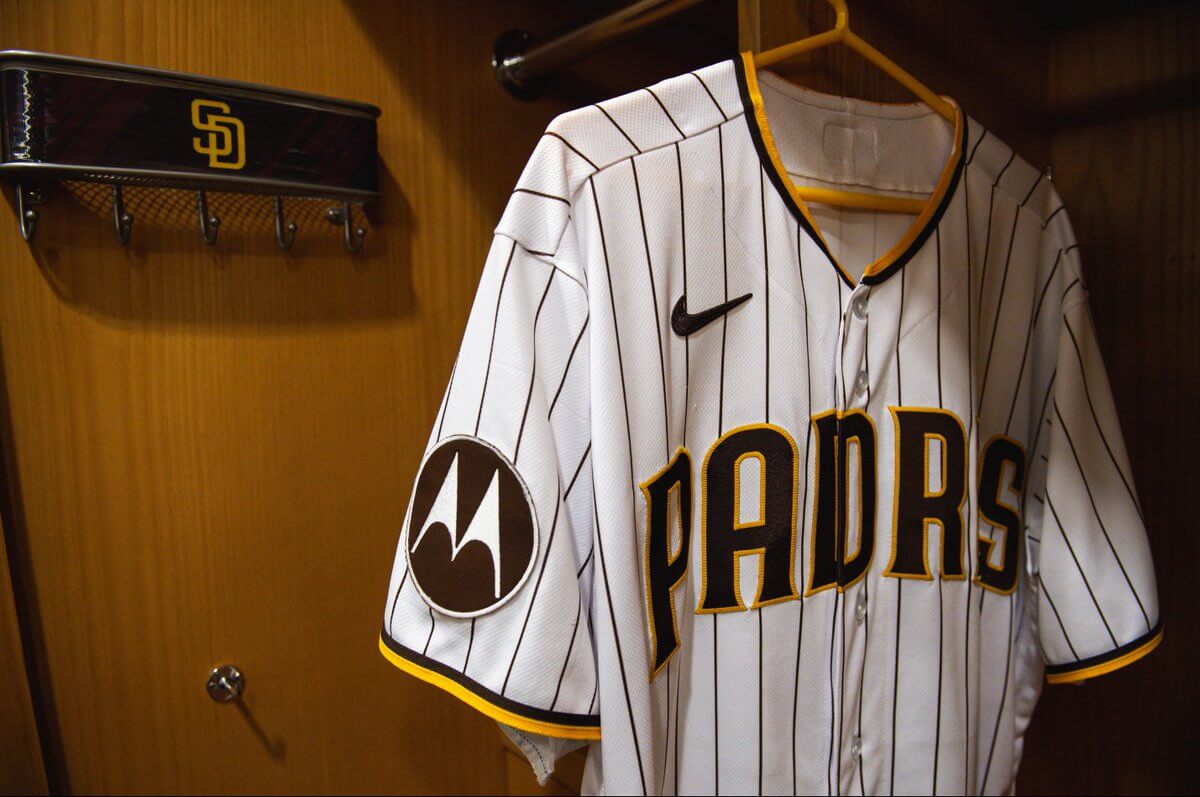 Click to enlarge
Ever since it was confirmed last month that MLB jersey ads would be coming in 2023, people have been wondering what the ad patches would look like.
And now we know, because the Padres yesterday announced that they'll be wearing an extremely subtle and not even slightly distracting Motorola patch on their jersey sleeves next season. As you can see above, the ad is so tiny and nuanced that it's almost invisible to the naked eye, but if you retrieve your monocle from your vest pocket and squint really hard, you can juuuuuust barely make out the ad in these next few pics: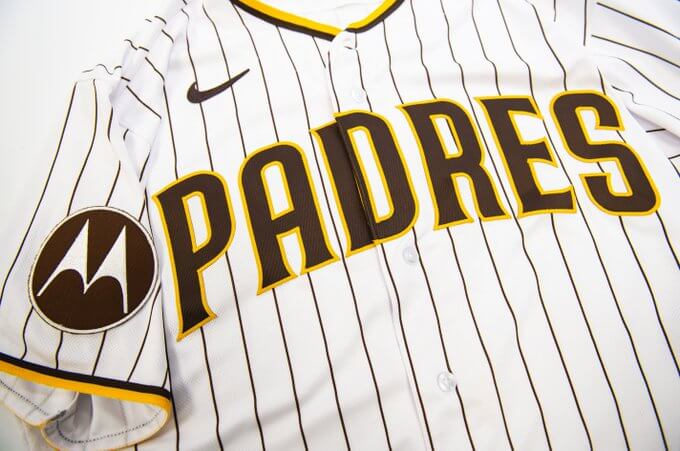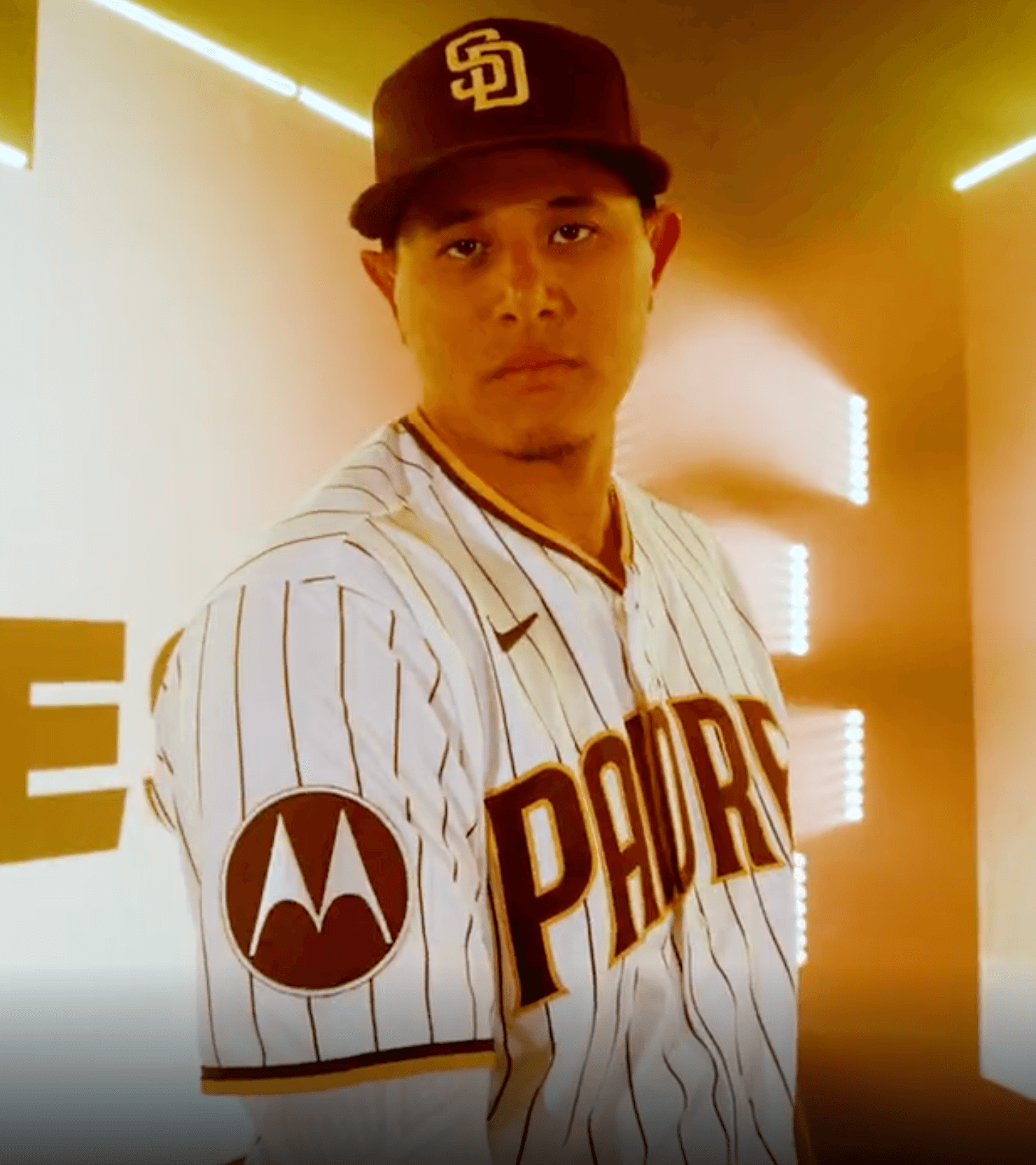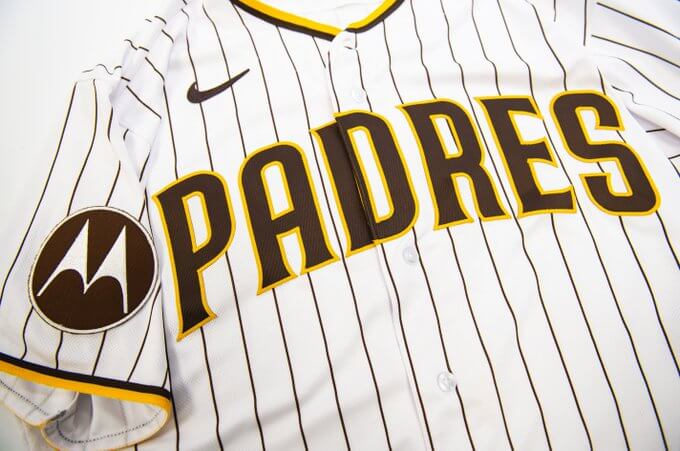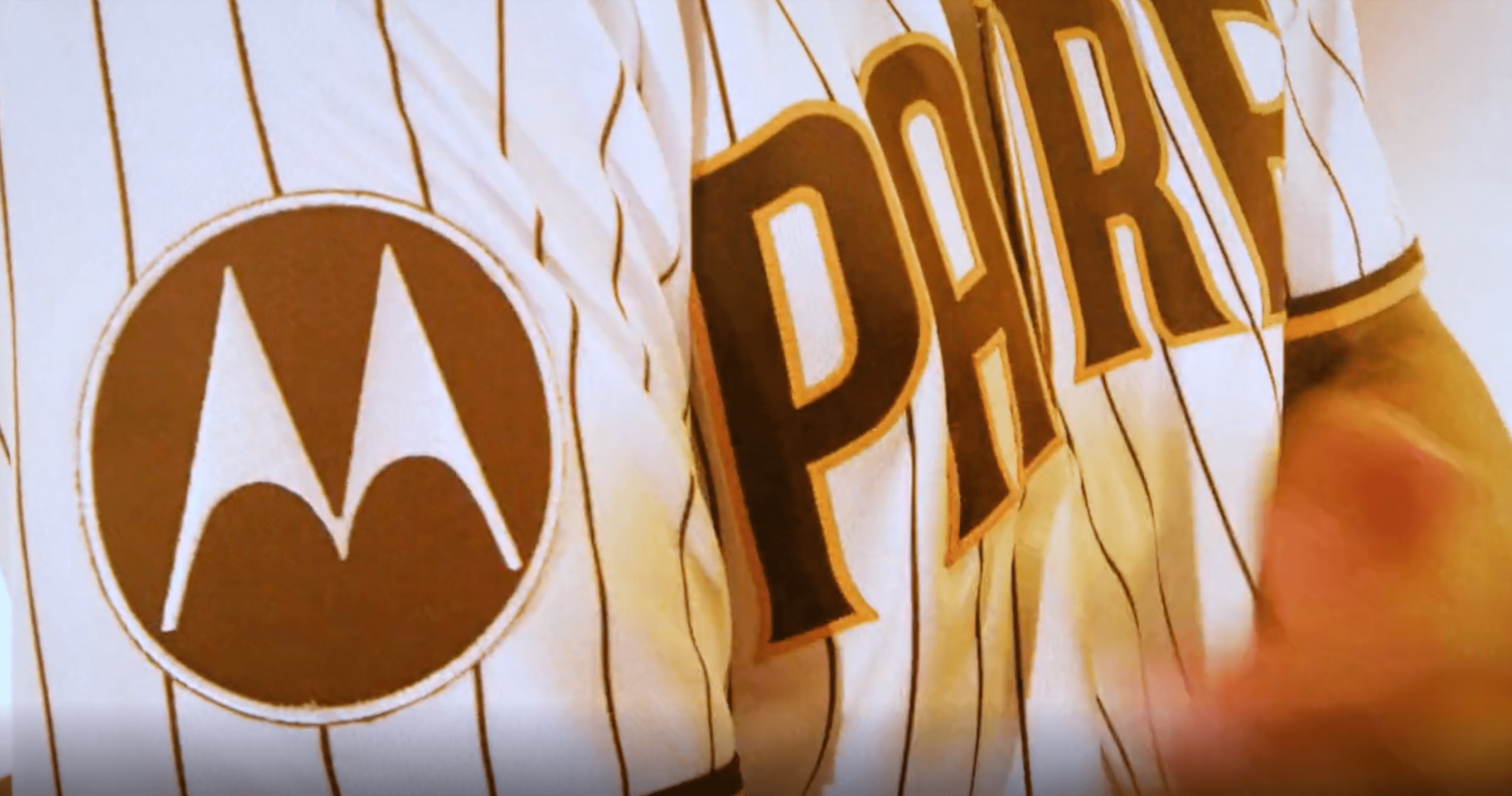 Ewwww. Note that all of these pics take pains to avoid showing the team logo patch on the other sleeve, presumably because they don't want anyone to figure out that the ad patch is larger than the team patch.
A few other notes:
• According to what's been previously reported, the ad can appear on either sleeve depending on the player's handedness. So the team patch will presumably flip-flop from sleeve to sleeve as well.
• It seems inevitable that this will result in fewer anniversary and memorial patches, or else maybe those will move to the chest. And/or perhaps black memorial armbands will make a comeback.
• As others have noted in recent weeks, this can't be good news for the Phillies' TV numbers.
• Motorola has really gone all-in on uniform advertising. They already rent space on three NBA teams' jerseys — the Bucks, Nets, and Pacers — and now they've established their first foothold in MLB. A good company to boycott!
• I'm always puzzled when teams like the 76ers, Capitals, and Padres race to get out ahead of everyone else and announce their uni ad a year before it'll even be worn on the field. It's like being the idiot blog commenter who posts, "First!"
Meanwhile: The Padres weren't the only Big Four team disgracing their uniform yesterday. Over on the ice, the Penguins became the third NHL team to announce a uni advertiser for next season: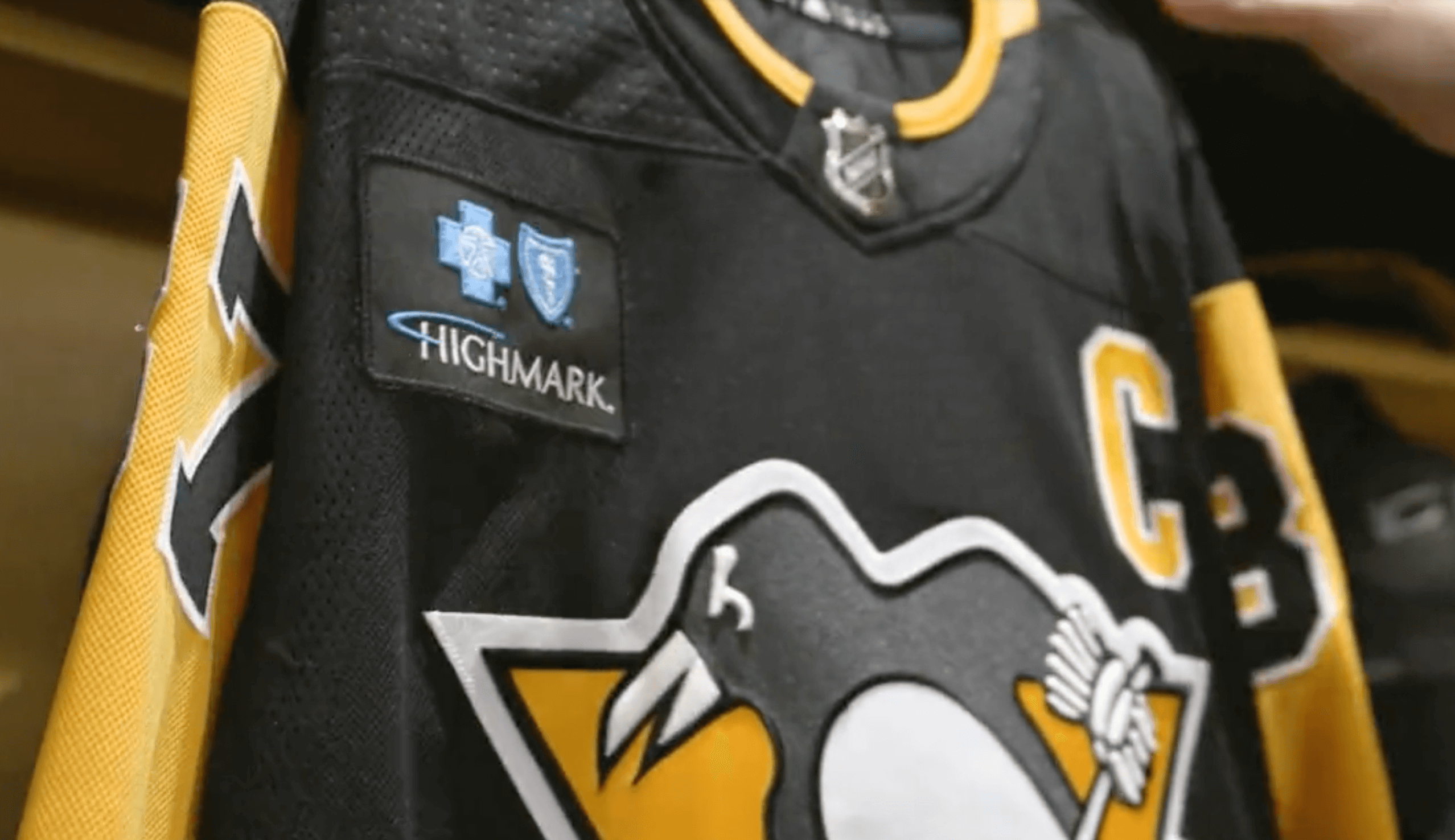 All NHL teams will presumably be doing this next season, but so far only the Pens, Blue Jackets, and Capitals have announced anything.
And just to complete a very depressing trifecta of developments yesterday, the Dodgers announced that they've hired a marketing agency to help secure the team's 2023 uni advertiser as well as a "presenting partner" advertiser for the Dodger Stadium field (so it'll be called Douchebag Inc. Field at Dodger Stadium, or whatever). Sigh.
Ah well. Enjoy this last season of ad-free MLB uniforms while you can! Meanwhile, if you haven't watched Idiocracy or read Jennifer Government, this might be a good time to do so.
(My thanks to Gary Moore for bringing the Dodgers item to my attention.)
• • • • •
• • • • •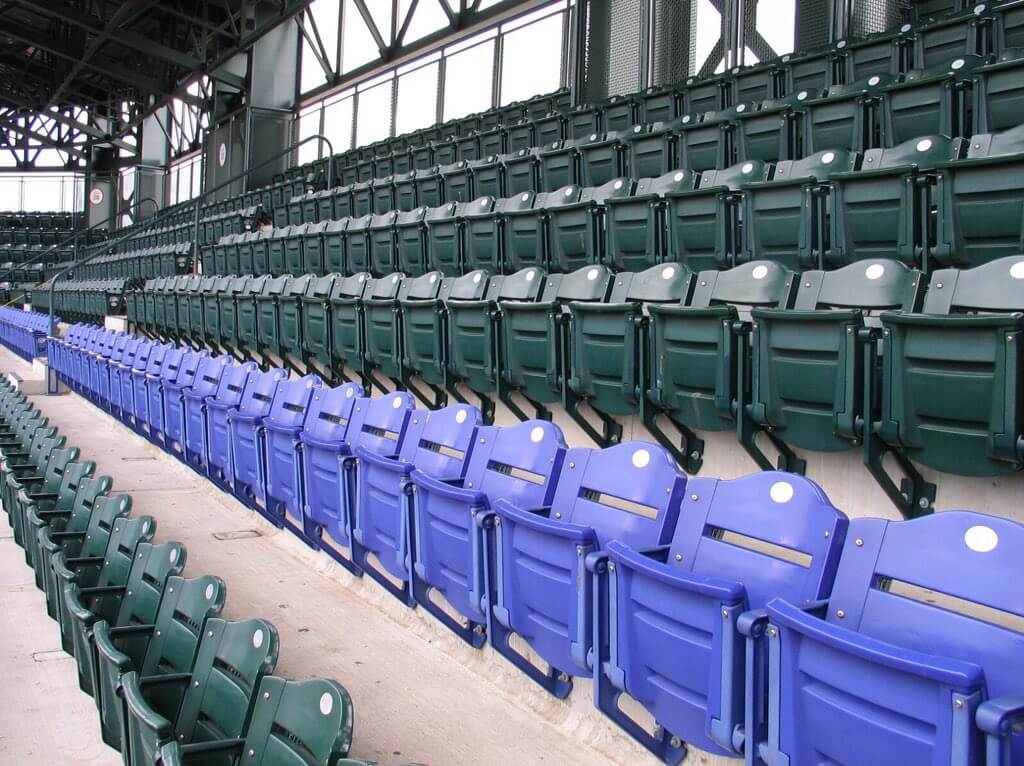 Click to enlarge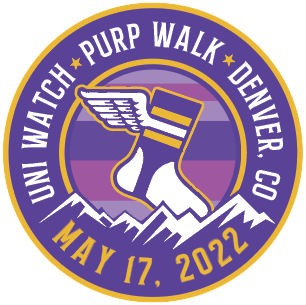 ITEM! Purp Walk update: Although the uni-verse is crumbling around us, our comm-uni-ty remains strong. Case in point: Yesterday I posted a bunch of plans about this year's Purple Amnesty Day, which will feature, among other things, a Uni Watch party in Denver. (If you missed that news, get caught up here.) That prompted a comment from longtime reader Kenny Ocker, who wrote, "Perhaps you could try to get a group ticket package for the famed Purple Row up in the nosebleeds and watch the Rockies game from exactly 5,280 feet above sea level."
Kenny was referring to, of course, the row of purple seats at Coors Field, which is exactly one mile high and extends across several sections in the upper deck. I've known about those seats (duh), but for some reason it hadn't occurred to me to incorporate them into our Denver Purp Walk activities — a major oversight on my part. Thankfully, Kenny had my back!
I loved the idea of continuing the night's activities in the purple seats, so I called Tim Cox — the reader who's my co-conspirator for the Denver plans — and asked him what he thought. Not only did he love the idea, but he had some additional good news: As a season ticket holder, he'd just received an email from the Rockies offering him 20 free upper-deck tickets to an upcoming game of his choice. Could we apply that to the purple seats on May 17? Tim did some checking and determined that we could indeed do that. So we'll have 20 free purple seats for Purp Walk!
Some of those tickets are already spoken for, but we'll definitely have plenty left over to give away. Here's what I'm thinking:
• If you want a free ticket, you must attend the party at Blake Street Tavern. You can't just show up at the game — you need to meet us at the party.
• I expect that demand for the free tickets will outstrip availability, so I'm going to raffle off the freebies. If you plan to attend the party and would like a free ticket, send an email to the raffle in-box by 8pm Eastern this Friday, April 22. Limit one email per person, but indicate in your email if you want one ticket or two tickets. (Sorry, no more than two.) Again, please do not enter this raffle unless you plan to attend the party at Blake Street! Over the weekend, I will contact all the raffle winners to let them know that they've won, and I will also notify the non-winners so they can purchase tickets if they want to join us at the game.
• Our party at Blake Street will begin at 5pm (I'm thinking I might even move it up to 4:30pm), and the game begins at 6:40pm (so early!). People who want to go from the party to the game can head to the ballpark whenever they like. I will remain at the party until at least 7:30-ish, so I can keep kibbitzing with people and greet any latecomers, and then I'll head to game probably around the third inning.
Meanwhile, remember that if you want the deluxe version of this year's Purp Walk shirt, which includes a special logo on the back, you must pre-order the shirt now and then attend the party to receive it.
I think that's it for now. Thanks for all the enthusiastic response to the Denver plans, and doubleplusthanks to Kenny Ocker for suggesting that we sit in the purple seats (which I really should have thought of myself!).
• • • • •
• • • • •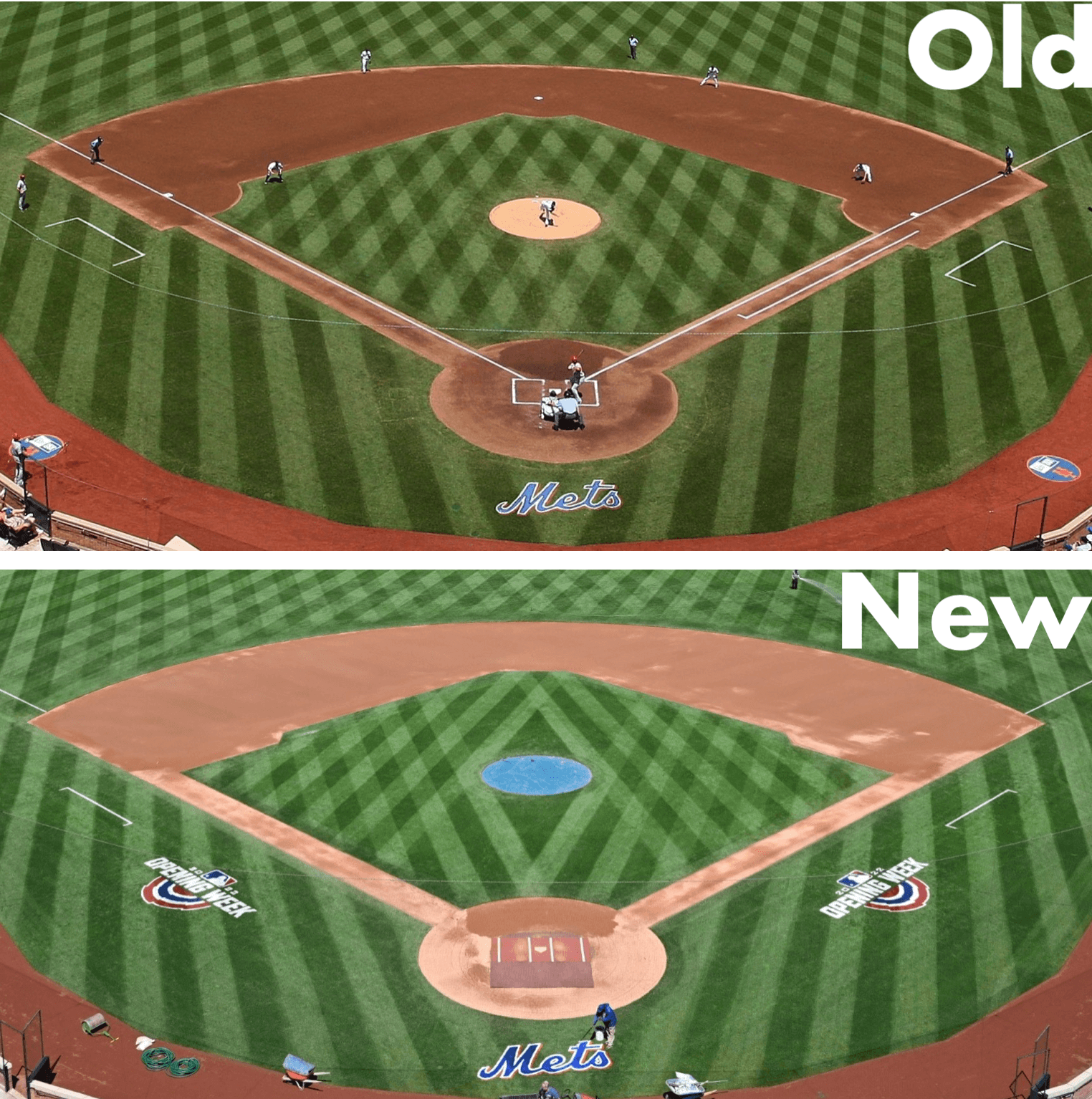 Click to enlarge
Field notes: Notice anything different about the infield at the Mets' ballpark this year? The infield cutouts near each of the bases, which used to be curved, are now formed by straight lines. Here's a closer look: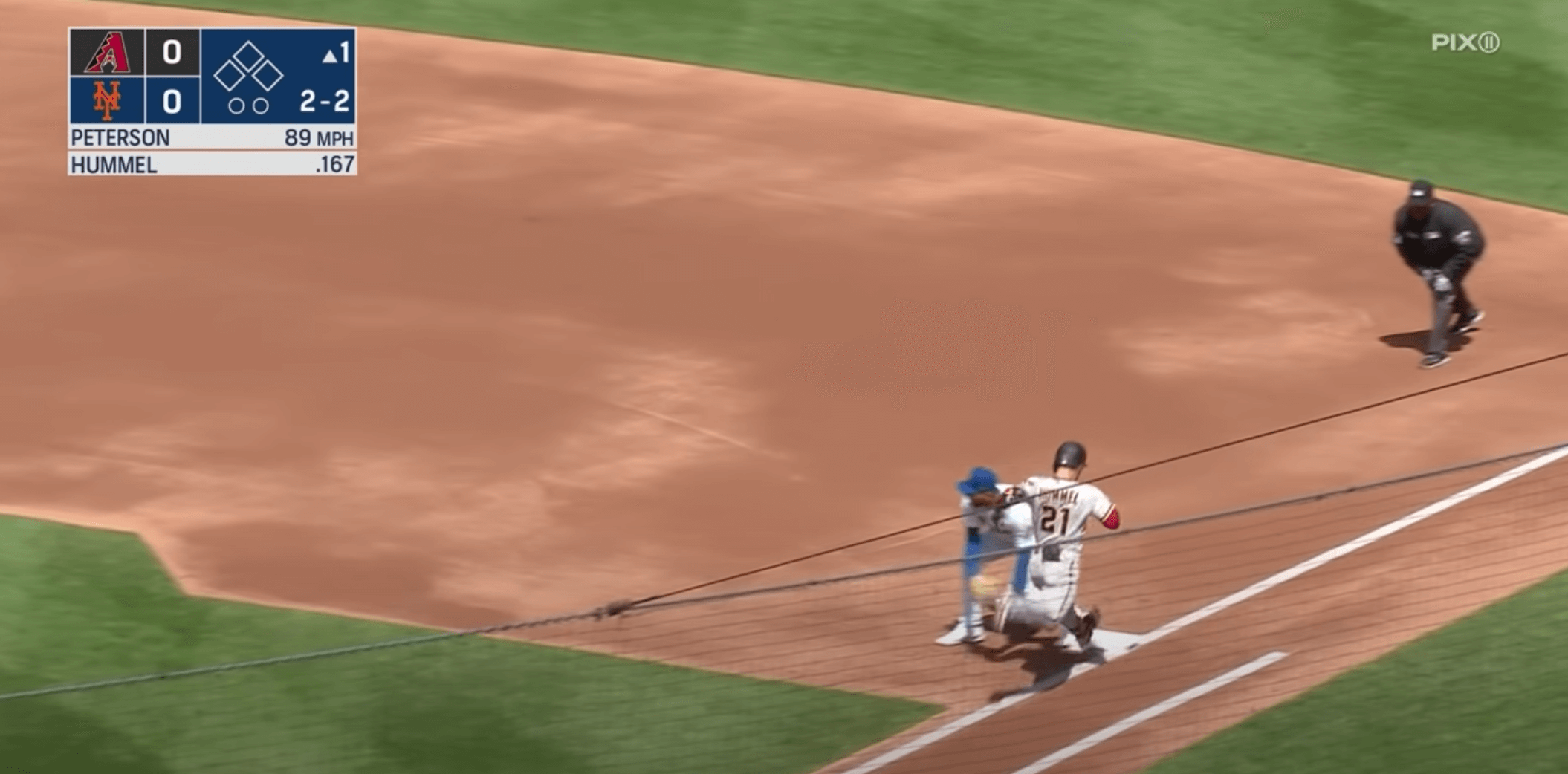 Definitely not as visually pleasing. Why did they make this change? I didn't hear it myself, but reader Gabriel Luis Manga says Mets radio broadcaster Howie Rose talked about it during Sunday's game:
Rose said he talked with the head of the grounds staff and was told that it's because the stadium will be hosting soccer games this year (ironically, for the Yankees-owned NYCFC), and that the straight lines are easier to re-sod/deal with than the rounded edges.
So there you have it. The so-called beautiful game ruins the look of another game!
• • • • •
• • • • •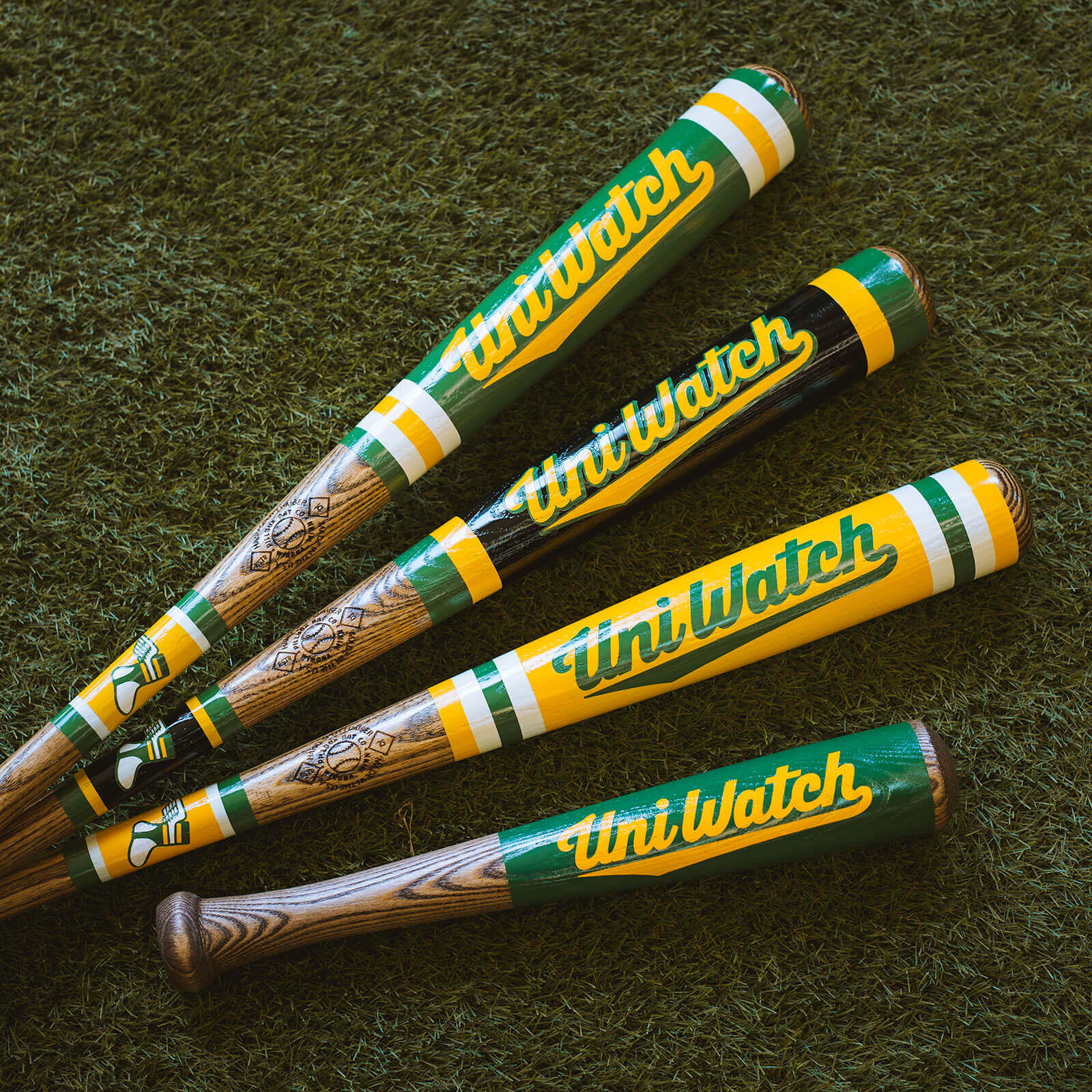 Click to enlarge
Bat reminder: Uni Watch Baseball Bats are now available from the Pillbox Bat Co. They're available in green, yellow, BFBS, and miniature. Check them out here.
• • • • •
• • • • •
The News Ticker
By Lloyd Alaban

Baseball News: Astros 2B José Altuve's American League championship ring has "Altuve Linares" stamped into it. Linares is his mother's surname (from Tyler Kepner). … Red Sox SS Xander Bogaerts wore a City Connect-colored base layer last night under the team's red alternate jersey (from multiple readers). … Brewers C Victor Caratini wore the PitchCom device on his shinguard last night, instead of on his forearm (from John Dankosky). … Former MLB P Jake Peavy pitched for the Savannah Bananas, a collegiate summer club, with his actual Gold Glove, which he won with the White Sox in 2012 (from Jon Vieira). … Another Mother's Day cap has leaked, this time for the White Sox (from Ken Bartelt). … SNY used a previously unseen Giants logo for a social media post last night (from Raul Cerdas). … New uniforms for Pericos de Puebla of the Mexican League (from @RUNCMD52). … Yellow caps for Arkansas last night to promote childhood cancer awareness. … Virginia baseball is retiring No. 11 for Ryan Zimmerman (from our own Jamie Rathjen). … The Cleburne Railroaders of the American Association of Professional Baseball will call themselves the Lone Star Railroaders for Sunday night games. … The Wichita Wind Surge, affiliate of the Twins, will become the Turbo Tubs for select games (from Trent Guyer). … John Marshall High School in L.A., whose team name is the Barristers, uses the Brewers' ball-in-glove "mb" logo (from Pedro Naranjo). … Here's 1983 game video of Pirates broadcaster Lanny Frattare explaining why P John Candelaria had a sticker on the bill of his cap (from our own Jerry Wolper). … Padres P Mike Clevinger, currenly on a rehab assignment with the Triple-A El Paso Chihuahuas, wore his Padres road pants last night instead of El Paso's (from Tommy Morris).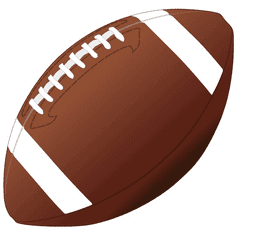 Football News: Two Commies players have new numbers (from our own Jamie Rathjen). … The mighty Gridiron Uniform Database now has coverage for the CFL from 1945 through 1960. Subsequent seasons will be added soon. Additional info here.

Hockey News: Last night provided our first look at the Islanders' dual memorial patches for Clark Gilles and Mike Bossy on the team's home jersey, and they look just as awkward at home as they do on the road whites (from John Muir). … The AHL's Providence Bruins have a nice historical display about the old Rhode Island Reds at their arena.

Soccer News: Liverpool and Manchester United wore black armbands in their match yesterday to honor United F Cristiano Ronaldo's late son (from our own Anthony Emerson). … New logo for the Monterrey Flash of the Major Arena Soccer League (from Ken Tomasch). … New 30th-anniversary kit for the J1 League's Shimizu S-Pulse (from Jeremy Brahm).

Grab Bag: Tennis player Jannic Sinner has a new personal logo, complete with some storytelling (from Mark A. Brieve). … NASCAR driver Noah Gragson will wear a Wendy's-themed uniform for the Geico 500 (from John Flory). … New 75th-anniversary logo for FIVB, the world governing body for volleyball (from Jeremy Brahm).