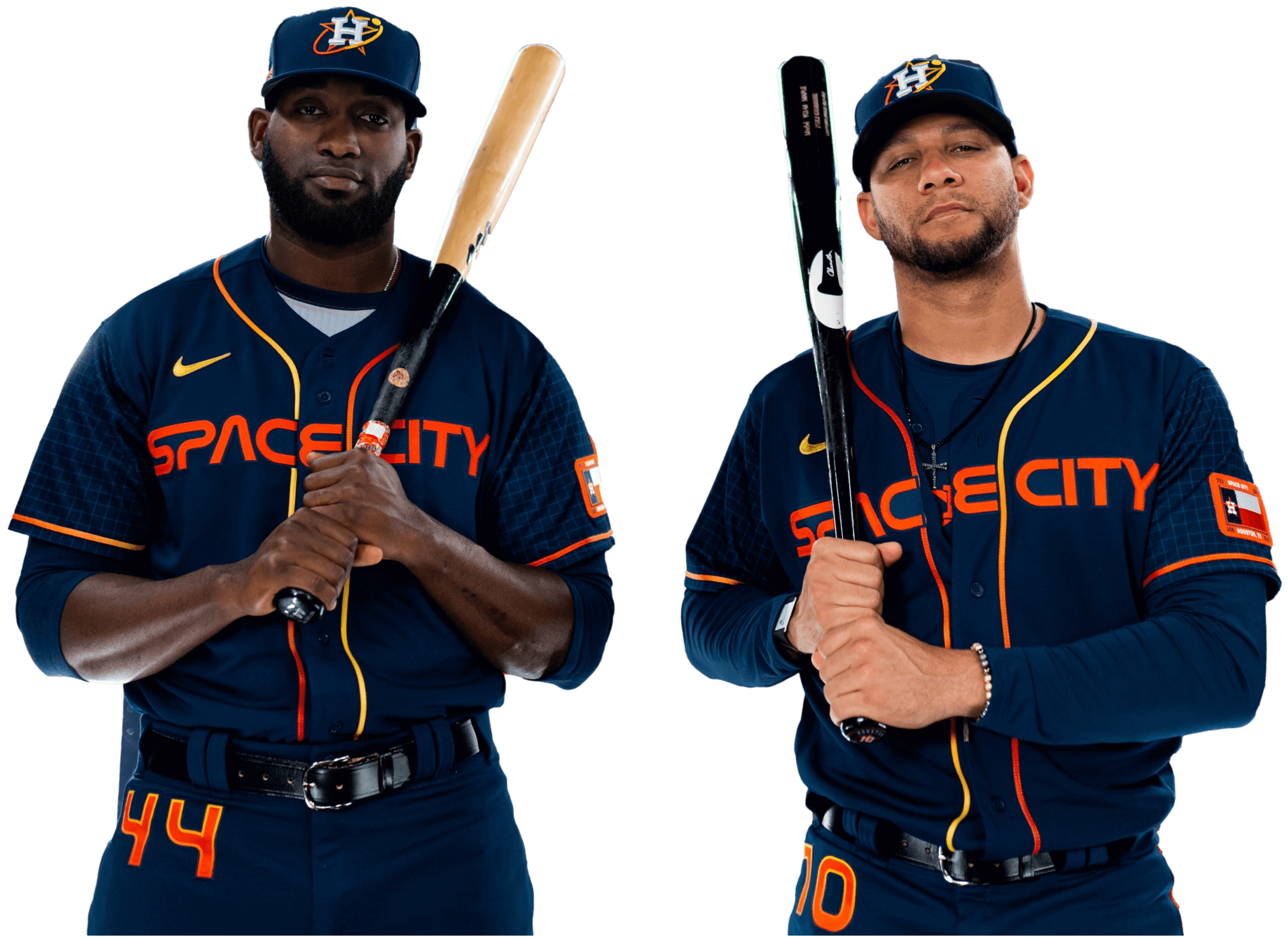 For all photos, click to enlarge
The Astros yesterday became the second MLB team this season to unveil a City Connect uniform, as they released a NASA/space-themed design. There's a lot going on here, so let's go one element at a time: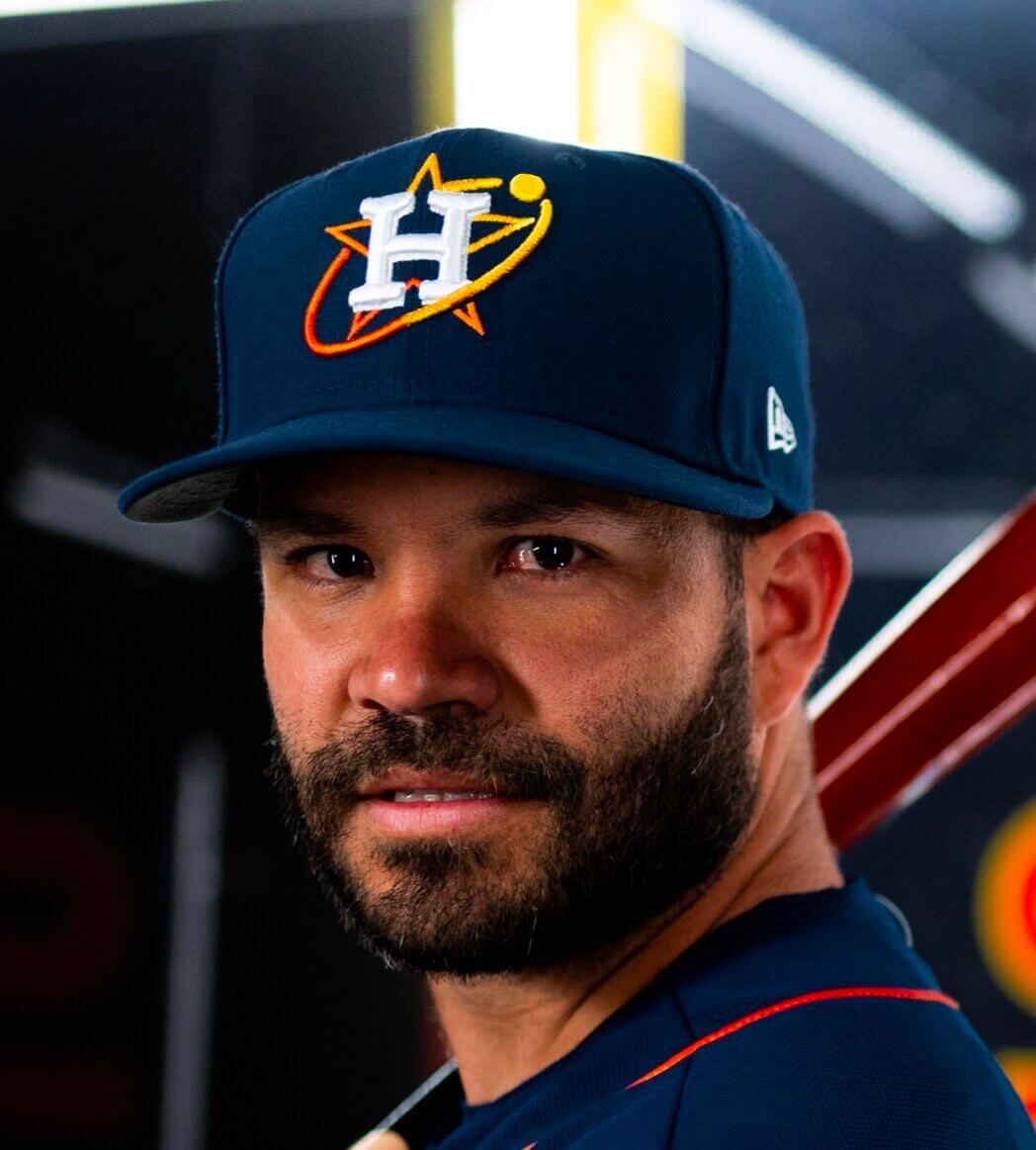 The Cap

I love this and would be happy to see them make it their primary. Well, except for the silly wordmark on the side, which is an unnecessary gewgaw: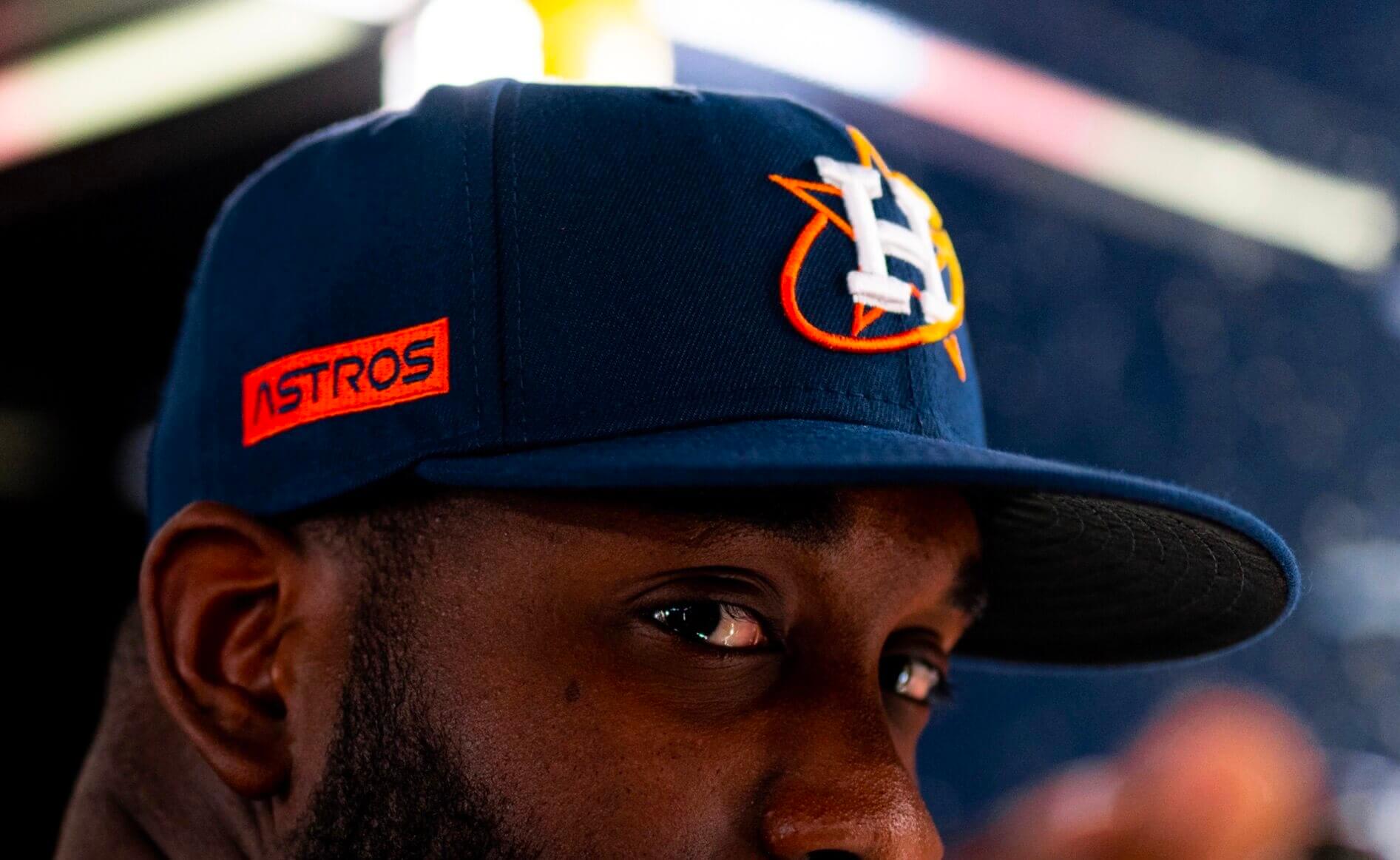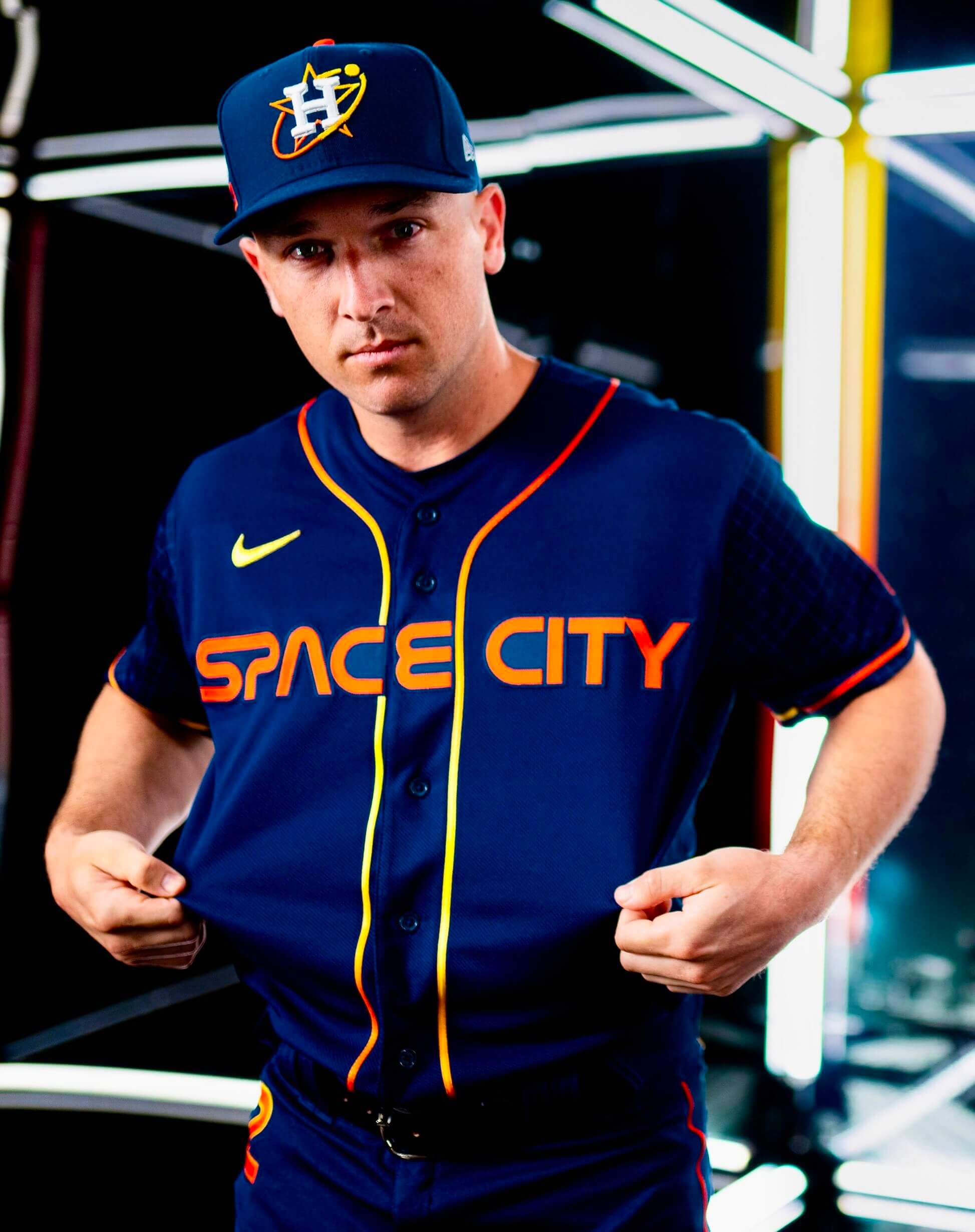 The Jersey

Do Houstonians really refer to their town as "Space City"? Whatever — the team name is based on the city's connection to space exploration, and the use of the familiar NASA font is a clever move that works, especially with the "SP" ligature at the start of the chest lettering.
Other notes about the jersey:
• I also like the tequila sunrise-style headspoon.
• I'm not so fond of the area code-laden sleeve patch: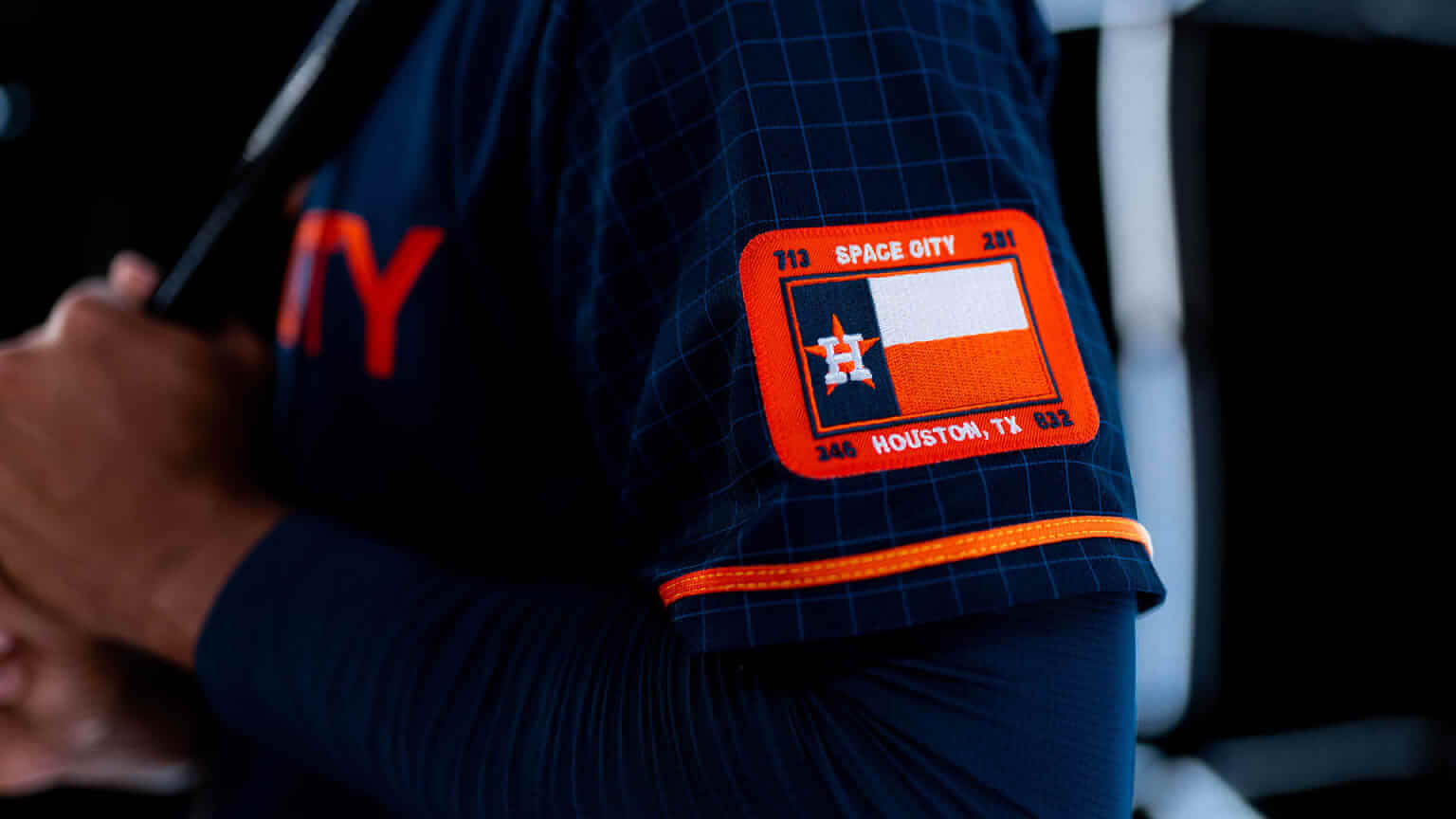 • As you can see in that last photo, the sleeves have a graph-paper pattern, which is rooted in a typically absurd bit of "storytelling" that I won't dignify by spelling out here. But the pattern is pretty much invisible except in close-up views, so whatever.
• They're also using the NASA font for the NOBs: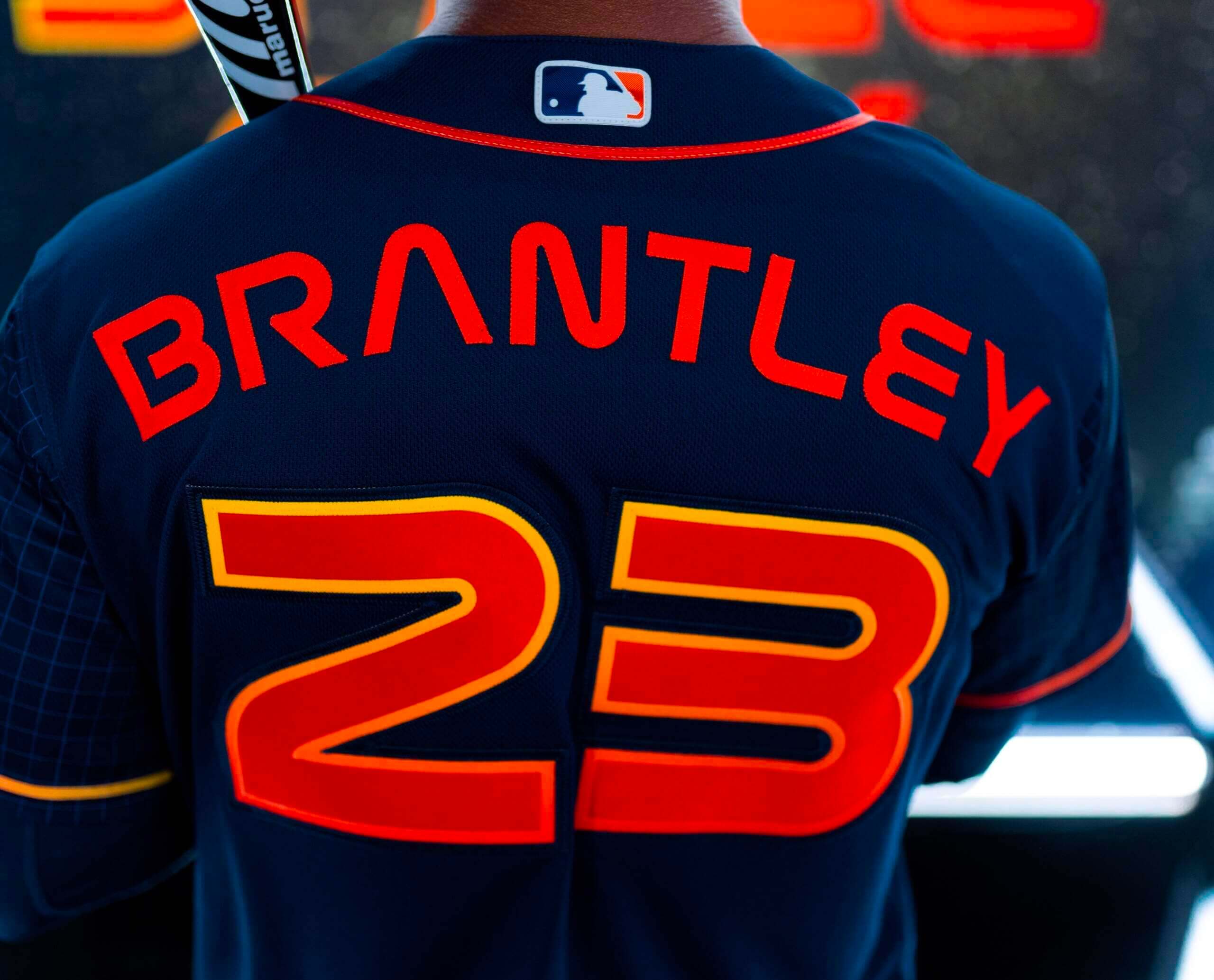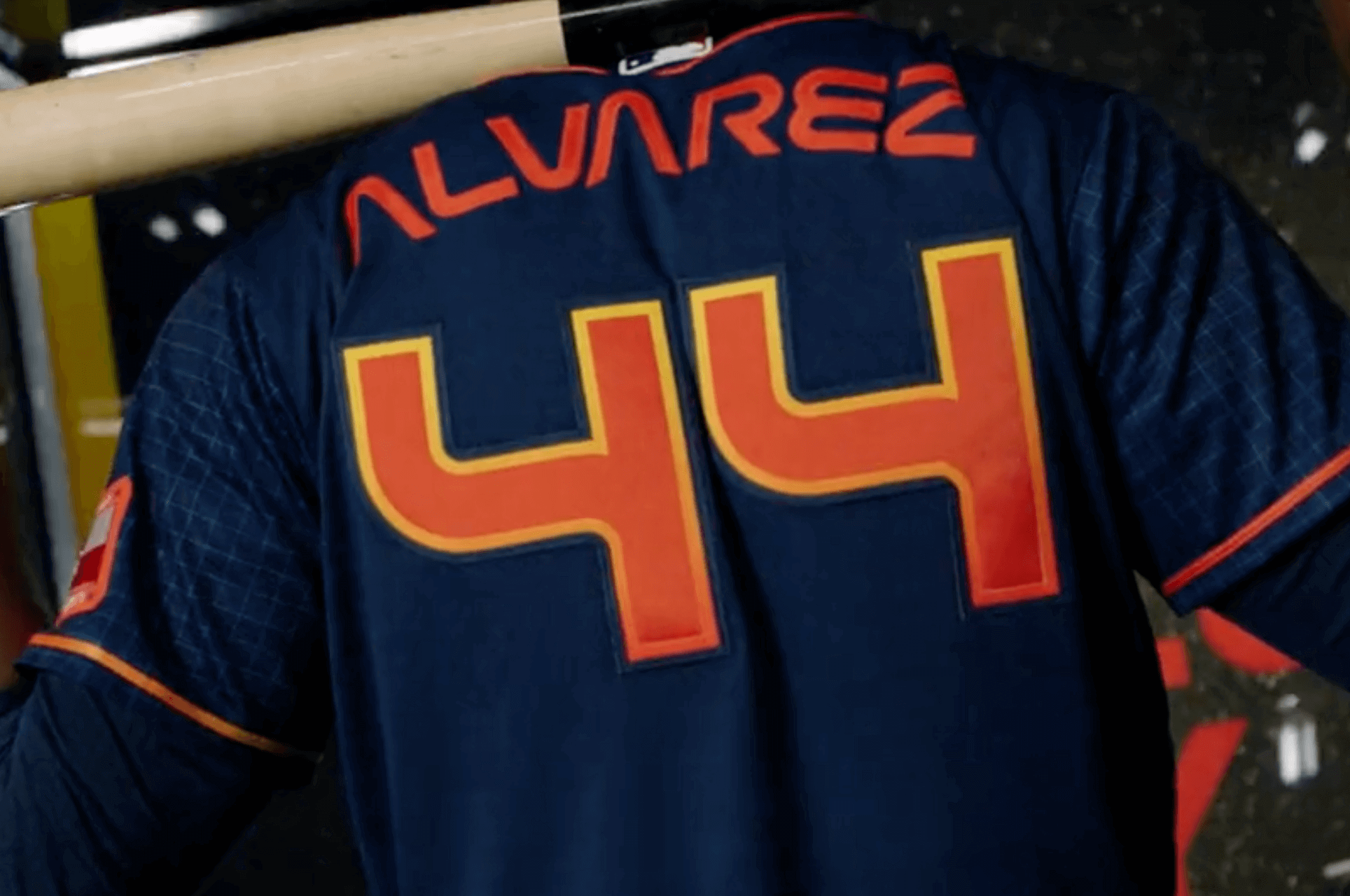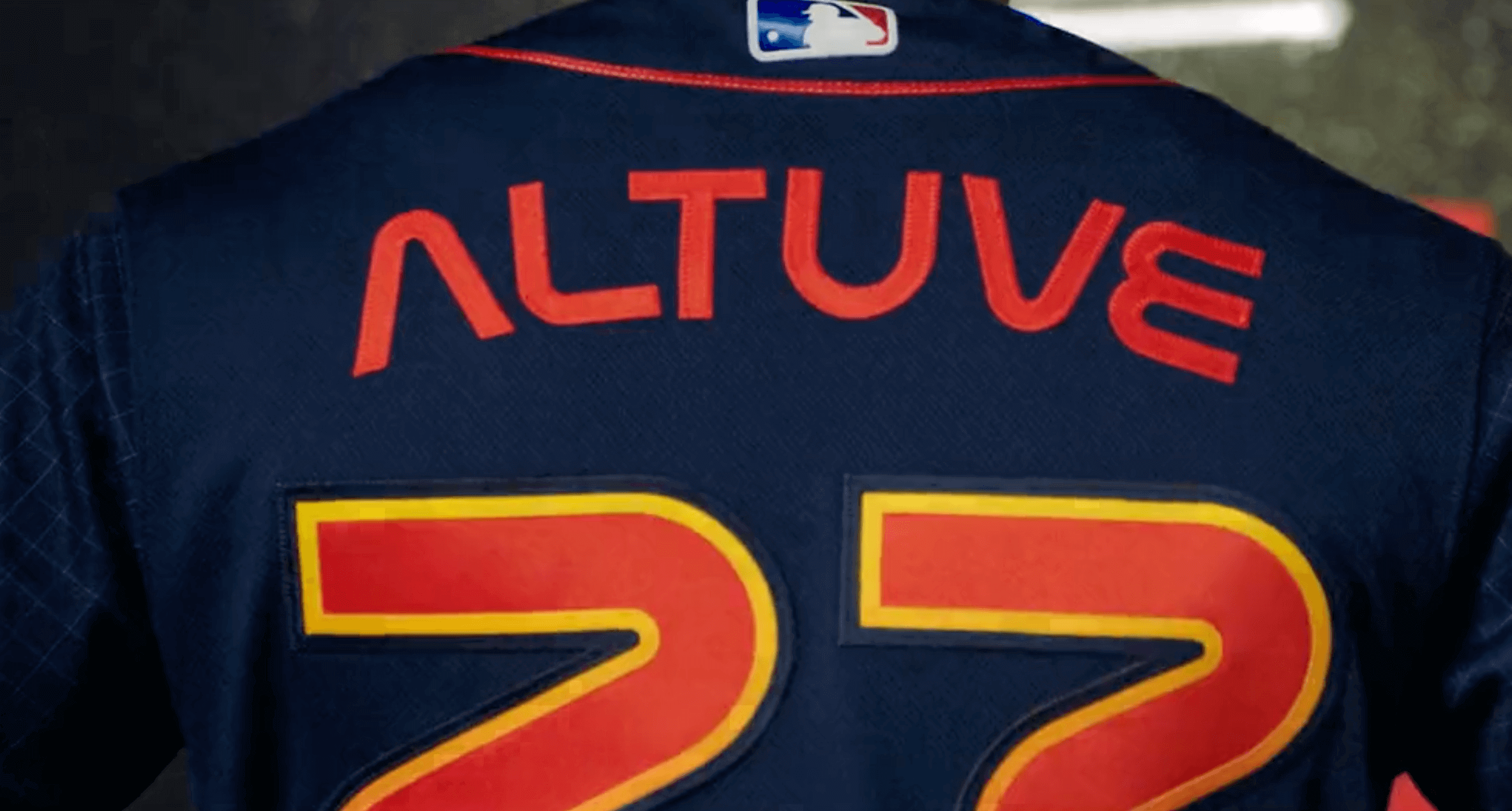 Those look pretty nifty. But I don't think it's a coincidence that the Astros chose to showcase three NOBs that include the letter "A," which is obviously the coolest letter in the font. I have a feeling the visual effect won't be as strong with a surname like, say, Tucker. (On the other hand, of the 28 players currently on the Astros' active roster, 18 of them have at least one "A" in their surname, so there you go.)
Below the Belt:

The number on the hip is a nice tequila sunrise echo, but I hate that they're going mono with the navy pants instead of just wearing white.
As for the socks: Would've been fun if paired with white pants, but the contrast with the navy pants is too much. Most players, of course, will go low-cuffed anyway, so we'll just see navy pajamas out there. Woof!
Overall: A very good cap, and some good elements sprinkled elsewhere in the design, but not a fully successful uniform, mainly because of the mono look.
This uniform will make its on-field debut on April 20. The next team to unveil a CC design will be the Royals, sometime later this month.
• • • • •
• • • • •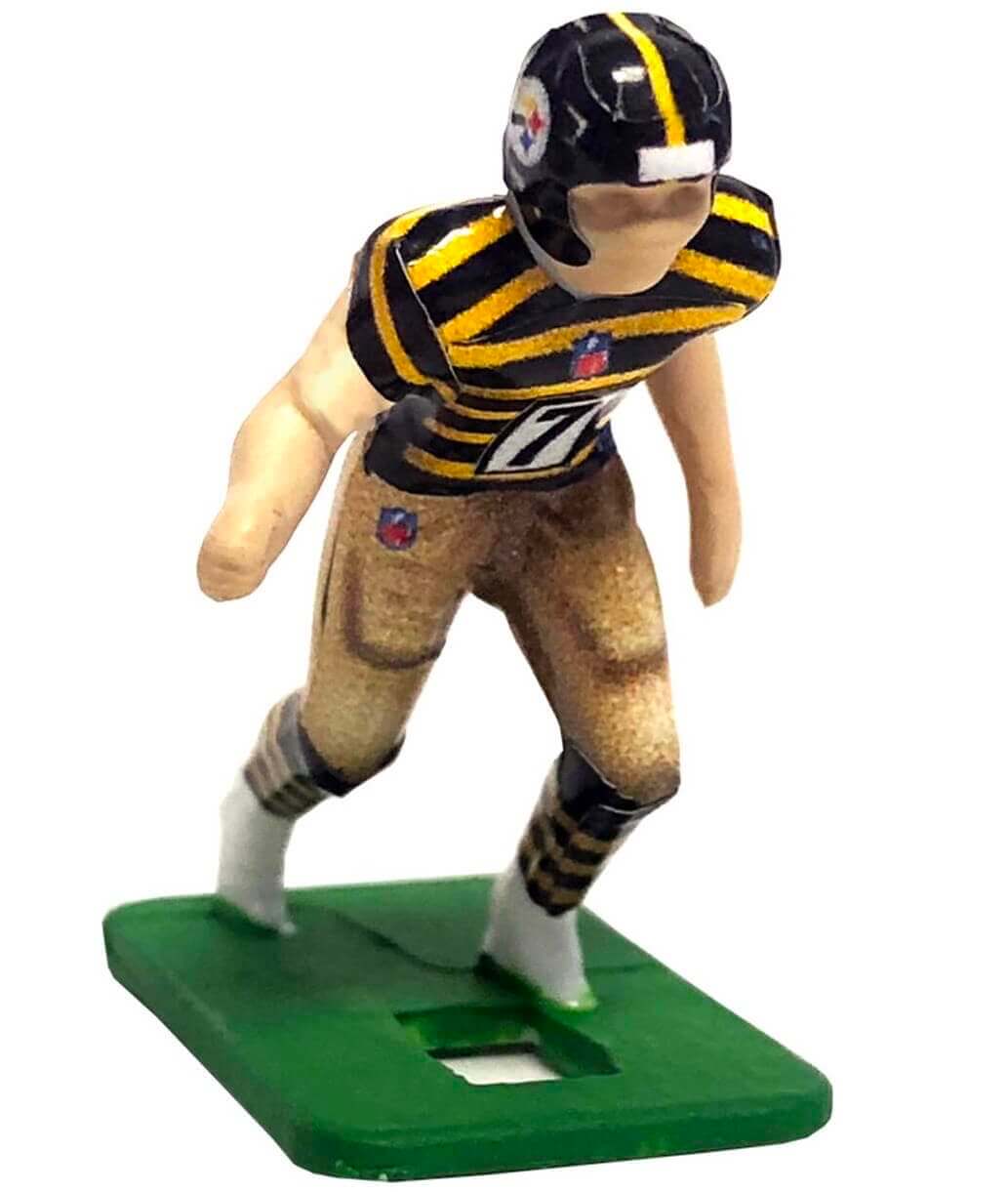 Electric Football update: Last summer I wrote a piece about a new uniform format for Electric Football. Instead of buying pre-painted players or having blank players custom-painted, fans would be able to apply decals to the blank figurines.
Tudor Games prexy Doug Strohm tells me that the new format, called Uni-Forms, has been a big success and is expanding to include more uni designs (like the Steelers bumblebee throwback shown above), including more college teams. You can see the full range of current offerings here.
As someone who grew up playing Electric Football (and who cares about uniforms, obviously), I'm really happy to hear that the game is continuing to thrive and evolve.
• • • • •
• • • • •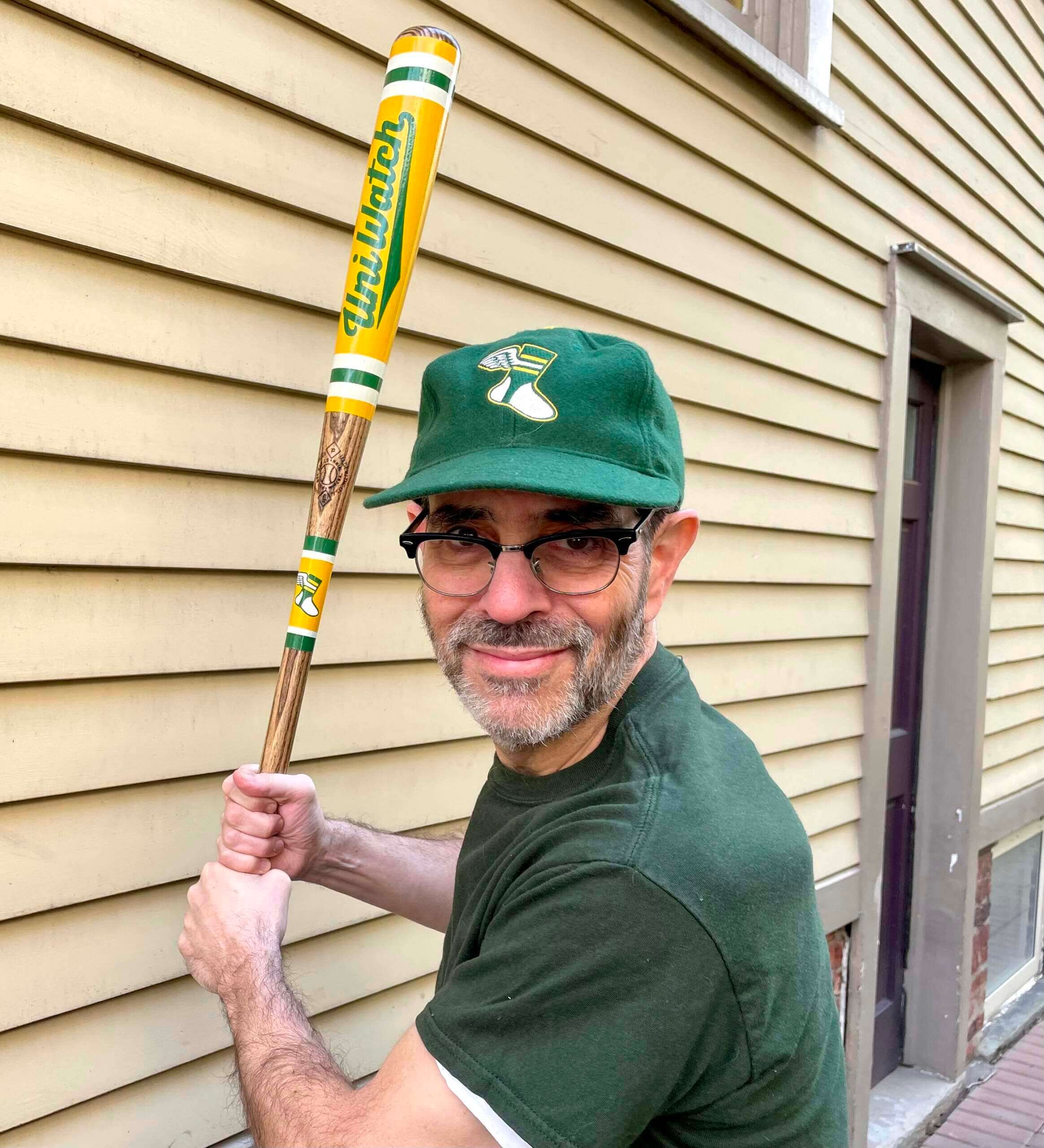 Photos by Mary; click to enlarge
Bat update: I recently mentioned that we'd soon be partnering with the great Pillbox Bat Co. on a line of Uni Watch bats. I've now received one of the prototypes, and I can honestly say it looks and feels superb! A really nice object. Here are some additional pics: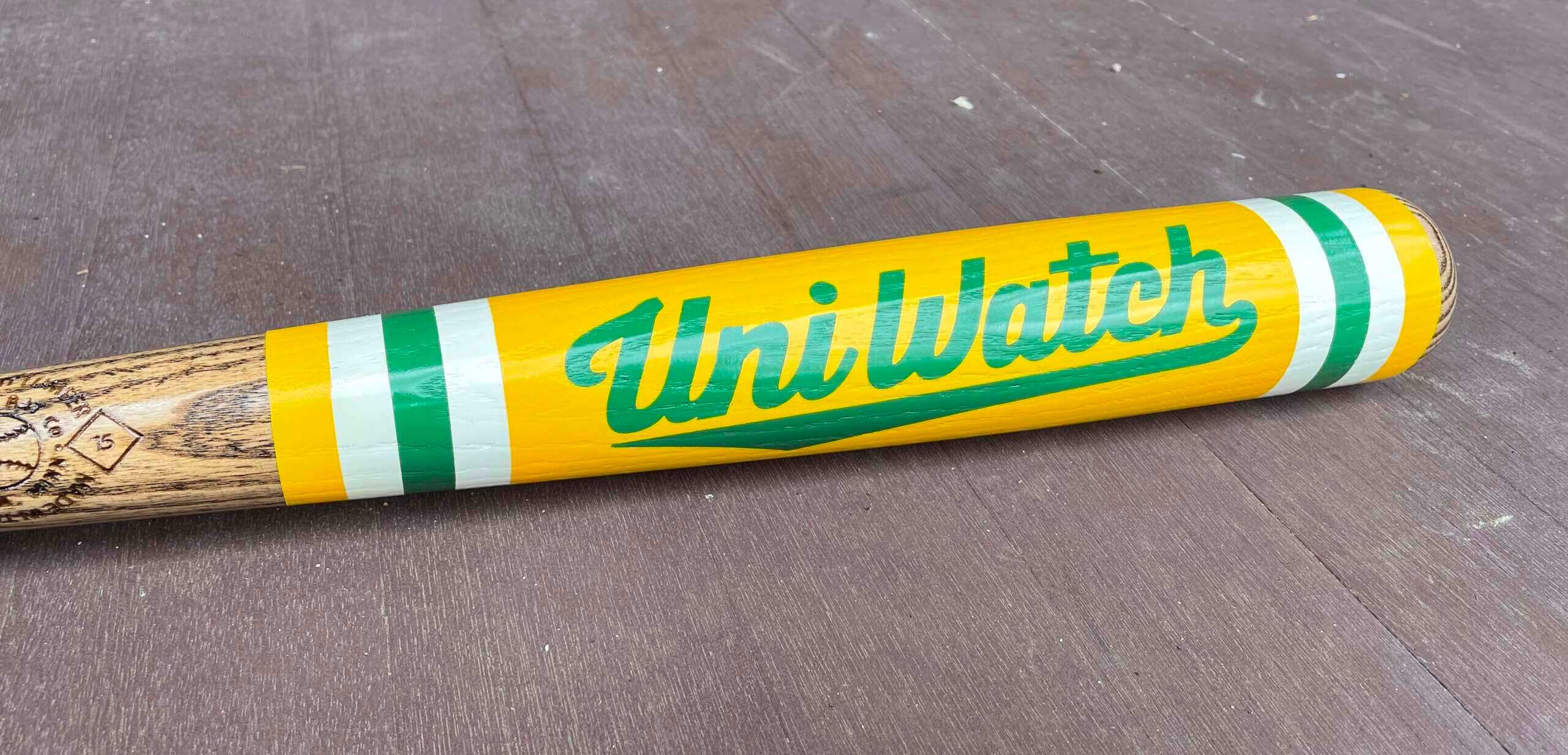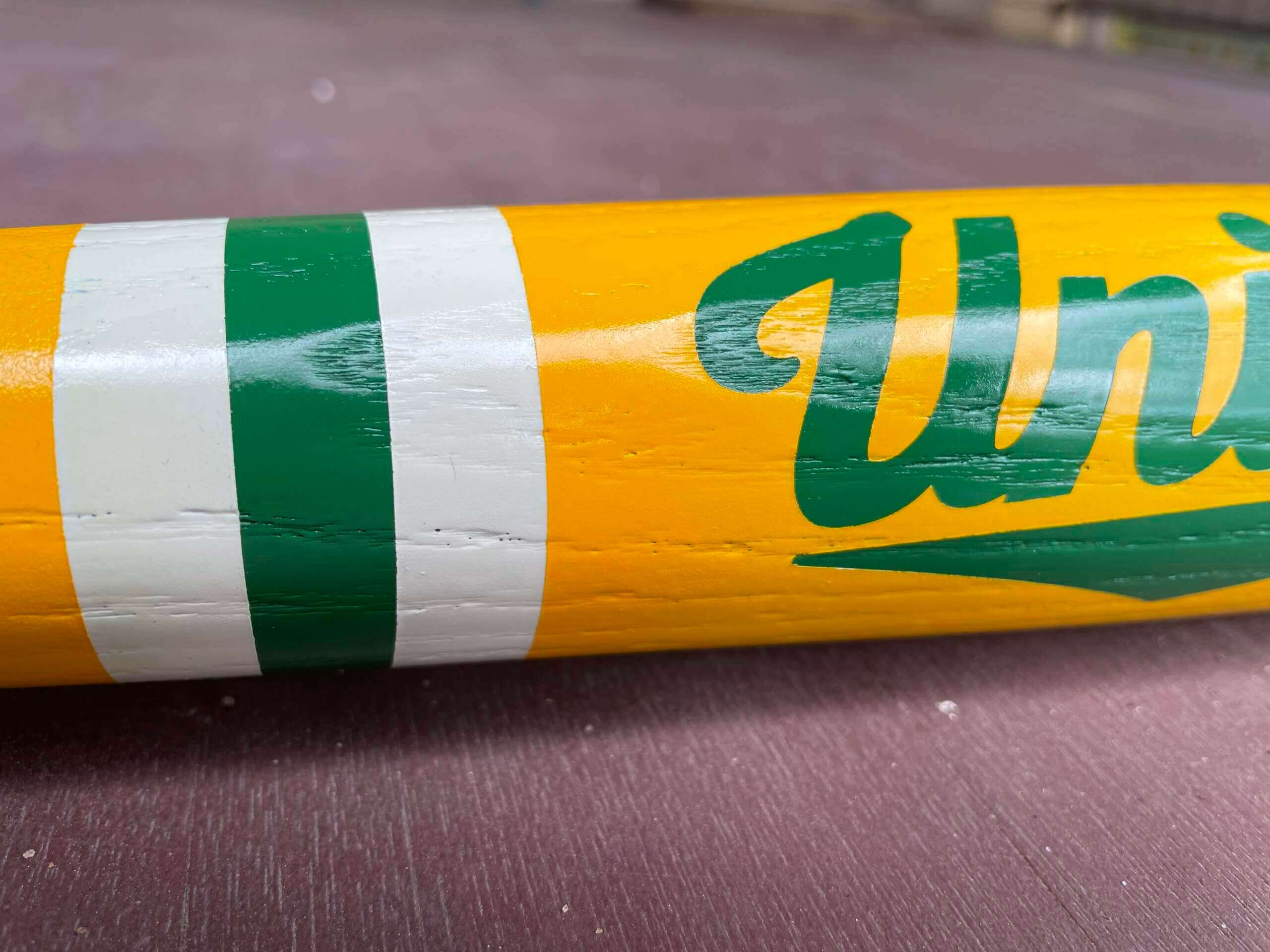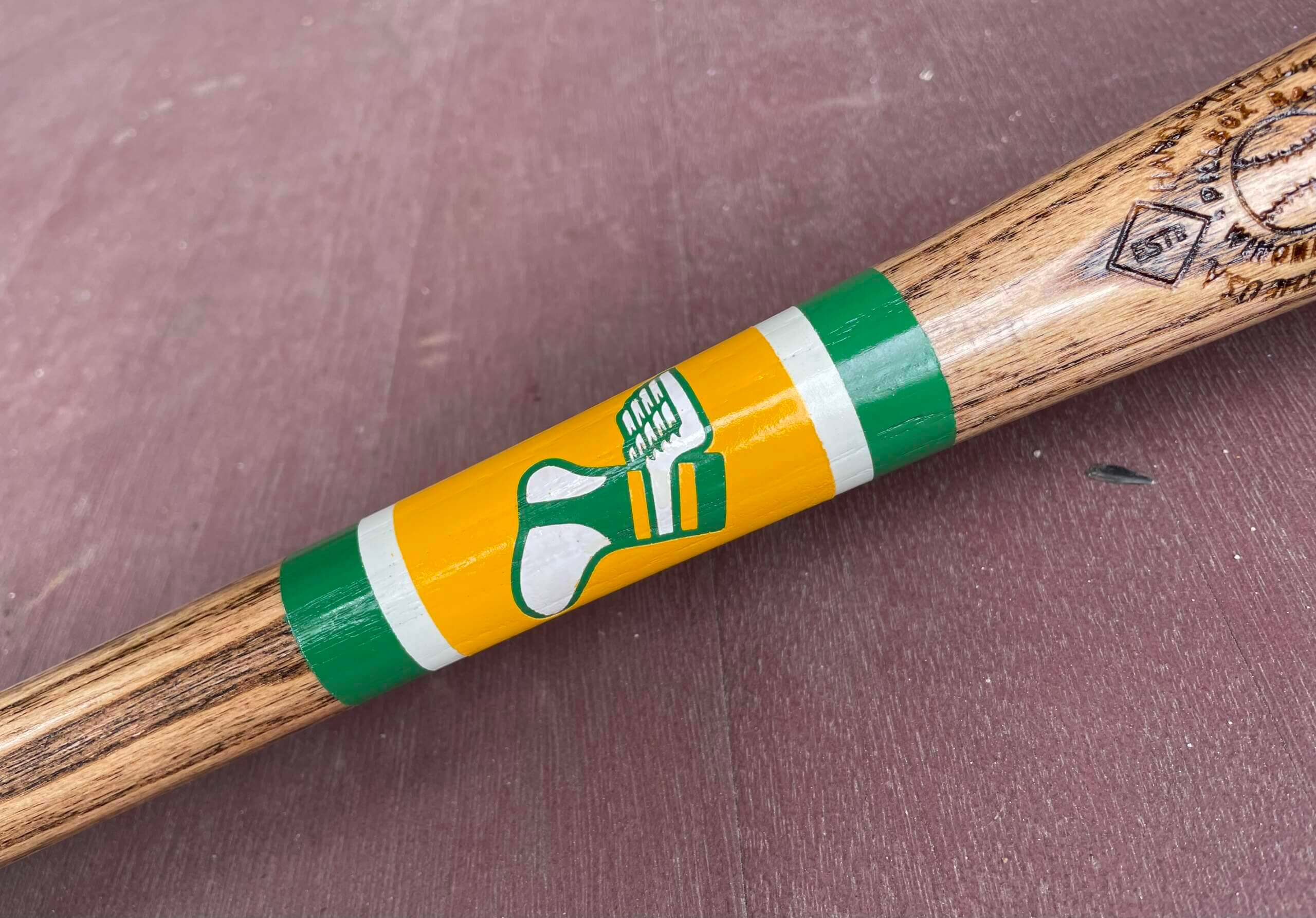 I also received a sample of a mini-bat (17″), and it looks mighty fine as well: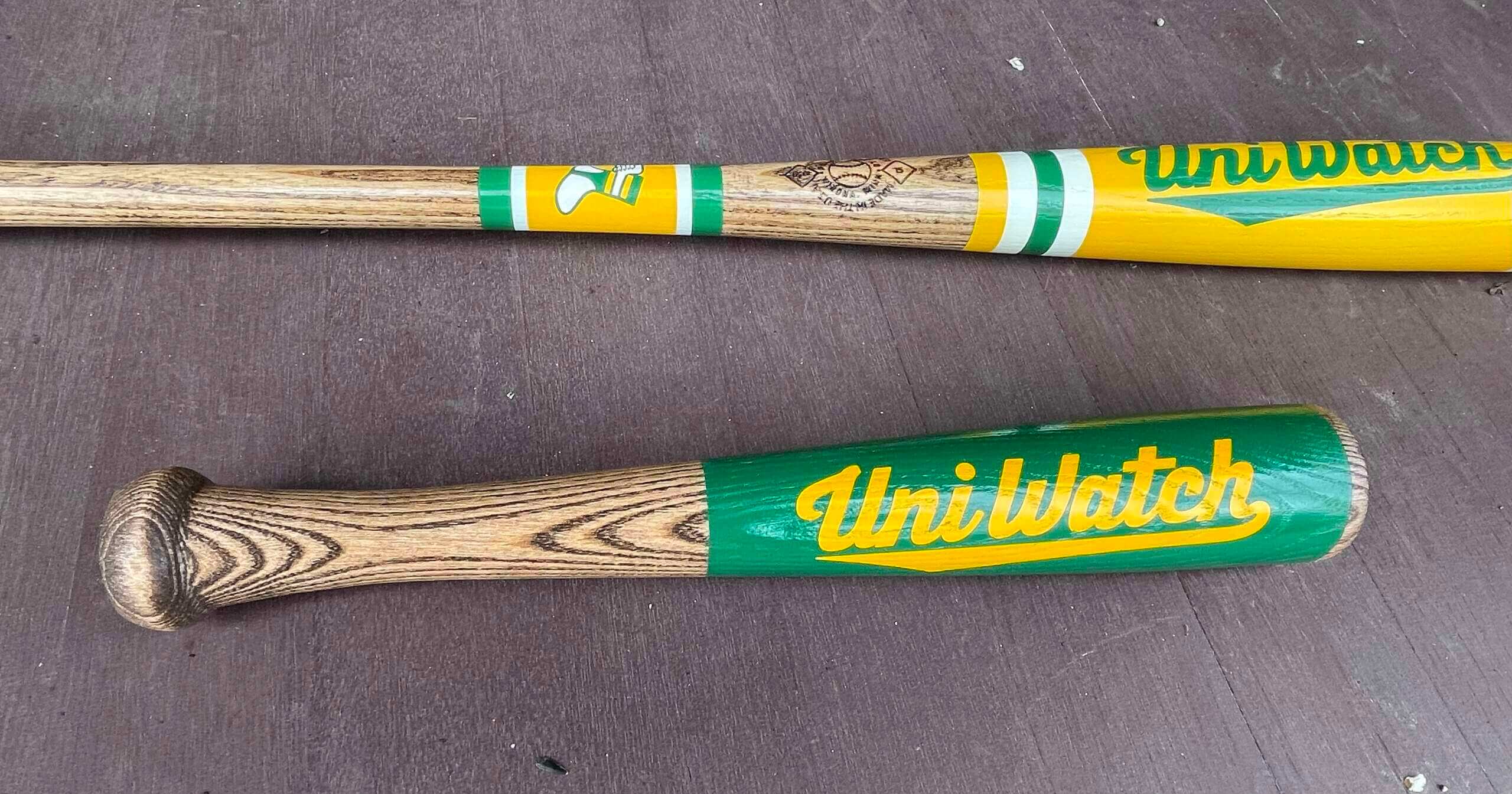 As you may recall from my earlier post about these, we will also have green and BFBS versions: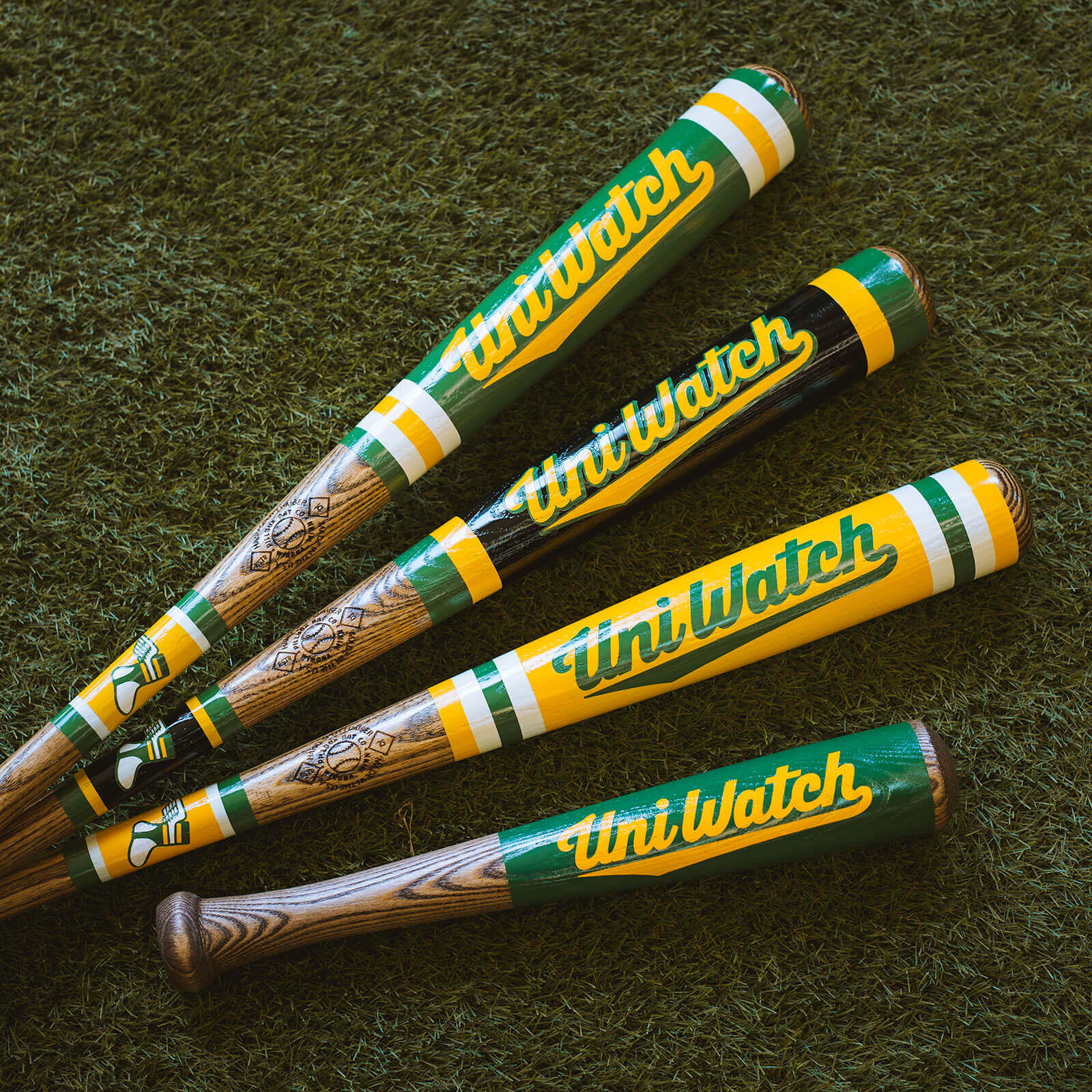 The bats will be available for purchase soon — I hope later this week. Stay tuned.
• • • • •
• • • • •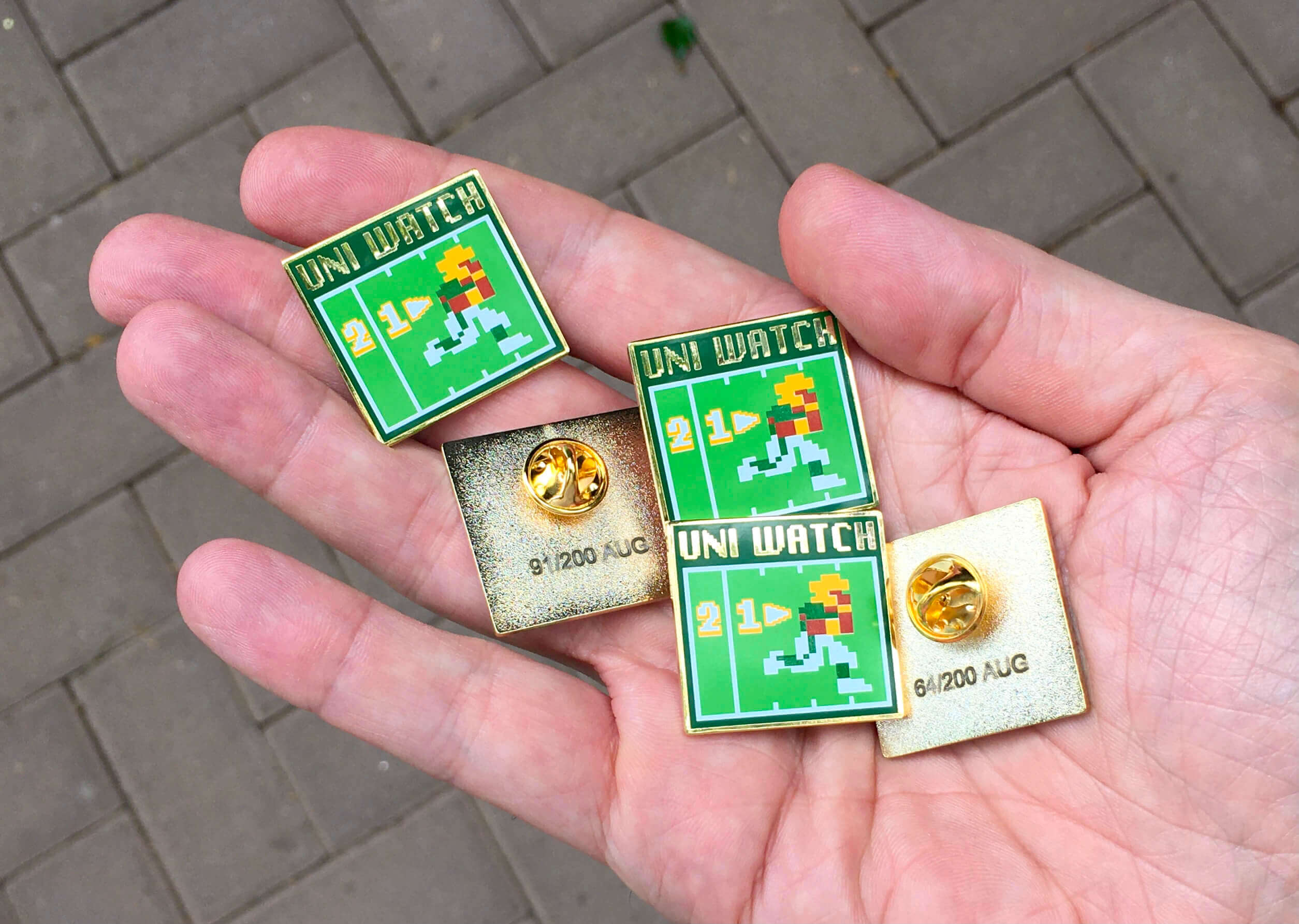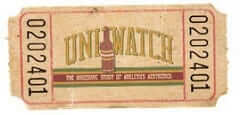 ITEM! Pin raffle: Reader Bill Fenbers has an extra August 2021 Uni Watch pin — the Tecmo Bowl-themed design — and has generously offered to let me raffle it off, so that's what we're going to do today.
This will be a one-day raffle. USA mailing addresses only. To enter, send an email with your mailing address to the raffle in-box by 8pm Eastern tonight. One entry per person. I'll announce the winner tomorrow. Big thanks to Bill for doing this!
• • • • •
• • • • •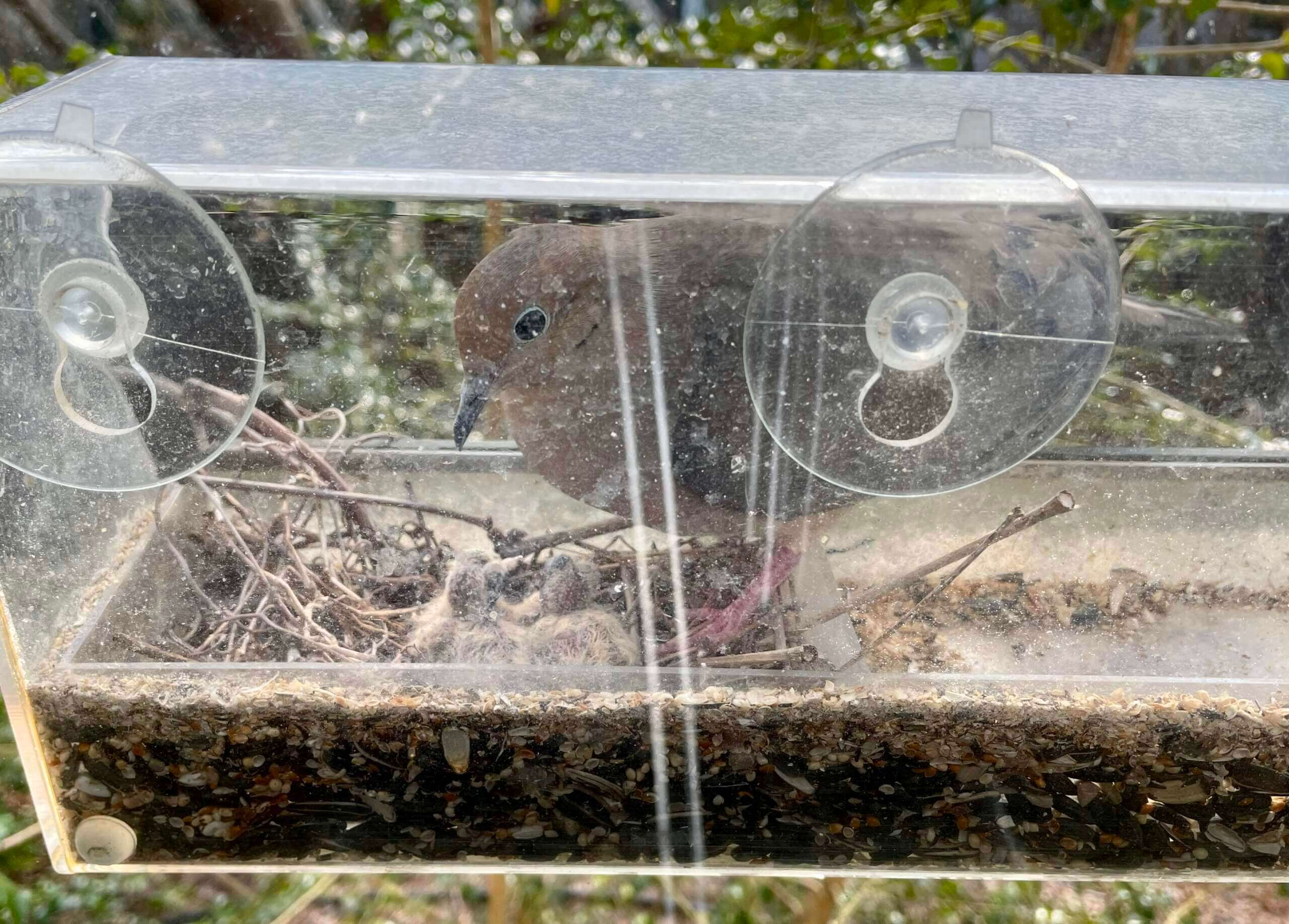 Click to enlarge
Nest update: I'm very happy to report that the baby doves arrived on Saturday! We've only gotten very brief glimpses of them, because the adults spend most of their time sitting on them to keep them warm (just like they sat on the eggs), but they're definitely there.
Here's a very short video clip of Mama Dove feeding one of the babies:
Awww — the miracle of life and all that. I'll continue to provide periodic updates as events warrant.
• • • • •
• • • • •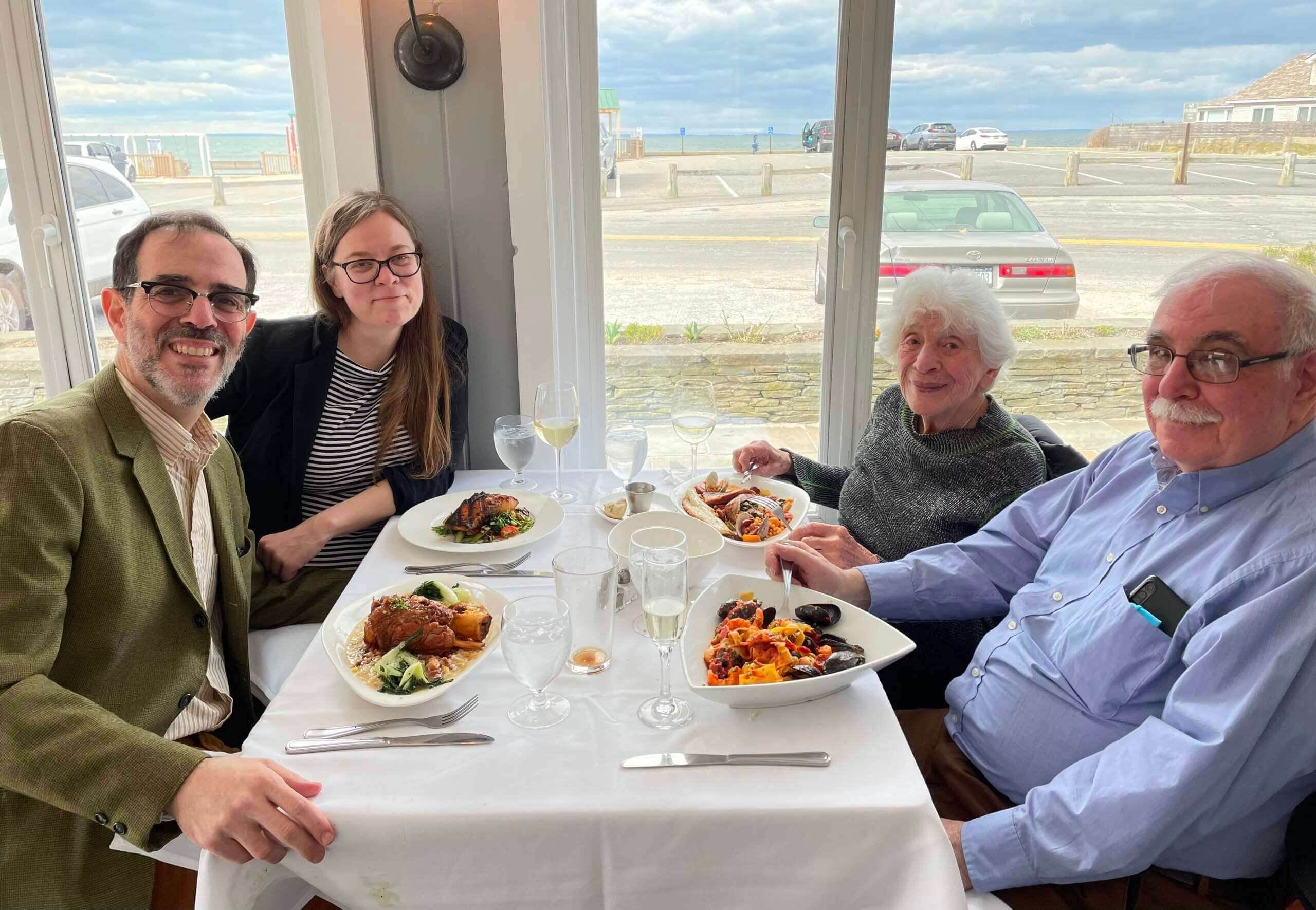 Click to enlarge
Speaking of the miracle of life: The baby doves aren't the only ones with a birthday on April 9. My indestructible mom turned ninety-fucking-eight years old over the weekend, so Mary, my brother, and I took her out to lunch.
In the interests of honesty, I should say that these family outings aren't all rainbows and sunshine. Families are complicated, and ours is no exception, mainly because there's a lot of friction between me and my brother. But we all love Mom, who's looking like she'll make it to 100, and then some. Amazing.
• • • • •
• • • • •
The Ticker
By Jamie Rathjen

Baseball News: The Phillies' cream alternates and blue Thursday throwbacks are currently unavailable due to supply chain issues. Similar problems have afflicted the Cardinals and A's. … Rays 1B Choi Ji-man's helmet logo was peeling off yesterday (fom multiple readers). … Reader Steve Mathonnet-VanderWell visited the Negro Southern League Museum in Birmingham and sent us some pictures. He's actually not the first Uni Watch reader to do that, as there are more in this entry from 2016. … The rest of these are from Kary Klismet: Atlanta got their World Series rings on Saturday. … New Denver Broncos QB Russell Wilson threw the first pitch at the Rockies' home opener on Friday wearing a jersey with his NOB and No. 3, which was also missing a front number, and a cap in Broncos colors but with his personal logo on the front. … A fan vote on the name for the mascot of the Atlantic League's Charleston Dirty Birds returned "Dusty" as the winner. The High-A Beloit Sky Carp are also asking fans for a mascot name. … "This story about Babe Ruth and Lou Gehrig bringing their barnstorming teams to play in Santa Barbara in 1927 includes several great vintage uniform and stadium photos," Kary says.

Hockey News: Wild G Marc-André Fleury has a new mask design (from John Muir). … The Lightning are giving away replica championship rings next weekend (from Kary Klismet). … The OHL's Peterborough Petes and the WHL's Winnipeg Ice both did Pink in the Rink promotions this weekend (from Wade Heidt). … President Aleksandr Lukashenko of Belarus suited up for a hockey game and took a stick to the face on Saturday (from L.J. Sparvero).

Basketball News: Warriors PG Jordan Poole had an adventure with his arm sleeve on Saturday. "Poole gets his arm sleeve loose, throws it on the ground, then slips on it. Draymond Green attempts to throw it to the sideline and fails," says Mike Chamernik.

Soccer News: New shirts for Brazil's Fluminense. … The Canadian Premier League's Pacific FC has a new second kit (from @jayappletree). … Meanwhile, Footy Headlines did a CPL overview, without that Pacific FC release (from Kary Klismet). … Also from Kary: Greenland's unofficial men's team has new shirts.

Ukraine News: The Ukrainian men's soccer team Shakhtar Donetsk started a series of friendlies for charity by playing Greece's Olympiacos on Saturday. A "Stop War" flag patch was where Shakhtar's ad would be, and Olympiacos wore a similar patch in their colors of red and white. Shakhtar's NOBs were also cities that are heavily affected by the war (also from Phil). … Germany's women's soccer team's World Cup qualifier against Portugal on Saturday featured corner flags using a peace sign based on the German Football Association's logo. Both teams also posed with a "Peace" banner. … Meanwhile, Denmark's women's soccer team wore "Together for Ukraine" warm-up shirts before their World Cup qualifier on Saturday. Their shirts for the match also featured the Ukrainian flag beside the match info and some are to be auctioned off for charity. … The Japanese men's soccer team Shonan Bellmare annually wears a third shirt for some summer home games, and this year the design is yellow and blue to raise money for the team's charities' efforts in Ukraine (from Jeremy Brahm).

Grab Bag: Australian Football League club Fremantle's men's team wore yellow accents and stars on Saturday as part of an annual promotion for the Starlight Children's Foundation. … The next two are also from Australia: Super Netball's Adelaide Thunderbirds (in silver) and New South Wales Swifts both celebrated 25th anniversaries this weekend by wearing throwbacks to their original color schemes. … A New South Wales rugby league club, the Moree Boars, has new shirts. The men's team plays in the Group 4 Rugby League regional league and the women's team plays league tag, which is the sport's equivalent of flag football (from Kary Klismet). … Jaguar Formula E driver Sam Bird's helmet for this season is very creative: the top shows the view you'd see from one of the car's onboard cameras, which is above the driver's head. So when it's viewed from that camera it creates but doesn't take an opportunity for infinite regression. … Athletes Unlimited volleyball players wore themed warm-up shirts for the third weekend in a row, this time for the charity Starlings Volleyball USA.