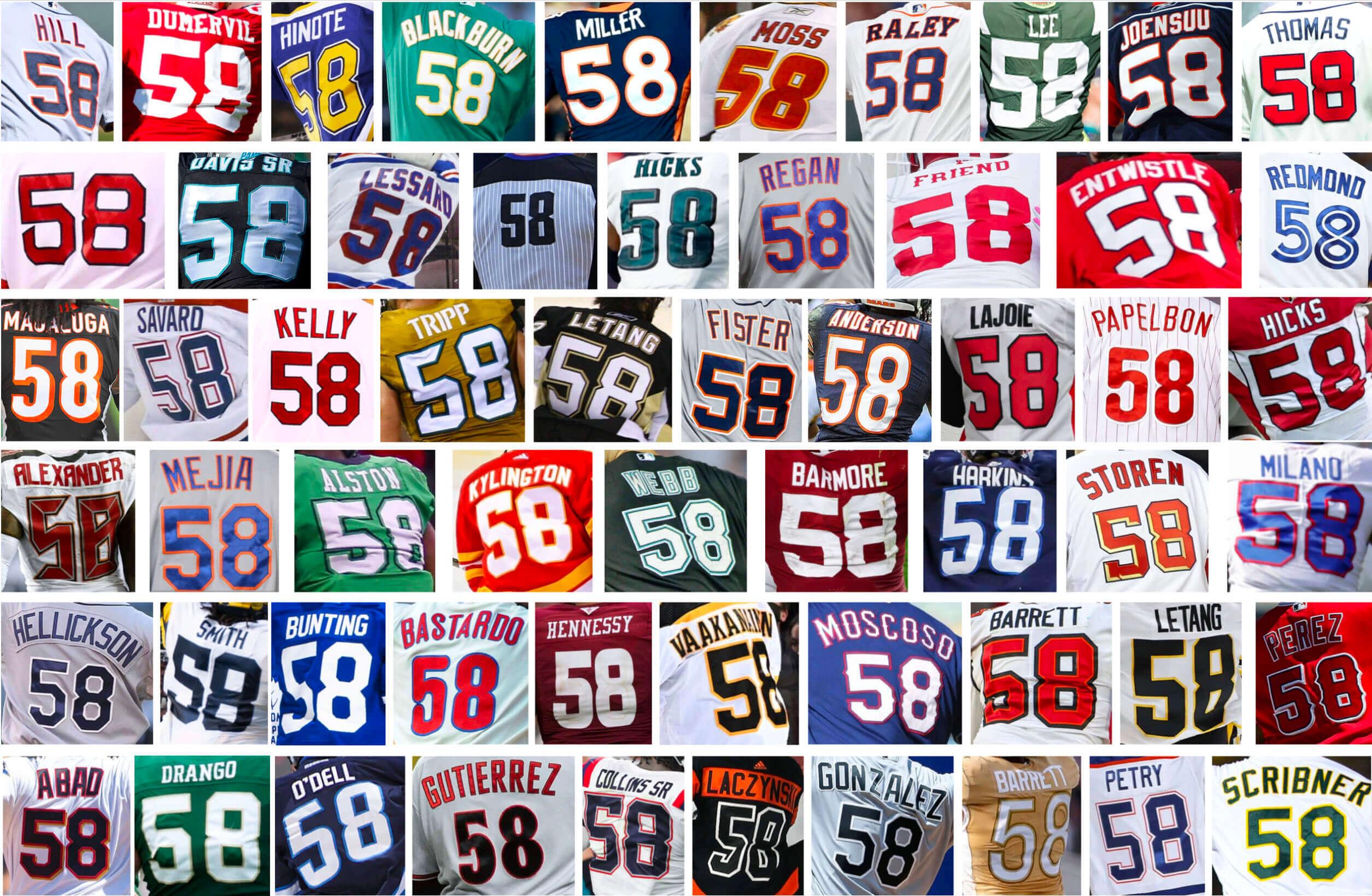 Click to enlarge
Good morning! Today is my birthday — I'm turning 58. Not a particularly auspicious number from either a chronological or uni-numerical perspective, but I still thought it would be fun to create the graphic shown above, which features 58 No. 58 jerseys. My rules for the graphic were as follows:
• No purple.
• No Yankees.
• No repeating any player. (Update: As several commenters have pointed out, it turns out I repeated a couple of players without realizing it. Ah well, it happens!)
Here are a few of the things I learned while working on the graphic:
• No NBA player has ever worn No. 58. NBA referee Josh Tiven currently wears it, however, so I included him.
• Only one Big Four pro player has ever had his No. 58 retired: KC linebacker Derrick Thomas. (In addition, the Vegas Golden Knights have retired No. 58 as a way of memorializing the 58 victims of the 2017 Las Vegas mass shooting.)
• Some players are very loyal to No. 58, like former MLB pitcher Jonathan Papelbon, who wore 58 for three different teams. Ditto for current NHL defenseman David Savard. I guess that's not surprising — players are superstitious about their numbers, after all. It just seems a bit weirder somehow for a "less sexy" number like 58.
As for reaching this advanced age: When I turned 50, I remember thinking, "I feel the same as when I was 35." Now that I'm 58, I definitely still feel 40something, at least from a physical perspective. Having a career that I love certainly helps, so thanks to all of you for helping to make that possible. Being able to make a living by writing about things that interest me is the best birthday present!
• • • • •
• • • • •
I've got a bone to pick with whoever designed these Spring Training hats… @MLB @MLBNetwork pic.twitter.com/hOyDe8poZg

— Jake Burger (@Burgatron13) March 20, 2022
Feel the burn: This item was buried in yesterday's Ticker, but it's such an amazing visual that I think it's worth showcasing here today. That's White Sox third baseman Jake Burger's head, and you can see what the new trucker-style spring caps have done to his scalp. Yowza!
I don't wear trucker caps and I'm not bald, so it never really occurred to me before that those two things are not a good match. But there are plenty of ballplayers out there who are bald or head-shaved — are they all having this problem? Will they start wearing sunblock on their scalps?
• • • • •
• • • • •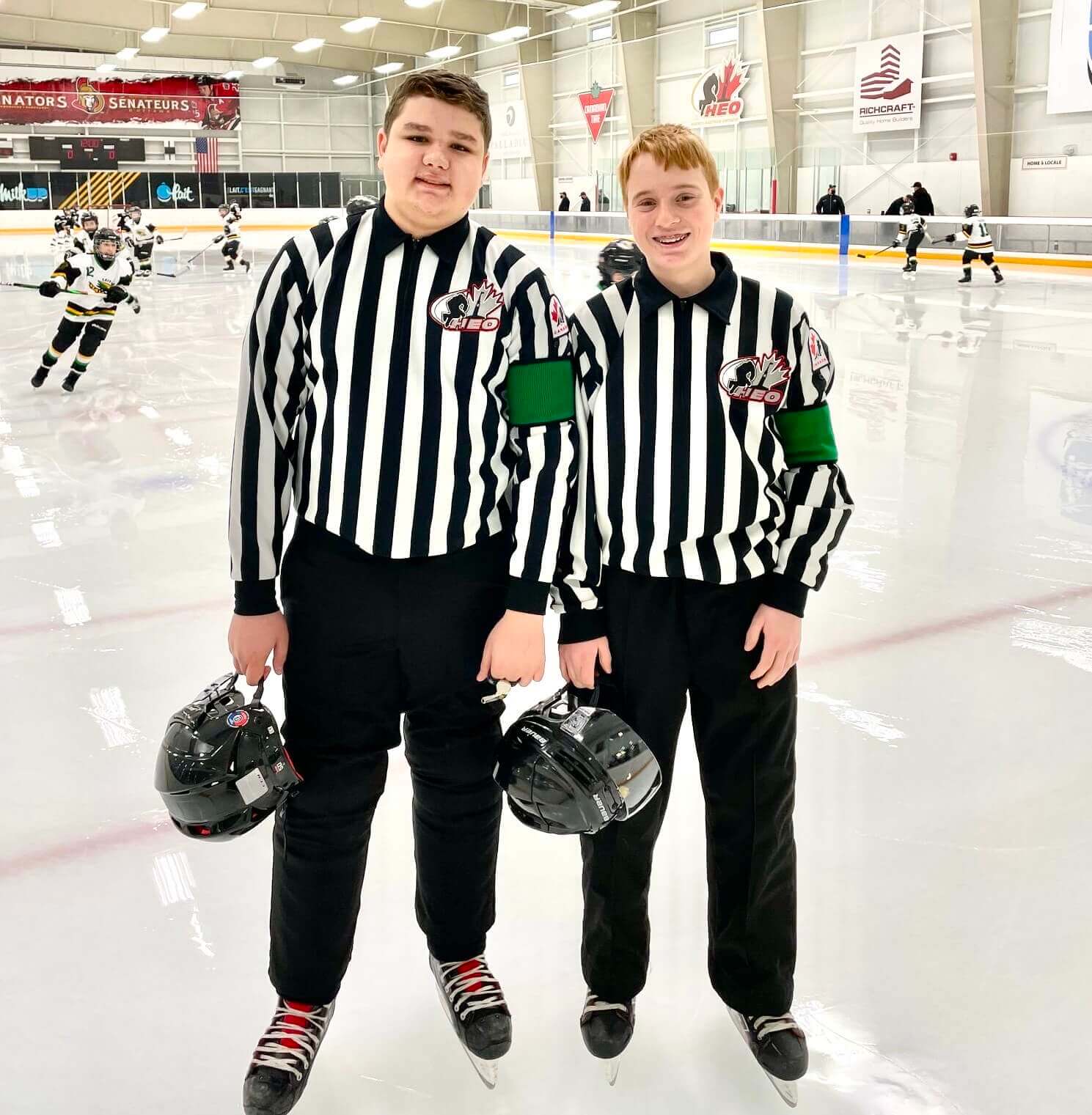 Photo by @heo_officiating; click to enlarge
More green: Meet Eric Beaudin (left) and Malcolm Ouellet, two of Hockey Eastern Ontario's new officials. As you can see, they're wearing green armbands, but it has nothing to do with St. Paddy's Day. The green bands indicate that they're under 18, which is part of an HEO initiative to eliminate abuse and harassment of officials. Interesting!
(My thanks to Wade Heidt for this one.)
• • • • •
• • • • •
Click to enlarge
One of my favorite readers: I first met Marty Hick in 2007, when he attended a Uni Watch party in St. Louis (to which he wore a Cardinals helmet necktie and brought a bunch of notebooks filled with amazing uni-centric drawings). Since then, we've become good friends — I've stayed at his house, played in his croquet league, written about his jersey-themed cakes and Uni Watch-themed pinewood derby car, and more. He's a total peach of a guy with an amazing creative mind, and one of the really special people I've gotten to know through Uni Watch.
Marty and his family are currently in NYC for a vacation, so I invited them to join us for a little pre-birthday party that I threw for myself last night. It was such a treat to see them! Thanks for coming out, Marty — you're the best.
• • • • •
• • • • •
The Ticker
By Jamie Rathjen

Baseball News: SNY has a new scorebug (from Raúl Cedas). … In Taiwan's Chinese Professional Baseball League, Rakuten Monkeys P Bradin Hagans has "Häagen-Dazs," with an ice cream emoji, as his NOB for spring training (from Jeremy Brahm).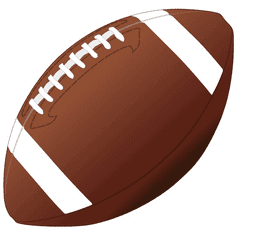 Football News: Yesterday's episode of the TV show Killing Eve had one of the characters wearing what looked like a blank Steelers jersey (from L.J. Sparvero). … Ohio State has a new Ohio Stadium 100th-anniversary logo. It's not yet clear if it will be worn as part of the team's uniform.

Hockey News: Capitals C Nicklas Bäckström lost a helmet ad toward the end of yesterday's game (from Jonathan Sluss). … The PHF's Connecticut Whale wore pride jerseys over the weekend. … The next two are from Wade Heidt: The OHL's Flint Firebirds dressed like Spider-Man on Saturday, but in their team colors of orange and blue. … The Junior A British Columbia Hockey League's Victoria Grizzlies wore camouflage jerseys on Saturday. … Reader Brandon Weir sent us a 1928 picture of Indigenous Cree and Ojibwe teams.

Basketball News: Houston/Illinois in the men's NCAA tournament yesterday was one of several color vs. color games so far (from Karl Greenfield). … You may have seen during viewing party shots for Saint Peter's men's team that the school's arena is called "Run Baby Run Arena." Why is it called that? The arena opened at the beginning of this season with a donation from a member of the 1967-68 men's team. The name is a reference to that team, which achieved one of the school's previous most famous victories, over Duke in the 1968 NIT quarterfinals (from @bryanwdc).

Soccer News: The NWSL's OL Reign wore "Protect Trans Kids" warm-up shirts on Friday. … One of the NWSL's new teams, the San Diego Wave, played its first game on Saturday. The team has not actually revealed any kits yet, but wore mono-white on Saturday and also wore this blue shirt in preseason. … NWSL teams are also wearing a 10th-anniversary patch at the bottom of the shirt on either side. … New shirts for Sweden's BK Häcken. … Scottish club Heart of Midlothian's men's team wore their third kit at home on Saturday as part of a fundraiser for the club charity. … Elsewhere in Scotland, Rangers fans threw toilet paper and tennis balls onto the pitch yesterday during their men's team's game to protest a proposed Australian friendly tournament next season. … FC Barcelona and Real Madrid played in La Liga yesterday and neither wore their first kit, with Real wearing black and Barcelona wearing their occasional Catalan flag-themed shirts (from Justin Ganz). … Denmark's men's team is wearing a one-off white shirt March 29.


Ukraine News: Scottish soccer club Hibernian's women's team wore a yellow and blue kit at home yesterday and are to auction off the shirts to benefit the charity Dnipro Kids. Hibs fans founded the charity, which supports orphans in the Ukrainian city, after the men's team visited Dnipro for European competition in 2005. Their opponents Heart of Midlothian wore "We Stand with Ukraine" warm-up shirts. … The Bundesliga game between 1. FC Köln and Borussia Dortmund yesterday turned the center circle into a peace sign, a few weeks after VfL Wolfsburg did the same (from @sheds88).

Grab Bag: "One of the things that Japanese men's and women's volleyball teams do after winning is highlight the player with the win number in the team shot," says Jeremy Brahm. The women's team JT Marvelous doesn't have a No. 23 for win No. 23, so they improvised with Nos. 11 and 12.