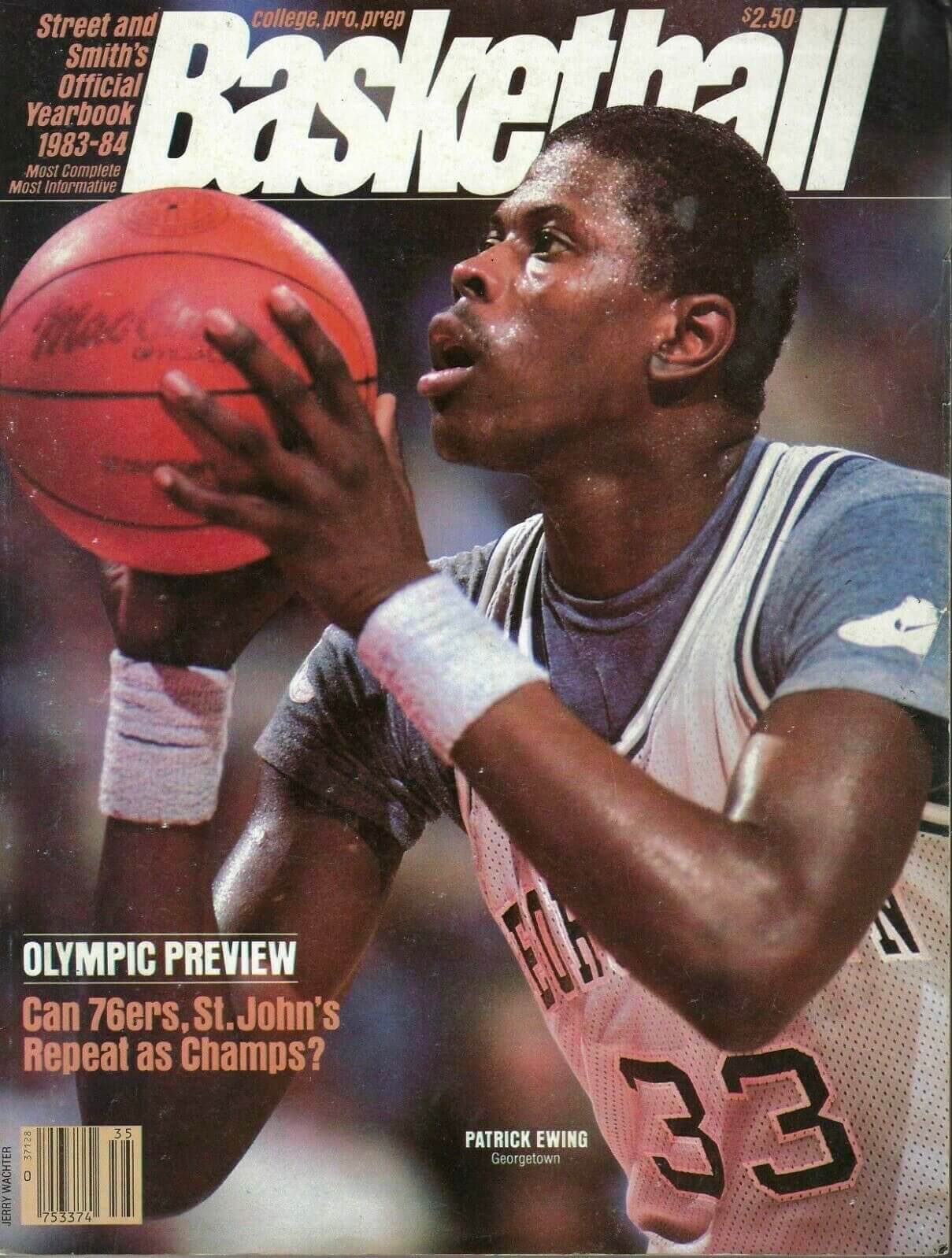 Click to enlarge
Good morning, and happy St. Patrick's Day! I'm looking forward to seeing lots of green today (including on the baseball diamond, where spring training games are slated to begin this afternoon).
Meanwhile: As we all know, Patrick Ewing famously wore a T-shirt under his jersey while playing for Georgetown in the early 1980s. But here's something I didn't know (or maybe just forgot): His T-shirts originally had logo creep, which led directly to the NCAA's current rules regarding commercial logos on uniforms.
Let's start with Ewing's T-shirt, which you can see in the photo above. In addition to the Nike logo on the sleeve facing the camera, you can see the same logo peeking out on the other sleeve. Here's another photo with a clearer view of the two logos: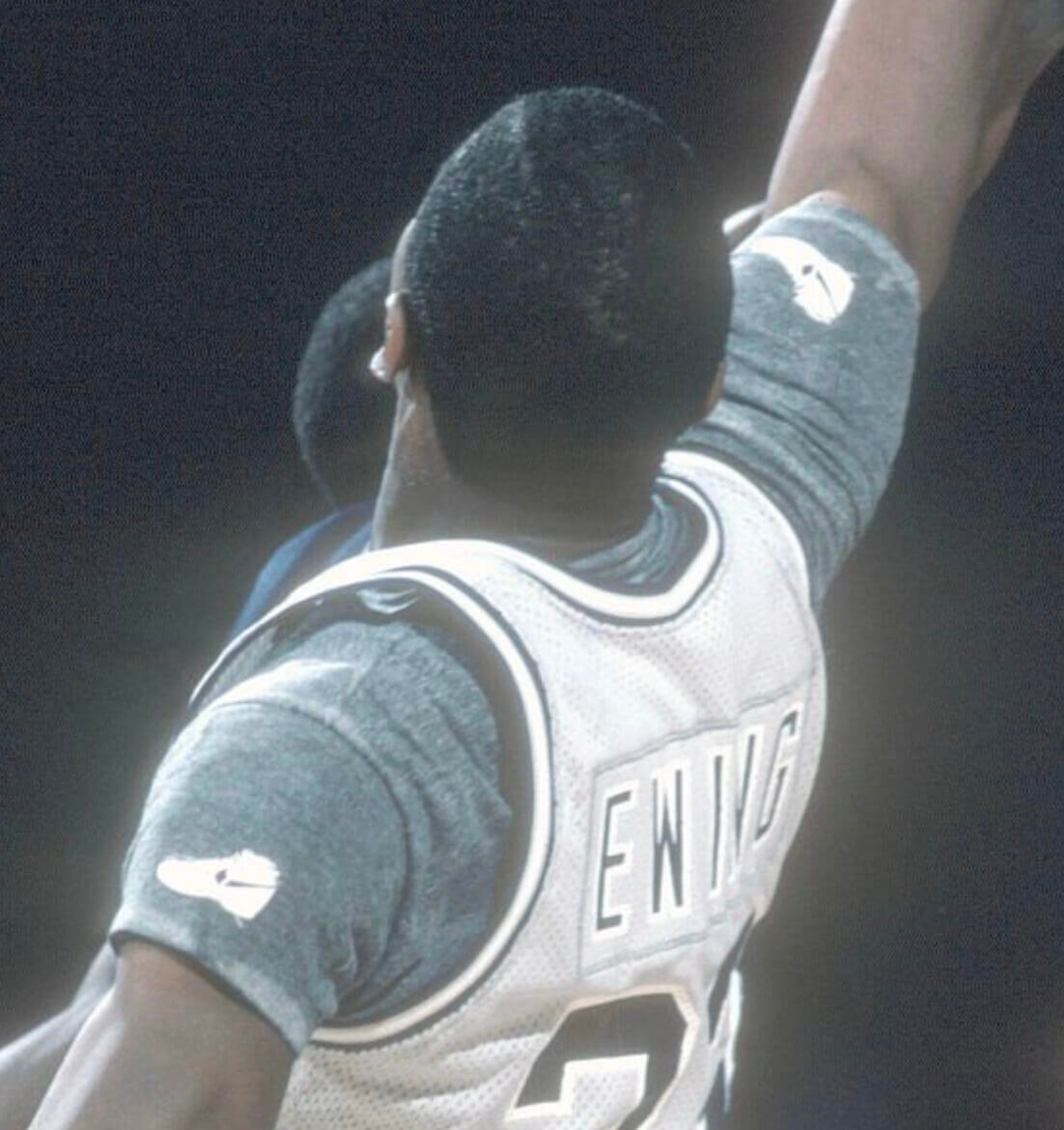 In addition to not remembering the logo creep on Ewing's sleeves, I don't even remember that sneaker-based Nike logo, in any context. (Also of note: Georgetown was using nameplates — rare for basketball!)
That double-logo undershirt ended up changing the NCAA rulebook. I learned that from a weekly newsletter called Athletics Veritas, which describes itself as being "aimed at helping higher education executives, faculty, and other stakeholders stay tuned in on trending national issues impacting college athletics, especially NCAA Division I."
Last week's edition of the newsletter, which was forwarded to me by Uni Watch reader Barry Quinn, asks whether it might be time for college sports to start allowing ad patches on uniforms. (Not surprisingly, the newsletter views it as "found money" and "potential riches" that "could have athletics directors salivating," with no concern for any aesthetic or cultural implications.) Along the way, they explore the history of the current NCAA regulation on basketball uniform advertising, which bars commercial logos except for the following carve-out:
A single manufacturer's or distributor's normal logo, label or trademark shall be contained within a four-sided geometrical space (i.e., rectangle) with an area that does not exceed 2¼ square inches and is permitted once on the game jersey, once on the game shorts and once on all other items of apparel.
As the newsletter explains, the rule's backstory can be gleaned from a lawsuit that Adidas brought against the NCAA in 1999. The newsletter quotes at length from the judge's ruling (which was in the NCAA's favor), but here's the most pertinent section:
In 1977, the NCAA had no specific rule addressing a student-athletes' wearing of apparel or use of equipment that bore a manufacturer's logo or trademark. However, the NCAA Constitution prohibited student-athletes from promoting commercial enterprises. In 1978, a member institution questioned whether the wearing of a uniform bearing a manufacturer's logo constituted the promotion of a commercial product. In response to this inquiry, the NCAA concluded that as long as the logo on the uniform was the same logo generally available on that product to the public, it would not be considered promotion of a commercial product. This rule applied to equipment as well as apparel.

The rule governing the use of logos on apparel changed in 1983. The precipitating event involved Patrick Ewing, a basketball player at Georgetown University. During a college basketball game, Ewing wore a Nike T-shirt under his uniform that bore Nike's logo on each shoulder. When the Ewing incident came to the attention of the NCAA Eligibility Committee, which is made up of representatives of member institutions, the committee reviewed the logo question to develop a new standard. In its 1984-85 Manual, the NCAA changed its existing logo rule and included a case study, known as Case No. 40, to explain the new rule's restrictions governing the size and number of logos that could be worn by collegiate athletes in NCAA competition.
Interesting! Sure enough, I found some articles from 1983 about Ewing suddenly being told to keep his T-shirts free of logo creep. The thinking, apparently, was that the T-shirt was neither an official part of the uniform nor a piece of equipment — hence no maker's mark was permitted.
Again, I have no memory of any of this. I just remembered that Ewing wore a T-shirt under his jersey in college but wasn't allowed to do so in the NBA (even though that look is common among today's NBA players). Did everyone else already know this?
The newsletter also helpfully includes this graphic showing the current NCAA jersey regulations (including the size restriction for the maker's mark; click to enlarge):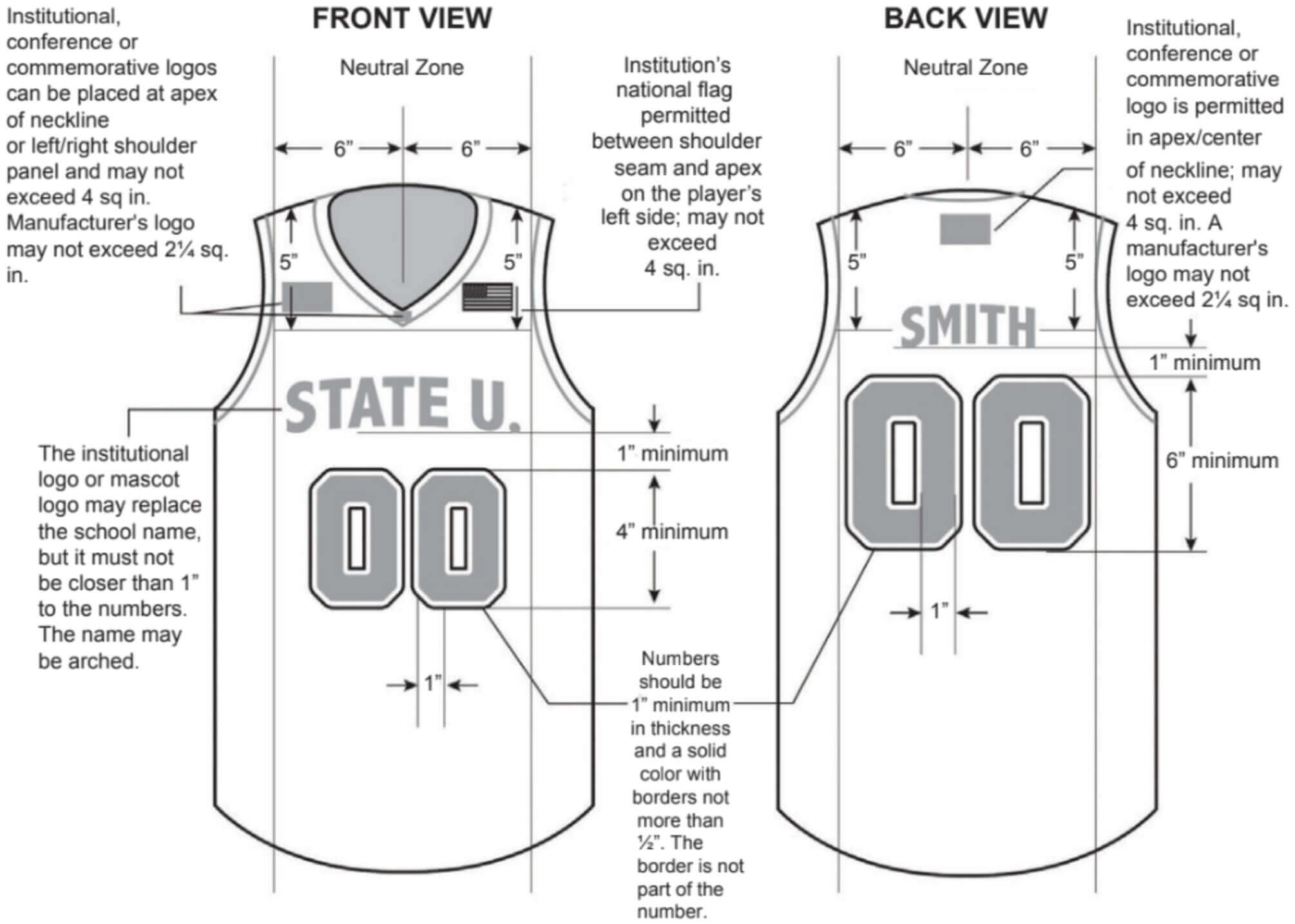 Meanwhile, you may be thinking to yourself — as I was — "Wait a minute, college football bowl game patches include corporate logos and sure look like they're more than 2¼ square inches!" Let's go back to the 1999 judge's ruling:
In 1989, Bylaw 12.5.4 was amended to allow student-athletes to wear competition-identification materials such as football bowl-game patches that include the name of the event's sole corporate sponsor. The NCAA allowed the wearing of bowl-game patches even though they represented a second commercial logo on the uniform and routinely exceeded Bylaw 12.5.4's size restrictions.
Or to paraphrase Nancy Reagan's press secretary, they set their own little rule and then they broke their own little rule.
As a parting thought: I suspect we're going to see more rumblings about uni ads coming to the NCAA — in part because that's just the trend throughout the sports world and also because the new NIL rules have stripped away the last veneer of amateurism in college sports.
(My thanks to Barry Quinn for forwarding the Athletics Veritas newsletter to me.)
• • • • •
• • • • •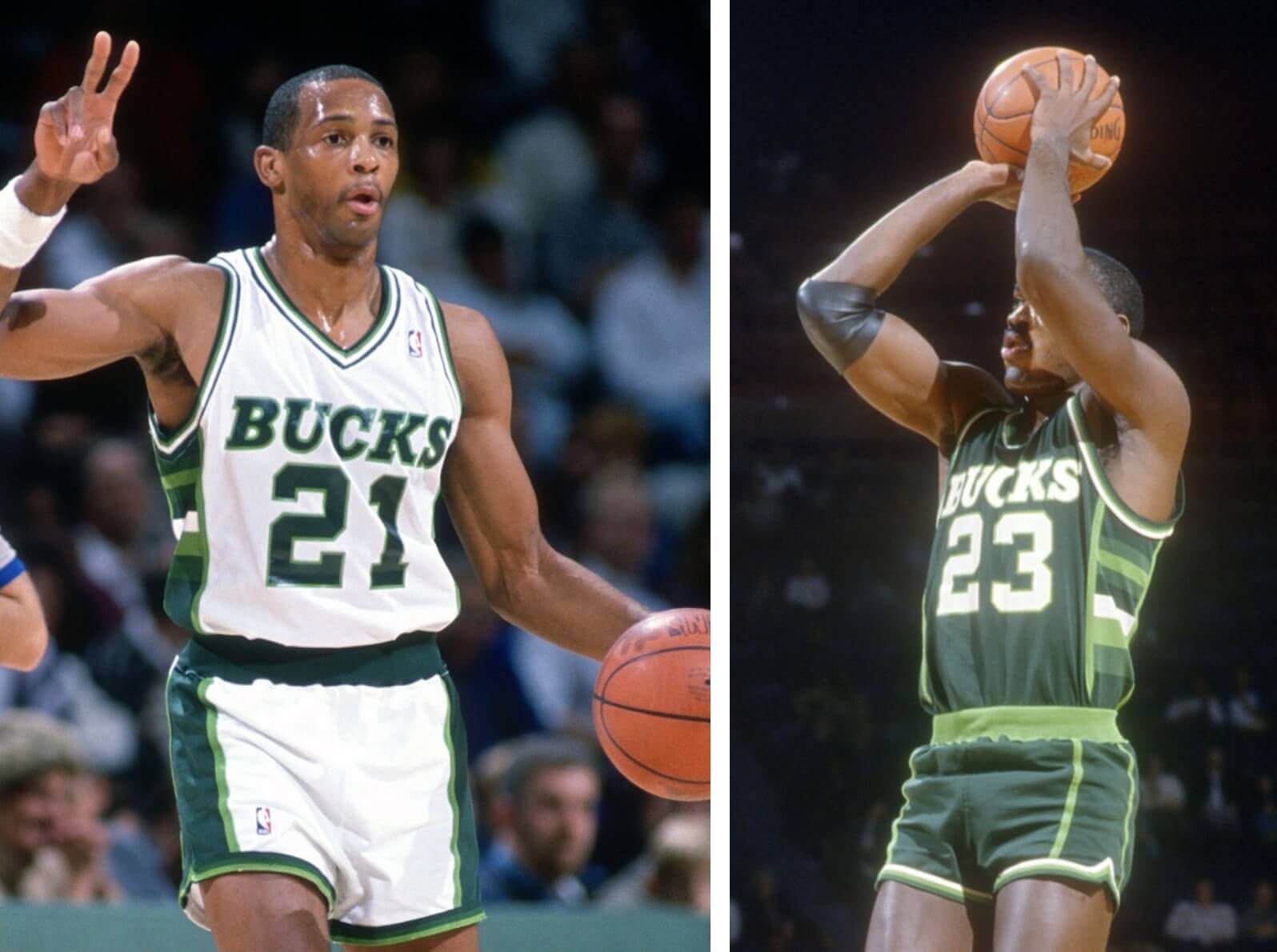 Green reminder: Just in time for St. Paddy's Day, I've ranked the 35 best green uniforms of all time for this week's Bulletin column. In addition to the usual suspects you'd expect to see from the Big Four pro leagues (including the Bucks' famous "Irish Rainbow" set, shown above), the rankings also include entries from college football and basketball, soccer, lacrosse, cricket, boxing, golf, tennis, auto racing, horse racing, rugby, the Olympics, and more. Even if you don't like green as much as I do, I think you'll really like this one! I hope you'll check it out.
This piece has already generated a lot of good comments and discussion. My Premium Subscribers can read it here. If you haven't yet subscribed, you can do that here, but you'll need a Facebook account in order to pay. If the Facebook requirement is a dealbreaker, email me and I'll let you know about non-Facebook payment options and possible workarounds. Thanks!
• • • • •
• • • • •
The Ticker
By Paul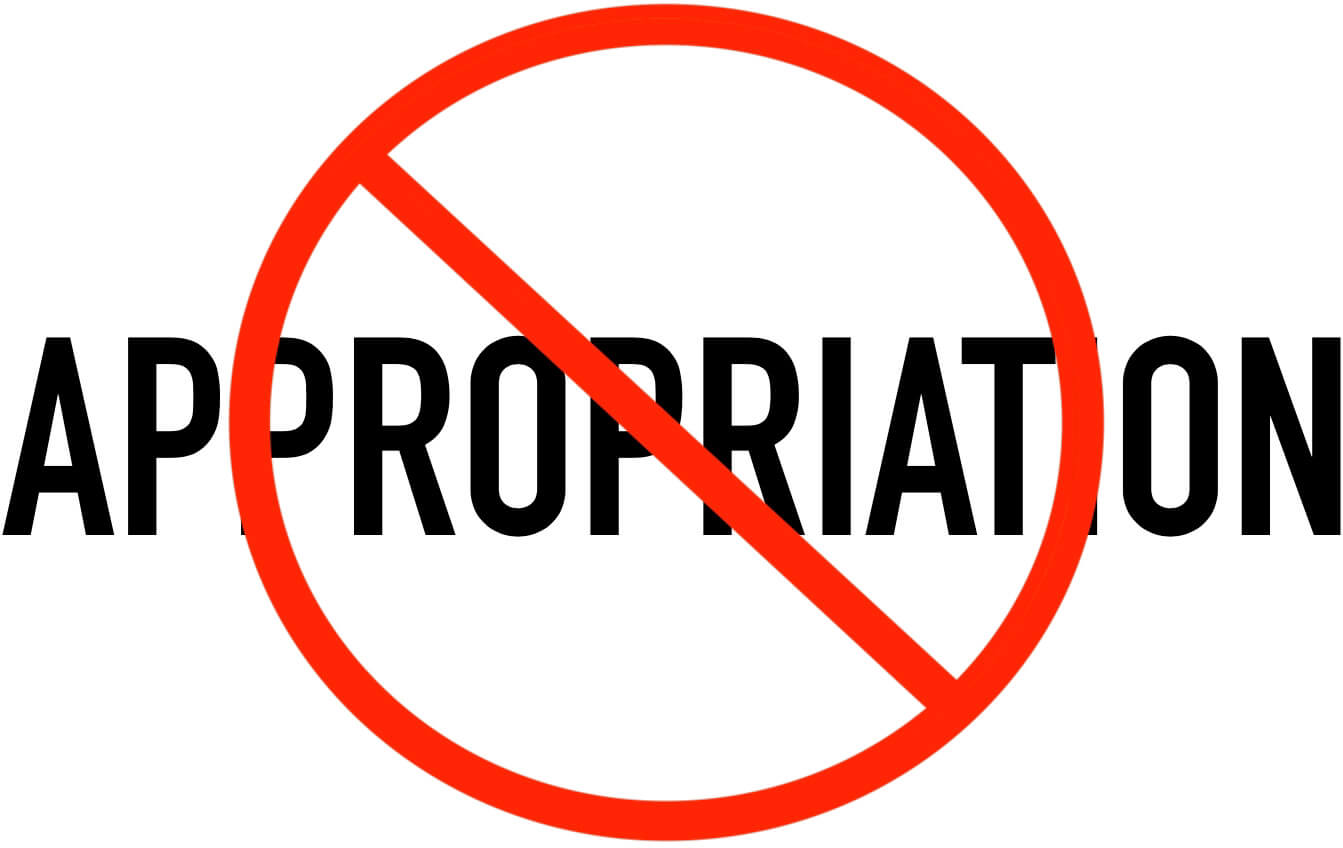 Indigenous Appropriation: Arrowhead Middle School in Kansas City, Kan., will no longer call its teams the Apaches (from Kary Klismet). … Also from Kary: Schools in Montville, Conn., will no longer call their teams the Indians.

Ukraine: UK telecom company Three has repeated its call to have its ad removed from EPL club Chelsea's shirts immediately, following sanctions being applied to Russian oligarch and Chelsea owner Roman Abramovich.

Baseball: As of now, unvaccinated Mets and Yankees players will not be allowed to play in New York. … Here's some great color footage of the Cardinals' uniforms being hung in the players' lockers in 1954 (from the great BSmile). … The 11 minor leagues will go back to their original names this season, plus there's a new logo for the Pacific Coast League (from Mike Chamernik and Jason Hillyer). … The Triple-A Omaha Storm Chasers will have corn-themed jerseys on June 11. … The Single-A Down East Wood Ducks have a new Mighty Ducks-style logo (from Brian Weingartz). … New uni number for Nats P Erick Fedde, who's changing from 23 to 32 so newly acquired DH Nelson Cruz can wear 23 (from John Muir). … A group in Hagerstown, Md., is seeking to halt plans to demolish Municipal Stadium, one of the few remaining stadiums to have hosted Negro Leagues games (from Kary Klismet). … At the 32:33 mark of this video, you can briefly glimpse the only flannel uniforms that the Rangers ever wore, from spring training of 1972. "They had 'Senators' removed from the 1971 jerseys and replaced with 'Rangers,'" explains W.W. McClyde. "The double-knits debuted with the regular season." … As I predicted last week, one of this season's newly scheduled doubleheaders will have a weird home/road split. Key passage: "The Tigers and Athletics will play an unusual doubleheader at Comerica Park on May 10, with Oakland the home team in the opener to make up a game from April 4 and Detroit the home team in the nightcap to make up a game moved from May 10." Remains to be seen how they'll handle the uniforms.

NFL: Yesterday was the 52nd anniversary of NOBs becoming mandatory in the NFL. … Newly acquired Broncos QB Russell Wilson tweeted a photo of himself and his family wearing his new team's colors (from Marcus Hall).

Hockey: Gross: The Blue Jackets will announce their 2022 jersey partner advertiser on Saturday (from Mike Chamernik). … Green St. Paddy's day uni for the Ottawa 67's (from Wade Heidt). … The Maple Leafs will apparently be wearing St. Pats throwbacks tonight (from Kirk Burgess). … The Leafs' AHL affiliate, the Toronto Marlies, will also be wearing green for St. Paddy's Day. … Speaking of the Leafs, gotta love the very subtle umlaut on G Erik Kallgren's NOB (from John Muir). … New mask for Panthers G Spencer Knight (thanks, Brinke).

College Hoops: Here's a uni tracker for the men's March Madness tourney (from Brandon Wright-Rowan). … Here's a ranking of the 68 mascots in the men's NCAA tourney, along with a bracket filled out according to how tasty the mascots would be to eat (both from Kary Klismet). … … Unsurprisingly, the most common team colors in the men's tourney are blue and red (from Colin McDonough). … "Virginia's men's team played Mississippi State in the NIT last night," says proud UVa alum Jamie Rathjen. "The venue was switched because Mississippi State started construction on its arena, so Virginia wore blue at home."

Soccer: Italian side Pescara has a new shirt celebrating — get this — the 10th anniversary of its kit-supplier deal (from John Flory and Kary Klismet). … Also from Kary: Here's a retrospective of Italy's men's national team kits over the last 20 years. … One more from Kary: New home kits for the Ireland men's and women's national teams.

Grab Bag: From our own Jamie Rathjen: "Apparently some Irish men's county teams in both hurling and Gaelic football are wearing throwbacks this weekend for what would be 30 seasons of the National Football League (yes, there is another one) and the National Hurling League having their current advertiser. Any reason to wear throwbacks, I guess." … The McLaren F1 team will now have Google-themed wheel covers (from @VictoryCB). … Dixie State University in Utah, which recently dropped "Rebels" as its team name, has replaced an on-campus sculpture of a Confederate soldier with one of its new mascot, a bison (from Kary Klismet). … Also from Kary: Valencia College in Orlando, Fla., is inviting the public to vote on a new mascot for the school. … NASCAR driver Ty Dillon's latest car advertiser is — get this — Alsco Uniforms. Green paint scheme to boot! (From Mike Kowalski.)