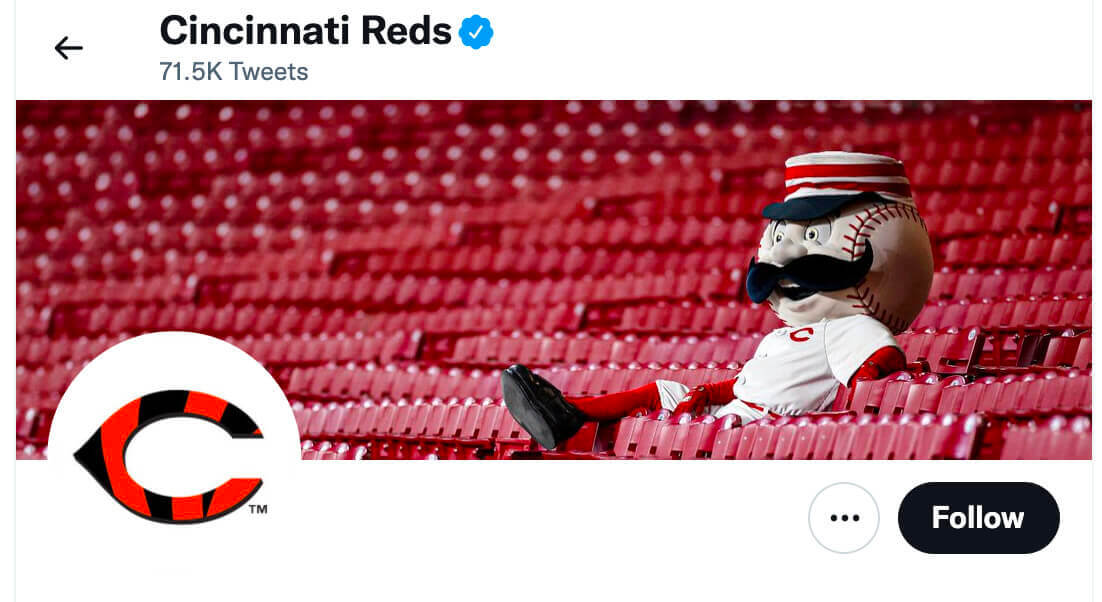 Nice move yesterday by the Reds, who supported the Bengals' Super Bowl run by adding tiger stripes to their wishbone-C logo on social media (see above).
But as many fans quickly pointed out, that's a little confusing because the Bears also use the wishbone-C. Fortunately, longtime Uni Watch reader Dan Pfeifer came up with a completely brilliant solution last night:
Alright, you made this #brewers fan go to his computer and do it.

Allow me to present a better alternative for the @Reds to show their @Bengals spirit.

Ladies & gentlemen: Mr. Bengal.

I'll accept an all-expenses paid trip for two to #SBLVI as payment. #MrBengal #bengals pic.twitter.com/UQhVOTwBHo

— Dan Pfeifer (@MUPfeif) February 4, 2022
Is that genius or what? So simple, so good!
And that isn't the only great Super Bowl-related idea put forward yesterday by Uni Watch readers. Late yesterday afternoon, reader Glenn H. posted a comment on the blog that most of you probably didn't see, so I'm going to reprint it here:
I want an ad during the Super Bowl where Matt Ryan steals the Rams' dishwater jerseys, and then he, Stone Cold, and Ice-T throw them into an industrial washer with a five-gallon pail of Tide and they come out pristine white.
That would be the best uni-based ad ever! Here's all the storyboarding you need: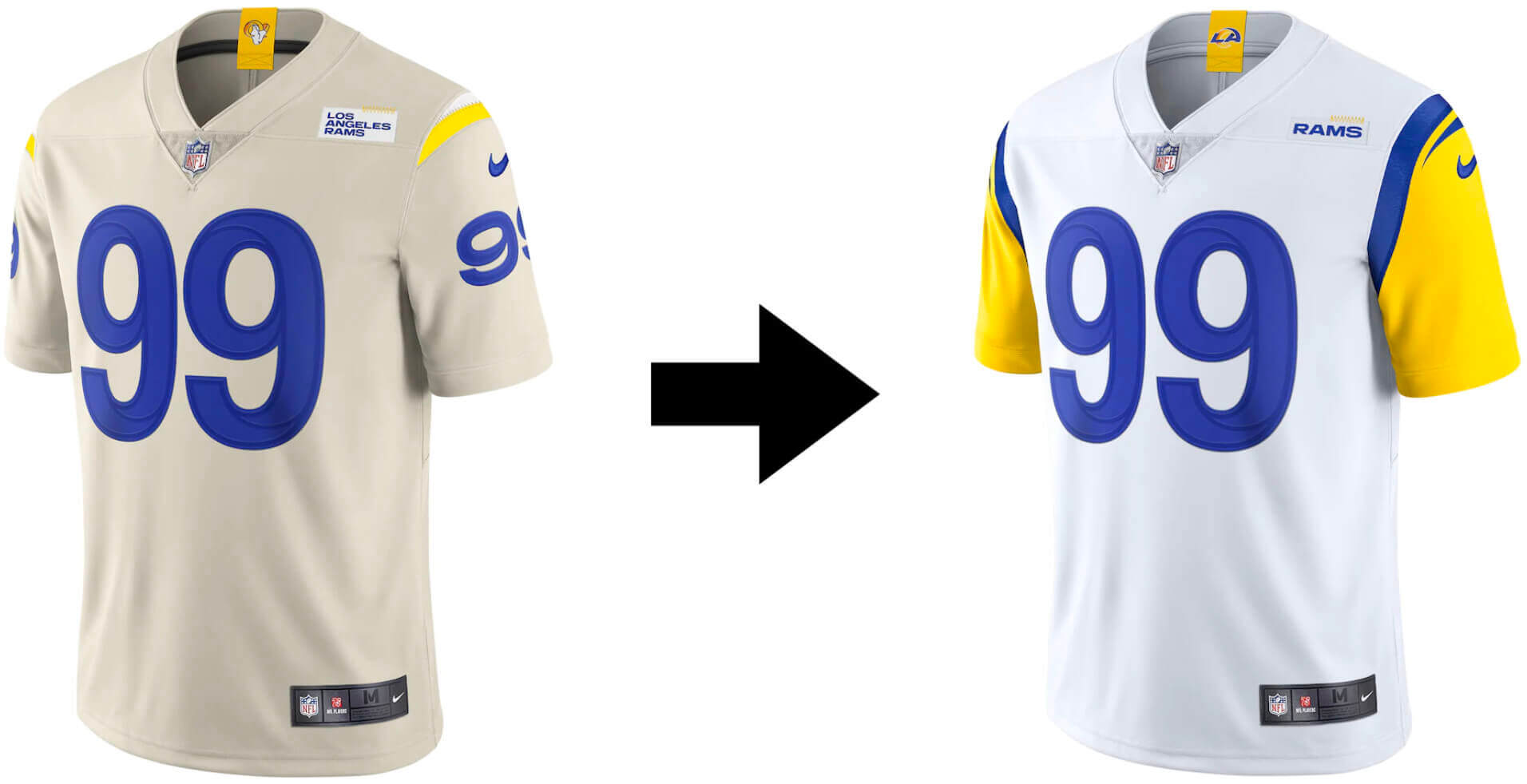 I love this. And how great would it be if the commercial ran right before the Rams came out onto the field?
All of which just goes to show that the sports world would be a lot better off if Uni Watch readers were running it. What other good Super Bowl ideas can we come up with (aside from game-specific logos, obviously) Go!
• • • • •
• • • • •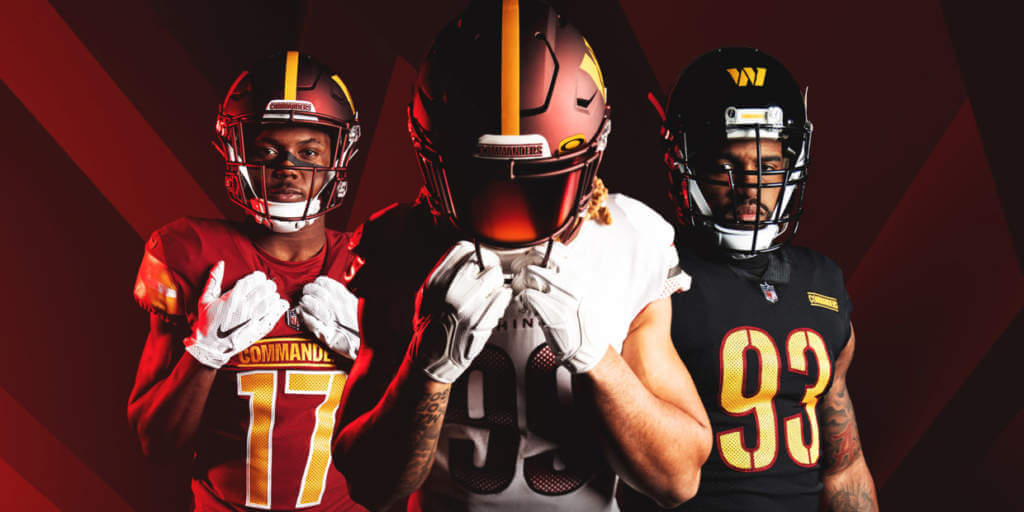 Commanders reminder: In case you missed it yesterday, I have a very detailed assessment of the Commanders' new team name and uni set. You can read it here on Bulletin, but you'll need a paid subscription to access the article (and you'll need a Facebook account to pay for the subscription).
If you haven't yet subscribed, you can do that here, or just click on the article link. If you want to subscribe but the Facebook requirement is a dealbreaker, I can let you know when a non-Facebook payment option is available — just shoot me a note and I'll keep you in the loop.
Thank you to everyone who subscribed yesterday (and in the preceding week). I'm grateful for your support, and I'm very pleased with how this is working out so far.
• • • • •
• • • • •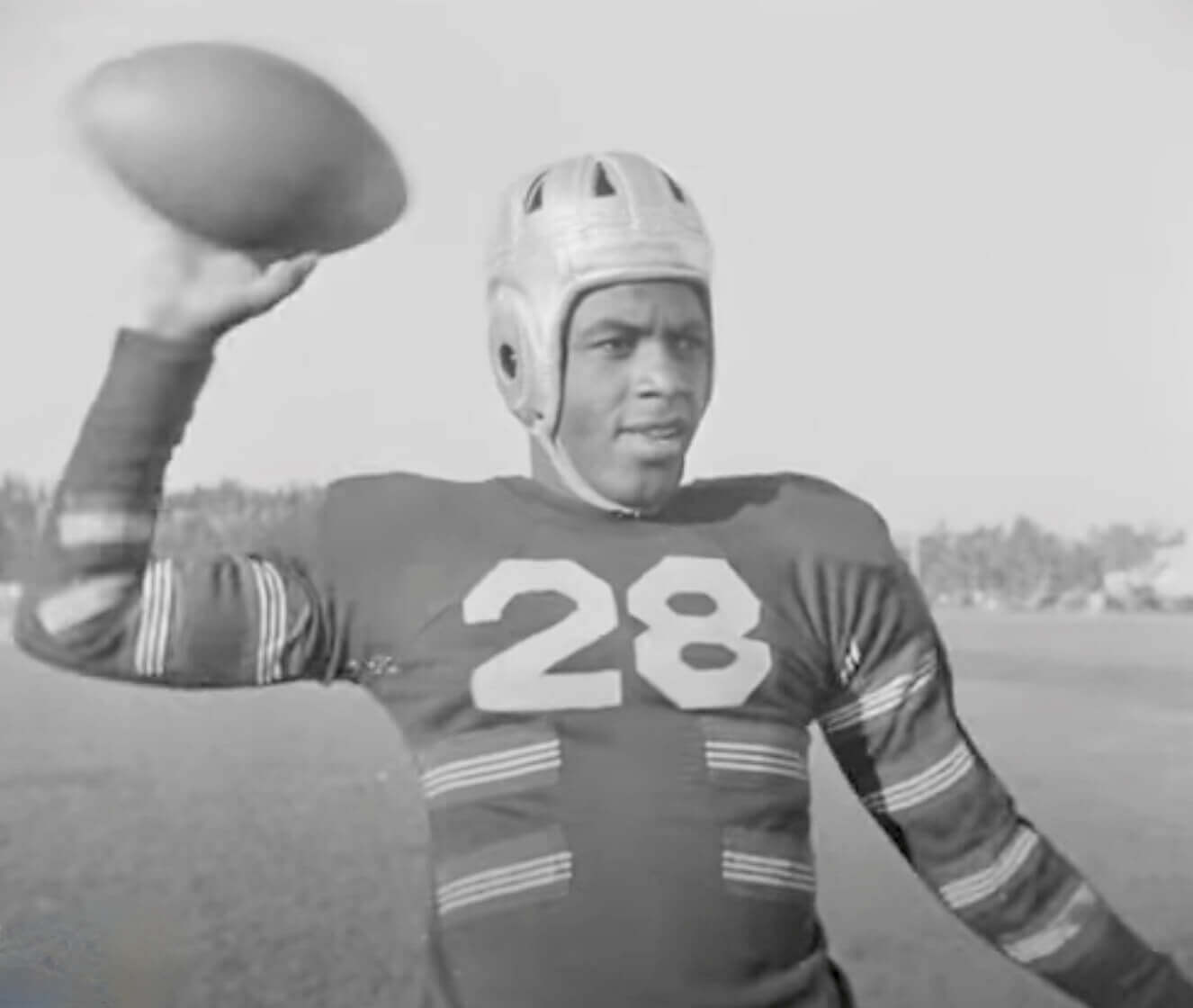 Click to enlarge
Too good for the Ticker: Who's that tossing the football around in 1939? None other than Jack Roosevelt Robinson himself, during his UCLA days!
Is that an amazing jersey or what? It's a "friction strip" model — the stripes were made of textured leather or canvas and were designed to reduce fumbles. They were eventually banned, but UCLA was apparently still using them for practices (not games) in '39.
That image is a screen shot from a short but wonderful video clip turned up by Uni Watch proofreader Jerry Wolper. Enjoy:
• • • • •
• • • • •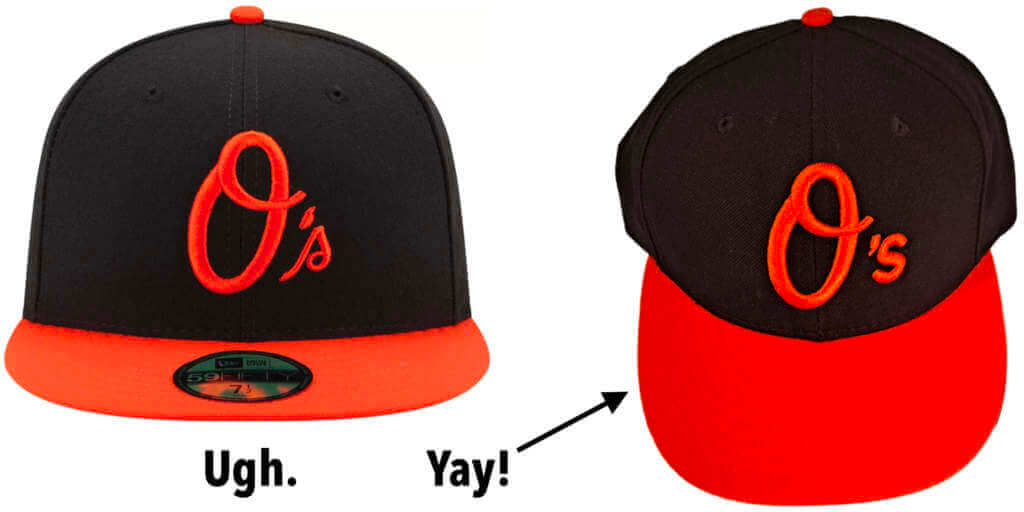 Click to enlarge
What might have been: For 17 years now, the upside-down apostrophe on the Orioles' cap (above left) has been quietly bugging the shit out of me. It's wrong, it makes no sense, and for some reason they refuse to change it. Grrrrrrrrrr.
But it didn't have to be this way. A reader who prefers to remain anonymous showed me a photo of a prototype O's cap that was recently posted on a private Facebook group (above right). The person who posted it to the group said:
The first iteration of the O's hat had an identical apostrophe-s as the A's hats. They were changed to their current look before they ever hit the field, but when they were unveiled in [late 2004], the apostrophe was right-side-up and the s was essentially in lowercase Arial font.
I have a vague recollection of the transition from the original apostrophe-correct unveiling to the on-field apostrophic-catastrophic version, or maybe I'm just imagining it. Either way, this new evidence indicates that they somehow botched the apostrophe when they changed to a cursive s. Gah!
If anyone connected to the Orioles wants to tell us more about this all-time uni botch, my door is always open. Discretion and anonymity assured, of course.
• • • • •
• • • • •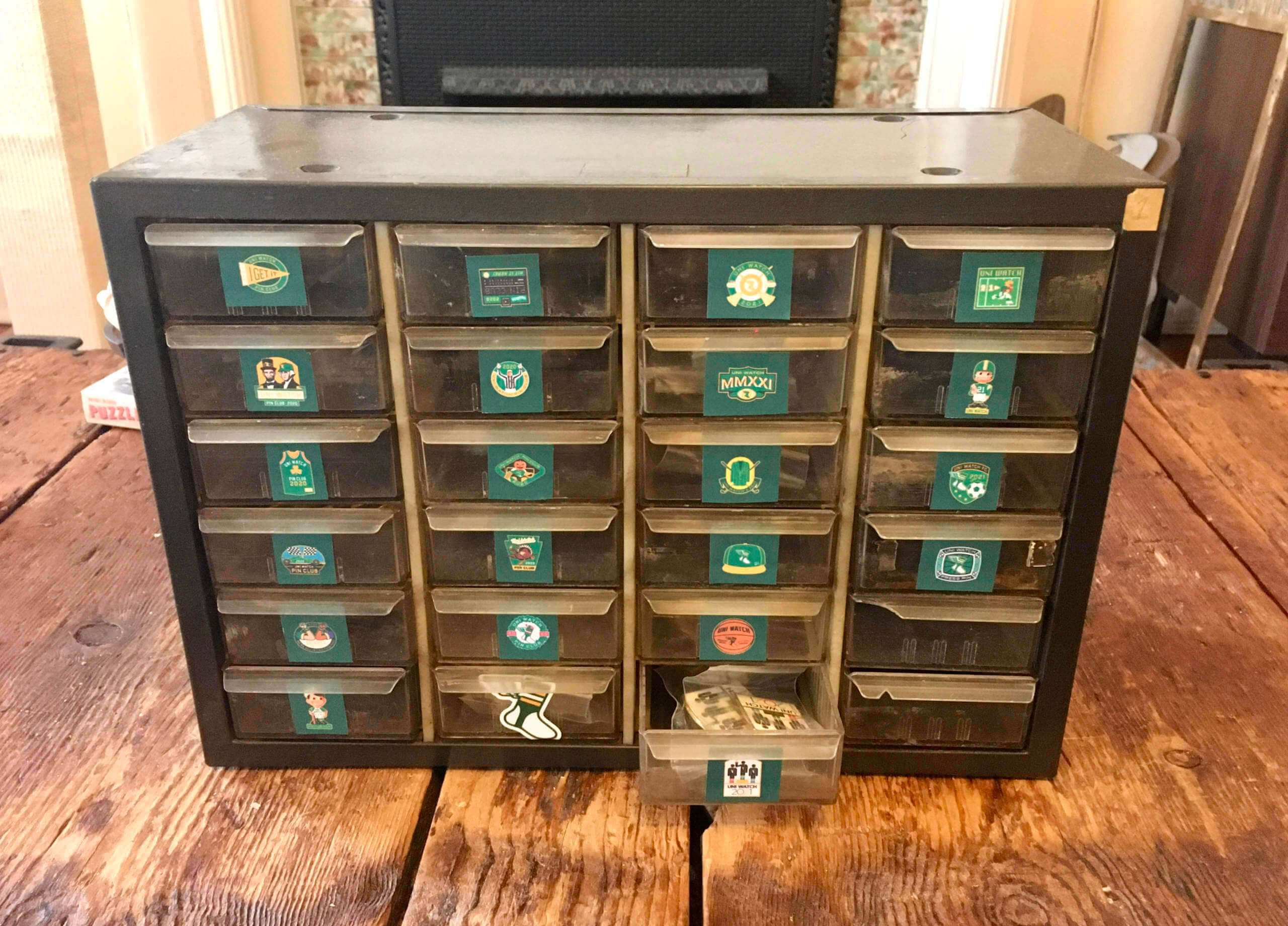 Click to enlarge
Pinventory reminder: There's something very satisfying about my new Uni Watch Pin inventory/shipping station. A drawer for every pin and a pin for (almost) every drawer — lovely, lovely.
As you probably know by now (but I'll say it again anyway), the pins are now available at deep discounts for multi-pin bundles. Full details here, or just click on the graphic below: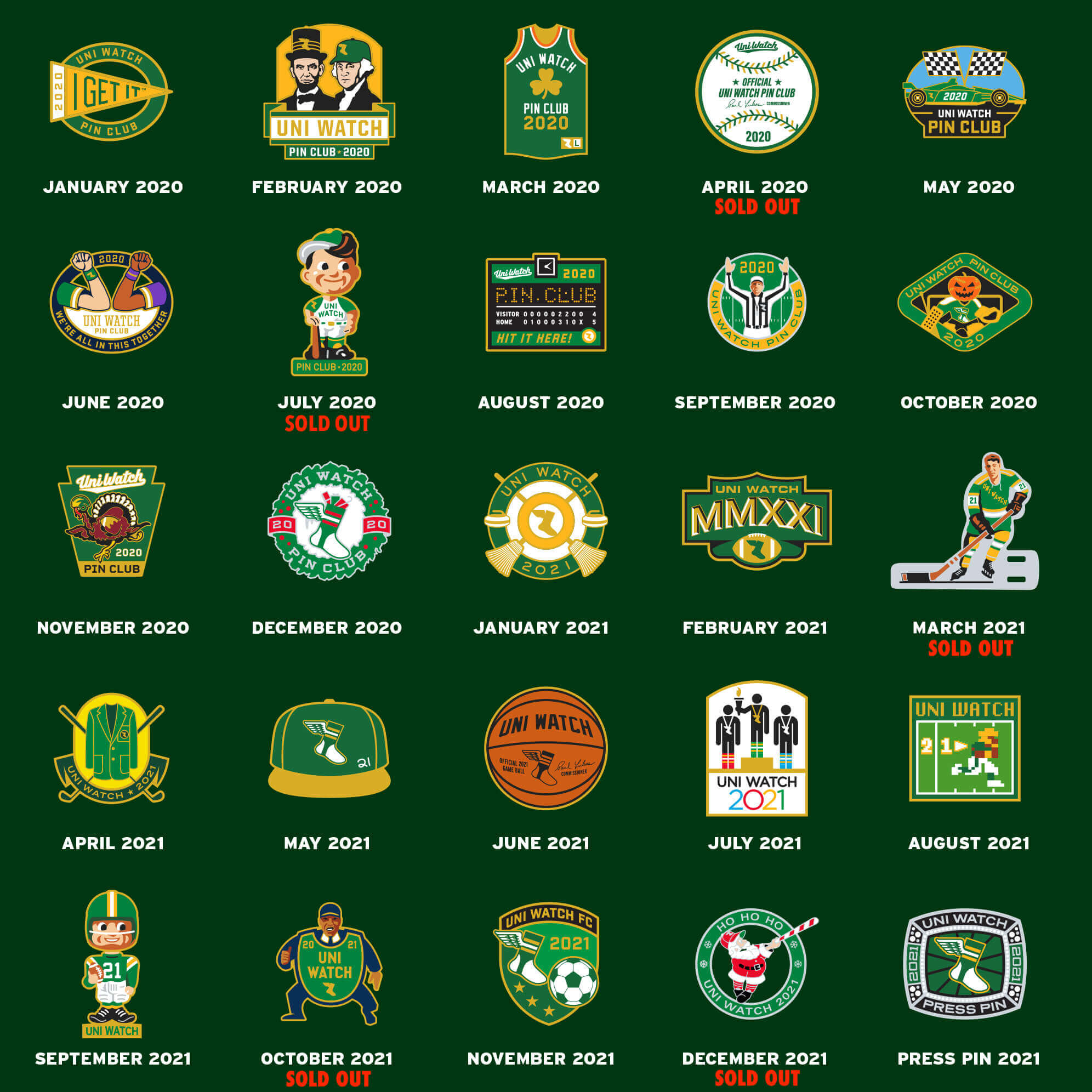 • • • • •
• • • • •
The Ticker
By Anthony Emerson

Baseball News: The White Sox are giving away hockey versions of their City Connect jerseys on April 30, assuming the lockout doesn't stretch that far (from @mcianfrini).

NFL News: Here's a bird's-eye view of the Super Bowl LVI field. Notably, the Rams will not have a green outline in their end zone (from Bryce Bement). … Brent Kivell noticed this Bud Light poster at a grocery store in St. Thomas, Virgin Islands, featuring a generic football player, a Titans player in a five-year-old uniform, and a Vikings player in Irv Smith Jr.'s No. 84 that doesn't appear to be him. Odd. … President Biden's granddaughter is promoting the First Dog, Commander, to be the mascot for the newly renamed Washington Commanders (from Kary Klismet).

Hockey News: The WHL's Calgary Hitmen have unveiled an Indigenous heritage sweater designed by two local Indigenous artists (from @TeebzHBIC). … Very hard to tell the teams apart in last night's Olympic women's hockey game between Denmark and China (thanks to all who shared).

Basketball News: The NBA has a new All-Star Game trophy, named after Kobe Bryant (from multiple readers). … Nebraska's men's and women's teams will wear commemorative uniforms for Black History Month (from multiple readers). … Rutgers men will also have one-off unis on Sunday for Black History Month (from multiple readers). … Alabama has released renderings of its new proposed basketball arena (from Kary Klismet). … Arizona has a player, Kerr Kriisa, who goes FiNOB. Kriisa was named after fellow Wildcat Steve Kerr, and wears Kerr's No. 25, which is presumably why the university allows him to wear his first name.

Soccer News: The Guardian has a great article about a Dutch soccer fan who has collected over 3,000 jerseys from around the world. This man is living my dream (from Bruce Adams). … New away kits for Waterford FC, a second-division Irish club (from Kary Klismet). … A blockchain company will pay over $27 million a year to advertise on Manchester United's training kits. … Speaking of Manchester United, Middlesbrough manager Chris Wilder has banned his players from swapping shirts with United striker Cristiano Ronaldo on the field for today's FA Cup tie between the two.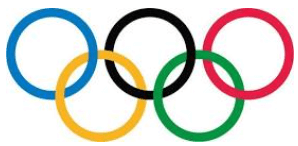 Olympics News: Forbes has ranked the most "stylish" unis at the Beijing games (from Kary Klismet). … A Taiwanese speed skater sparked outrage back home for wearing a Chinese uniform while practicing (thanks, Paul). … Cross-listed from the hockey section: Very hard to tell the teams apart in last night's women's hockey game between Denmark and China (thanks to all who shared).

Grab Bag: Southern Utah University dropped the colors turquoise and coral because they thought it was too difficult to source uniforms in those colors (from Josh Soelberg). … A selection of Cleveland sports memorabilia is going up for auction, covering 100 years of history (from Jason Hillyer). … The Global Cycling Network's annual "Hot or Not" rankings of 2022 team kits is up on YouTube, starting at about two minutes in (from David Barndollar). … The champions of the U.K.'s Netball Superleague from last season, Loughborough Lightning, have gold accents and cap numbers this season (thanks, Jamie). … U.S. Army soldiers can now wear nameplates on their Army Green Service Uniforms. … A large selection of Star Trek memorabilia is going up for auction, including several uniforms.
• • • • •
And that'll do it for this week. Stay safe, enjoy Phil's weekend content, and thanks again to all the Bulletin subscribers. See you back here on Monday. — Paul