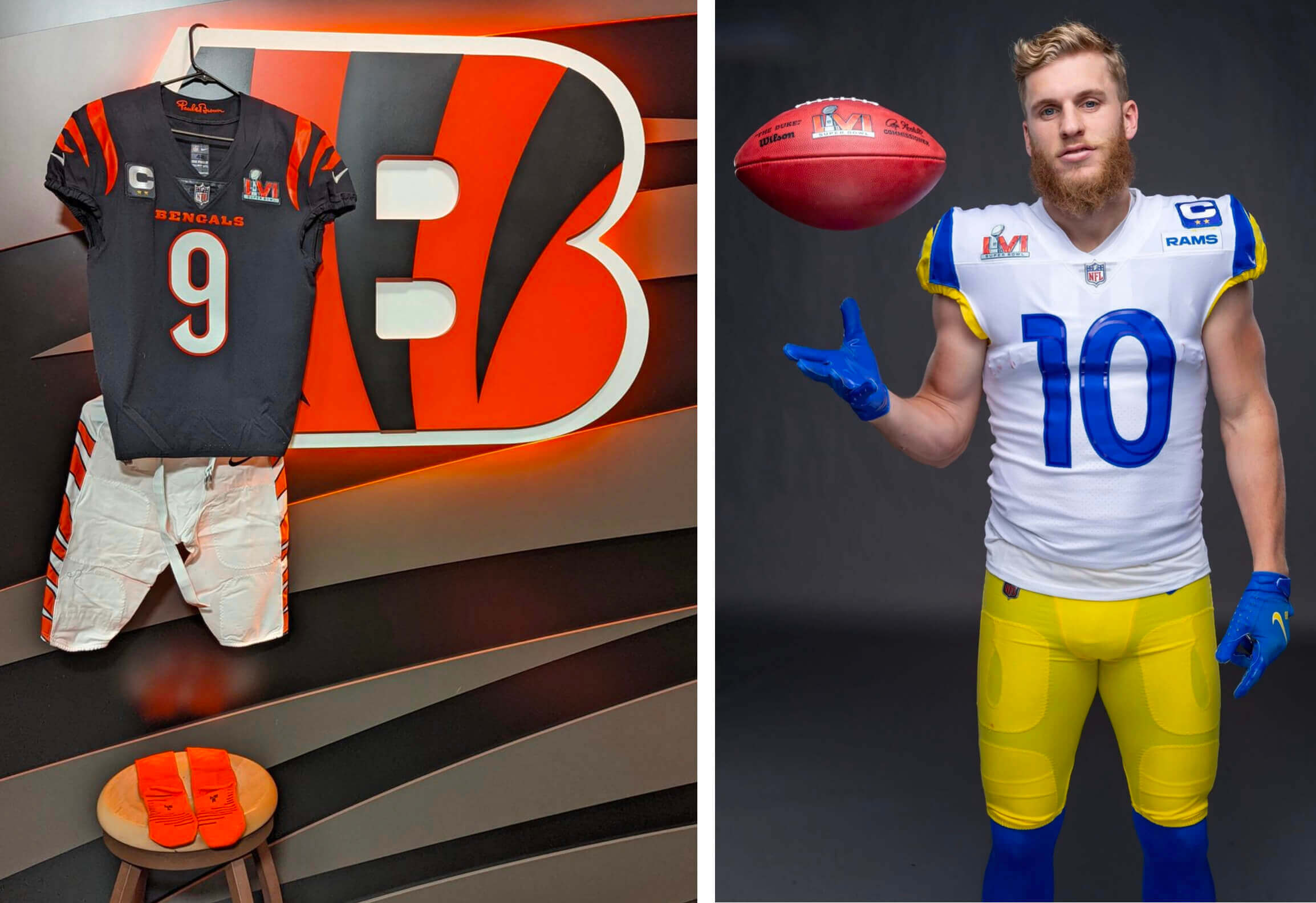 Click to enlarge
If you heard a noise in the background yesterday, it was probably all of America breathing a huge sigh of relief. That's because we now know that the Super Bowl will be dishwater-free — halle-freakin'-lujah!
Or to put it another way, the Bengals and Rams both tweeted their Super Bowl uniform combos yesterday. Cincy, who had first choice by virtue of being this year's designated home team, opted to go black over white, with the orange-striped white pants and orange socks. The Rams, thankfully, got whatever permission was needed to wear their white alternates (no, they're not "modern throwbacks," which is just a bullshit marketing term, so let's please not call them that here on Uni Watch — thanks).
Some thoughts:
• To my mind, this is the best possible uni matchup for these two teams. Given all the other possible outcomes, some of which were truly dreadful, I feel like the slot machine just came up with three cherries. It won't be a great-looking game (Raiders vs. Packers — that's a great-looking game), but it'll be aesthetically respectable and eminently watchable. Phew!
• We now know that this will be the first Super Bowl in which neither team is wearing TV numbers. (The Rams dishwater jerseys have TV numbers, but not the white or blue jerseys.)
• As you can see in the photo at the top of the page, the Rams' pointless chest patch will create a patch pile-up for the team's captains, similar to what KC captains dealt with two years ago.
Okay — now that that's settled, let's look forward to a good game! I'll have more thoughts on both team's uniforms (past and present) in my Super Bowl Preview next week.
• • • • •
• • • • •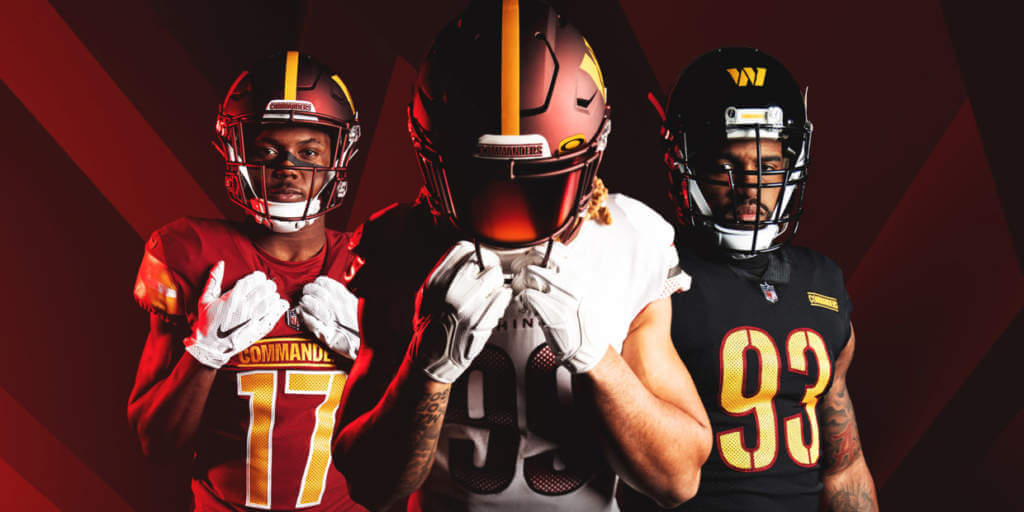 The day after: Well, that was quite a day, wasn't it? I spent most of yesterday working on a very detailed assessment of the Commanders' new team name and uni set. You can read it here on Bulletin, but you'll need a paid subscription to access the article (and you'll need a Facebook account to pay for the subscription).
If you haven't yet subscribed, you can do that here, or just click on the article link. If you want to subscribe but the Facebook requirement is a dealbreaker, I can let you know if/when a non-Facebook payment option is available — just shoot me a note and I'll keep you in the loop.
A few other notes on the Commanders' unveiling:
• If you want a good laugh, here's all the "storytelling" (click to enlarge):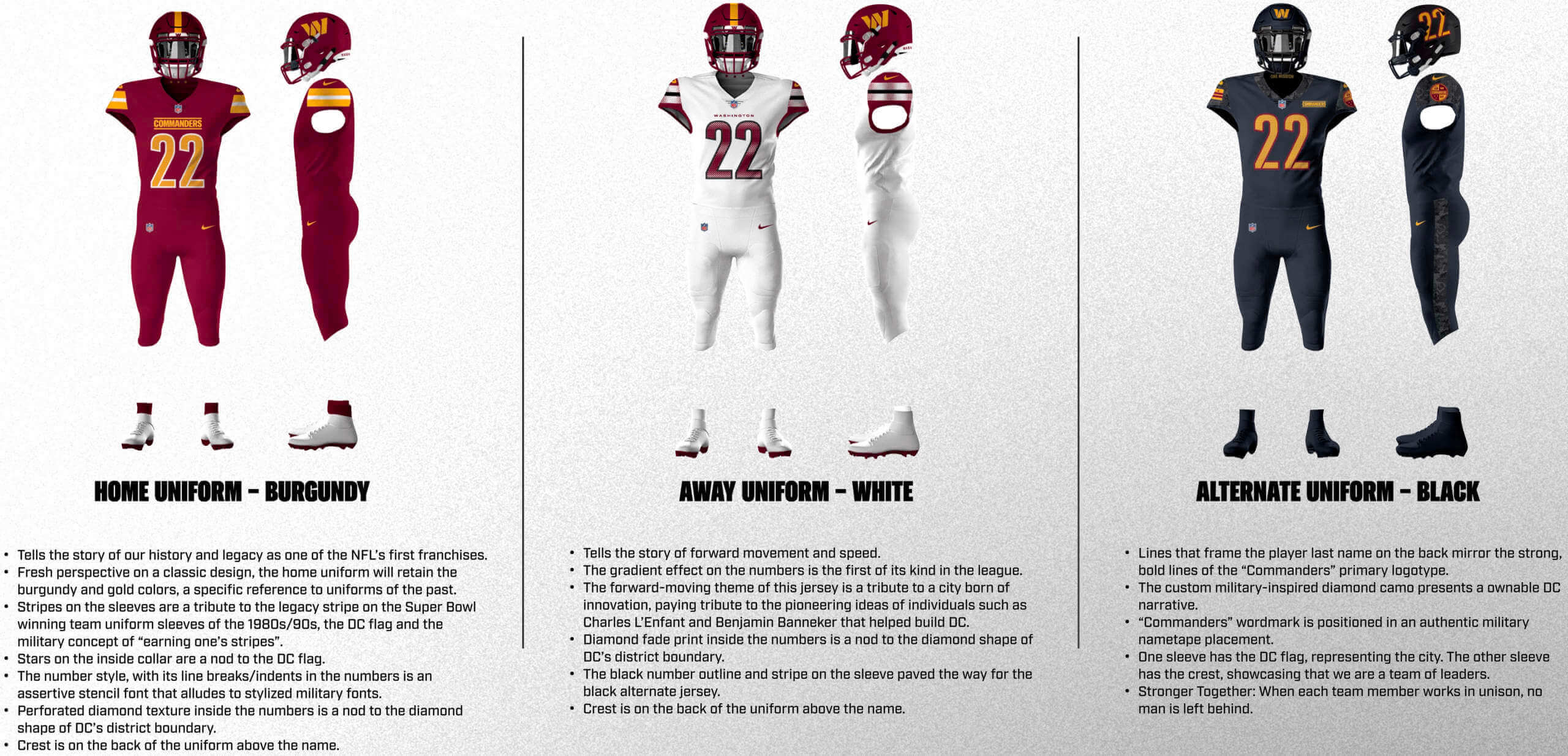 • The team posted these 17 photos of the new uniforms. As you can see, most of them don't even show the helmet, plus there are no non-mono uni combos included and no full-length rear views. Not a very good way to promote your highly anticipated new uni set.
• The two best stories I've seen regarding the design process are this one by ESPN and this one by The Washington Post. Of particular note, the ESPN piece mentions that the team plans to add a fourth uniform in 2024.
• Here's a good analysis of how the rebranding is "using the military as a deodorant," to cover up the stench of the team's assorted scandals.
• • • • •
• • • • •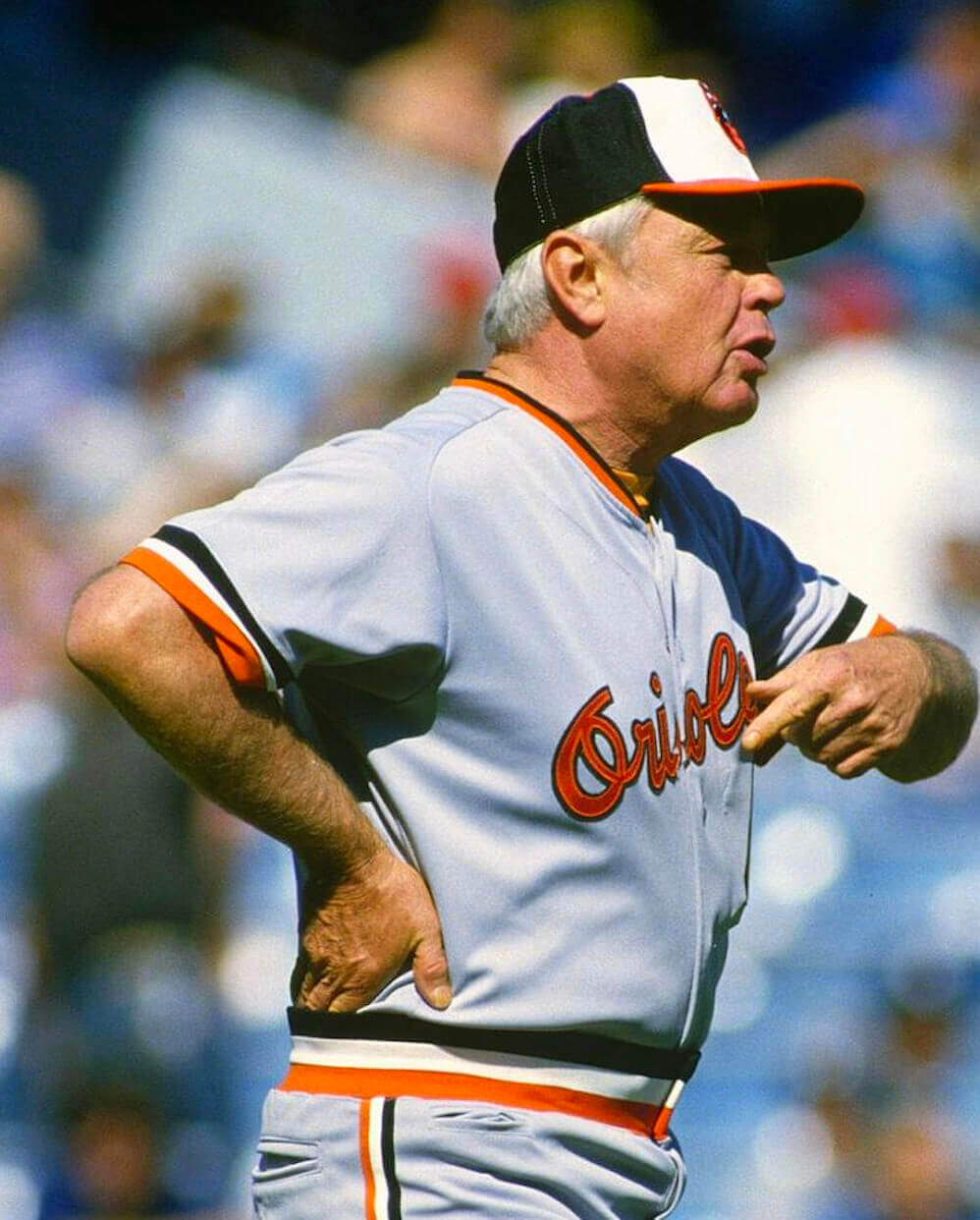 Click to enlarge
Pocket update: Reader Chris Hickey continues to be our (and, presumably, the world's) foremost MLB pants pocket scholar. Today he's turned up a real doozy: a photo of Orioles skipper Earl Weaver that shows his pants pocket and his jersey's inner cigarette pocket!
Speaking of pants-pocketed O's skippers, Chris also found a 1982 shot of Cal Ripken Sr. (with a very young Cal Jr.) with a little rectangle of something in his pocket: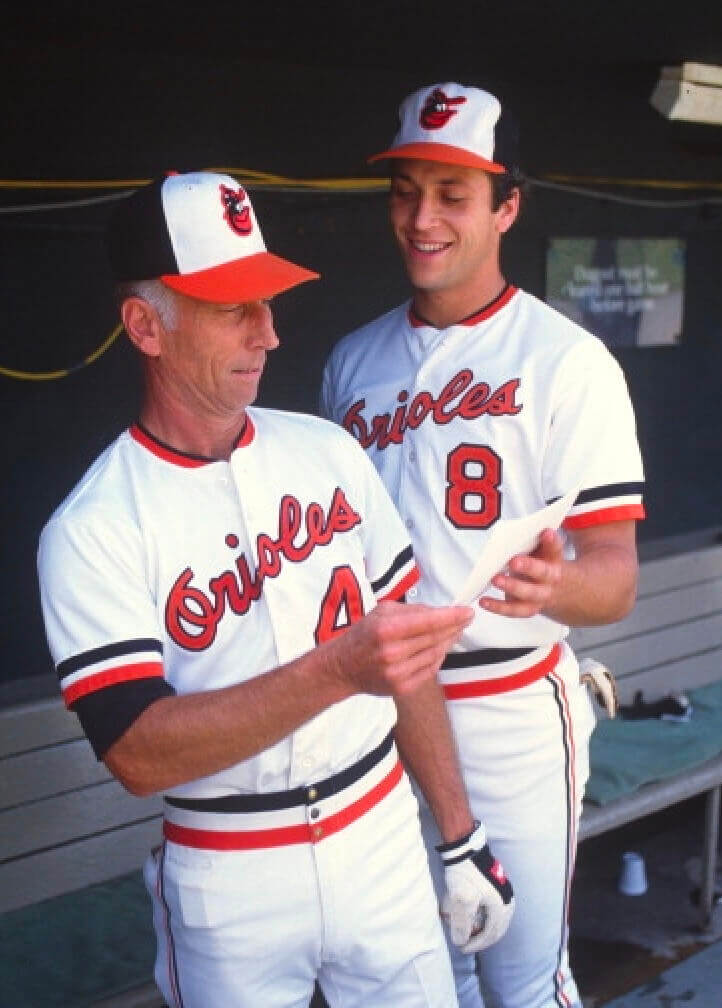 Keep it up, Chris!
• • • • •
• • • • •
The Ticker
By Alex Hider

Baseball News: The Giants will retire Will Clark's No. 22 in July (from Brinke). … In addition to playing as the "Orange Barrels" this season (as noted in yesterday's Ticker), the High-A Peoria Chiefs will also play as the Pork Tenderloins (from Taylor Pellerin and @mrmichael21). … The Great Lakes Loons, the High-A affiliate of the Dodgers, have announced their 2022 promotional schedule, which includes a "bobblebelly" of the team's mascot (from Alex Dewitt). … The Wisconsin Woodchucks of the Northwoods Baseball League — a collegiate summer league — have changed their name to the Wausau Woodchucks (thanks to all who shared). … New navy alternate tops for Rice (from David Pillen). … We all love a good baseball sweater, so check out this cardigan worn by Giants P Christy Mathewson (from BSmile).

NFL News: With the Commanders unveiling their new team name, ESPN has published an explainer about every NFL team name's origin story (from Brinke). … We have our first glimpse of the Bengals' end zone art for the Super Bowl, which will primarily be black (from Andre Perrotta). … This article breaks down the six California stadiums that have hosted (or will host) the Super Bowl (from Kary Klismet).

Hockey News: A new Chevrolet commercial features a brief shot of a man wearing a Michigan State hockey jersey. Here's the story about how that sweater made it into the ad (from Kary Klismet). … Amazing dragon-themed leg pads for Chinese women's Olympic goalie Zhou Jiaying (from Jennifer Hayden and Matt B.). … New badge for Swedish team Frölunda HC (from Andreas Papadopoulos).

Basketball News: These Lunar New Year shirts designed by the Canadian Chinese Youth Athletic Association make use of the old Vancouver Grizzlies logo but replace the bear's basketball with a bubble tea (from Wade Heidt).

Soccer News: The USMNT played a World Cup qualifier in chilly Minnesota last night. Goalkeeper Matt Turner was permitted to wear a quarterback-style handwarmer given to the team by the Minnesota Vikings (from @ScottyBeats86). … The next two items are from Trevor Williams: Manchester United is allowing fans to exchange their Mason Greenwood jerseys for a replacement at the team's official store. Greenwood, a forward, was arrested on rape charges Sunday. … New 125th-anniversary shirt for English League Two squad Northampton Town. … The NWSL has unveiled its 2022 game ball. Coincidentally, it includes the league's 10th-anniversary logo, and our own Jamie Rathjen says it may be the first look we've had of that commemorative mark. … Also from Jamie: "Southampton's teams are wearing this shirt, which is supposedly for the 20th anniversary of the club's charity this weekend. It has both teams' normal ads on the front, so the actual anniversary commemoration is on the back of the neck and that's it." … Yesterday, we Ticked that UEFA had contacted a German pizza company regarding a trademark dispute for its "Champignons League" pizza. However, UEFA said yesterday that it would no longer fight the trademark dispute (from Mark Coale).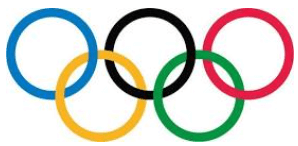 Olympics: Cross-listed from the hockey section: Chinese women's hockey goalie Zhou Jiaying is using an intricate dragon-themed design on her leg pads (from Jennifer Hayden and Matt B.).
.

Grab Bag: The wrestling teams for Burlington and Fort Madison High Schools (Iowa) will wear throwback singlets and wrestle for a new dog house rivalry trophy tonight. … Gloucester Rugby, an English club, is seeking fan input on their 2022-23 away shirts (from Ed Żelaski). … New lacrosse uniforms for Syracuse and Virginia (from @stevenwoj). … NASCAR has reportedly been telling teams this week that political sponsorships will not be allowed (from Trevor Williams).
• • • • •
Our latest raffle winner is Evan Fleming, who's won himself a complimentary Uni Watch membership. Congrats to him, and thanks to Karl Newkirk for sponsoring this one. — Paul