Well, this probably isn't the Super Bowl matchup most people expected, right? Naturally, I'm disappointed that the 49ers didn't advance, but I was just happy that they made it that far. With the two teams now determined, let's get to the crucial question: What will they wear?
The AFC is the designated home team this year. If KC had won yesterday, they would have worn red over white and that would've been that — done and done. But with the Bengals representing the AFC, that opens up a wider range of possibilities. For one thing, they wore white at home one time this season (Week One, against the Vikings), so it's not necessarily a lock that they'll wear color. Moreover, because they have two different sets of white pants — one with black/white striping and one with orange/white striping — they wore an unusually large number of jersey/pants combos this season (click to enlarge):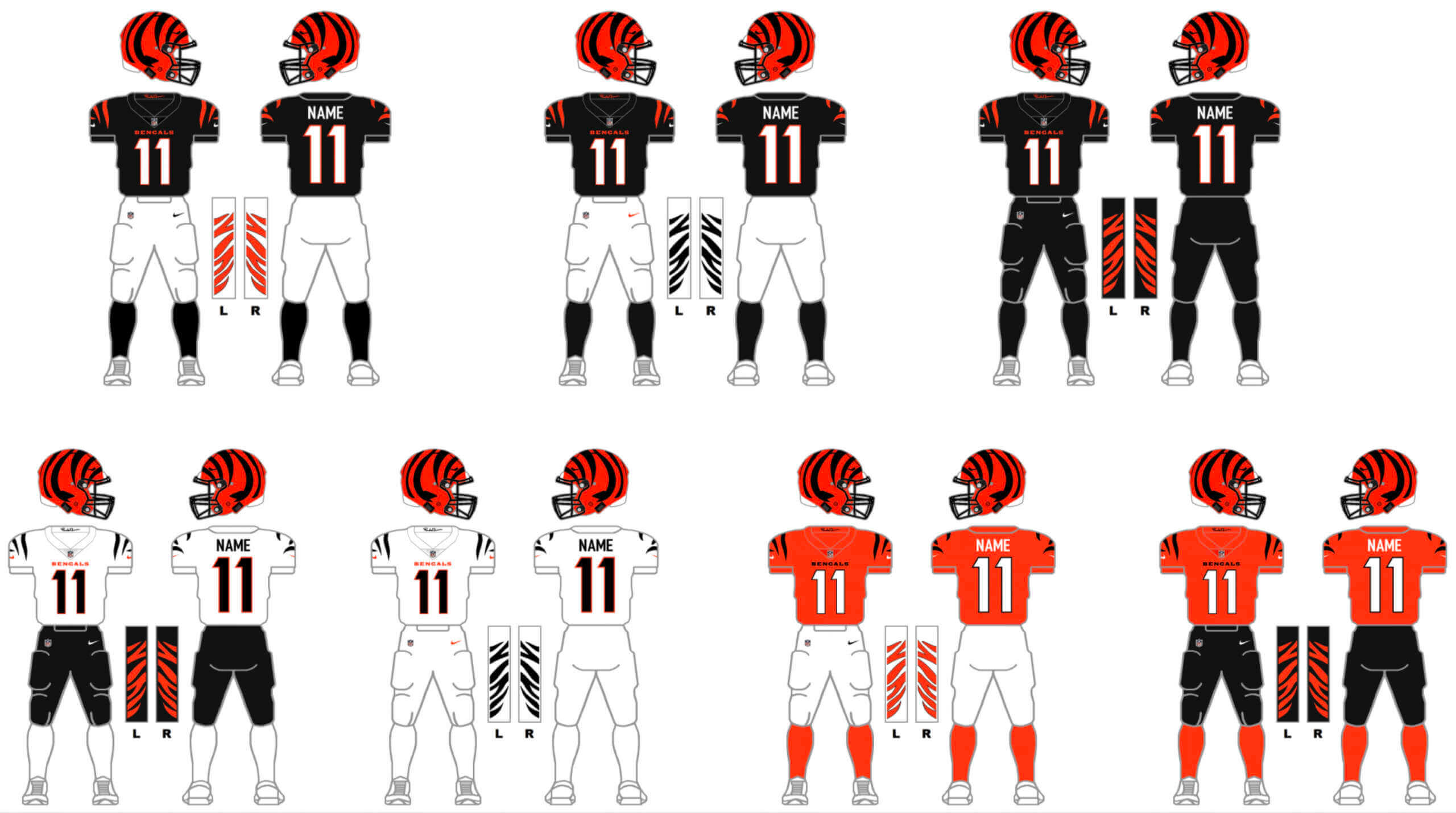 Obviously, they won't wear orange. But that still leaves them with a lot of other combos to choose from. Would they dare to go mono-black in the big game? (Hope not.) "White tiger"? Standard black over white?
If you're into superstitions, here are three things the Bengals might be thinking about:
• Teams wearing white have won 14 of the last 17 Super Bowls.
• Super Bowl home teams sometimes superstitiously opt to wear white if they wore white throughout their postseason runs. It's true that Cincy wore white yesterday and also in their Divisional Playoff win against the Titans — but they wore black over white (with the orange striping) for their Wild Card win against the Raiders. So while they're currently on a two-game white winning streak, they didn't wear white throughout the entire postseason. Hmmmm.
• The Bengals have appeared in two previous Super Bowls and lost both of them — one time while wearing black over white and the other time wearing white over white. So another superstitious angle would be for them to avoid those two combos.
As for the Rams: If the Bengals choose to wear white, the Rams would have to wear their blue jersey, presenting them with three combo options:

I suspect (and dearly hope) they'd choose the yellow pants, since that's what they wore for all three of their playoff wins.
But if Cincy choose to wear black, the Rams would have to wear their dishwater jersey — unless they asked the league for permission to wear their white alternates. Let's assume for a moment that both of those options are on the table. If so, here's what the Rams could wear: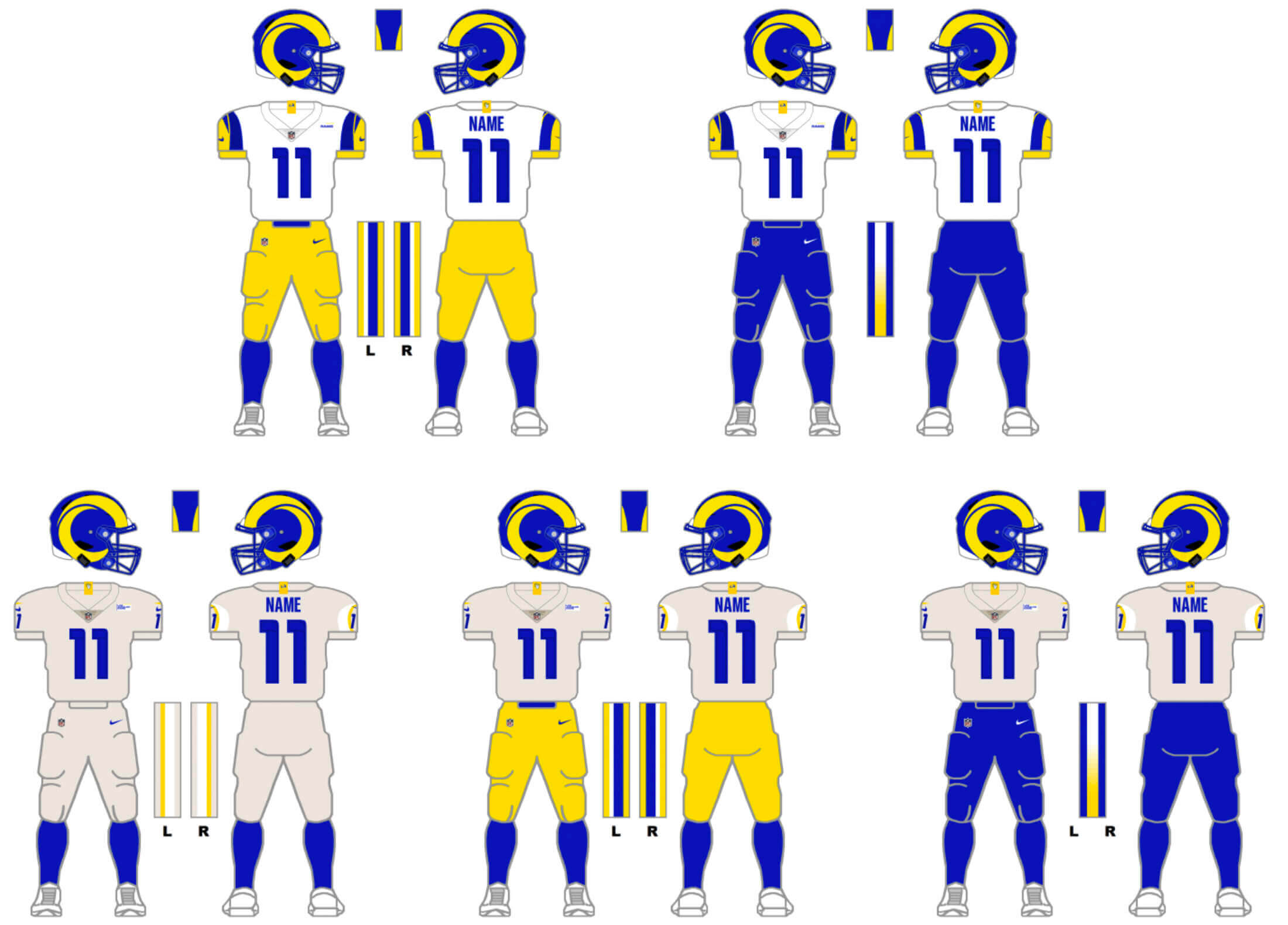 Obviously, the white jersey would be a much better option. My biggest fear is that we'll end up with mono-black vs. mono-bone, which would be a visual nightmare for the ages. Here's hoping that doesn't happen!
A few other quick thoughts:
• Remember how KC captains had a very crowded patch situation two Supes ago, because of the Lamar Hunt perma-memorial patch? The Rams will be in that same predicament because of their stupid "Hello My Name Is" patch.
• Both teams use the "make the helmet look like an animal" approach, instead of just putting their primary logo on the sides. Never had that kind of matchup in a Super Bowl before.
• Both projected starting quarterbacks wear No. 9. We've definitely had same-numbered starting Supe QBs before (Bradshaw and Staubach in Supes X and XIII, for example, and also Staubach and Griese in Supe VI), but I haven't yet had time to research whether it's happened since then.
• The Rams will be playing in their home stadium but will be the designated visiting team. Will they have to move to the visitors' locker room? (I doubt it.) Will they have to use the visitors' sideline? (That seems more plausible.)
• The two teams' uni sets have played a combined total of three seasons. I'm fairly certain that's a record for the newest unis to appear in a Super Bowl.
Once we know what both teams are wearing, I'll have a lot more to say about the uni matchup in my Super Bowl Preview, which will run on Bulletin next week.
———
As for yesterday's games, I spotted only one uni-notable detail, but it was a fun one: During the national anthem prior to the Niners/Rams game, one of the kids holding the giant American flag was wearing a throwback Jack Youngblood jersey, complete with the historically appropriate double-decker NOB. You can see him at lower-right here (click to enlarge):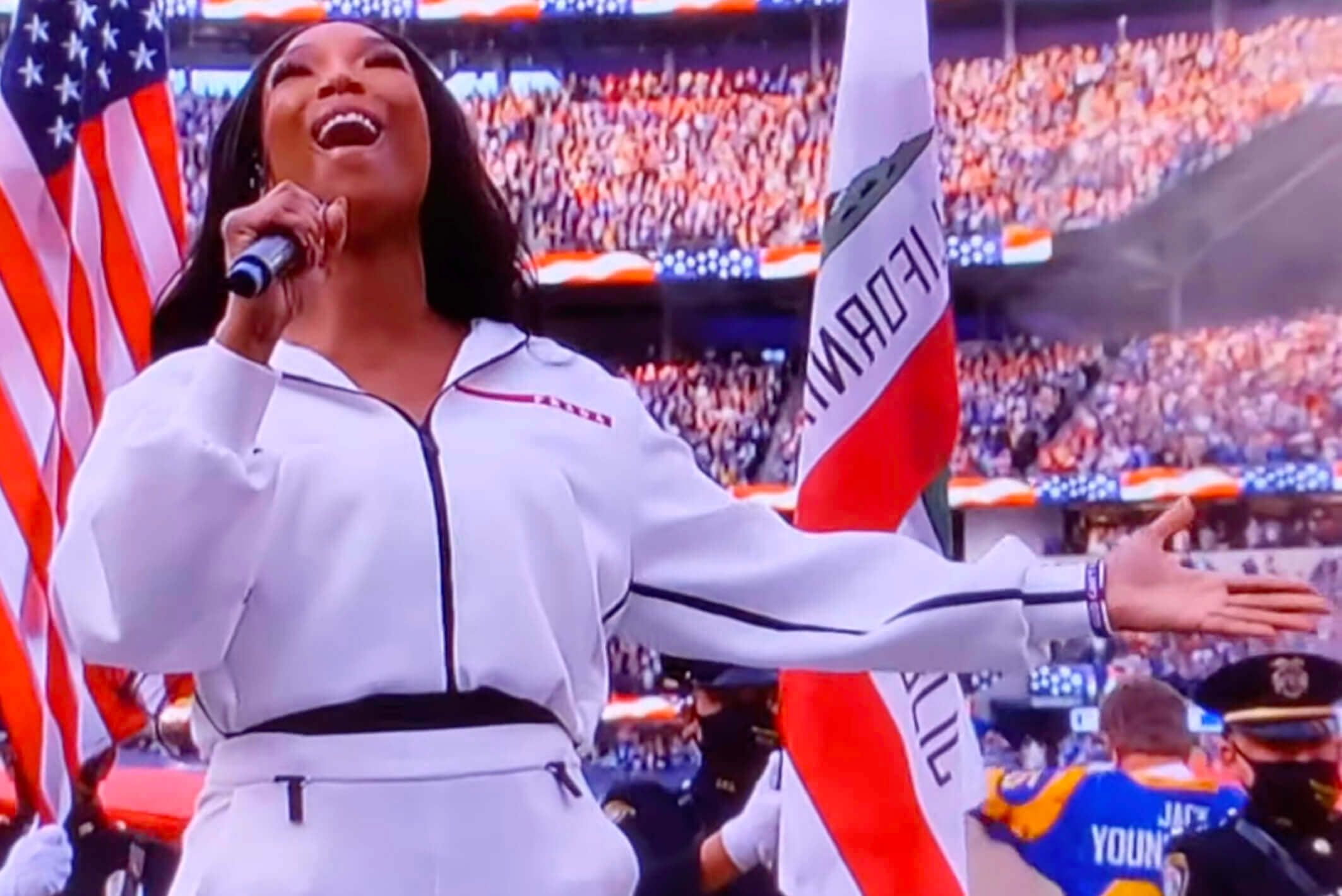 Hey, it's the little things, am I right?
Also: Shortly after the Niners/Rams game, workers were already removing the Rams' midfield logo and preparing the field for its Super Bowl makeover (click to enlarge):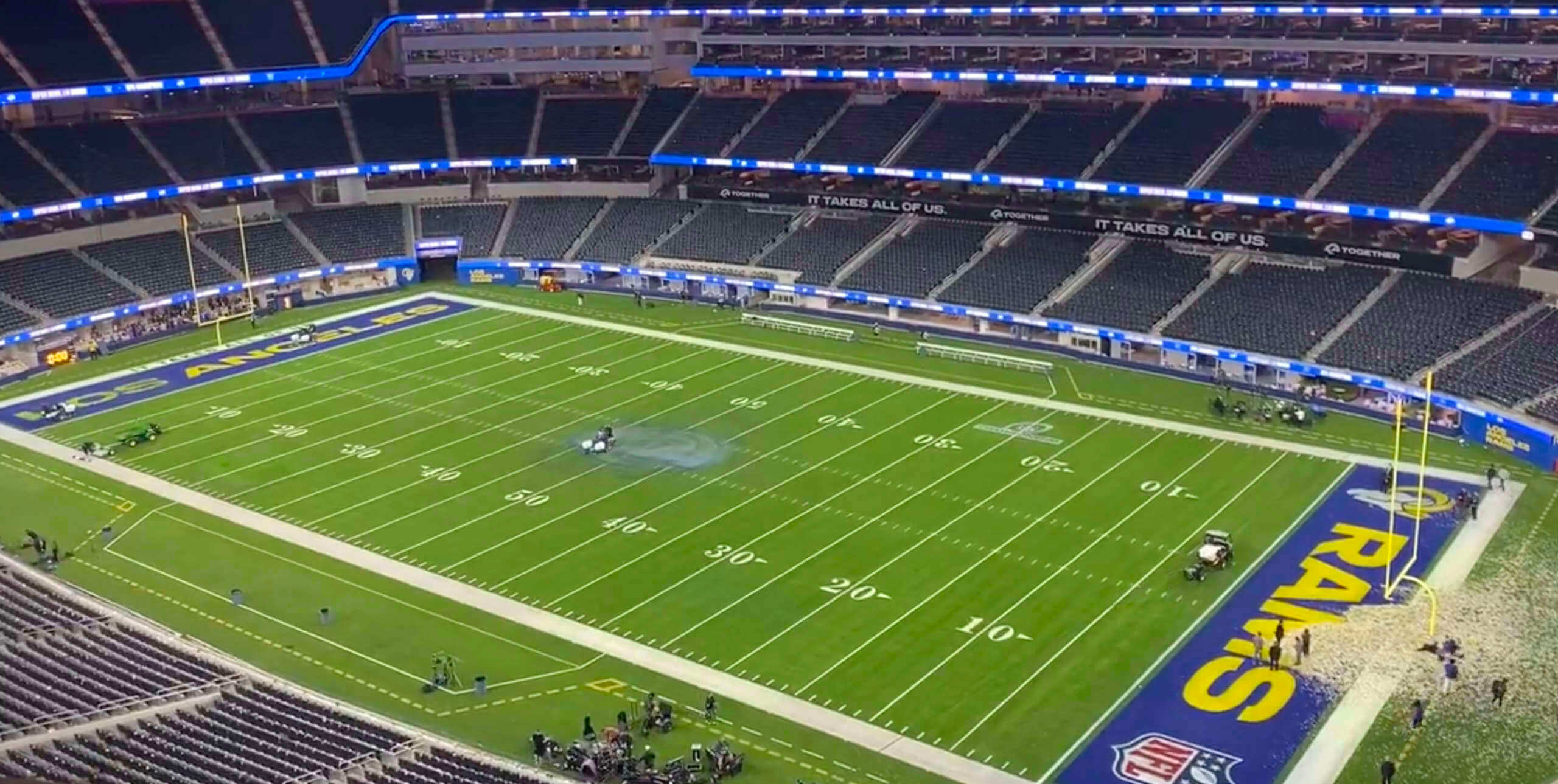 Also-also: As you can see, the Rams leave a little bit of green between the goal line and the colored end zone (here's a better look at it). That little bit of green bugs the shit out of me — just make the whole end zone blue! Will they do something like that for the Supe? I assume the field design is dictated by the NFL office and the Rams will have no say in a detail like that, but I'll be keeping an eye on it!
Finally: ESPN tweeted a bizarre Photoshopped image of Rams quarterback Matthew Stafford hugging himself, with one Stafford wearing a Rams uni (although not the combo they wore yesterday) and the other Stafford wearing a Lions uni:
.

In his 13th season, Matthew Stafford is going to play in his first Super Bowl @RamsNFL | @espn pic.twitter.com/XeV8gxzYh1

— SportsCenter (@SportsCenter) January 31, 2022
No word on whether they swapped jerseys afterward.
(My thanks to Andrew Cosentino and Antonio Losada for their contributions to this section.)
• • • • •
• • • • •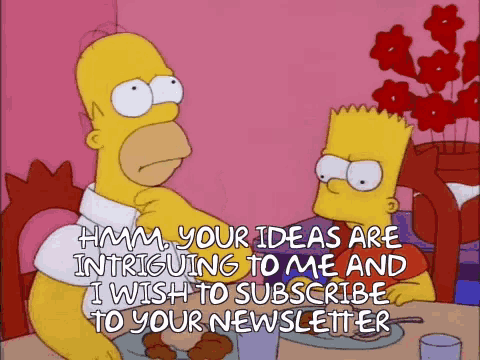 Bulletin subscription reminder: I think most of you know this by now, but just in case: Beginning this week, you'll need a paid subscription in order to read my weekly feature-length articles on Bulletin (which will include my annual season preview columns for the Big Four pro leagues). The price is $4 a month or $35 a year, and the revenue will also help to support operations here on the blog. You can sign up here, but you'll need a Facebook account in order to do it (I know, I know).
I want to thank all the people who have already subscribed — I'm grateful for your support!
Here's a quick FAQ, based on some feedback I've received:
Will you still link to each week's Bulletin article here on the blog, so we can at least see what the topics are?
Yes. I'll still promote the Bulletin content each week, just like I've been doing all along. And when I provide the link to each week's article, I'll mention that it's subscriber-only, or something along those lines.
What kind of content will you be putting on Bulletin?
The MLB, NFL, NHL, and NBA season previews, which in recent years have appeared on InsideHook, will now be on Bulletin. In addition, I plan to do Uni Watch Power Rankings pieces for the Big Four pro leagues; periodic "Ask Me Anything" piecees (like this one); periodic design contests every year, the annual Uni Watch Holiday Gift Guide; the Super Bowl and World Series previews; lots of interviews with interesting people from the uni-verse; and so on.
Do you know what the next few Bulletin pieces will be about?
Things are always subject to change based on breaking news and such, but my current plan is that this week's Bulletin piece, which will come out on Thursday, will be my assessment of the WFT's new identity and uniforms. Next week's will be the Super Bowl preview. And the one after that will be a deep dive on the new Riddell Axiom helmet.
I want to subscribe, but the requirement that I have a Facebook account in order to pay is a dealbreaker for me. Is there some other option?
At present, unfortunately, there is no other way to pay. But I have made it v-e-r-y clear to the Bulletin folks that they need to provide a different option, and they say they're "working on it." If you'd like to be notified if/when there's any progress in that area, contact me and I'll be sure to let you know.
If you have any other questions or concerns, let me know and I'll do my best to answer. Thanks!
• • • • •
• • • • •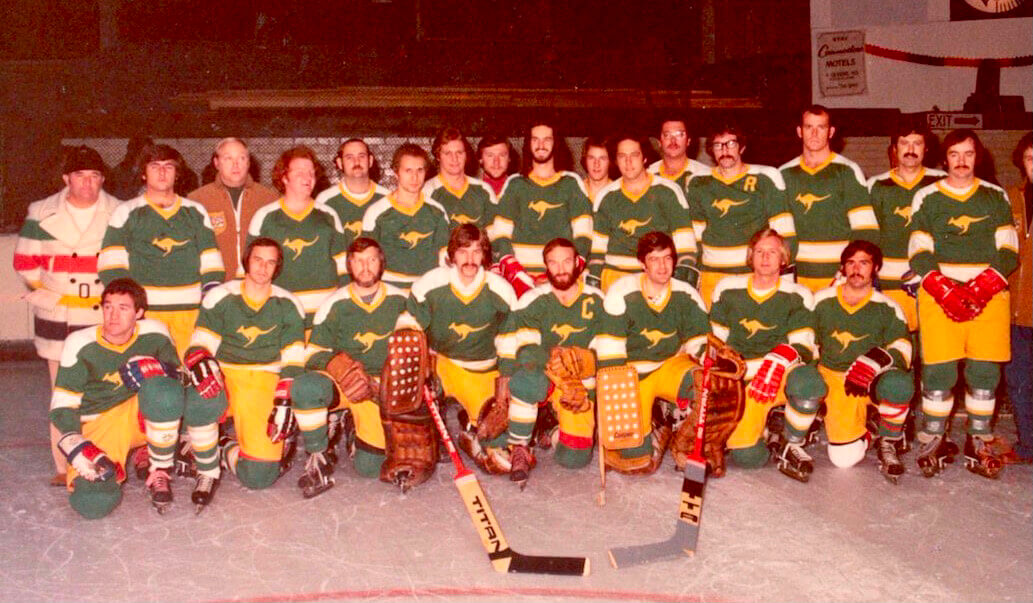 Click to enlarge
Too good for the Ticker: Phil had this in yesterday's Ticker, but I couldn't resist showcasing this amazing shot of the 1977 Australian national hockey team. Obviously, I love the color scheme, but I also love the kangaroo crest — so simple, so good!
Also: Check out the awesome Hudson Bay coat on the guy at far-left. Spectacular!
Meanwhile, someone get these guys some team-colored gloves.
• • • • •
• • • • •
Culinary Corner: We knew well in advance that NYC would be getting a fair amount of snow on Saturday (about 10 inches, as it turned out). And it wasn't going to be a fun, pretty snowstorm — the forecast was calling for a nasty day with really high winds. In short: We knew we'd be spending all day inside.
So I decided to make a stuffed pork rib roast — a fun project for a snowbound day. Here's how I did it (for all photos, you can click to enlarge):
1. First, I made a stuffing. I began by putting a cup of golden raisins and a cup of dried cherries in a bowl and pouring boiling water over them to plump them up a bit. (You can use any dried fruit — apples, cranberries, apricots, whatever.) While the fruit was soaking, I melted some butter in a skillet over medium heat and used it to sauté some chopped onions and minced garlic, along with some dried thyme, salt, and pepper. After about five minutes, I drained the fruit and added it to the skillet, along with a cup of plain breadcrumbs and some chopped walnuts:
I added more butter and stirred a lot to make sure the breadcrumbs got moist and after a few minutes, everything was nicely blended: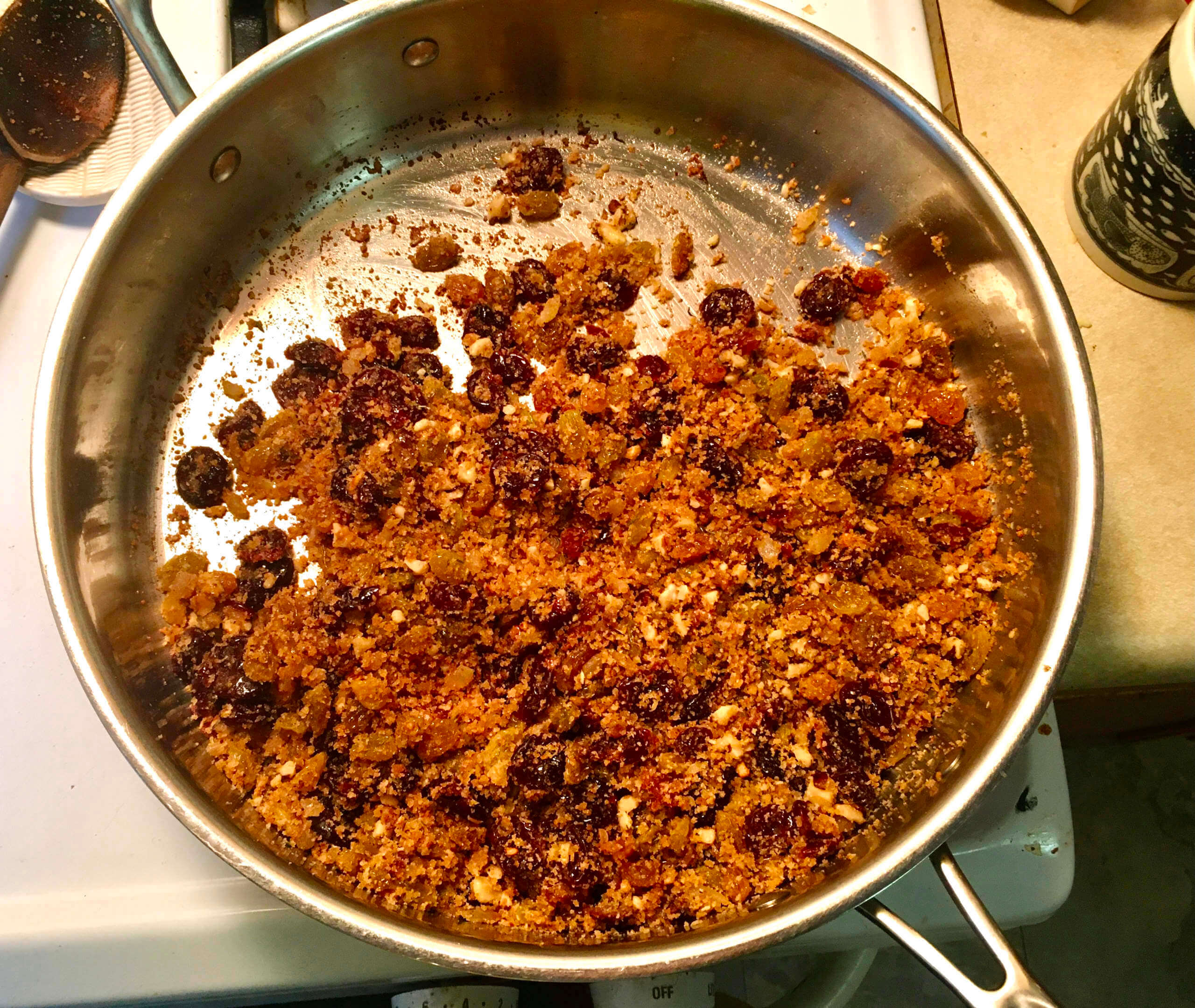 I put the cooked stuffing in a bowl and set it aside for later.
2. The day before I had bought a nice bone-in pork loin (also called a pork rib roast, or a rack of pork). Pork is ridiculously inexpensive to begin with, plus this item happened to be on sale — a little over five pounds for $13 and change: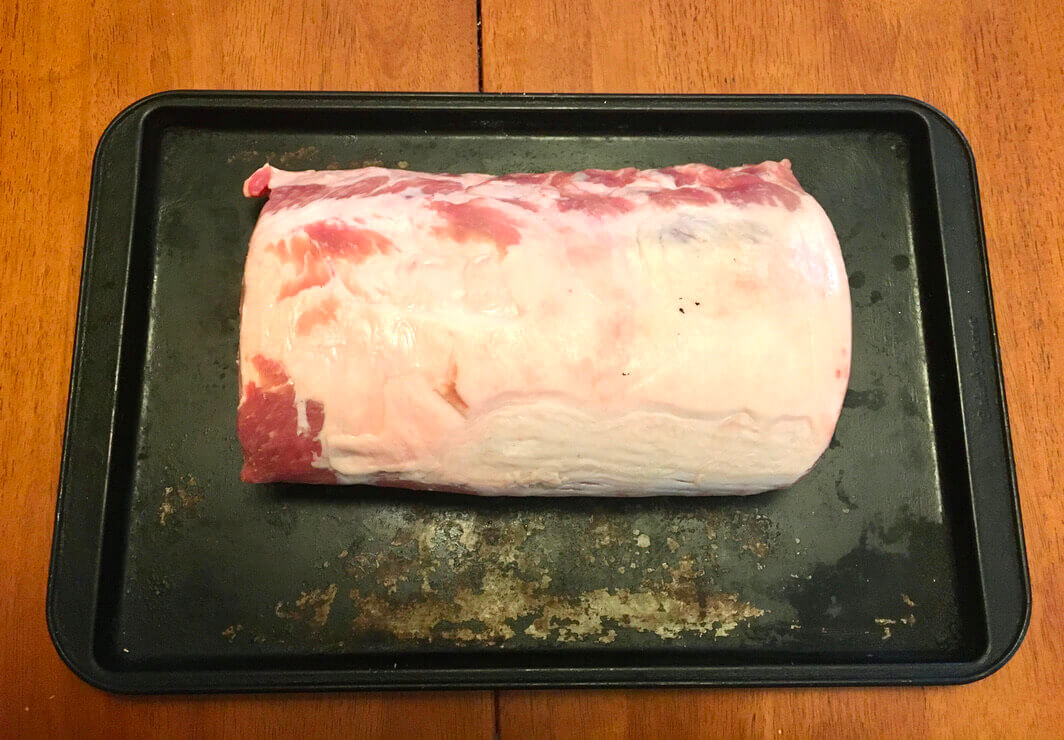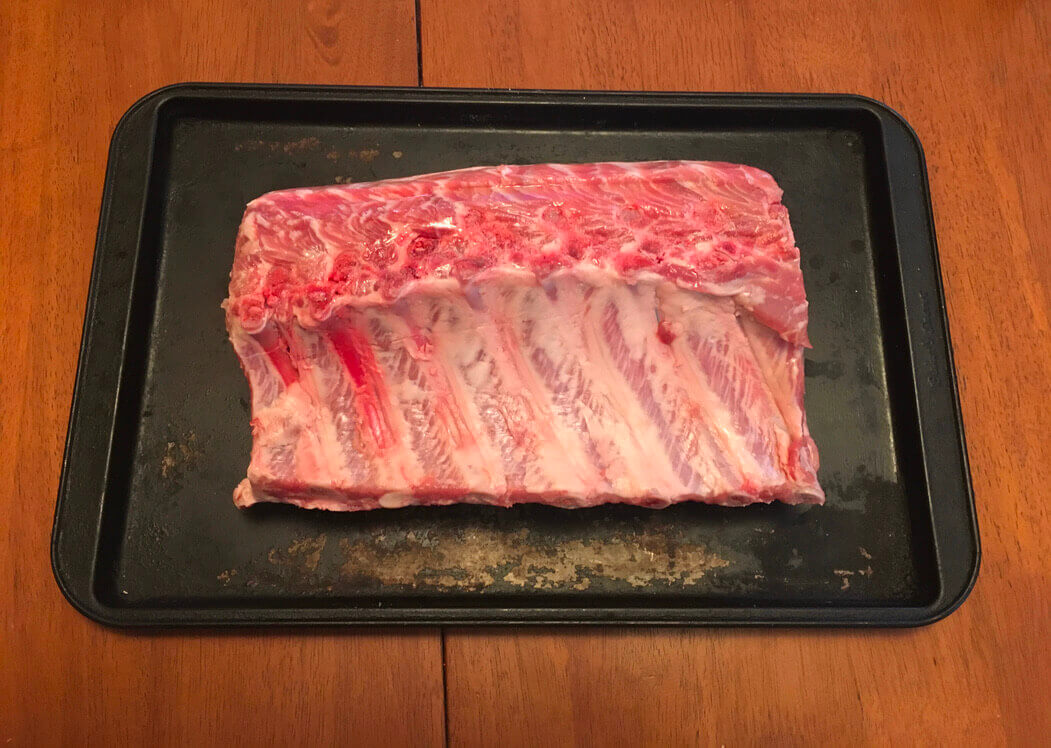 My first task was to "French" the ends of the rib bones (which means removing the meat from the bone tips) — in part because it looks nice but also because it would be necessary for a later step in the process. It's a fairly straightforward operation (if you've never done it before, there's a good video tutorial here). First you remove the meat that sits atop the last two inches or so of the rib bones: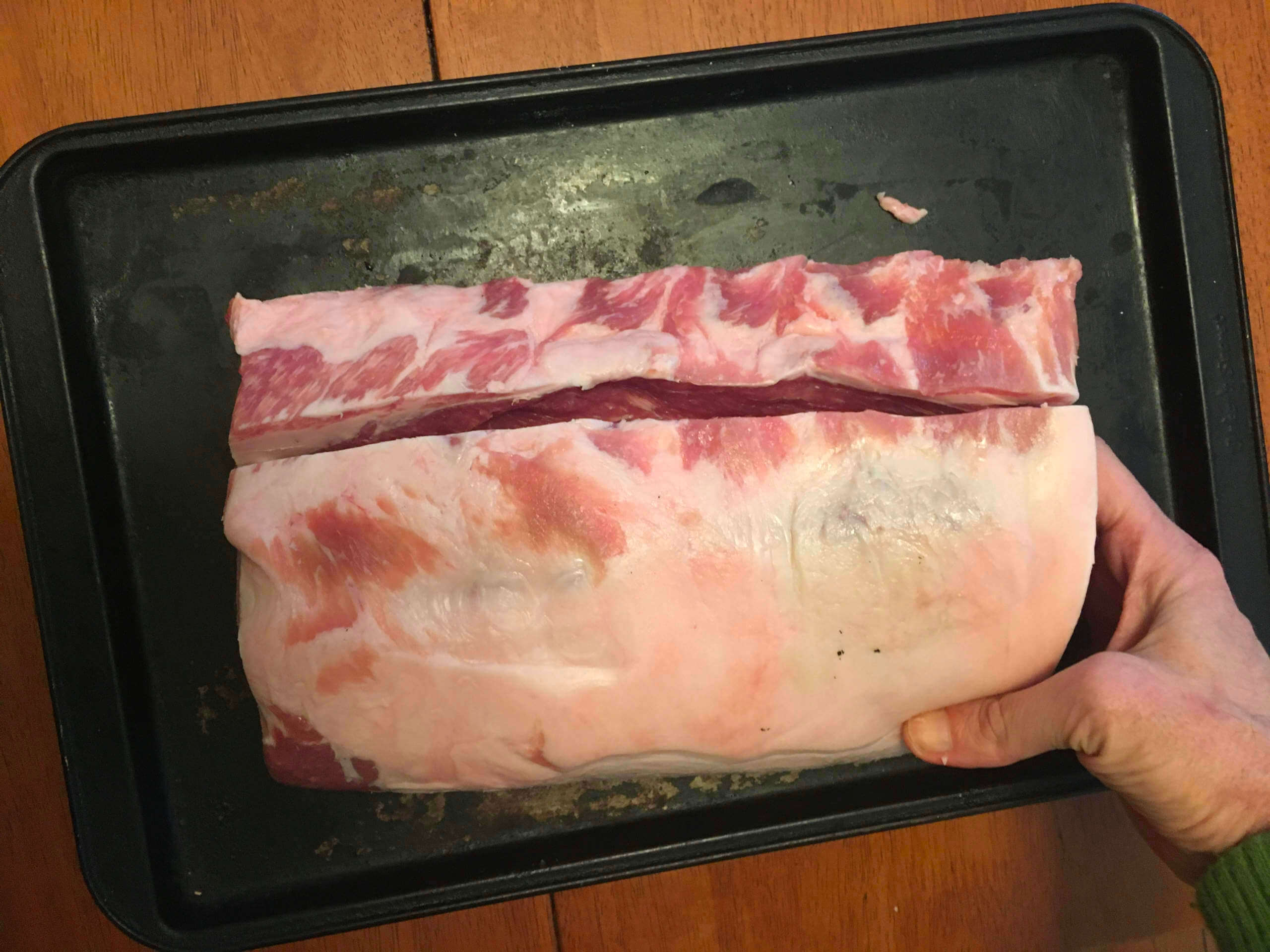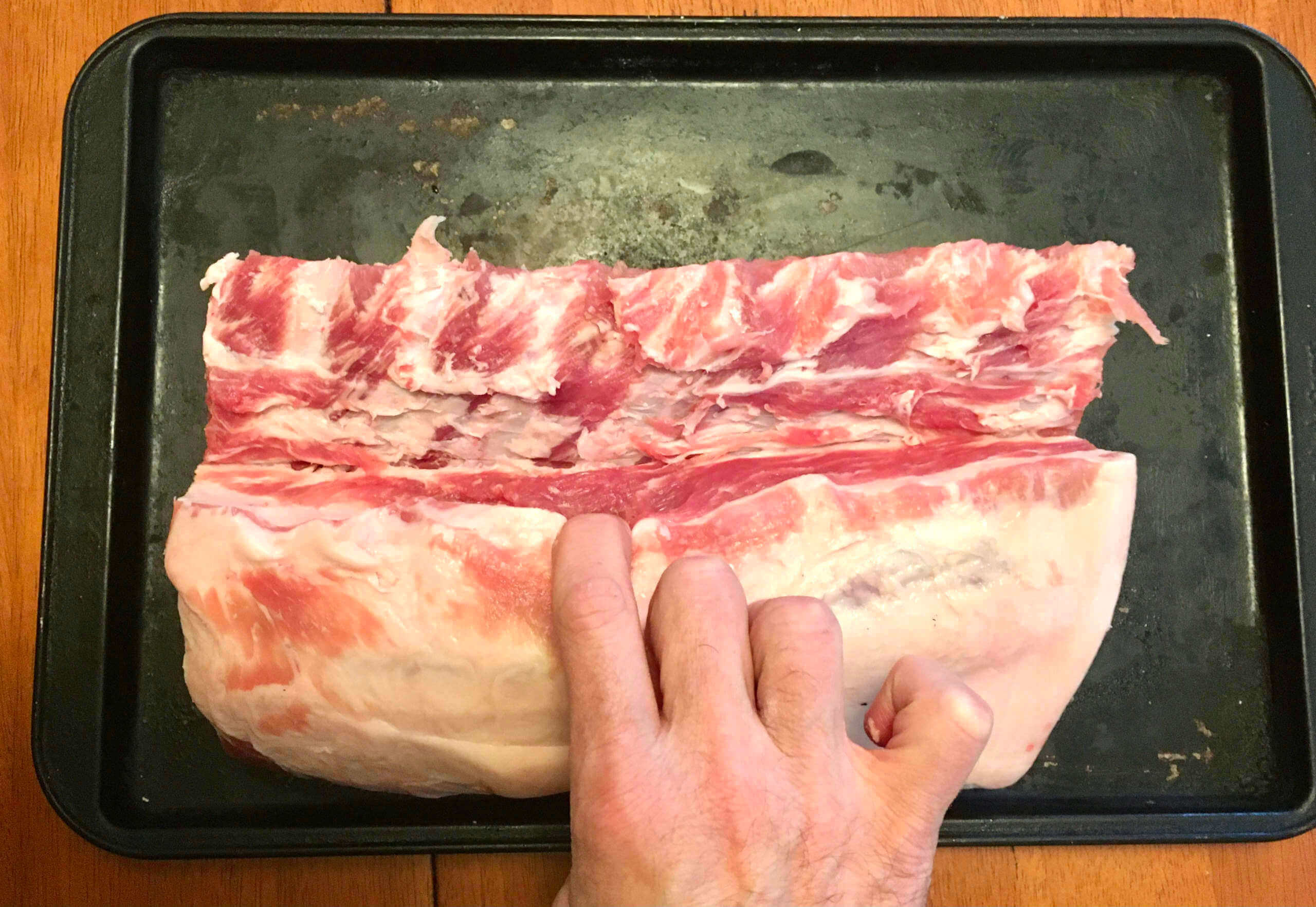 Then you remove all the meat around and in between the bones: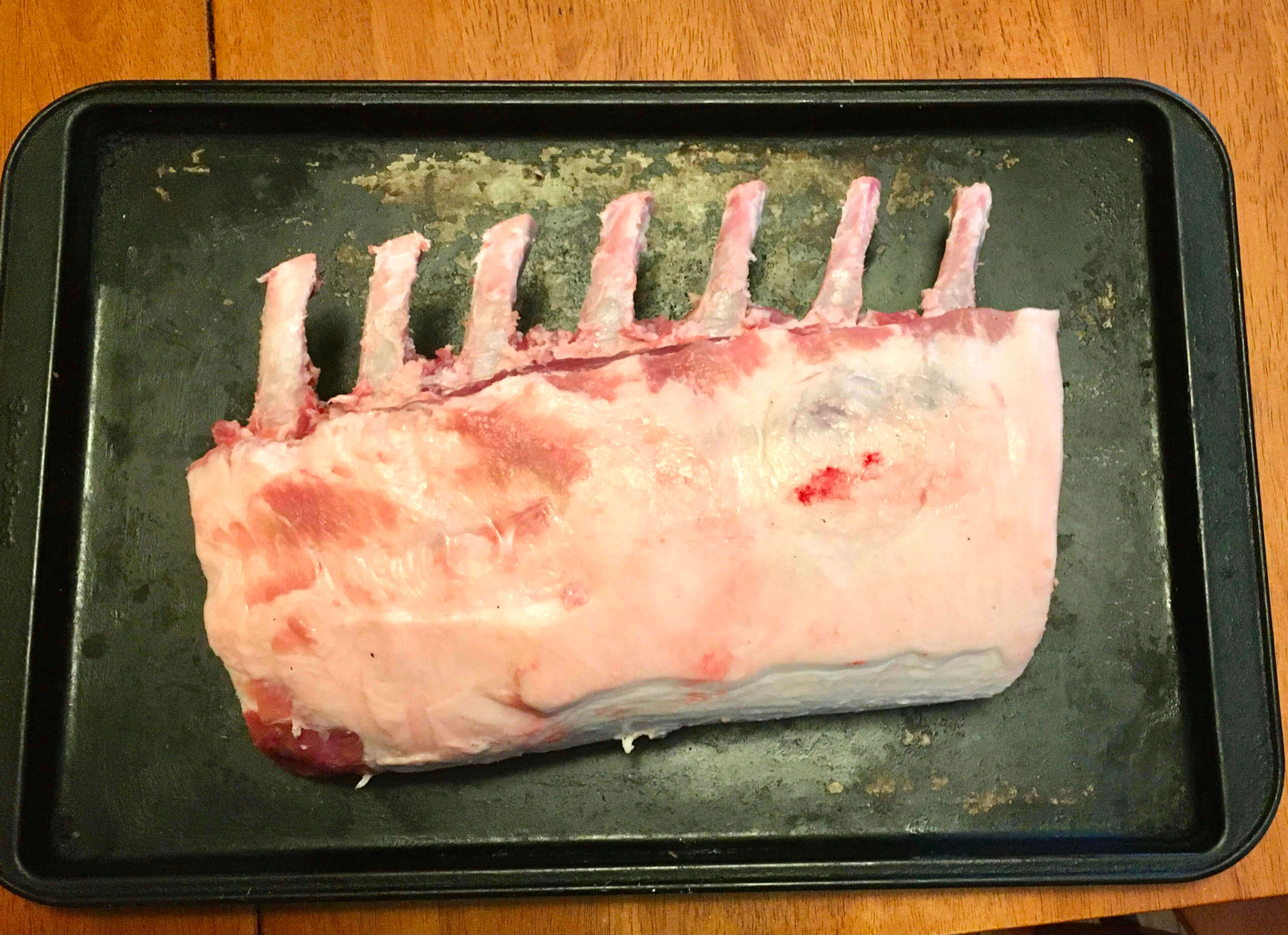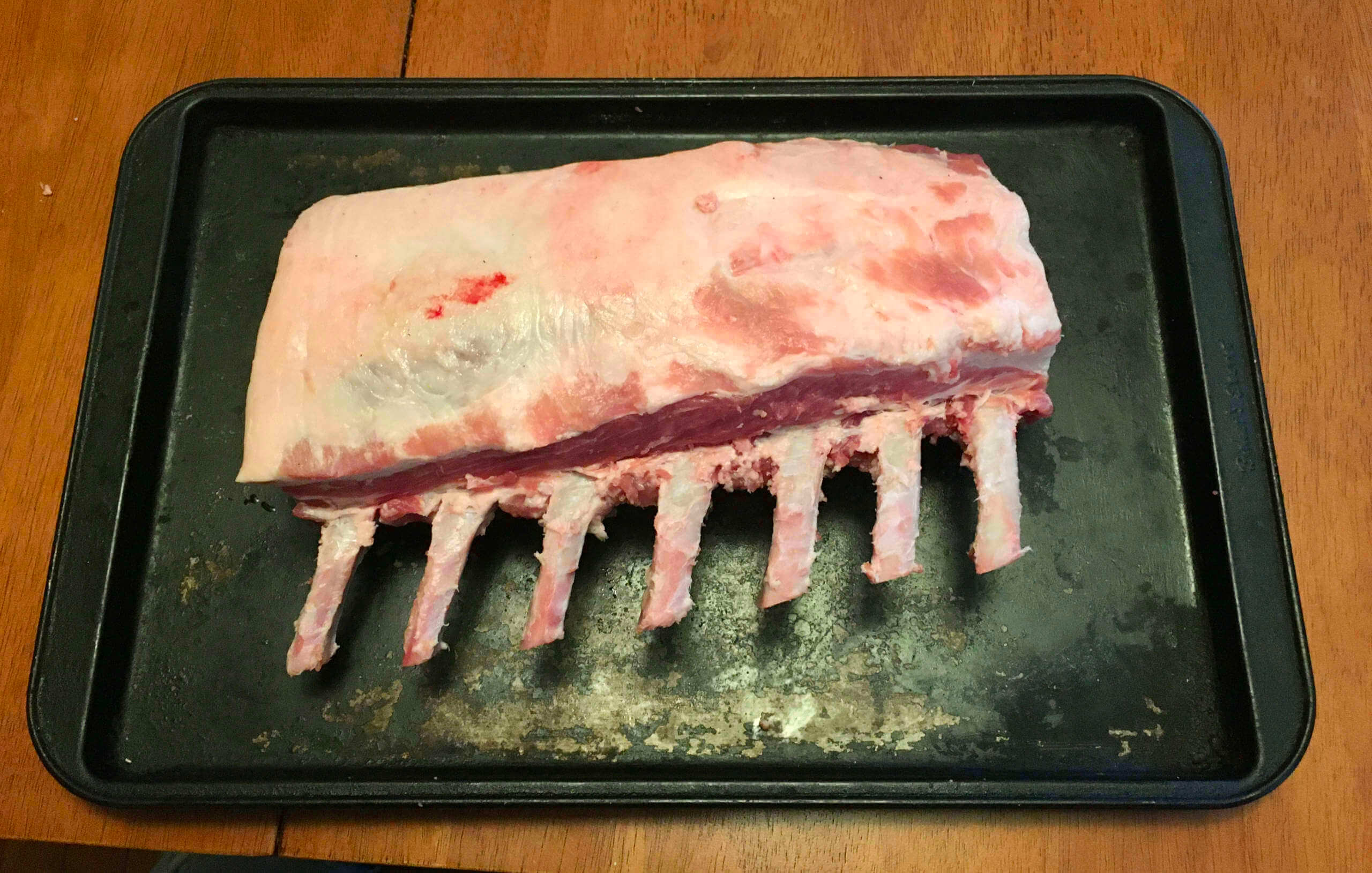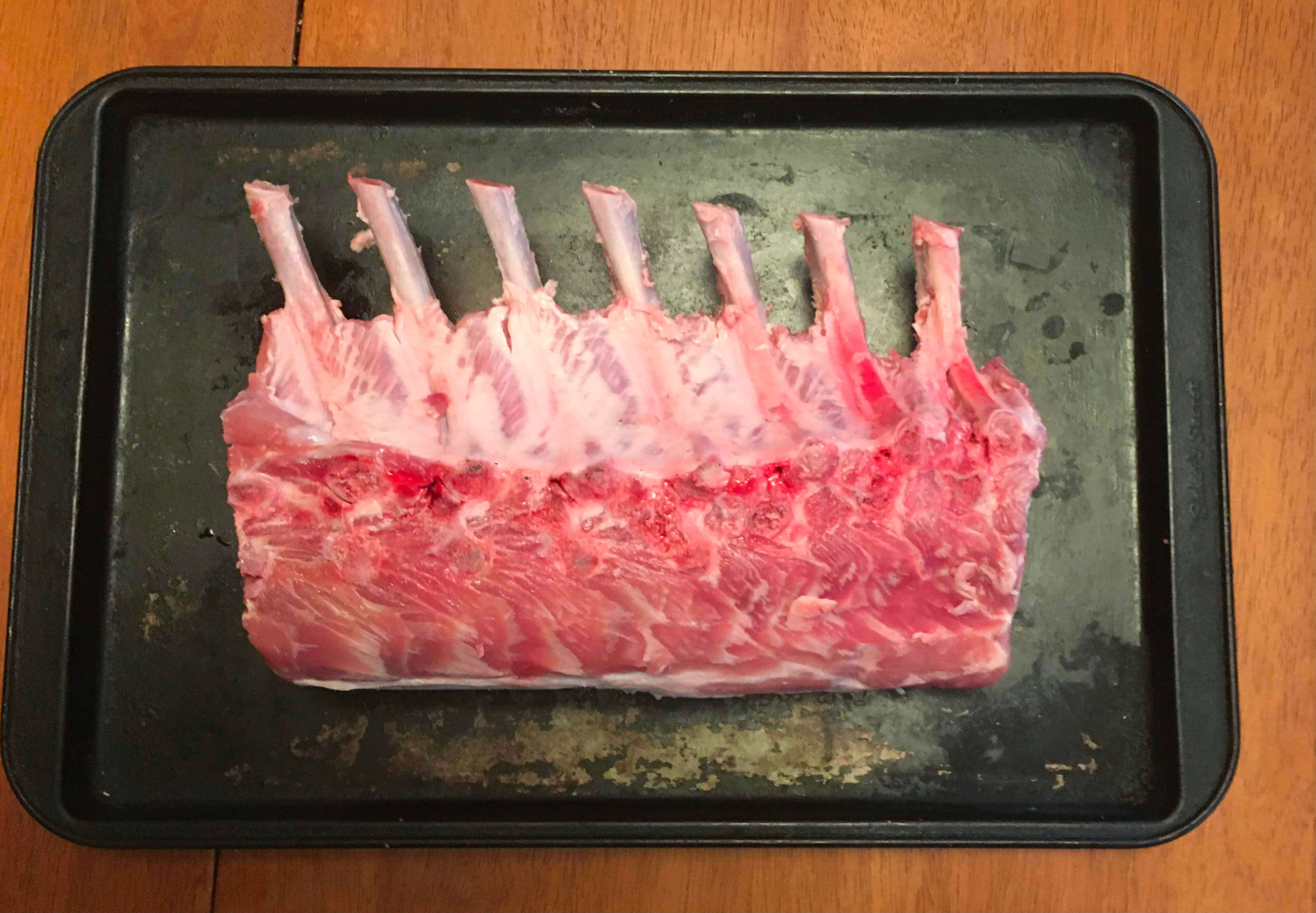 Obviously, I saved all the meat that came off the bones. We'll use it later for chili or something like that.
3. Now that the rack was Frenched, it was time to "unroll" it. This entails cutting down fairly close to the bones and then turning the knife horizontal when you get about an inch from the bottom of the meat, so that the whole thing opens up, almost like a book (big thanks to the Tugboat Captain for taking these next pics):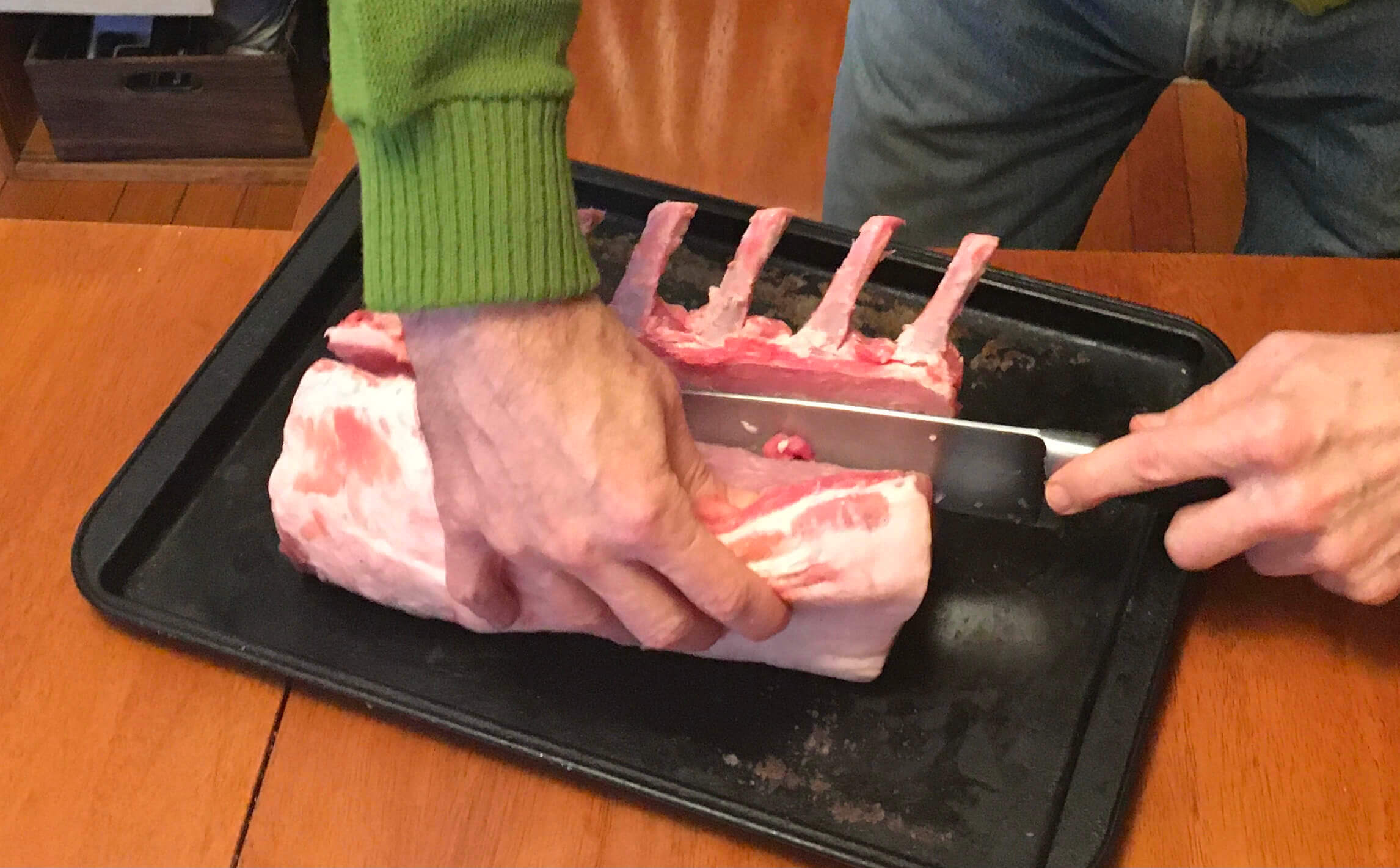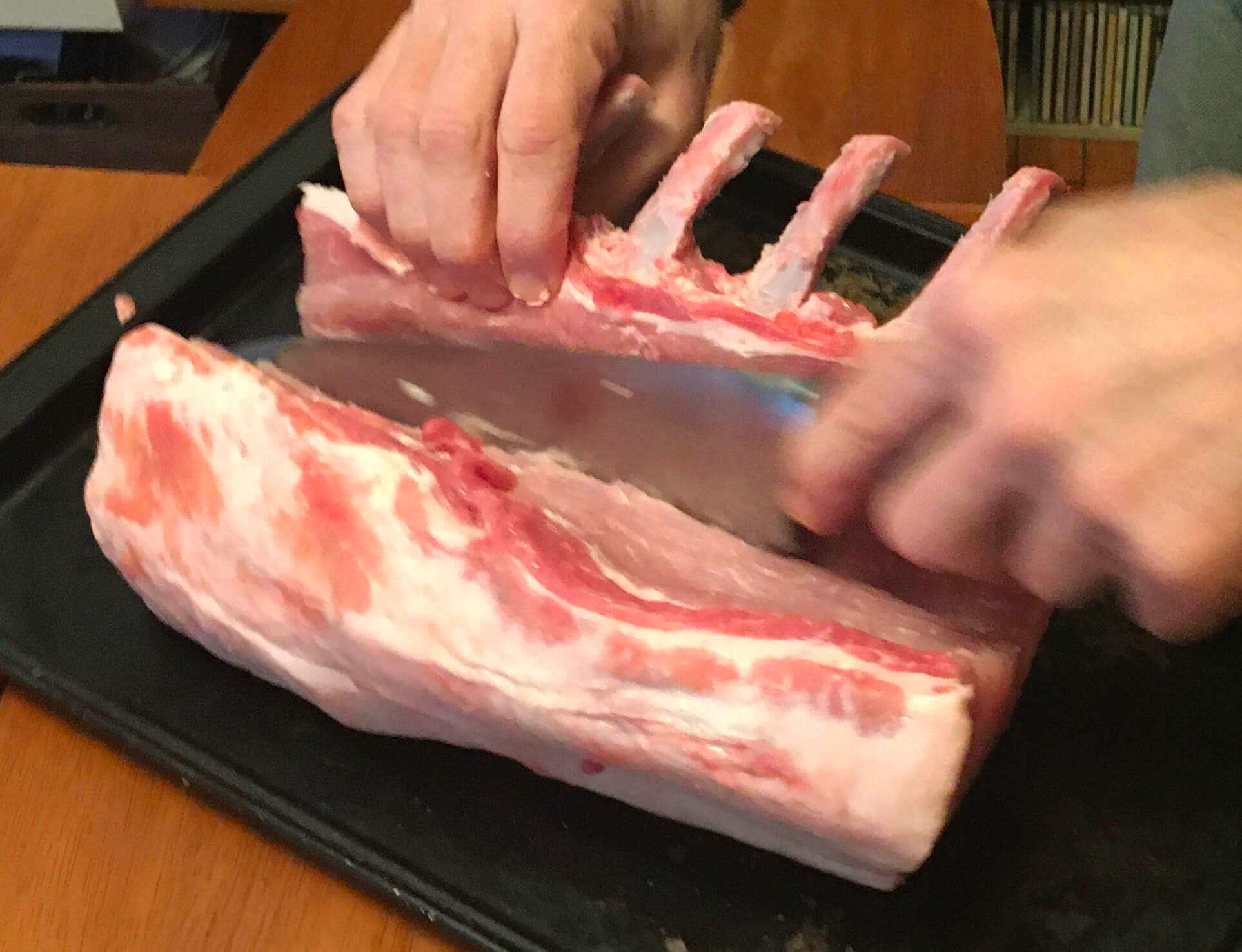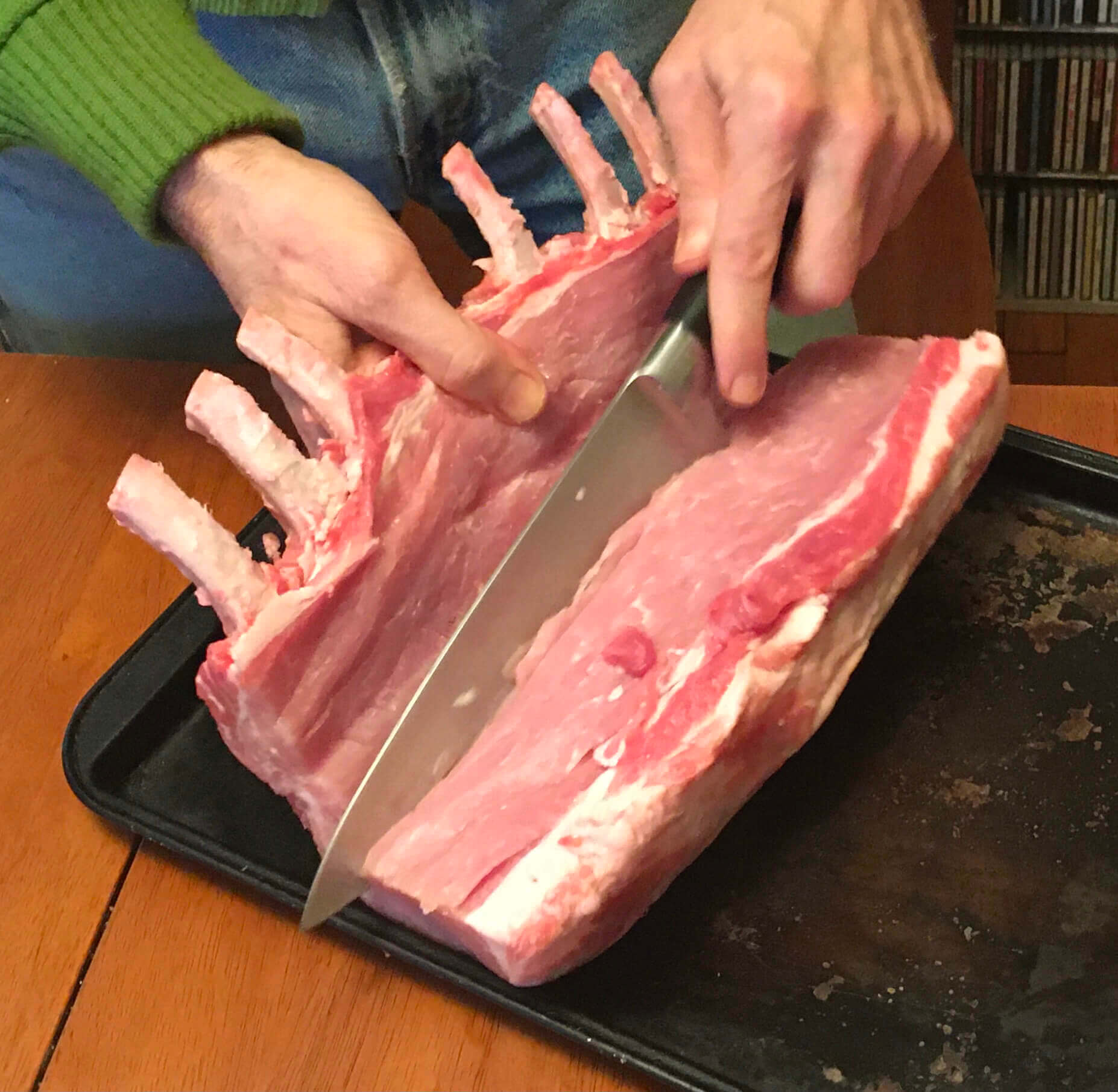 Then you do the same thing with the thicker part that just opened up, creating another flap or "page" to open: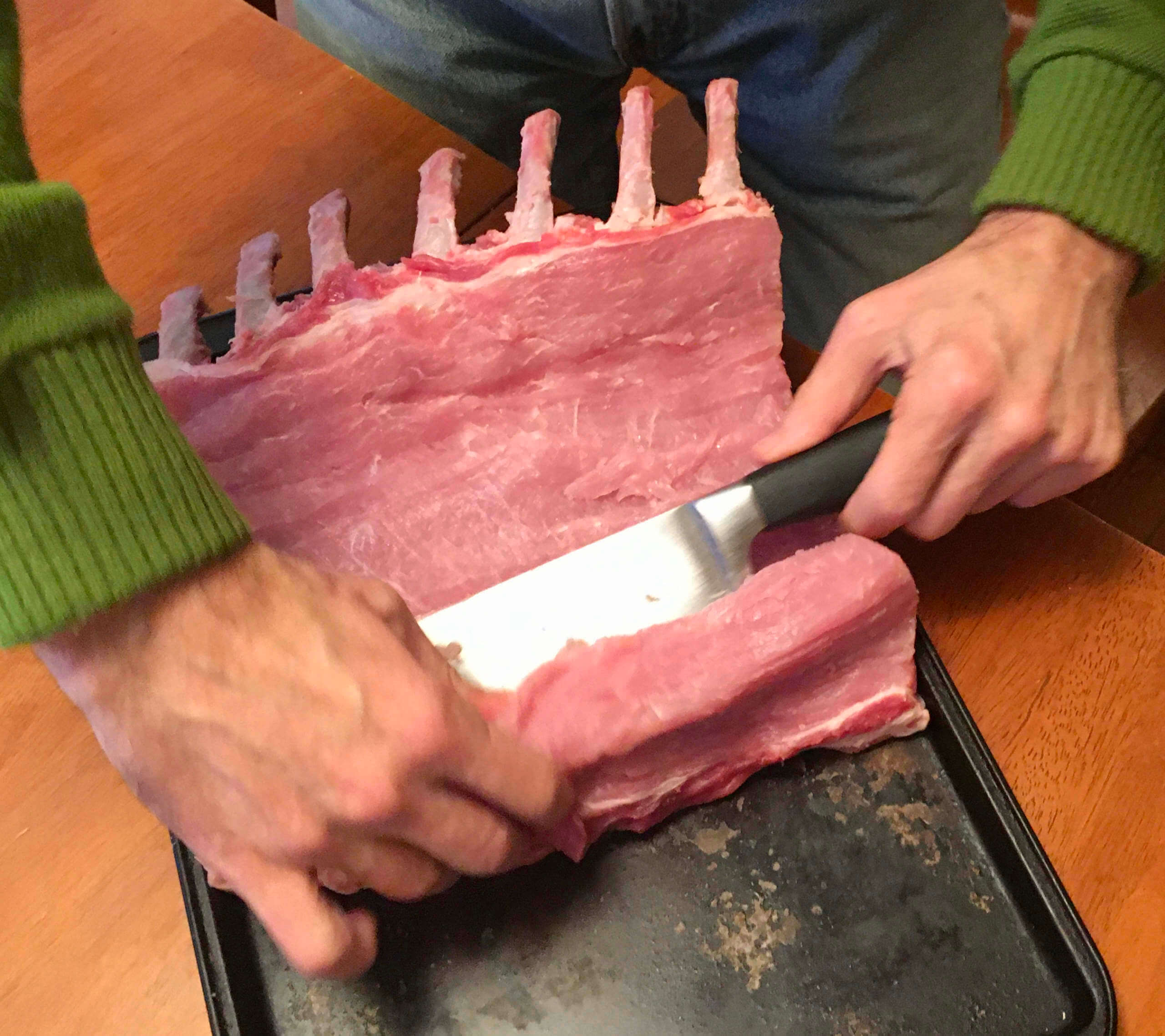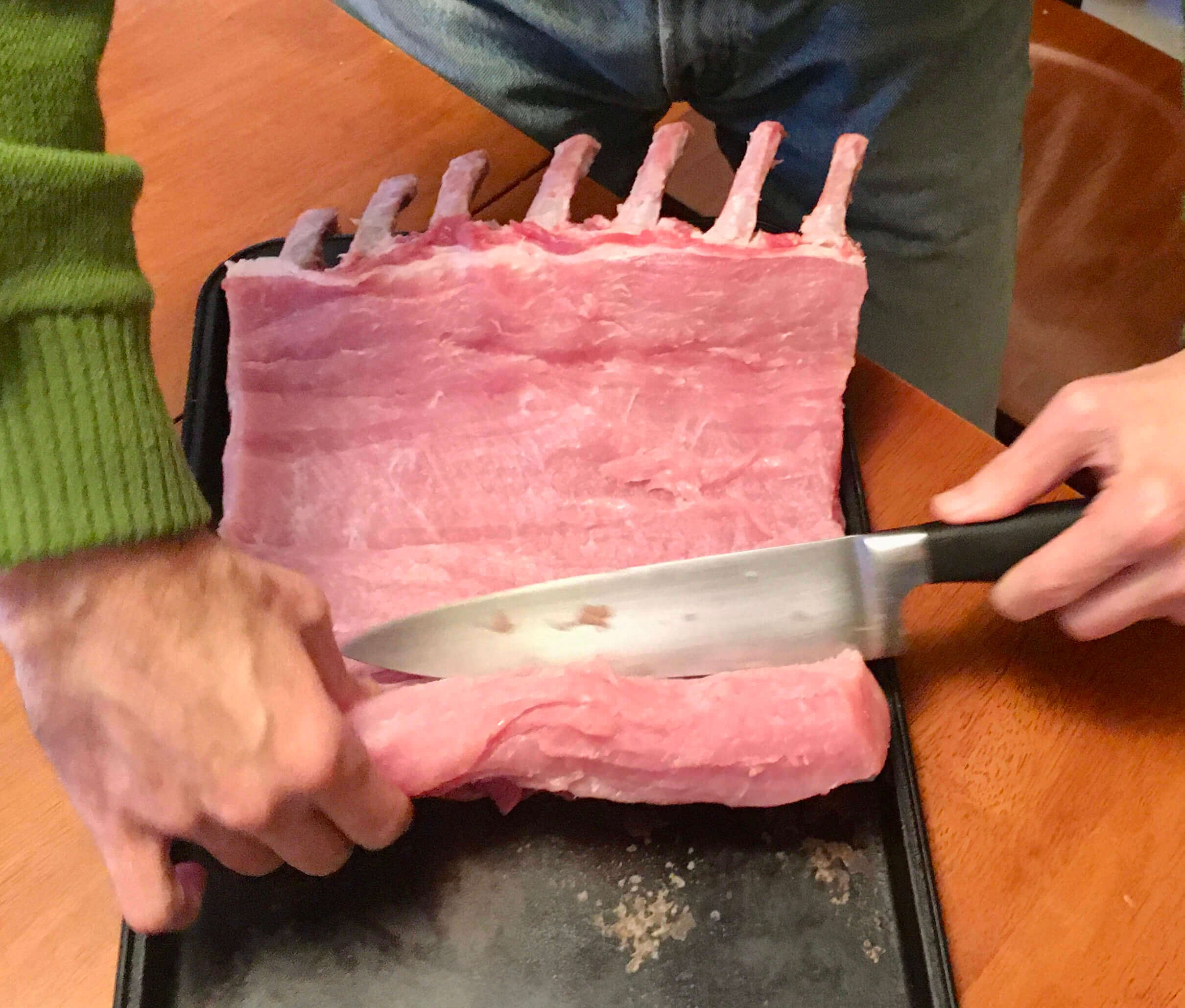 When you're done, you'll have a nice, flat surface of meat, about an inch thick: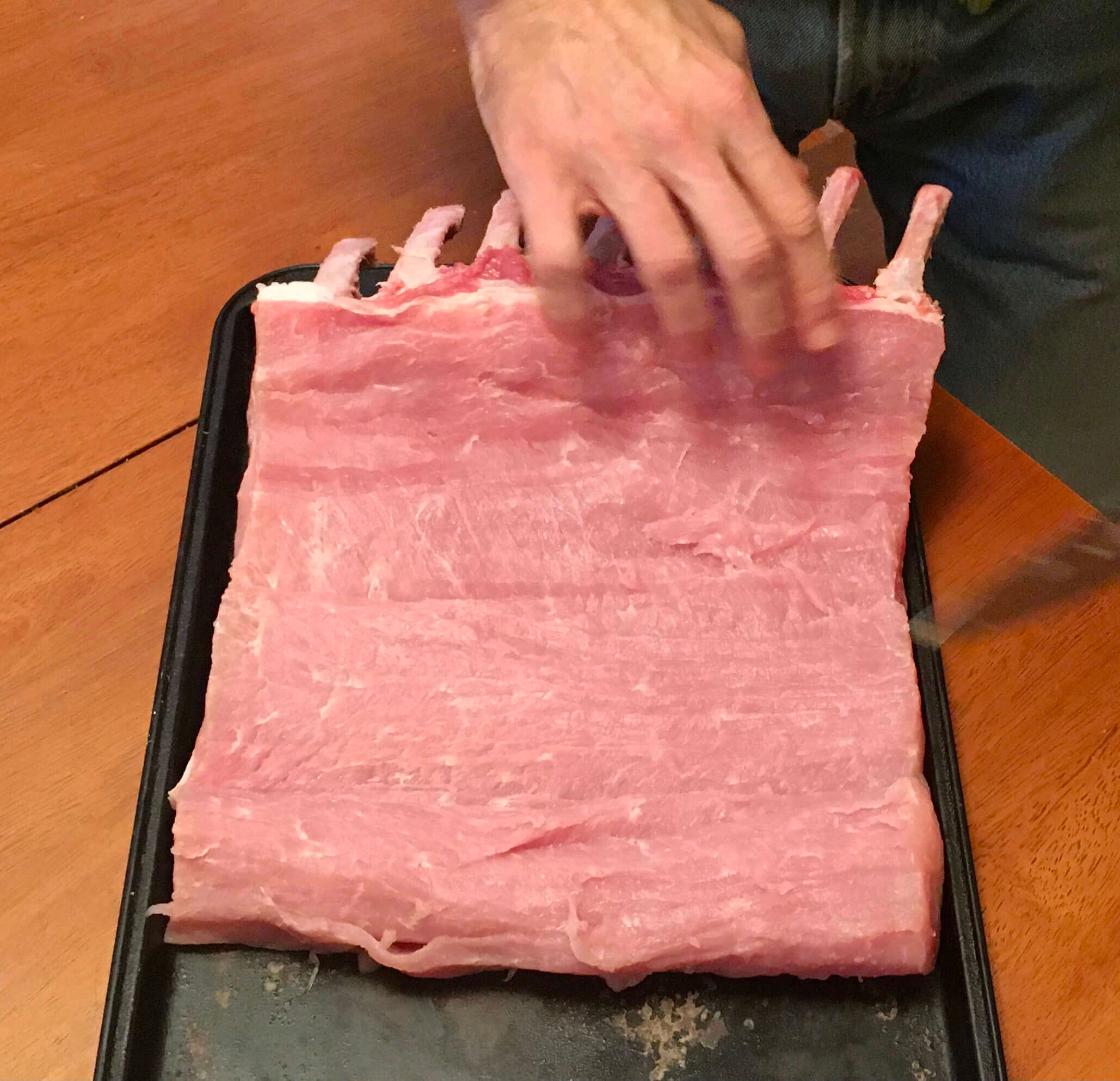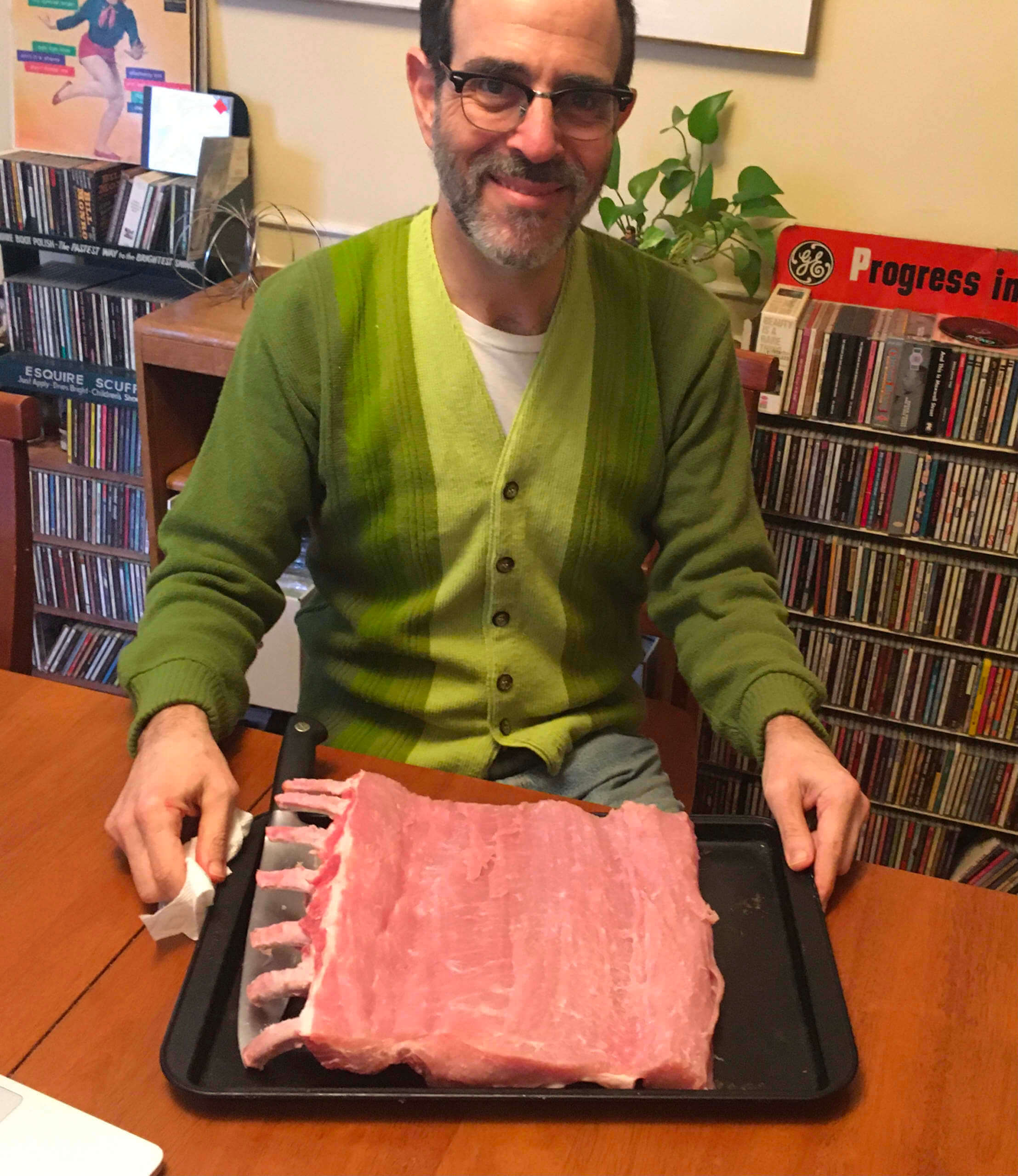 I realize it may seem risky or stressful to deconstruct a nice piece of meat like this, but honestly, it's not that difficult — you can do this!
4. With the meat now "unrolled," it was time to apply the stuffing to the flat bed of pork I'd just created: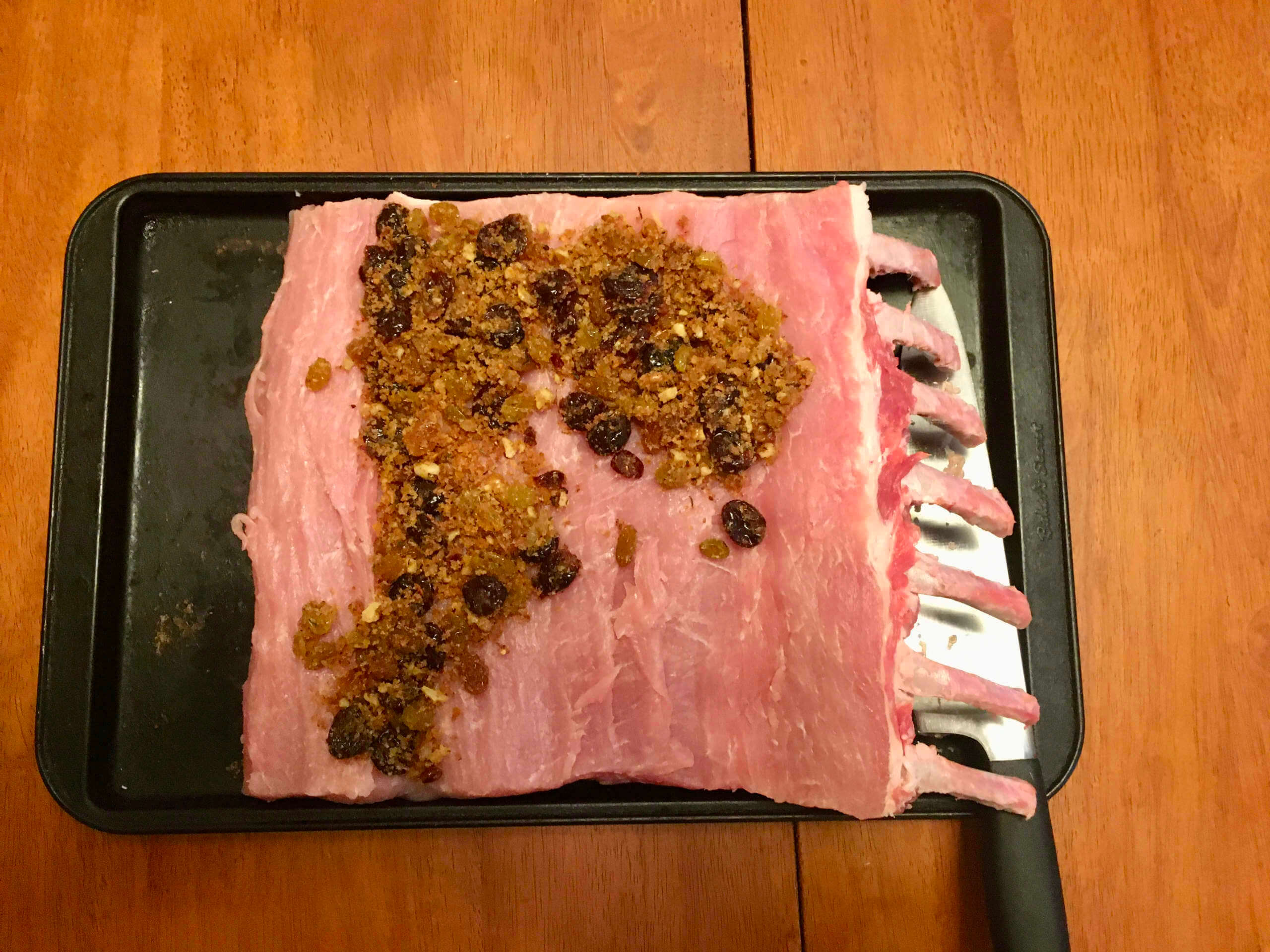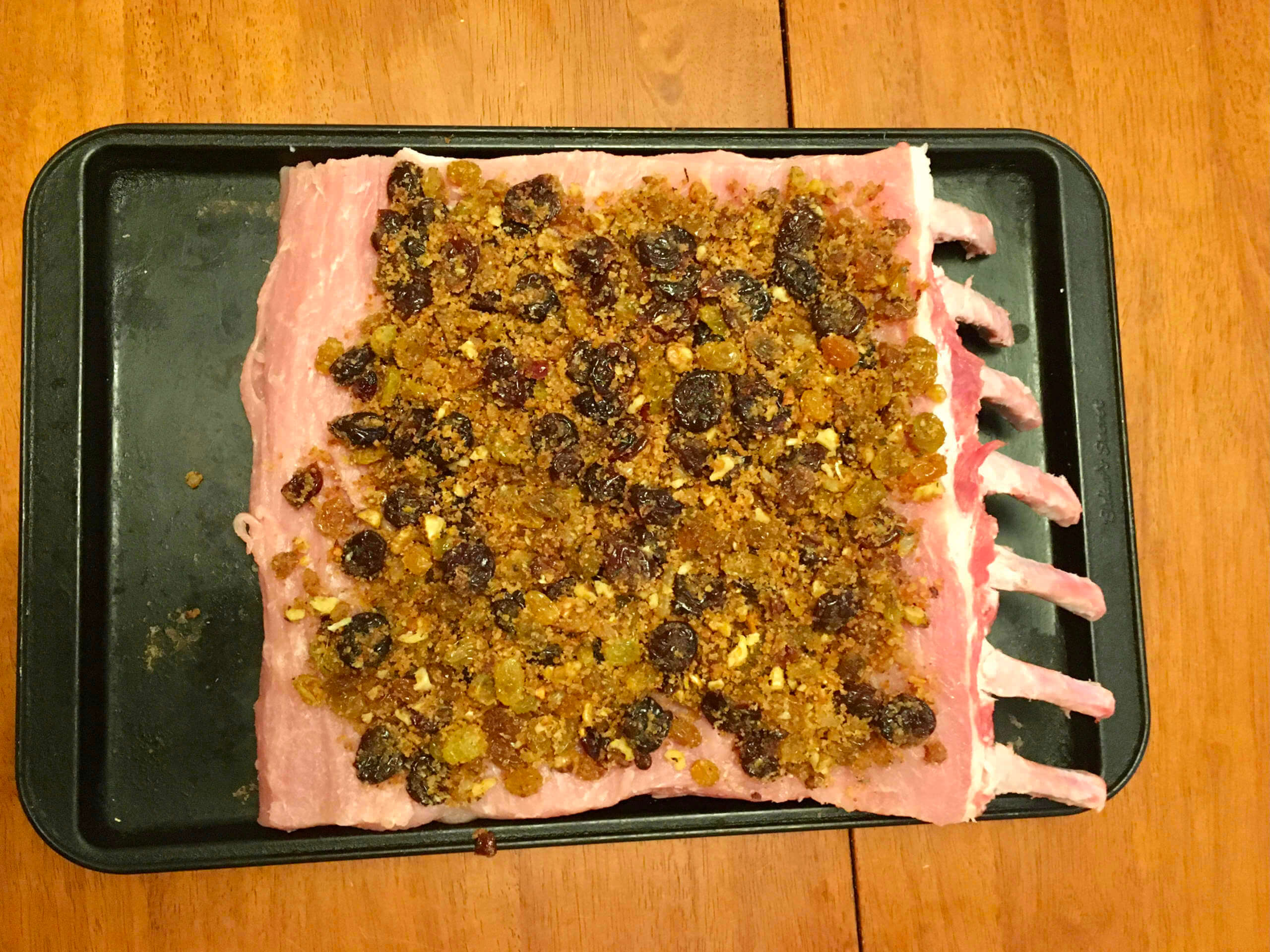 5. As you can see, I left the far-left inch or so of the meat uncovered. That's because the next step is to roll everything back up, and it's easier to do that if the edge of the roll isn't covered with stuffing: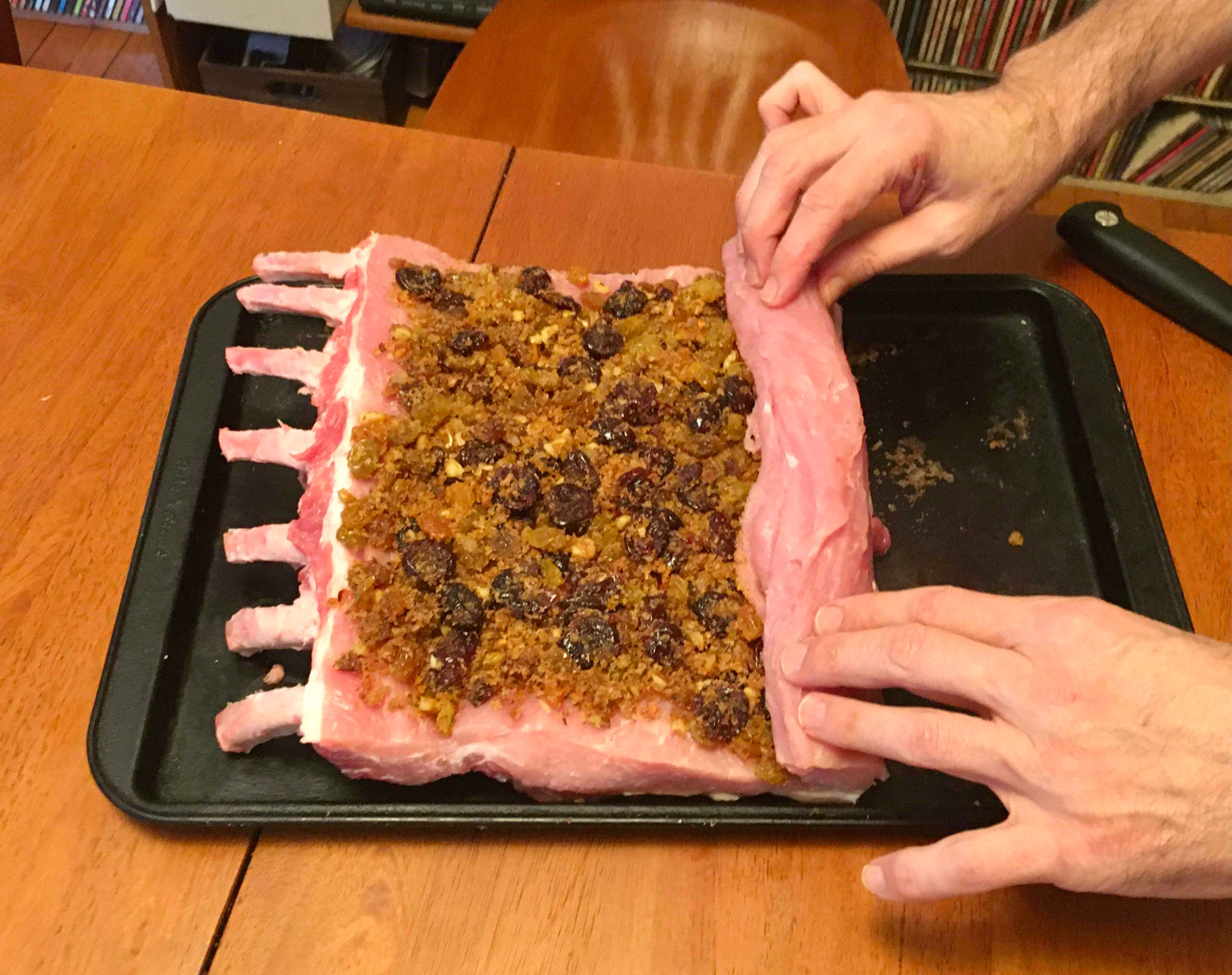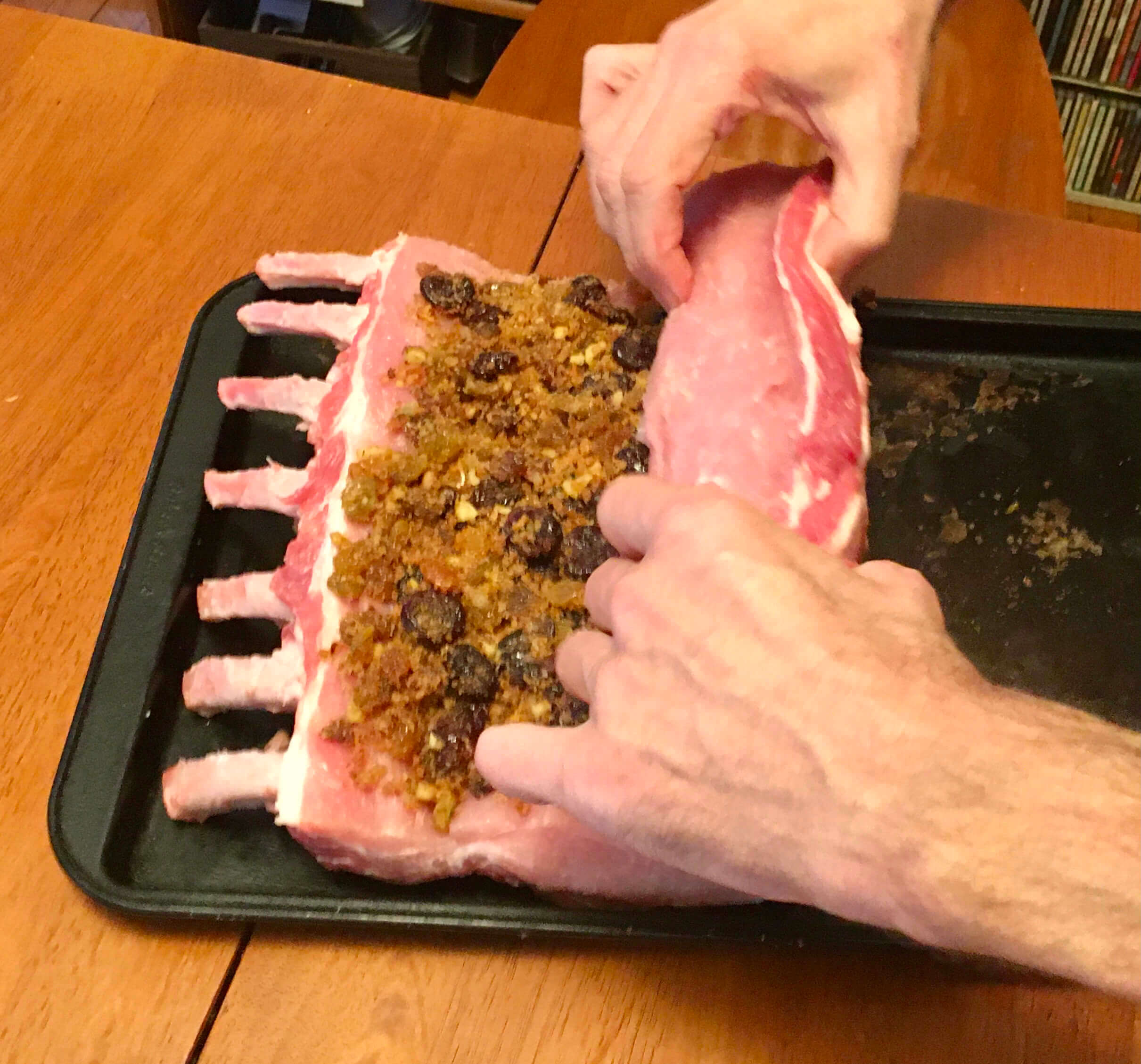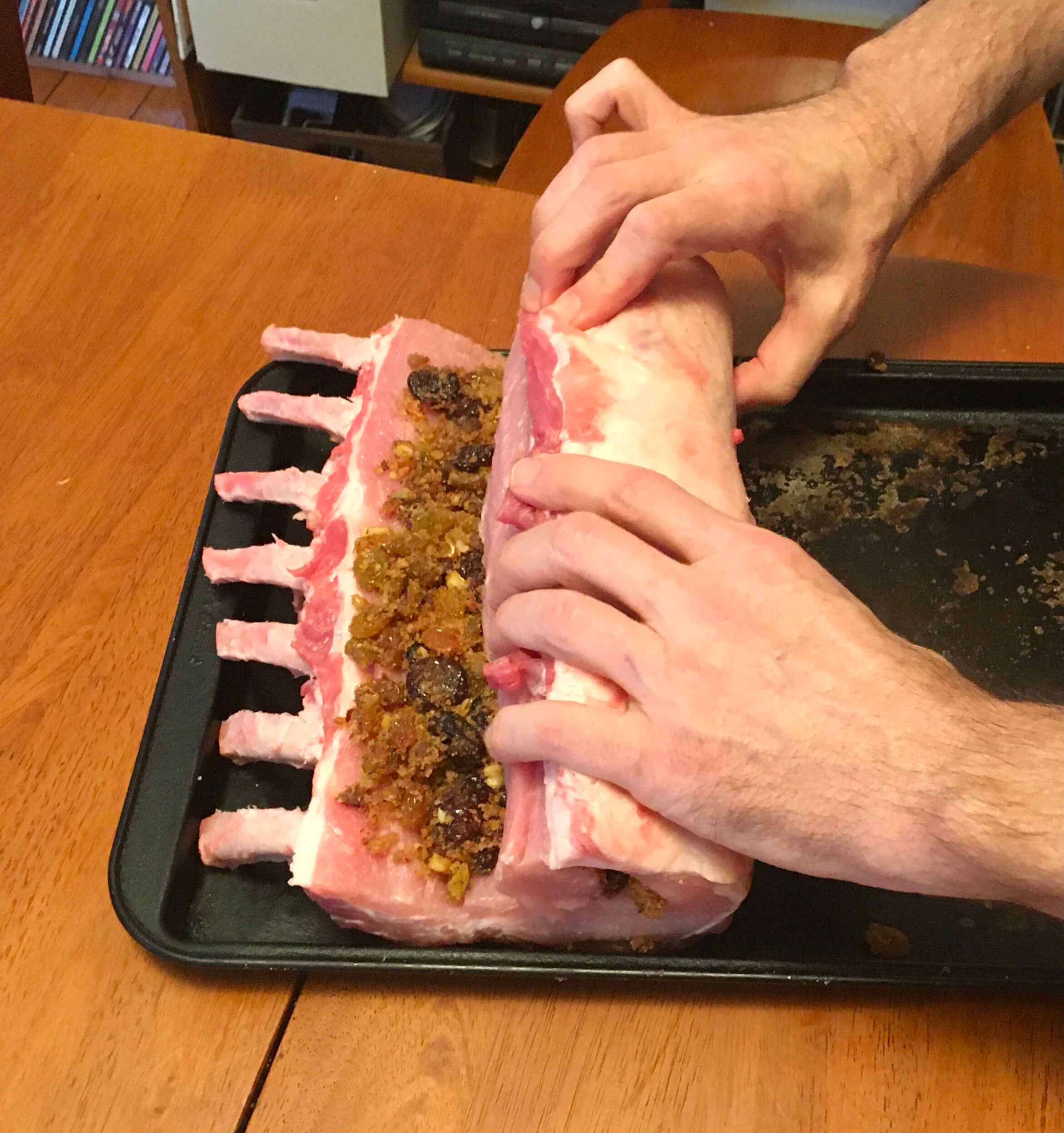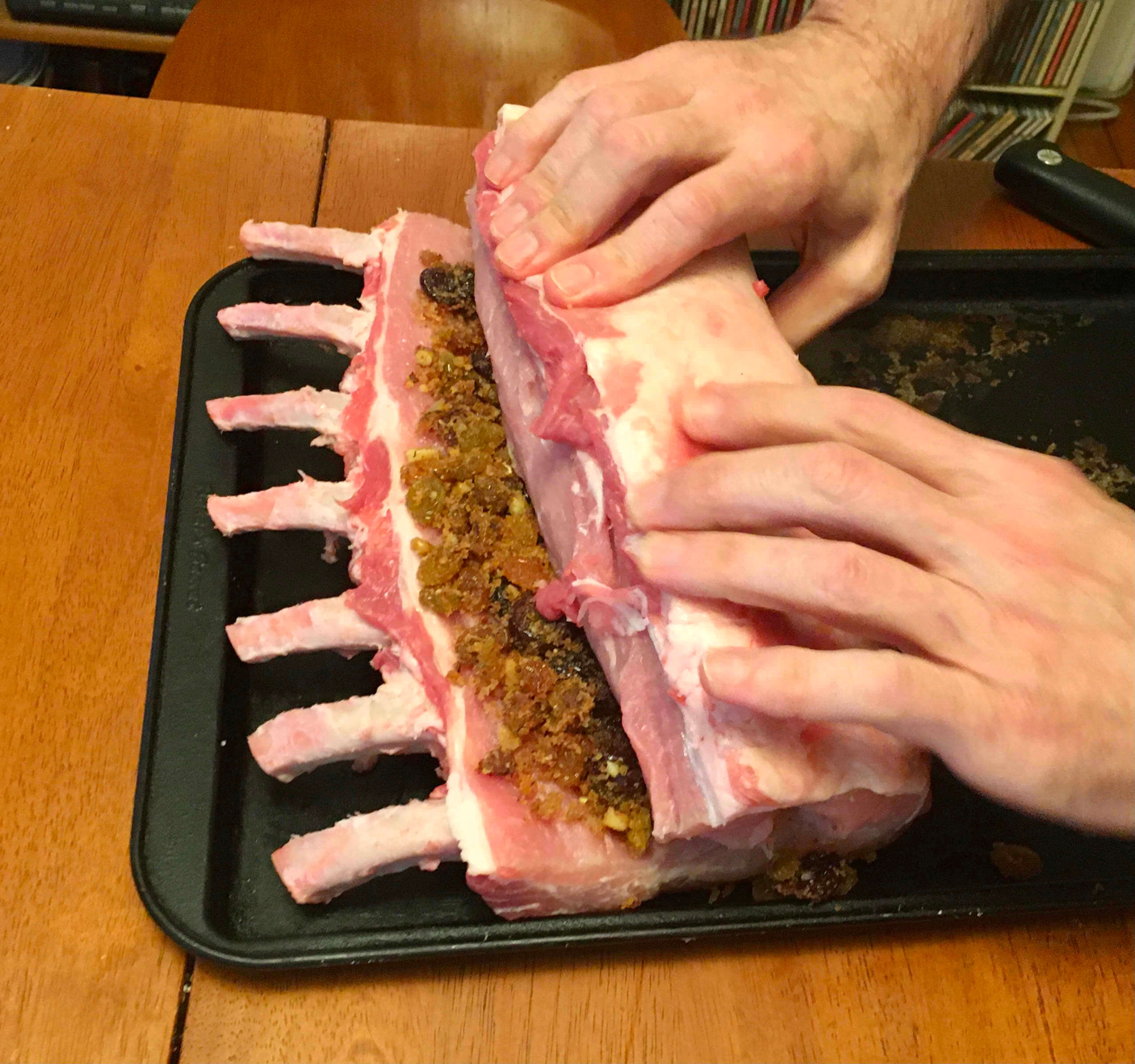 6. The final prep step is to tie the rolled roast with twine, so it stays shut: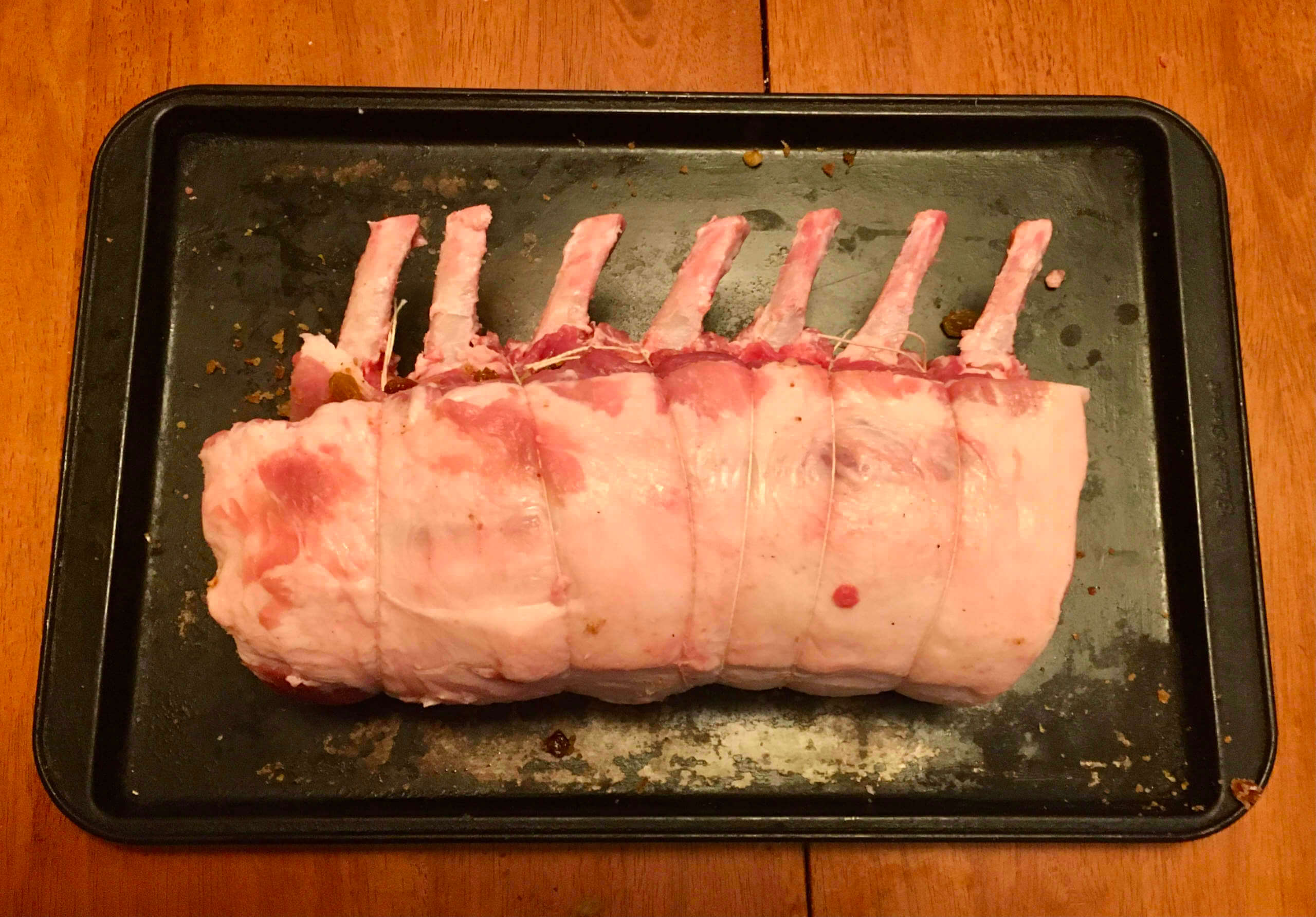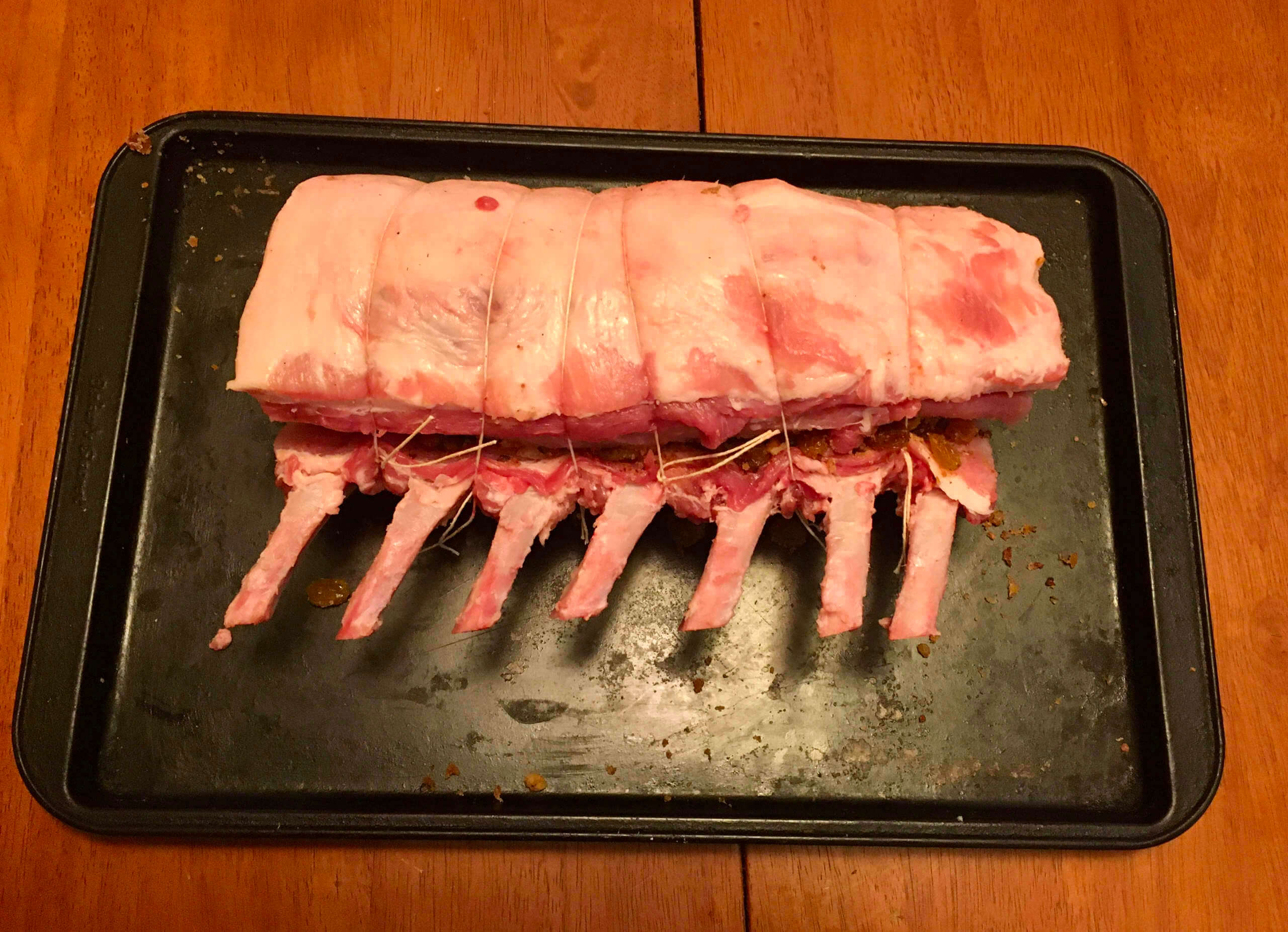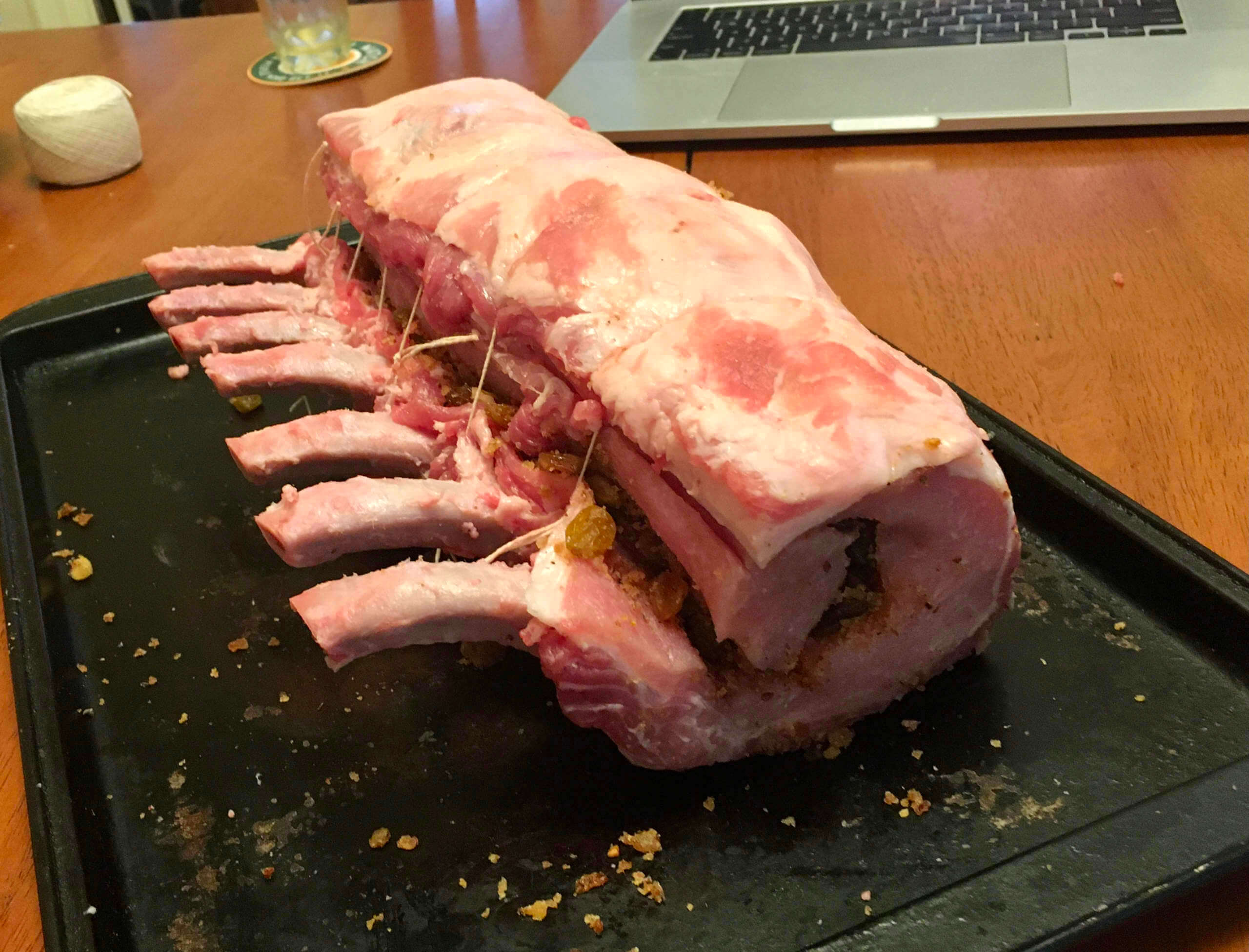 Now you can see why it was necessary to French the bones. If I hadn't removed the meat that originally covered the bone ends, it would've been much, much more difficult to tie the roast back together, because the twine would have to go all the way around the meat's original shape, instead of just going around in a circle.
7. I seasoned the exterior of the roast with salt and pepper. There are a few ways to cook this, but I opted for the slowest way — about two hours at 250º followed by 10 minutes at 500º to give the exterior a nice crust. (This is sometimes referred to as a "reverse sear.") Then we cut the roast into chops and served it with some Brussels sprouts: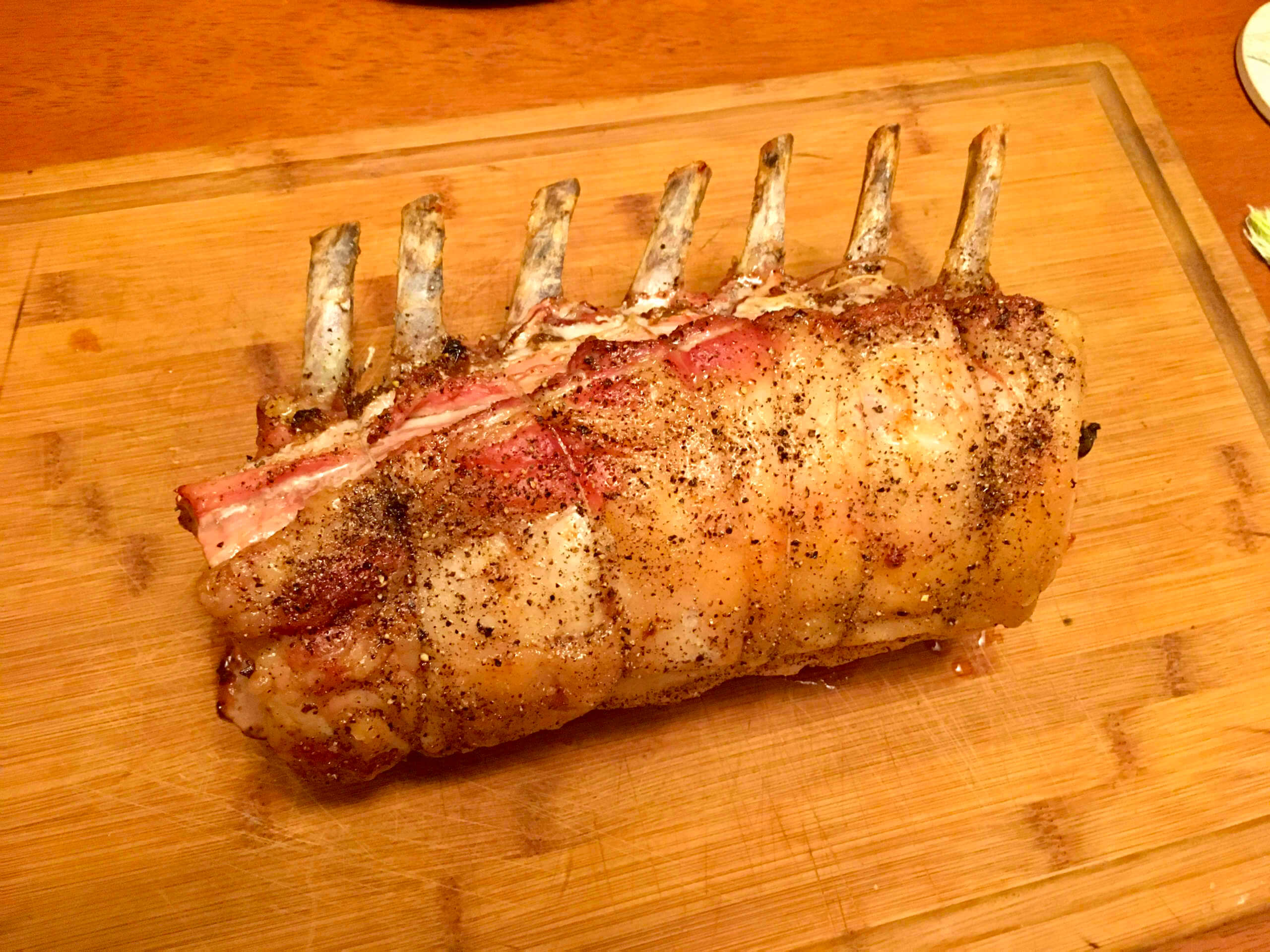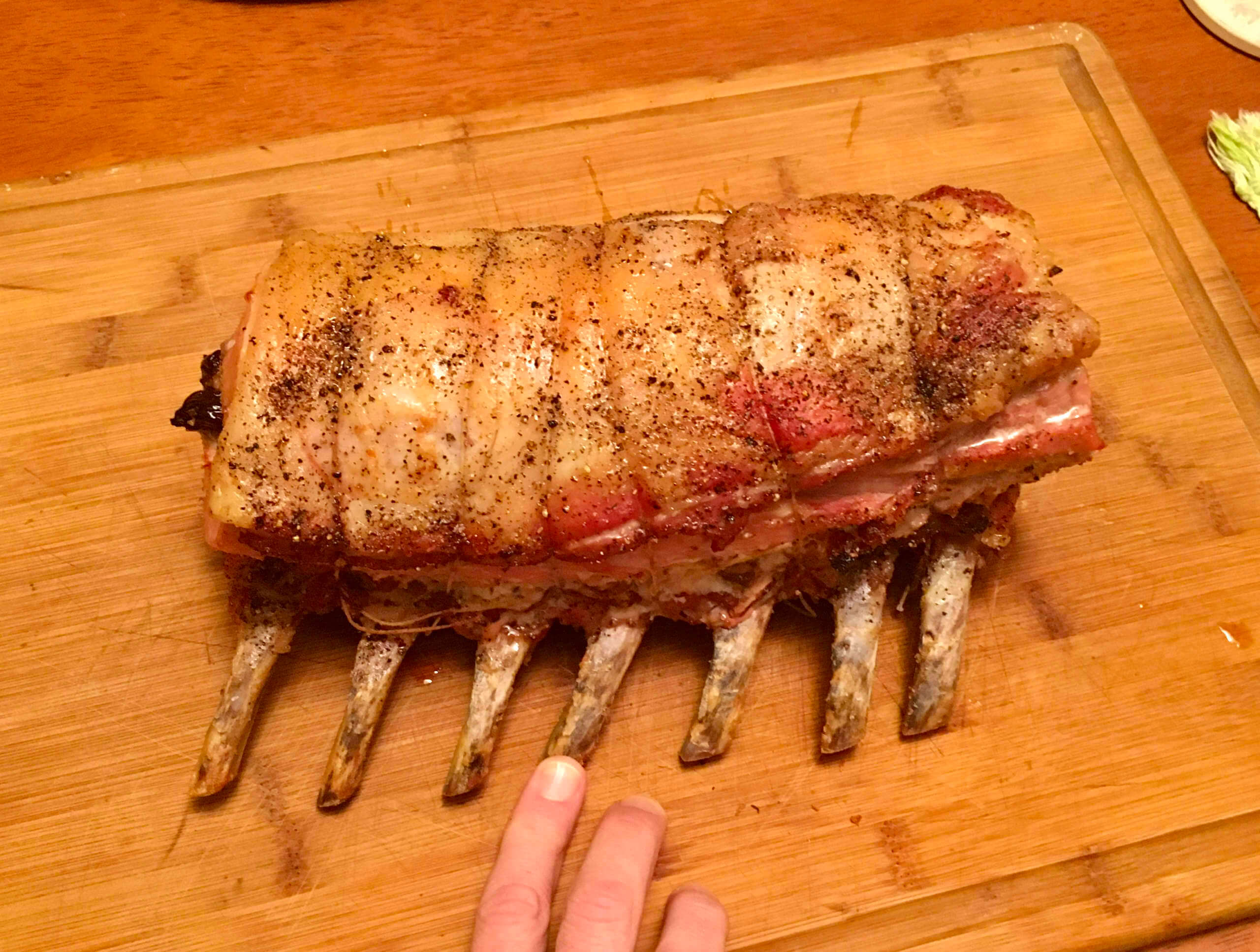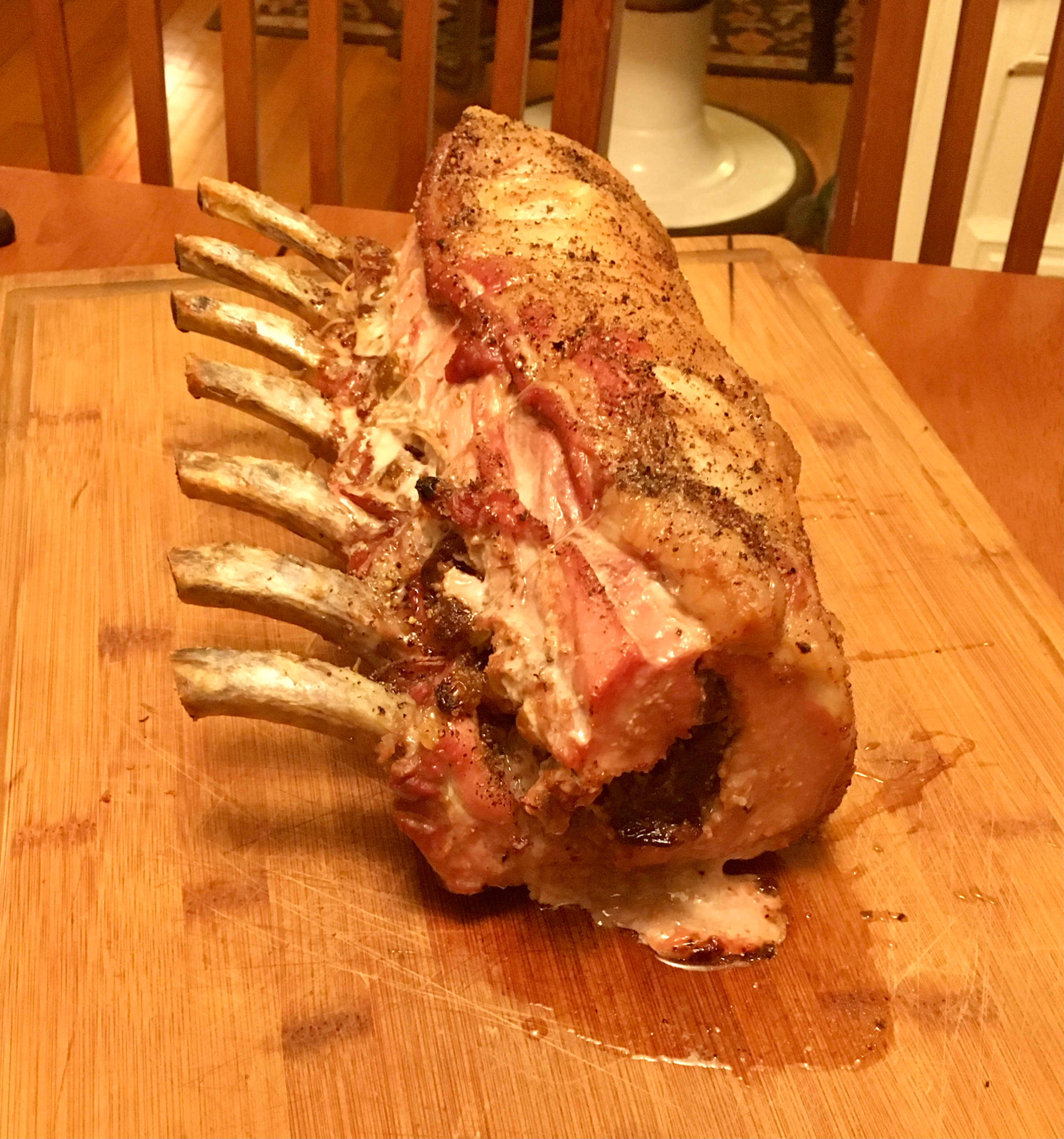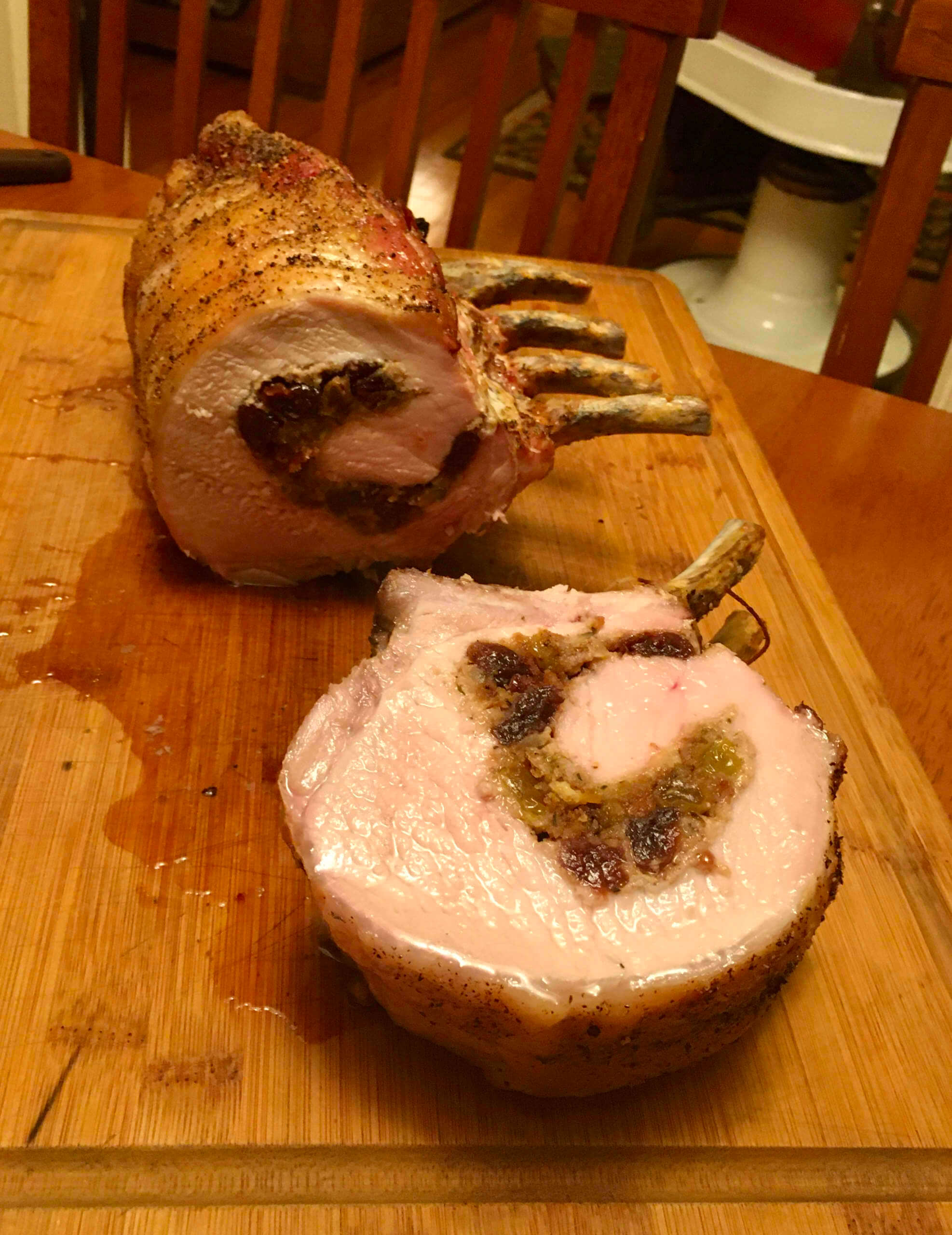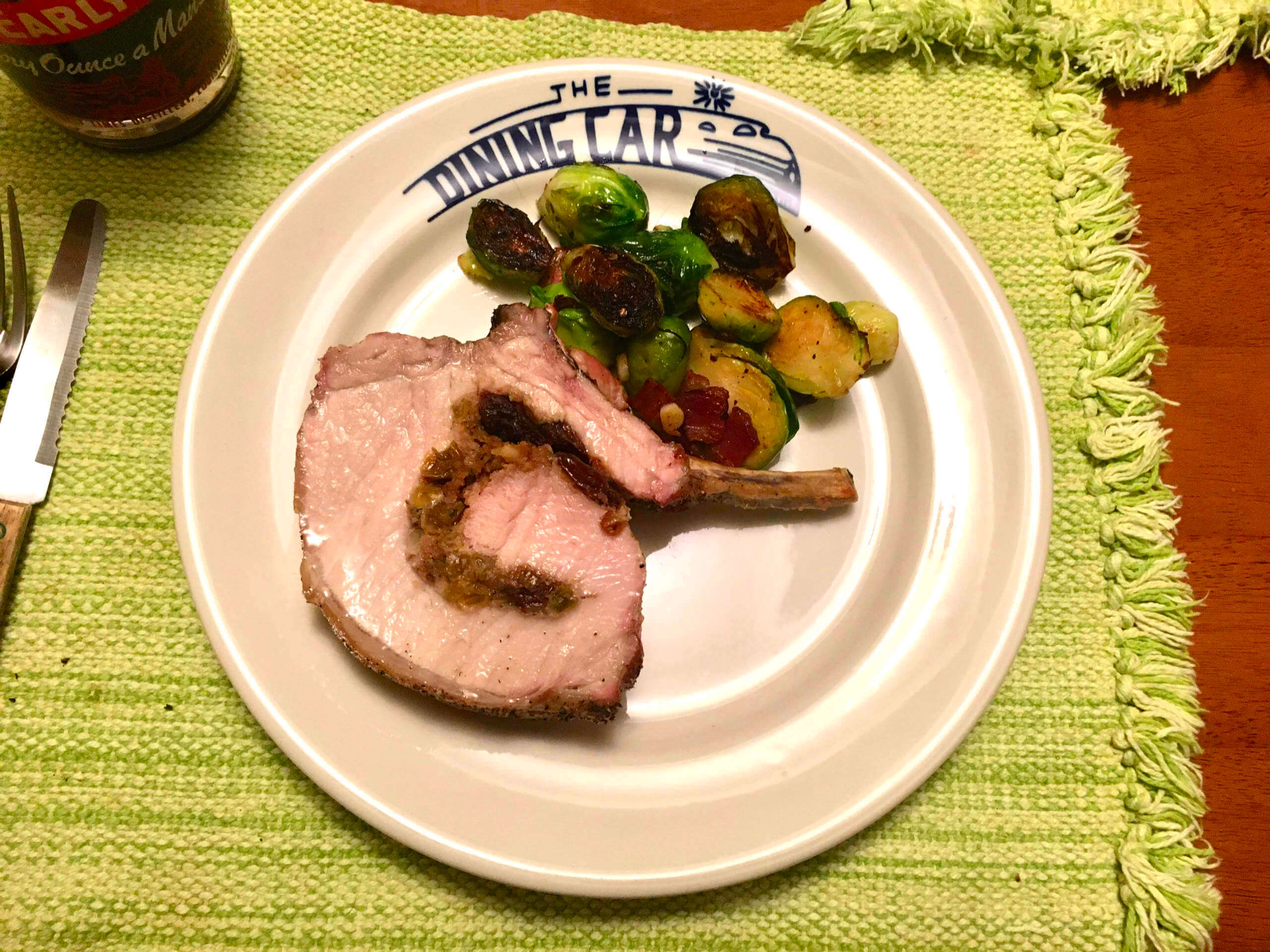 ———
Isn't that nice? A really nice project for a snowy day. (And, obviously, we still have leftovers!)
And remember, the meat cost me just 13 bucks! Fancy food — or at least fancy-seeming food — doesn't have to cost a lot.
• • • • •
• • • • •
The Ticker
By Jamie Rathjen


Baseball News: For the second year in a row, the Mets are doing a jersey giveaway for Taiwan Heritage Night (thanks, Phil). … Virginia baseball has two new blue and white jerseys planned. The team also got rings for last season's men's College World Series appearance. … Division III Lebanon Valley College baseball also has a new mono-blue alternate (from Mike Williams). … A Puerto Rico player at the Caribbean Series was wearing a pair of Reds socks (from John Exby). … In Japan, Hokkaido Nippon Ham Fighters manager Tsuyoshi Shinjo arrived to spring training wearing a very glove-themed jacket (from Jeremy Brahm). … Back in the late 1930s and early '40s, if the weather in Pittsburgh was iffy on game day, fans routinely looked for a white flag with a large red circle atop the First National Bank building. If the flag was there, it meant the Pirates' game was still on; if not, the game had been postponed. But in 1942, after the Japanese attack on Pearl Harbor and America's subsequent entry into World War II, the flag design was changed because the original design looked like the Japanese flag (from Greg Mays).

Hockey News: Reader Todd Morss DIYed a jersey concept for the OHL's Windsor Spitfires. … The WHL's Spokane team wore allegedly military-themed jerseys on Saturday. "Rather curious design. Really a plain-looking sweater," says Wade Heidt.

Basketball News: Pistons G Cade Cunningham was missing the gold championship patch on his jersey yesterday (from @bani_adamX).


Soccer News: Teams at the ongoing women's Asian Cup in India have been wearing sleeve patches with the tournament's motto, "Our Goal for All." … Canada goalie Milan Borjan sometimes wears sweatpants while playing for the men's national team. He did it yesterday, but I couldn't find any pictures of him doing so at club level for Red Star Belgrade or previous stops (from @Spottschrift). … Japan's Tokyo Verdy released a new second shirt for their men's team, but also got players from some of their other sports departments to join in, even though I'd imagine they'd all wear something else.

Grab Bag: A men's volleyball match on Saturday between Long Beach State and Penn State had both teams wearing white. "The liberos were the only way you could tell" them apart, says Andres Cardenas. … Haneen Zreika, a Muslim member of Greater Western Sydney's AFL Women's team, sat out GWS's game on Friday so she wouldn't have to wear their pride guernsey, reportedly out of fear that participating would compromise her standing in the Muslim community. The initial explanation was "personal reasons" until after the game. … Fun Fact: Newly crowned Australian Open women's singles champion Ash Barty briefly took a break from tennis to play professional cricket. Here she is in uniform for the Brisbane Heat in the first season of the Women's Big Bash League in 2015.
• • • • •
Our latest raffle winner is Micheal Wunderlich, who's won himself a complimentary Uni Watch membership card. Congrats to him, and thanks again to John Benal for sponsoring this one. We'll have another raffle (non-membership-related) tomorrow. See you then! — Paul