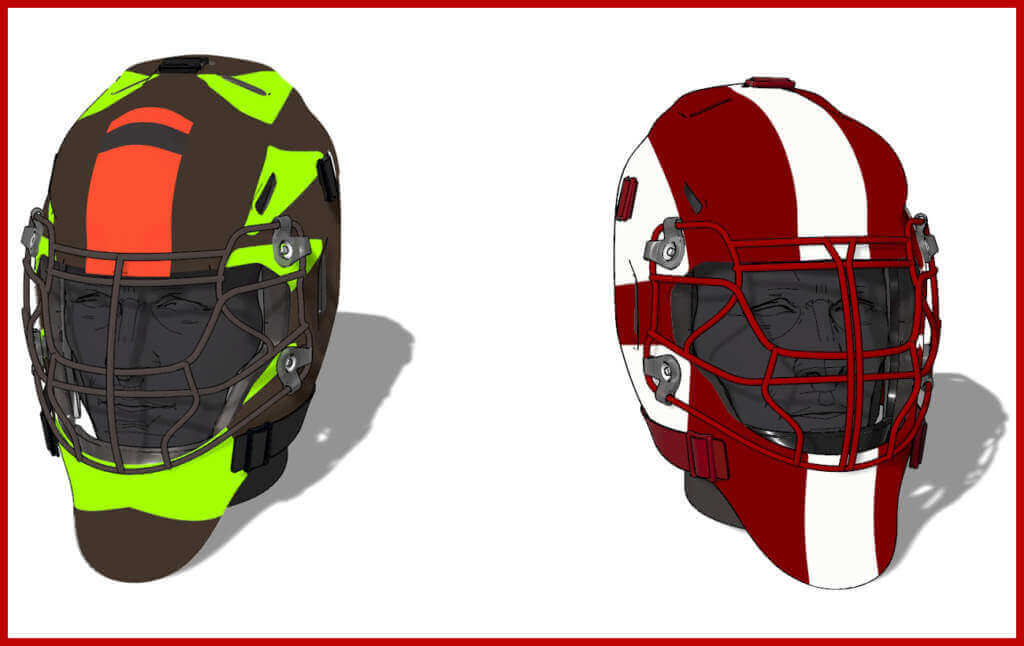 By Phil Hecken
Follow @PhilHecken

Good Sunday Morning Uni Watchers! Sorry about yesterday — it's a very long story, but let's just suffice it to say that I spent most of Friday either in or near the Emergency Room of a local hospital with my mom, who had a medical emergency. She seems to be OK now, but it was scary for a while. As such, I just wasn't able to put together a post. As Paul noted, sometimes Real Life gets in the way. And although her emergency wasn't COVID-related, I'm quite frankly amazed that we've been able to keep the UW blog going throughout (*knocks wood*).
On a completely unrelated note, my Aunt, who had knee surgery a couple weeks ago and is currently rehabbing in a nursing home (in New York State, post-op surgery patients are placed in assisted living/nursing home facilities), contracted COVID this past week (she's triple vaxxed!). So please, folks, I beg you, even if you're fully vaccinated, PLEASE WEAR A MASK when we're in one of these "surges," you can easily get COVID! Vaccination is NOT a "get out of jail free" card. The good news is, because she's been triple vaccinated, her symptoms are relatively mild. That's what the vaccine does — it lessens the chance you'll develop acute symptoms, and get really sick and die. I don't want to sound preachy — I myself *HATE* to wear a mask — but it's not for my own good or protection/prevention…it's for everyone else. We can get through this together but we still need to exercise common sense and good disease prevention. OK? OK. (Gets out of saddle on particularly large equine beast.)
Now then. I'm joined today by one of Uni Watch's oldest and most stalwart member/readers, Michael Princip. You may remember Michael was the original "Duck Tracker" and has also been designing safer football helmets over the years. His work was featured on ESPN back in 2011, and again in 2017 (and I'm sure other times I'm forgetting). A couple weeks ago, Michael let me know he was working on a new project involving hockey goaltender helmets. I asked if he could further elaborate and let me share his work with you all. He e-mailed me back almost immediately (I'd asked him for an intro/description), and the rest of his work can be seen below. A portion of that e-mail is included, and then the rest of the project.
• • • • ‹
Hi Phil,

Having a flashback here of sorts from the days of us doing the Ducktracker. I must say, I look back fondly at those times.

So, this latest project is one that I've been working on from time to time, or when I get the time. It's actually the culmination of a few projects. One of which goes back to when I visited Paul and you at the Brooklyn party. I was there to attend the party as well as show Paul a new helmet padding system and unique faceguard clips that I developed.

It's that padding system and clips that I've adapted to this goaltender mask. I really wanted to do something different and just around the time Covid hit I was getting into motion graphics and creating these animations which revolved around 70s goaltender fiberglass type mask designs. Then, I got the idea to design my own modern day goaltender mask.

The innovative attributes of my mask are the wire cage design (great sightlines and protection), as well as, the padding system. Excellent impact attenuation and the way the liner pads are laid out, which are designed to keep the player ventilated cool and protected.

A lot of people are not even aware there are only two types of goaltender wire cage designs out on the market for pros and juniors, and that's the "cat-eye" style and the square grid. I found this very interesting and I challenged myself to design another viable option.

The graphics really came about from these amazing insect markings that I noticed. Since I took a more organic approach to modeling the mask shell and faceguard, I felt that it was only natural to apply a more animal/insect graphic scheme to the shell. One of my favorite books was also an influence, Bio-mimmicry:Innovation inspired by nature. There's an example where I used a tweening algorithm to predict the next wire routing in the cage design, and how it relates to the pattern on the Raja Brooke's Butterfly, using the same algorithm.

Thanks again for your interest, Phil.
And here's Michael with the rest of the project!
• • • • •
Goaltender Mask Design
by Michael Princip
When I need to develop quick organic shapes, my go-to is SubD modeling. I can create planar surfaces from 2D line segments and vertex points which I can then manipulate 3 dimensionally to digitally sculpt the forms I'm looking for.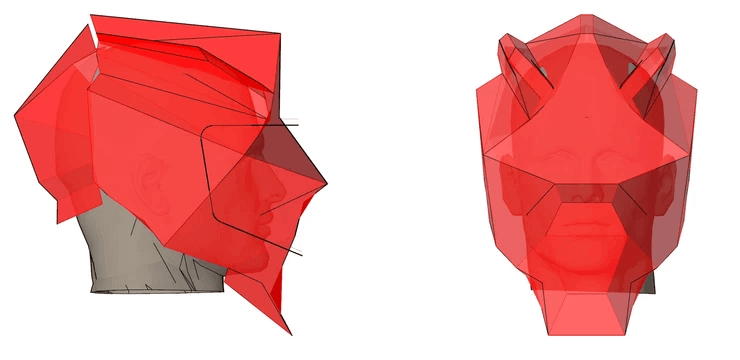 I can toggle between the faceted shape above to the smoother form below.
I sculpted three distinct sections at the top to strengthen the shell in these areas.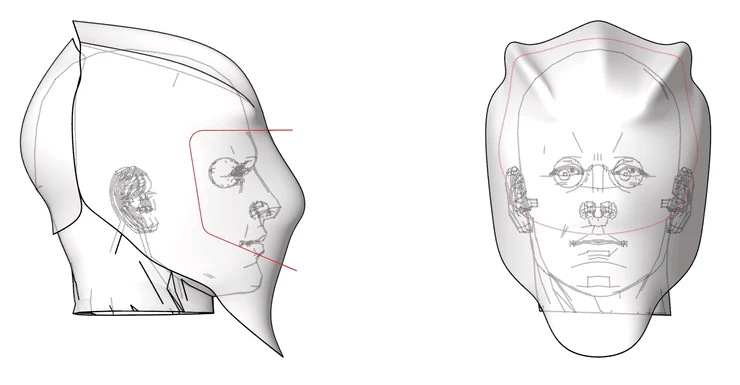 After I get the base form that I like, I can then convert it to NURBS and do some more detailed surfacing for cut out vents and ear holes. Then, I'll create a surface just offset around the face cutout in order to project some lines that create the face guard wire pattern.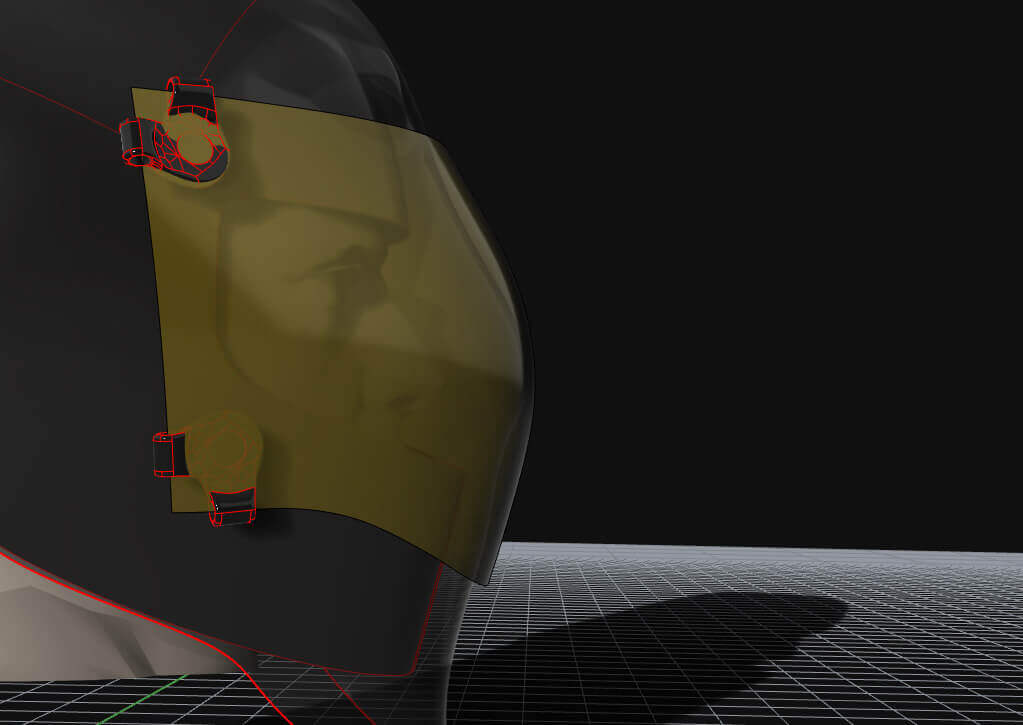 The faceguard design was inspired by a Mempo style Samurai mask. I wanted a scowl right at the nose and mouth area, then open it up just around the eyes, but not enough to allow a puck through. I'm using the Activ elbow clip which essentially create 4 rounded corners that the clips securely fasten around.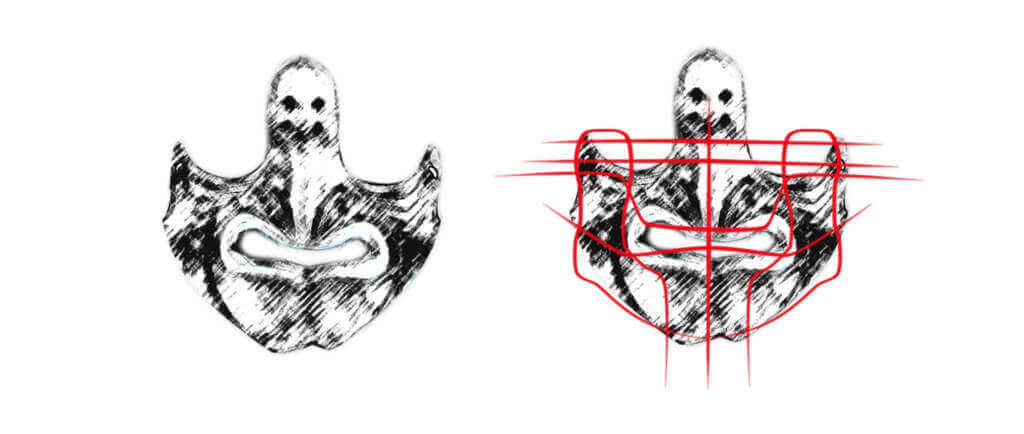 Nature As Mentor:
A tweening algorithm that I use on occasion can be useful in developing logical natural patterns. It works by creating as many shapes needed, which transition between the starting shape and the end shape. Below, the algorithm generates the 5 shapes in between.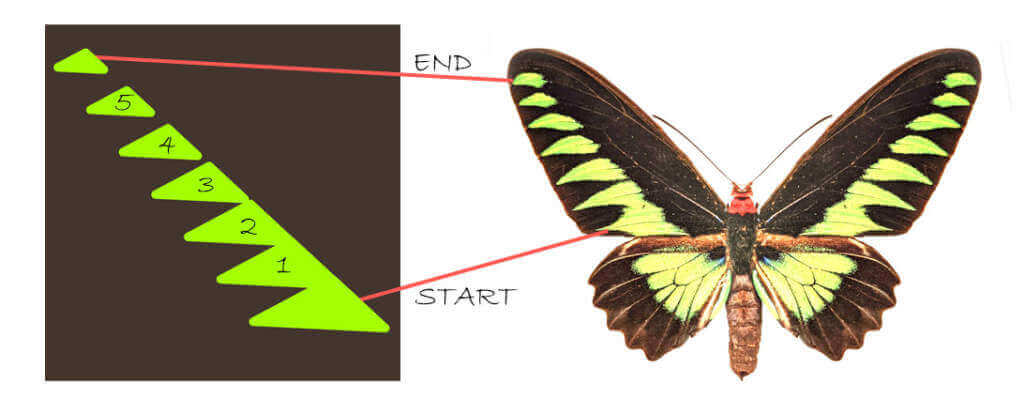 If I were to design a faceguard that offers more protection from a hockey stick entering any of the sections, I'll put in my starting curve then the end curve which generates the wire curve shapes I need to closeout the section. Below, I created one vertical curve shape using the same tweening algorithm.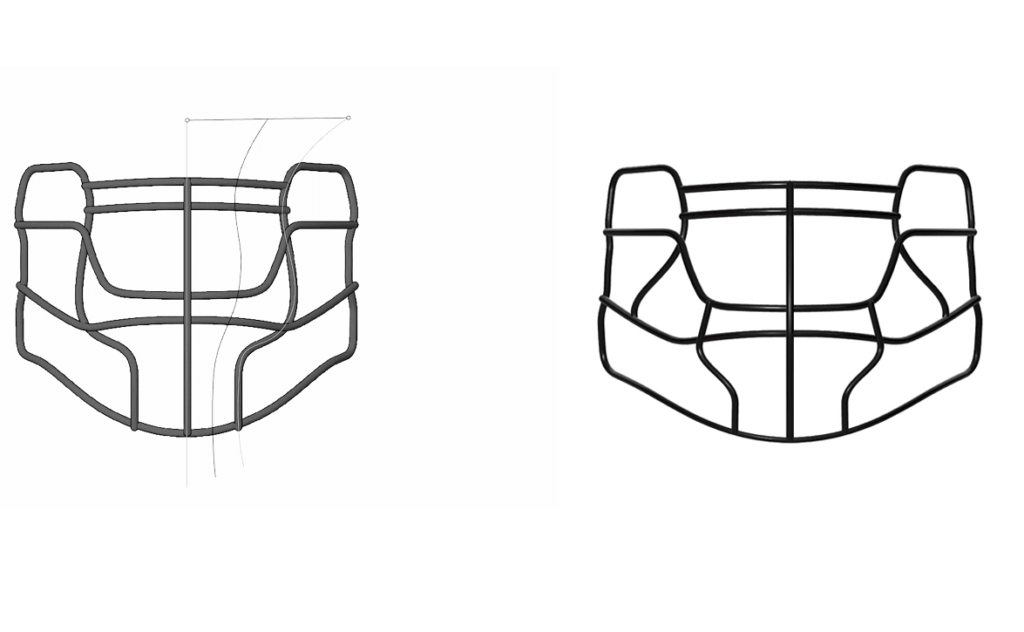 Graphics
I love most of the designs on vintage fiberglass full shell cover masks. They were bold and made a big impression even from afar. I wanted to do something similar for my teams so I divided the mask into 4 segments. Then, I found quadrant patterns off my favorite insect markings which influenced the team colors.
Quadrants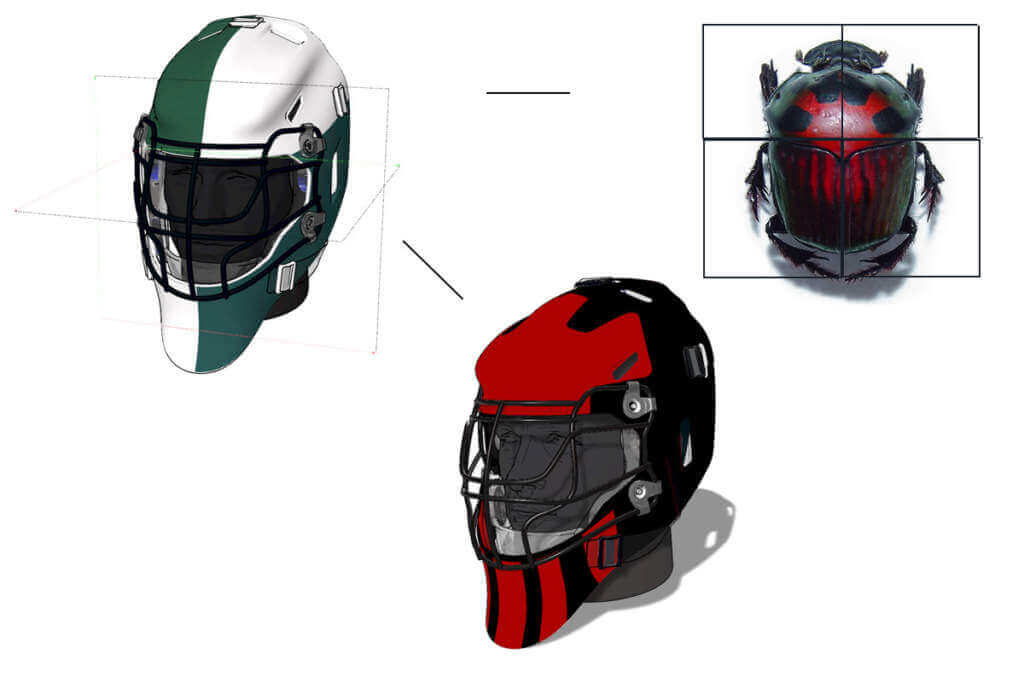 Graphics: Insect Markings Inspired Designs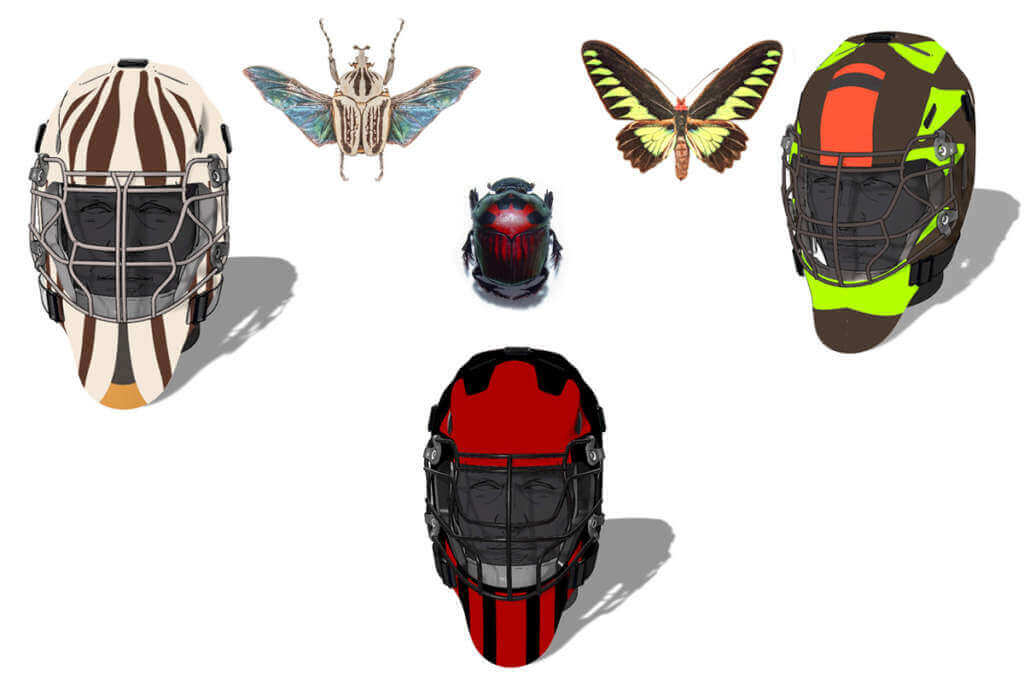 Brink Citadel (left) — Ruby Beets (right)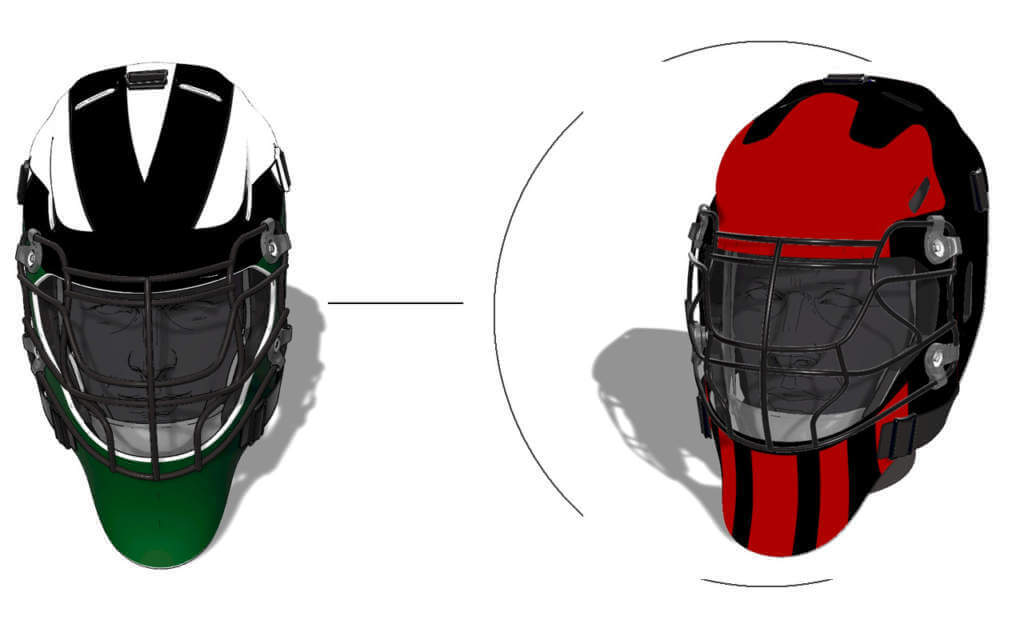 Rajah Brookes — Kindred Cross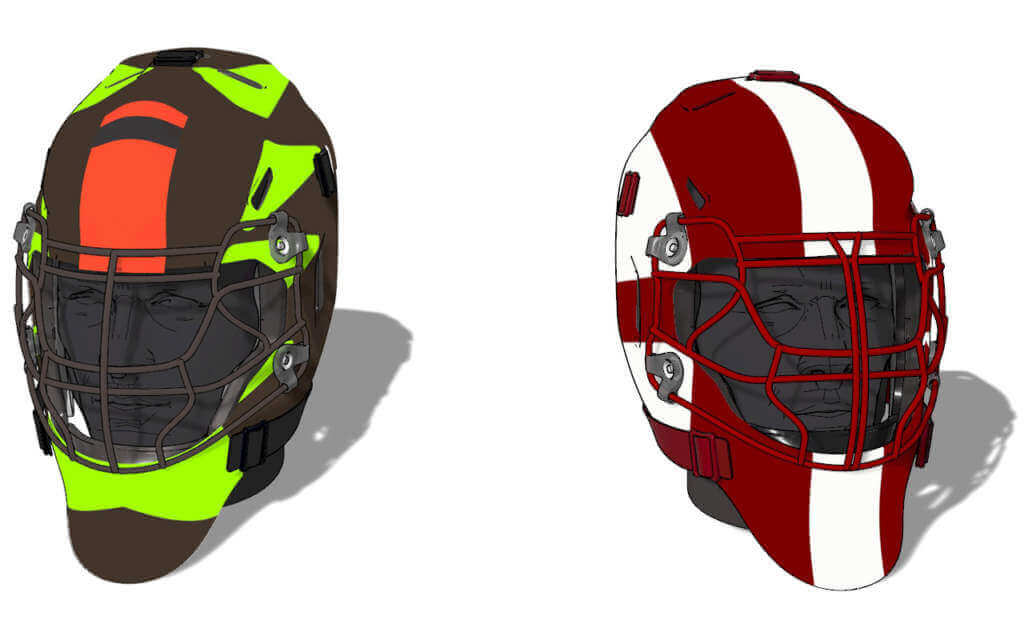 Star City Cupolas — Bannermen Guild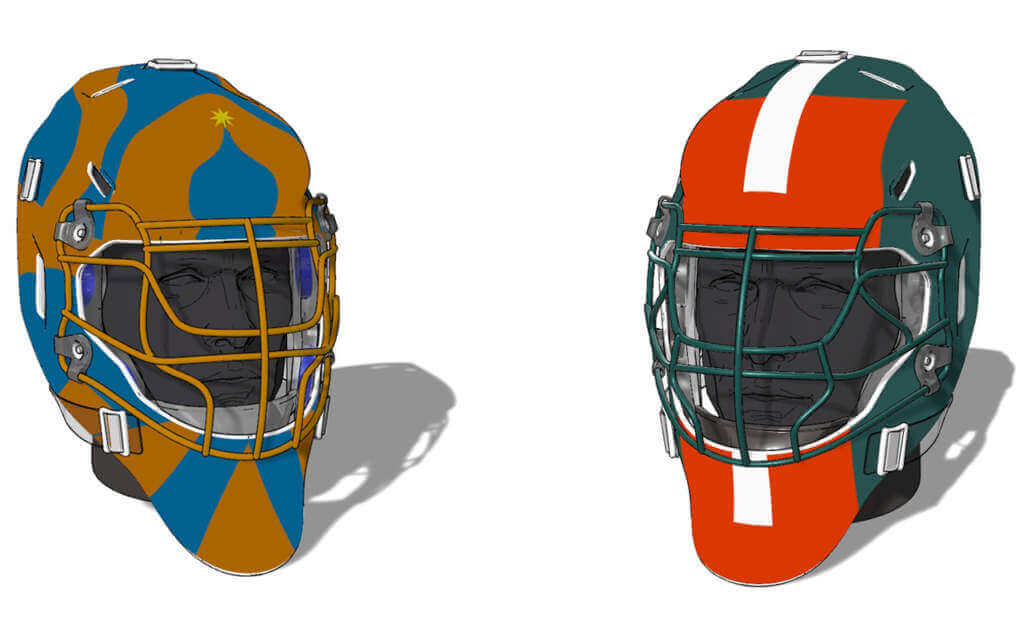 Guyana Burrows — Canopy Fliers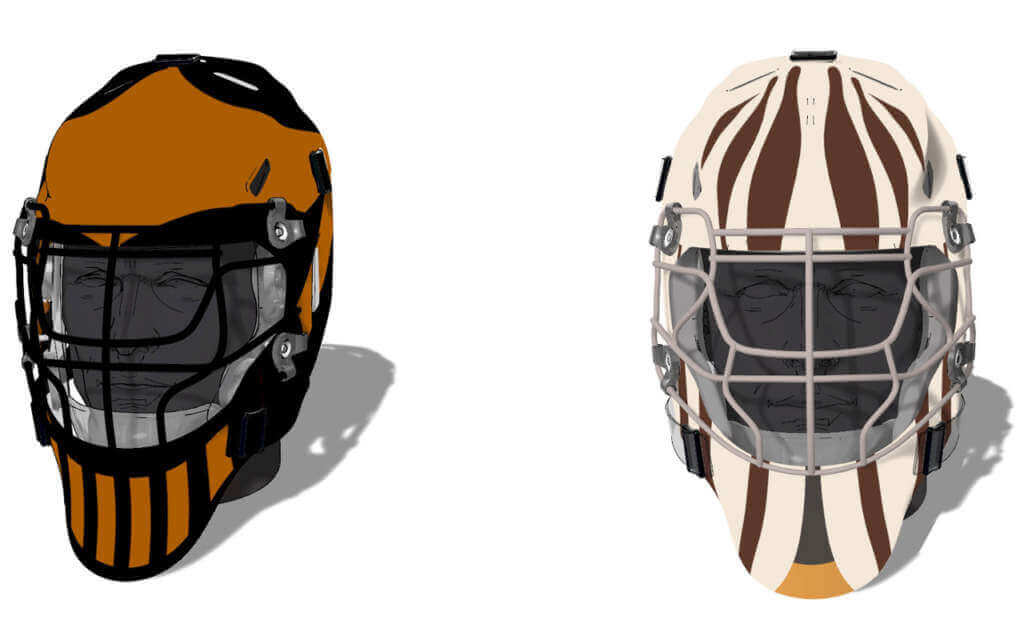 The Hardware: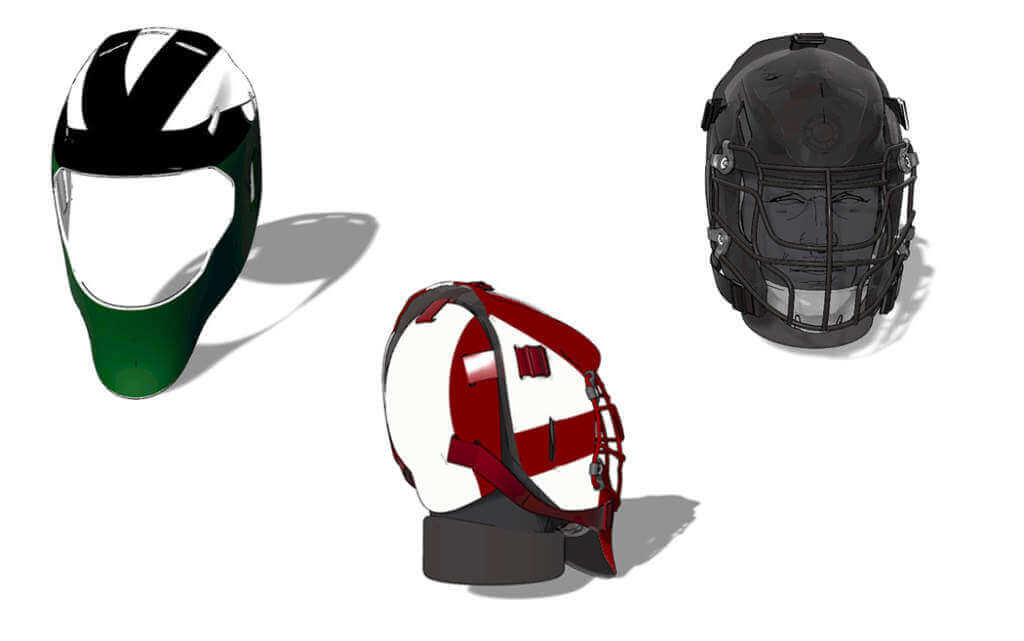 The liner system w/DIADs, that I developed for the football helmet, have been tested at NTS Labs in Belcamp,MD. Results exceeded NOCSAE standards and align more with NFL approved criteria. The same system has been adapted for the mask padding and liner here.
Impact protective soft face pads with optimal ventilation channels.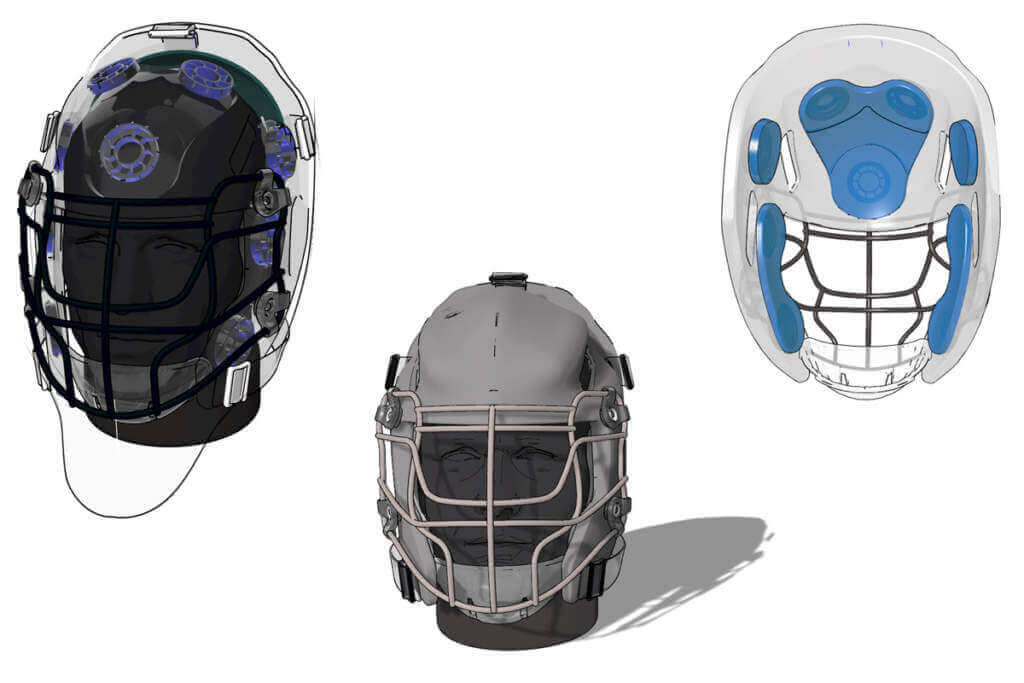 VISION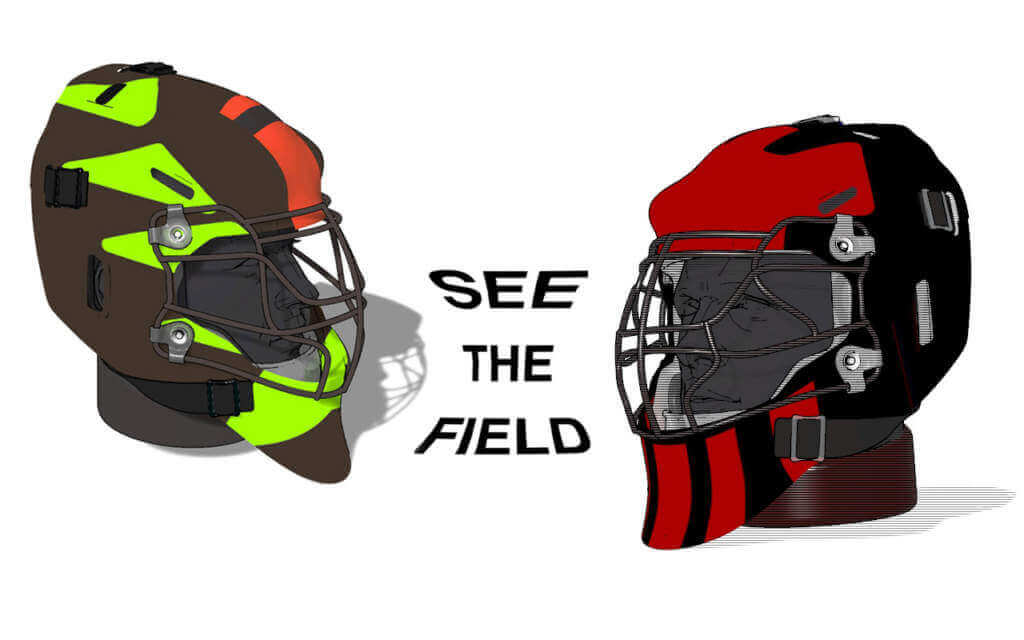 _________
References:
Broad, G. Huertas, B. Kirk-Spriggs, A. Telnov, D. (2020) Smithsonian Handbook of Interesting Insects. Washington, D.C.: Smithsonian Books
Rothery, B. (2021) Sensational Butterflies. Thomaston, Maine: Tilbury House Publishers
Benyus, J. (1997) Biomimicry: Innovation Inspired by Nature: NY, NY: William Morrow & Co.
• • • • •
Thanks, Michael! Terrific stuff — as the readers may know, I'm not nearly as into helmets as I am uniforms, but this still fascinates me. Tremendous job, and thanks for sharing.


Picking The Divisional Playoffs…by better uni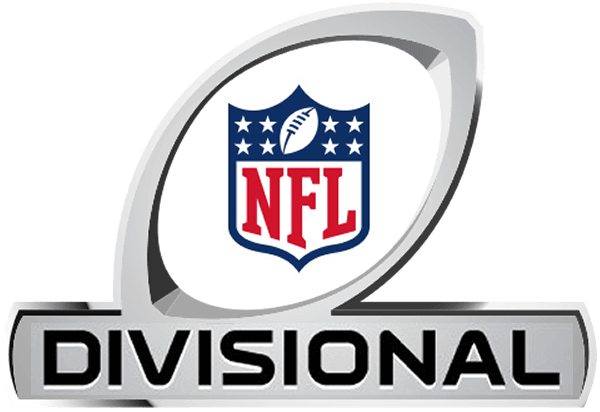 Last weekend, I tried my hand (as I am wont to do) at picking the NFL Wild Card winners by (IMO) the "better uniform." I went 4-2, and was a Derek Carr interception away from going 5-1, so this weekend I'm back to pick your Divisional Round playoff winners. (UPDATE: I originally wrote this to appear on Saturday, but as there was no post yesterday, I'm running it today. You can see my picks for yesterday's games based on the writeups, and see how I did. Today's games are still "valid.")
SATURDAY, JANUARY 22, 2022
Tennessee Titans v. Cincinnati Bengals
Time: 4:30 pm (EST)
Channel: CBS
Spread: Tennessee -3.5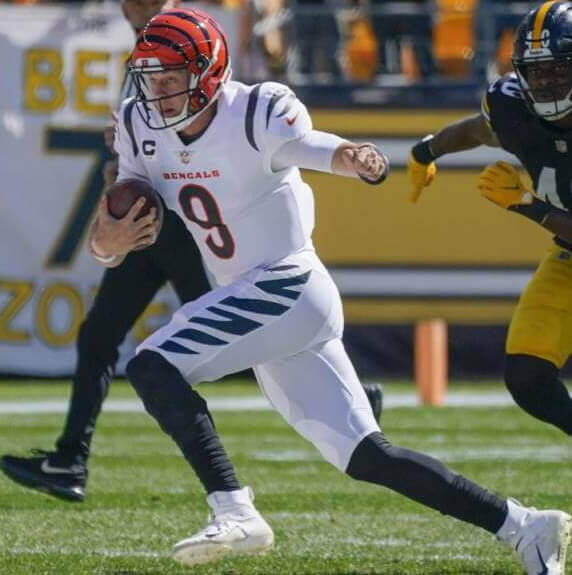 This will undoubtedly be the worst looking game of the weekend — but the pick isn't that difficult. The Titans (in mono blue) is one of the worst looking uniform sets out there (all of their unis are bad, but this one is atrocious). Now, the Bengals have some bad possible combos, but mono-white with black socks isn't one of them. In fact, I'd argue it's their best look overall! (And it will look even better next fall if they add the alternate white bengal helmet). I love this look and it's gonna pull off the upset.
The pick: Bengals getting three and the hook
_________
Green Bay Packers vs. San Francisco 49ers
Time: 8:15 pm
Channel: FOX
Spread: Packers -5.5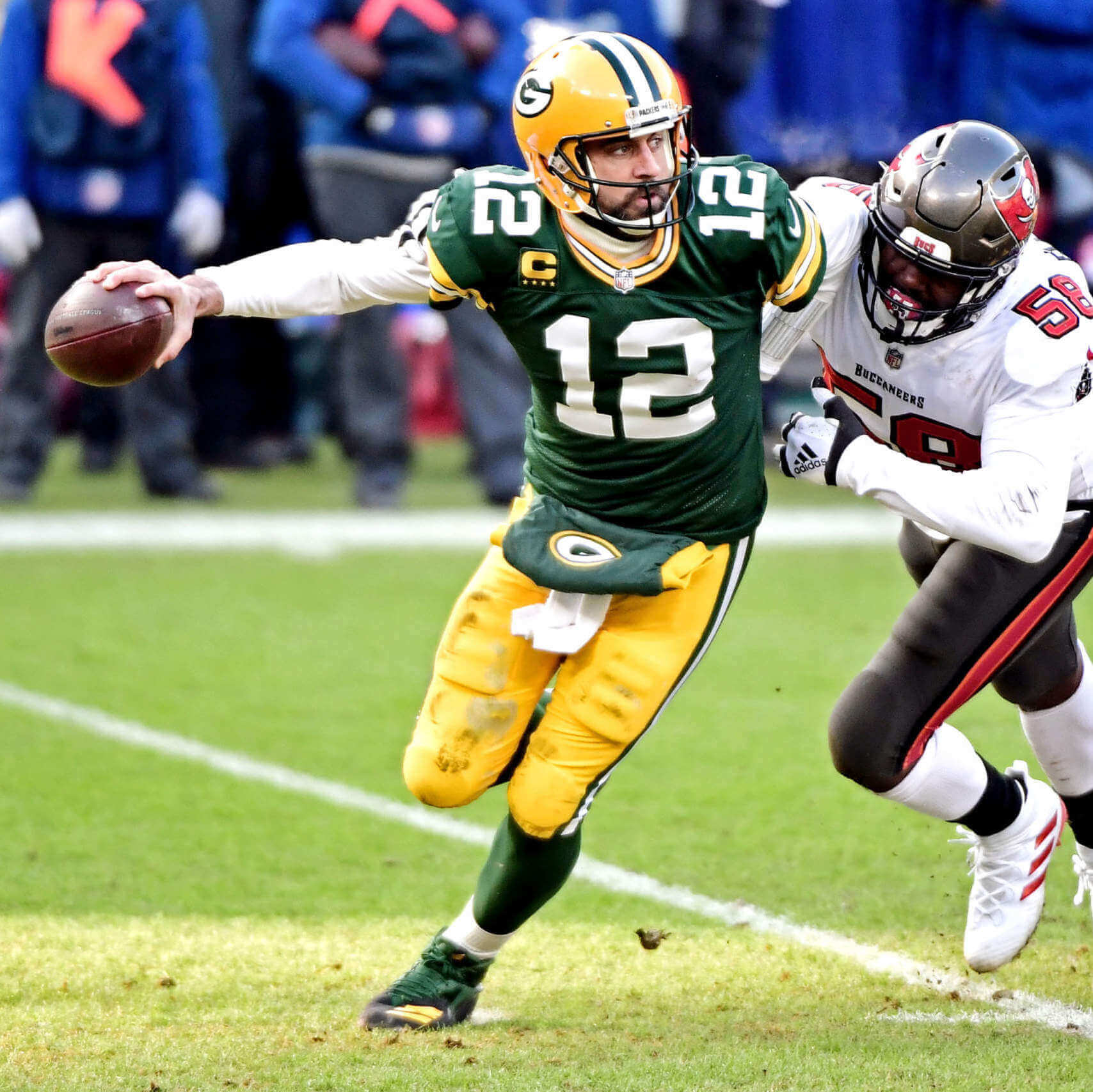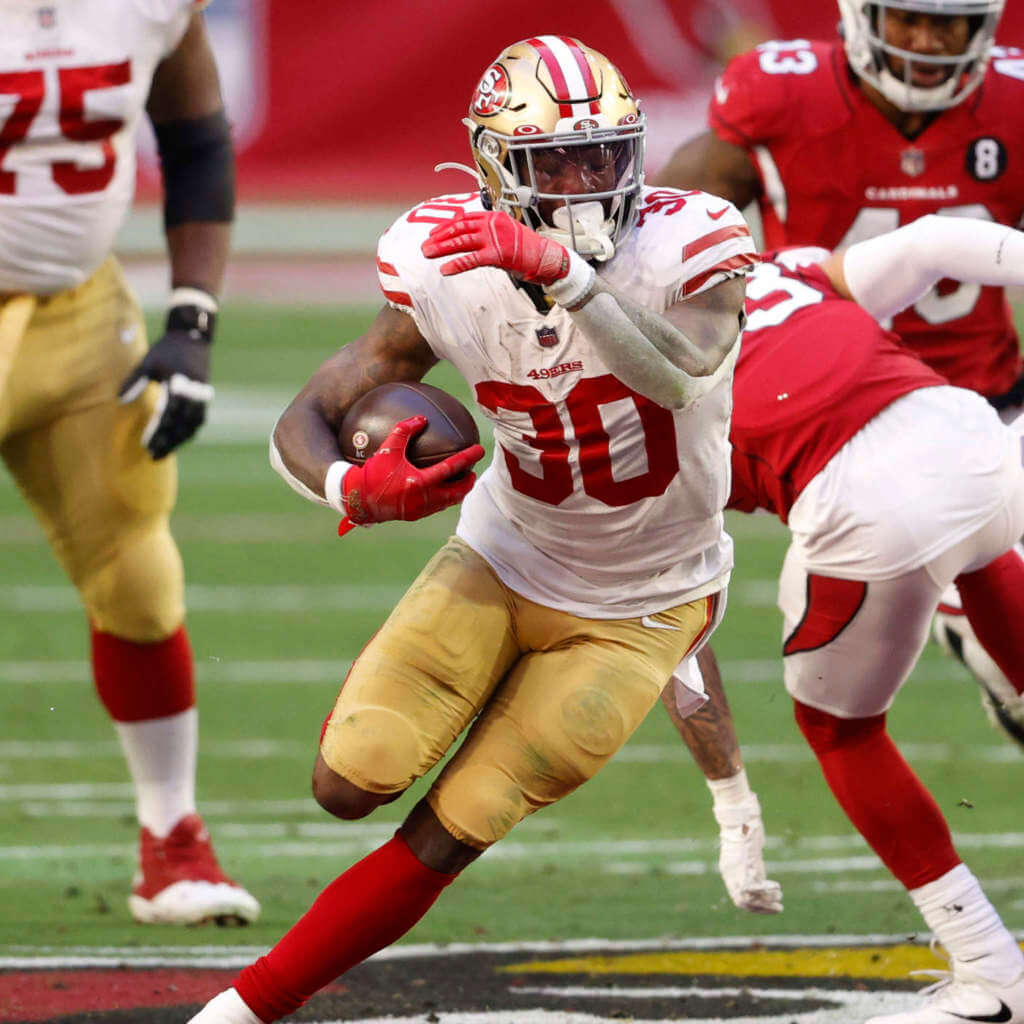 And THIS will be the best looking game of the weekend. I'm a big fan of the 49ers regular uniforms, but unfortunately for them, they're going up against the best uniform (home, anyway) in the NFL in the Packers. There's just something so good, so classic about the green and gold, nothing opposing them could compare. The 49ers would win many many other uni-matchups, but not this one. (Sorry Paul) I'm taking the Pack and giving the points.
The Pick: Packers minus five point five
__________
SUNDAY, JANUARY 23, 2022
Tampa Bay Buccaneers vs. Los Angeles Rams
Time: 3:00 pm
Channel: NBC
Spread: Buccaneers -2.5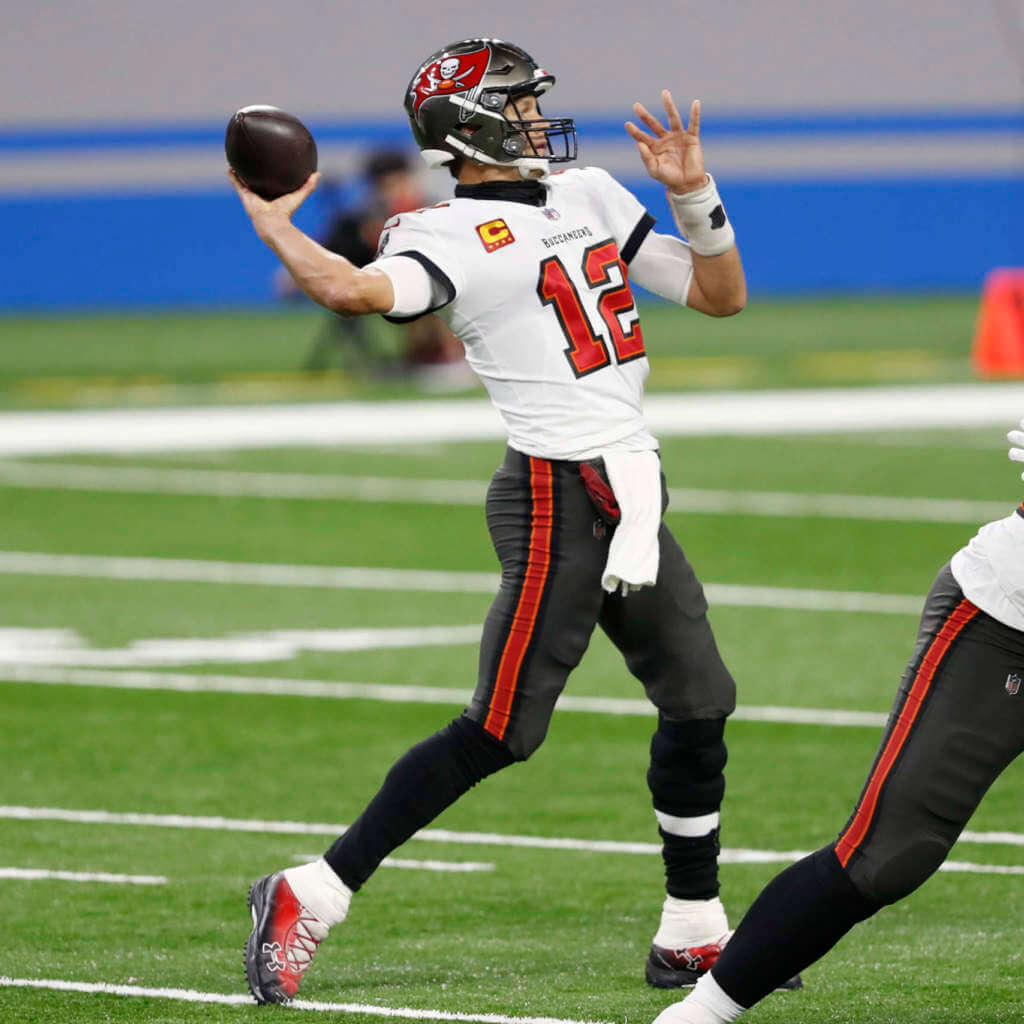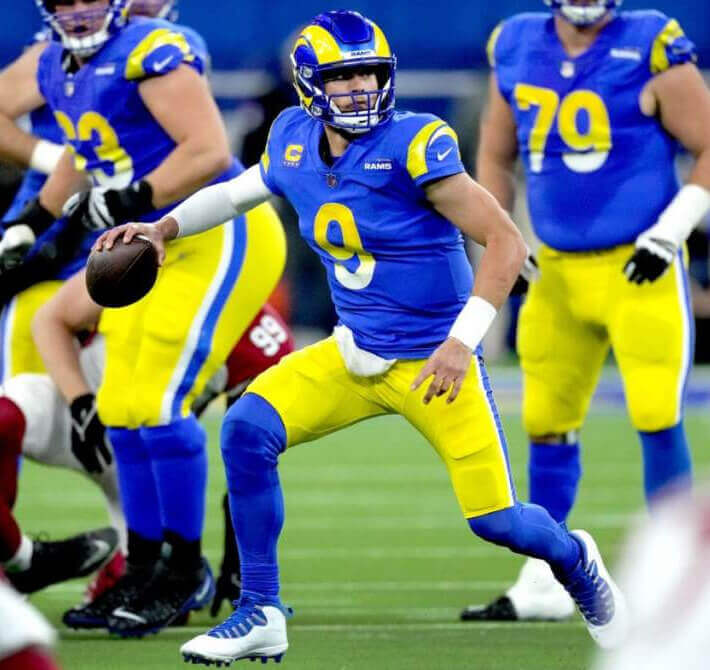 The Bucs are sticking with their "lucky" 2021 Super Bowl winning pewter/white/pewter look, which worked for them again last week. Meanwhile, the Rams are countering with what is arguably the best of their less-than-stellar uniform sets, going royal over "sol" — which they wore last weekend while defeating the Arizona Cardinals. One of these two teams' luck will run out, and while I wouldn't bet actual money on this one, it will be the Rams'. Tampa's uniform is better looking, and Brady's gonna Brady. Sorry Rams fans.
The Pick: Gimme the Bucs, and you get the two point five points
__________
Kansas City v. Buffalo Bills
Time: 6:30 pm
Channel: CBS
Spread: KC -2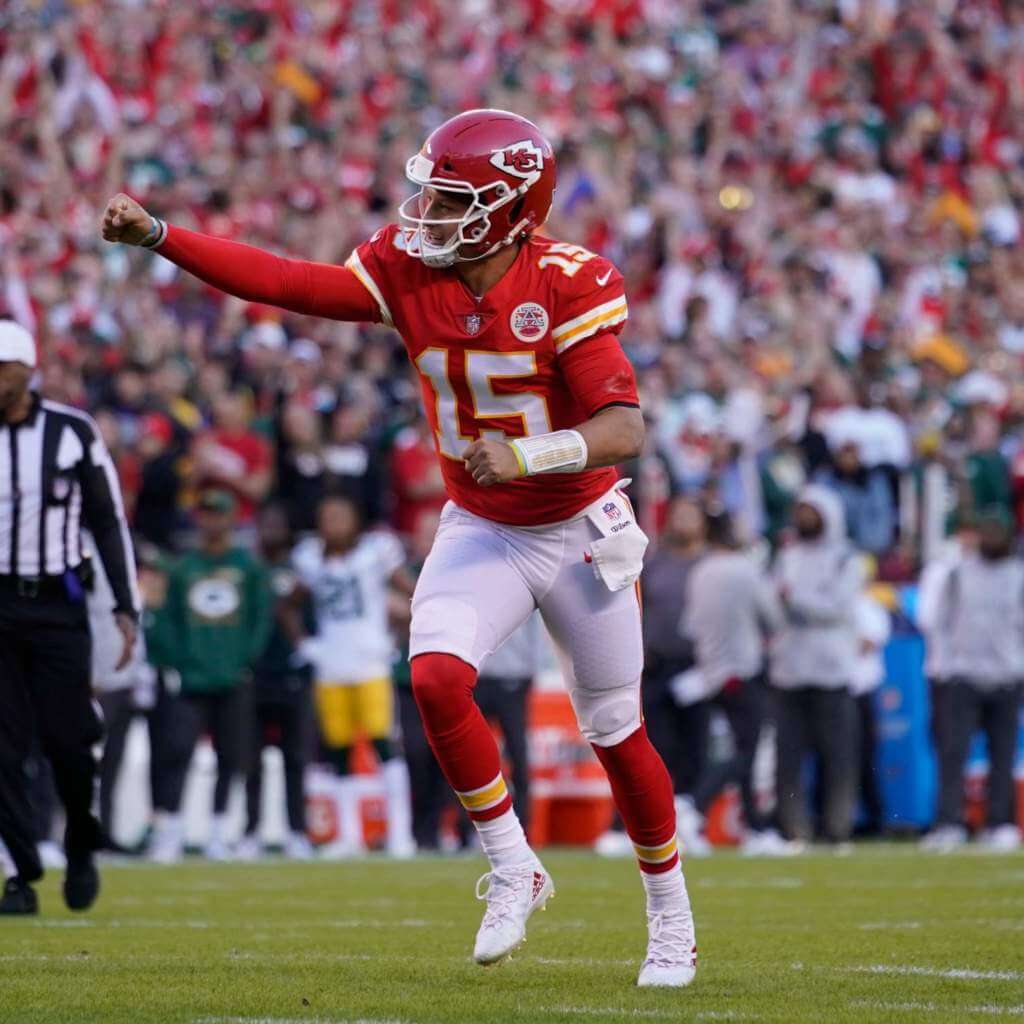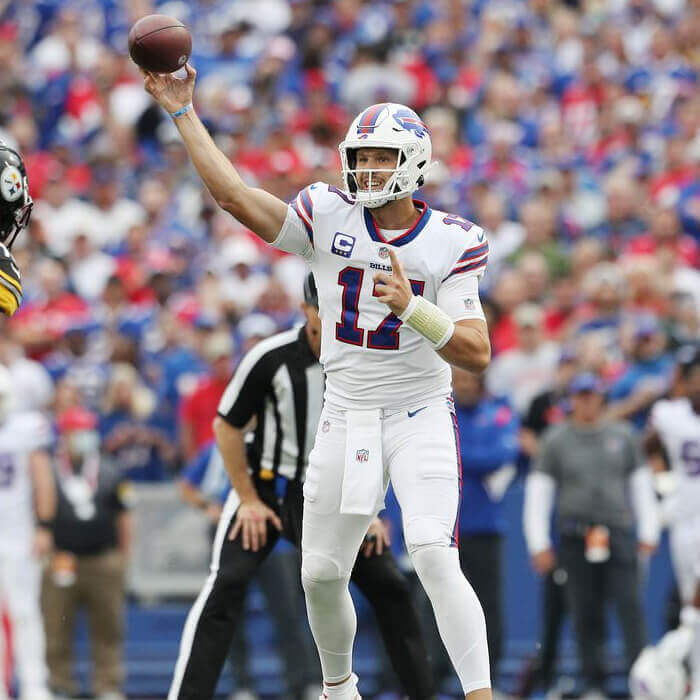 This will be another great looking game, with the Bills in their beautiful mono-whites (unfortunately, they're wearing white socks, rather than the even-better blue highs) vs. KC in their standard home uni. As good as that KC uni looks, you know how I feel about the helmet imagery and the nickname, so I gotta take the Bills here. Honestly I don't think Buffalo could be stopped anyway, but they have the better overall uni/look for this one. As an aside, the Bills beat KC earlier this season going mono-white (KC went mono-red), so maybe that's why they're choosing to break out the all-white look again.
The Pick: I'll circle the wagons and take Buffalo and the deuce
__________
And there you have it. Hoping to build on my 4-2 start to the post season. I'd love to nail three of four games this weekend.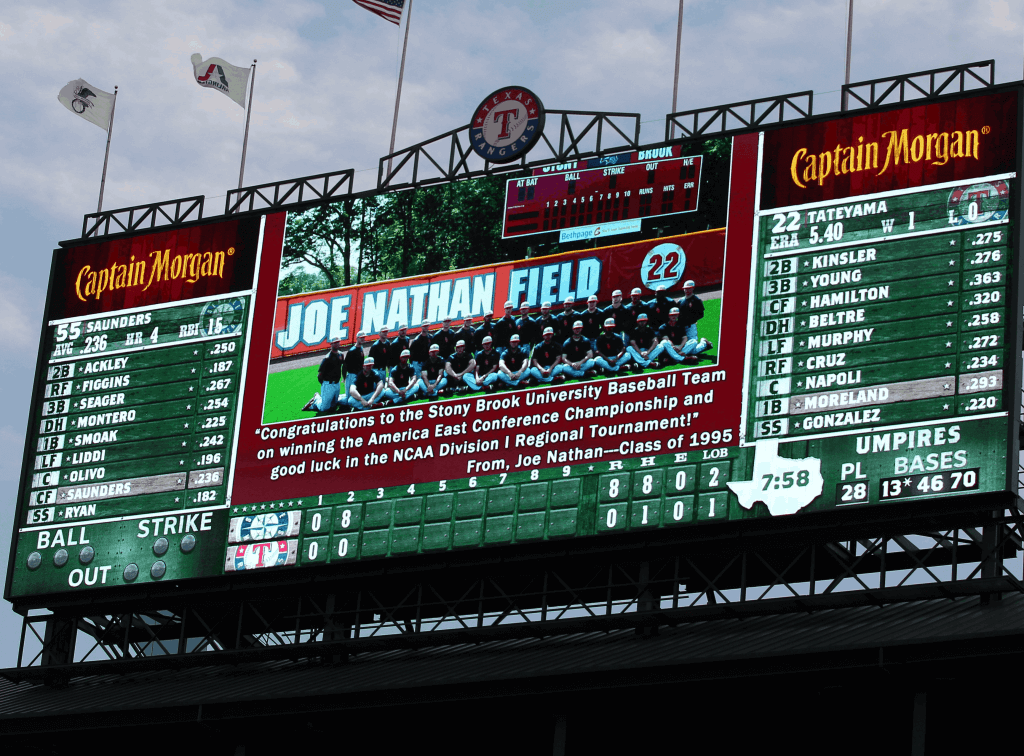 Guess The Game…
from the scoreboard
Today's scoreboard comes from Stanley Hudson.
The premise of the game (GTGFTS) is simple: I'll post a scoreboard and you guys simply identify the game depicted. In the past, I don't know if I've ever completely stumped you (some are easier than others).
Here's the Scoreboard. In the comments below, try to identify the game (date & location, as well as final score). If anything noteworthy occurred during the game, please add that in (and if you were AT the game, well bonus points for you!):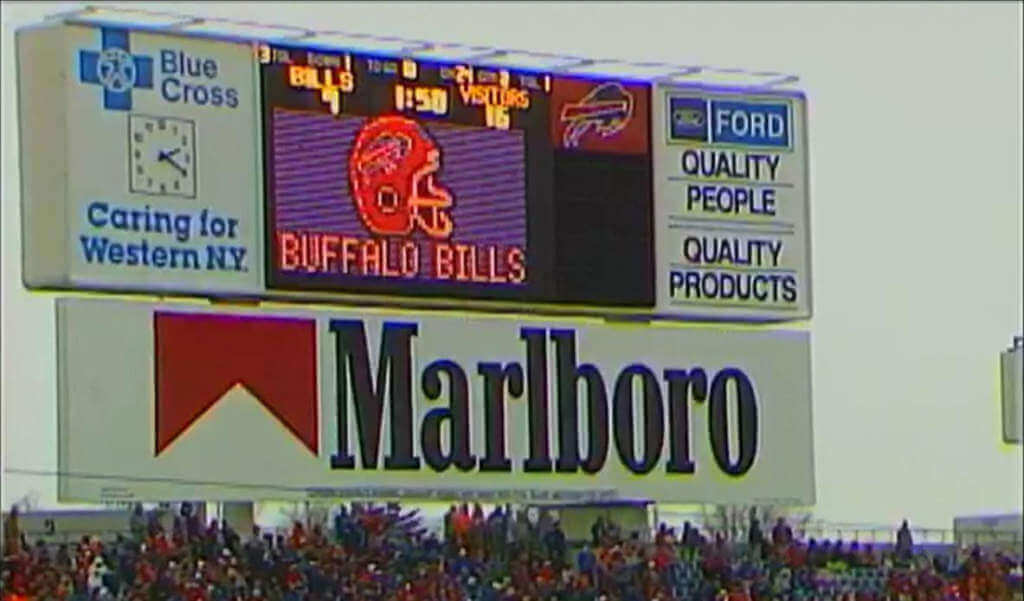 Please continue sending these in! You're welcome to send me any scoreboard photos (with answers please), and I'll keep running them.


Olympics Correspondent(s) Wanted!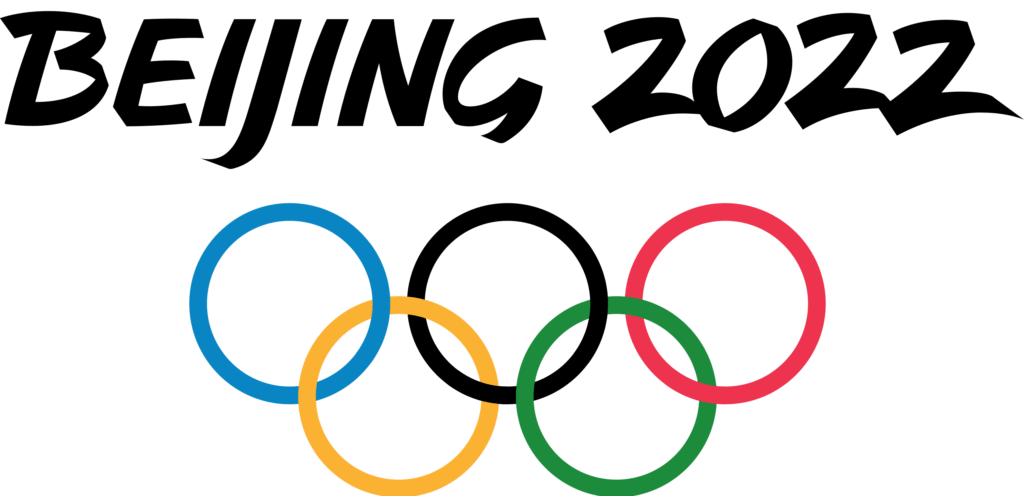 It's hard to believe (well, maybe it's not), but the Beijing Winter Olympics are less than two weeks away!
I'm hoping there are a couple of you out there who'd like to do some previews (or reviews) of some of the uniforms worn by teams in the games. Well, everything but Curling, that is — I'm gonna cover that. But if anyone out there would like to do either a preview (to be run the first weekend of the games) or a review (second or final weekend) — sports like Men's and Women's hockey, especially, but not limited to that — please let me know and we can go over some of the parameters. You can e-mail me at Phil.Hecken@gmail.com; let me know which discipline(s) you're interested in, and I hope we can set something up. OK? OK!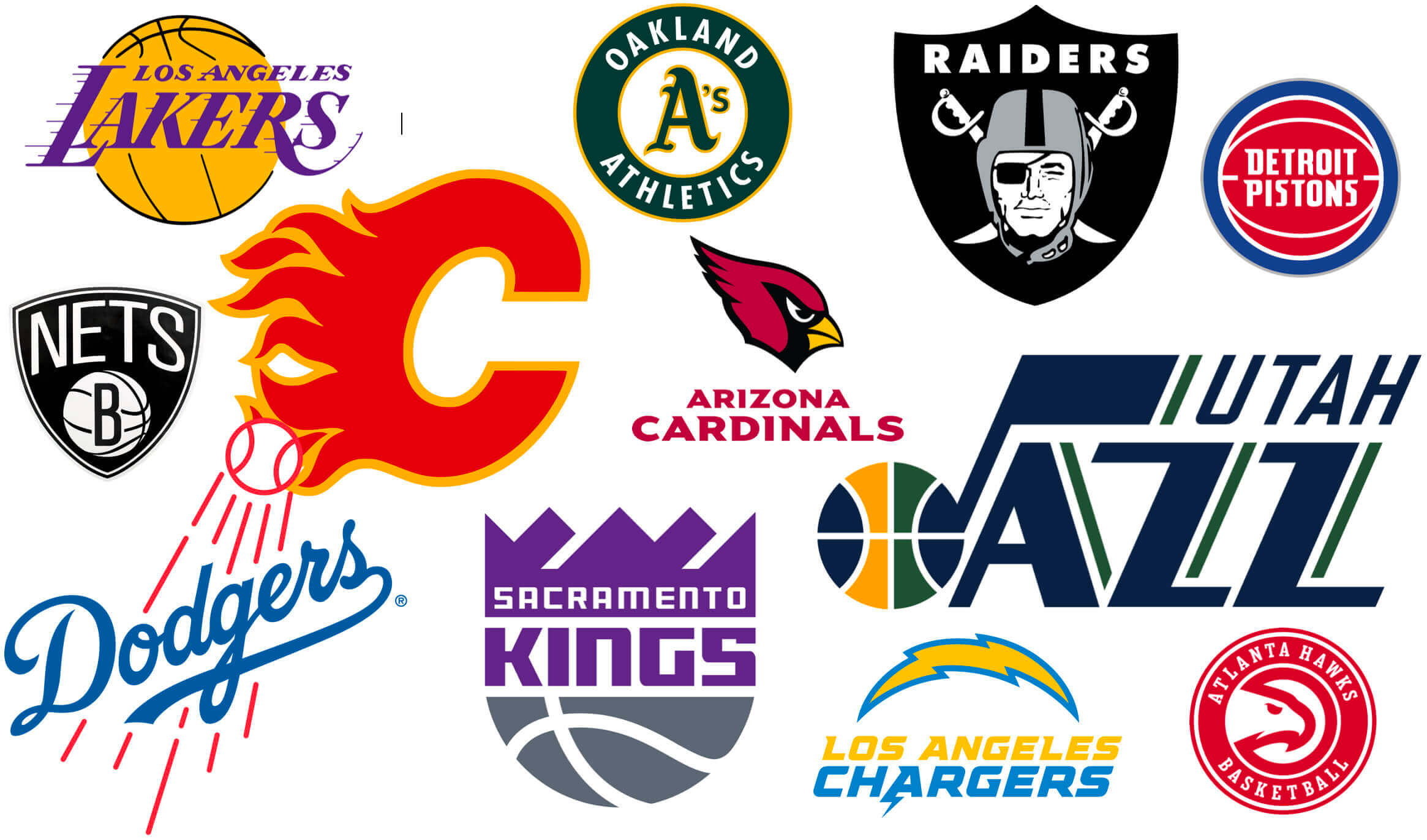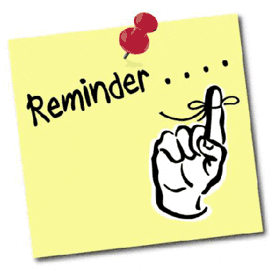 And now a few words from Paul: Hi there. It's been a busy week here on Uni Watch. Here are some things you might have missed:
• Last week on Bulletin, I assigned letter grades to teams that changed their names while remaining in the same city. This week I looked at the inverse of that situation — teams that kept their names even when moving to a new city, like the ones shown above. Which ones should have changed their names? You can check my assessments over on Bulletin.
• Speaking of Bulletin, there are some major changes coming over there, including the arrival of my annual season preview columns and the start of a modest paywall. Full details here.
• The remaining Uni Watch Pin Club inventory is now available at lower pricing, with big discounts for multi-pin bundles. Full details here, or just click on this graphic: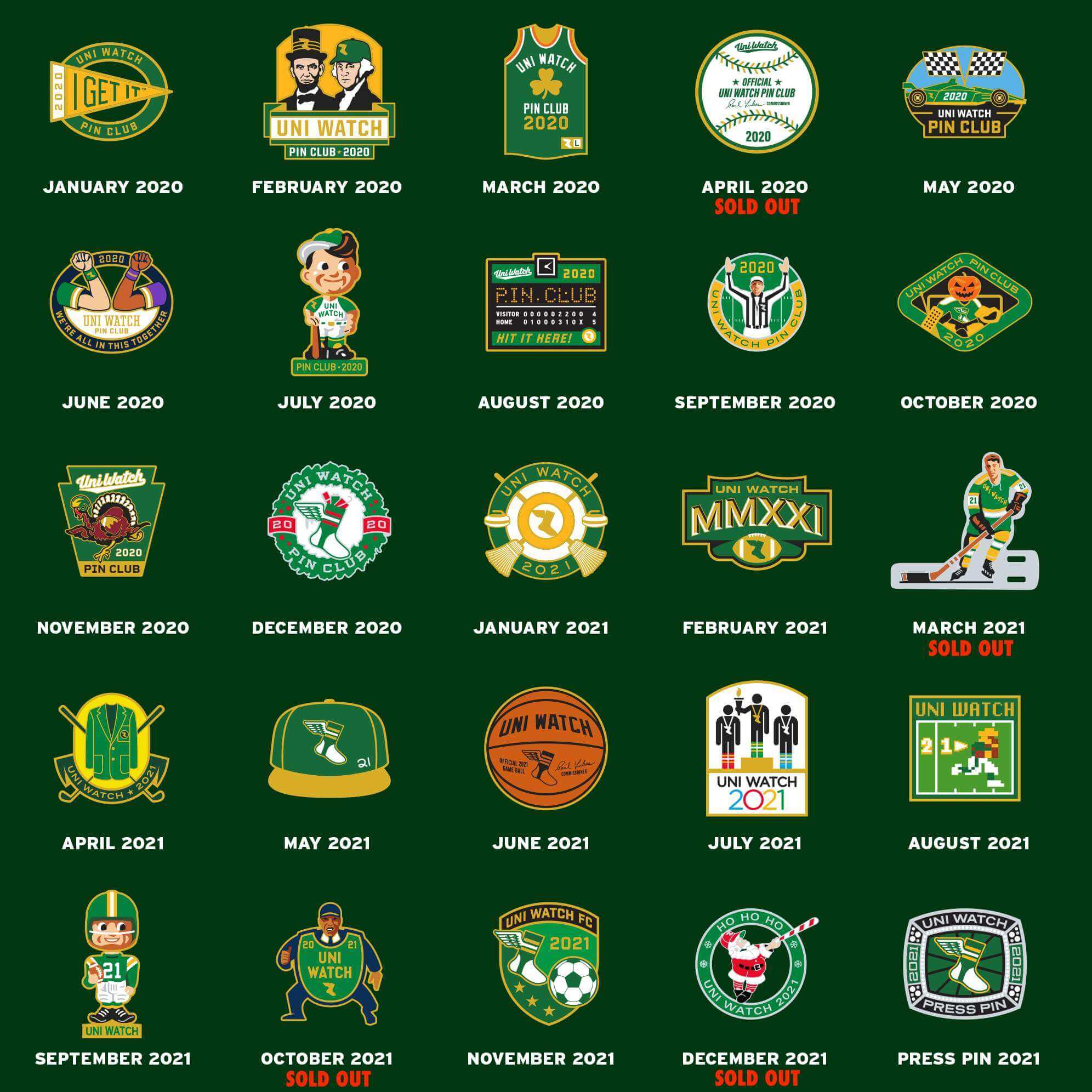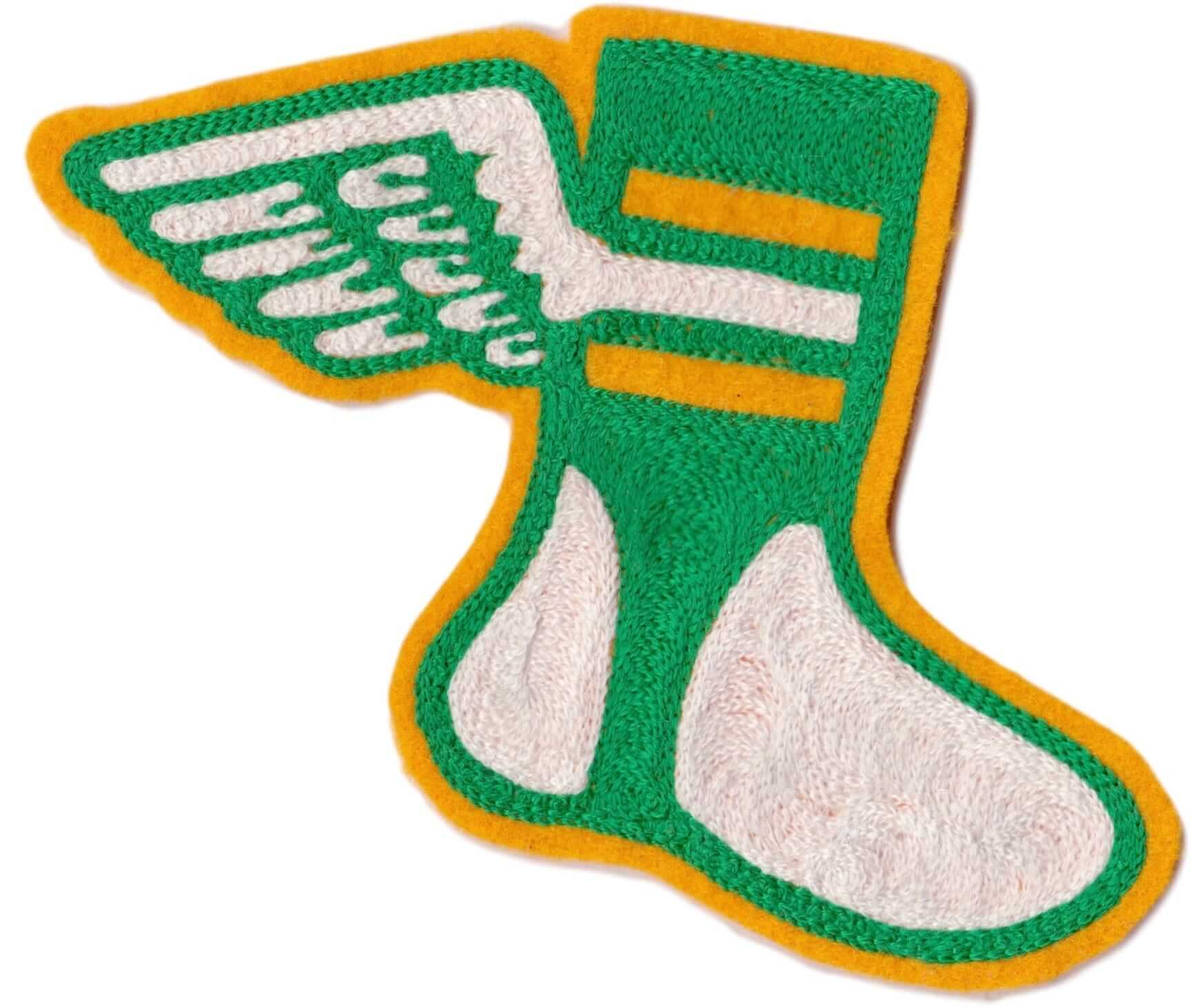 • Our Uni Watch Chain-Stitched Patch (shown at left; click to see it in its full-size highly textured glory) is now sold out. I'm willing to restock them, but my cost on these is nearly $30 a pop, so I'll only order more if there's enough demand for them. The patches are roughly 6″ by 6″, and the retail price will be $35 plus $2 for shipping. If you're interested, let me know. Thanks!
• Prices have been cut on lots of other Uni Watch products, including koozies, trading cards, seam rippers, magnets, and memberships.
That's it. Now back to Phil!


The Ticker
By Anthony Emerson and Phil

Baseball News: Check out how low Joe Torre's front number is in this photo, especially compared to Tom Seaver's. Were the Mets always this inconsistent with front number placement? (from Brice Wallace). … UCLA has new home and away uniforms. Note the lack of buttons on the front, but the existence of a pleat (from multiple readers). … On Friday, MLB denied the Rays' "sister city" proposal, which would've seen them play around half their home games at Stade Olympique in Montreal (from multiple readers). … Reader Linda Iacovo asks of Tony Perez' Cons: "Can you tell me what year this (sic) worn shoes may have come from? I have a Letter of Authenticity for the autograph on each shoe." … Here's a sneak peek at the new North Dakota State College of Science softball uniforms (from Paul).

NFL/College Football News: The Lions are once again eligible for new unis (thanks, Phil). … SMU has unveiled renderings of its planned expansion of Ford Stadium (from Kary Klismet). … Did 49ers Dwelley #82 become #02? The back numbers on San Francisco's Ross Dwelley got scrunched up in an odd way at the end of the game (from L.J. Sparvero). … The Kansas City Chiefs' Tyreek Hill fined was $12,875 for celebrating a touchdown with pompoms last weekend (from Paul). … Bengals QB Joe Burrow never forgets where he won his Heisman and NC title (from John Turney).

Hockey News: Have the Maple Leafs' Heritage Classic unis leaked? (thanks, Phil). … Wade Heidt sends along this blog post about 10 old NHL unis that need to make full-time comebacks. … The Pens celebrated 1,000 games with equipment manager Jon Taglianetti by working up a No. 1000 jersey for him (from Jerry Wolper). … On Friday night, Canucks players wore Rick Rypien tribute warmup sweaters to raise awareness for mental health. Rypien was a Canucks player who committed suicide in the summer of 2011 shortly after leaving the team (from Wade Heidt). … The Kings have evidently become the first NHL team to drop the nameplate and sew NOBs directly onto sweaters (from Moe Khan). … New York Islanders Hall of Famer Clark Gillies died on Friday night. He was the second captain in team history, but didn't always have the Captain's C when he made a jerseyed appearance for the team or the NHL. Denis Potvin, the Captain during the dynasty years, is with the C for essentially every jerseyed team event (from John Muir). Since the news of his passing was confirmed and announced immediately after Friday's game, and the Islanders hosted the Maple Leafs tonight (Saturday, January 22), it was unclear if the team had time to get a tribute together. here's how the Isles honored Gillies, with a right chest #9 patch that will be worn the rest of the season. The entire Islanders coaching staff is wearing Gillies banner lapel pins. Here is head coach Barry Trotz. … Check out this cool video feature about a homemade hockey rink shared by a group of families in a residential neighborhood in Winnipeg – complete with trees in the middle of the ice! (from Kary Klismet). … The next five(!) items are also from Kary: Here's a great in-depth piece about the Seattle Kraken's Climate Pledge Arena and how its historic roof was preserved while the arena underneath it was completely reconstructed. … A leaked photo suggests that the Buffalo Sabres will be bringing back the "goat head" uniforms they were from 1996-2006 as an alternate. … Are you ready for another blogger you've never heard of to weigh in on the best jerseys uniforms in NHL history? Of course you are! … The City of Cambridge in Ontario, Canada, has an excellent website (with plenty of old photos) to celebrate the 100th anniversary of Galt Gardens Arena, believed to be the world's oldest arena in continuous operation. More info (and a great image of what the arena looks like today) here. … Since we're talking about great old hockey barns, this story contains some nice images of Memorial Arena in Pentiction, B.C., a relative youngster at only 71 years old. (THANKS KARY!). … Here's the Pride Night uniform for the WHL's Saskatoon Blades last night, which included rainbow socks. … That's A LOT of purple for Mankato State, who played an outdoor game yesterday (from David Fleming).

NBA News: Woah, what a jaw-protector for Oscar Robertson in this shot. Scary (from Chris Adams). … Brandon Goodwin of the Cavaliers switched from 26 to 00 for the remainder of the season before tonight's game vs. the Thunder, but at the arena it still showed him as 26 on the scoreboard (from Josh Levy).

College/High School Hoops News: Cincinnati men to wear 1970s throwbacks next month (from multiple readers). … The Cincinnati Bearcats are set to wear 1970s throwbacks next month (from Kary Klismet). … Iowa State wore its gold alternates on Saturday against TCU, creating a color-versus-color matchup (Kary, again). … An historic rec center court in New Orleans is being refurbished by an NCAA initiative to upgrade community basketball venues in Final Four host cities (thanks, Kary). … Louisville retired former All-American guard Russ Smith's jersey last night. … Take a look at the Fly Navy uniforms Navy's Men's and Women's Basketball programs will wear against Army on January 22nd. … IU basketball to wear 1987 retro uniforms Sunday against Michigan. … I'm not sure if this is "time outs" or fouls, but whatever it is, there sure a LOT of them (from David Gabaldón).

Soccer News: On Thursday, Mexican side Tapatío FC wore mariachi-themed training gear ahead for the International Mariachi Day, which was Friday (from Germán Cabrejo). … The 90s were a wonderful time for keeper kits, as the technology allowed for crazier designs and advertisements were not yet on every team's kits. So that's how you get Boca Juniors' keeper Carlos Navarro Montoya wearing a keeper's kit that depicted himself driving a truck (from Jeremy Brahm). … New stadiums have been proposed for Greenville Triumph SC and Lexington of the third-level USL League One (from Kary Klismet).

Grab Bag: The plane the University of Oregon uses to transport coaches and other higher-ups has the Oregon "O" in the registration number, despite the registration number containing the number zero and not the letter O (from @VictoryCB). … Plans are underway for a new Major League Cricket team and Stadium in San Jose, Calif. (from Kary Klismet). … Lillooet High School in​British Columbia, Canada, is retiring its "Wildfire" team name and logo in deference to nearby communities affected by recent wildfires (Kary again). … Cool gesture by wrestling enthusiasts in Colorado, who are collecting autographs of the state's 24 four-time high school state wrestling champions on two wrestling singlets, which will then be auctioned off to raise funds for those affected by the brushfires in Boulder County just before the new year (also from Kary). … And ONE last one from Kary: The Universit​y of Nebraska-Lincoln's community service officers have changed their uniforms in an effort to appear less intimidating to students. … There are wrestling singlets, and then there are wrestling singlets (via Paul).


Uni Tweet of the Day
OMG. This sweater is fucking drop-dead gorgeous.
Latest vintage score. Not exactly a uniform, but the design feels very uni-inspired. pic.twitter.com/rvY5g2EhRF

— Paul Lukas (@UniWatch) January 22, 2022


And finally… that's all for today. Big thanks to Michael Princip for sharing his goalie mask development — great stuff! Thanks to the few of you who reached out to me to see if I was OK after yesterday's aborted UW — really appreciate the thoughts and well-wishes. You guys are all aces, and as I said in the intro, I'm fine, and it was ticky-tack for several hours for my mom on Friday, but she looks to be fine too! Once again, apologies I couldn't put together something for yesterday. Hopefully today made up for it at least a bit!
If you made it this far, you know I'm now 1-1 for the weekend (and 5-3 overall) in picking NFL Playoff Games by "better uniform." I fully expect to go 2-0 hope to keep the .500+ record up today! Enjoy the games today — at least one of them will look great, and with the Rams in their best look, maybe both will.
Peace,
PH