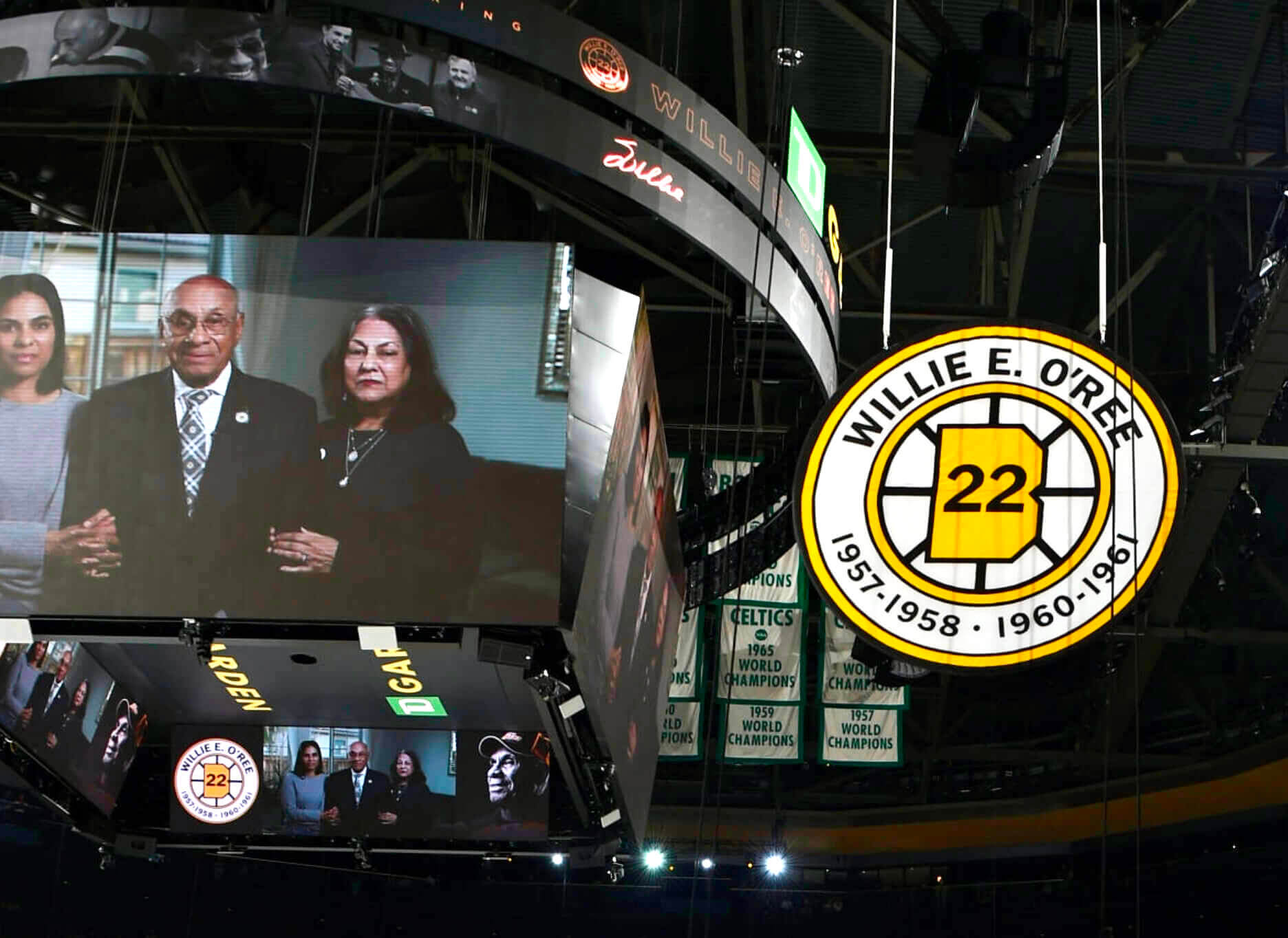 Click to enlarge
Good morning! The Bruins finally retired Willie O'Ree's No. 22 last night. The ceremony, which was originally scheduled for last season but was postponed due to the pandemic, took place on the 64th anniversary of O'Ree breaking the NHL's color barrier in 1958. As you can see in the photo above, O'Ree, who's now 86, participated remotely but was not able to attend in person.
There were lots of components to this event — some fairly conventional, others less so. One at a time (for most of these photos, you can click to enlarge):
• The Bruins had commemorative pregame T-shirts: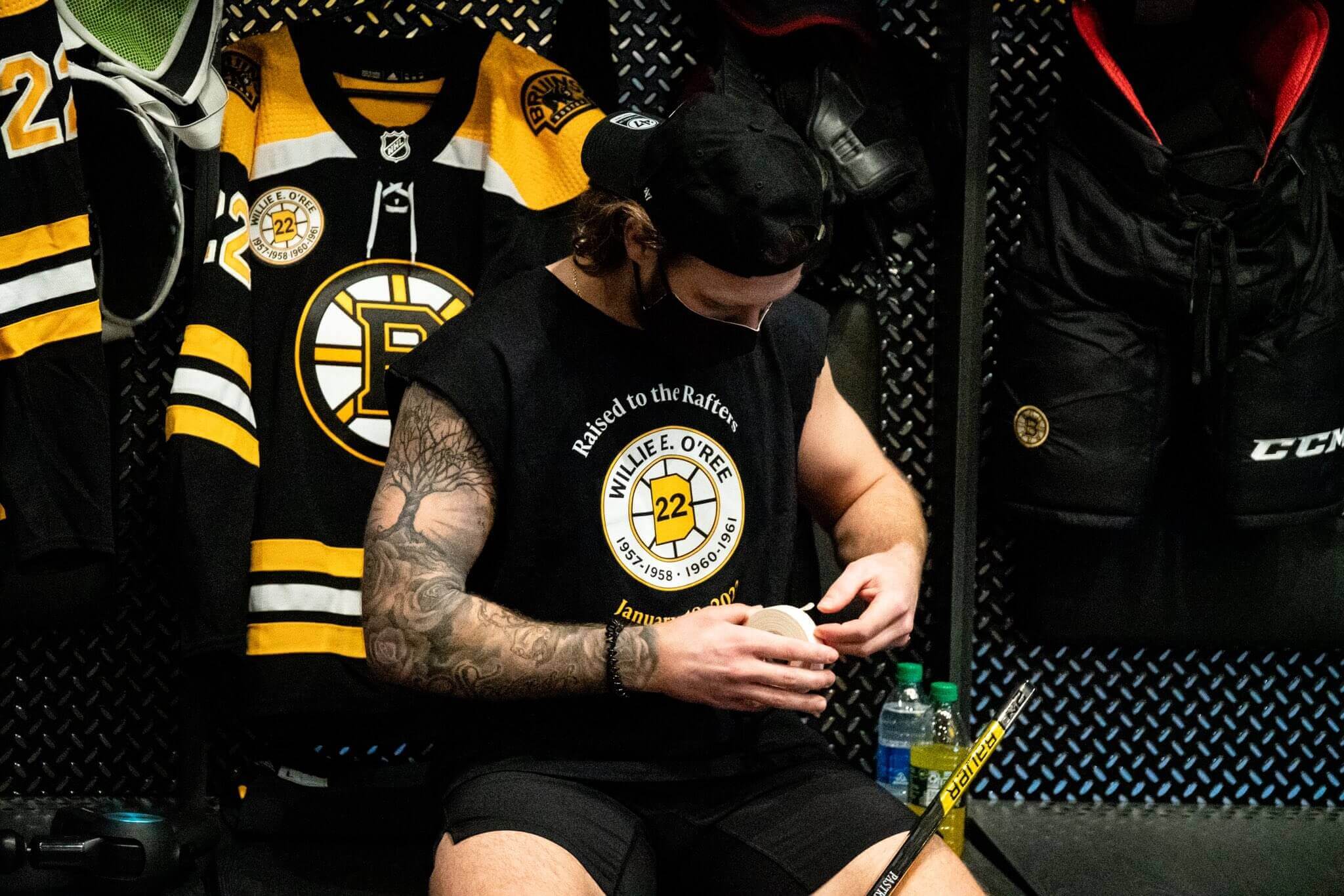 • As is now standard for NHL number retirements, the Bruins all wore O'Ree's number during their pregame skate — but with the added touch of having O'Ree's signature on the back uni number: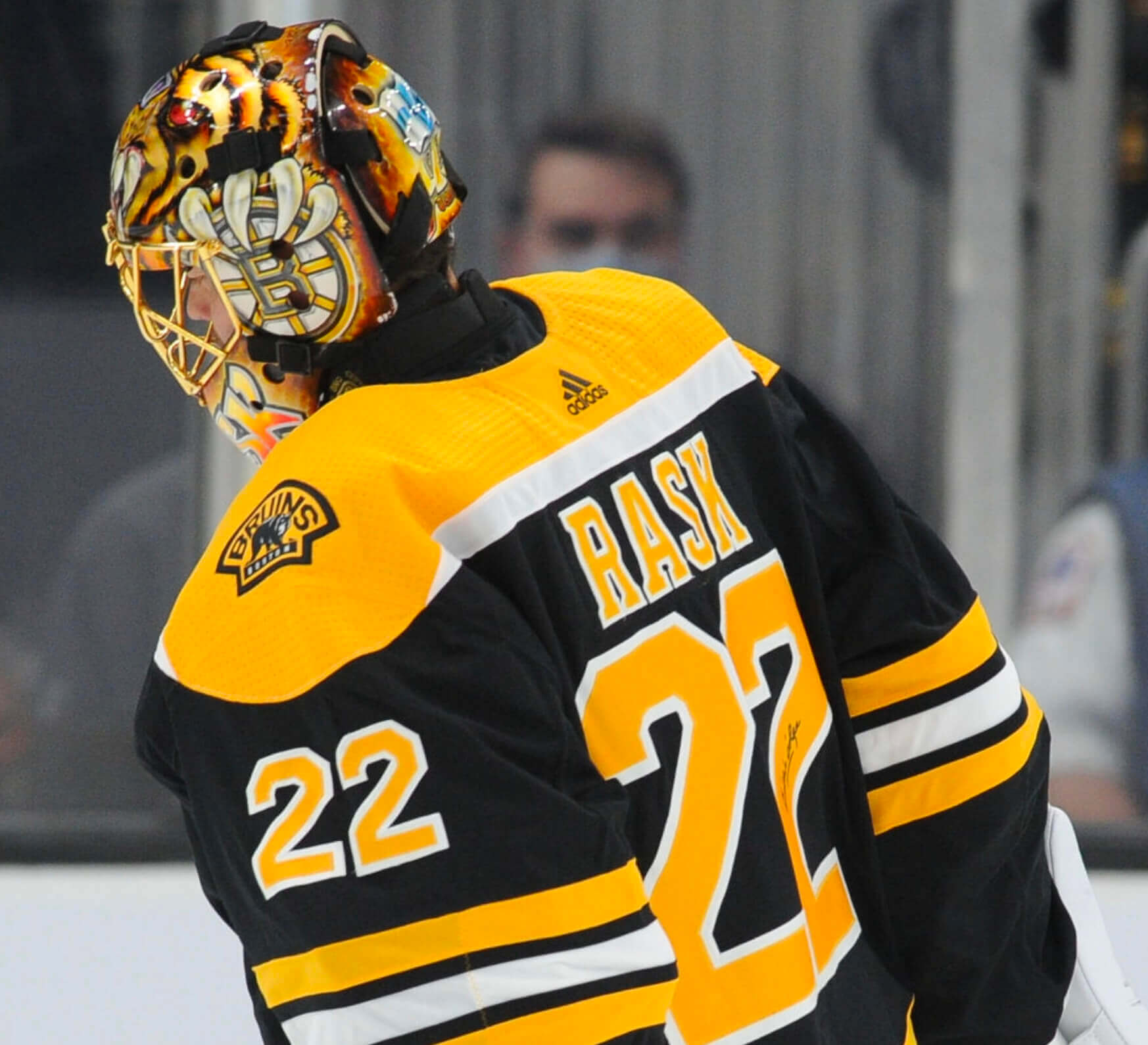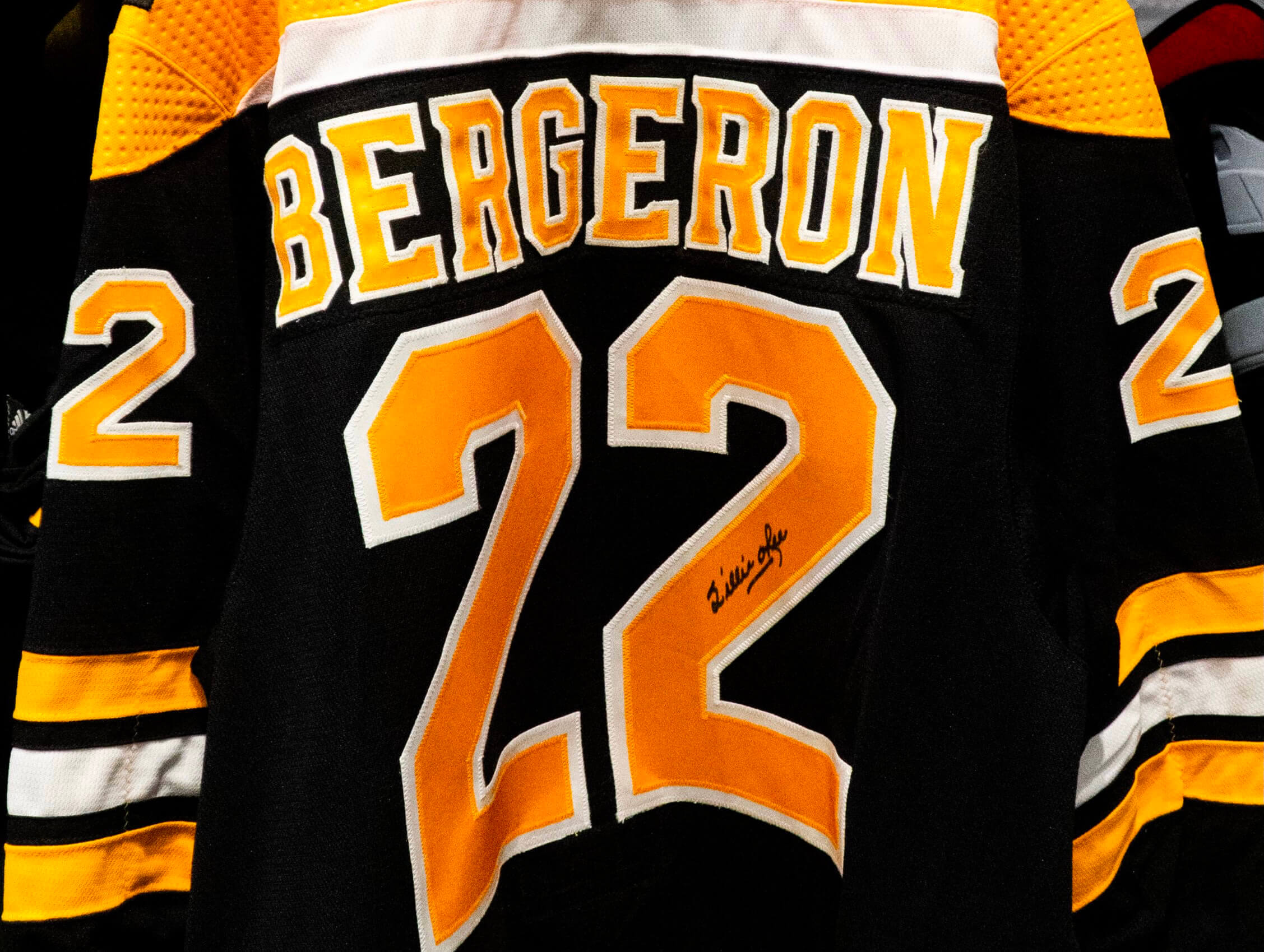 • The Bruins' opponents last night, the Hurricanes, also wore pregame No. 22 jerseys, but without O'Ree's signature (as an aside, note the little modification to goalie Frederik Andersen's pants):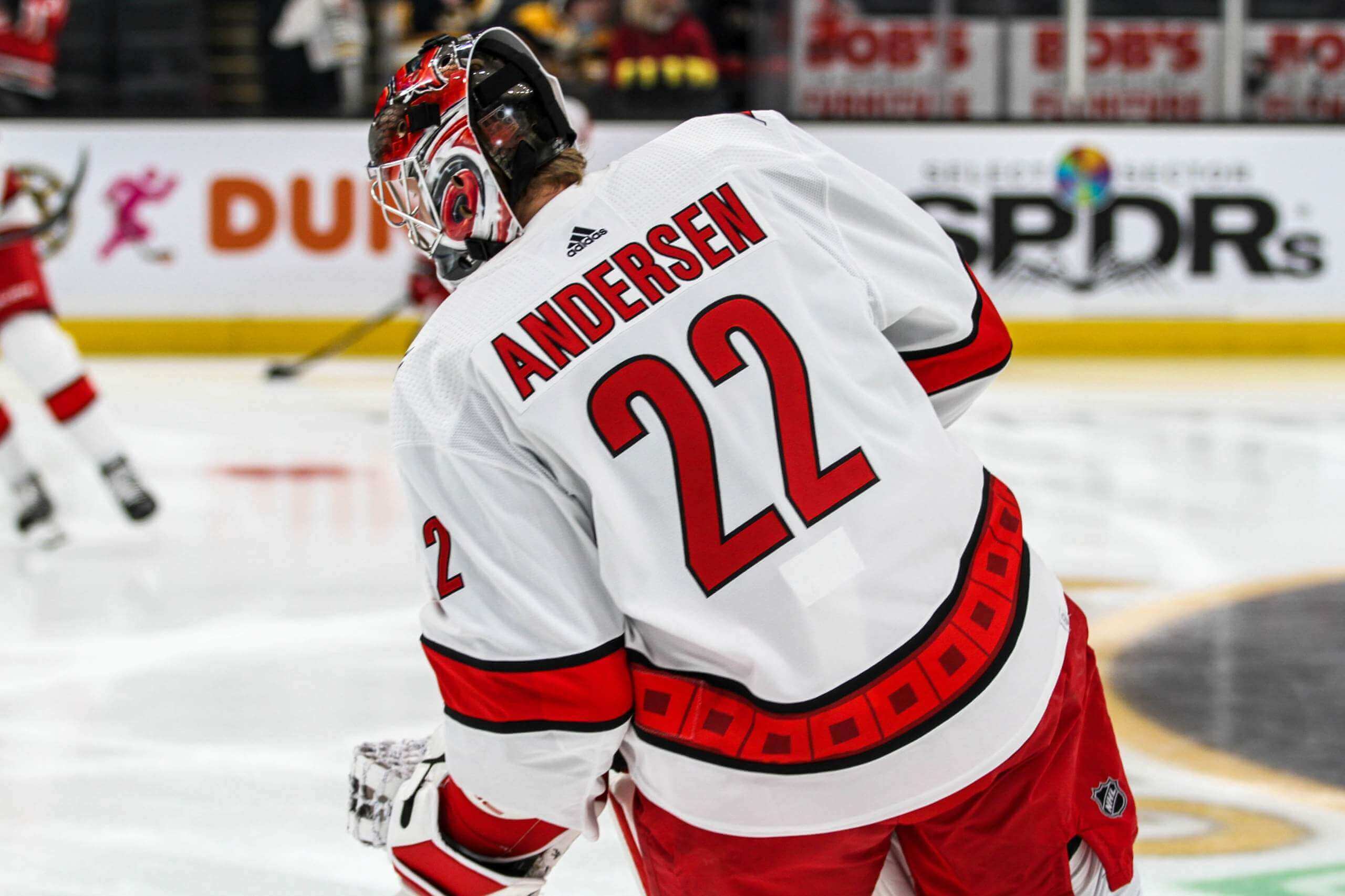 • The two teams warmed up with commemorative pucks: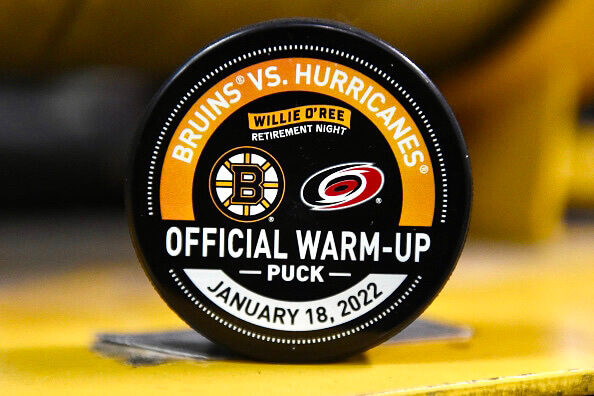 • O'Ree's number was painted on the ice behind the nets: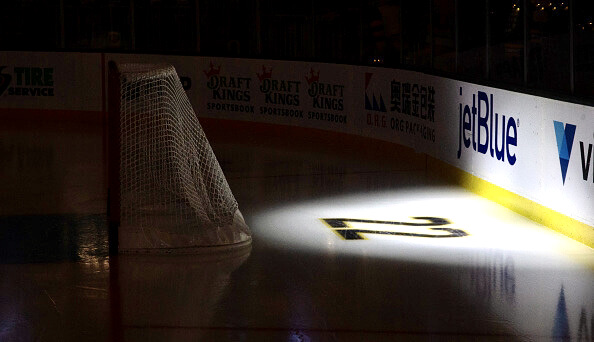 •  The Bruins wore a commemorative patch during the game: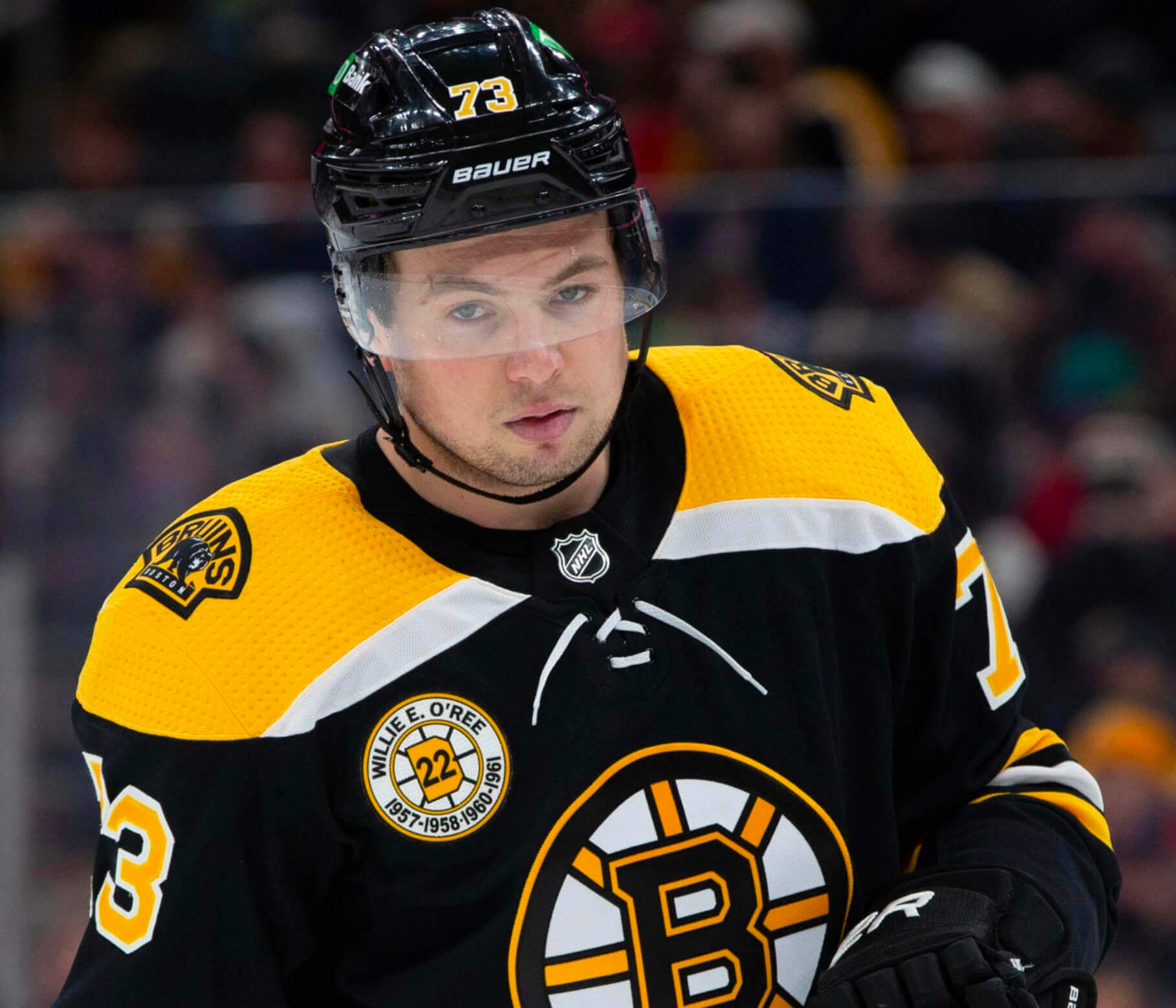 • And they also wore O'Ree's number on the back of their helmets: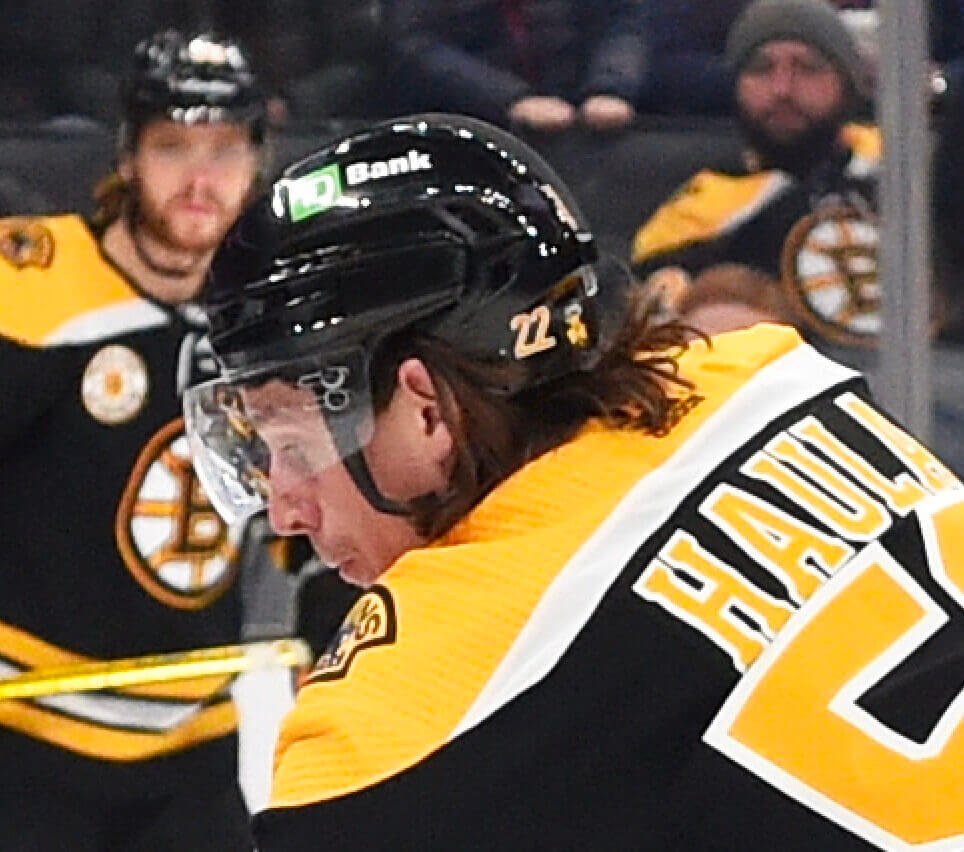 • In addition, all 16 NHL teams playing last night, including the the Bruins and Hurricanes, wore "Willie O'Ree Night" helmet decals: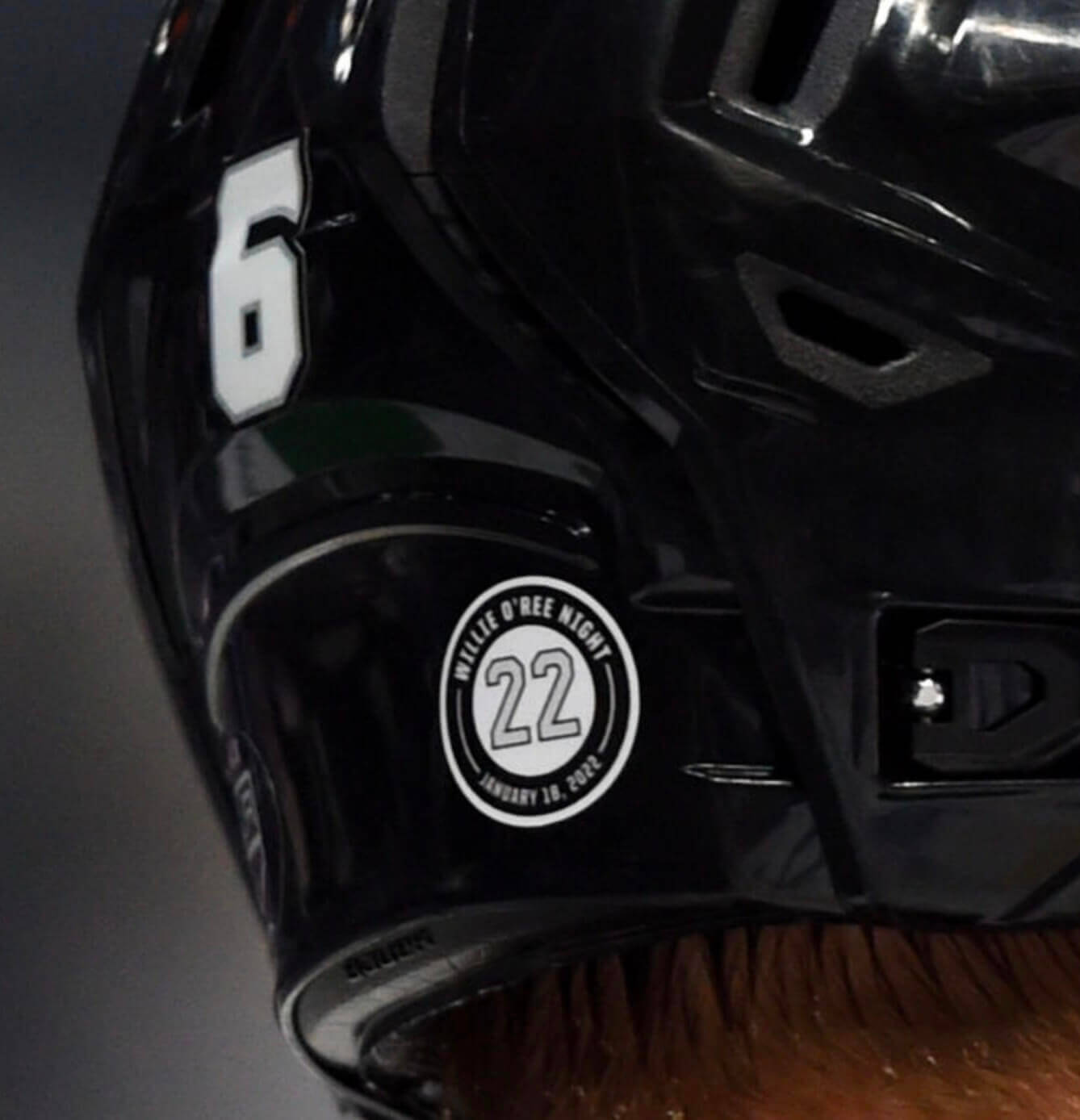 • There was also a pregame tribute to O'Ree at each of last night's games. This was the scene at the Isles/Flyers game in Philadelphia: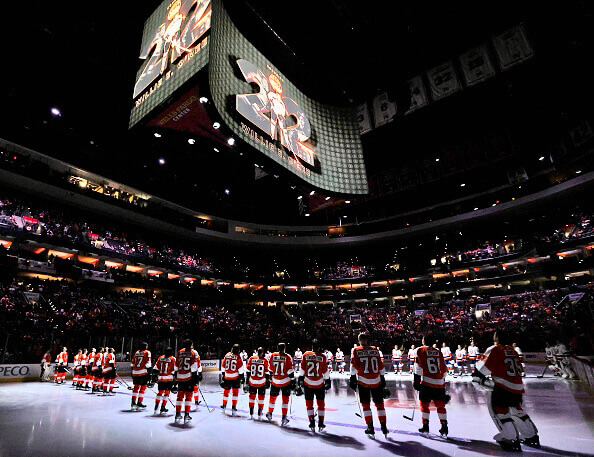 I suspect the NHL may make Willie O'Ree Night an annual Jan. 18 event, much like MLB has done with Jackie Robinson and Roberto Clemente.
• • • • •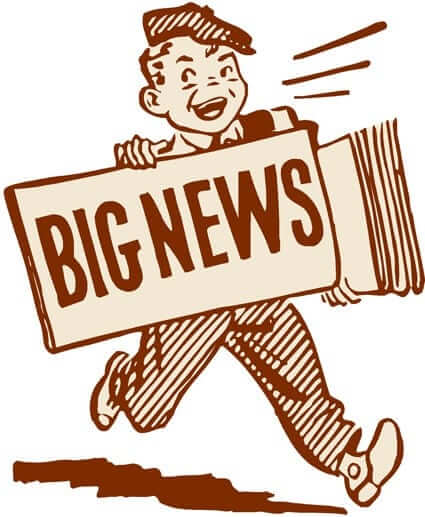 • • • • •
ITEM! Important Uni Watch publishing news: Today I have important news to share with you about some changes that are afoot here at Uni Watch:
• First, my recent InsideHook piece on the NBA's Christmas uniforms will be my last Uni Watch piece for IH (although I hope to do some food or culture articles for them later this year).
• Second, now that I'm no longer doing Uni Watch pieces for InsideHook, my annual season previews for the Big Four pro leagues will be moving to my Bulletin column/newsletter.
• And third, starting in the first week of February, my weekly Bulletin pieces will become paywalled.
I realize that's a lot to process, so let's shift into FAQ mode:
So InsideHook got tired of paying you, eh?
No, they wanted me back for another year, at least for the season previews. But I decided not to do that.
Why?
Several reasons:
• First, while I like the people at InsideHook and also like the publication itself (it has developed into a really good site — recommended!), it's never been a great editorial fit for Uni Watch and I always felt a little bit out of my element there (sort of like when I wrote about consumer culture for Spin in the late 1990s — good people, fun work, not a great fit, ended after a year). I'm grateful that IH offered me a place to do feature-length work after my gigs at ESPN and Sports Illustrated both went bust in 2019, but I decided it was time to make a change. The parting was very amicable on both sides, and I hope to do keep doing some non-uni writing for them.
• Second, and relatedly, once I started writing for Bulletin last summer, that meant Uni Watch was split across three different platforms: the blog, Bulletin, and InsideHook. That's a confusing situation for the Uni Watch "brand" (for lack of a better term), and I thought it would be better to consolidate things a bit.
• Third, InsideHook, like most webmagazines, has ads that appear randomly amidst the text — sometimes in between paragraphs that were supposed to have a setup/punchline structure, or in other annoying places. I don't blame IH for this — that's just the nature of conventional internet media. (Obviously, there are lots of ads here on the blog as well, although I've avoided putting them in the middle of articles.) Bulletin, on the other hand, has no ads — it's a very clean presentation. I'm really happy that the annual season previews will now appear in an ad-free setting.
• Finally: Sure, could've just kept the season previews on IH and taken the very reasonable paydays that they offered in return. But I'm hoping that the subscription revenue from the newly paywalled Bulletin content will more than make up for that (and will also help to support operations here on the blog). In short, I'm betting on myself (and, in a way, on all of you folks). I like that approach better than being beholden to another media enterprise.
You said the Bulletin paywall will go into effect "the first week of February." Can you be more specific?
I usually do my Bulletin columns on either Thursdays or Fridays. This week's (which I think you'll really like!) and next week's will both be free and publicly available, just like all my previous Bulletin work. But the one that's published the week after that (likely on either Feb. 3 or 4) will be behind the paywall.
How much will the Bulletin subscription cost?
$4 a month, or $35 a year.
Bulletin is owned by Facebook, or Meta, or whatever they're calling it this week. I hate them, and I will never pay one thin dime for anything associated with them, so I will not be paying to subscribe.
I'm sorry to hear that, but I understand.
I don't necessarily hate Facebook, but I'd rather not give them any money. Will any of my subscription fee go to them?
No, at least for the next year and a half. My Bulletin contract stipulates that 100% of the subscription revenue goes to Uni Watch up through mid-June of 2023. After that, Facebook can skim a percentage of the revenue (probably about 10%, which is what Substack skims) — but at that point I'll also be free to leave Bulletin if I choose, so I could take the paywalled gig to Substack or some similar outlet. It's way too early to know how that will play out, but we'll see.
It seems pretty sneaky to offer the Bulletin content for free for half a year and then suddenly impose a paywall.
Actually, when I announced last July that I'd be writing for Bulletin, I said, "I've decided to make all my Bulletin content free for at least a few months, and probably through the end of 2021. After that, I might charge a small fee — a few bucks a month, say — or I might not. We'll see." So this is all consistent with what I said at the outset of the Bulletin gig. I try to be as transparent as possible with you folks!
Okay, so let's say I'm willing to pay $4 a month, or $35 a year, or whatever. What do I get for my money?
You'll get at least 48 Uni Watch pieces per year (four per month, just like I've been doing since last July), and probably a few more. These pieces will all be substantial and lengthy — or at least lengthy-ish. While nothing is set in stone, I expect that those 48 articles will include:
• The MLB, NFL, NHL, and NBA season previews.
• Four Uni Watch Power Rankings pieces — one for each of the Big Four leagues. (There may also be other occasional ranking- or grading-based articles, like last week's piece in which I graded team renamings.)
• Four "Ask Me Anything" columns (like this one).
• Three or four design contests.
• The annual Uni Watch Holiday Gift Guide.
• The Super Bowl and World Series previews, maybe. (I sometimes skip these if they seem redundant, based on which teams are participating. For example, at some point I ran out of things to say about the Patriots' uniforms. But if this year's Super Bowl turns out to be between, say, the Bills and Rams, I'll definitely be doing a preview column!)
That accounts for at least 16 pieces right there, and maybe more. The remaining 30ish pieces will be much like the Bulletin content I've been doing for the past six months — interviews (like this one with Astros authentication manager Mike Acosta), think pieces (like this one on "conceptual" retired numbers), deep dives (like this one on Buck Showalter), and so on. If you need to refresh your memory further, all my Bulletin work is here.
In addition, I'll occasionally do subscriber-only livestreamed events. Some, like the Facebook Live session I did last week, will just be me talking into the camera; others may include special guests from the uni-verse.
I'm also very open to feedback and suggestions from the subscriber base. I won't necessarily follow every suggestion or grant every request, but since you folks will be paying for this content, I want to make you happy.
As I mentioned earlier, all of this will be presented in an ad-free format, and you'll receive it in your email in-box in addition to being able to read it on the web.
You mentioned the Big Four season previews, but what about the college football and college hoops previews?
After a lot of thought and consideration, I've reluctantly decided to stop doing the college previews. There are just too many schools (130 for football, 350 for basketball), too many uniforms, too many media relations reps whose comings and goings I've given up trying to keep track of. Nearly every school gets some kind of new uniform every season now, which on the one hand is an insane amount of stuff to keep track of, and on the other hand feels pointless when most of it will just disappear after one season anyway.
Working on the CFB preview has basically swallowed my month of August for many years running (yes, even though I take a break from the blog), and I couldn't help but notice that my quality of life improved immeasurably when I skipped the college hoops preview this past fall. I feel bad about letting these two annual columns fall out of the Uni Watch portfolio, but I feel like they've grown too big for me to handle. I'll still keep covering college sports on the blog and the Ticker as events warrant, of course, but I can't do the season previews anymore. I'm sorry.
What will happen to the Bulletin work you've already done over the past six months? Will it move behind the paywall or will it remain available on the web?
All my pre-paywall Bulletin work — including this week's and next week's articles — will remain freely available to all. The paywall will only apply to Bulletin articles published after next week.
If I go to your Bulletin home page after the paywall goes up, what will I see?
You'll still see a chronological listing of all my Bulletin articles, including the paywalled ones (which will have a little star icon next to them). If you click on one of the paywalled articles, it will take you to a page that shows the first paragraph or two of the article, and then a notice that you need to be a paying subscriber to continue reading (just like you've probably seen on lots of other websites).
I currently subscribe to your Bulletin content, but I don't plan to pay for it. What will happen to my subscription?
You'll still technically be subscribed, but you will no longer receive any "premium" content via email. I may still occasionally do non-paywalled articles, so you'll receive those if and when they happen.
Sure, I'm willing to pay for this. But I don't have a Facebook account — do I need to have one in order to get the paywalled subscription?
Yes. You'll have to go to Facebook's home page and create a new account in order to pay for Bulletin content. Sorry about that — I realize it's annoying.
I don't hate Facebook, and I understand that none of the money will be going to them, but I've managed to live a rich and fulfilling existence without having Facebook in my life in any way, and I'd prefer to keep it that way. Not being on Facebook has kind of become part of my identity! Isn't there some other way to pay?
I really do understand. I don't use Instagram — not because I hate it, but because at some point I had to draw the line on social media in order to maintain my sanity, and that's where I happened to draw it.
All of that said, signing up for a Facebook account just so you can pay for a Bulletin subscription shouldn't involve you with Facebook in any way beyond the payment itself. Once you register with them, you can go to the Bulletin payment portal and make your purchase just like any other web transaction. I hope that won't be a dealbreaker, but I understand if it is.
Will these changes have any impact on what's happening here on the blog?
They shouldn't, no (although everything is always subject to change, of course).
Okay, I'm ready to sign up! Where do I pay?
Hold off for now. The paywall won't go into effect for another two weeks or so, so there's no need for you to start paying for something that's still free for now. I'll make sure everyone knows when it's time to sign up.
I want to spread the wealth! Can I donate a subscription?
Somewhat incredibly, there's currently no way for you to do that. But I have made it abundantly clear to the higher-ups that they need to add that functionality pronto (and I'm told that many of my fellow Bulletin writers have made the same request). Hopefully they'll have it in place by the time the paywall goes up.
You're always complaining about corporate greed, but who's the one being greedy now? YOU!
I don't think asking a reasonable, fair price in return for some of my best content in an ad-free setting is greedy (especially after providing so many years of free content). But if that's how you feel, you're certainly entitled to that view. We'll have to agree to disagree.
———
I think that covers everything from my end. If you have additional questions, feel free to post them in today's comments and I'll do my best to respond. Thanks!
• • • • •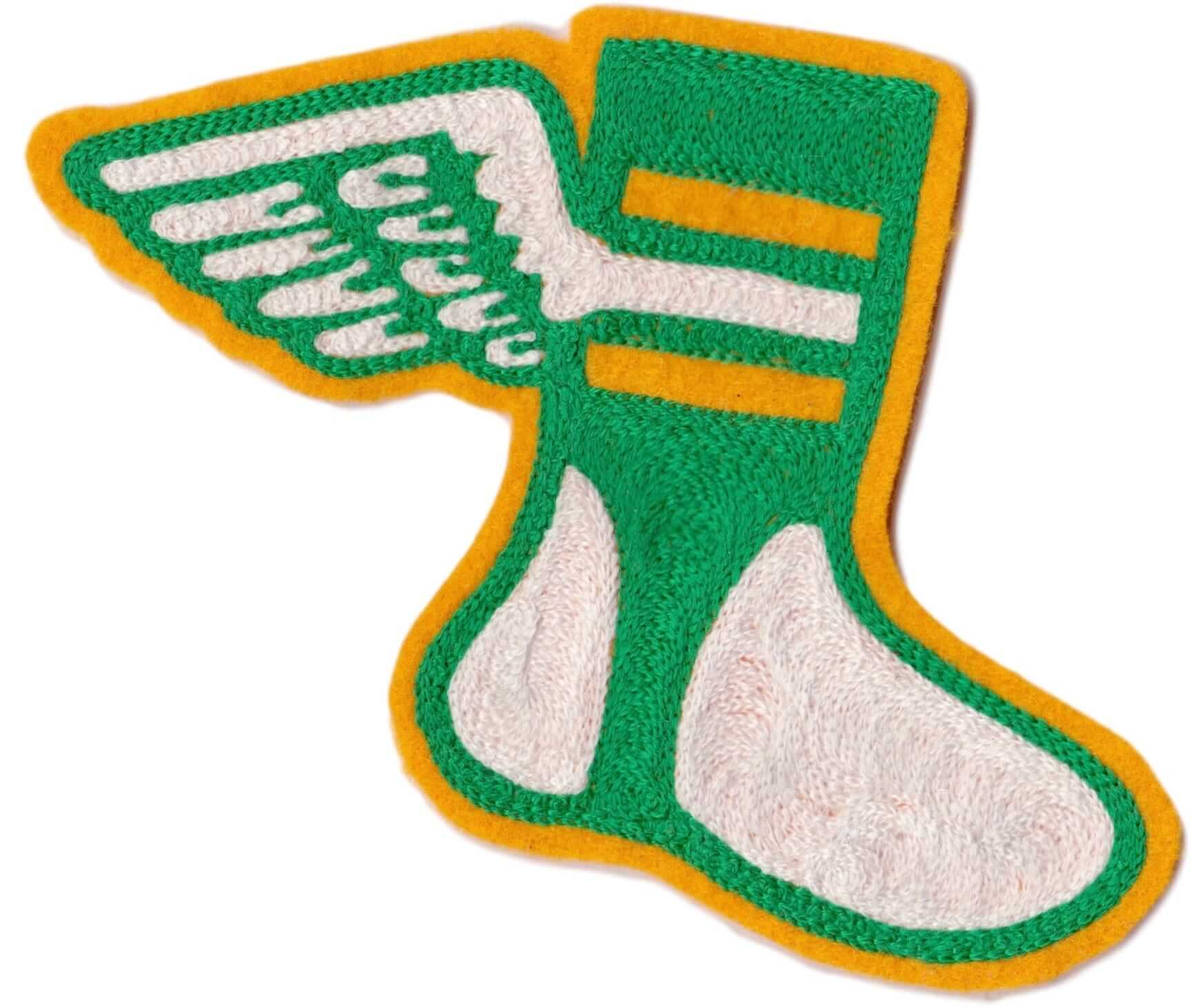 • • • • •
Click to enlarge
Supply and Demand: Our Uni Watch Chain-Stitched Patch is now sold out. I'm willing to restock them, but my cost on these is nearly $30 a pop, so I'll only order more if there's enough demand for them.
The patches are roughly 6″ by 6″. Your price wil be $35 plus $2 for shipping. If you're interested, let me know. Thanks!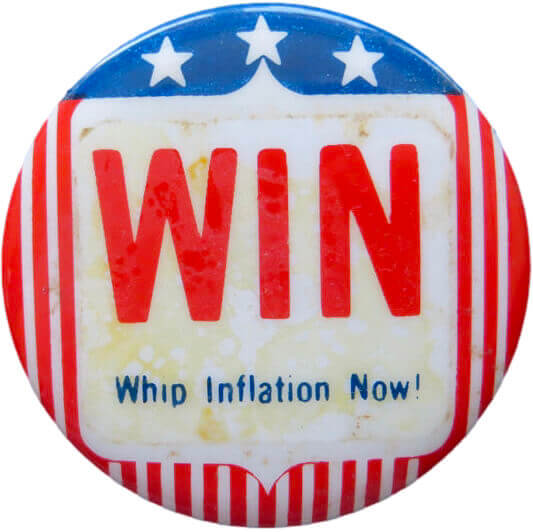 Also: In case you missed it earlier this week, prices have been reduced on a bunch of Uni Watch products:
• Seam rippers, originally $5, are now $3.
• Koozies, originally $5, are now $3.
• Trading cards, originally $6 and then reduced to $3, are now $2.
• Magnets, originally $3, are now $2.
• Custom-designed membership cards, normally $25, are now $20.
These items all mail out from Uni Watch HQ, so you can save on shipping charges by mixing/matching items. Email me and I can give you a combined shipping charge for the items you're interested in. Thanks!
• • • • •
• • • • •
The Ticker
By Lloyd Alaban

Baseball News: The NHL's Dallas Stars wore Rangers-themed warm-up jerseys last night (from multiple readers). … A sportswriter argues that the Yankees have retired too many numbers and did the math on when they would run out of numbers (from our own Phil Hecken). … The Reds' fantasy camp has a very cool rehab-themed Mr. Redlegs logo (from @indywestie). … The Orioles have unveiled renderings of the new dimensions in left field at Camden Yards (from Kary Klismet). … Also from Kary: Arkansas has revealed its rings for winning last season's SEC Championship. … The 1982 Sigourney High School (Iowa) baseball team wore some unusual collars (from Brad Eenhuis). … the Single-A Fresno Grizzlies announced four alternate identities that they'll use this season (from Aaron Wiens). … New 10th-anniversary logo for the Pensacola Blue Wahoos, affiliate of the Marlins (from @DaveGH2P). … New identity for the Sugar Land Skeeters, affiliate of the Astros, coming on Jan. 29. An MLB source has confirmed they will be called the Space Cowboys. Here's a leaked logo (from multiple readers).


NFL News: Mono-white for the Bengals this Saturday (from our own Phil Hecken). … Fans who purchase Super Bowl tickets will also receive collectible NFTs.

Hockey News: The Stars wore Texas Rangers-themed warm-ups last night (from multiple readers). … The ECHL's Fort Wayne Komets wore MLK-themed sweaters on Monday.

Basketball News: Color vs. color last night for Western Michigan vs. Akron men's. Here's another look (from multiple readers). … Miami of Ohio men's wore red at home last night, with road team Ohio wearing white (from our own Alex Hider). … Texas A&M men's will wear 1979-80 throwbacks tonight (from Phil). … Houston men's wore "Game of the Century" throwbacks last night (from Mark Shainbrown).

Soccer News: New kit manufacturer for the San Diego Loyal of the USL Championship (from Ed Zelaski). … Malawi's Africa Cup of Nations shirts have ginormous numbers (from Kary Klismet).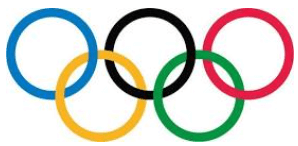 Olympics News: The Czech Republic has revealed its opening ceremony uniforms (from Kary Klismet).

Grab Bag: Following up on yesterday's Ticker: This is Richmond's AFL Women's Pride guernsey. It's one of the four not shown yesterday (from our own Jamie Rathjen). … The following three items are from Kary Klismet: Here's how the staff uniforms for London's new NoMad Hotel were created. … Senate candidate Mehmet Oz's campaign logo is nearly identical to his TV show's logo (from multiple readers). … The U.S. Air Force will release new maternity uniforms this spring (from Timmy Donahue).