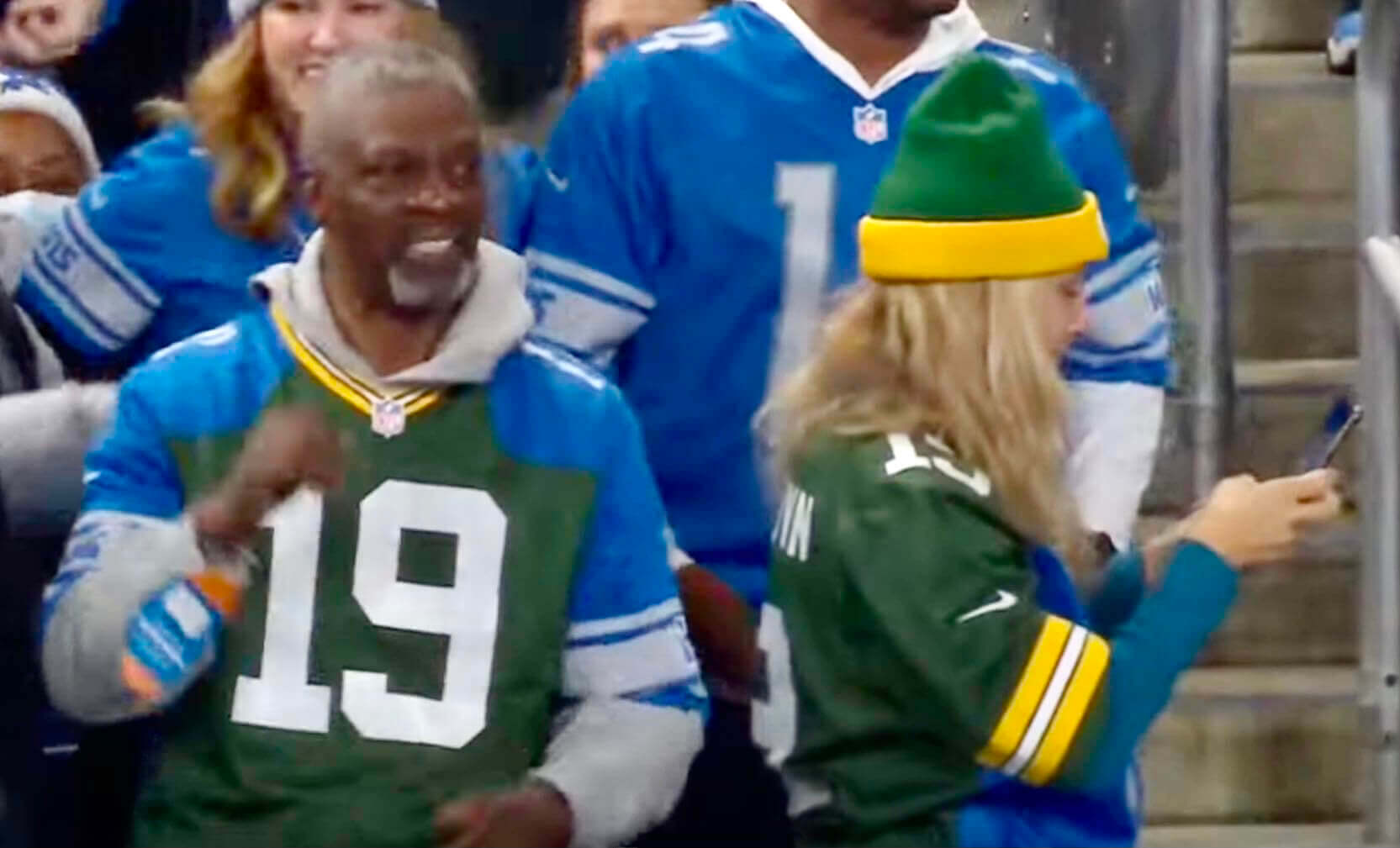 For all photos, click to enlarge
Good morning! The most interesting uni-related development in yesterday's NFL games took place in the stands, not on the field. With the Packers and Lions playing each other yesterday, the parents of Packers wideout Equanimeous St. Brown and Lions wideout Amon-Ra St. Brown wore Franken-jerseys, but they weren't the usual half-and-half designs split down the middle. I really like how those turned out!
Meanwhile, down on the field, the Lions wore their throwbacks: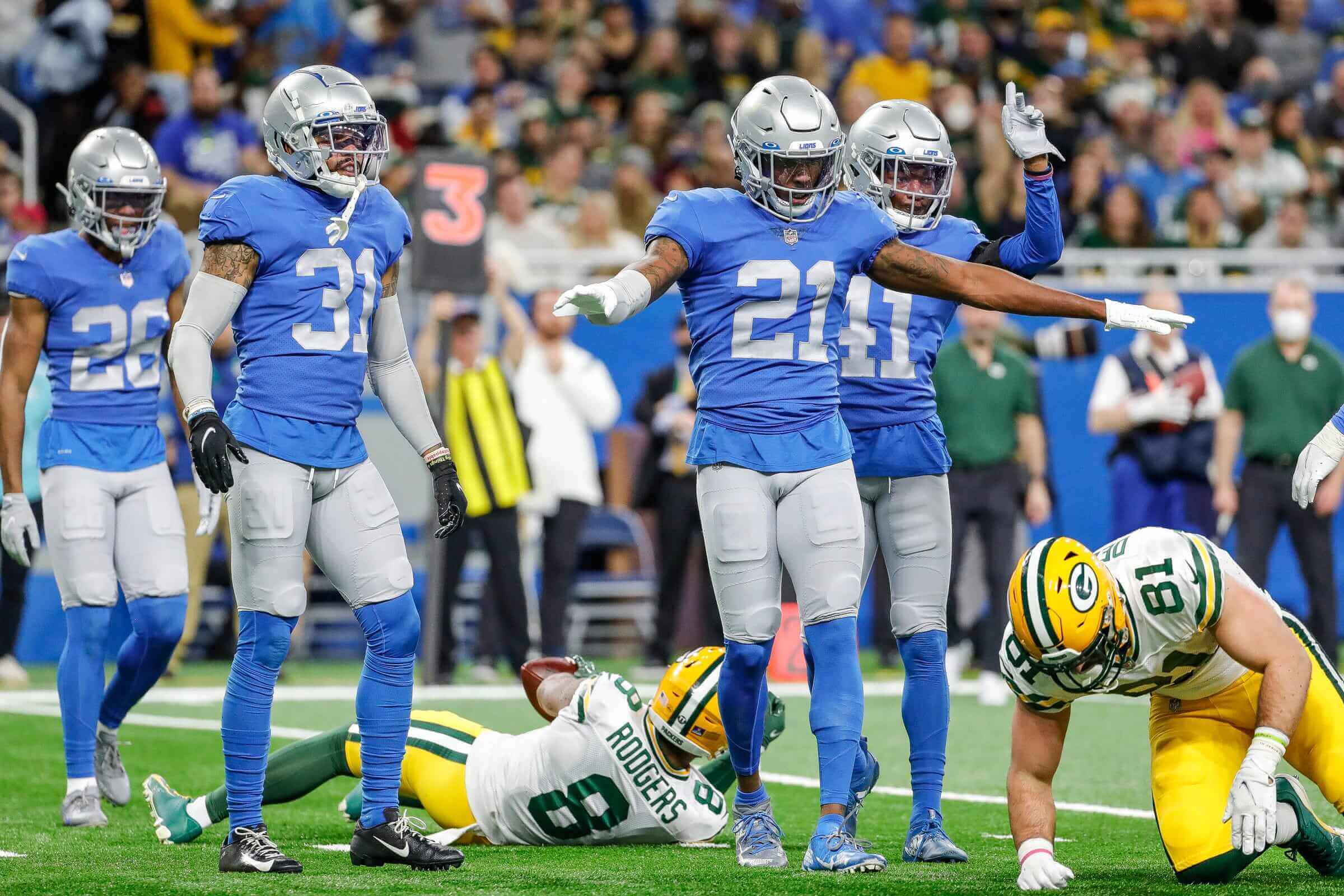 After the game, the two St. Brown brothers swapped jerseys.
In other news from the final week of the league's first 17-game season:
• The Dolphins wore their throwbacks and also went with a throwback field design: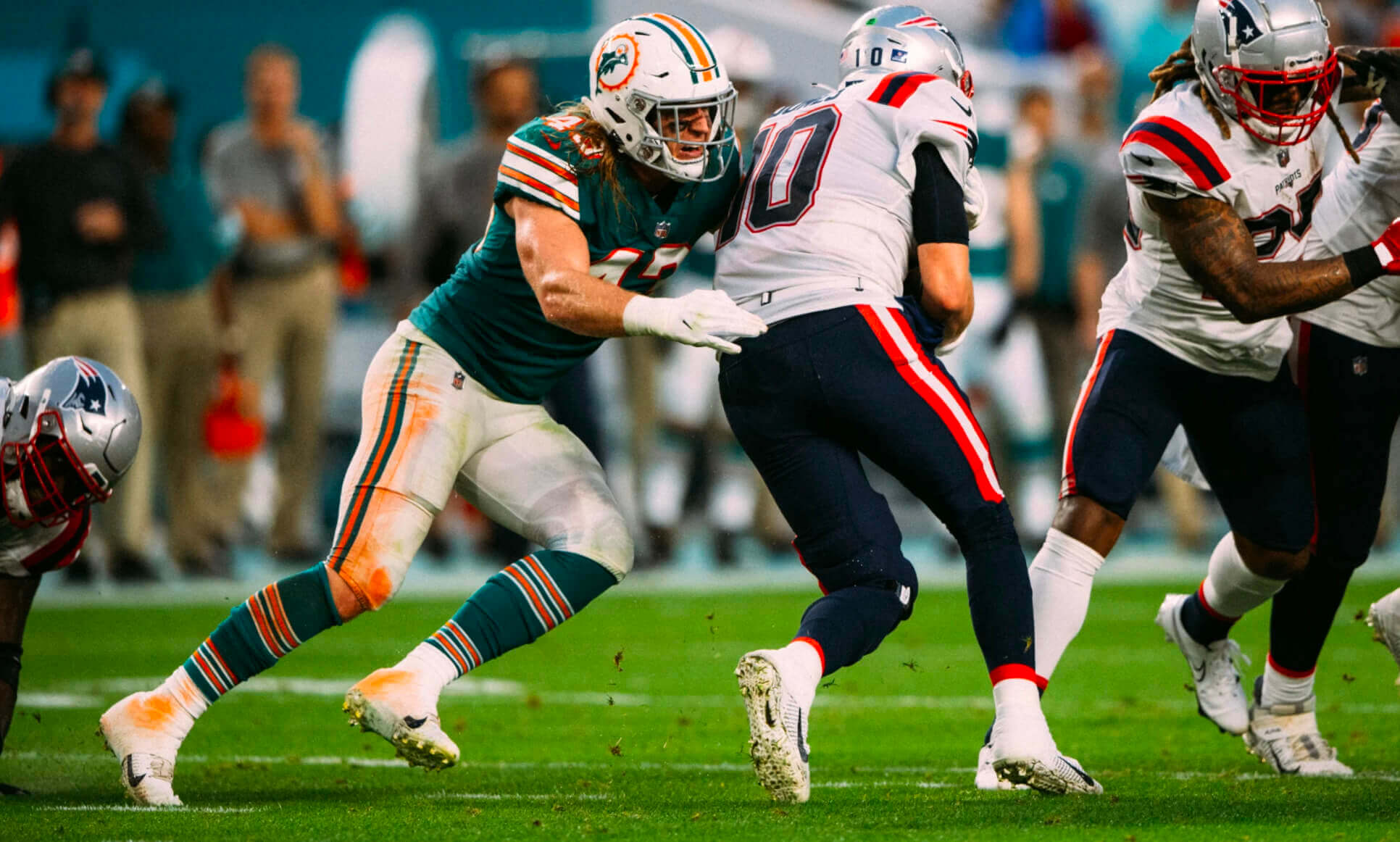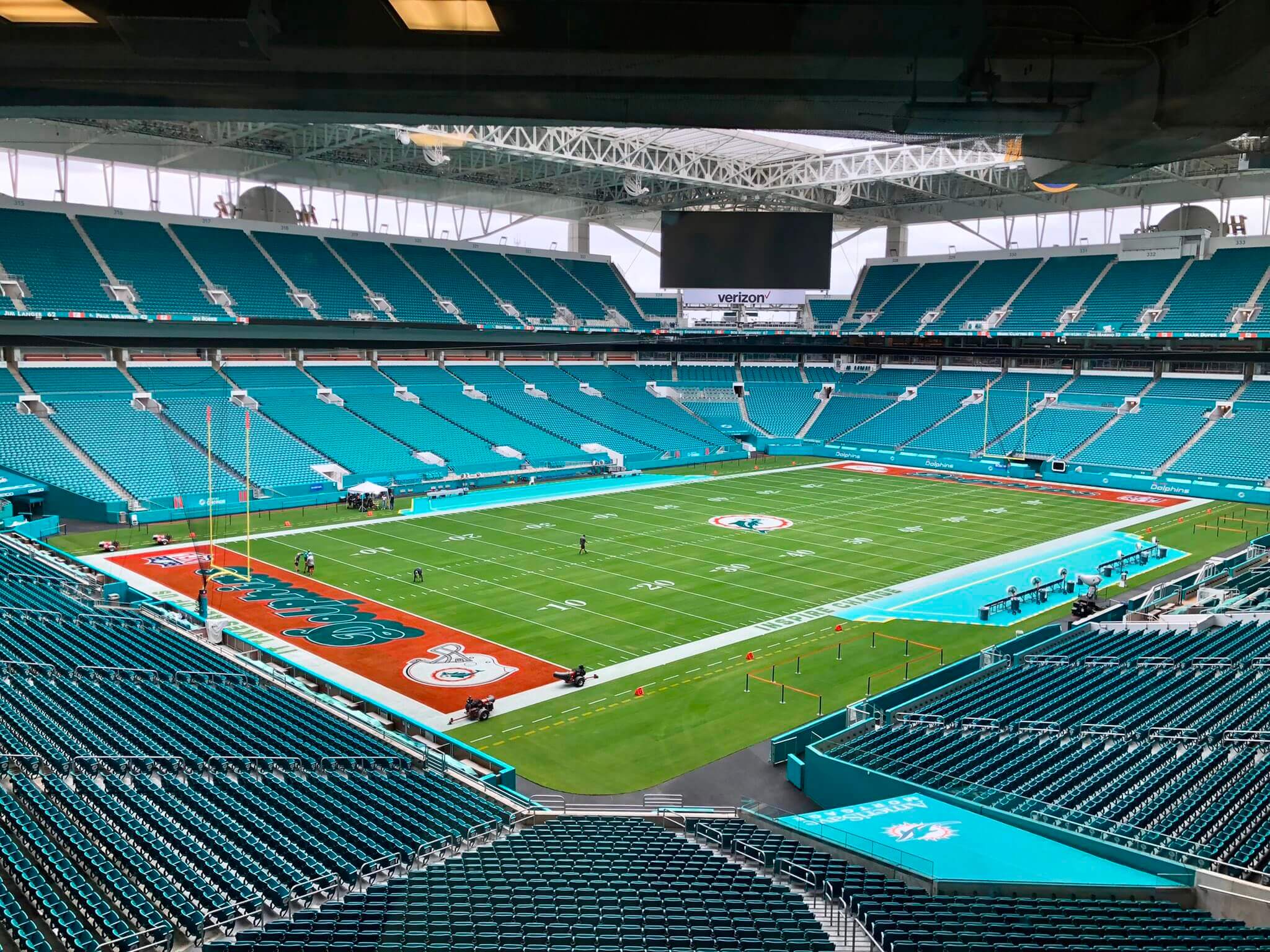 [Insert the entire sports world saying, "They should wear those all the time!" here.]
• The Ravens wore their black alternate jerseys: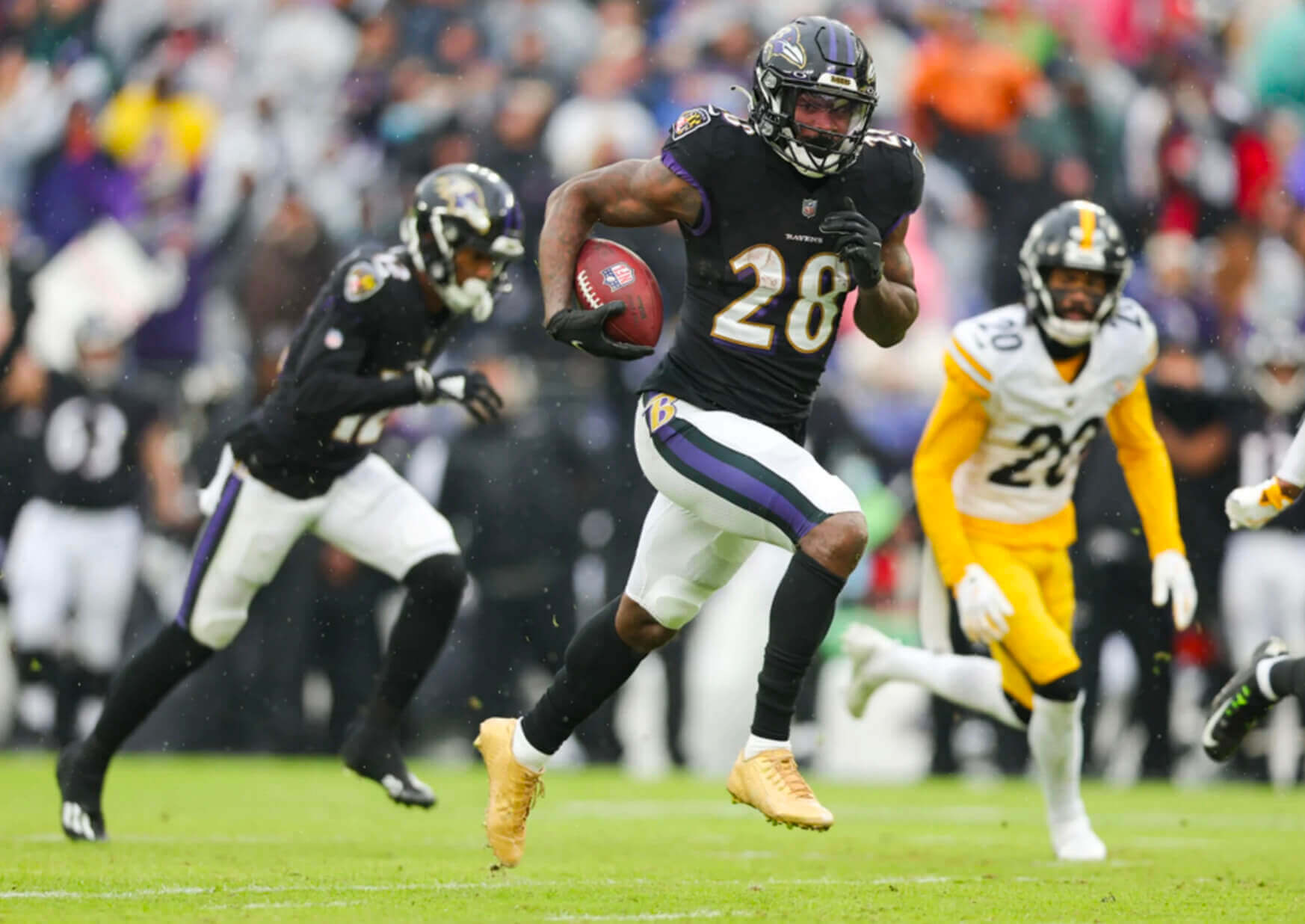 • The Bengals and Browns were essentially color-inverted versions of each other (additional photos here and here):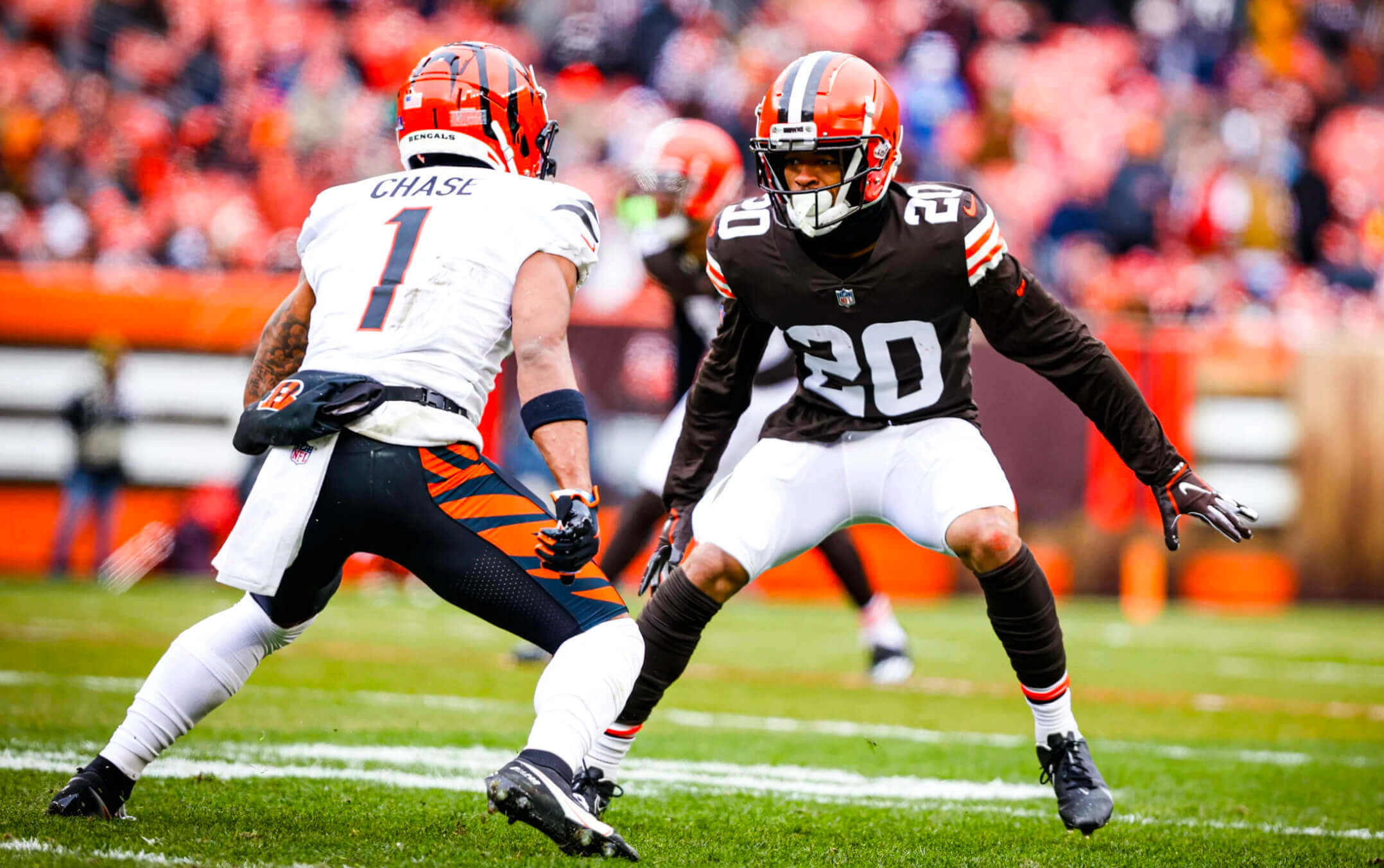 • The Seahawks went mono-grey: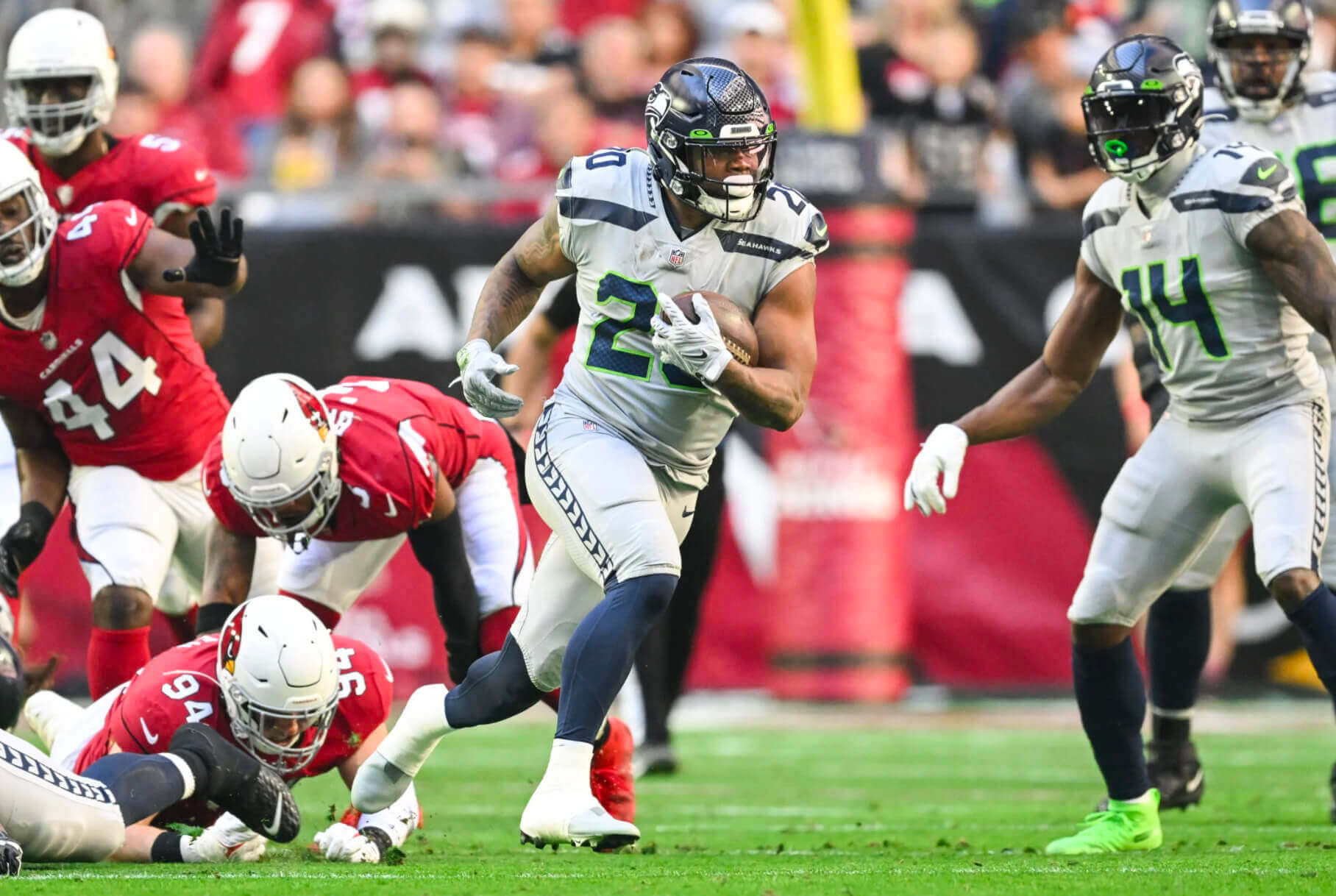 • The Giants and Washington aren't particularly good teams, but at least they combined to create a pretty good-looking uniform matchup: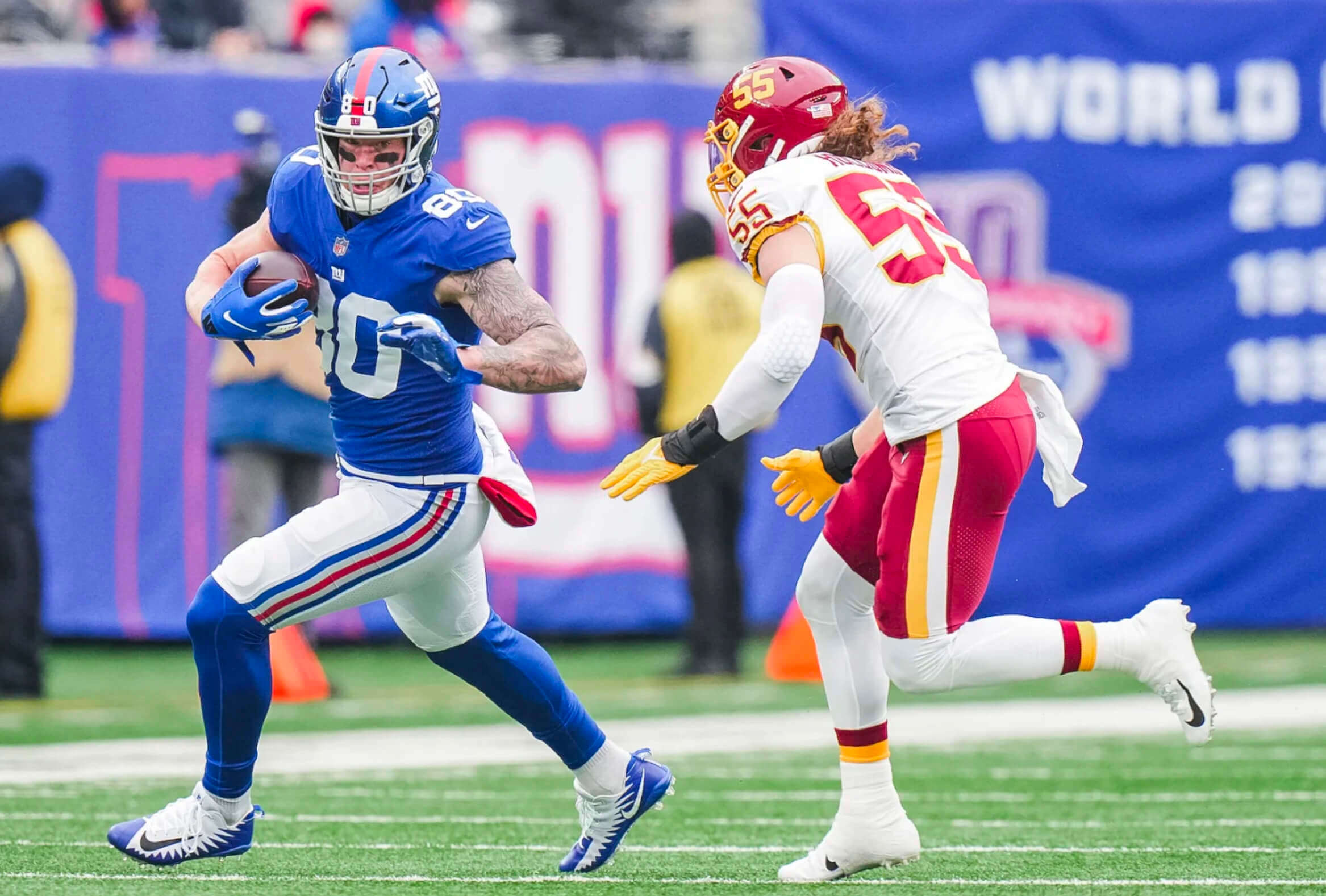 • Titans quarterback Ryan Tannehill wore an Oilers shirt during pregame warm-ups: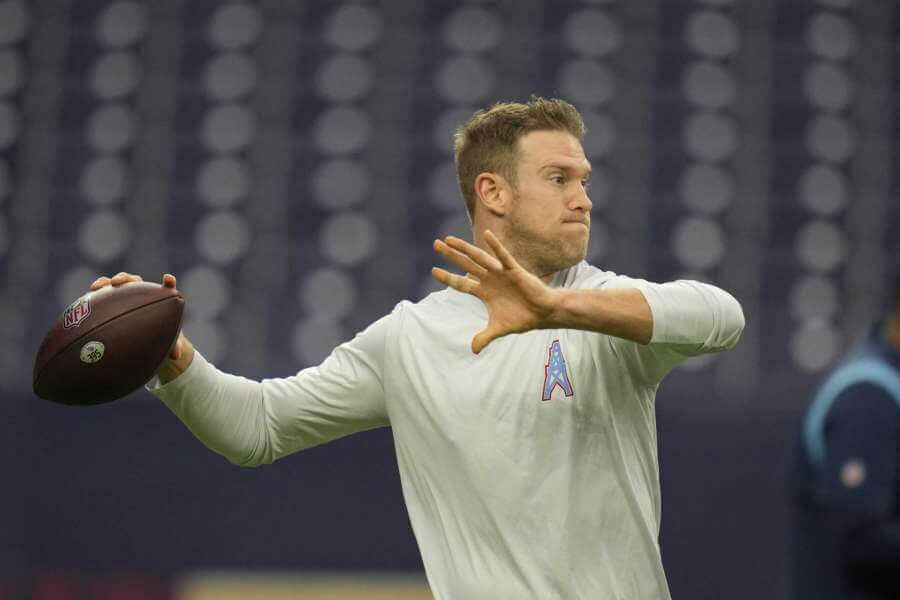 • Speaking of the Titans: Linebacker Zach Cunningham said last week that he'd take special satisfaction in beating the Texans, because they waived him last month. The Titans did indeed win, and after the game Cunningham wore a headband with a metal Texans logo plate: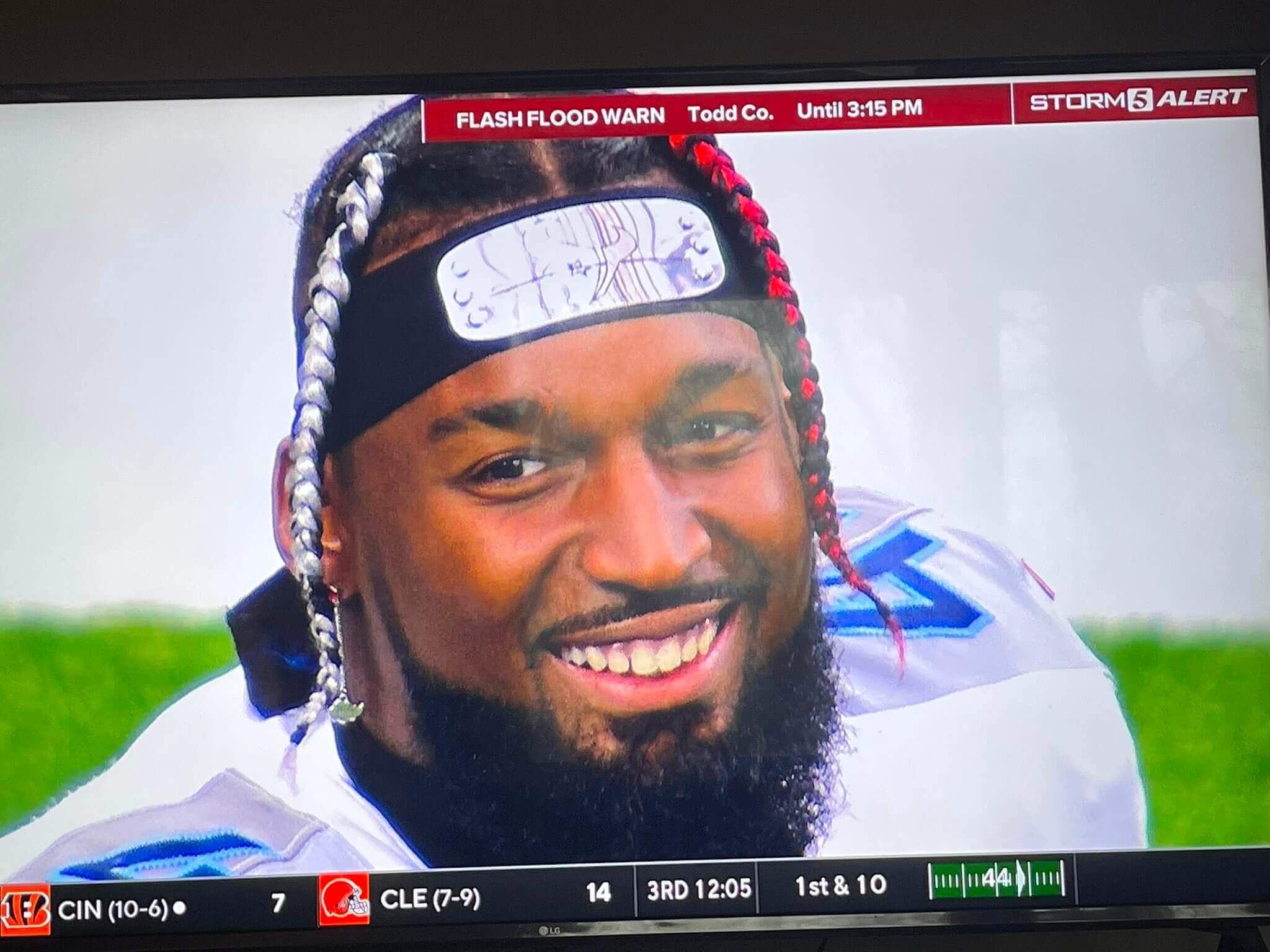 Update: Reader/commenter Kyle provides the following explanation for the headband:
It's from a popular manga/anime, Naruto, where ninjas show their allegiance with a metal headband that has their village symbol on it. Rogue ninja who leave the village will scratch a horizontal line through it, signifying that they have abandoned their allegiance, which is what. Cunningham did when he joined the Titans. You can see the horizontal scratch on the logo pretty well.
• Following up on an item from last week, the Raiders retained their "JM" memorial decal for John Madden (and will presumably keep wearing it in the postseason as well):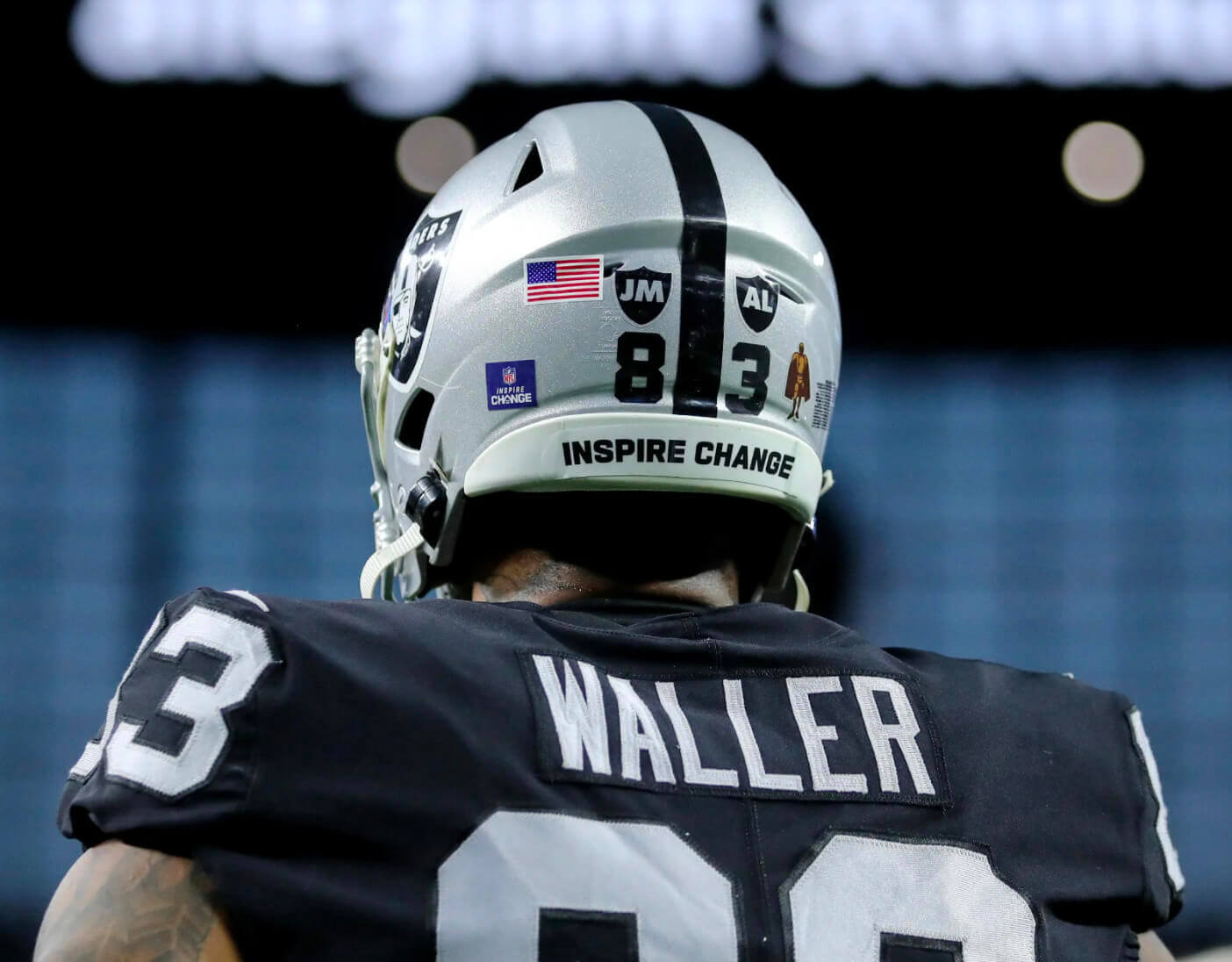 That shot also shows the Raiders' longstanding "AL" perma-memorial decal for Al Davis, plus it shows tight end Darren Waller's Walter Payton decal (which he's been wearing for the past month because he's the Raiders' nominee for this season's Man of the Year Award), plus-plus it shows the "Inspire Change" decal that all teams wore for the final two weeks of the season (not to be confused with the "Inspire Change" neck bumper slogan that Waller has been wearing all season long). That's one busy rear helmet region!
• For the second consecutive week, the Panthers wore a uni combo that they'd never worn before. Last week it was mono-white, including white socks; this time it was black jerseys, white pants, and white socks: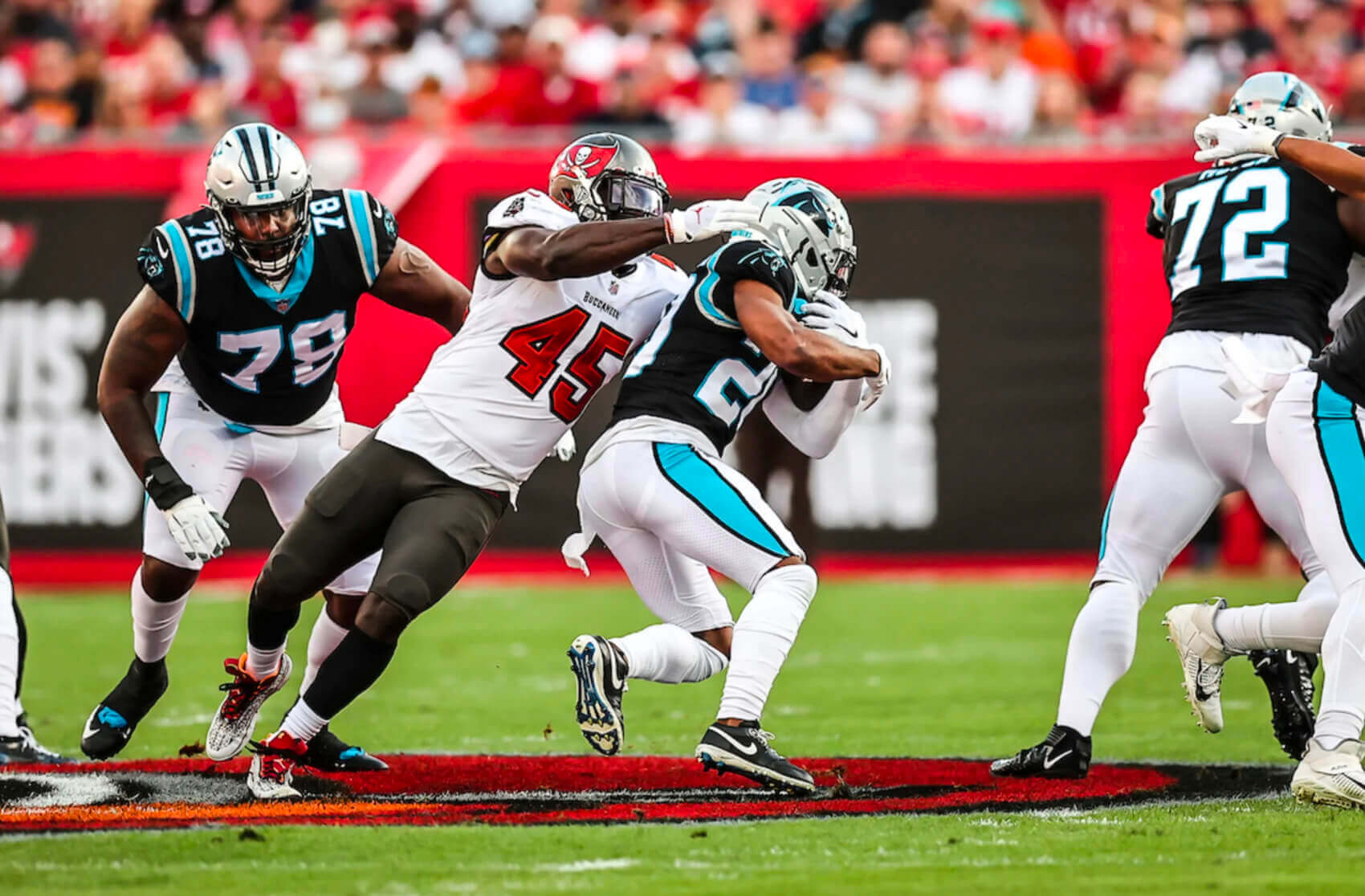 • The Bucs (shown in that Panthers photo above) were the only home team that wore white.
———
And that'll do it for the regular season! With the playoffs now set, Greg Harvey has created a animated timeline showing cumulative postseason appearances since the 1970 merger:
In honor of the NFL playoff field officially being set, here is a progressive timeline of NFL Playoff Appearances since the NFL-AFL merger in 1970.

Where does your favorite team rank in this graphic? Check out how different dynasties move up throughout this graphic. #NFL 🏈📈 pic.twitter.com/arAZBSqEd1

— Greg Harvey (@BetweenTheNums) January 10, 2022
Speaking of the postseason: All 14 teams who qualified have previously appeared in a Super Bowl (including my favorite team, who punched their postseason ticket with a really exciting overtime win), and Twitter-er @villaroman83 calculates that 22 of the past 55 Super Bowl matchups could potentially be reprised this time around.
Next up: Wild Card Weekend. My favorite team will be facing my most hated team on Sunday. Can't wait!
(My thanks to all contributors, including Gabe Cornwall, Leon Häfner, David Petroff, Ignacio Salazar, Lee Wilds, and @2Framezz.)
• • • • •
• • • • •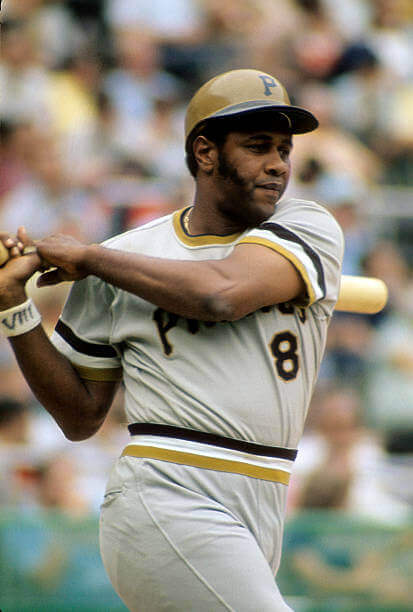 Stargell's Roman conquest, continued: Last month I noted that former Pirates slugger Willie Stargell wrote his uni number on his shoes and cap in Roman numerals. Now it turns out, as shown above, that he also used the Roman format on his wristband.
It's not uncommon for ballplayers to inscribe their uni numbers on their gear, of course, but I don't think I've ever seen another player use Roman numerals. Fascinating!
(Big thanks to to Scott Chamberlain for this latest photo of Stargell, and to Samuel Barrett and Christopher Leopardi for raising this topic last month.)
• • • • •
• • • • •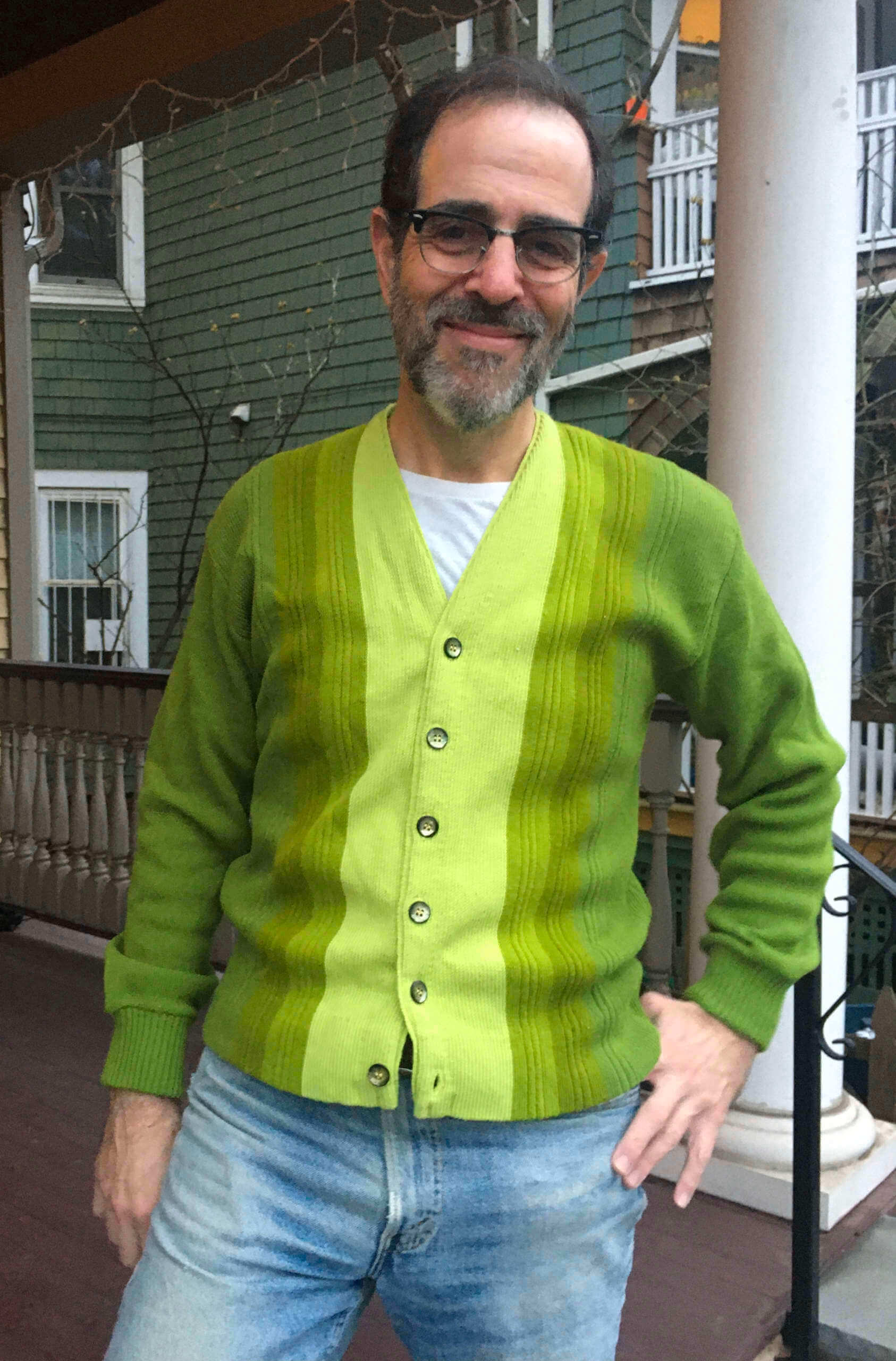 Click to enlarge
Sweet sweater story: You want "storytelling"? Here, let me tell you a story — the real kind, not the marketingspeak kind.
The photo above was taken yesterday. Nice cardigan, right? The Tugboat Captain spotted it on eBay about three years ago and figured I'd love it, so she bought and it planned to give it to me as a birthday present. But when it arrived, the colors were paler than the eBay photos had led her to expect, and she thought I might not love it after all, so she hid it away and figured she'd decide what to do with it at some point down the road.
Fast-forward to Saturday night: I was looking at some vintage stuff on eBay and said to Mary, "Wow, look at this sweater — it's right up my alley, except it's not quite my size and way too expensive. Dang." It was the exact same sweater she'd purchased for me three years ago (except the one she bought was the right size and at a more reasonable price, of course).
Now that she knew I'd like it after all, she waited until I went out for my daily bike ride yesterday, at which point she excavated the sweater from its hiding spot and left it on our bed, where I discovered it after my post-bike shower. My brain totally crashed when I saw it — like, "Wait, this is the same sweater I saw last night on eBay, but how can it be here??" Then she came in and explained the whole backstory. Such a great surprise!
Now that's a good story, am I right? The funniest part is that Mary (or anyone, really) would think I might not like this. It's true that I particularly love deep, dark, saturated shades of green, but these shades will do just fine!
• • • • •
• • • • •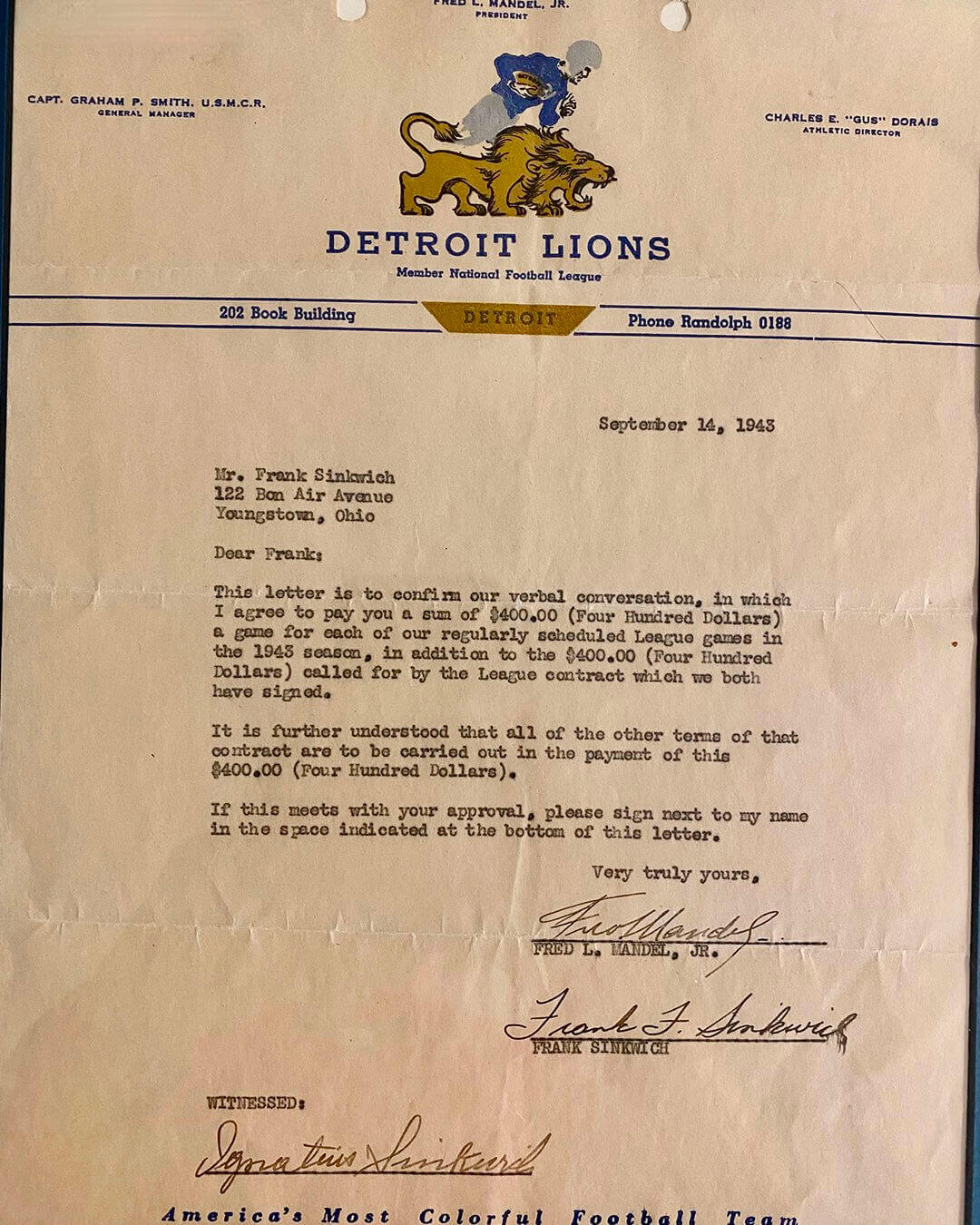 Click to enlarge
Too good for the Ticker: Holy moly, look at this amazing 1943 Detroit Lions letterhead! Love the little note at the bottom: "America's Most Colorful Football Team." I wonder how long they kept using that slogan?
(Big thanks to Lee Wilds for this one.)
• • • • •
• • • • •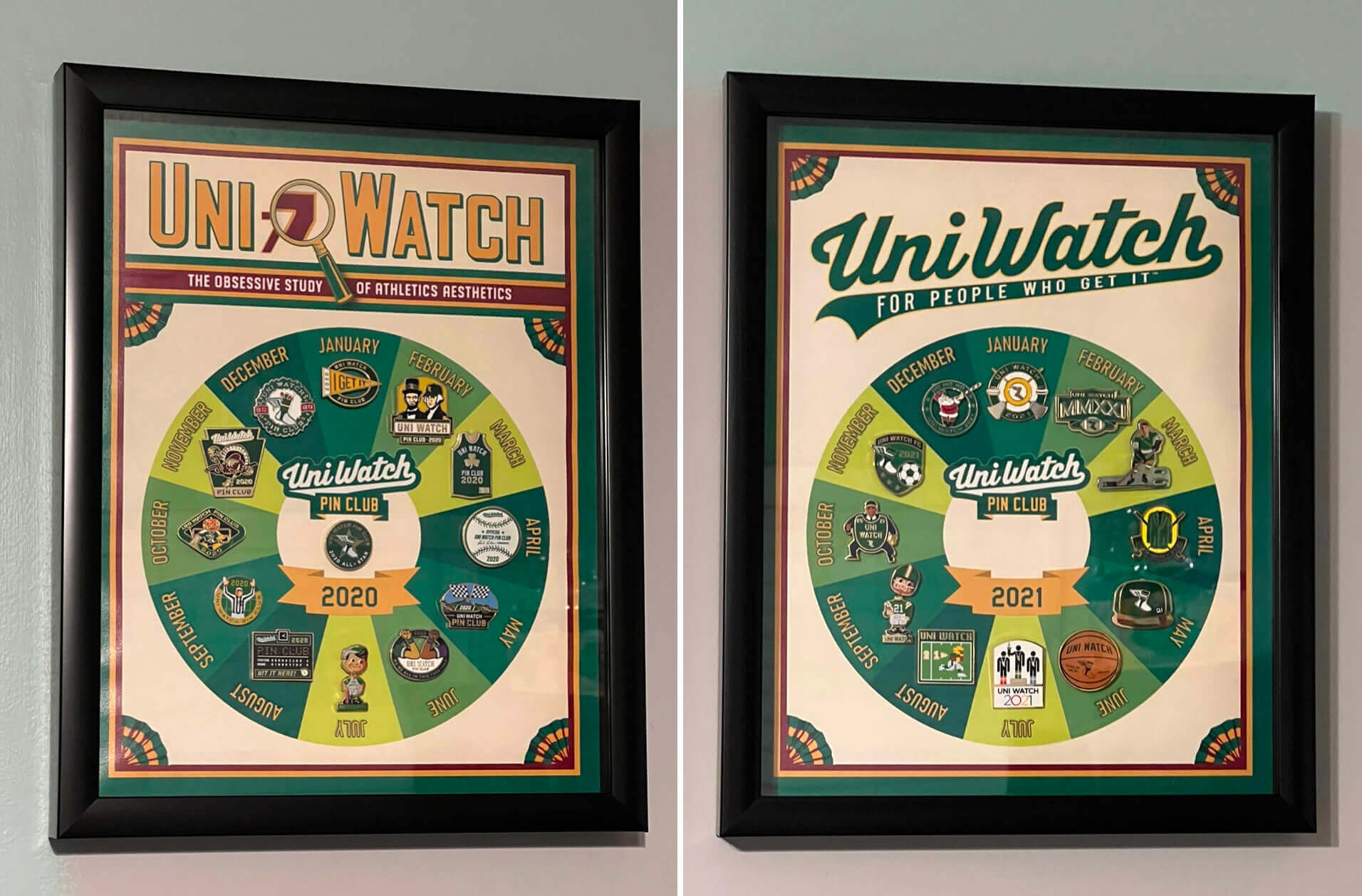 Click to enlarge
Pin Club update: I love these displays that reader Michael Rich made for his Uni Watch pins. The one on the right is still awaiting its All-Star pin to go in the center, but Michael should be receiving that in the mail any day now.
If you want to download blank versions of these displays, here are the 2020 and 2021 designs — enjoy! And big thanks to Michael for sharing these with the comm-uni-ty.
• • • • •
• • • • •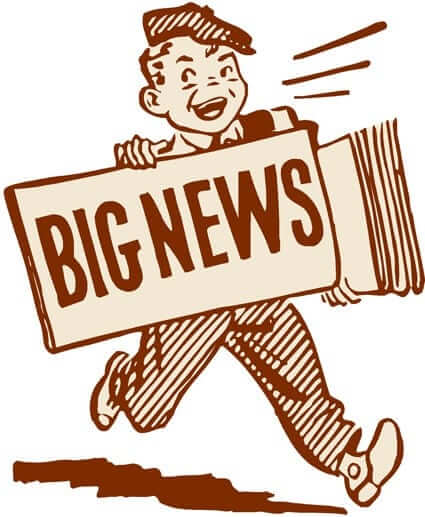 ITEM! Uni Watch finally (re)joins modern world: After a nearly 12-year absence (for absurd and utterly frustrating reasons I'd rather not get into), I'm happy to announce that I am back on PayPal! Effective immediately, I am accepting payments at newcollegeuni@gmail.com.
This means I can finally accept PayPal for the Uni Watch products I sell directly: memberships, seam rippers, caps, koozies, magnets, trading cards, and chain-stitched patches.
I'm still accepting Venmo (@Paul-Lukas-2), Zelle (plukas64@gmail.com), and Apple Pay (get in touch for details), but those don't work for non-USA customers, so my new PayPal status is particularly good news for overseas readers. Whoo-hoo!
• • • • •
• • • • •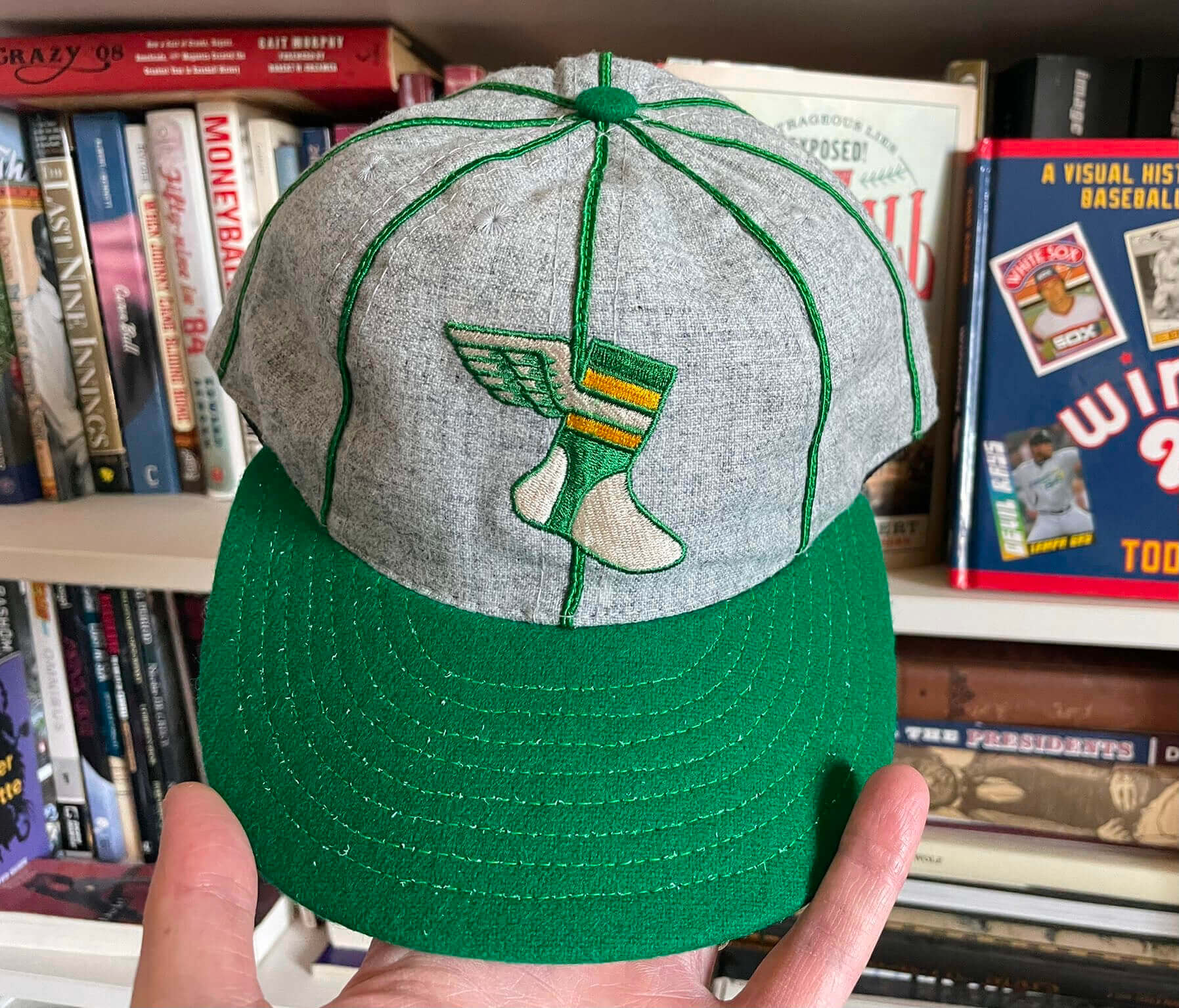 ITEM! Alternate Cap price cut: I have only four Uni Watch Alternate Caps remaining, in the following sizes:
7-1/8: 1 cap
7-5/8: 2 Now sold out
7-7/8: 1
I'd like to get these out the door, so I've cut the price from $42.99 to $31.99 — a 25% price reduction. Full ordering details here.
• • • • •
• • • • •
The Ticker
By Jamie Rathjen

Baseball News: The caption for the photo in the New York Times obituary of the original portrayer of Mr. Met, Dan Reilly, says it was taken in the '60s. "But as any good uniform geek can clearly see, he's wearing a version of the Mets uniforms from the 1980s," says Dan Kaempff. … The NHL's Anaheim Ducks wore Angels-themed pregame jerseys last night (from Jim Brunetti). … The Yankees are about to make history by hiring the first female manager for an MLB-affiliated minor league team. "At least she won't have to worry about their facial hair policy," says Tim Baker.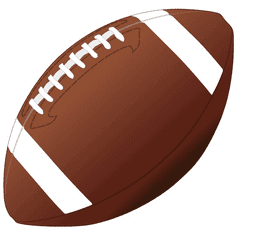 Football News: Last night's episode of 60 Minutes had a segment on NFL kickers, including their shoes and the special "K balls" that the league uses for field goal and extra point attempts (from Mike Chamernik). … This article from before this year's Grey Cup final mentions the poor recent record teams wearing black helmets have in the game, which was extended this year with the Hamilton Tiger-Cats' loss (from Wade Heidt).

Hockey News: The AHL's Charlotte Checkers have been affiliated with the Panthers, not the Hurricanes, since last season, but they still have a Hurricanes-reminiscent alternate logo outside their locker room (from @IronCaniac). … The ECHL's Atlanta Gladiators wore Star Trek-themed jerseys on Saturday (from Wade Heidt). … Cross-listed from the baseball section: The Ducks wore Anaheim Angels-themed pregame jerseys last night (from Jim Brunetti). … Speaking of the Ducks, they wore white at home for last night's game against the Red Wings. That's because the Wings had to bring their red home uniforms with them on the road for Saturday's game against the Kings in L.A., because the Kings wore their white alternates. So the Wings asked the other teams they're facing on this road trip to also wear white at home (thanks to all who shared).

Basketball News: With Warriors G Klay Thompson returning to action last night — his first appearance since Game Six of the 2019 Finals — teammates Andre Iguodala and Steph Curry wore Thompson jerseys during pregame warm-ups (from Mike Chamernik). … The Lakers have two different baseline logo configurations, which reader Matthew Wolfram believes depends on whether a game is nationally televised. If it's not, the "Lakers" text is on one side of the basket and an ad on the other; if it is, the "Lakers" text is centered, he says.

Soccer News: The first three items refer to the FA Cup third round: The sleeve patch had "150 Years" added to it this season. … Birmingham City wore a patch in memory of young fan Arthur Labinjo-Hughes. City's women's team also participated yesterday. … Arsenal's one-time mono-white kit yesterday bizarrely had white numbers, and also seems to mark the men's team's first time in mono-white since Jan. 3, 1970, according to Historical Football Kits and this Museum of Jerseys post. Arsenal's women's team didn't participate except through social media graphics and through manager Jonas Eidevall wearing a white jacket for the past few days. … The costumed mascot for the Africa Cup of Nations, which started yesterday, is wearing a bulletproof vest as part of the tournament's enhanced security measures (from Kary Klismet). … Speaking of ACON, the tournament's uniforms have been made by a whopping 15 different kit manufacturers (from Jeremy Brahm). … Also from Jeremy: New uniforms for second-tier Japanese side Thespakusatsu Gunma.

Grab Bag: Three AFL Women's teams, Brisbane, Geelong, and Richmond, opened the season by wearing special event designs, either pride or Indigenous, as clash guernseys. … A camogie club from Ireland's County Kerry played in the All-Ireland Junior Club Championship yesterday. Their shirt advertiser is a bar named after Manchester United's Stretford End at Old Trafford, so the shirt prominently features the bar's logo of a modified Man U crest.
• • • • •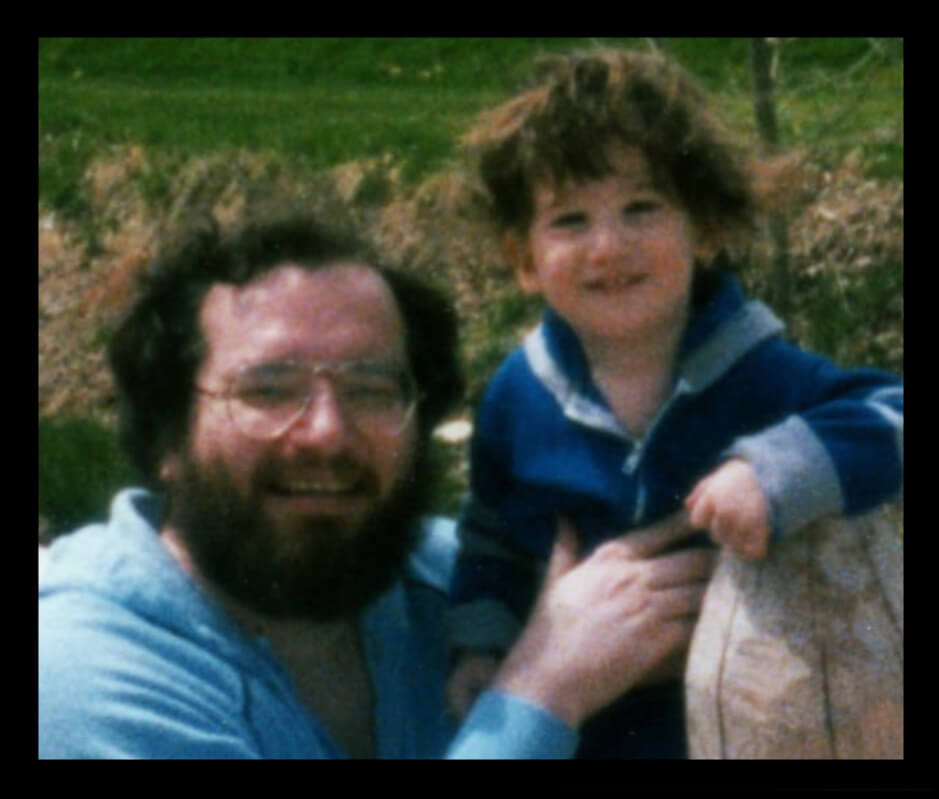 On a sad note, Chris Creamer reported last night that his father had unexpectedly passed away at the way-too-young age of 68.
Chris has told me lots of stories about his dad. Among other things, his dad was pretty tech-savvy and helped teach Chris how to set up the first version of SportsLogos.net back when Chris was a kid and the internet was still in its infancy.
In 2016, Chris and I co-hosted a uni-centric gathering in Brooklyn, and I had the pleasure of meeting both of his parents at that event (his entire family was taking a little vacation in NYC). Of course, they were lovely people, just like Chris.
Chris has become a really good friend over the years (our podcast project last year both reflected and deepened that bond). I know that the pandemic has been hard on him and his family — to lose his dad on top of everything else feels like piling on. I know you'll join me in expressing our comm-uni-ty's condolences for his family's loss. R.I.P. — Paul