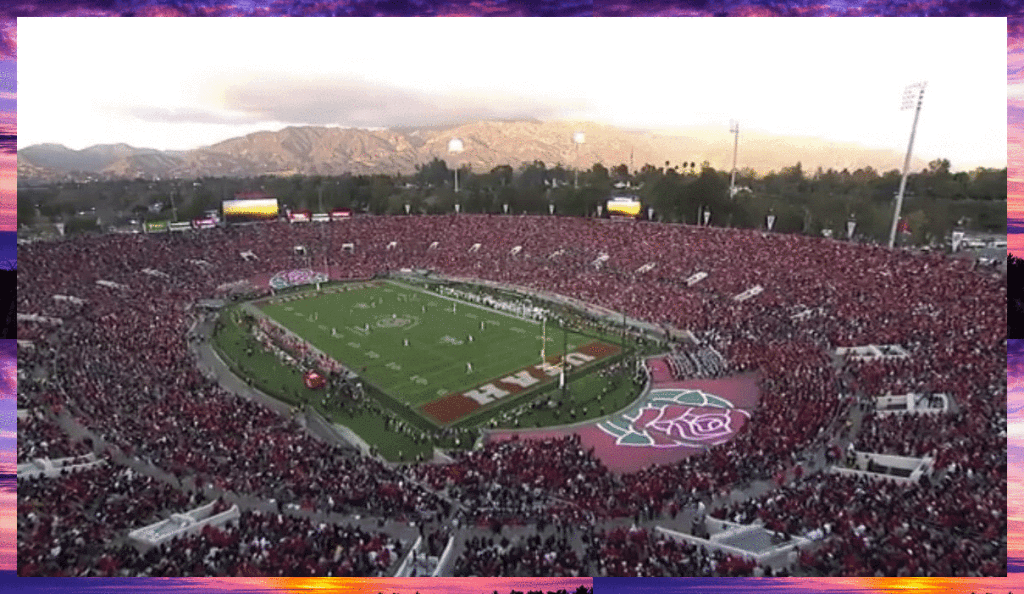 By Phil Hecken & the SMUW Crew
Follow @PhilHecken

A good Sunday morning Uni Watchers. I hope your New Year's Eve and Day were safe and rewarding, and again my best wishes to one and all for a better 2022.
Although the College Football season is far from over (we have one more bowl — to be played this Tuesday, followed by the National Championship Game between Alabama and Georgia the following Monday), today brings us to the close of another great Sunday Morning Uni Watch season — our 10th! The SMUW crew — Terry Duroncelet, Jr., Jimmer Vilk, Rex Heney, Dennis Bolt, Kyle Acker and Ethan Dimitroff — once again provided absolutely outstanding NCAAFB coverage throughout, and I hope you'll all take a moment at the end of this post to thank them in the comments for their dedication and devotion to their craft! Standing-O for the SMUW Crew!
Now then. As many of you know, my favorite of all the Bowls is the Granddaddy of them all, the Rose Bowl, and the annual sunset (pictured above) during the game is possibly my favorite sports visual of all time. It almost never disappoints. But then, if you follow my musings during the summer months, you know I'm a sucker for sunsets. But it's always a sad time for me when we "sunset" another SMUW season. I won't miss going to bed (sometimes) after 3:00 am, but other than that…I'll miss this until we do it again in September.
So with that, I'm going to turn it over to Terry, who will bring you the final SMUW lede for the 2021 College Football Season. Take it away TJ:
• • • • •
Sunday Morning Bowl Wrap
by Terry Duroncelet, Jr.
Yesterday's games… WILD. That's literally all I have to say. Well, that, and the uniforms.
From Thursday, December 30th, 2021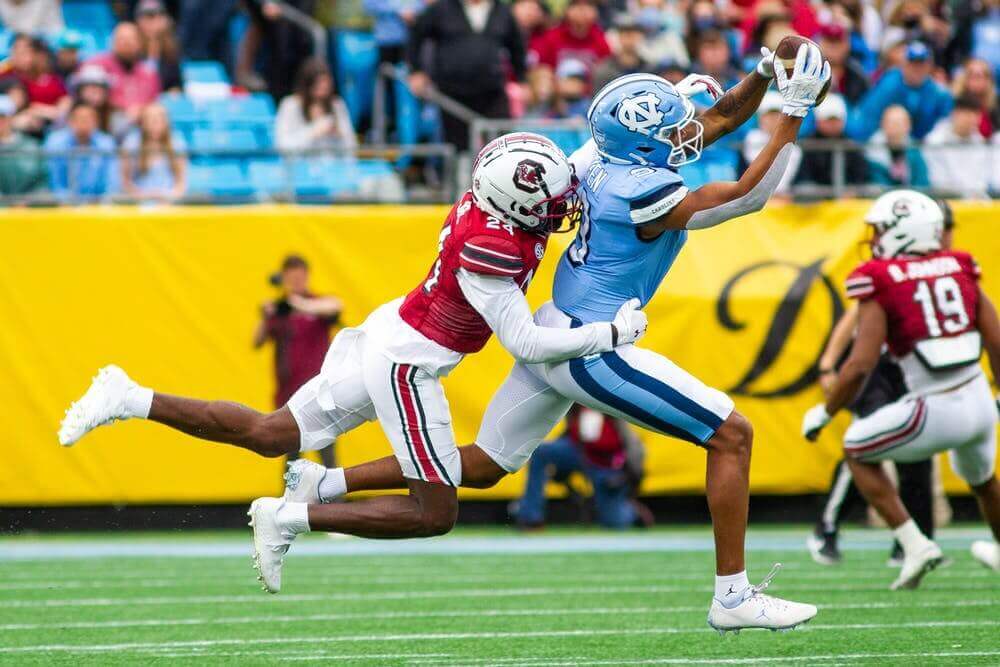 |North Carolina vs South Carolina|

There's a "Blue vs Red" or "X vs Y" joke to be made here, but it's escaping me. I know someone will come up with something in the comments. The University of North Carolina at Chapel Hill Tar Heels wore their throwback uniforms, while their opponents –the University of South Carolina Gamecocks– wore white/garnet/white. Color-vs-color done right. (helmet matchup)
. . . . .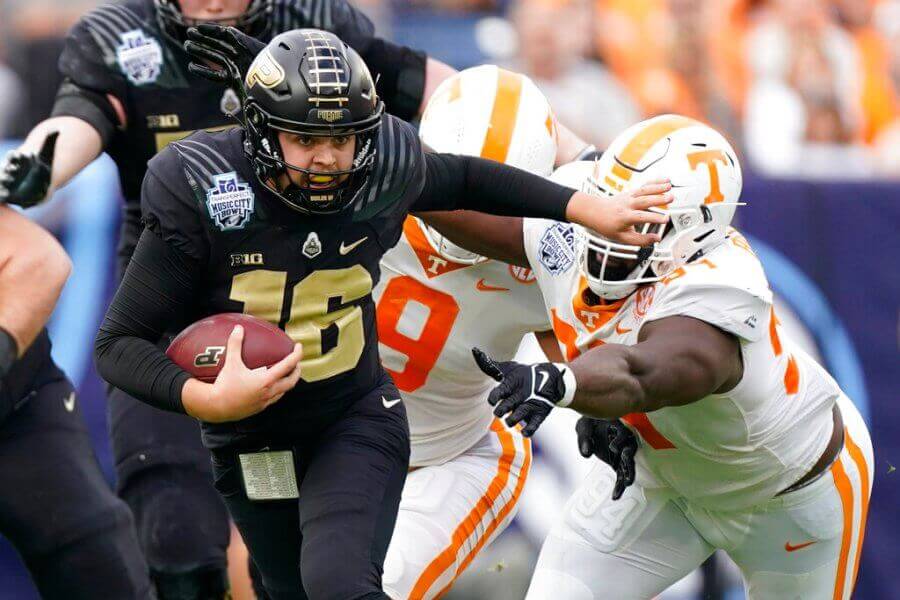 Up next, we have the University of Tennessee Volunteers in all-white, and the Purdue University Boilermakers in all-black. Purdue wore memorial decals in honor of Sports Information Director (SID) Matt Rector, who passed away on Nov. 16th, 2021. (helmet matchup)
. . . . .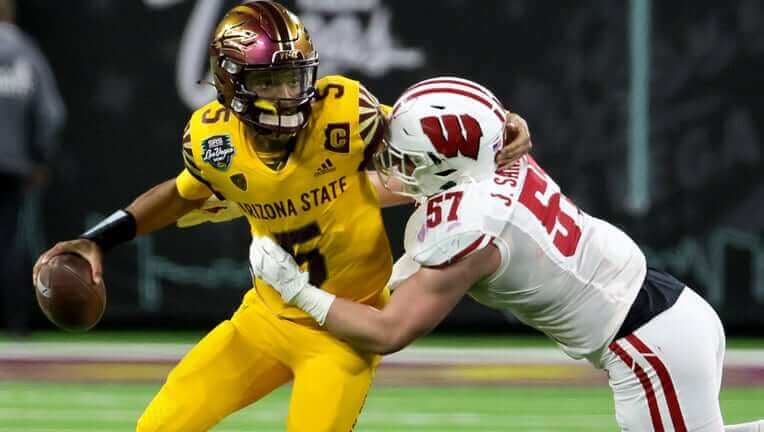 Game 3 of 4 for Thursday features the University of Wisconsin–Madison Badgers wore all-white (with white facemasks, even!), but it was the losing team –the Arizona State University Sun Devils– who stole the show, with their sweet mono-gold unis, with their color-shifting helmets. (helmet matchup)
. . . . .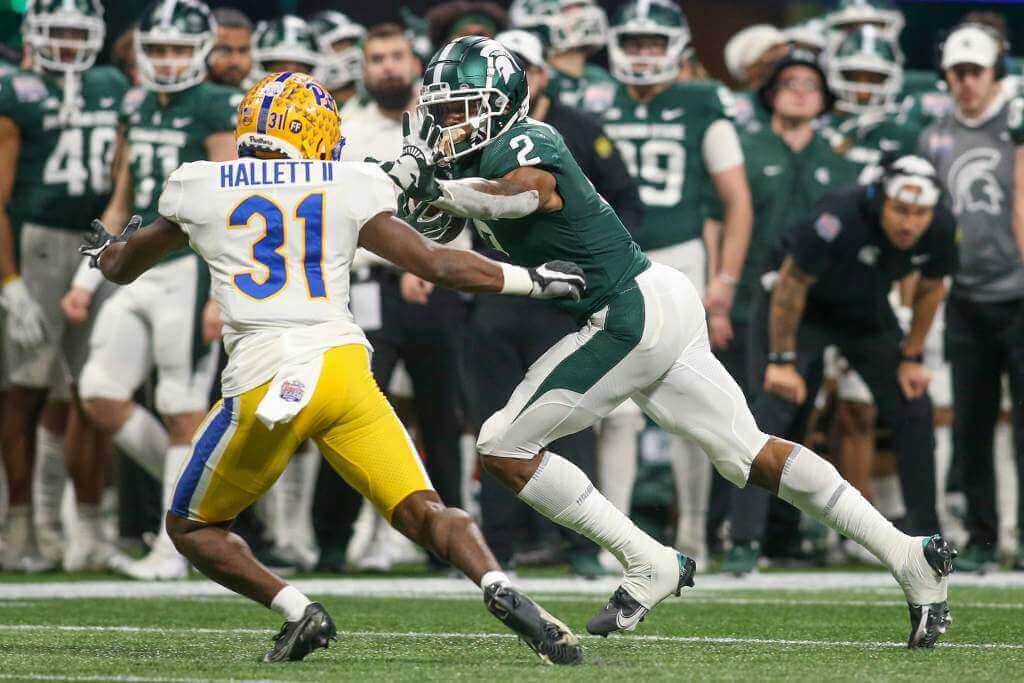 And now we've reached the New Year's Six and we're totally gonna ignore the fact that this game was played on New Year's Eve EVE. Here, we have the Michigan State University Spartans in green/green/white, facing the University of Pittsburgh Panthers in gold/white/gold. (helmet matchup)
From Friday, December 31st, 2021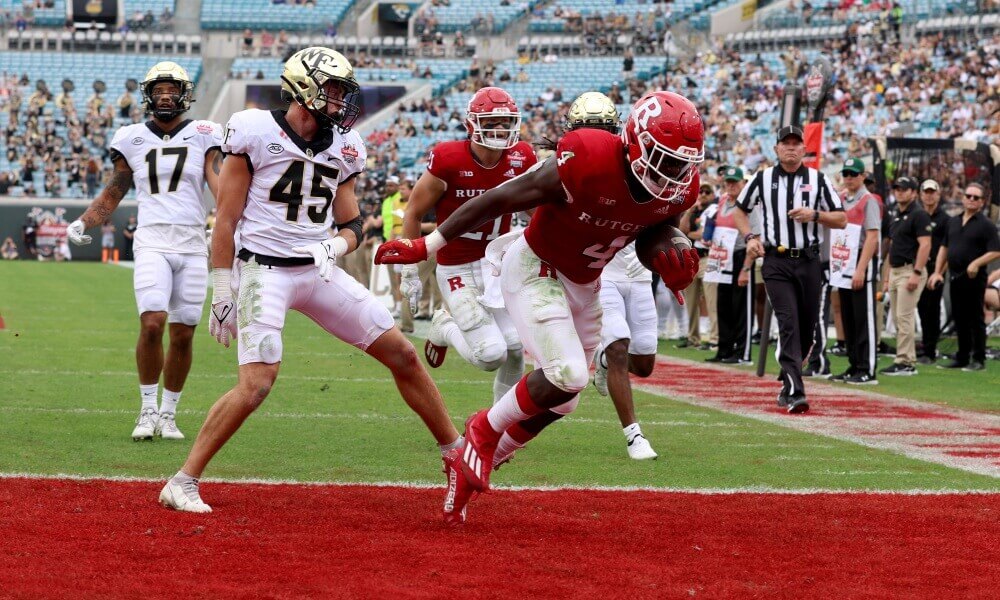 Our final breath of 2021 college football action begins with the Wake Forest University Demon Deacons in gold chrome/white/white, and the Scarlet Knights of Rutgers, The State University of New Jersey in scarlet/scarlet/white. Rutgers was actually supposed to be in Goblin Mode at this time, watching the bowl games at home, but they got a late invitation because Texas A&M (Wake Forest's original opponents) was sacked out of the game, due to a COVID-19 outbreak leaving the Aggies without enough players to participate. (helmet matchup)
. . . . .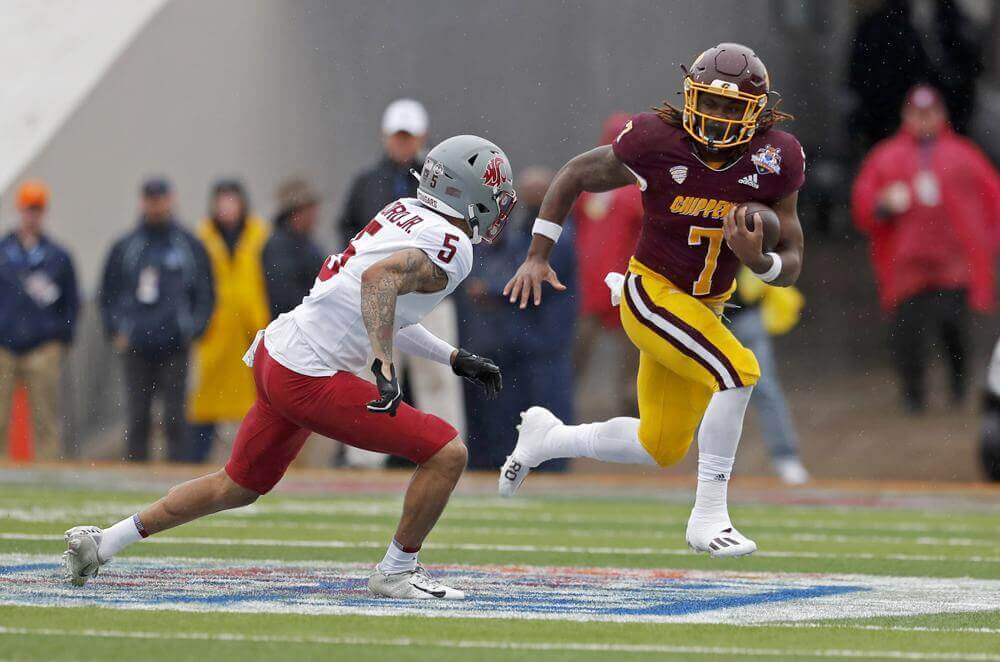 |Washington State vs Central Michigan|

Up next, we have the Washington State University Cougars in grey/white/crimson, and the Central Michigan University Chippewas in maroon/maroon/gold. Washington State's colors have always screamed "UNIVERSITY" to me, that idealized walking to class on a perfect Autumn day type of feel, I can't help but to think of some type of dark red and grey. (helmet matchup)
. . . . .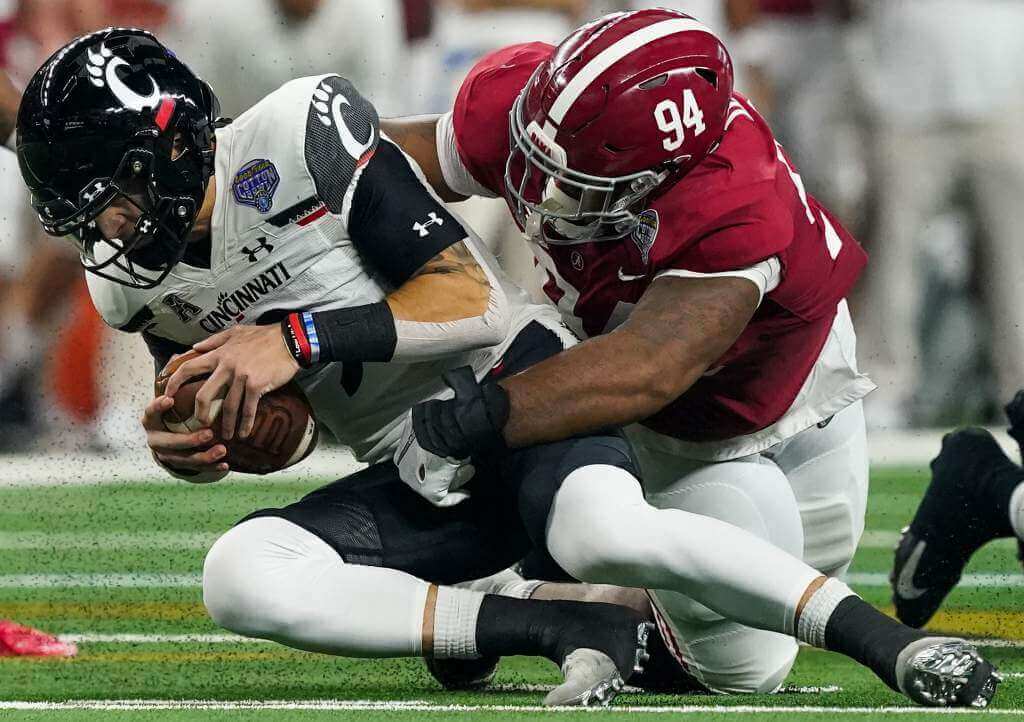 The semifinals are here. Who will make it to the Promised Land in 2022 and hold the crown of– it's Alabama and Georgia. Yeah. Pretty anticlimactic, but w/e. Onto the uniforms. We have the #1 ranked University of Alabama Crimson Tide in none other than crimson helmets and jerseys with white pants. They faced the #4 ranked University of Cincinnati Bearcats, who wore black/white/black. Another one-sided affair, with Bama in the winner's circle once again, poised to take on Georgia. And I know I've said this in the past, but Cincy's uniforms are one of the more underrated looks in college football, it's unique without trying to do too much, and the number font is non-boilerplate, but still perfectly-legible. (helmet matchup)
. . . . .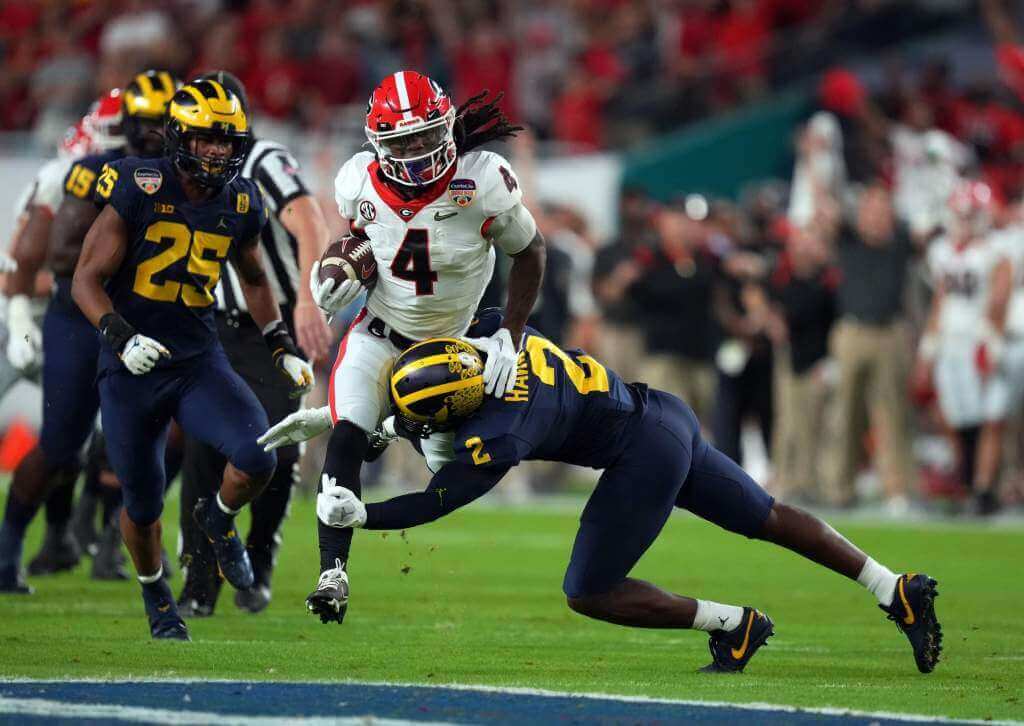 I'm… sensing a theme here. In the second semifinal game, we have the #3 ranked University of Georgia Bulldogs in red/white/silver, and the University OF Michigan Wolverines in… *sigh* … you deserved this L, Michigan. WHAT! IS WRONG! WITH THIS! On a BIG-ASS stage, at that! Also, there were reports that Georgia was going to wear white pants in this game, but that turned out to be untrue. Finally, here's a (not from the actual game) close-up on the TM 42 patch that Michigan added in honor of the four students who were killed in the Oxford High School shooting. (helmet matchup)
From Saturday, January 1st, 2022
Our first game of the New Year is a straightforward one, featuring the University of Arkansas Razorbacks in cardinal/cardinal/apple blossom (that's literally what their colors are described as, and I love it. For those curious, the apple blossom is their official State flower), and The Pennsylvania State University Nittany Lions in all-white. (helmet matchup)
. . . . .
Up next, we have the University of Iowa Hawkeyes in black/white/gold, and the University of Kentucky Wildcats in chrome/blue/blue. The day that comes when Kentucky finally retires those fingerprint magnet lids couldn't come fast enough if that day was The Flash. (helmet matchup)
. . . . .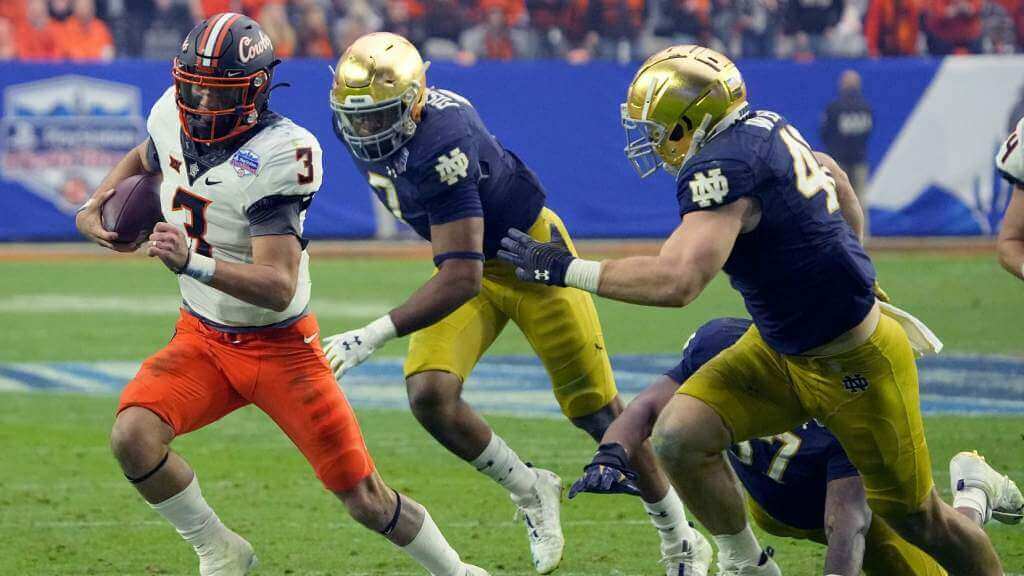 🔆Oklahoma State vs Notre Dame🔆

Contrast Matters: Sold Out Game Console Bowl in Glendale, AZ Edition. I LOVED how this game looked. Up first, we have the #9 ranked Cowboys of Oklahoma State University–Stillwater, in black/white/orange. Much like Cincinnati, Oklahoma has an underrated uniform set, and is definitely one of my absolute favorite modern uniforms. They almost never have a bad look from week-to-week, and this is no exception. Their opponents were the #5 ranked Fighting Irish of the University of Notre Dame du Lac, who stuck with the classics (and why wouldn't you?). Of course, as per tradition in South Bend, Notre Dame added player names to the back of their jerseys, a practice reserved only for when Notre Dame is playing in a bowl game. This might be my favorite-looking game from this bowl season, if not my absolute favorite. The game was an absolute delight to watch from a gameplay standpoint, as well. (helmet matchup)
. . . . .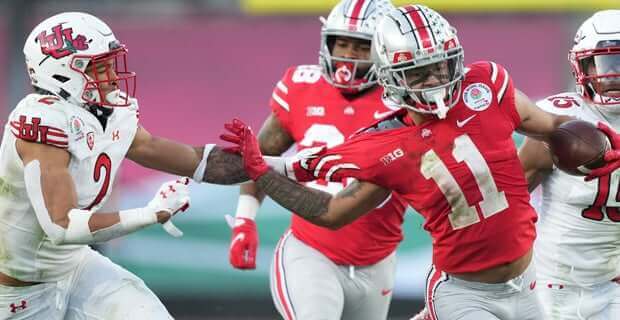 This has to be the rosiest-looking Rose Bowl that ever Rose Bowl'd. Here, we have the #11 ranked University of Utah Utes in their retro-themed all-whites, and THE Ohio State University Buckeyes (ranked #6 in the country) in grey/scarlet/grey (this is totally silver, but we're just gonna ignore that). I loved the rose-inclusive helmet logo that Utah used in this game, and ditto for Ohio State's rosy stripes. And I'm normally not too big on games that share too much of a color palette, but in this case, it fits. All of the red plays off the green field under the California sun, THE looks as intended, and Utah's whites are some of the cleanest in college football without being boring. And of course, Happy 100th birthday to the Rose Bowl Stadium, a venue that I was fortunate to walk its field when I was 17, and growing up in a small rural desert town in SoCal, this was truly a memory that'll stick with me forever. Just like how the gameplay in this year's contest will live on in people's minds forever, because WOW, what a game it was. (helmet matchup)
. . . . .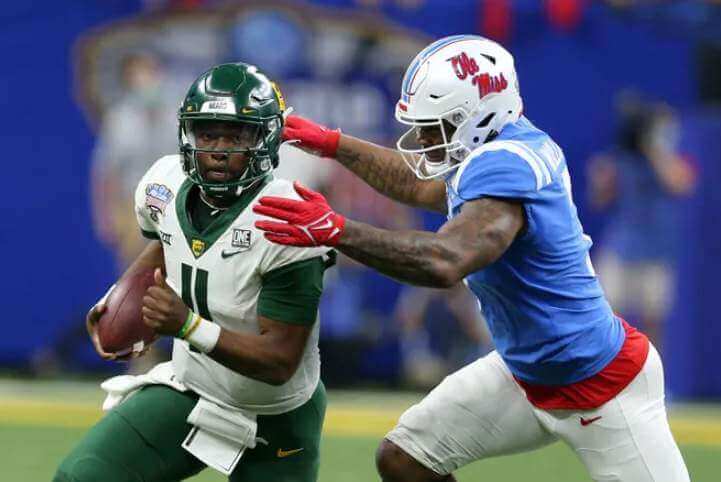 This game was all about Ole Miss's helmets and that's it. Thank you, good night. In the last game in the roundup, we have the #7 ranked Baylor University Bears in green/white/green, and the #8 ranked University of Mississippi in white/light blue/white, and WHEN I TELL YOU THAT THESE HELMETS WERE THE HIGHLIGHT OF THE GAME! *ahem* Additionally, there was a bit of odd number play. Let me try to break this down: Chris Webb on Twitter spotted two Baylor players that both looked to be wearing #0. As most of you are aware, it's illegal to have two players with the same number on the field at the same time. Upon further examination however, Rich DeMarco noted that there were mysteries in the folds: LITERALLY! Turns out it was actually Baylor Senior WR Tyguan Thornton's #9 that had folded in such a way that it looked like a #0. (helmet matchup)
__________
And with THAT… the 2021 College Football season draws to a close. I'm sitting here behind my keyboard, and I still can't believe that it's been 10 years already. First thing's first: a HUGE thank you to Phil for the initial opportunity way back when, and for being the best editor and friend over these last 10 years. Of course, I can't forget to thank THE legend Blaise D'Sylva for absolutely everything he does. If there were ever a Uni Watch Hall of Fame, he definitely deserves to be in it. And finally, I want to thank each and every one of you for reading, for chiming in, for all of the tips… you guys genuinely make this whole thing work, and you're all rad. For a lot of us, 2021 was a long, trying, and arduous year, and I think we could all use a long offseason (much to the chagrin of the marketing campaign gods) to recover, but through all of the joys, through all of the bumps in the road, through all of the weird cosmic shifts in conference alignment in the coming years, uniform upgrades and downgrades to be announced throughout the Spring and Summer, and whether or not Bama will be in the CFP for the 69th year in a row next season, one thing's for sure… I'll see you in 8 months… and thank you all for the last 10 years. and here's hoping I cut down on my use of ellipsis in the future
• • • • •
Thanks, TJ — and thanks again for your 10th outstanding SMUW season. Fantastic, yeoman work, as always. Everyone, please give TJ a well-deserved thanks below, ok?
And now it's on to Jimmer and his final 5 & 1…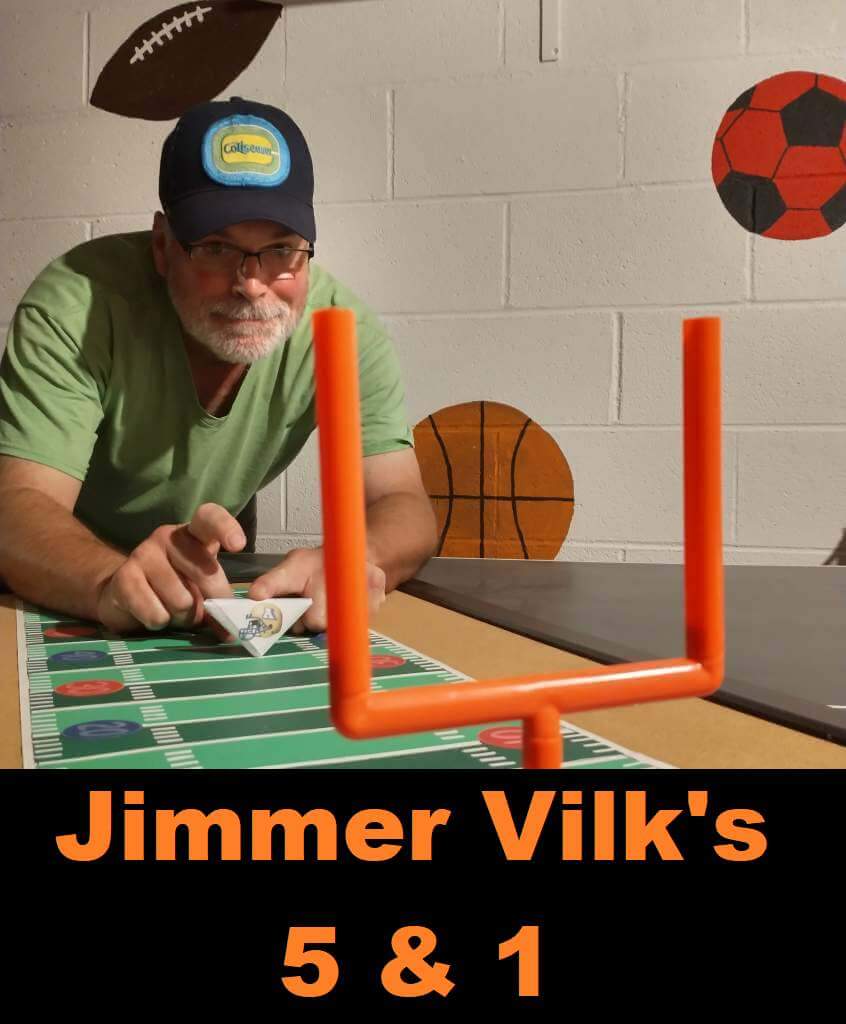 Jimmer Vilk's 5 & 1 …
…Bowl Edition (part the second)
And now, sadly, we conclude our 5 & 1 for the 2021 season, with the one and only Jimmer Vilk giving us his last look, this time for the second half of the bowls.
Yesterday's Part I (click here and scroll down) featured what both Jim and I agreed were some less-than-stellar matchups, but I think you'll agree the second half was the kind of uni-skirmishes we all relish.
Jim did a fantastic job this season, and I hope you'll let him know that in the comments below.
Once more into the breach…
Here's today's 5 & 1, Bowl Edition, Part II:
• • • • •
I was going to give a preemptive Honorable Mention to Kansas State and LSU, but it turns out that Part Two (Dec. 28 to yesterday) had enough good matchups to give me a proper list… better than Part One, for sure.
Honorable Mentions to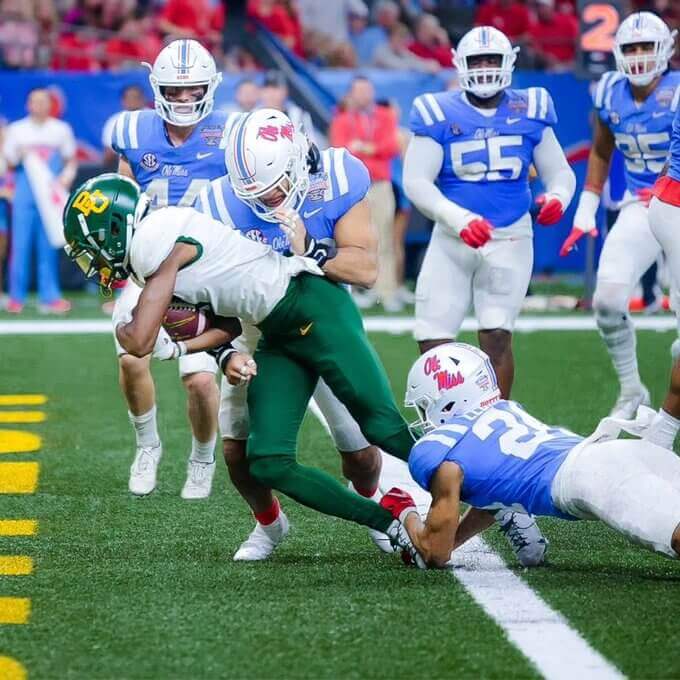 Baylor/Ole Miss

I've always liked the lighting in the Superdome, so I'm glad it didn't wash out those powder blue jerseys.
__________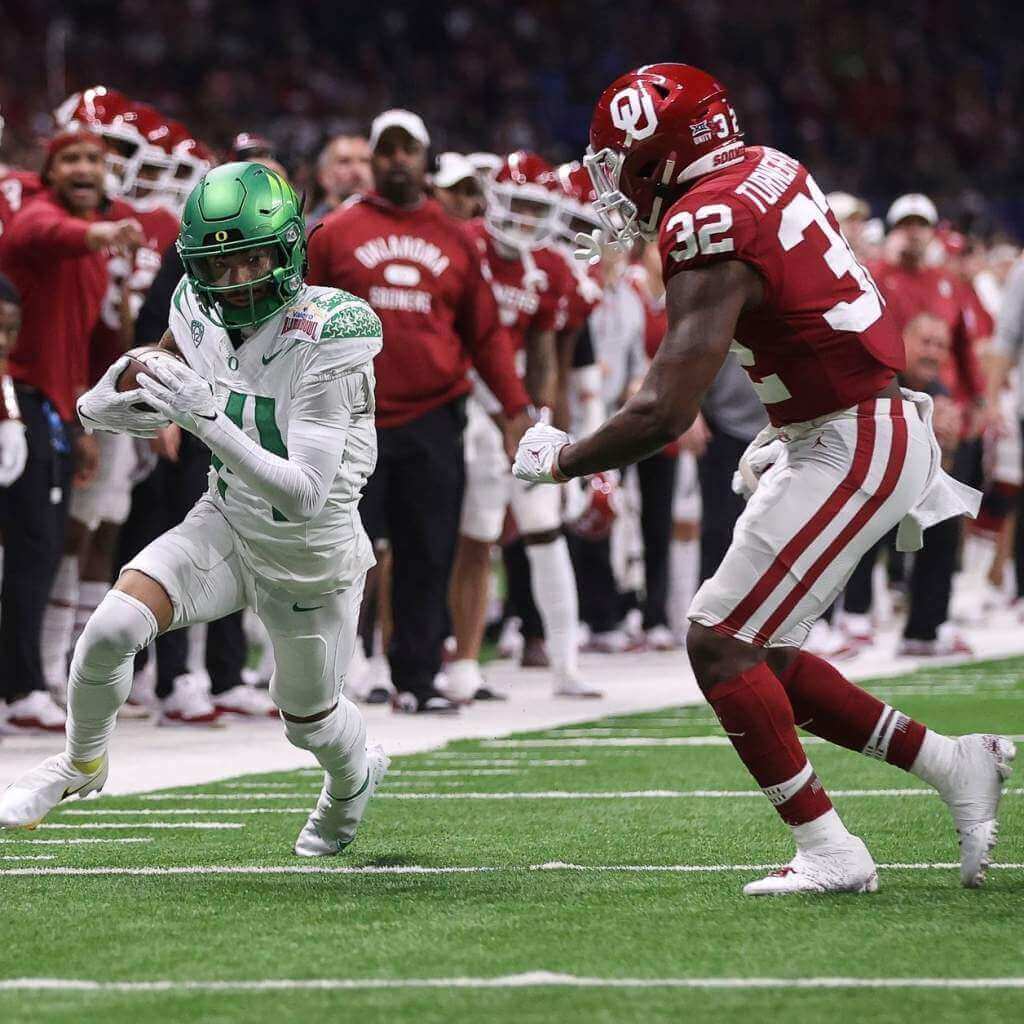 Oregon/Oklahoma

I like the Alamodome lighting too, and the Ducks held their own sartorially against the classic Sooner look.
__________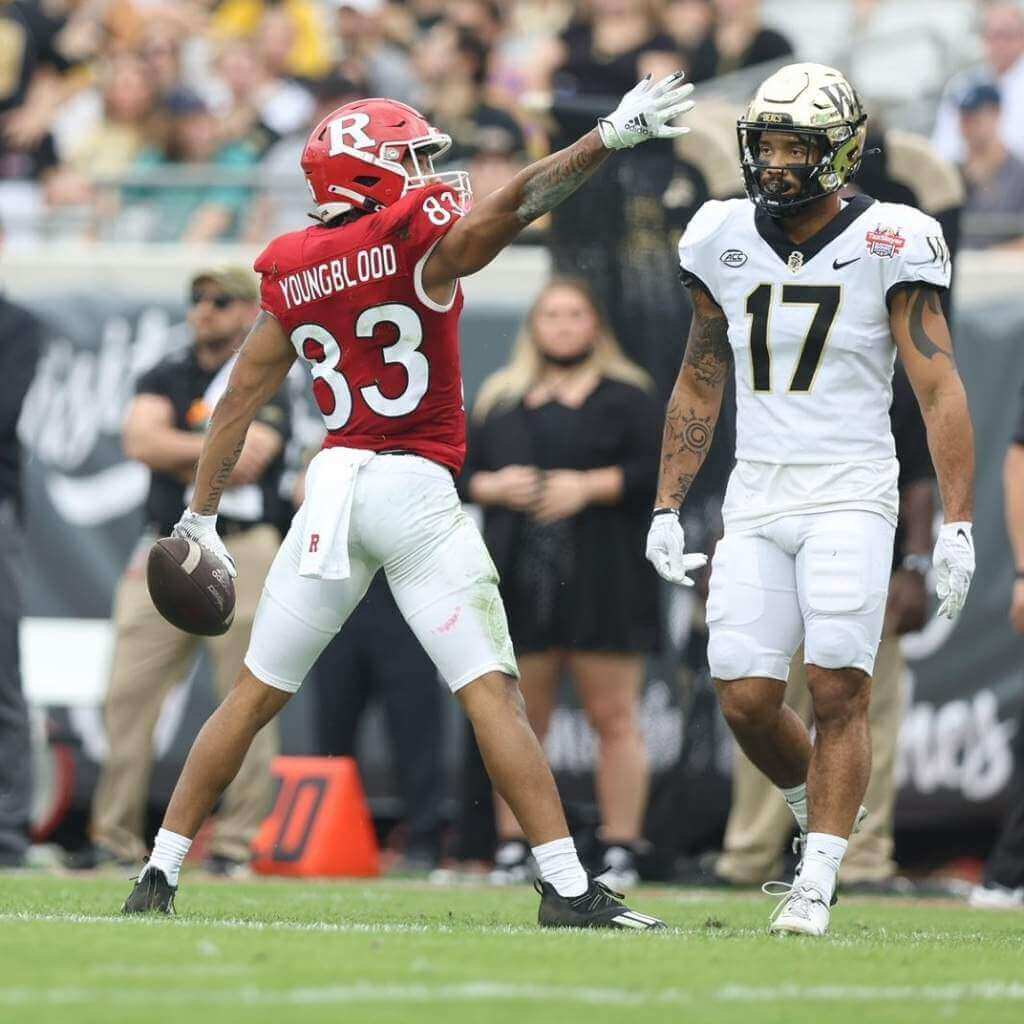 5. Wake Forest/Rutgers

Great number fonts made me overlook the "meh" pants.
__________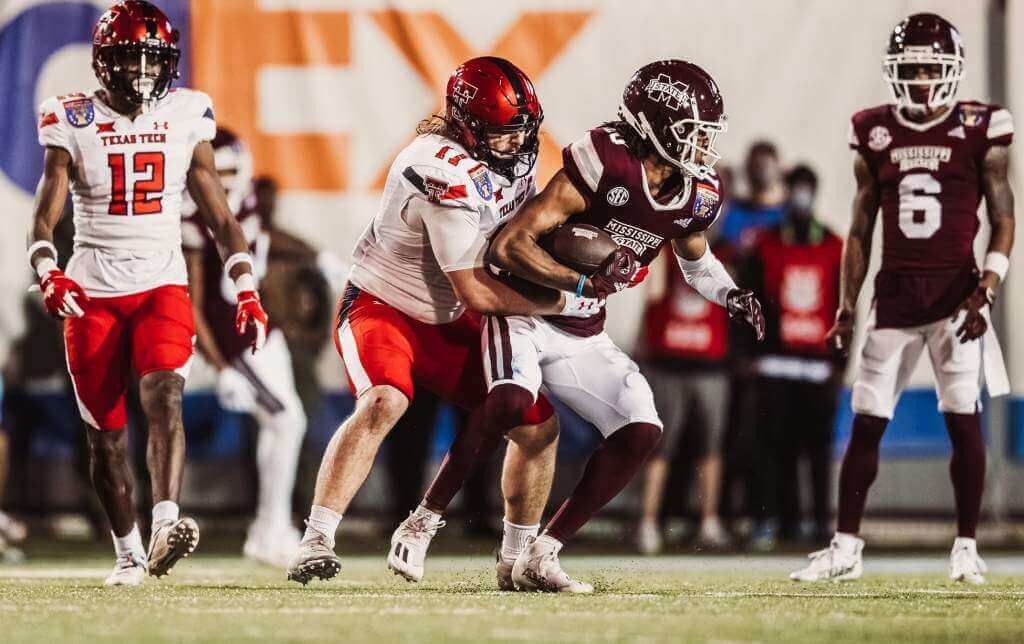 4. Texas Tech/Mississippi State

Tech always looks better when they're redder.
__________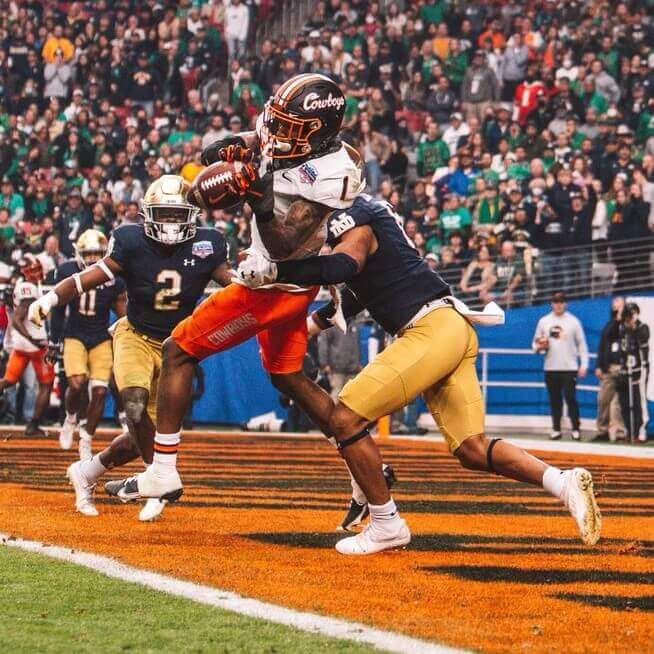 3. Oklahoma State/Notre Dame

SCRIPT!!
__________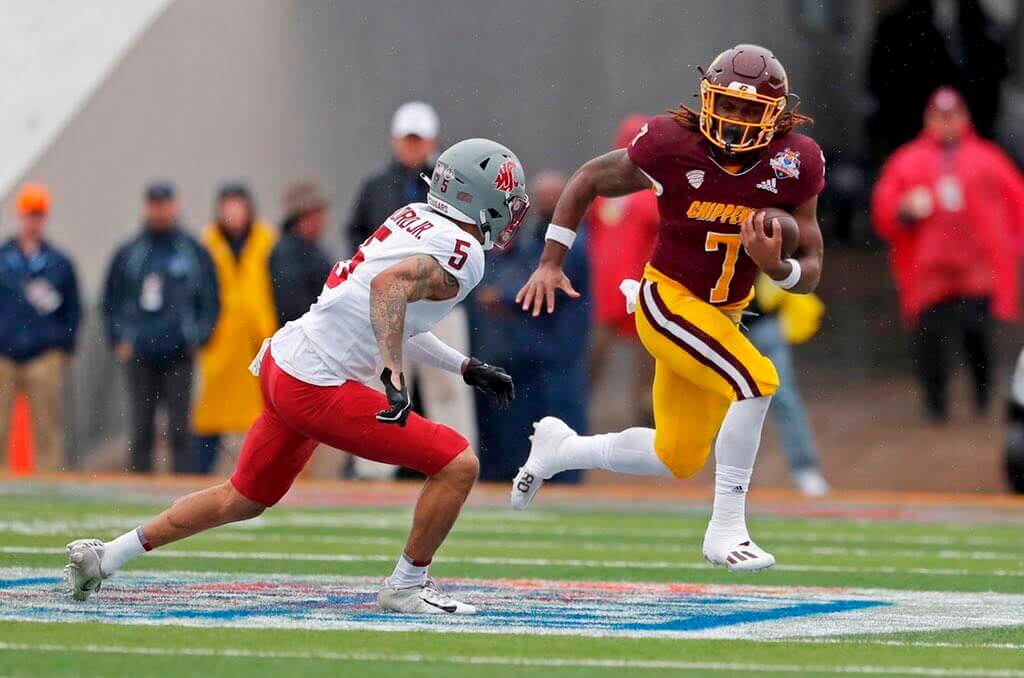 2. Washington State/Central Michigan

The magic of my favorite bowl game made another MAC team look and play like a big time school, and Wazzu's gray helmet was perfect on a gray day.
__________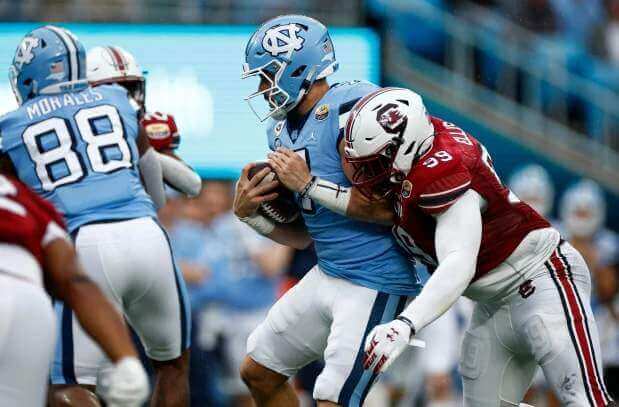 1. North Carolina/South Carolina

I may be in California as I write this, but in my mind I'm gone to Carolina.
__________
Dishonorable Mention to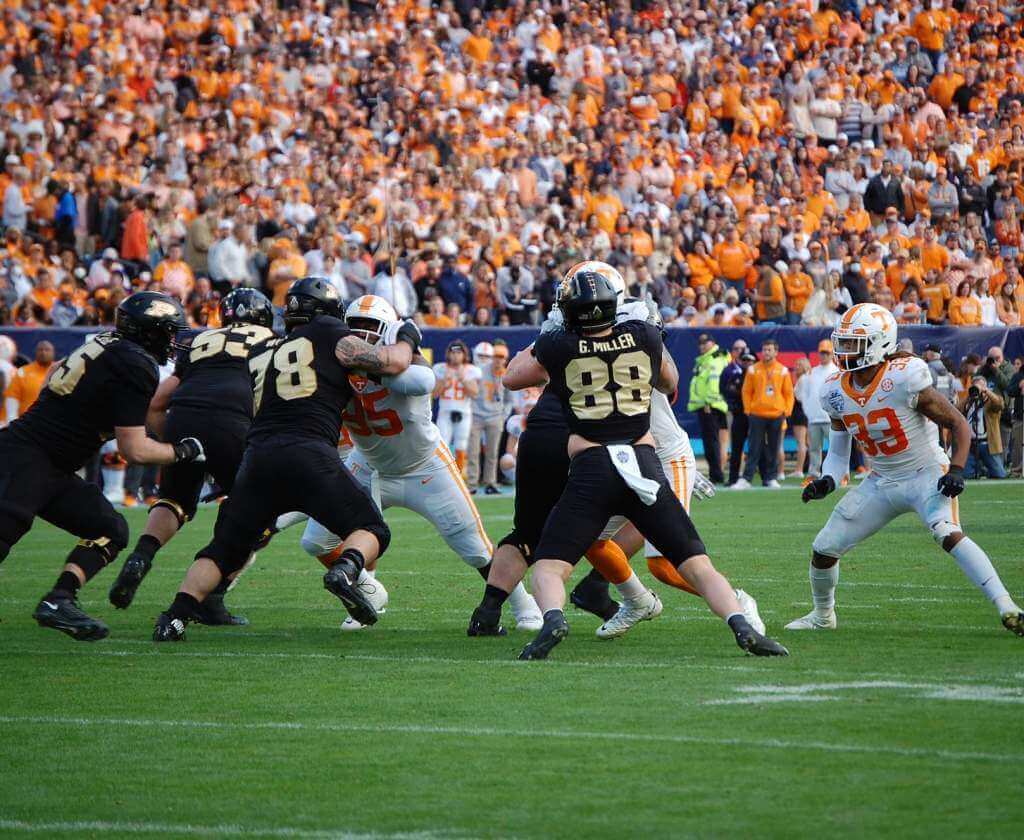 Tennessee/Purdue

The Boilermakers should wear gold helmets at all times, and should never give into the maximum contrast b&w fad.
__________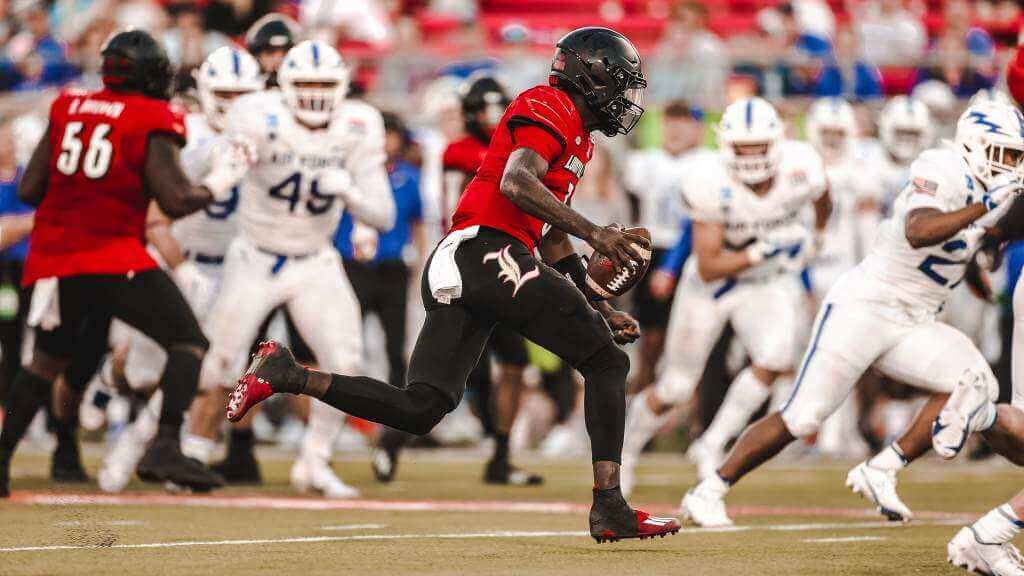 &1. Air Force/Louisville

I'd rather watch the NFL Falcons and Cardinals than this even-worse matchup.
__________
Thanks for having me back. See you next season!
• • • • •
Thanks, Jimmer. Thanks for returning and for doing a fabulous job this year! Looking forward to doing this again in September.


NCAA Uni Tracking — Bowl Edition!
Now that (almost) all the Bowls have been played, it's time to see what the Power 5 conferences wore in their Bowl appearances.
We've got Rex Henry (tracking the ACC), Dennis Bolt (tracking the PAC-12), Kyle Acker (tracking the B1G), and Ethan Dimitroff (tracking the Big XII AND the SEC). Rex, Dennis, and Kyle and are all returning from 2015, and Ethan is back after joining the NCAA Uni Tracking a couple seasons ago. Ethan will continue to track the SEC, and has swapped the B1G for Big XII (with Kyle).
Here are the final Bowl Uni Trackers for the Power 5 Conferences (along with each tracker's info):
+ + + + + + + + + +
Rex is up first today (ACC):
• • •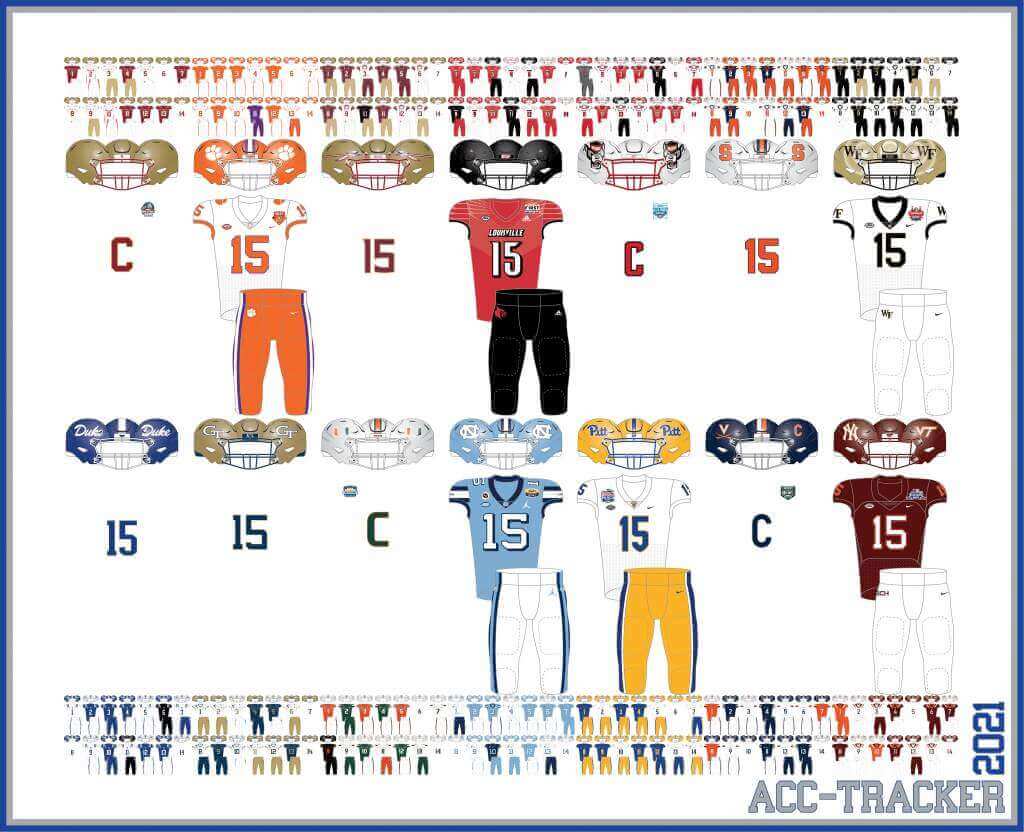 ACC

More Here.
Follow Rex on Twitter here.
• • •
And now, here's Dennis with the PAC-12: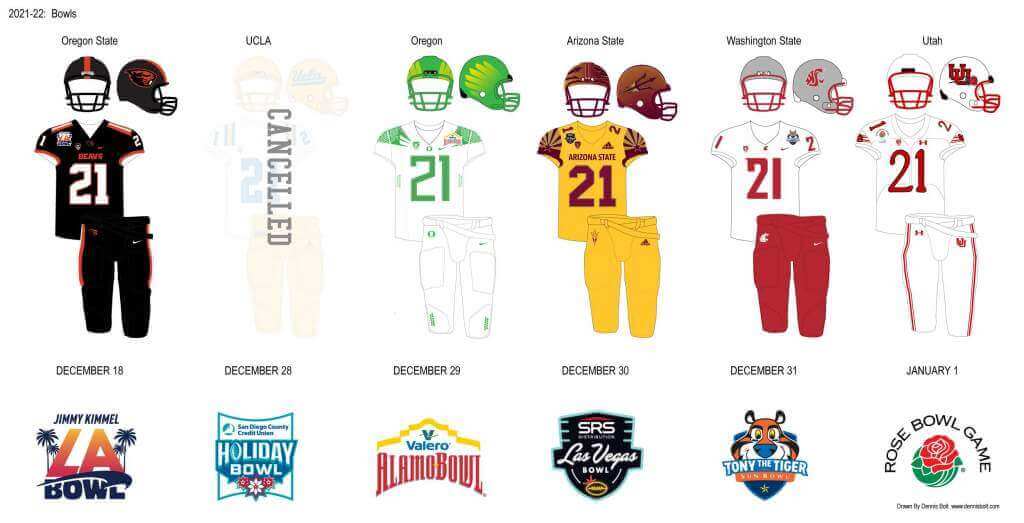 PAC-12

More here.
Follow Dennis on Twitter here.
• • •
And here is Ethan, with the SEC: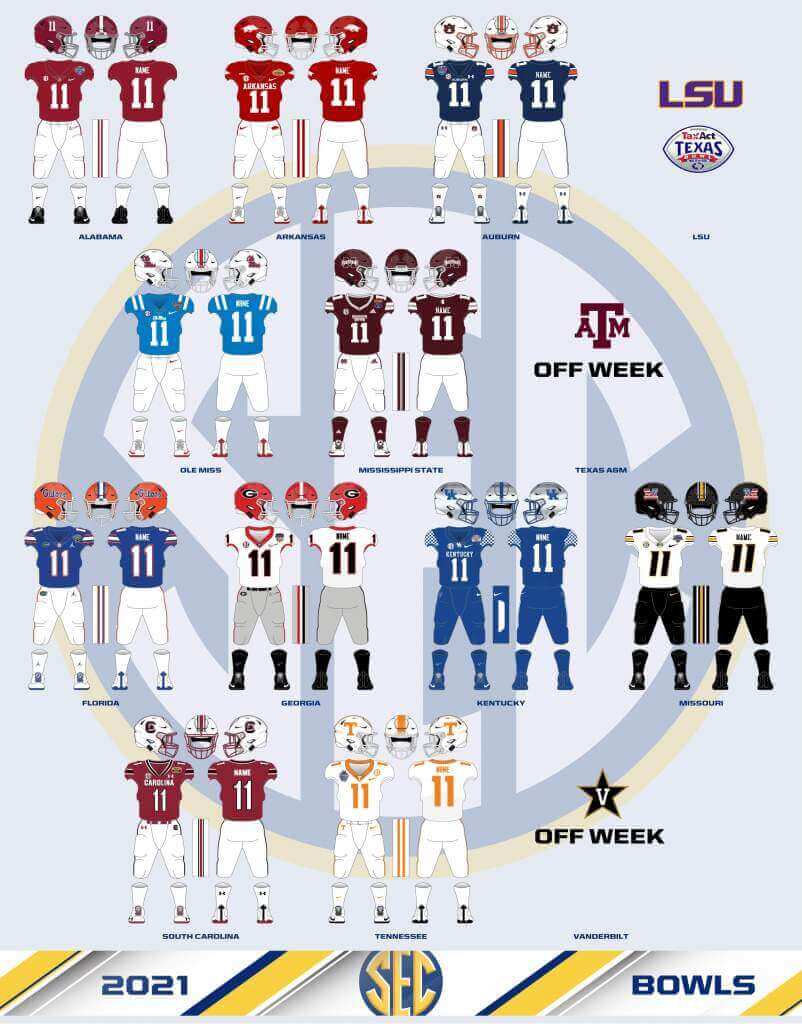 SEC

And be sure to check out Ethan's WVU Mountaineer Tracker.
Follow Ethan on Twitter here.
• • •
And here is Kyle with the B1G: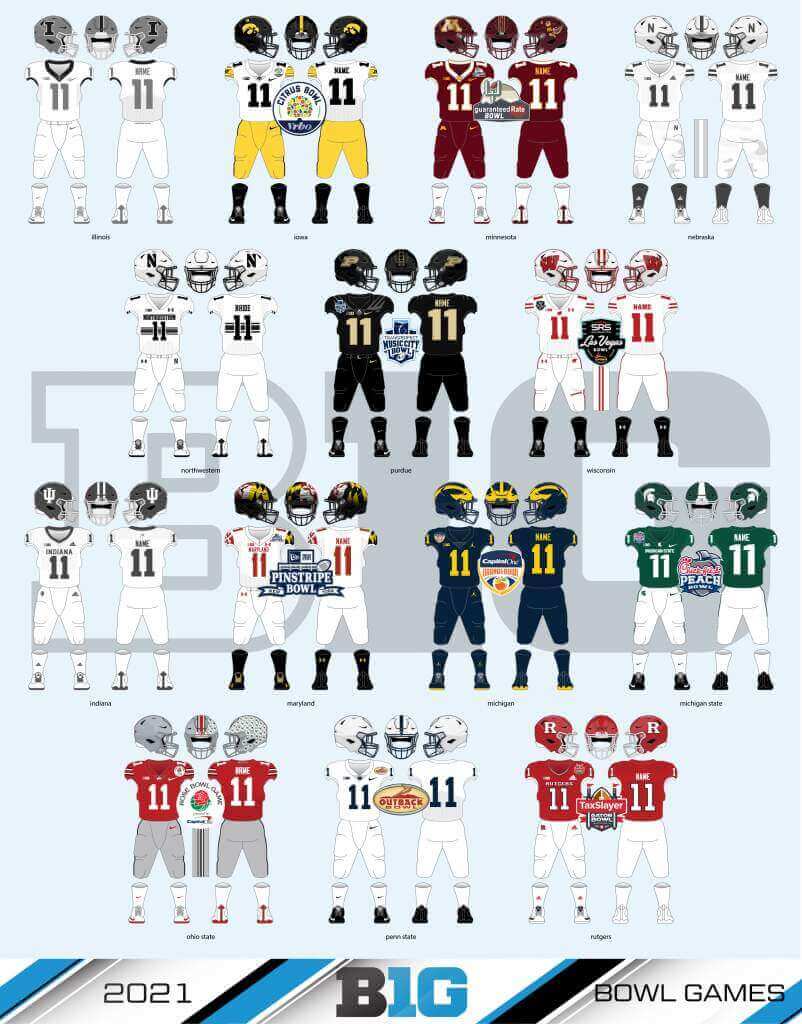 B1G

Follow Kyle on Twitter here.
• • •
And here's Ethan with the Big XII: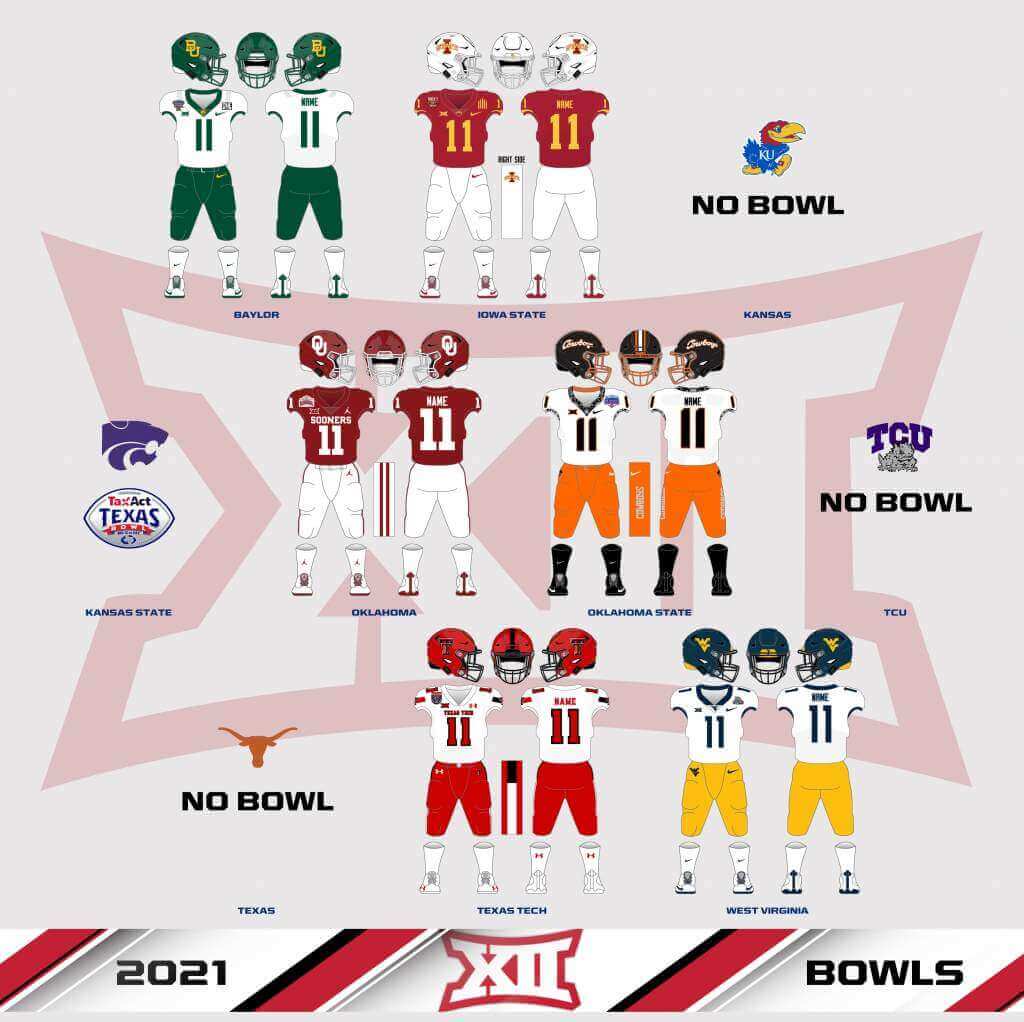 Big XII

++++++++++++++++++++
Thanks once again to Rex, Dennis, Kyle and Ethan for another outstanding season of tracking! Please shoot them a quick "THANKS" down in the comments, ok? OK!



With the Alamo Bowl played this past Wednesday, the 2021 Oregon Ducks Uni Tracker is now complete. This little project was originally begun way back in 2008-09 by Michael Princip, who retired after several seasons, whereupon the project was continued by Tim E. O'Brien. He, too, retired from the tracking, but the project has been ably kept up by the man who also tracks the Pac12, Dennis Bolt.
Here's this final Uniform Combo for the Ducks (you can click to enlarge):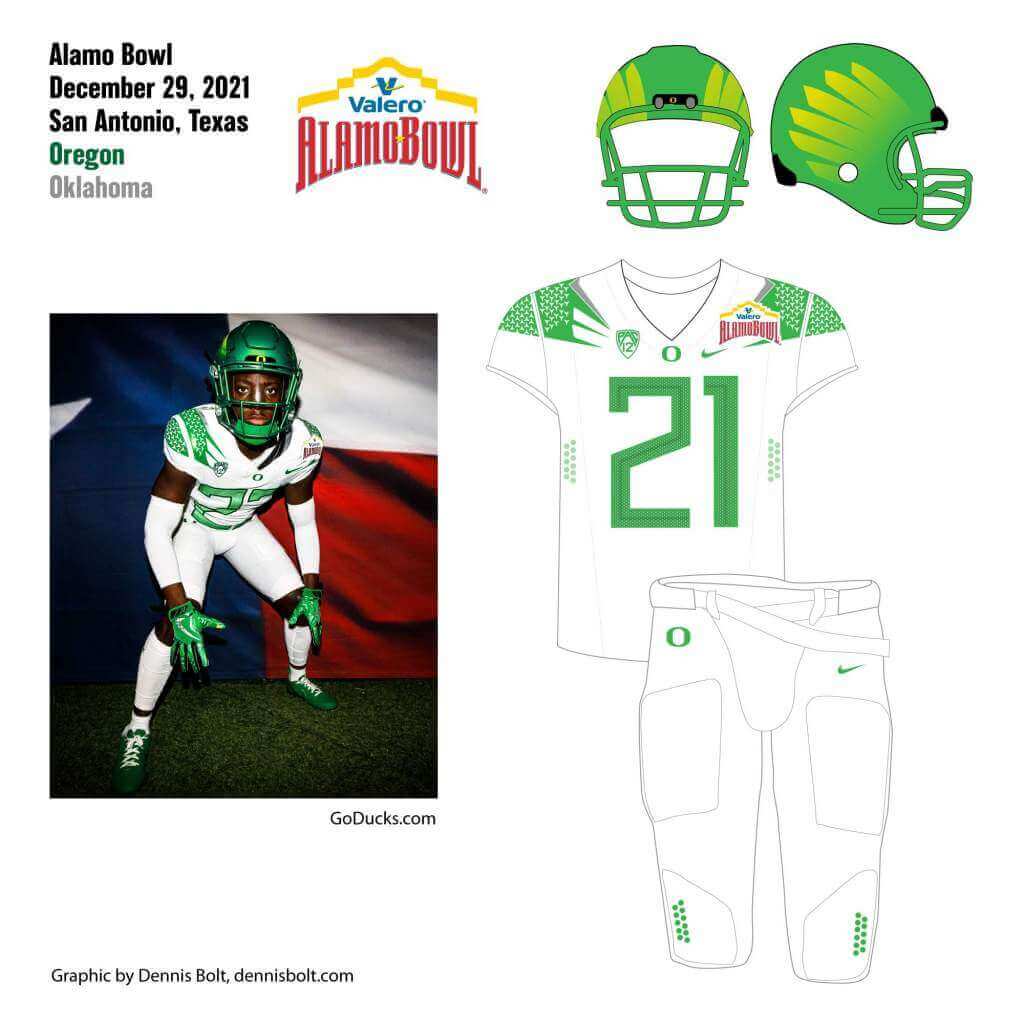 You can read about this uniform, and MUCH MORE, by checking out the Duck Tracker here and the color combo spreadsheet here!
Thanks Dennis for another outstanding season of Duck Tracking!


Yes there was an outdoor hockey game too…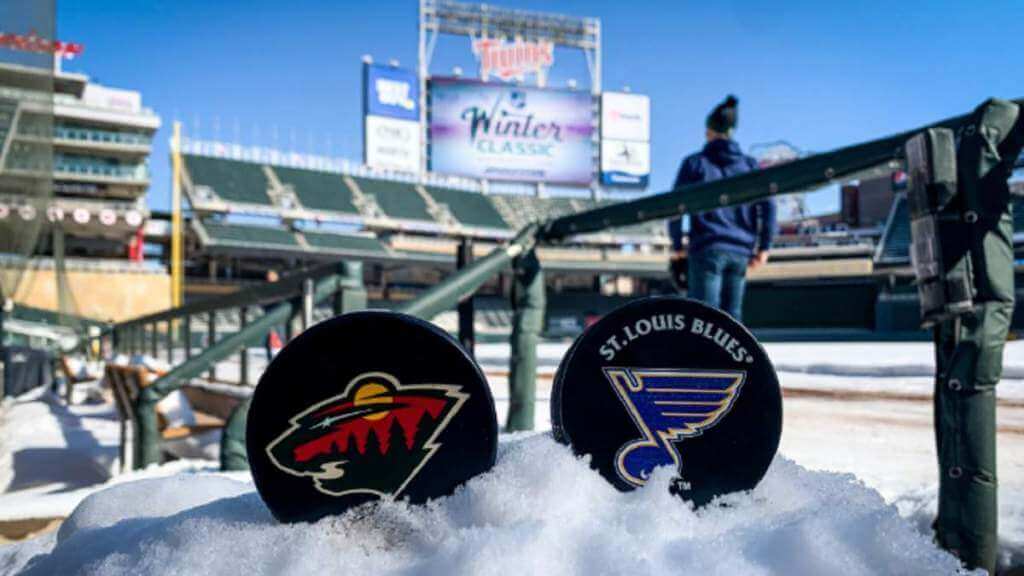 The 2022 Winter Classic, now a New Year's Day tradition, was played yesterday at Target Field (home of the Minnesota Twins), between the St. Louis Blues and the Minnesota Wild. With all the football going on yesterday, I confess I only got to watch about 10 minutes of this one. But it didn't disappoint uni-wise.
First off, I should point out that it was really cold in Minneapolis yesterday — like minus eight degrees farenheit at puck drop, which set a record for the coldest outdoor game in NHL history. As such there were some interesting weather-related issues.
(In best Johnny Carson voice) "It was so cold at the Winter Classic yesterday…" (pause for effect)
(Audience) "How cold was it?"
So yeah, it's pretty cold at the #WinterClassic. pic.twitter.com/63qLpnQLDr

— Ryan Gilbert (@RGilbertSOP) January 2, 2022
In what could only be considered either insanity or pure genius insanity, the Blues — hopefully seeking a psychological advantage — arrived at the game in beach gear.
Now THAT is what we call a Winter Classic arrival! 🏝️⛱️

📺: 2022 @Discover NHL #WinterClassic at 7p ET on @NHL_On_TNT and @Sportsnet pic.twitter.com/e73I9rvcmj

— NHL (@NHL) January 1, 2022
More good pregame coverage here.
But as always, the best thing about the Winter Classic is the unis (some are better than others, but they're almost always retro/classic-inspired or throwbacks). And for a (p)review of the unis and their inspirations, no one does a better research job than our pal Chris Creamer, which you should check out here.
How'd they look on the ice?
Minnesota Wild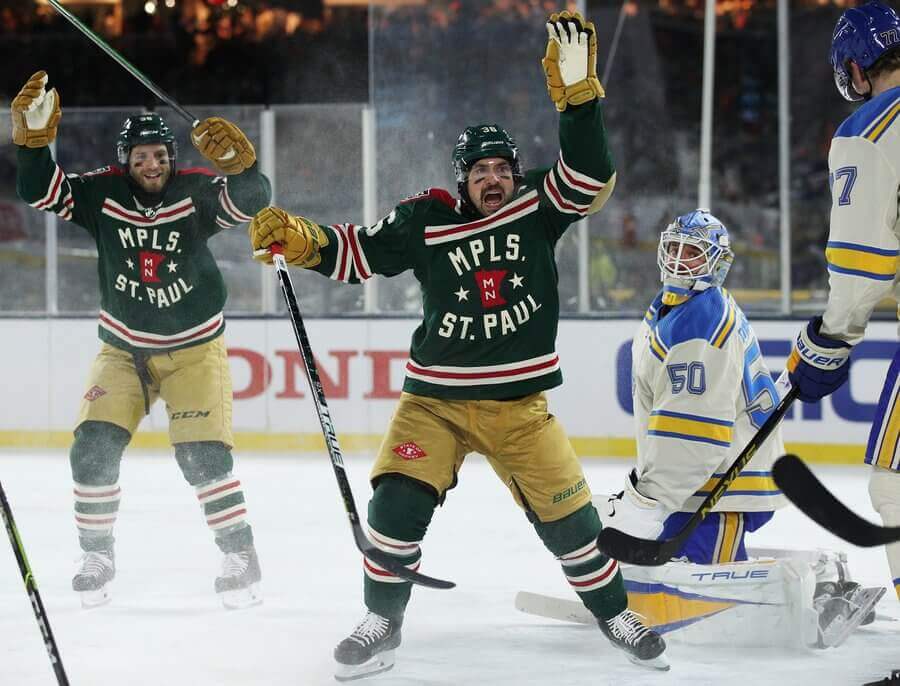 St. Louis Blues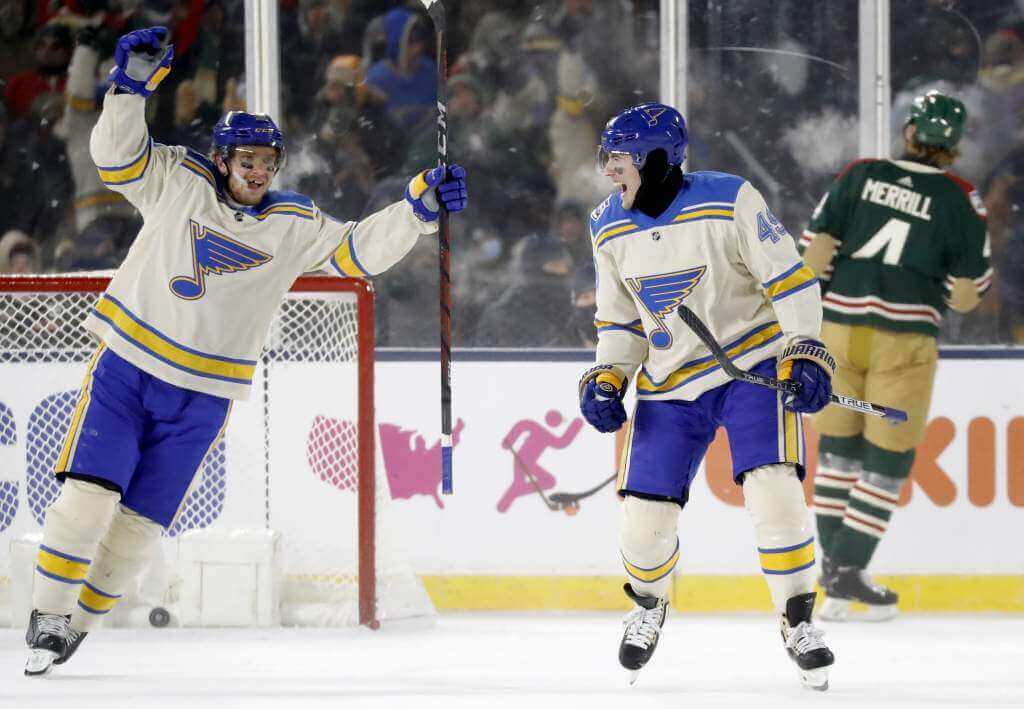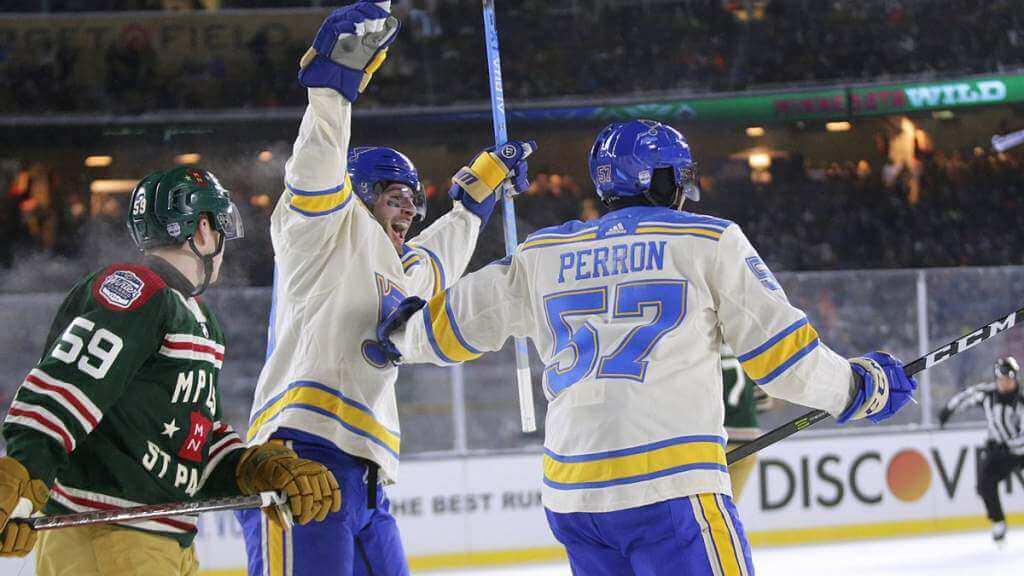 And how'd those two gorgeous unis mesh together?
Beautiful right?
Here's how it looked in action:
Vladimir Tarasenko has 3 goals in 1.4 Winter Classics.

Just sayin' #stlblues #WinterClassic pic.twitter.com/jFUCRSXJnA

— St. Louis Blues (@StLouisBlues) January 2, 2022
It's -8 degrees with the Blues are ON FIRE! 🔥🔥🔥🔥🔥 #WinterClassic pic.twitter.com/3EigPlqKWv

— St. Louis Blues (@StLouisBlues) January 2, 2022
I love the Winter Classic — but it's a shame (for those of us who are dual-sport fans) it runs on New Year's Day, when it competes with some of the big Bowl games. After all these years, I still don't think the novelty of an outdoor hockey game has worn off (at least the Winter Classic — I'm not sold on the Stadium Series games with their decidedly more "modern" unis). And it's always fun when it's either snowing or really cold, as the players (and fans and coaches and refs) need to adjust to conditions under which they don't normally play — but which is how hockey was always played before indoor arenas were built.
You can see lots more photos here.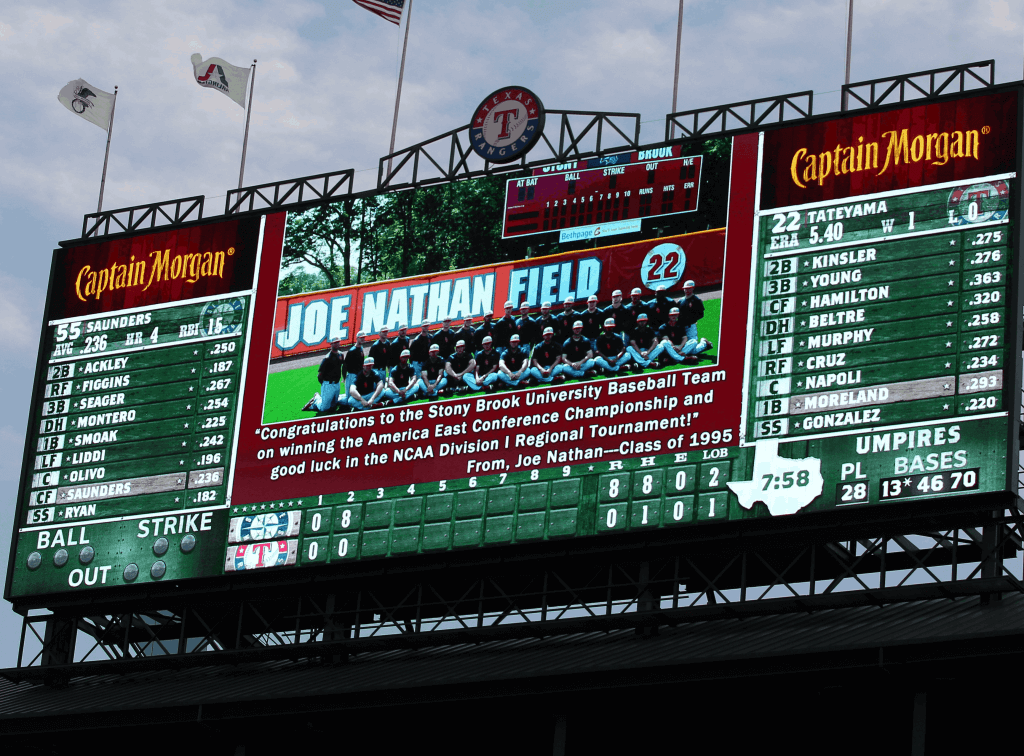 Guess The Game…
from the scoreboard
Today's scoreboard comes from ojai67.
The premise of the game (GTGFTS) is simple: I'll post a scoreboard and you guys simply identify the game depicted. In the past, I don't know if I've ever completely stumped you (some are easier than others).
Here's the Scoreboard. In the comments below, try to identify the game (date & location, as well as final score). If anything noteworthy occurred during the game, please add that in (and if you were AT the game, well bonus points for you!):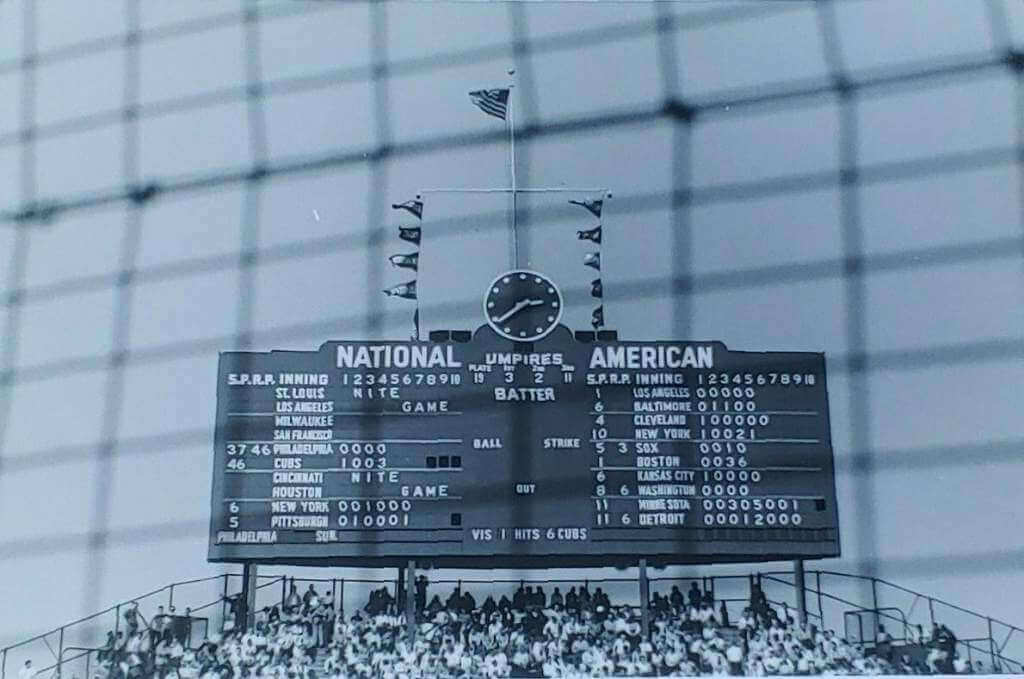 Please continue sending these in! You're welcome to send me any scoreboard photos (with answers please), and I'll keep running them.


Uni Watch News Ticker
By Phil

Baseball News: ICYMI, recently Shannon Shark and Paul (scroll down) had some fun with the whole familial relationship of Mr., Mrs. and Miss Met — mascots for the Mets. Sadly, the man who portrayed the original Mr. Met, Dan Reilly, has passed away. … Speaking of the Mets, looks like they have a new 60th Anniversary logo (from eriK bubba). … Apparently the mighty New York Yankees were "embarrassed" by the Staten Island "Pizza Rats" promotion (from batbeat).

NFL News: The Buffalo Bills will be wearing blue over white while they take on the Atlanta Falcons, who will be going white over black. … In one of the more disappointing uni-adjacent developments this season, the Philadelphia Eagles have done well when wearing black pants. They'll do so again today, going white jerseys over black pants, against the Football Team. … The Baltimore Ravens will wear the (rare) non-CR mono purple uniform today against the LA Rams. … The Detroit Lions will be keeping it classic (white over silver) today vs. the Seattle Seahawks. … Oops! Notice anything wrong with this MNF Browns/Steelers graphic? (from Arturo Carlos).

College Football News: If you've read Uni Watch for any period of time, you probably (should) already know this, but every year when THE OSU is involved in a national game, we always have an article that asks (and answers) the question: What do those stickers on the Buckeyes helmets mean?. … Cincinnati grad Jason Kelce lost a bet to the Bama boys. There are probably worse things than having to do the walk of shame in a 'bama helmet (from Tim McManus). … The Wetzel Pretzels were wearing baseball style jackets on their Rose Bowl Parade float. Noel Blaha asks if the "W twisted hand logo (is) borrowing from the ball in glove Brewers logo?"

Hockey News: The 2022 NHL Winter Classic was played yesterday, and of course, featured great unis. But even the practice jerseys were beautiful in their simplicity (from Ian Brekke). … This probably didn't need to be done, but someone has ranked the three best and worst sweaters in the Calgary Flames history. … Along those same lines, a bunch of uni folks weigh in on the "nicest" Vancouver Canucks sweater in history. … Did the NHL's 2022 All Star Game jerseys accidentally leak? If so, and if they actually look like this, that would be friggin' awesome. … Despite the Isles wearing blue and the Oilers wearing white, the scorebug decided both teams should be rendered in orange (from Scottie Hightower). In that game, the Isles wore their third sweaters (tweet lists the other times they will be worn). From Paul. … The New Year's Eve party in Portland meant color vs. color. Seattle Thunderbirds brought their darks (from Wade Heidt).


NBA/NCAA Hoops News: Reader Joe Kuras writes, "I don't know if you have ever covered this, but there were times in the past (1960s) where the Boston Celtics wore mismatched road jerseys. I've seen pictures in the past. With the unfortunate passing of Celtics guard Sam Jones, another such photo popped up on the Internet. Jones' jersey says "BOSTON" across the front. In the background, John Havlicek's jersey says "CELTICS."" … Jason Mastin came across this great photo of the Irish blues rock legend Rory Gallagher that appears to be from the mid to late 70s with him wearing a Milwaukee Bucks shirt. He adds, "One of my all time favorite performers in a classic look." … ICYMI, the University of Kentucky retired Tubby Smith's jersey. … Not to be outdone by the "best" hockey uni articles, this one takes a stab at the 25 best (and most colorful) NBA jerseys uniform of all time. … Whoops! South Carolina used a North Carolina basketball player in promotional video (from James Gilbert). … Bobby Hill observes, "I wonder if Uni Watch knows of any other teams that wear a BoB (Black on Black) pinstripe set…The Bulls' is so subtle at times it looks like they're not there."

Soccer News: The new Kappa Mainz 05 2021-2022 Fastnacht shirt was released the other day. It's actually pretty amazing (from John Flory). … The J1 Shonen Bellmare have unveiled their first uniform for the 2022 season (from Jeremy Brahm).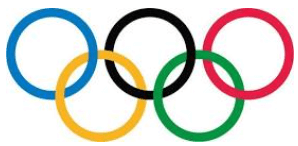 Olympics News: Don't look now, but the Olympics are less than two months away. Host nation China has now unveiled their "podium uniforms".


And finally… that's it for today. Once again (sorry, I gotta keep saying it), my sincere and heartfelt thanks to the SMUW crew for their amazing efforts this year (and every year). None of this would be possible without their assistance — so please, give them all a nice shout out in the comments!
Everyone have a great Sunday and I'll catch you back here again next Saturday, so have a safe week. Till then,
Peace,
PH