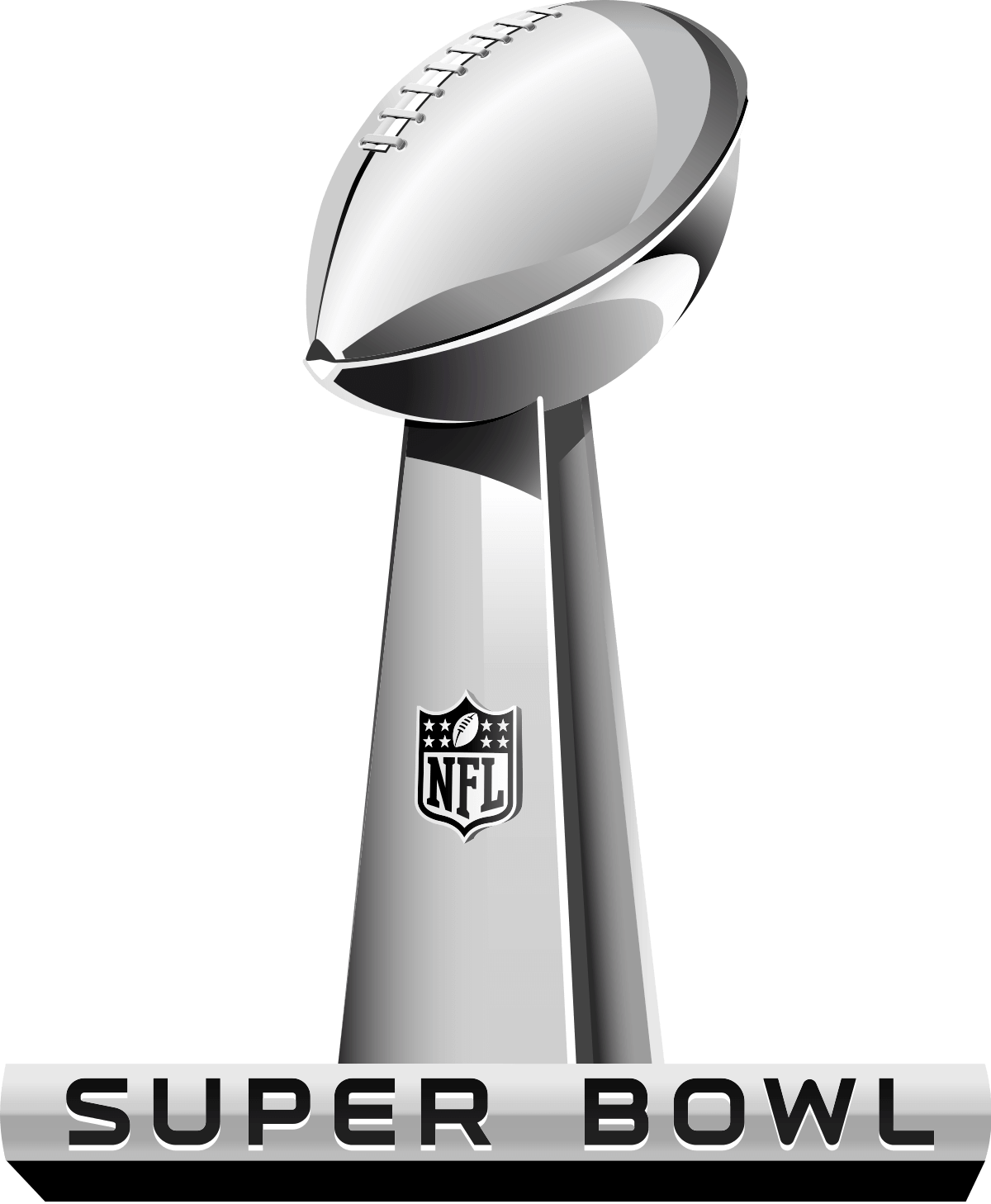 In this week's Monday Morning Uni Watch recap, I mentioned that the Bengals and 49ers had worn pretty much the same uniforms that they wore in Super Bowl XVI.
It turns out that there have been a lot of Super Bowl rematches during recent NFL games. And that gave reader Jared Pike a good idea. Like, a really good idea. And he's written a really, really good blog post about it — trust me, you're gonna like this.
Take it away, Jared!
Super Bowl Throwback Weekend
By Jared Pike
One of my favorite things about the NFL is the symmetry of its schedule. Each of the divisions plays the other divisions on a rotating basis, so eventually everyone plays everyone. What used to take weeks to assemble (by one savant in a locked room with little paper tags) is now computable and somewhat predictable.
Which is why Week Nine of the 2021 NFL season was such a fascinating outlier: Five of that week's games happened to be rematches of previous Super Bowls — the most ever in a single week. It seems like something the NFL would have intentionally planned, but it was just coincidence.
The NFL is missing a trick here. They've invested heavily, and successfully, in building up the mythology of the Super Bowl. Throwbacks are nothing new in the NFL, so they should certainly see the value in having a designated weekend for throwback Super Bowl matchups — an idea that would be easier to execute now that the one-shell rule is being lifted.
But is it possible to host more than five such matchups on a given weekend? Or to put it another way, what's the maximum number of Super Bowl rematches you could stage in one 16-game slate? Let's delve into the mathematics and see if we can help the NFL matriculate this idea down the field.
First, some common-sense guidelines: Any team celebrating a historic Super Bowl win would obviously want to do so at home. But that's a problem: 20 teams have won at least one Super Bowl, and there's a maximum of 16 games in an NFL weekend. In the spirit of parity, we will favor teams who have had either the fewest Super Bowl appearances or the longest drought since their last Super Bowl win, and thus would benefit the most by reliving past glories. (The Patriots, for example, aren't in desperate need of a ceremony to boost the sagging morale of their long-suffering fans.)
This lands us first and foremost on the Jets, whose only Super Bowl appearance came in 1969. OK, book it: Colts at Jets. Joe Namath conducts the coin toss in a fur coat.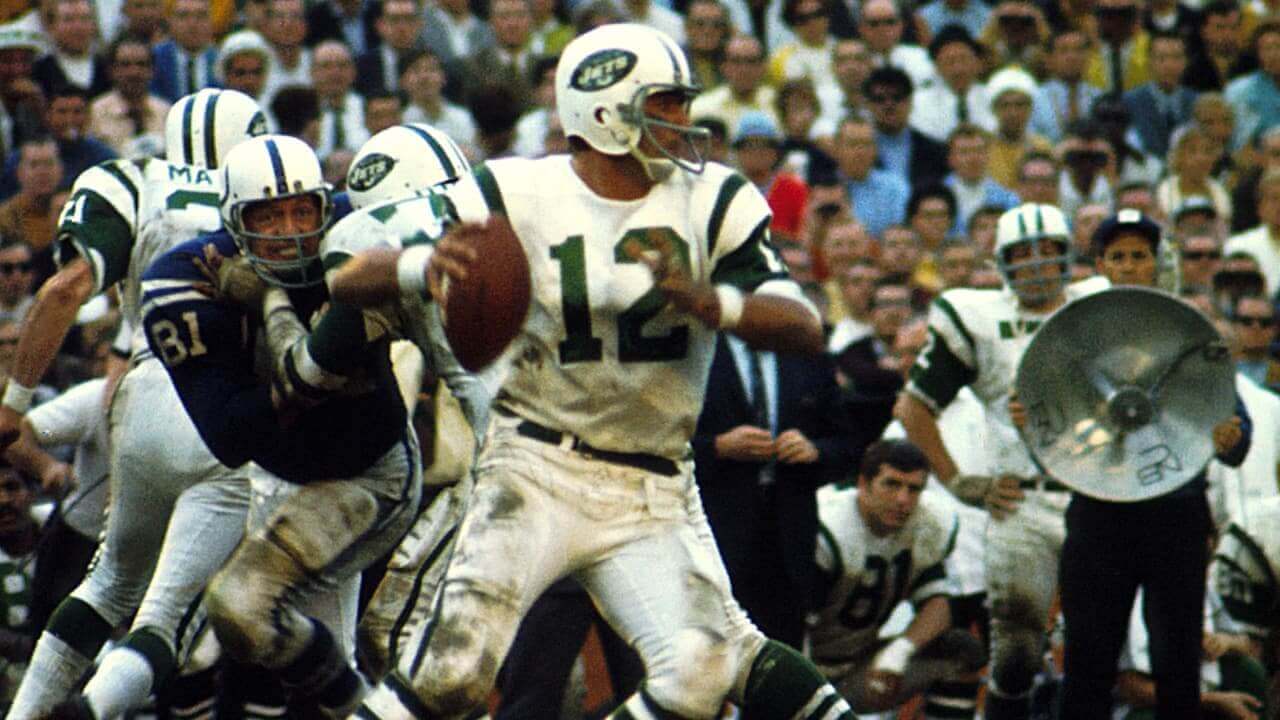 1. Colts at Jets (SB III)

Are there any other champions who've had only one Super Bowl appearance? Yes: the Saints. So let's book that too: Saints host… oh right, the Colts. Hmmm. This could be harder than we initially thought.
Okay, let's back-burner that for now and figure out who else has just one Super Bowl win. The Bears' only victory came against the Patriots. Also, the Eagles, whose only victory came against … the Patriots. Sorry, Philly — the Bears have the longer drought. So that's our second game.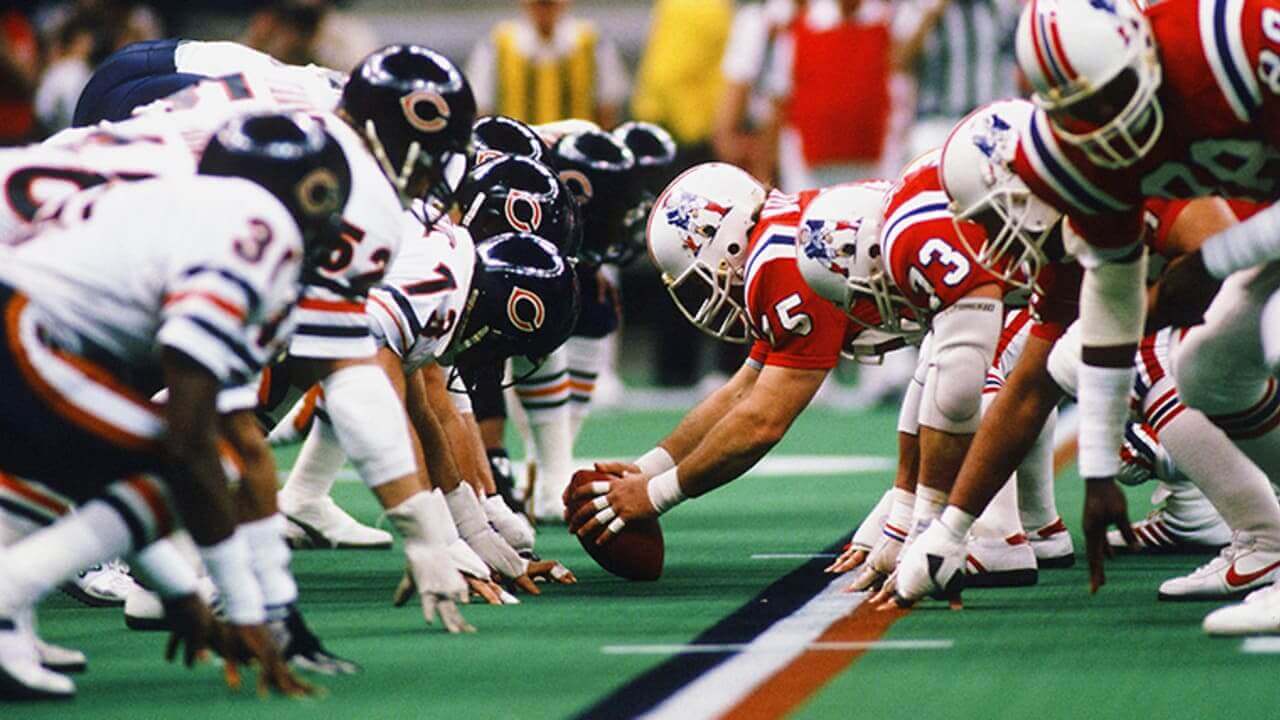 2. Patriots at Bears (SB XX)

With New England out, Philly's only other possible opponent would be the Raiders, who beat them in 1981. What a visual spectacle this game would be: the triumphant return of Kelly green in a black Las Vegas dome.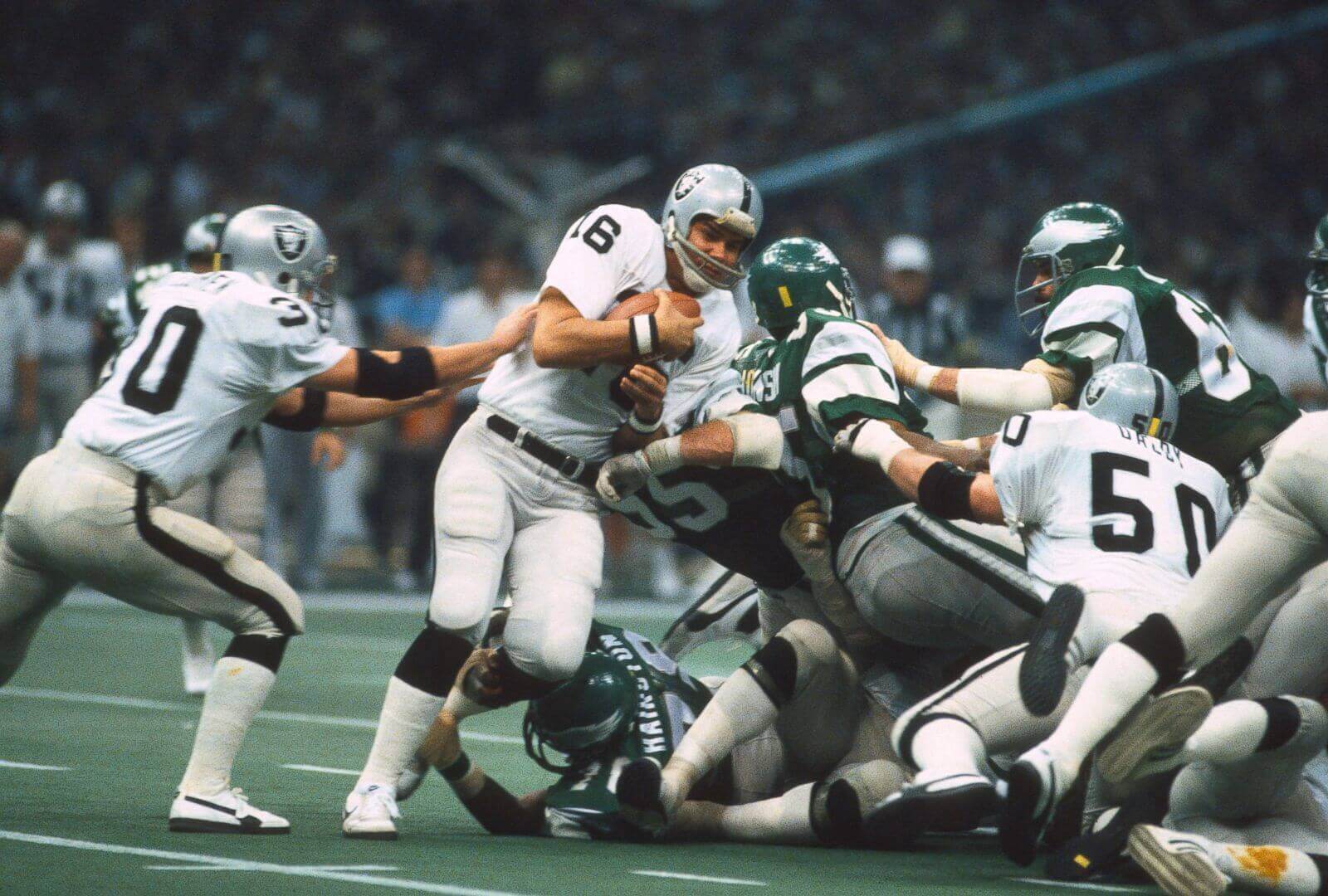 3. Eagles at Raiders (SB XV)

Then we arrive at the Rams, whose only Super Bowl win came against the Titans. This is a no-brainer to re-enact. Paint the SoFi Stadium end zones yellow, and for pregame ceremonies bring back Mike Jones to tackle Kevin Dyson at the 1-yard line.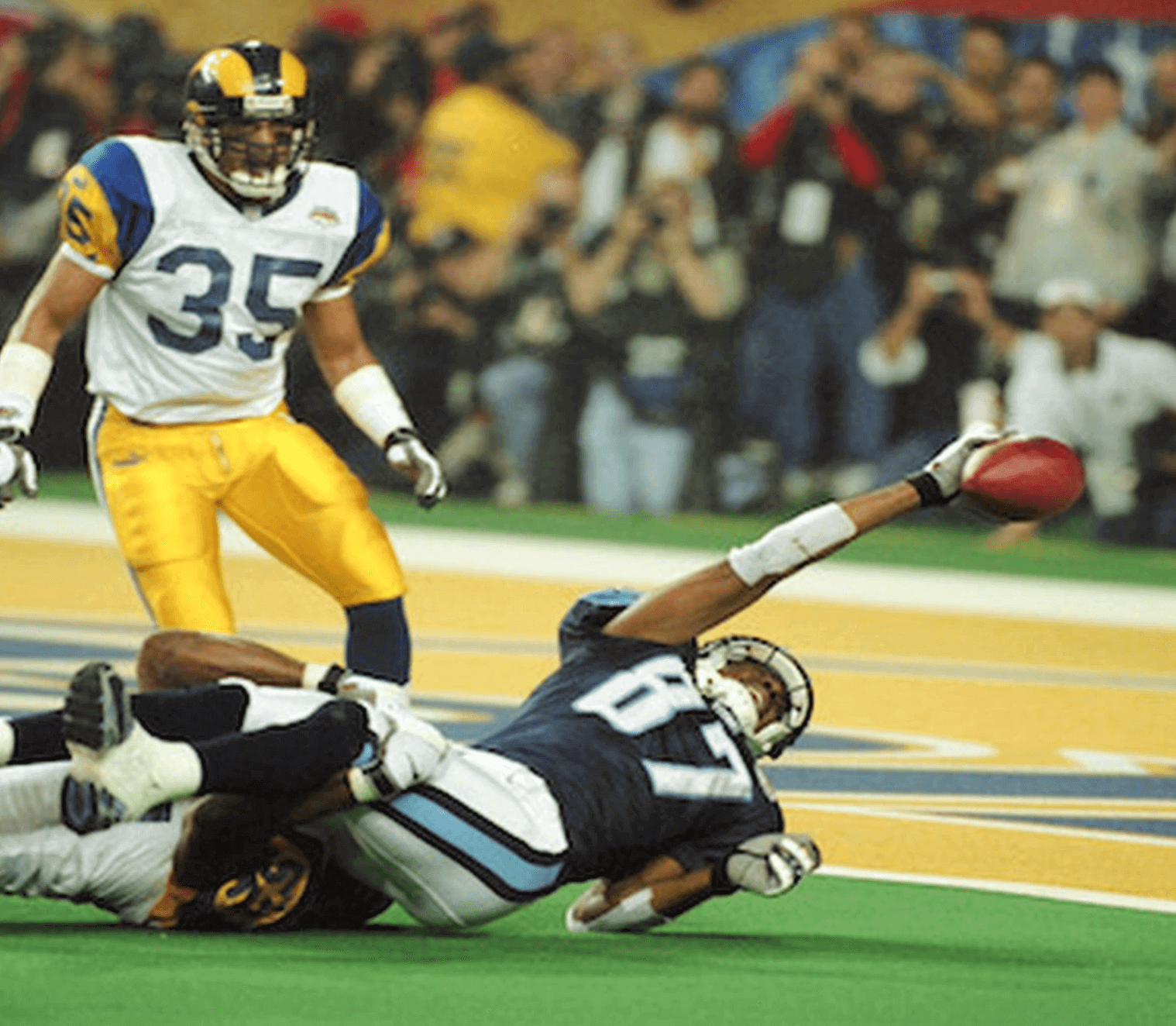 4. Titans at Rams (SB XXXIV)

Next: The Cardinals have appeared in only one Super Bowl, losing to the Steelers. If our goal is to maximize the theoretical number of teams involved, Arizona have to take the L and re-enact Super Bowl XLIII. Have James Harrison run 100 yards to deliver the game ball.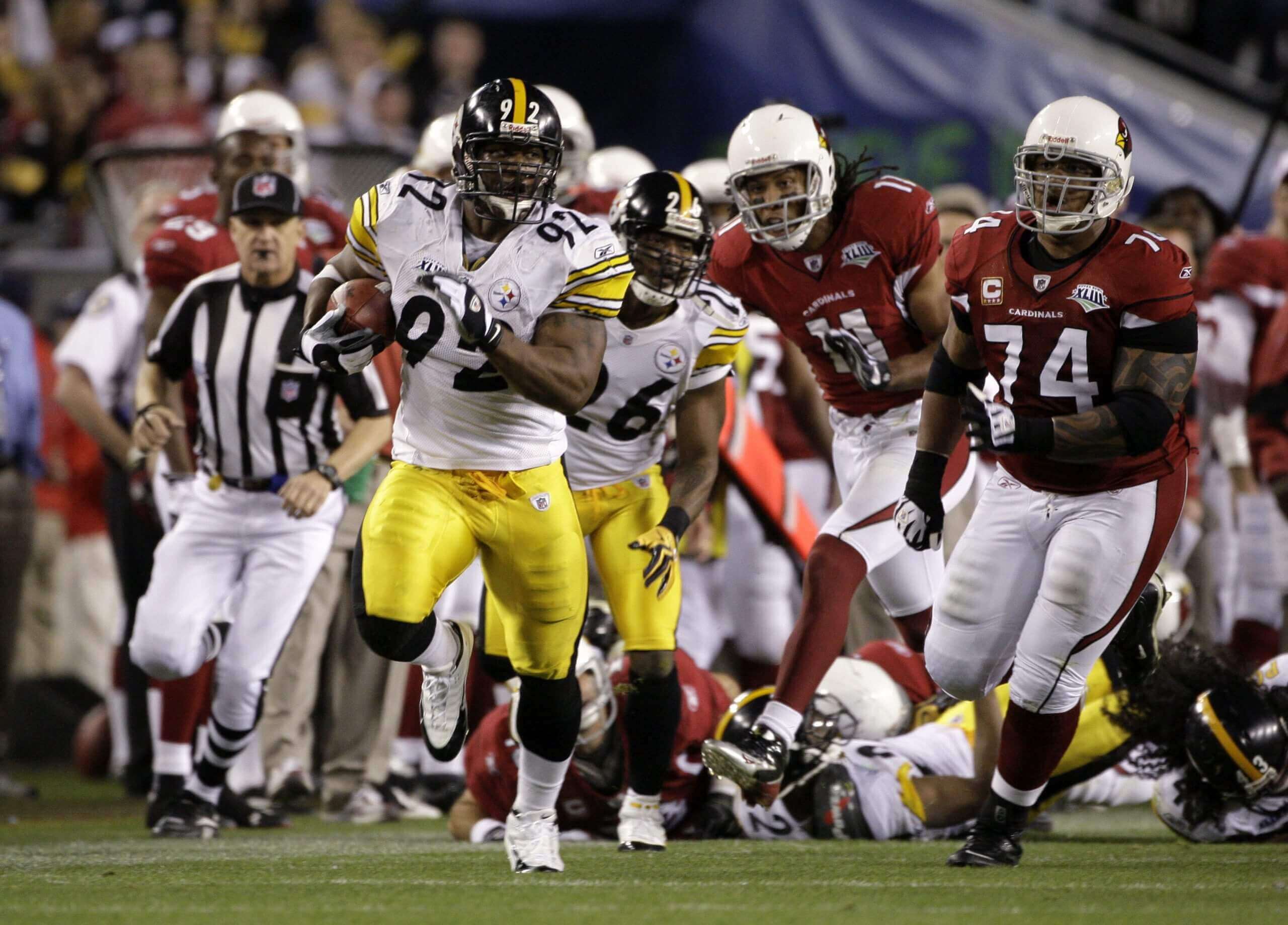 5. Cardinals at Steelers (SB XLIII)

Our last remaining team with just one Super Bowl win is Seattle, who defeated Denver in 2013. Their other Super Bowl opponents (Pittsburgh and New England) are already taken, so this is on the schedule by process of elimination.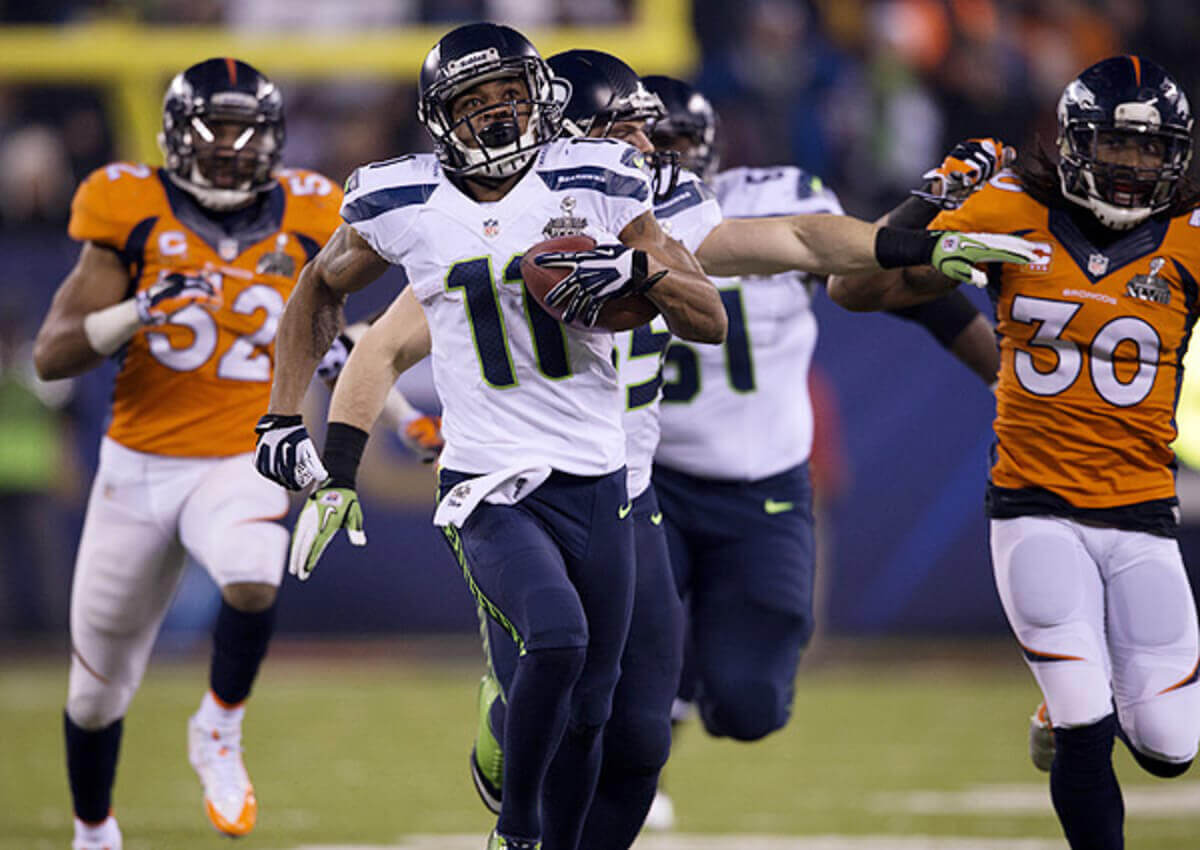 6. Broncos at Seahawks (SB XLVIII)

Now that the one-off teams are settled, the combinatorics get a little fuzzy. Most of the remaining teams have won or lost multiple Super Bowls, many against each other. So how do you prioritize who plays whom?
Let's start by defaulting to the longest Super Bowl drought remaining on the board, which belongs to the Dolphins. Their choice is obvious: bring back the NFL's only perfect team to pop the champagne and coronate their Super Bowl VII win against Washington. But this choice also has an intriguing subplot, because, Miami also lost to Washington in Super Bowl XVII. For the rubber match, Miami will force the teams to dress in their 1972 uniforms, rather than the 1982 gear that made John Riggins famous.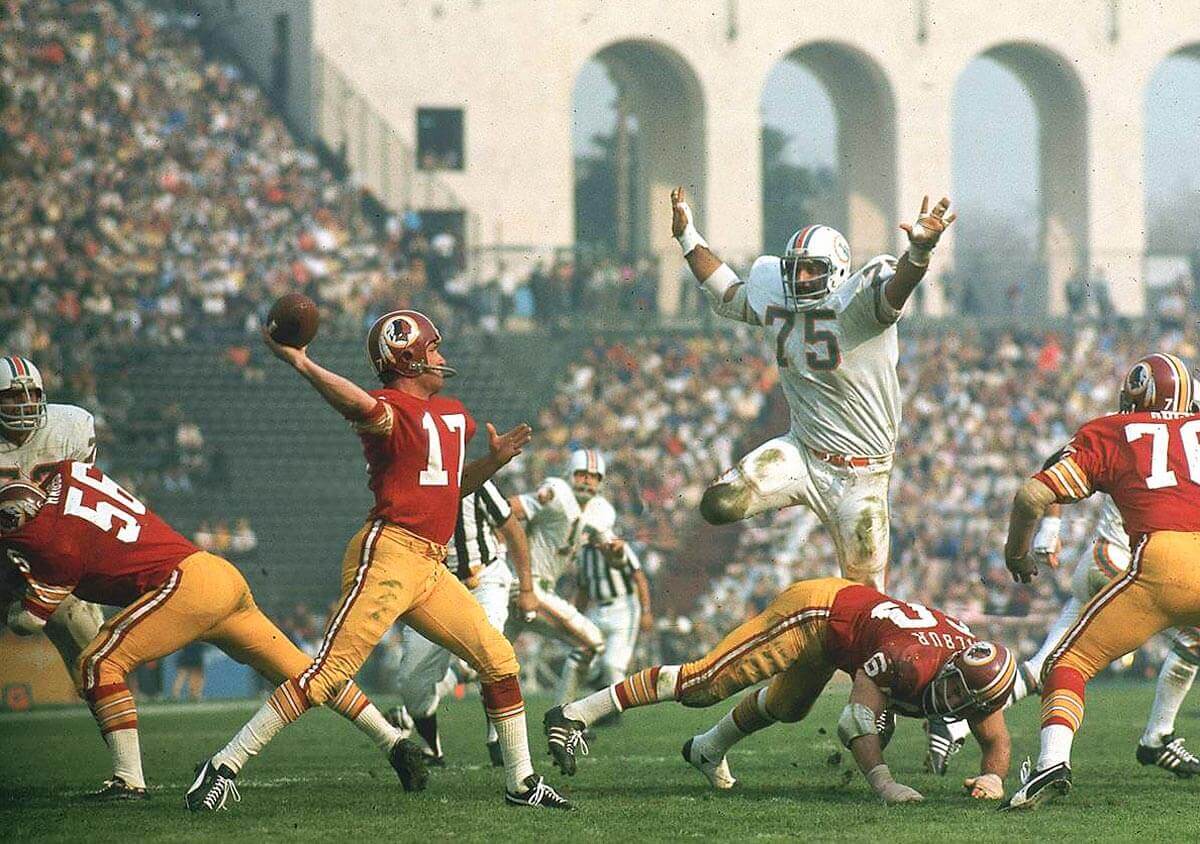 7. Washington at Miami (SB VII)

[Some folks, myself included, might object to reviving Washington's Native American iconography, so that helmet design might have to be adjusted. — Paul]
Next up is San Francisco. Their opponent should be the Cincinnati Bengals, whose only two Super Bowl appearances have been against the 49ers. Of course they will re-enact the 1989 Super Bowl (nobody remembers the 1982 matchup except Chris Collinsworth).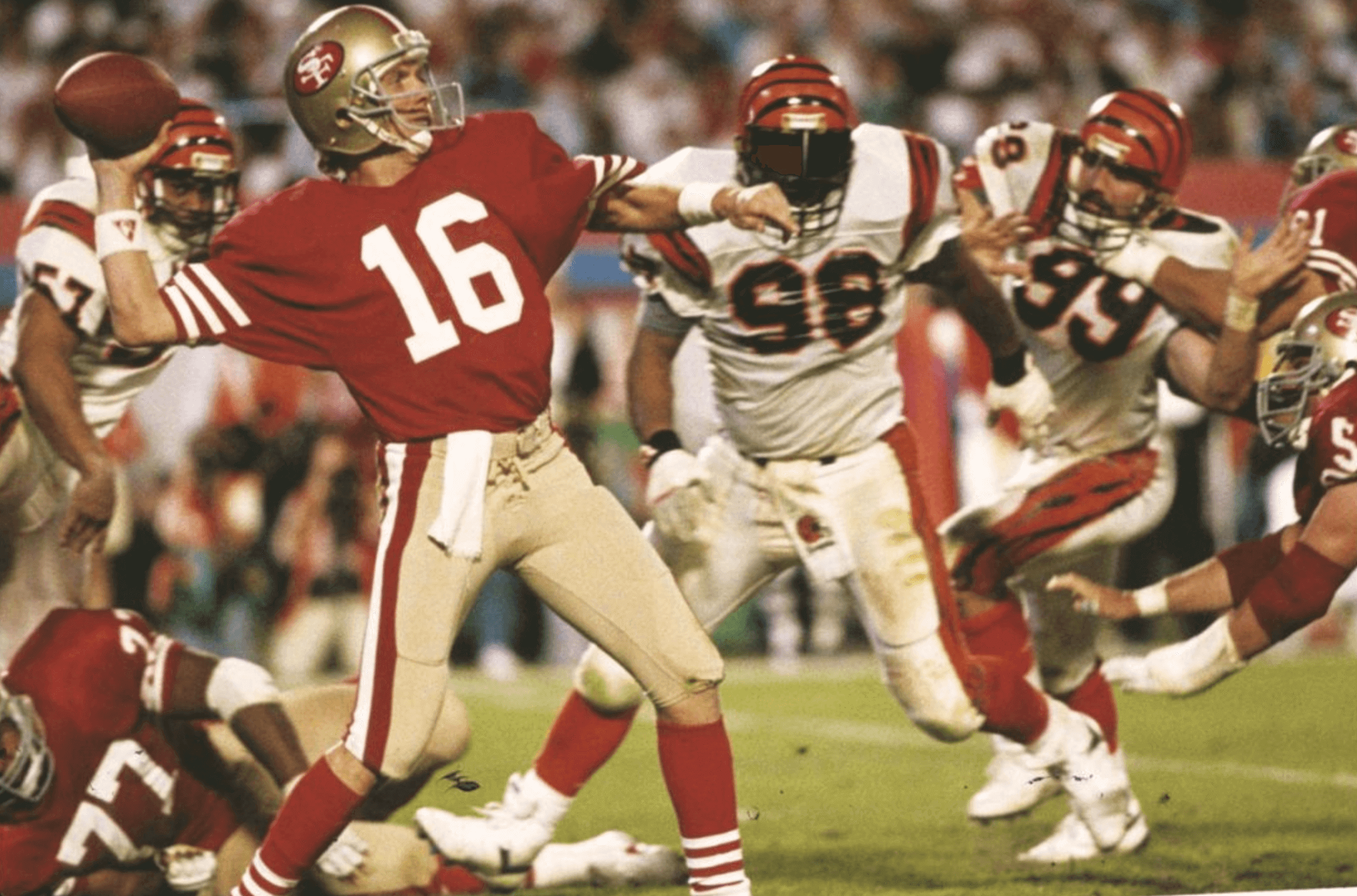 8. Bengals at 49ers (SB XXIII)

The next team on the clock is the Cowboys, who last won the big game in 1996 (surprising, right?). Most of their Super Bowl opponents have already been scheduled, so their default whipping boy is Buffalo, in their glorious 1990s red helmets and blue jerseys. Honorary team captains: Leon Lett and Don Beebe.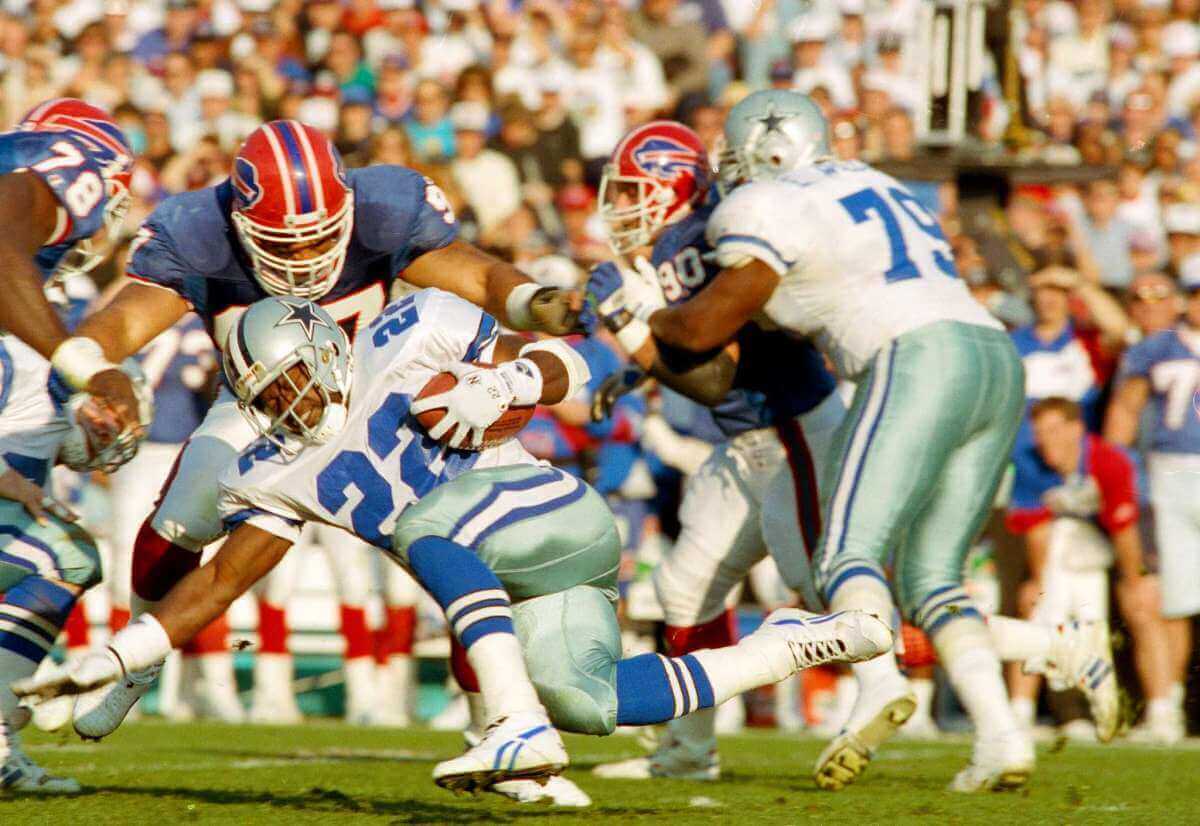 9. Bills at Cowboys (SB XXIII)

This means the Giants have no one left to play except the Ravens. Book it, and bring back Britney Spears to perform the halftime show with Aerosmith and 'N Sync.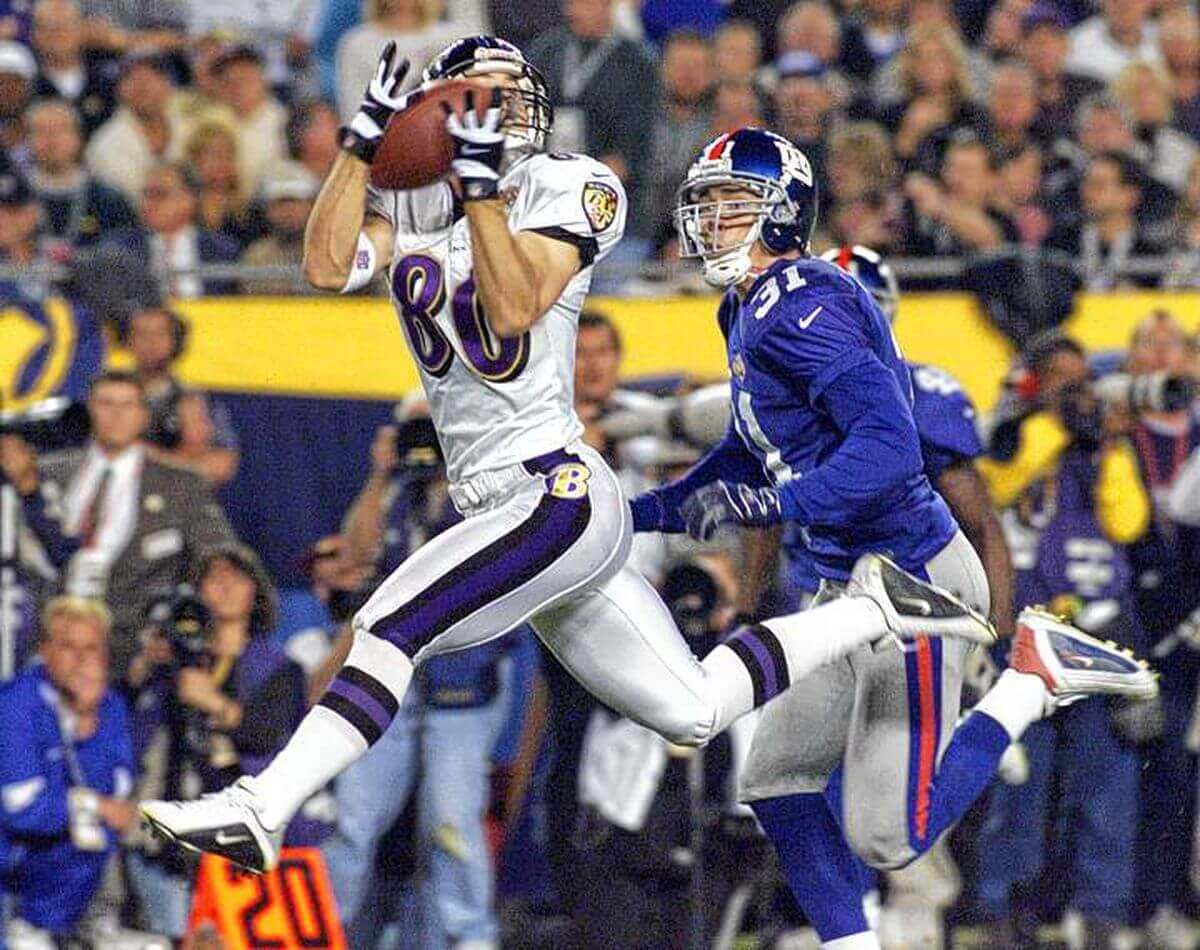 10. Giants at Ravens (SB XXXV)

Who's left? Wonder of wonders, the very first Super Bowl matchup — of Kansas City vs. Green Bay! This should be a default choice, like the Cincinnati Reds always opening the MLB season.. Host it at L.A. Memorial Coliseum, and have an augmented-reality balloon release (to be environmentally conscious).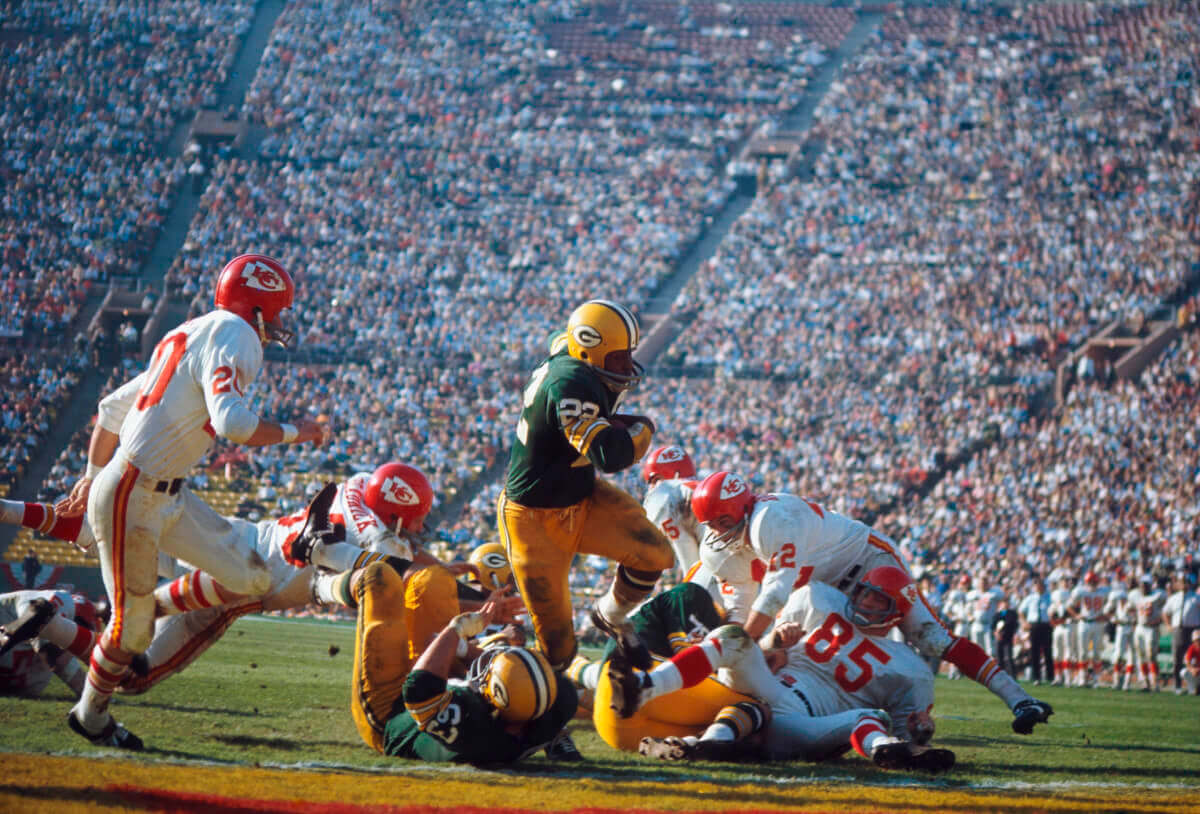 11. KC at Packers (SB I)

Eleven games down, only five to go! Could it possibly turn out this perfectly? Well, no — we've now maxed out on potential Super Bowl rematches in a single NFL weekend. So how should we fill the remaining five games of our slate?
Minnesota and Atlanta are a combined 0-6 in the big game, so they don't have much to celebrate. However, the 1998 Minnesota Vikings are the greatest team that should have played in the Super Bowl. And who did they lose to, in a thrilling NFC Championship game? The Atlanta Falcons! Give them a chance at redemption by restaging the game at US Bank Stadium.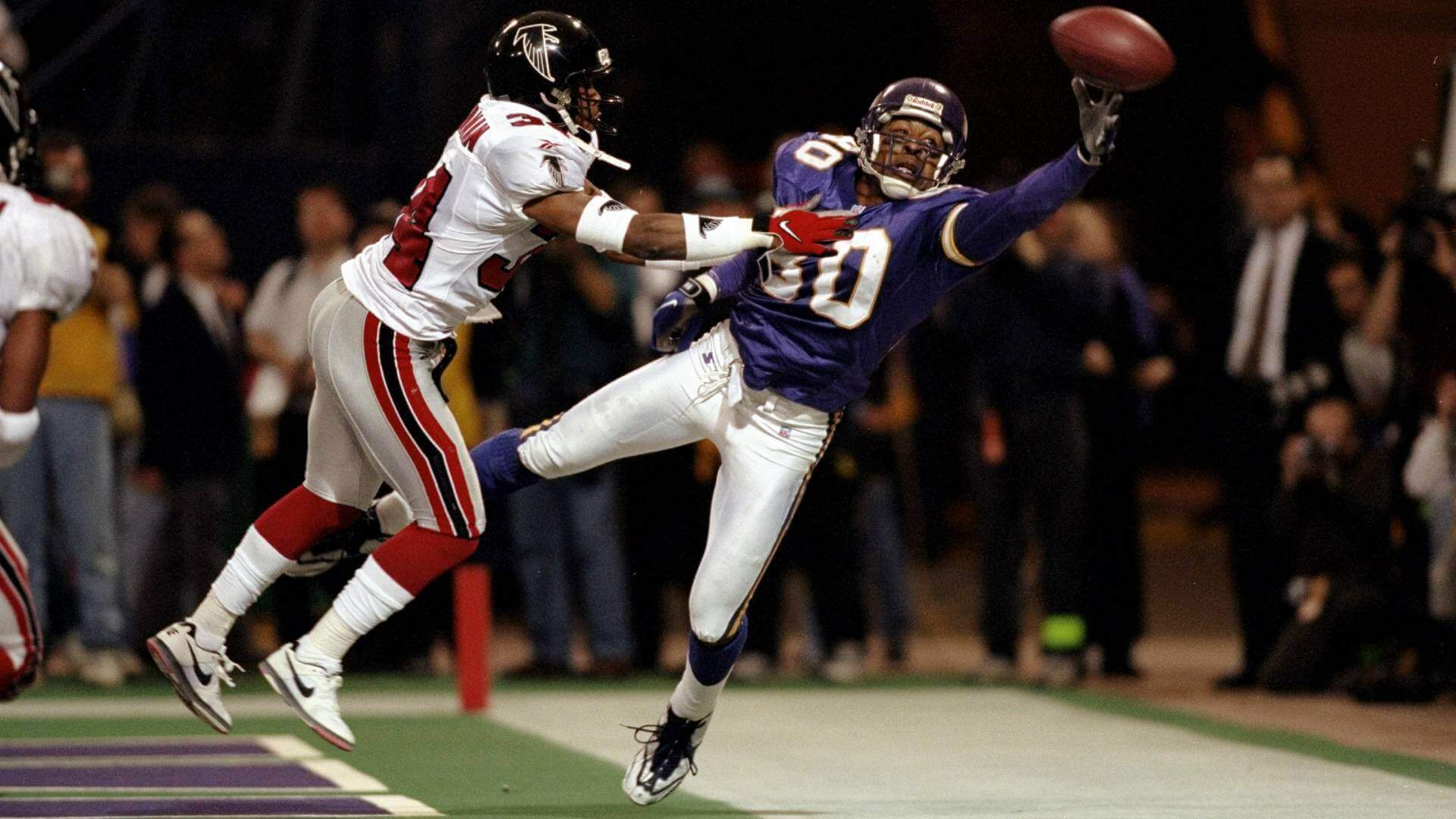 12. Falcons at Vikings (1998 NFC Championship Game)

Moving on: Neither Cleveland nor Detroit has ever appeared in a Super Bowl. However, in the 1950s they played each other in the NFL Championship Game four times in an epic six years. Let's remind everyone of the way things used to be by playing this game outside in December, with glorious throwback uniforms.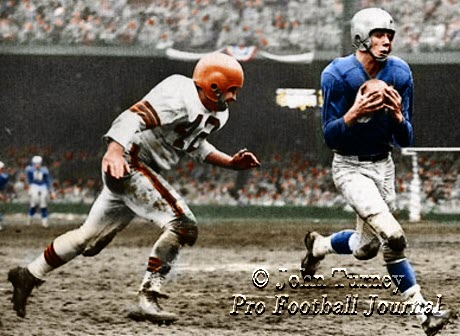 13. Lions at Browns (1952 NFL Championship)

The Texans are an interesting case. As the NFL's newest team, they have yet to sniff the big game. But the Houston Oilers won the first AFL Championship Game on Jan. 1, 1961, defeating the Chargers. Just for this occasion, Houston should "rent" the Oilers' visual identity from the Tennessee Titans for a day. And just for fun, let's stage this game at the University of Houston's outdoor stadium, which is at the site where the 1961 game was played. To see those sky-blue unis under an actual blue sky would be amazing.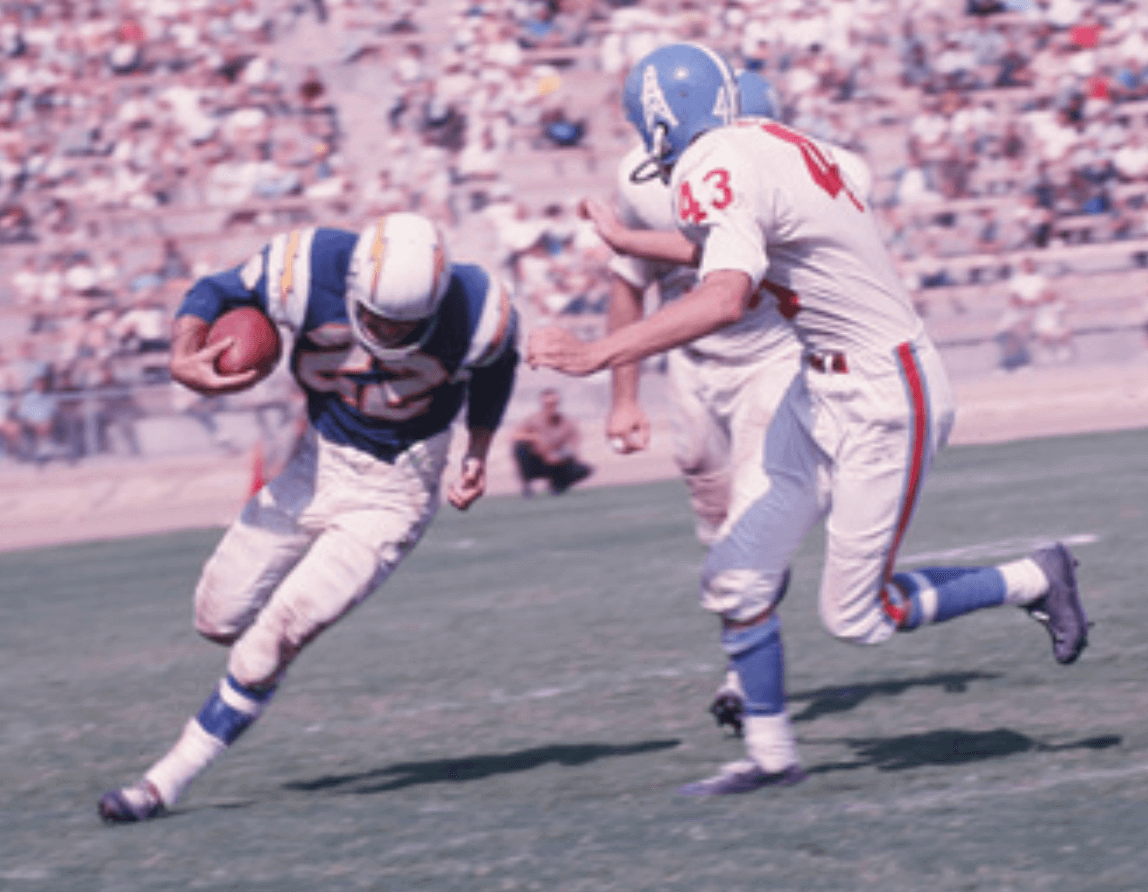 14. Chargers at Texans-as-Oilers (1960 AFL Championship)

(Note: The photo shown above is from the 1961 AFL Championship, which featured the same two teams but was played the next year in San Diego. I couldn't find any color photos of the 1960 AFL Championship, for which Houston wore blue and the Chargers wore white.)
This leaves us with just four outlying teams. We could give them a bye, but what fun would that be? Tampa Bay is 2-0 in the big game and deserves to host something (their two Super Bowl opponents, the Raiders and KC, are already spoken for). How about bringing back one of Tom Brady's Super Bowl victims in the Carolina Panthers? At halftime, you could have Janet Jackson expose Justin Timberlake's nipple.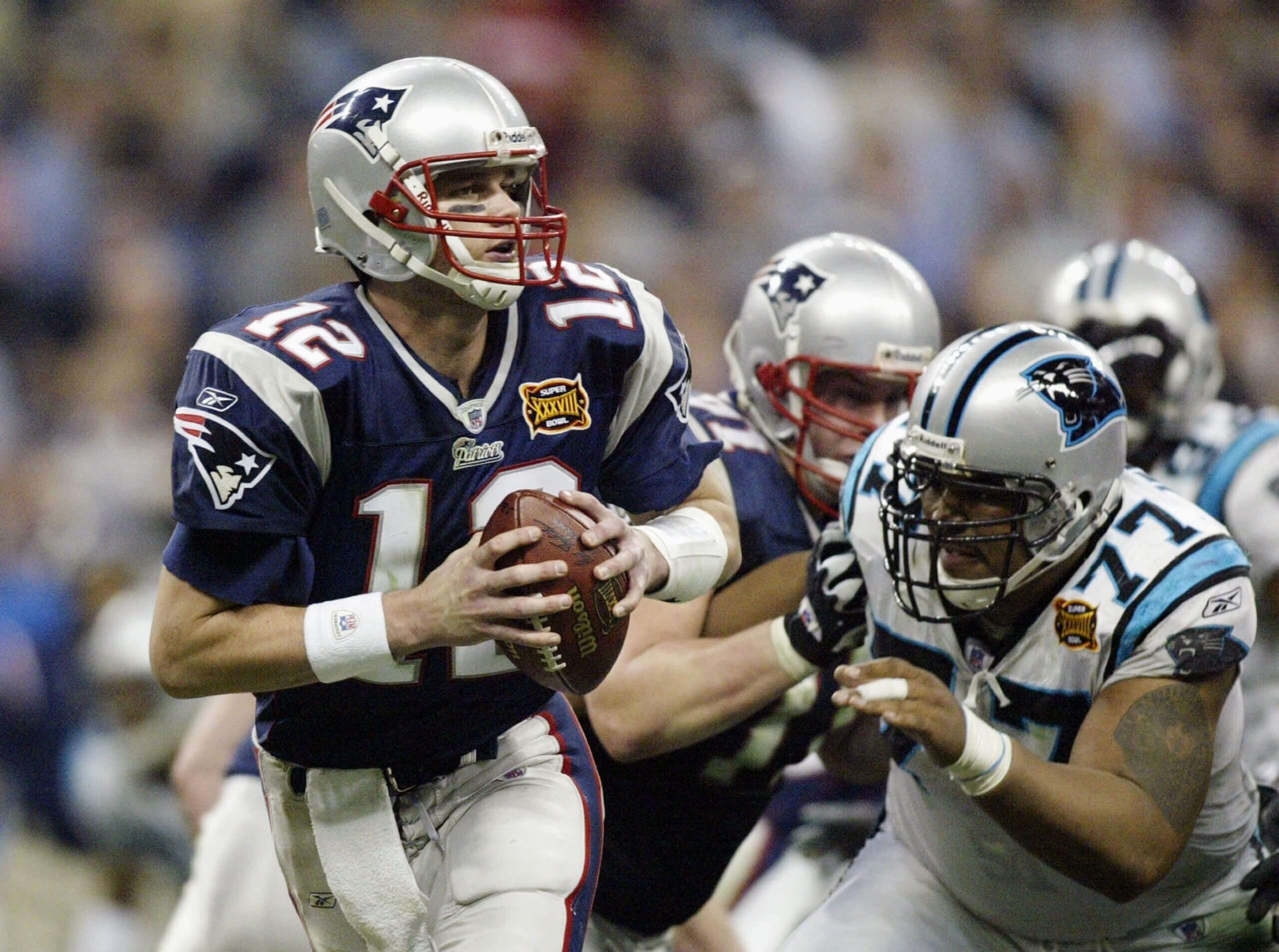 15. Panthers at Buccaneers (SB XXXVIII, sort of)

Our final remaining teams are the Saints (remember them, sitting there on the back burner?) and Jaguars, who happened to play in one of the most memorable games in NFL history: 2003's River City Relay. The Saints scored a wild multi-lateral touchdown on the final play of regulation but then missed the extra point to lose the game. While the game itself wasn't consequential to either team's history, it featured one of just two multi-lateral touchdowns in the 21st century (the other was from the Miracle in Miami game in 2018). Let's re-enact it, and bring back John Carney for a redemption kick at halftime.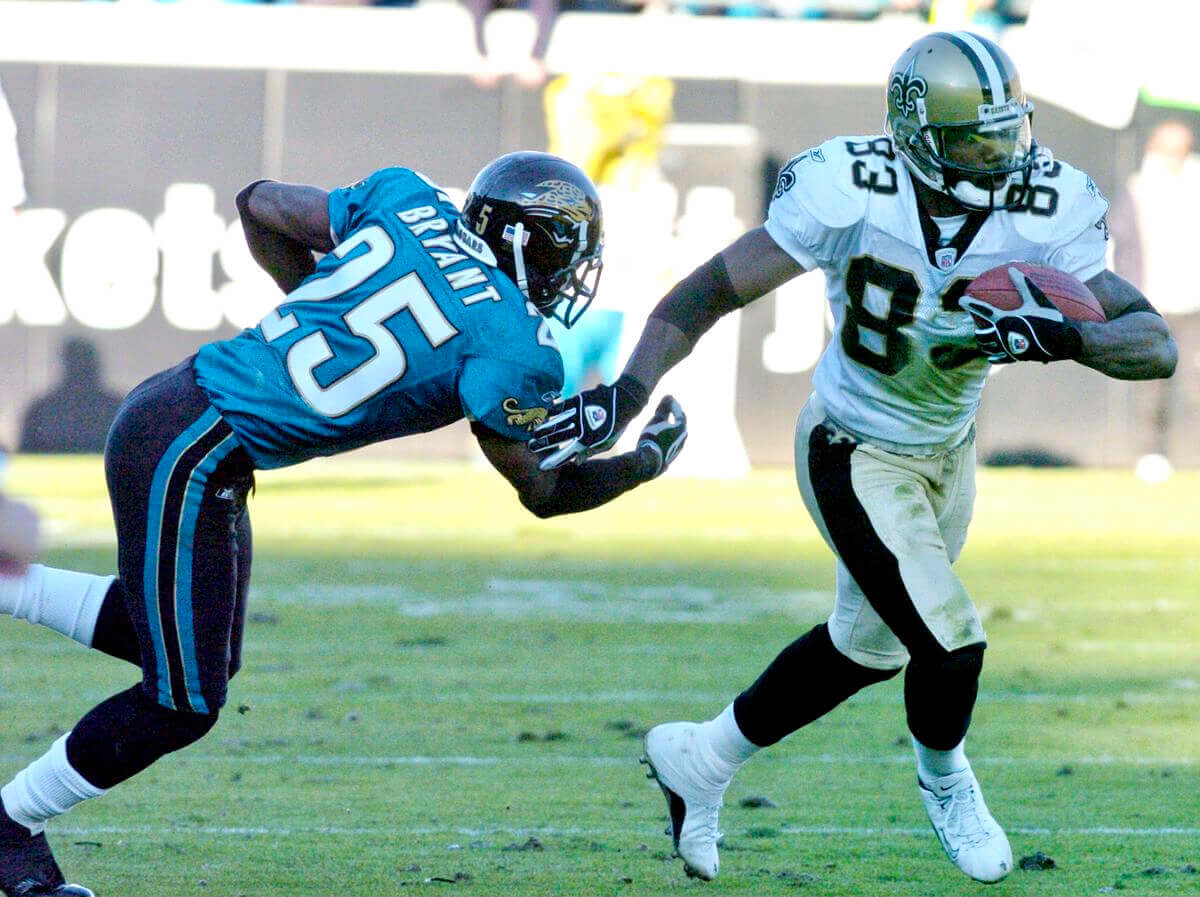 16. Saints at Jaguars (River City Relay)

So there you have it, our idealized Super Bowl Throwback Weekend: 11 proper Super Bowl rematches, four Super Bowl-adjacent games, and one crazy lateral game. I believe this is the most Super Bowl rematches that mathematics will allow in one weekend, but I'd love to see your alternatives! Either way, restaging the aesthetics of these historic uniforms is an NFL marketing bonanza just waiting to happen.
———
Paul here. Is that a fun idea or what? And I love all of Jared's little promotional ideas! After yesterday's post (which I realize was probably a bit of a downer, even if you happened to agree with me), this is just the tonic we needed, am I right? Great job, Jared.
Personally, I'd love to see this idea come to fruition. Come on, Roger Goodell — make it so!
• • • • •
• • • • •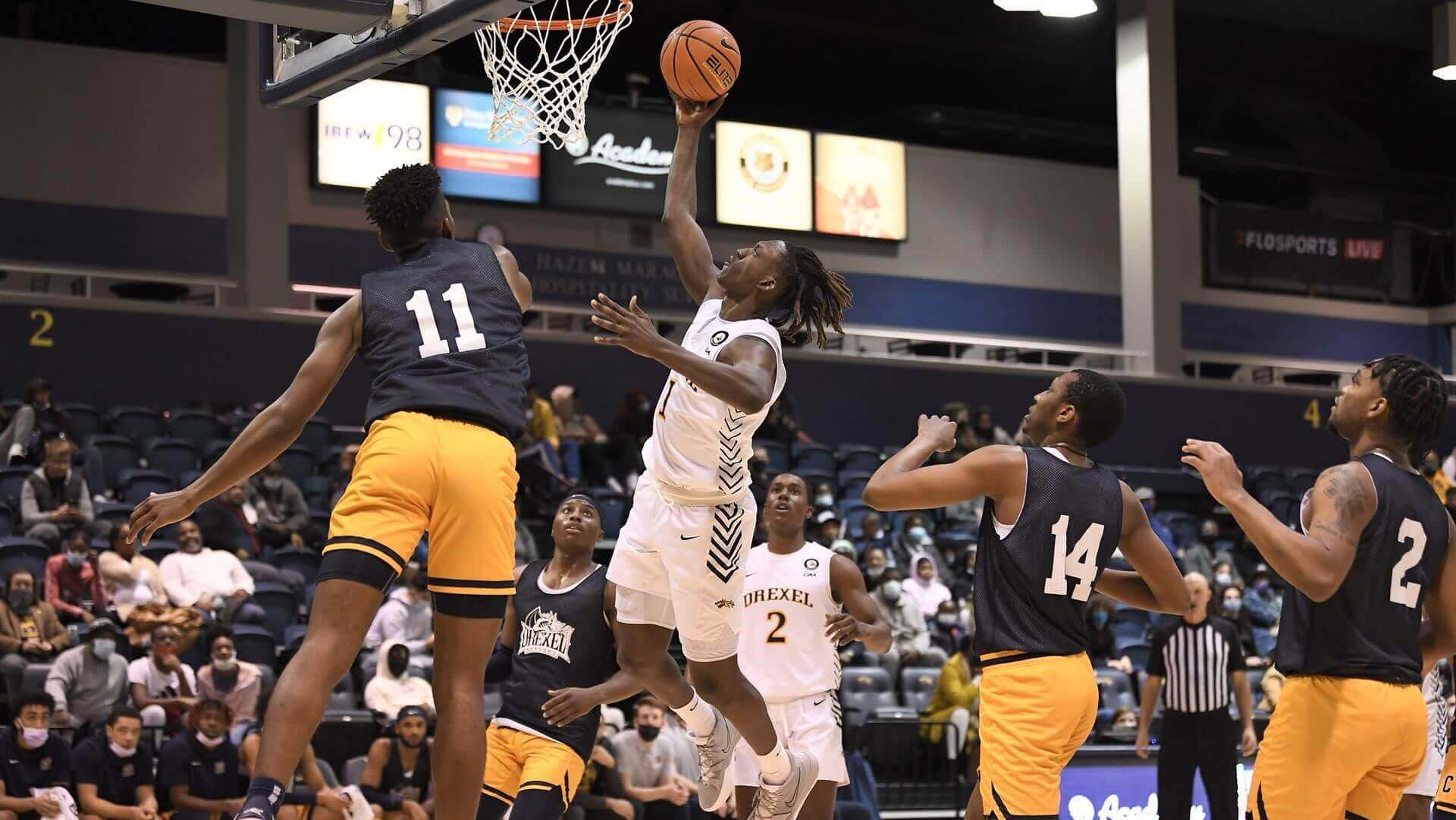 Click to enlarge
A fun night of college hoops: Lots of interesting stuff in men's college basketball last night. Let's start in Philly, where Drexel was hosting Coppin State. But Coppin somehow forgot their jerseys (but not their shorts), so they wore Drexel practice jerseys, creating a two-tone uniform (see above).
The Drexel practice tanks look black in that photo, but they were actually dark blue, as seen here: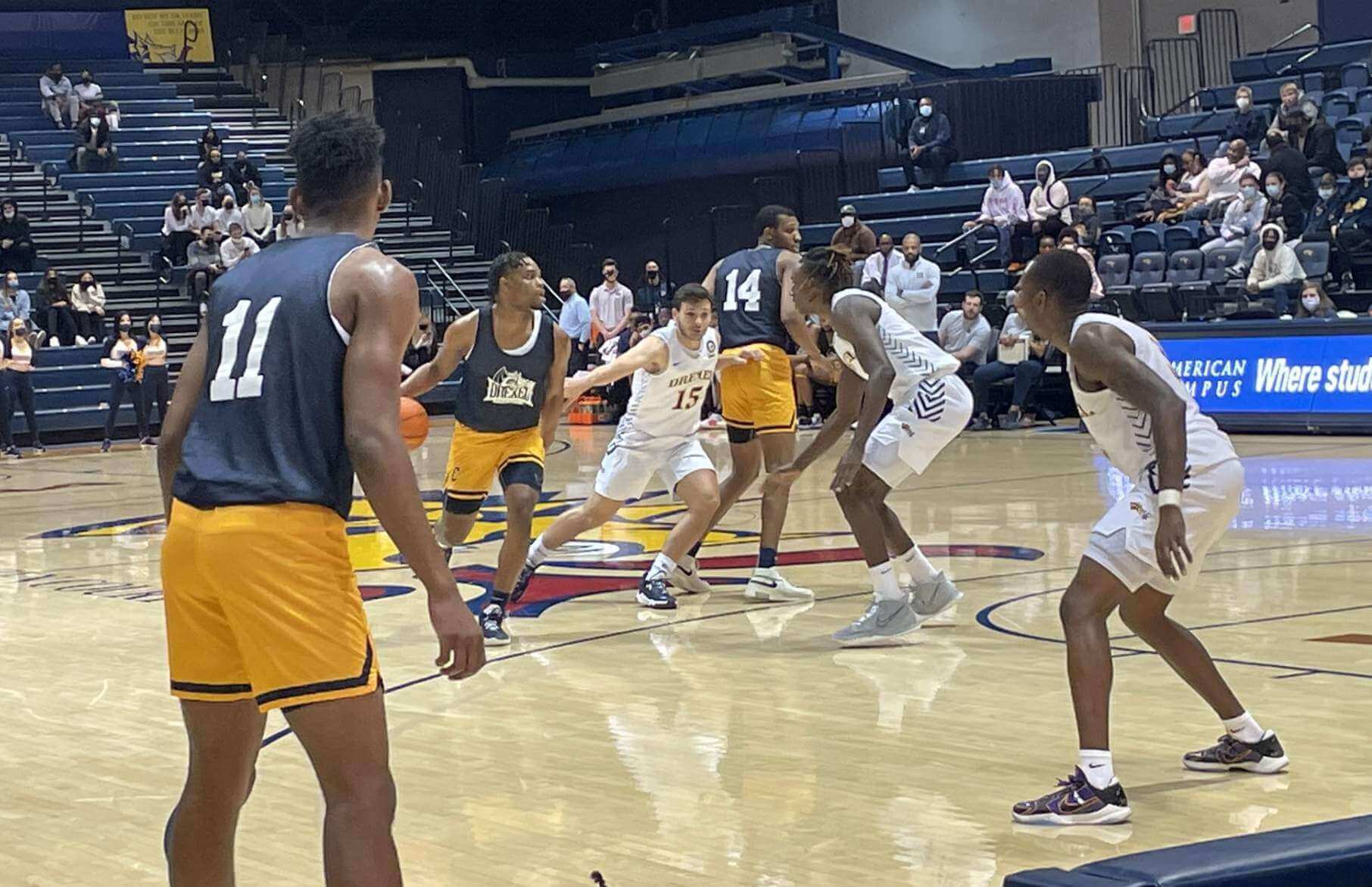 Meanwhile, out in Idaho, Boise State and Santa Clara didn't just go color vs. color — they also went Broncos vs. Broncos! Check this out: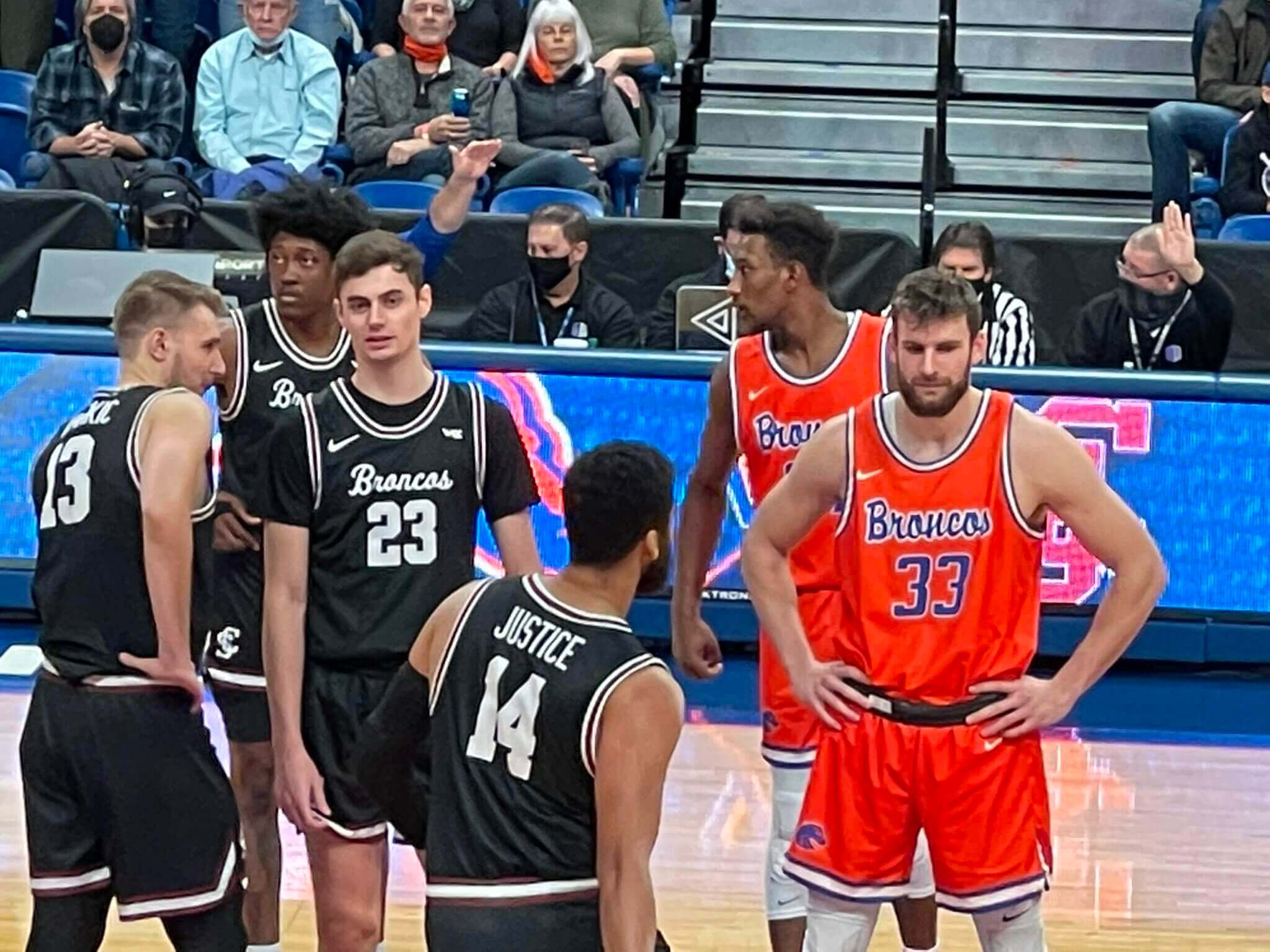 Well, at least it's good to know that Nike can come up with two different script treatments for the same team name, right?
Now let's head back to Tennessee, where Memphis wore Memphis State throwbacks (that was the school's name until 1994), although they were overshadowed in this photo by Alabama point guard JD Davidson's hair: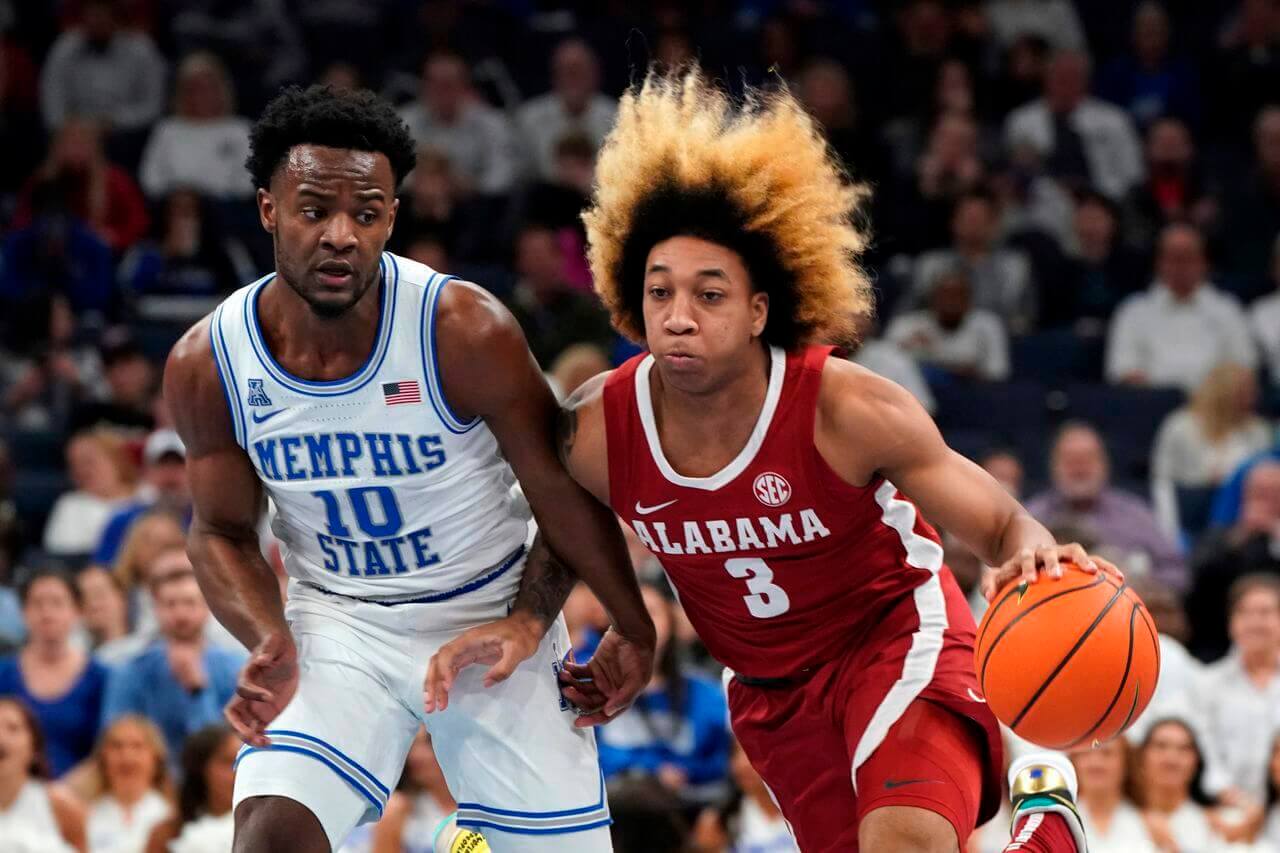 • • • • •
• • • • •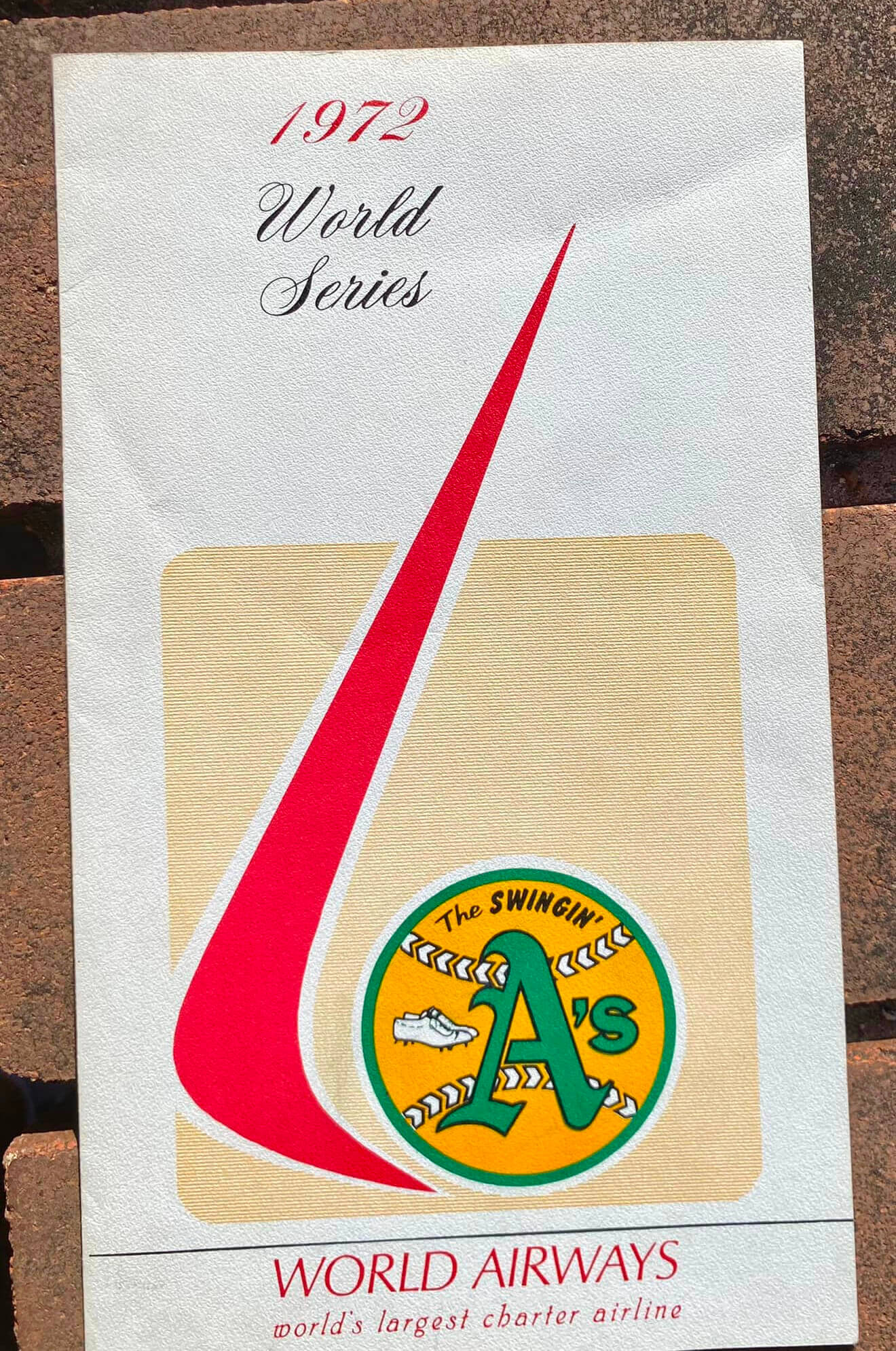 Click to enlarge
Too good for the Ticker: What you see above is the cover of the in-flight menu that Oakland A's players and staff were given while flying to and from Cincinnati during the 1972 World Series. Is that an awesome design or what?
The menu itself is really fun, too. Check this out: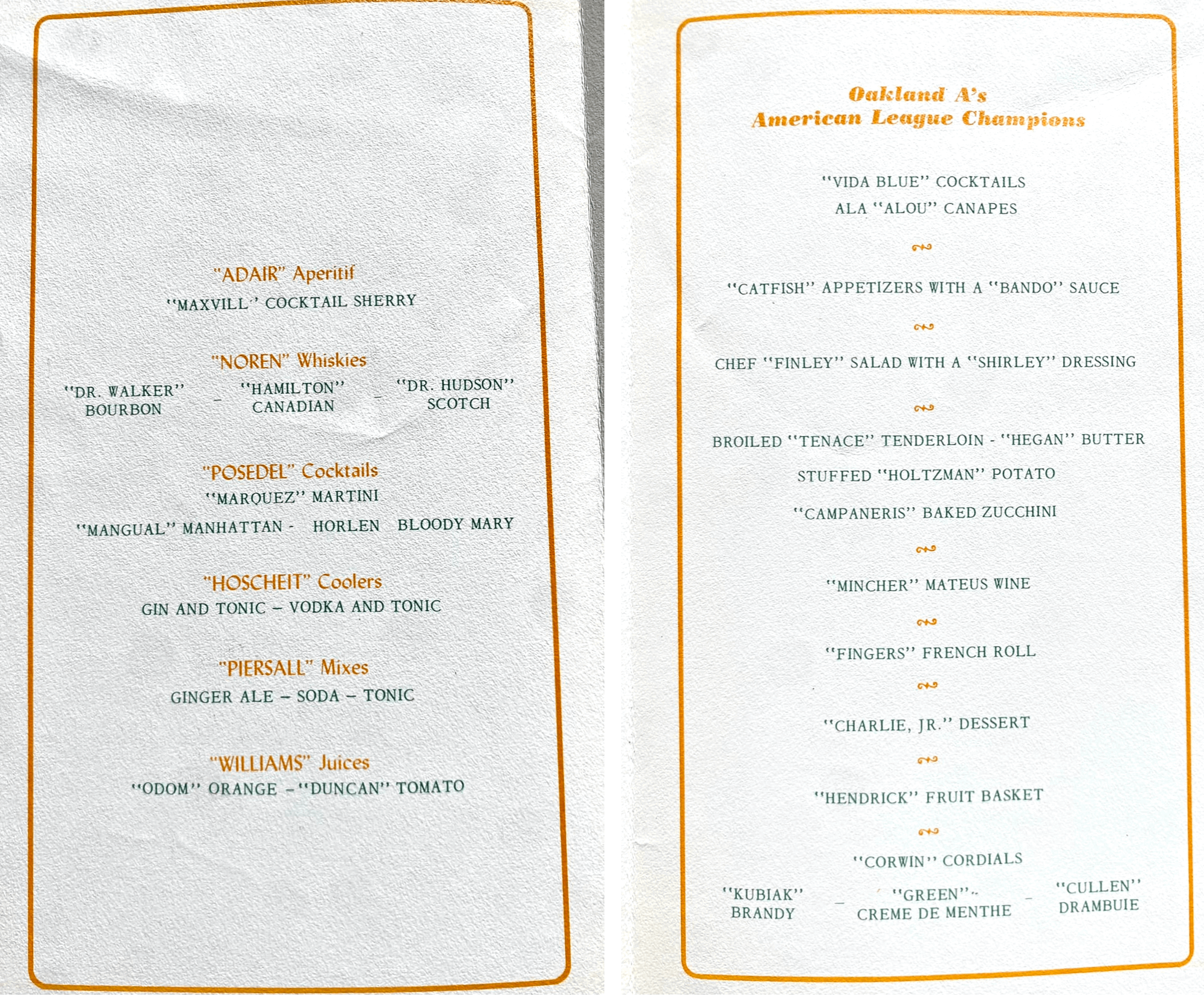 The menu was posted on Facebook by Deonna Moore Shake, the daughter of former A's broadcaster Monte Moore, who found it at her dad's house. Great stuff!
(Big thanks to longtime reader Roger Faso for this one.)
• • • • •
• • • • •
Just another normal night in America: In last Thursday's "Indigenous Appropriation News" section, I reported that the school board in Glastonbury, Conn., which had voted last year to stop calling the local high school's teams the Tomahawks, was planning a new hearing this week to reconsider that decision. That hearing was held last night but had to be cut short when a pro-Tomahawks community member confronted and then punched a school board member.
Quoting from this report:
After the public comment portion of the meeting, the board announced a 10-minute recess. That was when the board member and resident became confrontational with each other. 

The entire incident was recorded on a cell phone, showing the two men face-to-face, with the resident yelling directly into the board member's face. When the resident gets even closer, the board member pushes him away into the auditorium seats. Then the resident punches the board member in the face, knocking him off his feet.

[…]

The man seen throwing a punch in the video was one of the speakers during public comment, angrily shouting at board members from the floor after his time had expired.
The meeting was then ended. It's not clear how this will play out in terms of the "Tomahawks" team name.
(My thanks to Addison Walton and Mark Wolven for bringing this one to my attention.)
• • • • •
• • • • •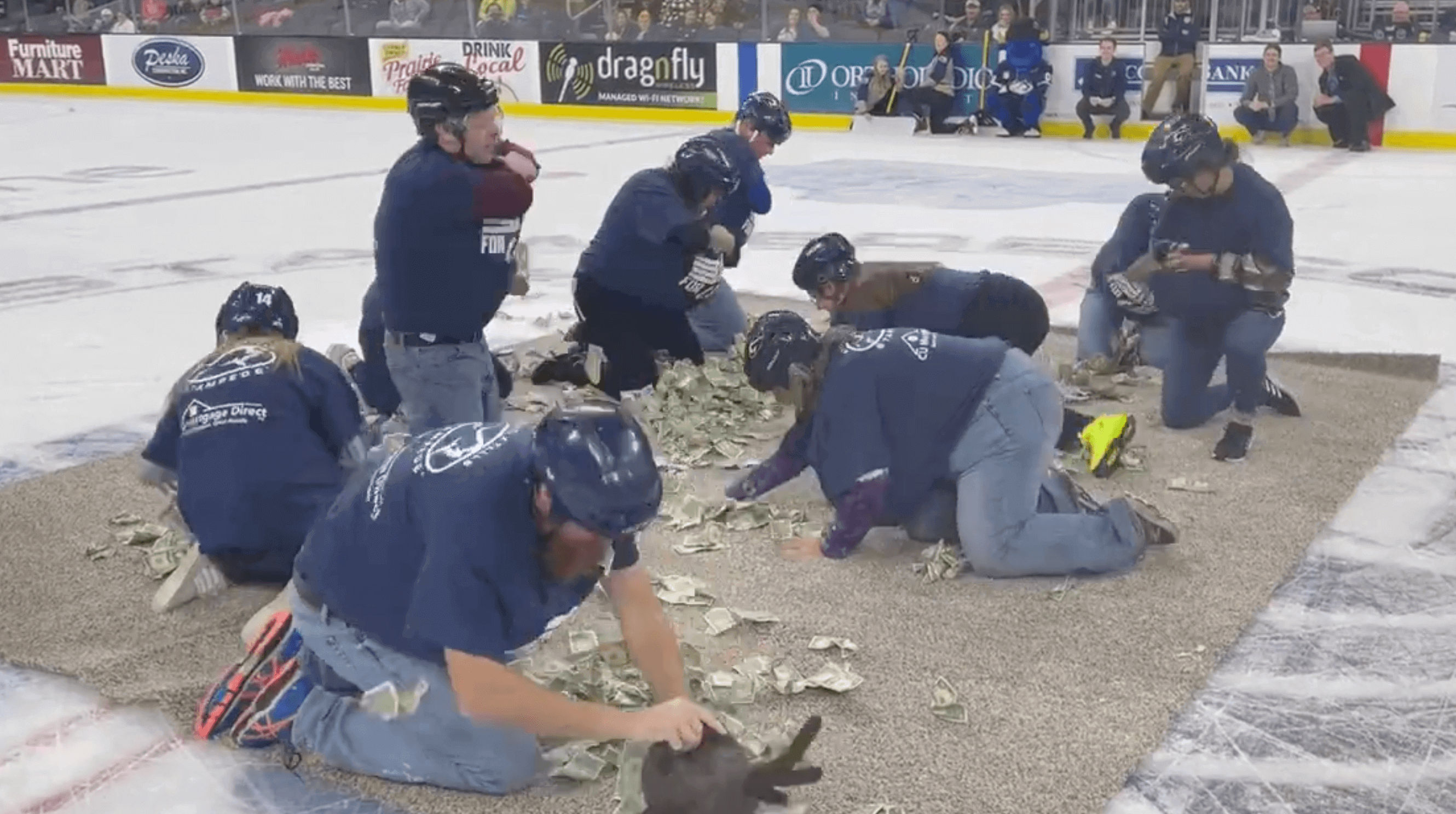 "Dash for cash" update: The USHL's Sioux Falls Stampede and the local mortgage company that staged the cash-groveling spectacle that I wrote about yesterday have now apologized. They are also giving an additional $500 to each of the 10 teachers who participated in the promotion, and are also giving $500 to each of the 21 other teachers who applied to participate but weren't chosen. All of the funds will go toward classroom supplies.
• • • • •
• • • • •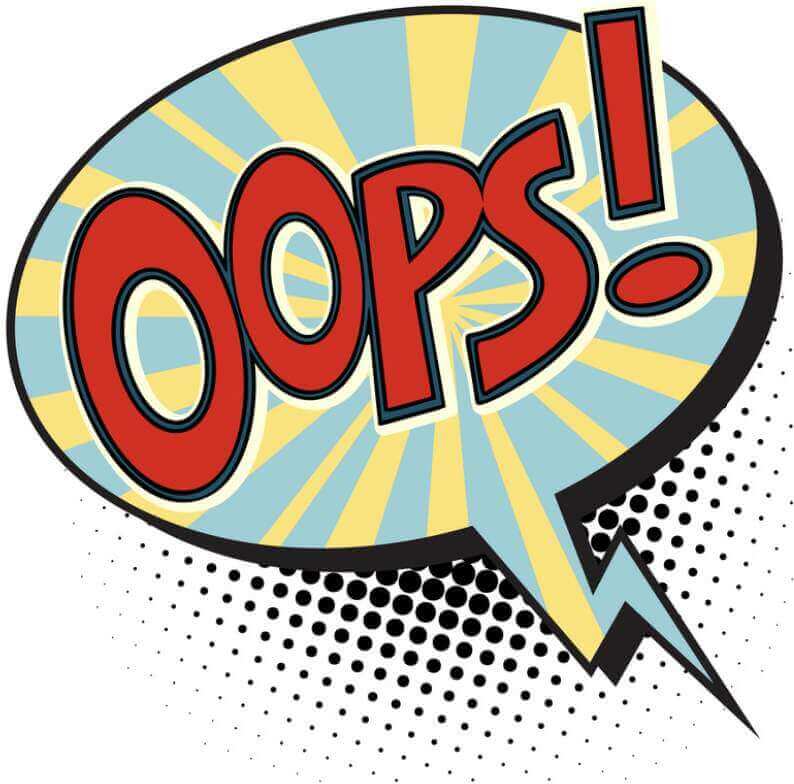 Teespring shipping snafu reminder: If you ordered one of our December "Swinging Santa" pins and either (a) received an empty mailer; (b) received more pins than you ordered; or (c) haven't received anything at all, please let me know ASAP so I can make the proper arrangements.
I'm pretty sure we can get this all straightened out. Thanks for your patience, and doubleplusthanks to the people who are graciously mailing their extra pins to people who got stuck with empty mailers.
• • • • •
• • • • •
The Ticker
By Lloyd Alaban

Baseball News: The Gwinnett Stripers, affiliate of the Braves, will have an alternate jersey featuring the Declaration of Independence signature of county namesake Button Gwinnett (from Matt Lally). … Here's a baseball field made of okonomiyaki, a Japanese savory pancake (from Jeremy Brahm).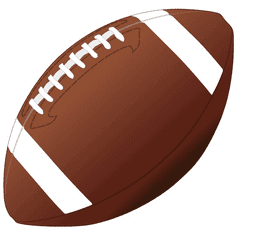 Football News: Was it really necessary for Iowa to include three Nike logos in this press release about supporting the Kentucky tornado victims? (From @VictoryCB)

Hockey News: New throwbacks for Bowling Green's club team (from @Mr_Jeremy). … New mask for G Matteo Lalama of the Ontario Hockey League's Barrie Colts (from Wade Heidt). … From our own Jamie Rathjen: "A high school goalie in Minnesota has a mask whose design pays tribute to several people, including the Caps' Tom Wilson. Wilson helped teach her the sport when she was a kid and he was playing for the OHL's now-defunct Plymouth Whalers, whose logo is also on the mask."

Basketball News: Warriors PG Steph Curry broke the all-time three-point record last night. Curry received a custom No. 2974 jersey to mark the occasion, plus his personal brand released a commemorative cap (from multiple readers). … Curry also posed a photo with fellow three-point kingpins Ray Allen and Reggie Miller. Oddly, Allen was holding a jersey from the Celtics' 2007 preseason tour of Italy (from multiple readers). … Tom O'Grady envisioned what the Raptors would look like if they were an expansion team now instead of in 1995.

Soccer News: Blue vs. blue yesterday for Manchester City vs. Leeds (from Brian Holmsten).


Grab Bag: Lots of different purples for cricket's Hobart Hurricanes of Australia's Big Bash League (from John Muir).

• • • • •
Tomorrow: The annual Uni Watch year-end raffle! See you back here for that. — Paul