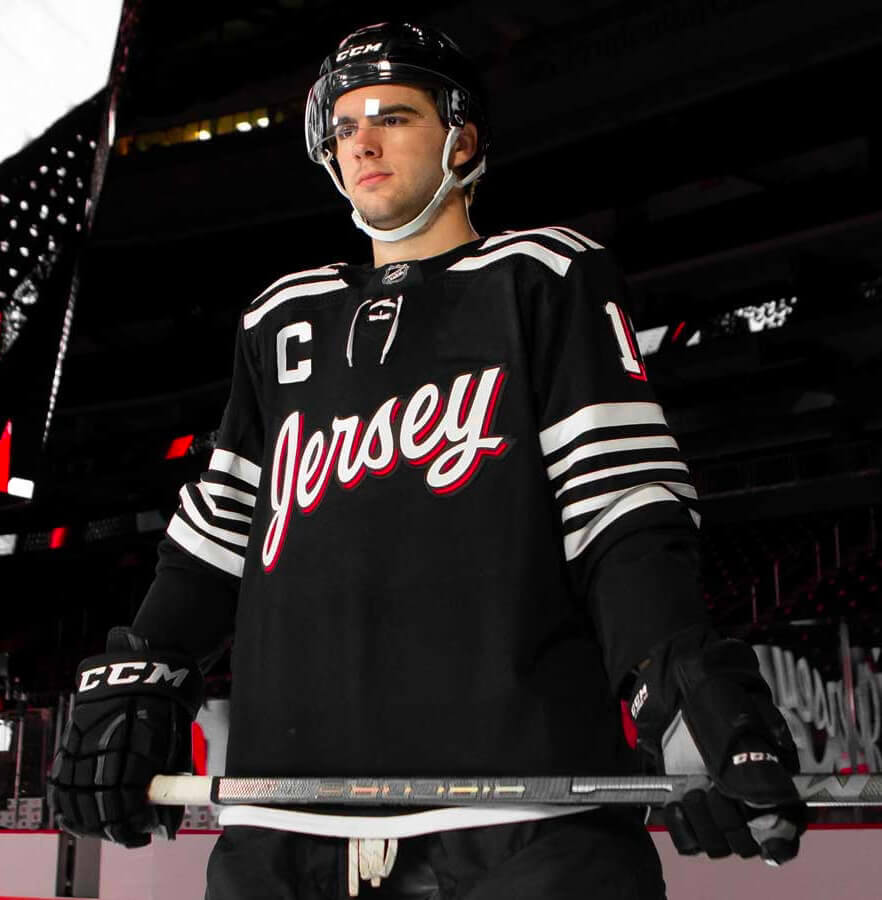 For all photos, click to enlarge
The Devils, confirming earlier leaks, made it official yesterday and unveiled their new "Jersey" uniform — the first alternate uni design in the team's history.
Here are some additional photos: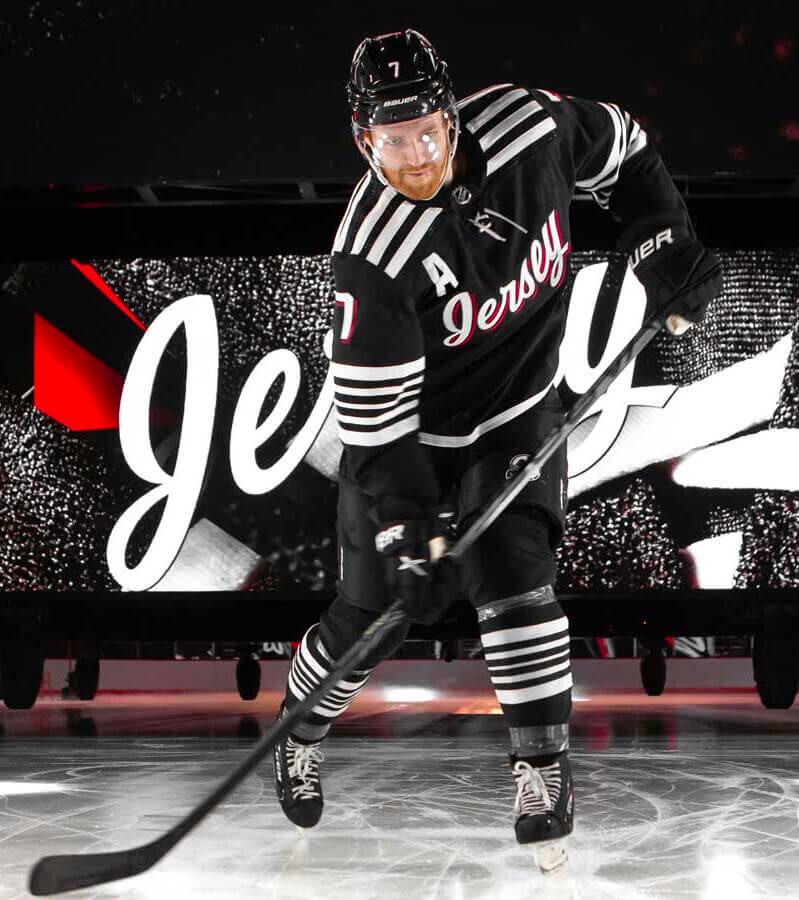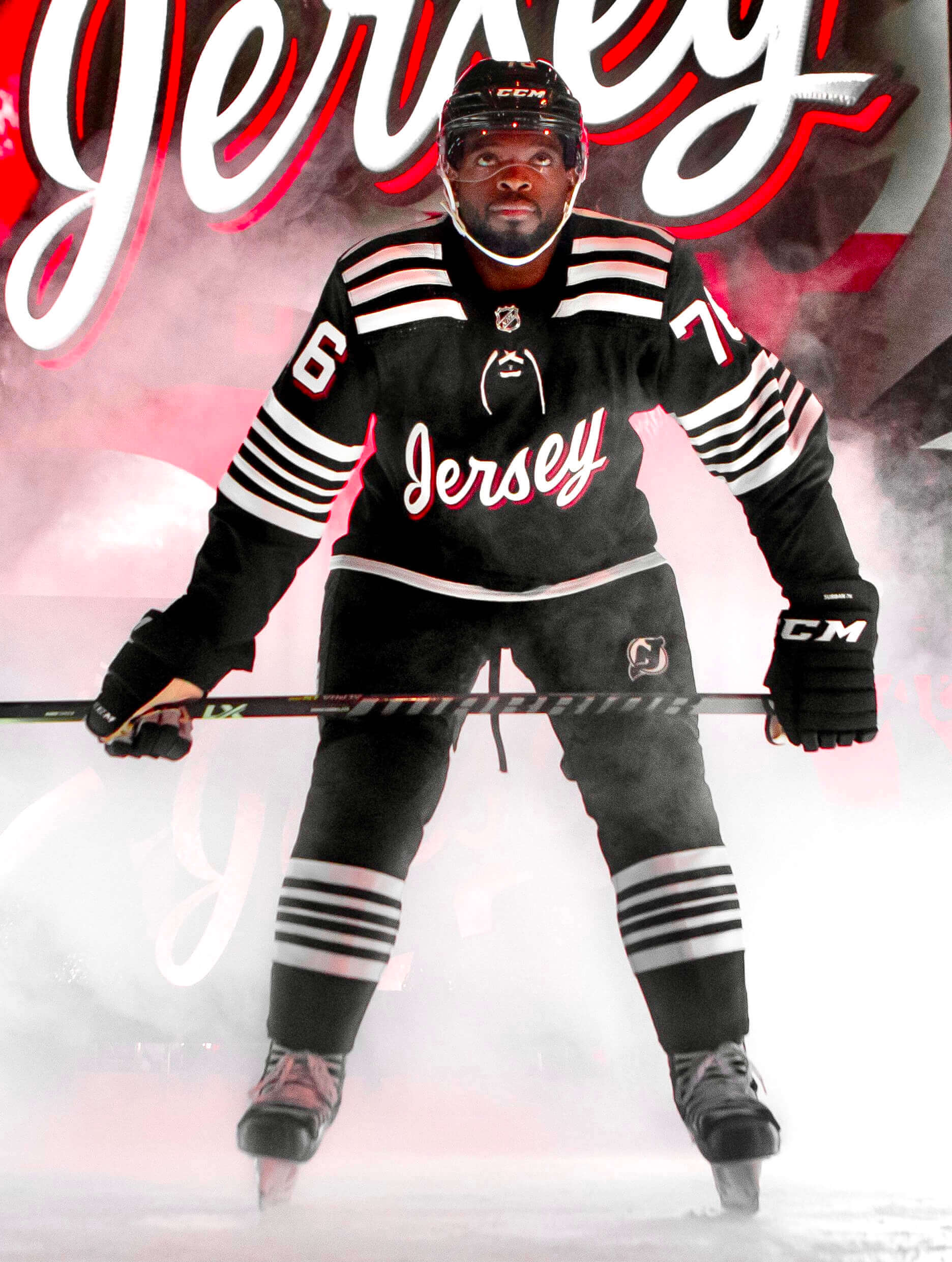 And here are some rear views: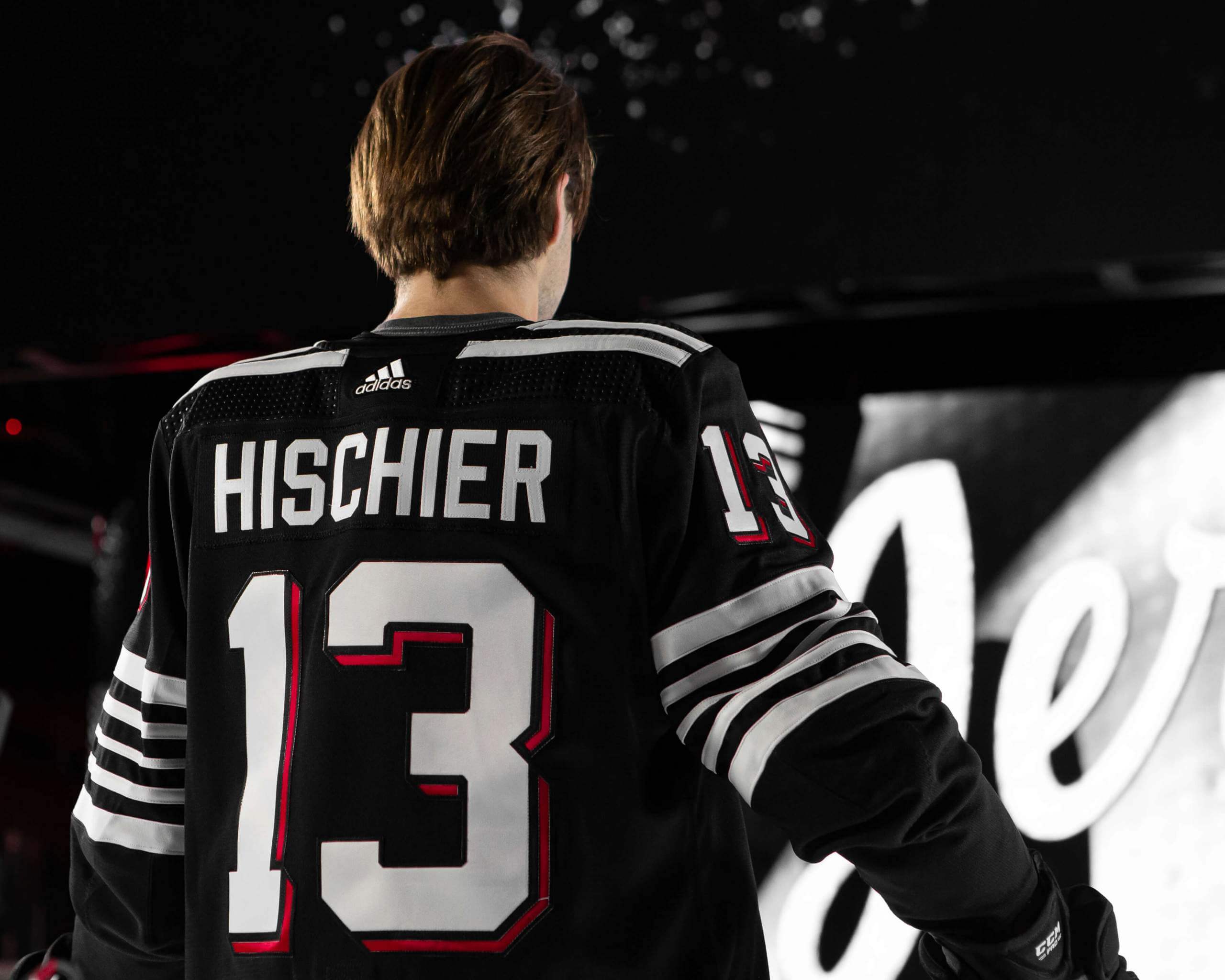 Some notes and observations:
• Former Devils goalie Martin Brodeur had a hand in the design. Full details on that here and here.
• The "storytelling" silliness is summarized in this handy graphic, which saves me the trouble of trying to tell you about it with a straight face: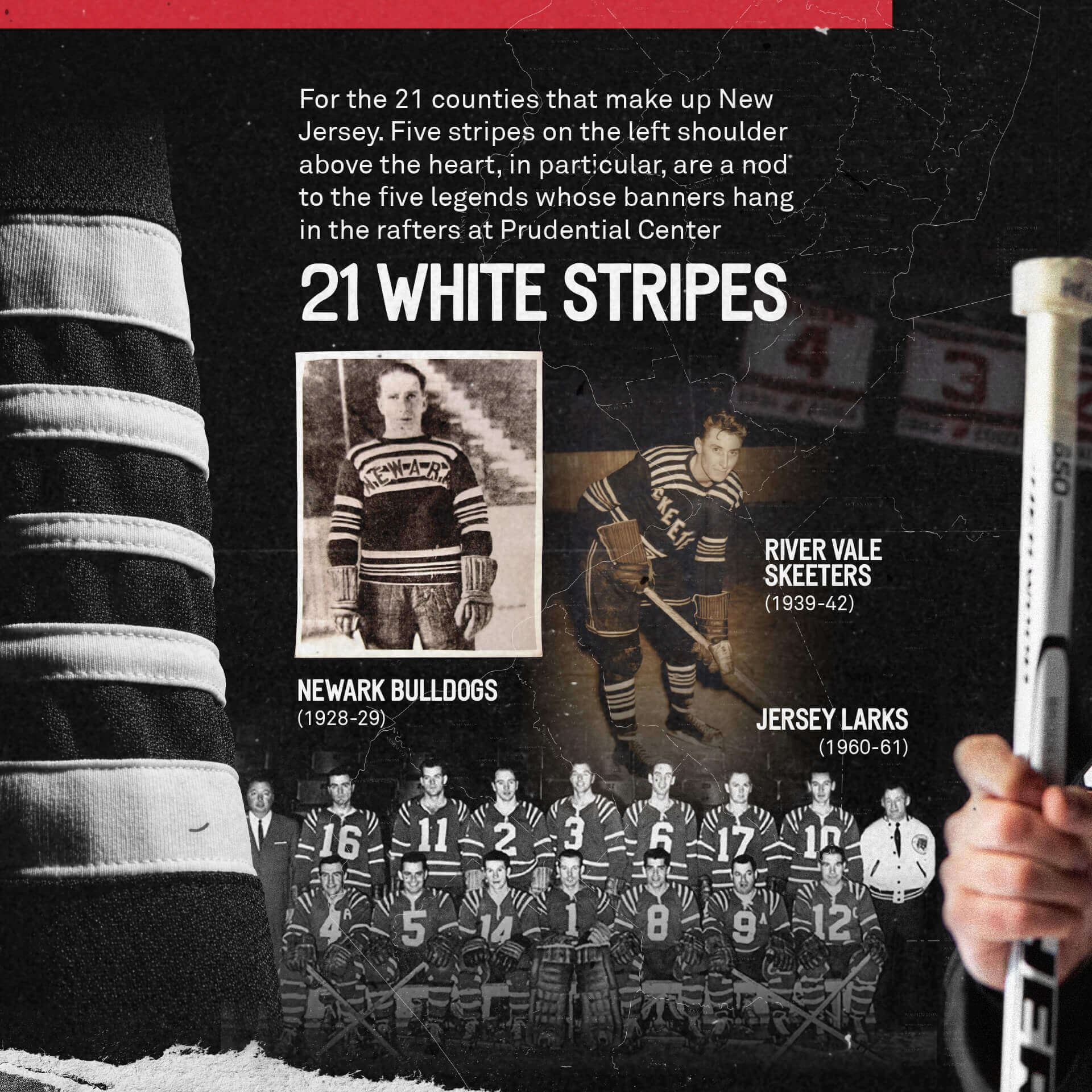 • Back in the preseason, people noticed that the Devils had added a dark-grey version of their logo to the left pant leg. At the time, I didn't understand why they'd remove the red from the pants logo, but it makes a lot more sense in the context of this new alternate uni.
• When New Jersey's new "Jersey" jersey (I just like saying that) leaked over the weekend, I noticed something odd about the chest script. Take a close look here, and look particularly at the space between the s and the e (clicking to enlarge is definitely worthwhile here):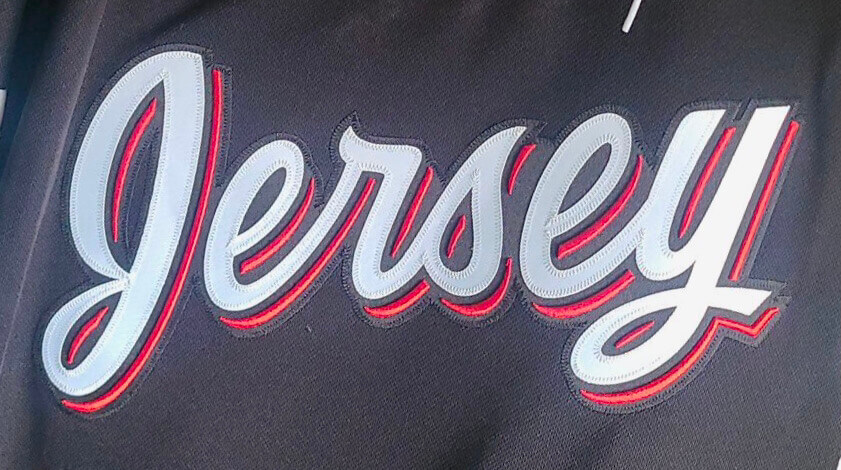 See how the black layer in between those two letters obscures part of the red layer? Ugh, that really bugs me! One of those "can't unsee it" things. (Sorry about that.)
• This uniform will be worn 13 times this season. The first of those games will be Dec. 8; the other 12 games will be announced this Friday. But here's the beauty part: They've actually created a bullshit "storytelling" angle for the number of games the jersey will be worn! Quoting from the press release: "New Jersey will wear the sweater 13 times — as a nod to Devils captain, 22-year old Nico Hischier, who wears jersey #13." That transcends stupid and achieves unintentional hilarity-bordering-on-genius! It also establishes a new precedent: I fully expect — nay, demand — that all teams going forward will now tie the frequency of a uniform's use to some meaningless factoid dreamed up by the marketing intern. New heights of inanity await! (Also: As Twtter=er @The_JerseyNerds points out, it's a good thing P.K. Subban isn't the Devils' captain, since he wears No. 76.)
• Remember how the Devils previously announced that their helmet ad would feature a local Black-owned business for 13 games this season? Those 13 games will be the games when this new uniform is worn. (It's not yet clear, at least to me, what the business will be.)
• Kudos to Twitter-er @svoktish1 for a brilliant rejoinder to one of the Devils' silly hype slogans:
It literally says "Made in Canada" not Made In Jersey like the title of your tweet pic.twitter.com/fbvv00K5pw

— B. J. C. (@svoktish1) November 23, 2021
• As for the uni design itself, a little bit of red trim in the striping would have gone a long way. And it seems weird for the yoke, sleeves, and socks to be so stripe-centric and then not to have the usual belly stripes. Makes the lower part of the jersey feel a bit barren.
———
And there you have it. Oh, except for all the obvious "jersey"-related jokes (which we already went through a few days ago, when discussing the leak). Hell, even the Devils themselves are making them now:
Coming soon… maybe. pic.twitter.com/Aq2wUWZYS0

— New Jersey Devils (@NJDevils) November 23, 2021
Not a good uniform, but definitely a good joke — in more ways than one.
(Big thanks to Trevor Williams for bringing @svoktish1's tweet to my attention.)
• • • • •
• • • • •

Giving thanks: With Thanksgiving taking place tomorrow, my Bulletin piece this week is an essay about things in the uni-verse that I'm thankful for. As most of you know, life has been a bit complicated here at Uni Watch HQ lately, so it was good to work on a piece where I got to count my blessings (which are numerous!).
Those of you who've subscribed to receive my Bulletin content via email should already be seeing this piece in your in-boxes. Everyone else can read it on my Bulletin page. Enjoy!
• • • • •
• • • • •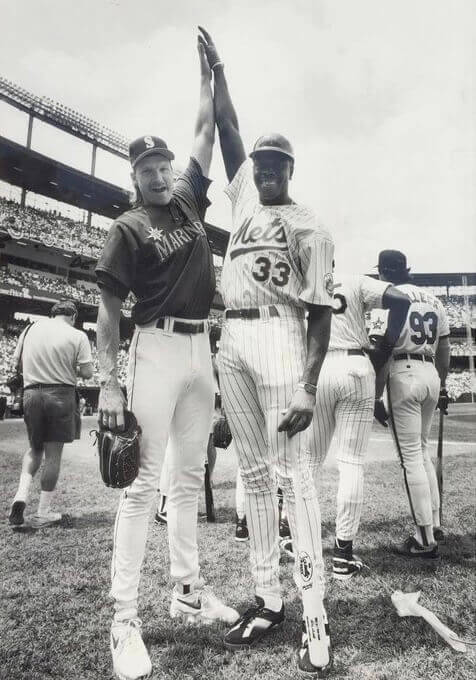 Too good for the Ticker: Who's that in the Mets uniform at the 1993 MLB All-Star Game, looking like an even bigger unit than the Big Unit? The uni number should give you a hint — it's none other than New York Knicks star Patrick Ewing! Looks like Tom Selleck in the background, too.
I think we've seen this photo before, but it came across my radar yesterday and I figured once more wouldn't hurt, right?
• • • • •
• • • • •
The Ticker
By Lloyd Alaban

Baseball News: The Mets will keep wearing their BFBS alts on Fridays next season. … An Ohio high school accused of poaching the Tigers' logo has reached an understanding with the team (thanks to all who shared). … Remember how the Royals hid a "Nice Try" message in their recent uni tease? Here's how to do that (from our own Brinke Guthrie).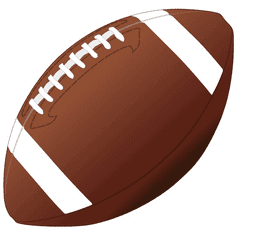 Football News: Mono-black for the Ravens this Sunday (from Andrew Cosentino). … UNC and the NFL are having Tar Heels players wear high-tech mouthguards to measure head trauma (from James Gilbert). … The coffee tables inside the President's Box at the Los Angeles Coliseum are shaped like mini Coliseums (from James Gilbert).

Hockey News: New Olympic unis for Canada. Additional photos here (from multiple readers). … USA Hockey will reveal new uniforms at 10am ET today (from @Yff26).

Basketball News: New GFGS unis for Temple women's (from @RF_30). … A surfboard featuring the autographs of all the head coaches at this year's Maui Invitational is up for auction (from Ignacio Salazar). … The D League's Wisconsin Herd will wear jerseys featuring a collage of art by local artists on Nov. 29 (from Brian Kerhin).

Soccer News: The first three items are from Trevor Williams: Argentina could be wearing purple as an alternate kit for the World Cup. … Swedish side Malmö wore their away kits at home yesterday to avoid a kit clash with Zenit. … New Christmas shirt for German side 1860 Munich (also from Ed Zelaski). … Italian side AS Roma is adding a sleeve patch to raise awareness of violence against women (from @Sebastian42195). … Multiple readers last night commented on how much they liked the purple-vs.-gold matchup between Nashville and Orlando City. … French club Saint-Étienne is letting fans vote on a new crest (from our own Anthony Emderson).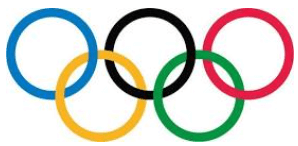 Olympics News: Cross-listed from the Hockey section: New hockey unis for Canada. Additional photos here (from multiple readers). … Canada has also revealed its its curling jerseys, which have an Indigenous theme (from multiple readers).

Grab Bag: New logo for Brazilian women's volleyball club Osasco (from Jeremy Brahm). … New 100th-anniversary logo for Monza, home of the Italian Grand Prix (from Rob Altman). … New uniforms for the Royal Australian Navy (from @SVeillance). … During the recent women's rugby union test match between Wales and Canada, Canadian player Emily Belchos De Goede wore full leggings. "She was the only player to do so," says Graham Clayton.
• • • • •
Our latest raffle winner is Amy Marantino, who's won herself a Uni Watch Alternate Cap. Congrats to her, and thanks to birthday boy Chris Hickey for sponsoring this one. — Paul