For all photos, click to enlarge
When I announced a few weeks ago that I'd be visiting Durham, N.C., reader John Austin got in touch to recommend that I check out the Carolina Basketball Museum, which is on the UNC campus, while I was in town. I have no particular connection to UNC, and I don't even follow college hoops that much these days, but I figured it might be worth a quick look, so I stopped by last Saturday morning.
I was seriously impressed. From the curation to the presentation (they clearly hired a high-end exhibition design firm), everything was top-notch. Sometimes places like this just throw a bunch of crap on the wall without any discernible rhyme or reason, but everything at this museum made sense and was done with obvious thought and care. No dusty, cobwebbed displays, no typos on the informational placards, no bullshit — just a really good museum experience. Uni Watch's highest rating!
Also: I had expected that there'd be an outsized amount of material pertaining to Michael Jordan. That would have been the obvious and easy route to take, right? But that's not what they did. Sure, there was some Jordan content, but not much more than for any other former UNC player. I really respected that approach of not letting any one player be bigger than the program.
Photography was a bit challenging because of the lighting and reflections from the glass cases, but I managed to get a few dozen decent pics. Here they are, broken down by category:
Jerseys
As you'd expect, there were lots and lots of jerseys on display. I loved seeing the late-1950s ones with the red-beaded trim and the super-snug chest lettering (plus they also had a pair of shorts from that same uni):
It was also interesting to see how the collar styles and typography have morphed over the years:
I had forgotten that there was a phase when the entire jersey — including the collar! — was mesh. It's an awful, cheapo look that seems like it would be more appropriate for a practice jersey, but it was interesting to see it up close:
I liked the connection between this 1924 team portrait and the 1999 alternate jersey:
They even had a few sweatback designs:
There were also a few jerseys worn by UNC alums in the Olympics and other non-NCAA settings:
Warm-Ups
One of the most interesting things was seeing the wide variety of warm-up tops and jackets on display, starting with these quarter-zip Durene beauties:
I would totally wear those!
Can't say I'm quite as fond of these denim jacket warm-ups:
I was surprised to see some warm-up cardigans from the 1950s that appeared to be maroon-ish:
Here are some other warm-up styles that were on display. Note that the first one in this group has red shoulder sleeves, matching the red trim on the late-1950s uniforms we saw earlier:
Socks
Back in the day, UNC routinely had uni-numbered socks, so I was hoping they'd have some of those on display. Sure enough, they did:
As you can see, the socks were actually stirrups. This isn't so unusual — lots of basketball teams used to wear stirrups with white crew socks over them. But here's the part that's never been clear to me: Did they wear sannies/undersocks, then the stirrups, and then the crew socks (for a total of three hosiery layers), or did they put the stirrups over their bare feet and then add the crew socks (two total layers)? Anyone know?
Basketballs
I enjoyed seeing some of the old balls stamped with old lingo, like "Last Bilt." Here are a few that they had on display:
Bling and Hardware
As you might expect, there were lots of championship rings on display, along with other trophies and some wristwatches:
Press Passes
I love that the curators thought to include some press passes — a nice touch to round things out:
Publications
There weren't many programs, yearbooks, or things like that (which I found somewhat surprising), but here are a few items they did have:
Miscellany
There were also things that didn't fit into any particular category but were nonetheless interesting, like this bizarre weighted vest that players sometimes had to wear as punishment for breaking a rule:
I also liked this travel bag that once belonged to Michael Jordan:
And I loved former player Bill Chamberlain's Carolina blue blazer with "UNC" embroidered on the chest pocket:
———
There was more — a lot more — but that should be enough to give you an idea of how great this place is. Even better: Admission is free! Definitely worth a visit if you're in the area.
(Huge thanks to John Austin for recommending the museum to me, and to my Durham-based buddy Tim Adams for chauffeuring me to the museum and patiently waiting while I geeked out over all the exhibits.)
• • • • •
• • • • •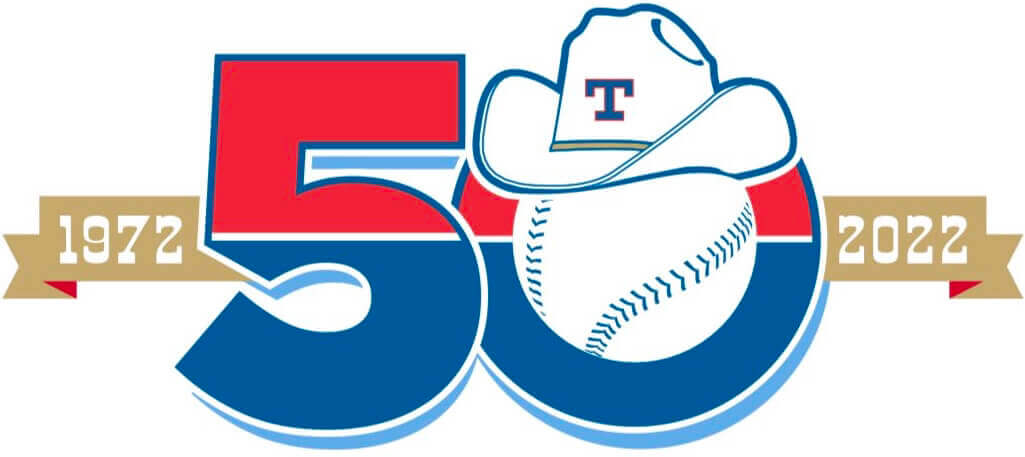 The big five-oh: The Texas Rangers yesterday announced their 2022 promotional schedule — and, with it, a new 50th-anniversary logo. No official word yet about this logo being used as a patch, but that will surely happen (hopefully just on the sleeve, not on the cap).
The logo includes the cowboy hat from the team's 1970s logo, the "T" cap logo from the 1970s and '80s, a powder blue drop-shadow, and the baseball from the team's current logo. Also, like the current logo, the anniversary logo is half-red and half-blue — a perfect representation of the team's decades-long inability to choose between being a blue team or a red team.
The Rangers wore a series of throwbacks for their 40th-anniversary season in 2012. Will they do the same next year? No official word yet on that, but the promo schedule has lots of throwback shirsey giveaways, so it would certainly make sense for them to wear throwback unis on those dates. Stay tuned.
• • • • •
• • • • •
New threads.

11.19.21. pic.twitter.com/L7ANADU9yx

— Kansas City Nice Trys (@Royals) November 17, 2021
Well played: The Royals yesterday teased a new alternate uniform (probably a solid-powder design) that will be unveiled tomorrow. As is usually the case these days, fans immediately began tinkering with the teaser photo's exposure, contrast, and so on, hoping to glean some additional info about the new uni. When they did that, here's what they found (click to enlarge):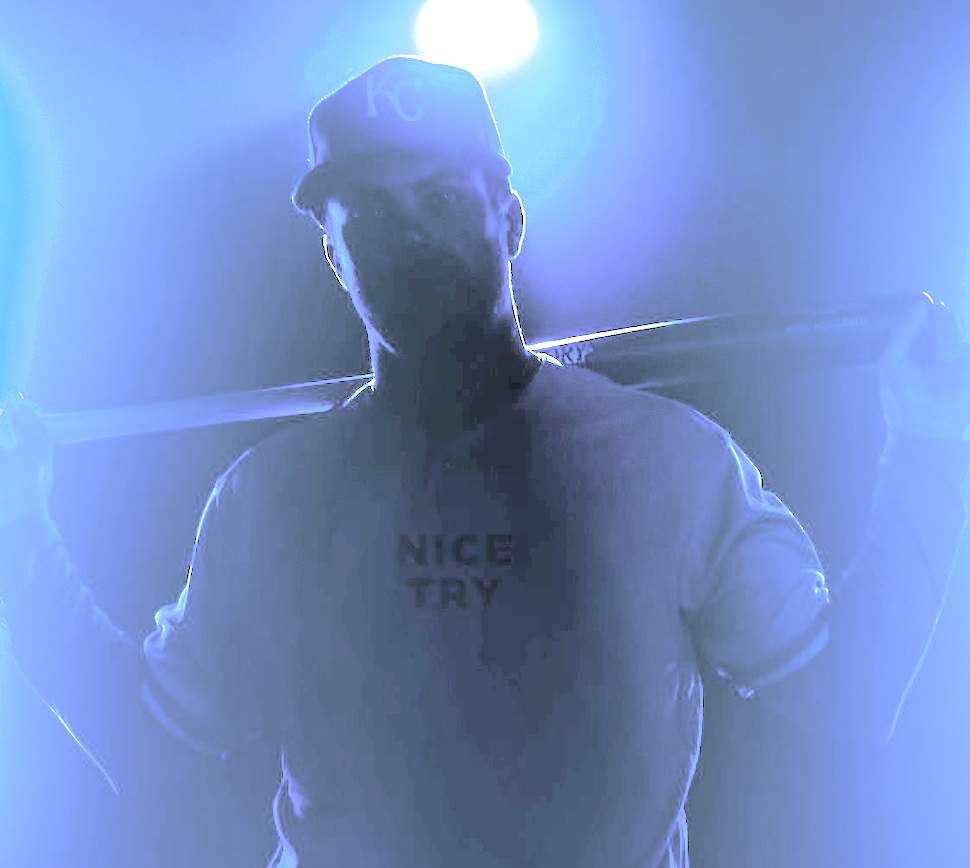 The Royals aren't the first team to do something like this (I can't recall which other teams have done it, but I know it's been done), but they took things a step further by changing their Twitter account name and profile text: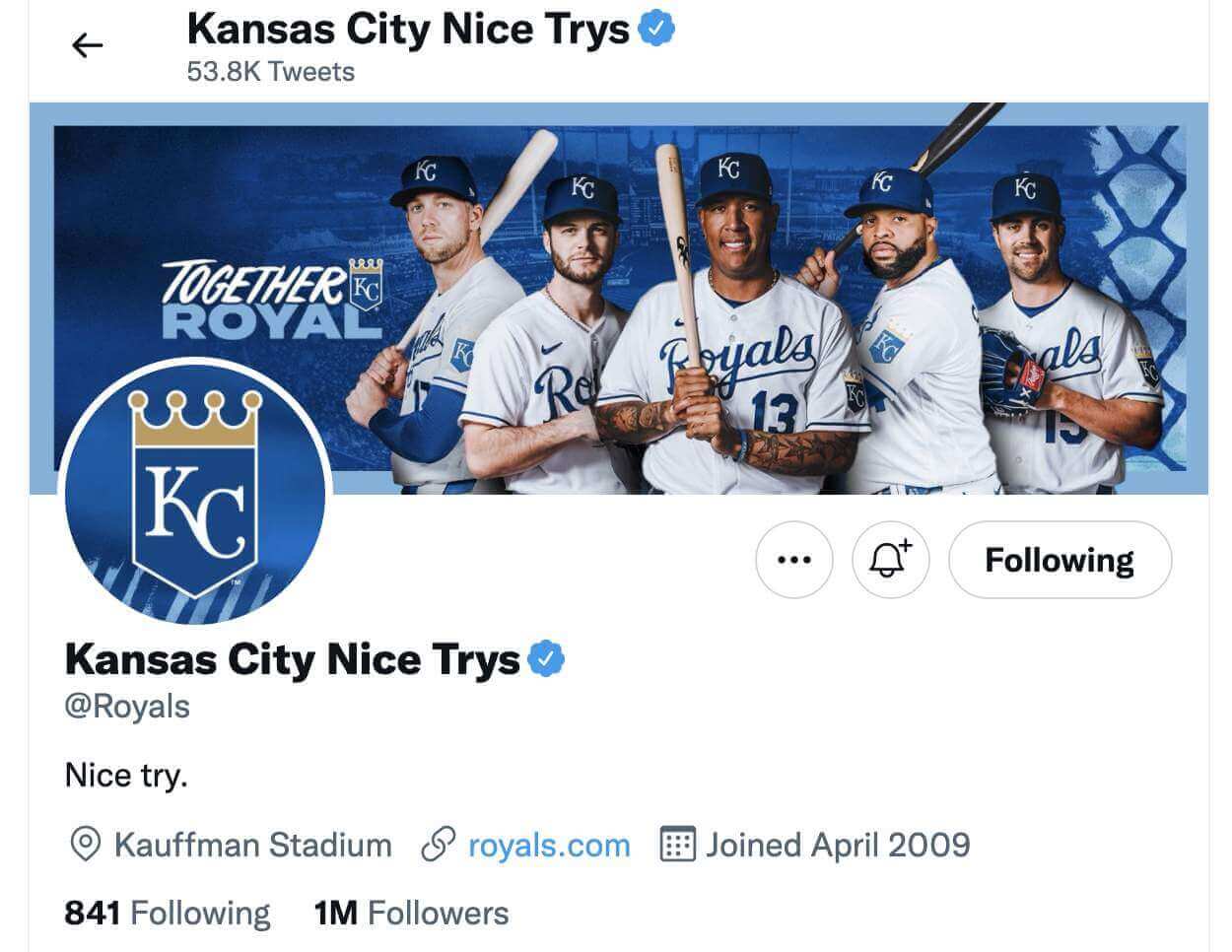 That's pretty funny. I wish my favorite team had half that sense of humor.
• • • • •
• • • • •
Warmups underway in Cleveland. Both teams come out wearing white jerseys … something's gotta give. pic.twitter.com/0DdRgHwtYN

— Lukas Favale (@LukasFavale) November 17, 2021
Oopsie: Bit of a cock-up last night in Cleveland, as the AHL's Cleveland Monsters and Syracuse Crunch both came out of their dressing rooms wearing white uniforms. How does this happen?!
The Monsters eventually changed to dark unis (no surprise, since the home team obviously has more wardrobe options on hand than the road team) and the game proceeded.
• • • • •
• • • • •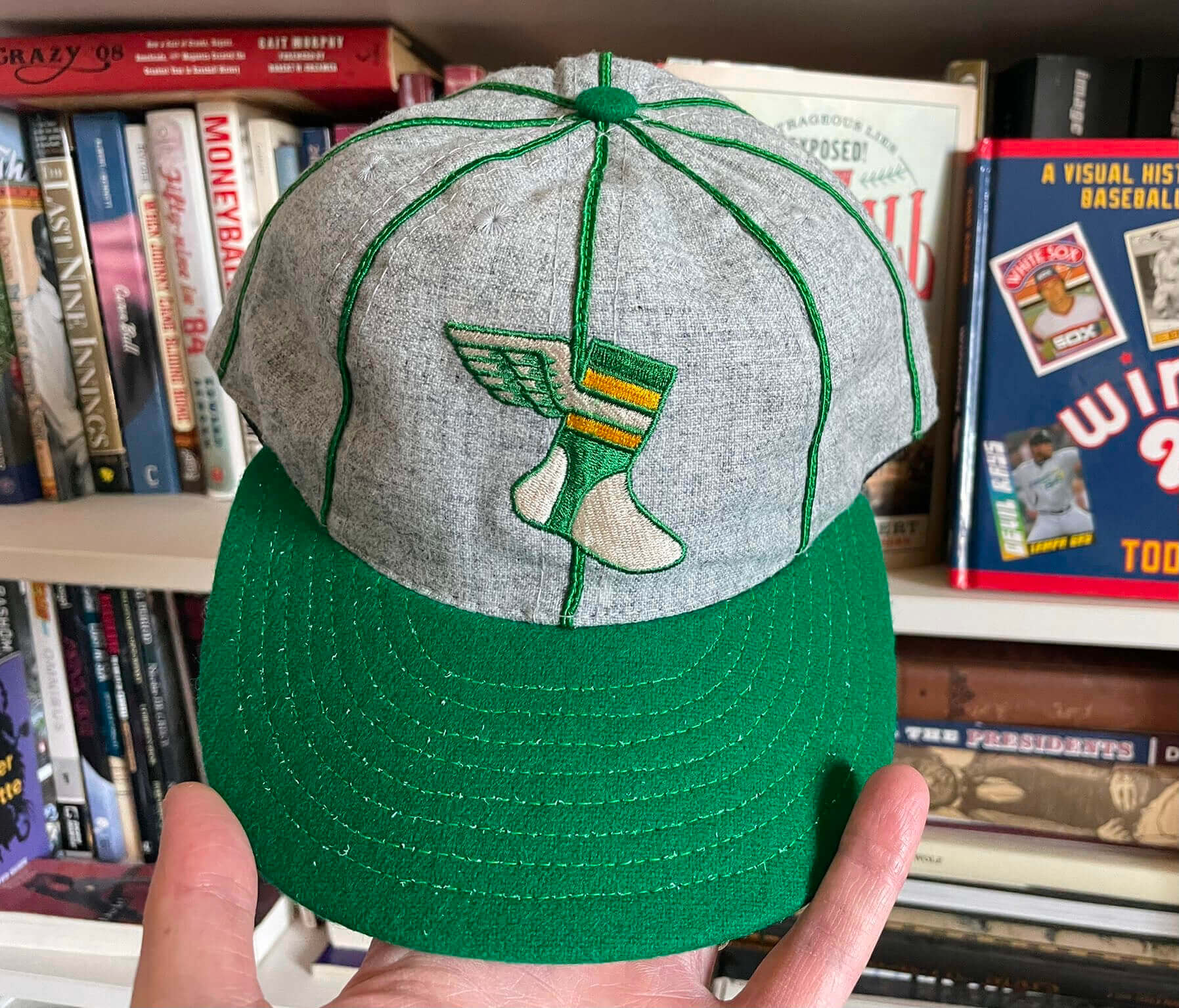 Photo by R. Scott Rogers; click to enlarge
Cap inventory update: Supplies of the Uni Watch Alternate cap continue to dwindle. Here's what we have left:
7-1/8: 1
7-3/8: 1
7-5/8: 4
7-3/4: 2
7-7/8: 3
All other sizes are sold out. The hat is available here while supplies last.
• • • • •
• • • • •
Sorry, no Ticker today, as I was busy yesterday dealing with various family dramas. You can keep up with most of yesterday's Ticker-worthy news by scrolling through my Twitter feed.
Speaking of family dramas: Thanks so much to everyone who sent kind thoughts yesterday, publicly and privately, about our little Covid outbreak here at Uni Watch HQ. I'm happy to report that I once again tested negative yesterday (although I won't feel like I'm truly in the clear until I come up negative for today and tomorrow). So the good news is that I'm still okay, and the bad news is that Mary therefore has to remain at the Chez Covid hotel/sanitarium. She has mild symptoms, but nothing too horrible. She's allowed to receive deliveries (but not packages, oddly), so yesterday I sent her some flowers to brighten up her otherwise drab room, and of course we're constantly texting, Zooming, and so on. It's not ideal, but it's not the end of the world either. We'll get through this.
Thanks again for all your support. It makes a difference! — Paul