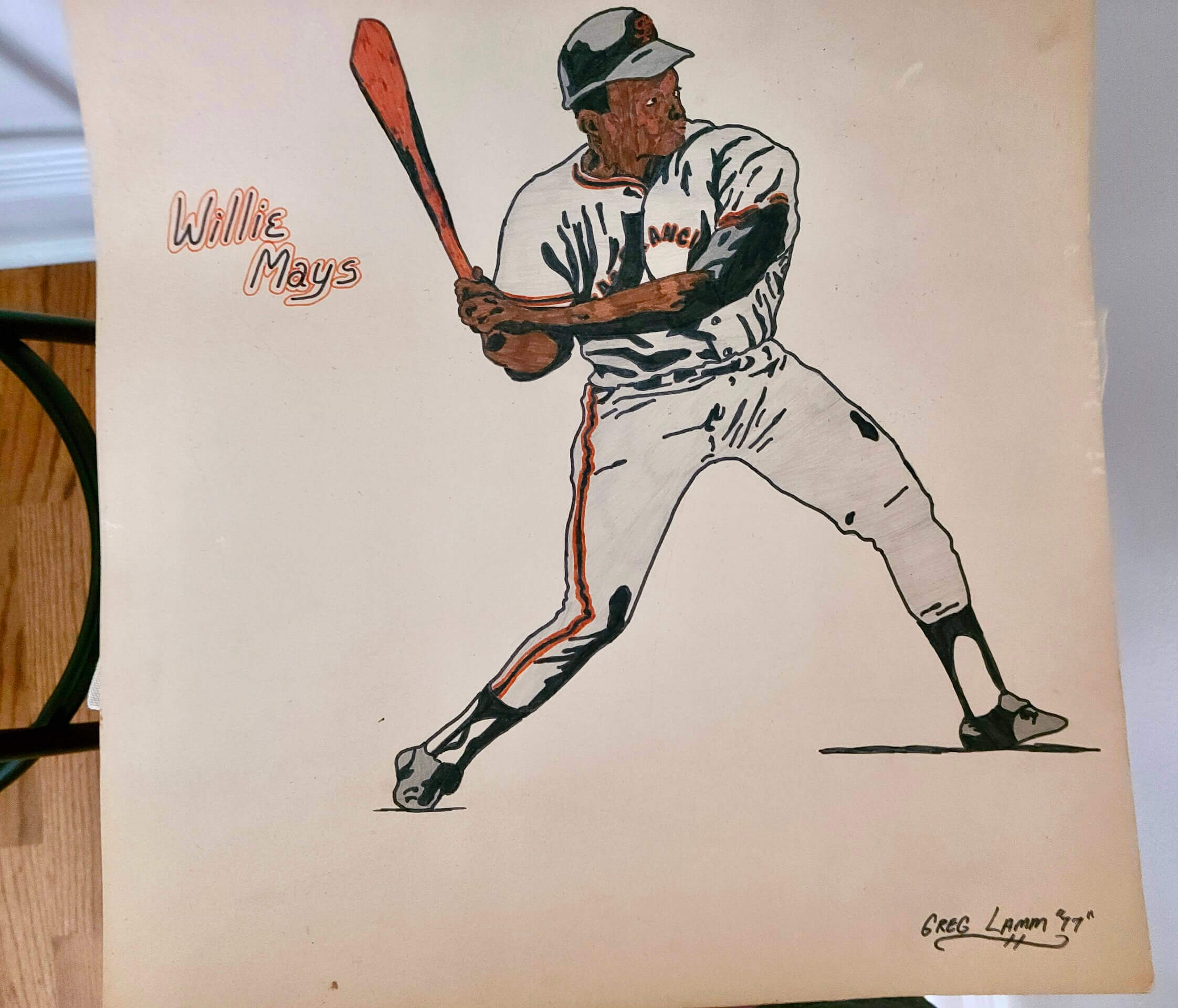 For all photos, click to enlarge
I received a note the other day from reader Greg Lamm, as follows:
I was able to go back to my hometown in West Virginia this summer and see my Mom for the first time since Thanksgiving of 2018. While I was there, I got a nice surprise: She gave me two large envelopes full of stuff she had saved during my childhood.

Included amidst all the old report cards and whatnot were some sports pictures I had drawn. I had not seen these for well over 40 years and had no idea she had kept them. There are many going back to when I was eight or nine years old. The earlier ones are pretty primitive, but I improved as I got older.
As you all probably know by now, I love childhood uni artwork, and Greg's is really wonderful. Check out that Willie Mays illo shown above — it's from 1977, when Greg was 14. I particularly love the outlined lettering of Willie's name, and even the little flourish under Greg's signature adds a special touch.
Greg's email mentioned that he grew up in West Virginia, so of course he did a WVU football drawing: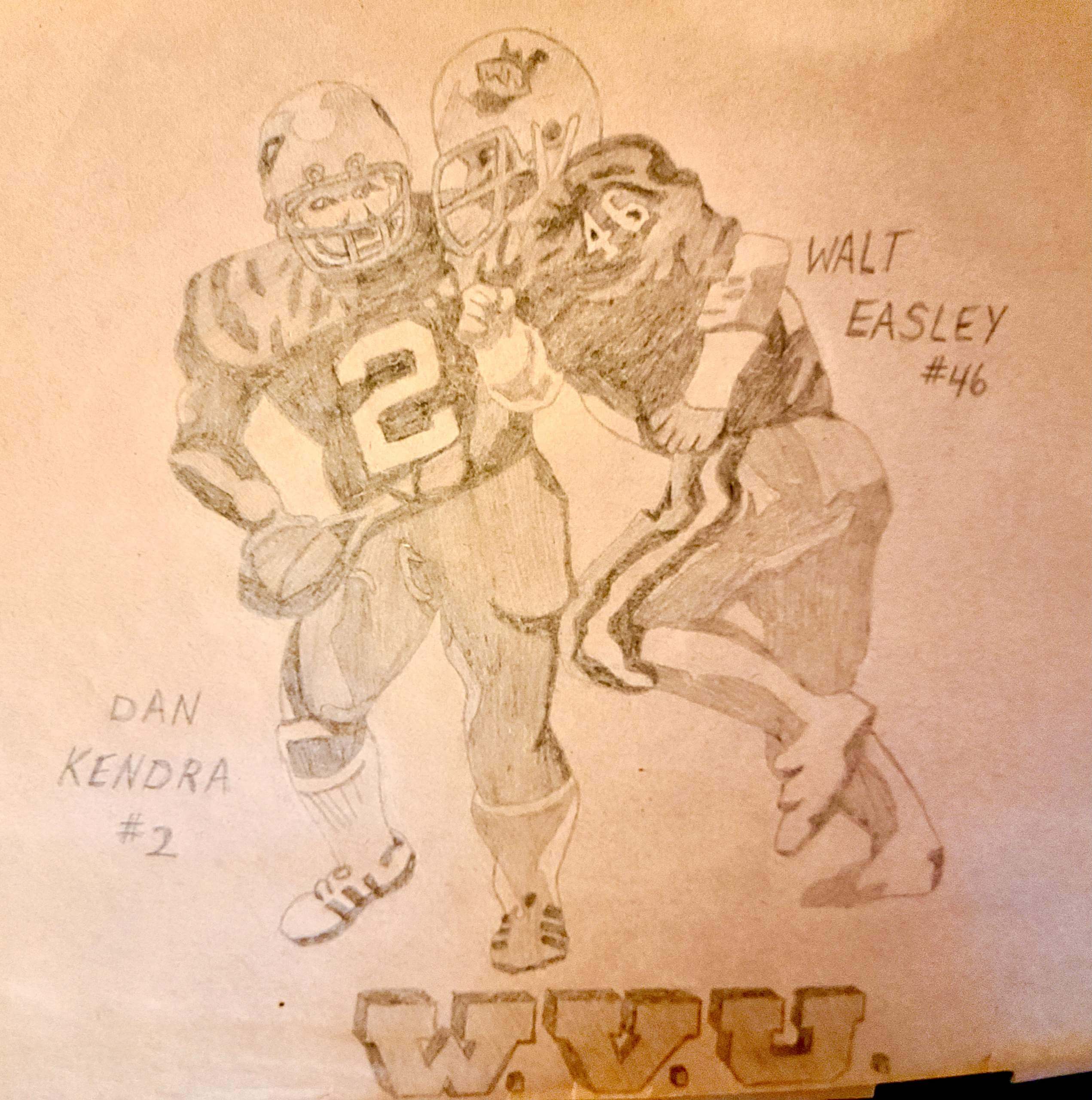 Check out that block-shadowed lettering at the bottom — pretty good for a kid, right?
With no top-level pro teams in West Virginia to root for, Greg became a fan of Pittsburgh's teams, as evidenced by this drawing of Steelers linebacker Jack Ham:
He was also a Pirates fan. I love this group shot of the 1977 team, showing all sorts of mix-and-match bumblebee uni combos:
All of these are from what we might call Greg's "modern" period. But as mentioned in his email, he also had an earlier, more "primitive" period. Here are some pieces from that era, starting with baseball: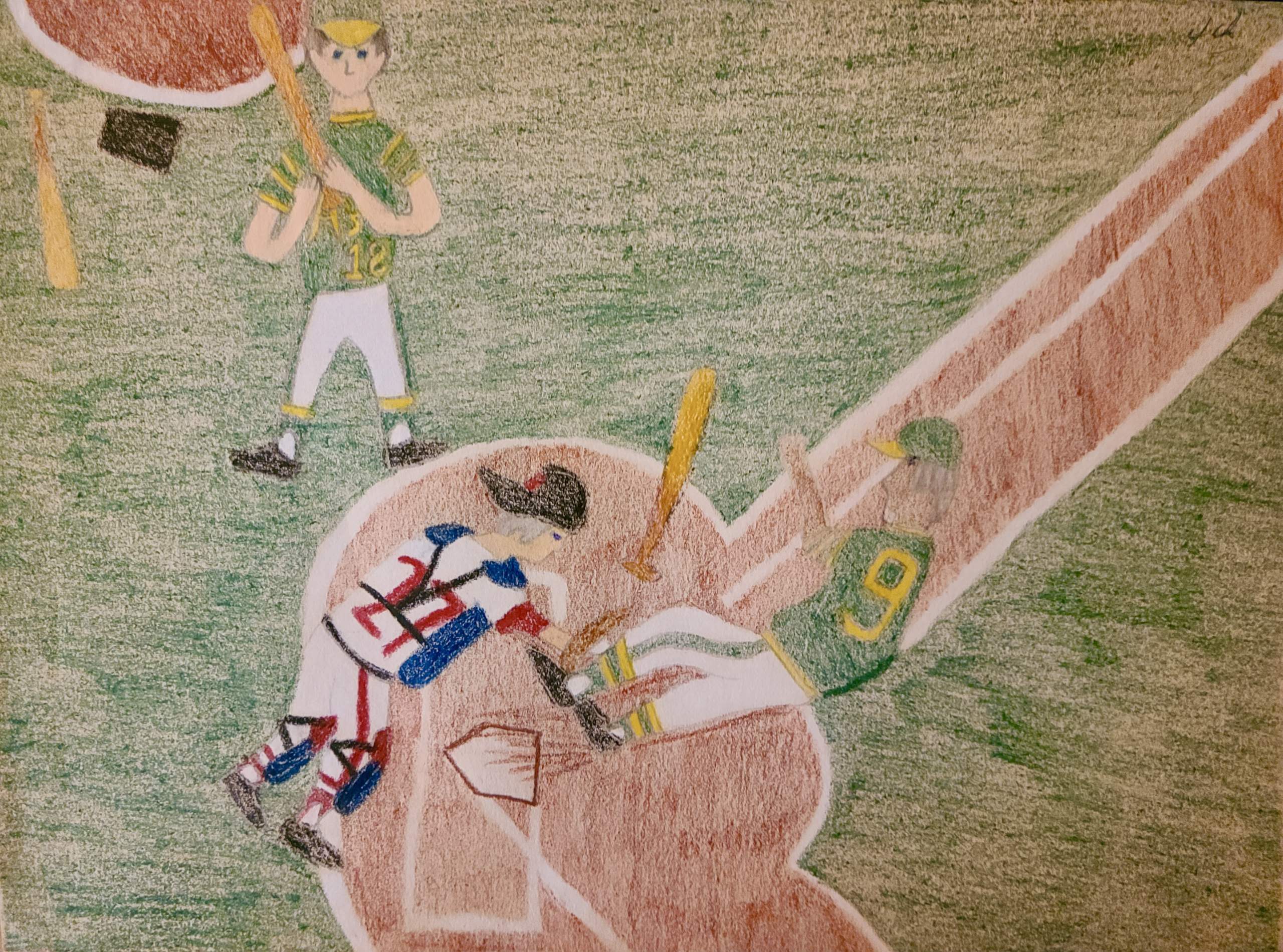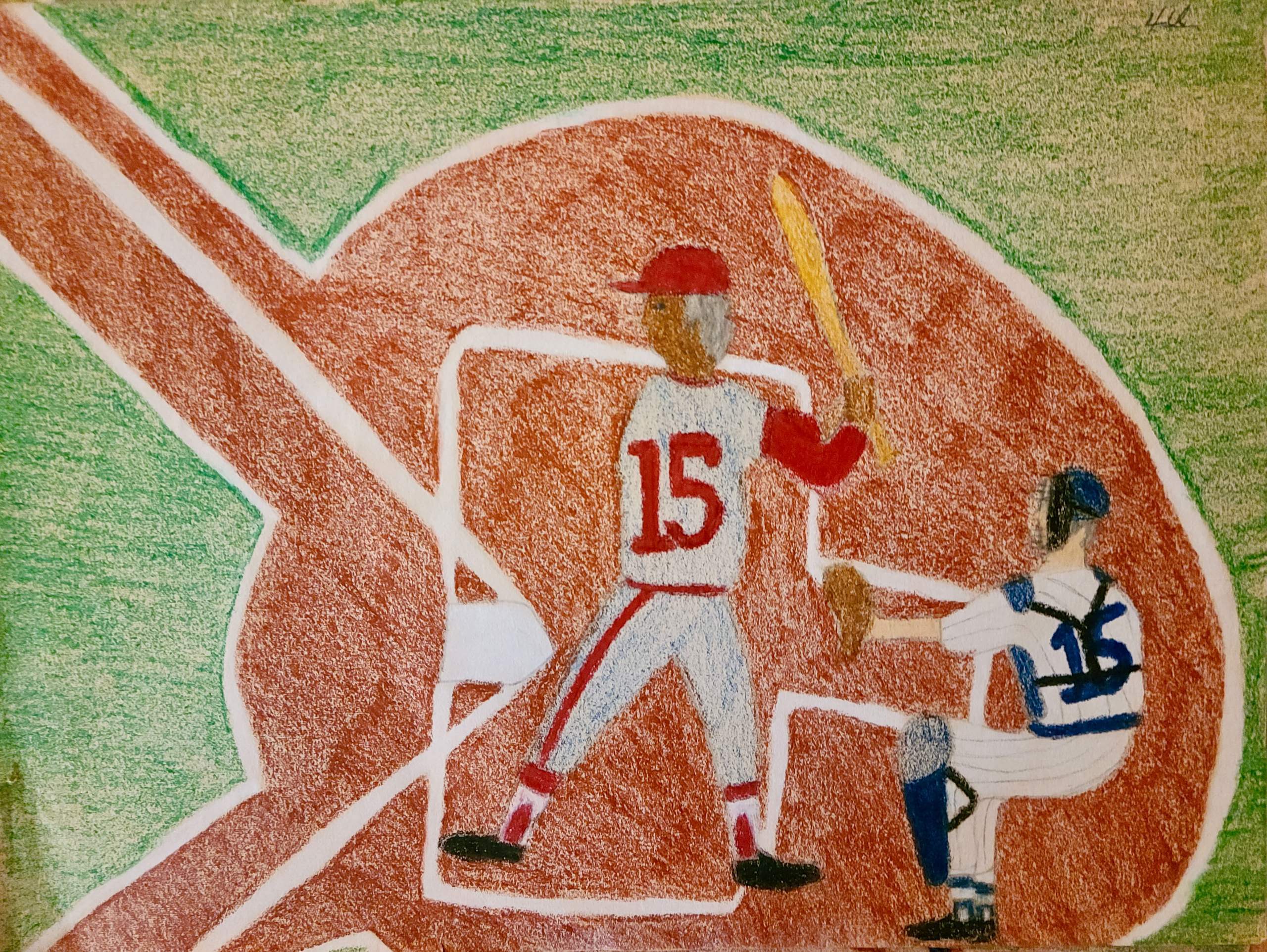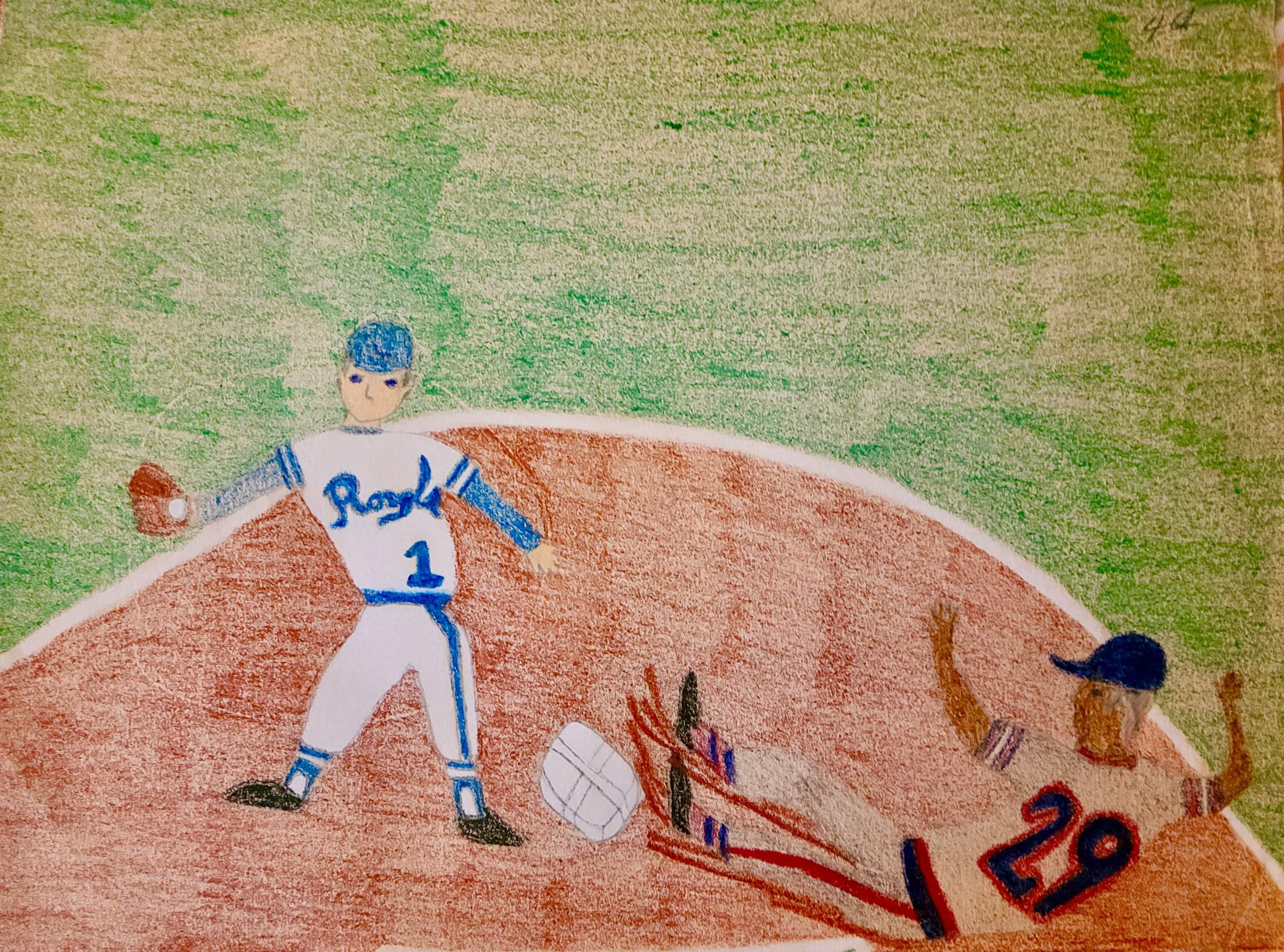 The primitive period also included some NFL scenes (I especially like the first one because it shows how Greg accurately depicted three distinct facemask styles):
Here's a really ambitious one — so many players! And if you look closely at the helmets, you can see that this is a depiction of the Pro Bowl, from the days when the two teams wore conference-specific helmets:
I'll let Greg explain these next few:
I loved to play sports board games when I was a kid. I had Strat-O-Matic and I would play entire seasons with stats and everything. I also had a game called APBA. What was different with APBA player cards, as opposed to Strat-O-Matic, was that the player cards did not have a team designation. So I just threw them all in a pile one day and redrafted about 20 teams. I made up names and logos and uniforms. So these are some of those made-up teams.
How great is that? And I love the uniforms Greg came up with for his fictional teams. So good!
I love all of this. There's more enthusiasm, creativity, inspiration, and love in these drawings than in a million Nikefied "storytelling" designs. Big thanks to Greg for sharing these with me and allowing me to share them with you. You can see even more of his drawings here.
• • • • •
• • • • •
Click to enlarge
Bucks not shelling out the bucks: On Monday the Bucks became the first NBA team since 2016 to make a visit to the White House. Interestingly, the jersey that they gave to President Biden did not have the gold championship tab on the back collar, suggesting that they used a lower-priced replica, not an authentic.
Also, the Bucks didn't wear that green jersey design at all during last season's Finals, so it's a bit odd that that's the design they chose to use as a gift. Curiouser and curiouser!
• • • • •
• • • • •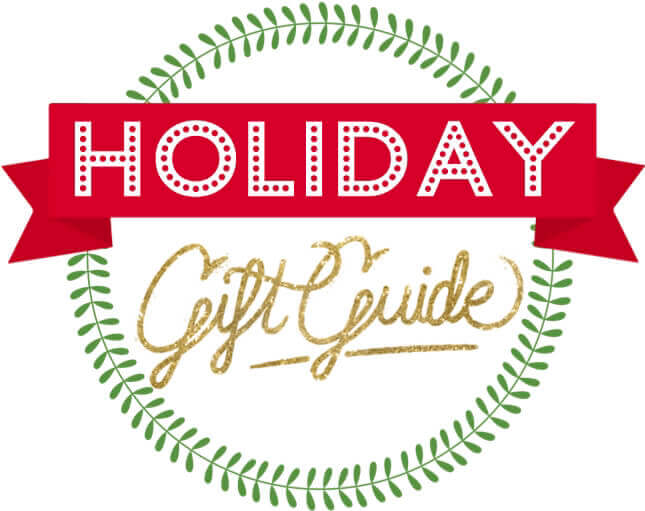 ITEM! Gift ideas needed: With Hanukkah coming unusually early this year (Nov. 28) and supply-chain issues prompting lots of "Shop early!" advisories, I'm going to run this year's Uni Watch Holiday Gift Guide a bit earlier than usual — probably around the end of next week.
I already have a bunch of good stuff to include in the guide, but I'm always looking for more. So if you know of any cool products or services having to do with uniforms, logos, or any other aspect of athletics aesthetics (but not the standard mass-market jersey and cap offerings, since everyone already knows about those), feel free to send your tips my way. Big thanks in advance for your suggestions!
• • • • •
• • • • •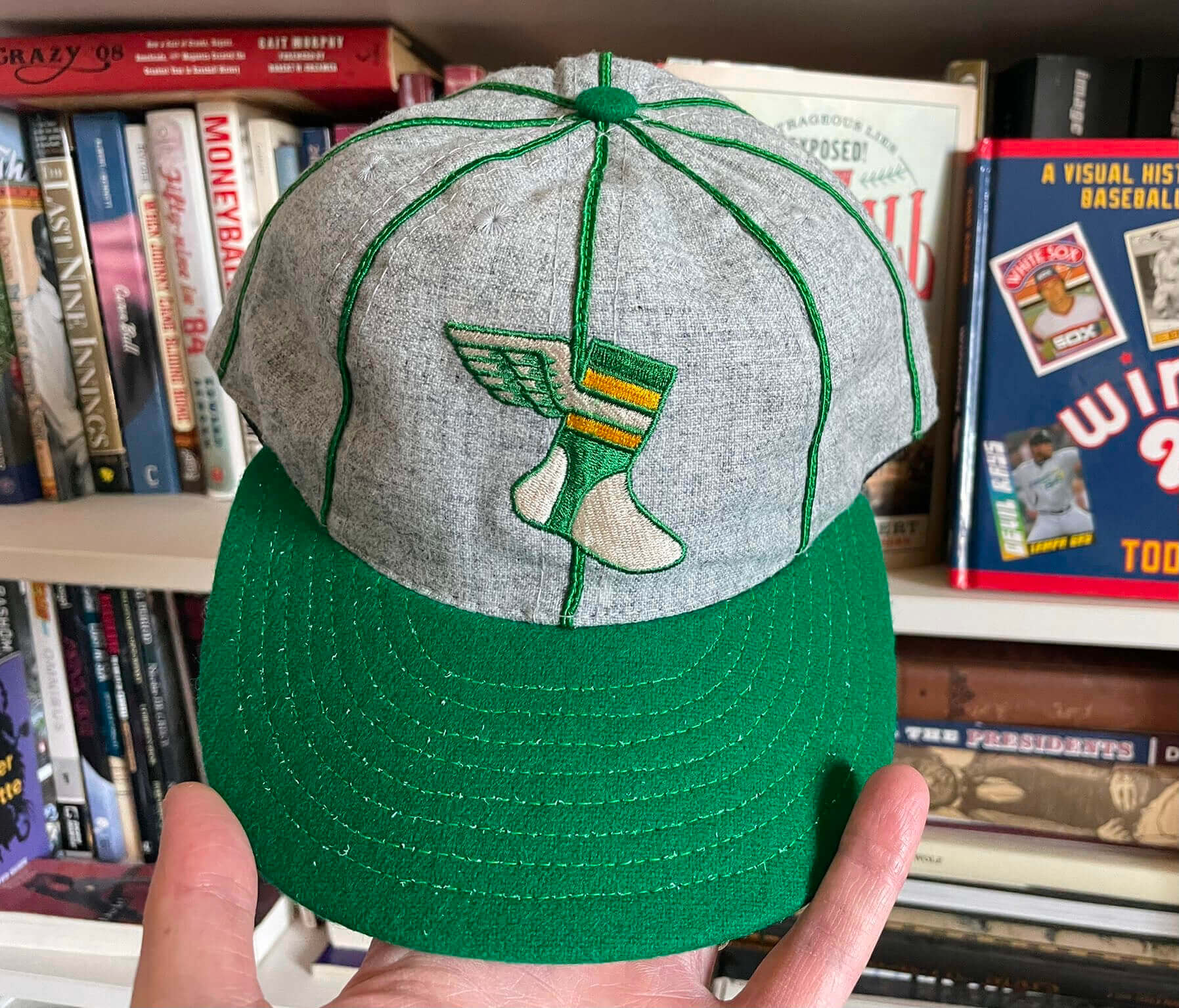 Photo by R. Scott Rogers; click to enlarge
Going fast: We're running low of most sizes of the Uni Watch Alternate Cap. Here's what I have remaining:
7: Sold out
7-1/8: 1
7-1/4: 2
7-3/8: 1
7-1/2: 2
7-5/8: 4
7-3/4: 2
7-7/8: 3
8: Sold out
Move fast if you want one of these. Additional photos and ordering details here.
• • • • •
• • • • •
The Ticker
By Lloyd Alaban

Baseball News: Items available at charity auction connected to the Houston Open golf tournament included various retro-styled Astros jerseys signed by famous pro golfers. Also, former NFLer Ed "Too Tall" Jones was on hand, wearing a Tequila Sunrise jersey (from Ignacio Salazar).

College Football News: How much did Nike charge Virginia Tech for the 1999 throwback jerseys the Hokies wore earlier this season? $16,140.02 (from our own Phil Hecken). … Penn State men's hockey G Doug Dorr's new pads feature a depiction of the Beaver Stadium gates (from William F. Yurasko). … Marshall will wear helmets honoring the 1970 plane crash victims this weekend (from M. Brinston Berry). … UNC will go Carolina blue over white this week against Pitt (from Jorge Cruz). … YouTube TV used two different logos for Akron yesterday — one for its football team and one for its men's basketball team (from Mike Moss). … Ohio still has sideline equipment with the now-defunct Bowl Championship Series logo on it (from Jacob P. Roberts).

Hockey News: New helmet ad apparently in the works for the Avalanche (from Andy, who didn't give his last name). … Maple Leafs C Auston Matthews has "Movember"-themed skates and a matching stick (from Todd Minerson). … Cross-listed from the College Football section: Penn State men's hockey G Doug Dorr's new pads feature a depiction of the Beaver Stadium gates (from William F. Yurasko). … New warm-ups for the Cincinnati Cyclones of the ECHL. … Here is the Remembrance Day sweater for the Kelowna Chiefs of the KIJHL (from Brock Jackson). … Blackhawks G Marc-Andre Fleury has a new Native American-themed mask, designed by Ojibwe artist Patrick Hunter (from David Cummings). … "Offside Tavern in NYC has been using a clear knockoff of the Islanders' old fisherman logo," says Michael Raskin. "Instead of suing them, the team embraced the bar (before it closed during the pandemic). Now there will be an Offside Tavern outlet in the upper concourse of the team's new arena. It's refreshing to see a team reacting this way, rather than just issuing a C&D letter."

Basketball News: Arkansas men's coach Eric Mussleman received custom Nike sneakers emblazoned with the names and numbers of Arkansas players (from Christopher Jones). … New court for the University of San Francisco (from Ethan Kassel). … Cross-listed from the College Football section: YouTube TV used two different logos for Akron yesterday: one for its football team and one for its men's basketball team (from Mike Moss). … Fox's new college basketball scorebug is taking some heat for its obtrusive size. … New road uni for Abilene Christian men's.

Soccer News: The Premier League has refused a request from home clubs to wear their away kits on Boxing Day to raise awareness and funds for Shelter, a homelessness charity (from Mark Coale). … The name of the San Diego NWSL expansion team is San Diego Wave FC. No crest or colors yet (from our own Jamie Rathjen). … New home shirt for Cork City (from Ed Zelaski). … New third shirts for Iraq (from Trevor Williams). … New warm-up gear for TCU women's as they head into the postseason. … New third kit for Cape Town City FC (from Trevor Williams).

Grab Bag: New advertised name for the pro golf's European Tour (from Timmy Donahue). … Giveaways at the Houston Open include a Brooks Koepka bobblehead (from Ignacio Salazar). … A pro-Trump group has poached the Ryder Cup logo (from Shane McNichol).