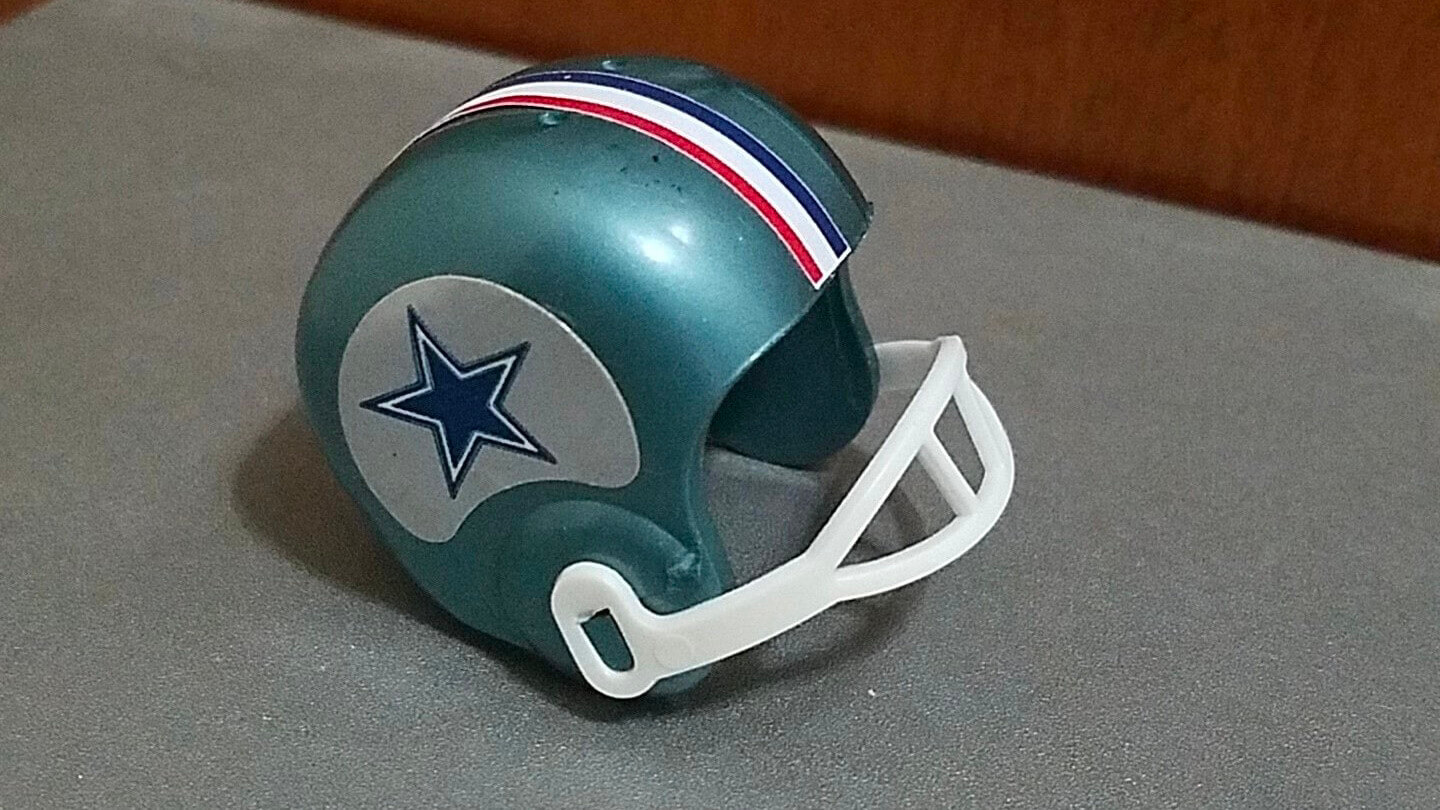 Photo by @Gumball_Helmets; click to enlarge
As I previewed last Thursday, the Cowboys revived their 1976 red/white/blue helmet striping for yesterday's game against the Broncos. The photo shown above should really be all you need to get a sense of how the red stripe looked, but here are a few additional pics, just in case (for all remaining photos in this section, you can click to enlarge):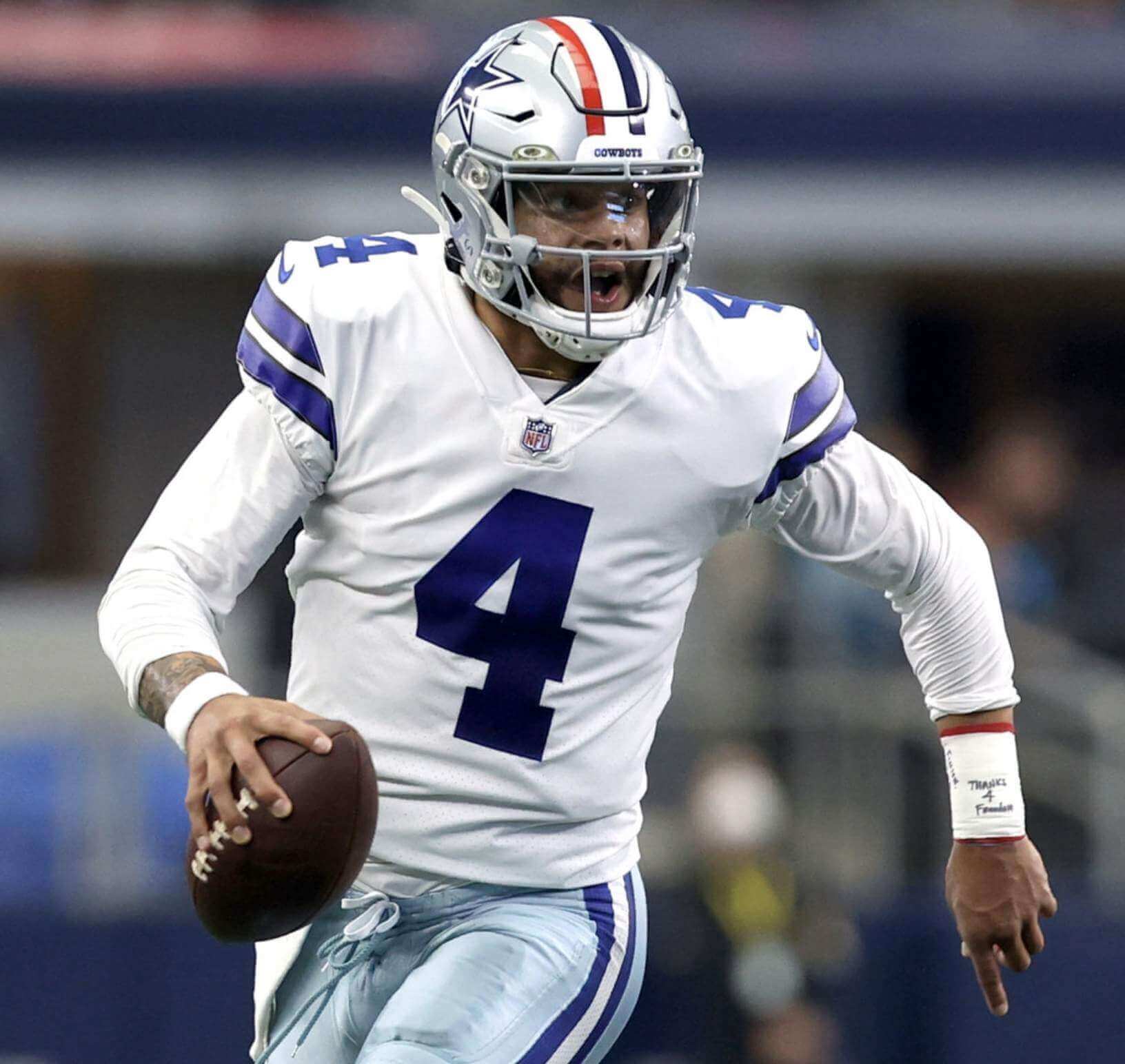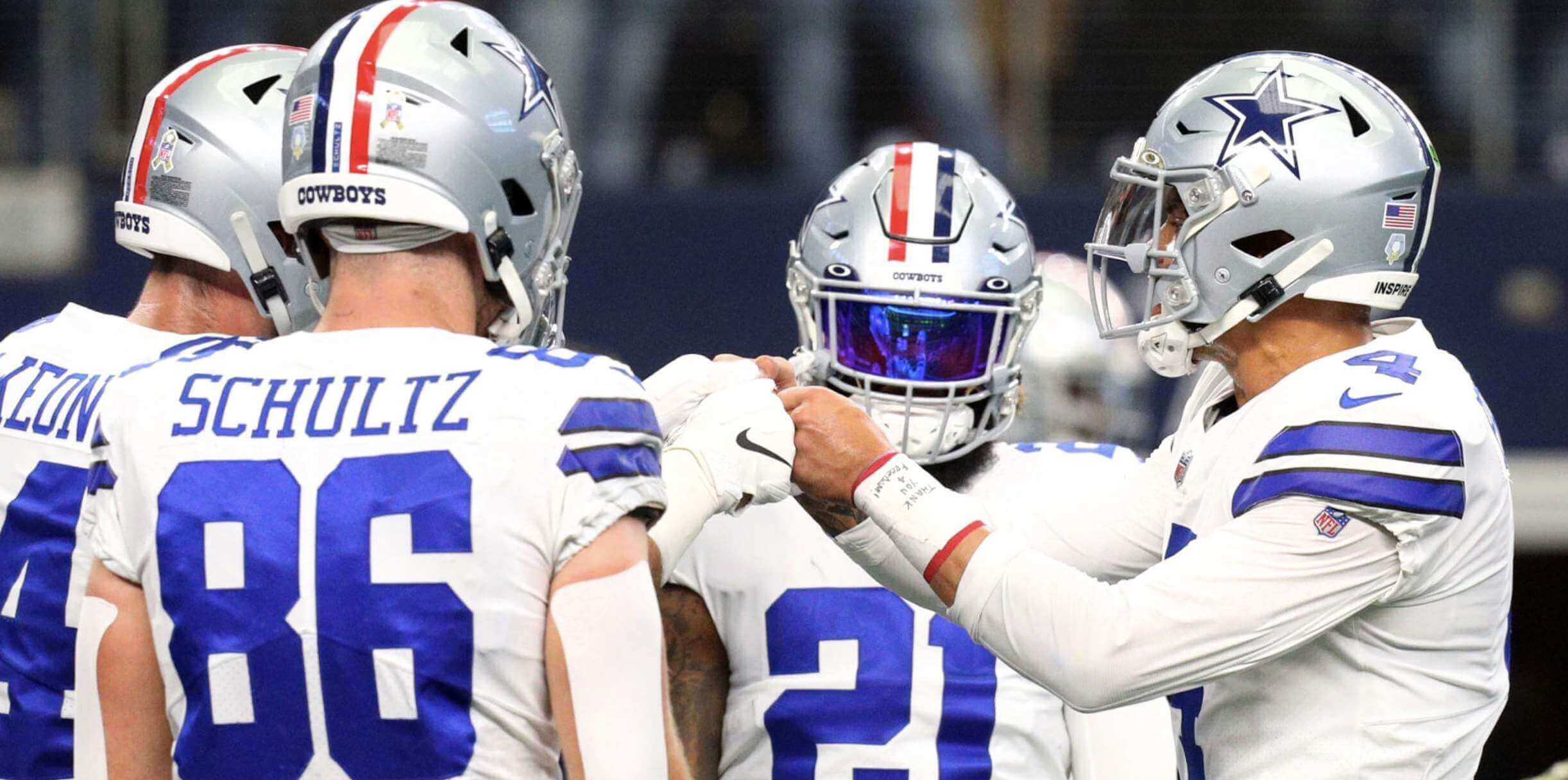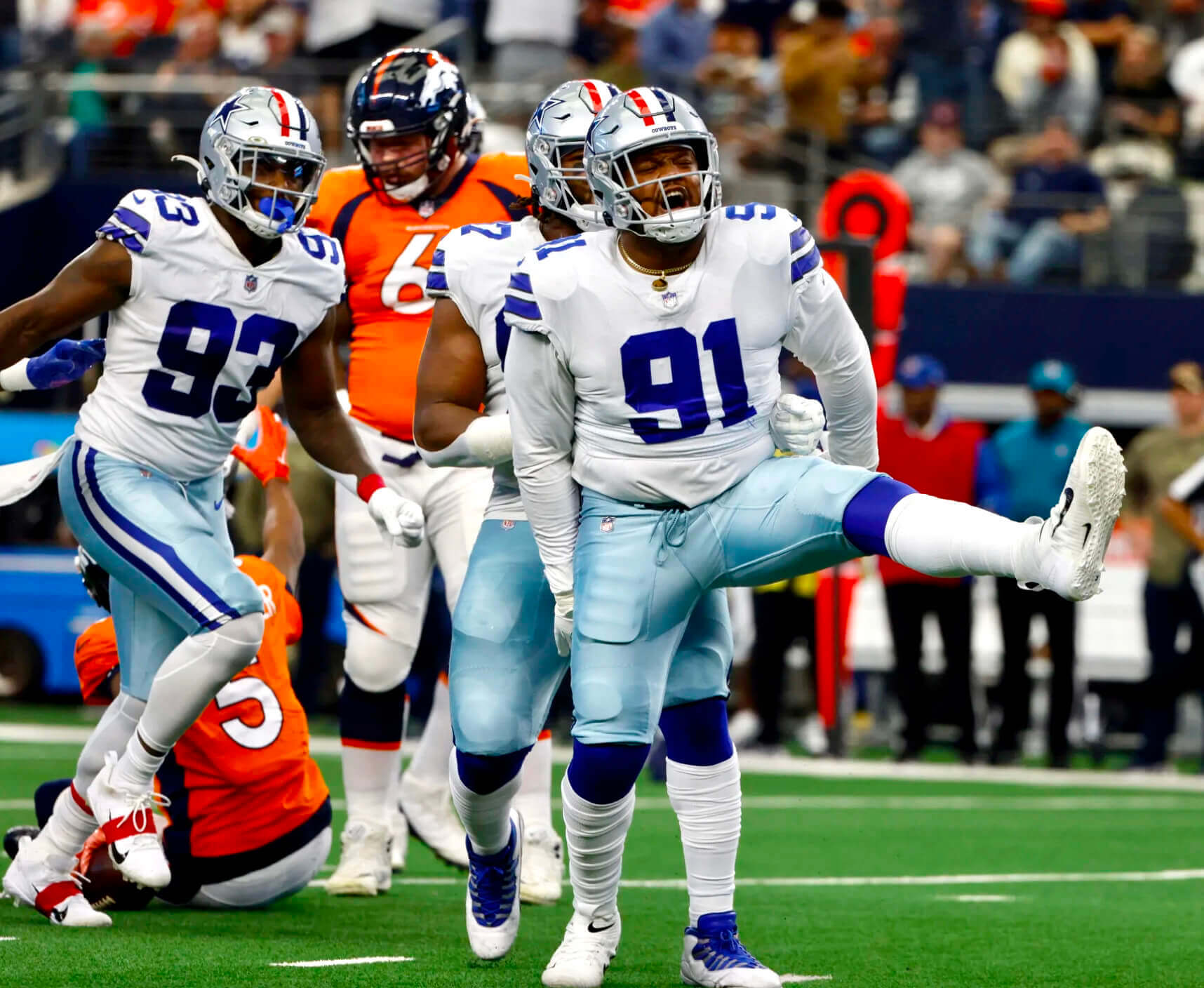 Both teams also wore helmet decals featuring the logo of the National Medal of Honor Museum: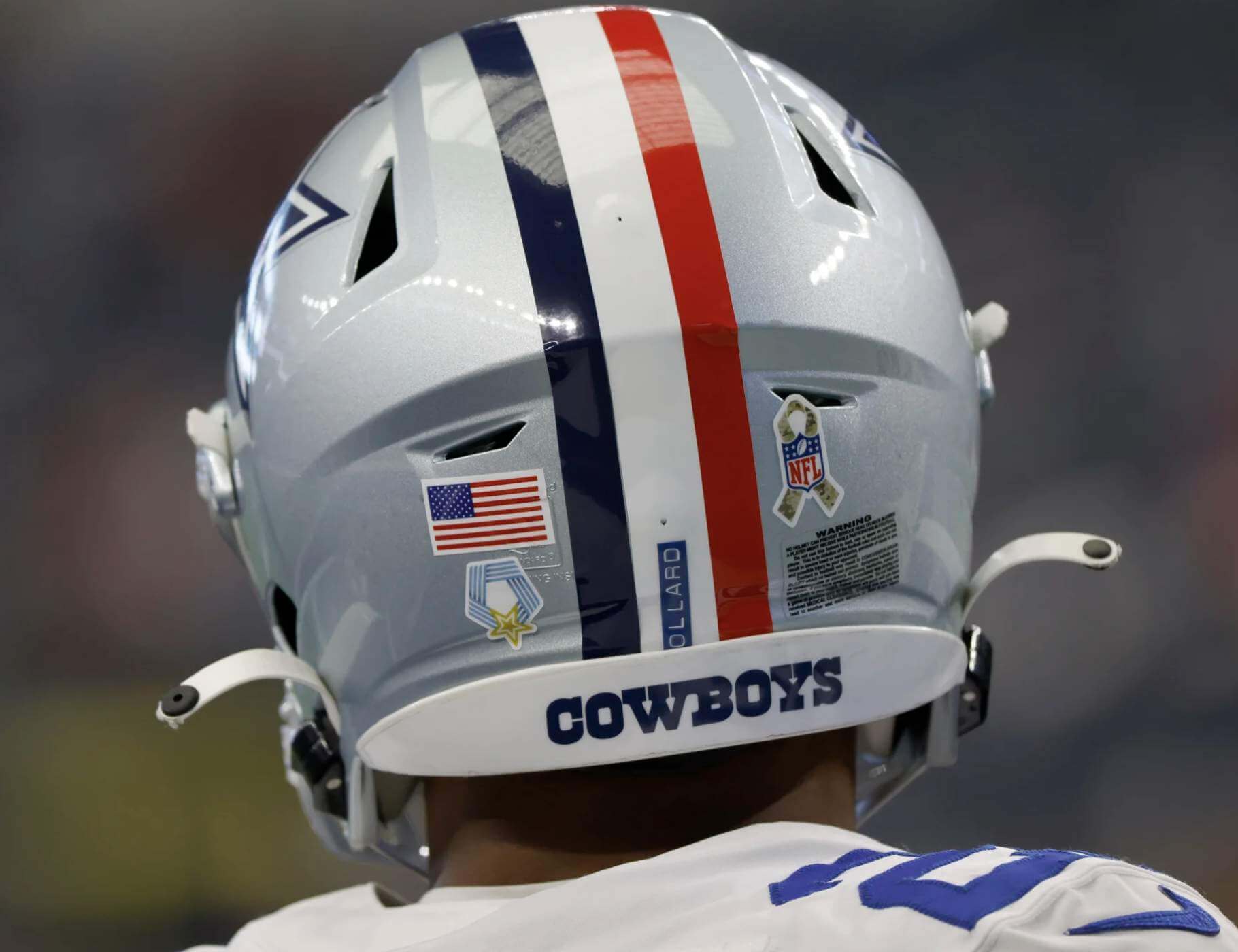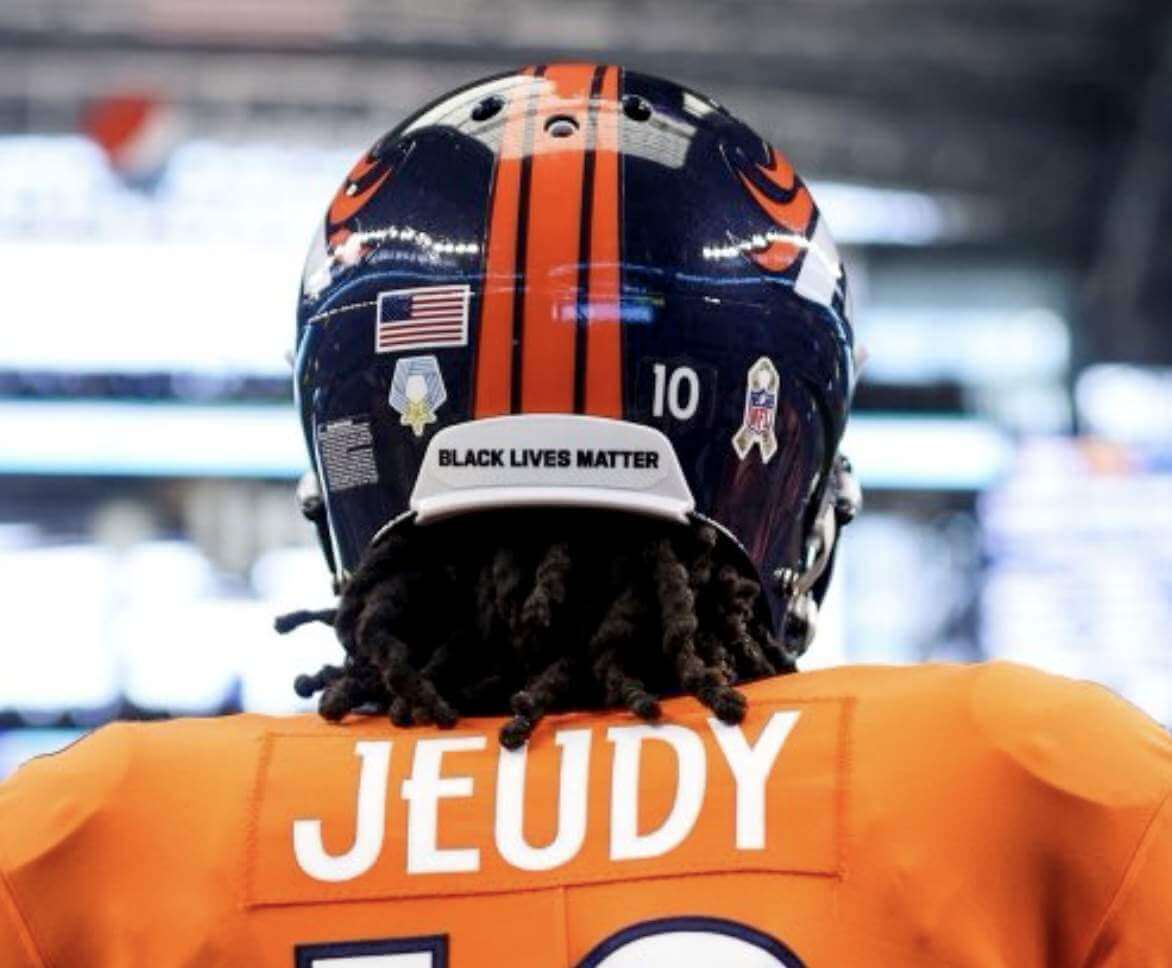 Awesome stat: With the Cowboys losing that game, the red-stripe helmets are now on a three-game losing streak, dating back to 1976.
In other news from around the league yesterday:
• For what I believe is the first time ever, the Panthers wore their black jerseys with white pants, instead of the usual silver pants (additional photos here):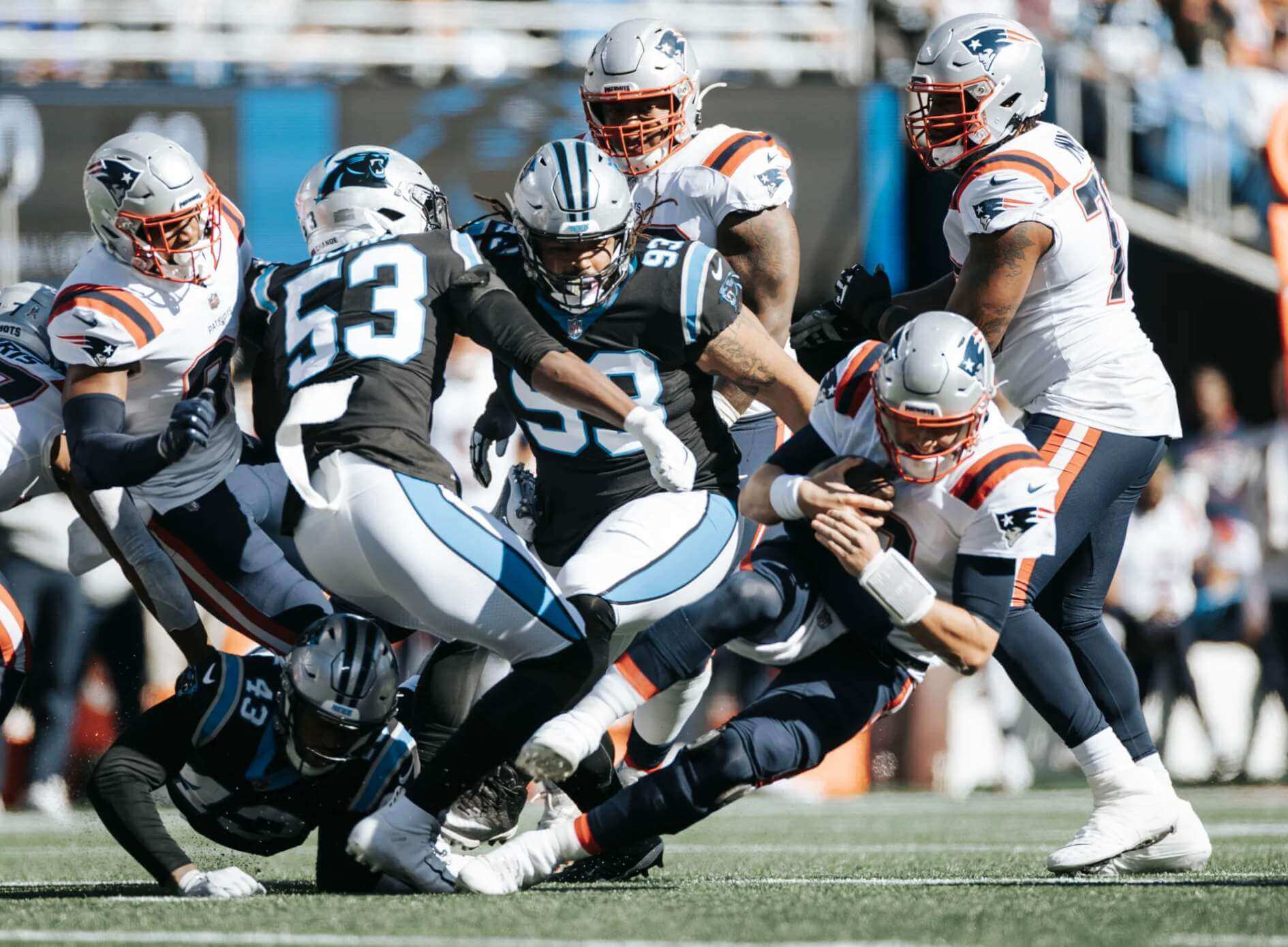 Burns takes down Mac Jones and Luvu recovers

📺: CBS pic.twitter.com/htMtFu50P2

— Carolina Panthers (@Panthers) November 7, 2021
• The Bengals went mono-black for the first time in their new uniform set: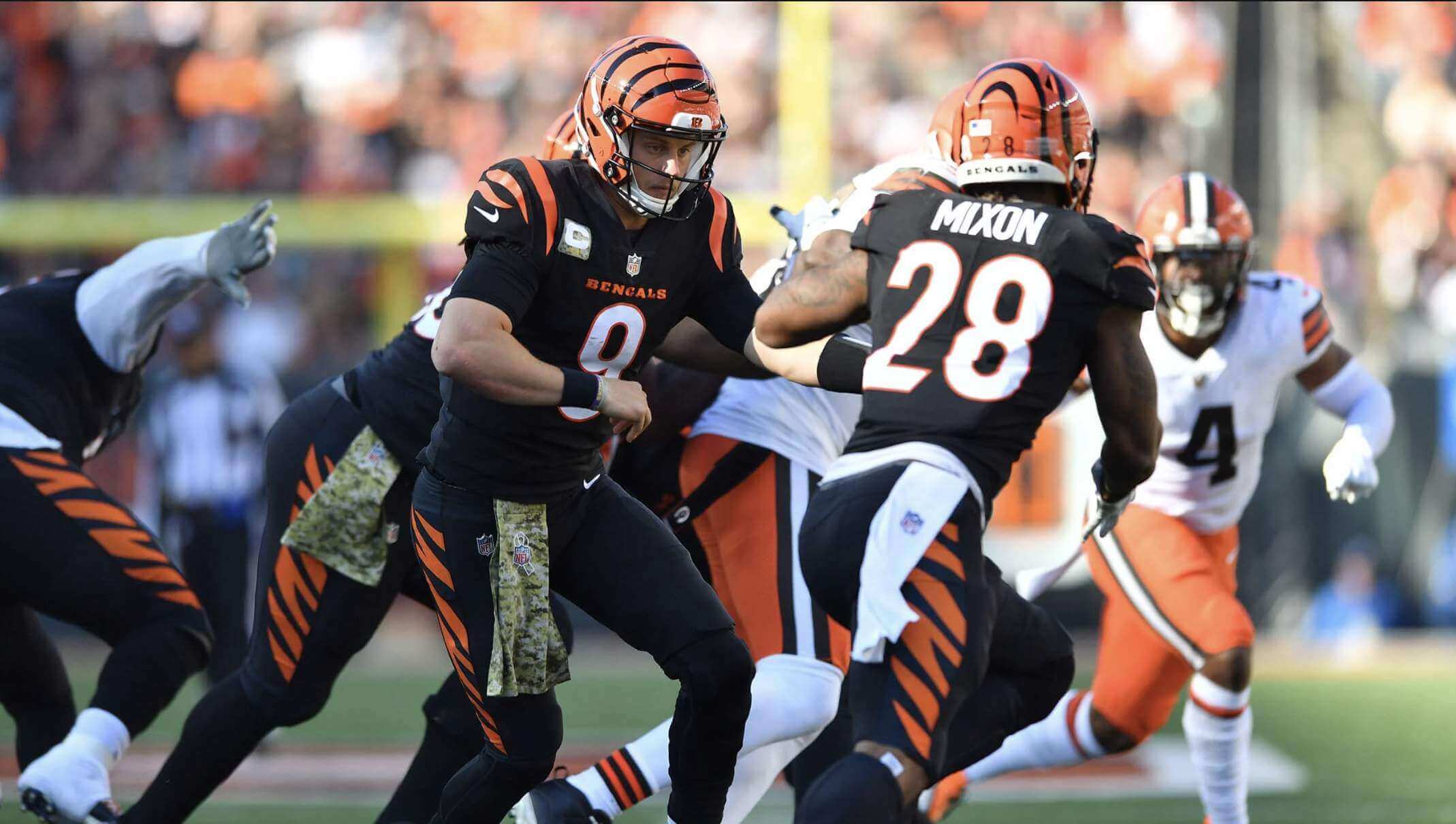 • The Saints went mono-black as well: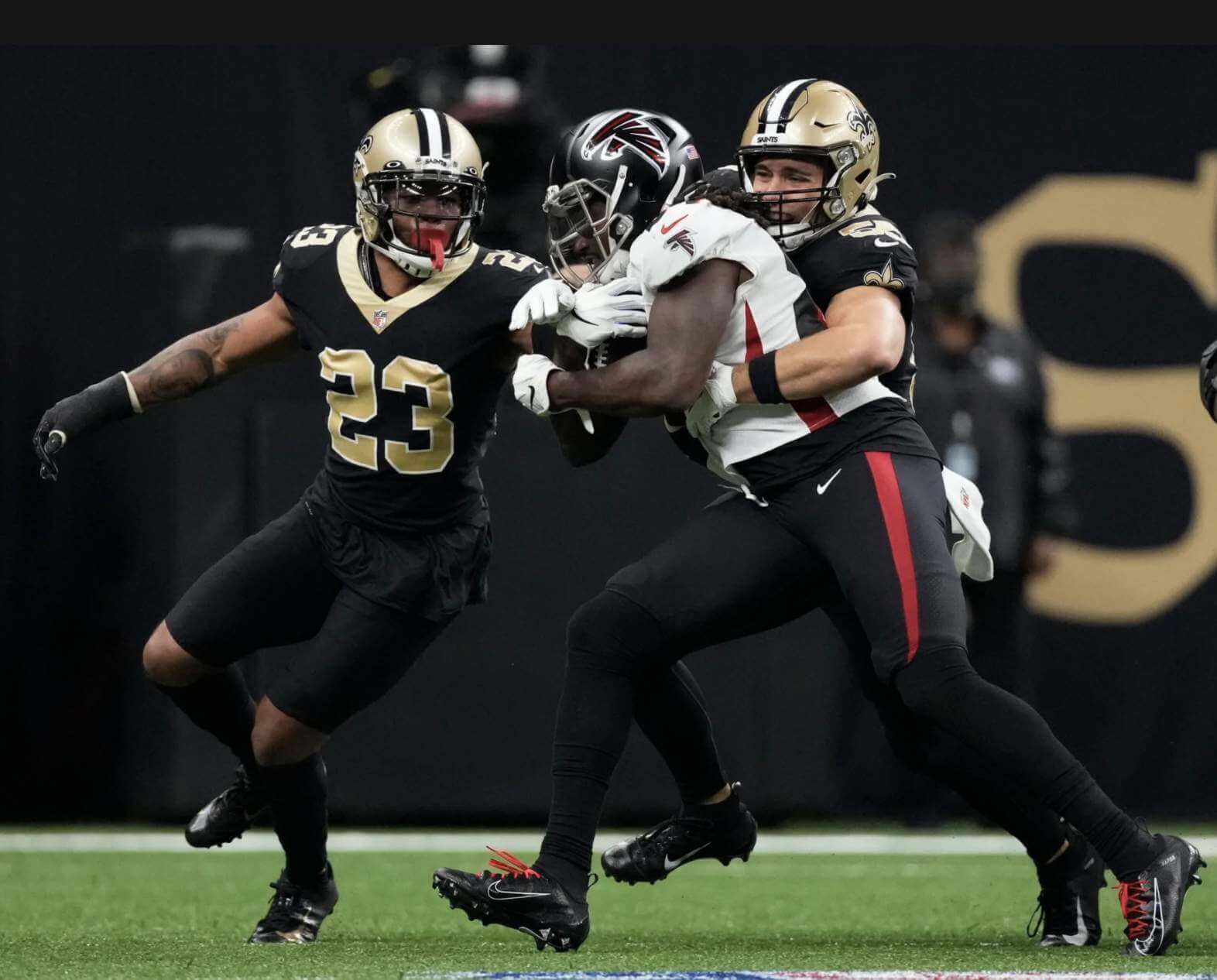 • In that Saints/Falcons game, Atlanta's ridiculous number font apparently caused an officiating mix-up:
It was only a matter of time that the refs would mistake the @AtlantaFalcons "1" for a "7" on a penalty call. Just happened and they had to issue a correction. @UniWatch @PhilHecken #ATLvsNO pic.twitter.com/XnvYZhoRVG

— Mike Nessen (@Mike_Nessen) November 7, 2021
• Lots of purple in Baltimore (although not as much as there could have been), as the Ravens hosted the Vikings:
• In the Sunday-night game, the Titans went mono-navy while the Rams wore their white alternates: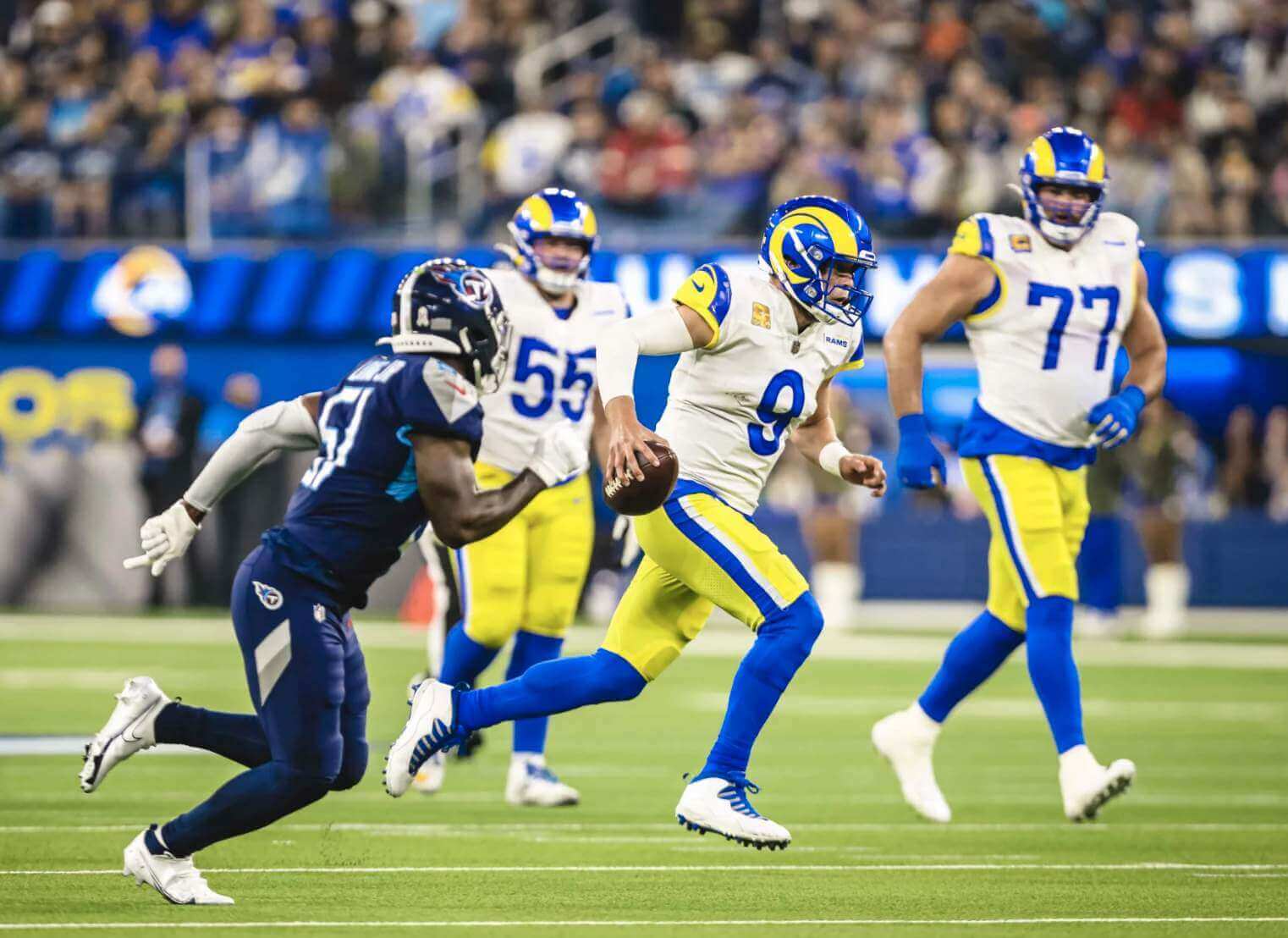 • In that same game, Rams linebacker Ernest Jones had a badly mispositioned period on his NOB:
• Also in that game, newly signed running back Adrian Peterson made his Titans debut and took advantage of the NFL's new numbering rules to wear a single-digit number — No. 8 — for the first time in his career (additional info here):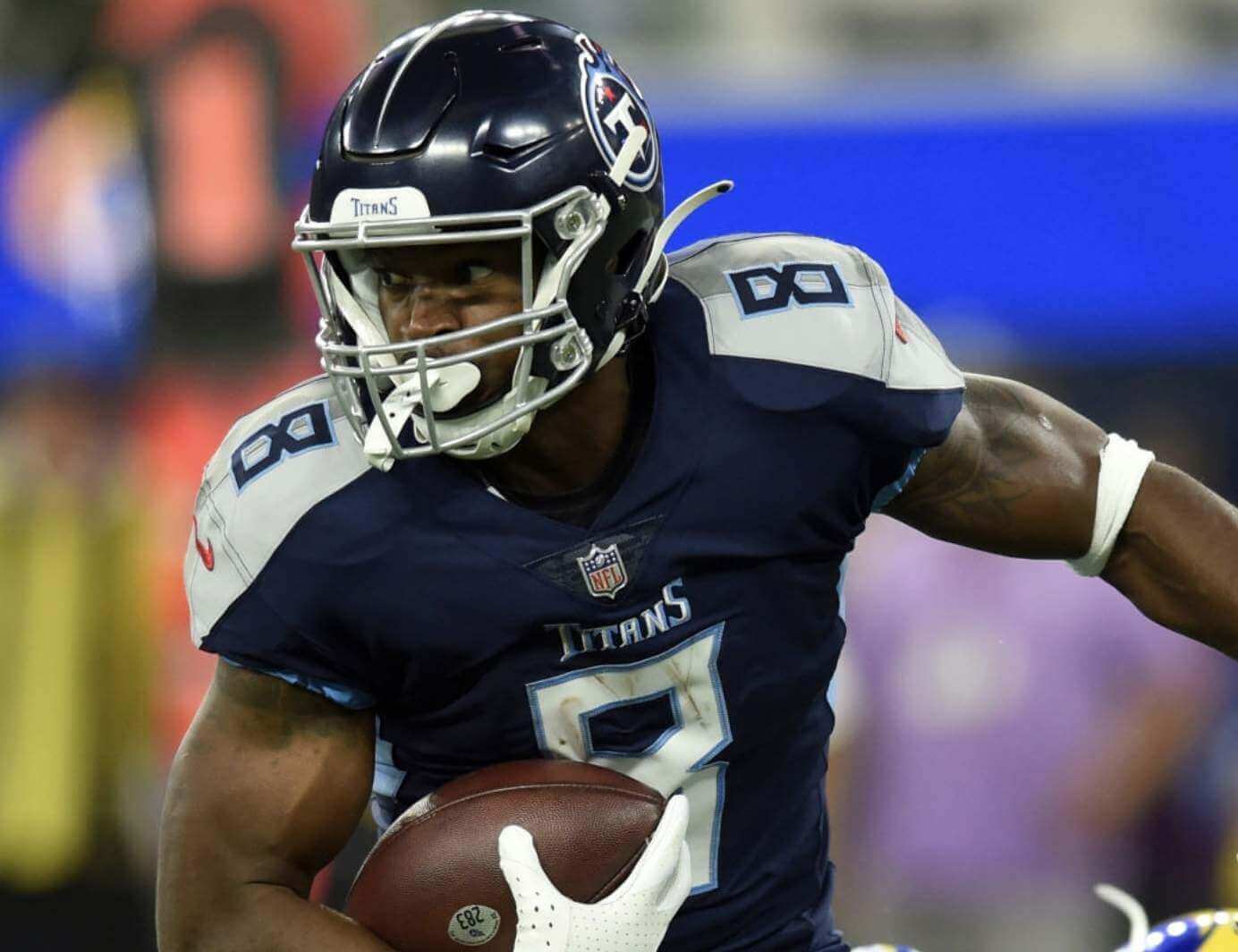 • NFL official Carl Madsen died on his way home from working a game two weeks ago. Game officials didn't wear any kind of memorial for him last week's games, but some officials wore his initials on their caps yesterday (sorry, these are the only pics I could find):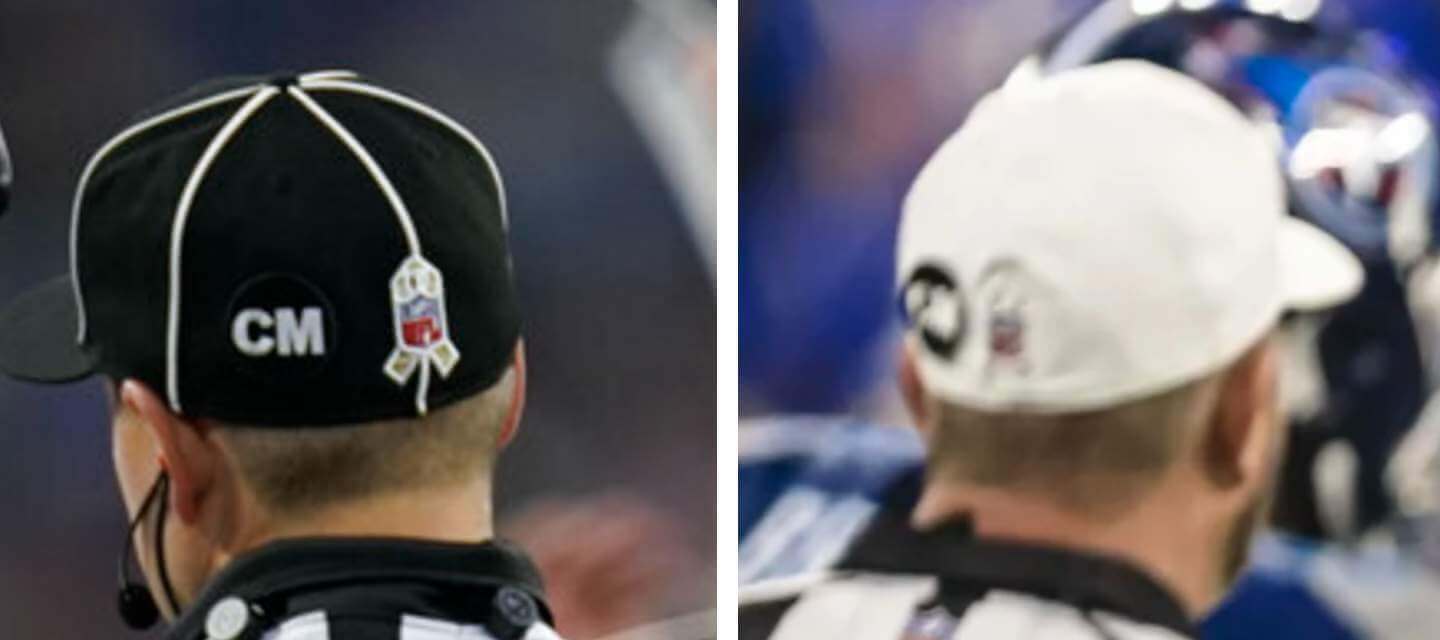 While some officials wore these "CM" patches, others did not. There was no consistency, even within individual officiating crews.
• Three teams wore white at home: the Dolphins, the aforementioned Rams, and, of course, the aforementioned Cowboys.
(My thanks to all contributors, including Mike Barnes, Hector Cendejas, Mike Nessen, Matthew Wolfram, and Phil.)
• • • • •
• • • • •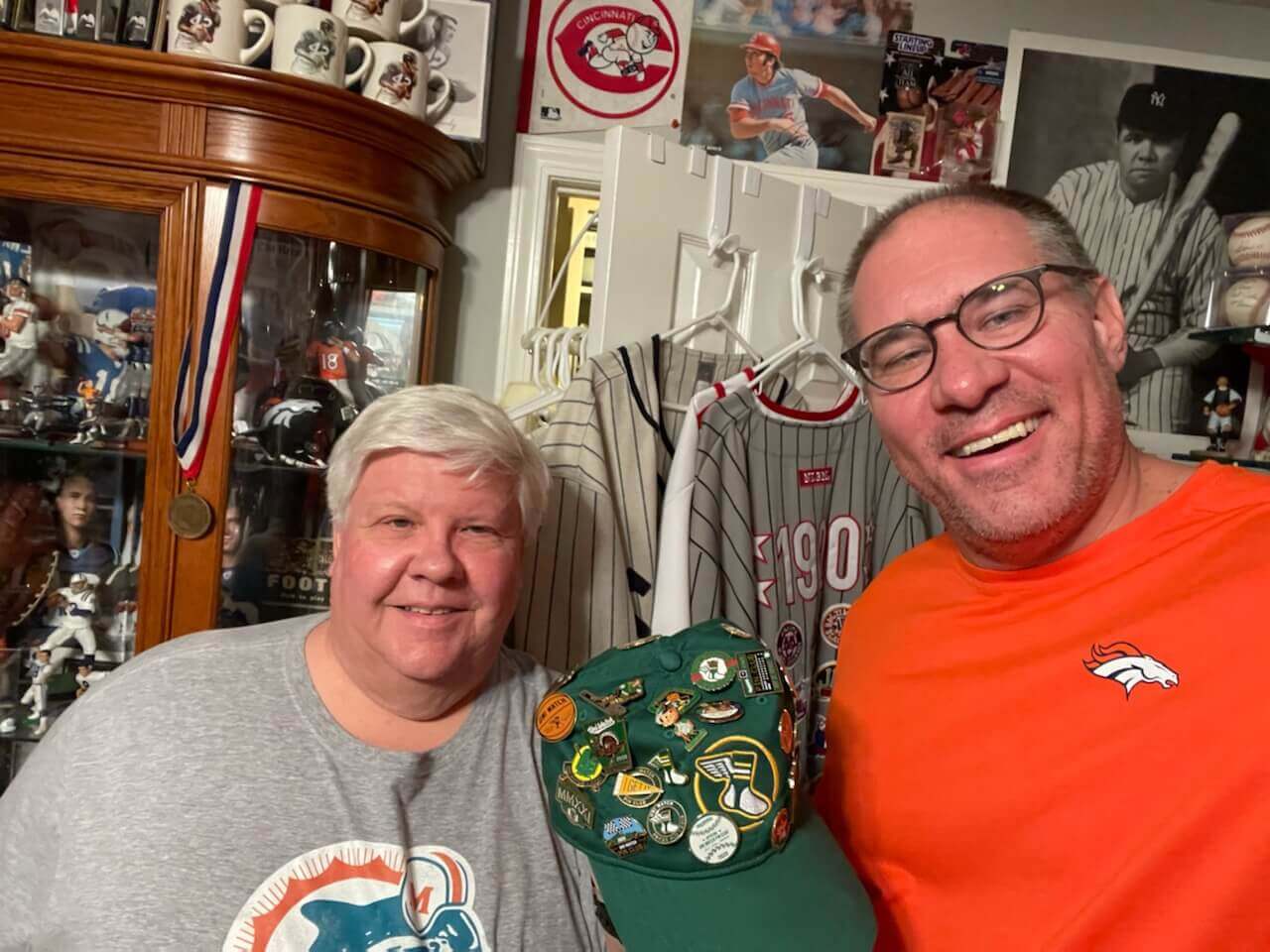 Click to enlarge
Super-fan summit meeting: A major meeting of the minds took place over the weekend, as Broncos super-fan Tom Jacobsen visited Dolphins super-fan Bill "Dolphan" Hetrick at the latter's memorabilia-packed home. Tom and Bill have both been profiled before on Uni Watch and are great guys, so I'm really pleased that they got to meet in person. (You can see more pics of Bill's amazing sports collection here.)
Uni Watch: Bringing People Who Get It™ Together.
• • • • •
• • • • •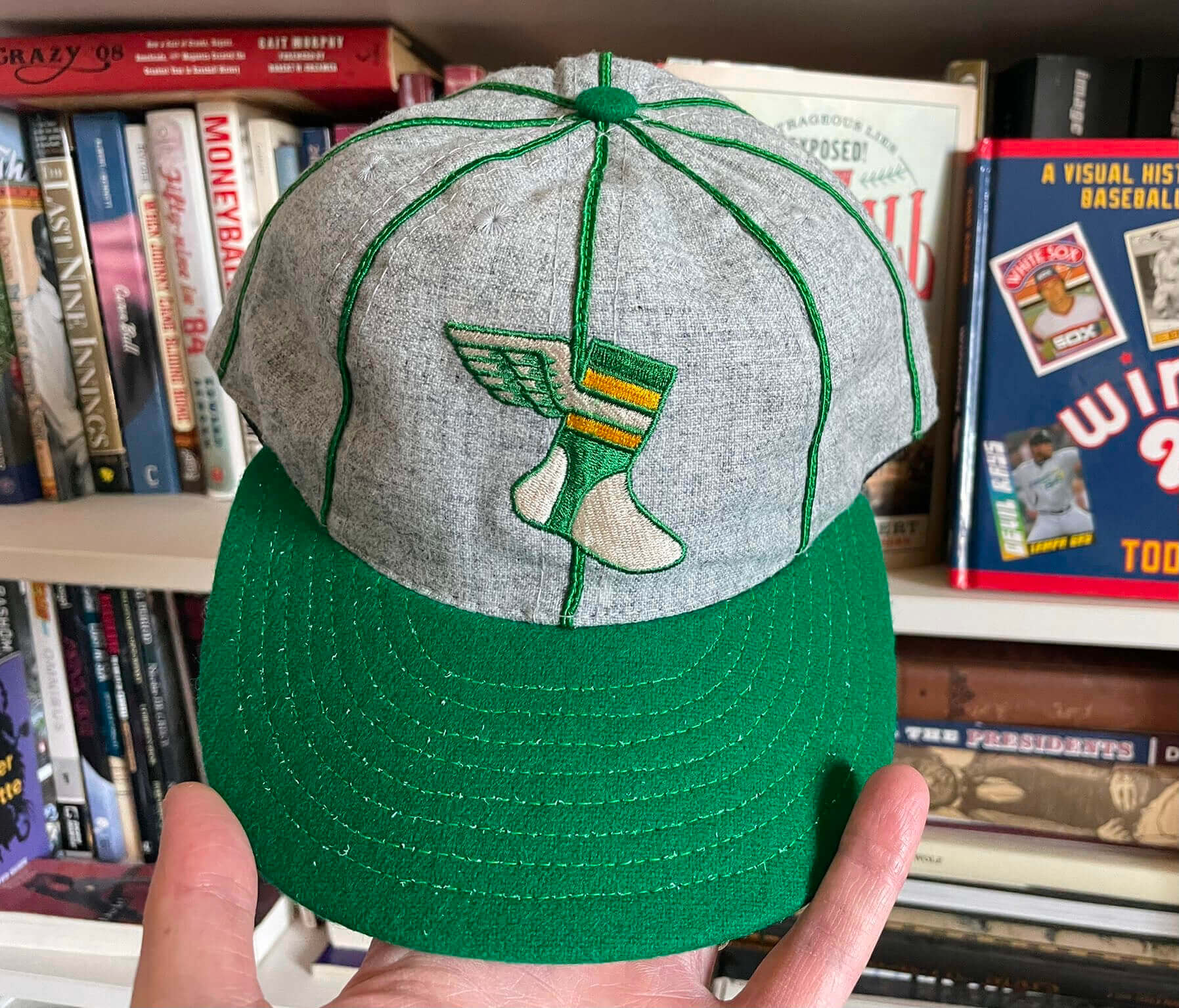 Photo by R. Scott Rogers; click to enlarge
Alternate Cap reminder In case you missed it earlier this week, I'm now taking orders for our new Uni Watch Alternate Cap. Supplies of this one are extremely limited (we've already sold out of sizes 7 and 8, and several other sizes are down to just one or two caps remaining), so move fast. Additional photos and ordering details here.
While we're at it:
• If you want some Uni Watch headwear but don't care for the new ballcap, our Uni Watch Toque might do the trick.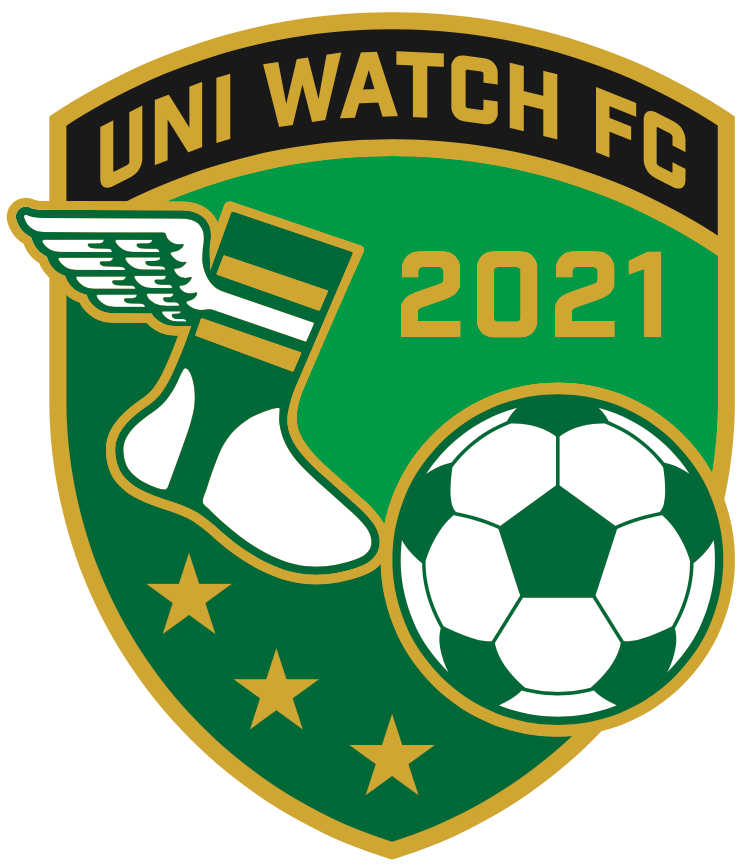 • Our soccer-themed November pin — the first soccer design we've done (shown at right) — launched last week in a numbered edition of 150. As of this morning, there are 26 remaining. It's available here while supplies last.
• Todd Radom's awesome "Hit Sign, Win Stirrups" graphic, which was originally available on a limited-edition T-shirt in 2017, has been revived and is now available a variety of formats. You can get it as a T-shirt; as a hoodie; as a pint glass; as a poster; and as a canvas print.
You can see the rest of our Uni Watch merch offerings here.
• • • • •
• • • • •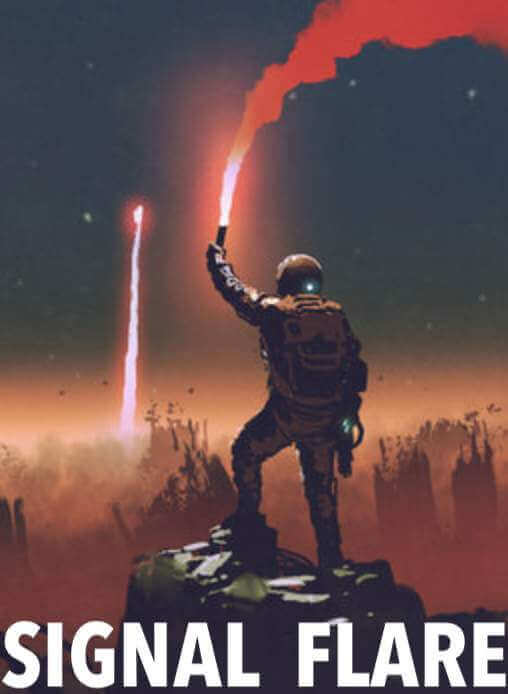 IMPORTANT! Signal flare: There are two Uni Watch readers who need to get in touch with me as soon as possible:
• Victor Russo, I received your cap payment (thank you!), but you didn't provide your shipping address, and I don't know any other way to get in touch with you. If you're reading this, please get in touch and fill me in so I can get your cap to you!
• Donald Hollinger (although you signed your email "Mike," so I'm not sure what your name actually is), I want to provide you with the information you requested, but when I try to respond to your email, my reply bounces back with an "Address not found" error. So if you're reading this, please get in touch, ideally from an email address that I can actually reply to. Thanks!
• • • • •
• • • • •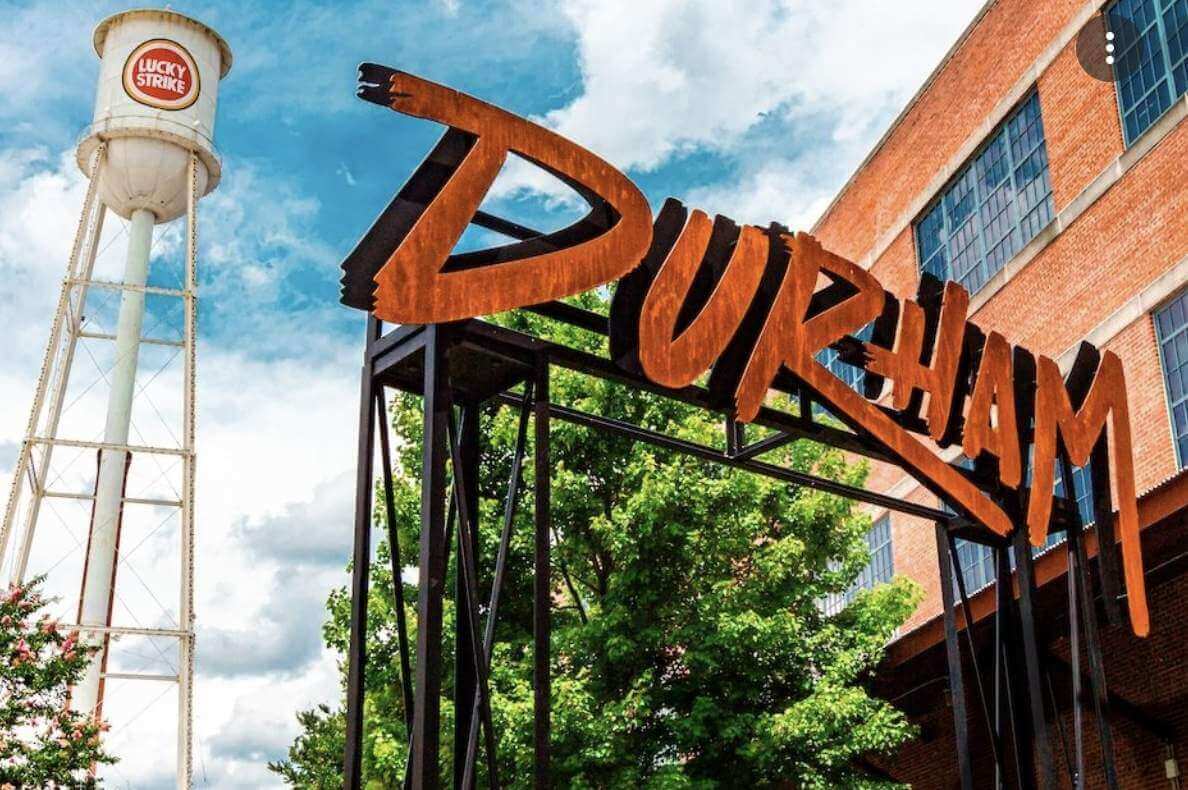 North Carolina party reminder: In case you missed the details last week, I'll be convening a Uni Watch gathering Durham, N.C., ths Saturday, Nov. 13, 2:30pm, at Tobacco Road. No RSVP is necessary — just show up and look for me (or for lots of people wearing jerseys).
This will be the first Uni Watch gathering since the 20th-anniversary parties in 2019. I'm looking forward to meeting lots of you!
• • • • •
• • • • •
The Ticker
By Jamie Rathjen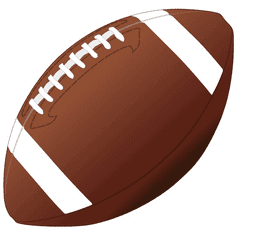 Football News: With the Steelers set to wear their mono-black alternates tonight, here's a look at how they've tended to play well in that uni combo (from Nicklaus Wallmeyer). …A political cartoon of Packers QB Aaron Rodgers had his NOB as "Error Rodgers" (from @cottonnero). … FCS school Nicholls is wearing an alternate next week for the program's 50th anniversary (from Lenny Vangilder). … NAIA school Kansas Wesleyan has a new black jersey (from @devinseay23). … Reader Wade Heidt has Canadian college uni watching in yesterday's comments. … Wise (Md.) High School has the school name across the shoulders, instead of TV numbers (from Jason Walker).

Hockey News: The Frisco, Texas, fire department now has a Stars-themed truck (from Dustin Perez). … The next three items are from Wade Heidt: The Maple Leafs wore white at home on Saturday. … The OHL's Ottawa 67's wore a jersey designed by a kid as part of the CHL's "Leave Your Mark, Design a Jersey" contest. The 67's also had some large poppies on the ice. … The Junior A British Columbia Hockey League's Alberni Valley Bulldogs wore their "BCHL 60th-anniversary throwback-inspired uniforms" for the first time, and the opponent, Nanaimo Clippers, also wore theirs, so it was color vs. color. … Reader Dan Bly was at a Carolina Thunderbirds/Watertown Wolves game in the Federal Prospects Hockey League on Saturday. Watertown players who were new to the roster had their NOBs patched together from various older nameplates, while players who weren't new didn't. Meanwhile, Carolina also wore camouflage jerseys for a veterans promotion.

Basketball News: Florida A&M — at least their basketball teams — is apparently the first university to wear LeBron James's logo as the maker's mark (from @EzekielCaselton). … Here's one from Paul: "We've seen lots of football jerseys with crotch extensions — those fabric flaps that loop under the groin area to keep the jersey from coming untucked — but I'd never seen one on a basketball jersey until now."

Soccer News: Scottish men's teams and some women's teams in England and Scotland started wearing poppy patches this weekend. … France's version of the poppy, the bluet, also appeared this weekend. It's sometimes a sleeve patch. … Japan's J2 League's JEF United Chiba are now outfitted by Hummel. "Interesting video of the team's history [for their] 75th (club founding) and 30th (as J-League team) anniversary and Hummel's too," says Jeremy Brahm. … "Arkansas goalkeeper Hannah Werner, who typically wears 54, is wearing the 1 jersey of former backup goalkeeper Darby Douglas," says Taylor Crabtree.

Grab Bag: The banner for Virginia's 2021 women's swim and dive national championship was revealed on Friday. The team also got their championship rings. … Australian cricket's men's and women's Big Bash Leagues are to hold Indigenous rounds, with associated shirt designs, for the first time. The women's is from Nov. 17-21, while the men's is Jan. 8-14, 2022. … Ireland's men's rugby union team wore their purple second kit against Japan on Saturday, which is usually the sort of color change that would be bemoaned as unnecessary. However, World Rugby is at least planning to ban red/green color clashes like that if they haven't already (from @kdawg77). … Yesterday's NASCAR Cup Series championship race bizarrely had an ad for Kyle Larson championship merch during the race before Larson ended up winning the championship (from Trevor Williams). … Somebody on Twitter ranked the 46 surviving "imperial" Fabergé eggs (from Jeremy Brahm). … The U.S. Navy launched a new ship named after gay rights leader and Navy veteran Harvey Milk (from Timmy Donahue).
• • • • •
• • • • •
Click to enlarge

What Paul did last night: The singer wearing black in the photo above, second from left, is Jody Stephens, the last surviving member of the pioneering early-1970s power-pop band Big Star. Last night at St. Ann's Church in Brooklyn, he and a shifting cast of collaborators played about two hours' worth of Big Star songs, all set in chamber-pop arrangements similar to the sound of Big Star's third LP, Third. It was a perfect way to spend a Sunday evening.
The other participants included former R.E.M. bassist Mike Mills (that's him at far-left in the photo above), former dB's guitarist Chris Stamey (far-right), Yo La Tengo's Ira Kaplan, and a bunch more, including a string section and some woodwinds. Vocalists traded back and forth with each song (Stephens sang maybe a quarter of the tunes), musicians would occasionally leave the stage for certain songs and reappear for others, and the whole thing felt like a big, happy hive organism.
I attended a somewhat similar performance, with a different cast of vocalists and backing musicians, in Central Park back in 2013. But that event was specifically geared around the songs of Third, while this one embraced the wider Big Star songbook.
This would have been a special event at any venue, but seeing it while sitting in the pews of a spectacularly beautiful 175-year-old church definitely enhanced the experience. When Stephens came onstage to open the show, he said, "It's good that this is a place of healing. You've all been through a lot." For the next two hours, we were able to forget all of that.
• • • • •
I'm grateful to everyone who offered kind thoughts over the past few days about my mom. I spent Saturday afternoon with her in the hospital, and I'm happy to report that my brother was able to take her home yesterday. She's doing well. Thanks again for all the supportive words and thoughts. — Paul