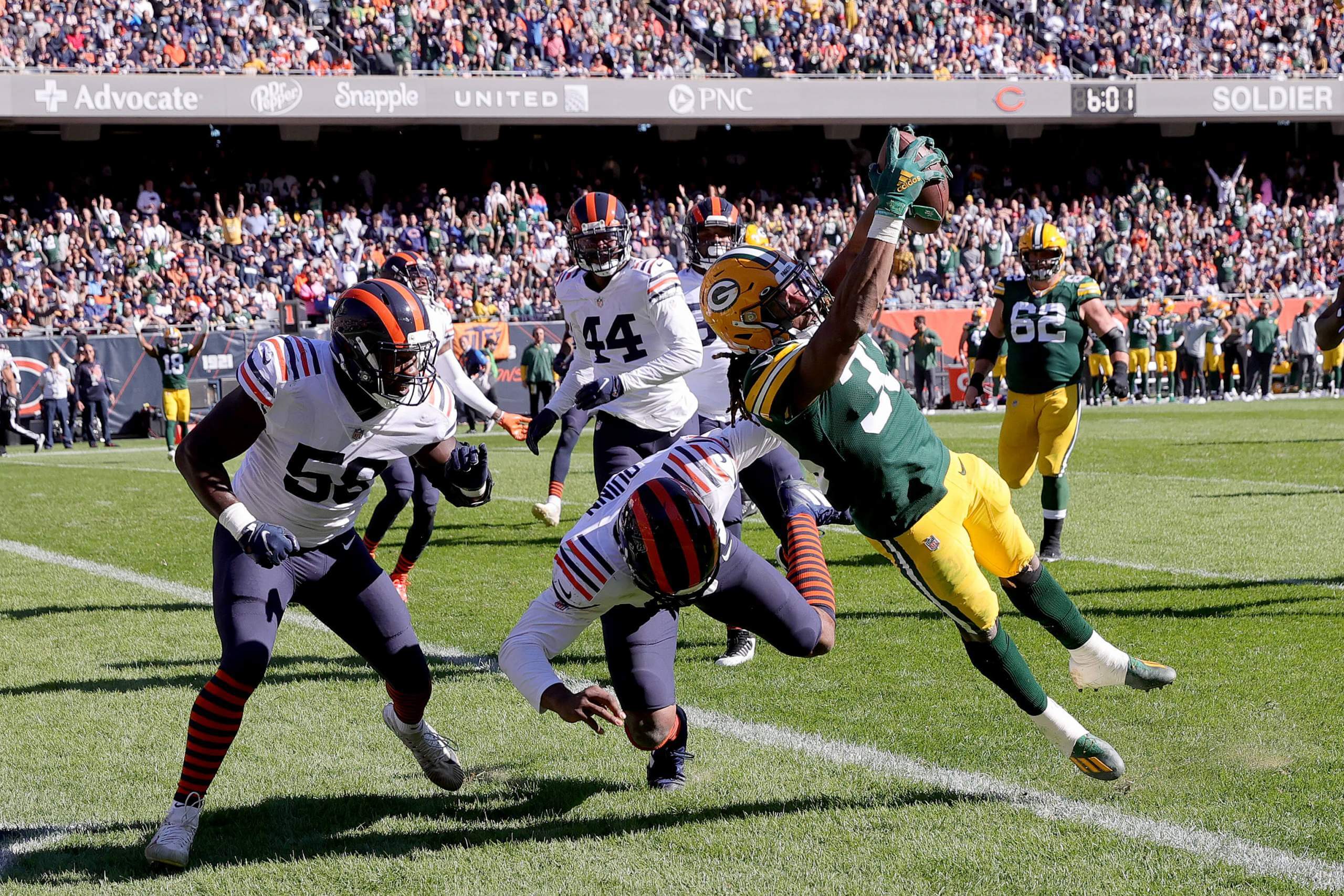 Photo by Jonathan Daniel/Getty Images; for all photos, click to enlarge
A feast for the eyes yesterday in Chicago, as the Bears wore their 1930s throwbacks against the Packers (additional photos here and here). You know I can't get enough of those striped socks: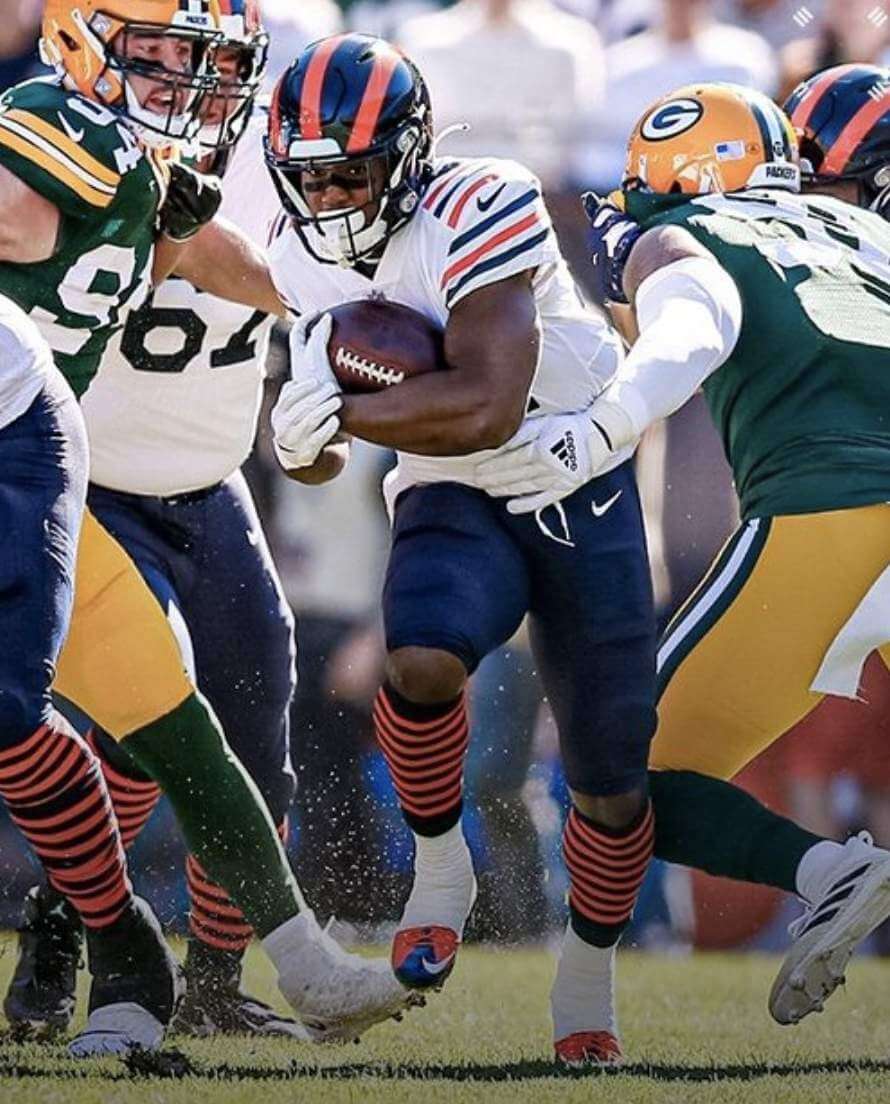 Here's how it looked in action:
.@justnfields right on the Mooney. 🎯@Darnell_M1 | #GBvsCHI pic.twitter.com/FCVjjtrNSe

— Chicago Bears (@ChicagoBears) October 17, 2021
Fun facts: This was the first time the Packers have worn a color other than white in Chicago since 1956, when they wore navy (while Chicago wore their dark navy — a game that must've been very visually challenging!). And the last time Green Bay wore green in Chicago was way back in 1936!
Since Chicago was wearing the 1936 design yesterday, it would've been so great if Green Bay had created their own '36 throwback — or even if they'd worn their new 1950s throwbacks. But I understand why they want to debut those at home (which they're due to do next week, in fact), not on the road.
In one additional note from yesterday's game, Green Bay players were playing with a Packer soccer ball during pregame activities. Not sure I've ever seen that before: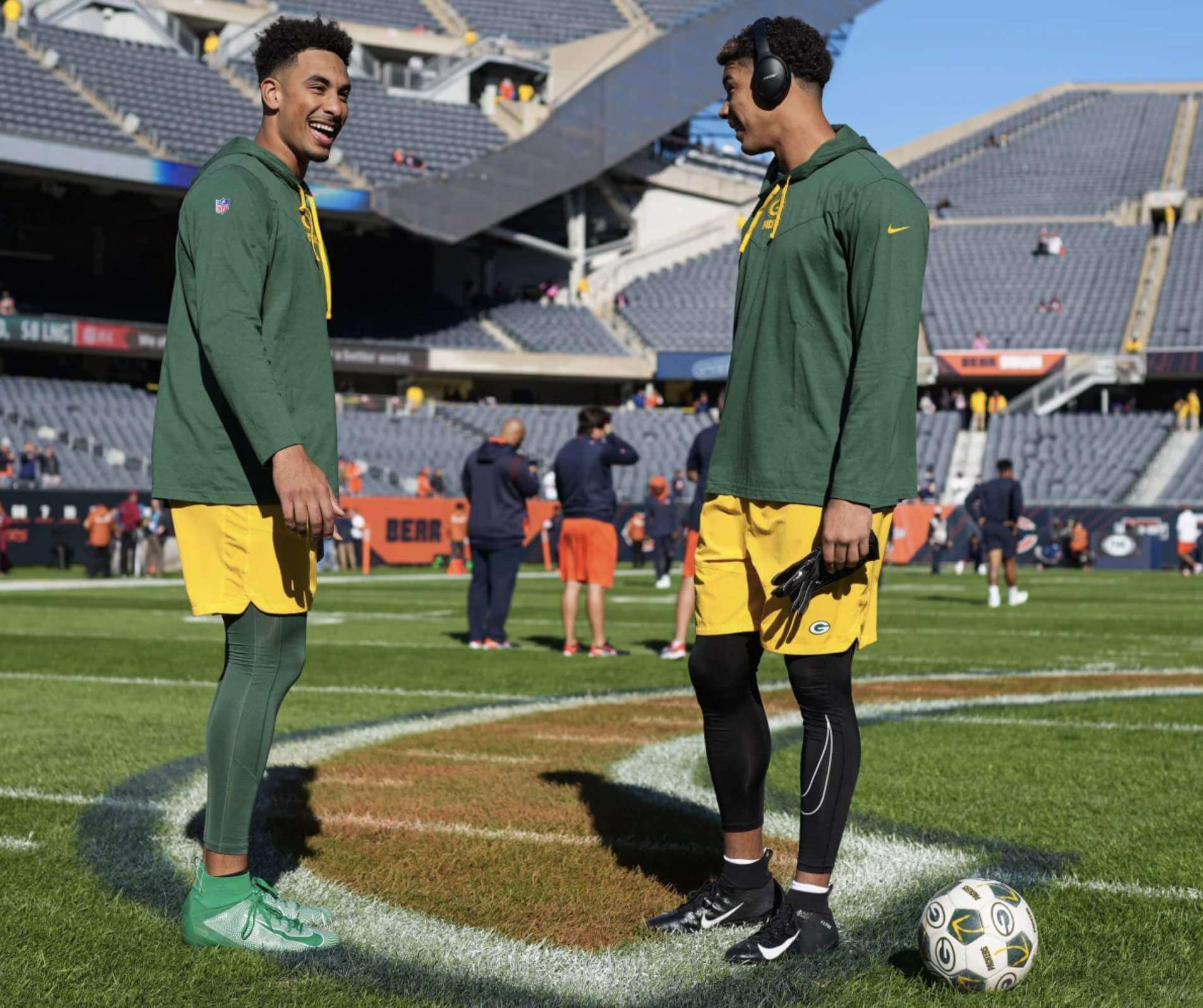 In other news from around the league yesterday:
• Washington wore their throwbacks: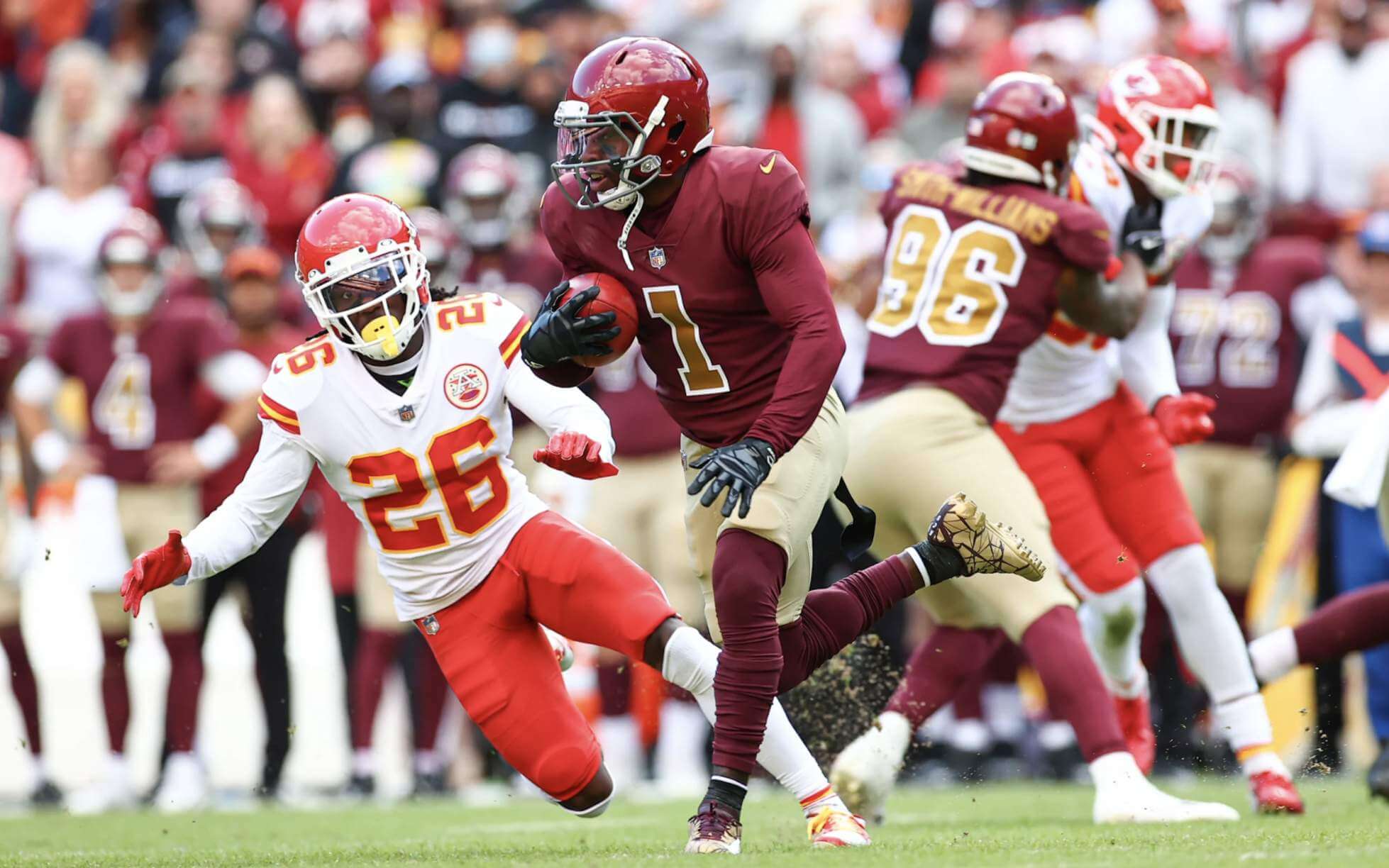 • Also from that Washington game, Washington tried to deflect attention from the Gruden/email scandal honored former defensive back Sean Taylor by retiring his No. 21 — only the the third number retirement in franchise history, after Sammy Baugh's No. 33 and Bobby Mitchell's No. 49 (although the team has lots of other numbers that aren't officially retired but have effectively been taken out of circulation; Taylor's number was in that category until yesterday):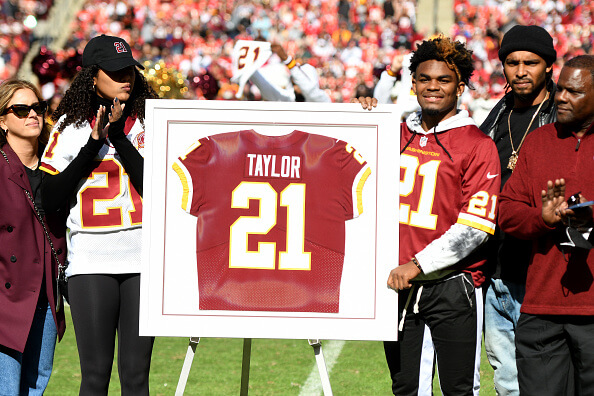 • In that same game, Washington defensive lineman Chase Young honored Taylor by mimicking Taylor's signature facemask tape (as others have done over the years):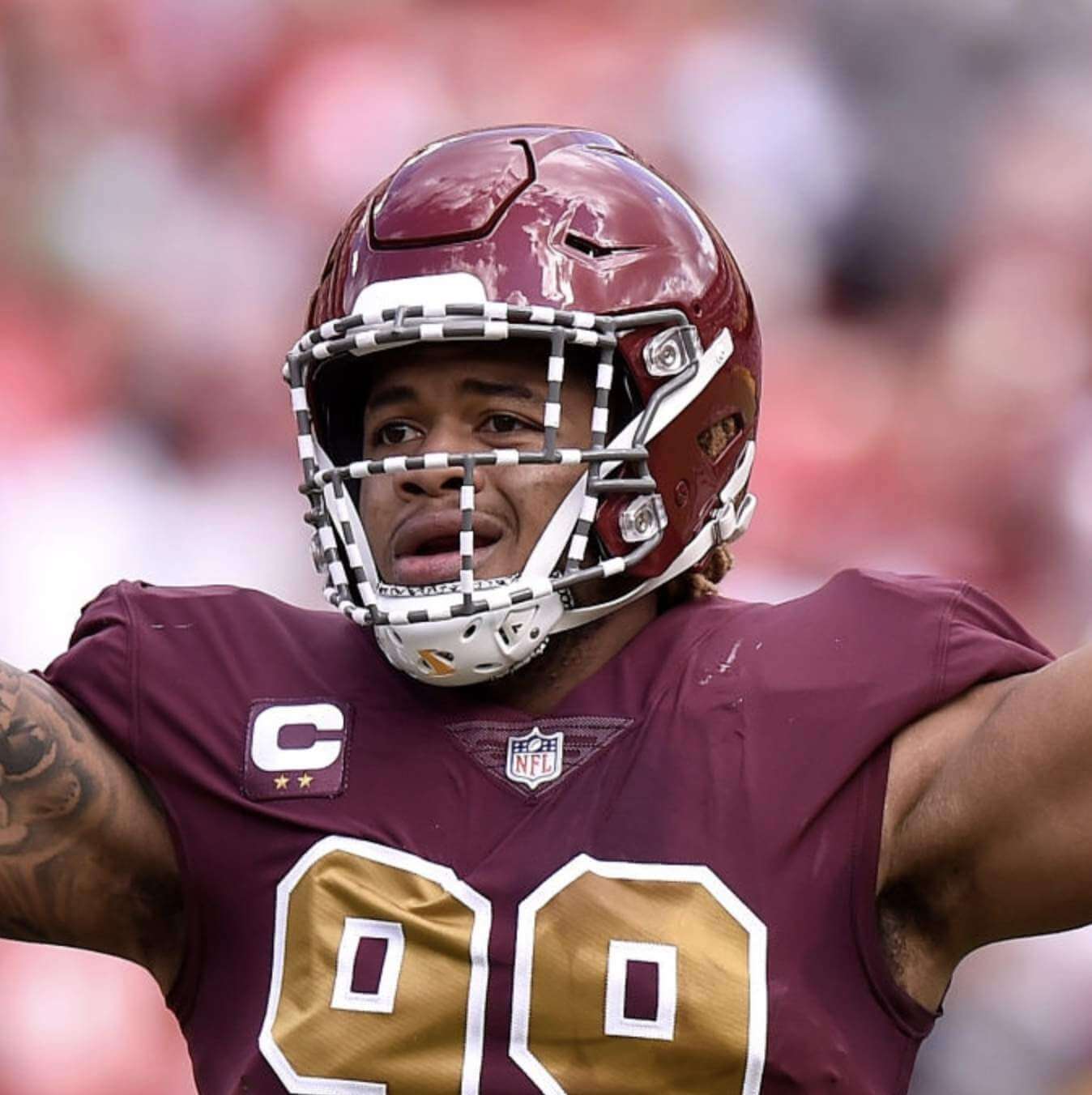 Young wore the tape job only for the first half; he was tape-free for the second half.
• The Broncos wore their navy alternates:
• The Giants celebrated the 10th anniversary of their 2011 championship season by wearing white jerseys at home with throwback grey pants (the same uni combo they wore in Super Bowl XLVI):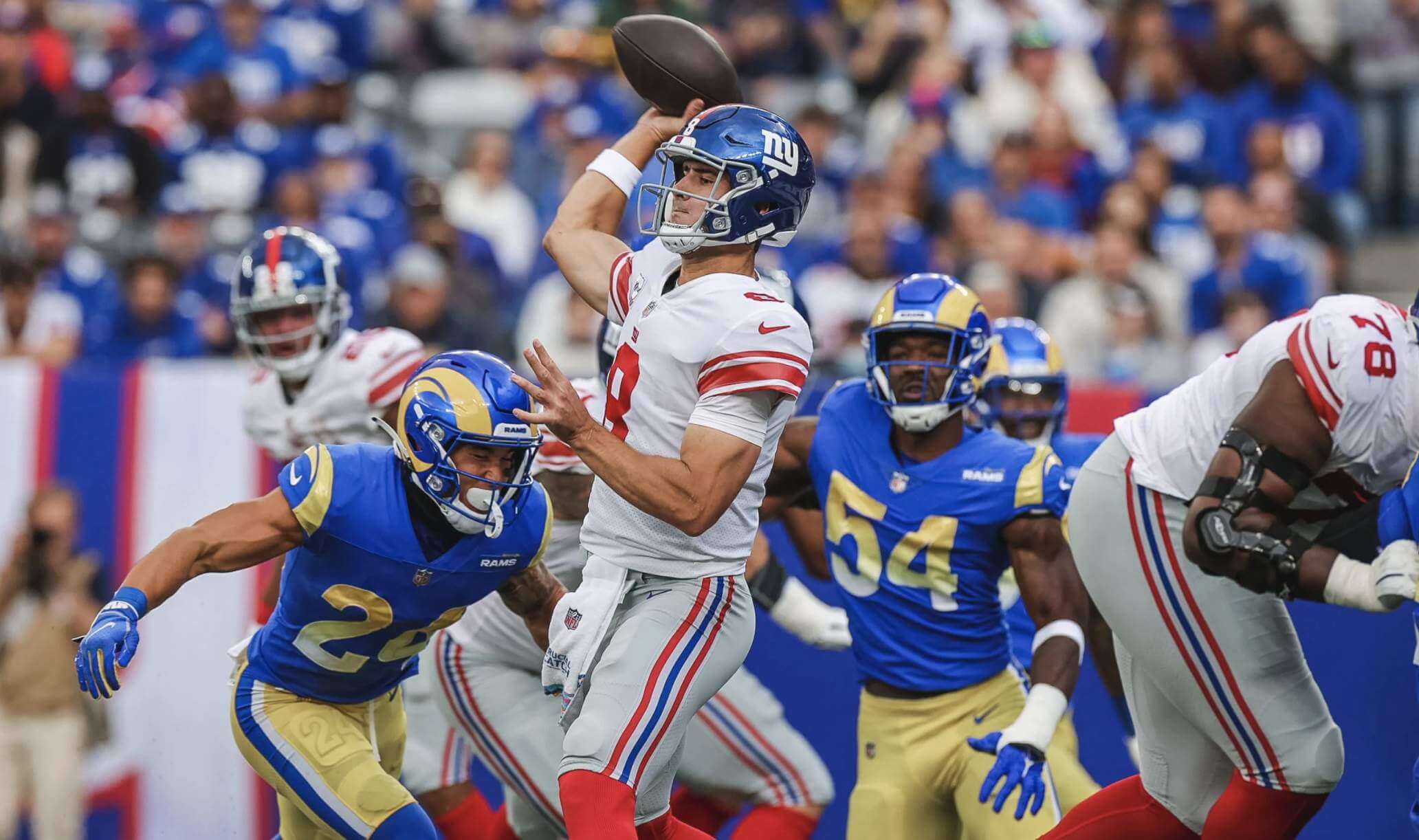 • During halftime of that Giants game, members of the 2011 team wore jerseys with memorial patches for strength and conditioning coach Markus Paul (MP), offensive lineman Mitch Petrus (62), and defensive back Tyler Sash (39), all of whom have died in the past 10 years. The ceremony also included a logo for the 10th anniversary of the championship: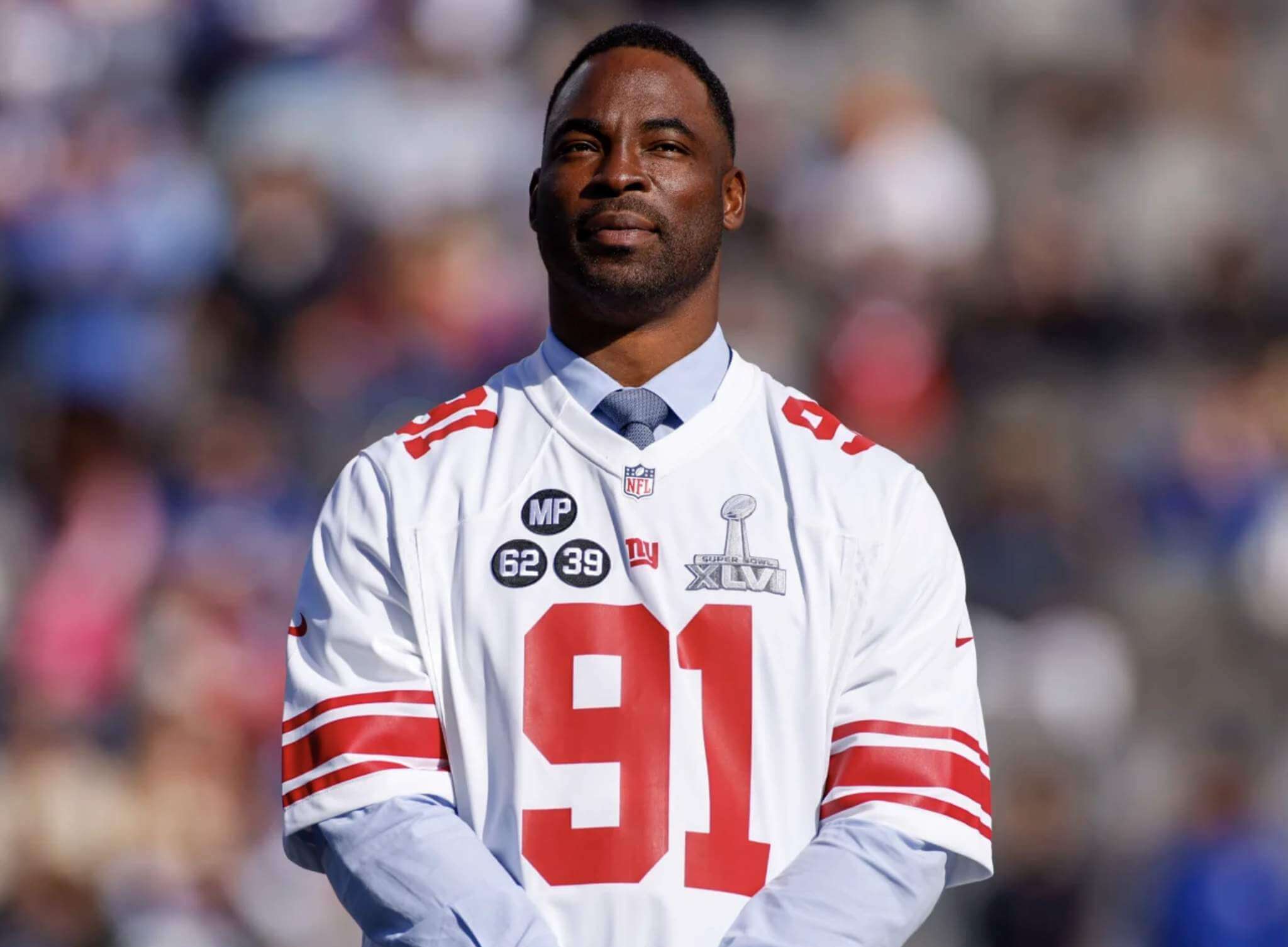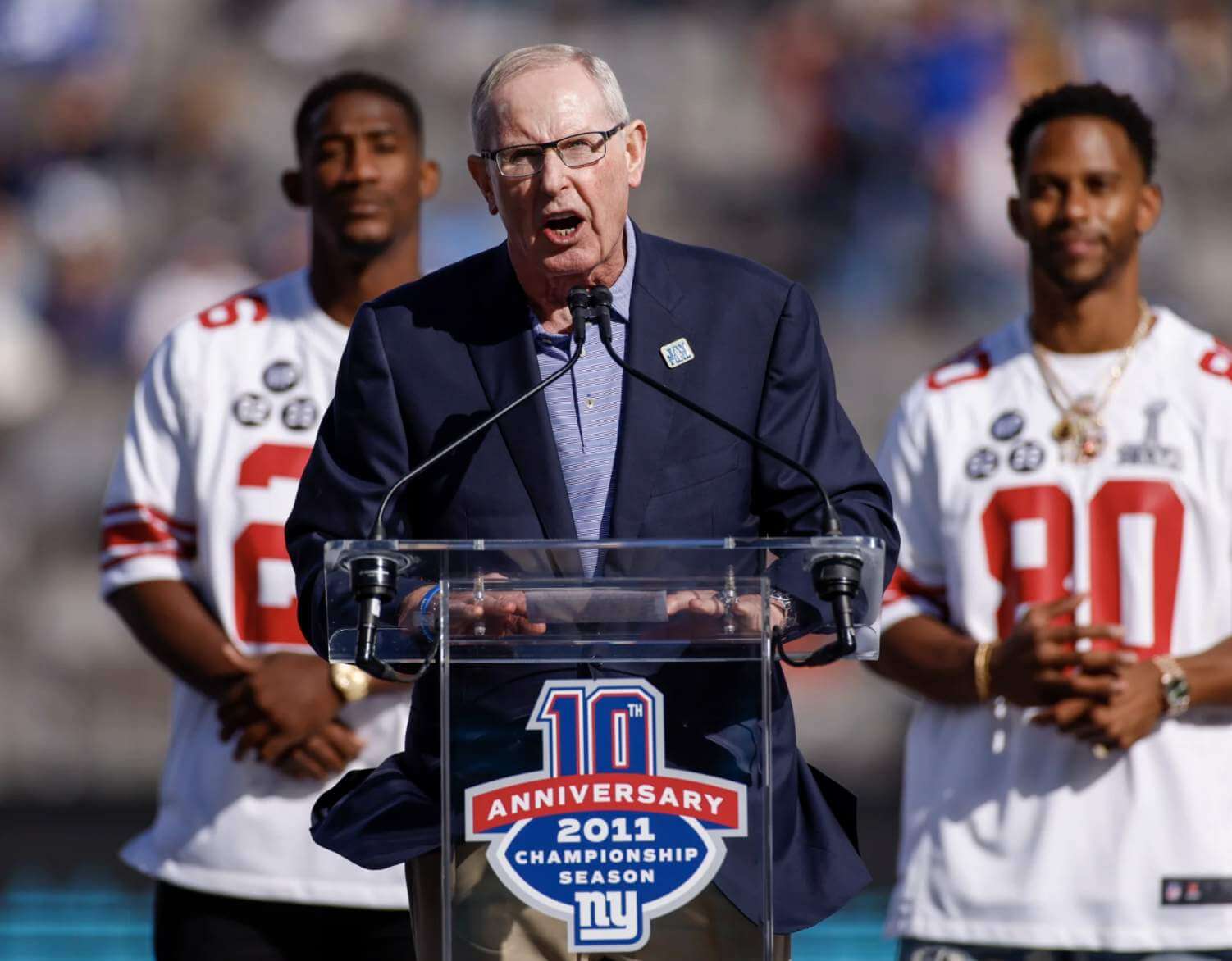 • The Jags went mono-black: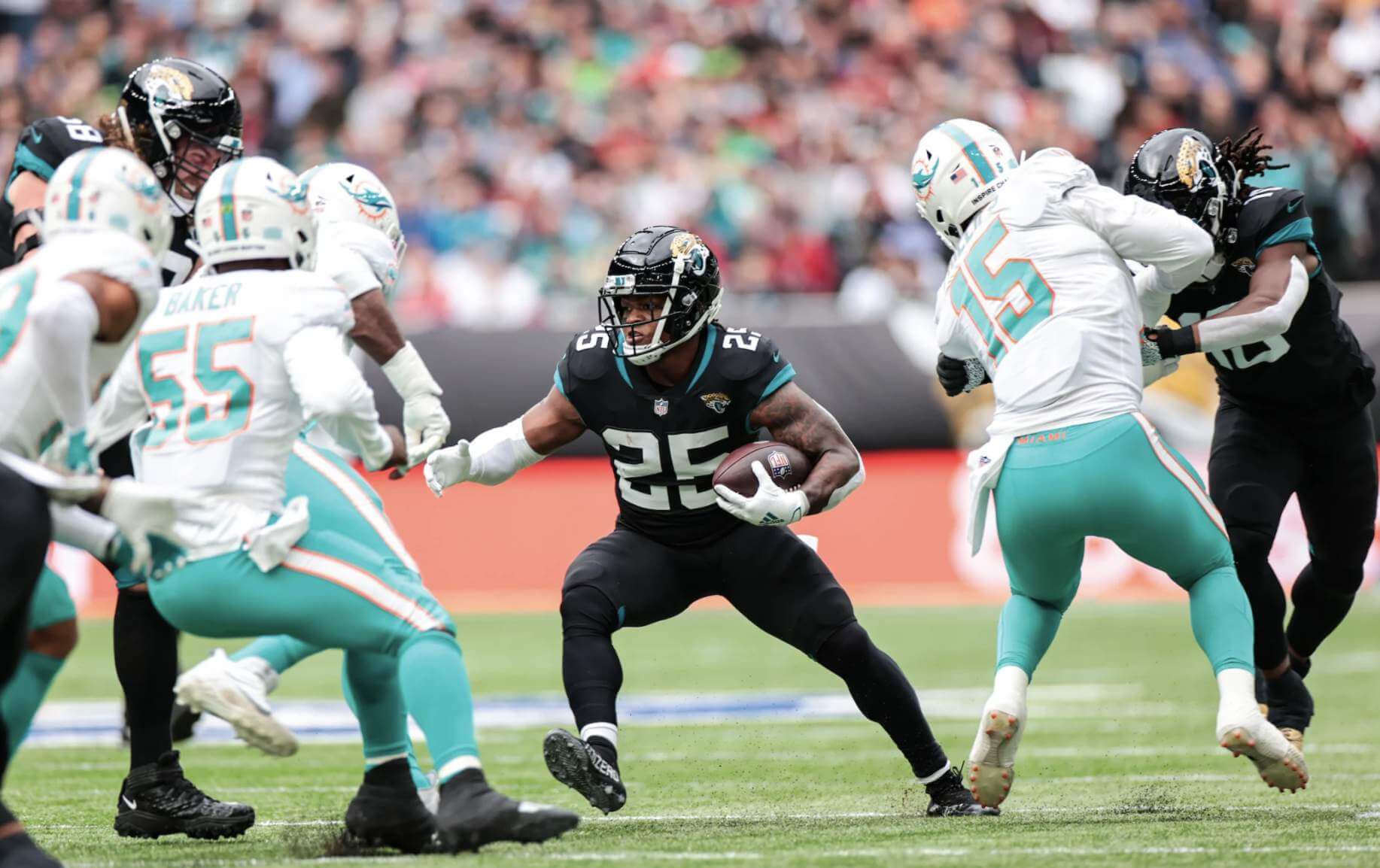 • During the Sunday-night game, NBC showed an amateurish-looking graphic that inexplicably showed Steelers quarterback Ben Roethlisberger wearing a helmet visor (which I don't believe he's worn since 2010) and a Saints logo on his hip (???):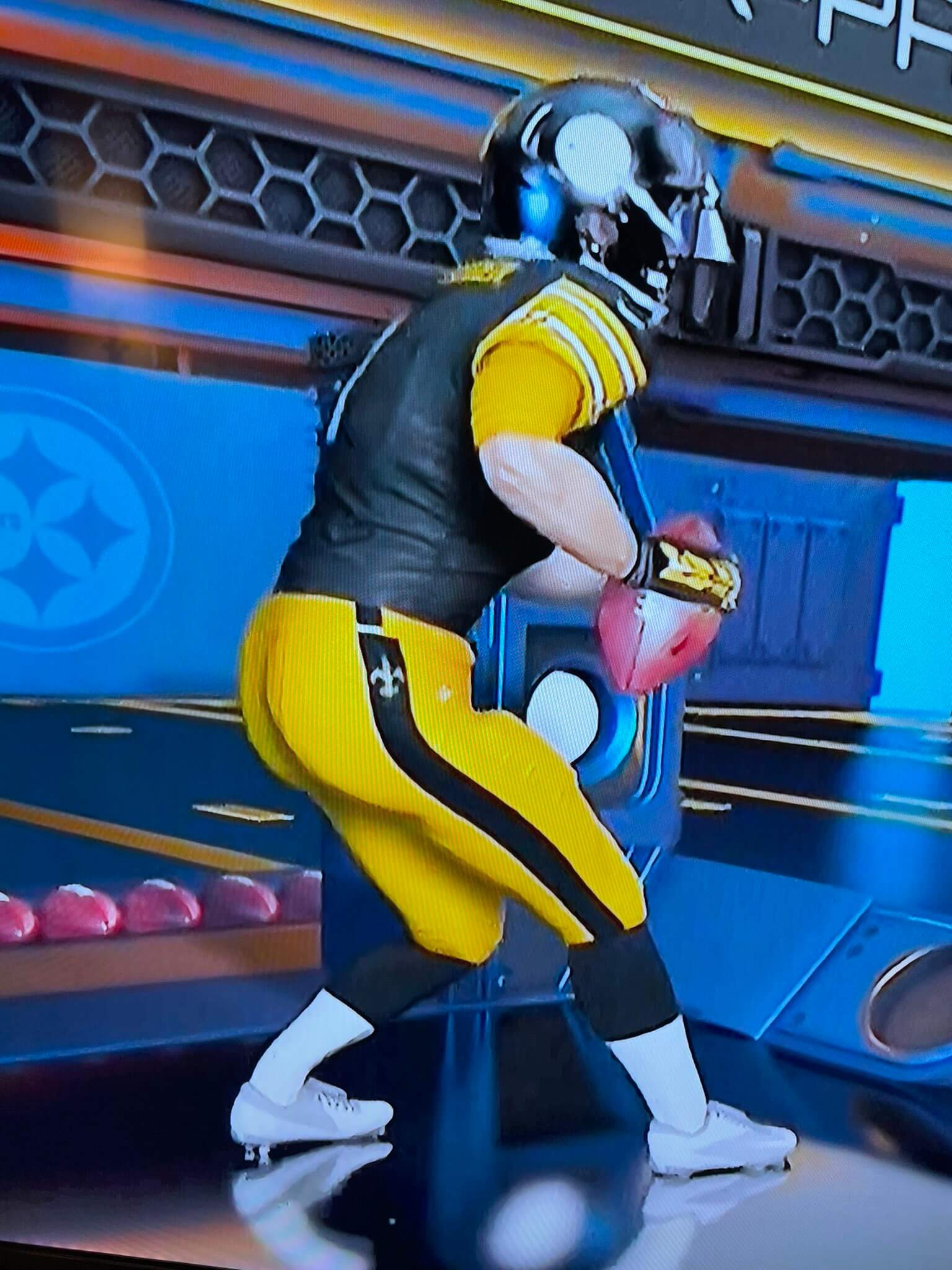 • The aforementioned Bears and Giants were the only two teams that wore white at home.
(My thanks to all contributors, including Dave Chojnacki, Edward Connolly, Matt Dunn, Dan Pfeifer, John Okray, @ianb78, and our own Phil Hecken.)
• • • • •
• • • • •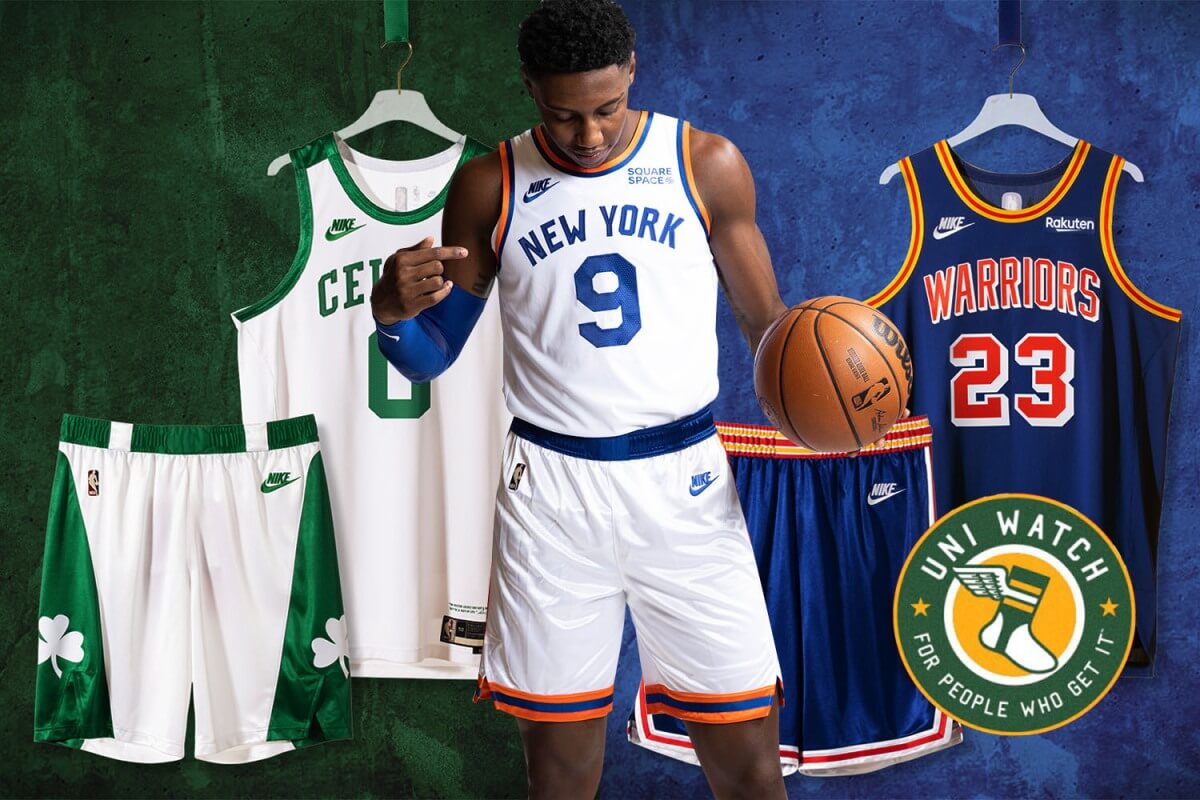 ITEM! NBA Season Preview now available: The NBA regular season tips off tomorrow, which means we'll be in that brief sweet spot where all four Big Four pro leagues are in action. It also means it's time for the annual Uni Watch NBA Season Preview, which has all of the uni and logo news for the coming season. It's available for your reading pleasure over at InsideHook. Enjoy!
• • • • •
• • • • •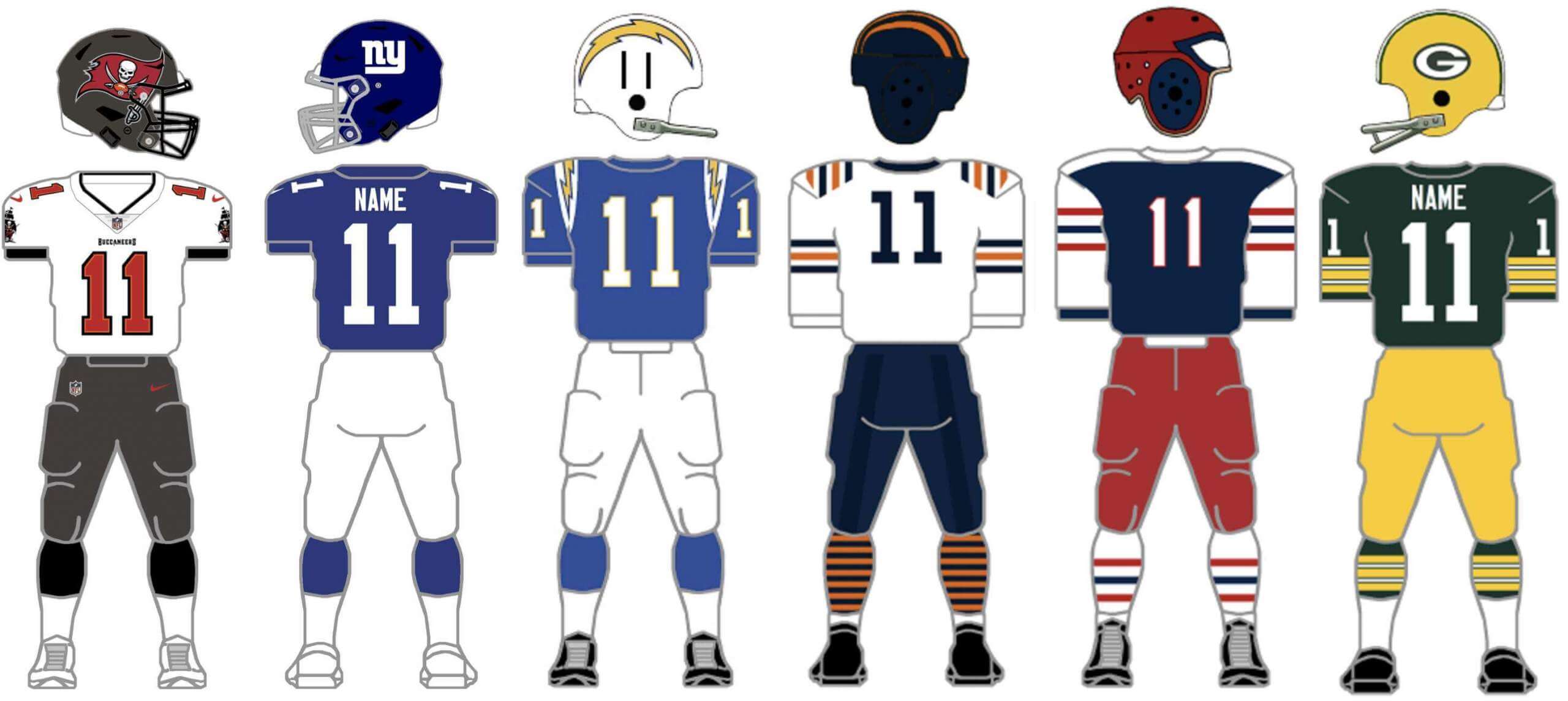 Bulletin reminder: In case you missed it on Friday, my latest article on Bulletin is an interview with football uniform historian Bill Schaefer, who creates all of the uniform mock-ups that appear on the amazing Gridiron Uniform Database website. We talked about how the GUD got started, he research methods, his "white whale," his goals for the site's future, and a lot more. I hope you'll check it out on my Bulletin page.
• • • • •
• • • • •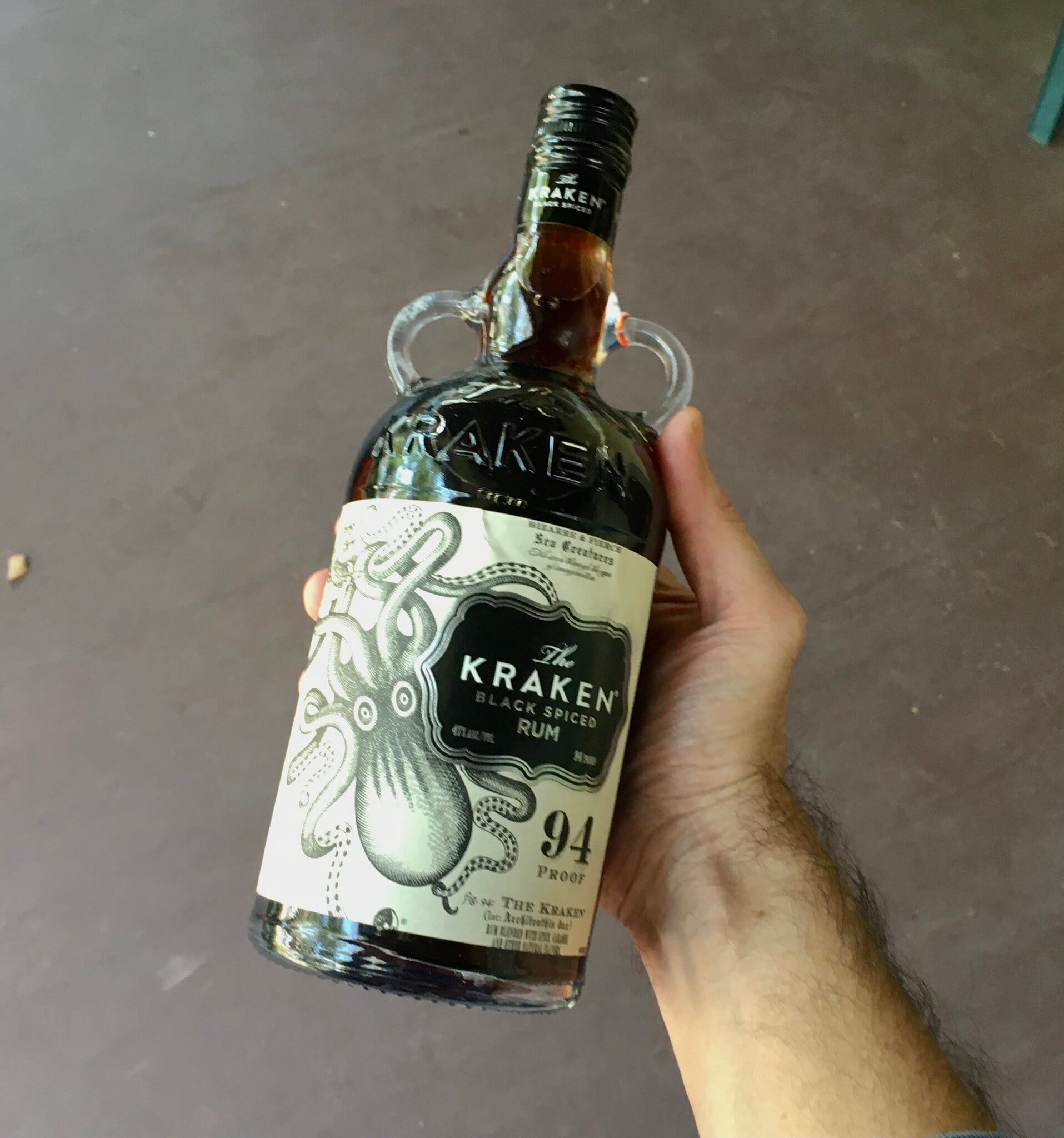 Click to enlarge
Yo-ho-ho and giant cephalopod: Did you know that there's a brand of spiced rum called Kraken? Yeah, you probably did, but I didn't until a bottle of the stuff showed up at Uni Watch HQ on Friday. Turns out that Kraken (the rum) is the official rum of the Kraken (the NHL team), so they sent me a bottle, along with a Kraken/Kraken co-branded ski cap. The ski cap will end up in the 2021 year-end raffle; the bottle will be put to good use.
Since the best-known spiced rum is probably Captain Morgan, shouldn't there be some sort of nautical Morgan-vs.-Kraken smackdown? It'd be sorta like Alien vs. Predator, but on the high seas. And with booze.
• • • • •
• • • • •
The Ticker
By Jamie Rathjen

Baseball News: Gigantes de Carolina, one of the teams in Puerto Rico's Liga de Béisbol Profesional Roberto Clemente, have a new logo and jerseys (thanks, Phil).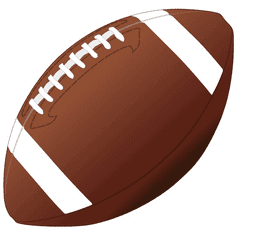 Football News: Left over from Saturday: FCS Campbell's colors are black and orange, so of course they wore mono-black for their last pre-Halloween home game (from Paula Parker). … If you're not aware, Tennessee enters the field through a giant T formed by the band, and on Saturday the stadium lights were turned down and just the T was lit up (thanks, Phil). … FCS school Dartmouth revealed a new helmet yesterday (from Ben Whitehead). … Oklahoma apparently has a drum where it displays logo decals of defeated opponents (from @PaytonGlen). … Reader Wade Heidt has Canadian college uni tracking in yesterday's comments.

Hockey News: The WHL's Everett Silvertips wore pink accents on Saturday (from Wade Heidt). … Also from Wade: The Junior A British Columbia Hockey League's Cowichan Capitals were the first BCHL team to wear "retro-inspired throwbacks" for the league's 60th anniversary.

Basketball News: One or both of George Washington's teams appears to be getting new uniforms today (from Matt Eliot). … Here is one writer's ranking of every Jazz uniform (thanks, Phil).

Soccer News: Italian club Napoli, who like to participate in trends like wearing black and camouflage and unusually, for soccer, wear those at home, wore a black Halloween-themed shirt in Serie A yesterday — of course for a home game (also from Trevor Williams). … The NWSL's Portland Thorns have been taping over the ad on their warm-up shirts recently for several reasons. … College teams that wore pink socks or other items included Duquesne and Florida Atlantic. … Australia's men's A-League already has a ad in its name and at least on social media is back to being "A-League" plus the advertiser, while the women's A-League doesn't have one. The leagues were renamed to "A-League Men" and "A-League Women" a few weeks ago, but that lasted maybe a few days. … Reader Michael Rich got a survey from Atlanta United focused on its shirt ad asking, among other things, for agreement or disagreement with several statements about the ad.

Grab Bag: College field hockey teams that wore pink included American, Bucknell, and Georgetown. … Australian cricket's men's Big Bash League has the leading run-scorer and wicket-taker wear golden caps. For some reason the women's Big Bash League didn't have that until now. The leagues also look to have a new number font. … Watkins Glen, N.Y., home of the auto race track of the same name, has checkered flag-themed crosswalks and apparently has for about two years (from @maybeifollowyou). … Thanks to James Gilbert, we have a thread on oddly shaped high school running tracks. … Here's an article on a campaign for an Indiana school to change its "Rebels" team name (from Stephen Langdon). … Vermont prisoners were once tasked with making car decals for the state police and hid a pig in the design that went undiscovered for several years (from Lee Wilds). … Here's a gallery of Winter Olympics torch designs from 1964 through 2018 (from Jeremy Brahm).
• • • • •
Our latest raffle winner is Jason Tirotta, who's won himself a bobbleball from the Mascot Hall of Fame. Congrats to him, and thanks to the Hall for sponsoring this one. — Paul