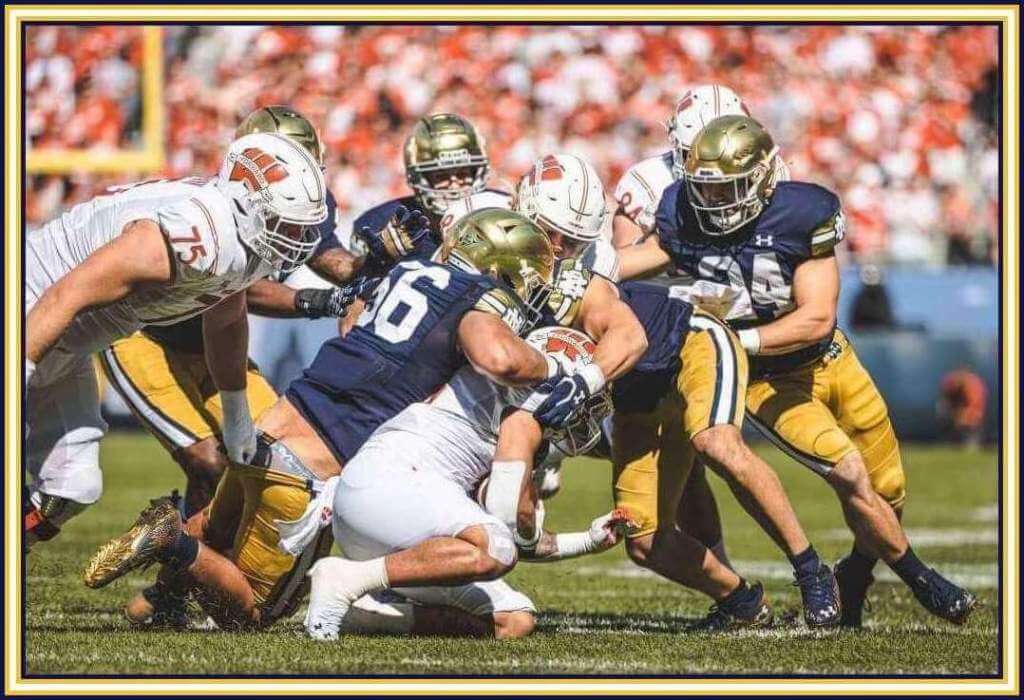 By Phil Hecken & the SMUW Crew
Follow @PhilHecken

Good morning Uni Watchers, and welcome to Week 4 of the Sunday Morning Uni Watch!
The Fighting Irish of Notre Dame and Badgers of Wisconsin hooked up yesterday in a spiffy looking game, played as part of the continuing "Shamrock Series" for the Irish, with the game being played in Chicago's Soldier Field (home of da Bears). The grounds crew did a fine job turning an NFL stadium into one for two top college teams.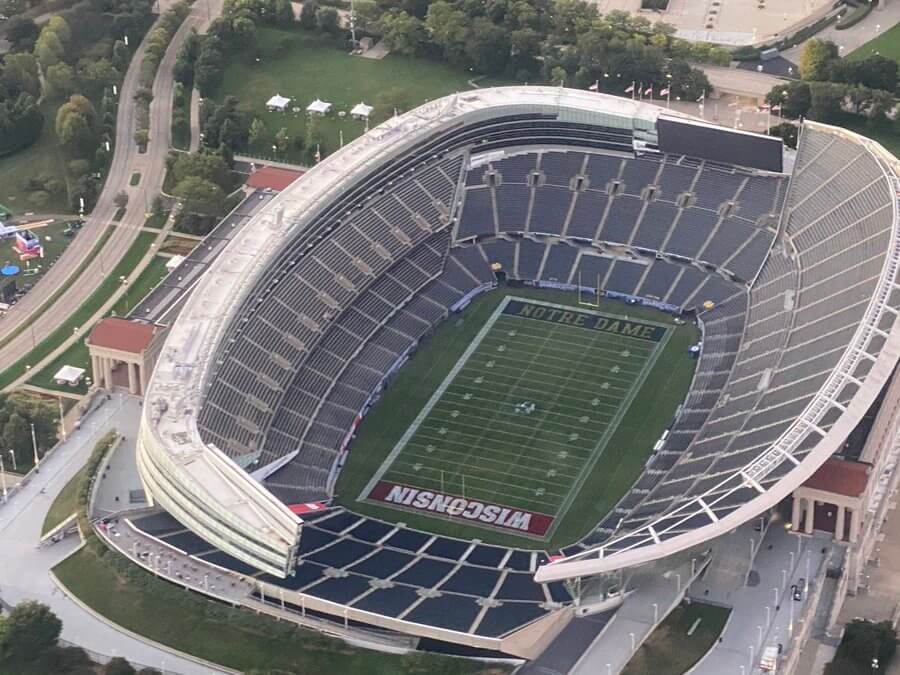 This being a "special" game, of course both teams had to trot out alternate uniforms. But unlike many "special" games, this one actually featured some pretty great looking unis for both squads.
If you looked at Notre Dame's uniforms, and they reminded you ever-so-slightly of Packer unis, that wasn't unintentional. Why not da Bears? Well, there's a reason for that.
I actually really like the Irish duds — I know they traditionally wear stripeless britches, but adding that blue/white/blue stripe really made the normally drab-gold pants pop. I was less of a fan of the striping and "ND" logo on the sleeve cap, but in fairness, they were trying to mimic the sleeve cap of the Pack. They wore their normal gold hats.
Wisconsin, too, wore special unis — and one of the biggest differences was the "FORWARD" wordmark (rendered as a ribbon) on their helmets. There was, of course, a reason for that as well. I don't normally like wordmarks on top of logos, but this one seemed to work. About the only thing I didn't like about 'sconnie's kits were the number fonts.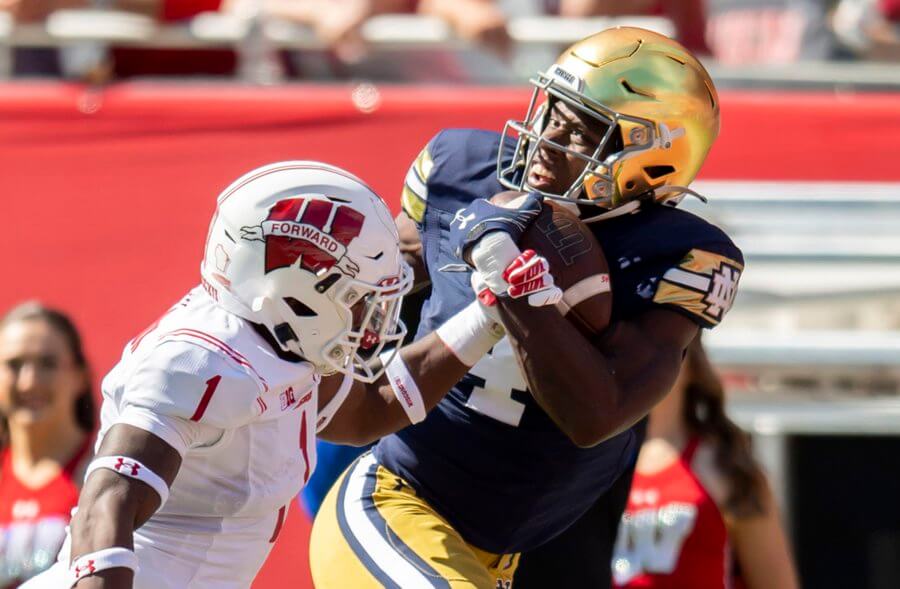 But all in all it was a pretty good looking game on a beautifully sunny fall day, with special one-offs that not only didn't suck…they were good!
OK, now onto TJ and the rest of your…
• • • • •
Sunday Morning Uni Watch
by Terry Duroncelet, Jr.
From Friday:
• Why must teams choose violence at every opportunity?
From Saturday:
• I've said it before, and I'll say it again: Colorado State is up there with Michigan State as one of the very few teams that can make all-white not look like barely-seasoned baked chicken, and it's a perfect visual complement to Iowa's classic –albeit "familiar"– look. The Rams should make those bone horn helmets a permanent fixture, with a green shell and gold horns to go along with it.
• Um, Baylor… I think you guys might be confused as to who the Golden Bears of college football are.
• The C H A N T S need to make this helmet decal permanent.
• Y'know, for the 100th meeting between these two, I'm kinda bummed that TCU didn't wear jersey tops that said "FORT WORTH" on the front.
• I love it when Army West Point lives up to their team name.
• Throwback uniforms for Purdue. Game didn't look half-bad either.
• Sweet digs from Utah.
• Now this is what I call putting your heads together.
• Contrast Matters: Post-Labor Day Edition. I call it this because this is the one time where wearing white pants after Labor Day is a blessing, because forget trying to tell who's who otherwise.
• Arizona State needs to make these permanent if they haven't already. Love the field detail as well.
• Michigan State went the Blank Flank route on the left side of their helmets, and block 'S' decals on the right side against Nebraska.
• Red trou for Kansas.
• Oklahoma wore their Rough Rider/Bring The Wood uniforms against West Virginia (seems to be a habit of theirs).
• UTEP's Texas Western uniforms finally hit the field, and this is an example of what I call a Good Scrambled Eggs uniform, or a GSE uni. What I mean by that there's an underlying beauty and charm to a plate of food that's simple, but done well. Eggs, maybe some toast and basic fruit, but the ingredients are quality, and there's love put in the food. That's the vibe I get with these unis. It's literally just orange and white with two things on the side of the helmets: jack, and shit. And yet, it works.
• • • • •
Thanks, Terry! Now for the rest of today's SMUW…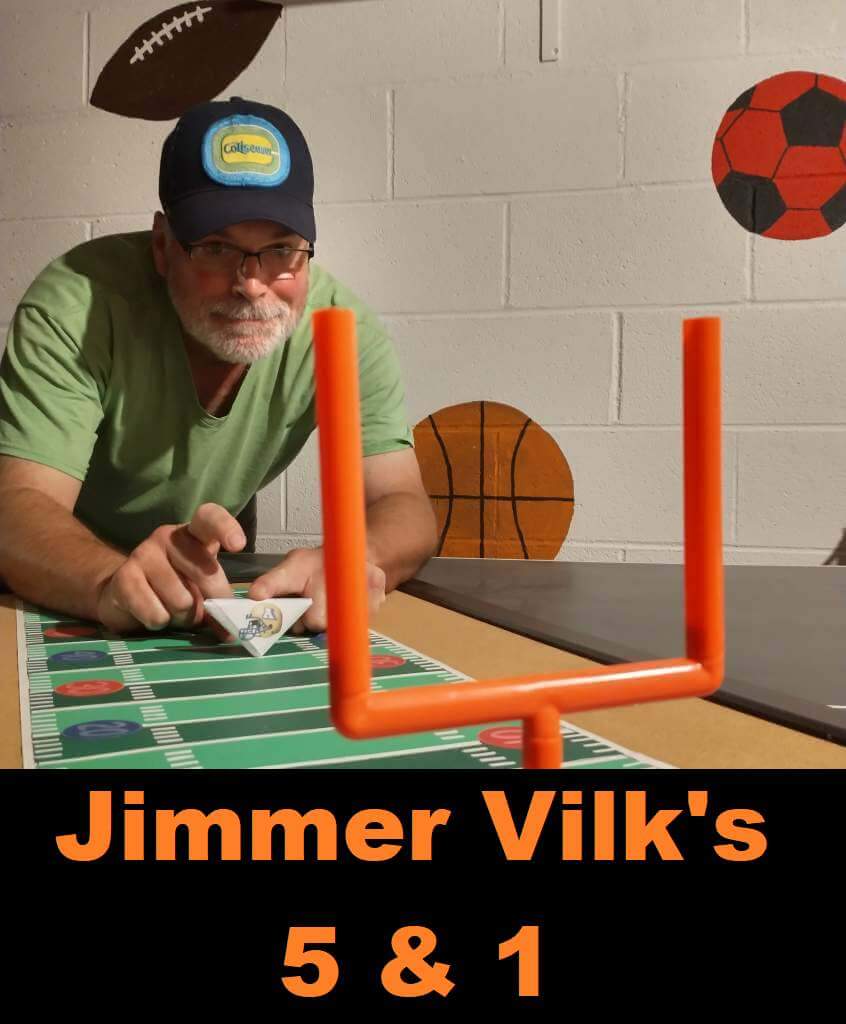 Jimmer Vilk's 5 & 1
After more than a decade in hiatus, the original "5 & 1" decider, Jim Vilk, has returned! Jim began doing the 5 & 1 many years ago, followed Catherine Ryan, Joe Ringham, Michael "Memal" Malinowski, and several guest pickers. Once again, Jim will pick HIS 5 best looking/1 awful matchup, and occasionally have some honorable mentions (both good and bad). You may agree and you may disagree — these are, after all, just opinions and everyone has one. Feel free to let him know what you think in the comments section.
If you have a game you feel is "worthy" of consideration for the 5 & 1, please either post it in the comments below or tweet Mr. Vilk @JVfromOhio.
Here's today's 5 & 1:
• • • • •
I had this big preamble about pants stripes, but I'm going to shorten it because I have another point to make. Basically, I believe every school's uniforms would look better with pants stripes. Just try them and see. Also, longtime readers know I have been very hard on my alma mater, and I am no fan at all of the biggest school in my state. So imagine my surprise when I finalized this list…
Honorable Mentions to: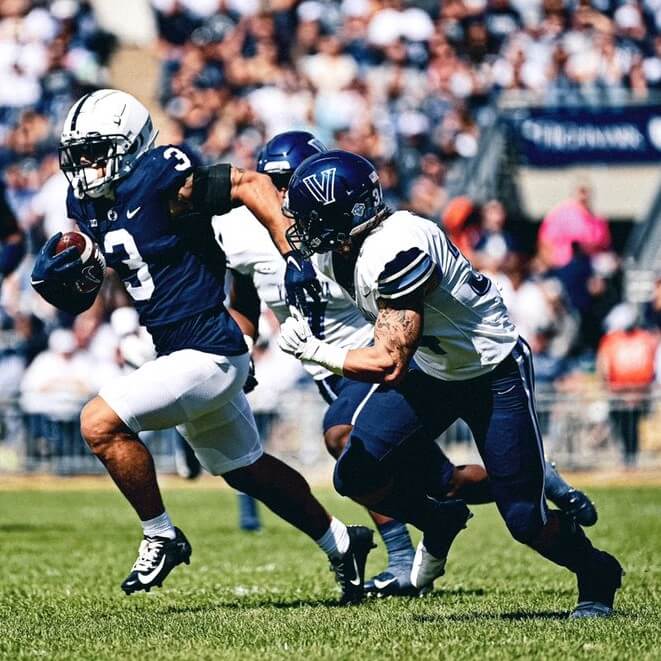 Vilkanova/Penn State

My favorite basketball school looked great on PSU's gridiron this week.
__________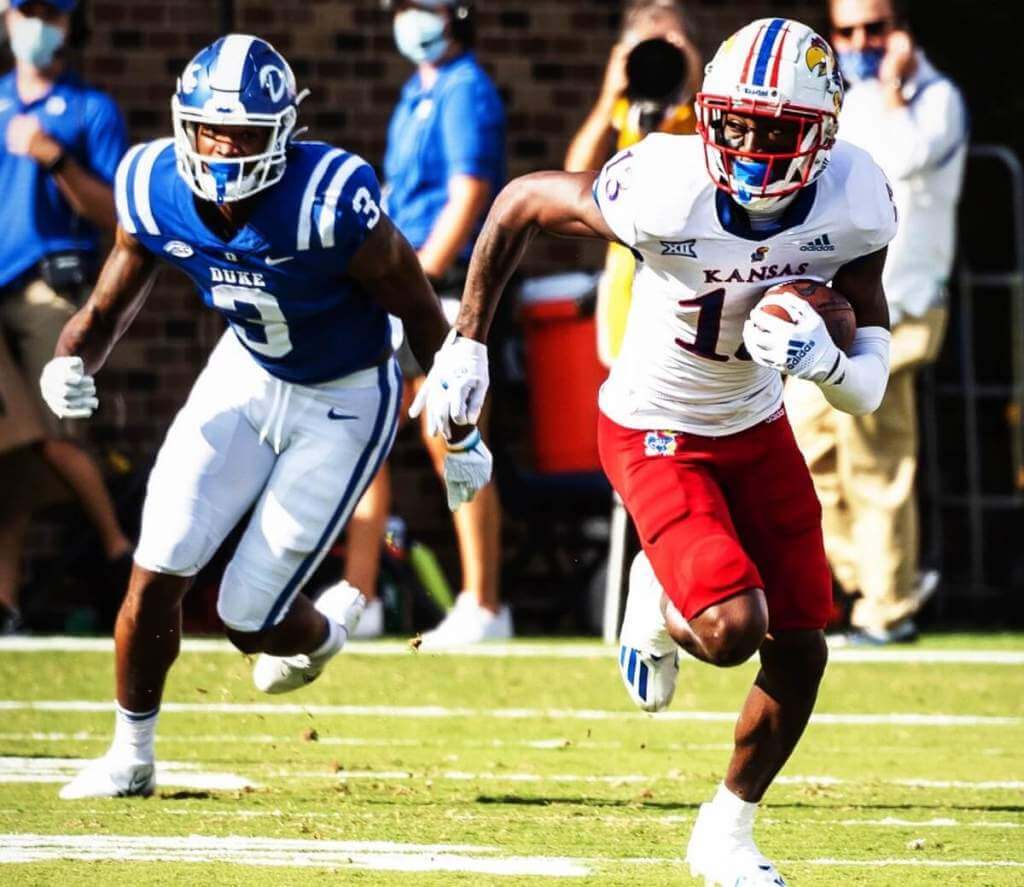 Kansas/Duke

Speaking of hoops institutions…those red pants made this game look better than any of their March Madness matchups.
__________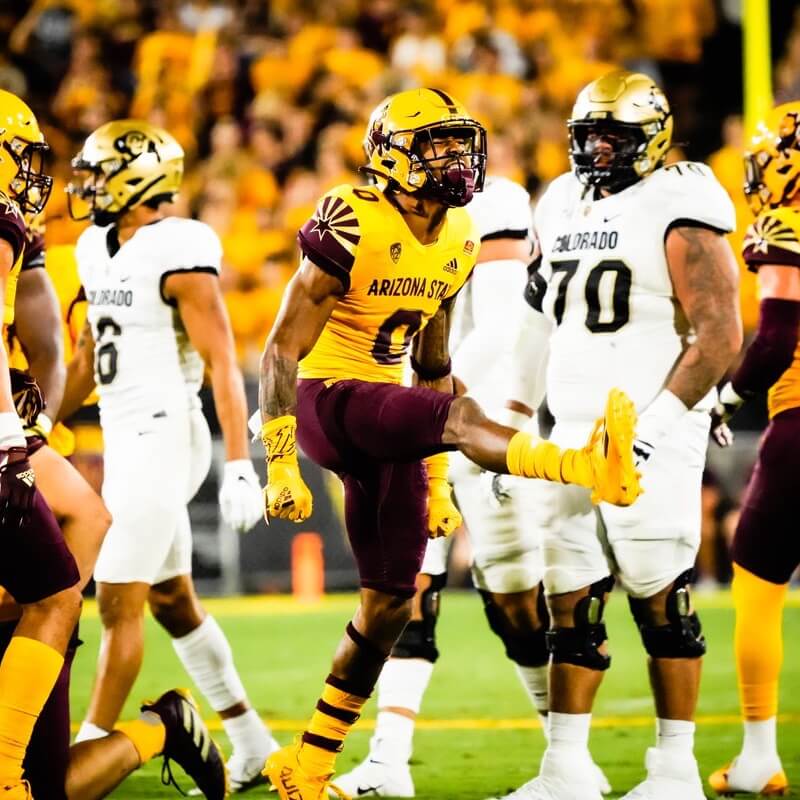 5. Colorado/Arizona State

Not a fan of Sparky, and yet That. Is. The. Best. Uni. ASU. Has. Ever. Worn.
__________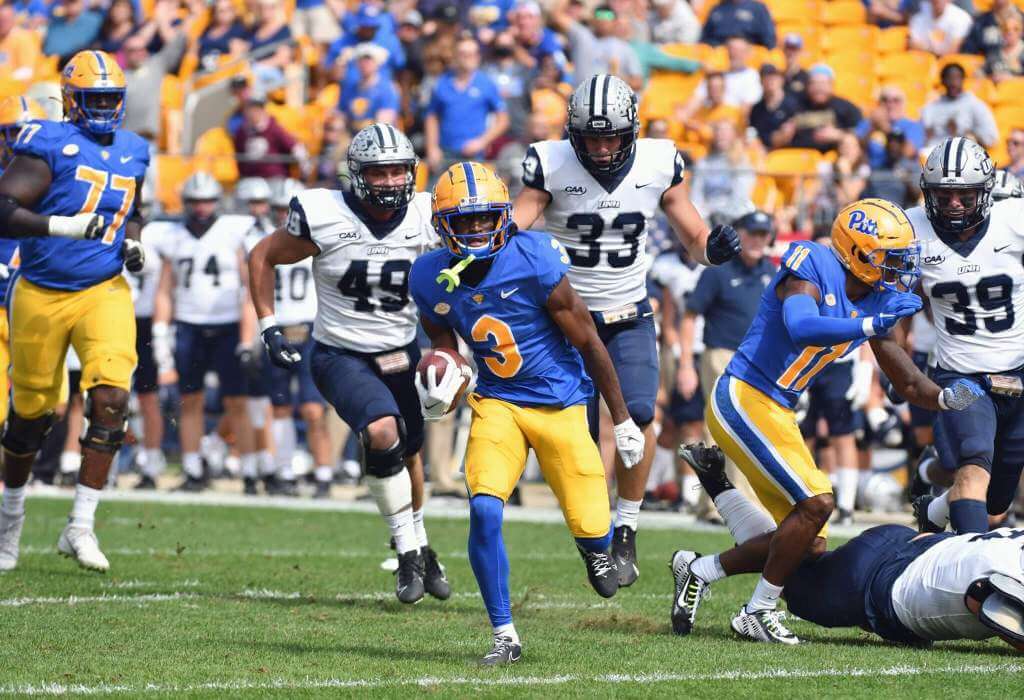 4. New Hampshire/Pitt

TV numbers always look better on the sleeves, especially on contrasting sleeves!
__________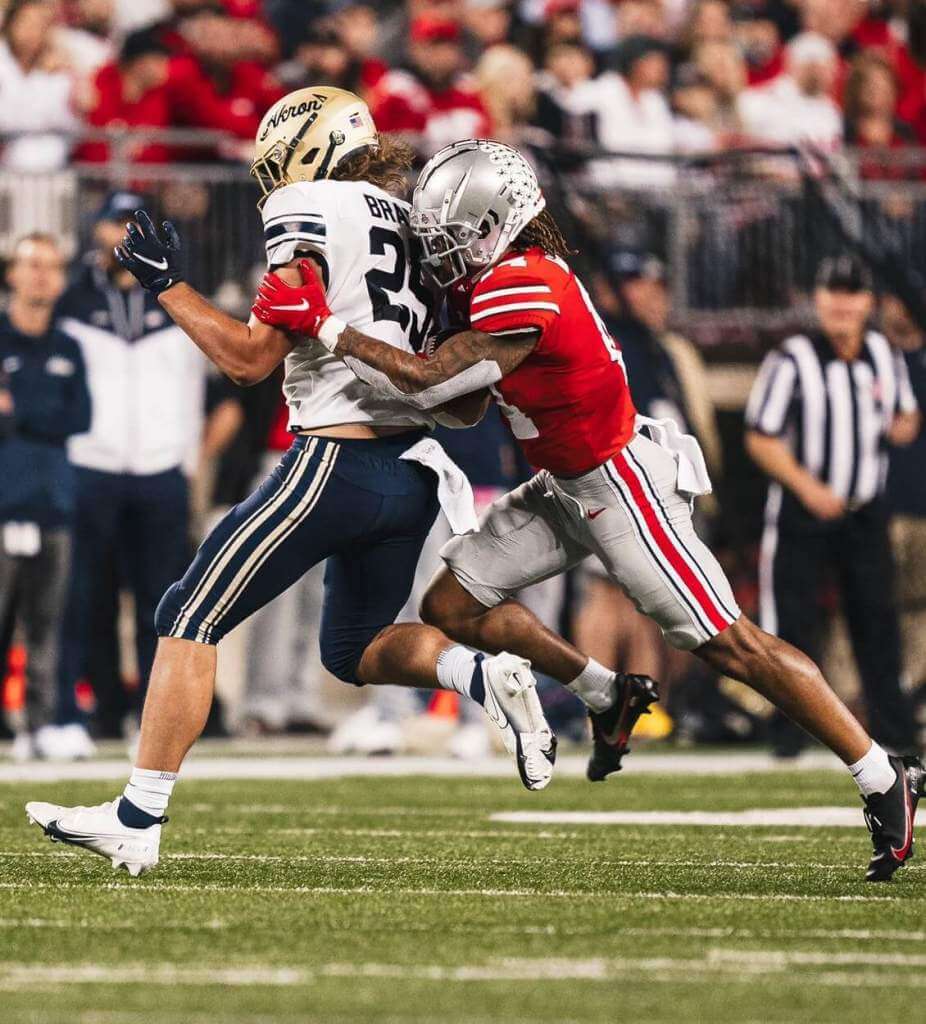 3. Akron/Ohio State

My Zips haven't looked this good in a loooong time, and the dreaded Buckeyes paired very nicely with them.
__________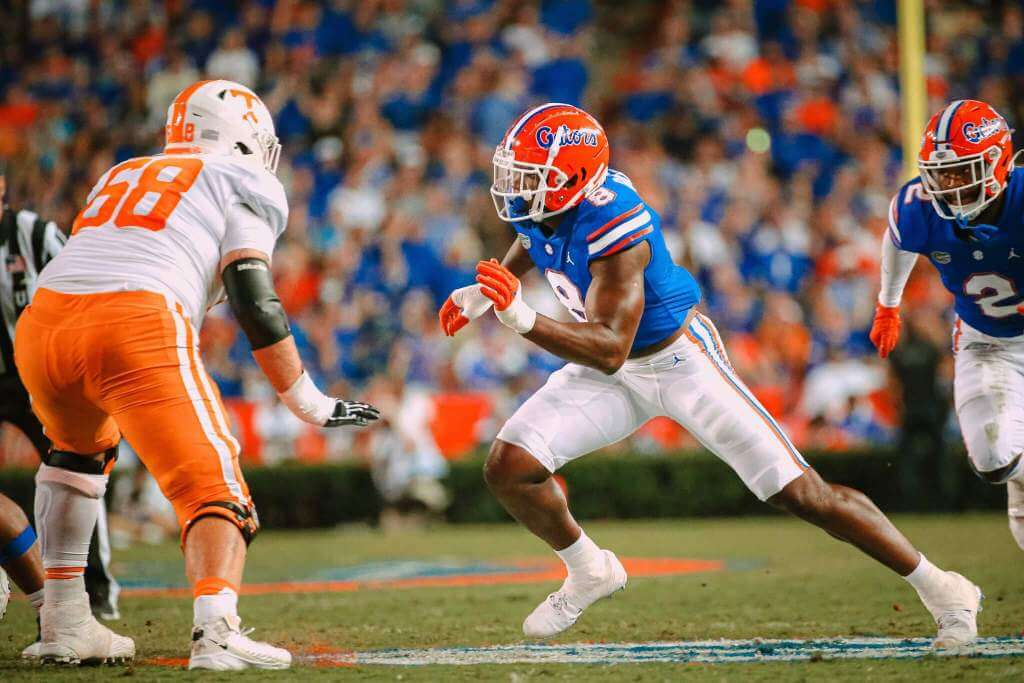 2. Tennessee/Florida

They almost didn't need the stadium lights for this bright night matchup.
__________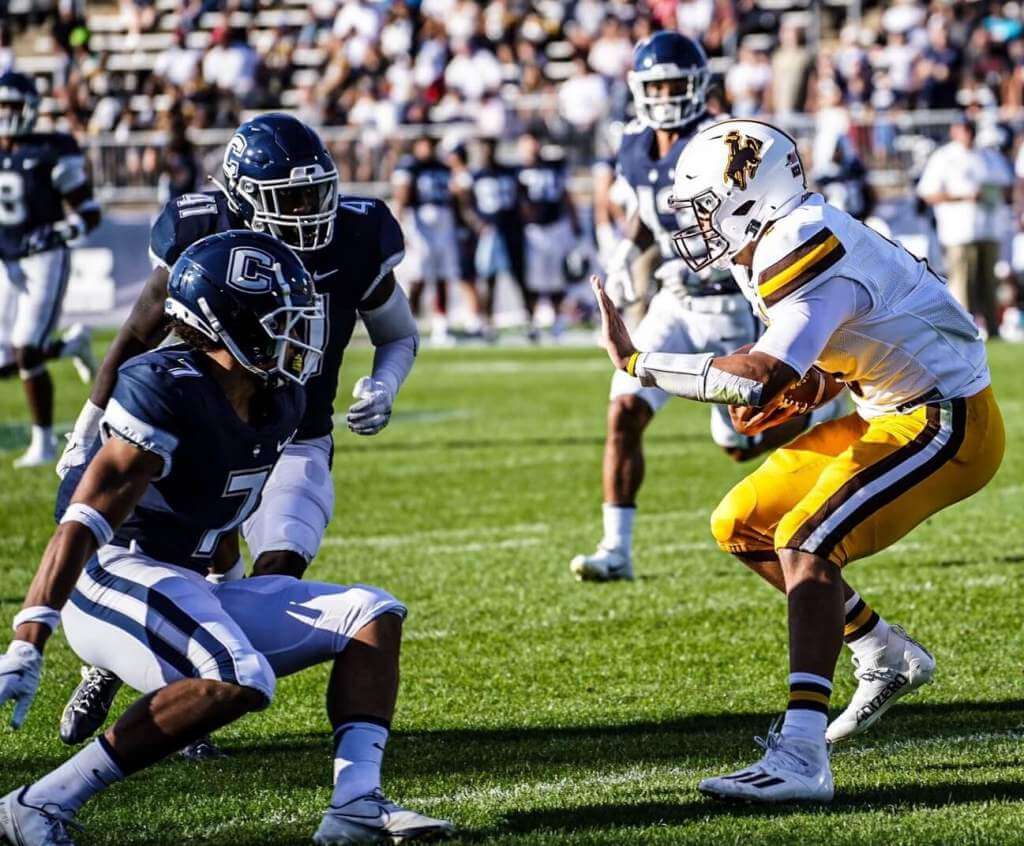 1. Wyoming/UConn

Yeehaw, Cowboys… it's finally your time in the sun!
__________
An extremely Dishonorable Mention to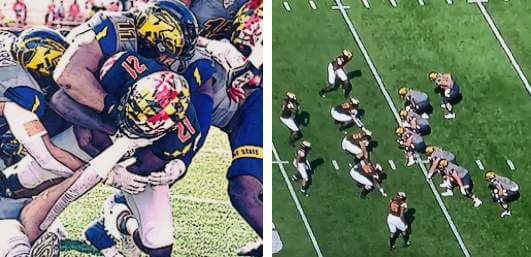 Kent State/Maryland

To the usual taunt of "Kent read, Kent write, Kent State," I add, "Kent understand contrast."
__________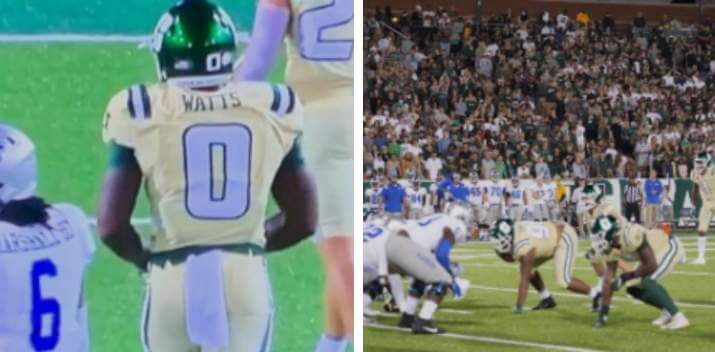 &1. Middle Tennessee State/Charlotte

Properly sized numbers don't mean squat if you can't see them from distance!
• • • • •
Thanks, Jim! OK readers? What say you? Agree or disagree with Jimmer's selections? Let him know in the comments below.


NCAA Uni Tracking
Uni Watch will again track the uniform combinations worn by the "Power 5" conferences. All of the 2020 trackers are back!
We've got Rex Henry (tracking the ACC), Dennis Bolt (tracking the PAC-12), Kyle Acker (tracking the B1G), and Ethan Dimitroff (tracking the Big XII AND the SEC). Rex, Dennis, and Kyle and are all returning from 2015, and Ethan is back after joining the NCAA Uni Tracking a couple seasons ago. Ethan will continue to track the SEC, and has swapped the B1G for Big XII (with Kyle).
Here are the Uni Trackers for the Power 5 Conferences (along with each tracker's info):
+ + + + + + + + + +
Rex is up first today (ACC):
• • •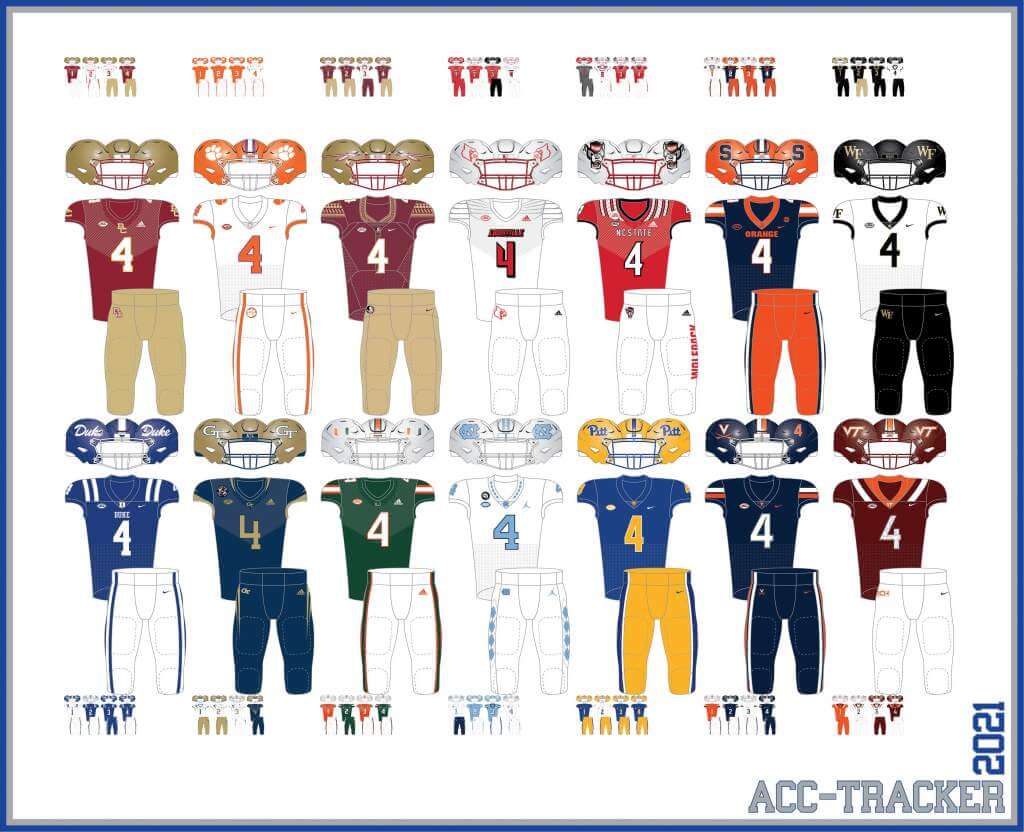 ACC

More Here.
Follow Rex on Twitter here.
• • •
And now, here's Dennis with the PAC-12: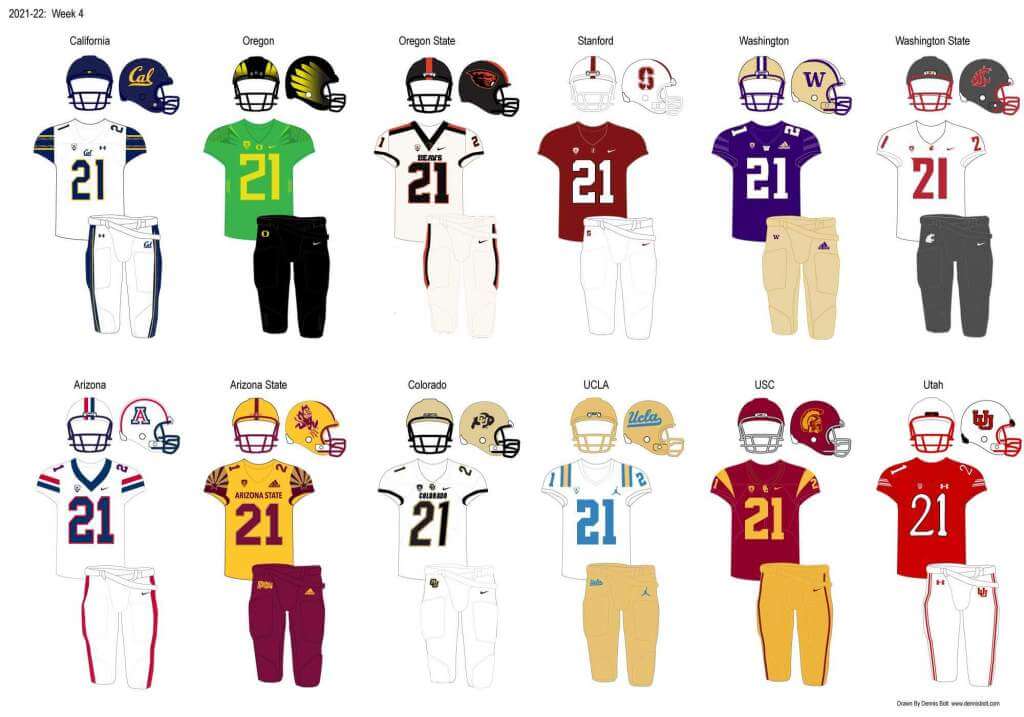 PAC-12

More here.
Follow Dennis on Twitter here.
• • •
And here is Ethan, with the SEC: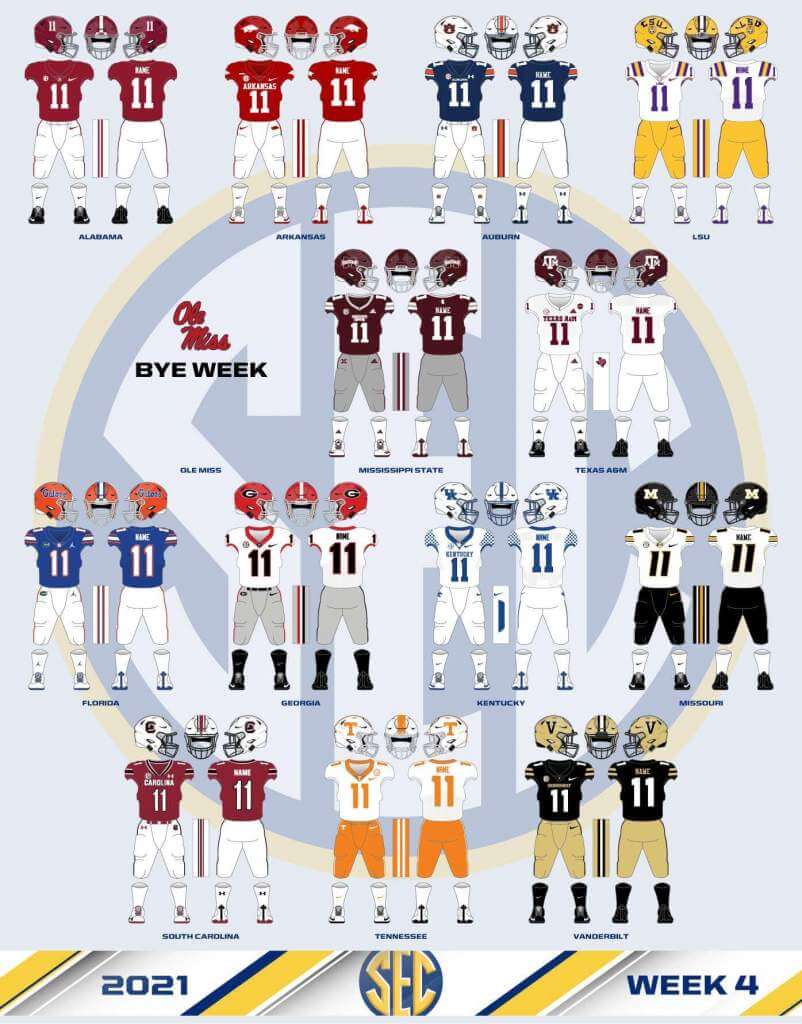 SEC

And be sure to check out Ethan's WVU Mountaineer Tracker.
Follow Ethan on Twitter here.
• • •
And here is Kyle with the B1G: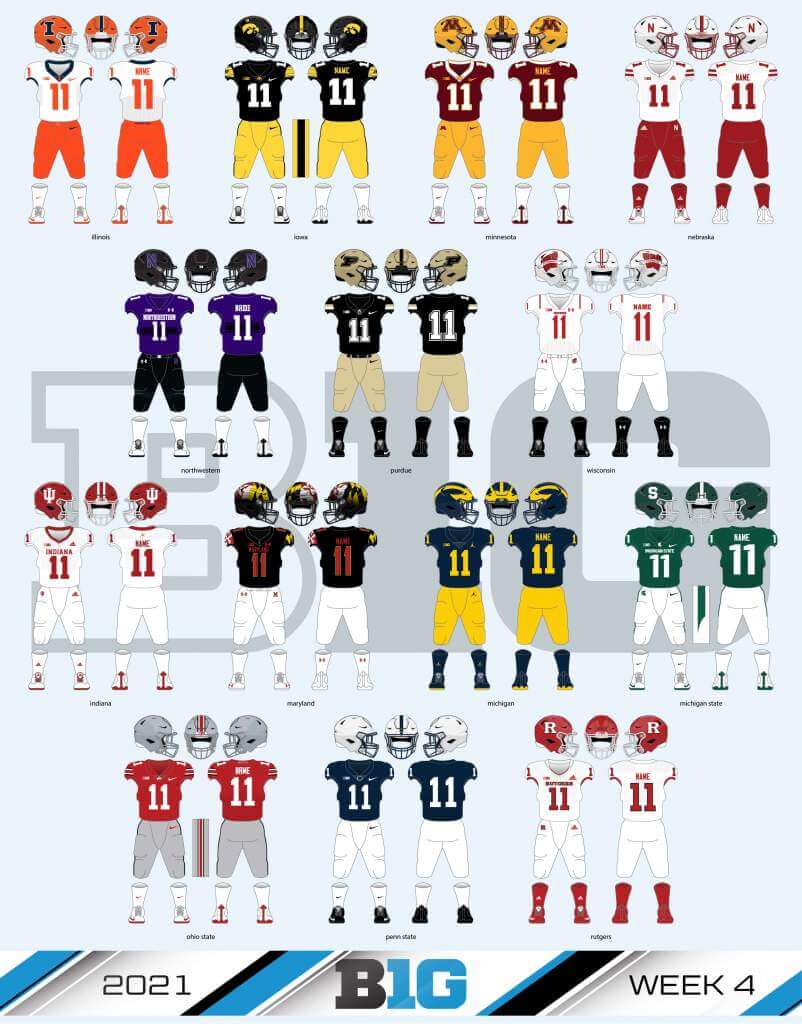 B1G

Follow Kyle on Twitter here.
• • •
And here's Ethan with the Big XII: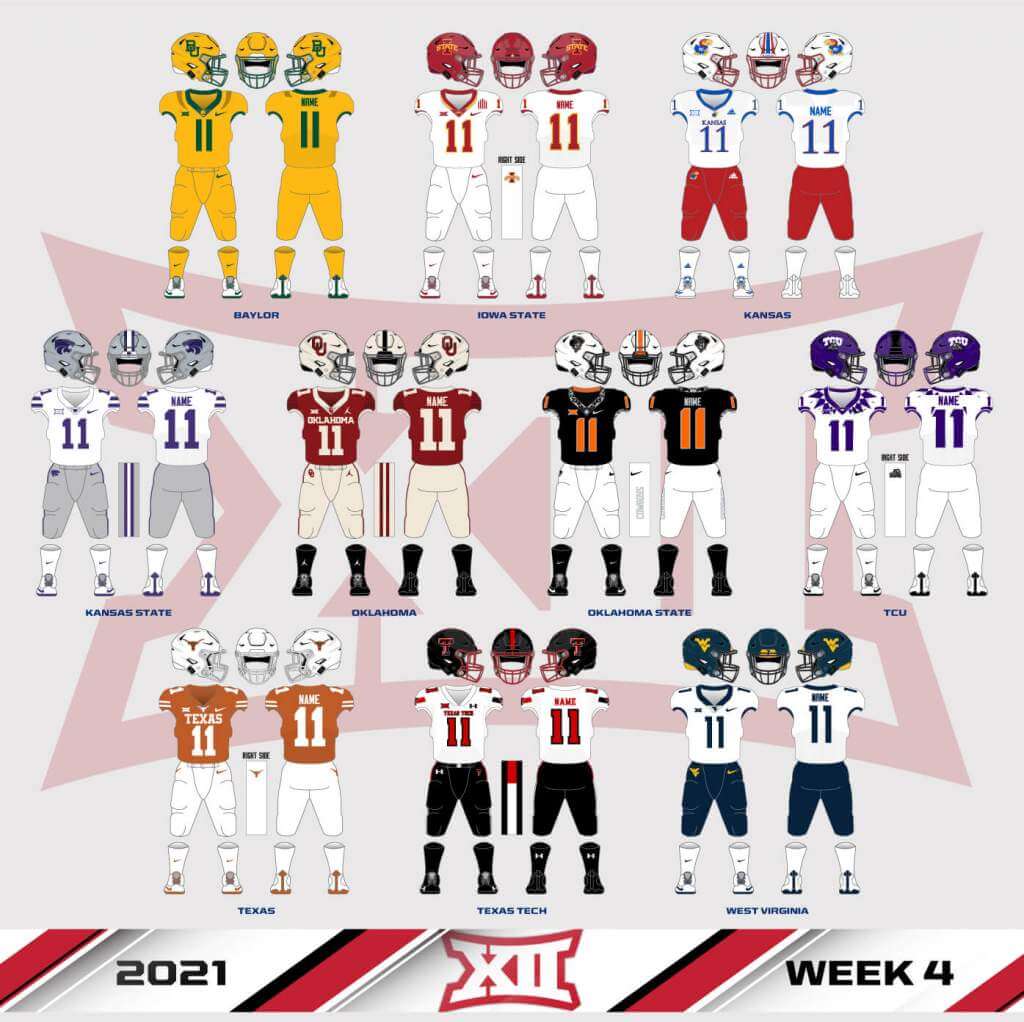 Big XII




Welcome to the 2021 Oregon Ducks Uni Tracker. This little project was originally begun way back in 2008-09 by Michael Princip, who retired after several seasons, whereupon the project was continued by Tim E. O'Brien. He, too, retired from the tracking, but the project has been ably kept up by the man who also tracks the Pac12, Dennis Bolt.
Here's this week's Uniform Combo for the Ducks (you can click to enlarge):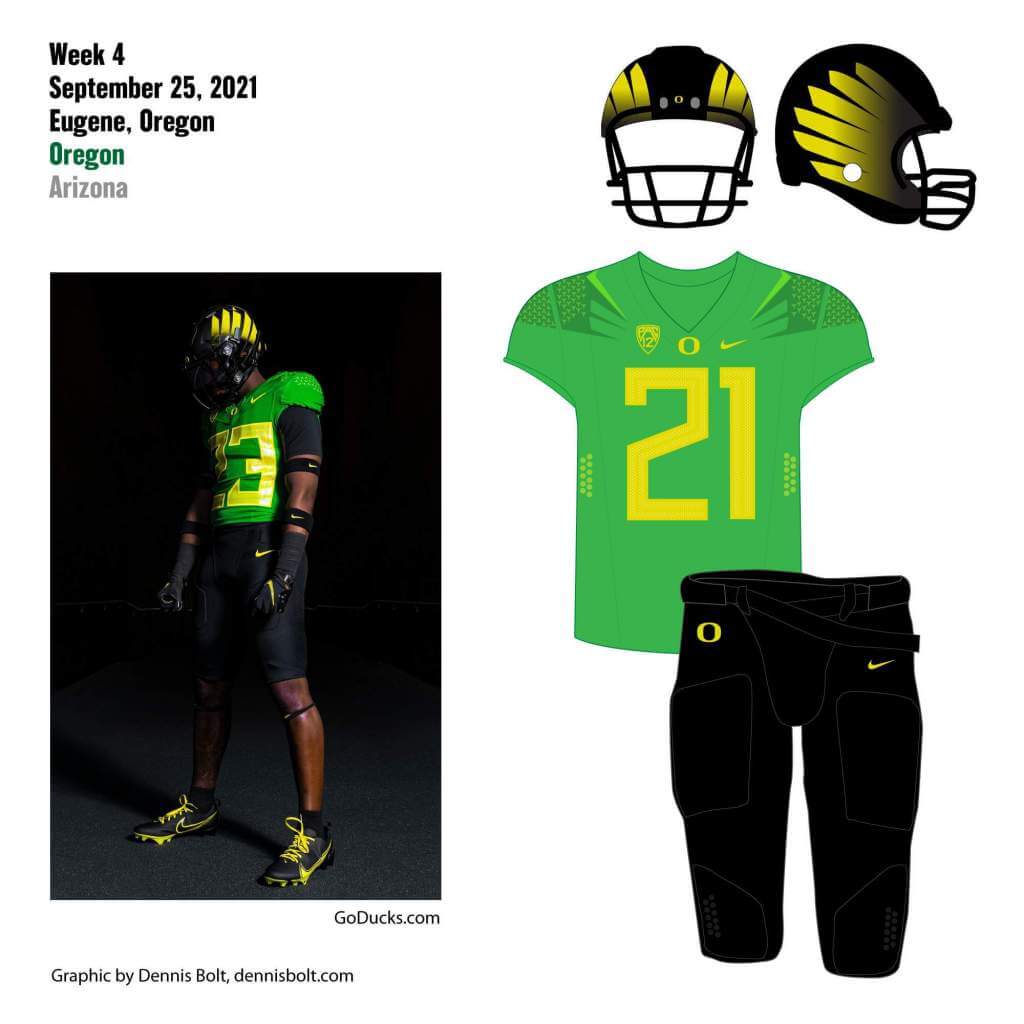 You can read about this uniform, and MUCH MORE, by checking out the Duck Tracker here and the color combo spreadsheet here!
Thanks Dennis!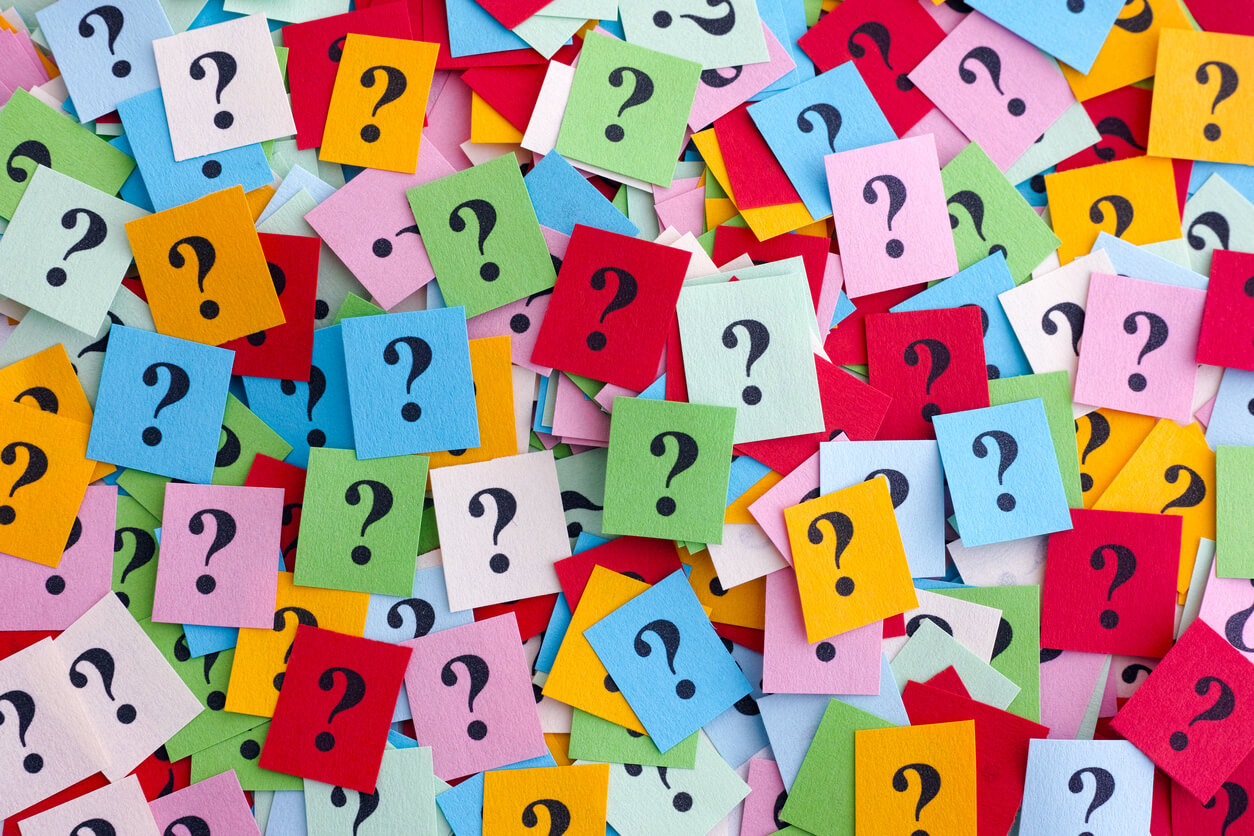 "Ask Me Anything" reminder: Paul here. In case you missed it on Friday, my latest Bulletin article is an "Ask Me Anything" installment where I answer dozens of reader-submitted questions. You can read it on my Bulletin page. Enjoy!
Also: If you use an RSS reader, like Feedly or Inoreader, you can now subscribe to my Bulletin content via RSS. Just plug "https://paullukas.bulletin.com/rss" into your reader and you should be good to go.
Now back to Phil!


Uni Watch News Ticker
By Phil

Baseball News: Wowsa! Check out this color, incredibly crisp, 1947 film from 74 yrs ago shot at Yankee Stadium for the Old Timers Game. This footage was purchased by a friend from Frankie Crosetti. Includes a gravely ill Babe Ruth, Cy Young, Jimmie Foxx, George Sisler & so many more baseball HOF'ers (from Sean Walsh). … Oooooh, a league of their own! Take a look at this wonderful photo of the AAGBPL (from SABR BioProject). … Tampa Bay gets a decent amount of mileage out of the Devil Rays fauxbacks. So much in fact, they clinched the AL East last night while wearing them (from John Sabol). … Brian Dawkins appeared at the Phillies game yesterday to throw out the first pitch and do a book signing, notes Marc Rosenberg. "His jersey with his soon to be retired and Mike Schmidt's already retired #20 is excellent. BTW, that's Schmidt in the shot," he adds. … With the Red Sawx loss to the Yanks on Friday (and a 7 game win streak), the team said they'd stop wearing the "lucky" CC alternates. So yesterday they wore their other alternates. … Scranton-Wilkes Barre's Ryan LaMarre had a bit of a wardrobe malfunction yesterday (from Artimus Naugin). … Reader Carl Schneeman writes, "The Twins "Fan Appreciation" give away on Friday was a super great stocking cap but Orange and Royal?" … … If you're an adult male above age 20 or so, and you decide to bring a glove to a game, you may as well have a really HUGE one (from Tony). … The Tampa Bay Rays are planning to hang a Montreal sign at Tropicana Field during the MLB post-season, fueling reports of a future shared custody between the two cities for the club (thanks, Brinke).

NFL/Pro Football News: ICYMI: The New York Jets will wear green/white/green today in Denver. … The Seattle Seahawks will go blue/white/blue in Minnesota. … The Buffalo Bills will sport white/blue/white against the Washington Football Team. … The Cincy Bengals will wear orange/white/white (but with black socks) vs. the Stillers. … The Jacksonville Jaguars will be wearing black/white/blue at home vs. Arizona. … The Miami Dolphins will wear white/white/aqua in Vegas. … During telecasts, the CFL has virtual ads on the field and some teams have their logo virtually at midfield, which are not painted on the field and you would not see it if you are live at the game. Wade Heidt notes, "The (BC) Lions are one of the teams with their logo virtually at midfield during telecasts. For Friday's game, they had the special stylized version of their logo show at midfield for the telecast." … Here's some good video of the Browns staff preparing the 1946 "throwbacks," which Cleveland will wear today. … I'm not sure who did this mockup, but if the Lions actually wore Honolulu Northwestern pants stripes and blue socks with their white pants, that uni has potential. … Check out Marshawn Lynch wearing a 24/7 "Seahawks" jersey in an ad for a Seattle plumber (from Mark in Victoria). … Most of you probably know this, but the Detroit Lions have a perma-memorial — the initials "WCF" — on their sleeve caps. Here's some background on that. … Check out this Green Bay football player flying to California wearing a Dallas Texas hockey sweater (from Lee Wilds). … Tennessee may still not want to recognize much of their Oiler history, but it was Oiler homecoming weekend in Nashville. Bum Phillips is being inducted into their Ring of Honor (from Ignacio Salazar).

College Football News: Alabama-Birmingham will open its new stadium on October 2nd. The stadium's official website has a cool aerial view of what it looks like (from Kary Klismet). … Coastal Carolina has unveiled a sculpture of its rooster mascot, Chauncey, outside of its football stadium (also from Kary Klismet). … Canada West conference started in U Sports. No great photos yet but some nice new uniforms for Manitoba Bisons. More classic striping compared to old white unis with gold side panels. An upgrade (from Wade Heidt). … Also from Wade: Every team in Ontario conference of U Sports football will wear this decal on helmets for rest of season. "In honour of Ottawa Gee-Gees DL and student Francis Perron. Perron died unexpectedly after last Saturday's game." Wade adds, "Article from CTV News Ottawa with more detail. Perron's framed jersey on the Ottawa sideline during game." His jersey was placed on the field yesterday in the formation before kickoff at Queen's in Kingston.

Hockey News: With their first full scrimmage yesterday, we are now able to get a full look at the new Seattle Kraken uniforms. Here are a few more looks. I think these are growing on me. … The Rum River Mallards, a junior team in the United States Premier Hockey League from Minnesota, have new uniforms and colors (from Kary Klismet).

NBA News: Did you know the Orlando Magic are the only NBA team that hasn't retired a single jersey number (I didn't). This article makes the argument they should begin doing so.


Soccer News: Wait…what: Mattia Destro scored his second goal of the match with a WATER BOTTLE in his hand. Anyone ever seen anything like this before? (from AC). … Here's a news story about how fans are rebelling against the proliferation of retail jerseys with which European professional soccer teams have flooded the market (from Kary Klismet).

Grab Bag: Looks like the LSU Ultimate Frisbee team has new uniforms. Not sure if they are all "69" however. … For the curling fans among us, Rachel Homan's rink has new uniforms. … Seton Hall has renovated its historic Walsh Gymnasium, the former home arena of the Pirates' men's basketball team and current home of the women's basketball and volleyball teams (from Kary Klismet). … Also from Kary: Simpson College in Iowa has a new costumed mascot. … There was an unusual pairing in yesterday's Anthony Joshua / Oleksandr Usyk heavyweight title bout, as both fighters wore white trunks (thanks, Paul).


And finally… that's all for this fine first Sunday of fall. Big thanks, as always, to the SMUW crew for all their efforts!
Everyone have a good Sunday and a better week, and I'll catch you back here next Saturday.
Peace,
PH