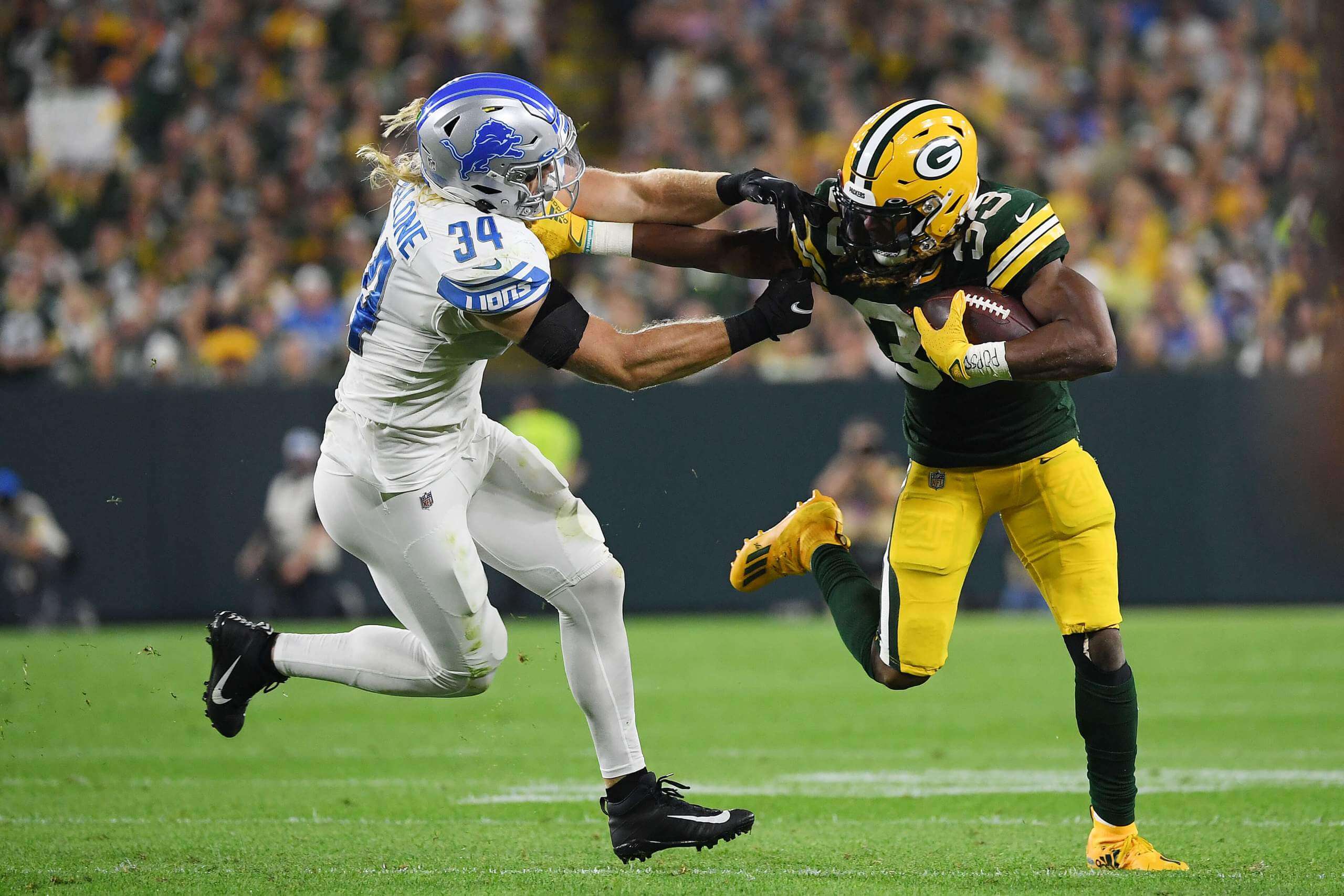 Photo by Quinn Harris/Getty Images; click to enlarge
There are few things in sports more routine and less novel than a Lions/Packers game. The two teams have been playing each other twice a year for nearly a century. But last night's game between the two NFC North mainstays was uni-unusual on several levels.
The weirdness started yesterday morning at 8:30am Eastern, when the Lions announced via social media that they'd be wearing white pants:
#Lions will be wearing their white-on-white uniforms for tonight's road game against the Packers❕🏈

What do you think? pic.twitter.com/JnEkyol4SZ

— Detroit Lions (@Lions) September 20, 2021
As you can see, that animation featured illustrations, not photos, and it wasn't clear how photo-realistic the illos were. For example, would the pants really be plain white, with no stripes, or was that just a bit of stylistic minimalism? And would they really be going with white facemasks, as shown in the illos, or was that another bit of stylistic license?
Either way, the Lions were clearly staking out some long-dormant aesthetic turf. According to the Gridiron Uniform Database, the team's long uniform history includes only two previous years in which they wore white pants: 1948 (the white britches were worn four times with red jerseys and three times with black jerseys that season) and 1949 (10 times, all with the team's now-familiar Honolulu blue, which debuted that season). Here's a shot from that era, showing Lions receiver Bob Mann: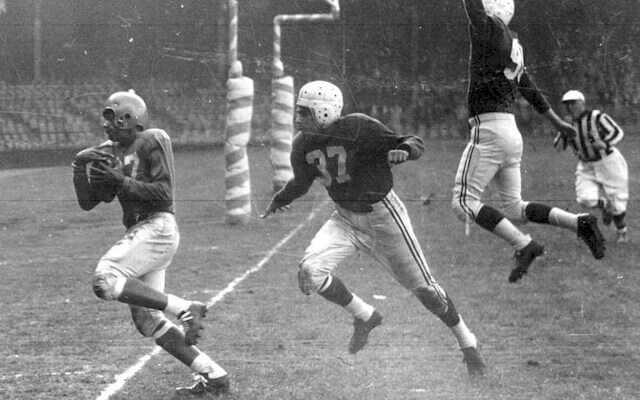 So prior to last night, the Lions hadn't worn white pants in over seven decades, and they had never gone mono-white.
Aside from the history, it seems a bit odd that the Lions waited until gameday to announce their new pants, right? But there are no NFL rules governing how many sets of pants a team can have or how much notice they need to give regarding pant choices. Remember how the Ravens surprised everyone by wearing gold mustard pants in 2015? Or when the Browns suddenly broke out the orange pants last year? In a hopelessly regimented NFL, pants are one of the last bastions of spontaneity.
Anyway: Once the game started, we learned that the pants really were striping-free, just like in the illustrations. No white facemasks, though — the Lions stuck with their usual grey (lots of additional pics here and here):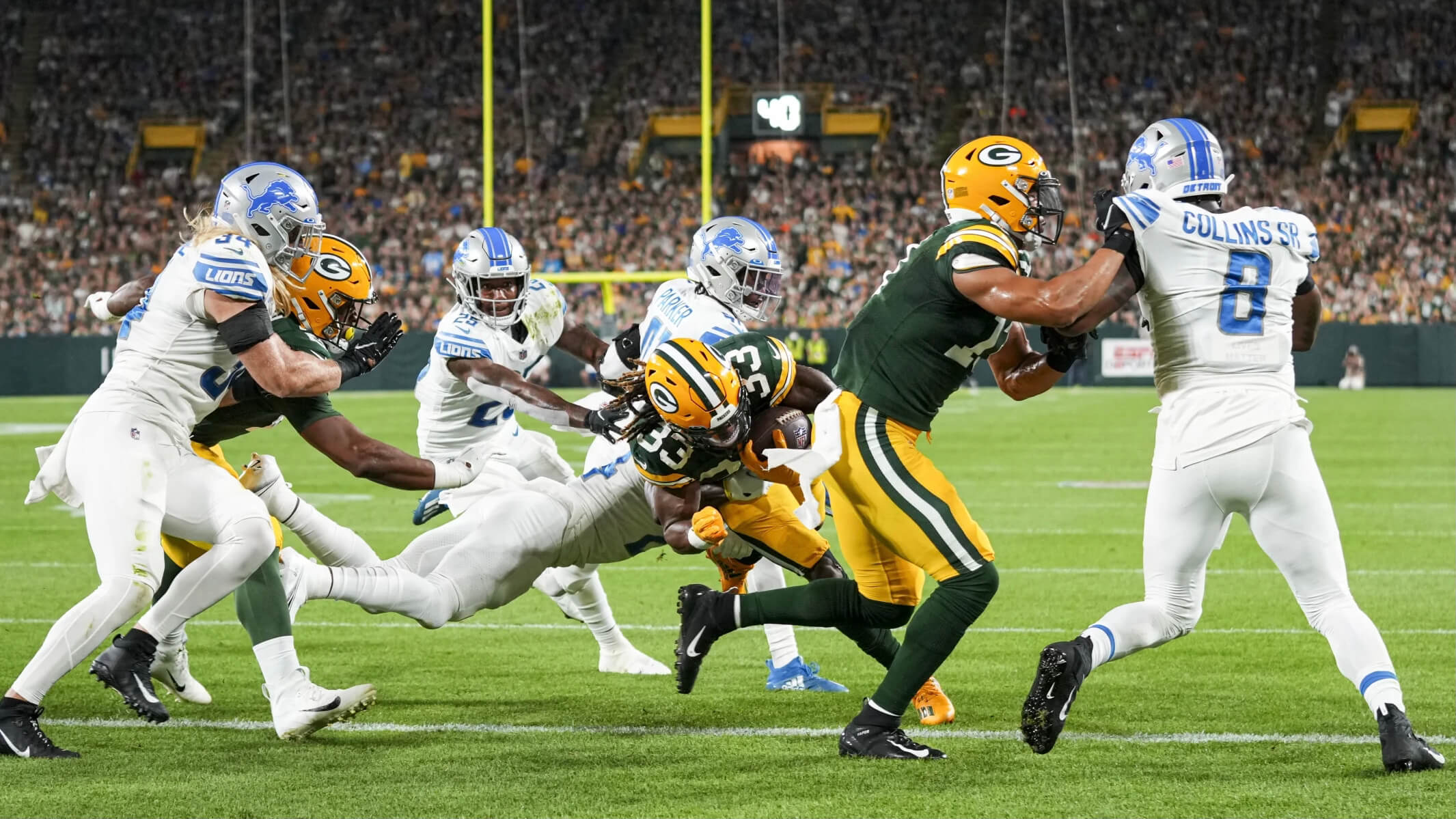 From my perspective, this was a case of "less is less." The plain white pants were too minimalist, especially when paired with the white socks. Get some striping on the pants, some blue in the socks, and then you have a serviceable uniform — although I think they'd still be better off pairing the white jersey with the grey/silver pants or the blue pants.
I'll say this much for Detroit's mono-whites: At least they're better than the mono-greys.
The question now is whether they'll try these new white pants with the blue home jersey. From a strictly uni-based perspective, I'd say, "I hope not." But when looking at the larger aesthetic framework, I find that Lions home games tend to look very drab because of the dome lighting and plastic turf (the Falcons and Saints have similar issues in their domes), so maybe the white pants would brighten things up a bit. I'd be willing to see them try that, just from a curiosity standpoint.
Okay, enough about the Lions — let's talk about the Packers. As I mentioned in last week's Monday Morning Uni Watch report, Green Bay wore a "TT" memorial decal for former GM Ted Thompson in their season opener two Sundays ago. The team made no announcement about this decal at the time (I just happened to notice its existence while looking at game photos), and I didn't see anyone else report on it. I was wondering if maybe it was going to be just a one-game thing for the season opener.
Nope! Yesterday afternoon the Packers announced the decal's existence, making it seem like a new thing (although not explicitly stating that):
Paying tribute to the late Ted Thompson. pic.twitter.com/O2tgjlcA6Q

— Green Bay Packers (@packers) September 20, 2021
USA Today's packers blog basically copy/pasted the team's tweet, reporting, "Packers to Wear Special Helmet Decal" — but not mentioning (or, probably, realizing) that it had already been worn the week before.
Last night was the Packers' home opener, and they held a memorial for Thompson at halftime, so that helps to explain why they put special emphasis on the decal for this game. But why didn't they even announce the decal's existence for the previous game? When they finally announced it yesterday, why didn't they acknowledge that they had worn it the week before? If they wanted to showcase the decal for the home opener, why not just skip it for the first game and then add it for last night's game? It all seems a bit awkward to me.
Meanwhile, in an additional and probably unprecedented note from that game: Packers running back Aaron Jones lost his necklace — which contained his late father's ashes!
• • • • •
• • • • •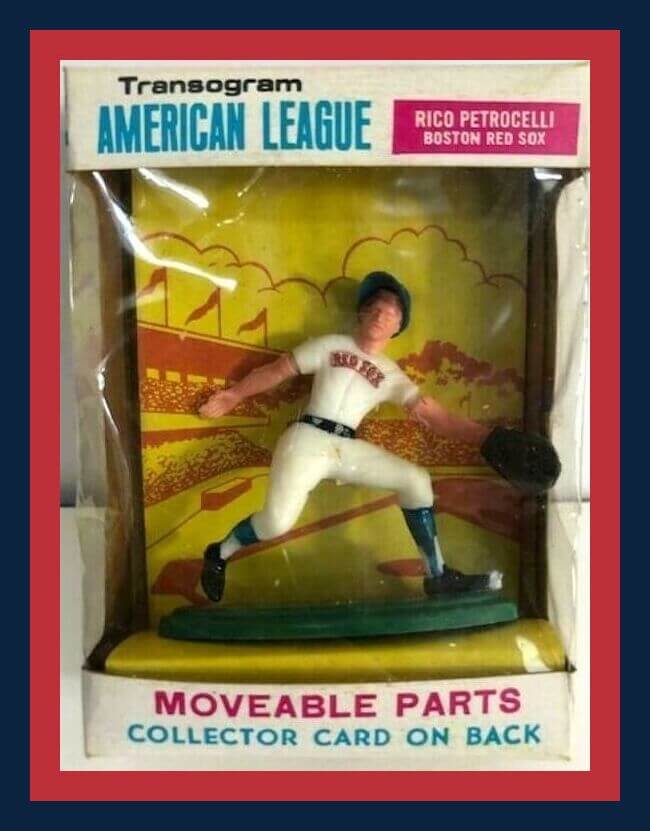 Click to enlarge
Collector's Corner    
Follow @brinkeguthrie    
Here's a 1969 plastic Rico Petrocelli Red Sox figure, made by Transogram. On the back of the box you got a player card, and the box says "realistic reproduction" and "interchangeable parts." Hmmm, does that mean you could stick his leg on his shoulder?
Now for the rest of this week's picks:
• Let's go back 113 years (!) for this May 1908 copy of The Baseball Magazine.  Just 15¢, or $1.50 a year. Nice how the artist stuck the player's arm right between the "E" and the "B."
• The year 1974 brought us a short-lived upstart challenger to the NFL, in the form of the World Football League. It didn't even last two full seasons, but teams such as the Southern California Sun did push the uni design envelope, as shown on this media guide. Hot pink over orange? A worthy predecessor to "Color Rash"!
• Check out the artwork on this ticket for the 1964 World's Championship Games (also known as the World Series) between the Yanks and the Cards, at Busch Stadium in St. Louis. Not good if detached!
• Looks like the designer kinda ran out of room for the facemask on this 1965 Green Bay Packers World's Champion Storm King lighter.  
• Wear what the Pittsburgh Penguins wore! These warm-up pants belonged to former coach Ken Schinkel, who wore them during practice sessions (and was also an original member of the team).
• Brownie, the Cleveland Browns' mascot elf, was hard at work as a sportswriter covering a game on the front of this 1948 Browns Press-Radio Guide. 
• Bucco Bruce is featured on the front of this glorious, disco-y, shiny Tampa Bay Bucs jacket from Starter.
• Here's a money clip for the 1962 Los Angeles Angels, and it includes a drawing of Dodger Stadium (aka "Chavez Ravine"),  where the Angels played from 1962-1965.
• Not sure why this 1955 Baltimore Orioles "sketch book" looks more like a program or yearbook.
•  This 1989 New York Mets Collectible Team Action Puppet belongs at Uni Watch HQ, does it not?
• • • • •
• • • • •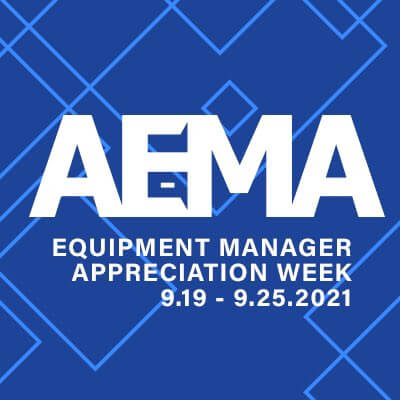 An essential cog in the uni-verse: The Athletic Equipment Managers Association has designated this as Equipment Manager Appreciation Week — a cause that I'm happy to promote.
The reality, of course, is that for athletes who wear uniforms and fans who appreciate uniforms (to say nothing of journalists who write about uniforms), equipment managers deserve recognition every week. They help keep the players safe and looking good; they make sure all the gear is where it's supposed to be; they react quickly to the endless churn of roster moves; they coordinate with suppliers, vendors, stitchers, and other specialists; they respond to player requests for customized gear; and a lot more.
Throughout my career, I've tried to shine a spotlight on the great work that equipment managers do (my recent interview with A's equipment guy Steve Vucinich is a good example), but the reality is that I should probably do more to make people aware of the essential work that these dedicated professionals do. They are truly the unsung heroes of the uni-verse, and so much of what we enjoy would not be possible without them.
You can learn more about equipment managers this week by following the #EQAppreciationWeek2021 hashtag. And for any EQ guys who are reading this, thanks for all you do!
• • • • •
• • • • •
The Ticker
By Alex Hider

Baseball News: Back on Sept. 10, Giants 1B Brandon Belt took the field wearing a homemade captain's patch fashioned out of black electrical tape. It's a little hard to see, but he took the captaincy theme a step further on Sunday by donning a boat captain's hat in the dugout. Jameson Costello's brother snapped that photo at the game in San Francisco. …  Reader Raymond Neal found himself uni-watching while browsing a real estate listing — check out the framed Postum Cereal baseball team photos in this house. … Red Sox 2B Kiké Hernandez had a new "B" decal placed over his pine-tar covered City Connect helmet this weekend (from Sean). … The Twins, like many teams, allow their starting pitchers to choose the team's uniform combo. Here's how Minnesota's starters make their picks (thanks to all who shared).

NFL News: Browns QB Baker Mayfield commissioned a pair of custom cleats to honor a fallen Cleveland-area military member, though he did not wear them in Sunday's game. … Chargers lineman Michael Schofield III is on his third stint with the team and wearing his third different number (from Phil). … Remember when Panthers QB Sam Darnold tried (and failed) to draw the team's logo? The Panthers put Darnold's drawing on a helmet shell as a social media gag (from Rob Harrigan). … Woof! The movie poster for American Underdog, the Kurt Warner biopic, uses the wrong NOB color on the Rams' "Greatest Show on Turf" jerseys (from @JayJayDean). … Brandon Savokinas found a listing for a Steelers item that includes a helmet logo I've never seen before. … A Giants helmet visible during the Eli/Peyton Manning feed of last night's Packers/Lions game appeared to have smaller front numbers than a typical Giants helmet (from @WFTuniforms).

College Football News: The next two submissions are from Phil: A Twitter account is doing a different kind of uni-watching by tracking Clemson coach Dabo Swinney's game-day outfits. … BYU will be wearing navy jerseys and white helmets and pants for their game against USF this weekend. The Bulls will wear mono-white. … UTEP will wear throwbacks inspired by their Texas Western days this weekend (thanks to all who shared). 

Hockey News: The Coyotes have confirmed that they are reviving the white version of their Kachina sweaters for the team's 25th anniversary this year, and that the colored and white versions will serve as their primary home and road jerseys for the upcoming season. They've also made the "Kachina" logo their new primary mark, and have relegated their old red coyote head sweater to alternate status — it'll be worn eight times this season (thanks to all who shared). … It appears the Flyers' sweater crest for this upcoming season has a thicker white outline than in years past (from @egajdzis). … Here's a series of fan-designed NHL BFBS "dark-mode" jerseys (from Phil). … Neil Hochman found this 1990 Pro Set hockey card featuring Kings G Kelly Hrudey in an LA uniform, but still wearing Islanders pads and gloves. … The University of Maine will have a memorial helmet decal for head coach Red Gendron, who died in April (from Wade Heidt). … The Granite City Lumberjacks of the NA3HL will wear their 15th-season logo on the chest of their sweaters this upcoming season (from Paul D. Vold).

Basketball News: The Lakers have a new patch partner jersey advertiser. The first photo also provides a good view of the diamond-style maker's mark that the NBA is using for its 75th-anniversary season. (thanks to all who shared). … The Arizona Republic (hard paywall) has more on the controversy surrounding the Aztec-inspired uniform concept the Suns floated last month (from Phil). … A player for Italian club Virtus Bologna recently suffered a serious knee injury after he slipped on an on-court decal (from Greg Franklin). …  Two number changes for the Heat: PG Marcus Garrett will wear No. 0, and guard/forward Caleb Martin will wear No. 16 (from NBA numerologist Etienne Catalan). … We have our first look at the Nike-made, Jordan-branded uniforms that the UCLA women will wear this season (from Phil).

Grab Bag: There's a ton of great vintage photos of Louisiana Tech athletics in this Facebook album (from James Poisso). … Here is what both the American and the European teams will wear during the Ryder Cup later this week (from Phil). … The Space Force has released the new specifications for its enlistment insignias (thanks to all who shared). … Illinois has passed a new law that allows for Illinois students to modify athletic uniforms for cultural or religious reasons without penalty (from Phil).
• • • • •
Happy Birthday to the one and only Wafflebored. Enjoy your special day, buddy! — Paul