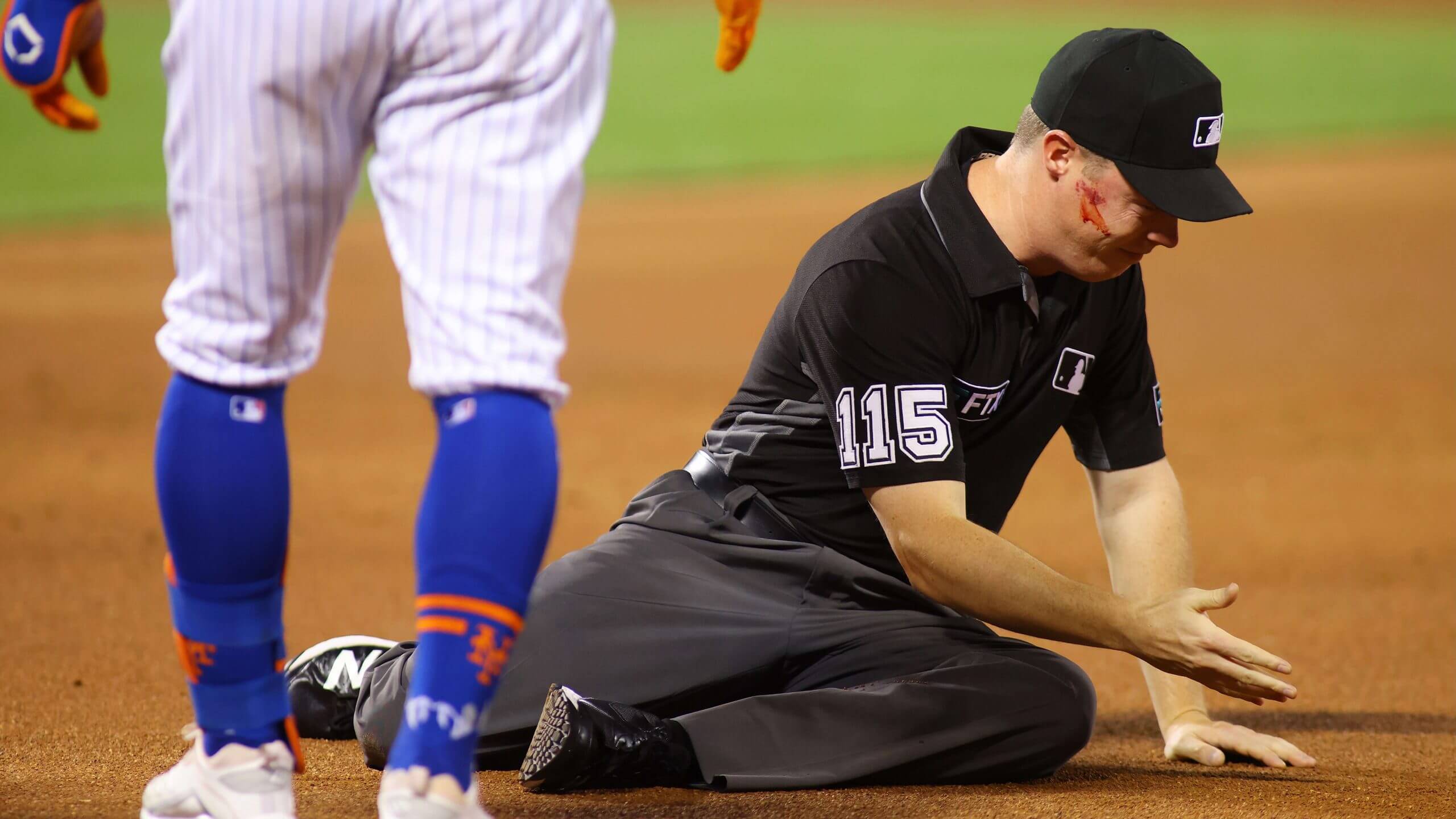 Click to enlarge
Heart-stopping moment during last night's Cards/Mets game, as St. Looie shortstop Edmundo Sosa uncorked a very wild throw to first while trying make a circus play and ended up clonking first base ump Junior Valentine smack in the side of the face. Valentine, who was in proper position and fixated on the first baseman and the approaching batter/runner, had no idea that the ball was headed his way and literally never knew what hit him. He crumpled to the ground as the ball bounded away after striking him.
The first tweet below shows the play at regular speed, while the second one shows it in slo-mo, plus an alternate angle:
I don't think I've ever seen this before. Edmundo Sosa threw wildly and hit umpire Junior Valentine square in the face 😂 #STLFLY #LGM pic.twitter.com/HDcb6c9BkO

— Tyler Gallo (@TylerAGallo) September 13, 2021
I've never seen a throw so offline that it hits the first base umpire in the head!!

What was Edmundo Sosa doing?!

Craziness in the Cardinals vs. Mets game pic.twitter.com/3drKcaCu0g

— Erik Hall (@HallErik) September 13, 2021
I was watching this when it happened and it was scary. But Valentine shook it off and, after being tended to by the trainers, stayed in the game. Oddly, they didn't even put a Band-Aid on his cut, which seemed surprising (and as an aside, the MLB logo on the back of his polo shirt seems to be flaking off):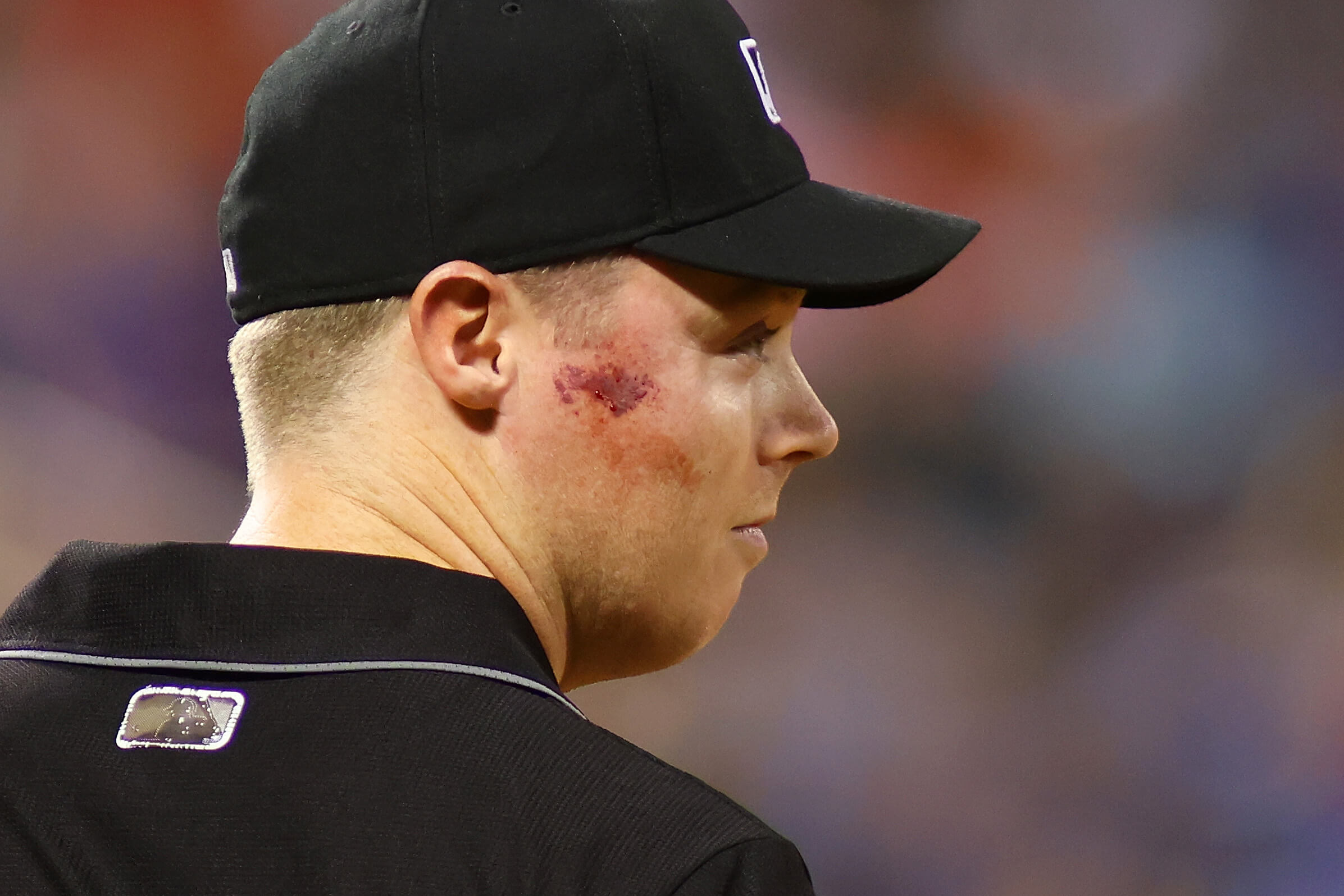 The latest use of advanced metrics: On the Mets broadcast, SNY play-by-play man Gary Cohen informed the world that Sosa's throw was 76 miles per hour. We live in incredible times, people.
It's now been 13 years since MLB required base coaches to wear helmets (a move prompted by a Double-A coach being killed by a line drive). Some plate umps began wearing helmets a few years ago — could last night's incident lead to base umps wearing helmets as well? Hmmmmm.
• • • • •
• • • • •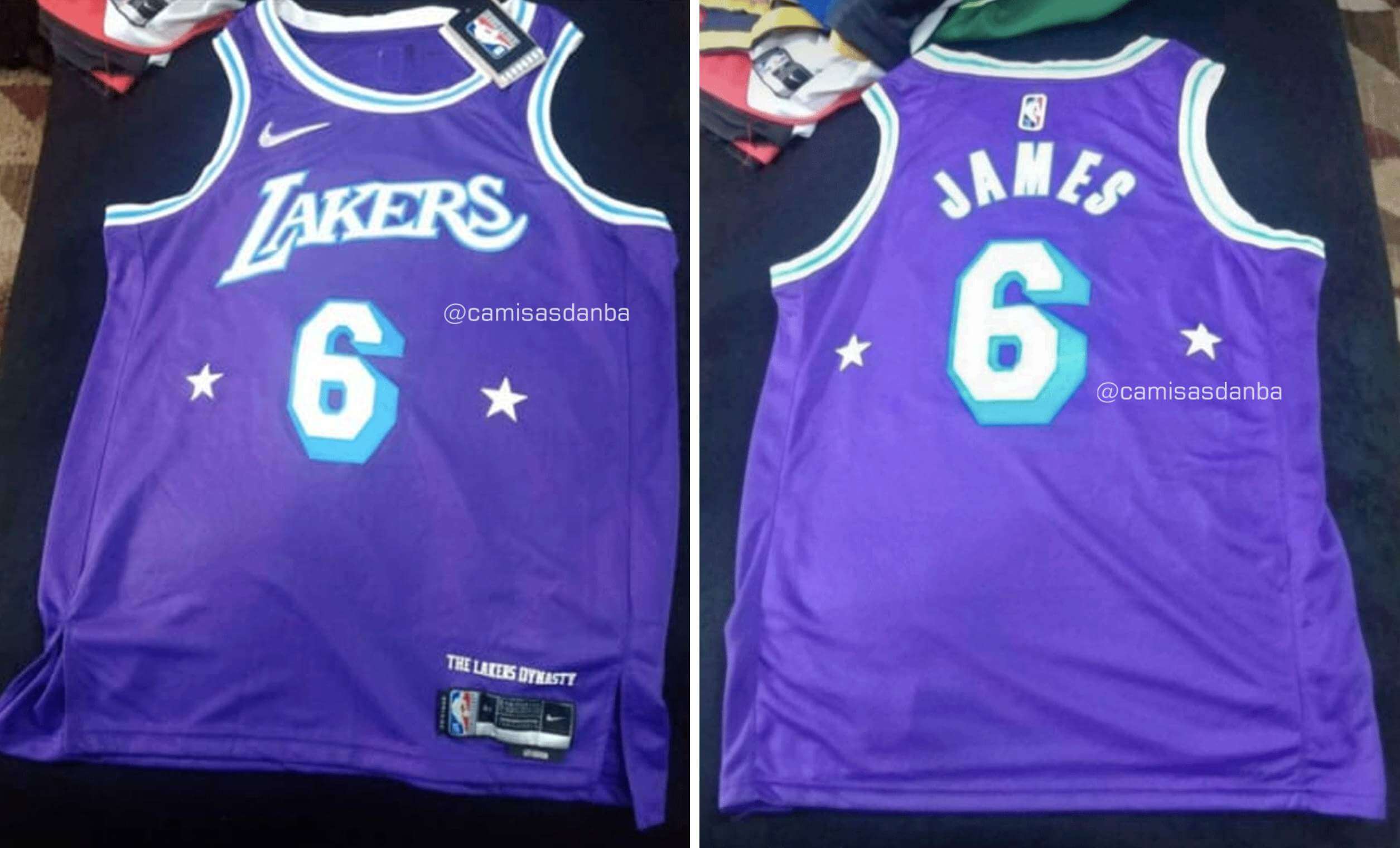 Click to enlarge
Let the NBA leaks begin: The NBA season begins a month from this Sunday. Between now and then, we're probably going to see lots of leaks of the mashup jerseys that teams will be wearing to mark the league's 75th anniversary. (Those jerseys will serve as this season's City designs.)
Case in point: Brazilian leakmeister Igor Coelho, who used his connections to leak a slew of City alternates last fall, yesterday gave us our first look at the upcoming Lakers design, which references several eras of the franchise's history. The version of the chest insignia is from the 1960s and '70s; the block-shadowed numbers match the style used from the '60s through the '90s; and the use of light blue and the stars hearken back to the Lakers' days in Minneapolis.
All of Coelho's leaks last year turned out to be legit, so by this point he is a trustworthy source. I expect we'll be seeing a lot more from him in the weeks to come.
(My thanks to Phil for making sure I didn't miss this one.)
• • • • •
• • • • •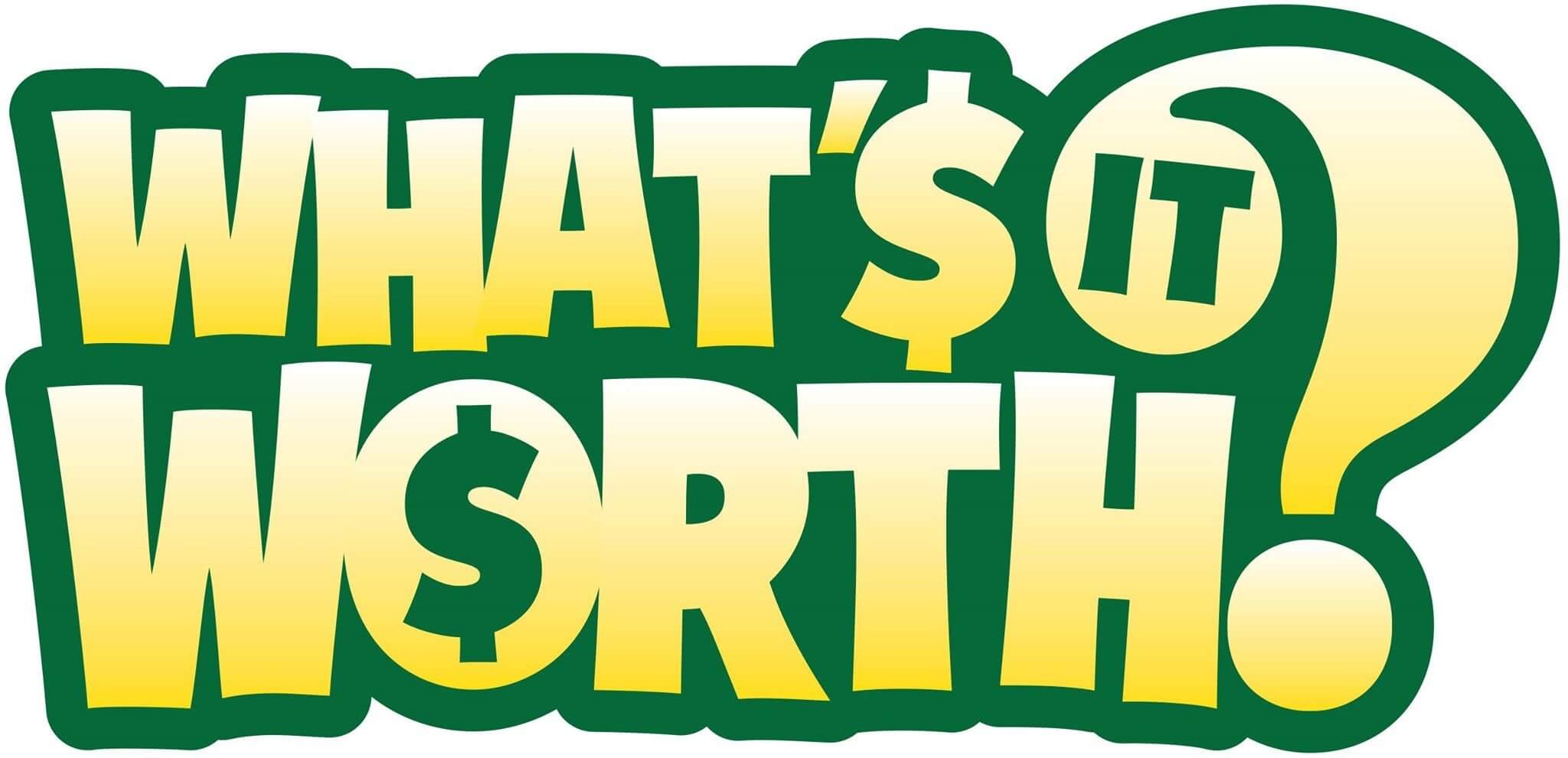 The return of "What's It Worth?": Over the past few years I've run a few promotions in which Uni Watch readers were invited to submit items of memorabilia for appraisal by Grey Flannel Auctions at no charge and with no obligation, sort of like an online version of Antiques Roadshow. Lots of readers submitted photos and descriptions of their items, and some took the extra step of consigning their items with GFA and selling them for a pretty penny. Items from Uni Watch readers included this Aaron Rodgers jersey (which sold for over $25,000!), this Tom Glavine jersey ($3,723), this Rick Honeycutt jersey ($1,504), and this Jose Cruz jersey ($722).
So now we're going to do it again. Here's some quick background: Over the years I've developed a good relationship with GFA's director of operations, Michael Russek (that's him at right), who periodically advertises here on Uni Watch. In an industry that can sometimes be a bit sketchy, Michael has always impressed me as a stand-up guy. Back in 2017, when my friends Sonya and Tony acquired an amazing 1905 Princeton football jersey at a flea market and asked me if I had any suggestions on how they could sell it, I sent them to Michael because I knew he'd treat them right, plus I knew GFA would reach the right audience to bring the best price for the jersey. (It ended up selling for over $50,000.)
Do you have some sports or pop culture memorabilia that you think might be valuable? Have you ever wondered how much it might actually be worth? Now's your chance to find out. Here are the details:
1. Items that can be reviewed for appraisal include game-used and game-worn jerseys, bats, and equipment; vintage sports and historical autographs; championship jewelry, trophies, and awards; pre-1960 trading cards (for any sports); and entertainment, rock 'n' roll, political, Americana, and historical memorabilia.
2. For each item, please provide several photos (front, back, tagging, maker's mark) and a detailed description regarding the item's condition and provenance.
3. Also include your name, phone number, and email address.
4. GFA only handles items with a perceived value of at least $250. If your item doesn't meet that threshold, you may get a response indicating that the item doesn't fit the parameters for a GFA appraisal.
5. Full disclosure: If you end up consigning an item to GFA and the item sells, Uni Watch will get a cut of GFA's fee. (And in case you're wondering, I did not receive anything for the 1905 Princeton jersey. That referral was just a favor I did for my friends.)
Okay, ready to see what your treasures are worth? Email your photos and descriptions to GFA. You'll get a response within a week.
Have fun with it, people. We're excited to see the treasures you share with us.
• • • • •
• • • • •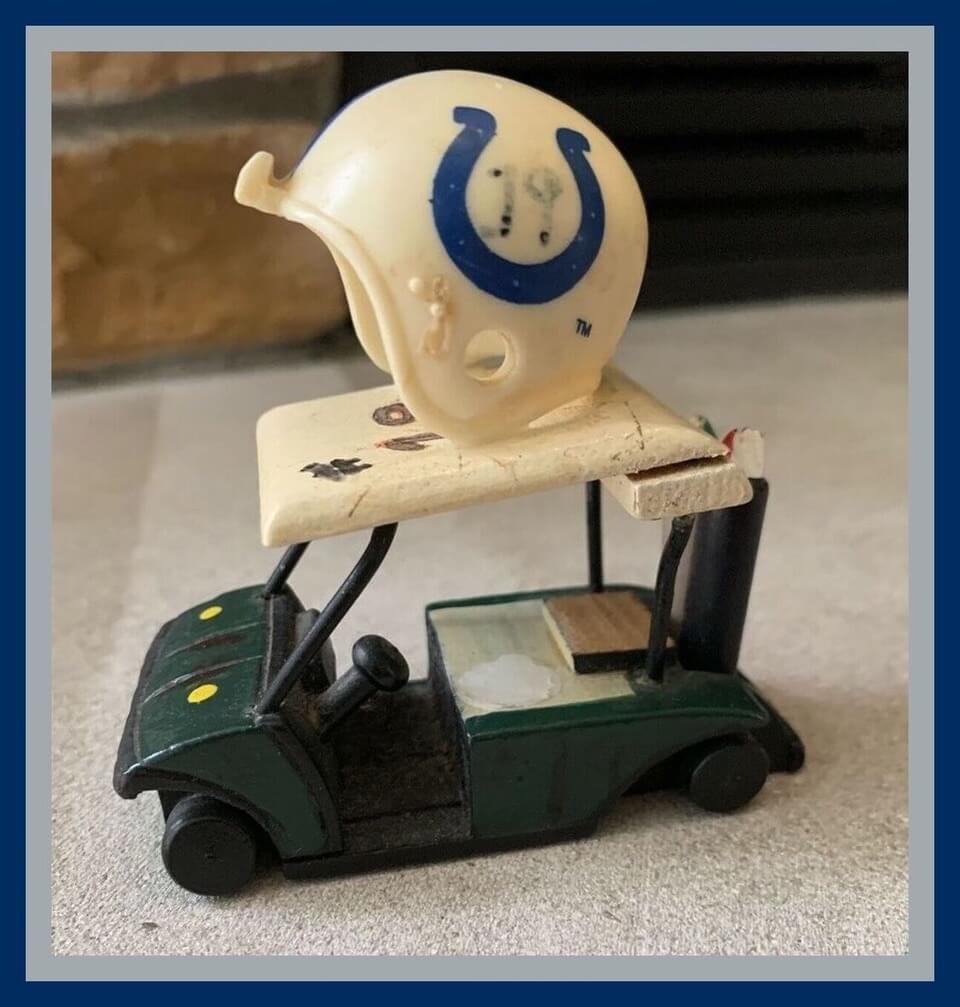 Click to enlarge
Collector's Corner
By Brinke Guthrie
Follow @brinkeguthrie    
Let's start off with this little DIY fella. This is a combination Johnny Unitas-Baltimore Colts helmet/golf cart because … uh, I don't know why. But it sure is neat! Note the scrawled "19" on the gumball helmet and also on the cart roof. Unfortunately, the seller does not offer an explanation as to how this homemade cobbled-together combo came to be. Can an old-school Colts fan show this item a little love?
Now for the rest of this week's picks:
• One more Colts item for you: an envelope that states, "IMPORTANT! This Envelope Contains Your Tickets for Games IMPORTANT!."
• You can find anything on eBay, including a Minnesota Vikings 2000 mini-camp offensive playbook that once was in the possession of Vikings coach Alex Wood. "Skol" on two! Ready, break!
• Let's go back 81 years for the Keds Handbook of Sports and Games, "published by the makers of Keds to further Good Health, Good Sportsmanship, and Good Times, for the Boys and Girls of America!"
• Ah, you can almost feel the foggy Candlestick chill in the air with the artwork on this set of 1960s San Francisco Giants playing cards. Maybe head off to DiMaggio's at Fisherman's Wharf for a snack after the game?
• Speaking of The 'Stick, here's another Giants item: This is an autographed 1960 scorecard featuring the signature of 11-time All-Star Orlando Cepeda. Just 20 cents!
•  Classic helmet artwork on this sealed 1983 NFL Sticker Album. 
• Check out this listing for what looks like pretty much the entire set of 1970s Dairy Queen MLB ice cream helmets! Ice cream not included.
• "Kinney Shoes and baseball go together!" That's what it says on this pair of 1980s New York Yankees tube socks.
• Here's a luggage tag for the 1994 "Eagles Fly Pro-Am" to benefit leukemia research.
• Stay where the Mick stays! Here's a 1960s brochure for Mickey Mantle's Holiday Inn Hotel in Joplin, Mo. "CHILDREN FREE: Baby beds at no extra cost" and "BABY SITTERS (thoroughly competent)" among the features here. Oh, and TV in all rooms.
• "Skill! Strategy! Suspense!" Just a few of the features on Power Play Hockey. It's "The Chess of the Hockey Games," don'tcha know. This 1970 game was endorsed by Bill Goldsworthy of the Minnesota North Stars, who also happens to be on this set of four North Stars player mini cups.
• • • • •
• • • • •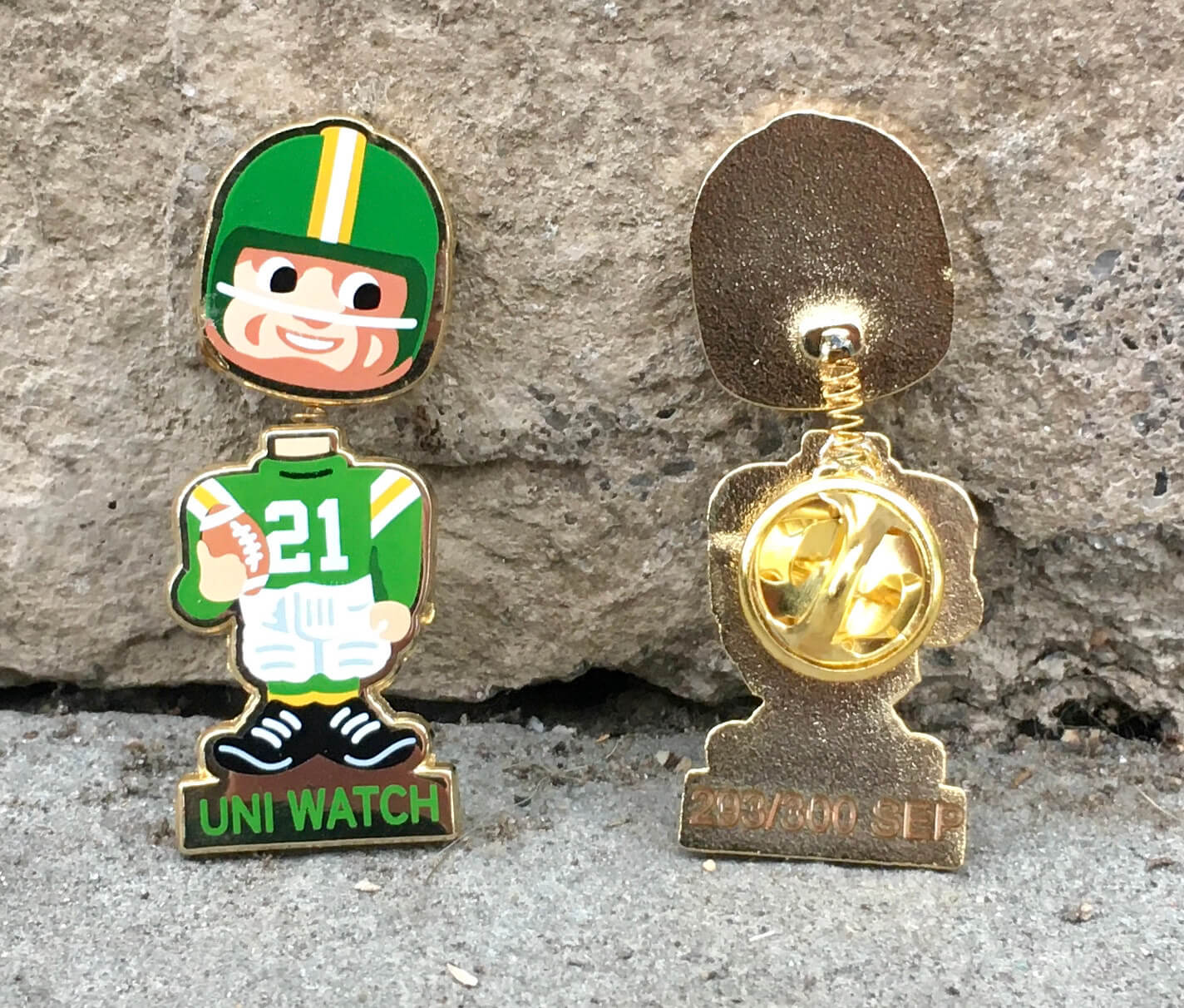 Click to enlarge
Come on, people, IT BOBBLES: In case you missed it last week, the Uni Watch Pin Club's September Pin is finally available for ordering. As you can see above, it's a football bobblehead design — and it really bobbles! Dig:
This pin was produced in a numbered edition of 300; as of this morning, there were fewer than 150 remaining. It's available here.
Need to get caught up? Here are our January, February, April, May, June, July, and August pins. (Sorry, March is sold out!)
My thanks, as always, for considering our products.
• • • • •
• • • • •
The Ticker
By Alex Hider

Baseball News: In an Instagram post yesterday, the Orioles Photoshopped former team greats in Baltimore Ravens-inspired baseball uniforms (thanks to all who shared). … MLB Vault made a graphic depicting all of the catchers who have caught a strikeout from Dodgers P Max Scherzer, who rang up his 3,000th K on Sunday (from John Muir). … Also from John, Nats C Keibert Ruiz, who was hit by a pitch on Saturday, is now wearing a C-Flap.

NFL News: Saints RB Alvin Kamara warmed up for Sunday's game with a NASCAR logo visor on his helmet. … Singer/model Ciara, who's married to Seahawks QB Russell Wilson, wore a dress inspired by her husband's jersey to the Met Gala yesterday and also wore Wilson's Super Bowl ring (thanks to all who shared). … Cross-listed from the baseball section: In an Instagram post yesterday, MLB's Baltimore Orioles Photoshopped former team greats in Ravens-inspired baseball uniforms (thanks to all who shared). … Speaking of the Ravens, their starting offensive line last night all had numbers in the 70s.

College Football News: South Alabama will wear navy jerseys on Saturday. … BYU will be hosting a whiteout game against Arizona State Saturday — the team will wear white helmets, jerseys and pants, and the school is encouraging fans to wear white as well. … Cincinnati will wear black helmets, white jerseys, and black pants this Saturday on the road against Indiana (from Phil). … Jackson State coach Deion Sanders says both his team and Louisiana-Monroe will wear helmet decals honoring Bobby Bowden at their game in Monroe on Saturday. Sanders, of course, played for Bowden at Florida State, and the Warhawks are coached by Bowden's son, Terry (also from Phil). … Akron players who have already graduated get to wear a "Graduate" MAC patch on their jerseys (from Jacob Farrar). … Navy has an exhibit on the evolution of its football uniform at its visitor center (from Jerry Kulig). … The Okanagan Sun of the Canadian Junior Football League have a new logo to celebrate their 40th season (from Wade Heidt).

Hockey News: The Stars have a new Texas-themed center-ice logo (from Wade Heidt). … Also from Wade: The Sabres announced several new number assignments yesterday. … Last week, the National Women's Hockey League announced it was changing its name to the Premier Hockey Federation. Yesterday, the league released an explainer behind its new logo (from our own Jamie Rathjen). … The University of Minnesota is keeping its 100th-season logo at mid-ice this season, even though it was made for last season. The school plans to hold some of the centennial events that got scuttled by the pandemic this year (from @Natron44).

Basketball News: A short film about the early uniforms and logos of the Toronto Raptors and Vancouver Grizzlies will premiere this week at the Toronto Film Festival (from Phil). … Louisville will wear 1985-86 throwbacks on Saturday at its season tipoff event at Churchill Downs. The team was slated to wear them to honor the 35th anniversary of the Cardinals' national championship at last year's tipoff, but those plans were scuttled by the pandemic (from Phil). … New uniforms for Long Island University (from @CaliGlowin). … Looks like Temple is adding a memorial patch for longtime coach John Chaney, who died in January (from @_RF30).

Soccer News: New first jersey for Adelaide United of the Australian A-League and W-League (from our own Jamie Rathjen). … Players for Polish club Wisła Kraków wore shirts in support of injured captain and club owner Kuba Błaszczykowski on Sunday (from Ed Żelaski). … Italian club Venezia FC was forced to make a slight alteration to their away jersey — which included both a team crest and a large team name across the chest — because Serie A allows only "one club logo" on a shirt (from @texastrevor).

Grab Bag: Researchers at the University of Waterloo in Ontario have developed a machine-learning technique that can recognize a player's jersey number for play-by-play announcers. … Here's what Team Europe will wear during the Ryder Cup later this month (from Phil). … Also from Phil: Oklahoma State has partnered with a branding firm with the hopes of eventually selling officially licensed jerseys of its athletes. … New uniforms for Toyota Auto Body Queenseis, a women's volleyball team in Japan (from Jeremy Brahm).
• • • • •
Happy Birthday to former Cooperstown Mayor and my longtime pal Jeff Katz. Enjoy your special day, buddy! — Paul