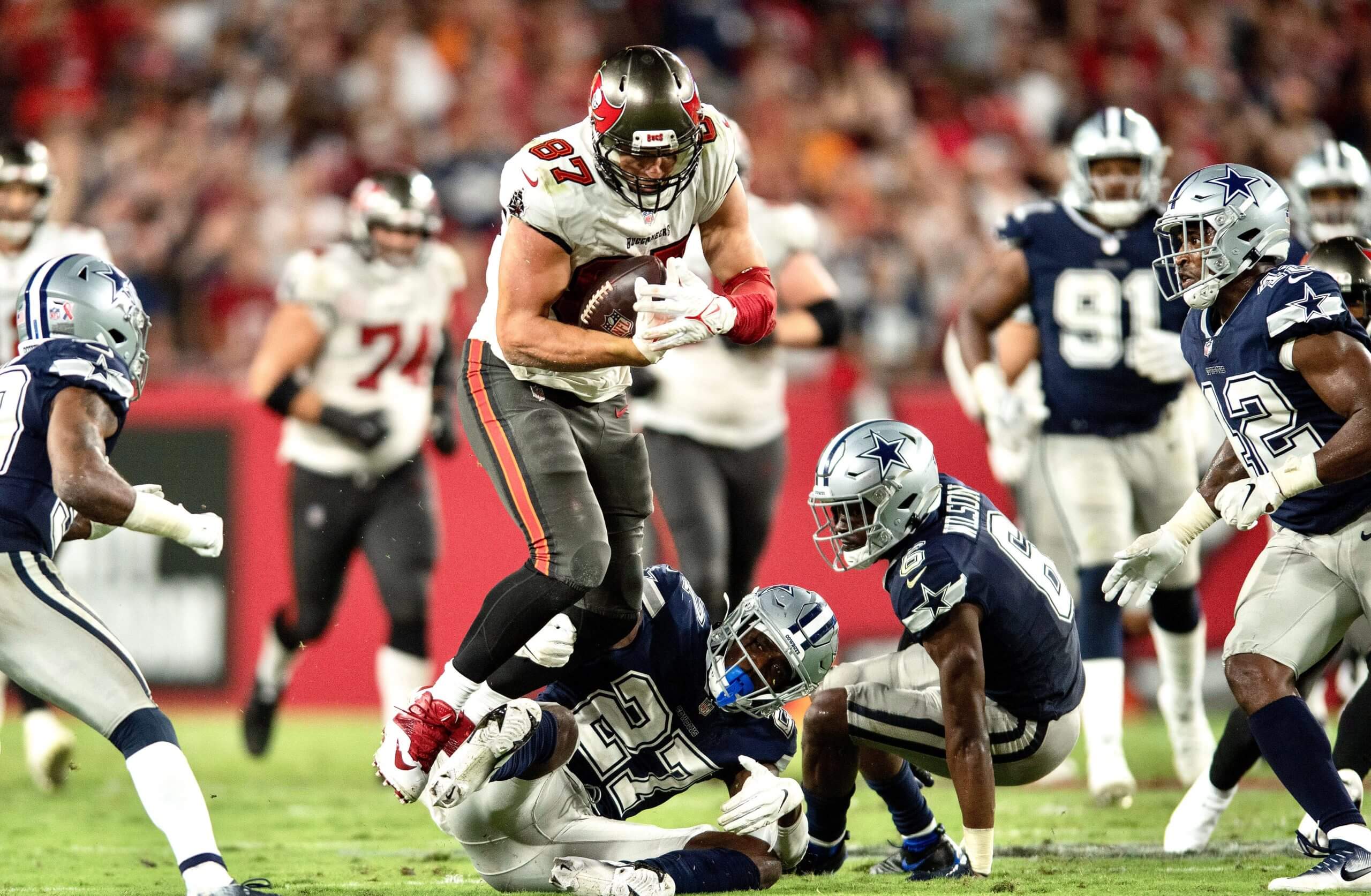 For all photos, click to enlarge
The most interesting thing about last night's NFL season opener is that the Buccaneers chose not to wear a Super Bowl championship patch. That makes two years in a row that the defending champs have opted to forego the patch for the season opener (KC did the same last year). Prior to that, we had a three-year run of teams that did wear the patch to open the season: the Pats in 2017, the Eagles in 2018, and the Pats again in 2019.
As I've said before, I like that the NFL, which is so regimented about so many things, allows the defending champs to make their own choice on this issue. It adds a nice air of unpredictability, and also gives us some insights into how certain franchises choose to be more demonstrative or more reserved.
A few other notes from last night's game:
• We got our first look at the 9/11 helmet decals that all teams will be wearing in Week One. There's apparently no rule regarding exactly where they should be positioned, because the Bucs and Cowboys wore them in different spots: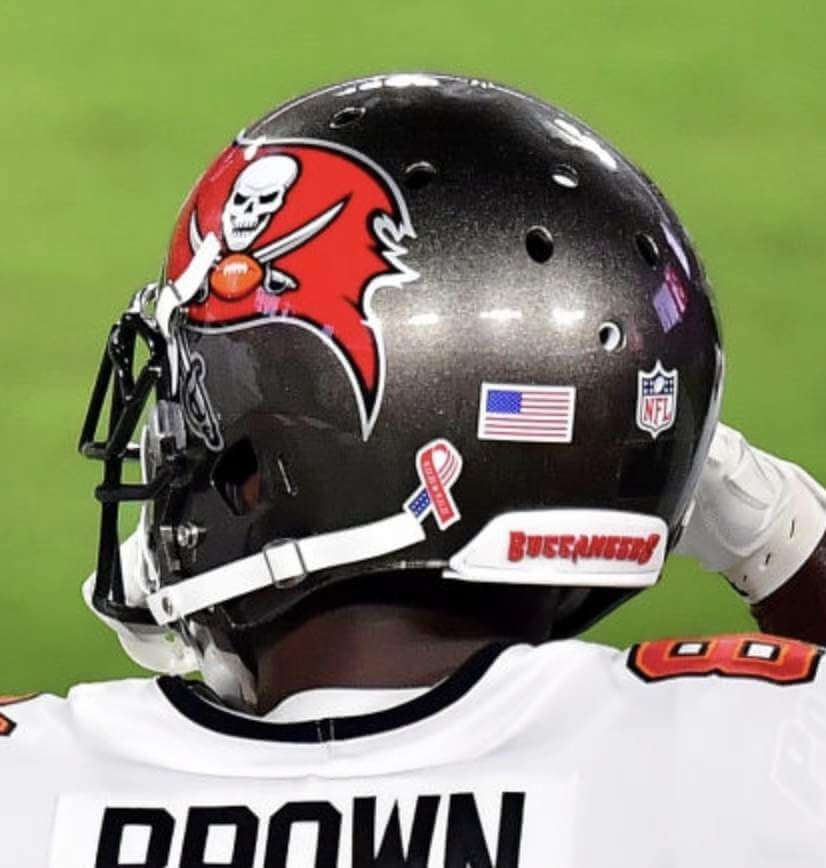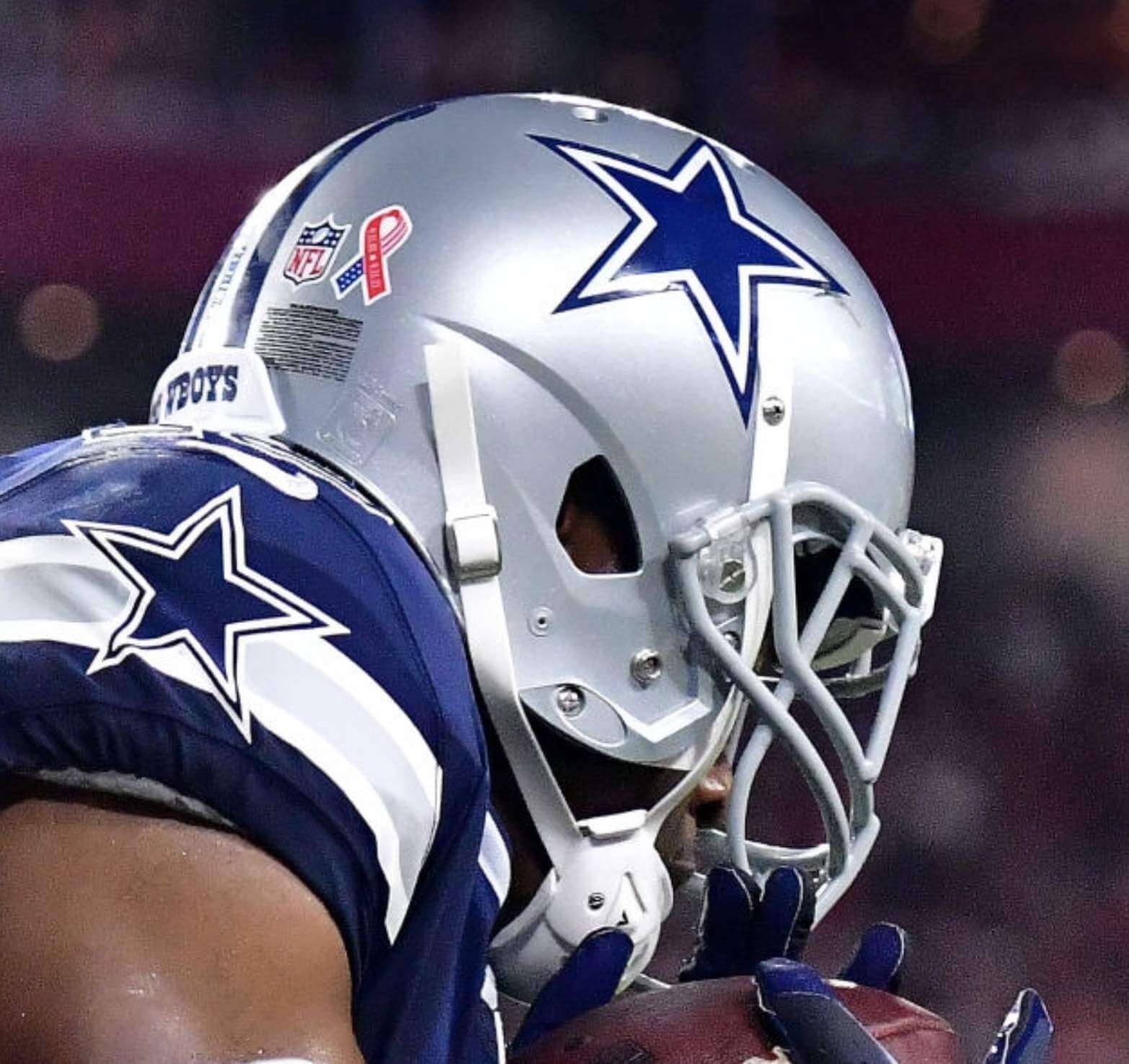 • Bucs wideout Antonio Brown's helmet came off as he was making a catch in the fourth quarter: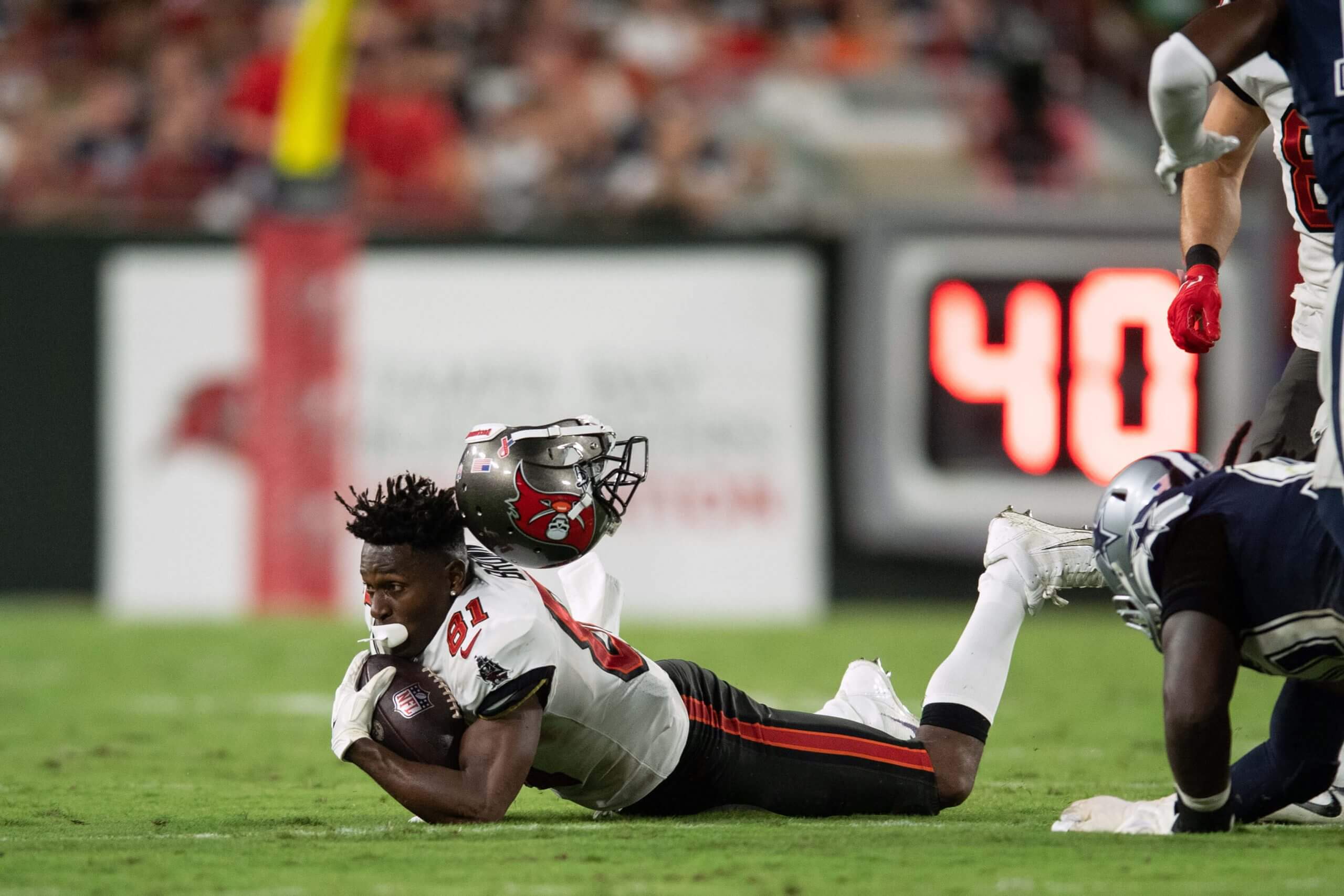 • In case you forgot, Bucs quarterback Tom Brady uses a much larger waistband towel than the standard NFL/Wilson model: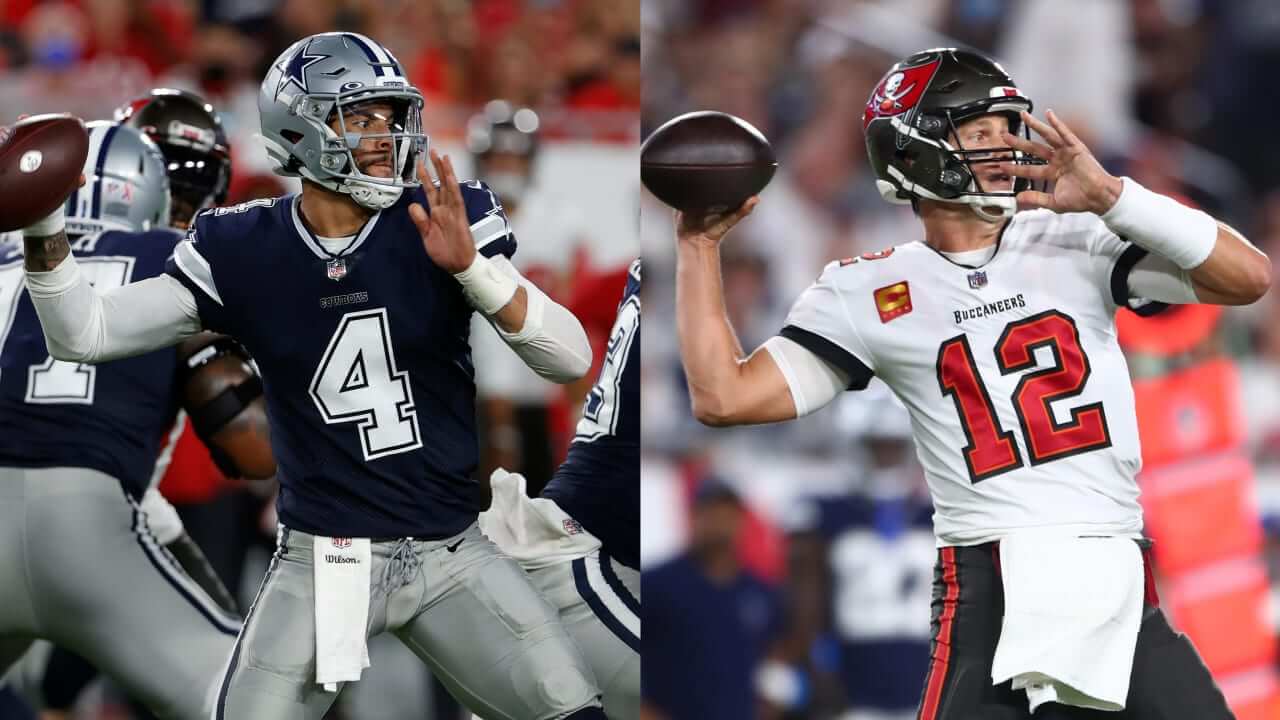 • It's hard to see in that last photo, but Brady was wearing the towel over a handwarmer pouch, even though the gametime temp was around 80º: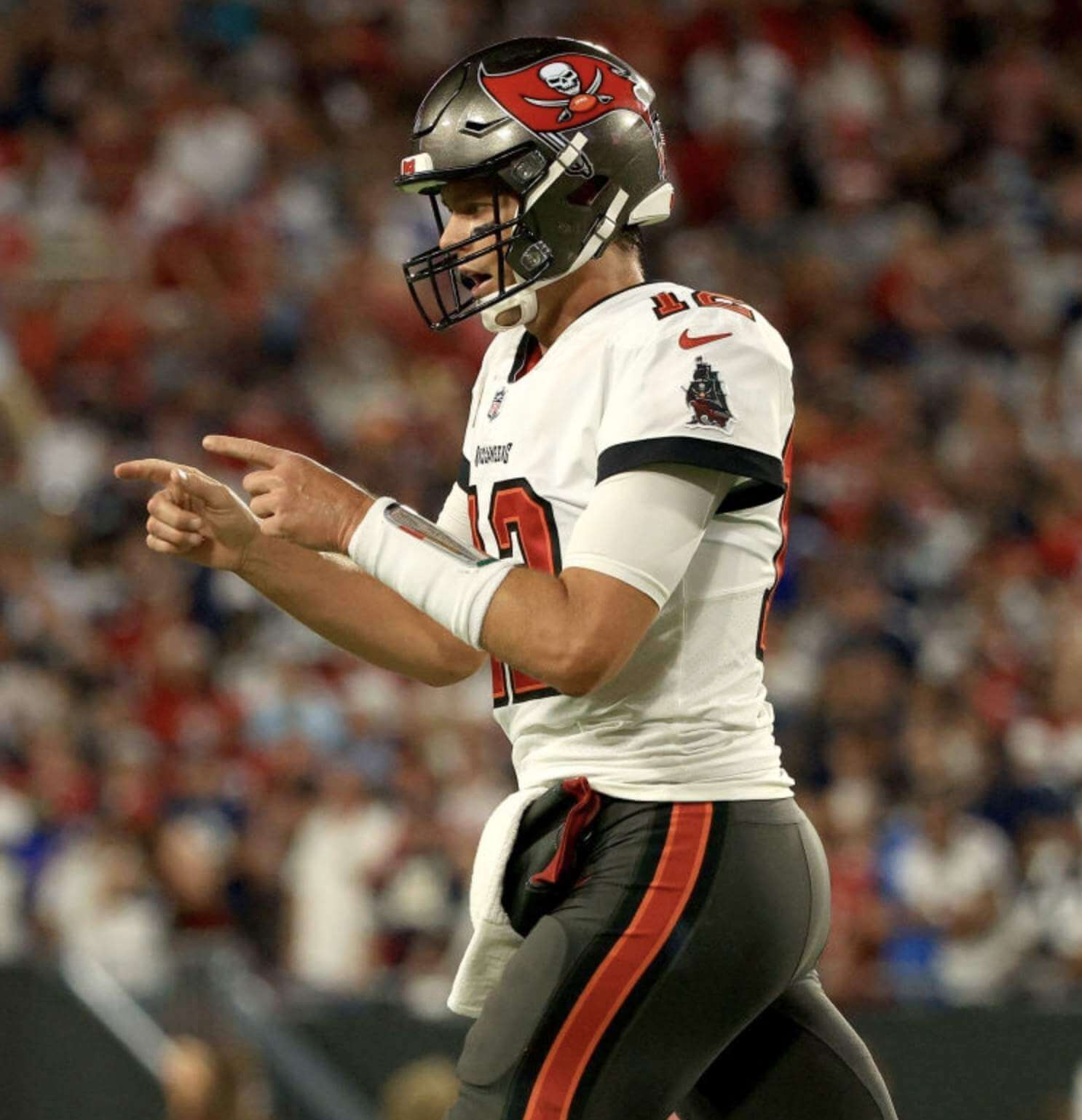 • There was a bad moment when NBC showed a graphic with an absolutely brutal sextuple apostrophe catastrophe: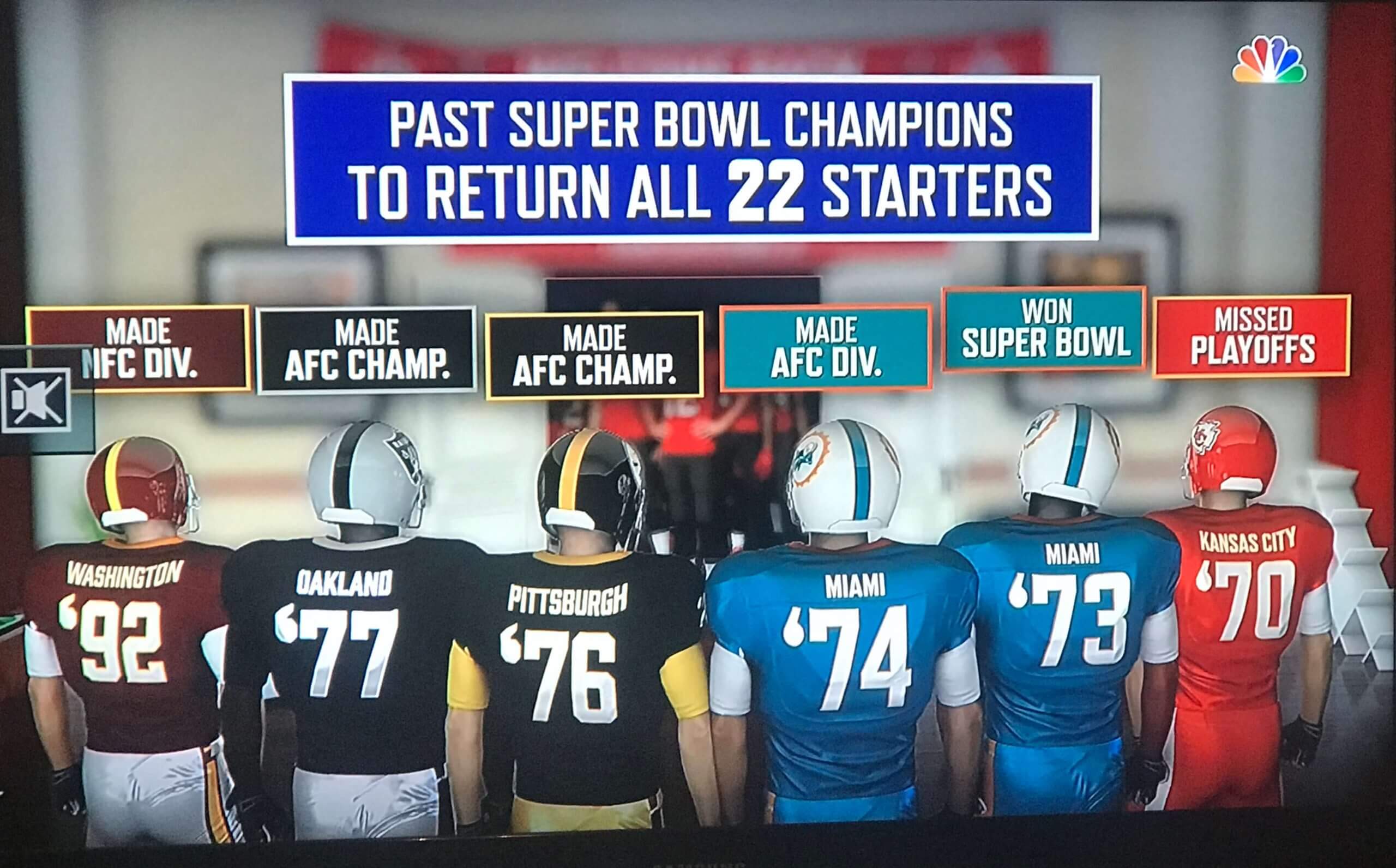 Other problems with that graphic: It shows KC in mono-red, shows Miami in mono-aqua, Miami's helmet logos are facing the wrong way, and most of the helmet stripes are wrong. Come on, NBC — be better!
• The Bucs became first team of the year to wear white at home.
And there we are — not a bad start to the season. Did anyone spot anything I missed?
Meanwhile, in case you missed it yesterday, my annual NFL Season Preview is now available on InsideHook. Enjoy!
(Big thanks to Doug Keklak and everyone else who shared the NBC screen shot.)
• • • • •
• • • • •
In honor of the College Football season starting this month, I have created an interactive timeline that details All-Time AP Poll Appearances ranked by CFB programs.

Check out how different programs rise and fall throughout during different eras of CFB! 🏈🔥📈 @AP_Top25 pic.twitter.com/AirYnRvsO3

— Greg Harvey (@BetweenTheNums) August 1, 2021
ITEM! New Bulletin article: Over on Twitter, I've been retweeting a bunch of videos from a guy named Greg Harvey, who specializes in creating animated timelines (like the one above, charting the history college football AP poll appearances). These timelines, I've learned, are called bar chart races, and I find them irresistible. So I interviewed Harvey for my latest Bulletin piece. Those of you who've subscribed to receive my Bulletin content via email should already be seeing this piece in your in-boxes. Everyone else can read it on my Bulletin page. Enjoy!
• • • • •
• • • • •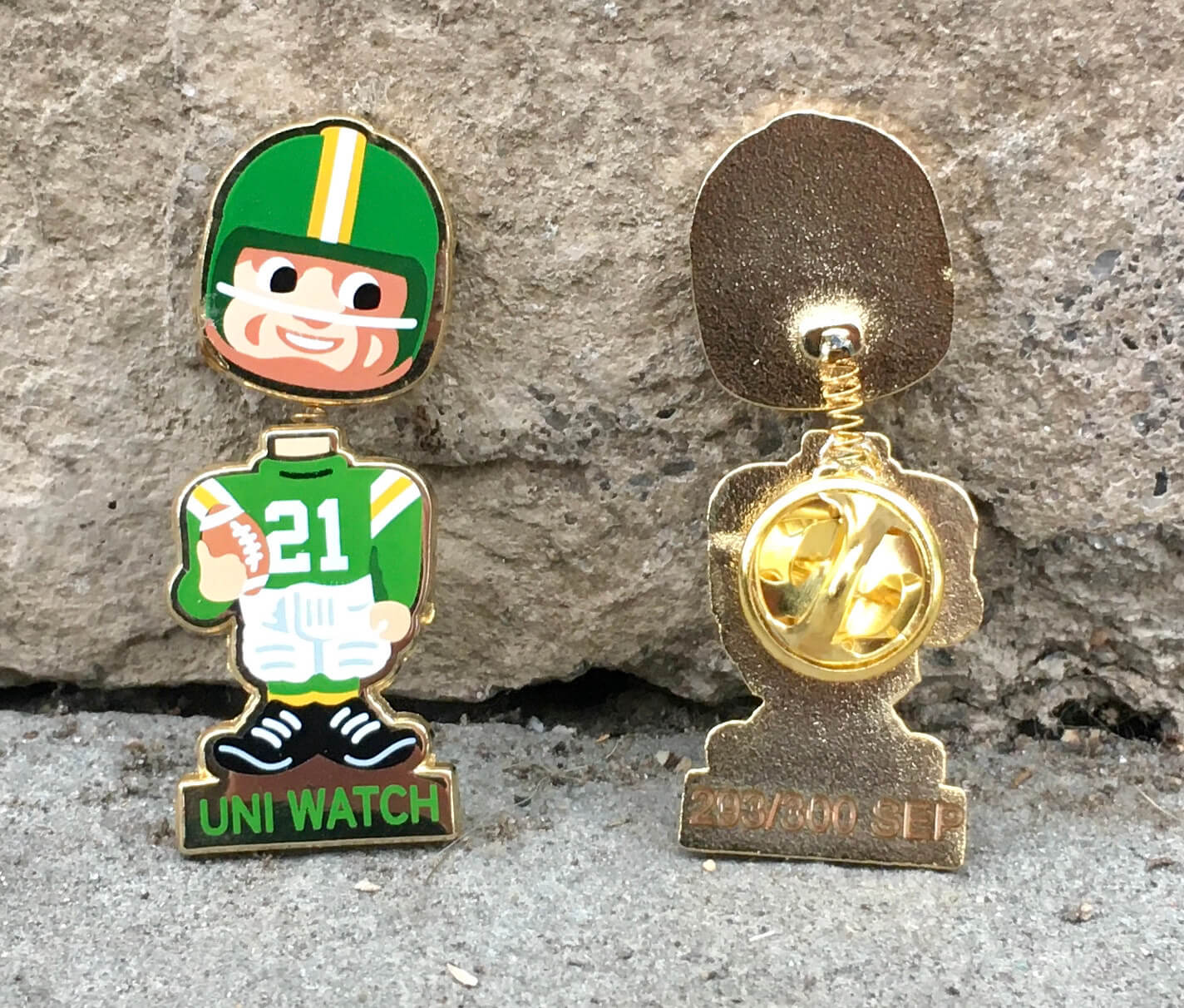 Click to enlarge
September pin reminder: In case you missed it on Thursday, the Uni Watch Pin Club's September Pin is finally available for ordering. As you can see above, it's a football bobblehead design. And it really bobbles! Dig:
This pin was produced in a numbered edition of 300; as of this morning, about 175 were remaining. It's available here.
Also: You can save 10% on this pin (and everything else I sell on Teespring) by using the checkout code FABMERCH10. That code is good through the end of Sunday.
Need to get caught up? Here are our January, February, April, May, June, July, and August pins. (Sorry, March is sold out!)
• • • • •
• • • • •
The Ticker
By Anthony Emerson

Baseball News: Mariners 3B Kyle Seager has worn long pants for his entire big league career. Last night, he pulled them up while adjusting after sliding, and the socks he was wearing were definitely not team-issue (from Mike Dahlstrom). … The Red Sox have worn their colored alternate jerseys for 60% of their games this year, which might be why they're playing so damn inconsistently. … The Atlantic League's West Virginia Power will change their team name on Sept. 28 (from Caleb Jenkins).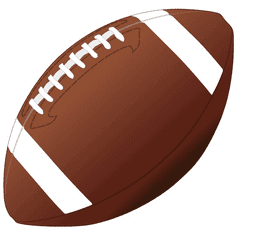 Pro Football News: Fox Sports forgot that the Bengals updated their uniforms this offseason (thanks, Phil). … The Bears have unveiled their jersey schedule (from Tim Shriver). … Wade Heidt checks in with the following CFL item: "It is a tradition for the Saskatchewan Roughriders to visit the Winnipeg Blue Bombers the week after they play each other in the Labour Day Classic game in Regina. The rematch has been dubbed the Banjo Bowl, the name originating from comments former Bombers kicker Troy Westwood made to the media about Riders fans before the 2003 West Semi-Final. It is just another regular season game, but with a bit more emphasis. The game has its own trophy for the winner and it has its own logo."

College/High School Football News: Maryland athletes who have received undergraduate degrees will wear "Graduate" patches on their uniforms. … Virginia Tech will go mono-white and longsnapper Oscar Shadley will wear Frank Beamer's No. 25 this weekend (from Andrew Cosentino). … Texas State is going mono-white tomorrow, along with a helmet decal that depicts the World Trade Center inside the TSU logo. … Stars/stripes helmet decals for Baylor (from Philip Forester). … Bowling Green is really going overboard, with a stars/stripes logo on one side of their helmet and a big 9/11 memorial on the other (from @Mr__Jeremy). … For teams not going overboard tomorrow, there seems to be a standardized, solemn memorial decal. You can see it on the Youngstown State and UMass helmets (from Gabe Rosenberg and Bob Marshall). … UNC is going blue-blue-white with a similar decal (from James Gilbert). … Arkansas has a 9/11 memorial decal as well, but it's quite a bit larger than others (from Taylor Crabtree). … Mizzou is going mono-white against UK (from Matthew Reitman). … Troy is going white-red-white with its military appreciation helmet (from @TrojanWallF5). … Virginia is going blue-blue-white (thanks, Jamie). … Apparently the NHL's Reverse Retro promotion has made its way to Nebraska. Adidas provides unis for both the Huskers and the NHL (from Tyler Maun). … The following are all from Phil: Rutgers will wear special uniforms tomorrow honoring the 37 Rutgers alumni killed on 9/11. … TCU will go white-purple-white against Cal. … Michigan State is going green-green-white tomorrow. … White-blue-white with stars/stripes decals for Fresno State. … Orange-white-white for the Illini. … Ole Miss is breaking out the flag desecration helmets. … Colorado State is going orange with a throwback helmet decal this weekend. … Texas Tech is going mono-black. … Tennessee is going mono-orange. … WVU is going blue-grey-grey. … The University of Calgary has new unis (from Wade Heidt). … The Gators are going mono-white with a stars/stripes helmet logo tomorrow while coach Dan Mullen will literally trample all over the flag on the sidelines (from Moe Khan).

Hockey News: Here's our first look at Philipp Grubauer's mask and pads with the Kraken (from Wade Heidt). … BU and BC have each unveiled their 100th-season logo (from Brandon Weir and Rob Altman).

NBA News: A Suns blog has ranked the top 10 Suns unis of the past 25 years (thanks, Phil). … New Magic SG E'Twaun Moore will wear No. 55 (from Etienne Catalan). … Overtime Elite, a league that offers a path to professionalism outside college for high school juniors and seniors, has unveiled its uniforms (thanks, Phil).

Soccer News: Leeds United have finally gotten around to unveiling their third kit (from Jason Torban). … Barcelona have unveiled their third kit, which will be used in Champions League matches.

Grab Bag: The Women's Big Bash League, an Australian cricket circuit, now has a naming rights advertiser (thanks, Jamie). … Check out these amazing Reddy Killowatt-themed T-shirts that a Baltimore electricians' union made for a cornhole tournament (from @kingtaay). … Aston Martin F1 is adding a James Bond ad to its livery for this weekend's Italian Grand Prix (from @Byron_2284). … Delta Airlines' official Twitter account posted the company's logo history the other day (from @chrismogren). … Here's a general rundown of 9/11 memorials the sports world has planned for this weekend (thanks, Phil). … Breakfast cereal Count Chocula, of all things, has a 50th-anniversary logo (from Jim Vilk).
• • • • •
And that's a wrap for this week. Stay well, enjoy Phil's weekend content, enjoy the first Sunday of the NFL season, and of course my condolences to those of you who are mourning friends and loved ones who died 20 years ago on 9/11. I'll see you back here with Monday Morning Uni Watch in a few days. Peace. — Paul