[Editor's Note: Paul is on his annual August break from the site. Deputy editor Phil Hecken is in charge from now through the end of the month, although Paul may be popping up here occasionally.]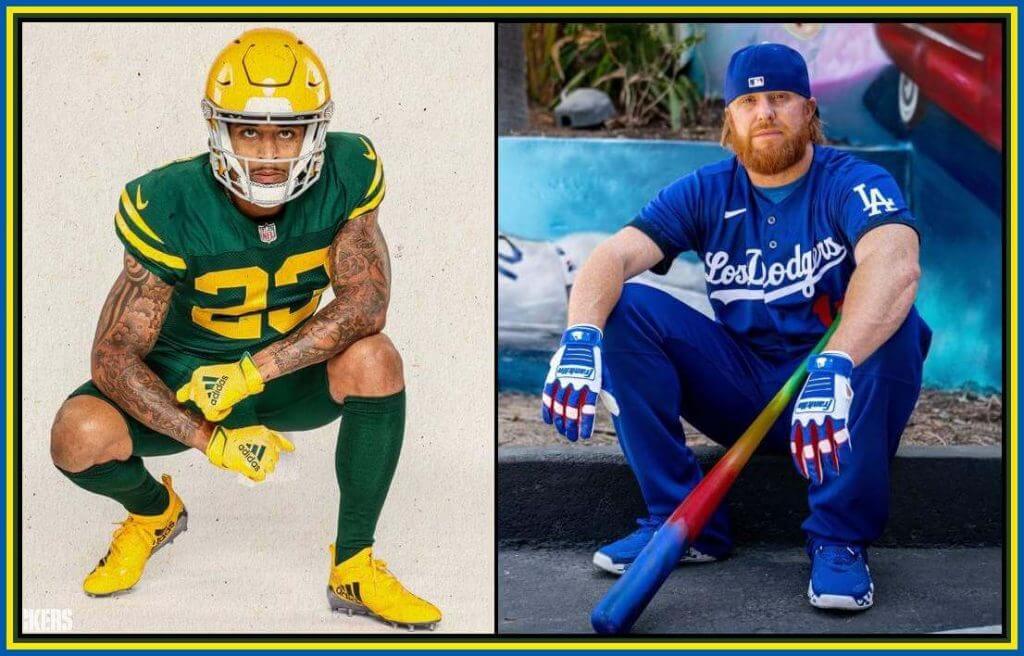 By Phil Hecken
Follow @PhilHecken

Good Friday morning, Uni Watchers. It's Friday. We made it!
As you're no doubt aware, yesterday morning both the Green Bay Packers and the Los Angeles Dodgers unveiled alternate uniforms. For the Packers, it was a new alternate uniform — technically a throwback, but in reality a fauxback — and for the Dodgers, it was their "City Connect" uniform. Since the Packers unveiled about an hour before the Dodgers, we'll start with them.
__________
PACKERS: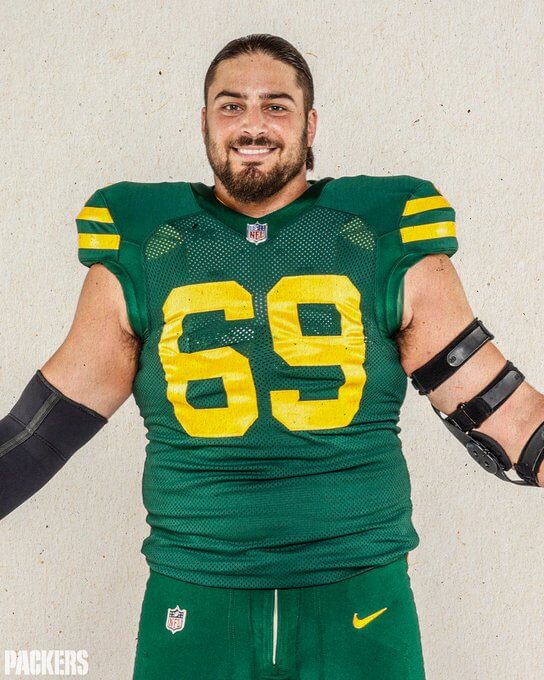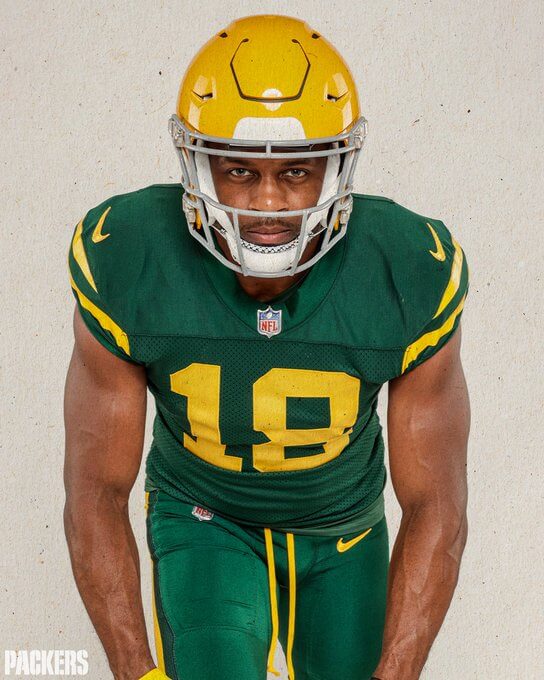 As you can see, both from the splash photo and the two photos above, the new Packers fauxback is green. Very very green. The team will sport a gold helmet (their current helmet, stripped of the "G" logo and green facemask, which they have replaced with gray). The rest of the uniform — the jersey, pants and socks, are all in their current shade of green. Did I mention the uniform has a lot of green?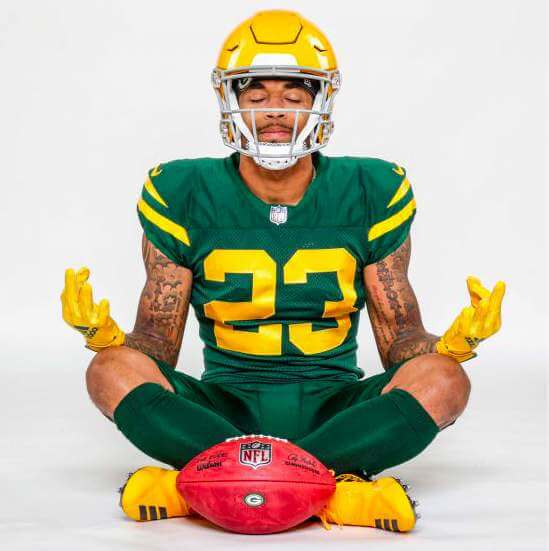 I'm referring to this as a fauxback, because that's what it is — and the Packers themselves were very up front with this. They're calling it a "History Inspired 50s Classic" uniform (the team did wear green over green in 1950 and 1953, and had a green pants option in both 1951 and 1952), and described it thusly:
The uniforms are all green, with gold numbers and stripes similar to the jerseys worn in the 1950s. In those days, the green was a Kelly green and the team alternated between wearing it with green or gold pants. This alternate jersey, which is the Packers' traditional green color, with gold numbers and stripes, will be worn with matching green pants with gold stripes, and matching green socks.
It's a pretty simple look, with two gold stripes on the shoulder caps, gold numbers, and a single, solid gold stripe on the green pants.
The 50s Classic Uniform is inspired by the team's uniforms from 1950-1953, which was the second time the team wore green and gold in its history. The Packers first wore green in the mid-to-late 1930s.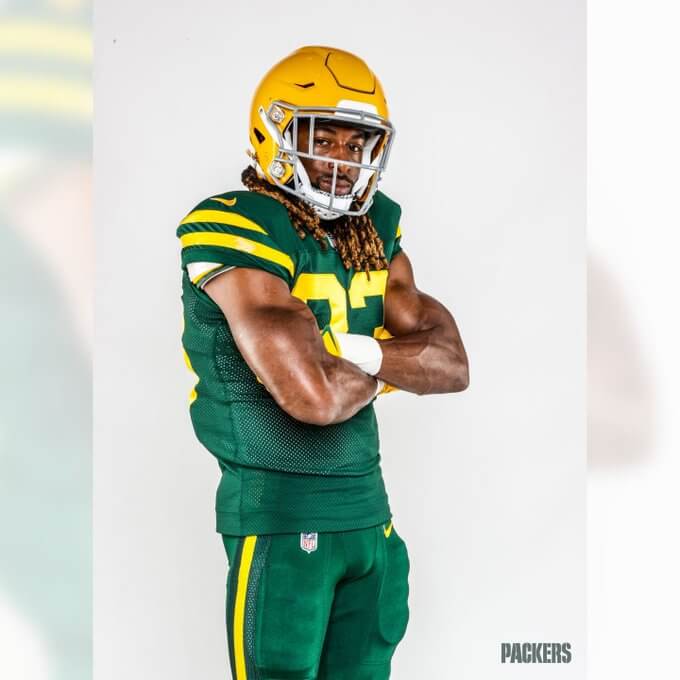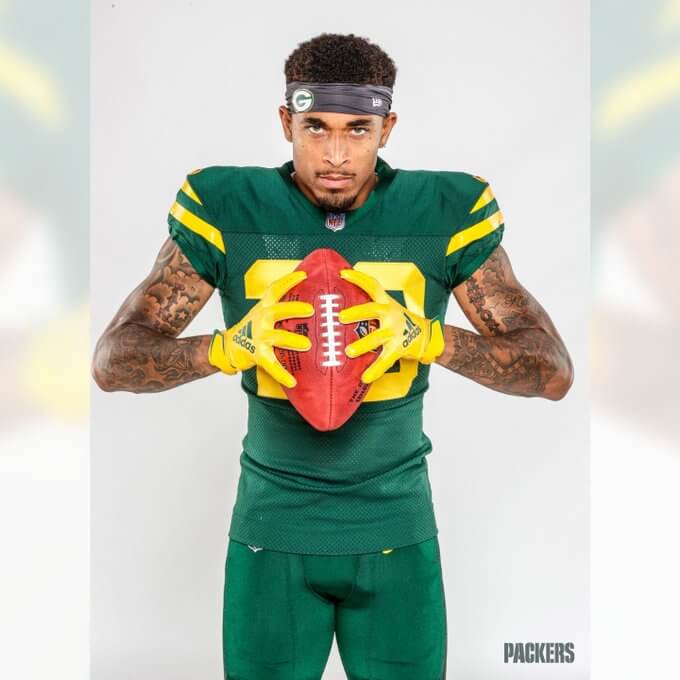 Why did the team select this era for their fauxback? "The 1950s were one of the most interesting times in our organization's rich history, creating the bridge between two of the greatest eras in pro football," said Packers President/CEO Mark Murphy. "With the NFL growing rapidly, this time period set the stage for the construction of Lambeau Field and for the team's success in the 1960s and beyond."
What exactly did the Packers uniforms look like back then? Here's how it looked in 1953, one of the years the team wore mono-green: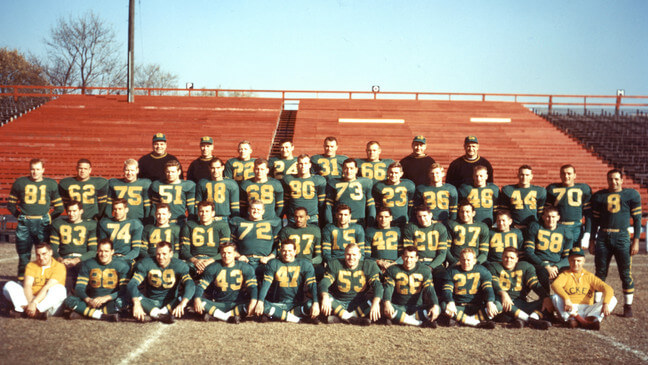 And here's a closer view. Note back then, aside from being "kelly" green in color, the team wore green striped stirrups, with white sannies/crew socks.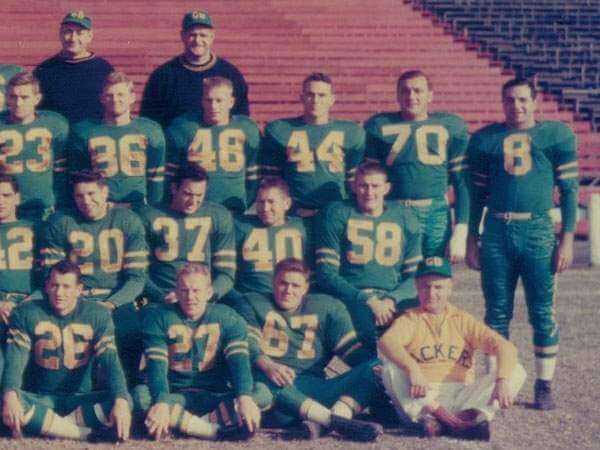 And how does this new fauxback compare with the original? It's pretty close.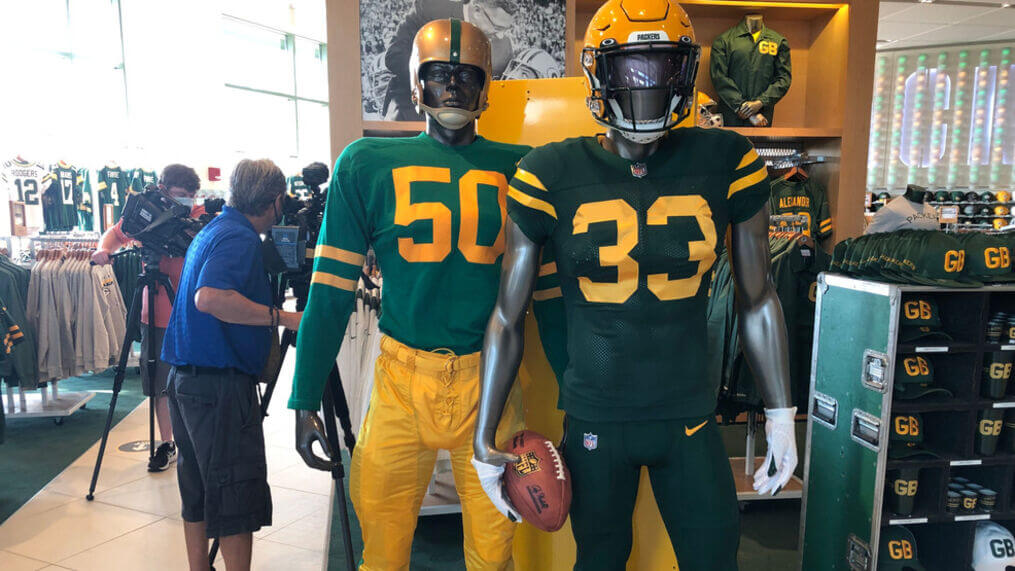 You'll note the mannequin sporting the 1950s uniform has gold pants, but the team did sometimes pair the green jersey with the green pants. Obviously the stripes on the 1950s jersey were much lower, but that's because uniforms back then had actual sleeves. You'll also note the 1950s mannequin is wearing a more metallic gold helmet with green stripe. If you double-check with the GUD, you'll see the team wore this combination (but with green pants) in 1953 only, while in 1950, the helmet was solid athletic gold. Obviously the Packers are forced to wear their current shell, so the new alternate uniform is definitely taking elements from that 1950-1953 period.
If you're curious about the back of the jersey, the NOB (which didn't exist in the 1950s but is required now) is athletic gold, as are the numbers, which are rendered both on front and in back in a block font.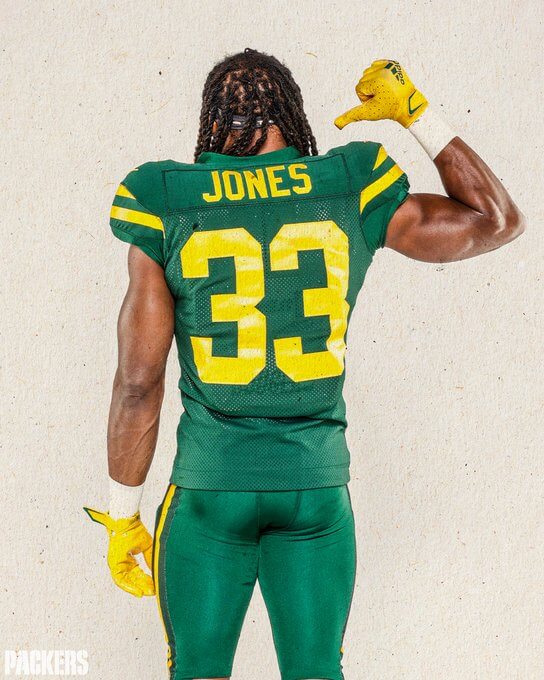 I was initially disappointed to see the team will be wearing solid green socks, as the original look featured a green stirrup with a gold stripe (and a crew sock). Since players are no longer required to wear crew socks, at least a gold stripe would break up the monochrome green, but — and I can't believe I'm saying this — I'm glad they didn't go with gold socks (which would break up the mono green, but be incorrect for the era). I normally hate the leotard look (even for a "throwback"), but in this case I'm actually OK with it. I'm also ok with the team not adding a green stripe to the helmet, since that was germane to the metallic gold helmet (worn 1951-53), but not to the 1950 athletic gold helmet. Those are minor quibbles, and overall I am quite excited to see these on the gridiron! Also of note is the tailoring — the Packers are the only team to still wear the old Reebok jersey, and the new throwbacks are also in that cut, not one of the Nike "elite" or "vapor" or whatever they call their template.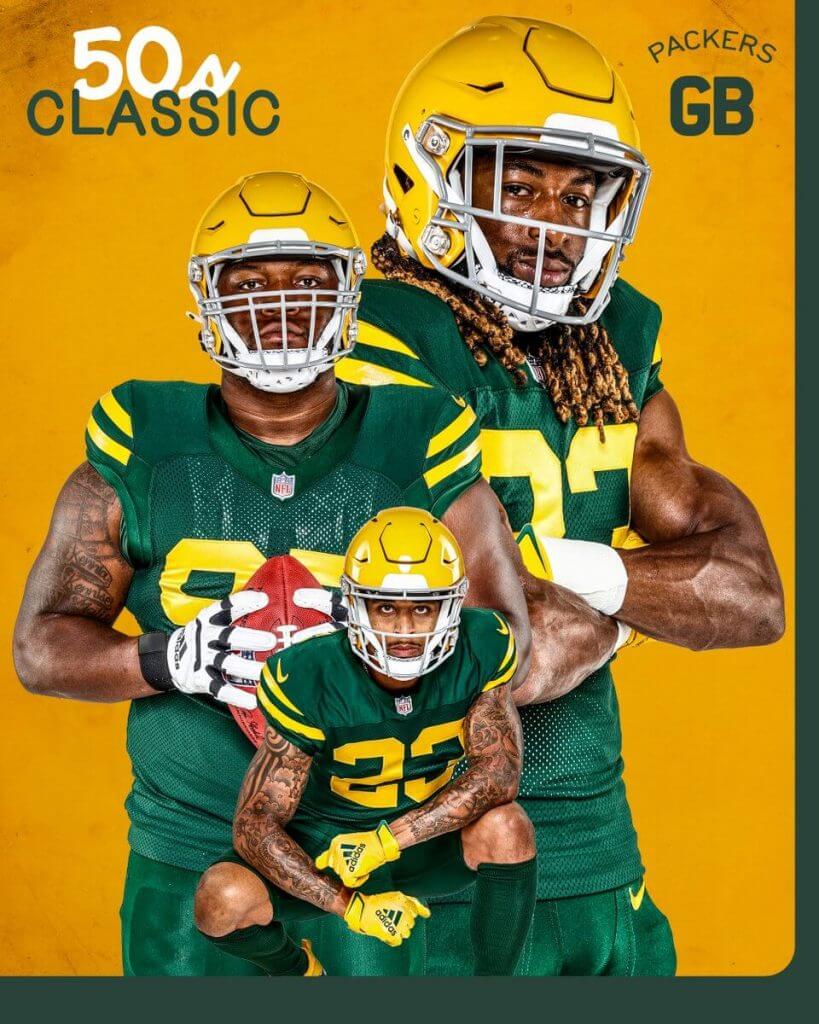 And of course, the with the new unis comes a hype video…
A history-inspired look with a modern vibe.

Introducing the #Packers 50s Classic Uniform 🟩🟨#GoPackGo pic.twitter.com/BOPu6U7dKC

— Green Bay Packers (@packers) August 19, 2021
The new uniforms will debut at Lambeau Field on October 24 against Washington. The photoshoppers are already providing a "preview":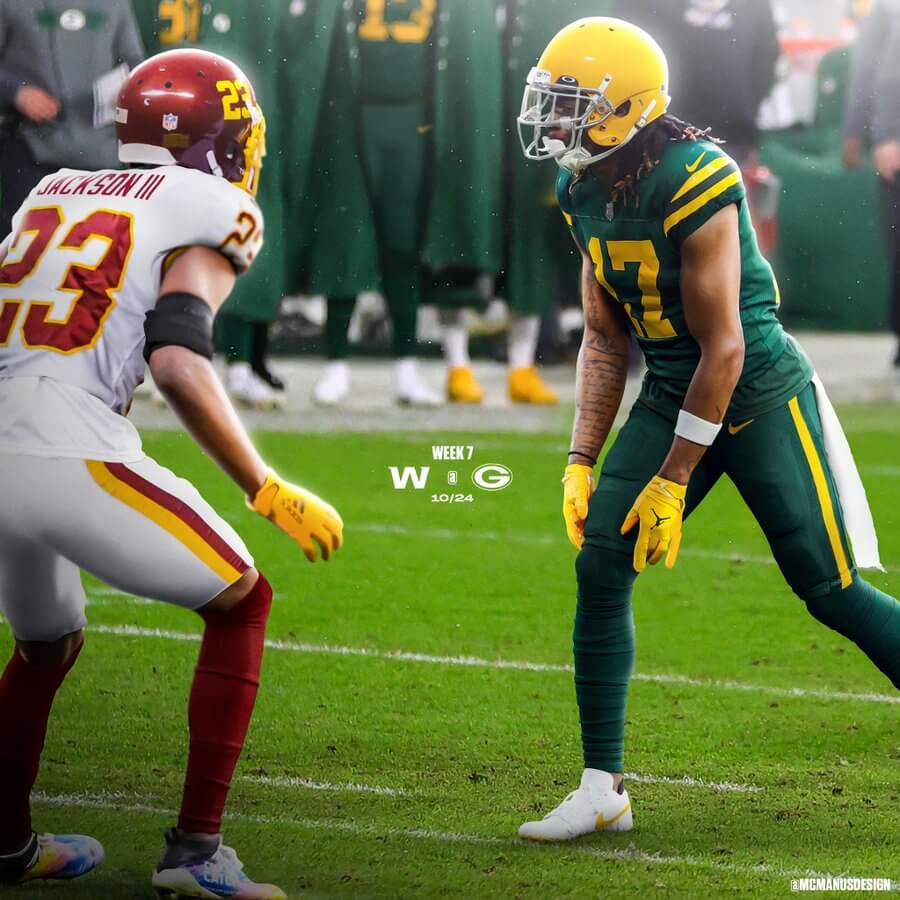 What do you guys think?
__________
DODGERS: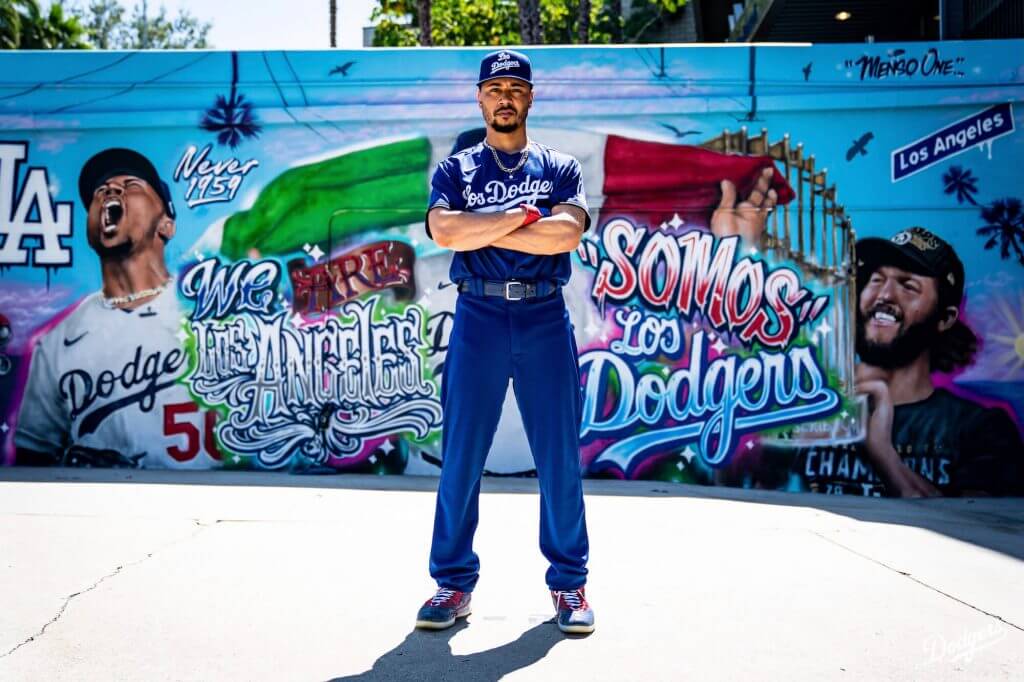 The Los Angeles Dodgers became the seventh and final team (in 2021) to debut their "City Connect" uniforms yesterday morning — and will wear them tonight and Saturday against the New York Mets. As you can see, their CC uni is head-to-toe mono-blue (well, not completely blue, which we'll get to in a second).
Nike's marketing-speak went into overdrive with these, but in a way it's necessary to put the uniforms into context. If we were to look solely at these uniforms as well, just a uniform, then they'd just look silly. So, let's first look at the two items most people who aren't unifiles will care about: the cap and the jersey: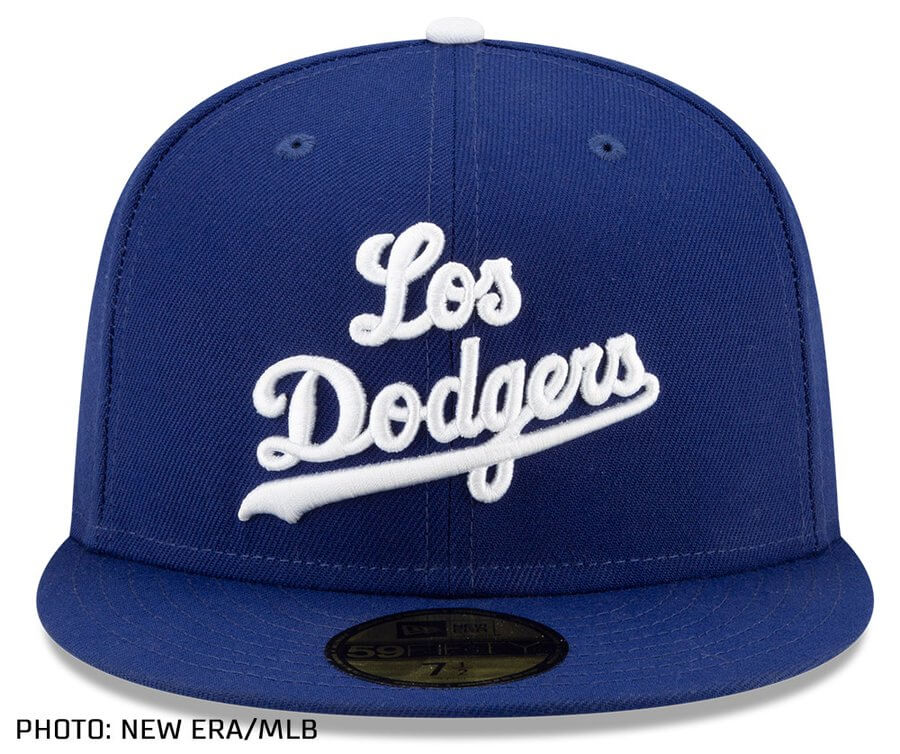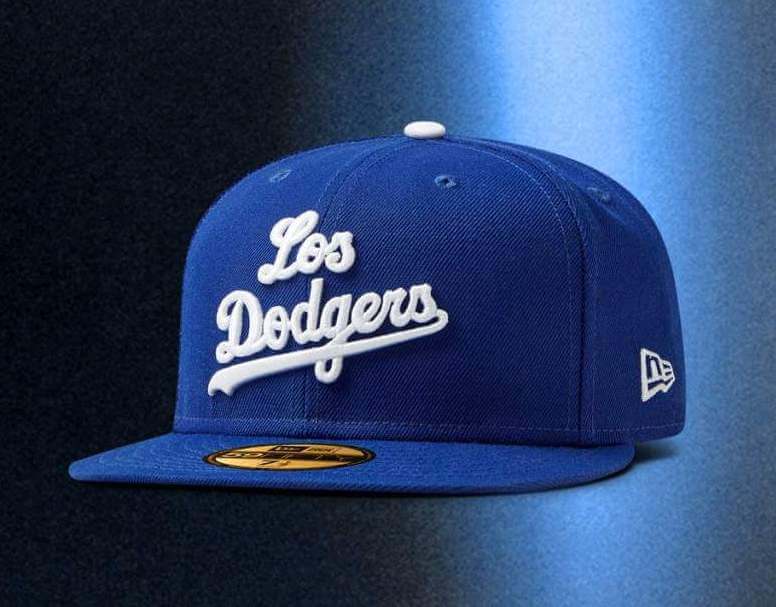 The first thing you'll notice about the cap is the interlocking "LA" logo has been replaced with two stacked words, rendered in Dodgers script: "Los" atop "Dodgers." Why "Los Dodgers"? I'm sure you can guess, but we'll get to that part shortly.
The jersey is royal blue and contains the words "Los Dodgers" in white script across the chest, with red player numbers, and the sleeves ends are black, in a splatter pattern, fading to blue.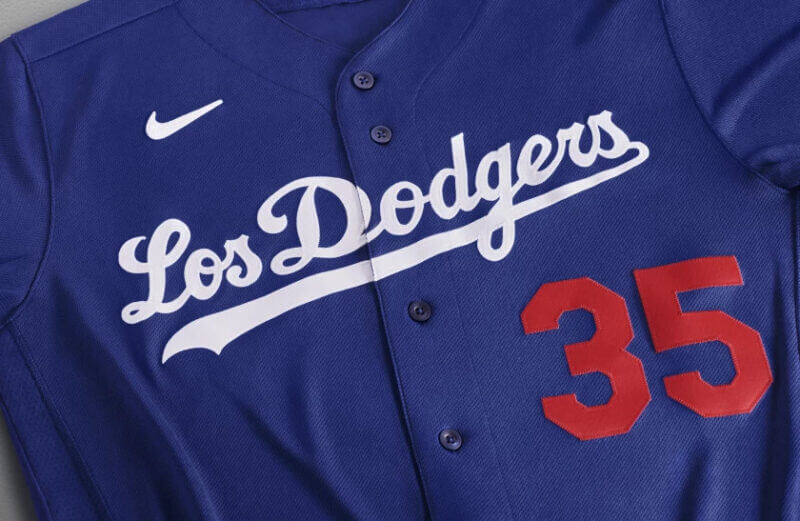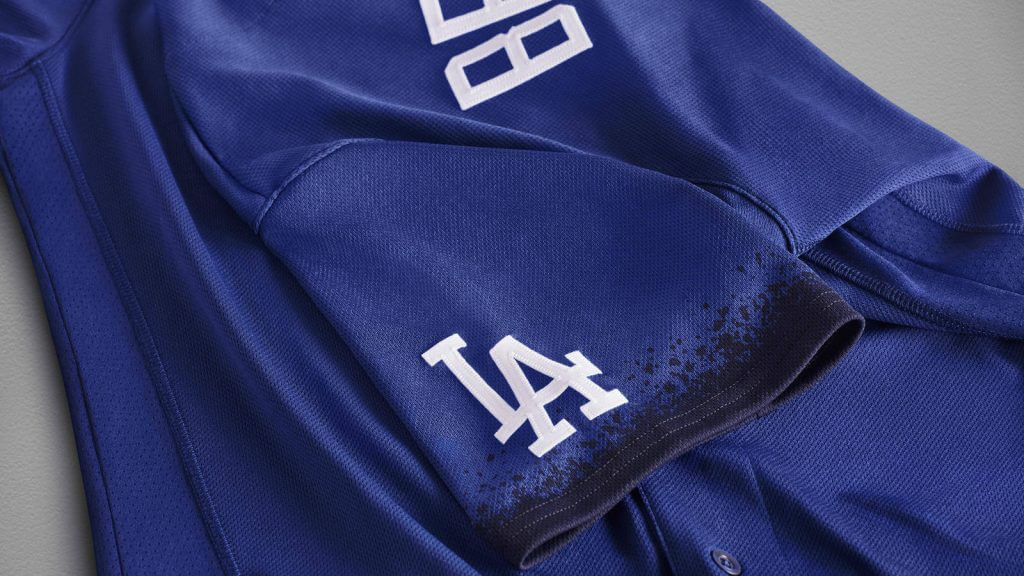 The pants are also royal blue, and unfortunately all the promotional shots I've seen have the players wearing their pants uncuffed (pajama style), so we cannot see the socks. I'm not sure if any of the players will go high-cuffed, but if they do, we can probably safely assume the socks will also be royal (or mostly royal — who knows what Stance will provide).
Promotional photos all show players standing in front of newly-designed murals at Dodger Stadium…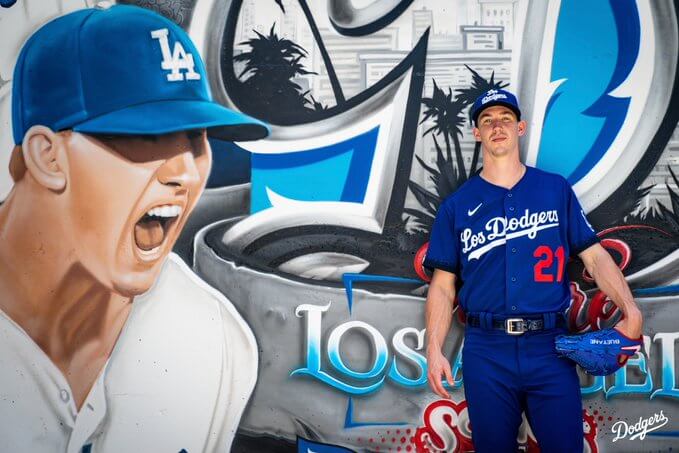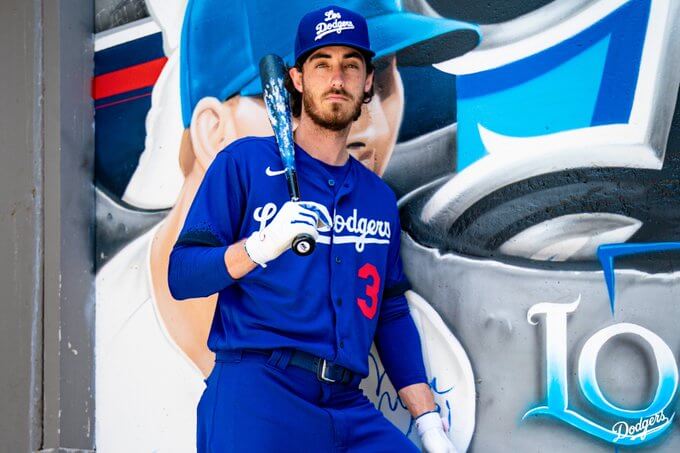 OK — there's a look at the uniforms without the cringeworthy descriptions from Nike. But to judge the uniform without them wouldn't quite be fair to the uniform. "Los" Dodgers, black edges on the jersey sleeve, players posing in front of murals. Here's the "why":
The Nike Los Angeles Dodgers City Connect Jersey celebrates the link between Los Angeles' distinct culture and sport. The club unites all Angelenos through their passion for team, its color and a shared pursuit of greatness. The blue jersey is a tribute to a fanbase who have powered the club for over six decades.

Releasing ahead of Latino Heritage Month, the jersey features "Los Dodgers" across the chest. The graphic recognizes the club's deep connection with the Latino community and the lasting impact of the club's Latino fans and players, which are celebrated throughout the season at Viva Los Dodgers festivals.

On the jersey's sleeves, a spray-paint design honors L.A.'s mural culture. Throughout the city, artists have illustrated iconic Dodgers' moments that commemorate the legacy of the club and its players.
I'm sure the original denizens of Chavez Ravine will appreciate the gesture. Yes, I know things have changed greatly since the team built Dodger Stadium, and amends with the Hispanic community have been made, but that's surely still a sore spot amongst some Angelenos. Perhaps the City Connect jersey (uniform) is their way of making further amends. But Nike's CC uniforms "celebrate the bond between each club and its city. The uniform series explores the personality, values and customs that make each community and their residents unique." As we've seen with the previous six CC uniforms, reaction to this "mission" statement has been mixed. But as much as we might like to, we cannot truly judge the uni solely on how it looks, but rather, we must look at it in the context of what Nike's designers are trying to convey.
Here's their take:
For over six decades, Angelenos have been united by a team, a dream and a color. Whether you refer to that color as blue or azul, we all share a connection and an allegiance to a team that inspires our art and story. We are Los Angeles, somos Los Dodgers. pic.twitter.com/Iba5mt12rE

— Los Angeles Dodgers (@Dodgers) August 19, 2021
"The Dodger uniform is an iconic part of the franchise's identity. While our traditional look has and will always be worn by the franchise-great players, the City Connect program offered us the opportunity to recognize the impact and importance of our multicultural fanbase," said Lon Rosen, Dodgers executive vice president and chief marketing officer. "We're excited to debut these City Connect uniforms on the field and know our fans will enjoy seeing 'Los Dodgers' on the uniforms as well as our new murals, which bring Los Angeles' street art culture to Dodger Stadium."
Overall, I don't mind the jersey, as the "spray paint" sleeve is innocuous enough, although I still dislike it when teams add "Los" in front of their name (we've discussed this as some length over the years on UW). It's not that it's incorrect (or even lazy, per se), it just seems that it's not necessary. The cap is interesting, as the tiny "Los Dodgers" won't really be visible at distance, and it will certainly be a unique MLB cap (and I'm sure, a hot seller, which is no doubt part of the motivation behind it).
This won't actually be the first time the tradition-bound team has worn a royal blue jersey in a game that counts, and the club wears a royal blue bp/spring training jersey. You may recall Justin Turner pleading with management to wear those bp tops in a game — so in a way he's getting his wish.
As far as the royal blue pants…I don't hate these, but I think the Los Dodgers CC would look better with white pants. Especially if the royal pants are worn pajama style — although I'm hoping at least one or more of the players goes high cuffed, just so we can see what kind of hosiery will accompany the blue pants.
We'll get to see these on the field tonight and tomorrow. I'm sure Johnny Ek will have coverage of these once they're worn. I may have some more thoughts on Monday. Maybe.
What do you guys think?
• • • • •
• • • • •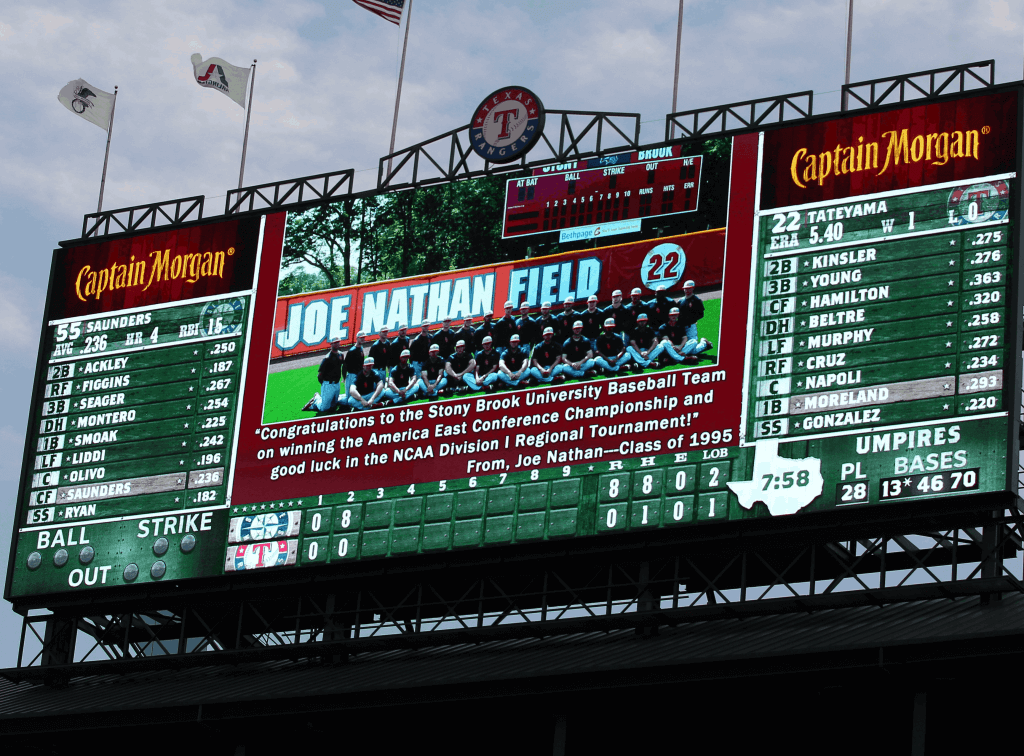 Guess The Game…
from the scoreboard
Today's scoreboard comes from Graham Clayton.
The premise of the game (GTGFTS) is simple: I'll post a scoreboard and you guys simply identify the game depicted. In the past, I don't know if I've ever completely stumped you (some are easier than others).
Here's the Scoreboard. In the comments below, try to identify the game (date & location, as well as final score). If anything noteworthy occurred during the game, please add that in (and if you were AT the game, well bonus points for you!):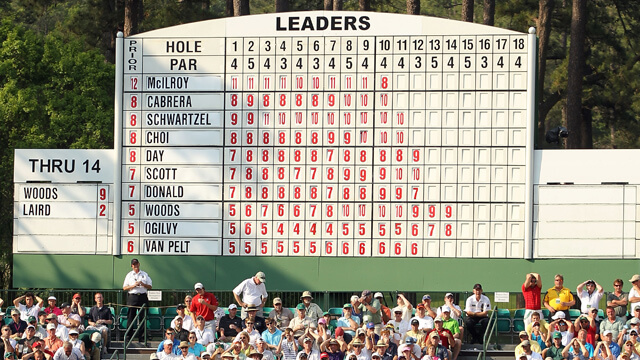 Please continue sending these in! You're welcome to send me any scoreboard photos (with answers please), and I'll keep running them.
• • • • •
• • • • •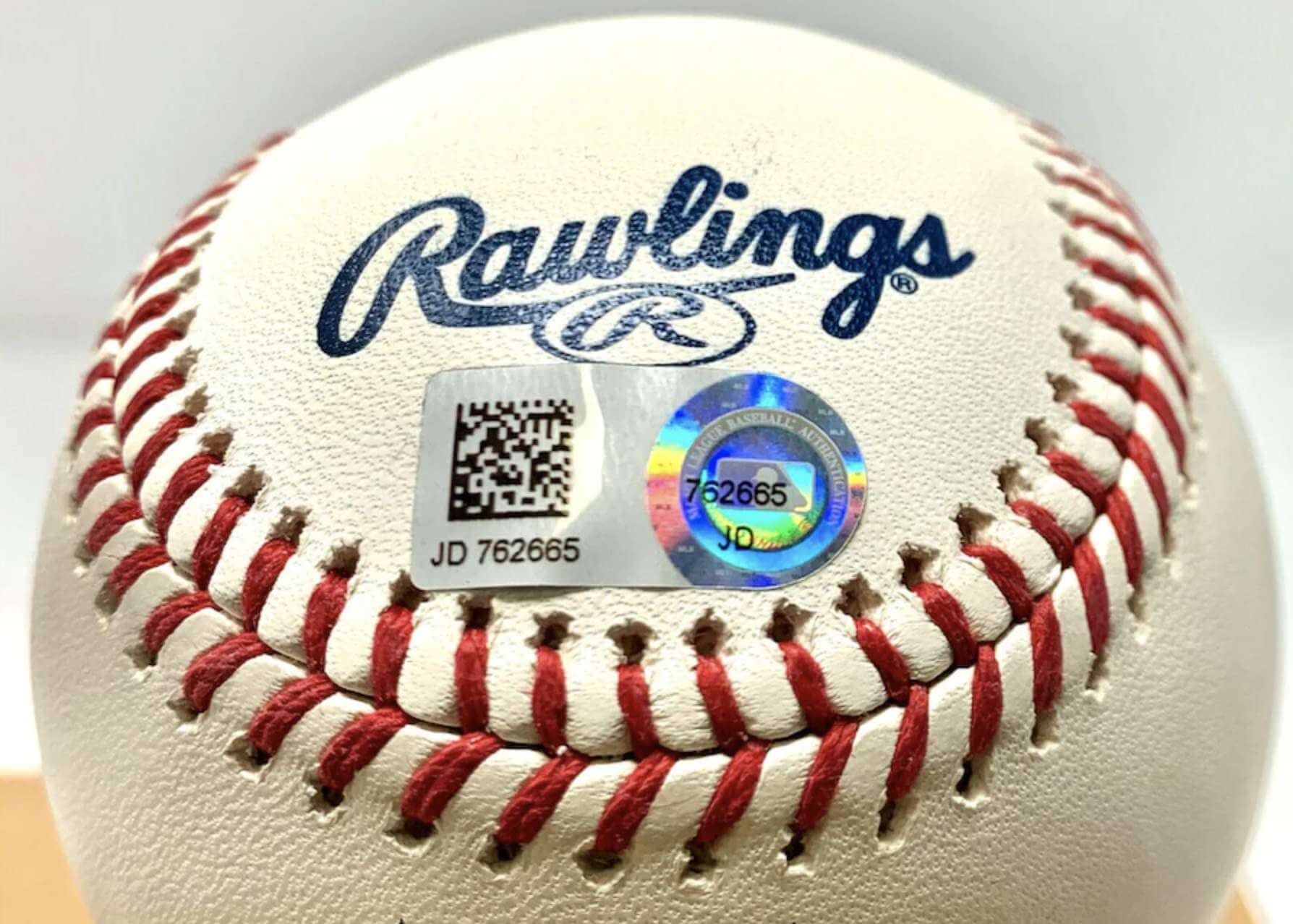 Bulletin reminder: Paul here. In case you missed it on Thursday, my latest piece for Bulletin is an in-depth interview with Mike Acosta, who served for years as the Astros' authentication manager (which means he dealt a lot with those little hologram stickers, like the one on the baseball shown above). I learned soooo much interesting stuff in this interview, and I think you will too. You can check it out on my Bulletin page.
Also: Up until now, only people who subscribed to my Bulletin articles were able to post comments on them. But I'm happy to report that as of now, any registered Facebook user can post a comment on my Bulletin articles, even if you're not a subscriber. I'm hoping this will lead to a more robust discussion.
Okay, now back to Phil!
• • • • •
• • • • •
The Ticker
By Anthony Emerson


Baseball News: Say goodbye to Topps: Fanatics, the MLB, and MLBPA have signed an exclusive baseball card deal to begin in 2022, continuing its quick growth in only a couple of years (from multiple readers). … Check out this 1933 pic of Red Sox players Johnny Gooch and Mel Almada. Notice how the "S" aligns with their placket stripes at different places? (from Paul Friedmann). … Gary Bratton, Chief of the Choctaw Nation, threw out the first pitch at a Rangers game recently, and he was given a jersey with "CHOCTAW" on the back (from Chance Plett). … The Memphis Redbirds, Triple-A affiliates of the Cardinals, will become the Memphis Wet Ribs tonight and the Memphis Dry Rubs tomorrow (from Ryan DeBoard). … The Vancouver Canadians, High-A affiliates of the Blue Jays, have a pretty clever "floating" backstop logo (from Aaron Wigg). … The Little League World Series started yesterday, and Nebraska's green unis blended in with the wall too much, meaning that ads were projected onto the players (from Christopher Keese). Also, this year's LLWS unis just say "Little League Baseball" instead of having the team's region, a really bad choice in my opinion (from C. Fish and Emily Teachout).

Pro Football News: The Patriots unis are now entering year two, and yet they're still having trouble getting the correct font onto the jerseys. Check out Isaiah Zuber's "Z" in this pic, in the Pats' old font (from Matt Monitto). … ESPN has a really good article on some of the NFL players who paid to switch to single digits following the NFL's relaxing of the number rule (from Jason Hillyer). … BC Place was lit up orange to celebrate the BC Lions' return to Vancouver for their first home game since the pandemic began (from Wade Heidt). … Marketplace did a piece on the NFL's new numbering scheme (from Andrew Cosentino).

College/High School Football News: Also posted in the soccer section: FSU soccer are wearing some really nice sleeve patches honoring the late Bobby Bowden (from @TaReefKnockOut). … Air Force has unveiled a new alternate honoring the B-52 Stratofortress (thanks, Phil). … It appears UNC has removed endzone wall ads that were installed last year at Kenan Stadium.

Hockey News: Sabres G Aaron Dell has some pretty amazing new pads (from Steve Urbanski). … With jersey ads an inevitability in the NHL, The Province has taken a look back to when the Canucks sold ad space on their practice jerseys in late 1980s and then again for a season in the mid-90s (from Kris Fulton). … The City of Glendale, owners of the Coyotes' arena, will kick the Yotes out after this season (thanks, Brinke).

NBA News: As usual, Etienne Catalan has a whole slate of NBA uni number updates available on his Twitter.


Soccer News: Our own Jamie Rathjen wrote about Puma's, uh, unique new third kit designs yesterday. Now, multiple outlets are reporting that Borussia Dortmund have refused Puma's design as it lacked the club's badge. BVB are designing their own third kit, to be released. Elsewhere, the kits caused problems for Fenerbahçe's Muhammed Gümüşkaya, who tried to kiss his badge after scoring a goal, but couldn't because there was no badge on his jersey (from multiple readers). … Juventus unveiled their third shirt yesterday (thanks Jamie). … Tottenham wore their normal Premier League kit of white shirts with blue shorts instead of their usual European kit of all-white during yesterday's UEFA Conference League qualifying match against Paços de Ferreira. Spurs also wore their regular Premier League font instead of their cup-specific proprietary font, and keeper Pierluigi Gollini wore a baseball cap to keep the sun from his eyes. … For some reason, Rangers FW Ryan Kent wore the correct kit but the incorrect shirt ad during yesterday's UEFA Europa Leauge qualifying match against Alashkert FC (from Ed Żelaski). … Also from Ed: Tomorrow, Polish side Cracovia will wear a gorgeous throwback to honor the 100th anniversary of their first title. … CF Montréal has added assistant coach Jason DiTullio's first name to their sleeves as a gesture of support as he battle brain cancer (from Moe Khan). … The Whitecaps partnered with a brewery to create a line of cans inspired by jerseys throughout their history in order to celebrate their return to Vancouver (from Wade Heidt). … English seventh-tier side Enfield Town have a new shirt advertiser: the WWE's British "NXTUK" promotion (from Scott Whitt). … Cross-posted from the college football section: FSU soccer are wearing some really nice sleeve patches honoring the late Bobby Bowden (from @TaReefKnockOut).

Grab Bag: New identity for UNC Charlotte (from James Gilbert).

• • • • •
• • • • •
Uni Tweet of the Day
I barely remember these. Not sure I want to see them again…
I'd freakin' LOVE if the Steelers brought back the all white uniforms. #Steelers pic.twitter.com/LGUTp34sRE

— Austin K. ⚫ (@SteelersTake) August 19, 2021
• • • • •
• • • • •
And finally… that's it for me for this week. Enjoy webmaster Johnny Ekdahl's weekend content and I'll catch you back here again on Monday — everyone have a good weekend.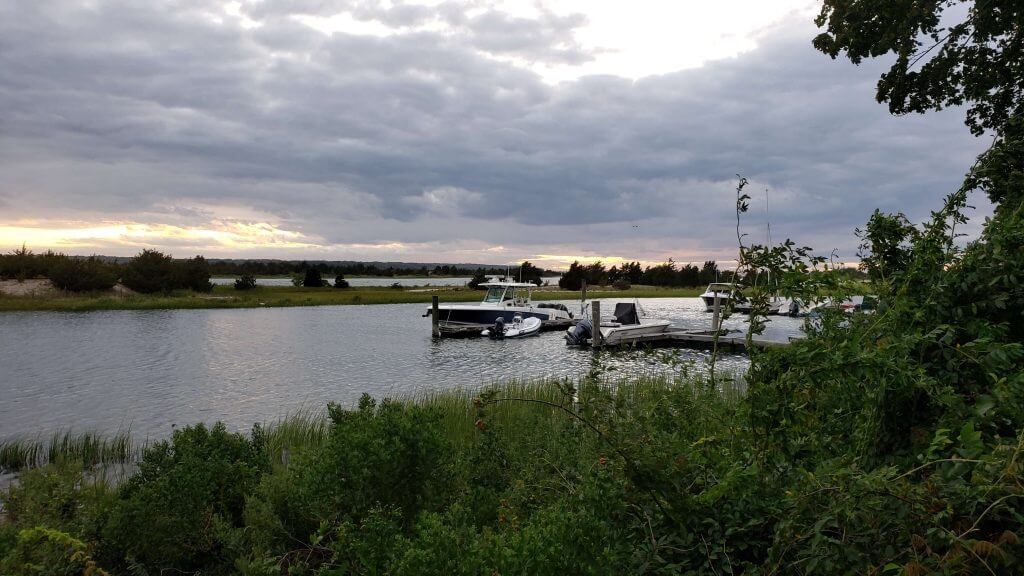 The last vestiges of Tropical Storm Fred are visible in last night's non-sunset. You can't really tell from the photo, but yesterday had some of the strangest and coolest looking cloud formations I've seen in a while. And I'm not anxious to see again — as Tropical Storm (possibly Hurricane) Henri is expected to come very close to the east end of Long Island (where the summer place is located) on Sunday.
Peace,
PH