[Editor's Note: Paul is on his annual August break from the site. Deputy editor Phil Hecken is in charge from now through the end of the month, although Paul may be popping up here occasionally.]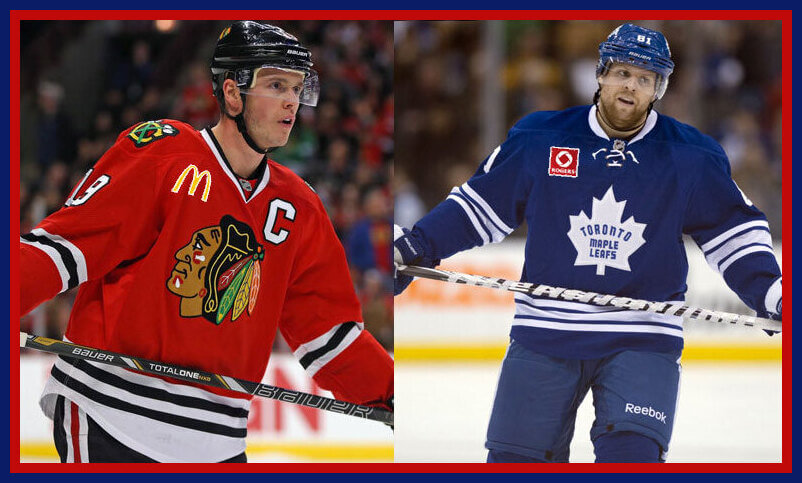 Image credit: Sportslogos.net
By Phil Hecken
Follow @PhilHecken

A good Wednesday to all you Uni Watch readers.
As I'm sure many of you have heard by now, it was announced (first by Sportico) yesterday that the NHL Board of Governors voted unanimously to approve of an ad patch to appear on NHL jerseys beginning the season after this (the 2022-23 season).
They will become the second major sports league in the United States — joining the NBA which approved ads beginning in 2017 — to desecrate their jerseys with anything besides makers marks.
This should not come as a huge surprise, since the NBA basically opened the door for ads on uniforms several years ago, and the COVID-19 pandemic has (supposedly) cost pro sports hundreds of millions of dollars in lost revenue (from all streams). In fact, COVID-19 was the justification for NHL teams to begin selling ad space on their helmets this past season. While not nearly as offensive as a jersey ad, the helmet ads were nonetheless a jarring first-step in the march to jersey ads.
In case you're not familiar with the helmet ads, here's an example (not all teams have the same ad, nor is the size or shape uniform):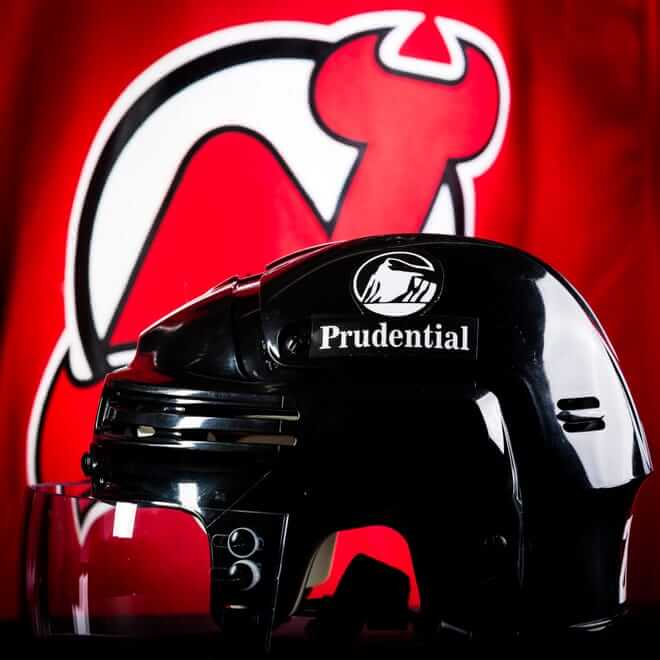 There was little public outcry against the helmet ads, and even more silence as the season progressed, which likely hastened the NHL's decision to permit sweater ads next season. The helmet ads will again appear this season. This is the first time jerseys ads will be seen in game action — previously, teams have been able to place ads on their practice jerseys (first allowed in 2010), while American Hockey League teams have worn jersey ads for a few years now.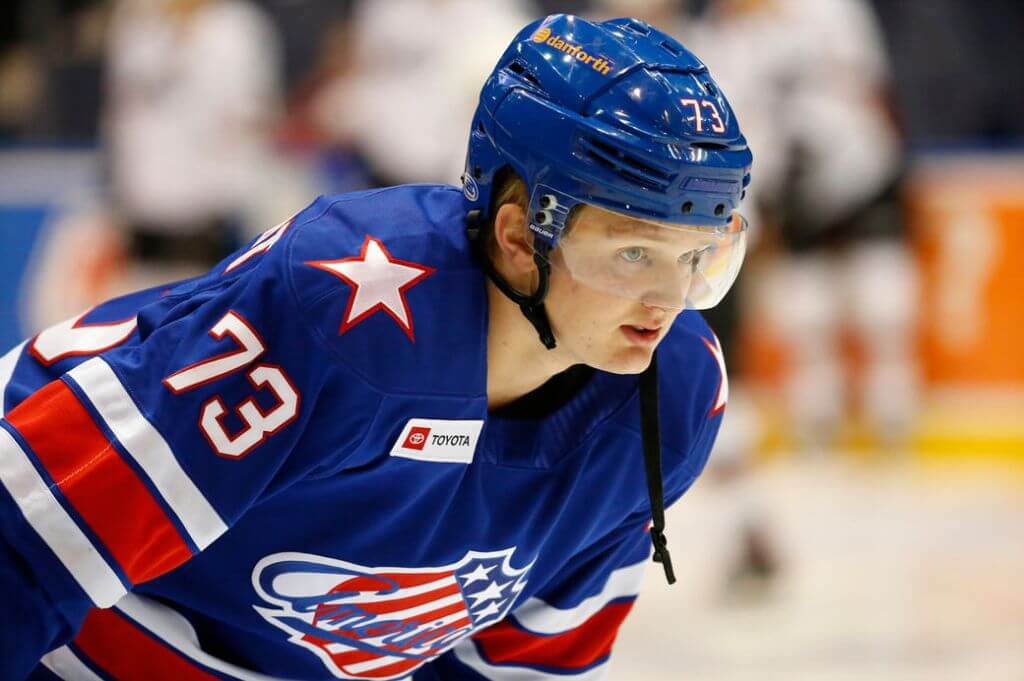 If you don't think the monetary aspect of a jersey ad is huge, think again. The helmet ads have produced a windfall, and NHL Commissioner Gary Bettman noted teams "retained more than $100 million in revenue" because of those ads, as well as other, non-uni related money-drawing changes. If you clicked on the Sportico article, you may have noticed that the NBA jersey ads netted all teams $150 million.
While no specific placement for the ad has yet been announced (although it is probably safe to say it will be located on either the right or left chest of the jersey), the specs were announced: the ad can be 3.5″ x 3″ (which is larger than the current NBA ads). Individual teams will be allowed to determine the ad placement. They could be on the front or on the sleeve or the back, but the right breast seems most likely, as many teams have a Captaincy or Assistant Captain logo on the left breast — similar to this: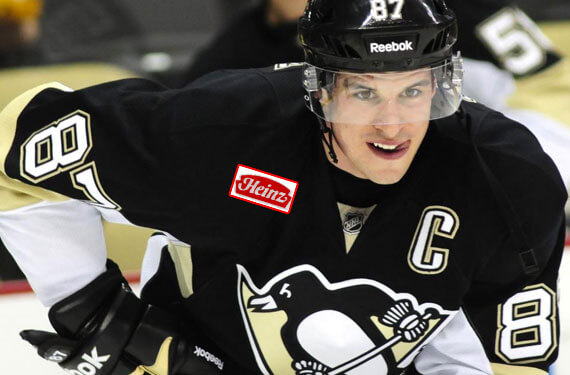 Although I stated earlier the jersey ads should come as no surprise, Commissioner Bettman had for years been for protecting the sanctity of the jersey. As little as four years ago, he said "you'd have to drag me kicking and screaming," or offer "a lot, a lot, a lot of money" to put ads on the NHL's "iconic" sweaters. But the COVID pandemic has made him change his tune. Even as late as January of this year he was still on the fence (his words: "the jury is still out") as far as jersey ads, even as he was trumpeting the "success" of the helmet ads. But he also said then the league was basically bleeding money due to the pandemic (and the two shortened seasons, with mostly limited or non-existent paying customers).
Like the NBA, and also with the helmet ads, individual teams are free to negotiate with advertisers to get the "best" fit deal. While there is no guarantee teams will accept ads from the same corporations which currently advertise on helmets, this seems like a safe bet. However, if any of those advertisers didn't feel they got enough ROI, they may decide to move their helmet ad to the jersey, thus freeing up space on the helmet for a new advertiser. Or teams could simply elect to solicit ads from different advertisers for the jersey. That's all down the road.
The biggest worry amongst uni-purists when the NBA announced their jersey ad deal is that it would lead to more and/or bigger jersey ads, but that hasn't happened…yet. We all know the path soccer has taken over the past few decades where a full ad appears on the front of the jersey — leaving only a team badge and makers mark. Certainly I'm not saying that's where this is headed, but let's face it, only a decade or so ago, full jersey ads were unthinkable.
I certainly don't think we're headed for crazy European sweater (and pant/leg) ads — you know, the one's that look like this…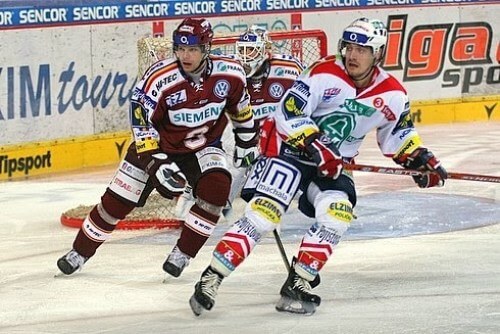 …but the slope gets slippery once the ad-door has been opened.
The NHL had been the best of the big four sports leagues when it came to sweater integrity. The makers mark has never appeared on the front of the jersey, and (like the NFL) there have been no "special" (S&S camopander, pink out, etc.) jerseys ever worn during the game. Yes, teams have worn them in pregame (the Kings are a good example), but none of that has ever infected the actual game. And unlike the NFL, no special headbands, socks, wristbands, etc. have been allowed. Even the helmet ad, noxious as it is, was not a jersey ad — and those helmet ads are still not highly visible. That's all about to change with the 2022-23 season.
It will be interesting to see how the NHL handles the roll-out. As Paul pointed out in this great 2017 ESPN piece, the NBA's ad program started off slowly (and you'll recall not all teams had advertisers at the beginning of the program's inception — even though all teams have since added advertisers). Perhaps because jersey ads were "new" to the four major leagues at the time advertisers (and teams) didn't know what to expect or how fans would react. But seeing as how most opposition has been little more than a whimper, I don't expect NHL teams to have much trouble selling ad space over the next year.
Your thoughts?
• • • • •
• • • • •
Blue Jays "Refresh" 2022 Concept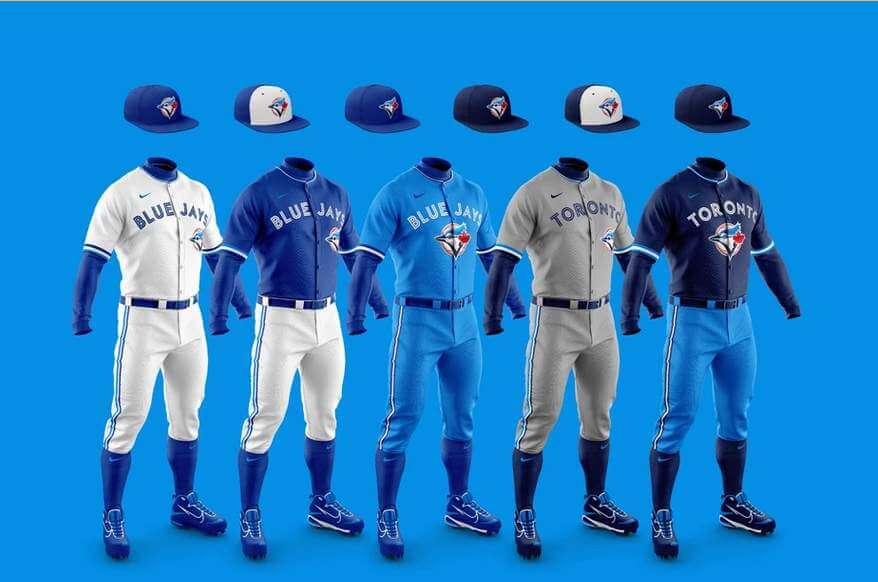 A couple months ago, Erich 'Heinz' Rigonan, sent in a link (which follows below) to an incredible project, which he calls "2020: Toronto Blue Jays Refresh" and which I wanted to share a few shots from.
In his intro to the project, he writes, "After the 2020 season, the energy of this new young core that the Blue Jays built has made it an exciting time for baseball in Toronto. As much as I was impressed with the rebrand in 2012, I always thought the organization could have reached deeper into its rich history while still remaining modern and classic. Since Nike recently took the reigns of manufacturing the MLB uniforms, I thought this would be the perfect time for the design nerd in me to put my spin on their brand identity to help match their new winning culture not only on the field but also in terms of design."
There's a ton of stuff in the project including the following concepts: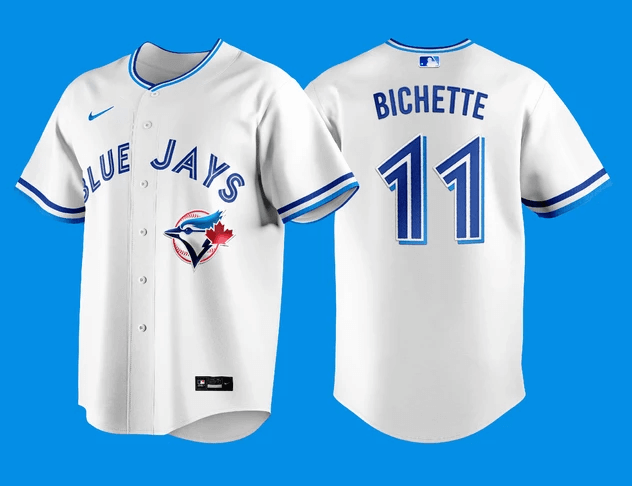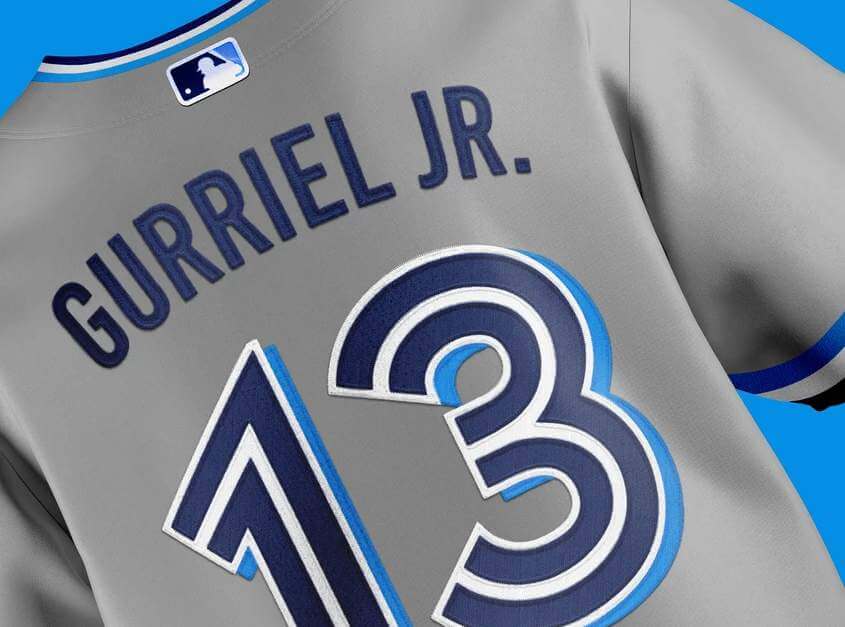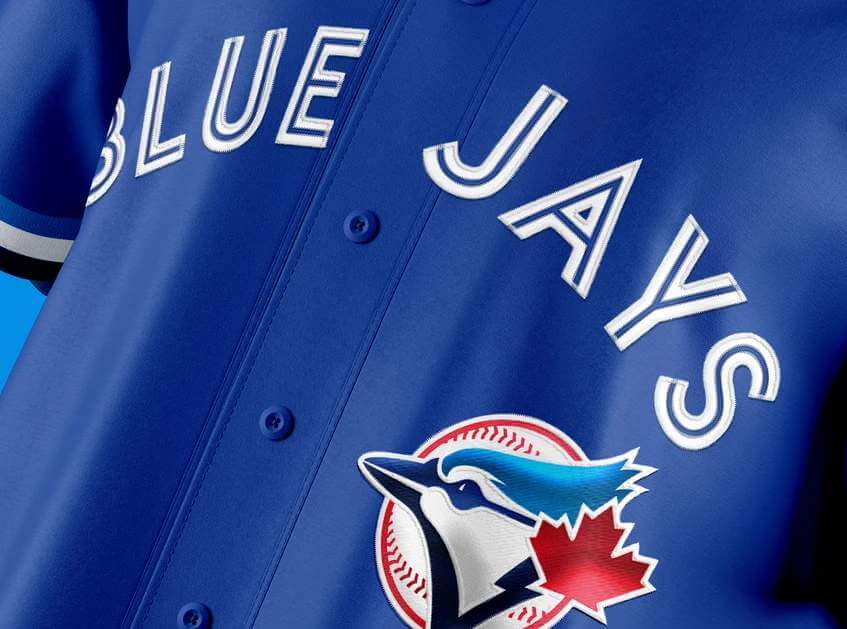 I'm a big fan of the 2012 redesigns (which harkened back to the Blue Jays' original set), and I think these build on that nicely. Definitely worth checking out.
• • • • •
• • • • •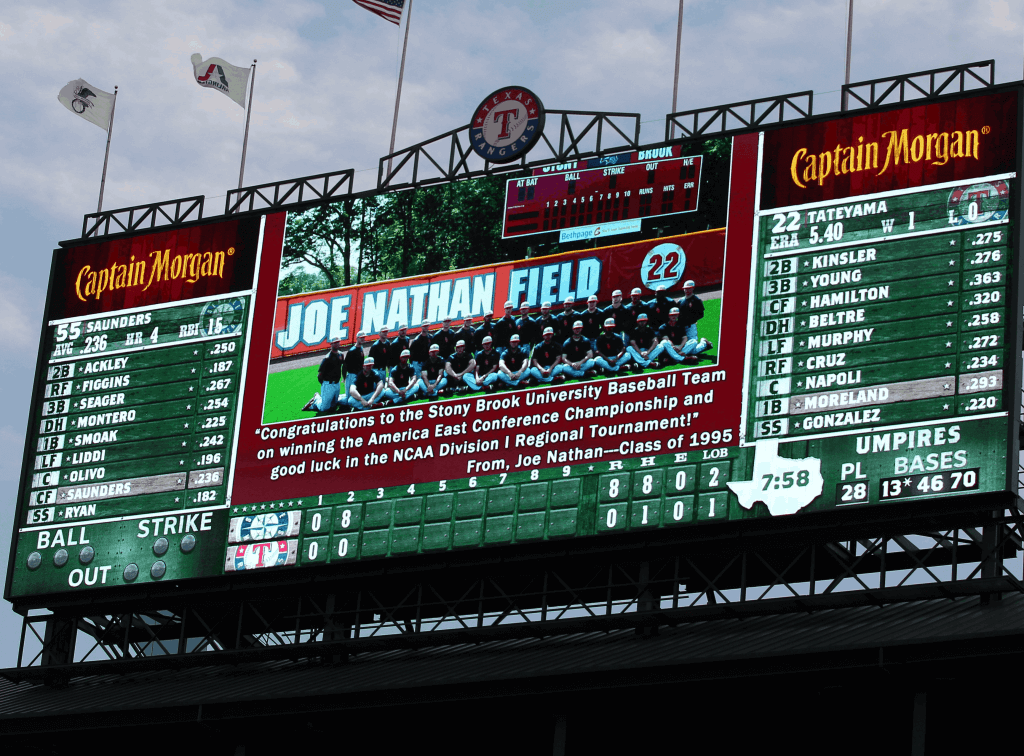 Guess The Game…
from the scoreboard
Today's scoreboard comes from G. S. Lewis.
The premise of the game (GTGFTS) is simple: I'll post a scoreboard and you guys simply identify the game depicted. In the past, I don't know if I've ever completely stumped you (some are easier than others).
Here's the Scoreboard. In the comments below, try to identify the game (date & location, as well as final score). If anything noteworthy occurred during the game, please add that in (and if you were AT the game, well bonus points for you!):
Please continue sending these in! You're welcome to send me any scoreboard photos (with answers please), and I'll keep running them.
• • • • •
• • • • •
The Ticker
By Lloyd Alaban

Baseball News: The Mariners wore their home Friday alternates for a road game last night (from Tim, who didn't give his last name). … Here's Mets P Marcus Stroman's win-loss record according to what color durag he wears (from @BvrlyTweetmaker). … Peabody Heights Brewery in Baltimore has an Orioles-themed beer (from Andrew Cosentino).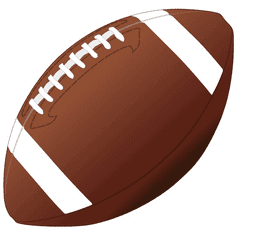 Football News: All the Jaguars QBs had white stripes on their helmets at practice yesterday (from Johnathon Binet). … Reader Nate Mueller's latest 3D creation is a mini statue of former Packers Head Coach Vince Lombardi.

Hockey News: The Saginaw Spirit of the OHL released their 20th-anniversary logo (from Alex Dewitt). … New sweaters for the Cardiff Devils of the EIHL (from @artofscorebug). … 60th-anniversary logo for the BCHL (from Wade Heidt).

Basketball News: The Scarborough Shooting Stars is the latest Canadian Elite Basketball League club (from Wade Heidt).


Soccer News: New third shirt for Bayern Munich (from @themosb). … New kits for Navy soccer (from Phil Bergman).


Grab Bag: When NASCAR's playoffs begin, the vehicles competing for the championships in each series will sport colored windshield banners and rear spoilers—yellow for the Cup cars, red for the lower tier, and blue for trucks (from Christopher Hickey). … Russia will host the 2022 Men's Volleyball World Championship, and fans can choose the mascot: a bear, a robot, or a tiger (from Jeremy Brahm). … Quaker is using the last of its "Aunt Jemima" bottles (from Matt Barnthouse).
• • • • •
• • • • •
Uni Tweet of the Day
Despite the 'ghosted' wordmark and number, I still think this was the ChiSox' best roadie ever.
Tommy John, wearing his 1969-70 @whitesox uniform with his 1967-68 stirrups during #SpringTraining. pic.twitter.com/yT6mnFJXjL

— Vintage Jerseys & Hats (@PolyesterUnis) August 17, 2021
• • • • •
• • • • •
Guest Sunset Photo
from John Chapman
Phil-

Here's a sunset, nothing uni related, just a sunset. This was last week at Twelvemile Beach on Lake Superior in Pictured Rocks National Lakeshore. Lake Superior is known to be perpetually cold and churn up storms on a whim- but not at this moment. Enjoy and share if you'd like! (Thanks for taking over uni-watch responsibilities this month!)

John Chapman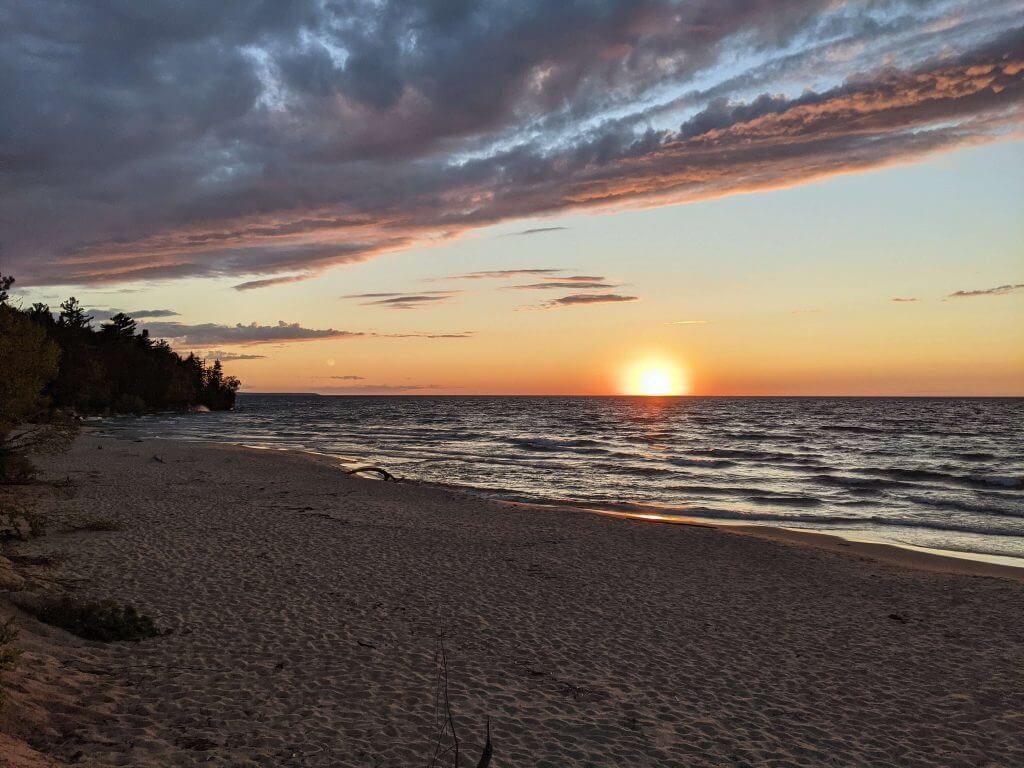 • • • • •
• • • • •
And finally… that's it for today — sorry to be the bearer of bad uni tidings on the NHL jersey ads. I never thought we'd need to use a seam ripper on a hockey sweater, but yet…here we are.
Everyone have a good Wednesday and I'll catch you back here tomorrow.
Peace,
PH