[Editor's Note: Paul is on his annual August break from the site. Deputy editor Phil Hecken is in charge from now through the end of the month, although Paul may be popping up here occasionally.]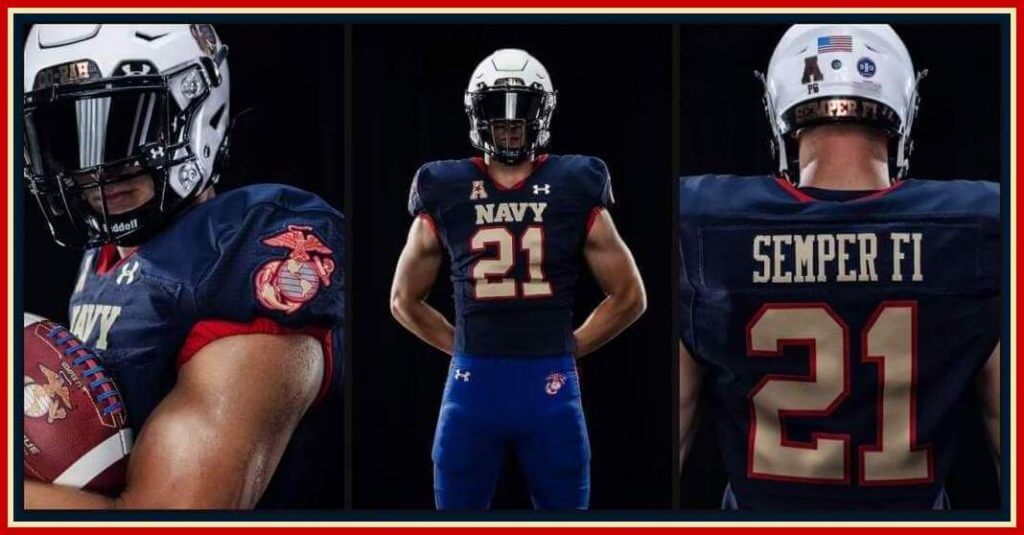 By Phil Hecken
Follow @PhilHecken

Greetings and good Tuesday to you all — we had lots of big uniform news yesterday. On the College Football gridiron, Navy and UA released a special uniform that the Middies will wear on the 20th Anniversary of the September 11 terrorist attacks, when they take on Air Force. And on the diamond, MLB and Nike unveiled the jerseys (and caps) which will be worn for this Sunday night's "Little League Classic" game, between Cleveland and the Los Angeles Angels, which will be played in Williamsport, PA.
There's a lot to get to, so let's dive right in. We'll begin with the new uniforms for Navy.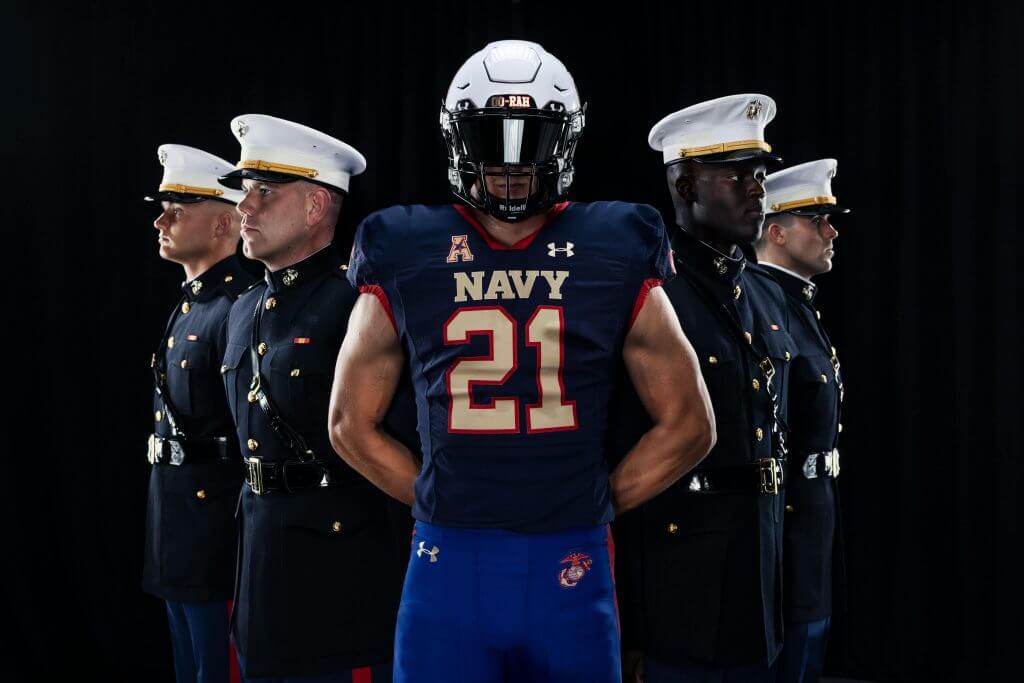 As you can see above, Navy will sport a white helmet/navy blue jersey/royal blue pant combination for their 9/11 game. And as you can probably figure out from that photo, the uniforms are meant to approximate the "'Dress Blue A' uniform, the 2021 USMC uniform shares symbolic elements from both enlisted and officer regalia. It draws parallels with white gloves, black cleats, red trim, and royal blue pants."
Each of the elements carries a "story" (I know you're all shocked), so let's take them individually, starting with the helmets.
Helmets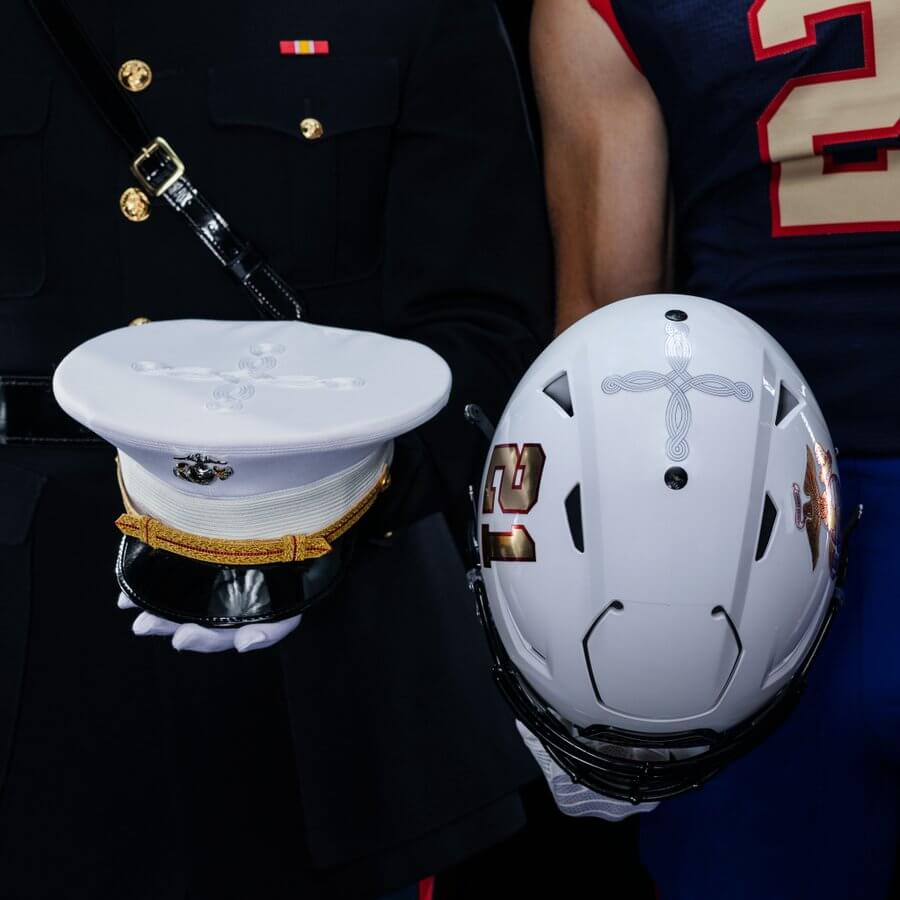 Unlike their traditional gold lids, these are white. The right side features a player number, in gold outlined in red. The opposite side contains the Eagle, Globe and Anchor (EGA). On the top of the helmet, the quatrefoil is a "cross-shaped braid that dons the top of the Marine officer barracks cover." According to the Navy, "The EGA has represented the title every Marine has earned since 1868."
The front bumper contains the words "OO-RAH" (the Marines battle cry)…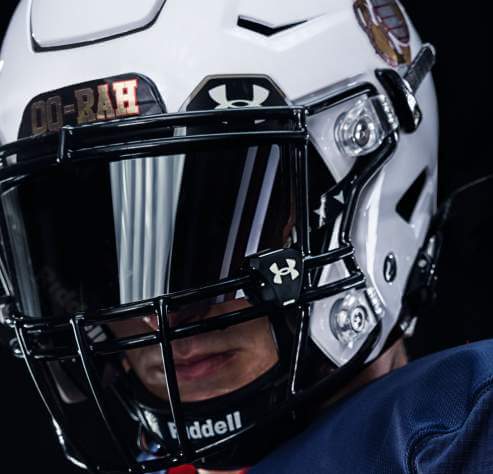 … and the neck bumper has the slogan "SEMPER FI" (short for semper fidelis), the Marine Corps motto meaning "always faithful." There is also a 9/11 decal that reads "Never Forget" (We'll look at those in a sec).
Jersey
The front of the navy jersey reads "NAVY" in large gold letters, while the player number is gold outlined in red.
Both sleeves have the same logo as on the left side of the helmet (Eagle, Globe and Anchor).
Finally, the rear of the jersey features "SEMPER FI" in gold for NOB — and you can see this slogan also is repeated on the neck bumper of the helmet. Like the front, numbers are gold outlined in red. You can also see the rear helmet details noted previously. The sleeves have a red stripe on the hem. This is a "direct nod to the red piping found on an enlisted Marine's dress blues."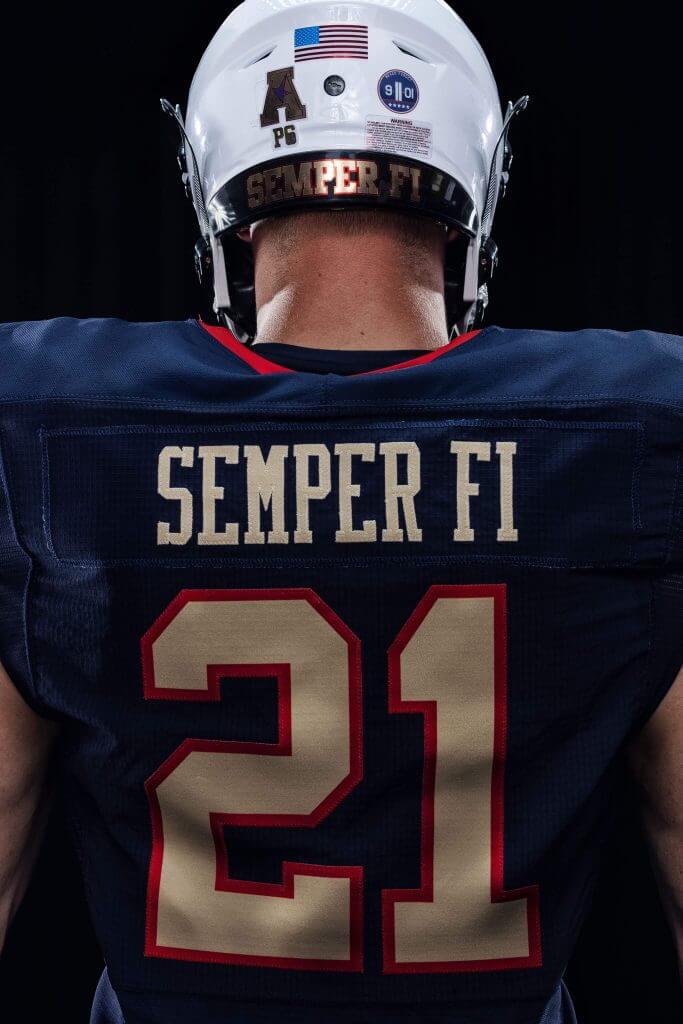 Pants
The royal blue pants have a large red stripe. This is meant to mimic the "Blood Stripe" on the Marine dress uniform.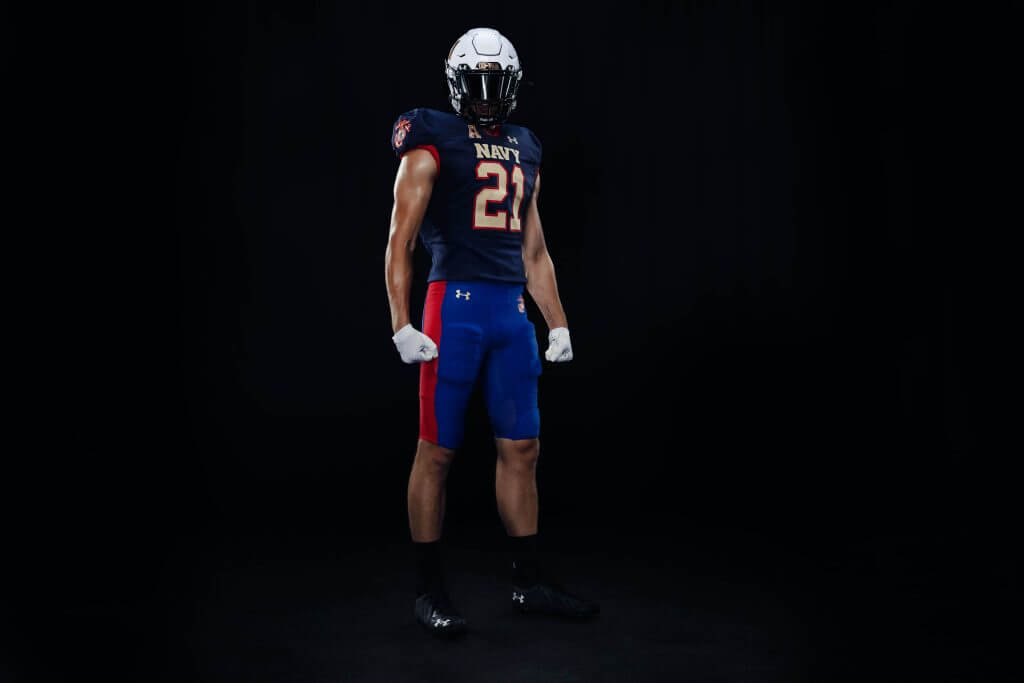 According to the Navy, "This famous element of the dress blue trousers is modernly known as a way to honor all our fallen and injured Marines." The "blood stripe" on the pants is much wider than that of the dress uniform.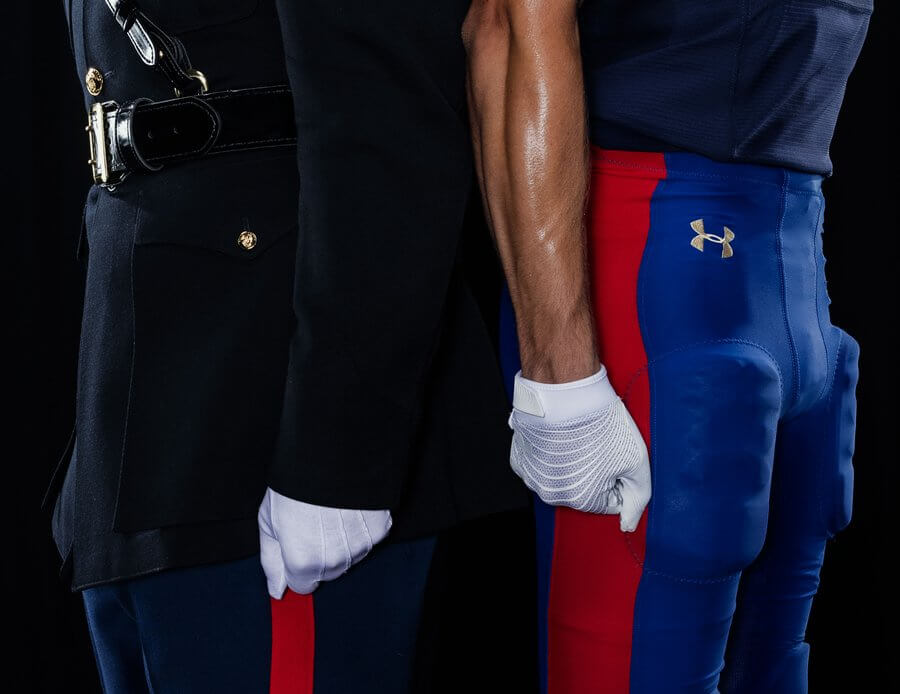 Here's a look at the deets: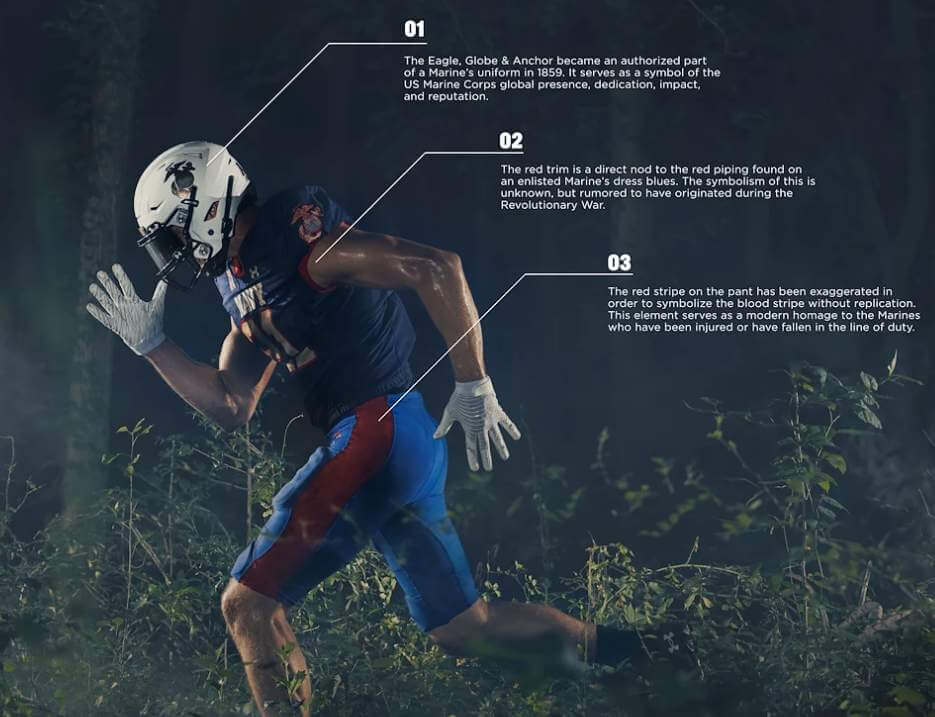 Of course, the uniform unveiling wouldn't be complete without a hype video — but this one is mercifully short and certainly not overdone (although the scenes of football players in a jungle warfare situation has its comedic moments).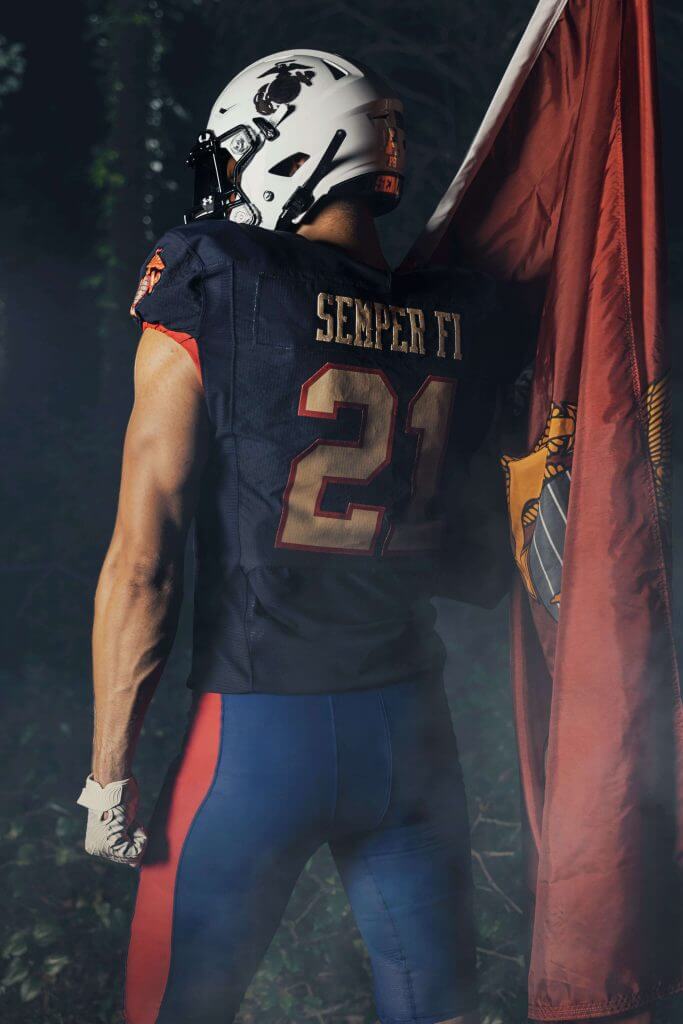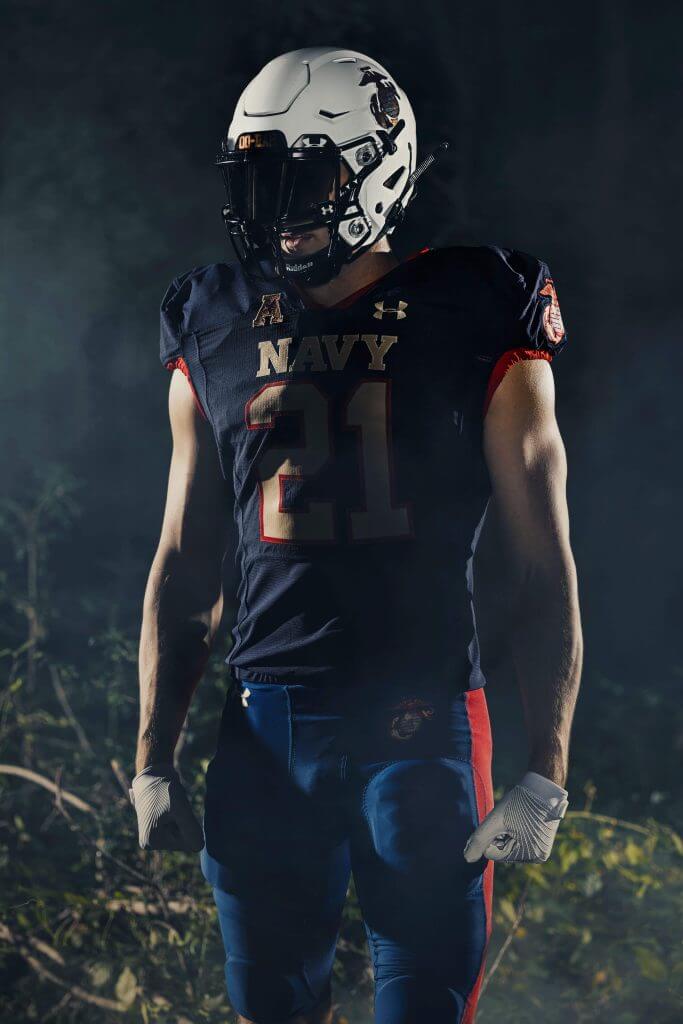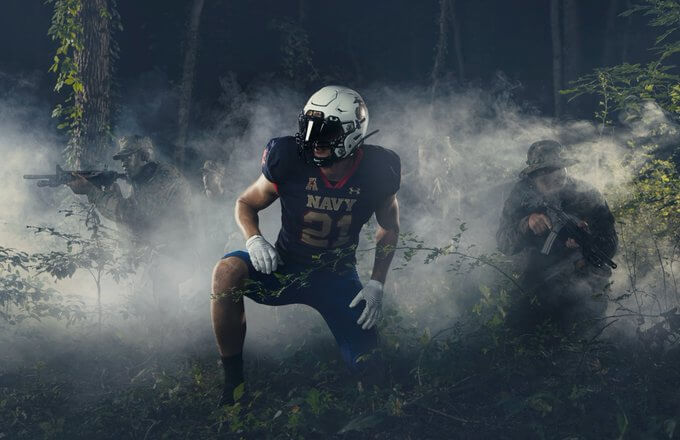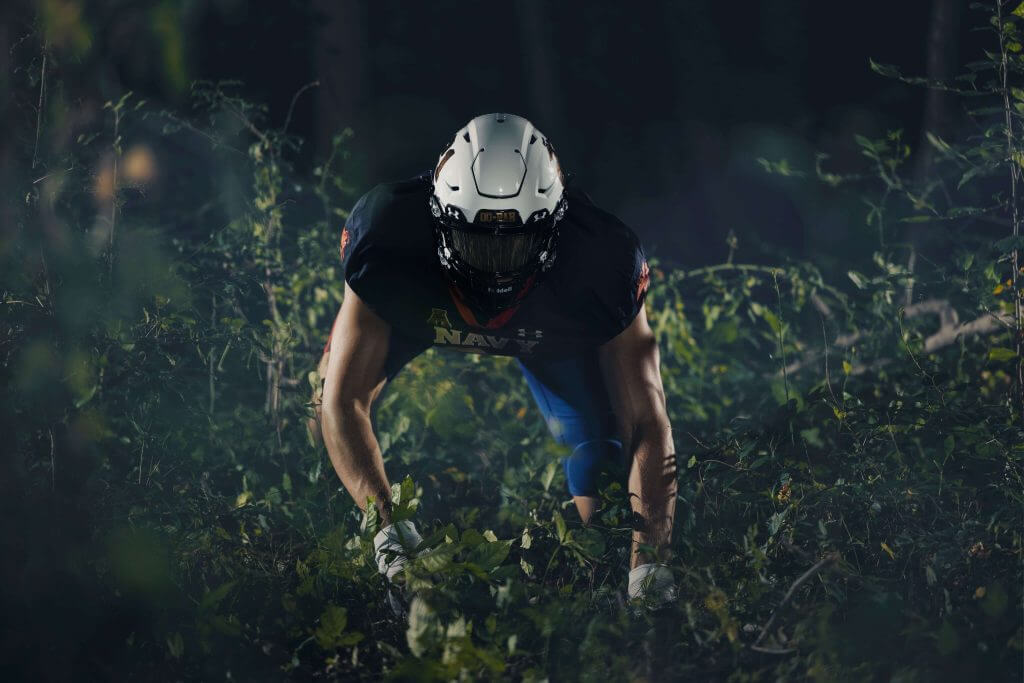 While I'm generally not a big fan of alternates (and especially one-offs), I like these a lot. That the game itself is being played on Saturday, September 11th (which as mentioned is the 20th Anniversary of the terrorist attacks) probably adds some import to the unis. At present, it's not known whether Navy's opponent that day (Air Force) will also have special uniforms (but I wouldn't bet against it).
You can take an even more detailed look at the Navy uniforms here.
What do you guys and gals think?
• • • • •
• • • • •
Little League Classic Jerseys Unveiled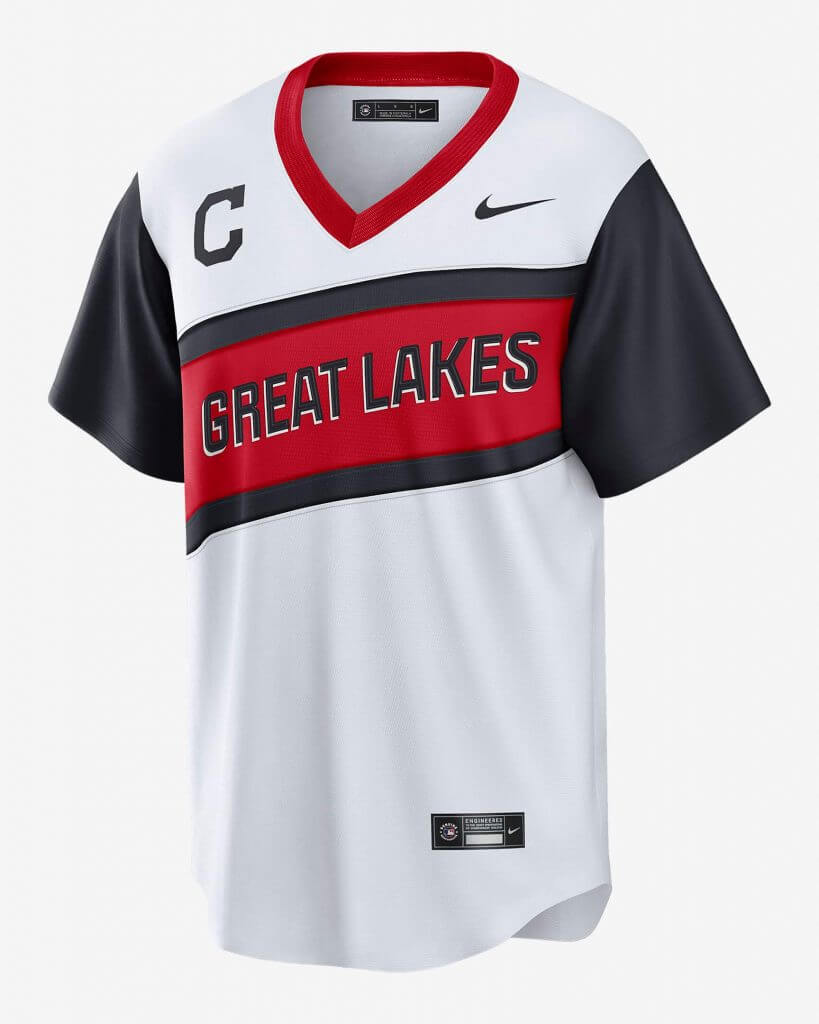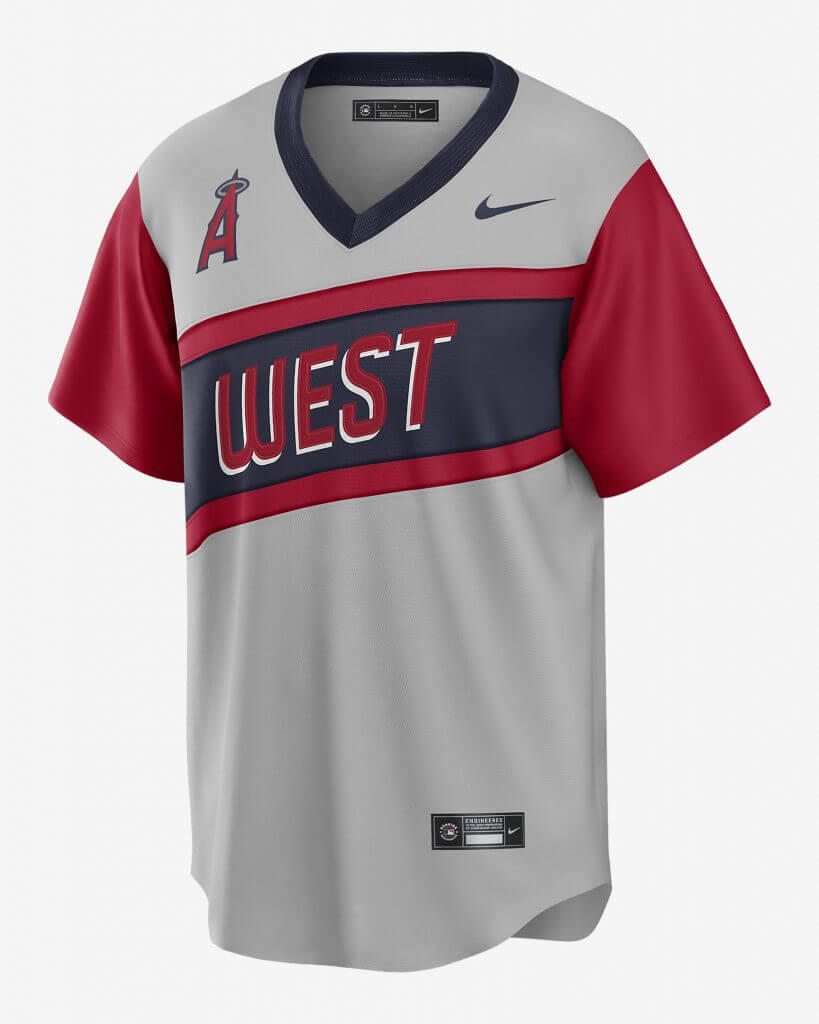 Yesterday, Nike unveiled the "Little League Classic" jerseys for the two teams playing in that game — Cleveland and Los Angeles — this coming Sunday night at Bowman Field in Williamsport, Pennsylvania. As you can see, these jerseys are pullovers (ugh), but they will be in a similar style to the uniforms worn by the Little League World Series participants in previous years.
Here's a look at the backs: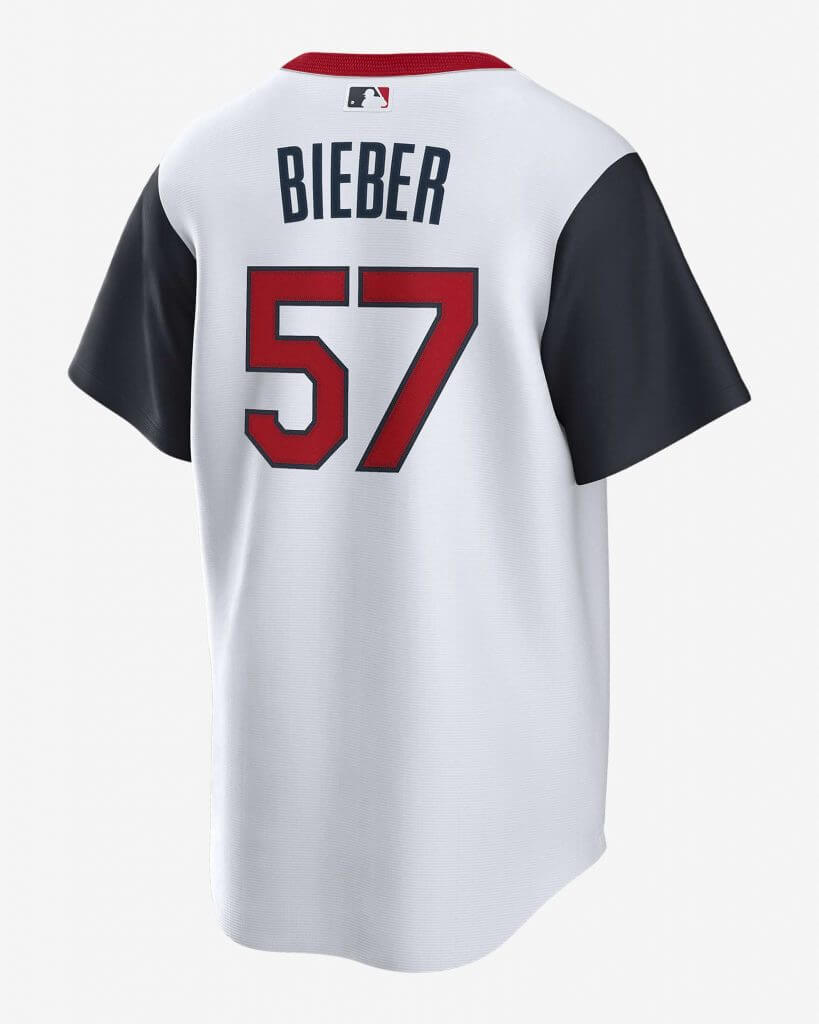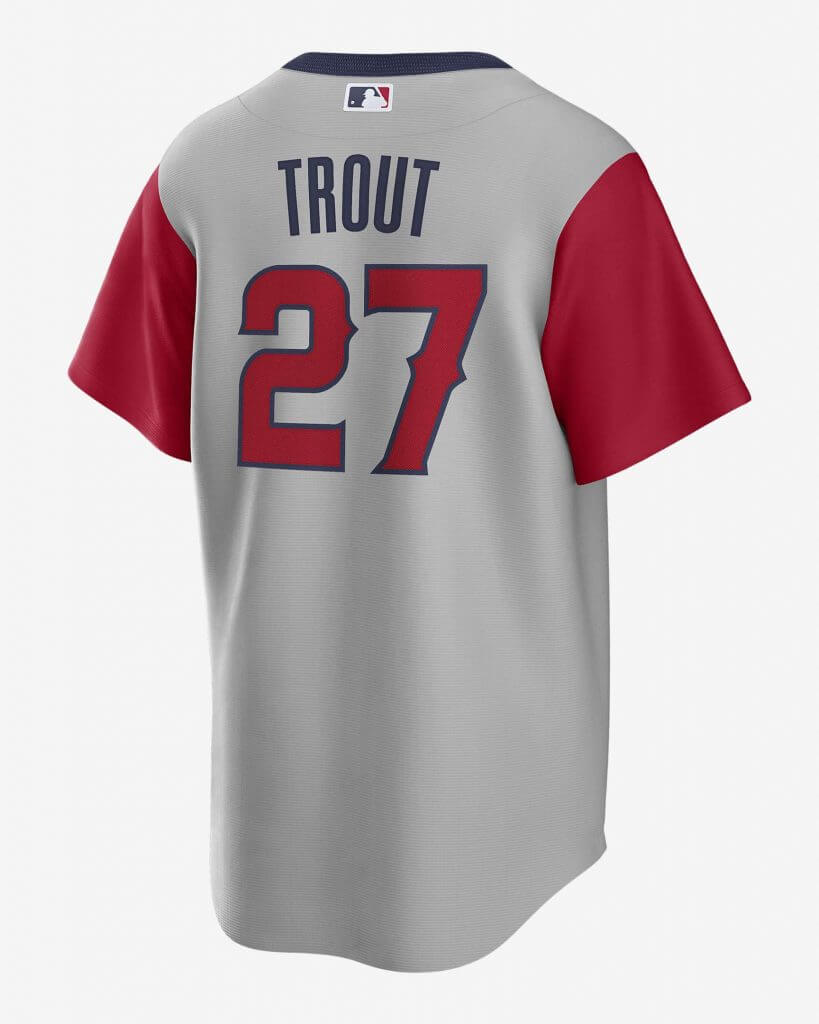 Besides being pullover jerseys, the shirts also feature color-contrasting sleeves (for the Cleveland team, it's blue; for Los Angeles, it's red). Collars are in opposite contrasting colors (red for Cleveland, blue for LA). The front of the jersey has the team logo on the right side of the chest (and of course the fucking swoosh), and each jersey, rather than containing the team name, features the region from which they are located ("Great Lakes" for Cleveland; "West" for LA), as teams in the LLWS have. This is rendered in a slightly diagonal, two-color stripe, with Cleveland having a blue/red/blue sash and LA having a red/blue/red sash. The region name is in the same color as the top and bottom stripe, with a white blockshadow.
Here's how Nike describes the jerseys:
CLEVELAND:
The MLB Cleveland Baseball team 2021 Little League Classic Jersey helps deliver a comfortable fit with its polyester material. It features bold details to add authenticity to your look as your team heads to Williamsport for one of MLB's most unique annual traditions.
LOS ANGELES:
The MLB Los Angeles Angels 2021 Little League Classic Jersey helps deliver a comfortable fit with its polyester material. It features bold details to add authenticity to your look as your team heads to Williamsport for one of MLB's most unique annual traditions.
Teams will also wear special caps for the game — not too different from their normal caps, but with a special patch commemorating the event.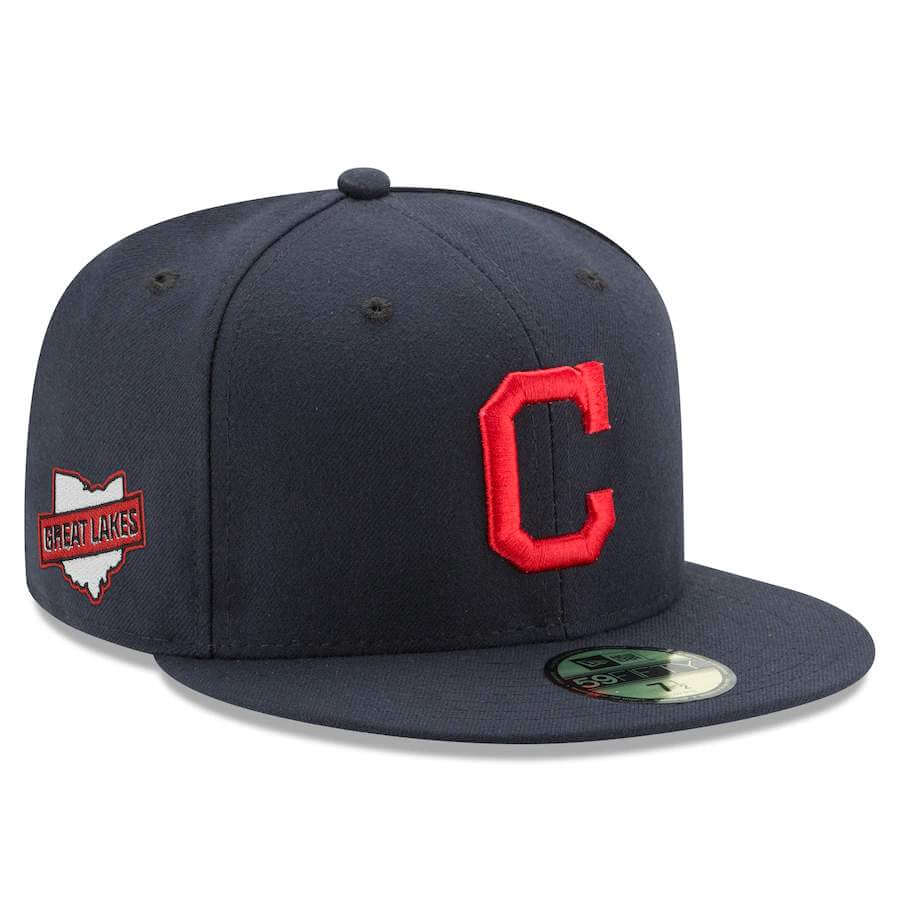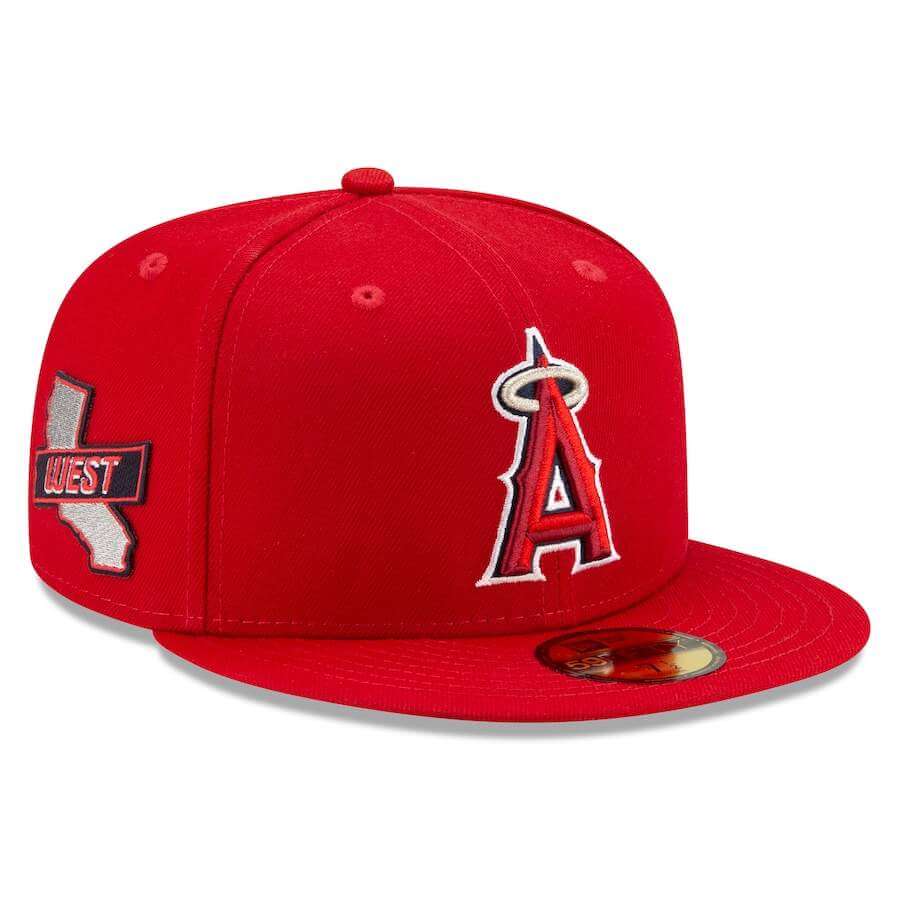 MLB will be celebrating "Players Weekend" at the end of this month — Friday August 27 through Sunday August 29 — so it remains to be seen if all MLB teams will be donning jerseys similar to these (as had been done in 2017 and 2018) or whether they will return to (or riff off of) the solid black/solid white uniforms worn during Players Weekend in 2019. The 2017-18 unis were similar to those worn by the participants in the LLWS. The black/white 2019 unis were…not. I guess we'll find out soon enough (and I shudder at the thought).
The LLWS uniforms are supplied by adidas, not Swooshie, so they obviously differ from what the MLB teams are wearing. Nevertheless, Nike has obviously patterned their jerseys to resemble those worn by former LLWS teams.
• • • • •
• • • • •
Collector's Corner
By Brinke Guthrie
Follow @brinkeguthrie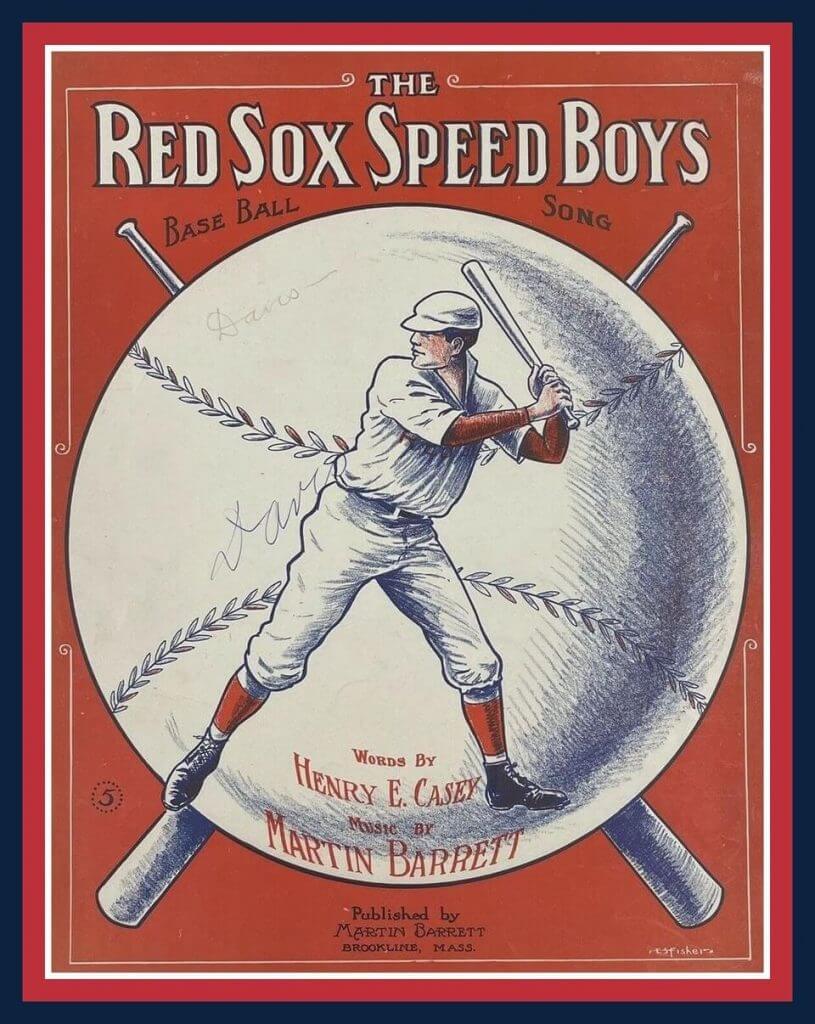 Starting off this week with sheet music titled " Boston Red Sox Speed Boys Base Ball Song" from about 111 years ago. The seller notes, "Sheet music is in very good vintage condition. Pages are clean and legible. Inscribed by previous owner along front cover." In case you wondered how the song went, well, hit it guys!
Now for the rest of this week's picks:
__________
• I've never seen one of these before. This is a San Francisco 49ers helmet watch. Maybe the middle 1980s for this? Seems kinda awkward to wear this big ol' helmet on your wrist- then you have to flip the helmet back just to read that state of the art "digital" screen. But hey! This is a five function watch we're talkin' about here, fella- hour, minute, second, month and date!
• Also from the mid 1980s; if you didn't know that Pete Rose was the all-time MLB hits leader, this vintage digital watch stated that fact right on the watch face. Subtlety has never been in Pete's vocabulary.
• New York Yankees fans will go for this vintage Derek Jeter yo-yo. Note the Yankees branding was omitted here- this one is MLBPA sanctioned. (But did the players really know they were on some of this stuff?)
• Meanwhile, Chicago White Sox fans will like this nice looking Frank (The Big Hurt) Thomas jersey pin.
• One more pin if you please; here's one featuring the famous cap of the Montreal Expos.
• Annnd another one for the Expos- this totally comfy looking pair of gray shorts with blue trim and an embroidered logo. And they look to be cotton, too- not that poly junk you see nowadays. And yes, you can also get offa my lawn.
• Mets pitcher Doc Gooden is featured on this 1984 "Hot-Lites Blinker Button." I doubt if the two included batteries still work, though. Again- did the players really know about these things? Agent to Doc: "Hey kid. You wanna be on a Hot-Lites Blinker Button?" Doc: "A what?"
• "Merle Harmon's Fan Fair" sponsored this Milwaukee Brewers 1982 American League Champions matchbook with the MB ball/glove logo. I had forgotten about the old sporting goods chain. Harmon was a well known sports announcer who opened a chain of stores that grew to 140 locations before he sold it in 1996.
• "Inglasco" is the maker of this set of 21 NHL team logo hockey pucks; the seller thinks these are mid-1990s.
• Check out the great cover art for this 11/16/58 Colts at Bears game program; interestingly, exactly one year before I was born.
• • • • •
• • • • •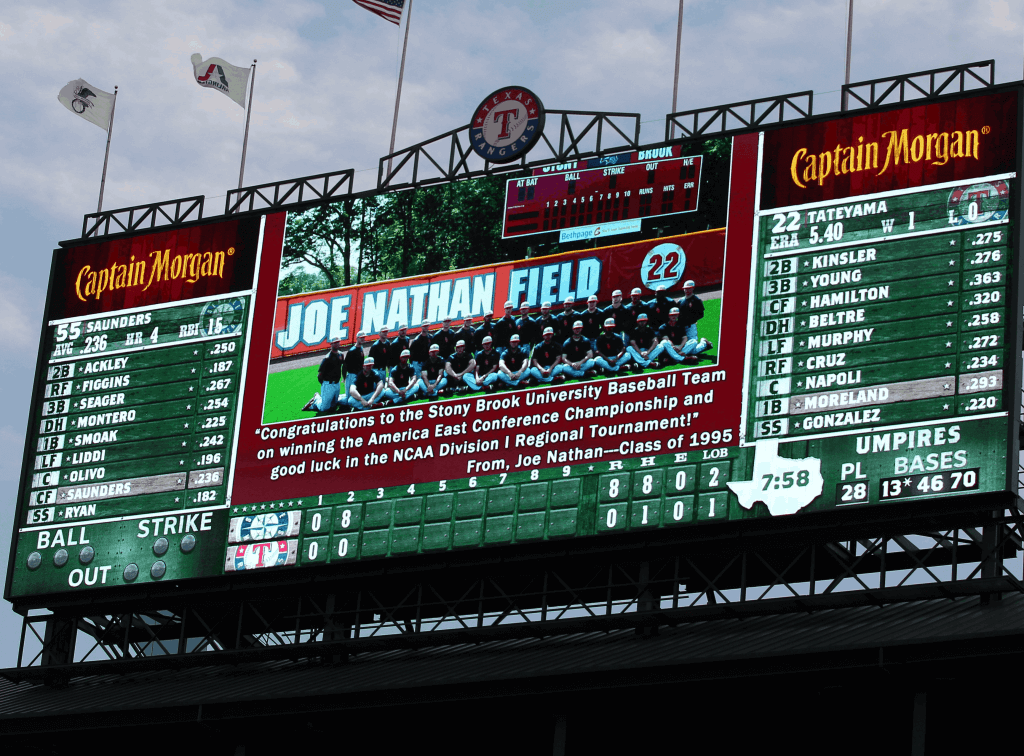 Guess The Game…
from the scoreboard
Today's scoreboard comes from Bea Kinde.
The premise of the game (GTGFTS) is simple: I'll post a scoreboard and you guys simply identify the game depicted. In the past, I don't know if I've ever completely stumped you (some are easier than others).
Here's the Scoreboard. In the comments below, try to identify the game (date & location, as well as final score). If anything noteworthy occurred during the game, please add that in (and if you were AT the game, well bonus points for you!):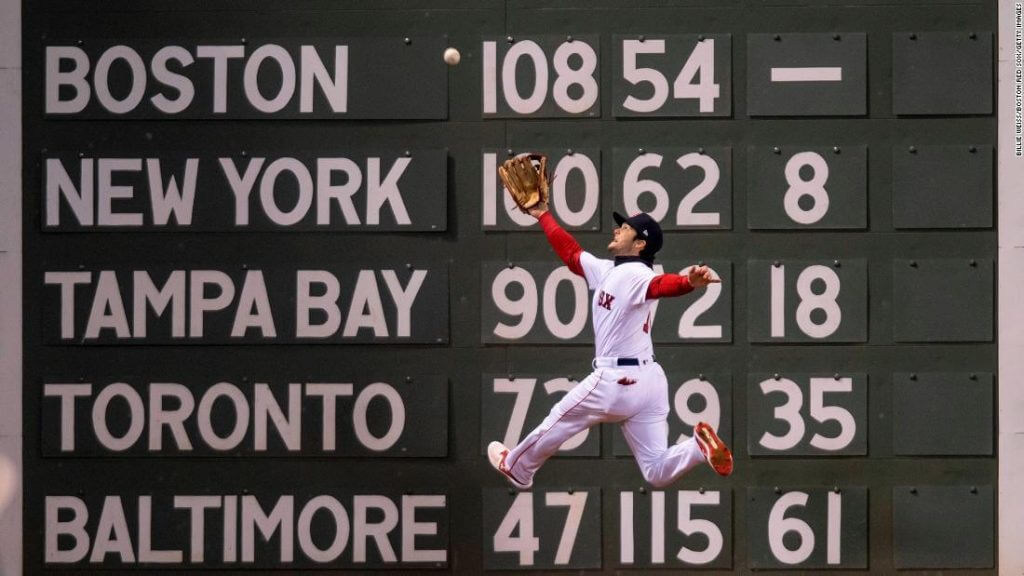 Please continue sending these in! You're welcome to send me any scoreboard photos (with answers please), and I'll keep running them.
• • • • •
• • • • •
The Ticker
By Anthony Emerson


Baseball News: Ed Kendrick has done yeoman's work with a massive uni tracker, tracking 14 teams across the majors. … David Steinle came across some instances of umps wearing their old button-down shirts after umpires moved to polos in 1996. Here's Rich Rieker in 1996 and Charlie Reliford and Jim Quick in 1997. … Atlas Obscura has a story on the rise of food-based minor league team names (from Kary Klismet). … On July 4, 1989, Yankees broadcasters Phil Rizzuto, George Grande and Tom Seaver wore throwback Yankees caps and jackets to mark the 50th anniversary of Lou Gehrig Day (from William F. Yurasko). … The Pioneer League is expanding to Flathead County, Mt. … The pitcher's circle at the Little League Softball World Series has seams drawn on it (from Mike Givler). … Reader Robert Bacon made a video going over all the updates and changes to uniforms for the 2021 season and beyond.

NFL News: Ravens LB Patrick Queen changed his number from 48 to 6 because of "single digit swag" (from Andrew Cosentino). … Chiefs QB Patrick Mahomes has his own shoe now (thanks, Brinke).


Hockey News: The KHL's Admiral Vladivostok has a new logo. This is their third in as many years. … Taylor Made came as close to a Bruins jersey as legally possible in this Happy Gilmore promotion (from Ted Taylor).

NBA News: Looks like the Sixers are going to have a more metallic Nike logo on their jerseys this season (from Pete Dawson). … New Knicks F Evan Fournier will wear No. 13 (from Etienne Catalan). … An energy drink sold in Afghanistan uses a shadowed version of the Bulls logo on their cans (from Tim Johnson).

Soccer News: Auburn women's soccer has new unis.




Grab Bag: This person put together an entire identity for the 2024 Olympics…if they were being held in Wakanda (from Alan Lewis). … Kenyan President Uhuru Kenyatta welcomed Kenya's Olympic medalists yesterday, and the medalists wore the most dapper uniform I've ever seen (from @cylinen). … In a lawsuit, the University of Kentucky is claiming the state of Kentucky can't use "Team Kentucky" on clothing because the school owns the word "Kentucky" for any clothing products. I'm praying for a meteor at this point (from James Gilbert). … Not uni or graphic design-related, but old Tulsa World newspaper racks are available for purchase (from Dan Brewley).
• • • • •
• • • • •
Uni Tweet of the Day
Looks like they're getting all the bad combos out of the way in preseason (I hope…)
GUDBill13: RT @BengalsUnis: Next up @WashingtonNFL:
White jerseys on black pants… pic.twitter.com/mfgLkOLbud

— Gridiron Uniforms (@GridironUniform) August 16, 2021
• • • • •
• • • • •
And finally… that's a wrap on a big uni/jersey/cap reveal day (why can't they space these things out???). Hope you enjoyed the coverage.
Everyone have a great Tuesday and I'll catch you all again tomorrow.
Peace,
PH