[Editor's Note: Paul is on his annual August break from the site. Deputy editor Phil Hecken is in charge from now through the end of the month, although Paul may be popping up here occasionally.]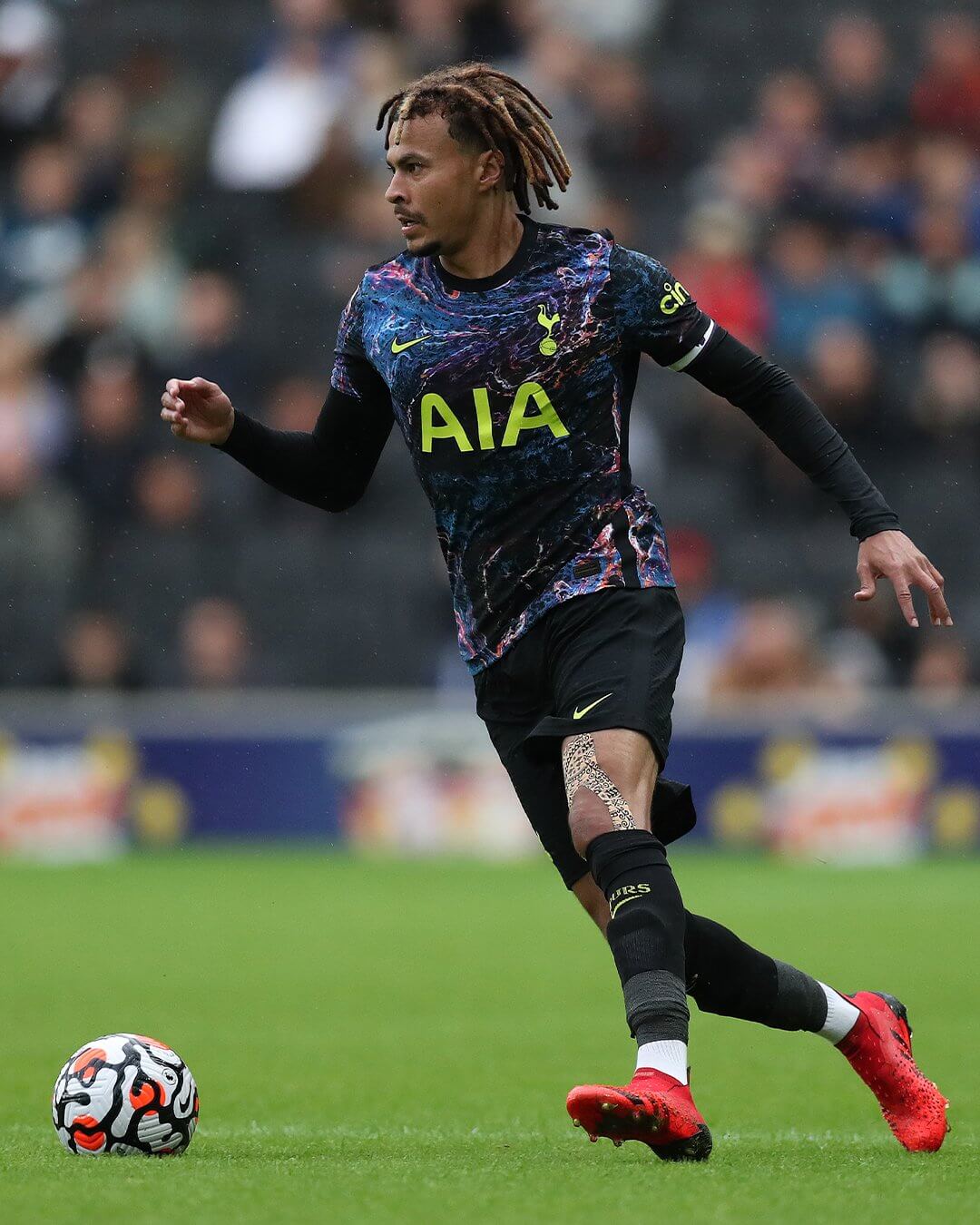 By Phil Hecken, with Jamie Rathjen
Follow @PhilHecken

Good Friday morning Uni Watchers. Got a LOT to get to today, starting off with our own Jamie Rathjen, who is going to give us a preview of the kits of the Premier League, which begins play today. Then, of course, there was the "Field of Dreams" game between the Yankees and White Sox, which will follow Jamie's PL preview. Let's get right to it. Jamie, take it away…
• • • • •
Premier League 2021-22
by Jamie Rathjen
The Premier League season starts tonight/this afternoon (depending on what side of the ocean you're on) at what is usually the normal time after last season started a month late. But for my fellow English soccer watchers, the offseason may have felt very short or nonexistent because of all the tournaments going on this summer.
Not every new design is revealed before the start of the season, even though the releases have been coming for almost three months as next season's designs can debut in the given club's last game of the season. There should still be some third shirts to come in particular, since 19 of the 20 clubs have released at least two shirts as of this writing.
__________
Arsenal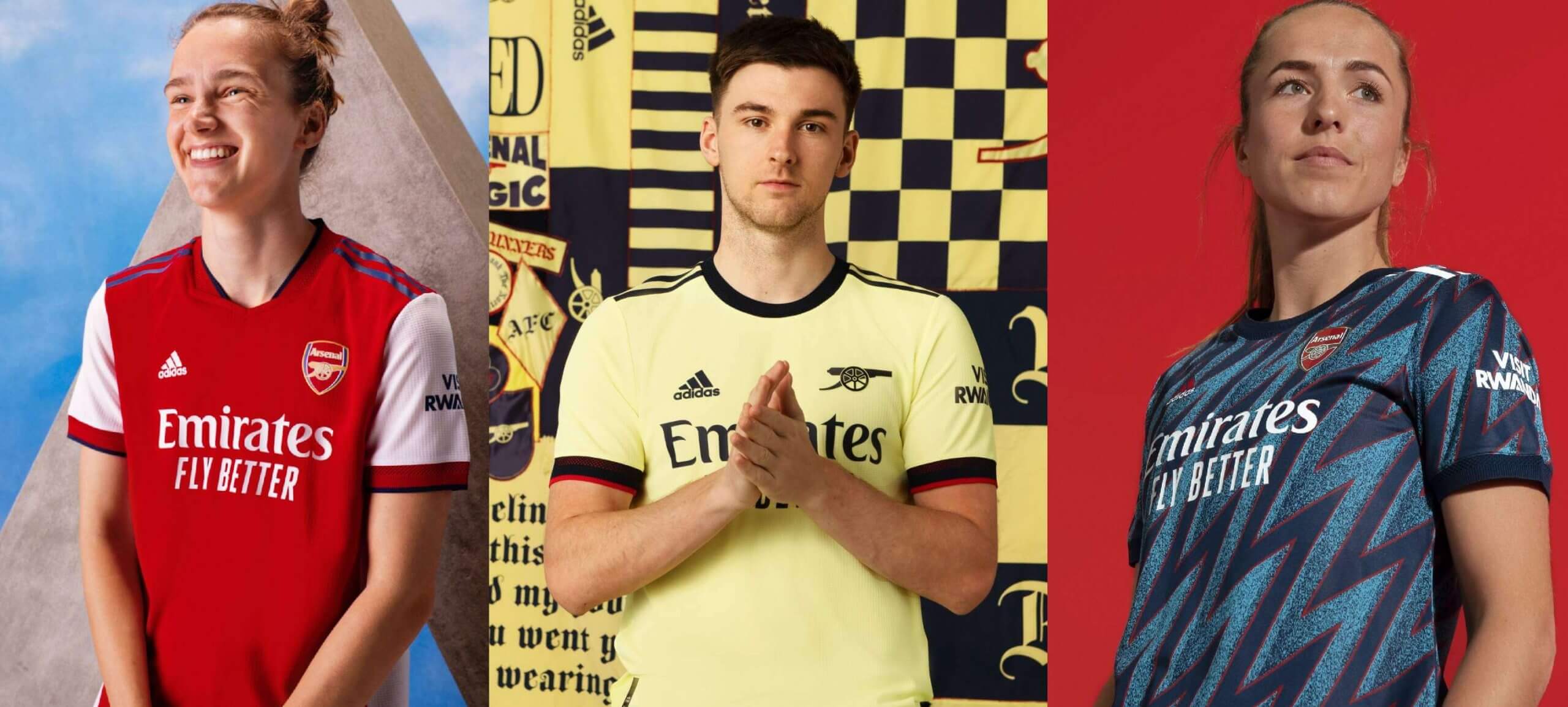 There were some blue accents added to the red and white this year, which recalls the '90s a little bit. It's not clear to me that was intentional. The '90s were a period when a few red-and-white clubs, including among others Arsenal themselves, Aberdeen, and Bayern Munich, all briefly added various amounts of dark blue or black to their designs. This is paired with a second combo of yellow and blue, which is a color combination for Arsenal second kits that recurs almost every other year with rare exceptions since it first appeared in the '60s.
The third shirt actually does intentionally throw back to the '90s, because it seems like a combination of two blue away designs from 1994-95 and 1995-96. Also, some of you may be dismayed that the pretty terrible vaguely blackletter font for non-league games is around for another season.
__________
Aston Villa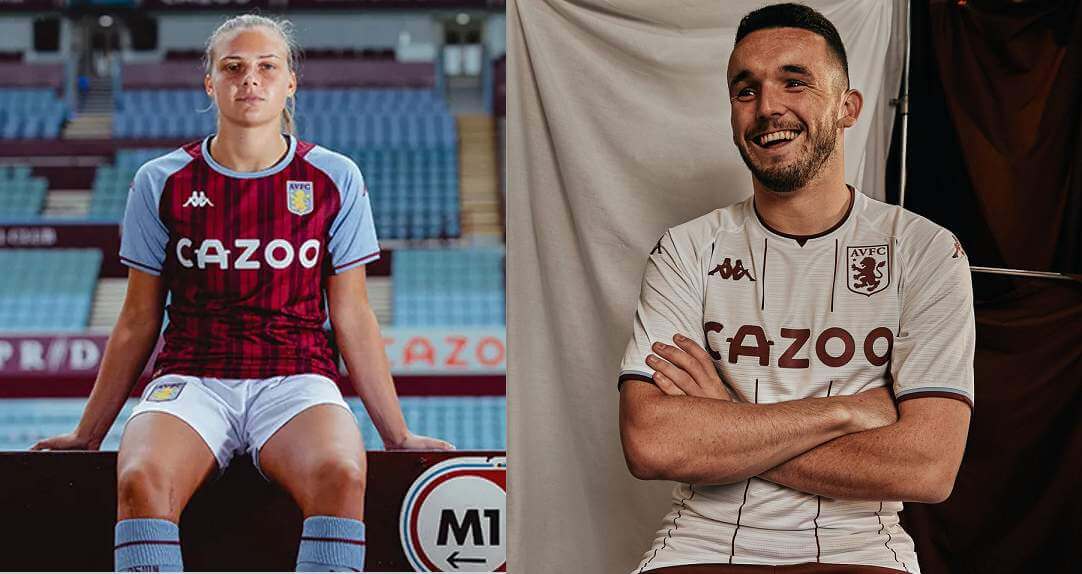 The idea for both shirts is pinstripes, but the second shirt in particular recalls the design worn when Villa won the European Cup in 1982. That's something you'll increasingly often see now that clubs have decades of annual or near-annual design changes to go back to: a popular design, or part of it, is resurrected to call back to the original but without attempting to exactly recreate it. There are quite a few other PL examples of that just this season — including Arsenal's above — whether for anniversaries or just because.
__________
Brentford

Brentford's first season in the men's top tier since 1946-47 sees a traditional version of the red and white stripes. It's paired with what is intended to be mono-yellow. The third shirt is carried over from last season except for the ad, which makes it one of the rare ones to be worn in two different leagues. It's solid white with accents in Brentford's original color scheme of "claret, salmon, and blue."
__________
Brighton and Hove Albion
Brighton are back to the usual blue and white stripes after wearing blue with white pinstripes last season. It's solid blue on the back, which allows them to make the second shirt turquoise.
__________
Burnley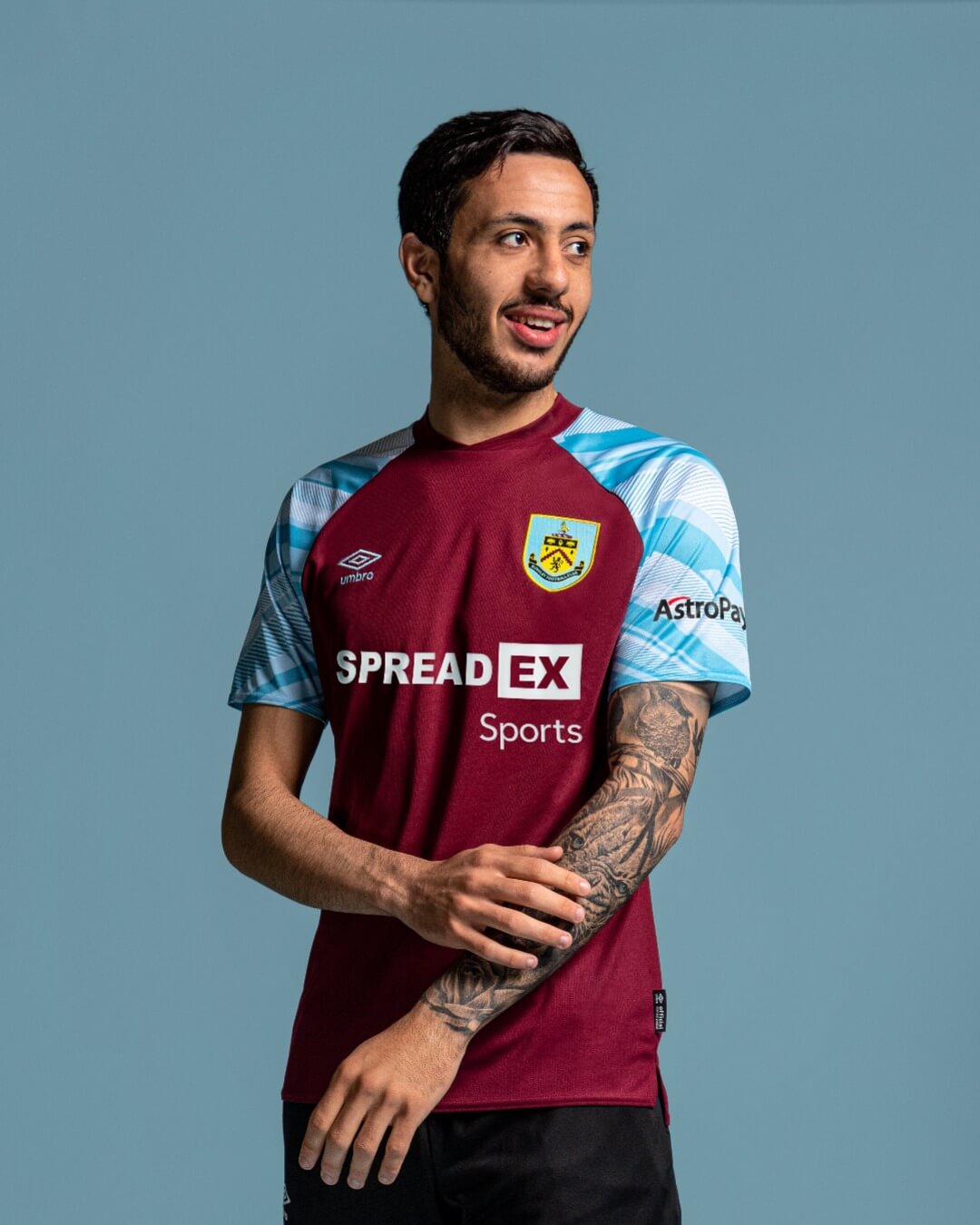 Only one shirt so far and its thing is that the blue sleeves have a pattern, but otherwise it's not much to write home about. For preseason they've been wearing last season's second kit with a new ad when necessary, but I would expect that's just temporary.
__________
Chelsea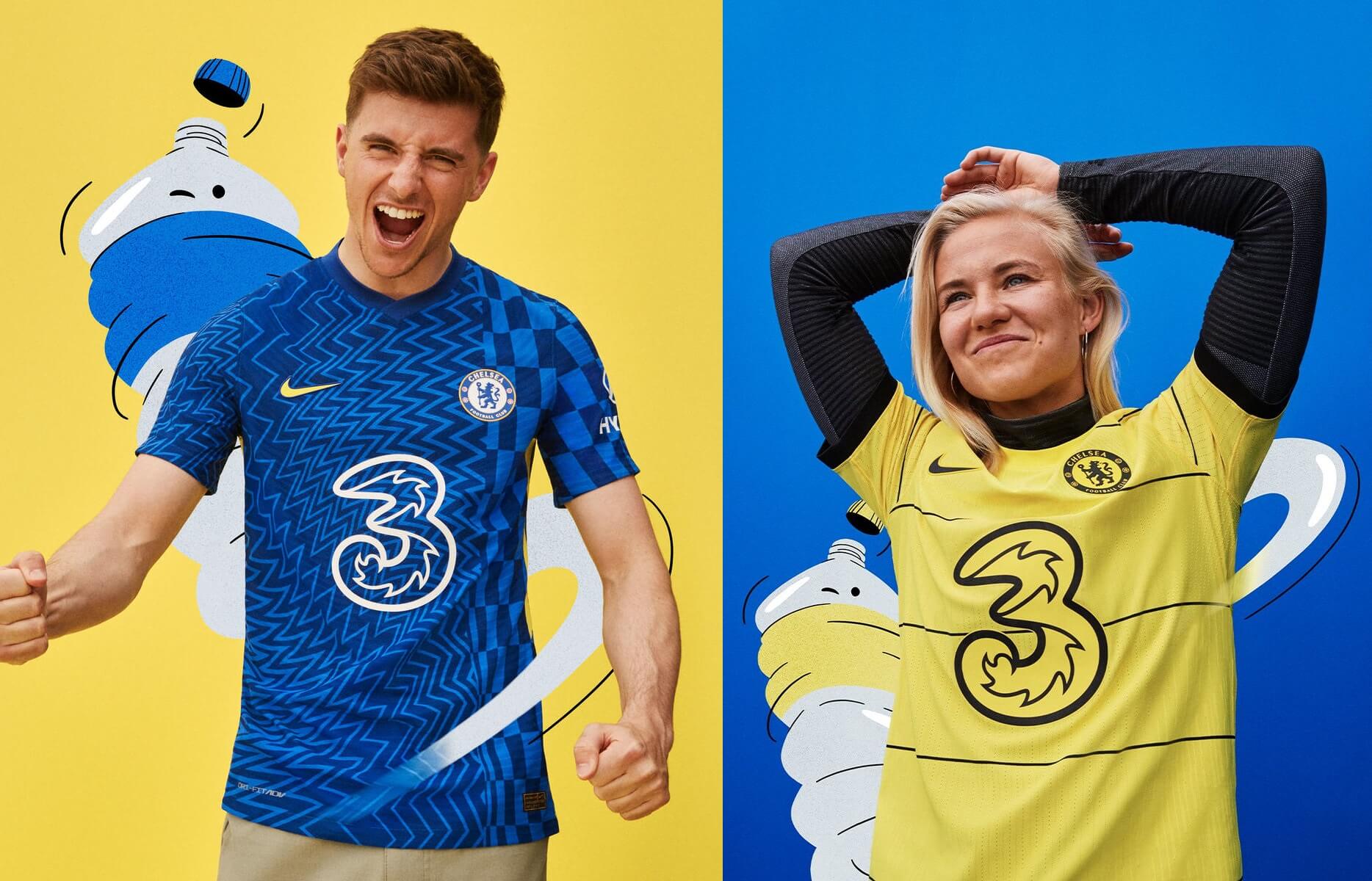 Chelsea are not the only club that was given a design described as influenced by modern art — well, "optical art" — or something like that by Nike. The second shirt is yellow, which also has appeared frequently for Chelsea but not as often as for Arsenal, and has black accents.
__________
Crystal Palace

Palace's blue and red stripes were turned diagonal this year, which is the kind of thing that seems like a gimmick for change's sake but it's not actually a bad idea. The second shirt is yellow, which again is a reoccuring color for Palace.
The third shirt is based on an alleged connection to the first Crystal Palace club that was one of the Football Association's founder members in 1863 and was described as wearing blue and white. But there's really no evidence for a connection to the modern Palace, or even that the first club wore halves as the modern club claimed they did when releasing this shirt, saying that it must have been halves because another pattern wasn't described. You can read more about the (lack of) connection between the two clubs here.
__________
Everton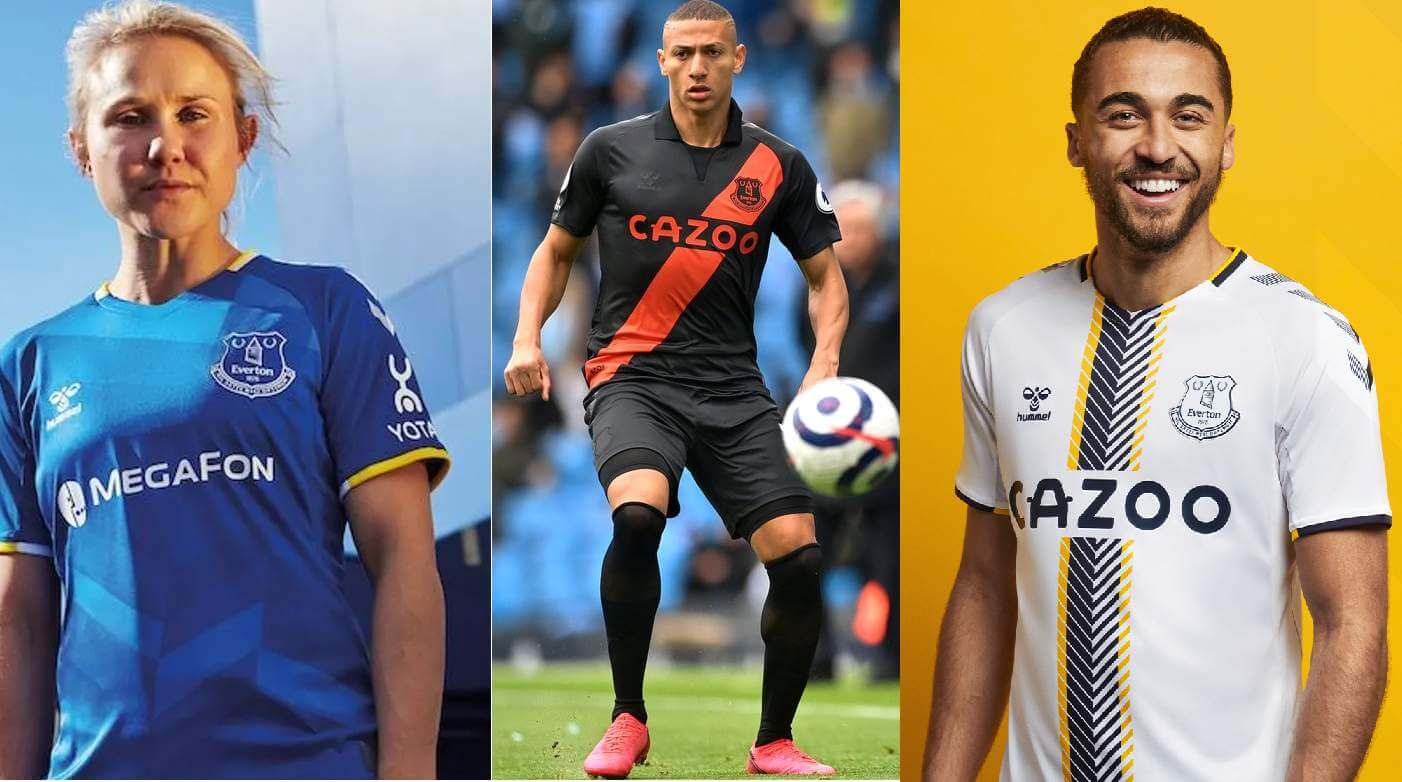 The first shirt is the standard blue with a pattern essentially there so it's not just solid-colored. The second shirt's black and orange is based on the design worn in 1881-82, when Everton and many other English clubs were newly forming. Few would have looked remotely familiar to a modern viewer in that period, often changing color schemes several times before landing on what they wear now.
The third shirt is also based on a design worn in the late '50s, but which had a blue and gold horizontal band instead of the black/grey with gold vertical band here.
__________
Leeds United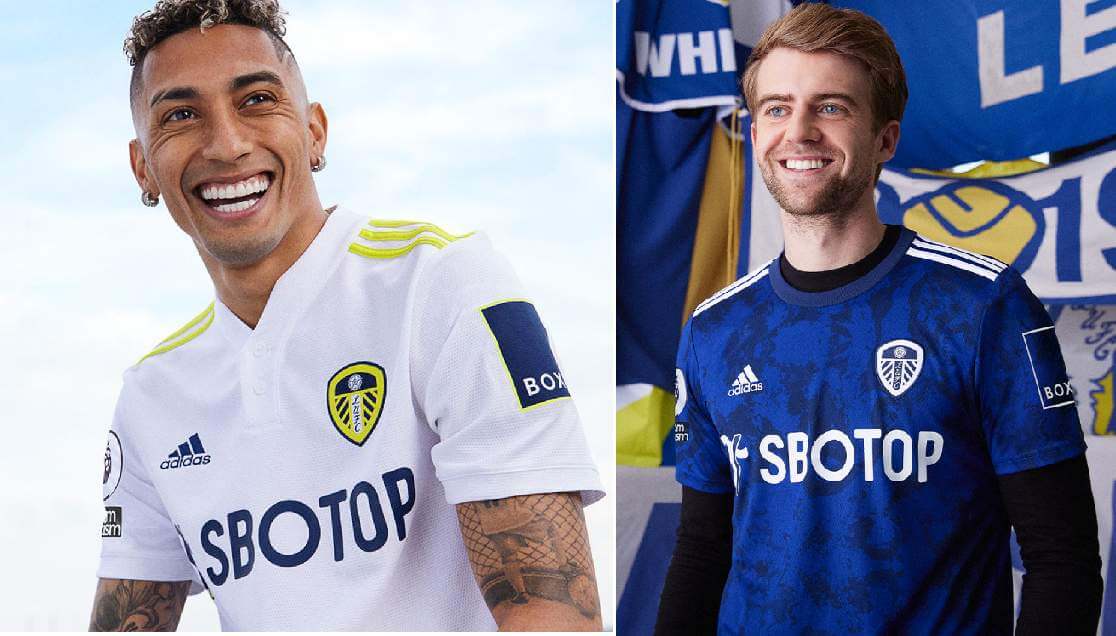 When compared to last season, the previous blue accents on the first shirt were switched to yellow, but otherwise it really is almost exactly the same as before. It's paired with a blue option.
__________
Leicester City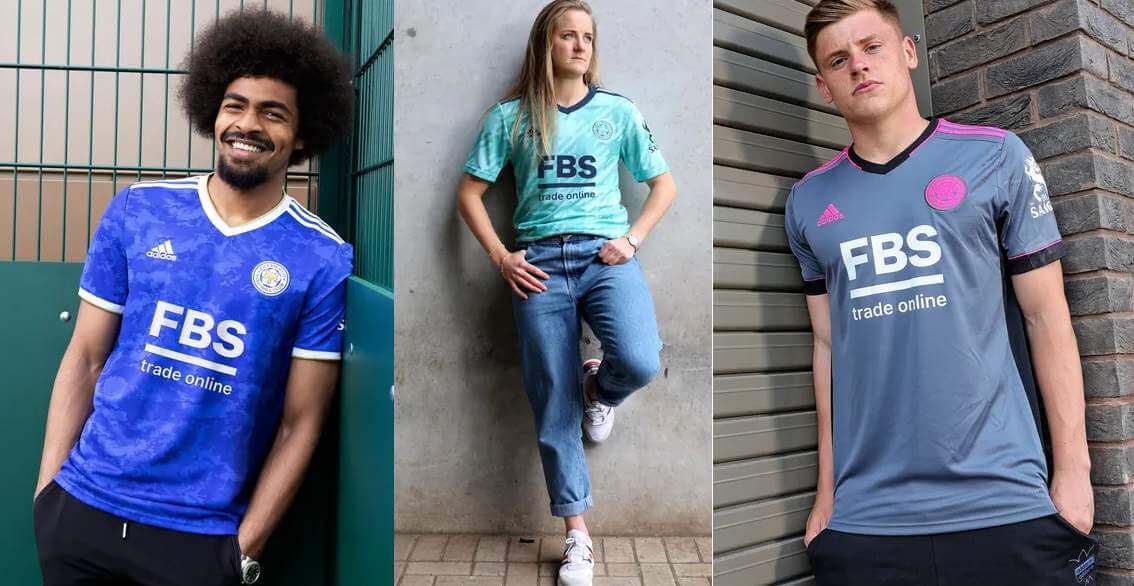 Leicester's first shirt has a pattern that is similar to Leeds's second shirt, but isn't quite the same — such is life when you're not one of Adidas's biggest clients. In fact, all three shirts look like they're recolors of standard Adidas designs. The second shirt is mint green and has a vaguely checkered or tartan pattern, and the third is grey with pink.
__________
Liverpool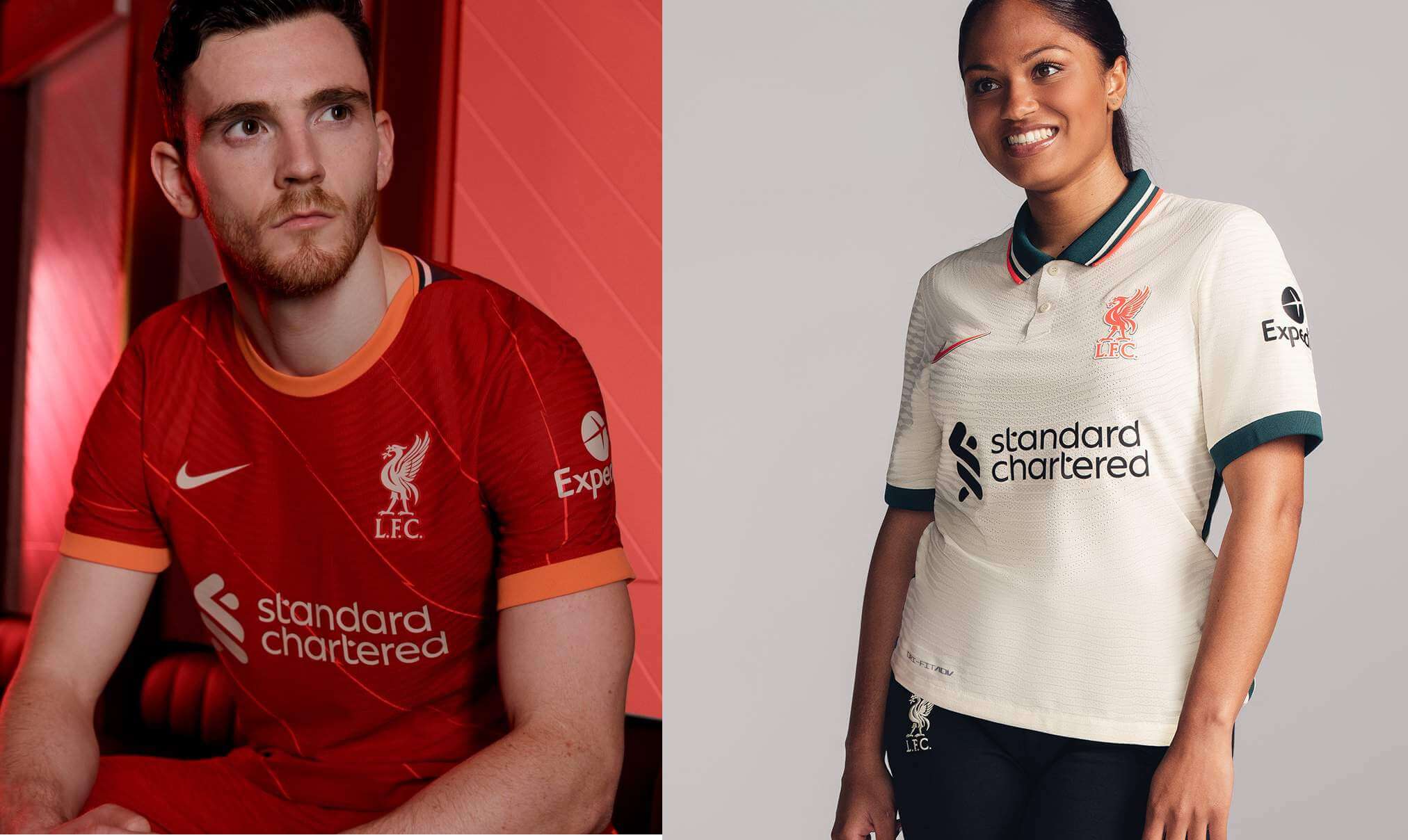 The first shirt has orange accents and small diagonal stripes this time for what seems like no real reason — it's something even the marketing copy seems to struggle with. The second shirt is again supposed to be a reference to a previous design, worn in 1996-97, and it has the same base color but extra green accents.
__________
Manchester City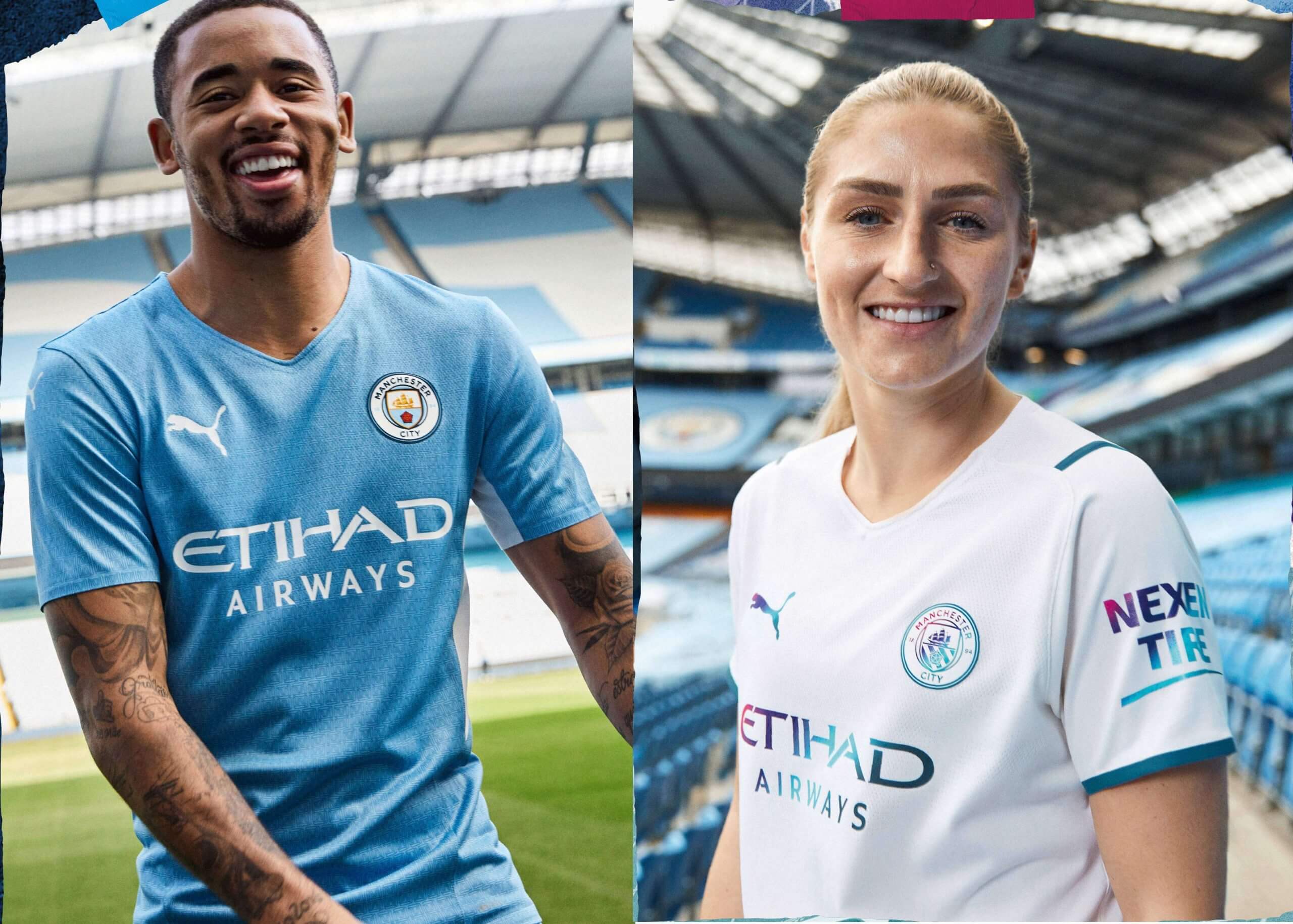 You'll notice that both shirts are light-colored, which is not always the best idea and probably would be fixed by a third shirt. The overarching theme is the 10th anniversary of City's 2012 final-day PL title win. More specifically, the idea was the moment when the winning goal was scored at 93 minutes 20 seconds, which I'll mention because these designs come with a literal digital clock-like font that's going to be used for non-league games. The graphics on the second shirt, aside from the numbers, are actually multi-colored and aren't reflecting light or anything.
__________
Manchester United

The first shirt is traditional as part of the usual red/white/black combo after last season's shirt featured a subtle multicolor pattern. The second shirt is based on a design worn from 1990-92 but again is not exactly the same as the original, although it's worn with blue shorts like the original.
The third shirt is blue, which is a semi-recurring color for Man United, and is claimed to also be inspired by the away design from 1993-94. That was black, so there isn't much of a resemblance, but it is worn with black shorts and socks.
__________
Newcastle United

A lot has been made of the placement of the ad and the button placket on the first shirt, which creates a number four above the ad that I now can't unsee. It is also not solid-colored on the back and has the same stripe pattern. The second kit is mono-black, which again is not the best idea when black is already a Newcastle color, but they at least attempted to account for that by providing gold shorts and socks as well. The manufacturer, Castore, is new to soccer, having started with outfitting tennis players.
__________
Norwich City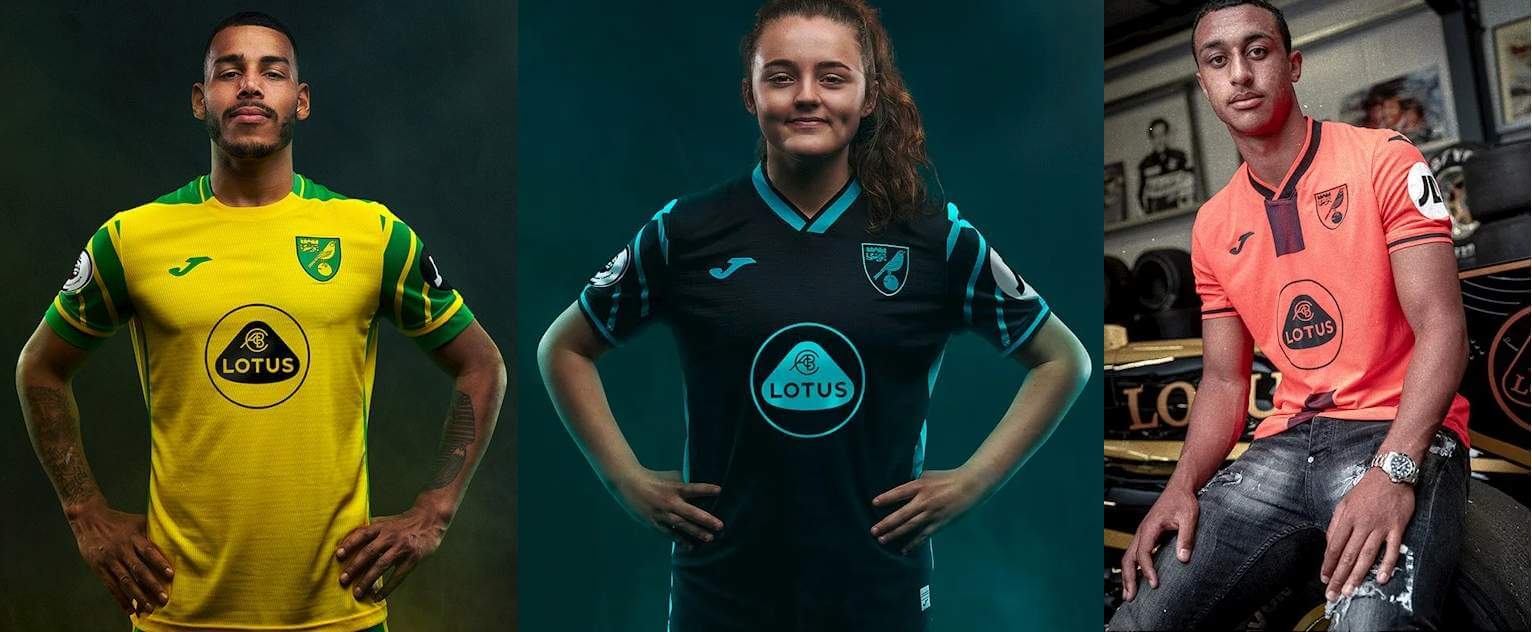 Not enough soccer teams do anything with their sleeves, so it's good that Norwich did here. Yellow, with green sleeves, and black should really cover all their bases except maybe against Watford. But the third shirt is salmon-colored, so it's not the best to wear against a team already in yellow. I can think of Norwich third shirts of the recent past that ended up appearing maybe once or twice in the season, and this one seems destined to be another.
__________
Southampton

Southampton went back to the traditional red and white stripes after wearing both red with a white sash and the reverse of that last season. It's been 20 years since they moved to their current stadium, so that's the theme for all three shirts. The black third shirt has views of the new, St. Mary's, and old, The Dell, stadiums as a faint pattern, while the yellow and blue second shirt has the same pattern on the inside.
__________
Tottenham Hotspur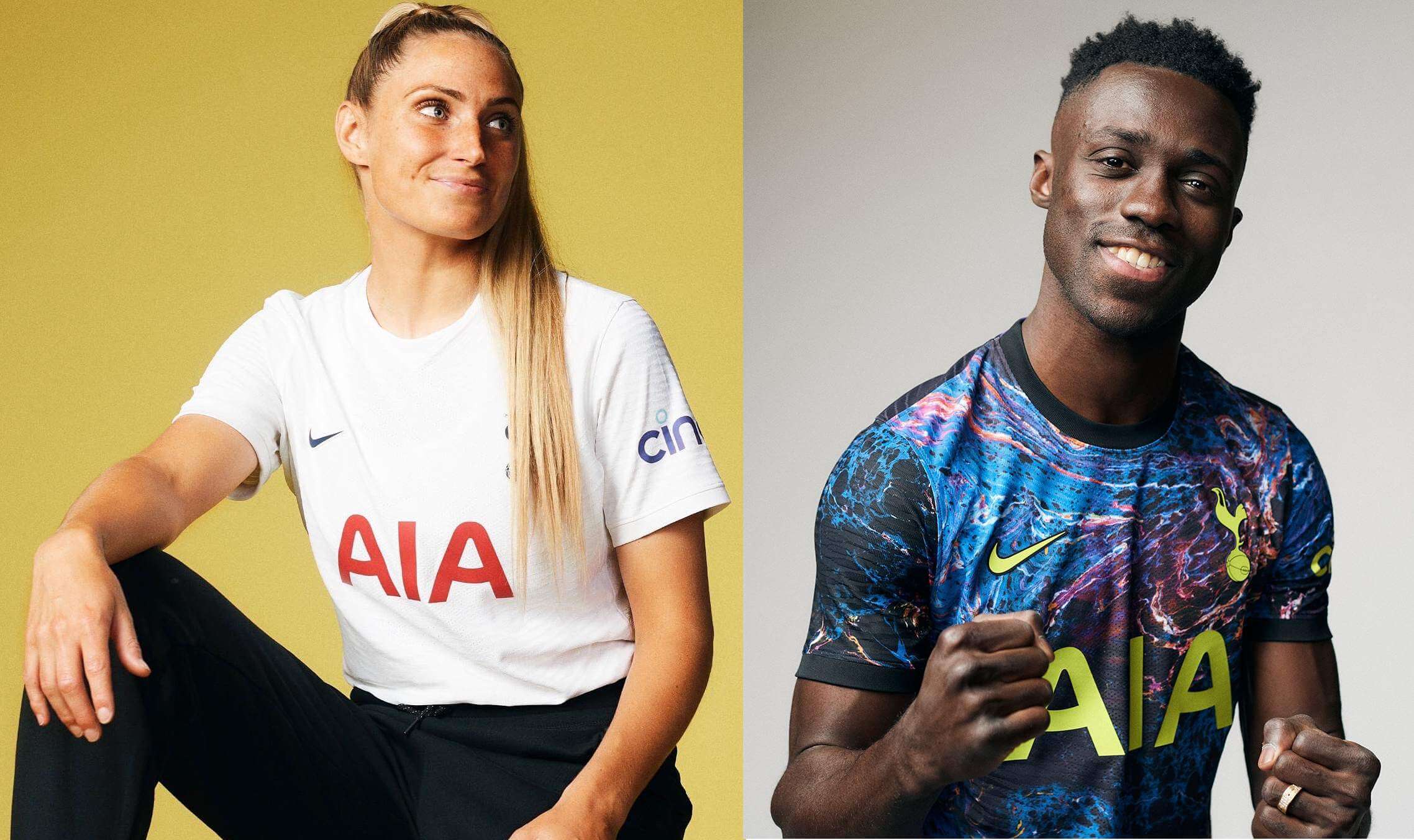 The first shirt is a plain white T-shirt, which is probably to be expected given the second shirt. This year specifically it's also for the 100th anniversary of the first time Tottenham wore a cockerel crest.
I really like the second shirt. Those are a place for experimentation and this one is distinctive and recognizable in the way that some of the recent well-received NWSL shirts have been. The dark blue base also prevents the design from becoming garish. Despite its base color it's worn with black shorts and socks, as you can see in the image at the top of this post, and the version worn on the field is solid black in the number and NOB location to comply with equipment rules.
__________
Watford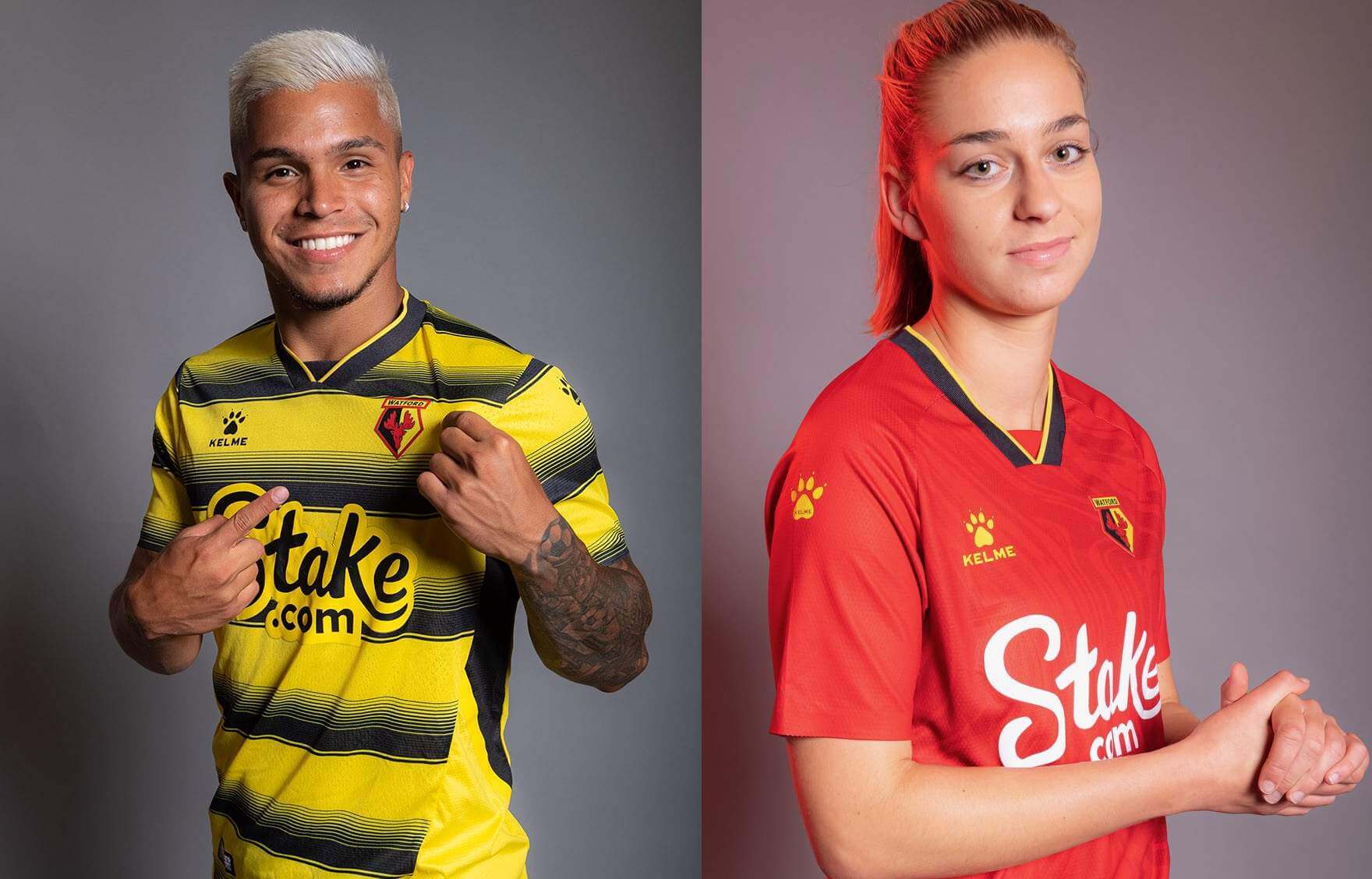 Watford have black and yellow hoops (horizontal stripes) this season and it's the fourth time in a row that the first shirt has a pattern and isn't just solid-colored. It is solid yellow on the back, though, and is paired with a red option, which is usually an accent color on the first shirt but is not there at all this year.
__________
West Ham United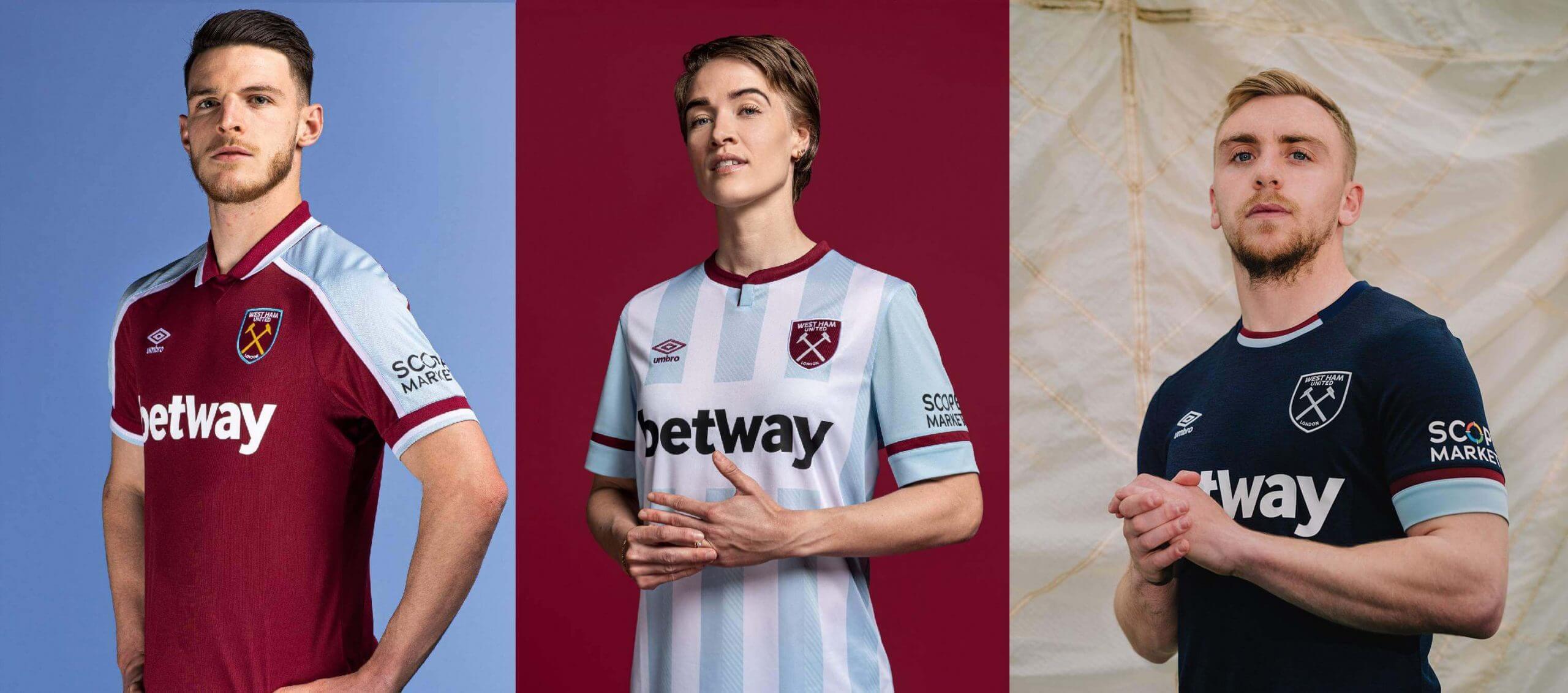 The first shirt is again based on a previous design, this time one from 1999-2001, and so is the second shirt, whose sky blue and white stripes date from 1992-93. The third shirt is usually dark-colored and it's navy blue this year.
__________
Wolverhampton Wanderers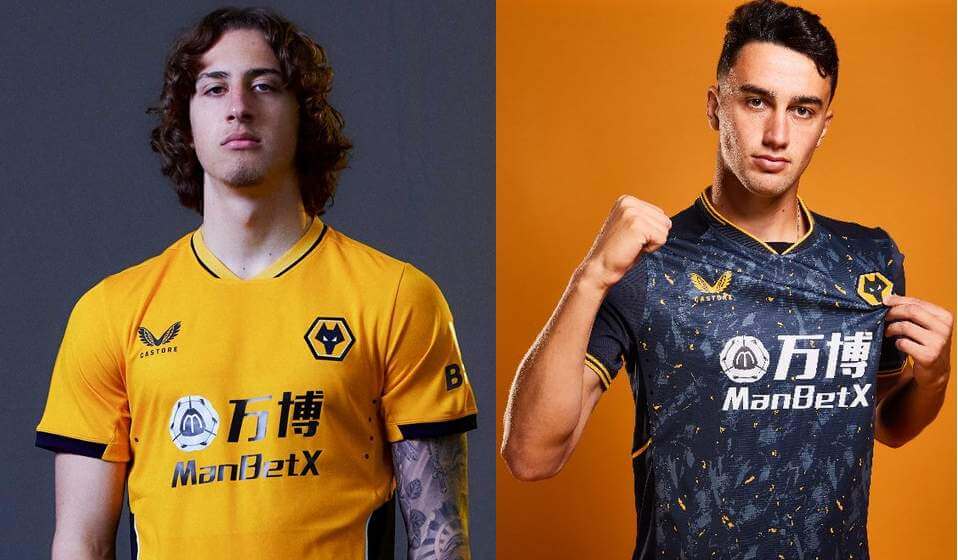 Wolves wear a distinct shade of what is usually called old gold and when releasing the first shirt they did mention their Pantone color, Pantone 130C. Despite that, the exact shade worn has varied between seasons and manufacturers and you can tell it's different from last season. The second shirt is black, which as a club color is a common choice last used two years ago and again seems to have a pattern mostly to avoid it being solid-colored.
(The websites Historical Football Kits and Classic Kits are useful resources for the visual histories of English and Scottish clubs, especially for some of the stats around older designs mentioned here.)
• • • • •
Wow — thanks, Jamie! Great breakdown of the PL kits (as most of you know, I'm not a soccer guy, but I do know about the euro leagues and relegation and promotion, and it's always fun to see who made the cut and who didn't — maybe one day American sports leagues will look into this sort of thing. I'm not sure it would ever fly here, but it's food for thought). Thanks for the great writeup Jamie!
• • • • •
• • • • •
The "Field of Dreams" Game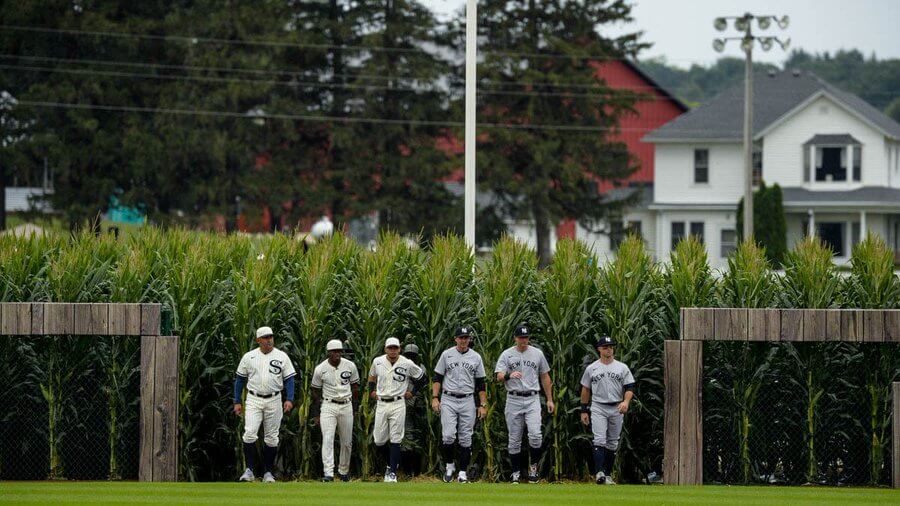 It was everything we thought it would be…and more.
As I'm sure almost all of you are aware, the White Sox and Yankees played in the 2021 "Field of Dreams" game last evening, and there was a lot to unwrap, although not all of it was uni-related. Jamie did such a thorough job on the PL preview, I'll try to be brief here. If you watched it, it had a pretty thrilling finish too!
First off: the unis. They are what we thought they were. Almost. A week ago the teams previewed their jerseys and caps, and I was disappointed (as I'm sure many of you were as well) the full uni, including hosiery, wasn't shown. If you look at the top photo, you can immediately see the two teams basically recreating a scene from the FOD movie (players entering from the corn field), and you can see something's amiss. Not only was one of the pictured White Sox players wearing (gasp) pants in pajama style, the more jarring image was the White Sox wearing…BLUE socks. Really? I mean, c'mon — the real 1919 White Sox wore, ya know, white stirrups and sanis, and so too did the actors in the movie. If you're going to get that one important detail wrong…
And I don't know which is worse, in this case, players going low cuffed, or those showing hosiery wearing the wrong damn color.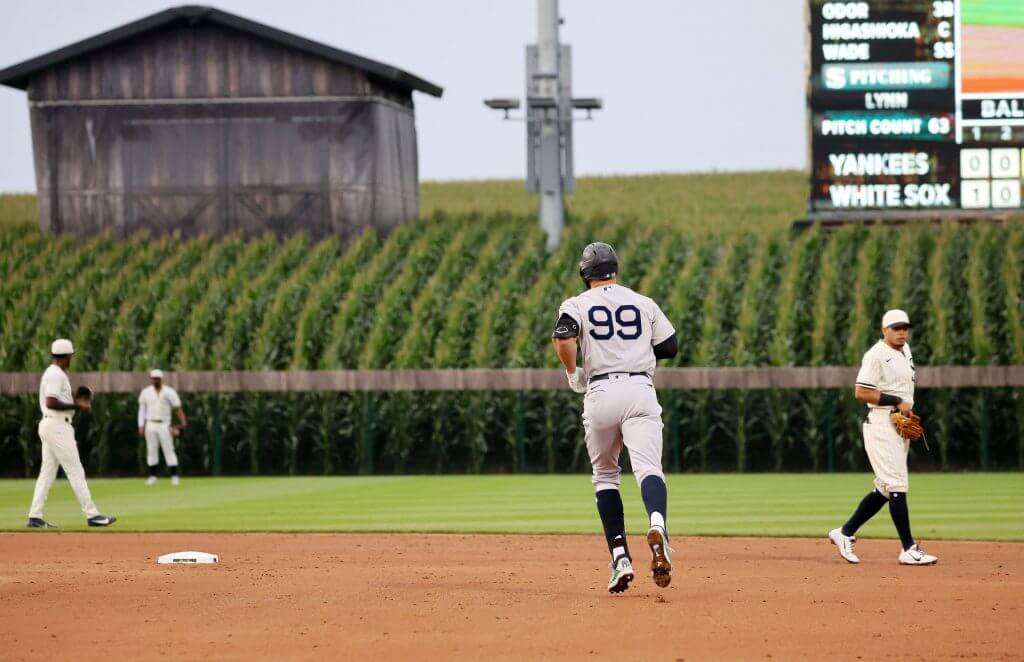 But other than that, Mrs. Lincoln…
Normally I am a fan of visible hosiery (even the ridiculous Stance holiday and special event socks) over low-cuffery, but in this one instance, I think I'd have preferred it if the ChiSox had all gone long pantsed than wear the wrong color socks.
Aside from that, the uniforms weren't really a surprise, as they'd shown off the caps and jerseys a week back, and it was pretty easy to figure out what the pants would look like.
Now for some observations (some from me, and some from others)…
I know it was pure hollywood cheese, but I still loved the cornfield entrances: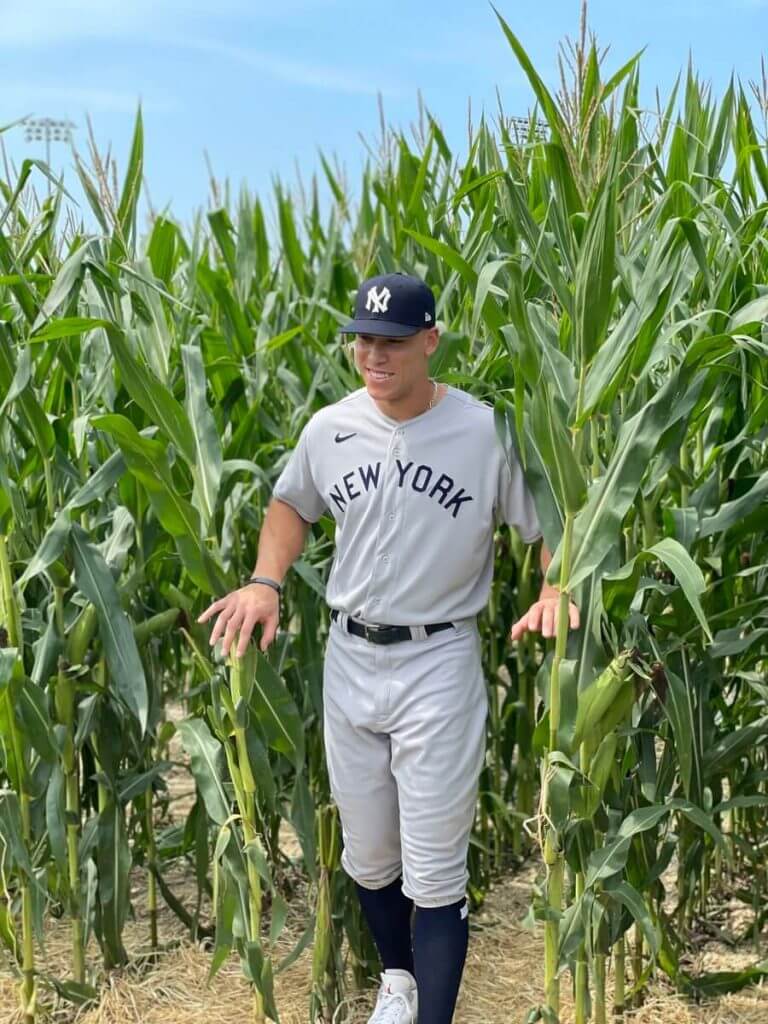 As some of you pointed out, while the font is definitely in the McAuliffe style, there are a few differences. I'm guessing Nike created a proprietary font based strongly off the McAuliffe pattern.
Most of the Yanks went high cuffed, and many wore actual low-cut stirrups (pretty period-appropriate), which was a nice visual: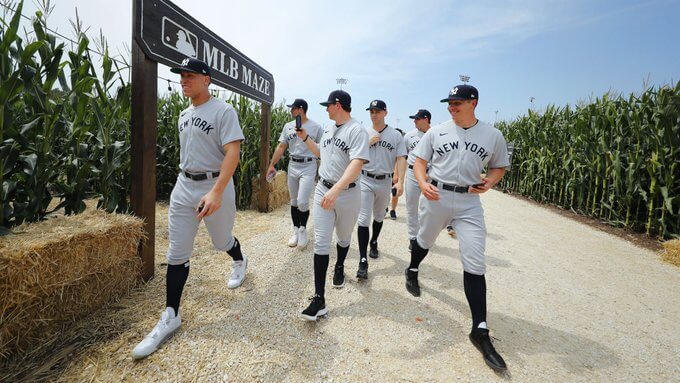 Even though they wore the wrong color socks, notice how in the team portrait the ChiSox have all high-cuffed players visible in the front row (which makes for a great visual, even if the socks should be white):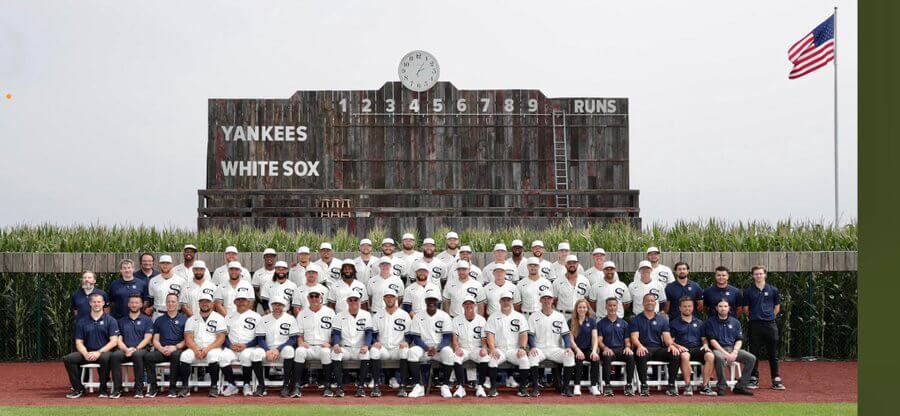 Obviously batting helmets didn't exist in 1919, so the White Sox wore a navy blue helmet with the Sox logo featured on their jerseys (I was kinda hoping they'd create helmets that matched their pinstriped crown/blue brim caps):
The Yankess wore their normal road matte midnight navy helmets.
My mom, who I think has maybe watched one baseball game in the past 30-plus years, actually watched this one. She texted me this last night (verbatim):
Am watching the Field of Dreams game. Too bad the logos on the uniform, I think Nike, and ads on the fence, but it was a good idea and the "stadium" seems to be Full
First of all, my mom, who is a technophobe to begin with (and she's 87), almost never texts me period. But for her to mention this was pretty extraordinary — I was like 99% certain I got all my uniwatching genes from my dad, but wow. And she's right. The goddam swoosh and NE logo was extremely off putting.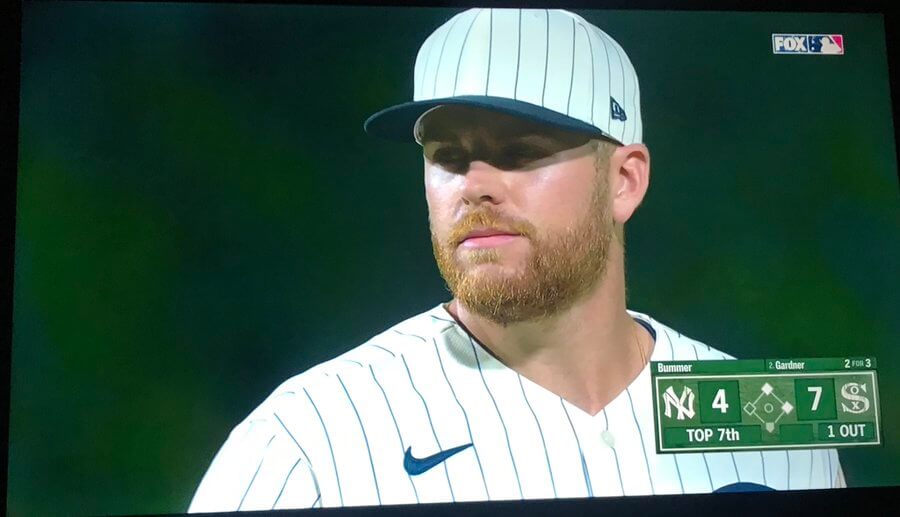 She wasn't alone in this…
The White Sox jerseys are perfect, except for one thing. Take the damn Nike logo off it for one night. I'm sure they will survive. pic.twitter.com/CKXrqmUq5L

— Darren Rovell (@darrenrovell) August 12, 2021
Joe Buck, John Smolz and Tom Verducci dressed in what they consider era-appropriate attire: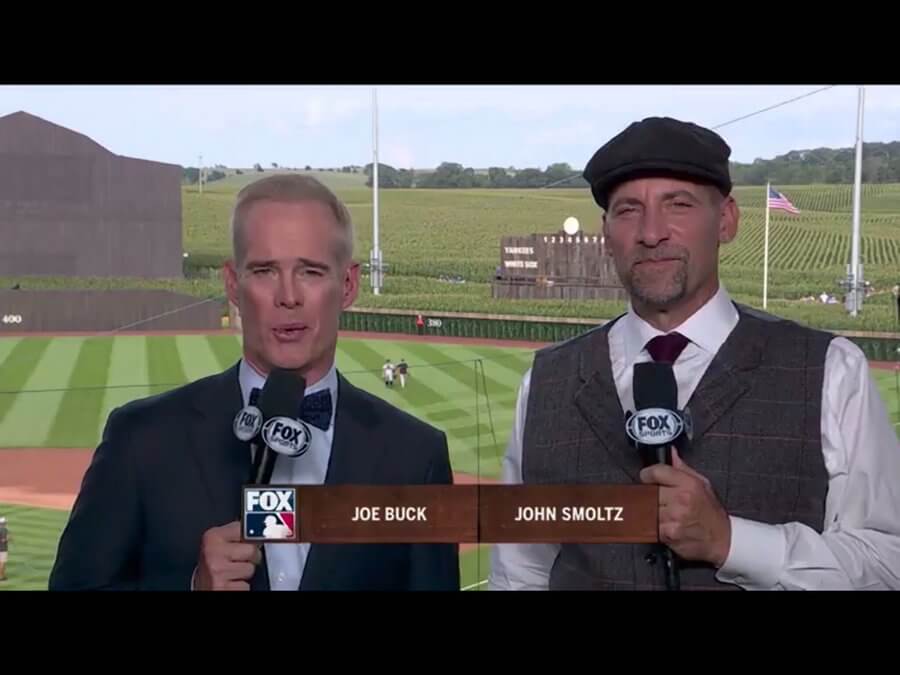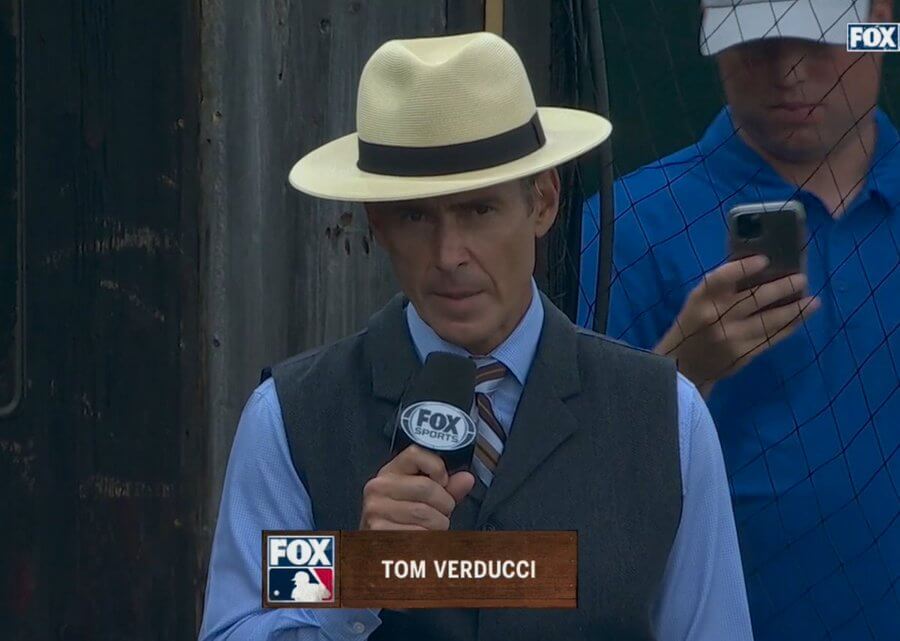 Of course, the Fox graphic and the microphone flag kinda ruin any "throwback" feel.
But let's not kid ourselves — we're not in Kansas Iowa anymore. Ads were almost everywhere, but particularly jarring were the ads directly behind home plate.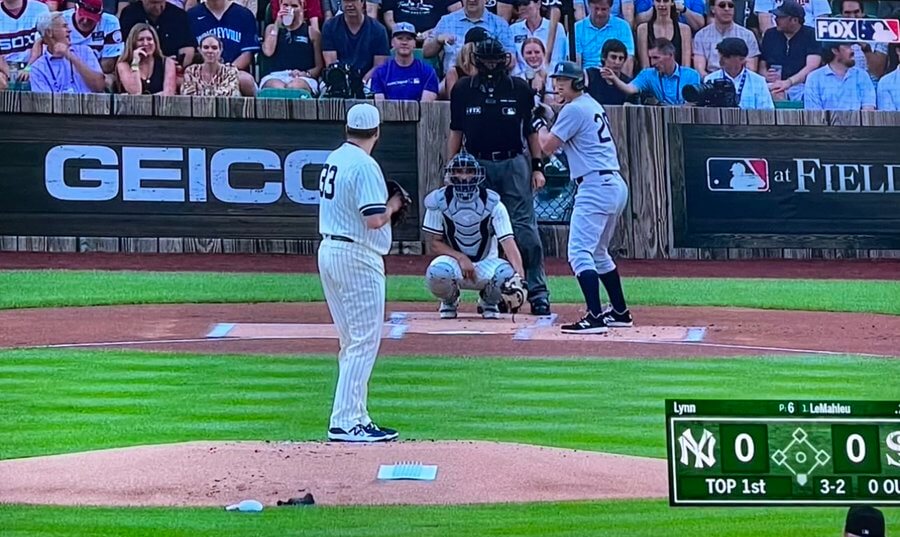 That being said, the actual scorebug did have a nice, old-timey feel to it:
love the old-timey score bug, even the animations look like someone removing a panel and replacing it! @UniWatch #FieldofDreams #MakeItMajor pic.twitter.com/Beo4H4FAeG

— Luke Vaughan (@bayarealuke) August 12, 2021
I was also kinda/sorta hoping the umpires would dress in throwback umpire suits, but alas, they wore their normal gear (complete with ad patches):
@UniWatch Nothing says "Field of Dreams" like ads on umpires and behind home plate pic.twitter.com/7cBHPvV0lu

— Texas Trev (@texastrevor) August 12, 2021
While the behind-the-pitcher shots were an ad-filled eyesore, photos and camera angles from behind the plate or the stands gave us a beautiful view…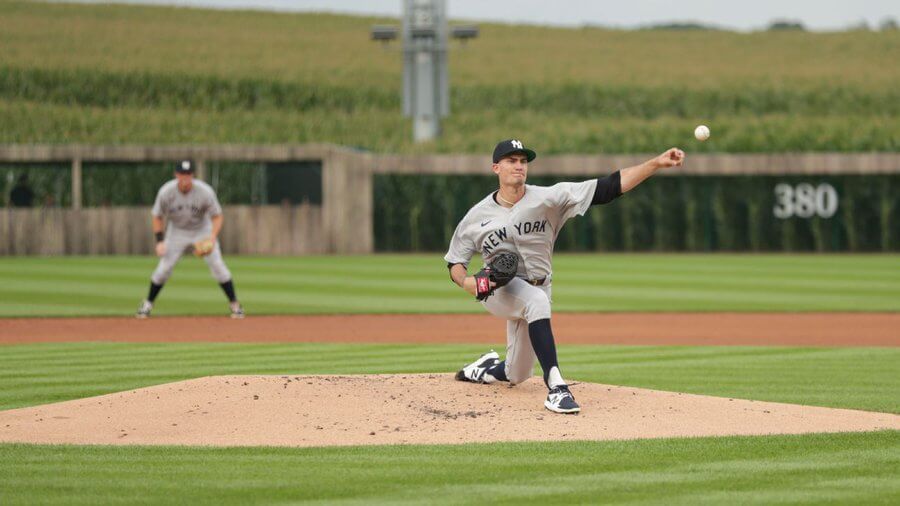 …even if on screen graphics crowded the otherwise spectacular shots:
Rows of corn as a backdrop. How cool is that? #FieldOfDreams pic.twitter.com/rKRpiaBxRm

— ohiowa (@TrabFire) August 13, 2021
I know it was hot, but this is just not a good look.
I also loved the faux-old time, hand operated scoreboard: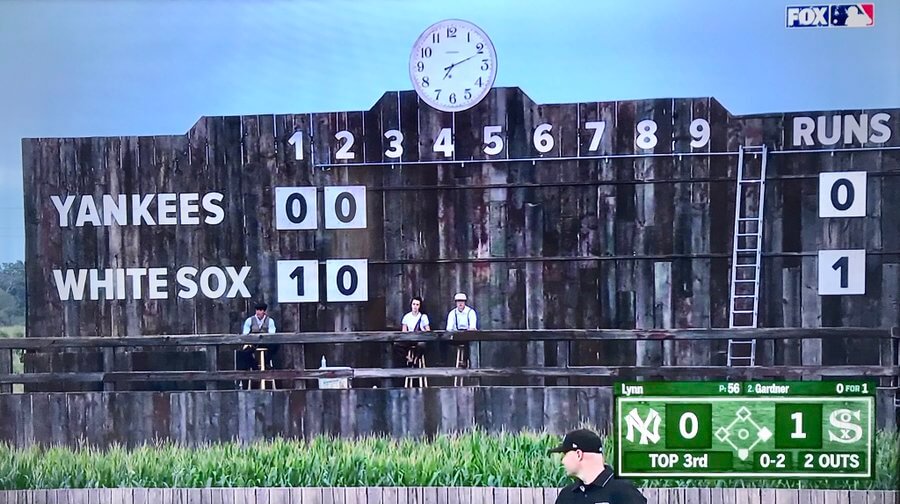 You'd think players would, for this one game only, wear solid black cleats, but some guys decided to go a bit flashier. But some guys really did try to recreate the old time footwear:
@UniWatch @PhilHecken Nice touch by Michael Kopech tonight going with the polished black, long tongue cleats for tonight's field of dreams game. Sanitary white with some stirrups would have earned him an A+. Sox hats are super clean minus the awful new era side flag. pic.twitter.com/LVoQ0a5GKg

— Sal X Traction (@EvilEmpireFan) August 13, 2021
Of course, the star of the whole show was the field itself. I noted a few people thought the teams were using the actual Field of Dreams field, but last night's field was specially created for the game. It's literally a stones throw from the field featured in the movie.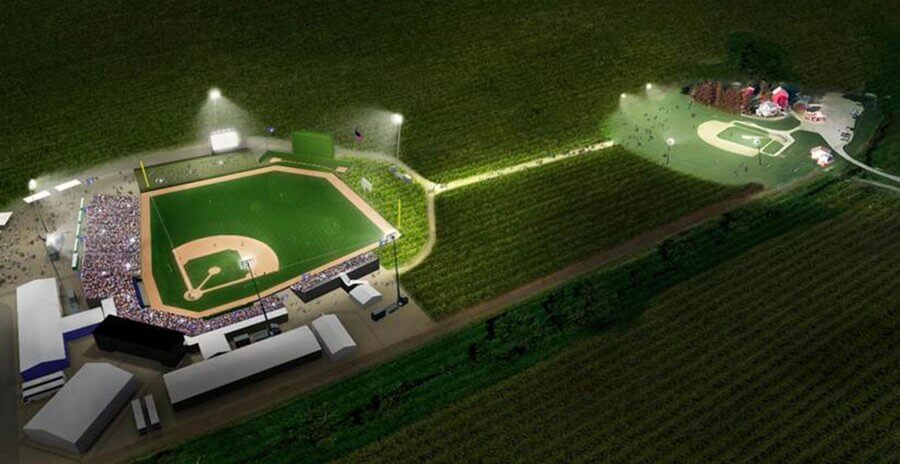 Note the MLB (logo) corn maze (maize?) located between the two fields: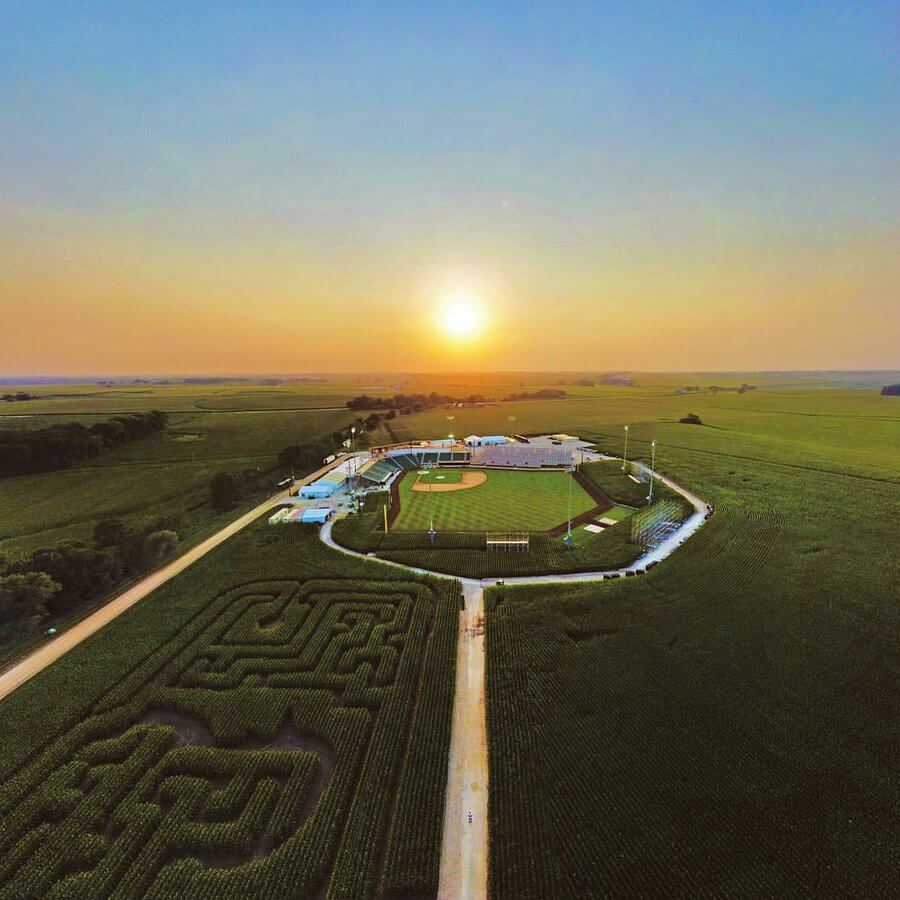 And you guys know how much I love sunsets, so the sunset (and gloaming) visuals were amazing. Reminded me a lot of the Rose Bowl.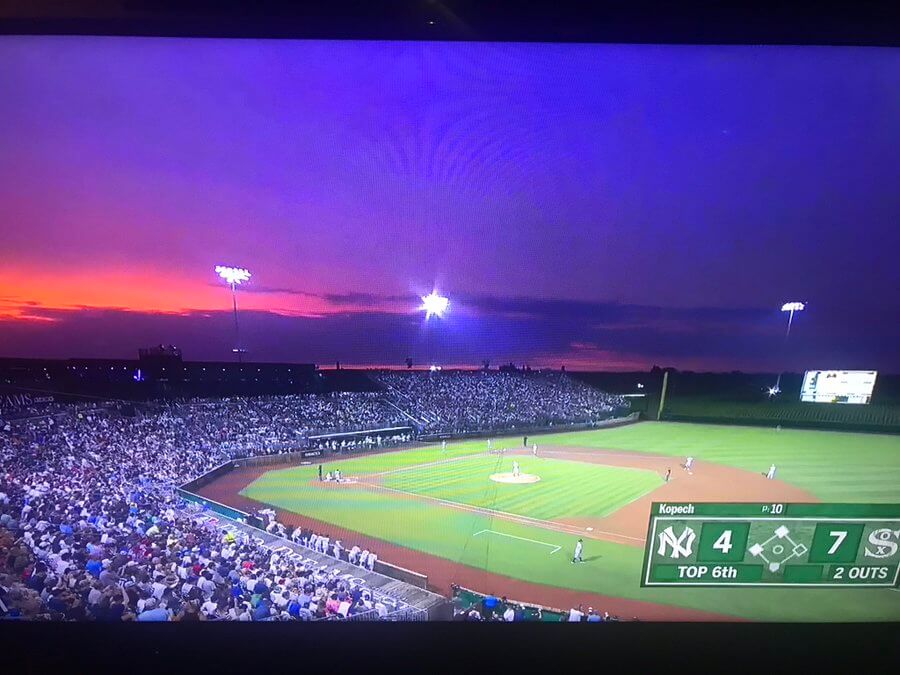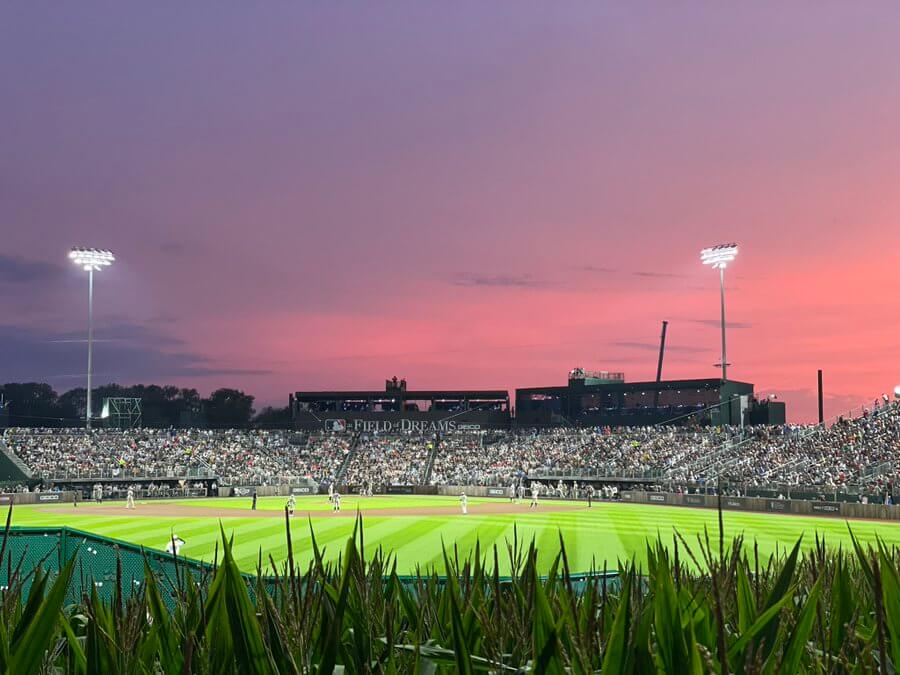 This was, of course, the first MLB game ever played in the state of Iowa, so any "first" was a record (and likely the answer to a future trivia question)…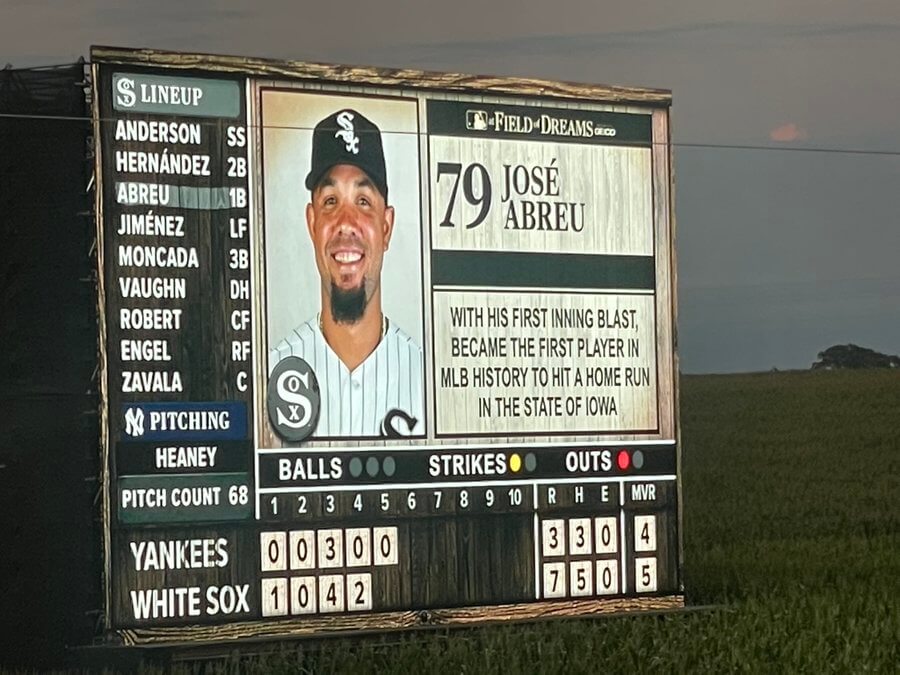 Even though I was able to catch a good chunk of the game, I'm sure there's something(s) I missed, so feel free to add any of your observations in the comments (I've gone on long enough)
I'll just leave you with this…
The scene for baseball on Field of Dreams is unreal right now. pic.twitter.com/hk0yfGmGW9

— Kenneth (@TexasSports1015) August 13, 2021
Lots and lots of photos can be seen here.
• • • • •
• • • • •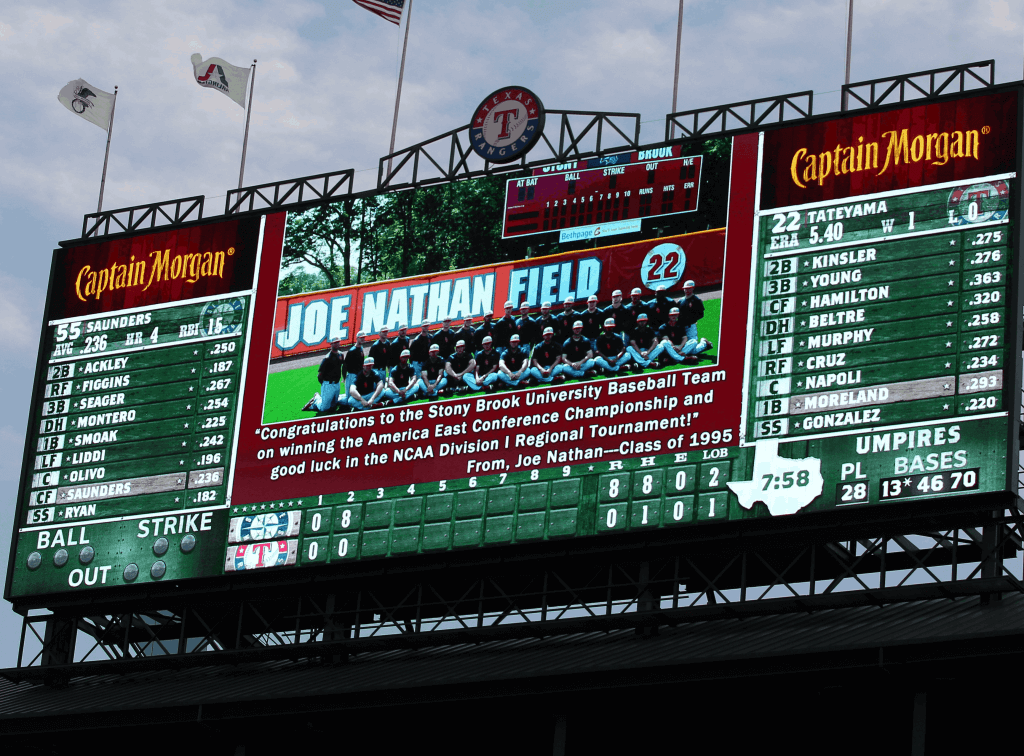 Guess The Game…
from the scoreboard
Today's scoreboard comes from Chris Hickey.
The premise of the game (GTGFTS) is simple: I'll post a scoreboard and you guys simply identify the game depicted. In the past, I don't know if I've ever completely stumped you (some are easier than others).
Here's the Scoreboard. In the comments below, try to identify the game (date & location, as well as final score). If anything noteworthy occurred during the game, please add that in (and if you were AT the game, well bonus points for you!):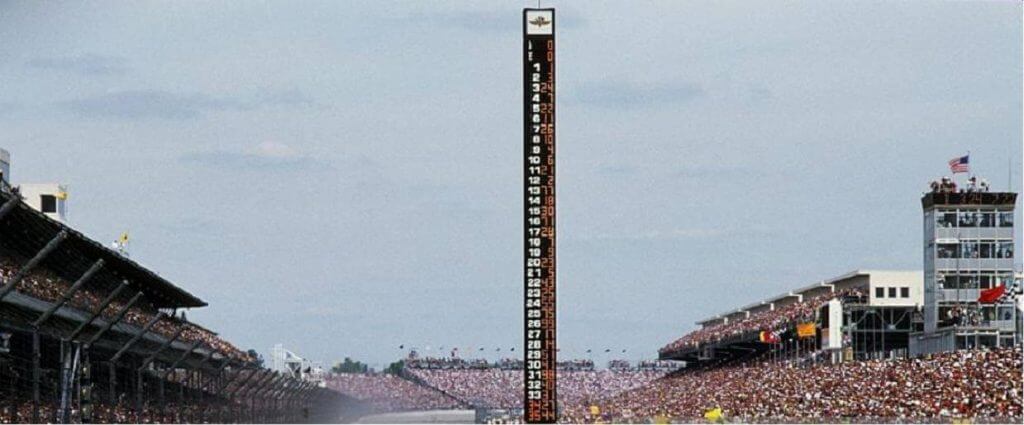 Please continue sending these in! You're welcome to send me any scoreboard photos (with answers please), and I'll keep running them.
• • • • •
• • • • •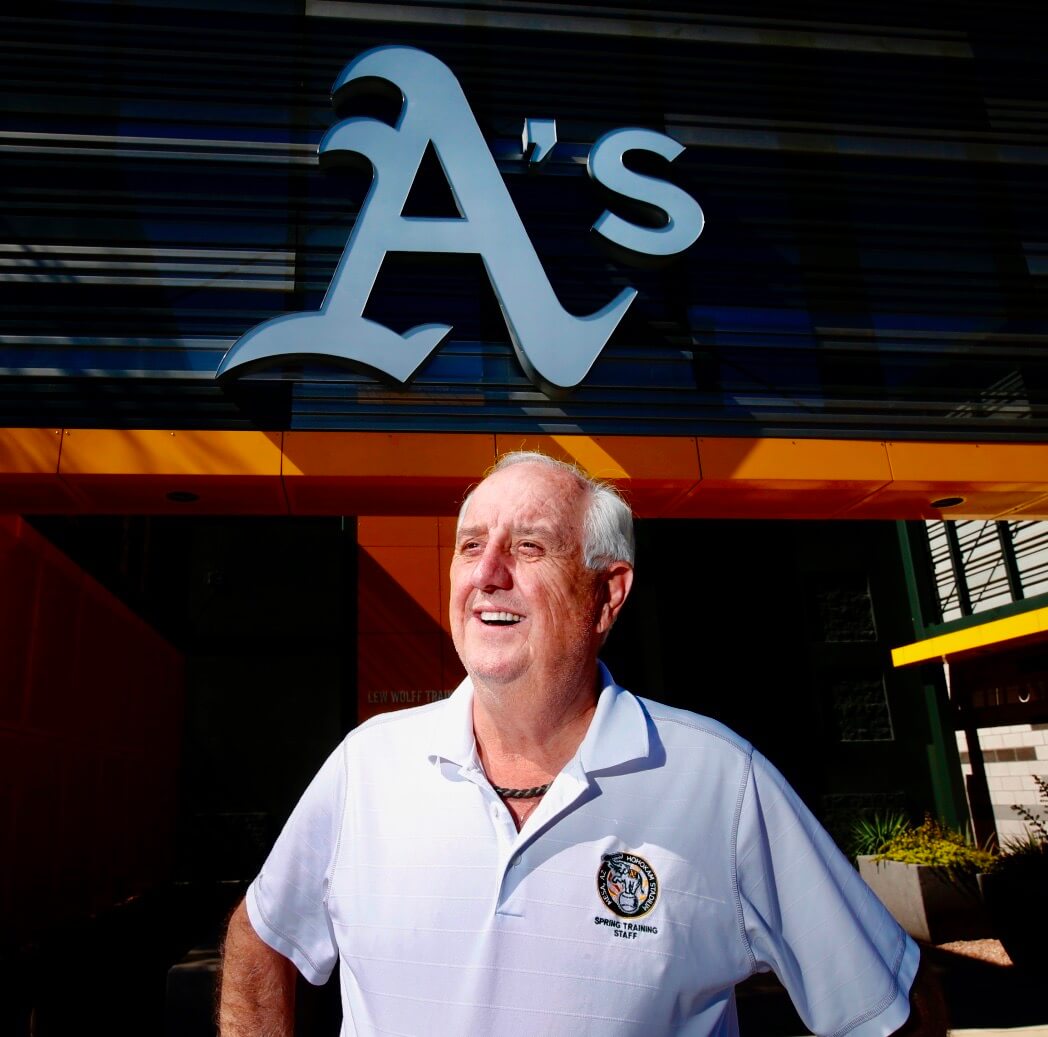 Bulletin reminder: Paul here. In case you missed it yesterday, my latest piece for Bulletin is an interview with longtime Oakland A's equipment manager Steve Vucinich, who's now in his 54th year (!) with the club. It's a really fun interview, full of stories, insights, and a dirty little secret — literally. It's available on the web on my Bulletin page. Enjoy!
Okay, back to Phil!
• • • • •
• • • • •
The Ticker
By Anthony Emerson


Baseball News: A federal judge _blank" rel="noopener noreferrer">has ruled that the Philadelphia Phillies should be allowed to continue using a modified version of the Phillie Phanatic in a copyright dispute with the mascot's designers (from Kary Klismet). … The A's were inconsistent with their belt colors during yesterday's game, with Chris Bassit wearing yellow and Mitch Moreland wearing green. … The Northwoods League's Madison Mallards will become the Capital City Teetotalers in "honor" of prohibition as part of a "Roaring '20s" promotion (from John Ewanowski). … The Richmond Flying Squirrels will be breaking out a tie dye jersey on August 21 (from Minor League Promos). … And tonight, the Fresno Grizzlies become the Fresno Growers (also from Minor League Promos).

NFL News: The Patriots issued uni numbers to their rookies ahead of last night's preseason opener. QB Mac Jones will wear the No. 10 he wore at Alabama. … Ravens LB Justin Houston will wear No. 50 (from Andrew Cosentino). … The Giants will retire Michael Strahan's number this season (from Kary Klismet). … Also from Kary, a Twitter user has created a mockup of the Packers' new alternate uniform based on clues from the team. … One more from Kary: The Raiders have donated new helmets to a Vegas-area high school. .

College/High School Football News: James Madison is celebrating its 50th season of football this year, and they've unveiled a nice logo to mark the occasion (from Andrew Rader). … Kansas has added first names to the strips of tape identifying players by last name on their helmets during training camp (from Kary Klismet). … Check out these extra-shell helmets Oregon linemen are wearing during camps (from Nicholas Petrosky).

Hockey News: New uniforms for the Arizona State Sun Devils hockey team (from Wade Heidt).
.
.

Soccer News: Manchester United launched their third kit yesterday. … Sampdoria wingback Morten Thorsby is switching his number from 18 to 2 to raise awareness of climate change. "The number represents the internationally-adopted Paris Agreement target of keeping global temperatures 'well below' 2°C above pre-industrial times, in order to avoid dangerous levels of climate change," writes the BBC (thanks, Jamie). … The Chicago Fire rendered their new crest in silver while advertising for 2022 season tickets, which will be their 25th anniversary.

Grab Bag: Twitter changed its default font for Tweets on Thursday to its proprietary font "Chirp" as part of a few UI tweaks ostensibly to improve readability and minimize visual clutter. With the update still matriculating out, not everyone has it yet. As a Twitter addict myself, I hate the change because the font doesn't actually improve readability. It's doesn't look like a font that should be used for content, it looks like a font that should be used for titles only. … New town logo for Rocky Mount, VA (from Kary Klismet). … Also from Kary, here's a story on the history of the Bitcoin logo. … One more from Kary: Last month, we ticker-linked to an item about the city of Christchurch, New Zealand, requiring a redesign of its planned new rugby stadium to reduce capacity to 25,000 because of budget concerns. Now, the city has reversed itself in the face of public pressure and construction will move forward on a 30,000-seat stadium. … Jeopardy had a category on colorful sports teams (from James Gilbert).
• • • • •
• • • • •
Uni Tweet of the Day
Ya know, it won't actually be too long before this will be true…
The Nike swoosh has been part of the uniform for over a century. I don't see the big deal https://t.co/L69TMDSM4A pic.twitter.com/plwYW1IF6Q

— Ollie (@olisamir) August 12, 2021
• • • • •
• • • • •
And finally… that's all for today. Big thanks to Jamie for his PL uni preview. Great stuff.
Lucked into another spectacular sunset last evening. I can never get enough of these.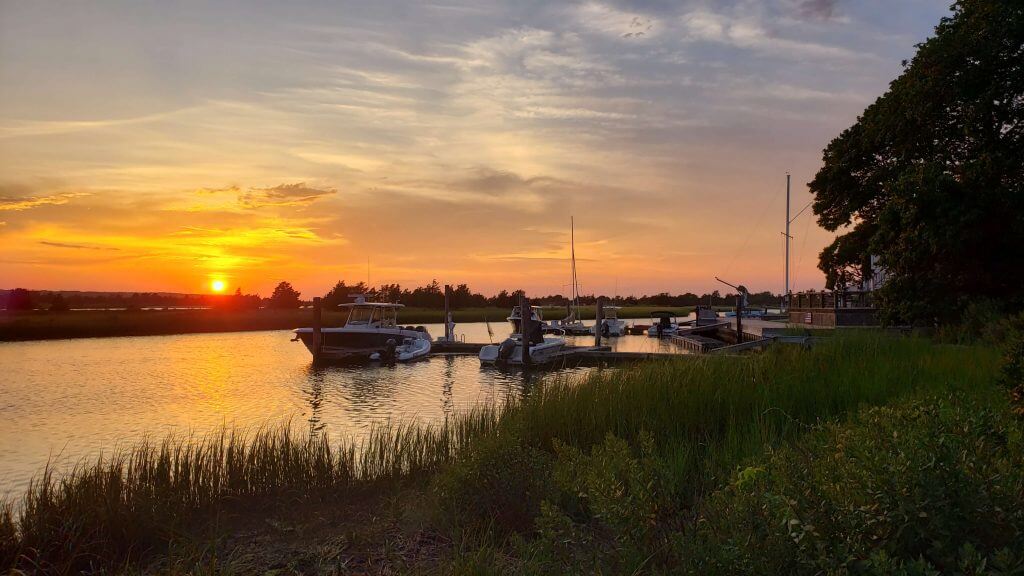 That's not just a wrap for today, it's a wrap for me for the week. Everyone have a great weekend — webmaster Johnny Ekdahl will take you through the weekend — and I'll catch you back here Monday morning.
Peace,
PH