[Editor's Note: Paul is on his annual August break from the site. Deputy editor Phil Hecken is in charge from now through the end of the month, although Paul may be popping up here occasionally.]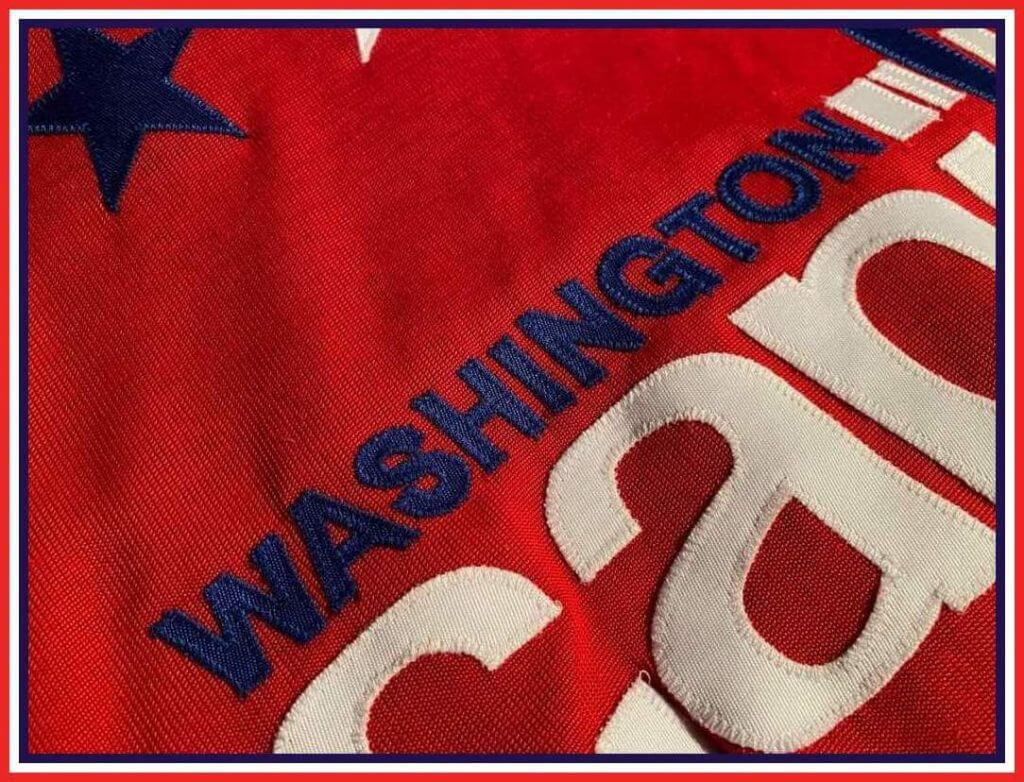 By Phil Hecken, with Wafflebored
Follow @PhilHecken

Greetings Uni Watch readers and a good Monday morning! Hope everyone had a good weekend.
If you've been reading Uni Watch for any period of time, today's artist is well known to you (especially you weekday readers) — the pseudonymous "Wafflebored" is back to share yet another fantastic project with us. There's a lot to get to, so let's get started straight away. BTW, I love the product placement below. Wafflebored…take it away!
• • • • •
Durene Capitals Jersey Project
by Wafflebored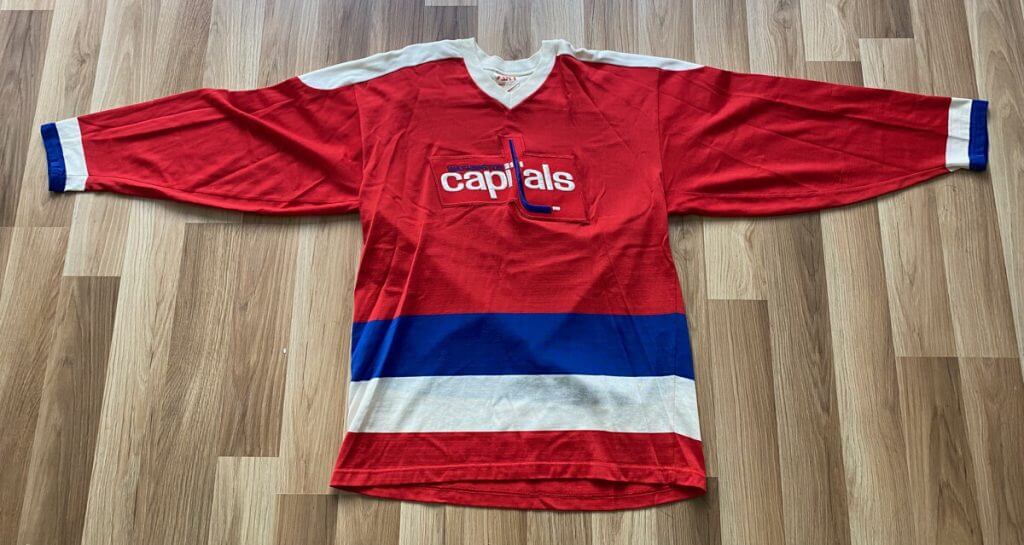 I have always aspired to make complete, scratch-made jerseys for most of my projects. However I recently got interested in the idea of working on existing vintage jerseys. I'm a big fan of Bill Henderson's amazing baseball jersey restorations, so when I acquired this nice durene Washington Capitals replica jersey I thought it would be the perfect project to experiment on — albeit with much lower stakes than some of Bill's museum-worthy pieces.
The jersey itself is an example of retail replica jerseys you could buy in the '70s and early '80s before they switched to polyester. It's in nice condition, and is sized large, which are getting harder to find (jerseys from this era fit about one size smaller, so it's more like a medium which is my size).
But, as you can see, the cresting leaves a lot to be desired. While the real Capitals jerseys from the '70s featured all-sewn on cresting, this one takes a few shortcuts — the one-piece crest and lack of stars were all cost-cutting measures to work around the extremely detailed nature of this design. So, I decided I would turn this retail replica into something closer to what the team actually wore.
The Capitals wore durene jerseys from their inception in 1974 through to the end of the 1978-79 season. If you're not familiar with durene, its a very special fabric. It combines rayon and cotton to produce a material that feels good in the hand, and wears extremely comfortably. It just feels good in your hands and feels much higher quality than the polyester that followed.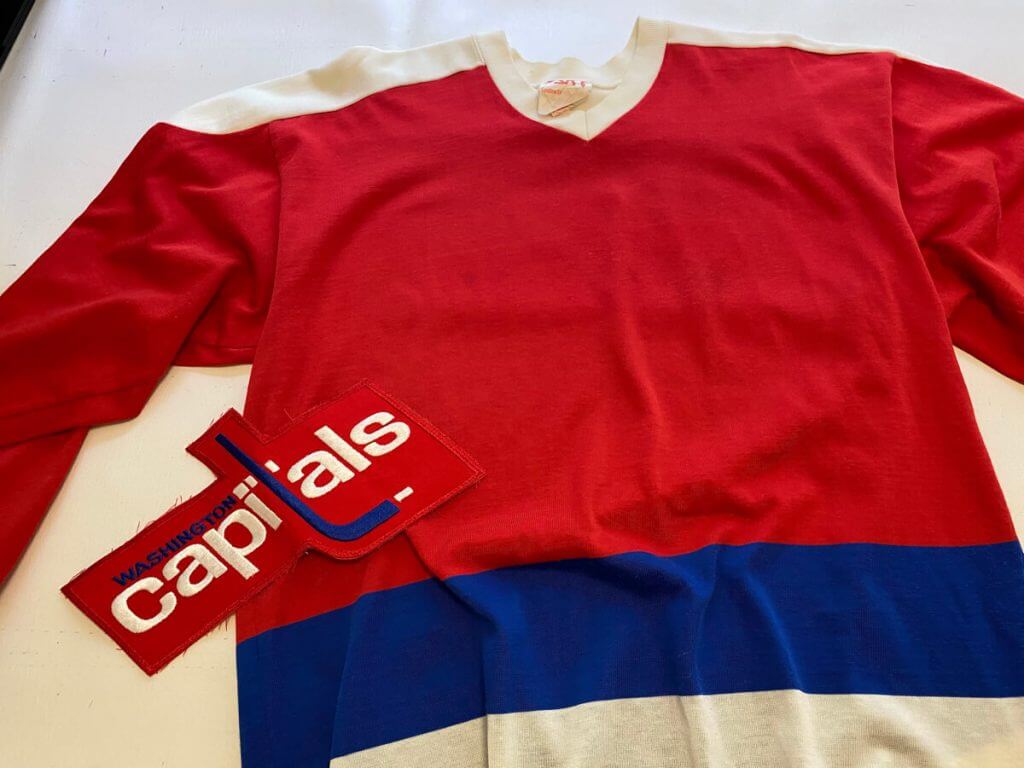 The first task was to remove the crest. Normally a new crest would cover the old one, but since I was planning on sewing all of the lettering separately, it needed to come off cleanly. I unstitched it and found it was held on for sewing with a few spots of glue. It was some kind of older style glue that resembled rubber cement, and I was able to remove the residue with some solvent. With a clean front, I was able to proceed with the project.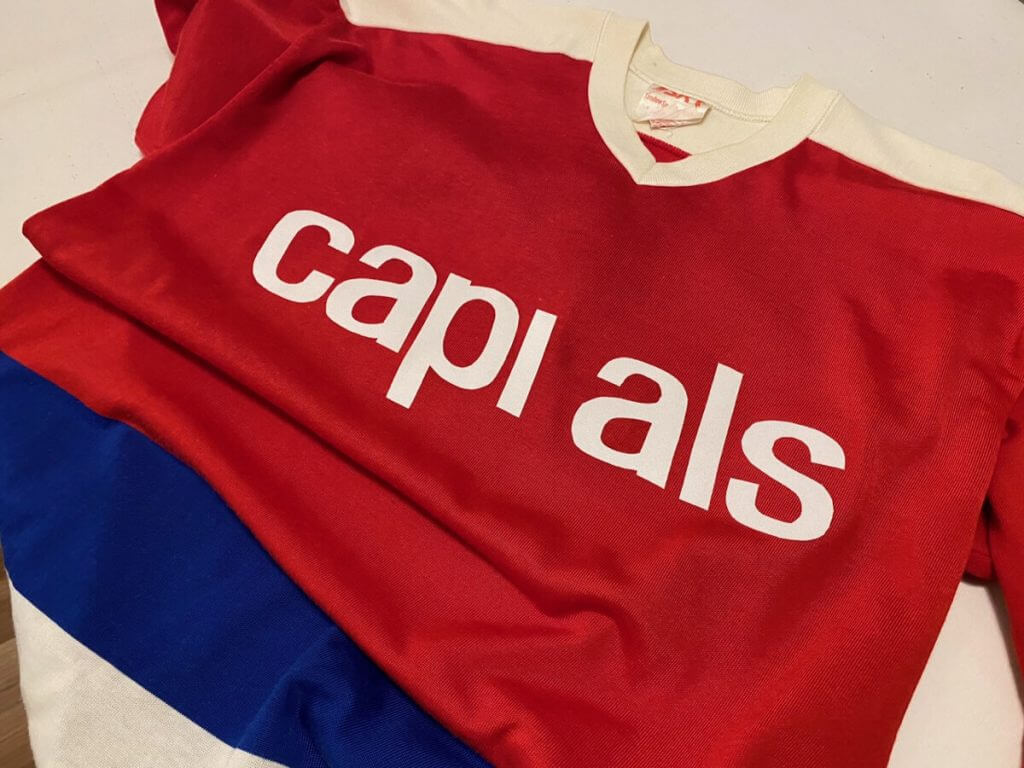 I created paper stencils of all of the cresting on my computer. I studied many photos of older caps jerseys to try to get everything as close as possible. For the most part I used trial and error, but the reality is there was a lot of variation on these jerseys even in one year as everything was hand positioned. There are more resources online than ever before, which greatly assist in getting things accurate. In particular auction websites and game worn collector sites provide high res images that provide detail than many of the old game photos don't.

One thing I noticed in this era is the Capitals name is positioned higher than you would expect. This side-by-side comparison gives you an example, and is what I based the positioning on. By contrast, in the '80s this positioning was quite a bit lower than what you would expect, below what you might consider the centerline of the jersey.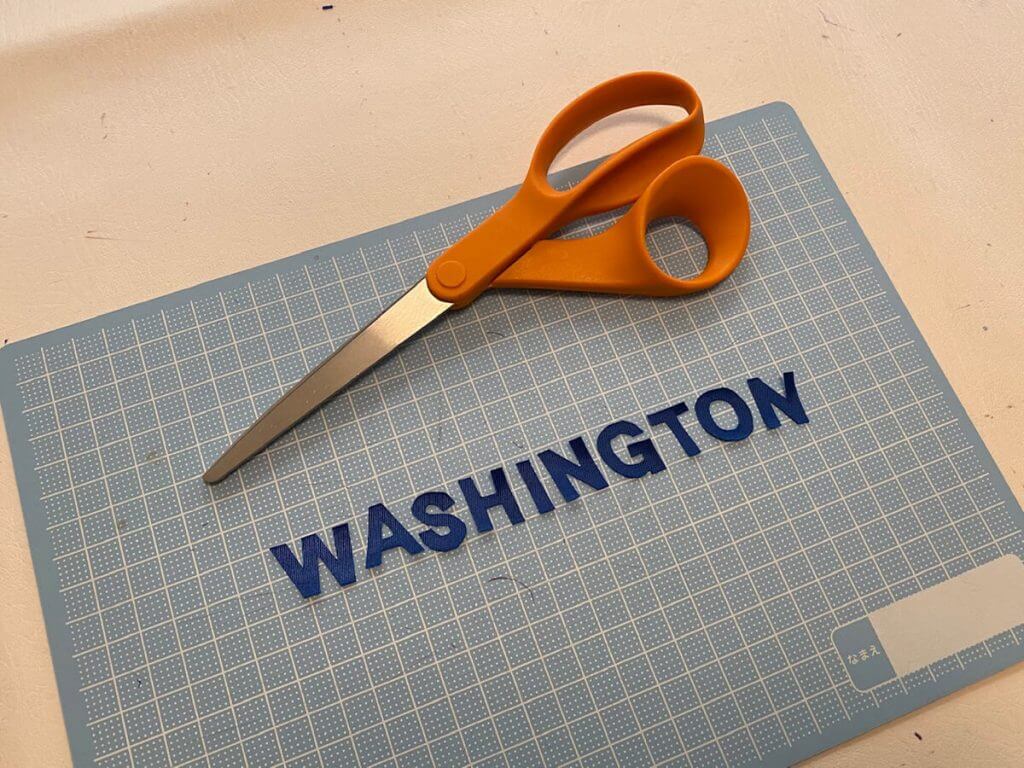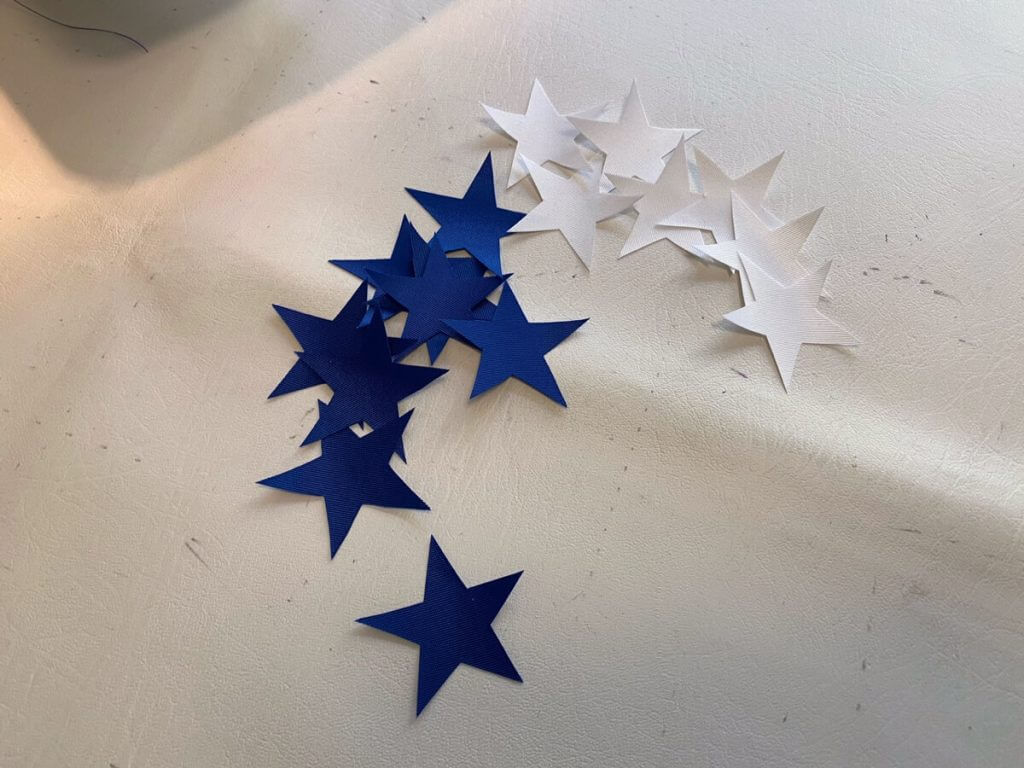 To get an idea of how much work was involved in this project, I had to create the large Capitals lettering, the tiny Washington letters, plus the stars on the front and sleeves. Once that was done I would also need to create the numbers and name plate.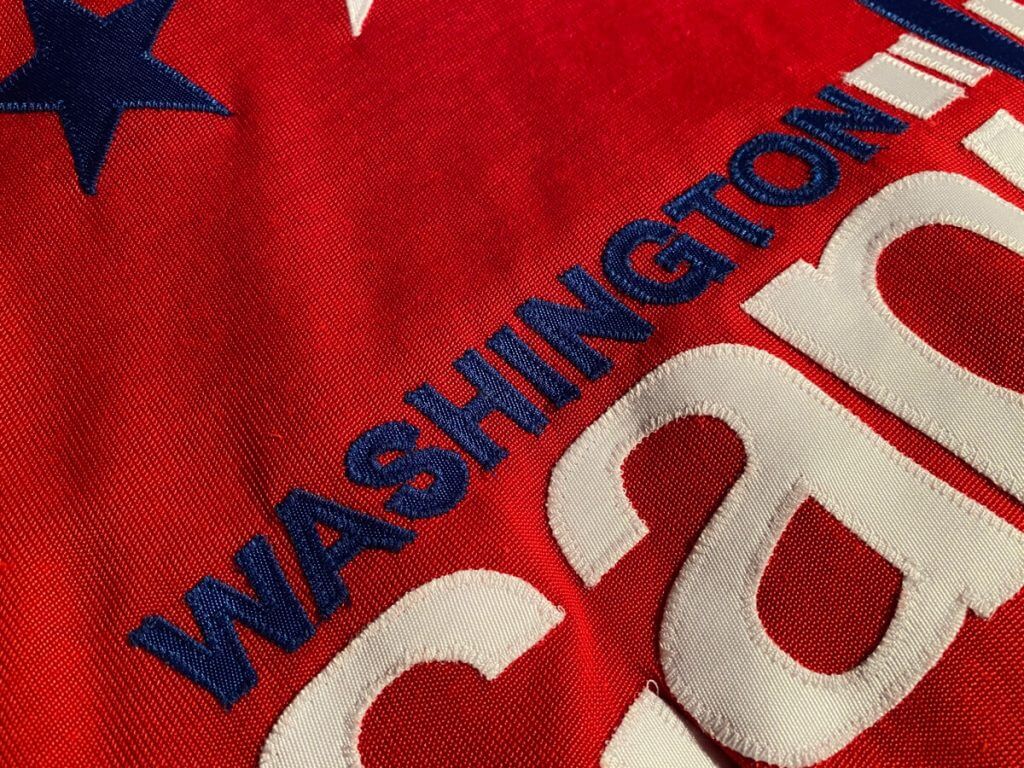 The small Washington letters proved to be extremely challenging. You can really only go so small with twill, and of course sewing all of it directly onto the jersey is difficult. I wasn't sure I'd be able to do it but it turned out well. All of the tiny letters were hand-cut and sewn directly onto the jersey.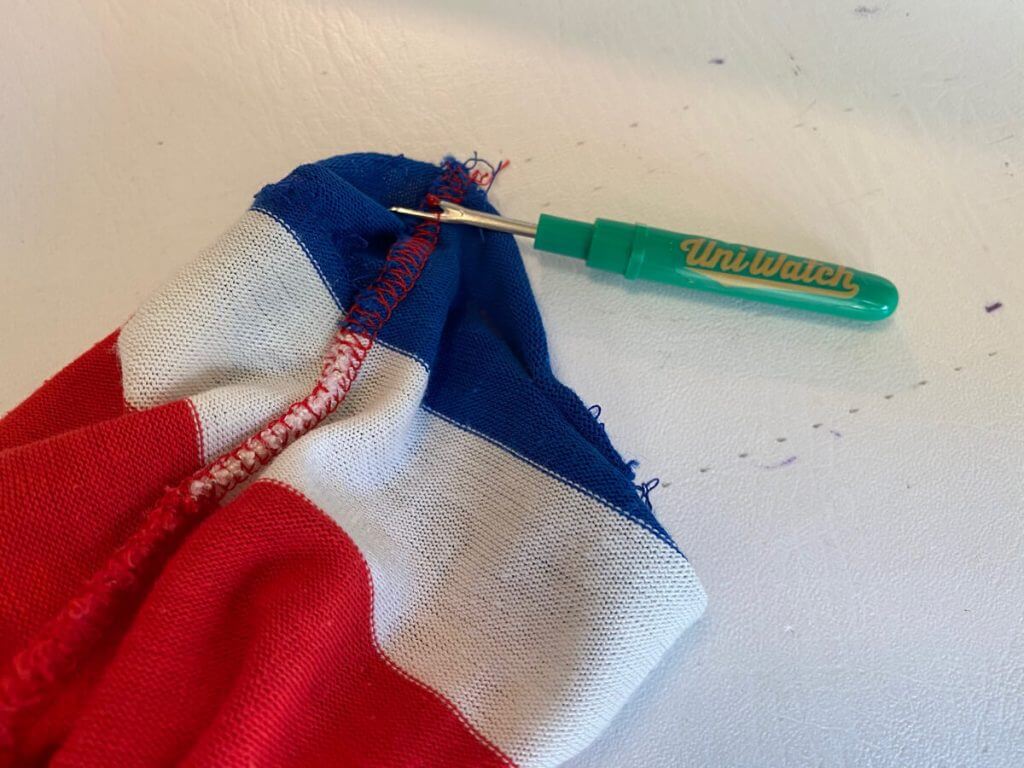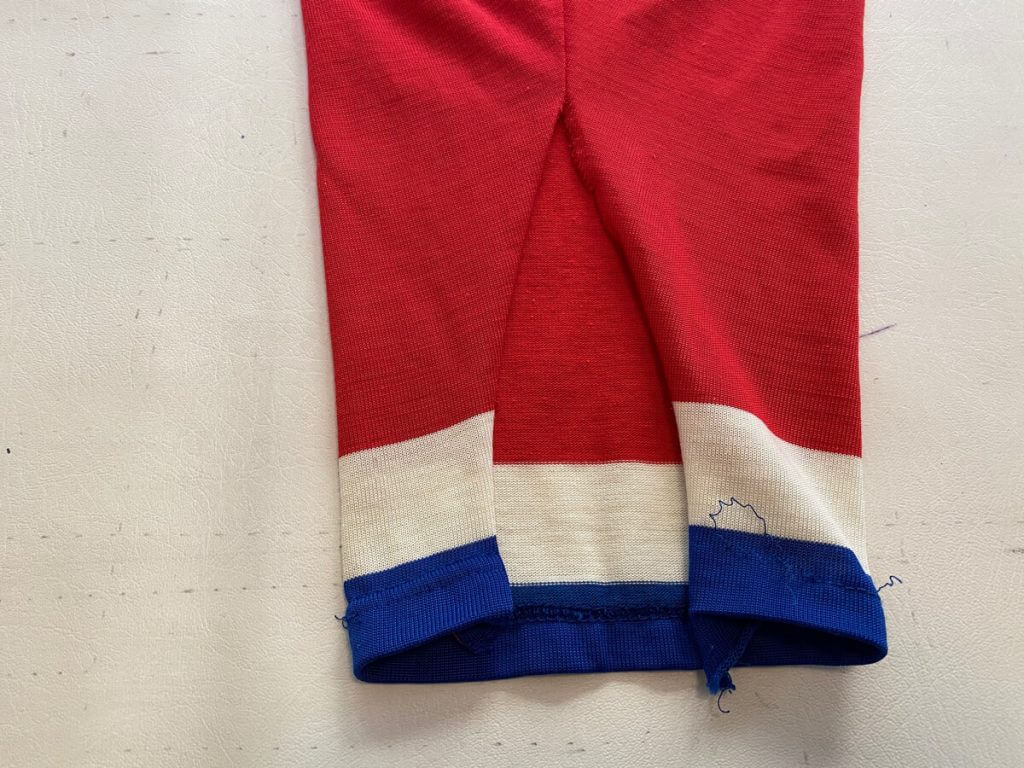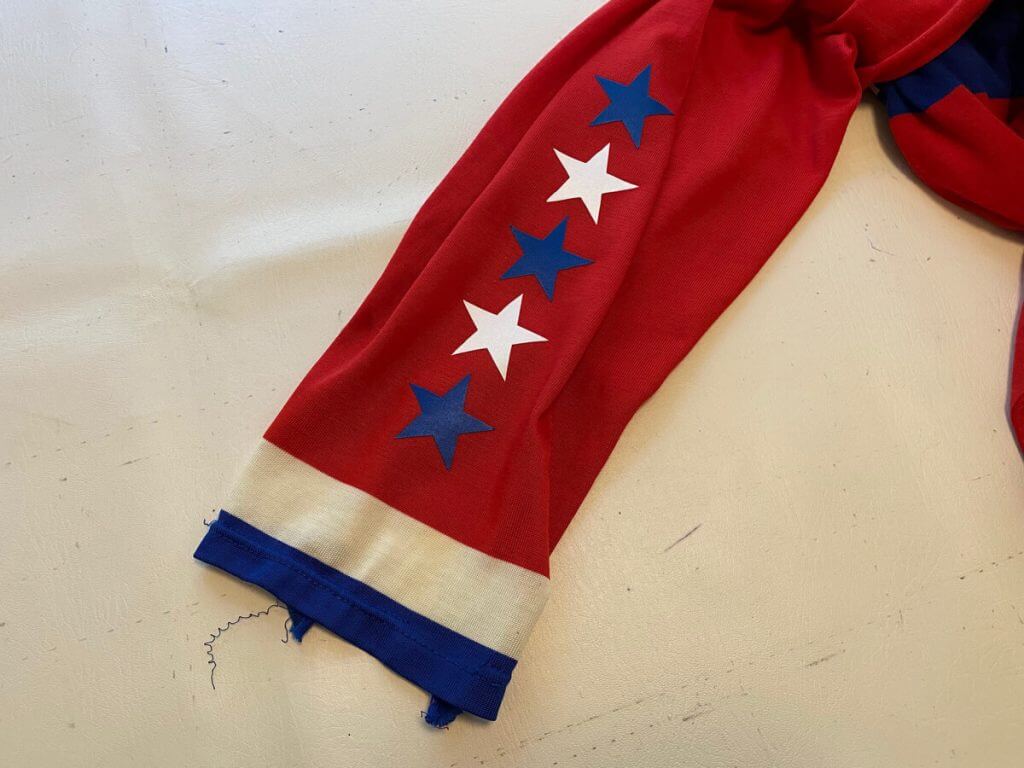 The stars of course are an integral part of the design. As with all of the pieces, these were hand cut and positioned based on photo research. One problem: I just use a regular home sewing machine, which can't sew appliques onto a narrow sleeve. The base of the machine is too wide. The only solution was to open up the sleeve a bit with my Uni Watch seam ripper, which can create problems as sometimes you lose a lot of material in the process. Fortunately the sleeves were loosely sewn with a thick thread, so it was easy to open them up a bit to add the stars. I sewed the sleeves back up after the stars were added.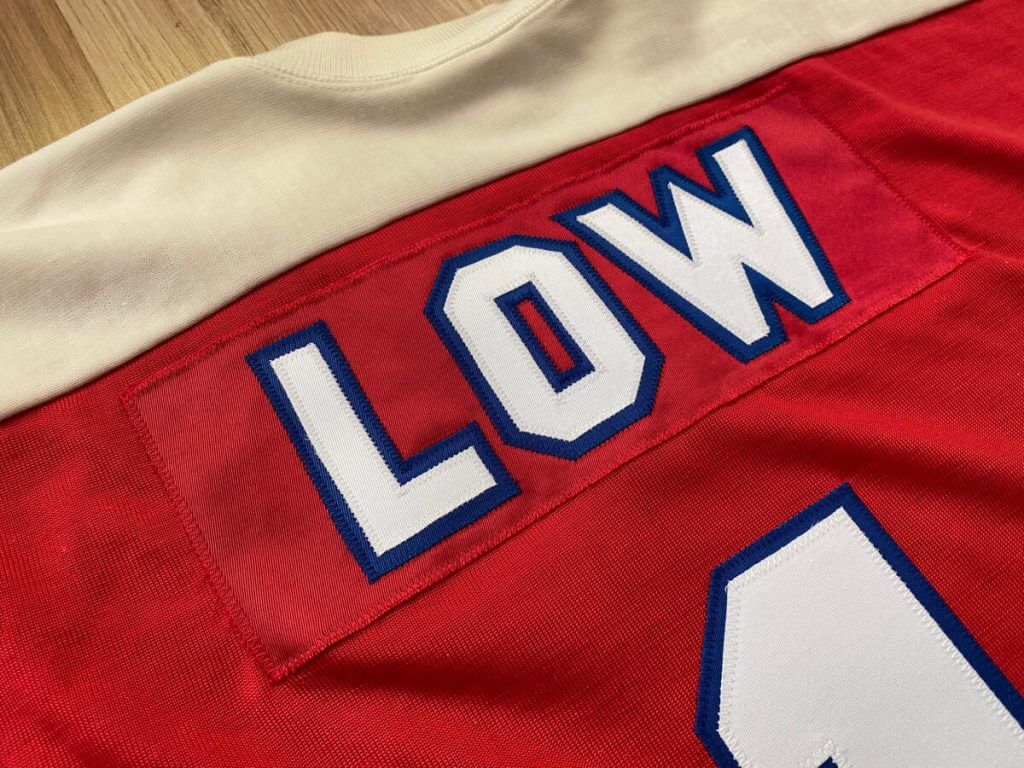 Once everything was done, it was time to do the numbers and name. I considered a few different players, but ultimately chose goalie Ron Low, as I love all things goaltending related, plus he was known for his great mask. After all of the small detail work, it was a bit of a relief to have a simple number 1 and short name to sew.
The Capitals only added nameplates on the red jerseys for the 1976-77 season, so I wanted to make sure I picked a player who would have worn the jersey in this season.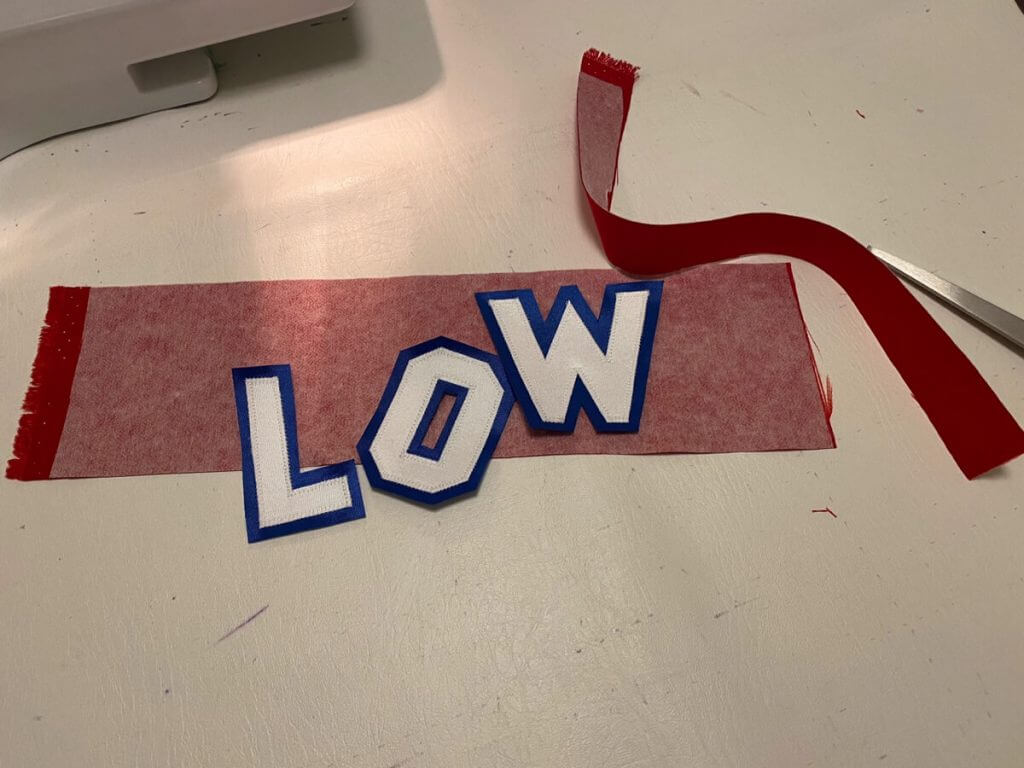 A big problem that is common to jersey cresting is getting the correct nameplate material. I contacted some game worn jersey collectors to confirm what nameplate material was used by the Caps during this era. Durene fabric is no longer available, so getting the exact matching stuff would not be possible. A couple of collectors confirmed the Caps used twill nameplates, which was common in the durene era and made things easy for me. I used uncoated twill backed with a stabilizer, and it wound up looking really good. Using modern coated twill for nameplates usually results in unsatisfactory appearance, but the uncoated stuff resembles the materials they used to use.
The Caps also used a really odd name font during this time. Most font sets will design wide letters like a W to fit in better with the rest of the letters, but in this case the W was really wide. I really loved this bold style and was able to replicate the name using images of each of the letter from various jersey photos.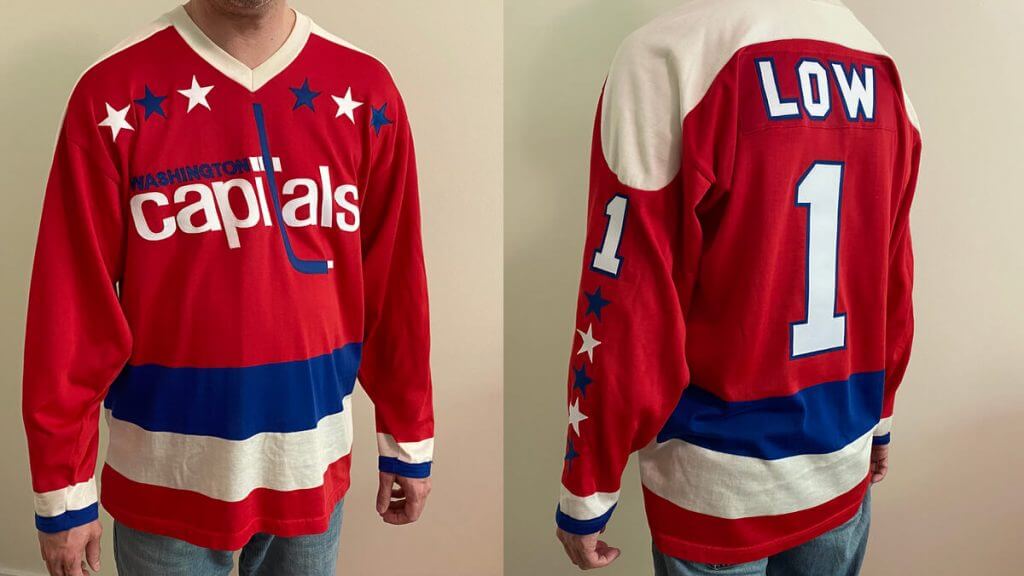 The final jersey wound up looking really good. The durene fabric does most of the work in making this a nice-feeling jersey, but all of the small details add up to make it look really great. This might be the most accurate '70s Caps jersey short of a real game-worn example. I enjoyed the project but suspect this will be the only all-sewn Caps jersey I will ever do!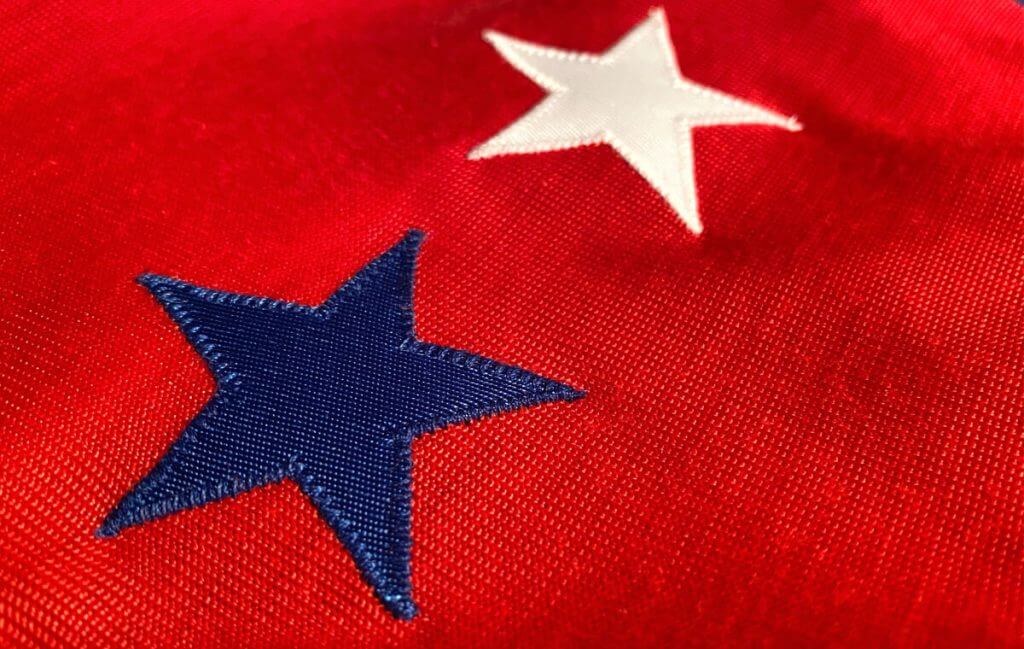 • • • • •
Wow! Tremendous job, as always, Wafflebored! I was never a Capitals fan (nor, as an Islanders fan, can I ever be), but I always LOVED that first generation red jersey … and learned to hate it, too ;). But seriously, that's another incredible DIY project from the one and only Wafflebored. Thanks for sharing and allowing me to bring to the readers in August!
Readers? What do you think?
• • • • •
• • • • •
Field of Dreams Uni Update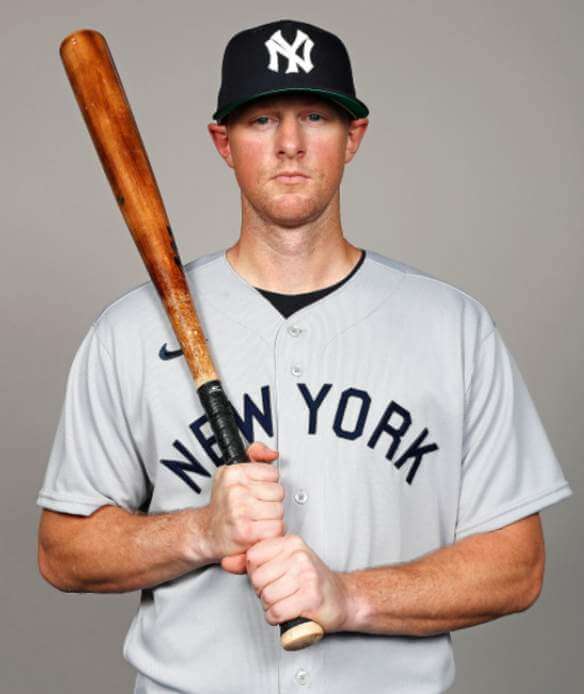 As you're all probably (hopefully) aware, last Thursday, the Yankees and White Sox revealed the uniforms they will be wearing for this Thursday night's "Field of Dreams" game (if you missed it, I covered it here. What I didn't know at the time (and haven't seen covered anywhere else), because I hadn't seen any hi-res photos, is that both teams will be wearing jerseys in Nike's new template. If you're not familiar with what that entails, Paul had a really good article a few months back on the new template. I recommend giving that a read if you didn't see it at the time (or just need a refresher).
Over the weekend I happened on this article, which contains 10 good hi-res looks at the Field of Dreams uniforms jerseys and caps. Like I said, I didn't notice it at first, but these are definitely in the new template, so the game Thursday night will mark the first time any MLB clubs will wear the new template in a regular season game (if you read Paul's article, you'll note the Royals wore the jerseys in a spring training game, but the no team has yet worn the new jerseys in season).
Here's a couple photos I found showing better looks at the new throwbacks: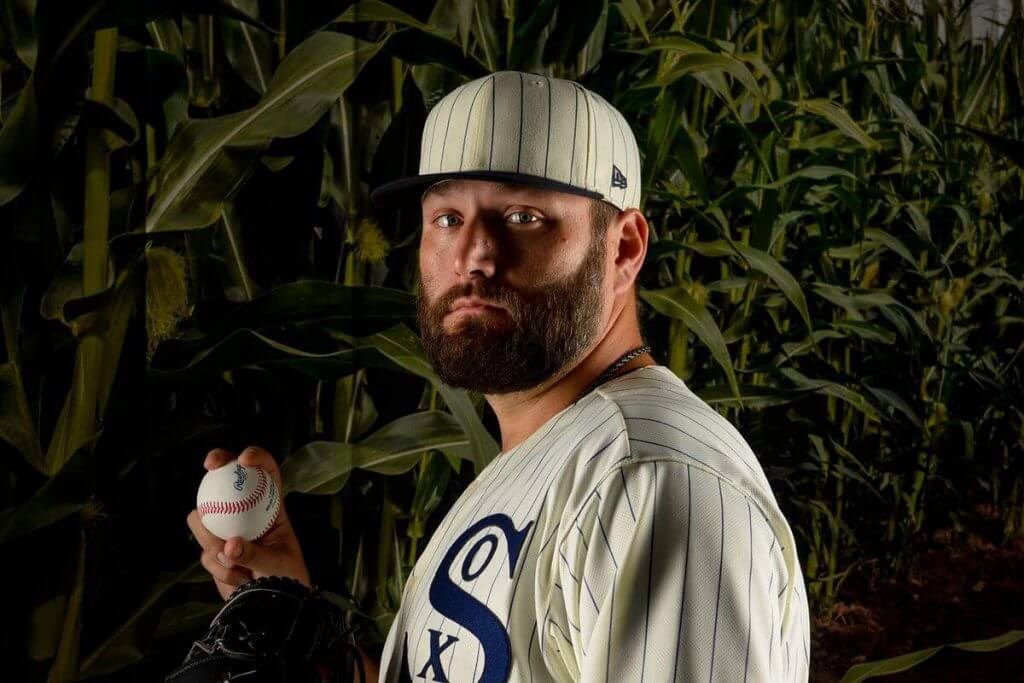 The second photo gives a really good look at the Nike template. I can't tell (yet) whether the numbers on the back of either team's jersey will be in the "mesh" style (we'll probably have to wait for the game itself) but the tell-tale sleeve pattern and placket are both present. If you looked at the article I linked to above, you might have been able to discern a faint sublimated pattern present on the Yankees jerseys (I can't tell if one is there for the ChiSox).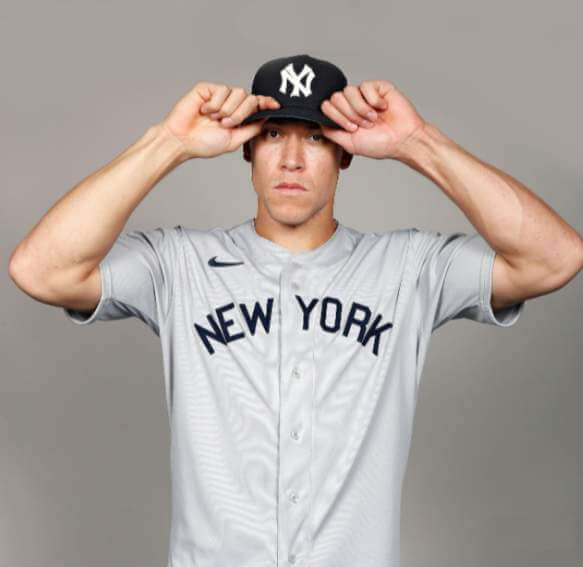 Several readers also pointed out that both teams are using #OB (which didn't exist in 1919) in the McAuliffe font (several teams throughout the years have used this font, but only the Red Sox still do). Nice catch to those who spotted!
The other thing I noticed about the new Nike jersey template — the Yankees normally wear raglan sleeves (which is very noticeable on their iconic home jersey), not so much so on the road grays. But the Nike template (at least thus far) shows the traditional cut, where sleeves are sewn onto the jersey at the shoulder. The raglan sleeve is a sleeve that extends in one piece fully to the collar, leaving a diagonal seam from underarm to collarbone. I am wondering if this new Nike template will require the Yankees (and other teams who wear the raglan pattern) to adapt to the new style. The White Sox do not wear a raglan sleeve, so it's not such a dramatic difference from their current cut.
You can get some idea of what the teams will be wearing by looking at these Authentic jerseys: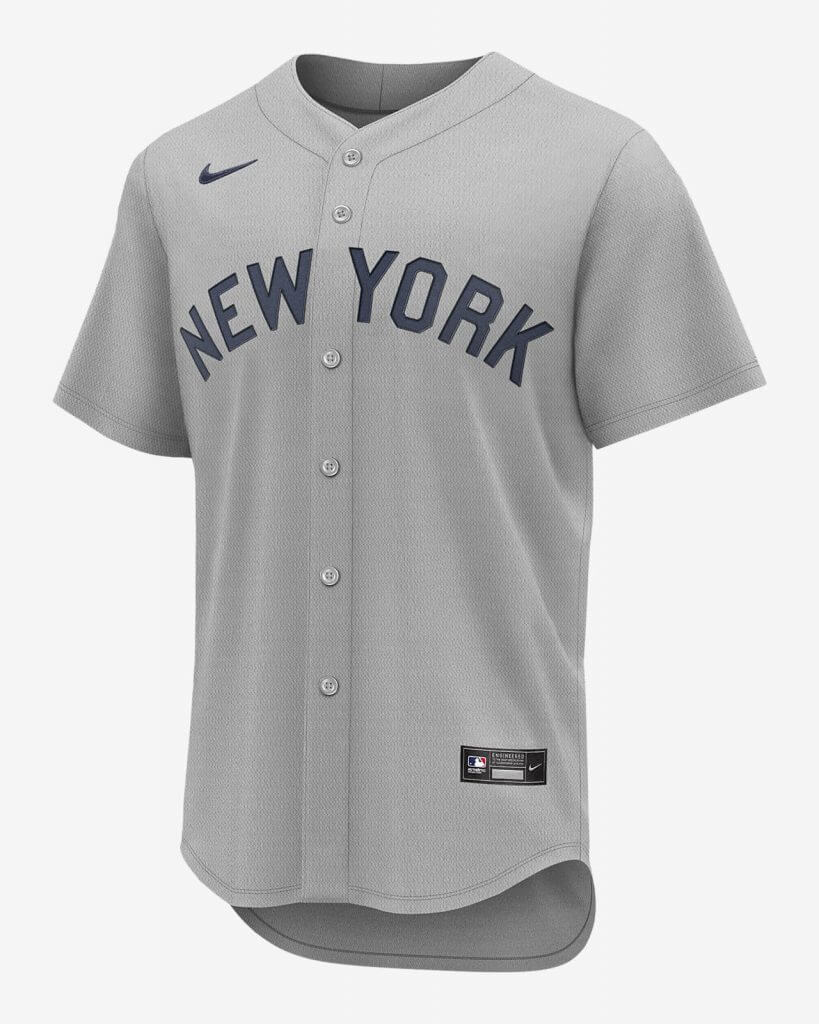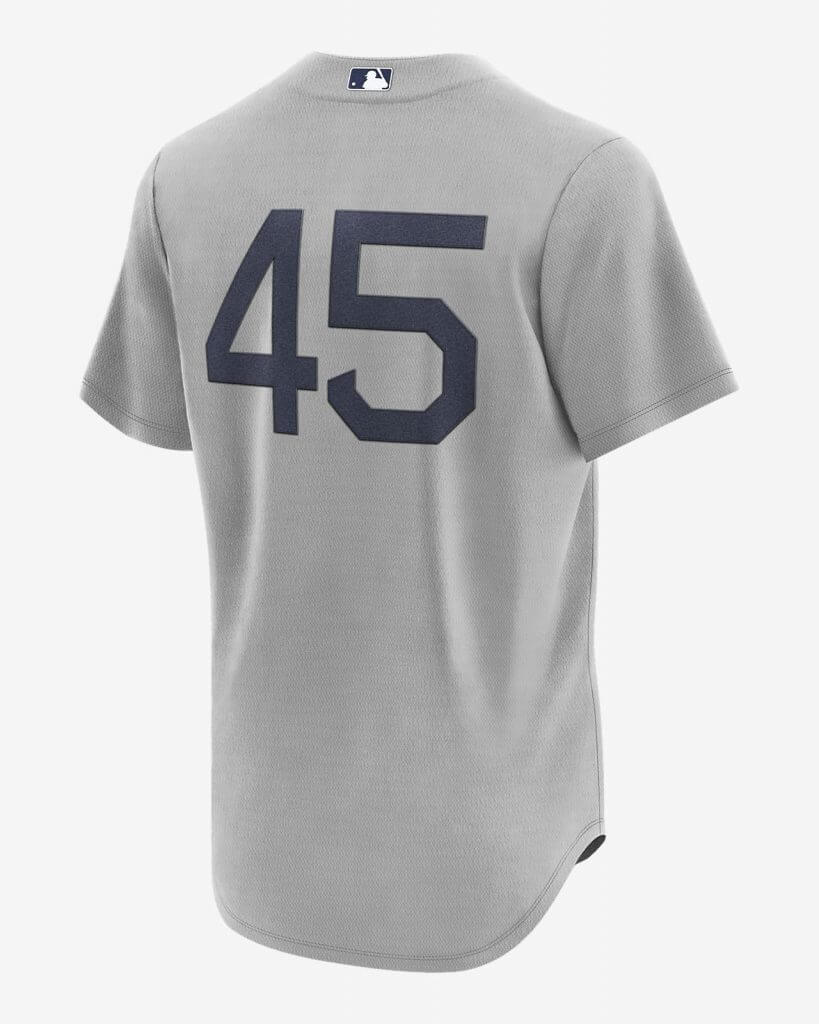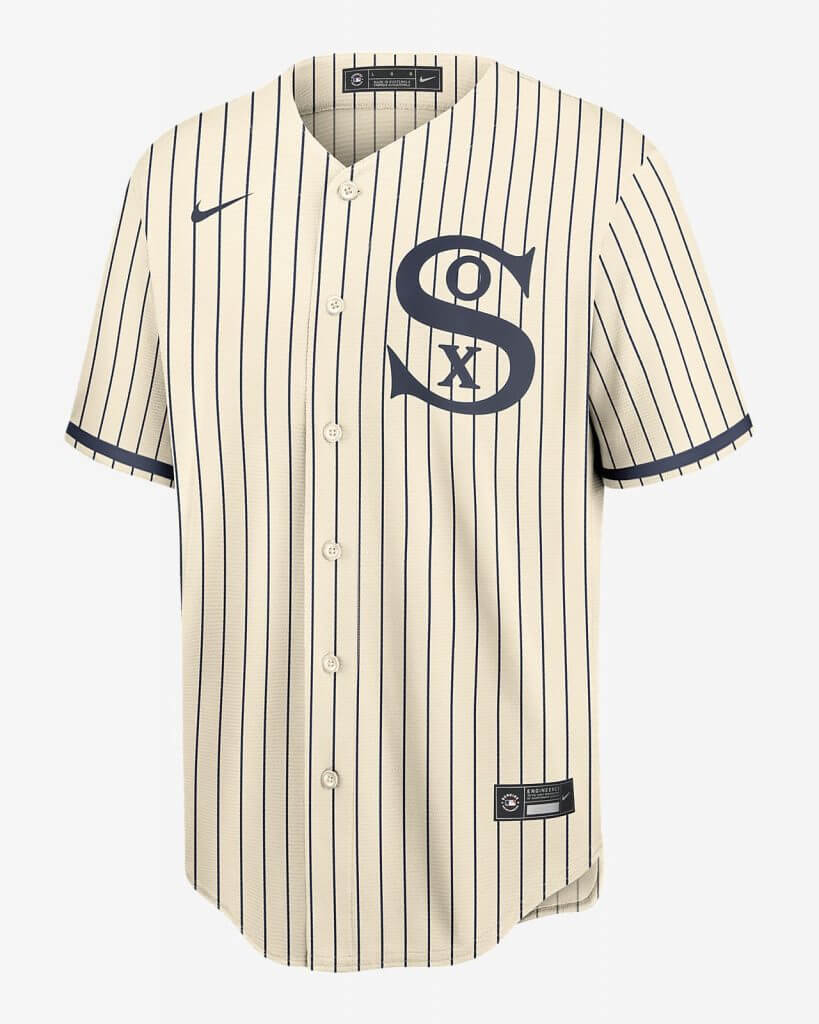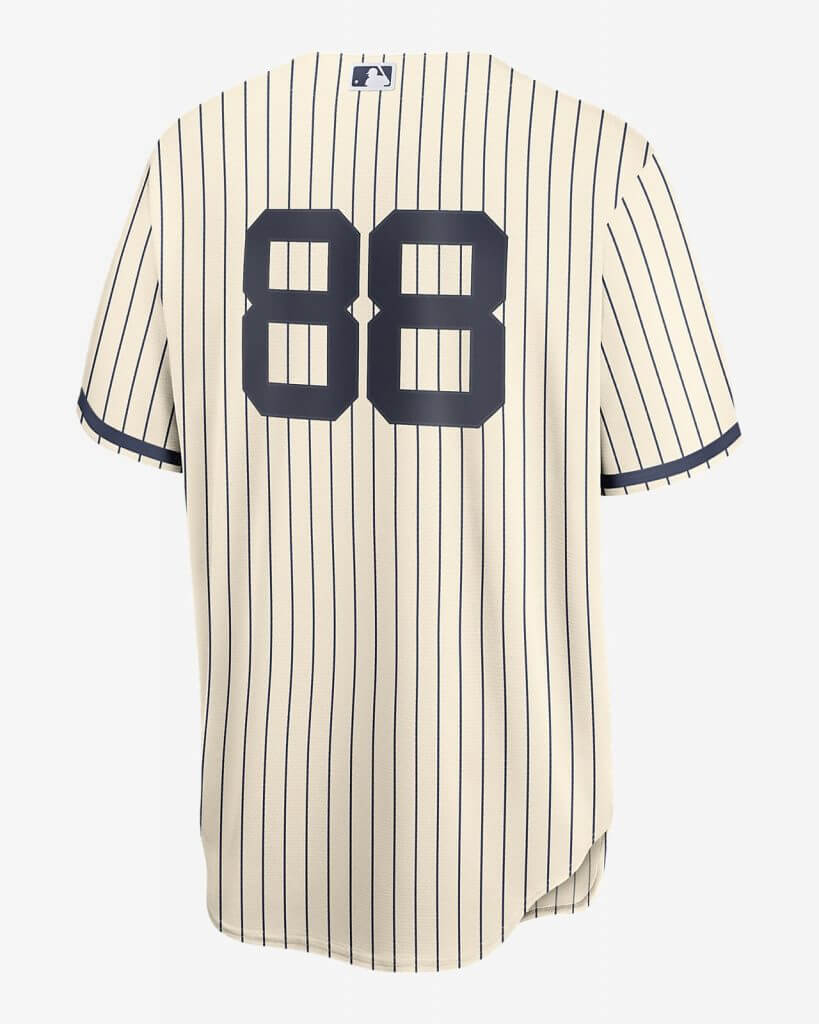 One final thought: in Paul's review of the Nike template, he noticed teams with pinstripes have that pattern stop just before the hem, but it appears as though the White Sox' jersey will have pinstripes that extend to the to the hem. I'm wondering if this is a kink Nike worked out or if the Rail Riders (the pinstriped team pictured in Paul's article) had a different version of the template.
So — we'll get our first on-field, regular-season look at the new template this Thursday. I'm curious if the Yanks will get a raglan sleeve cut when they wear the new jerseys next season, or if teams who have this pattern will now be forced into wearing the "regular" cut.
• • • • •
• • • • •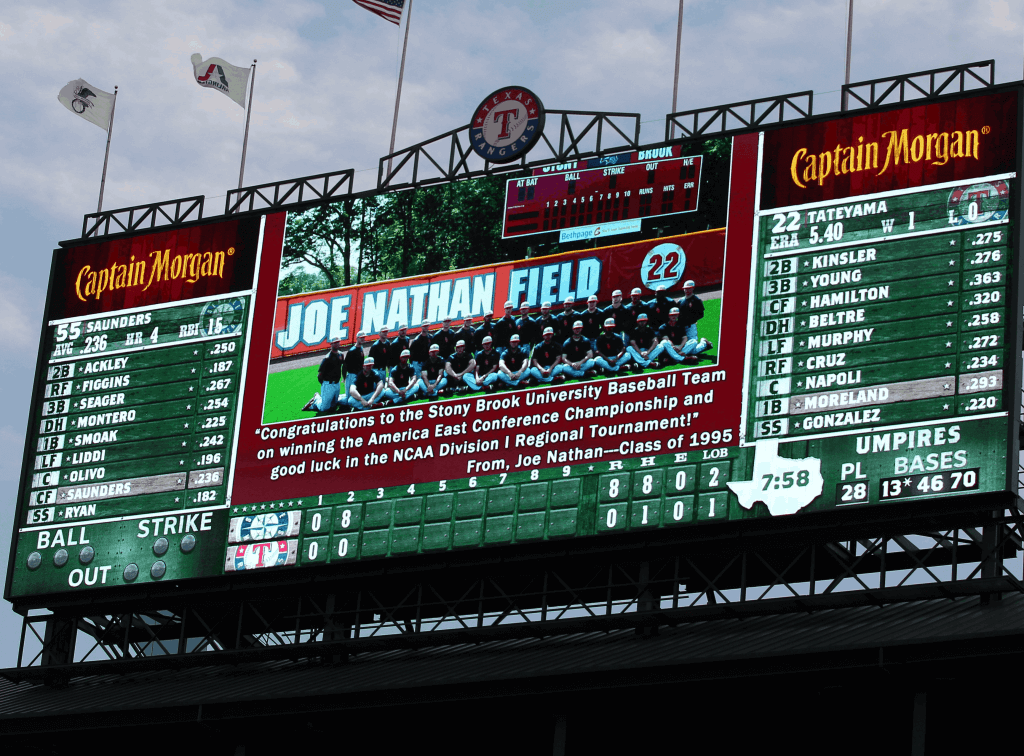 Guess The Game…
from the scoreboard
Today's scoreboard comes from Kasey Ignarski.
It might be difficult to figure out, as Kasey writes,
HI Phil. I have a scoreboard picture for you. Here is a picture I took of the Wrigley Scoreboard before the game on [redacted]. This was a Sunday night game, that's why the clock is 6:35. It had rained really hard and just stopped a little before I took this picture and got this great picture of a rainbow ending at the scoreboard. Hope you like this picture and it has enough clues as to figure out the game.
The premise of the game (GTGFTS) is simple: I'll post a scoreboard and you guys simply identify the game depicted. In the past, I don't know if I've ever completely stumped you (some are easier than others).
Here's the Scoreboard. In the comments below, try to identify the game (date & location, as well as final score). If anything noteworthy occurred during the game, please add that in (and if you were AT the game, well bonus points for you!):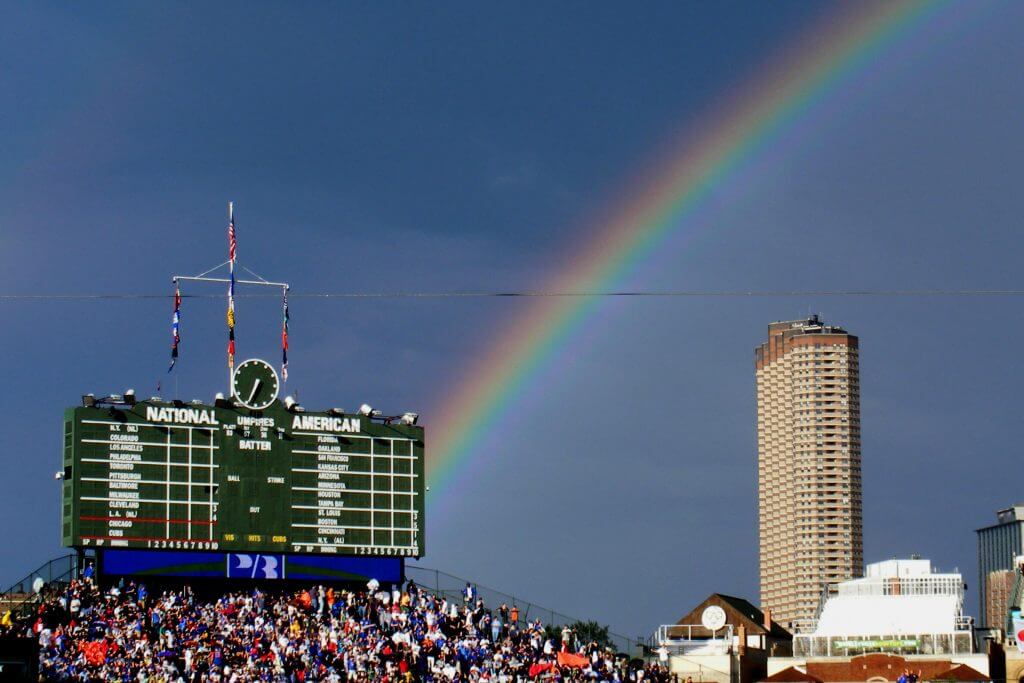 Please continue sending these in! You're welcome to send me any scoreboard photos (with answers please), and I'll keep running them.
• • • • •
• • • • •
Click to enlarge
Bulletin reminder: Paul here. In case you missed it on Friday, my latest piece for Bulletin is an exclusive about a new product that's going to revolutionize the uniforms in the classic game Electric Football. It's a really fun story — you can see it on my Bulletin page.
Meanwhile, as long as we're talking about football-themed games: In case you haven't already seen, our latest Uni Watch pin is a salute to Tecmo Bowl, complete with 8-bit graphics (quit to enlarge):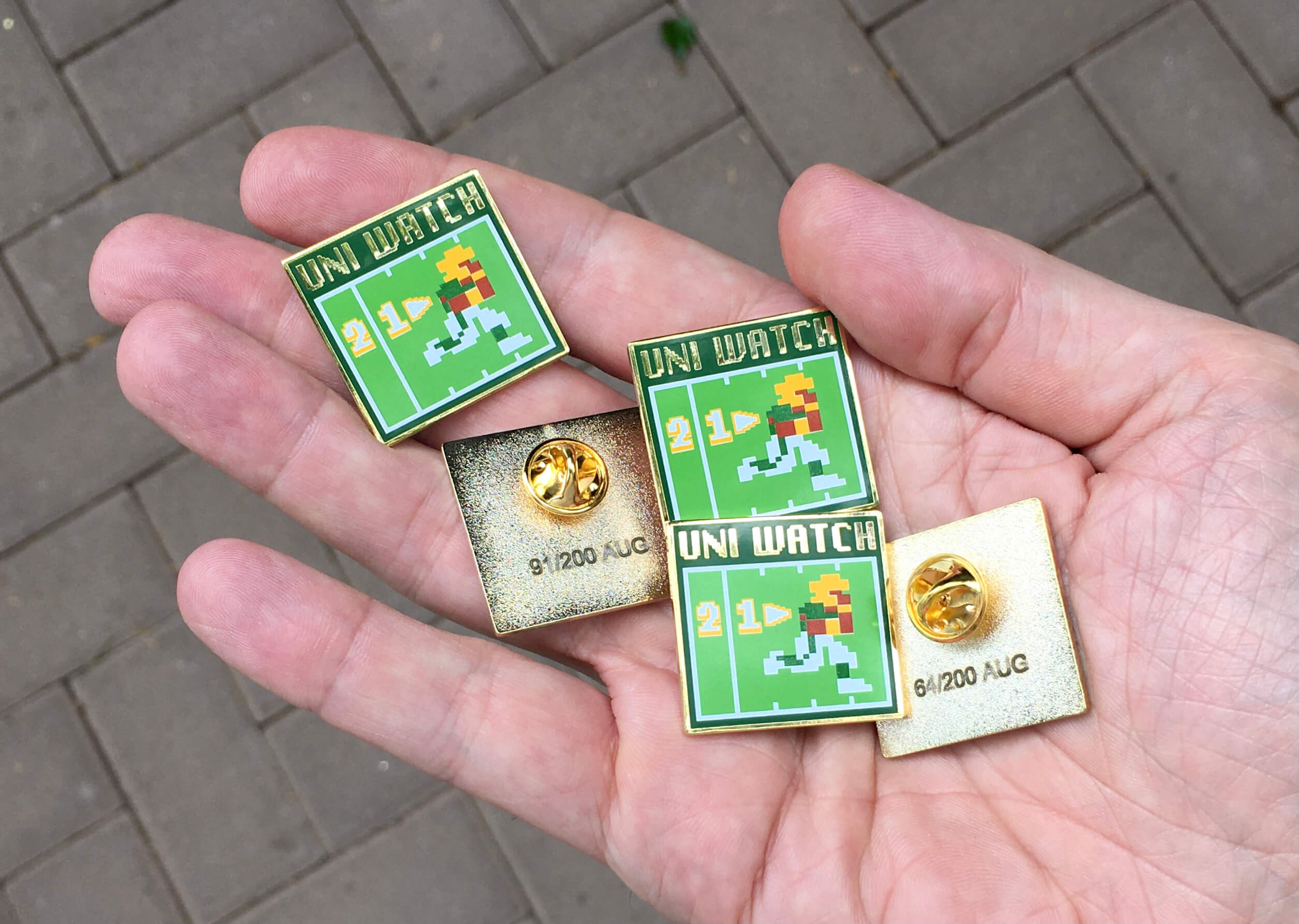 This is a numbered edition of 200 pins. As of this morning, there were about 50 remaining. You can order yours here.
That's it from me. Now back to Phil!
• • • • •
• • • • •
The Ticker
By Jamie Rathjen

Baseball News: The Phillies retired P Roy Halliday's No. 34 yesterday and wore a sleeve patch for the occasion (from multiple readers). … The White Sox have a new memorial sleeve patch for Mertyl Reinsdorf, the wife of team chairman Jerry Reinsdorf (thanks, Phil). … Brett Phillips was wearing a double flap helmet yesterday. The odd part is that he's a left handed (not switch) hitter (from Andrew Cosentino.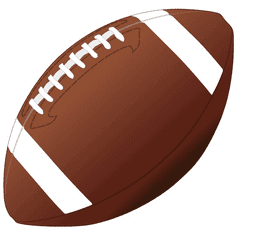 Football News: North Carolina has new front helmet bumpers for this season. This is apparently a change from a required ACC logo (from multiple readers). … Reader Wade Heidt has some CFL items for us, starting with the newly-renamed Edmonton Elks, who have a new field design, antler-themed entrance tunnel, mascot, and a helmet memorial decal for locker room attendant Joey Moss. … The Ottawa Redblacks now have a golden ball to give to players who get interceptions. … Toronto Argonauts coaches were wearing the previous primary logo, which was replaced and became a secondary logo last year. … The Calgary Stampeders wore their 75th anniversary helmet, which does have black trim, with their retro-style uniforms, which don't. Thanks to everyone else who also sent in one or more of those items. … Division II Indiana University of Pennsylvania has a new home uniform (from Zane Heiple).

Hockey News: A men's beer league team in Texas is called the Texas Dreadnoughts because its advertiser is actually the foundation that maintains the U.S.S. Texas, the last remaining World War I dreadnought (from Duke Soto).

Basketball News: NBA numerologist Etienne Catalan has more new and changed player numbers. … The NBA 75th anniversary logo appeared on the court at Summer League games (from multiple readers).

Soccer News: In the Netherlands, Ajax's men's team wore pride-themed warmup shirts on Saturday. … New second shirt for Real Madrid. … Two new shirts for the Scottish women's team Glasgow City. … New third shirts for Germany's Hertha BSC (from Ed Żelaski) and Hamburger SV. … The Swedish women's team FC Rosengård look like they're going to wear rainbow numbers and a "You Are Included" hashtag in the usual ad space. … Australia's Western Sydney Wanderers have a 10th-season crest for the next A-League and W-League seasons. … No picture, but the most recent episode of the show Ted Lasso had players from the show's AFC Richmond covering their shirt ad, a fictional Middle Eastern airline, with black tape in a protest of the airline's parent company (from Thomas Juettner).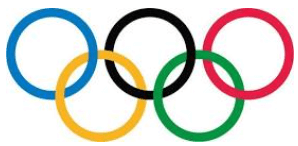 Olympics News: Thousands of pins are created for each Olympics, and there's a large collectors' scene (from Jason Hillyer). … The Japan House in London has a new exhibit on the 1964 Summer Olympics (from Jeremy Brahm).

Grab Bag: British Columbia's indoor lacrosse Western Lacrosse Association held some scrimmages for new draft picks and recently-graduated junior players on Saturday. Everyone got one of three jerseys in white, black, or gold (from Wade Heidt). … Australia's Super Netball's New South Wales Swifts wore their original yellow and blue color scheme, instead of red and blue, twice last week. … Japanese men's volleyball's Sakai Blazers have a new third kit (from Jeremy Brahm). … Also from Jeremy: A Japanese artist made baseball- and tennis-playing astronauts.
• • • • •
• • • • •
Uni Tweet of the Day
Back when uni unveils weren't a thing — and you found out when your copy of SI arrived in your mailbox. Also, it's hard to imagine the Dolphins actually wore a jersey in that shade…
#DolphinsDidYouKnow OTD in 1966 @SInow featured the #Dolphins on their cover for the first time. LB Frank Emanuel, the team's 2nd round pick, was chosen to do the honors. It was the first national reveal of the team's new uniforms. pic.twitter.com/q3VjUJjo88

— Columnist, Phins com (@PhinsChris) August 8, 2021
• • • • •
• • • • •
And finally… that's it for today — big thanks to Wafflebored for sharing that wonderful Caps DIY sweater! He just keeps getting better and better!
I'm back at home base again, but Friday night yielded one of the reddest sunsets I've seen in a long time — unfortunately the photo below doesn't do it justice, but it was almost surreal.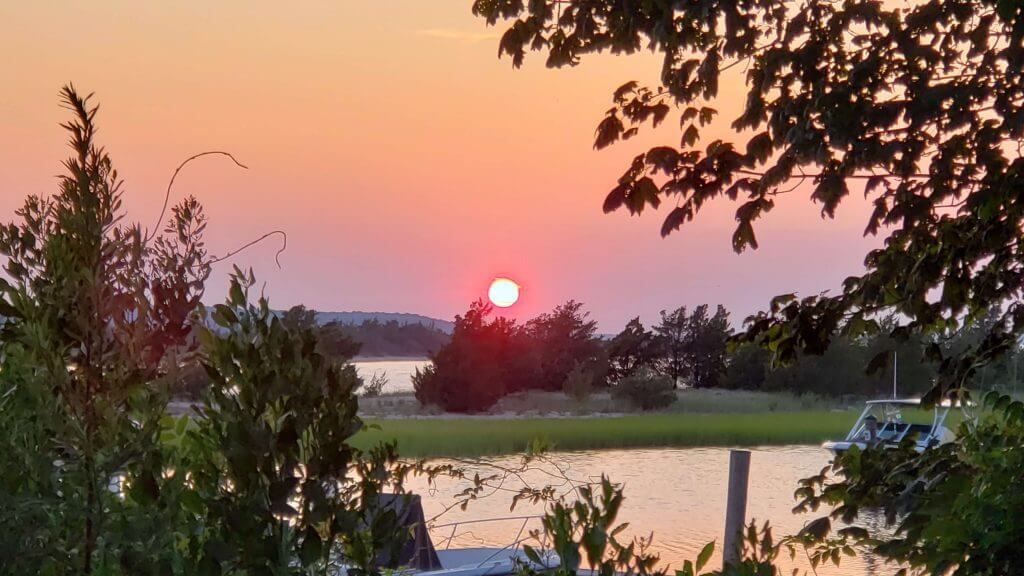 Everyone have a good Monday and I'll catch you fine folks here tomorrow.
Peace,
PH