For all photos, click to enlarge
A few weeks ago I showed you photos of Kevin "Gashouse" Cearfoss's 1970 NFL merchandise catalog, the oldest item in his collection of sport merch catalogs. Today we're going to take a look at the next catalog in his collection — NFL 1971.
Like all of Kevin's catalogs, this one was intended for retailers looking to stock their stores, not for consumers. The embossed cover is shown above, and here's the introductory note ("No other spectator sport in history has generated the interest and excitement of professional football!") and table of contents:
The section dividers featured the now-familiar montage of NFL team wordmarks:
"In-store promotion means profit and prizes!" and "Window displays put team loyalties out front!":
The 1970 catalog didn't mention anything about Punt, Pass & Kick, but the '71 catalog had a page devoted to it. Note that all of the kids are wearing Northwestern-striped socks, and most of them appear to be wearing Adidas footwear:
"Sweet dreams of pajama profits" is my favorite line in the entire catalog. Check this out:
Here are some additional pages from the Apparel section. Note that one of the photos features a Black boy hanging out with two White boys — the first of several Black models who appeared in this catalog. That's a shift from the 1970 edition, whose models were all White.
Here are some pages from the Toys and Games section, including a two-page spread devoted to Electric Football, which wasn't mentioned at all in the 1970 catalog:
Moving on, here are some pages from the Novelties and School Supplies section (although, as I'm sure is apparent by now, some designations of which products went in which category seem to have been fairly arbitrary). Note that the left-hand page on the third spread begins with the line "The NFL's got a brand new bag" — whoa, the NFL quoting James Brown!
And now a few pages from the Specialty Gifts section (again, these category distinctions seem pretty random — I'm not sure what the difference is between a "Novelty" and a "Specialty Gift" — but whatever). In the first spread, left-hand page, check out that poster on the wall behind the director's chairs, with "the national football league" heading — all-lowercase lettering! Such a period-specific detail.
Here's an anomaly: One of the spreads in this section featured Bears linebacker Dick Butkus! As far as I can tell, he's the only player to be shown in any of these catalogs:
Just like the 1970 catalog, the '71 edition concludes with a page about the NFL Mascot of the Year competition, along with a photo showing the previous year's winner at the Pro Bowl:
And then there's a foldout spread showing all of the then-current NFL helmet designs:
———
I skipped a few pages that were essentially dupes from the 1970 edition. You can see the entire catalog here.
I'll be showing more of Kevin's catalogs in the weeks and months to come.
(My continued thanks to Kevin Cearfoss for sharing his catalog collection with me, and allowing me to share it with you.)
• • • • •
• • • • •
• • • • •
• • • • •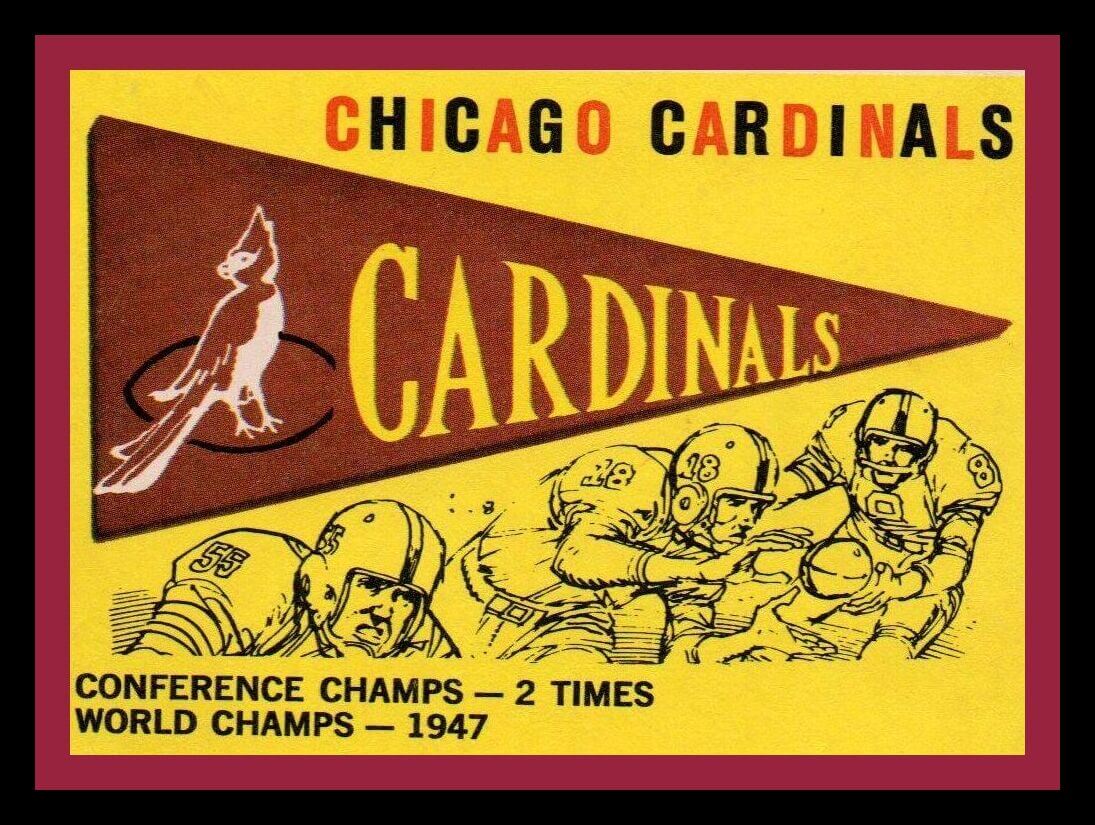 Click to enlarge
Collector's Corner
By Brinke Guthrie
Follow @brinkeguthrie    
Once upon a time, the Arizona Cardinals were in St. Louis. And before that, they were in Chicago. So here's a 1959 Chicago Cardinals trading card from Topps. Nice design, even if the yellow lettering on the pennant looks a bit misaligned.
Now for the rest of this week's picks:
• Proving once again that any product can be licensed by the NFL, here we have an empty carton of "Frozen Tundra Chip ice cream," from Edy's. This rolled out following their 1997 Supe victory.
• The Seattle Pilots existed for only one season, so you don't often see much memorabilia from them. But check out this 18″ Pilots medallion/pendant from 1969!
• This 1970s Blatz Beer coaster says "NFC/AFC," so it could theoretically appeal to every fan.
• Luv Ya Blue! Here's a Houston Oilers bike reflector for young Houston fans and their powder-blue Schwinn 10-speeds.
• Remember the NFL Punt, Pass & Kick (PPK) library? Here's a set of 16 titles!
• Here's a 1950s screened white felt Chicago White Sox patch. The seller thinks it might've been a Bazooka gum premium.
• Danbury Mint offered this Yankees bullpen buggy model back in 2000.
• Tom "The Bomb" Tracy of the Steelers, Norm Van Brocklin of the Eagles, and Bill George of the Bears recommend "Favorite" chewing tobacco on this reproduction 1950s store display stand. "You Can Taste The Quality!"
• In honor of the Milwaukee Bucks winning their first NBA title since 1971, here's a Bucks watch from that era, "made in Switzerland for basketball fans of all ages!"
• I think whoever did the layout for this 1979-80 Seattle SuperSonics T-shirt thought, "Let's jam as much text on this design as we can."
• • • • •
• • • • •
Click to enlarge
Too good for the Ticker: Reader Matthew Houk recently came across a copy of the Feb. 18, 1952, issue of Life magazine, which featured an article on Red Wings goalie Terry Sawchuk, who was then 22 years old. Man, look at that blocker — the waffleboard style didn't yet exist!
Here are some additional photos from the article:
Love that last photo, including the ref wearing the old-style sweater!
(Big thanks to Matthew Houk for sending these great images my way.)
• • • • •
• • • • •
The Ticker
By Alex Hider

Baseball News: Here's more background on how Cleveland landed on "Guardians" (from John Cerone). … Speaking of Cleveland, friend of the site Todd Radom has some thoughts on the new name and is quoted a fair amount in this article (from Brinke). … Here's a shirt that pokes fun at the Indians to Guardians name change (from Terry Mark). … Reader BillJ spotted a White Sox fan in an "I Still Call It Comiskey" shirt during Sunday night's Sox/Brewers broadcast. … The Yankees are holding Syracuse alum night at the Stadium in August and will give away these caps (from @PhillyPartTwo). … A Reds fan has been depicting team greats as comic book covers. Here's their take on Ted "Big Klu" Kluszewski (from @BannedUser001). … Seen at the Peshtigo Fire Museum in Wisconsin: vintage baseball uniforms worn by teams in the area through the years (from Jason Collins). … Looks like Phillies P Archie Bradley was wearing one of teammate Bryce Harper's belts (from Kyle DeLash).

NFL News: The Broncos have unveiled their 2021 uniform schedule. They'll wear their blue jerseys twice and their Color Rash getup once (from Wade Heidt). … Here's what the Superdome will look like with its corporate-name ad signs (from Dan Kennedy). … KC team execs say they have no plans to change their team name but will stop running "Warpaint", a Native American-themed horse, before games this season (from Brinke). … Also from Brinke: The NFL Players Association is opposed to the use of colored wristbands to distinguish between vaccinated and unvaccinated players on the practice field. … Browns LT Jed Wills shared a good side-by-side comparison of the team's home and throwback uniforms (from Griffin T. Smith). … Seahawks QB Russell Wilson has inked an exclusive memorabilia deal with Fanatics.

College Football News: If this retail posting is to be believed, this will be the "Shamrock Series" jersey that Notre Dame will be wearing against Wisconsin when they face off at Soldier Field in Chicago in September (from Jeff Cox). … NC State will wear a new helmet design featuring a throwback logo for their season opener (from Kary Klismet). … Mizzou players have apparently leaked the team's new uniform design (thanks to all who shared). … New uniforms for Towson (from Ben Rosenbaum). … Here's more on Texas' new FieldTurf (from James Gilbert). … The Pac-12 has sold its championship game's naming rights to a beef jerky brand (from Timmy Donahue). … New front bumper design for BYU.

Hockey News: Can't get enough of this video, which features a bunch of vintage goalie mask designs (from Moe Khan).
.

Basketball News: The Pelicans' new GD-League team in Birmingham will be known as the Squadron, which, aside from the military connotation, is also the collective name for a group of pelicans (from Griffin T. Smith). … The Pac-12 has sold the naming rights for its 2022 basketball tourney to a beef jerky brand (from Timmy Donahue).

Soccer News: The Athletic (hard paywall) continued its "football kit week" by having writers share their all-time favorite uniforms (from John Flory). … Crystal Palace has unveiled their new third jersey for next season. The design draws from a previous Crystal Palace club that was founded in 1861. The club says the design is the first shirt the old Palace club ever wore, but as Jamie Rathjen points out, there's no evidence that the pattern was actually used (also from @CrystalPalaceDC). … New jerseys for second-tier South African side Royal AM Football Club (from Kary Klismet). … FC Dynamo Kyiv teased new uniforms yesterday (from Ed Żelaski). … New jerseys for English fifth-tier club FC Halifax Town (from Neil Barraclough). … New second shirt for Scottish club Aberdeen. "I absolutely do not mind that it's blue and orange," says our own Jamie Rathjen.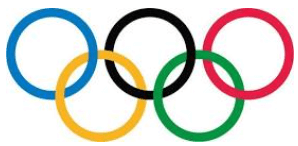 Olympics News: Great Britain women's field hockey captain Hollie Pearne-Webb wore a rainbow captain's sock-band the other day (from Jamie Rathjen). … Jeremy Brahm came across the IOC branding guidelines and the volleyball uniform guidelines for the Tokyo Olympics. … The New York Times published a piece about First Lady Jill Biden's apparel during her trip to the Games (from Tom Turner). … An American competing in air rifle is breaking one of the sport's biggest taboos by eating candy before she competes (WSJ link, hard paywall) (from Trevor Williams). … Timmy Donahue notes that all four members of the U.S. 3×3 women's basketball team had the waistbands of their shorts rolled during a recent competition.

Grab Bag: New 75th-anniversary logo for U. of Houston Athletics (from Robert Malvaez). … Arlington County, Va., has released several new potential logo designs (from Dave Raglin). … Rob St. Clair put together a ranking of his favorite uniforms from the recent Volleyball Nations League. … Next two submissions are from Kary Klismet: New team name and logo for Clarksdale Collegiate Public Charter School in Mississippi. … Formula 1 driver Lewis Hamilton wore a new helmet at last weekend's British Grand Prix. … More racing: David Firestone notes that the NHRA Sonoma Nationals take place at Sonoma Raceway, which is both a road course and a drag strip. Not only that, but the drag strip is located in the center of the NASCAR restart zone. … NCAA D-II school Missouri Western State has a cool Easter egg hidden in its Griffon logo — its wings resemble Missouri's eastern border (from Tim Burgess). … The Wall Street Journal (hard paywall) has a feature about a guy who invented a new shade of purple for his low-rider truck (from Trevor Williams). … BBC has a podcast episode about the history and impact of the high-vis safety vest. … Speaking of high-vis, here are some statistics about the safety vests (from James Gilbert). …. Which defunct pro sports teams had the best uniforms? This blog investigates (from Brinke). … Clint Richardson over at Auburn Uniform Database investigates whether the Tigers should seek a new apparel deal in light of Under Armour's financial difficulties in recent years. … Two police officers in famously conservative Orange County, Cal., wore rainbow Pride badges in June (from @CantankerousRex). … In other law enforcement news, the police department in Saint John, NB, Canada, is asking officers not to wear "Thin Blue Line" apparel (from Timmy Donahue).