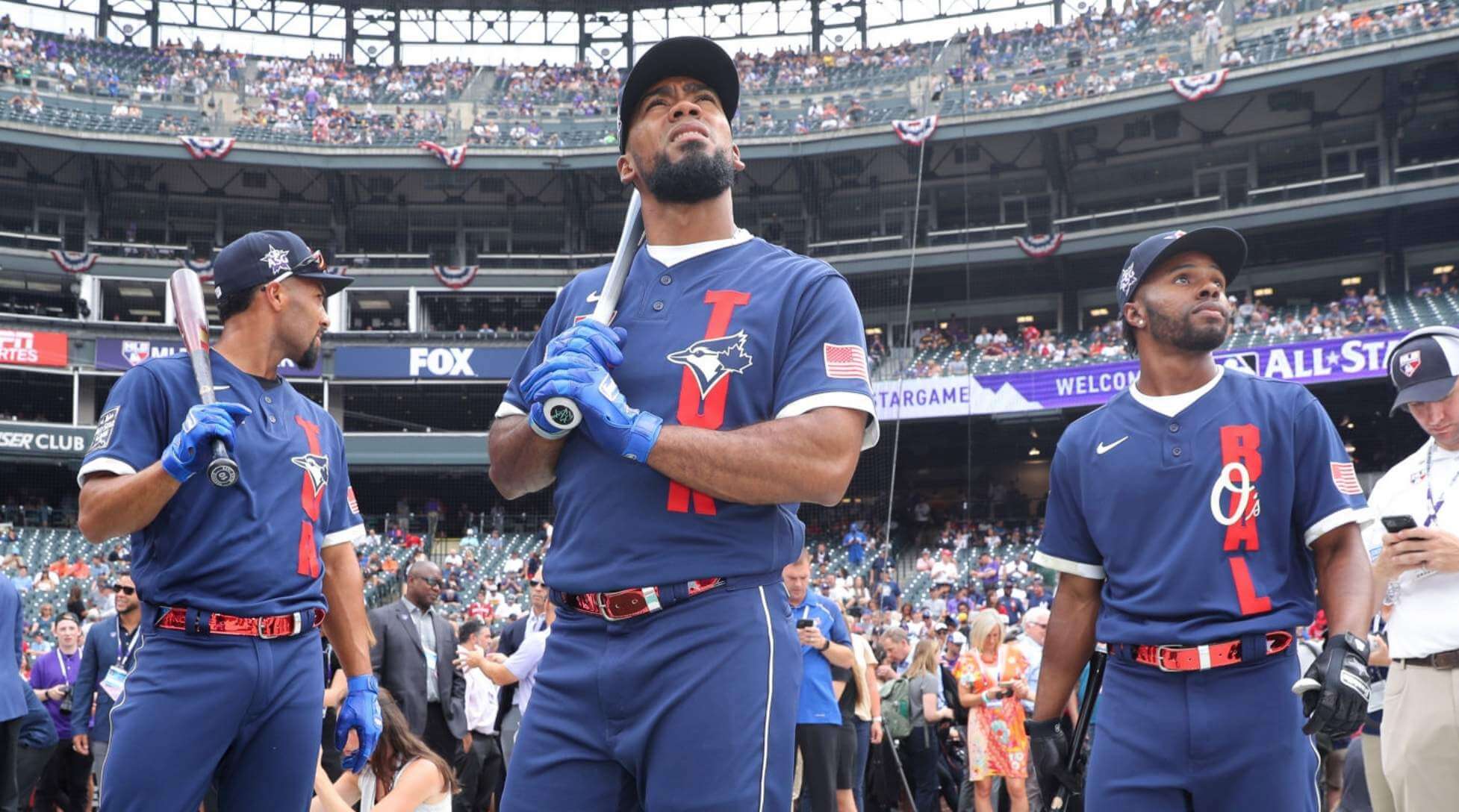 For all photos, click to enlarge
Let's start with some context: All-Star events, in any sport, are just exhibitions that don't really matter — they don't count in the standings, they don't count toward the players' stats. And that's as it should be. When the MLB All-Star Game determined home-field advantage for the World Series, as was the case from 2003 through 2016, that was ridiculous. An exhibition should be just that — an exhibition. The amount of time we spend talking about these meaningless games — and about their uniforms — is way out of proportion to how much the games themselves matter.
That said, baseball's All-Star showcase has always been different from those of the other sports in two crucial ways. First, the level of play is higher. In the NHL and NBA All-Star Games, and in the NFL Pro Bowl, the players haven't played together enough to gel as an offensive unit, hitting and contact are kept to a minimum, and defense is nearly non-existent. (In the Pro Bowl, the defense isn't even allowed to rush the kicker!) But because baseball essentially boils down to one pitcher vs. one batter, the level of play is high and the defense is just as effective as the offense. Pitchers still throw as hard as they would in a regular game — even harder in some cases, because starting pitchers don't have to worry about pacing themselves and just air it out for an inning or two.
And second, MLB All-Stars have always worn their regular team uniforms instead of some ridiculous All-Star costume. I won't go through all the explanations of why this is a great thing — you all know why this has set baseball's All-Star Game apart from those of the other leagues.
These two things have always sort of fit together in my mind. The level of play is better in baseball's All-Star Game, and so it naturally follows that that game would also have better uniforms. It all makes a certain kind of sense that has made the MLB All-Star Game feel more meaningful and important than the other sports' All-Star showcases.
Or at least it did until this year. By switching from the players' team uniforms to All-Star costumes, MLB is essentially saying, "Yeah, our All-Star event is just another silly clown show, just like all the others." The fact that the costume designs happen to be particularly dreadful is a side issue — even good All-Star costumes (such things do exist) would send the same message from a baseball standpoint. Very, very disappointing. (If you haven't already read this LA Times article that was linked in yesterday's post, I strongly recommend it, as it provides good background on the thinking behind MLB's decision.)
Okay, that's all I'm gonna say about that. As for the costumes themselves, they were awful, but we knew that already (and I already had my say about them when they were unveiled), so I'm not going to vent about them here. But there were nonetheless lots of uni-notable details from last night's game — here's a rundown:
• By far the most important uni-related aspect of the game was that the umps wore ad patches for a cryptocurrency exchange. We knew this was coming, but it wasn't clear if the ads would be worn on the chest or the sleeve. Both, as it turns out: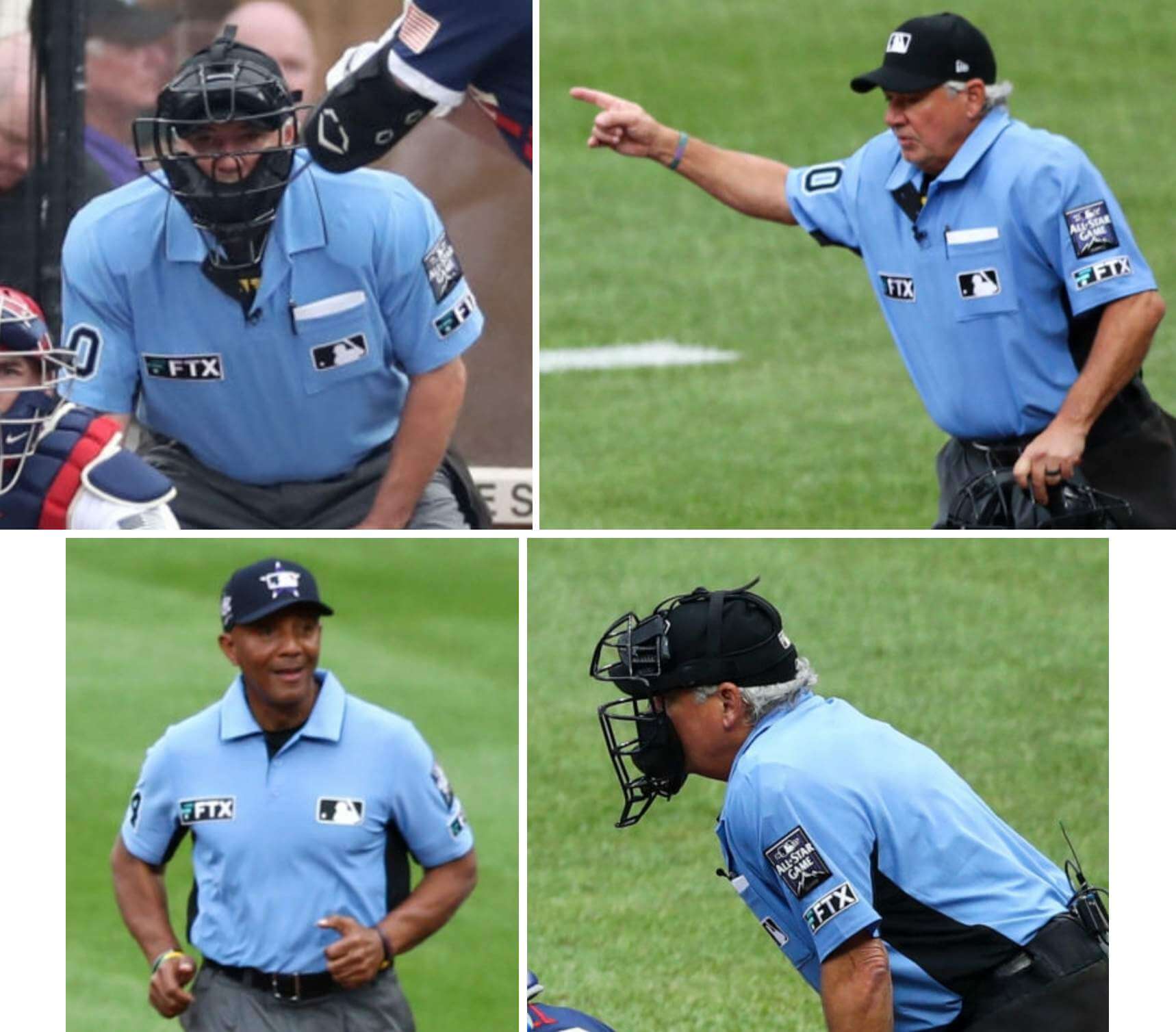 This is not just an All-Star thing. When the regular season resumes tomorrow, the umps will continue to wear these advertisements. The ad deal is for five years. Sigh.
• Speaking of the umpires, plate ump Tom Hallion told Rockies pitcher German Marquez to remove his compression sleeve in the fourth inning: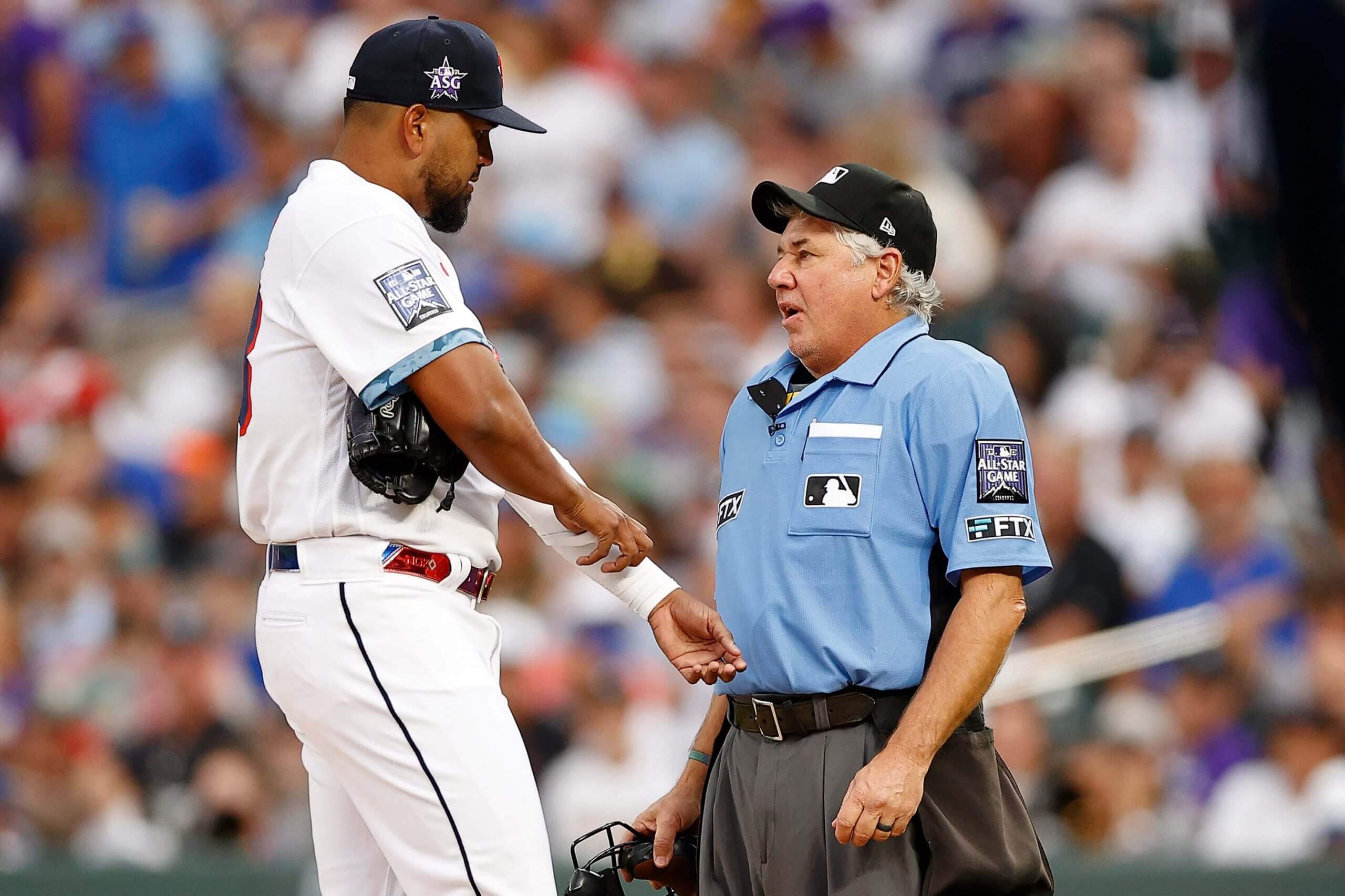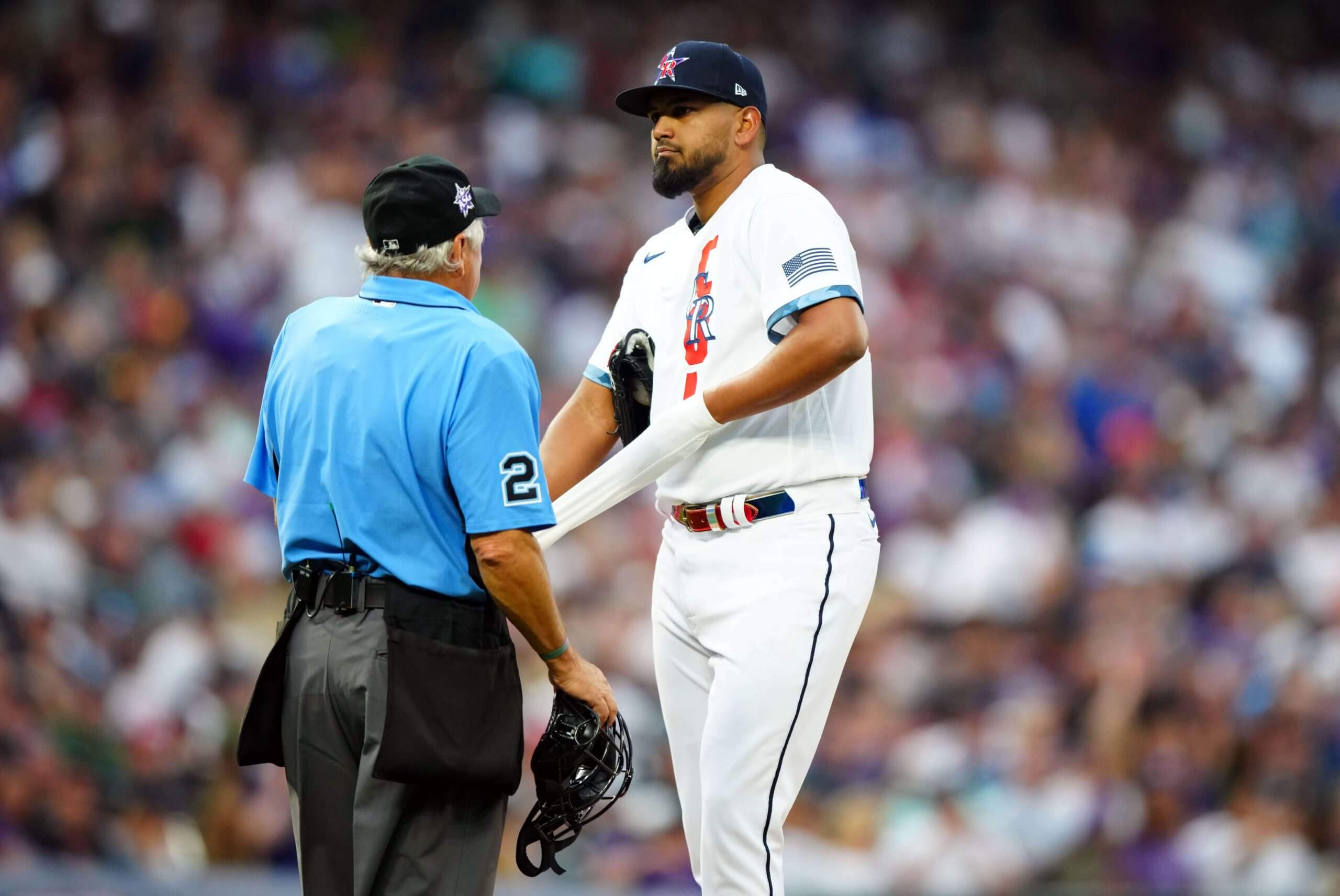 • It wasn't clear prior to the game if the players would wear their regular team batting helmets, or if the helmets would match their team-logo All-Star caps. Neither, as it turned out — instead, they wore matte black helmets with sad little "AL" and "NL" logos: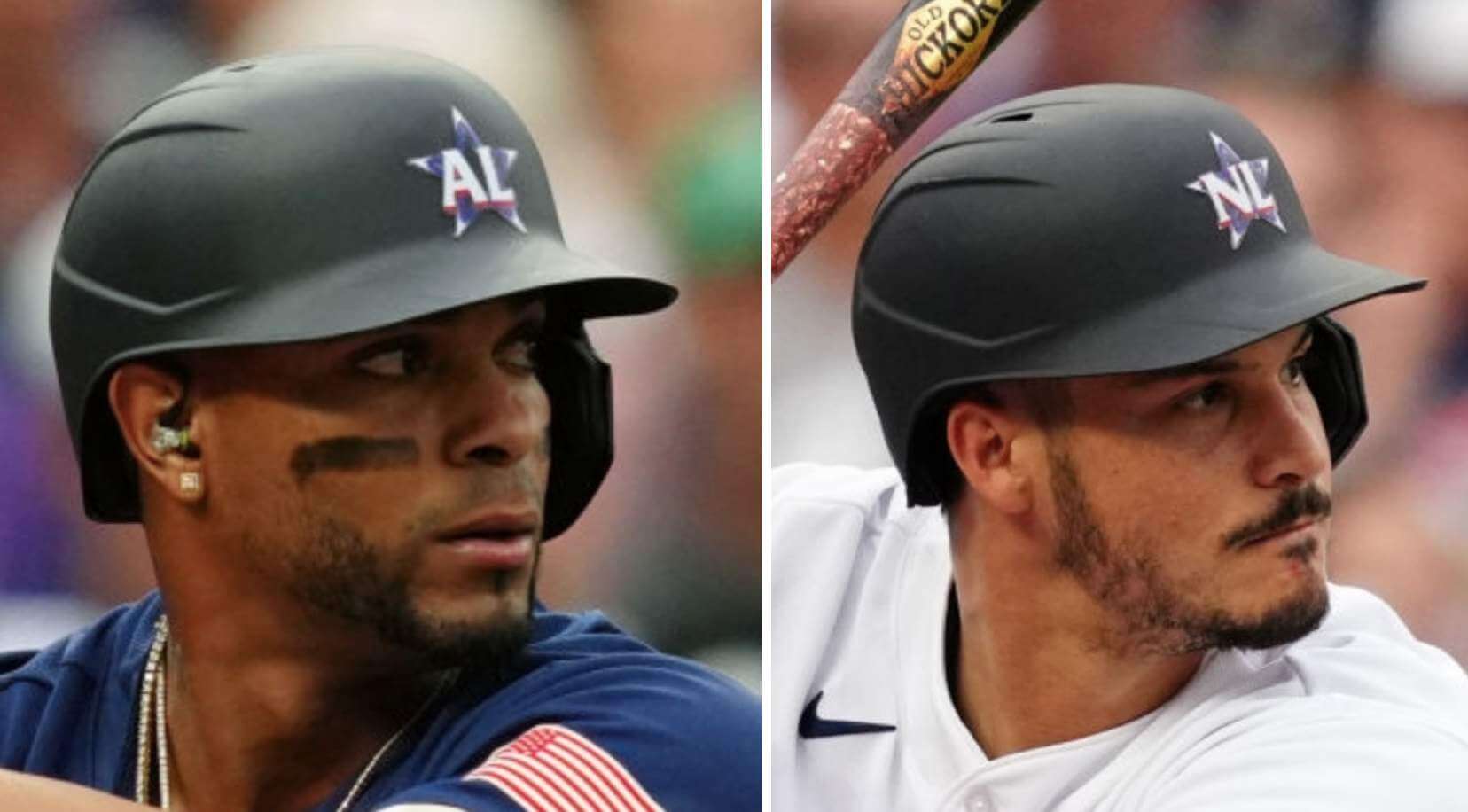 Somewhat incredibly, the helmets were the only uniform elements that referenced the two leagues.
• We knew that all the players, including those from the Blue Jays, would wear an American flag patch on the left sleeve. What we didn't know was that the Toronto players would also have a Canadian flag chest patch, as seen here on Vladimir Guerrero Jr.: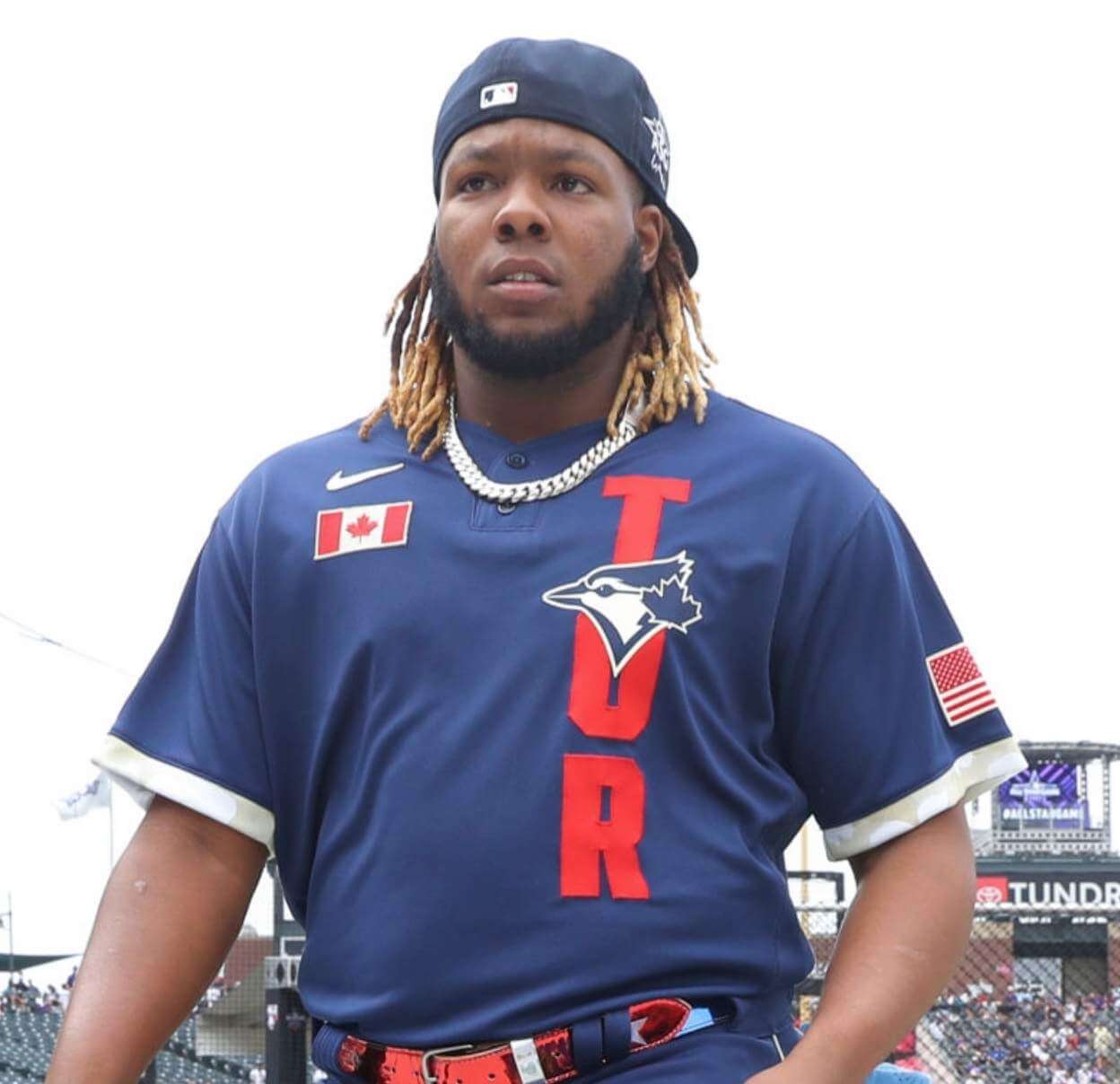 • Speaking of Guerrero, he had a really great glove featuring a depiction of his dad and himself from years ago, although he apparently didn't actually wear it in the game:
Like father, like son. (And on one glove!)

Vladimir Guerrero Jr.'s glove for the MLB #AllStarGame 🤩

📸 @MLB pic.twitter.com/5umcdQK4Hv

— The Athletic (@TheAthletic) July 13, 2021
• The All-Star Game patch worn by the Rockies for the past couple of months was embroidered (left), while the one being worn by players last night was plastic (right):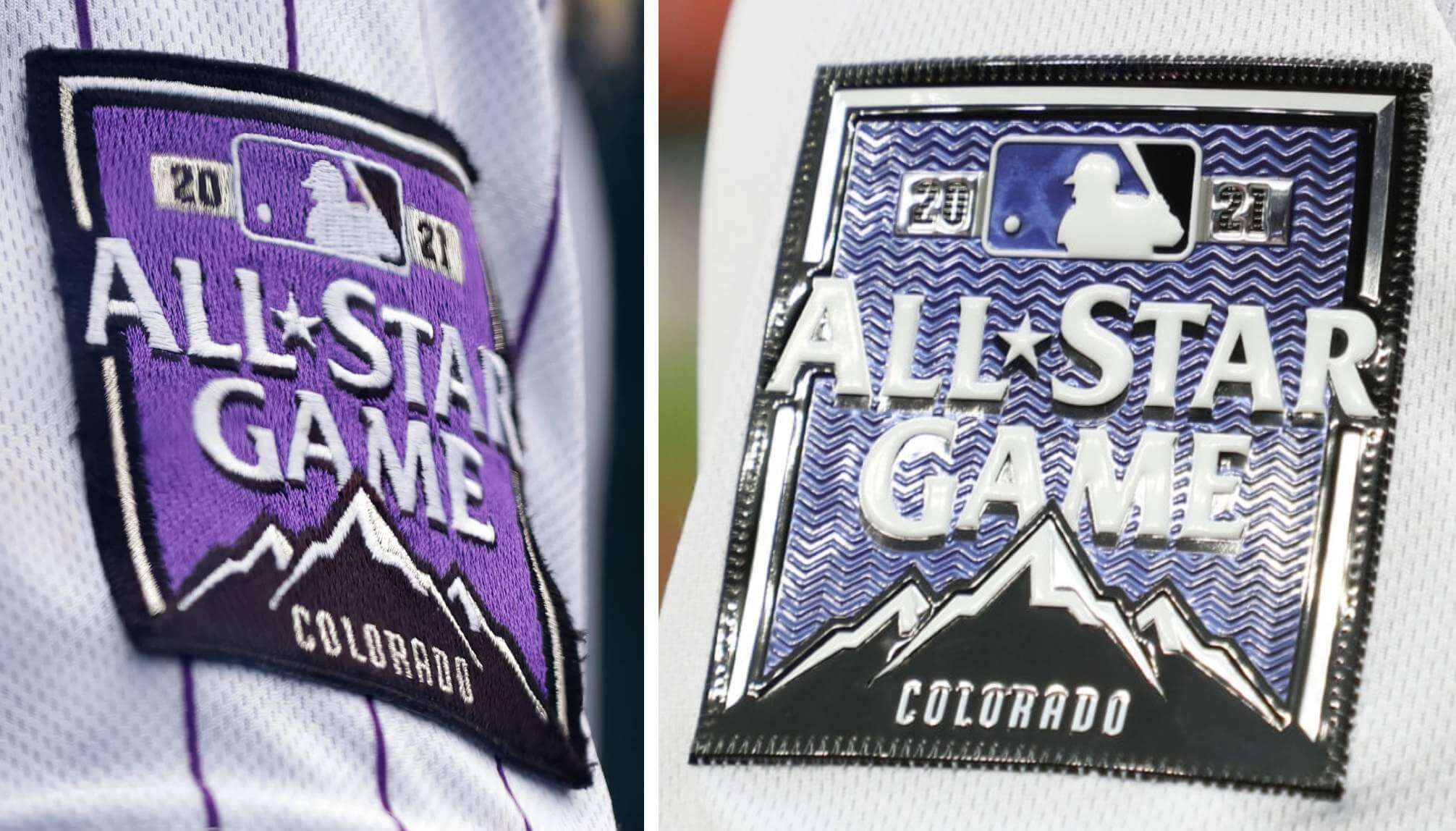 • The kind of detail I like to geek out over: For those two-button jerseys, the top buttonhole was horizontal and the lower one was vertical.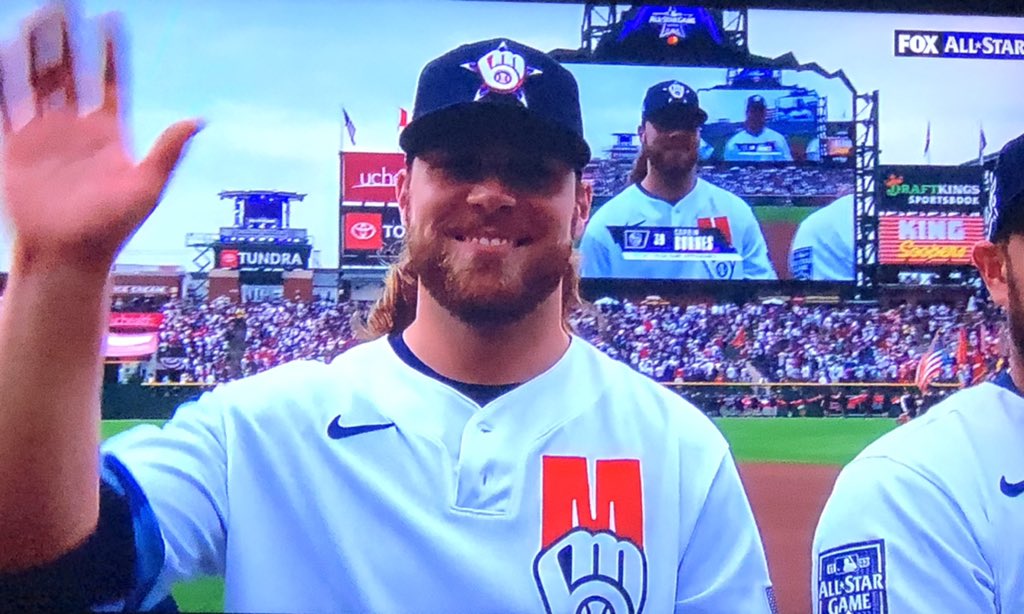 • I predicted in yesterday's post that the Rockies-themed belts worn in the Home Run Derby would probably be worn last night as well, but I was wrong. Instead, most players wore an All-Star belt design: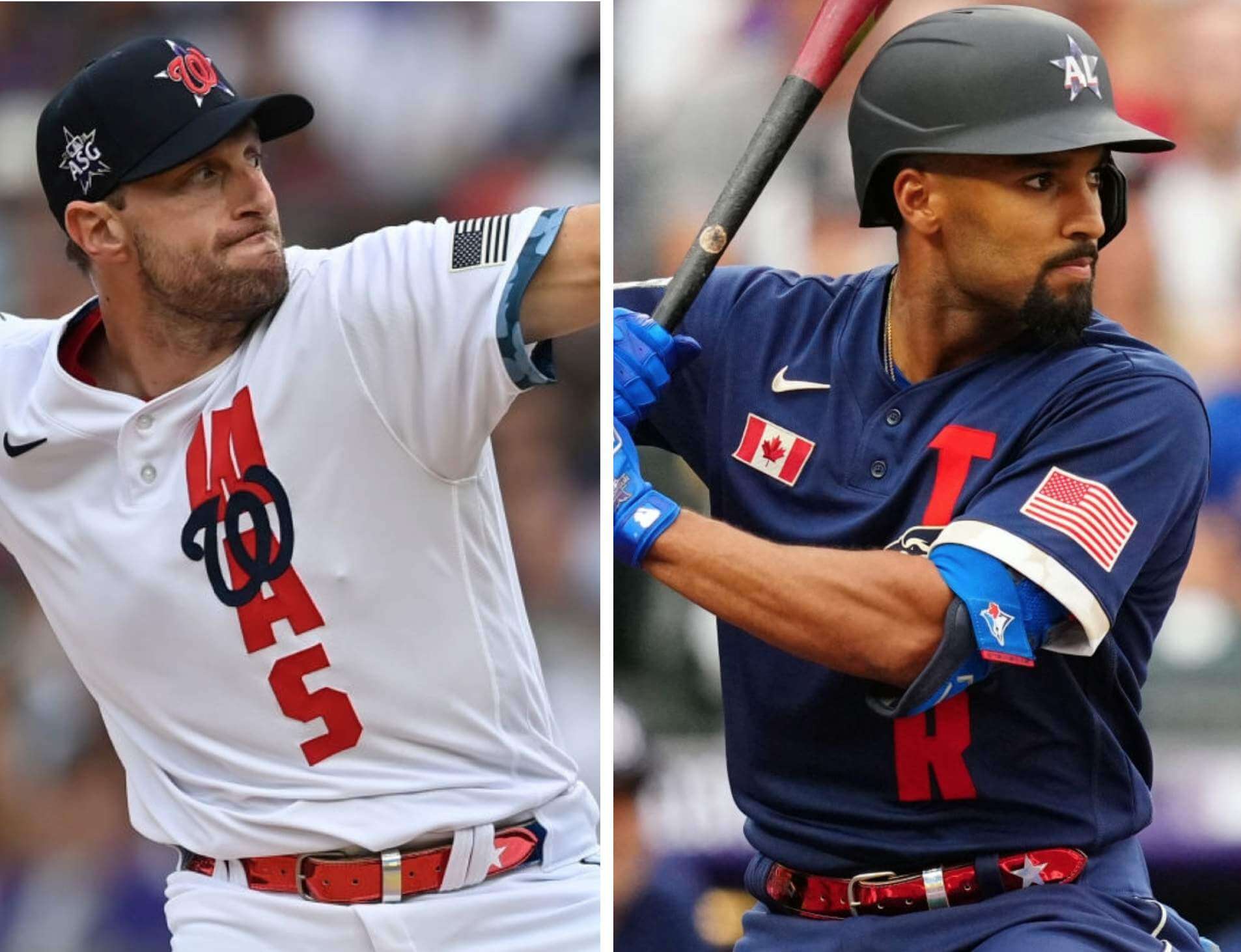 • One visual detail that that even new uniforms can't change: Dodgers third basemen Justin Turner had his signature pine tar smudge. Dig: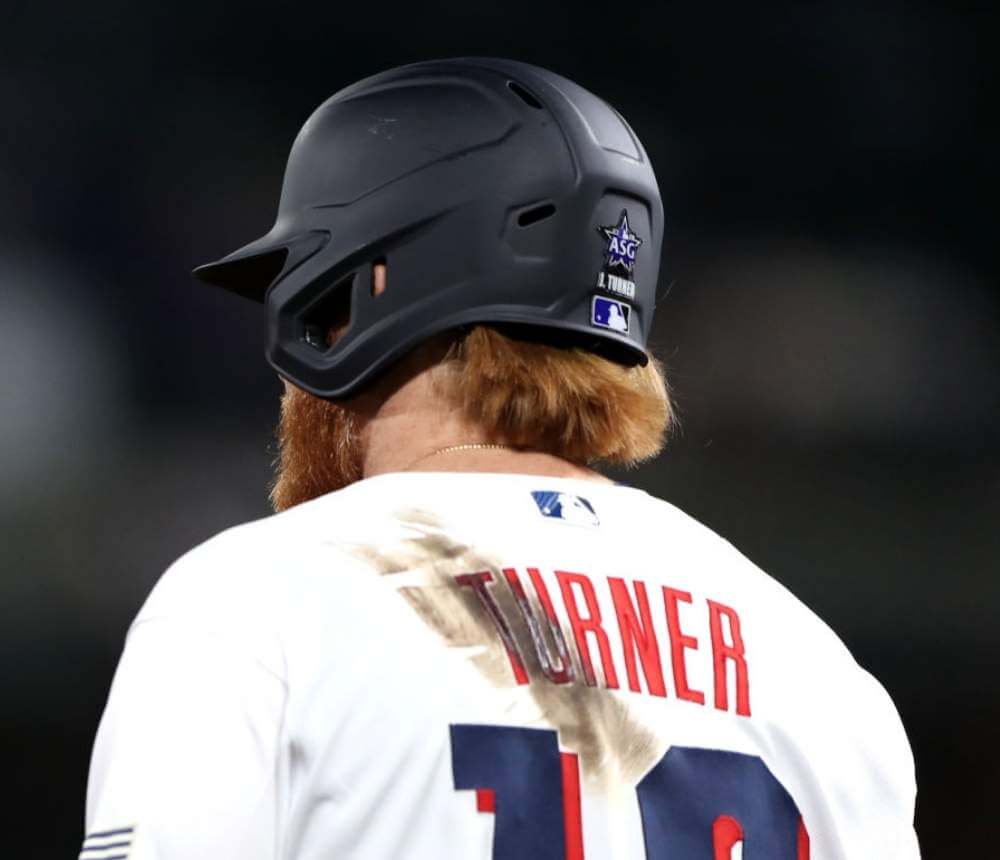 • At least one bit of team-related gear made it onto the field, courtesy of Rays catcher Mike Zunino (and I assume the other catchers in the game did likewise with their own team helmets):
Mike Zunino wore his Rays batting helmet while catching. @UniWatch #AllStarGame pic.twitter.com/YU4jAdCJNa

— Texas Trev (@texastrevor) July 14, 2021
• Tigers pitcher Gregory Soto wore a silver glove — something that I'm sure wouldn't be allowed in a regular season game, and I'm a little surprised they allowed it in this one (here's a closer look):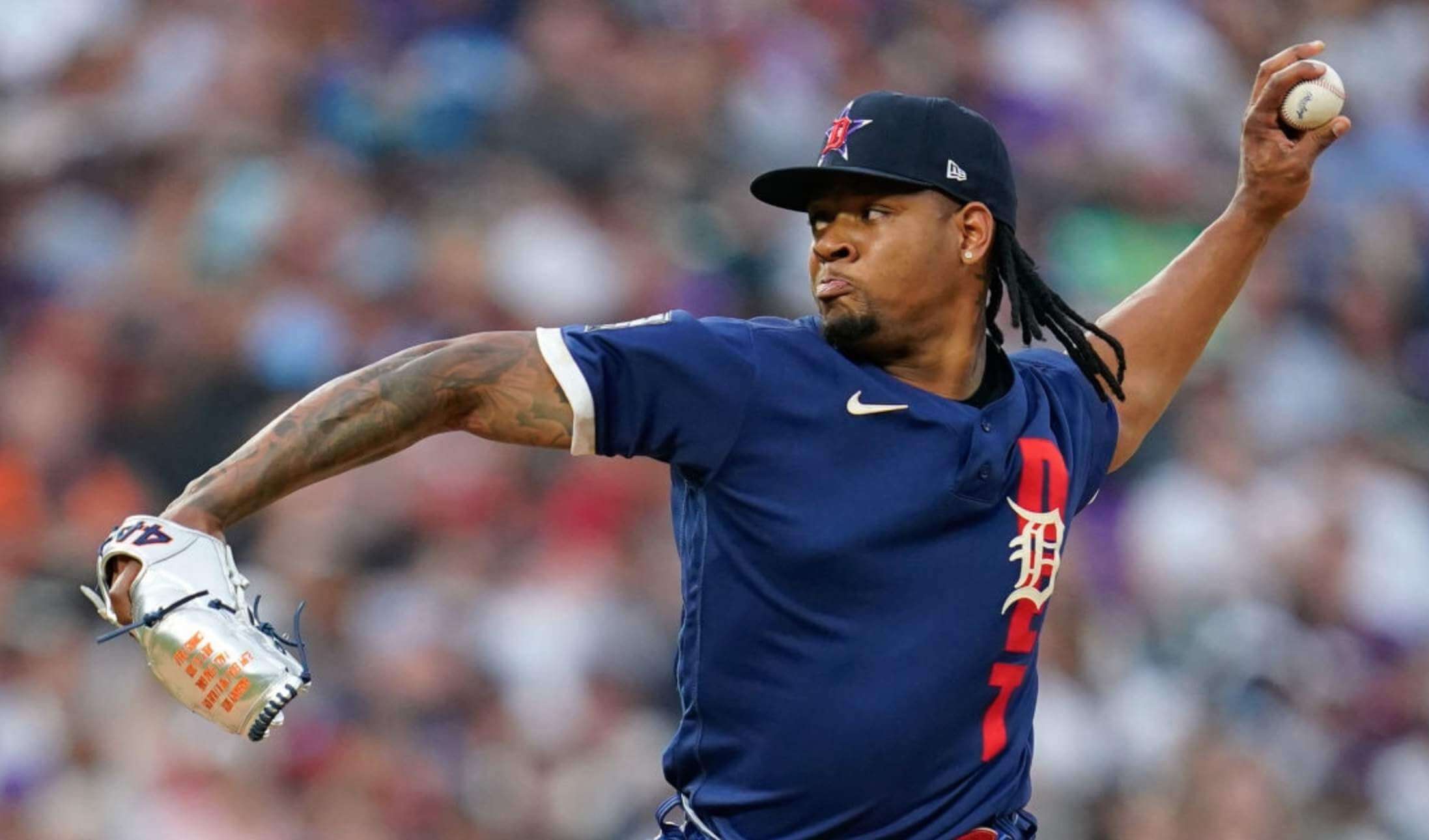 • With protests unfolding across Cuba, Yankees pitcher and native Cuban Aroldis Chapman had a message on his cap during pregame activities (he did not appear in the game):
Aroldis Chapman puts SOS Cuba on cap pic.twitter.com/uKDWtuBkbV

— Bob Nightengale (@BNightengale) July 13, 2021
• Reds outfielder Nick Castellanos arrived at the ballpark wearing a pretty awesome T-shirt drawn by his son:
Nick Castellanos sporting the custom-drawn shirt by his son, Liam. 🔥 pic.twitter.com/jmou7GKyUA

— Cincinnati Reds (@Reds) July 13, 2021
• The first pitch was thrown by former NFL quarterback Peyton Manning, who wore a Larry Walker Rockies jersey:
The first pitch of tonight's All-Star Game was thrown by none other than the legend himself, Peyton Manning 🏈 pic.twitter.com/LYcl23Xskc

— FOX Sports: MLB (@MLBONFOX) July 14, 2021
• All-Star Games often feature a lot of custom shoes, but I didn't notice any particularly eye-popping footwear last night. Maybe I was just too distracted by the costumes.
———
Meanwhile: Uni Watch reader John Costigan attended the game with his father: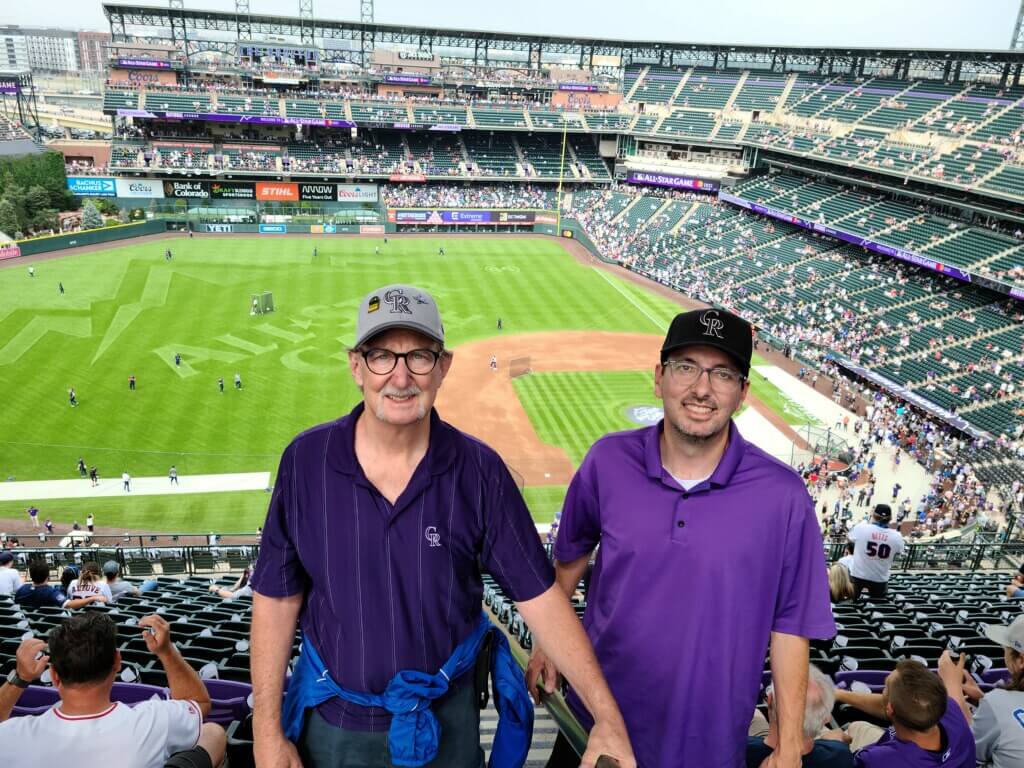 John shared these observations:
The uniforms looked just as bad in person as they did on TV. Hopefully this will be revisited before next year's ASG.

I was pleasantly surprised to see such a variety of uniforms, T-shirts, caps, and so on being worn by fans. Lots of Yankees, Mets, Red Sox, Cubs, Dodgers, of course, as well as some Nationals, Pirates, Phillies, Mariners, and Marlins team attire. I also saw a couple fans wearing the 1999 Rockies "Turn Ahead the Clock" uniforms and some fans wearing the Giants' new City Connect design. It was really interesting to observe as a Uni Watch fan, because there was so much variety.

I also saw this member of the Denver and Rio Grande Reds Vintage Base Ball Association: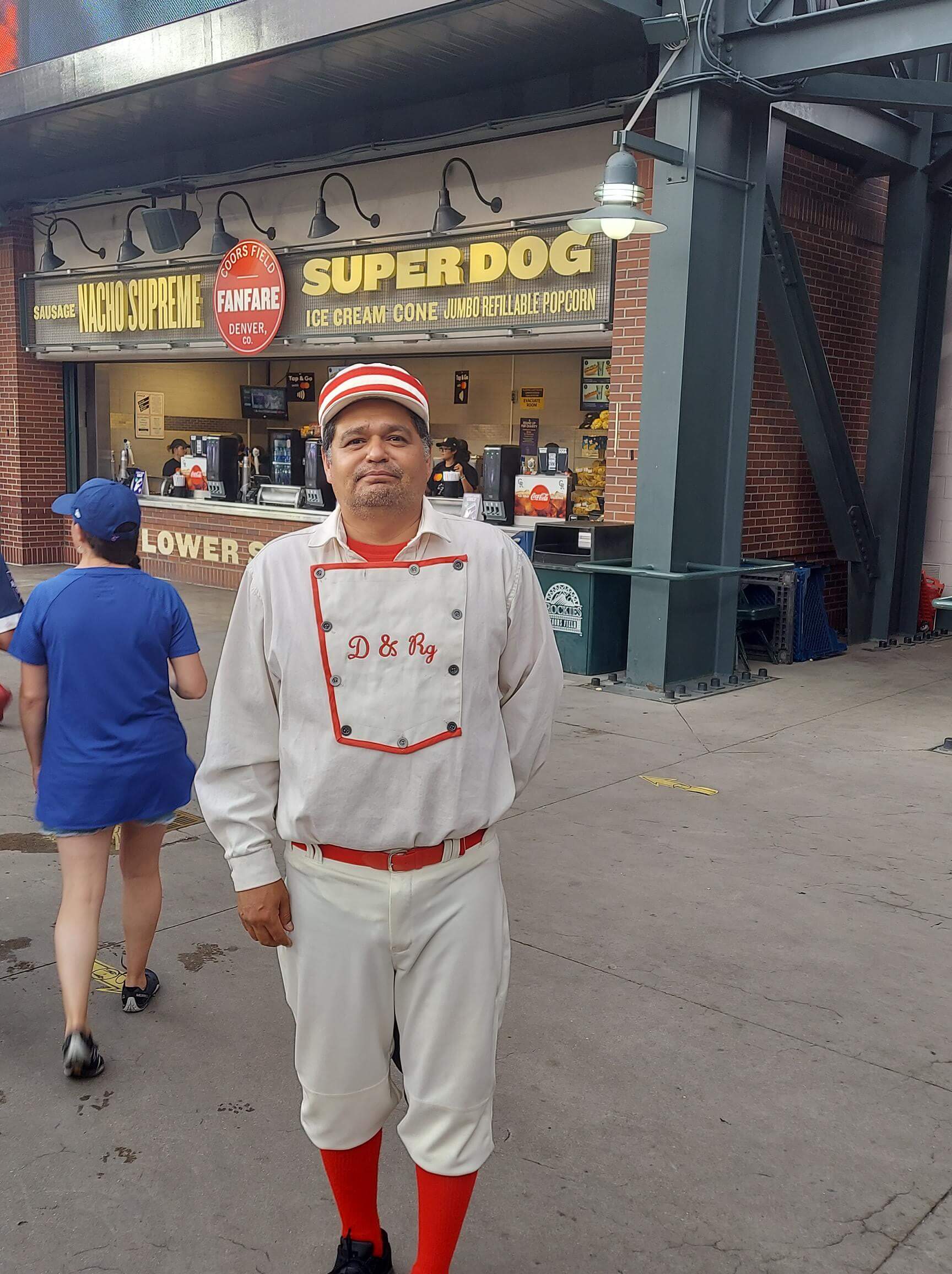 Great uniform, but that one missing button on his bib is killing me!
Final thought: As you all know, I root for the Mets. They had one player in the game — Taijuan Walker, who pitched the sixth inning for the National League. As a Mets fan, I was proud to see him out there — he's had a very good year but hasn't gotten much attention because he's been overshadowed by teammate Jacob deGrom's unbelievable season (deGrom opted to skip the ASG). Also, Walker is new to the Mets this season — he signed as a free agent during the winter — so many non-Mets fans may not even realize he's pitching for the Mets this year. Having him on the mound last night in his Mets uniform would have been such a great way to showcase him for baseball fans while also making Mets fans feel proud. Instead, he wore a lame-o costume with barely any Mets branding, so I felt no emotional connection as a Mets fan, and the fact that he now plays for New York probably didn't even register for most other fans. What a waste. I'm sure many of you felt similarly about seeing players from your own favorite teams.
That's all I got. Next year's All-Star Game will be in Los Angeles.
• • • • •
• • • • •
Click to enlarge
Meanwhile, over on the gridiron: The Rams unveiled their new white jersey yesterday. The new design will be worn for three games this season, including their home/season opener against the Bears.
On the one hand, this is obviously a major improvement over the dishwater jersey. On the other hand, the shiny numerals still suck, the "Hello, My Name Is" patch still sucks, and the rear view still sucks: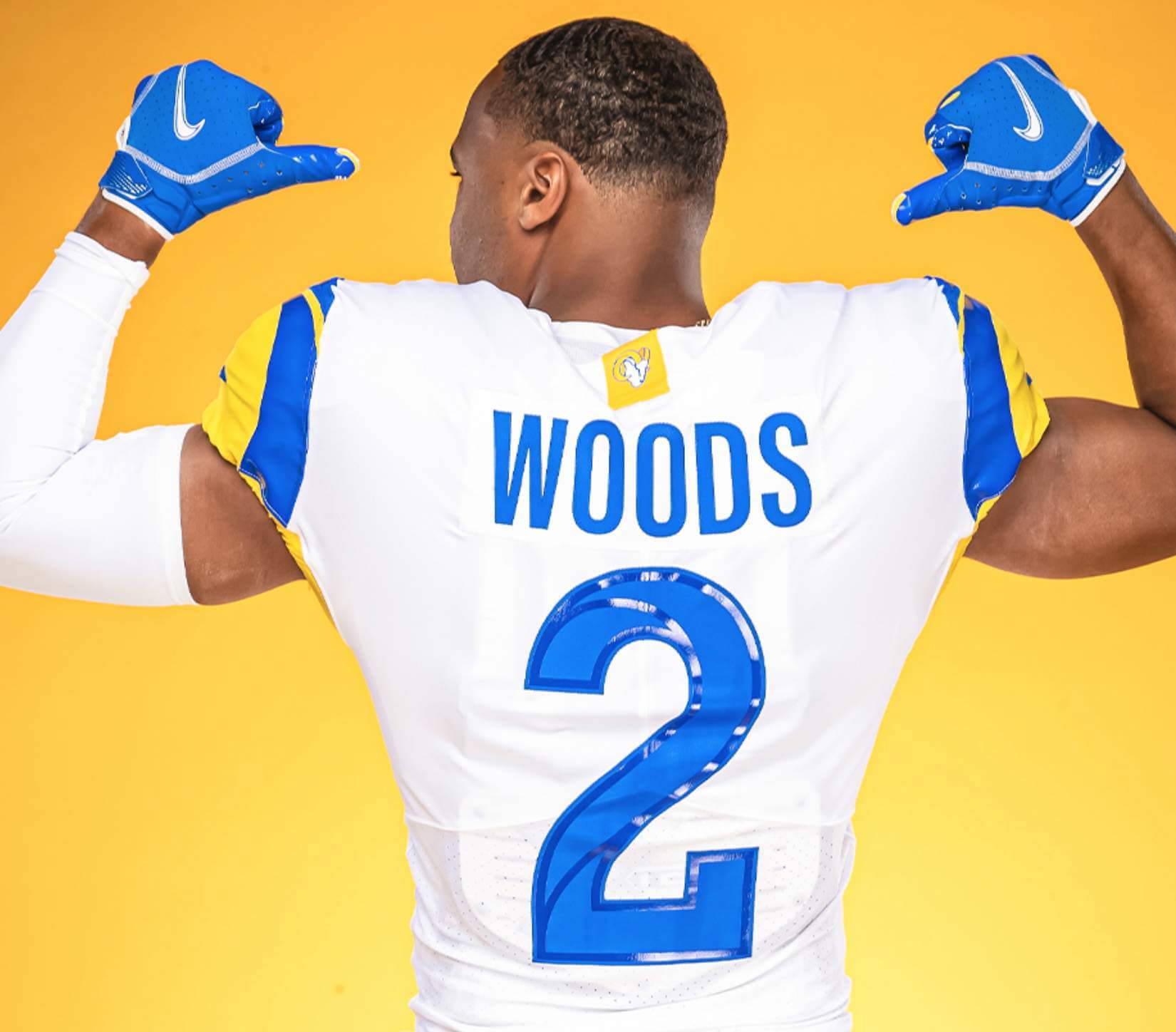 Just to make it clear how far this team has regressed aesthetically, the Rams helpfully provided a side-by-side comparison of this new design and the old one on which it's based, and it's sooooo obvious that the original design was better: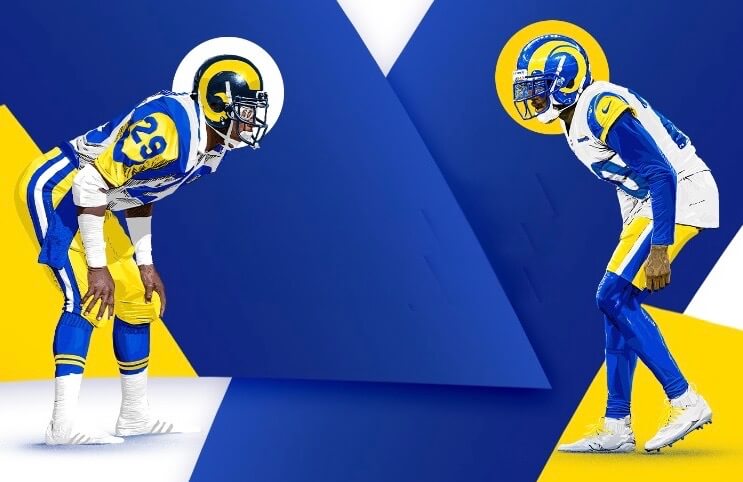 So while white is an upgrade over dishwater, let's not lower the bar so far that we start thinking of this as a good-looking team — it's not (especially since dishwater is still in their wardrobe and will probably be worn more often than the white jersey). In four more seasons, they'll likely acknowledge that themselves.
• • • • •
• • • • •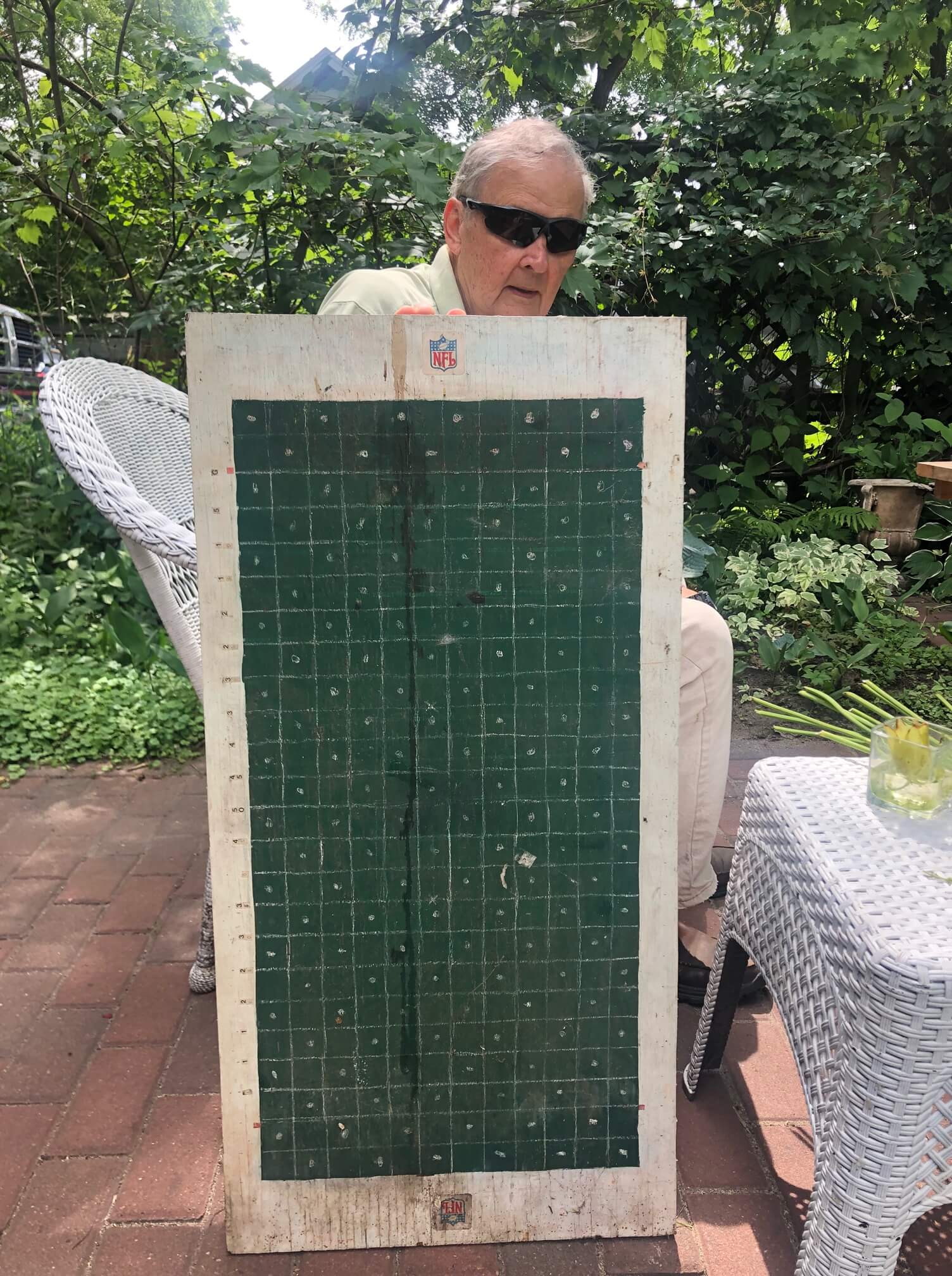 Click to enlarge
DIY board game: In Monday's post about that 1970 NFL merch catalog, I referred to a "very rudimentary board game" featured in the catalog. That prompted a note from reader Michael Bialas, as follows:
Au contraire — that game is anything but rudimentary! Each play requires advanced planning and it's necessary to create a game plan to combat the other coach and their strategy. No other football board game has the potential for a player to actually fumble a real ball and have the opponent recover the ball.

My father and I built our own wooden board to allow for various field conditions. We would sprinkle water on the field when it was raining, add some snow in the winter, and so on. Great fun.

I persuaded my parents to dig out the old board [shown above]. Dusty, but ready to go!
How great is that? Thanks for sharing, Michael!
• • • • •
• • • • •
The Ticker
By Lloyd Alaban

Baseball News: Denver's City & County Building was lit up in purple yesterday night to celebrate the Rockies hosting the MLB All-Star Game. Ditto for the Nuggets' and Avalanche's arena, although the purple effect was less pronounced (from Denver's own Kary Klismet).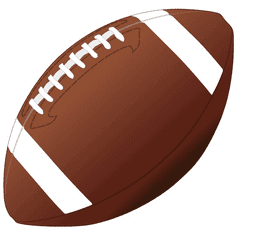 Football News: Will more schools choose to add NOBs to their jerseys now that NCAA NIL rules have been relaxed? (From Patrick Lasseter.) … The BC Lions of the Canadian Football League have put the logo on their helmets for training camp, but have not included the center — ahem, centre— — striping (from Wade Heidt). … New pants for Bowling Green (from Jeremy, who didn't give his last name).

Hockey News: New wordmark for the Portland Winterhawks of the WHL. … The WHL's Vancouver Giants have unveiled their new uniforms (from Wade Heidt).


Basketball News: A bakery in Milwaukee has Bucks-themed pastries (from Jeff Ash). … Here's a closer look at the Space Jam sneaker and console collaboration between Nike and Xbox announced previously (from John Cerone).

Soccer News: New shirts for Atletico Mineiro (from Trevor Williams). … New shirts for Giravanz Kitakyushu based off the Galaxy Express 999 manga. Series creator Leiji Matsumoto is from Fukuoka Prefecture, where the team is based (from Sy Hart).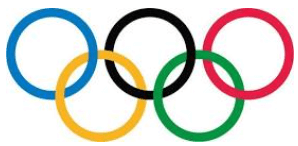 Olympics News: Here are the USA's uniforms for the opening ceremonies. The closing ceremony outfits had already been unveiled back in April. … Kyrgyzstan has unveiled its Olympics uniforms (from our own Phil Hecken). … Here's the Australian women's soccer team kit (from Germán Cabrejo).