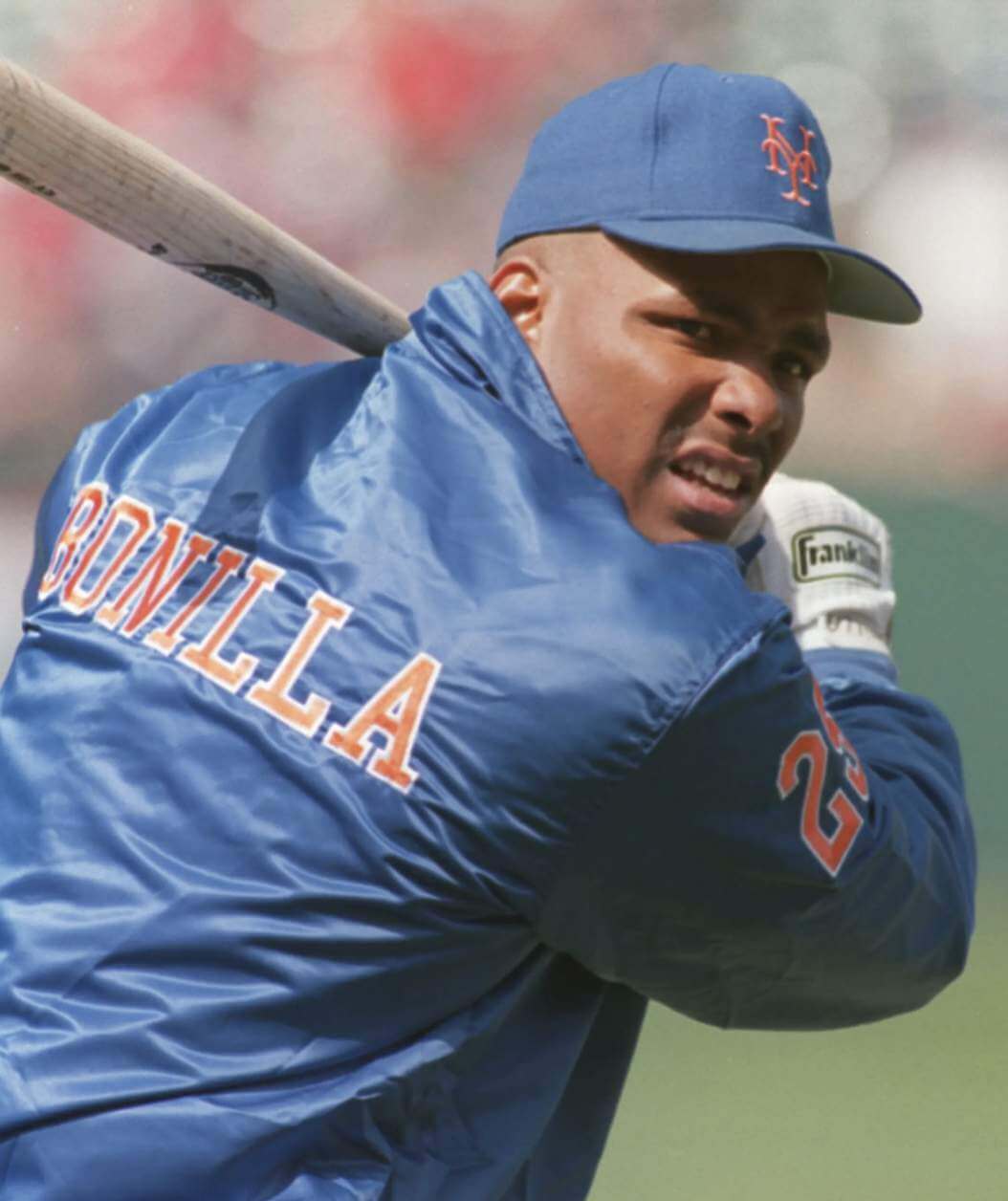 Last November, a few weeks after hedge fund billionaire Steve Cohen completed his purchase of the Mets, he spent some time engaging with fans on social media. During one such session, Cohen came up with the idea of transforming Bobby Bonilla Day from a punchline into a promotion. As Cohen envisioned it, he'd "hand [Bonilla] an oversized check and drive a lap around the stadium." (I assume by this point everyone knows what Bobby Bonilla Day is and why it took place yesterday. If not, look here.)
As a Mets fan myself, I loved this idea. For starters, it meant that Cohen was capable of showing a greater sense of humor in his first month of ownership than the Wilpons had shown in their decades-long stewardship of the team. Moreover, I loved the idea of turning one of the franchise's biggest albatrosses into something fun. There was something very Bill Veeck about it.
As BBD approached this year, I was wondering if the whole "giant check" idea would come to fruition. Sadly, that did not happen, at least for 2021. But the Mets are nonetheless embracing BBD in a roundabout way this season — and they're not the only ones. A series of developments yesterday indicate that BBD has turned the corner and entered a new phase of its life cycle. Here are three such developments that I'm aware of from yesterday (although I suspect that there may have been more):
1. Although "the logistics of the [giant check] ceremony couldn't be completed in time this year" (it's not clear if the logistical issues had to do with the pandemic, or Bonilla's travel schedule, or something else), the Mets yesterday announced that they will have a "Bobby Bonilla Day" promotion on July 28, with one lucky fan getting to book a "Private room hosted by Bobby" at their ballpark on July 28. Frankly, that doesn't feel like a very BBD-ish execution to me, but at least it embraces the idea of turning this particular lemon into lemonade. I'll look forward to the giant check on July 1 of next year.
2. The wireless company Mint Mobile (which I had never even heard of until yesterday) ran a pretty funny commercial offering a 25-year wireless plan similar to the 25-year deal that Bonilla got from the Mets. Best of all, the star of the commercial is none other than Mr. Bobby Bonilla:
3. A pair of students at the Denver Ad School — Ben Ward and Andrew Brown — created a really good BBD-related project for their portfolios, called MLB NXT. Ward gave me this explanation of it:
Given MLB's visibility problem, why not take advantage of what is basically a national baseball holiday? Initially, we had hoped to make July 1st a day in which we challenge our partners, sponsors — shit, even players, whoever — to match the $1.2 million Bobby will get paid and pump it into growing the game. We even talked about making Bobby the spokesperson of RBI (Reviving Baseball in Inner Cities). 

But why stop there? We're thinking of getting league partners like Amazon to create a nationwide network of equipment lockers stocked with the baseball gear that kids need in order to play. And using shipping containers from Old Dominion to create killer box seats where kids can sign up for exclusive game access. And on and on.
Again, this is just a portfolio project, but it's a very imaginative way of putting a positive spin on BBD. I really like it! MLB could do a lot worse than to run with this idea. Again, you can check it out here.
One of the most remarkable things about the transformation of Bobby Bonilla Day is that it has also transformed Bobby Bonilla himself. Most articles about BBD mention that the Mets released him in 2000 because he'd hit .160 the year before, but what often goes unmentioned is that Bonilla had also become widely perceived as a pariah, and with good reason. Among other things:
• In 1993, Bonilla physically threatened a sportswriter, telling him, "I'll hurt you. I'll show you the Bronx."
• When the Mets were in extra innings during Game Six of the 1999 NLCS, Bonilla was playing cards in the clubhouse instead of watching the game with his teammates in the dugout.
• During the 1999 offseason, Bonilla threatened to make waves in 2000 if he didn't get enough playing time, telling reporters, "You're all going to love me next year. In the millennium, there will be some fireworks. I want to play." Asked if he would be a problem for the Mets if he did not play, he said, "Oh yeah, oh yeah, oh yeah."
And so on. Indeed, one reason BBD was so exasperating for Mets fans was that the deferred payments weren't going to just anyone — they were going to someone who was reviled by the fan base.
Many years later, the mystique of BBD has somehow turned Bobby Bo into a warm, almost cuddly figure. It reminds me of how George Foreman underwent a similar reinvention in the public mind after coming out of retirement in the late 1980s.
I figure right now we're in the sweet spot where BBD is really fun. In another year or two, it will probably become an overdone, shark-jumped self-parody, so let's enjoy it now while we can.
(My thanks to Ron Ruelle for bringing the Mint Mobile ad to my attention.)
• • • • •
• • • • •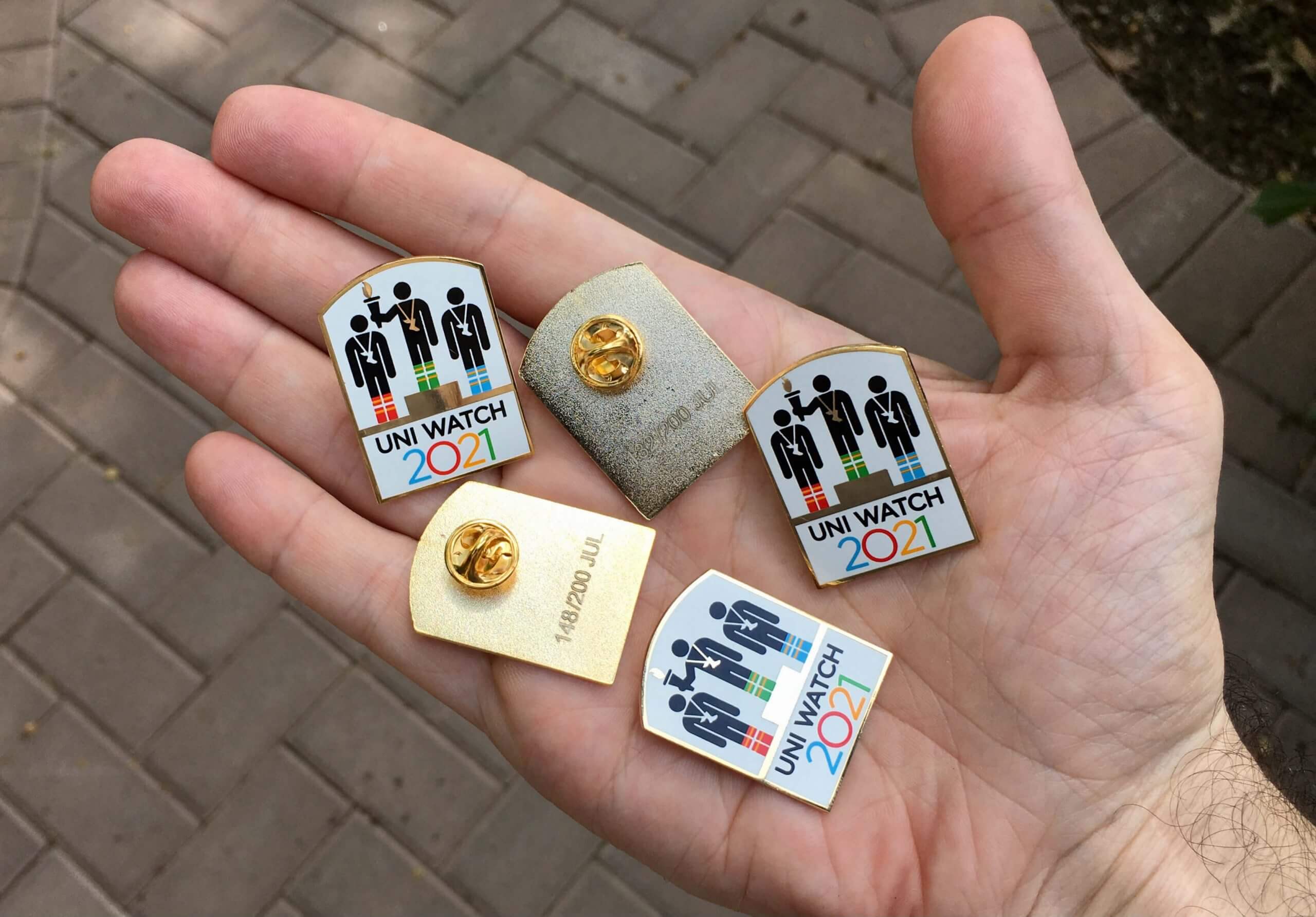 Click to enlarge
July pin reminder: In case you missed it yesterday, our latest pin is based on classic Olympic pictograms (something that pin designer Todd Radom and I are both very fond of). Looks great, no? Check out those winged stirrup medals, and note that the gold medal winner's striped socks are in Uni Watch colors!
This is a numbered edition of 200 pins, and we sold about 85 of them on the first day. You can order yours here.
Need to get caught up? Here are this year's pins for January, February, April, May, and June (sorry, March is sold out!), plus our remaining pins from last year are available at a discounted price.
• • • • •
• • • • •

Cap update: We continue to sell through our remaining cap inventory. Just a few left now:
7-1/2: 1 cap
7-3/4: 1
7-7/8: 1
Once they're gone, they're gone. Available here while they last.
• • • • •
• • • • •
The Ticker
By Anthony Emerson


Baseball News: The Phillies will retire Roy Halladay's No. 34 on Aug. 8. They've released a logo for the event, which is pretty much what the retired uniform display will be (from @PhillyPartTwo). … SS Drew Maggi of the St. Paul Saints, Triple-A affiliates of the Twins, wore his left stirrup outside of his shoe last night. His right stirrup remained inside (from @Tinger_3). … Atlanta C Kevan Smith wore the team's 150th-anniversary patch on the left sleeve, instead of the usual right, last night. He had it on the proper sleeve the night before (from Andrew Constant). … In a related item, Smith was part of a Smith/Smith/Smith at-bat last night (from Andrew Cosentino).

NFL News: In Dan Snyder's statement on the NFL's investigation of the WFT's toxic work environment, he calls his own team the "Washington Football Club." The man doesn't even know the official name of his own team! (Good spot by our own Jamie Rathjen.) … KC is teasing the return of the white-over-white uni combo (thanks, Phil).

Hockey News: Did you know that in 2005 the Sabres experimented with blue ice with yellow "blue" lines? It was supposed to make the ice look better on newly available HD TVs. Obviously, it didn't work out that way (from Brandon Weir).

NBA News: Twitter-er Steve Hemsath seems to have found the NBA's 75th-anniversary logo for next season. The 75th anniversary is, of course, the diamond anniversary — hence the logo's shape.

Soccer News: The NWSL has hired a branding firm to revise its logo. Although the new design will coincide with the league's 10th anniversary, it will not be an anniversary logo per se (thanks, Jamie). … Italy's Serie A updated their logo, which will appear on every Serie A kit this coming season. … The Athletic has a piece on the up-and-down history of Columbus Crew primary logos, including identifying the three dudes who modeled for the original crest (from multiple readers). … New home jerseys for Sporting CP (from Ed Żelaski).

Grab Bag: A juror in a New Jersey federal court case has been found to be in contempt of court and fined $11,000 for googling a patch on an ICE officer's uniform. The ICE officer, who was allegedly assaulted by someone he was in the process of arresting, said the patch was a trade union logo. But the juror, a union pipefitter, doubted the officer's explanation, so he googled it and determined it was actually a white supremacist logo. The case was declared a mistrial and the juror held in contempt for violating the judge's order to stay off the Internet during the trial (from Max Weintraub). … Akron's alt-weekly newspaper The Devil Strip has a good article about how bad the city flag is (from Kyle Schiely).
• • • • •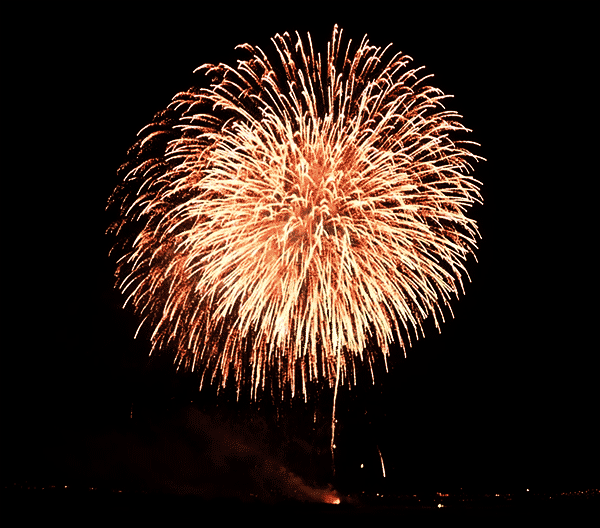 Holiday weekend plans: The entire Uni Watch team has the holiday weekend off. so we won't have any content tomorrow. I'll have a short post on Independence Day, as I always do, and then we'll see about Monday — I'm not yet sure if I'll publish anything that day.
However you're spending the long weekend, please accept my best wishes for a safe and happy holiday! Peace. — Paul