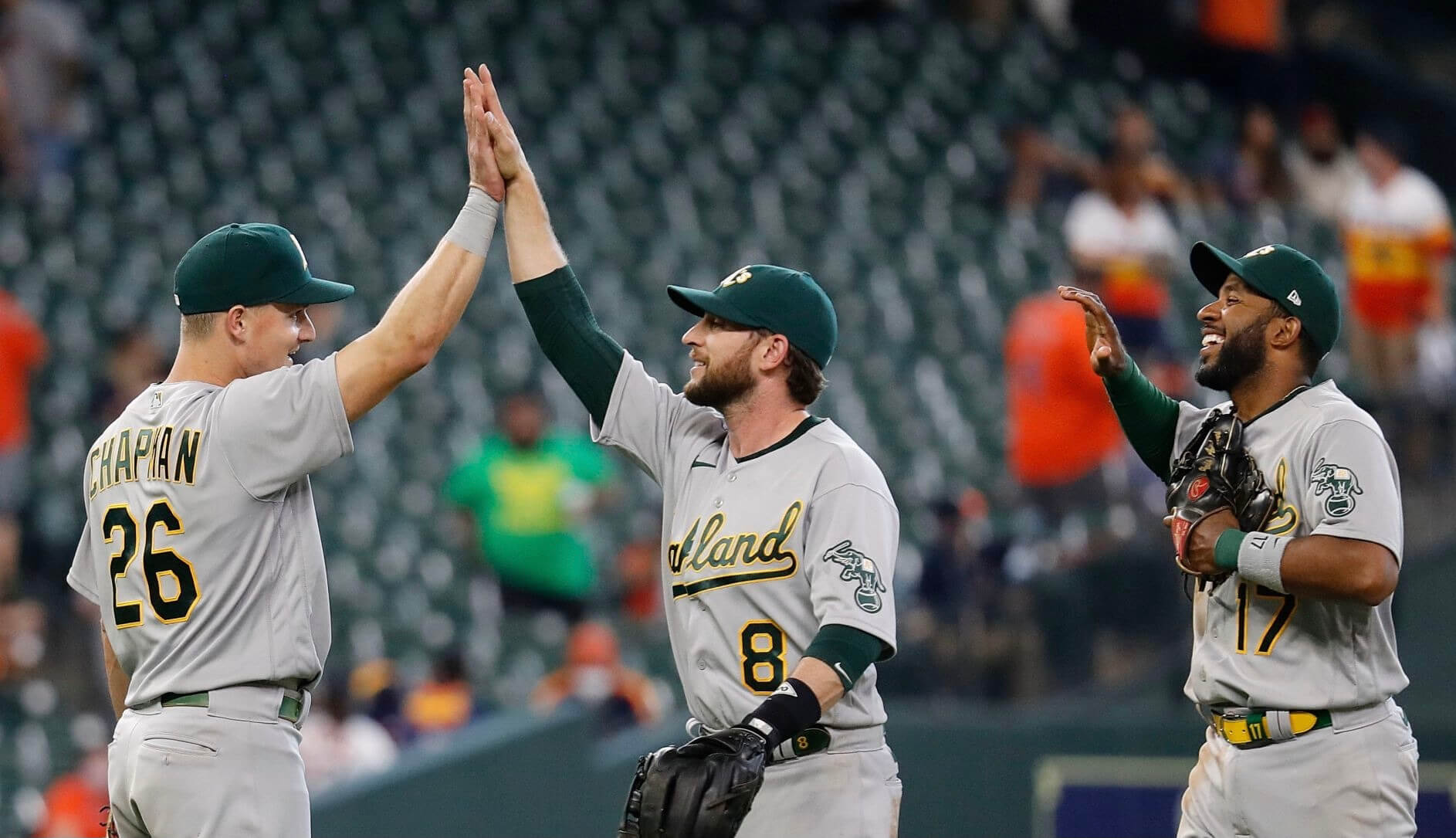 Click to enlarge
Notice anything unusual about this photo of A's infielders (from left) Matt Chapman, Jed Lowrie, and Elvis Andrus celebrating their victory over the Rockies on April 10? Well, you're a Uni Watch reader, so of course you spotted right away that Lowrie's cap did not include the New Era maker's mark, which has been a fixture on MLB caps since the 2016 postseason.
That was one of many, many games in which the maker's mark has been missing from Lowrie's cap this season — something I wasn't aware of until reader Casey Coneway noticed the missing logo while watching last Friday's A's/Giants game. Photo-researching the left side of a position player's cap on a game-by-game basis is tricky, because most wire photos will show the player batting (photo-researching a pitcher is much easier), and even some of the photos showing the player in the field won't provide a left-side view. But based on photos I've been able to find, Lowrie's headgear was blissfully free of logo creep this season on at least the following dates:
April: the 9th, 10th, 12th, 20th, 23rd, 24th, and 27th.
May: the 2nd, 4th, 7th, 19th, and 22nd.
June: the 5th, 8th, 24th, 25th, and 26th.
If you look at those photos, you'll see that they're all from games when the A's wore their green/yellow home caps or their solid-green road caps. But when they wore their Kelly green alternates, Lowrie always had the maker's mark. He also had the logo on commemorative and holiday caps, like for Jackie Day. Hmmmmm.
I wanted to see if this was a long-running thing with Lowrie. He sat out last season and was with the Mets in 2019, when injuries limited him to just nine games — all as a pinch-hitter — so I started looking at photos from 2018, when he was with the A's (his current stint with them is his third!). He appeared to have the maker's mark on all of his caps that season.
Just to be safe, I looked at photos from 2017 — the first year that the maker's mark appeared on caps during the regular season. To my surprise, I found several games in which Lowrie didn't have the logo. In fact, I discovered that I even tweeted about one such instance, from May 9 of that year:
A's infielder Jed Lowrie wore a cap without the New Era logo last night. pic.twitter.com/zKetsUJ4hW

— Paul Lukas (@UniWatch) May 10, 2017
Here are the other 2017 dates for which I found no-logo photos of Lowrie:
April: the 4th, 17th, 20th, and 22nd.
After that, the logo was consistently on his cap, at least in photos that I was able to find. (I devoted a ridiculous portion of my Saturday to this project.)
Now, the New Era maker's mark was still a new thing in 2017, so maybe it's not so surprising that a player ended up wearing a cap from the previous season's stock, especially early in the season. But what explanation could there be for Lowrie apparently wearing the logo for the rest of 2017 and all of 2018, then leaving the A's for two years, and then returning this season and suddenly not having the maker's mark again? (I should add here that I didn't see the logo missing from any other Oakland players during my photo research.)
When a similar situation arose earlier this year regarding Phillies pitcher Aaron Nola, I had no option but to ask the Phils' PR people (who never got back to me). But A's equipment manager Steve Vucinich is a longtime Uni Watch pal, so I gave him a call yesterday afternoon and told him what I'd discovered about Lowrie's caps.
"Awww, don't tell me that," he said, sounding pained by the breach in protocol. "I didn't even notice."
Steve knew right away what had happened, and it's an interesting explanation: It turns out that Lowrie is the only A's player who prefers a low-profile cap, so Steve thinks they may have pulled some old, pre-2017 low-profiles for him to wear. That was presumably also the case in 2017, although it's not clear why it didn't come up in 2018.
This also explains why Lowrie's Kelly green caps have the maker's mark. Oakland's Kelly alternate didn't exist until 2018, so there was no old, pre-logo inventory for them to use.
Even better, this appears to explain the Aaron Nola situation. When Nola's cap hasn't had the maker's mark, it appears to have been a low-profile model: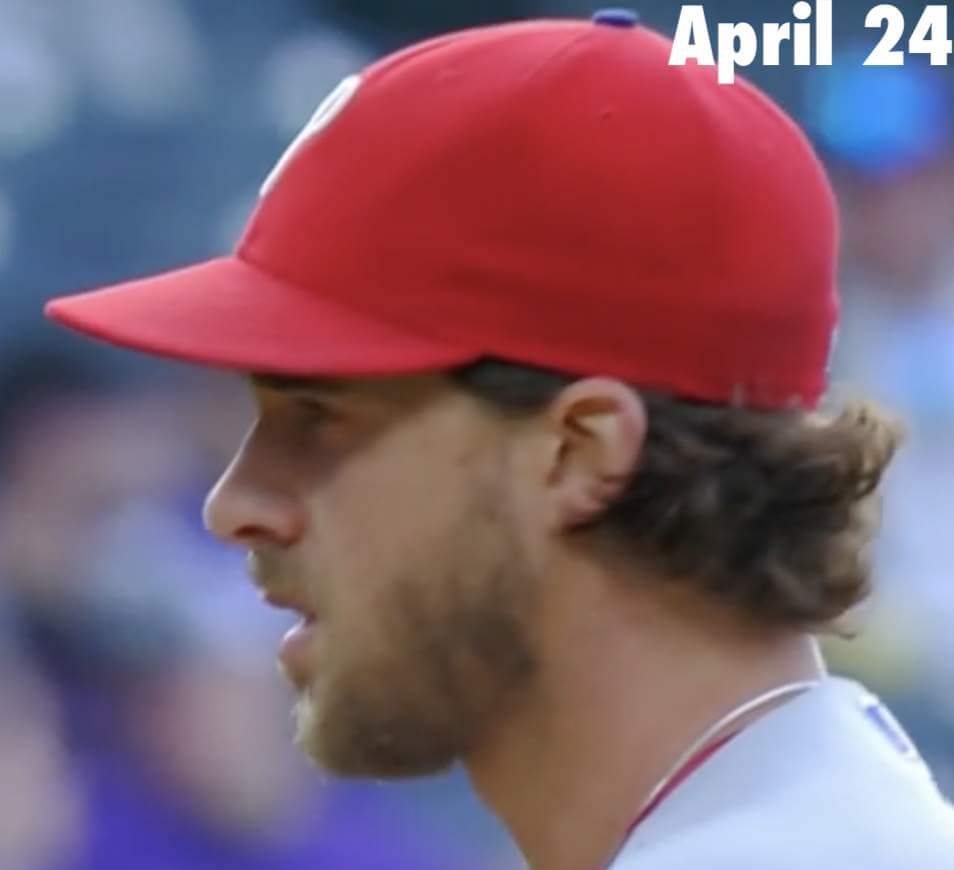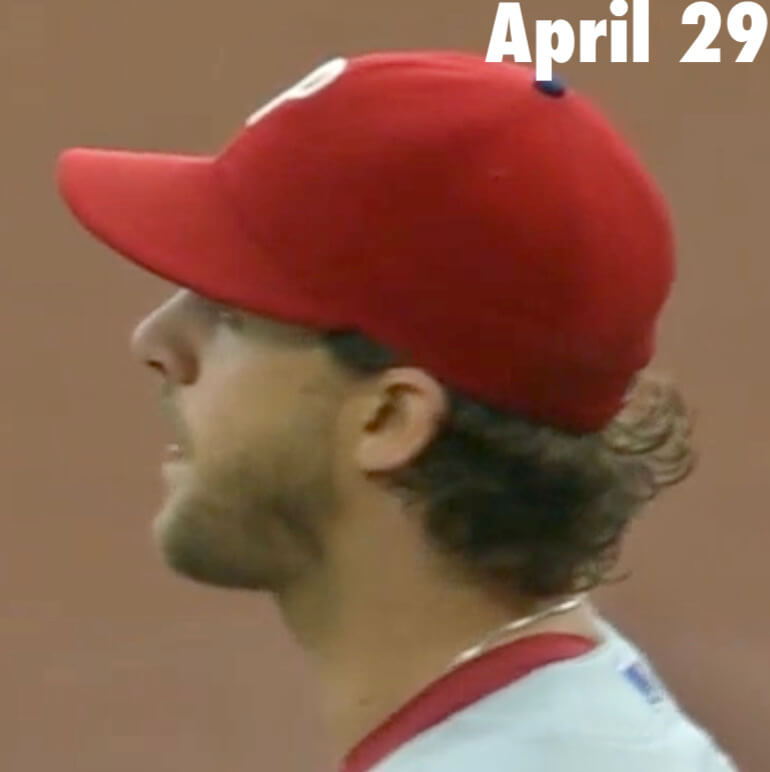 But when Nola has had the maker's mark, it looks like it's been a conventional high-profile 5950: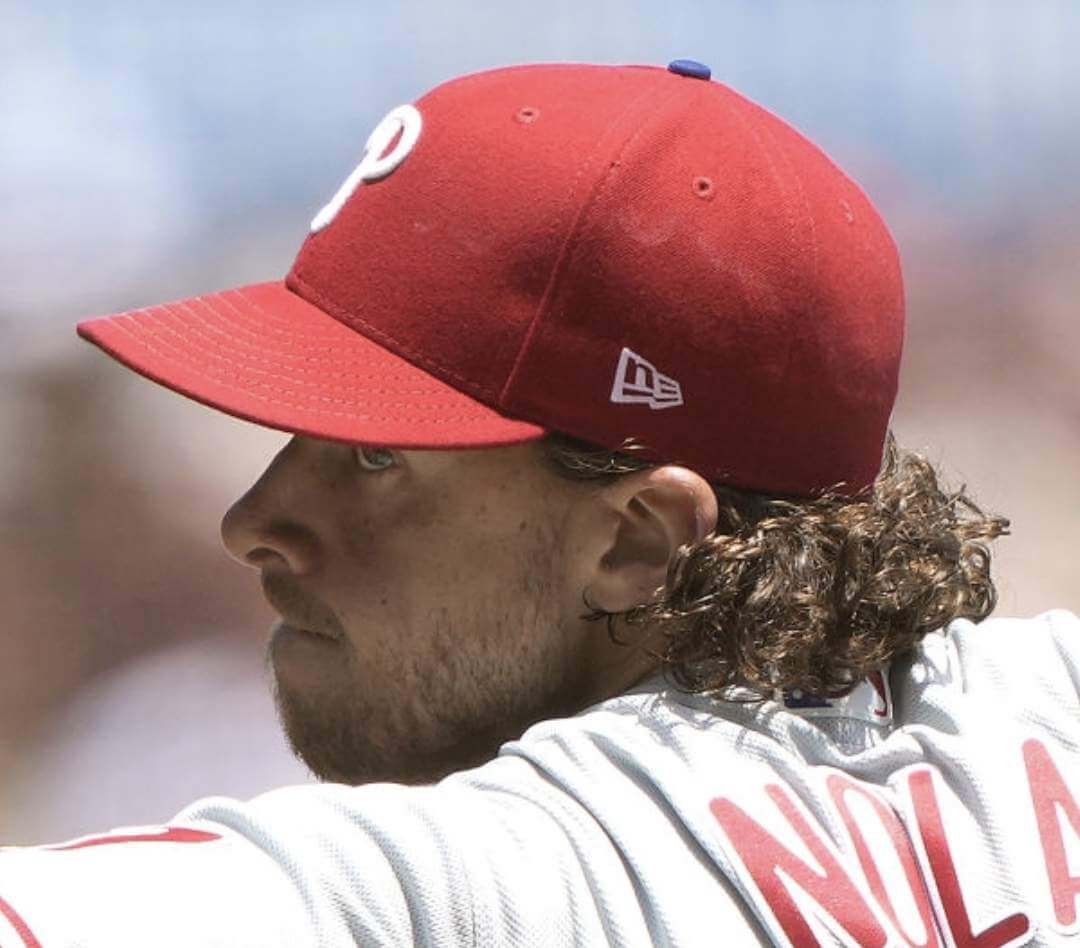 I don't know why Nola would be flip-flopping back and forth between high- and low-profile caps, but this at least seems to explain the variation his "on again, off again" logo creep: The logo-free cap is apparently an older low-profile model.
If there's a down side to all of this, it's that Steve V. will now ensure that Lowrie's caps have the maker's mark going forward, presumably starting tonight (the A's were off yesterday). That's too bad, but at least now we understand what was going on.
The next big question to tackle: How many MLBers besides Lowrie prefer low-profile caps? I confess that cap silhouettes aren't something I've been attuned to over the years. Does anyone track this?
(Big thanks to Casey Coneway, whose observation made this post possible, and to Steve Vucinich for helping to solve both the Lowrie and Nola mysteries.)
• • • • •
• • • • •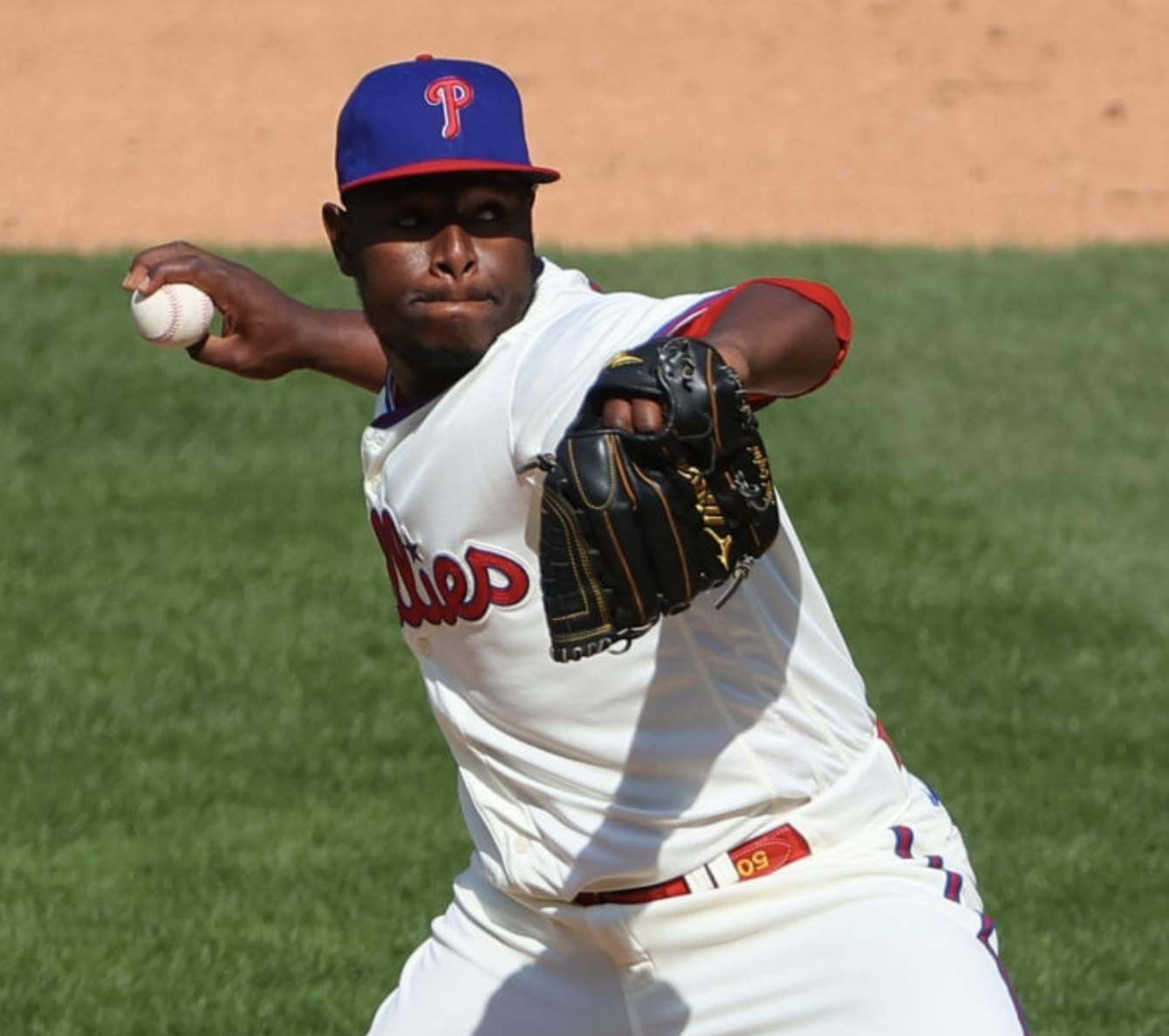 Click to enlarge
Belt Watch, continued: Yesterday's post about left- and right-handed belt-wearing styles in MLB prompted a great note from reader Shawn Sweeney, who points out that Phillies reliever Hector Neris has been wearing a uni-numbered belt with the number upside-down! The photo above is from a game in May, but photo research indicates that Neris has been doing this all season long, even back in spring training. This means means his belt was designed for the left-handed style, but he wears it right-handed (which makes sense, because he's a righty). Bizarre!
Meanwhile, longtime reader Benji Boyter reports he has a co-worker who says wearing the belt in the lefty style is common among hockey players. "According to him, the reasoning was that the strap to tighten his garter belt was on his right side and so because of that, he always wore his belts with the strap pointing to the right instead of the left," says Benji. "He also added that he once noticed a guy wearing his belt in the same manner and asked if he was a hockey player and the guy responded that he was and added, 'Could you tell by the belt?'"
That concludes this installment of Belt Watch. I'm fairly certain there'll be more where this came from.
• • • • •
• • • • •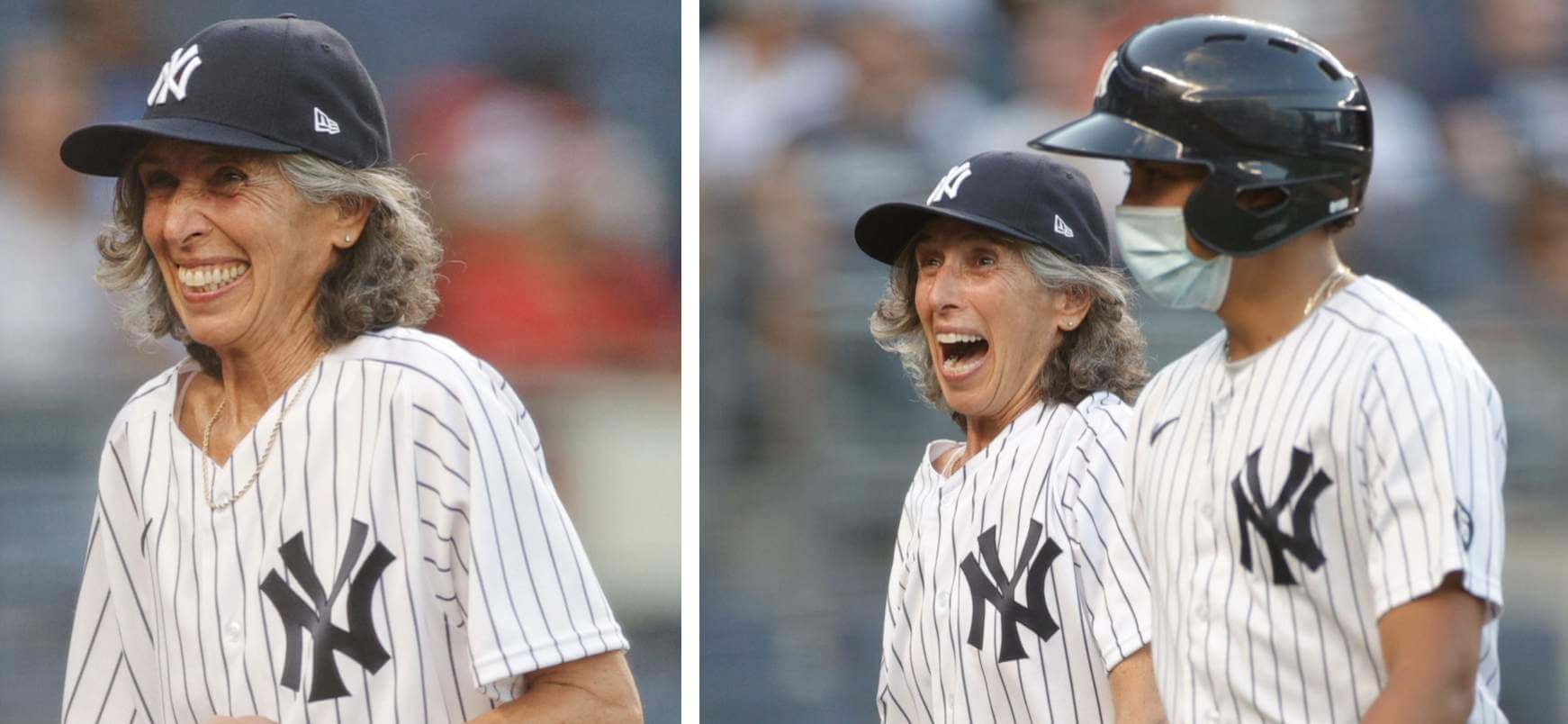 Click to enlarge
Better late than never: Nice move last night by the Yankees, who allowed 70-year-old Gwen Goldman to suit up as an honorary bat"girl." She had applied for that position back in 1961, when she was 10 years old, but was turned down because of her gender. When the situation was recently brought to the attention of Yanks GM Brian Cashman, he decided to do something about it.
The good uni news: Goldman went high-cuffed. The bad news, as you can see above, is that the Yanks neglected to include the Whitey Ford memorial patch on her jersey, even though the regular batboy has it. So even now, Goldman is still a bit "less than." Dang.
• • • • •
• • • • •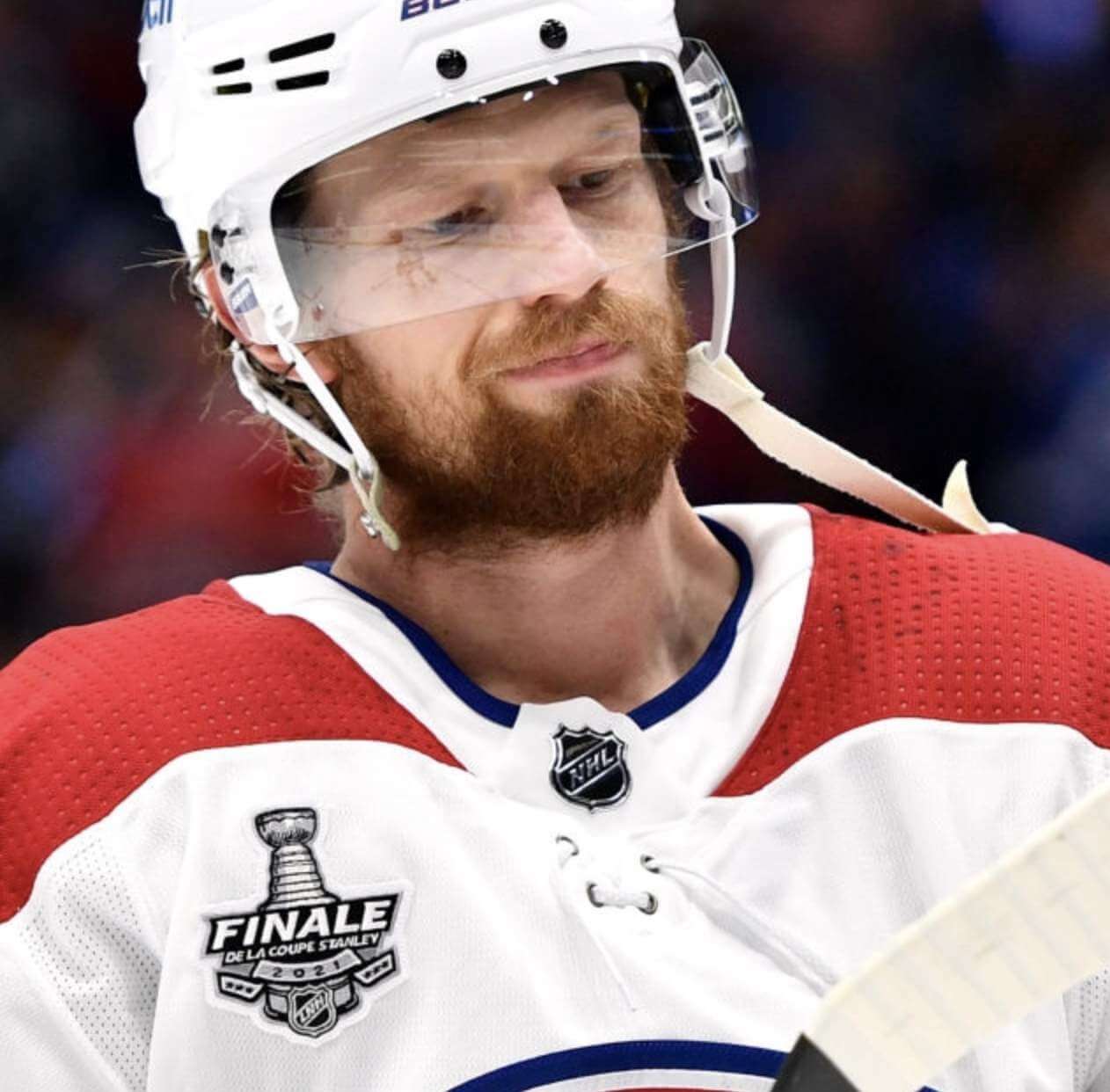 Click to enlarge
Sacre bleu! The Stanley Cup Final(s) got underway last night, with the Canadiens (my favorite NHL team!) facing the Lightning. As you can see above, the Habs wore a French-language version of the Stanley Cup patch — the first time that's ever been done. Kind of funny that the patch includes the LNH shield (that's Ligue Nationale de Hockey), but the Habs' jersey includes the standard NHL shield at the base of the collar. They wear the French version on their home jerseys, so the patch and the jersey logo will match when the series moves to Montreal for Game Three. (Hopefully the series will be knotted up by that point, as the Habs were the Hab-Nots last night.)
Meanwhile, following up on an NHL item from yesterday: Commish Gary Bettman now says that jersey ads will not be happening next season (although helmet ads are here to stay, which we already knew). So we'll have at least one more season of unsullied NHL sweaters. Phew.
• • • • •
• • • • •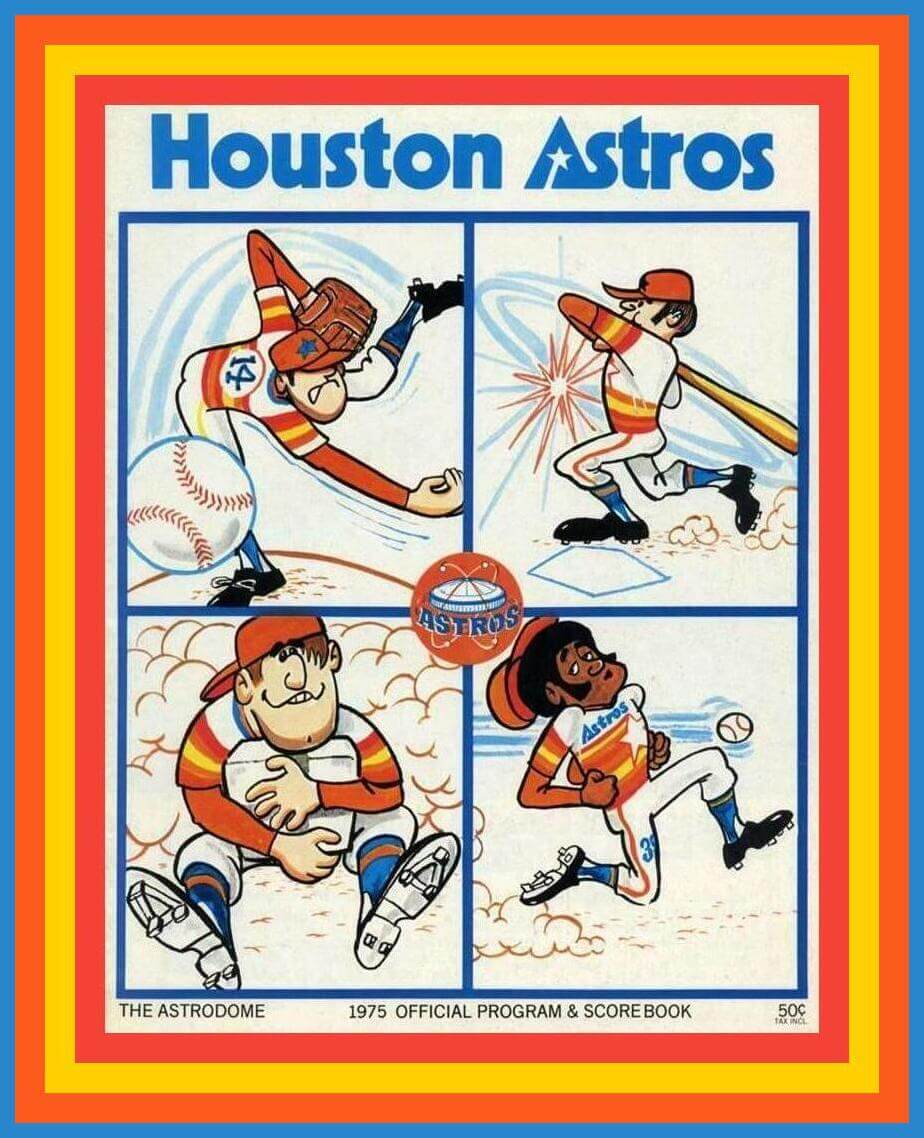 Click to enlarge
Collector's Corner
By Brinke Guthrie
Follow @brinkeguthrie    
Take a look at the sensational cover art for this 1975 Houston Astros game program! This was the first season for the tequila sunrise look. Also, look at the "star-A" in the type at the top of the cover — that's based on the original tequila sunrise prototype design!
Now for the rest of this week's picks:
• One more 'Stros program for you: The 1976 National League centennial logo is one of my all-time favorites, and it's right there in the middle of the cover for this (of course) 1976 Padres/Astros game program. (Nowadays, of course, the 'Stros are in the American League, but that switcheroo didn't take place until 2013.)
• I love the title of this 1963 paperback written by Yankees Hall of Famer Whitey Ford and sportswriter Jack Lang (I suspect Lang did most of the heavy lifting): The Fighting Southpaw! Sounds like a John Wayne movie.
• Hockey art from the 1970s just doesn't get any better than this set of four NHL team posters, originally from Wheaties. This set includes the Montreal Canadiens, Vancouver Canucks, Philadelphia Flyers, and Boston Bruins.
• Nice-looking graphics on this 1970s Los Angeles Rams equipment foot locker. This is "Official Team Property" wink-wink, and the interior looks to be in fine shape. The outside has some wear on it, including rust in one corner. Well, at least it's not done up in "Bone," right? 
• This 1996 San Diego Padres canvas tote bag says, "60th Anniversary 1936-1996." The MLB Padres didn't come into existence until 1969, of course, but the date range on the bag takes into account the PCL history of the minor league team of the same name.
• This 1970s  Mr. Met ashtray is in excellent condition.
• The 1969 MLB National League Eastern Division is depicted on this mini-helmet hat tree.
• You too can, er, smell like a (Dallas) Cowboy with this 1994 bottle of NFL Cologne.
• Looks like Phil "Scrap Iron" Garner on this 1979 Iron City/Pirates World Series commemorative beer can.
• This Parker Brothers board game, The National-American Baseball Game, dates back 108 years!
• Almost looks like Brownie the Elf on this 1959 Chicago White Sox megaphone/popcorn holder. The little dude was still takin' his cuts in 1983, too.
Got an item to include on Collector's Corner? Tweet submissions to @brinkeguthrie.
• • • • •
• • • • •
The Ticker
By Alex Hider

Baseball News: The Reds' Lou Gehrig Day game on June 2 was rained out, so they wore the Lou Gehrig Day patch for last night's makeup game. The visiting Phillies did not wear the patch. … Speaking of the Reds, they mistakenly had former pitcher Trevor Bauer in the lineup and playing shortstop on their scoreboard last night (from Kyle Sutton). … Rockies P Daniel Bard had his grey glove confiscated by umpires last night because there wasn't enough contrast with the baseball (from @HollarDollar). … The baseball helmet sundae is a summer staple — but it's not often you see an earflap on the helmet! What's next — C-flap spoons? (From Scott Rogers.) … Back in 1970, the Astros ran a giveaway promotion where fans attending games received team patches — not just for the Astros, but also for the Dodgers, Cubs, Pirates, and Cardinals (from T. McElwee). … WABC-TV in New York used an old Angels logo in a graphic during a segment last night (from @doueventrainufc). … Brady West, a catcher for the Idaho Falls Chukars of the independent Pioneer League, patched his lucky pants with a "Dogecoin"-themed patch (from Clint Dickinson).

Pro Football News: A Texans blog has proposed a few ways for the team to take advantage now that teams will be able to add a new helmet color next season (from Kary Klismet). … Also from Kary:  Tom Brady marks his golf balls by listing all the Super Bowls he's won. … The CFL's Saskatchewan Roughriders are offering fans an opportunity to have their name inscribed on a wall within their stadium (from Wade Heidt). … In 1977, Broncos QB Craig Morton's sewn-in jersey pocket was apparently made from an orange towel (from Tom Jacobsen and Dave Guidera).

College Football News: Wisconsin QB Graham Mertz has a personal logo ready to go for when the NCAA formally begins allowing players to profit from their name, image, and likeness (from Griffin T. Smith). … If this photo is any indication, Texas A&M will again feature maroon pants this season. "They stuck to strictly white pants in the previous season," Connor Russell says. … Here's an ACC uniform power ranking (from Phil and Kary Klismet).  … Gerry Dincher sends along this excellent footage of Penn State's 1969 season, featuring a color-on-color matchup with West Virginia and my Ohio Bobcats wearing an enormous SNOB on their jerseys.

Hockey News: Paul mentioned this in one of today's sub-ledes, but it bears repeating: The good news? No sweater ads next season. The bad news? Helmet ads are sticking around (thanks to all who shared). … The NHL has unveiled the logo for the Seattle Kraken's expansion draft (from Ephraim Vorzman). … There was no Stanley Cup Final(s) logo on the ice for Game 1 in Tampa last night (from Steven Vegh). … A Montreal bagel shop is supporting the Canadiens' title run with Habs logo-shaped bagels (from Andreas Papadopoulos). … Speaking of the Habs, Formula One driver Lance Stroll is a Canadiens fan and has a helmet emblazoned with their logo (from Omar Jalife).

Soccer News: The Crew will open their new stadium on Saturday. Here's some photos from inside the new venue (from Kary Klismet). …  Two new shirts for Scottish club Greenock Morton, including an ad-less jersey commemorating the 100th anniversary of the 1922 Scottish Cup win (from our own Jamie Rathjen). … Also from Jamie: England will feature a rainbow captain's armband at Euro 2020 today. … Interesting to watch this 1978 BBC piece on the then-new retail market for soccer merchandise through today's prism (from Trevor Williams). … Nashville SC's uni tracker shows that they've been most successful in their yellow kit so far this season (from @NashvilleSCkits). … The rest of these are from Ed Zelaski: New away shirt for Dutch club Willem II. … The new Hertha BSC shirt has leaked. … New kits and outfitter for fifth-tier English side Grimsby Town, which is switching from Macron to Errea.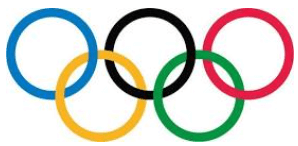 Olympics News: Here's what the U.S. Golf team will wear in Tokyo next month (from Jason Hillyer and Kary Klismet). … China has unveiled its podium uniform (from Phil). … In case you haven't been keeping up, here's what several countries will be wearing during the Opening and Closing Ceremonies next month (also from Phil).

Grab Bag: Repost: NASCAR Whelen Euro Series driver Alex Sedgwick will drive a Kobe Bryant-themed car this weekend. … This article recaps the history of girls' school uniforms and how they became a fashion trend (from Kary Klismet). … Here's yet another story about Edina High School in Minnesota, which is in a trademark dispute over the school's hornet logo with its creator — a former student who designed it back in 1981 (from Scott Gurrola and Sam). … With the NCAA poised to roll back name/image/likeness regulations, Houston has launched a program to help its athletes navigate the new rules (from Ignacio Salazar). … After a trial period, the UK has officially introduced new uniforms for postal workers (from Timmy Donahue). … Also from Timmy: Ontario Provincial Police officers are now permitted to wear baseball caps as part of their uniform. … We've talked before about schools that have male-gendered team names for their boys' teams, leaving the girls' teams with diminutive variations on the boys' name or the stupid "Lady" modifier. Now Thomas Foote has an interesting example of the gender default running the other way: "Converse College, a D2 school in Spartanburg, S.C. (now rebranding as Converse University), has been all-women since it opened in 1889, and its teams are known as the Valkyries. Converse went co-ed this past year will field its first men's teams this fall. Based on the initial announcements, it looks like they will be using 'Valkyries' for everyone, though I haven't seen anything officially confirming that."
• • • • •
Our latest raffle winners are Cole Robison and Mike Menner, each of whom has won a Uni Watch koozie. Congrats to them, and thanks to Chris Hickey for sponsoring this one.
I originally planned to have a big announcement today, but instead it will be tomorrow. Sorry for the tease, and thanks for your patience. Nope, it now turns out that it won't be tomorrow either. Soon, but I'm not sure exactly when. Sorry for the moving target. — Paul