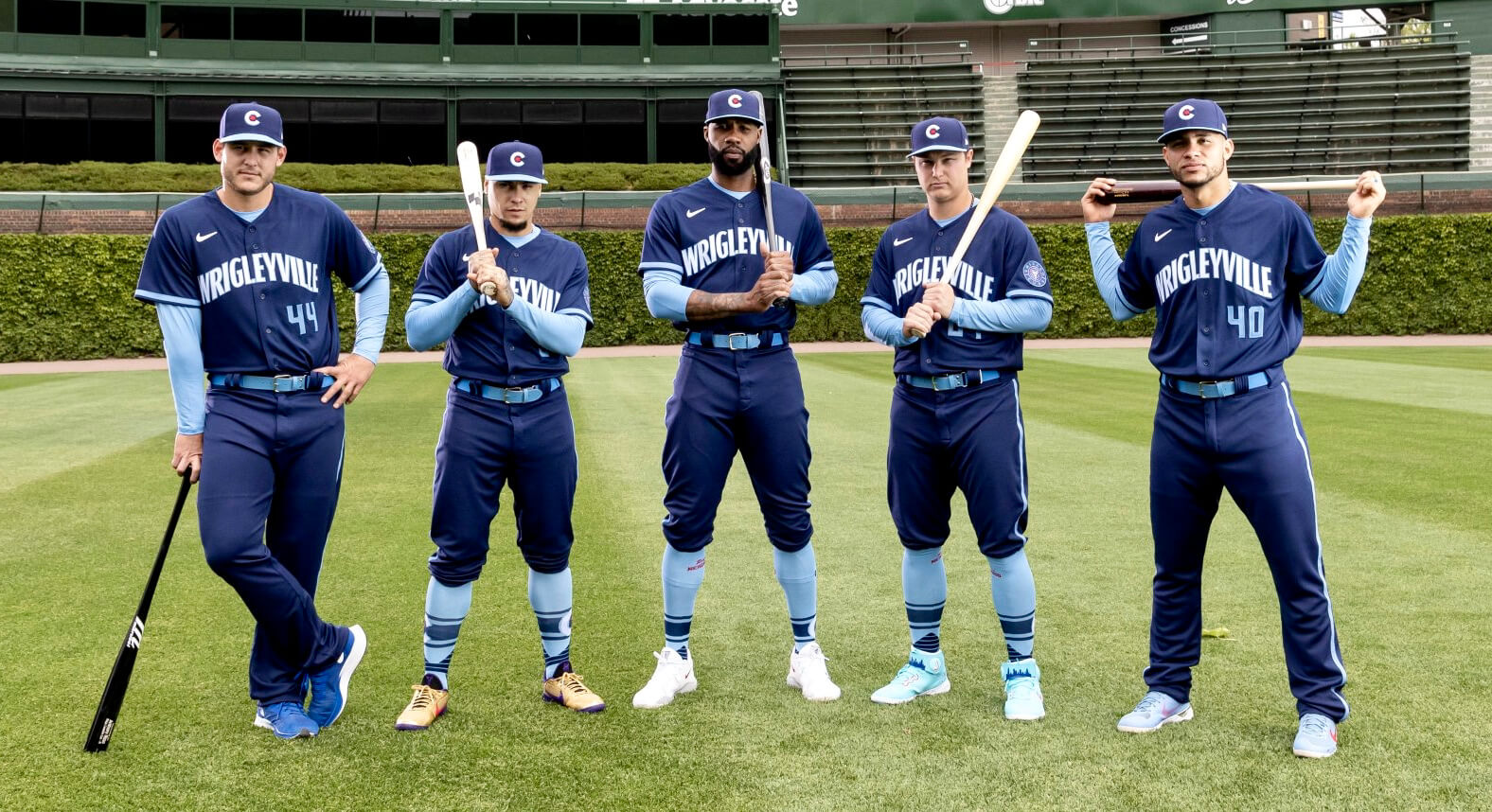 Click to enlarge
After a series of leaks, the Cubs went ahead yesterday and unveiled their City Connect (CC) alternate uniform. You can see the full uni above, and here's a closer look at the cap: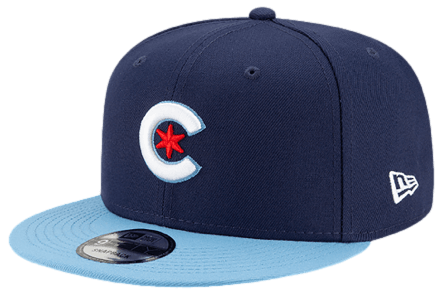 Here's a closer look at the sleeve patch, which is based on the municipal device of Chicago, a Y-shaped symbol that appears throughout the city, representing the north, south, and main branches of the Chicago River: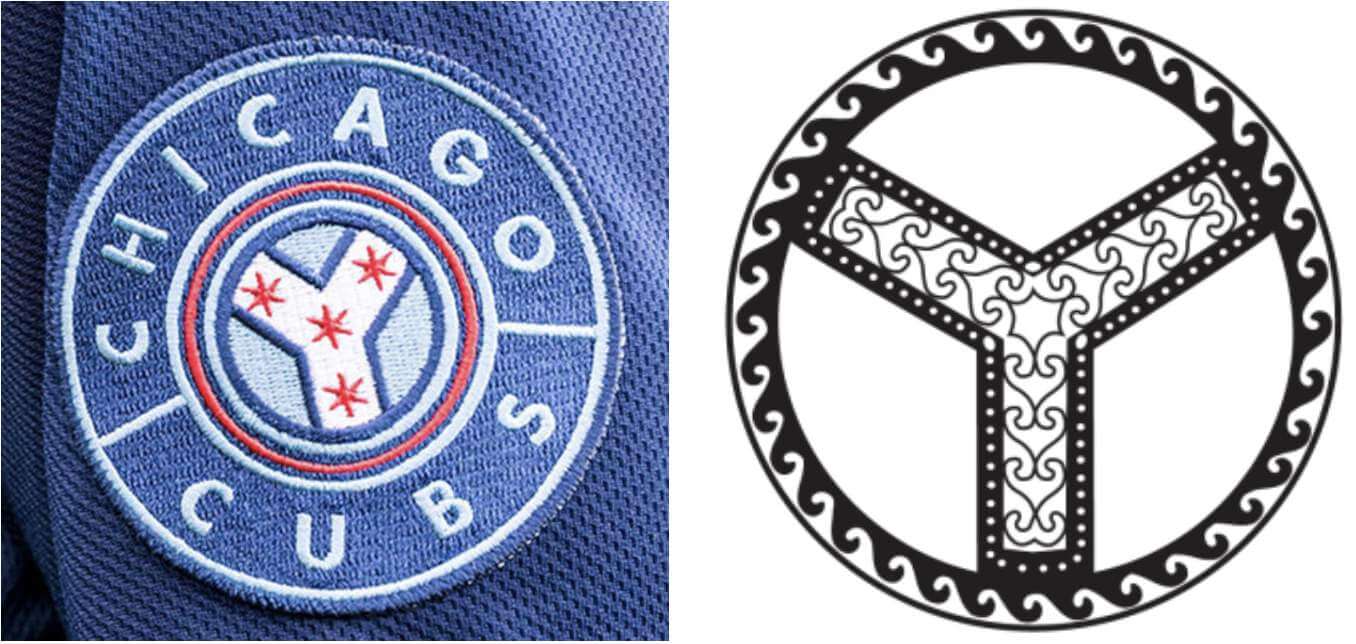 Some thoughts:
1. The jersey lettering is based, of course, on the famous Wrigley Field sign. Some folks say the use of "Wrigleyville" is an affront, because real Chicagoans never use that term, blah-blah-blah — I'll leave that to Chicagoans to argue over. Personally, I'm not nuts about something other than the team name or city name appearing on the jersey, but I do think the design of the lettering is pretty nice.
2. It seems fairly obvious that every new Chicago team uniform in any sport for the foreseeable future will feature some iteration of the six-pointed star from the city flag. As a design trope, it already feels played out. That said, the cap is pretty good. I add the "pretty" qualifier because I'm not nuts about the light-blue brim, plus the overall design looks a lot like one of the Blue Jays' alternate caps:

3. When the jersey leaked at the end of last week, it hadn't occurred to me that the pants might be blue to match. I'm sure some of you folks out there dislike the mono look, but I actually like it, at least with the high-cuffed pants — the contrasting belt, undershirt, and socks all coordinate nicely. Plus the Cubs have a history of going mono-blue in 1911, '12, and '13, so there's historical precedent. (The look is a lot less attractive with pajama pants, though.)
4. There's also a lot of marketing hoo-ha about how this uniform "ties together all of Chicago's neighborhoods," because Chicago is a "city of neighborhoods" (unlike all those other cities, I guess) and lots of associated nonsense. If you ignore all of that, as you should, and just concentrate on the design, it's not bad. Not great, but not bad.
This uniform will make its on-field debut this Saturday, June 12, when the Cubs host the Cardinals. If the Cards wear their usual powder blue Saturday road unis, that would make for a mono-blue vs. mono-blue game — hmmmm.
The Diamondbacks are the next team slated to unveil a CC uniform. That release is coming sometime later this month.
• • • • •
• • • • •
Ump Pocket Watch, continued: Welcome to Ump Pocket Watch, where we obsess over objects that end up in umpires' pockets. As you may recall, yesterday we discussed a college baseball game during which a wild pitch somehow ended up in the plate umpire's chest pocket, which seemed like a once-in-a-lifetime occurrence.
But reader Chris Flinn has alerted me to the existence of two other examples of this same phenomenon! One of them, shown above, took place during a Pirates/Padres game in 2016. The other is from a Chisox/Astros game of indeterminate date (although it had to be somewhere from 1994 to 1999, based on Houston's uniforms):
(Update: Reader/researcher Jerry Wolper has determined that his game took place on July 1, 1998. The wild pitch took place in the seventh inning, and is described thusly in the play-by-play: "Henry threw a wild pitch [Durham scored (unearned)]; the ball somehow got in the shirt pocket of HP umpire Gerry Davis; when
catcher Brad Ausmus could not find the ball, Ray Durham
scored.")
In addition, there was a Cubs/Dodgers game in 2019 in which Cubbies catcher Willson Contreras fouled a ball into a pocket on the plate ump's jacket (which seems a bit less improbable, since the jacket pockets are larger, but still a pretty neat trick):
That concludes this edition of Ump Pocket Watch. I'm sure we'll have more installments in the weeks and months ahead.
(Big thanks to Chris Flinn for the first two videos shown above.)
• • • • •
• • • • •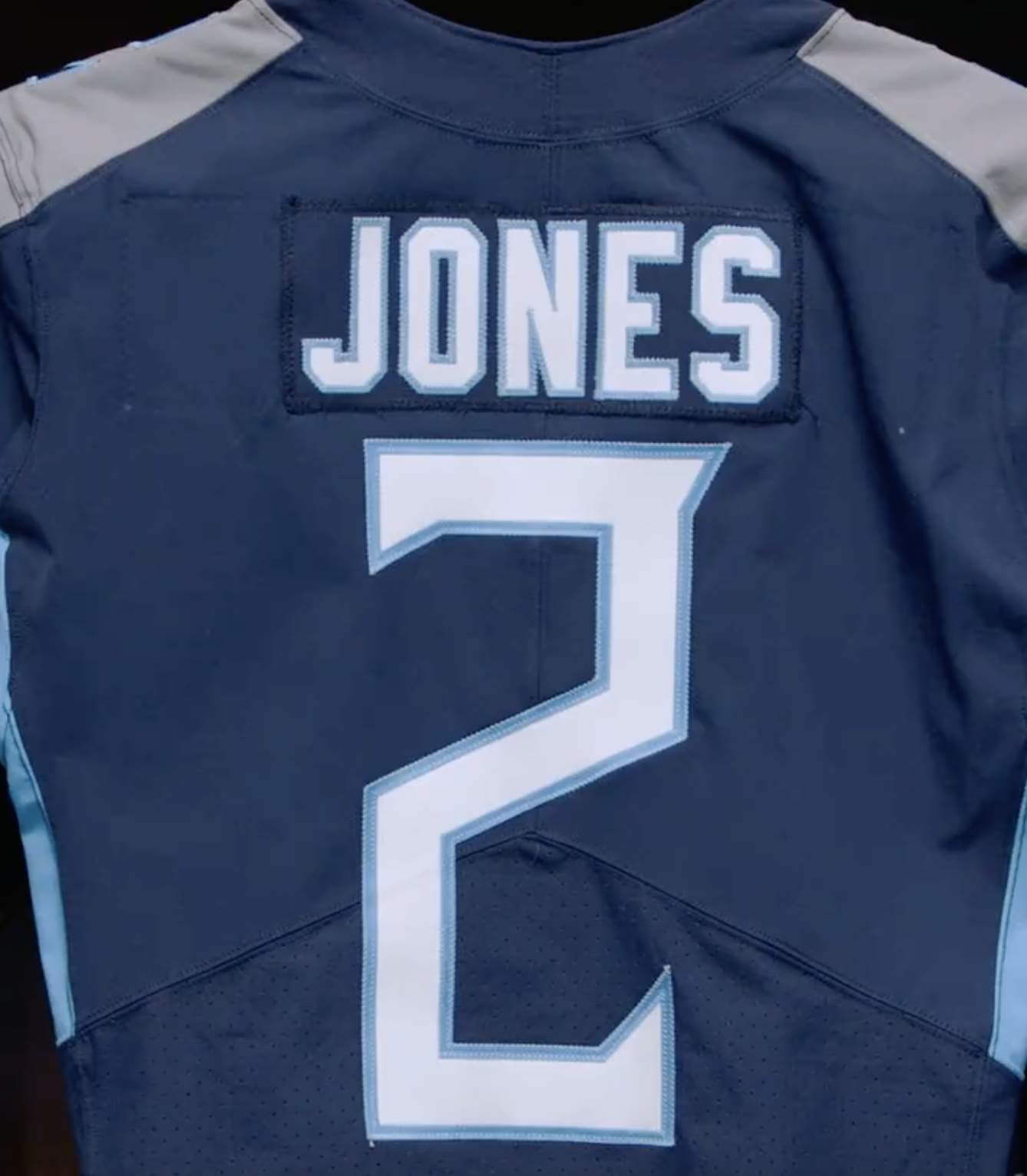 Click to enlarge
Blue (name)plate special: The big news in the NFL yesterday, as such things go, is that newly acquired Titans wideout Julio Jones will wear No. 2. The Titans promoted this development via a video on social media. But as you can see in the screen shot above, they apparently used an old jersey from which an earlier (and longer) nameplate had been removed.
Now, I'm all in favor of recycling, reuse, and all of that. But if you're going to create a silly promo video for a largely pointless bit of "news," it seems like you could at least use a new jersey instead of half-assing it, no?
(All credit to Twitter-er @Mr_MacDougall for spotting the outline of the old nameplate.)
• • • • •
• • • • •
Membership update: We've finally finished all of this year's Purp Walk orders. That includes longtime reader R. Scott Rogers's card, which is based on Forward Madison keeper's shirt.
We are now fully caught up on all membership orders, purple and otherwise. The new designs have been added to the membership card gallery, which now features more than 3,200 designs!
Ordering a membership card is a good way to support Uni Watch (which, frankly, could use your support these days). And remember, a Uni Watch membership card entitles you to a 15% discount on any of the merchandise in the Uni Watch, Uni Rock, and Naming Wrongs shops, plus the discount also applies to our Uni Watch Classic Cap. (If you're an existing member and would like to have the discount code, email me and I'll hook you up.)
As always, you can sign up for your own custom-designed card here, you can see all the cards we've designed so far here (now more than 3,200 of them!), and you can see how we produce the cards here.
• • • • •
• • • • •
The Ticker
By Lloyd Alaban

Baseball News: The Sugar Land Skeeters will wear parrot-themed jerseys this weekend (from Ignacio Salazar). … The A's wore the Lou Gehrig Day patch on June 2, when they were on the road, but they showcased an ALS-centric nonprofit group for last night's home game, so they wore the patch again last night.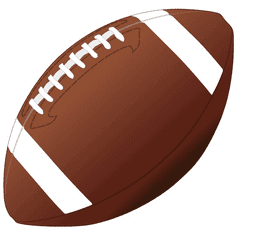 Football News: Guns N' Roses announced their August show at Allegiant Stadium in Las Vegas with a modified Raiders logo. … A sportswriter tells the uni-verse to be more optimistic about the Packers' upcoming throwbacks (from our own Phil Hecken). … Dolphins WR Mack Hollins wore his road jersey while scuba diving (from James Gilbert).

Hockey News: Although the Canadiens are the Maple Leafs' rivals and actually eliminated the Leafs from this year's Stanley Cup playoffs, the CN Tower in Toronto was lit up in Habs colors last night to support Montreal's push toward the Cup (from Wade Heidt).

College Basketball News: Baby steps: The NCAA said it's waiting on some sort of review of gender equality in basketball. As part of that, they might let the Division I women's hoops tournament use the "March Madness" branding (from our own Jamie Rathjen).

Soccer News: ESPN has ranked all Euro 2020 kits (from Ridgeway Burns). … New third kit for Scottish Premiership side Hearts (from Trevor Williams). … New crest for Portuguese side Gil Vicente (from Mike D.). … The next four items are from our own Jamie Rathjen: The USMNT and USWNT are wearing rainbow numbers for Pride Month three times over the next week. … The NWSL announced a San Diego expansion team, which will begin play in 2022. … The USL W League was relaunched yesterday. The Minnesota team currently has a placeholder name and logo. It sounds like they'll reveal more this weekend. … Not a ton of details for the USL W Washington team either. …  New logo for Comox Valley United, an amateur club in British Columbia (from Kary Klismet). … New Mexico United of the USL Championship revealed Pride uniforms (from Ty Ortega).

Grab Bag: New advertiser for this weekend's NASCAR Xfinity Series race at Texas Motor Speedway (from Timmy Donahue). … Also from Timmy: Alaska Airlines employees say the airlines' uniforms are discriminatory. … The following three items are from Kary Klismet: New uniforms for the Midland County, Texas, Sheriff's Department. … A study from Victoria University in Australia has found that white uniforms and skirts may be turning off many women and girls from participating in organized sports. … Team Wales has unveiled its mascot for the 2022 Commonwealth Games in Birmingham, England. … The town of Perryville, Ky., has formed a committee to redesign its logo, which currently includes a Confederate flag (from Michael Kinney).