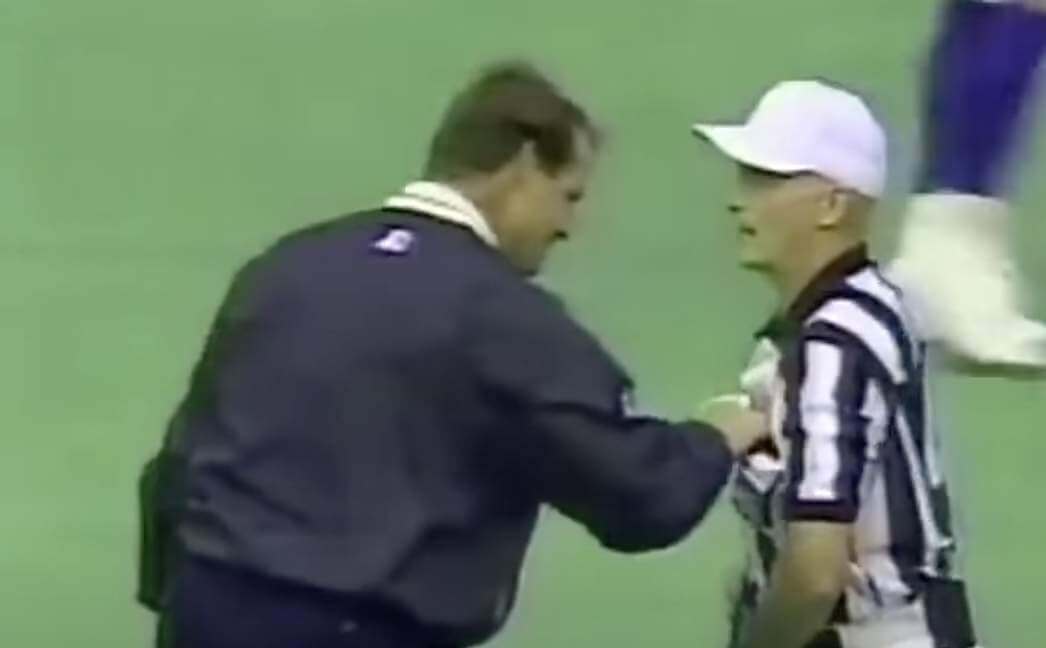 Back in 1995, there was a now-famous incident involving Steelers coach Bill Cowher. The Steelers were facing the Vikings, and Vikes kicker Fuad Reveiz missed a field goal attempt during the second quarter. But Pittsburgh was penalized for having 12 men on the field, so Reveiz got a second chance, and this time his kick was good.
A few minutes later, the Steelers' eyes-in-the-sky staff sent down a photo showing that the penalty call was wrong — Pittsburgh had the requisite 11 men on the field, not 12, for the first field goal attempt. Cowher, understandably, was incensed — so incensed that before running off the field at halftime, he sought out the officiating crew, waved the photo in their faces, and stuffed the photo in the referee's jersey pocket before running to the locker room.
You've probably seen video of that confrontation at some point, right? If you want to refresh your memory, here it is again:
Why am I rehashing this story? Because Uni Watch reader L.J. Sparvero has been reading Cowher's just-published autobiography, Heart and Steel, and discovered that it includes an interesting uni-related tidbit about that 1995 incident. Here's the relevant passage — the uni-related bit is at the very end:
After that incident, Pittsburgh fans were supportive of me. I heard, over and over, that what I did to that official was great. One of my daughters told me, "Daddy, I'm so glad you did that to that official because he was wrong."

I thought about it, then told her, "No, what I did was wrong. You don't treat people like that. You don't show somebody up on national TV like that." I learned something that day.

I realized I was in the entertainment business, too, and people are constantly watching me on the sidelines. To show up someone in a position of authority — even if I was right — was absolutely the wrong message. The league fined me $7,500. Both officials were fined for their mistake as well. Also, from that time on, the league took the pockets off the officials' shirts.
Well, that's certainly an interesting claim. You can almost hear Cowher using it as a punchline every time he tells the story. But is it true? Did Bill Cowher's temper tantrum actually result in a change to NFL officials' uniforms?
According to the Gridiron Uniform Database, pockets were added to the officials' jerseys in 1979 and have remained there ever since. I checked photos from a bunch of different years (although, admittedly, not every single year since 1979), and sure enough, pockets appear to have been there all along. That includes last season, as you can see here (click to enlarge):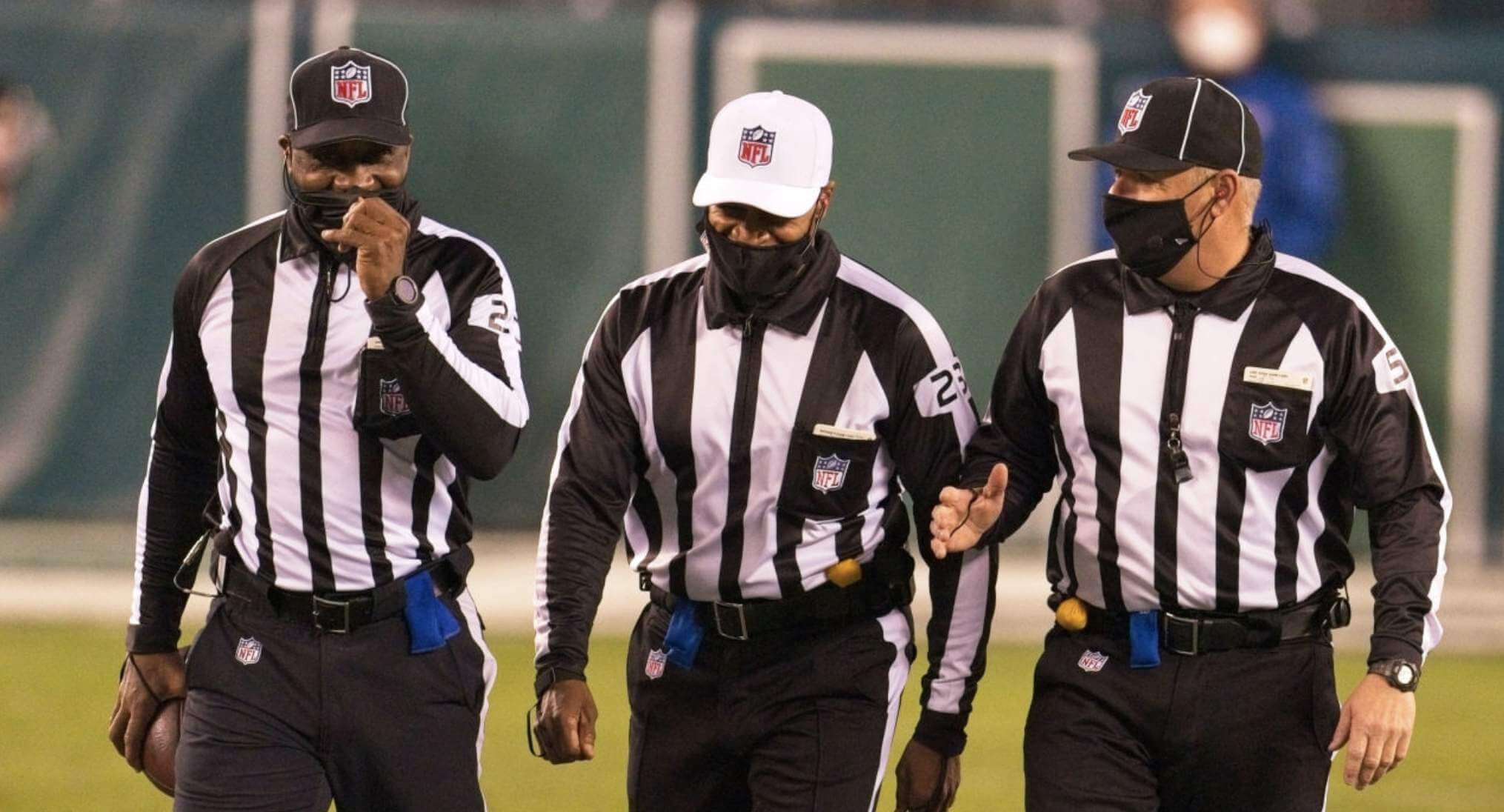 So no, Cowher's claim is not true. It's odd that he would make such an easily disproven assertion (and disappointing that his publisher, Simon & Schuster, didn't fact-check such an easily checkable claim). Moreover, he still works as an NFL TV analyst, so he watches NFL games for a living and has plenty of opportunities to look at the officials. Has he really not noticed that they do indeed still have pockets? Or is he fully aware of that but is operating on the "Never let the truth get in the way of a good story" principle?
Here's what we should do: Someone should go to Cowher's house with a printout of that last photo I just showed you, knock on the door, wave the photo in his face, and stuff it in his pocket. I'm sure an easygoing guy like Cowher would appreciate the humor in that situation, don't you? There's a free Uni Watch membership card in it for the first person who does it!
• • • • •
• • • • •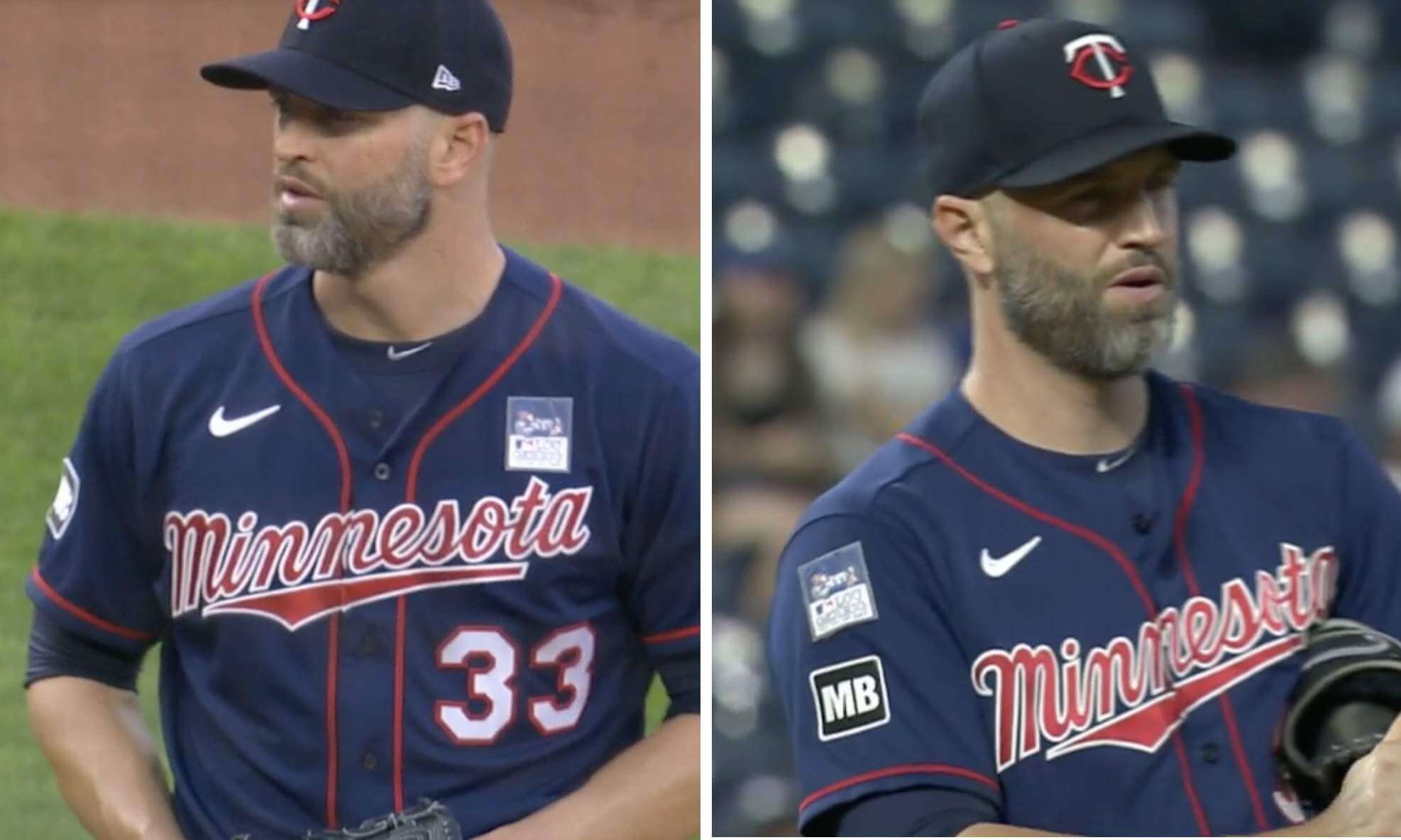 More patch shenanigans: MLB teams that didn't play on Wednesday wore the Lou Gehrig Day patch yesterday. Twins starter J.A. Happ apparently had some trouble with his patch, which spent the first four innings of the game on his chest and then moved to his sleeve for the fifth inning. Memo to MLB: Use sewn-on patches next year!
(My thanks to Twitter-er @minnysam32 for this one.)
• • • • •
• • • • •
Blast from the masked past: As you probably know, Pirates outfielder Dave Parker wore a variety of protective masks after returning to the field while nursing a broken cheekbone in 1978. The most famous of those masks is a hockey goalie's mask that he wore for one plate appearance, during which he was intentionally walked.
I've shared lots of photos of that mask over the years (for full details, see this ESPN article that I wrote in 2008), but I don't think I'd ever seen video of Parker's famous hockey-masked at-bat until now. Click on the embed above to check it out.
(Big thanks to James Roche for this one.)
• • • • •
• • • • •
ITEM! New PPC development: As most of you know, the Pandemic Porch Cocktails project recently came to a close after 424 daily photos. I'm still trying to find a venue that will host an exhibit of the pics, but in the meantime several of you have suggested that I compile them into a self-published book — not a bad idea!
So I've been looking into that. I'm thinking of going with Blurb, a platform that produces photo books of surprisingly decent quality (we have a few of their books here at Uni Watch HQ). Here's what I'm thinking:
• 7″ x 7″
• Paperback
• 440 pages
Each photo would get its own page (with the date it was taken printed beneath it), so that would take up 424 of the pages. The remaining pages would be frontmatter, an essay about the project (how it came about, how important it became for us, how it helped us feel connected to our neighborhood even when we couldn't have normal human contact with our neighbors, etc.), maybe an essay about the branch, and so on.
It all sounds good — except that a 440-page book of color photos is expensive to produce. If I get at least 40 of them made (that's the quantity at which the biggest pricing discount kicks in), I'd have to sell them for close to $60 plus shipping.
That's a lot, I know. Would people be interested in purchasing such a book? If you would, please let me know.
Meanwhile, if anyone knows of a better or less expensive platform than Blurb — or if anyone working in the publishing biz wants to discuss this project as a "real" book — I'm all ears. Thanks!
• • • • •
• • • • •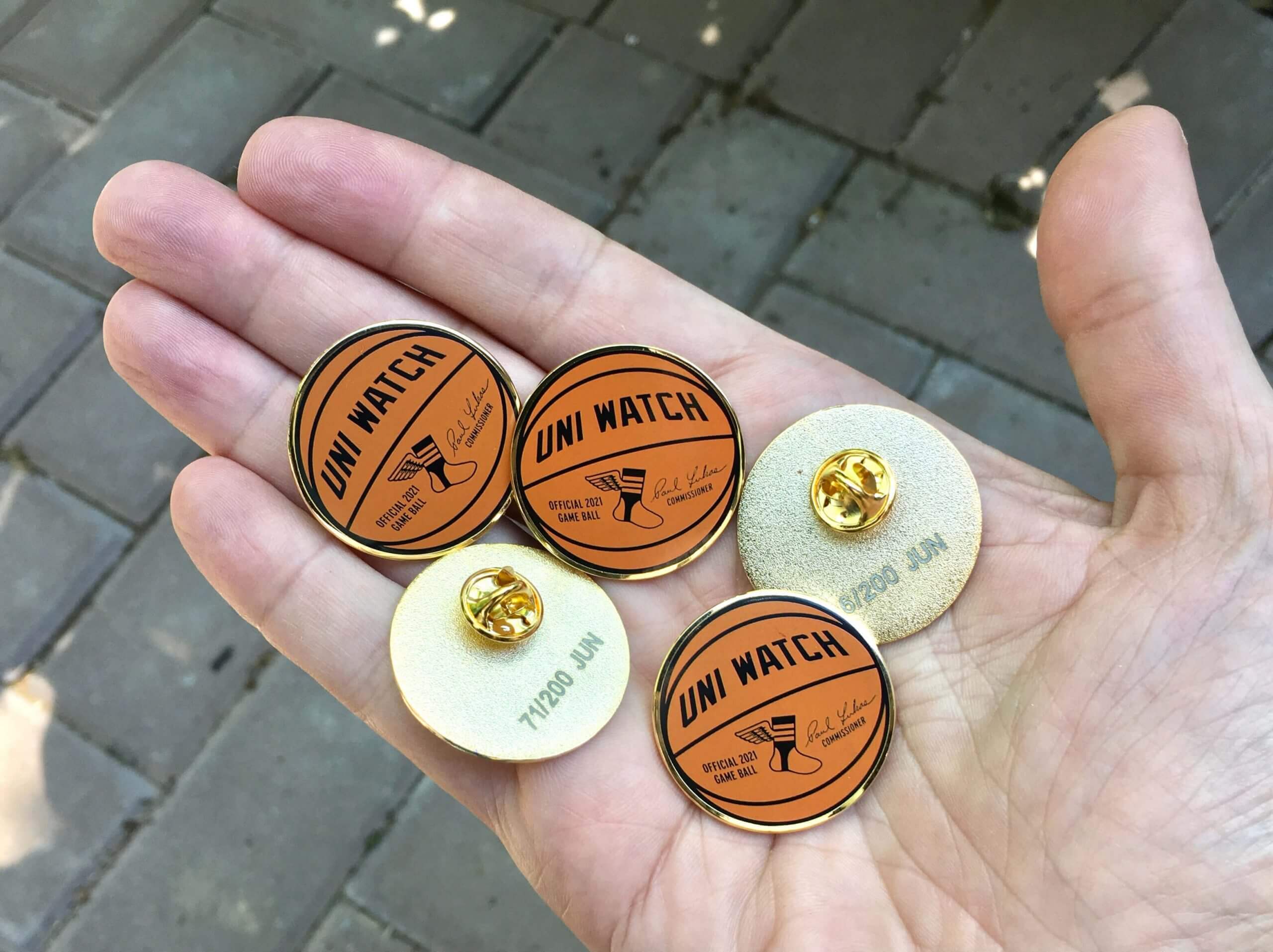 Click to enlarge
June pin reminder: In case you missed it on Tuesday, our June pin is now available. With the NBA playoffs in full swing, we've decided to go with a basketball theme this month. Our "Official Uni Watch Basketball" pin — similar to the baseball pin that we did in April of last year — comes with my signature and is also the first pin we've ever done that doesn't include green!
This pin is available in a numbered edition of 200. As of this morning, there were fewer than 80 remaining. You can order yours here while supplies last.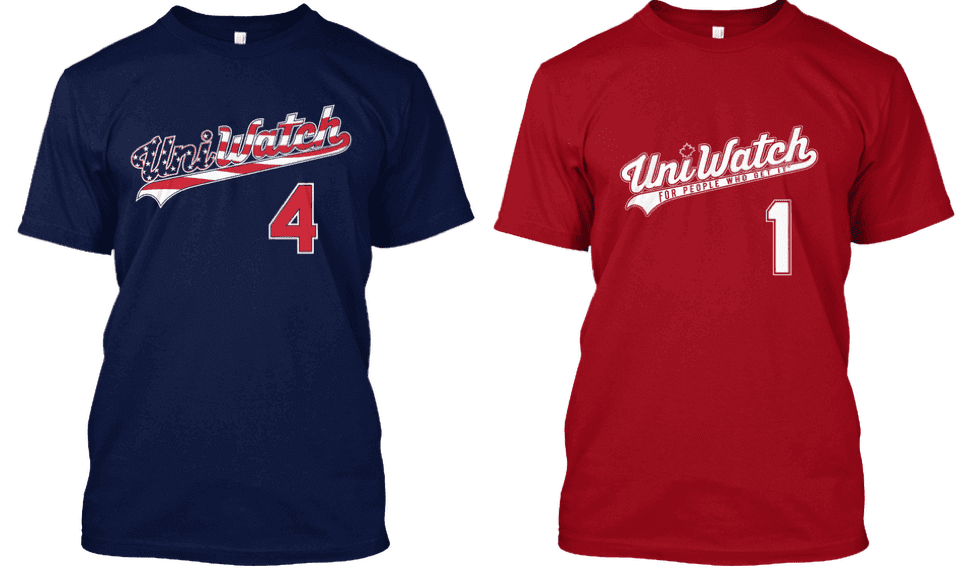 While we're at it, it's worth noting that those two early-July holidays — Canada Day on July 1 and Independence Day on July 4 — are right around the corner. For those who care to celebrate athletics aesthetics while celebrating the holidays, you can get Uni Watch shirts for either holiday (or both holidays!) by ordering now — the Independence Day shirt is here and the Canada Day shirt is here. Thanks.
• • • • •
[adrotate group="2″]
• • • • •
The Ticker
By Anthony Emerson


Baseball News: The New Comiskey scoreboard operator accidentally used an Orioles logo, instead of a Tigers logo, during last night's game against Detroit (from David Raglin). … Some MLB teams are adding logos to rectangular training fields at their Spring Training facilities, making them look like bizarro-world football fields. … The Athletic has ranked MLB road greys (from @GrumpyTigersFan). … The Nashville Sounds, Triple-A affiliates of the Brewers, wore some pretty awesome throwbacks last night (from @fletchuelse). … The Chattanooga Lookouts, Double-A affiliates of the Reds, had two different pant stripes going on during last night's game (from Ryan Decker).

Pro Football News: A Yahoo columnist shared his picks for the 15 worst unis in NFL history (from Kary Klismet). … Also from Kary, Niners president Al Guido has hinted that the club may break out red versions of the 1994 throwback uniforms they wore last season for their upcoming 75th-anniversary season. … Rumors are building that the Cardinals have a uni change in the works (thanks, Phil). … A player for a team in The Spring League is wearing No. 100, which seems to be a fairly common occurrence in this league (from Morris Belleville).

College/High School Football News: FSU's outgoing president has said in an interview that "it's possible" Doak Campbell Stadium could have a corporate name eventually.

Hockey News: The Binghamton Black Bears, an expansion team in the Federal Prospects Hockey League, have unveiled their logos and uniforms. The negative space in the logo evokes the logo of the old Binghamton Whalers of the AHL, according to John D. Russell, while the colors are a nod to the Binghamton University Bearcats (also from John Cerone and Timmy Donahue).

NBA News: BC Žalgiris, a EuroLeague team from Lithuania, has Bucks-esque side striping on their jerseys (from Erik Morris). … Vanessa Bryant says the Kobe Proto 6 "Mamba Forever" shoes she worked on with Nike weren't supposed to be released, but they nonetheless made their way into public hands (from Trevor Williams).

Soccer News: Argentina players wore a memorial patch featuring an image of the recently passed Diego Maradona and the "dates" 1968-∞ (from Moe Khan and David Altman). … FootyHeadlines has published an infographic and article about how Nike slowly took over the Euros from their 1996 debut with Italy. This year nine nations will be outfitted by Nike. Ironically, though the swoosh has taken over the Euros, the Italian FA did not allow any manufacturer's logo on their kits until 1998, meaning that Nike's European debut didn't feature their iconic logo (from Kary Klismet). … Also from Kary, League One side Ipswich Town has unveiled their new kits (also from Germán Cabrejo and Ed Żelaski). … Also from Ed, the Iraqi national team has unveiled new home and away kits. … More from Ed: Scottish side Partick Thistle has unveiled their new away kit. Getting a bit of an early-'90s Germany vibe from it. … Portugal MF Bruno Fernandes's new boots for the Euros feature the names of his children Gonçalo and Matilde.

Grab Bag: FiveThirtyEight has an article about why changing team names is so hard, mostly talking about teams stepping away from Indigenous appropriation names (from Andrew Cosentino). … The Beasley Media Group has a 60th-anniversary logo (from John Cerone). … Hendrick Motorsports broke NASCAR's record for team cup wins last weekend, so every Hendrick car will have a commemorative decal for the remainder of the season (thanks, Jamie). … The University of Wisconsin-Oshkosh's Fond du Lac and Fox Cities campuses both have new athletics logos (from Timmy Donahue). … Mahindra Racing of Formula E is letting fans design the race suit their drivers will wear for the London E Prix (from Omar Jalife).
• • • • •
That's a wrap for this week. I'm off to see my mom today, so play nice while I'm away, enjoy Phil's weekend content, and I'll see you back here on Monday. — Paul