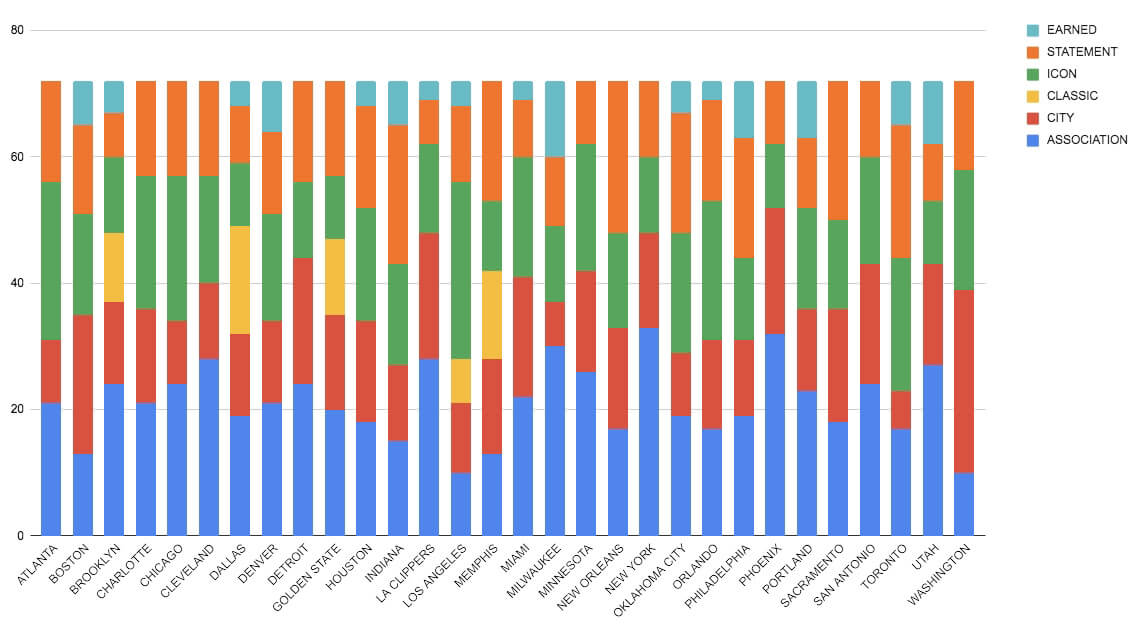 Click to enlarge
The bar graph above shows how often each NBA team wore each of its uniforms during the 2020-21 regular season (all data from LockerVision). I used that breakdown as the basis for a new set of NBA uni rankings. Instead of ranking each team's full uni set, I decided to do rankings based on the most-worn uni for each team, which brought some interesting trends and info to light. You can check it out here.
(Super-duper thanks to the anonymous data-cruncher and -visualizer who created this bar graph for me. He knows who he is!)
• • • • •
• • • • •

Purported NBA leak: The blurry images shown above began circulating late last night. At least two different sources have said they're legit, although one says they're next season's City alternates and another says they're connected to the NBA's 75th-anniversary program. (Those two things aren't necessarily mutually exclusive, of course.) I'm sure we'll be seeing more soon.
Meanwhile, speaking of NBA leaks: Igor Coelho, the Brazilian leaker who I interviewed six months ago, says this was slated to be the Kings' Earned design, but the team didn't make the playoffs last year: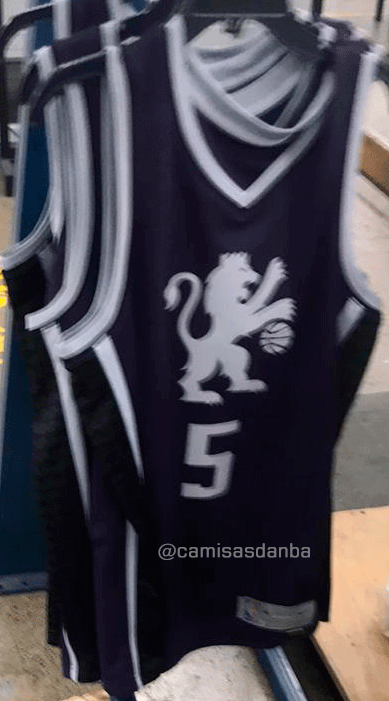 So this is a phantom design — at least for now. Maybe they'll eventually use it (assuming the Kings ever make the postseason again).
(My thanks to @NBAunitracker, who was the first to bring the new leaks to my attention.)
• • • • •
• • • • •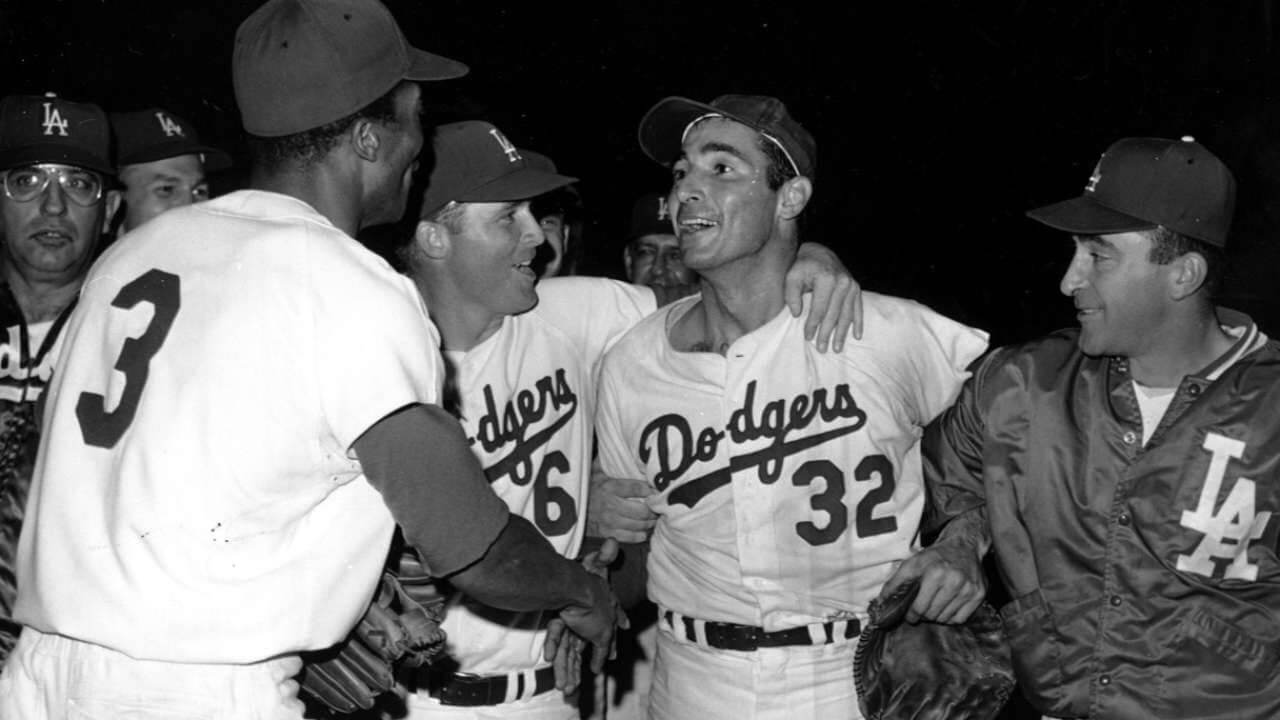 Click to enlarge
Too good for the Ticker: The photo above shows Dodgers pitcher Sandy Koufax being mobbed by his teammates after throwing a perfect game on Sept. 9, 1965. Check out the jacket logo on third baseman Don LeJohn, at far right — never seen that version of the Dodgers' "LA" mark before!
I ran this one by Dodgers design director Ross Yoshida. "I have seen that logo in photos, but only on jackets," he said. "We have never replicated it nor used it on anything."
(My thanks to Dean Ollins for spotting this one and bringing it to our attention.)
• • • • •
• • • • •
Click to enlarge
Finally: When Todd Radom and I were plotting out the designs for the Uni Watch Pin Club last year, we decided to go with an Indy car theme for May. That pin went into production before we realized that the Indy 500 would be postponed due to the pandemic.
A year later, reader Sam Myers finally got to wear the pin to the Indianapolis Motor Speedway. Very cool! Thanks for sharing, Sam.
• • • • •
• • • • •
The Ticker
By Anthony Emerson


Baseball News: Pirates P Wil Crowe wore the wrong cap last night. … Nats 1B Kyle Schwarber was still wearing last weekend's camo gloves during last night's game against the Cubs. All other Nats players were in red or grey (from @artofscorebug). … Rays P Ryan Thompson, who wears No. 81, and Giants P Tyler Rogers, who wears No. 71, talked to Fangraphs about why they picked somewhat odd uni numbers (from Tyler Obalek). … Two Phillies fans, one wearing a Bryce Harper jersey and another in a Cliff Lee jersey, made an unwitting nod to one of the 20th century's greatest writers (from Noah Kastroll and Armen Saryan). … Longwood and Charleston Southern both wore navy jerseys with white pants during their game last night. That has to be some sort of violation, right? (from Richard Martin).

NFL News: Ravens LB L. J. Fort is switching from No. 58 to No. 3 (from Marcus Hall). … Similarly, Chargers LB Kenneth Murray is switching from No. 56 to No. 9 (from Sam McKinley).


Hockey News: The new Iowa ECHL franchise has revealed its name — the Heartlanders — and some pretty nice logos. Not often you see flowers as part of a team's identity, and I think it's perfect (from multiple readers).

Soccer News: The NWSL's Kansas City team still has no official name or logo, but now it does have at least one official kit (from our own Jamie Rathjen). … A new Spurs third kit has leaked (from Kary Klismet). … Also from Kary: The Japanese men's national team has unveiled a beautifully simple 100th-anniversary kit (also from Gabriel Hurl). … One more from Kary: Brazil's São Paulo F.C. have new away kits. … MLS is bringing back their "Primeblue" promotion for next weekend, giving every team a templated blue jersey. And by templated, I mean we've seen these before: Greek team Olympiacos and the Cape Verde national team have worn identical designs (from multiple readers). … USL League One's Richmond Kickers have a new third kit that'll see the pitch this weekend.

Grab Bag: The comic Rhea Butcher spent a half-hour talking about mascots on an episode of the podcast Make My Day (from Max Weintraub). … An artist is accusing Aussie rules side Port Adelaide FC of stealing their new indigenous guernsey design from her painting. The details in the guernsey and the painting are indeed identical. This isn't the first time Port Adelaide have been accused of cribbing from designers (from Ash Norris). … Update: Port Adelaide has now confirmed that the design was plagiarized, but the original artist has given them her blessing to wear the design. … Ahead of the biggest race on the F1 calendar in Monaco, several drivers have unveiled special helmet designs (from Kary Klismet). … Also from Kary: Track and field athletes at the University of Vermont blacked out the school's name on their uniforms during the New England championships last weekend to protest the administration's handling of a series of sexual misconduct cases on campus (also from Timmy Donahue).