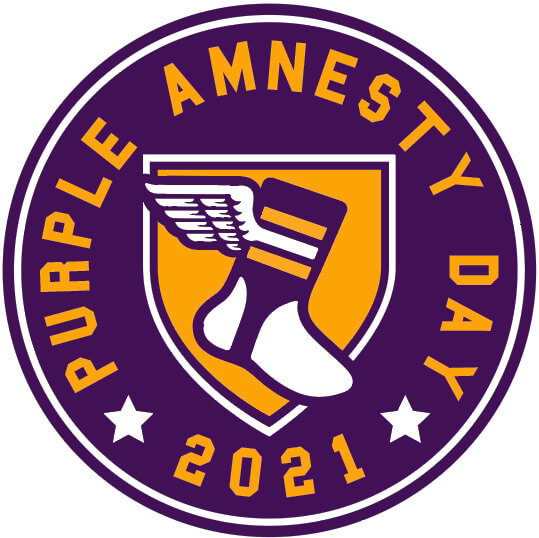 Hello! As many of you are already aware, today is the 15th anniversary of the very first post on this website (not to be confused with the first Uni Watch column, the 22nd anniversary of which is coming up next week). By longstanding tradition, that means it is also Purple Amnesty Day — the one day of the year when I grudgingly acknowledge the world's most accursed color.
The usual ban on purple-inclusive Uni Watch membership cards has been lifted until midnight Eastern tonight (you can order yours here), plus we have some special purple content and merchandise today.
But first, some historical background: The idea for Purple Amnesty Day came from reader Tim Cox. On the blog's fourth birthday — May 17, 2010, 11 years ago today — Tim posted the following comment:
Congrats on 4 entertaining years, Paul & company. I'm a daily reader but not a member because I can't do a Rockies membership card without purple. The 4th anniversary seems like the perfect occasion to grant amnesty to all the Rockies, Vikings, LSU, Northwestern, etc. fans out there.
I then responded:
[Y]our idea for a one-day purple amnesty program is a good one. If anyone wants to sign up for a purple-inclusive membership card, today — and only today — I will honor all such requests!
And just like that — very informally — Purple Amnesty Day was born. It has continued to evolve since then:
• A few years later, in 2015, membership card designer Scott M.X. Turner came up with the ingenious slang term "Purp Walk."
• 2015 is also when designer Bryan Molloy and I began collaborating on Purple Amnesty Day merchandise (all available for only 24 hours, of course).
• I believe 2015 was also the first year that I changed all of the website's green elements to purple for the momentous day.
I love how the culture of the annual tradition has continued to grow and take on a life of its own. It's now one of my favorite days on the Uni Watch calendar, even though I hate looking at all that purple!
Speaking of which: People sometimes say I have "purplephobia." But as I always explain, that's not accurate, because "phobia" means fear. Folks, I don't fear purple; I loathe purple. If anything, purple should fear me.
People often ask why I detest purple so much. As I always explain, I think purple in nature is quite nice — violets, plums, eggplants, etc. But purple as a human-imposed design element almost always strikes me as tasteless and tacky. It's the diva of colors, the Celine Dion of colors — loud, grandiose, never content to do just enough when it can do way too much.
Now then: A year ago, longtime reader and Ticker-submission stalwart Kary Klismet gave us a good analysis of the Lakers' infamous mismatched-purple uniforms. This year he has a follow-up report. Take it away, Kary!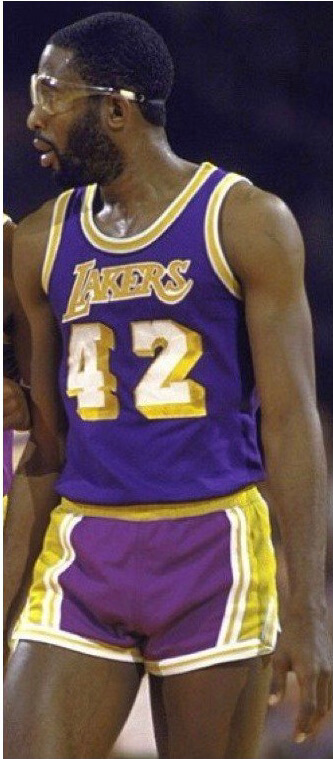 Doubling Down on the (Dis)Pleasure: More on the Lakers' Mismatched Purples
By Kary Klismet
For last year's Purp Walk, I revisited the story of the Los Angeles Lakers' mismatched purple uniforms, one of the uni-verse's most infamous uniform irregularities. I uncovered evidence that contradicted some of the long-held assumptions about these uniforms, including the common belief that the use of different fabrics created a "consistent inconsistency" between the jersey and shorts colors.
This year, I've found information that challenges more of the conventional wisdom surrounding these uniforms. Not only did the Lakers wear mismatched purple for far longer than I originally thought, but their road threads weren't the only uniforms affected by this chromatic calamity.
The two-toned purple uniforms are closely associated with the Lakers of the early to mid-1980s. Indeed, I myself assumed this uniform quirk was specific to that era. But photos show that Lakers players wore road uniforms with different shades of purple at least as early as 1970, and that the light/dark hierarchy occasionally flip-flopped — sometimes the jersey was darker, and at other times the shorts were darker (just like the "Showtime"-era uniforms I discussed last year). The peculiarity persisted through the mid- and late '70s, and all the way to the early '90s.
I've heard suggestions that this abnormality was just an illusion caused by photographers' bright fill-flashes intensifying the reflection of light off of certain fabrics, making variations in the shades of purple appear more pronounced in photos than in person or on television.
There might be some truth to that. If you look at old game footage, the purples look more uniform. I would note, however, that the lower-resolution TV signals and poor-quality VHS storage in the '70s and '80s might not be capable of capturing such subtle details. Even so, this video of a 1984-85 Lakers/Clippers game offers compelling proof that the mismatched purples could be seen on television:
Throughout the contest, James Worthy's jersey appears noticeably darker than his shorts (it's particularly noticeable around the 27:00 mark). I also found a photo of Worthy from the game, confirming the uniform color mismatch.
The Lakers' road uniforms weren't alone in sporting mismatched purples. In many ways, inconsistencies in the purple trim on their gold home uniforms were more widespread and lasted longer than the issues with their away unis.
Perhaps the most noticeable discrepancy was that the Lakers often struggled to match the purple on the waistband of their home shorts to the shade worn on the side panels. Not only did this affect the Showtime Lakers, it continued through the mid-'90s to 1999. And sometimes, dating back to 1974, the waistbands didn't match each other.
But the trim problems didn't stop there. As long ago as the mid-'70s, the piping on the shorts was significantly darker than the side panels. And the purple numbers and lettering on the jerseys was frequently a deeper shade than the purple on the shorts.
Interestingly enough, although the Lakers may have been the most egregious offenders, they weren't the NBA's only purple perpetrators ("purple-trators"?). The Sacramento Kings, Utah Jazz, and Phoenix Suns (who deserve extra demerits for not even trying to match their warm-ups to their road uniforms) have all had moments when color-coordinating their purple uniform components proved too tall a task.
So the issue of mismatched purple uniforms wasn't just a momentary blip on the Lakers' uniform radar. It actually has a firm foothold in the NBA's visual history.
• • • • •
• • • • •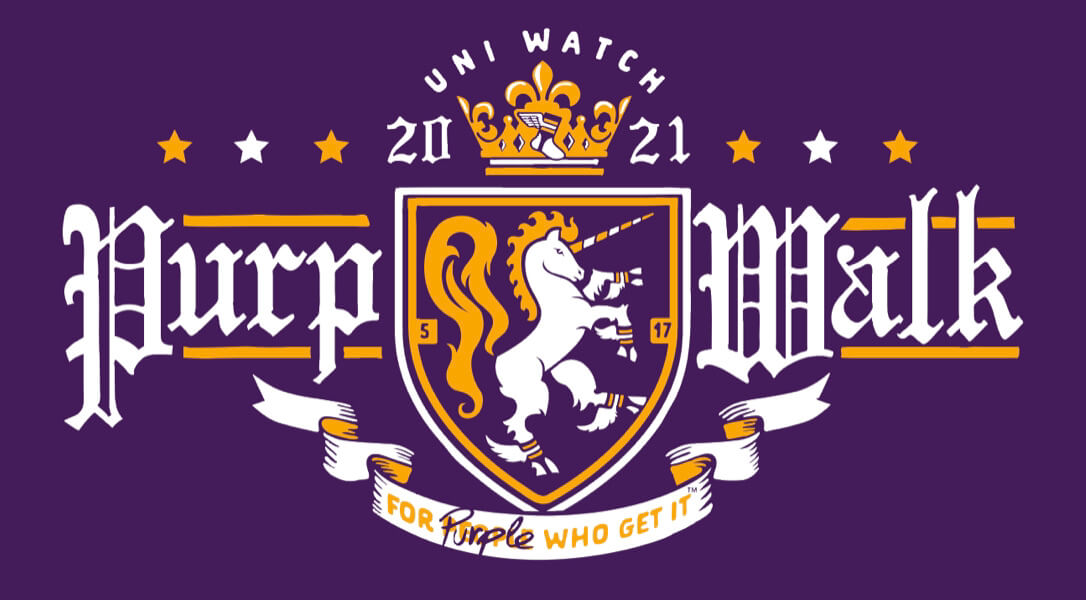 Click to enlarge
ITEM! This year's 24-hour Purp Walk merch: Back in 2015, I was working with designer Bryan Molloy on the Uni Watch T-Shirt Club. He suggested that we pretend to do a purple design as an April Fool's stunt, but I nixed that. So instead he proposed selling a purple shirt as a 24-hour offering on Purple Amnesty Day, which I agreed was a fun idea, so that's what we did. Bryan and I have continued to collaborate on 24-hour purple merch offerings in 2016, 2017, 2018, 2019, and 2020, so of course we have something special for you this year as well.
First, Bryan has created a sensational new shirt. Based on the idea of purple being associated with royalty, it features a heraldic-style chest design with — wait for it — a uni-corn. You can see the chest design above, and here's the full shirt, which also includes a sleeve emblem: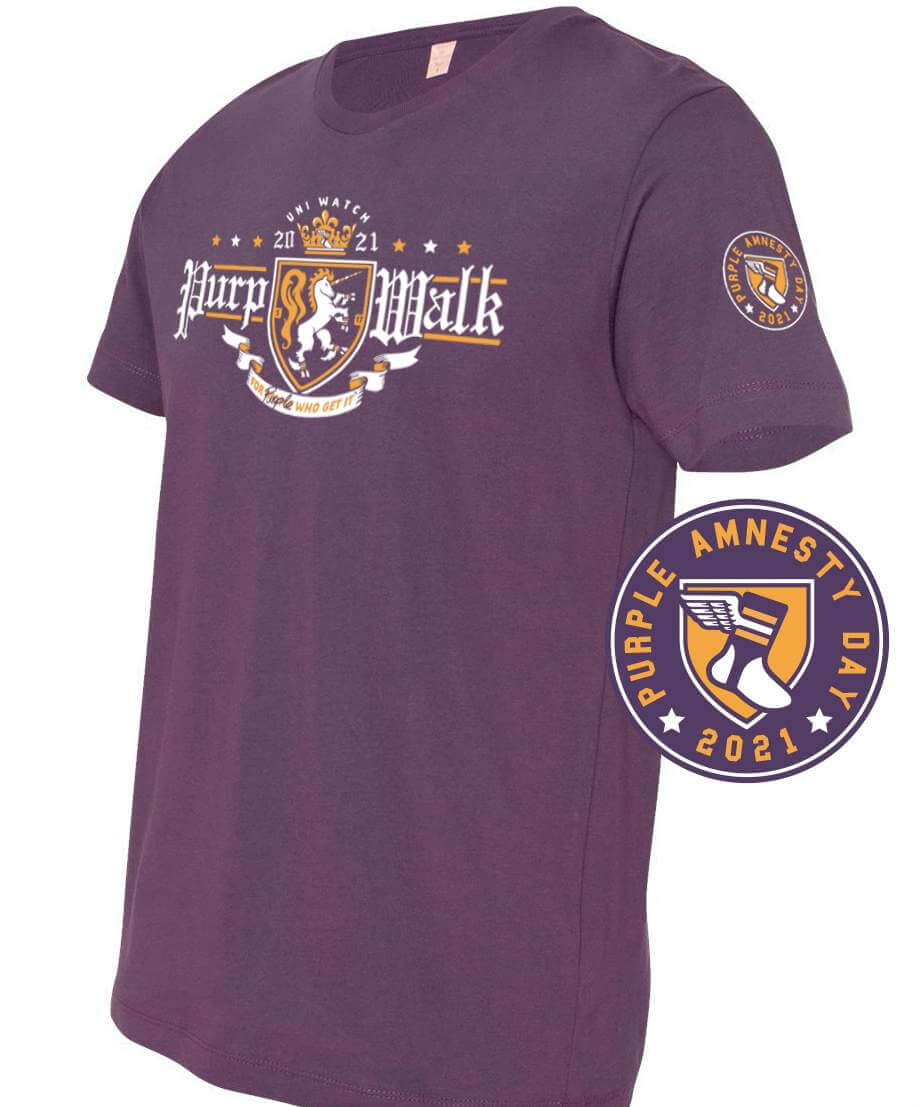 This shirt is available here until midnight Eastern tonight and will never be offered again. You snooze, you lose — no exceptions!
In addition, we're once again offering a purple snapback version of our winged stirrup cap:
The cap is available here until midnight Eastern tonight. As I mentioned last year, the cap will be an annual 24-hour offering each year on this date.
Also: If you order the shirt and the cap, a $5 discount will automatically be applied to your order. Not bad, right?
Meanwhile: Today is the only day of the year for you to order a purple-inclusive membership card. You can do that here. I'll even sign all of the cards ordered today with a purple pen!
In addition, out of all the purple membership orders placed today, I will randomly select one order to receive this excellent purple card-holder pocket, made by ace DIYer Wafflebored: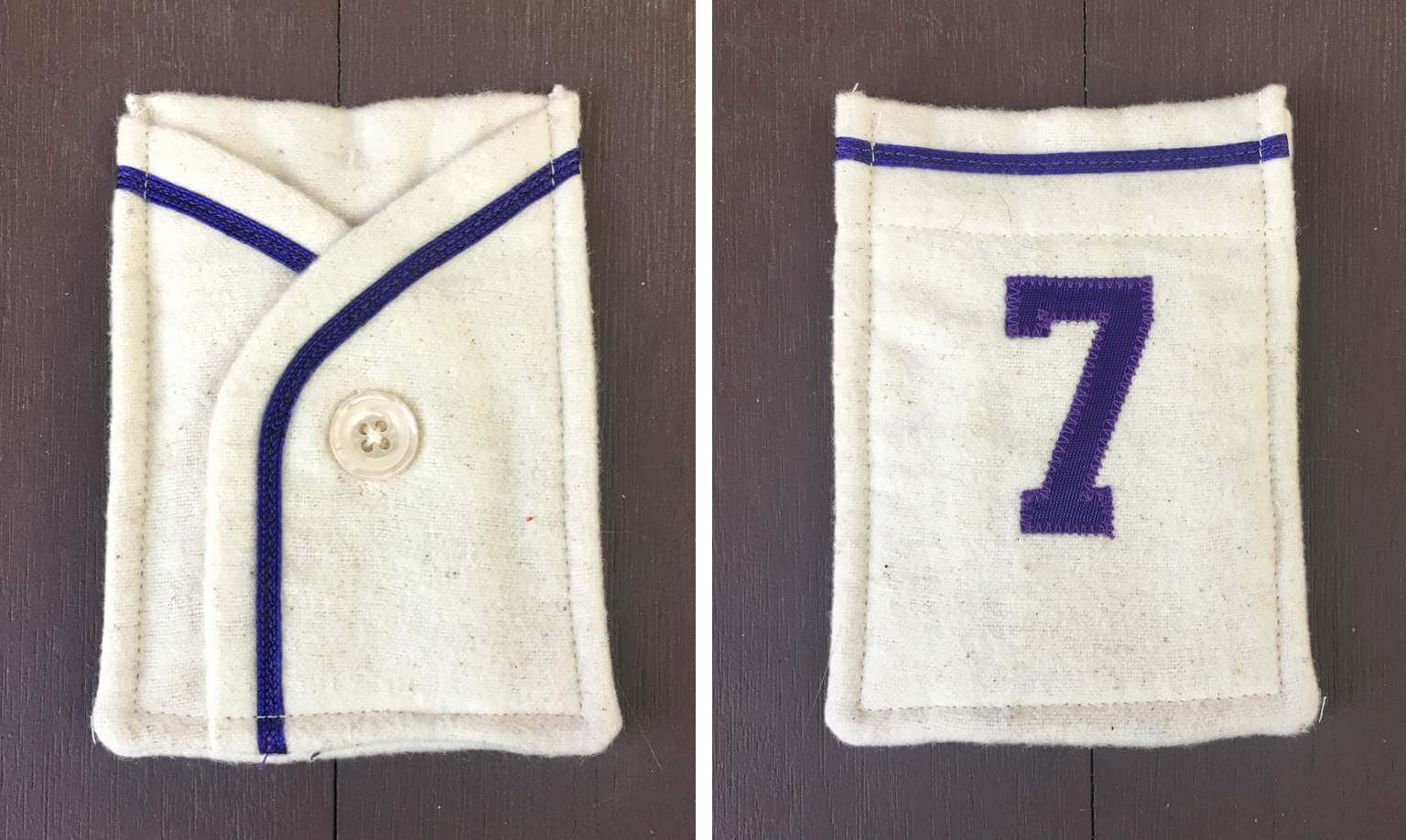 Okay, that's it for today's purple-centric content. But before I move on to the rest of today's post, it's worth noting that 15 years of daily blogging is a pretty amazing thing — for all of us, not just for me. It's a testament to this comm-uni-ty being so vibrant and interesting for so long, and that in turn is something we should all feel good about. Thank you!
(My everlasting thanks to Tim Cox for coming up with the idea for Purple Amnesty Day; to Scott Turner for coming up with the term "Purp Walk"; to Bryan Molloy for continuing to collaborate with me on Purp Walk merch; and to all the readers who make this day so much fun. Cheers!)
• • • • •
• • • • •
The Ticker
By Jamie Rathjen

Baseball News: Rockies P Jhoulys Chacín's NOB was apparently off-center on Saturday (from Daren Landers). … Reader Kevin Clark's room at a Pittsburgh hotel had a framed silhouette of Roberto Clemente. … The Single-A Fresno Grizzlies wore mono-red for the first time ever (from Chris Harris).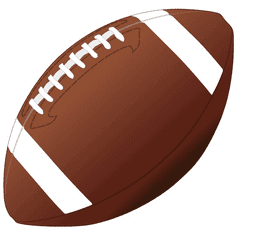 Football News: WFT rookie players got their numbers, though the team noted that Nos. 25 and 35 are duplicates and they can obviously change. … One of those rookies is WR Dyami Brown, who is keeping his No. 2 from college (thanks, Brinke). … Sam Houston State made itself an FCS championship logo (from multiple readers).

Hockey News: The Professional Women's Hockey Players' Association's traveling exhibition games came to St. Louis this weekend. As part of land-recognition gestures, players wore helmet decals representing Indigenous tribes in the areas that their teams are from (from Taylor Crabtree). … Capitals players' wives got jackets featuring the 1997-2007 Capitol dome logo, or as we now know it, the ЯR shoulder patch (from @the_casserole).

Basketball News: The WNBA's Washington Mystics finally hung their 2019 championship banner. … Meanwhile, last season's champions, the Seattle Storm, got their championship rings (from Kary Klismet).

Soccer News: Macron, the outfitter of UEFA officials, revealed their design for Euro 2020. … English club Leyton Orient's new third shirt again features the charity Mind, with the ad space bought and donated by Tottenham Hotspur striker Harry Kane. … The NWSL's Orlando Pride aren't done with things they launched into space: they sent up five patches which are to be added to shirts to be auctioned in support of charities. … The Pride also wore warm-up shirts with several variations on the phrase "believe Black women". … OL Reign left-back Lauren Barnes got a framed No. 150 shirt for becoming the second NWSL player to reach that appearence milestone. … After winning the Women's Champions League yesterday, FC Barcelona players put on their first shirts for the trophy presentation over the third shirts that they wore. … ESPN started using the new Columbus Crew/SC crest in its scorebug (from @anthonytx42). … Lots of smaller South American clubs have the same name as larger clubs and/or poach their logos — this River Plate is one of at least 12 on the continent or in the Caribbean, for example. But the logo of that one, in the Argentine city of Bell Ville, looks much like the logo and shirt design of the big River Plate's rivals, Boca Juniors (from Miguel Olaya).

Grab Bag: The U.S. women's field hockey team has new kits made by Osaka, a brand mostly restricted to that sport that usually does minimalist designs. Their shirts now have sleeves, but they still wear both blue and red as previously. The number font also has a zero-with-slash — that's a No. 30 visible. … Some more Australian Football League Indigenous designs are out, for St. Kilda (from Ash Norris) and the Western Bulldogs. … Virginia men's lacrosse midfielder Chris Merle was wearing two different colored shoes yesterday (from Max Weintraub). … Meanwhile, Division II Davenport's women's lacrosse coach has a pithy argument involving their Panthers name for why you should always qualify both women's and men's sports or neither (from Ben Whitehead). … The trophy for NASCAR Cup races at Dover International Speedway is the track mascot, a big grey monster as a reference to its "Monster Mile" nickname, and yesterday a mask was added to it (from @btownmoose). … McLaren's Formula One team is to have a one-off livery next week in the colors of Gulf Oil, which has a long history advertising in motorsports with McLaren and otherwise (from @tonsoffun57).
• • • • •
• • • • •
Click to enlarge

What Paul did last night on Saturday: In light of the new CDC guidelines, Mary and I did something on Saturday that we hadn't done in well over a year: We went to one of our favorite taverns — the very excellent Tamaqua Bar & Marina — and sat at the bar for a few hours.
It was a little nervous-making to be indoors among strangers without masks, but Tamaqua is a huge, barn-like space, and on warm days (like Saturday) they open the windows and let the sea breeze waft through, so it's almost like being outside. We figured it was pretty safe.
After a year-plus of drinking canned and bottled beer, it was nice to have suds from a tap. Plus we did all the things we usually do at a bar: kibbitzed with the bartender, reconnected with old friends, yakked with strangers (one of whom took the photo shown above), met a new dog, bought a round for someone, got a free round from someone else — simple pleasures that we had sorely missed. It felt really, really good.
One of the old friends we reconnected with was Captain Jack, the world's best bar cat. He prowls around the marina and occasionally pops into the bar. We had wondered how he was doing and if we'd see him. Sure enough:
Meanwhile: As I've said all along, we planned to keep doing Pandemic Porch Cocktails™ until we could comfortably and safely sit at the bar at one of our favorite watering holes. Now that that condition has been met, the PPC™ project has come to a close. We may still convene on the porch some days, or maybe even most days — it's something we've come to look forward to — but we will no longer feel compelled to do it every single day, and I will no longer photograph the proceedings. So the PPC™ photo set — 424 daily pics spanning nearly 14 months, from 3/17/20 through 5/14/21 — is now final.
I have mixed feelings about the end of PPC™. On the one hand, it was a satisfying and interesting project, and I'm sad to see it end. On the other hand, its end signals a major step in our return to normalcy, which is something to feel good about.
Like any good creative project, PPC™ has taught me a few things, including the following:
• Given the opportunity, I have a strong tendency to turn anything and everything — even a global pandemic — into an obsessive ritual.
• When confronted with the worst batch of lemons, it's still possible to make lemonade. Or to put it another way: We're all probably more adaptable than we think we are.
• It's definitely worth taking some time each day to just stop and watch the world go by.
Many, many of you — way more than I would have expected — have emailed over the past year to let me know how much you've enjoyed PPC™. My thanks for all the positive response and encouragement. And for those of you who haven't liked or cared about the project, thanks for putting up with the daily photos without getting cranky about it.
Finally: I think the photos would make a fun exhibit. If anyone has connections in the art/gallery world who might be interested, please let me know. Thanks. — Paul